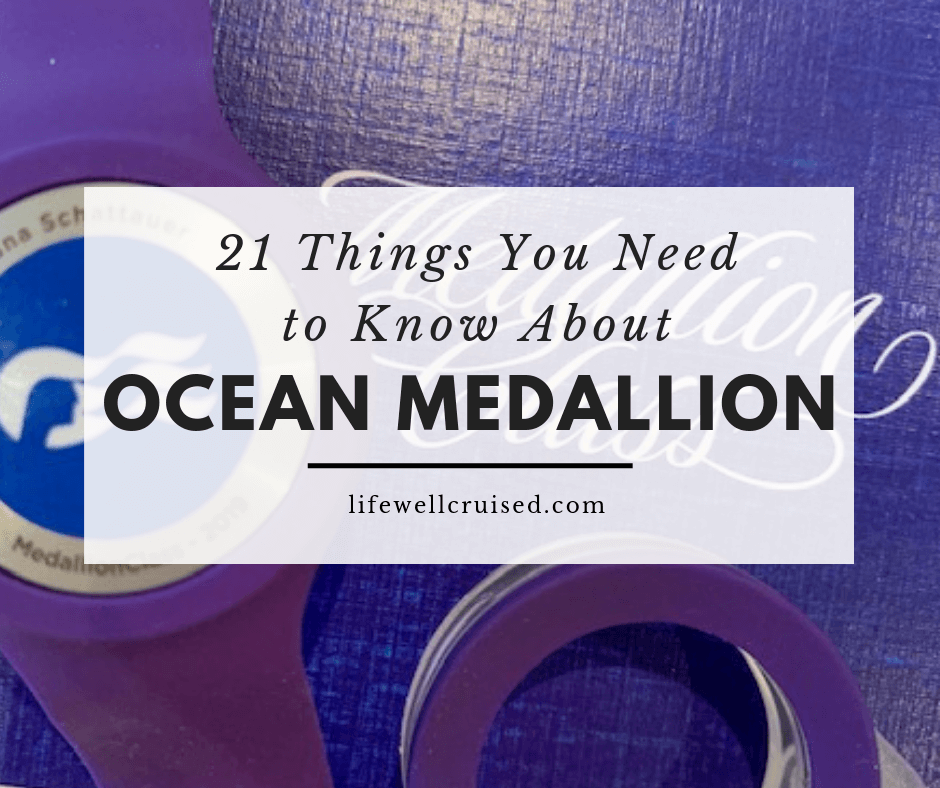 21 Things You Need to Know About Ocean Medallion
It's been a few months since Princess Cruises has rolled out their innovative (and award-winning) Ocean Medallion program. They began with the Caribbean Princess, then moved onto the Regal Princess and Royal Princess. By 2020, according to Princess Cruises' website, there will be a total of 11 Ocean Medallion ships in the fleet.
In this post, I'll be letting you know how Ocean Medallion works, what are it's main benefits and answer some of the questions that are commonly asked in Facebook groups and forums.
If you still have a question by the end of the post, please do me a favor and leave it as a comment. I'll do my best to find that answer for you.
**Update – Princess has recently updated the MedallionClass app and I've updated the information below.
I've partnered with Princess Cruises and OceanMedallion to share information about the MedallionClass Experience and accessories with you.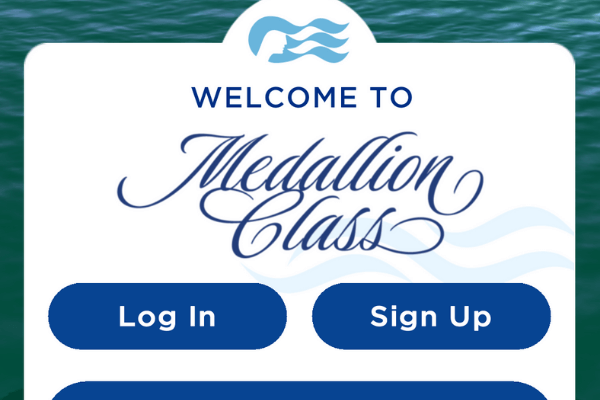 Everything you wanted to know about Ocean Medallion – from a cruiser's perspective
Our Ocean Medallion story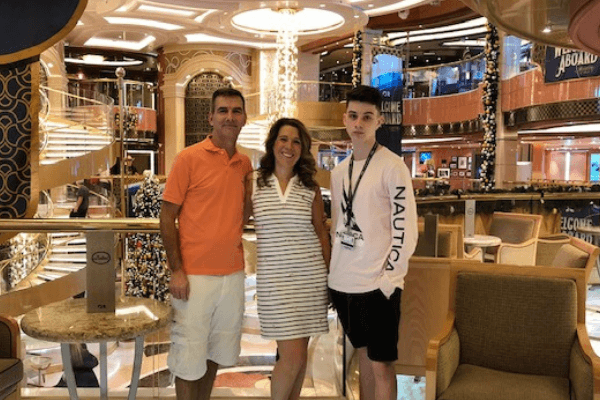 I happen to be a big fan of OceanMedallion. We were lucky enough to have cruised on the Regal Princess just a few months ago during it's trial phase. Even at that, I was impressed with all it could do and bring to a cruiser's vacation.
We found convenience, connection (love between-friends ship board messaging and MedallionNet), and an overall easier cruise travel experience.
You can read our review and about our Ocean Medallion experience HERE.
What is Princess Cruises Ocean Medallion?
According to Princess Cruises, "Ocean Medallion is a first-of-its-kind wearable device that elevates every moment before, during and after your Ocean Medallion Vacation. From on-demand food and drinks, interactive gaming, custom entertainment and smart navigation, Medallion makes cruising simpler, and more personal and enjoyable than ever."
By now, you've probably heard at least a bit about Ocean Medallion, but perhaps need some more information to be clear on how it works.
In this post I will go over some basics as well as some specific practical benefits for you, the cruise traveler.
** I've added a BONUS TIP (#22) which you'll LOVE!!!
1. What is the Ocean Medallion device and how is it worn?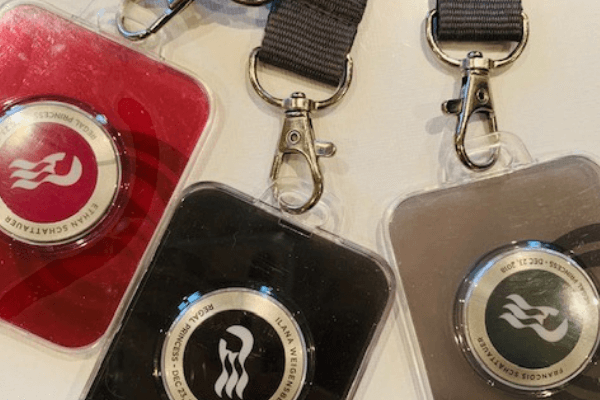 Princess passengers will receive the Ocean Medallion wearable disk, a little bigger than the size of a quarter. It will be be printed out with your name, ship and sail date, along with the Princess logo in the center. As well, it comes personalized with your Captain's Circle level color.
It's quite nice, and I'm imagining that for some it could become part of great souvenir collection. I even saw a suggestion by one Princess cruiser, that she'll turn them into fridge magnets (why not?).
It can be worn on a lanyard, which will be provided to you free of charge when you check in to your cruise. There are also accessories that are available for purchase (see below).
If you are a US resident, the Ocean Medallion will be mailed to you a couple of weeks before your cruise. However, Canadians and passengers from other countries will have the Ocean Medallions available for pick up at the cruise port upon embarkation.
2. What does Ocean Medallion do?
Ocean Medallion is a new technology on Princess Cruise ships, and essentially replaces the cruise card, and does so much more. It's pretty much made the whole ship "smart"!
Plus, although you can access many features on your smartphone, you don't need to use your phone to benefit. You will still have an Ocean Medallion experience, with your wearable medallion and by using the portals on the ship.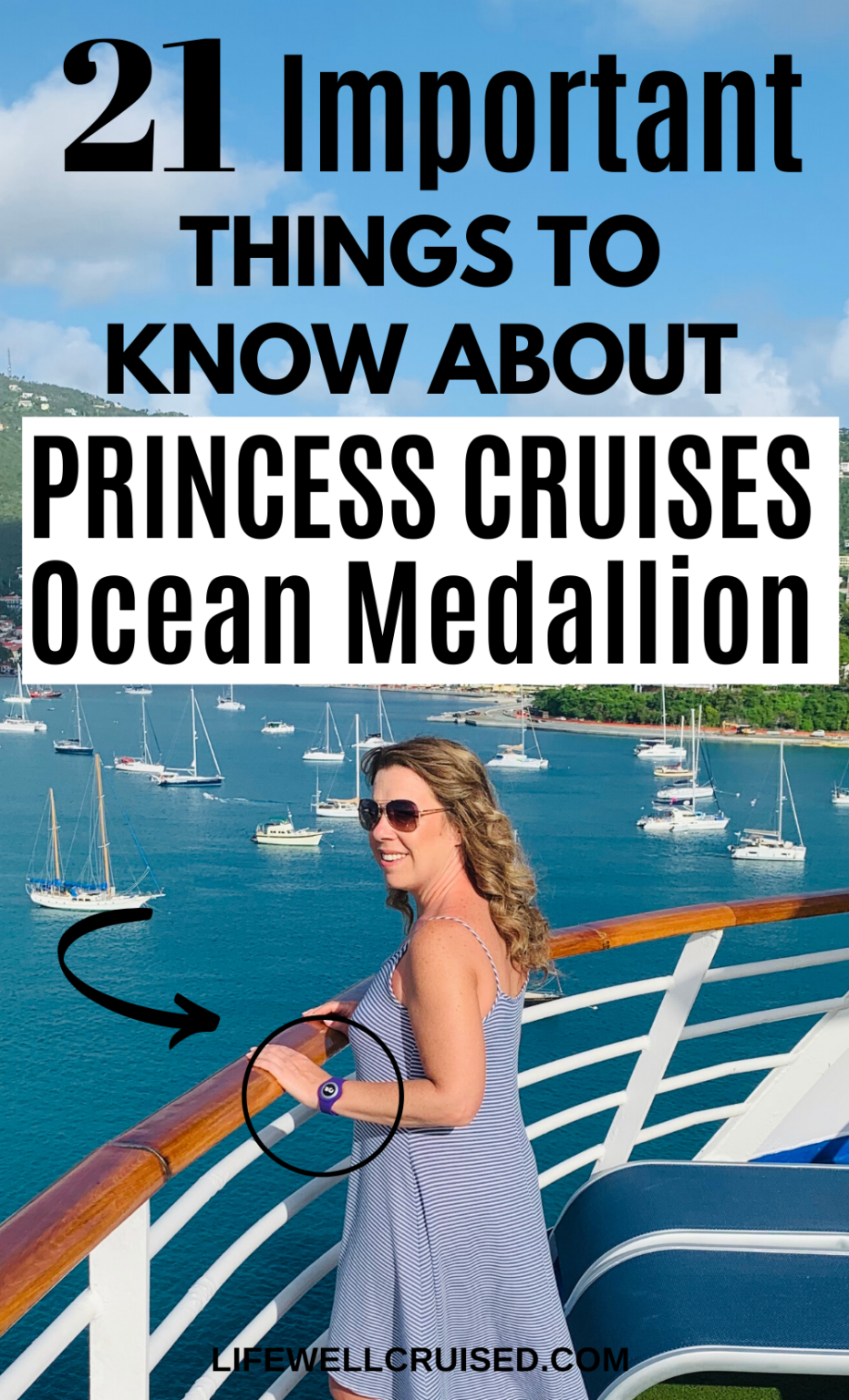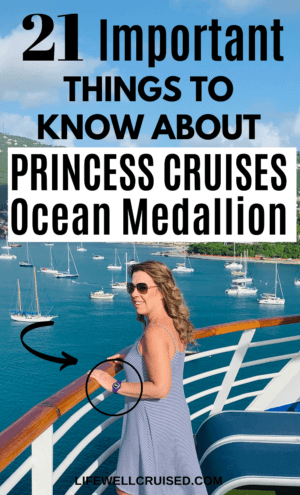 3. Getting Ocean Ready for your cruise
Once you've booked your cruise, you'll need to fill in your mandatory immigration information (ie. passport info and check in information, etc.) on your Cruise Personalizer, just like we do for every cruise.
Now you can download the MedallionClass app in the App store or on Google Play. It's that easy.
You'll be prompted to upload a photo of yourself and input other information and preferences. Not to worry if you prefer to have your photo taken once you're at the cruise port.
Once you've completed the steps, you'll be pretty much ready to board your ship, after a quick verification of your documents at the cruise port. Current passengers recount that this is a very quick process, so do this prior to your cruise if possible.
I could go into detail about how to do this, but this video from Princess is really good and has step by step instructions should you need them.
4. How much does Ocean Medallion cost?
If you're booked on an Ocean Medallion class ship, Ocean Medallion is included and there is no additional charge to use it. The wearable medallion disk, which comes with a lanyard, and the majority of it's features are part of the OceanMedallion cruise experience.
I believe there has been some confusion as the internet, known as MedallionNet, does have an additional charge. However, cruise passengers are not obliged to use any internet at all, so this is optional. I will detail MedallionNet further in this post.
Features and benefits of Ocean Medallion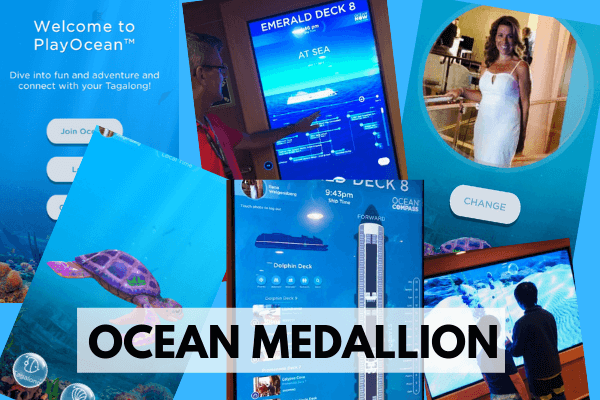 There are several great things about Ocean Medallion, and some may be more appealing to you than others. That's what I like about cruising, there's something for everyone – and the Ocean Medallion is no exception.
5. Hands-free cabin door opening
This simple feature makes cruising so much more convenient. When you arrive at your cabin, there will be a panel on the side of your door that "recognizes" you as you approach. Your photo will come up, so download a good one!
Your door will unlock for you, so no more fumbling for cruise cards. I often have a coffee in hand, so I love this!
6. Ocean Compass
There are portals around the ship that can help you to orient yourself, where you are, and where you want to go. You can also have this feature on your smart phone.
There's even a little "GPS-like" component where you'll see a path from where you are, to where you want to go on the cruise ship. You seriously could never get lost, even on a big ship!
These features are my personal favorites:
7. Messenger service between guests
As part of Ocean Compass, guests can message each other throughout the cruise on the ship's wi-fi (not Internet). I've loved this since we used it a couple of years ago, as Princess@Sea, on a amazing multi-generational cruise we did with family and friends. It's super handy, and it's free.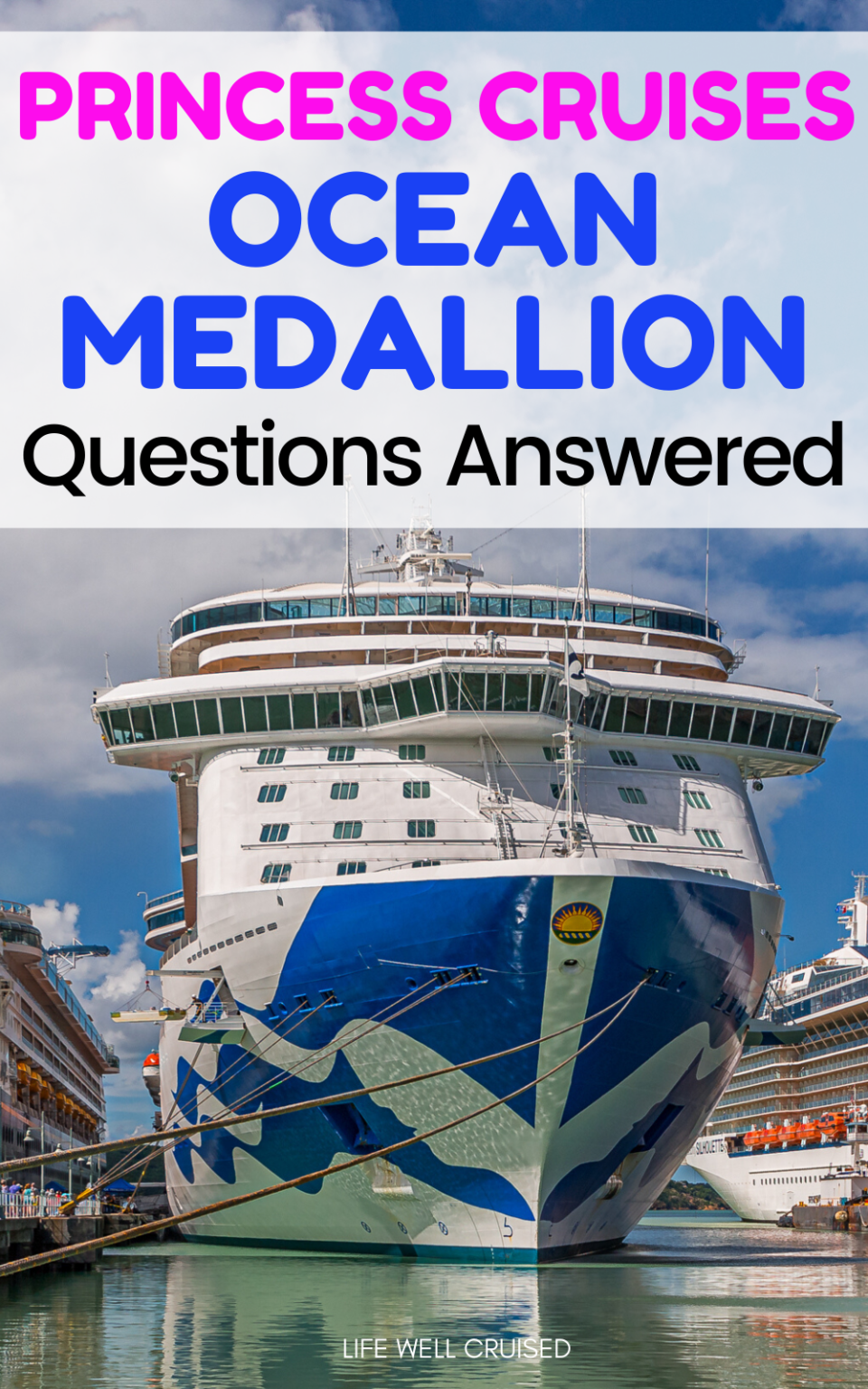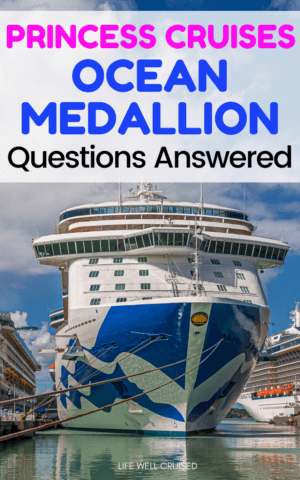 8. Find your shipmates
On big cruise-ships, can't we all use this? Simply search on your phone or on the ship's portals, for your shipmates (ie. friends and family).
So many people can get excited about this. I have a teen, and I like to know where he is. You can read about our little adventure during our last cruise, and how Find My Shipmates saved me, lol.
Hello Ocean Medallion!! A Cruiser's Perspective on the Best New Tech at Sea
However, this is great for seniors traveling, those traveling with someone who is vulnerable, or just about anyone who sometimes wonders where their spouse disappeared to.
Funny Story
I have a very good friend who says she always "loses" her husband when cruising. He loves to chat with people and she says he can be gone for much longer than he intends.
An hour at the gym?!? No way. She says he gets so side-tracked after that she needs to search to find him a couple of hours later. She is thrilled to be have this feature!! I'm not sure he is ;-).
9. Ocean concierge
Ocean concierge is where you can see events and activities either on your phone or portal, look at the dining room menus and check your ship board account.
10. Ocean Now – more personal interactions with staff and personalized bar service
The medallion actually lets the crew know who you are, as well as where you are. So, when you order a drink and go sit down by the pool or in the theater, they can find you easily.
When you leave your cabin to go for breakfast or dinner, your cabin attendant can know that it's a good time to enter to clean the cabin. You'll likely find that the crew members will call you by name as well.
Something that wasn't yet available during our cruise, but I know I would have loved, is the ability to order drinks right from your phone. I'm imagining what a pleasure it must be to order a drink while sitting in a lounge or by the pool, without having to get up to go to the bar and wait in a line.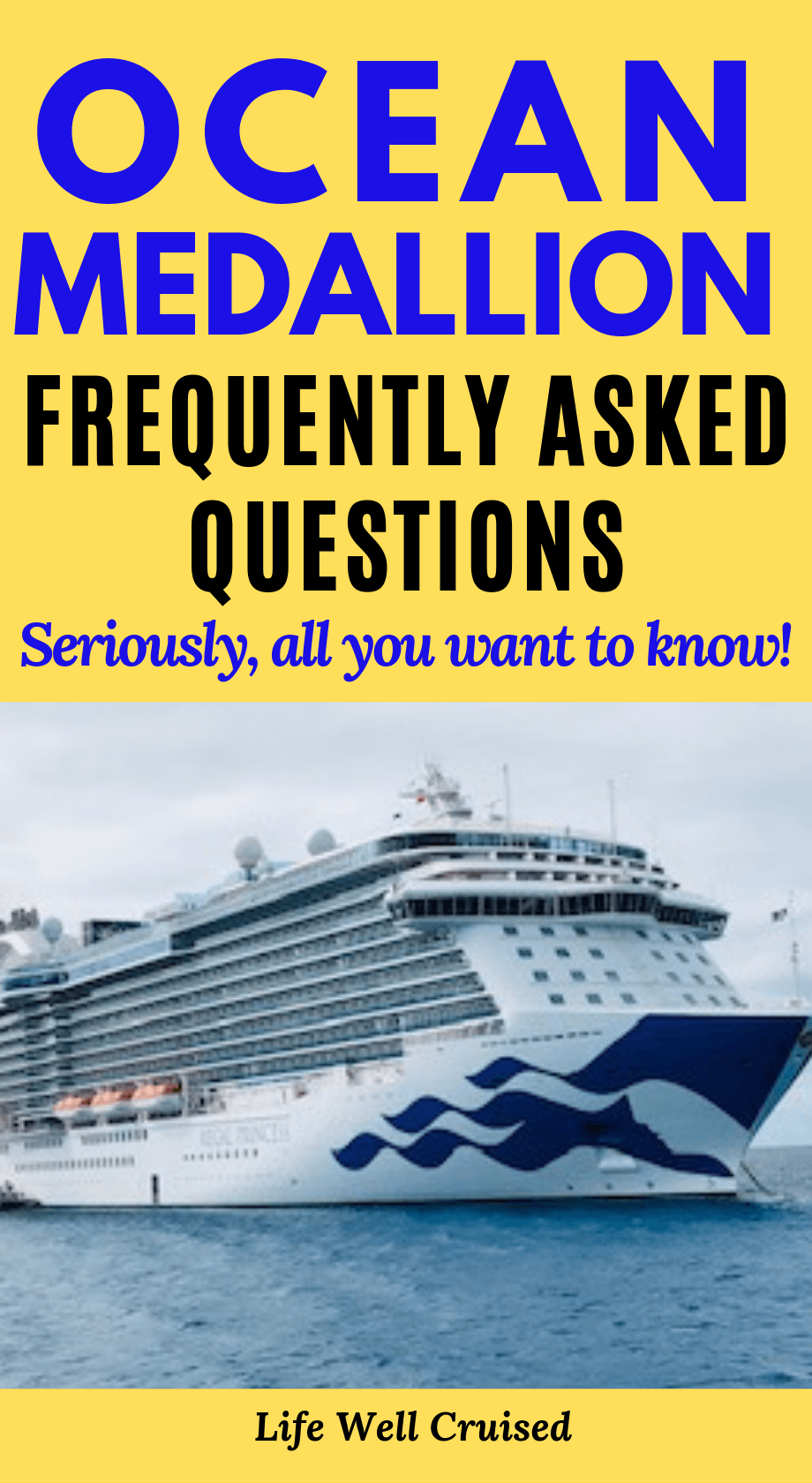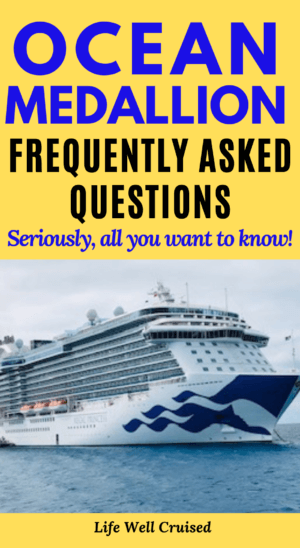 11. Interactive games – Play Ocean
There are several large-screen game portals around the ship where people can play games. These games are also available on ipads and phones. During our cruise, we saw many kids and families enjoying these on the large portals.
Something kind of cute is that you can design and create your own Tagalong avatar on the app. You can choose from a seahorse, turtle or angelfish and customize it's colors and pattern. Each time you pass certain portals, your Tagalong will come out to play.
12. Original travel shows – OceanView
There is some interesting programming available to watch in your cabin as well as on your ipad or phone. This includes Ocean Treks with Jeff Corwin.
13. Casino games (outside of the casino)
If you like to play Casino Games, wherever you feel like, you will probably enjoy Ocean Casino. You can play a variety of games right on your device, from just about anywhere on the ship.
I'll be the first one to tell you, that I wished I enjoyed the casino, but it's just not my thing. However, we met other passengers who loved it!
14. What is Princess Cruises MedallionNet?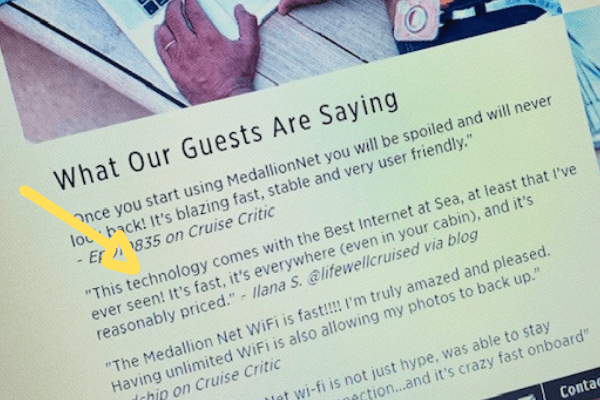 If you've ever been on a cruise, you know how expensive and slow cruise ship internet usually is. However, the Ocean Medallion technology has brought with it the Best Internet at Sea (that I've ever seen).
If you're not an internet user while on a cruise, there is no need to change and no pressure to buy any internet package. The Ocean Medallion will work for you without internet.
However, I know there are times people could really use the connection and internet makes their life easier, even on a cruise. The great thing about MedallionNet is that it's fast, it's everywhere (even in your cabin), and it's affordable!
Fun fact – There's MedallionNet on Princess Cays, Princess Cruise Private Island. How cool is that?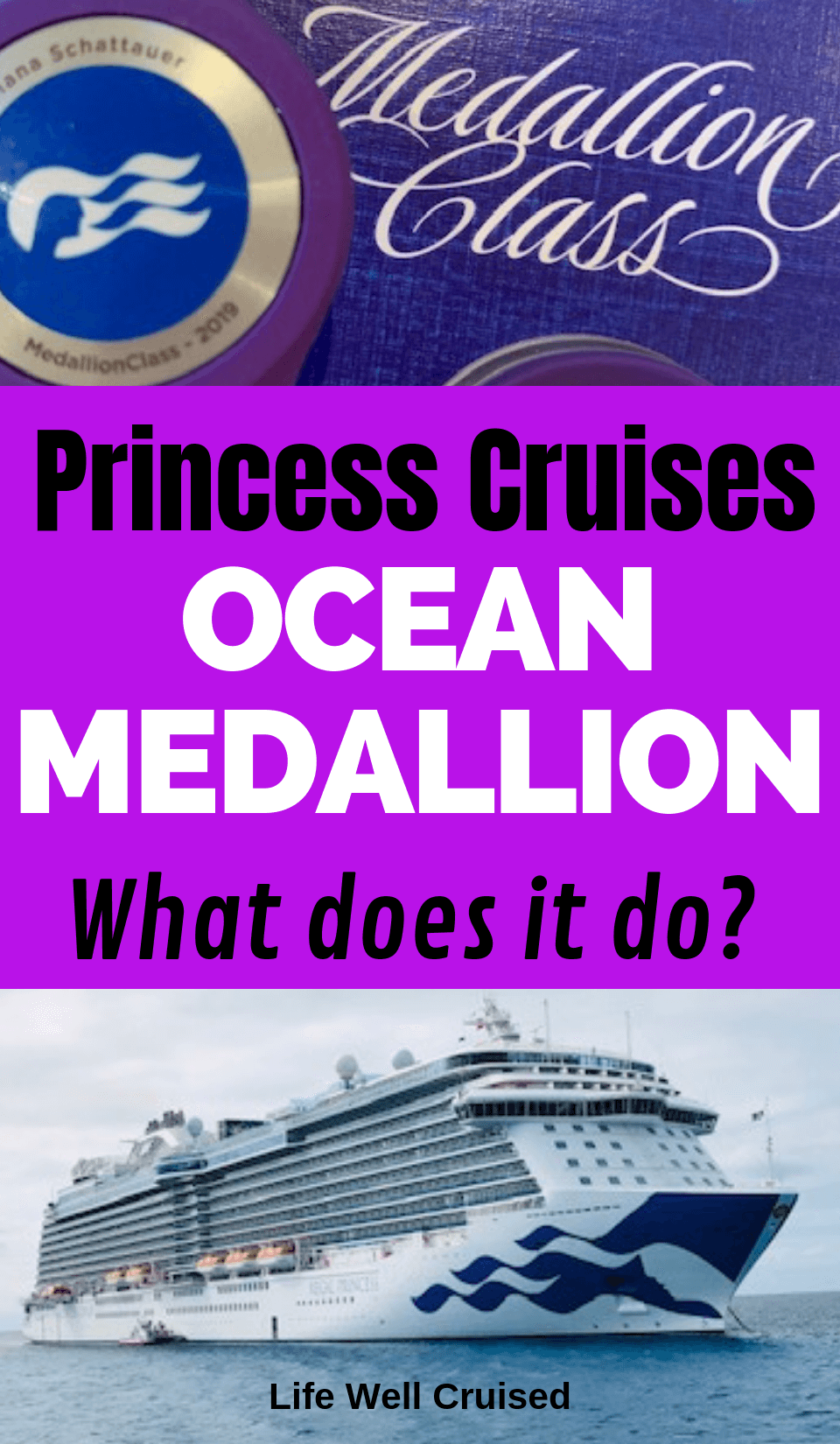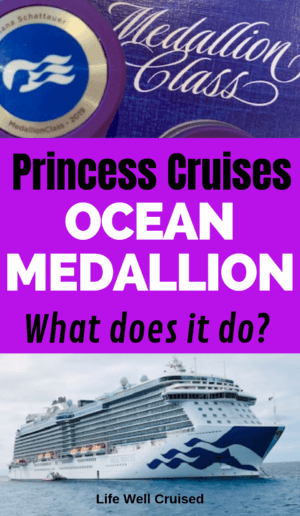 15. How much does Medallion Net cost?
When we cruised, the price was $10 per day for unlimited internet (which was a 50% discount) but you did need to buy it the first day. The price was $129 for 4 devices for a 7 day cruise, so excellent value for a family of 4 in one cabin.
Price out internet packages on other cruise ships and cruise lines, and you'll know that this is a good deal!
Cruise Tip: Purchase the internet package online before your cruise or on the first day of your cruise for a discounted rate. Prices may vary and change, so please check your cruise booking for current pricing.
How does this affect Captain's Circle internet minute benefits?
Platinum and Elite Captain Circle members can use their allotted internet minutes, or can have a discount applied should they buy the unlimited MedallionNet. In my opinion, this is very worth it, but do check for yourself.
16. What if I don't want to use my phone on my cruise?
If you're someone who really likes to get away from it all when cruising, I hear you.
There's no need to use a smartphone and you can keep it locked in your cabin safe all week if you like. Cruise ship portals are available and all the Ocean Medallion disk "functions" work.
17. Help with Ocean Medallion and the Medallion Class App
Something to note is that when we boarded our ship, and into the next days, there were staff at both an Ocean Medallion kiosque and around the ship to assist guests with everything Ocean Medallion related.
So, if you need help with knowing what to do or something isn't working right, don't be shy. Just ask at the Ocean Medallion desk or at Guest Relations (who were super helpful when we ran into an Internet snag, so I speak from experience).
18. How do I pay for purchases, if I don't have a cruise card?
Your Medallion disk functions the same way as your cruise card, so you will just tap your medallion to pay for purchases throughout the ship.
19. Princess Cruises Ocean Medallion accessories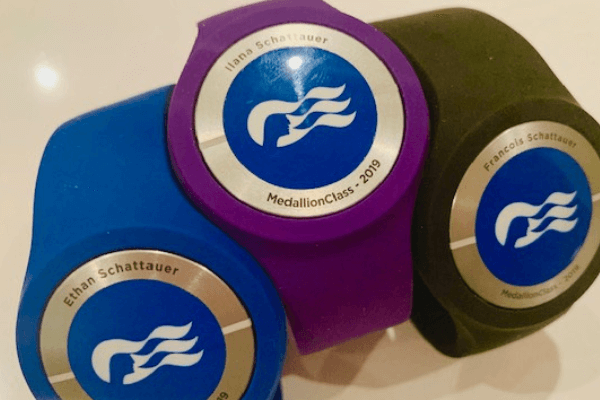 When we cruised on the Regal Princess over Christmas and New Year's, the Ocean Medallion accessories weren't available for purchase yet. There was nothing wrong with the lanyard, and being honest, it was surprisingly convenient. But, I LOVE the gold necklaces and bracelets! They just seem to dress up an outfit ;-)!
You can now purchase wristbands in a variety of colors, clips, necklaces and bracelets. OM accessories are available online for pre-purchase, as well as upon boarding your cruise.
See the photo above for a close up view of the wristbands, which I've tried out and think are fabulous. They're very comfortable, fit well and are available in different colors. Super cute!
Now I just have to book a cruise to wear them ;-)!
*Update – we're heading on the Crown Princess in January 2020. Here more about our upcoming cruise and updated info in this YouTube Video all about Ocean Medallion
20. Can I opt out of the Ocean Medallion?
Princess Cruises says that you can opt out of all but the basic functions of the medallion, and it can be put on a safety mode. It does serve as your room key so it is necessary that you carry it.
However, I encourage you to give it a try for at least a couple of days. Remember that you never have to use your phone, and portals can give you any information you may need.
21. What cruise ships have Ocean Medallion?
As of now, Princess Medallion Class ships include; Caribbean Princess, Crown Princess, Regal Princess and Royal Princess. More are coming soon!
For a complete list of future Medallion Class cruise ships, please visit the Princess Cruises website.
22. BONUS TIP – How to Get a Free Drink with the Medallion App
I've recently added this information, as we became aware of a nice little on onboard extra, as an incentive to use the Medallion Class App.
It's very simple. When you order your drink from the Medallion App on your phone, you'll see that you will get one FREE drink (up to $12).
Don't forget to save this (on your favorite Pinterest board) and feel free to pass this on to other Pricess Cruisers.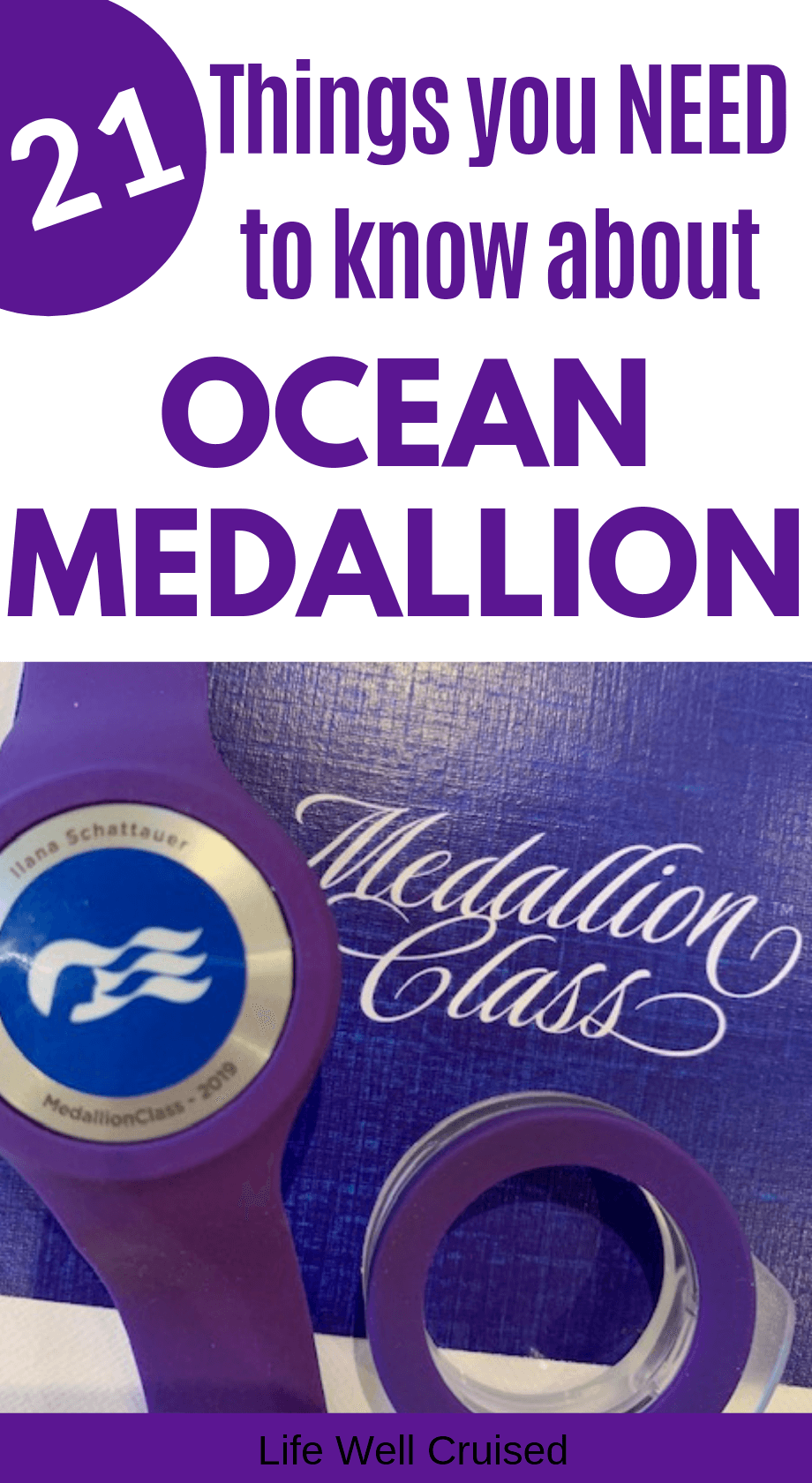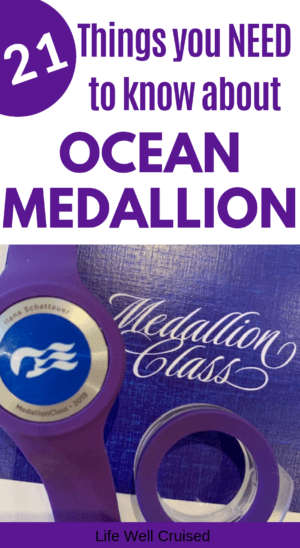 Recommended – Are you going on your first Princess Cruise? Then check out this post: Princess Cruises: 15 Best Tips for First Timers
Recap:21 Things You Need to Know about Princess Cruises Ocean Medallion
These are the most Frequently Asked Questions asked by cruisers about Princess Cruises Ocean Medallion and Medallion Class ships. I hope that this post has been helpful, and given you a better understanding of the OceanMedallion features.
In my Facebook community, I asked Princess passengers, who've recently cruised on the Caribbean Princess, Royal or Regal Princess, and other Medallion class ships for their thoughts. Overwhelmingly, their cruise experience with Ocean Medallion has been positive.
If you are having any difficulty with setting up before you go, don't hesitate to call your travel agent or Princess Cruises for some assistance.
Have you cruised on a Medallion Class ship? Are you booked on an upcoming cruise? Let me know your thoughts and what you liked best! If you have any questions, please let me know and I will do my best to find out the answers.
Happy Cruising!
Ilana xoxo
P.S. If you've found this post helpful, please don't keep it to yourself. Share it with a friend on Facebook or Pin and save for later on Pinterest (share buttons at the top). Thanks so much!
Popular posts to help get ready for your cruise:
30 Cruise Cabin Hacks Every Cruiser Needs to Know
10 Ways to Prevent and Avoid Seasickness on a Cruise
What To Wear on a cruise – The Ultimate Guide
Let's connect:
Follow me on Facebook at Life Well Cruised
Follow me on Pinterest at Life Well Cruised
Follow me on Instagram at Life Well Cruised