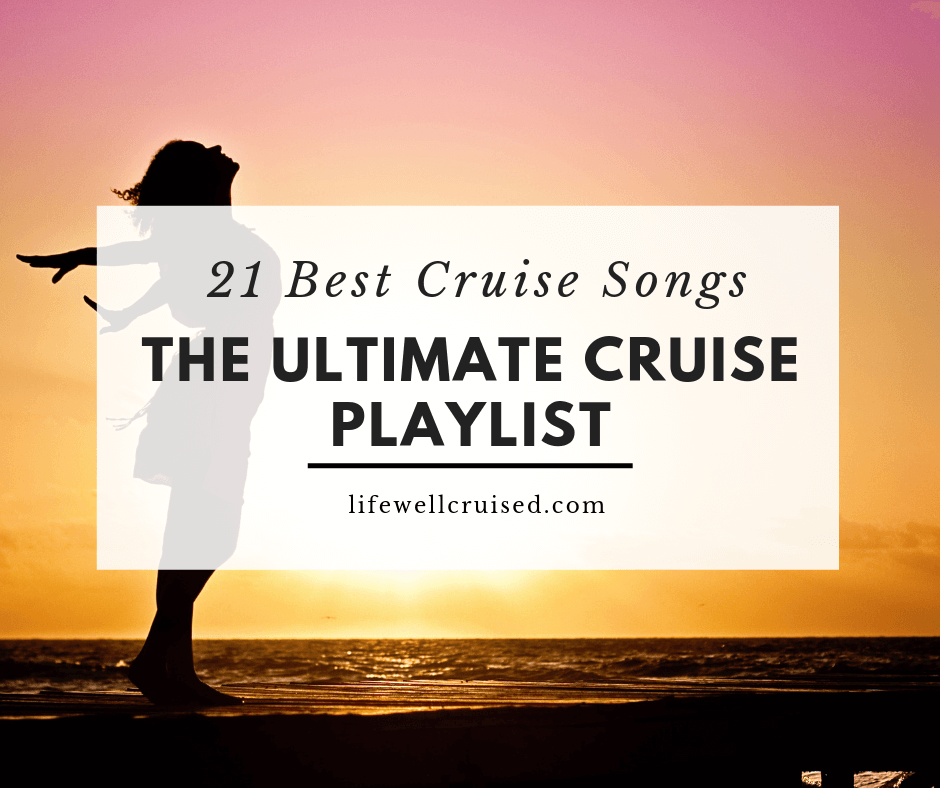 21 Top Cruise Songs to Get You in the Mood for Cruising
Do you have a particular song that plays in your head when you think of cruising? Maybe you even have more than one, like a Cruise Playlist.
I don't know about you, but as my cruise approaches, I get "prepared" in a couple of ways.
1. The practical
I'm all about the packing lists, shore excursion planning (plus some pre-cruise shopping).
2. The psychological/emotional
I'm serious about this one. I get myself (and my family) in the mood by having a fun attitude and playing some cruise music.
Sometimes I even sing, although not well, so I won't be entering any cruise karaoke contests.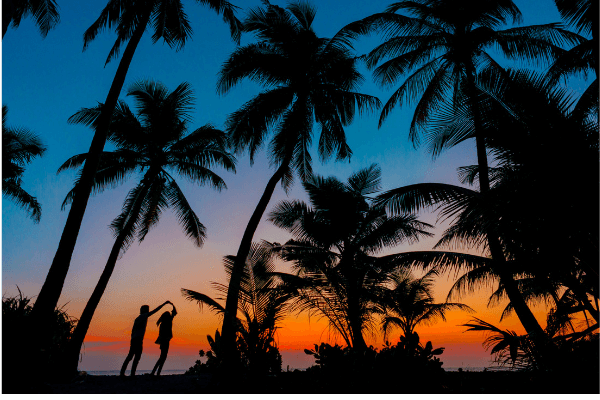 Favorite Cruise Inspired Songs
It got me thinking, so many cruisers have a cruise playlist of favorite cruise inspired songs. They can be great to listen to before your cruise, as you travel to your cruise ship, or even during times you're not cruising if you've got a little bit of the post-cruise blues.
If you're creating a cruise vacation video, you may want to use some cruise songs to go along with your fabulous photos, videos and cruise memories.
After scouring the internet and cruise message boards, I've put together a cruise playlist. It includes some popular current songs, as well as some cruising classics. Plus, I've included my favorites too!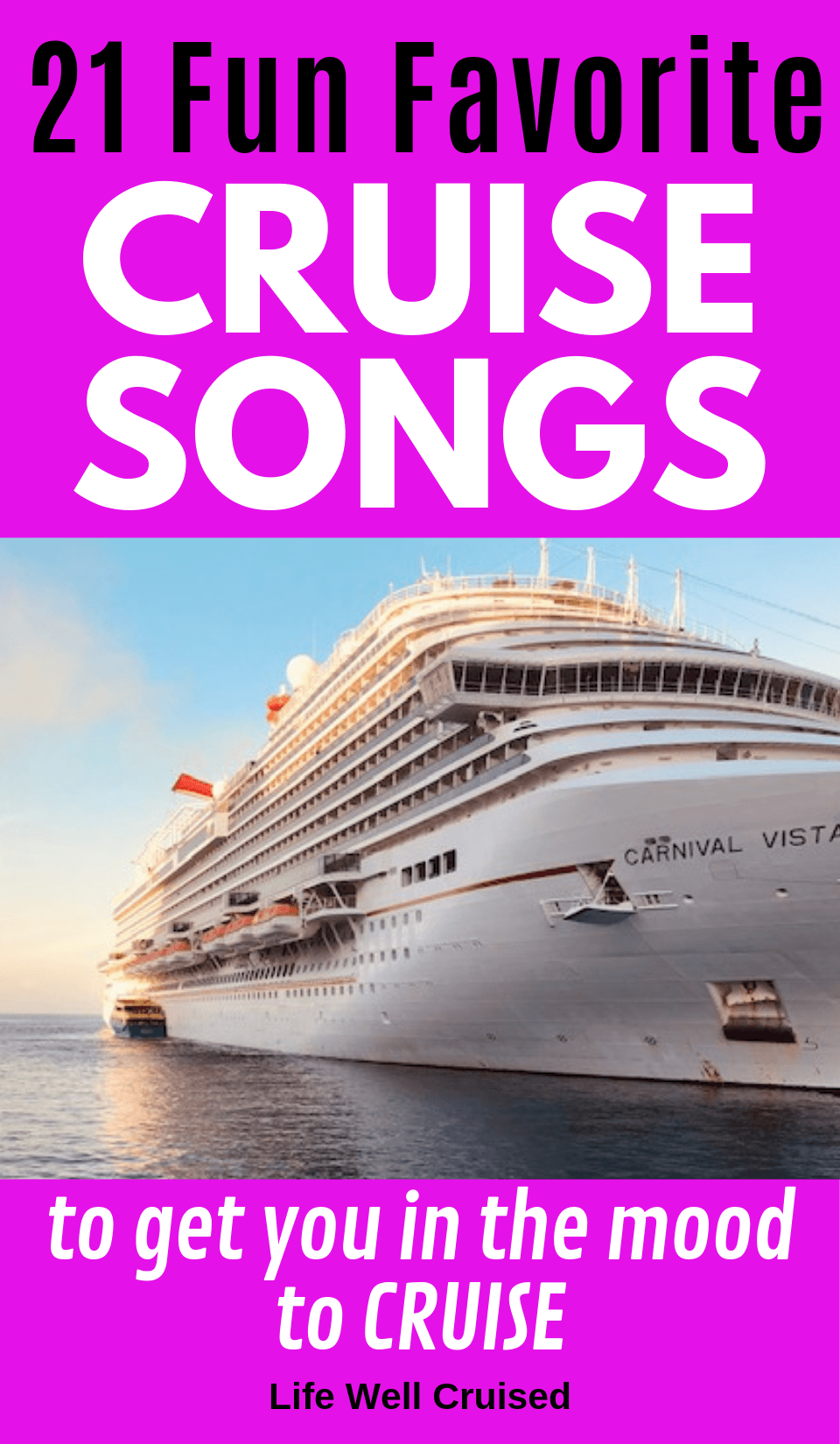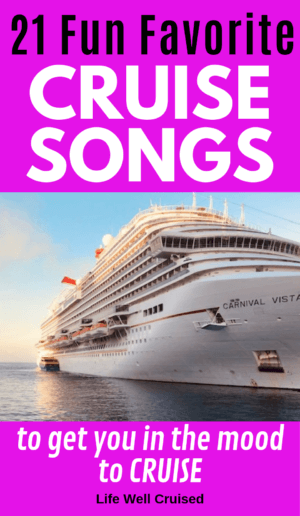 Top 21 Favorite Cruising Songs
1. Cruising Together
By: Huey Lewis and Gweneth Paltrow
This is my very favorite cruise song that I listen to when I'm thinking about cruising (which could be anytime). It's sweet, it's romantic, and I love it. Corny and all.
"Music is played for love, cruisin' is made for love. I love it when we're cruisin' together…"
2. The Love Boat
By: Jack Jones
Did you know that there is a long version of The Love Boat Theme Song as well as a short version? Oh, and there's more than that.
If you look this one up on YouTube, you'll be able to find many of the show openings, where the guest stars appear. It's pretty fun to go down memory lane like this.
"The Love Boat, soon will be making another run…"
3. Cupid Shuffle
By: Cupid
If you've cruised in the last 10-15 years, you've definitely heard this one!
The Cupid Shuffle is the ultimate cruise line dancing song at Embarkation Day Sailaway Parties. I have to admit, if I hear it, I'm on the dance floor!
"They got a brand new dance, you've got to move your muscle. They've got a brand new dance, it's called the Cupid Shuffle…"
4. Cha Cha Slide
By: Mr. C. The Slide Man
I actually just came off an 11 day Celebrity Cruise, and even danced to this there as part of the sea day pool activities.
For real, I'm not a great dancer and not super coordinated, but I can follow directions ;-).
Sing it with me now "Freeze – everybody clap your hands!"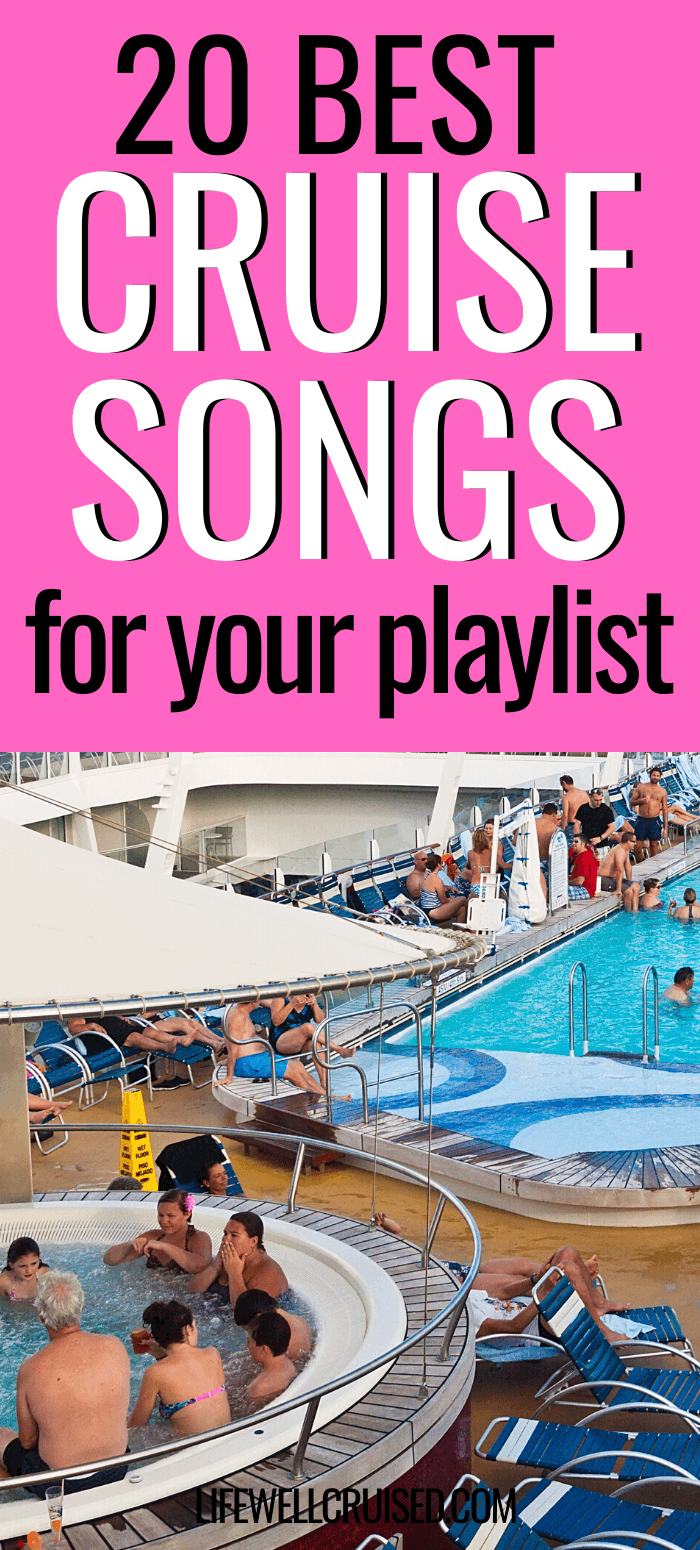 5. Come Sail Away
By: Styx
How can you not get wistful when you hear Come Sail Away?
"I look to the sea, reflections in the ways, spark my memories. Some happy, some sad. I think of childhood friends and the dreams we had…"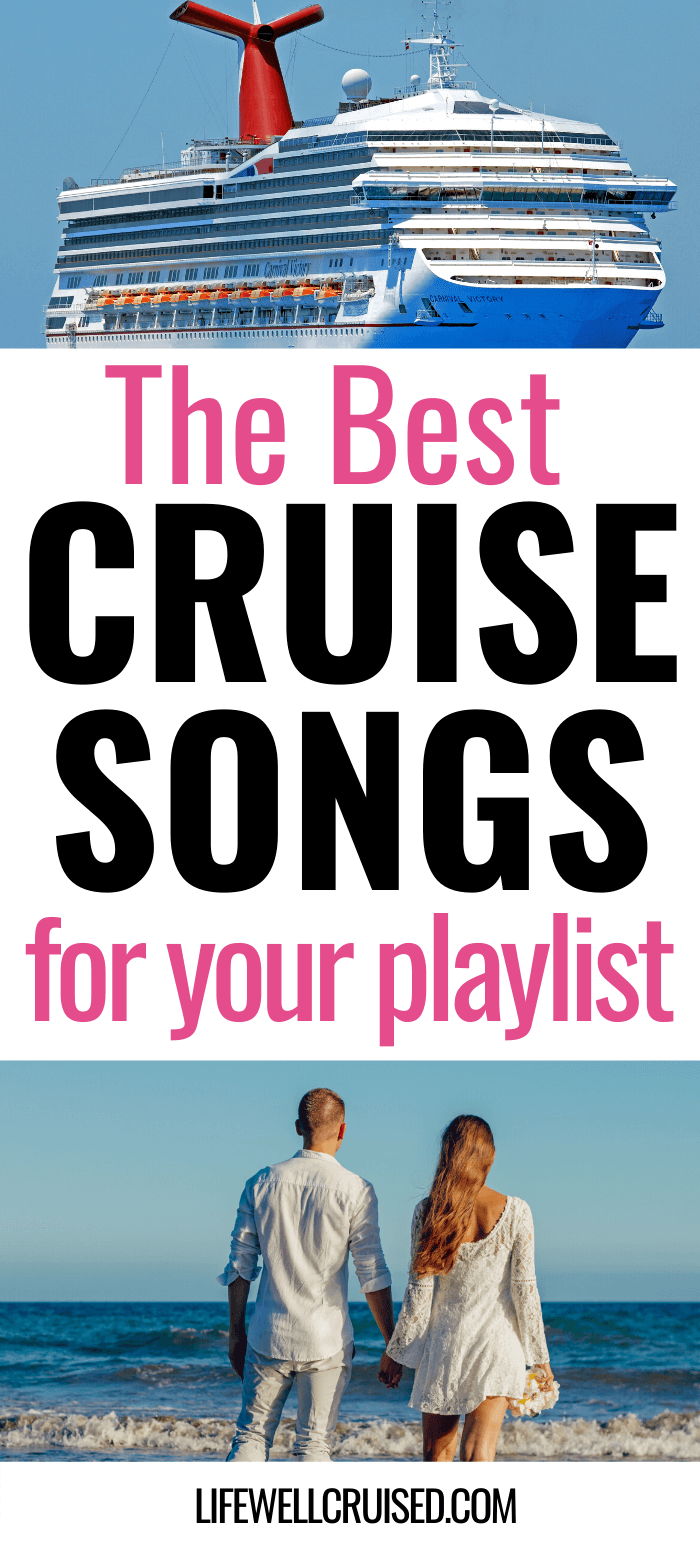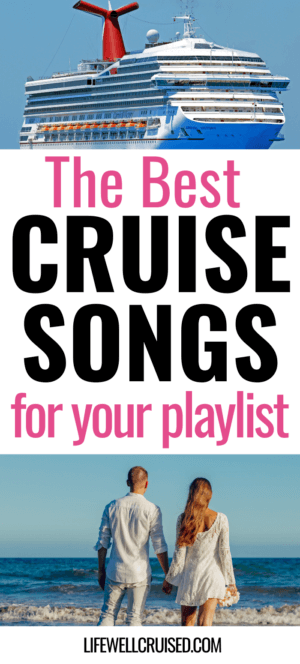 6. My Heart Will Go On
By: Celine Dion
I have a confession. It took me years to finally see The Titanic. But when I did, it was better than I thought it would be!
That moment, Jack and Rose at the bow of the ship. Chills.
"Near far, wherever you are, I believe that the heart does go on…"
*Bonus Cruise Fact
Did you know that the Titanic movie is integral to the origin story of today's Cunard Line?
Micky Arison (chairman of Carnival Corporation) was convinced by his daughter, after she saw Titanic, that people wanted and craved the nostalgia of old world cruising.
Take a look at this video below and listen to Micky tell the story better than I can:
7. Margaritaville
By: Jimmy Buffet
If you've cruised the Caribbean, you know that Jimmy Buffett IS the Caribbean.
I think of Jimmy Buffet every time I have a frozen cocktail at 11 am on a cruise. Seriously, it's 5 O'clock somewhere, right?
"Wastin' away again in Margaritaville, Searchin' for my lost shaker of salt…"
8. Kokomo
By: The Beach Boys
If you love the beach, crystal clear waters and a good time, I know you love this song!
How many places have you been?
"Aruba, Jamaica, oooh I wanna take ya. Bermuda, Bahamas, come on pretty mama…"
9. Soak Up the Sun
By: Sheryl Crow
A light summer song, Soak Up the Sun makes me think of sea days by the pool and gorgeous days on the beach.
Does life get better than that?
"I'm gonna' soak up the sun, gonna tell everyone to lighten up…"
10. (Sittin' on) The Dock of the Bay
By: Otis Redding
Oh, I love this. What a classic! "Sitting on the dock of the bay, watching the tide roll away…"
The Dock of the Bay has be remade several times, by several artists, and I love the original by Otis Redding.
However, I thought I'd share one of my favorite versions in video by Playing for Change. It's interesting to see and hear from different musicians all over the world.
11. Sailing
By: Rod Stewart
Sailing by Rod Stewart is a must-listen for anyone who loves to cruise and sail. It's a pretty one.
"I am sailing, I am sailing, home again across the sea…"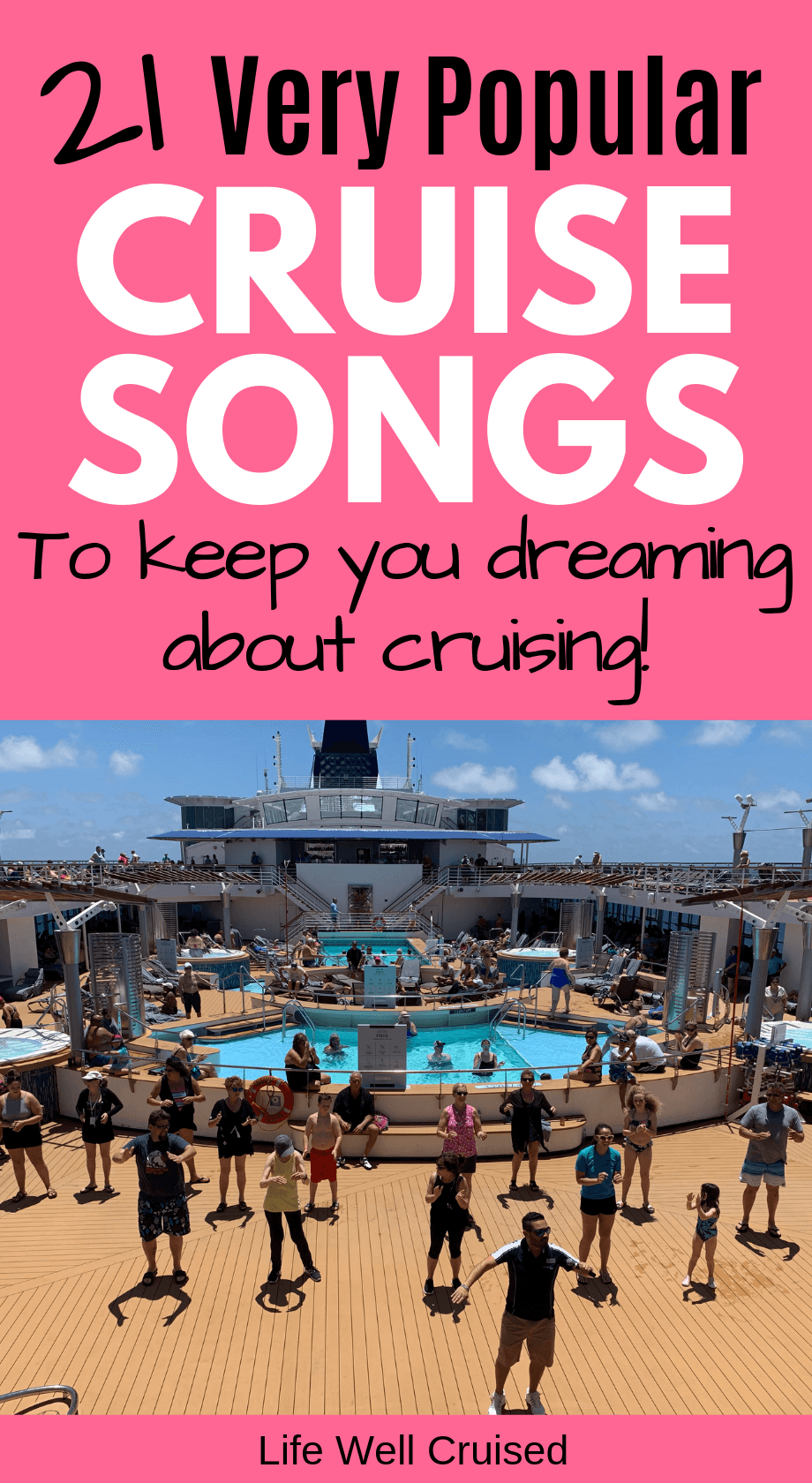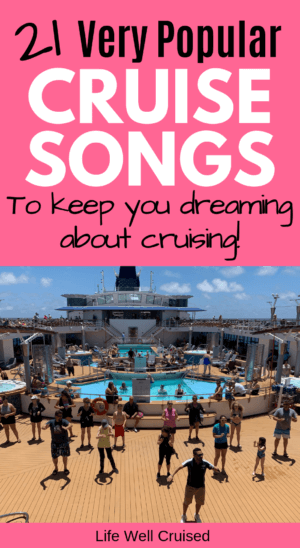 12. Under the Sea
By: The Little Mermaid (Walt Disney Records)
This one's for the kids, (or anyone who feels like a kid sometimes and still loves it).
Plus, there are some wise words… "The seaweed is always greener, in somebody else's lake…"
13. 3 Little Birds
By: Bob Marley
Close your eyes and imagine the pool band playing…
"Singing don't worry about a thing, cause every little thing's gonna be all right…"
14. La Isla Bonita
By: Madonna
This is where my "eighties girl" really shows through. I love some old school Madonna including Holiday (right?) and Cherish, but La Isla Bonita seems to be a favorite of many cruise fans.
That beat…
"Tropical the island breeze, all of nature wild and free. This is where I long to be, la Isla Bonita."
15. Somewhere over the Rainbow
By: Israel "IZ" Kamakawiwo'ole
This is a beautiful and version of Somewhere Over the Rainbow, with a tropical sound.
Sadly, Israel has passed away, but he's left his music, voice and hopeful message for us to enjoy.
"Somewhere over the rainbow, blue birds fly. and that the dreams that you dream of, dreams really do come true…"
16. Escape – The Pina Colada Song
By: Rupert Holmes
This fun song with possibly controversial lyrics is a cheesy favorite of mine.
It got me at "If you like Pina Coladas". Yup! Anyone else?
17. Sailing
By: Christopher Cross
Imagine sitting at the back of your cruise ship staring into the wake. Doesn't this song just say it all?
"Sailing takes me away to where I've always heard it could be…" The rest of the song is pure poetry!
18. Voyage Voyage
by: Desireless
This French song just gets me. While it's not exclusively about cruising, it talks of the adventure of travel and has a fun eighties sound that totally sticks in my head.
If you don't know it, give it a listen.
"Voyage, voyage. Plus loin que la nuit et le jour…"
Translation: "Travel, travel. Further than the night and the day…"
19. Sea Cruise
By: Frankie Ford
An oldie but a goodie. Sea Cruise by Frankie topped the charts in 1959!
"Oo-ey, oo-ey, baby, oo-ey, oo-ey baby… won't you let me take you on a sea cruise."
20. Toes (in the Water)
By: Zac Brown Band
Here's one for Country Music fans!
Confession: I have NEVER heard this song before. However, this is definitely a favorite cruise playlist song for many! I've got to say, I could get into this!
"Got my toes in the water, a** in the sand. Not a worry in a world of cold beer in my hand. Life is good today."
21. No Shoes, No Shirt, No Problems
By: Kenny Chesney
Does this make you think of a relaxed beach day and some time at the beach bar? Sounds like a great vacation day ahead!
"The sun and the sand and a drink in my hand…"
Recap: 21 Best Cruise Songs: The Ultimate Cruise Playlist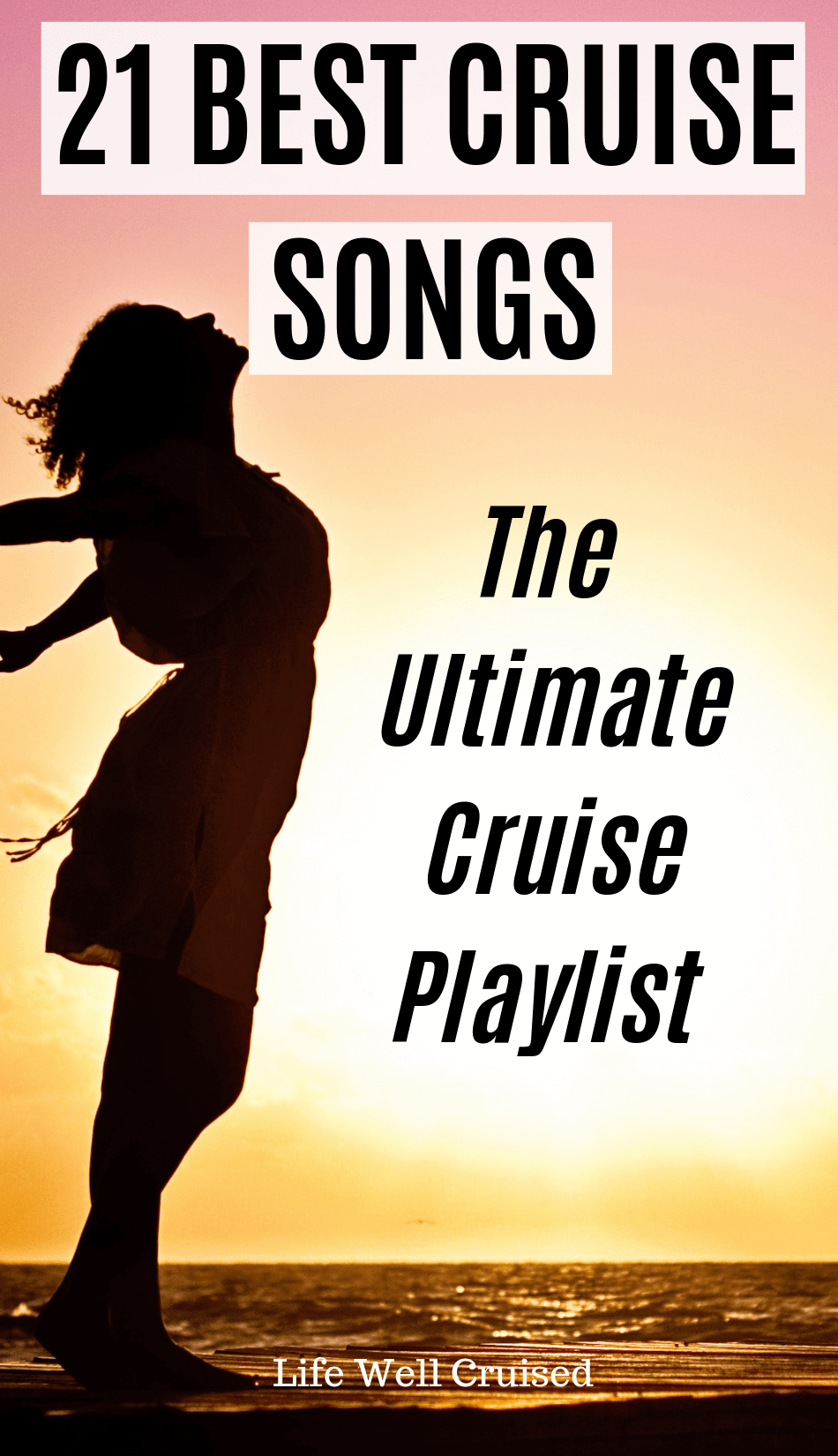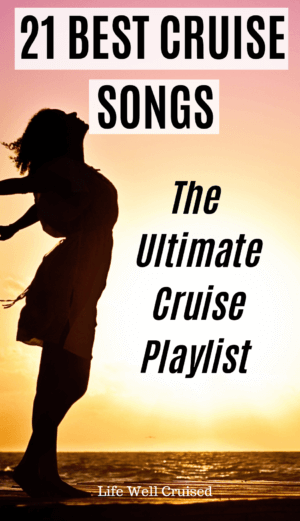 I hope that some of these songs inspire you to think about cruising and vacations and all the happy memories that come along with this!
What are you favorite cruise songs, that bring thoughts of sailing, cruising and happy times? Please let me know in the comments below.
Happy Cruising!
Ilana xoxo
If you've found this helpful, don't keep it to yourself ;-)! Please share it on Facebook or save it for later on Pinterest (share buttons at the top of the post). Thank you!
Recommended posts:
30 Cruise Cabin Hacks Every Cruiser Needs to Know
27 things To Do on a Cruise Sea Day (and not be bored)
15 Cruise Embarkation Day Tips Straight from the Pros
Let's connect:
Follow me on Facebook at Life Well Cruised
Follow me on Pinterest at Life Well Cruised
Follow me on Instagram at Life Well Cruised
*NEW* Follow me on YouTube at Life Well Cruised