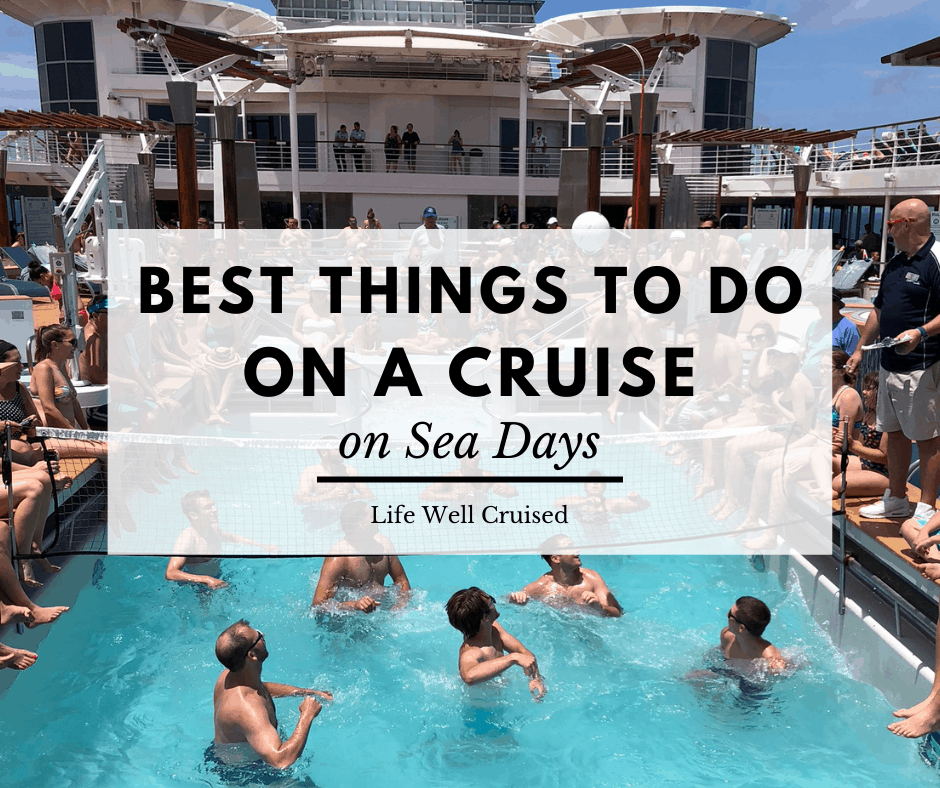 What to Do on a Cruise on Sea Days
If you're a new cruiser, you might be wondering what to do on a cruise, and if you'll be bored on cruise sea days. In my experience, many people who are cruising for the first time are wary of "too many" sea days, and usually more interested in the cruise ports.
Of course, this is completely understandable. Cruising is a great way to visit and see a variety of destinations, all in one trip.
However, sea days are one the best parts of cruising! Since most modern cruise ships have resort-like amenities and some pretty cool activities, there is zero chance that you'll be bored.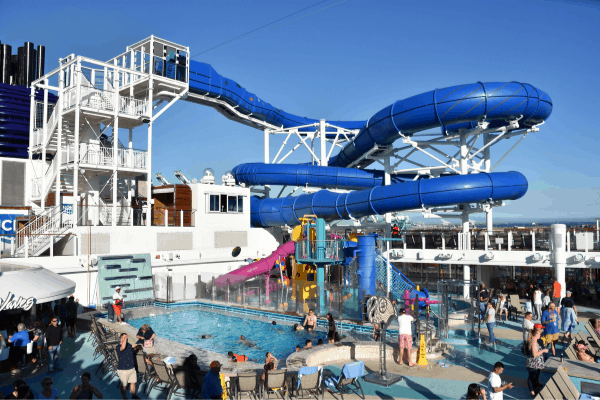 Cruise sea days are amazing for relaxing and fun activities
What to Expect on Cruise Sea Days
Cruises have a combination of days in ports of call and days at sea. On sea days, you can do as much or as little as you want. Typically, there are more activities available on the ship than on port days, so these are great days to keep busy if you like.
Many casual restaurants will be open for lunch. This includes the main dining room, which will have a casual sit down lunch menu available. Many cruisers who enjoy a more leisurely pace on sea days enjoy this.
Cruise ship boutiques are open on days at sea, as is the cruise ship casino.
Planning Your Days at Sea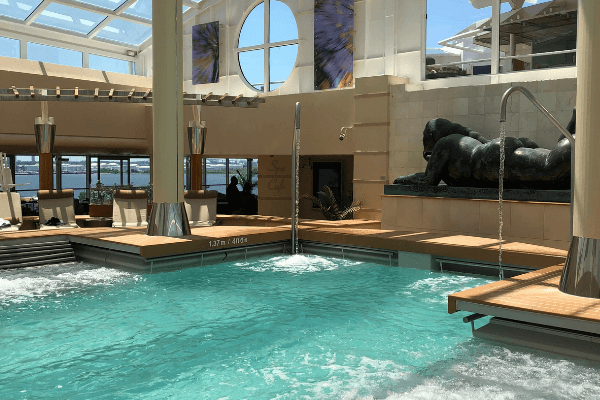 You can plan what to do on sea days by looking at your cruise planner, often available in paper form or on a cruise line app. You'll see the various cruise activities, as well as opening and closing hours.
Research your Cruise Ship
It's also a good idea to do your research your ships before you book your cruise, to see what cruise ship activities are offered.
Some cruise ships have water slides, zip lines, skating rinks, and even race cars. These are great for people who want a more active type of cruise experience.
However, other cruise lines have a quieter environment, and will have fun activities that favor relaxing and rejuvenating.
Cruise Tip: Consider talking with a travel agent for help to decide which cruise ship and cruise line is best for you.
Things To Do on a Cruise During the Day
1. Relax by the Pool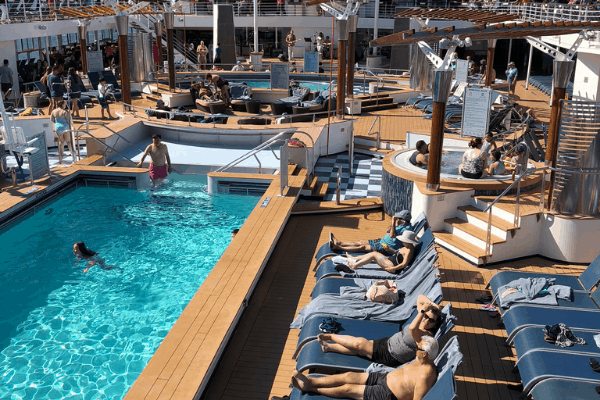 If you're going on a Caribbean cruise or other hot weather destination, you'll probably spend some time by the pool. What's great about this is that most cruise ships have at least 2-4 swimming pools, and several hot tubs.
Each pool area will have a different atmosphere and vibe. If you enjoy music, you can find one where a reggae band or DJ plays. If you want a quiet space to read and relax, the adult pool areas are perfect.
Choose the pool vibe you like best, and enjoy!
Cruise tip: On busy ships, get to the pool deck early to find a chair in the best locations.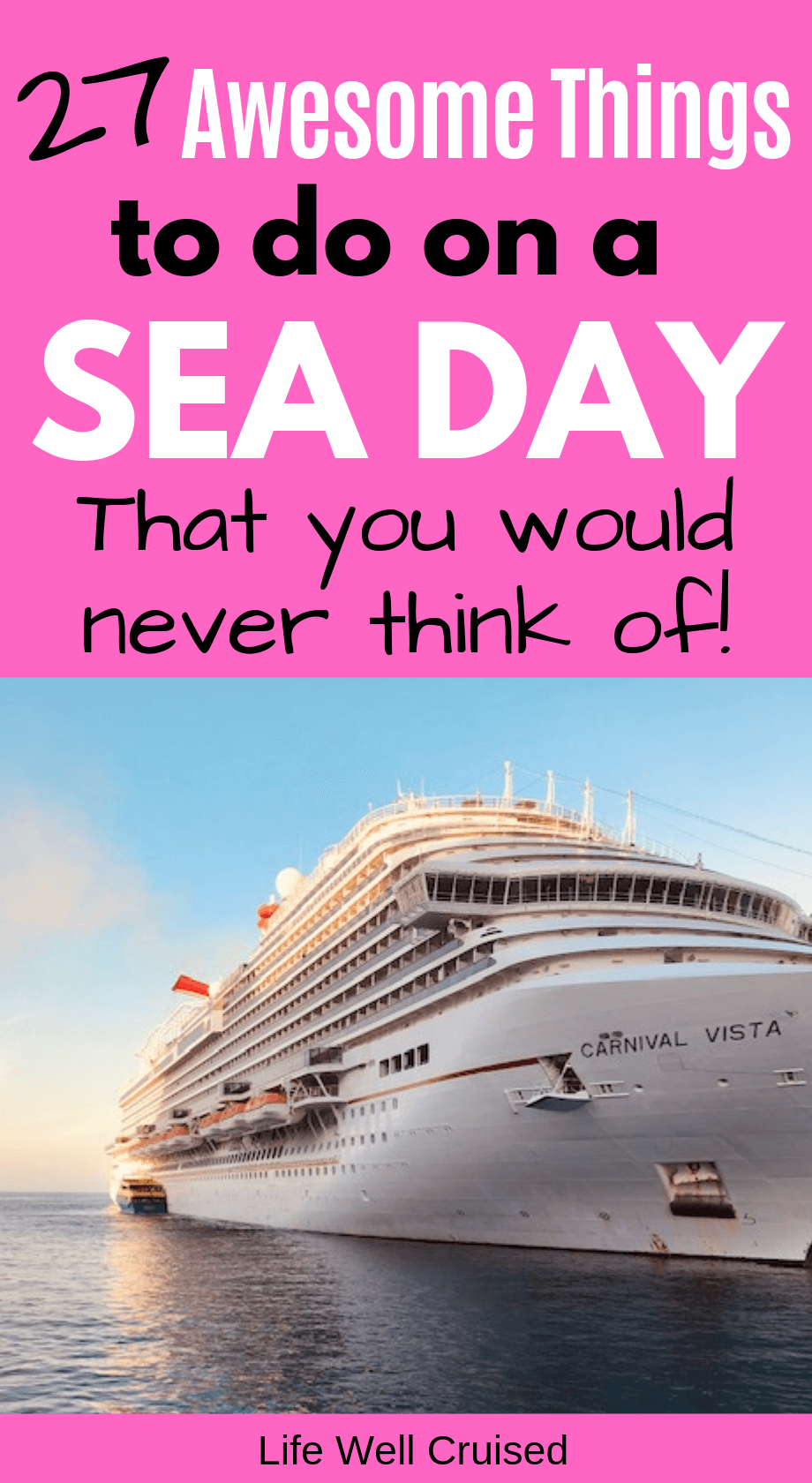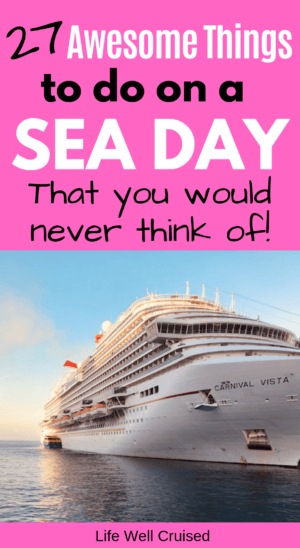 2. Ziplines, Ropes Courses and Surfing Pools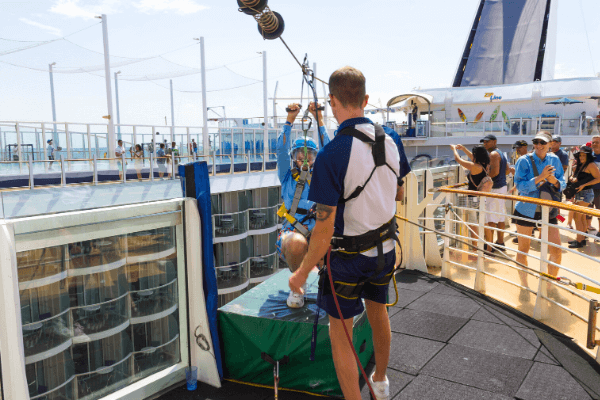 Some of today's cruise ships offer amazing, theme park like activities. If you cruise with Carnival, Royal Caribbean, Norwegian Cruise Lines or MSC Cruises, you'll find some of the most exciting things to do on a cruise!
The newest ships from these family friendly cruise lines cater to those who want an active vacation. If you are concerned about being bored on a cruise, no need to worry!
What exciting things can you do on a cruise?
Surfing pool
Ifly by RipCord Diving Simulator
Race cars
Ice Skating Rink
Water slides
Ropes course
Read next: 15 Coolest Things to do on a Cruise Ship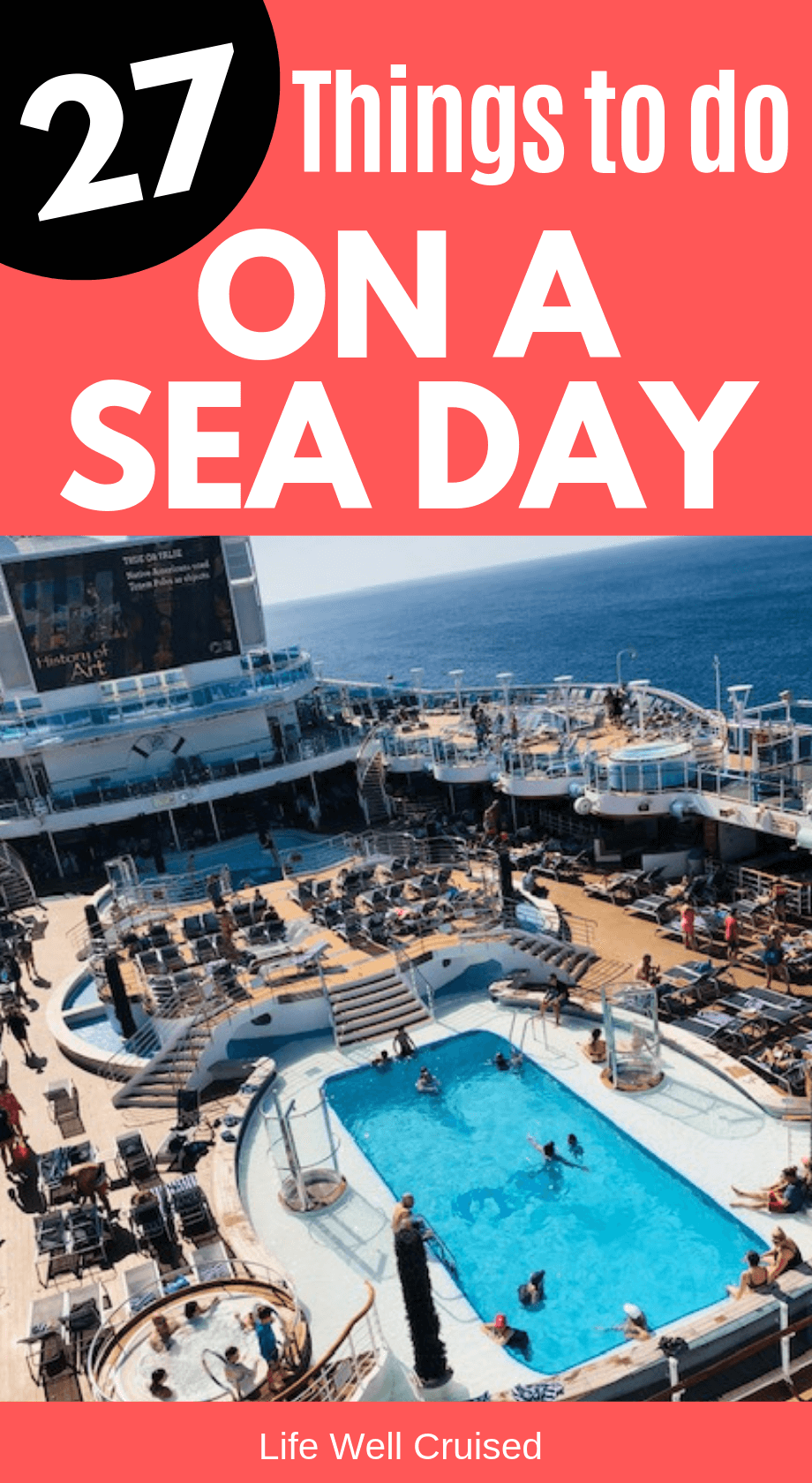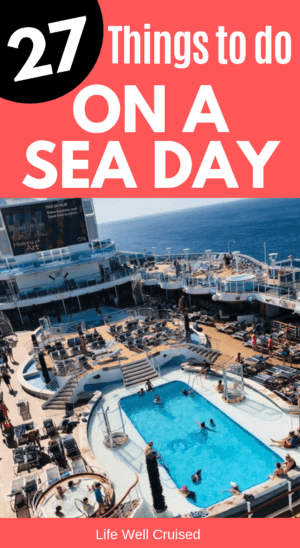 3. Pool Games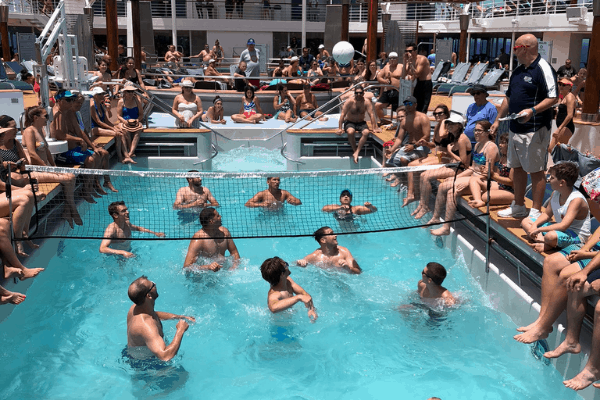 If you enjoy some fun and games, join or watch the pool volleyball games and other antics.
Belly flop, sexy legs contest and more, is what you can find by the main pool on some cruise ships. Other games may be hosted by the cruise activities staff by the pool, and if you love some fun in the sun, you'll want to check that out.
4. Fitness Classes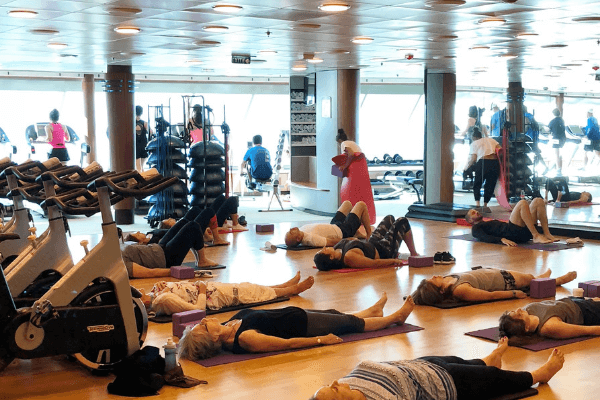 Join a fitness class or work out at the gym. I really use my cruise planner for this.
The fitness center will often have some awesome fitness classes, which require you to sign up in advance. So, I head to the gym and put my name down for the classes I really want to attend.
I actually like to pick one activity that I may not have tried before, as it's a great chance to try out something new, without the commitment. Some examples are Zumba, Cardio Kickboxing, Stretching, yoga, spinning and more.
Please note that some activities are included on your cruise, and others have a small fee.
5. Walk a Mile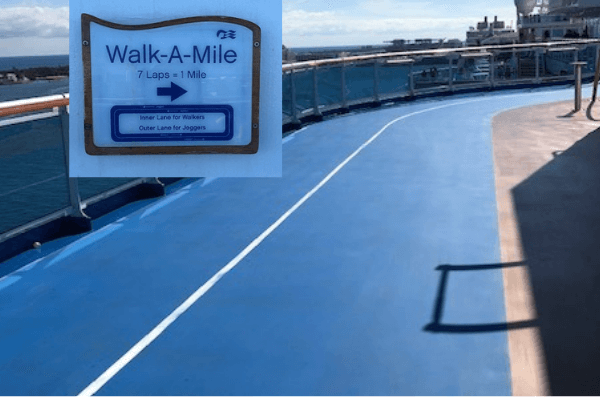 One of my favorite things to do on a cruise is to walk or jog on the jogging track. There's something about going for a morning walk and seeing ocean all around you. You get to breathe the fresh sea air, which I love first thing in the morning.
If you've been indulging in the wonderful cruise food and drinks, a little movement goes a long way as well to help avoid weight gain on a cruise.
6. Learn Something New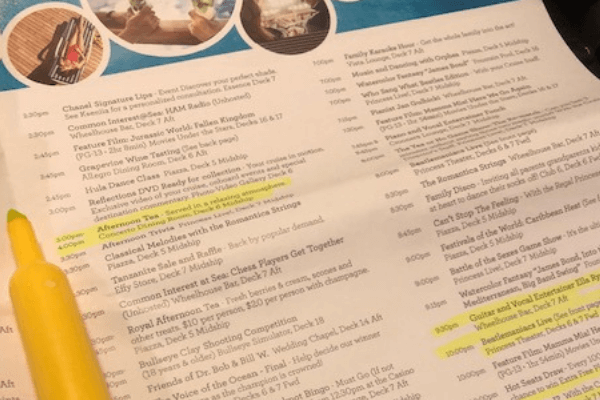 They say we learn something new every day, and this really can be true on a cruise. If you've been wanting to learn origami, napkin folding, or water color painting, classes like this, and more, will be offered.
This is great if you don't want to spend your days outside in the sun or even if it rains on a cruise. There really are a lot of activities going on inside of the cruise ship as well!
One of the things we like to do is check out some of the speakers. There may be special guests on board, like authors or well known personalities, that will be giving a very interesting lecture.
There was even an astronaut on our last Celebrity Cruise. It was pretty cool!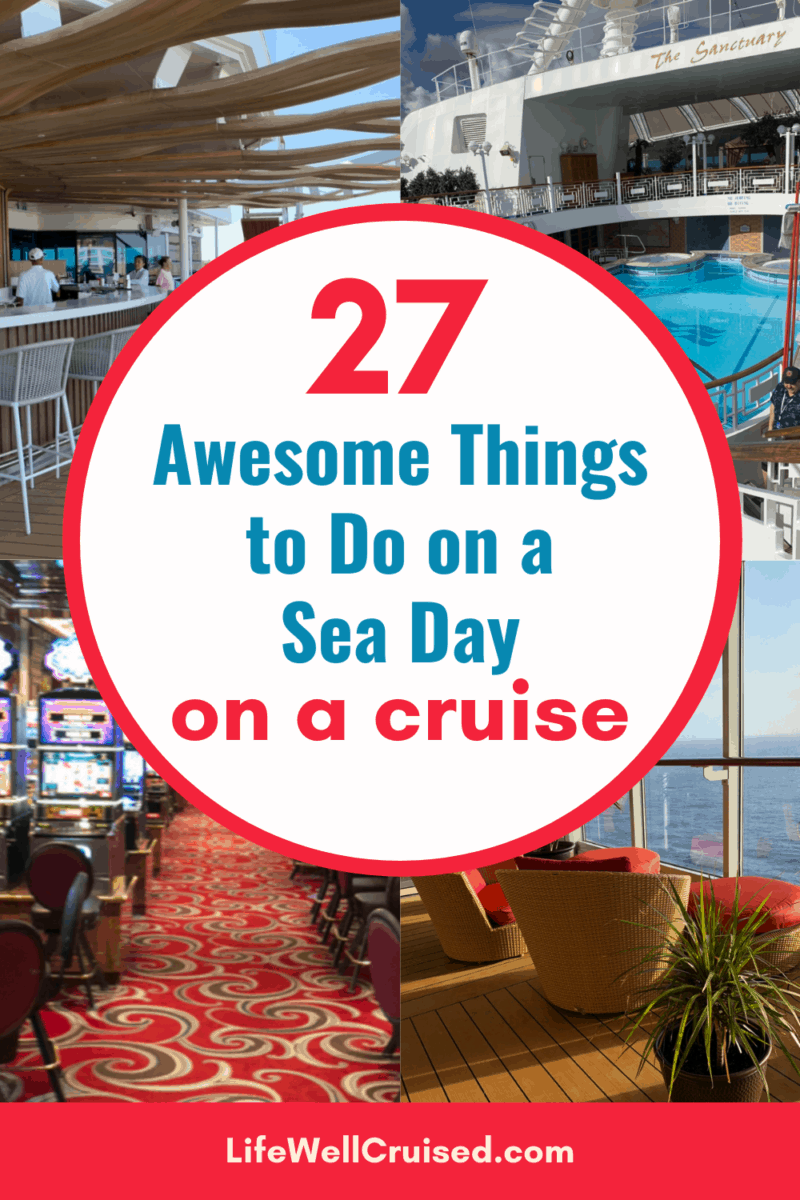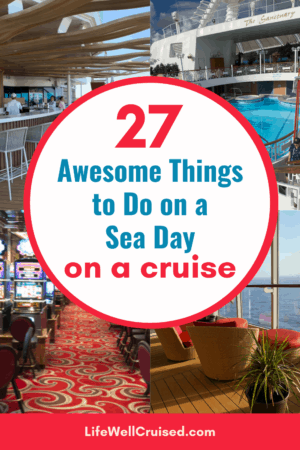 7. Cruise Port Talk
If you're visiting a destination for the first time, consider going to the cruise port lecture, which is often held in the ship theater or a lounge. You'll get some tips about the best places to see as well as information about the cruise port.
We found this especially helpful on our Mediterranean cruise, as it helped us to get orientated and know what to expect, as well as choose shore excursions.
8. Art Auction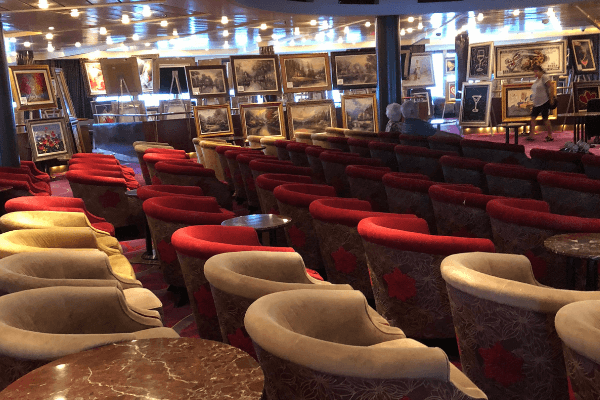 The art auction is something that people either love or hate on a cruise. However, if you haven't attended one yet, don't knock it until you try it.
This is one of my favorite things to do when it rains on a cruise, which is actually how we first discovered it.
However, you don't need to wait for rain. Since we found this activity a few cruises ago, we go on sunny days too and use it as an excuse to get out of the heat for a bit.
Some people are avid collectors and really enjoy it. Other people go for the free champagne at the Champagne Art Auction (only on some days). Even if you don't plan to buy, it's still a great way to learn about the artists that are featured and their style.
Cruise Tip: Attend the champagne art auction and enjoy some free sparkling wine with your art talk.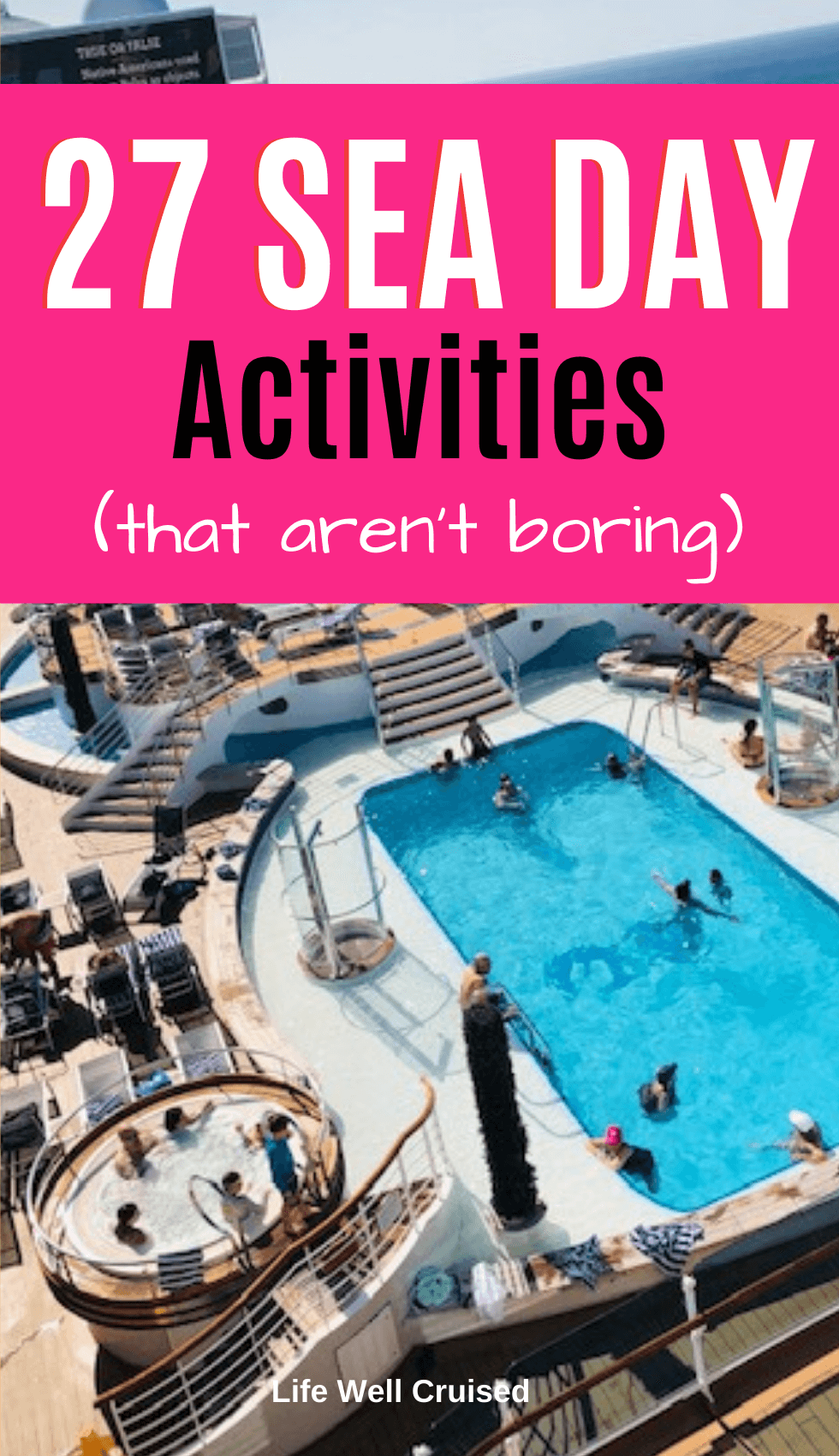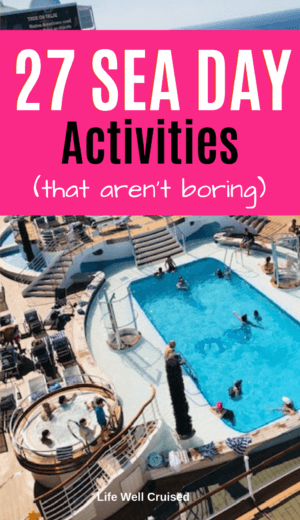 9. A
Bridge or Galley Tour
If you're interested in cruise ship facts and the work that goes on behind the scenes, you'll love the behind-the-scenes tours available on a cruise. There are usually free galley tours, where you can see how the food is prepared for thousands of cruise passengers at a time.
Other tours include a backstage tour where you can meet the singers and dancers, and even a cruise ship bridge tour. The bridge tour is very popular, so make sure to sign up as soon as possible if you'd like to participate. This has an additional fee on most cruise lines.
Read more: What to Do on a Cruise Immediately After Boarding
10. Get a Massage
Why not book a massage or other treatment at the spa on a sea day during your cruise? Consider a couples massage or a week long pass at the thermal spa. Whether you're in need of some self-care or looking for a romantic activity on a couples cruise, cruise ship spas are know to be amazing!
Cruise Tip: Your cruise ship will often have promotions if you sign up on embarkation day. It's a smart and easy way to save money on your cruise.
Recommended: 10 Romantic Things for Couples to Do on a Cruise Vacation
11. Kid's Camp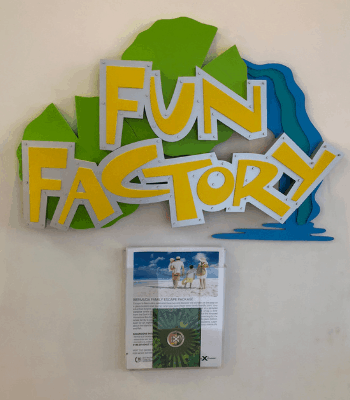 Cruises are amazing family vacations, and most cruise lines have kid's clubs where your children can do activities and hang out with new friends.
If you're cruising with kids, make sure to choose a cruise line that has activities that your children will enjoy. This way, you have a perfect vacation for both the adults and kids.
Are you cruising with kids? Encourage them to attend the kids club where they will make friends and participate in fun activities.
A cruise is a perfect place to have a balanced family vacation, where there can be kid time, adult time, and family time all within the same holiday.
Cruise tip: Register and visit the kid's camp during open house on the first day of your cruise. They'll be more comfortable and more likely to want to attend activities later in the cruise.
12. Traditional Cruise Games (shuffleboard, table tennis & mini-golf)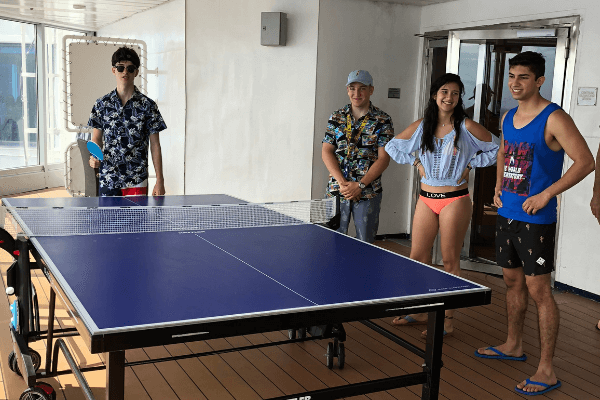 Cruises offer some simple and fun things to do as well. Play a game of miniature golf, table tennis or shuffle board. These traditional fun activities are fun for cruisers of every age!
13. BINGO
Bingo remains one of the most popular and well-attended cruise activities! I'm not a Bingo player, but wow, there are enthusiastic BINGO players on-board.
There are great prizes, including winning a free cruise. So, if you're a BINGO lover, make sure to attend.
14. Karaoke, Flash Mobs & Choirs
If you have a singing or dancing talent, keep an eye on your cruise planner for the ship's choir, flash dance mobs and kareoke competitions. Princess Cruises even has The Voice of the Ocean game show, where cruise passengers participate in a high production singing competition.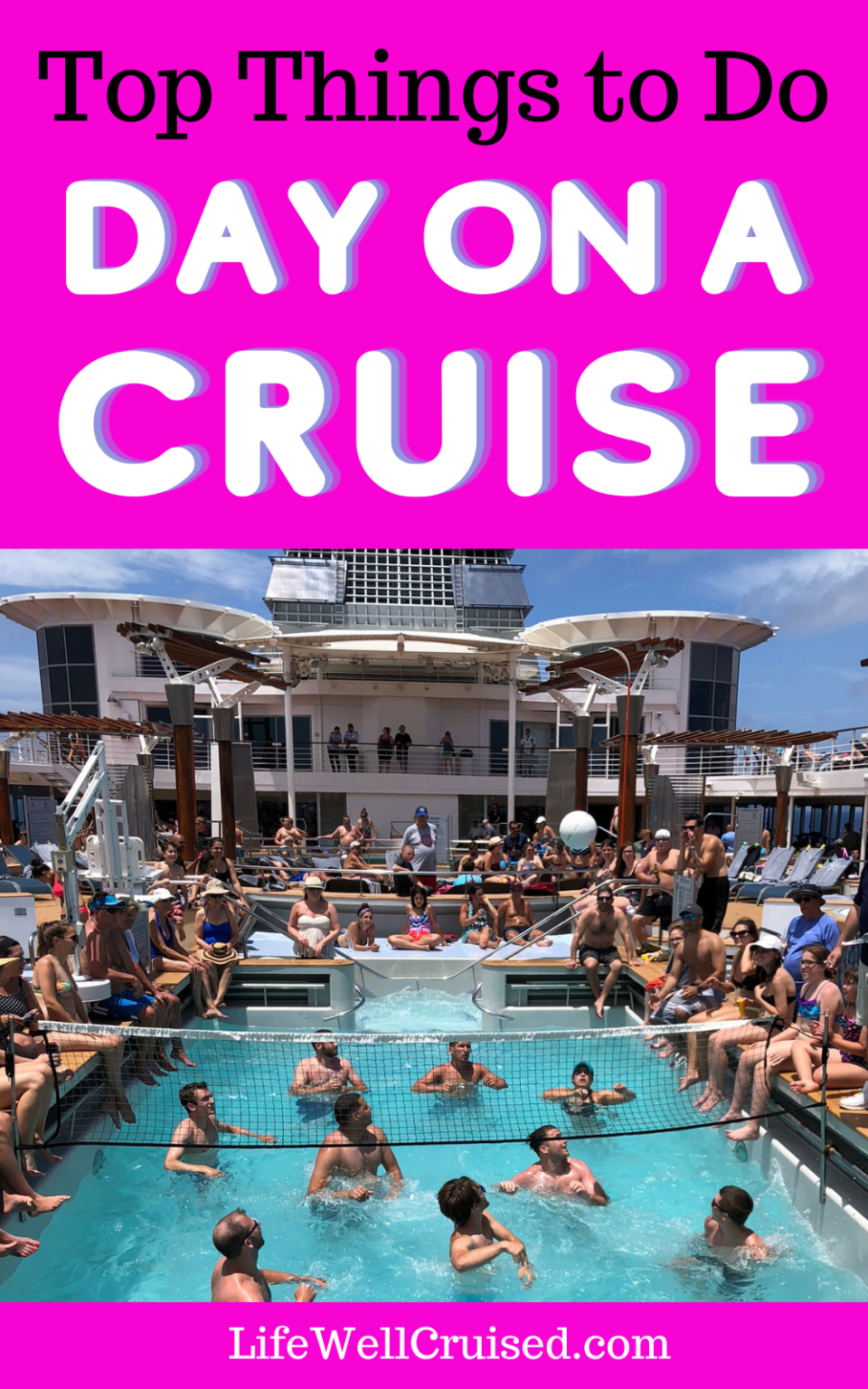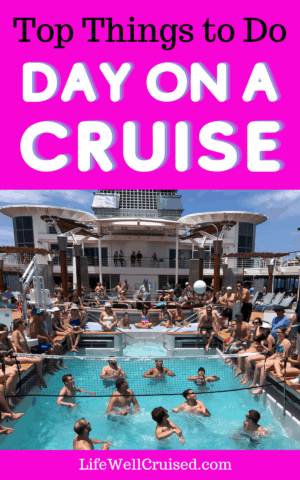 15. Game Shows & Trivia
Cruise ships will have interesting trivia activities as well as fun game show style audience participation games. From XBox challenges to the Dating Game, there will be something fun to do on your cruise vacation.
Get The Ultimate Cruise Planner
Regular price: $27 Now just $17!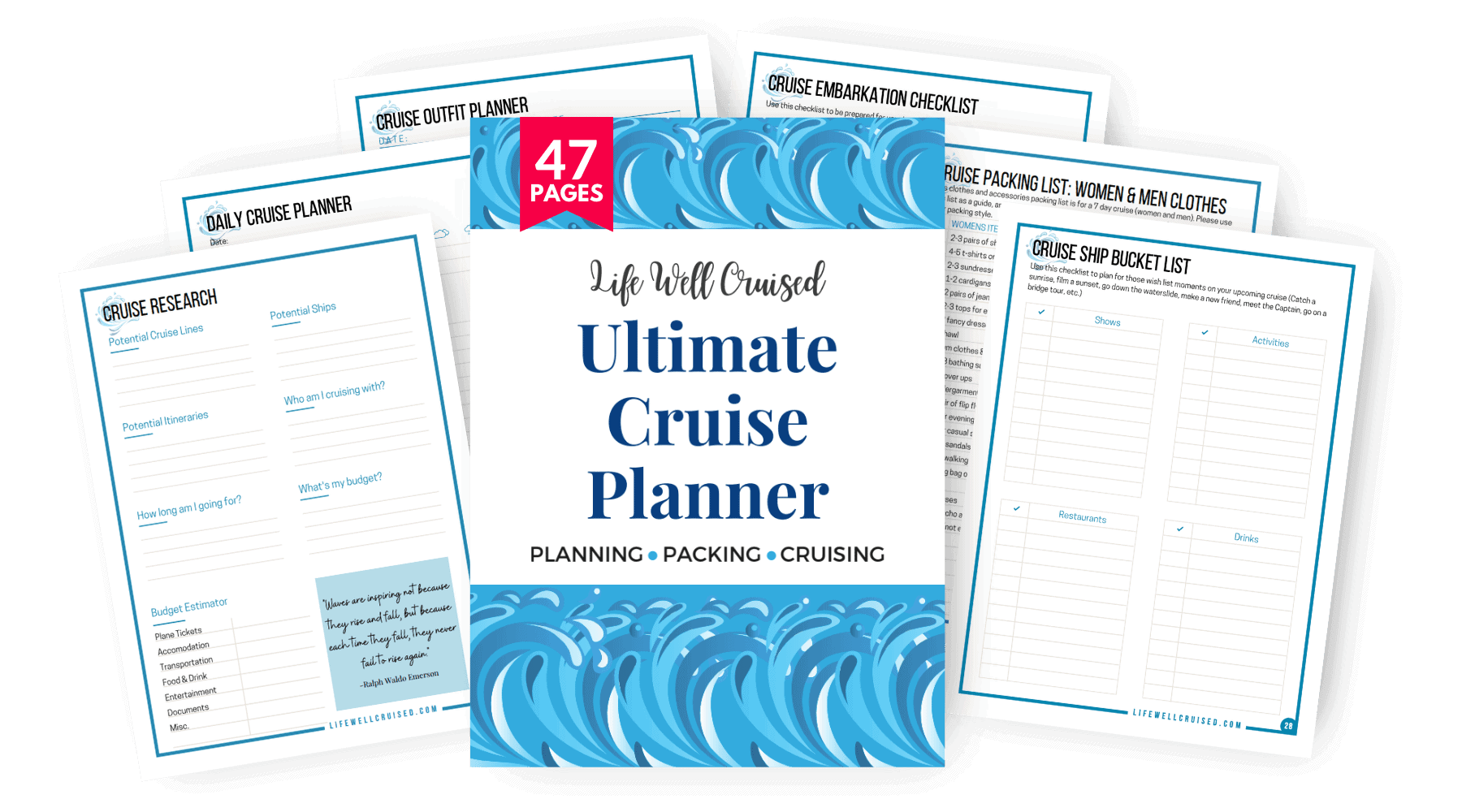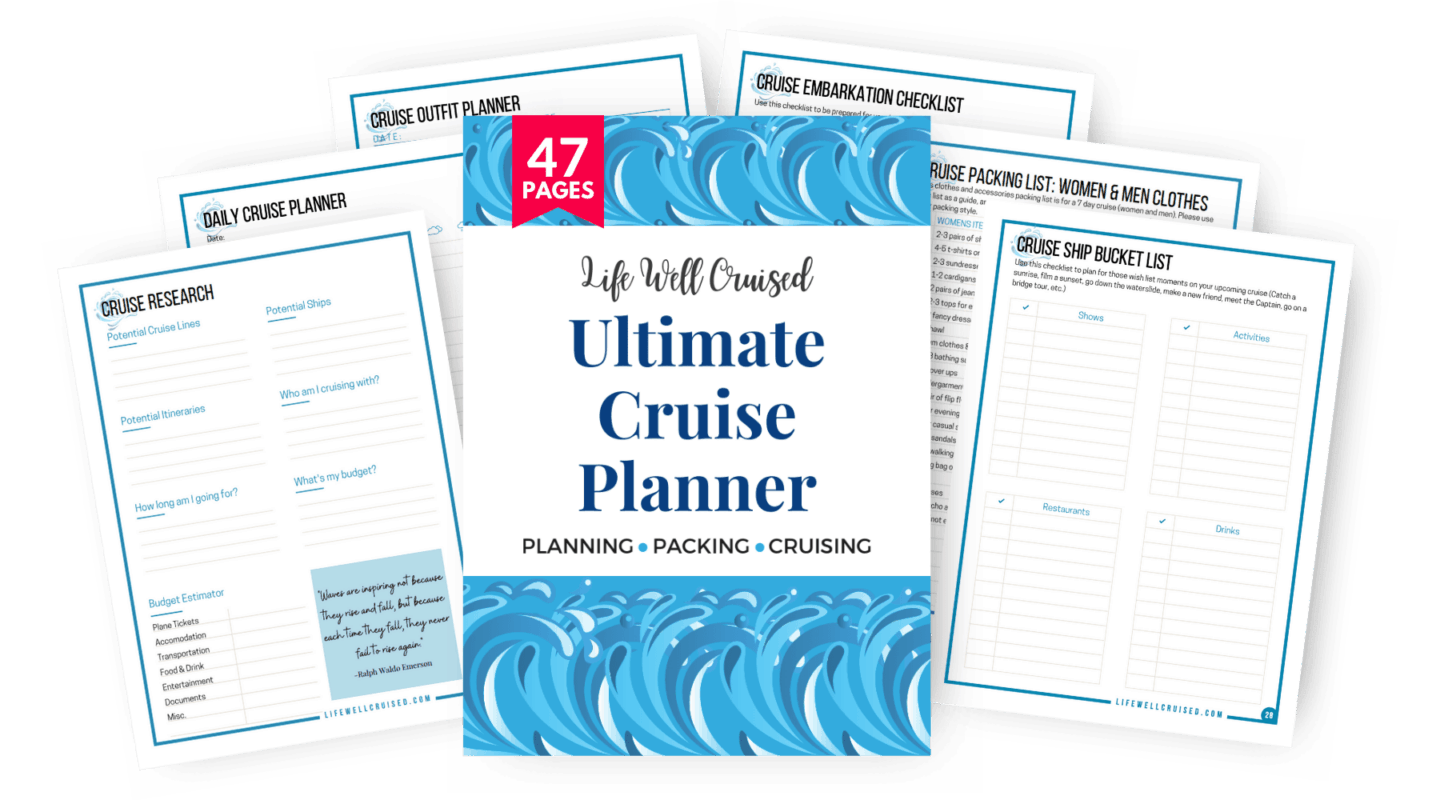 16. Cruise Food
Is eating cruise food really a cruise activity? I think so!
On sea days, you're not in rush to get off the cruise ship, so treat yourself to one of the alternative dining options. You can have a lunch in the Main Dining Room, go to a specialty restaurant or even head over to one of the included restaurants like Princess Cruises Alfredo's.
Don't forget the soft ice cream, afternoon tea, poolside grill, taco bar and more!
Related post: How NOT to Gain Weight on a Cruise (and still eat and drink)
17. Duty Free Shopping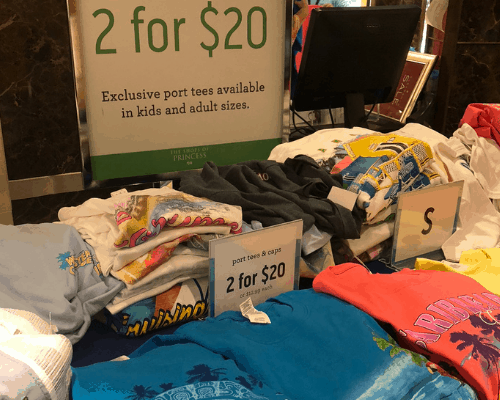 While on a cruise, there are many opportunities to shop and get a great deal. Cruise ship shopping is duty-free, so while you should still check pricing back home, we've found truly amazing deals on watches, jewelry and perfumes.
In addition to the on board shops, you'll often see pop-up sales of 10$ items, beachwear, costume jewelry and more.
Cruise tip: Take a chance and fill out a raffle ticket and you just may win something at the cruise shops. My mother won a pair of stunning Crown of Light diamond earrings when we did a large family cruise for their 50th anniversary.
Related post: 50 Most Recommended Amazon Cruise Essentials
18. Have a Cocktail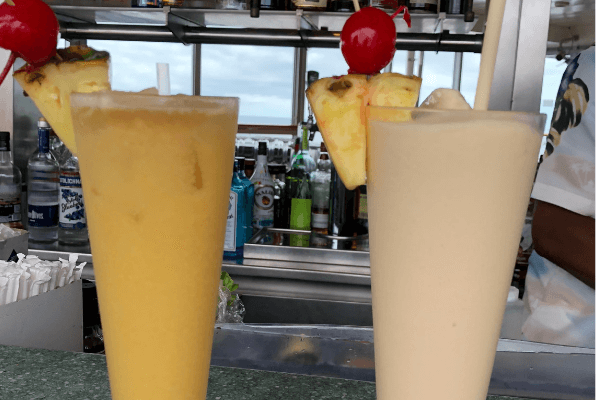 There's something about sitting back on a lounge chair with a frozen cocktail in hand that just says "I'm on a cruise". If you've got a drink package, you might want to do some bar hopping and find out which are the best drinks on the cruise ship!
Cruises will often have a Drink of the Day, which is also a great way to try out some new cocktails or mocktails.
Related posts:
Princess Plus: What's Included and Is it Worth it?
Celebrity Cruises Always Included (what is included)
Norwegian Cruise Line Beverage Package – Is it Worth it?
19. Go Dancing
Whether it's the Harlem Shuffle or the Cha Cha Slide, line dancing by the pool is just one of the fun things to do on a cruise. I love it, but if you don't, you may enjoy some people watching instead.
Other opportunities to dance include participating in dance lessons in one of the clubs or atrium. Whether it's ballroom, salsa or hip hop, your cruise ship will likely have something fun to learn and try.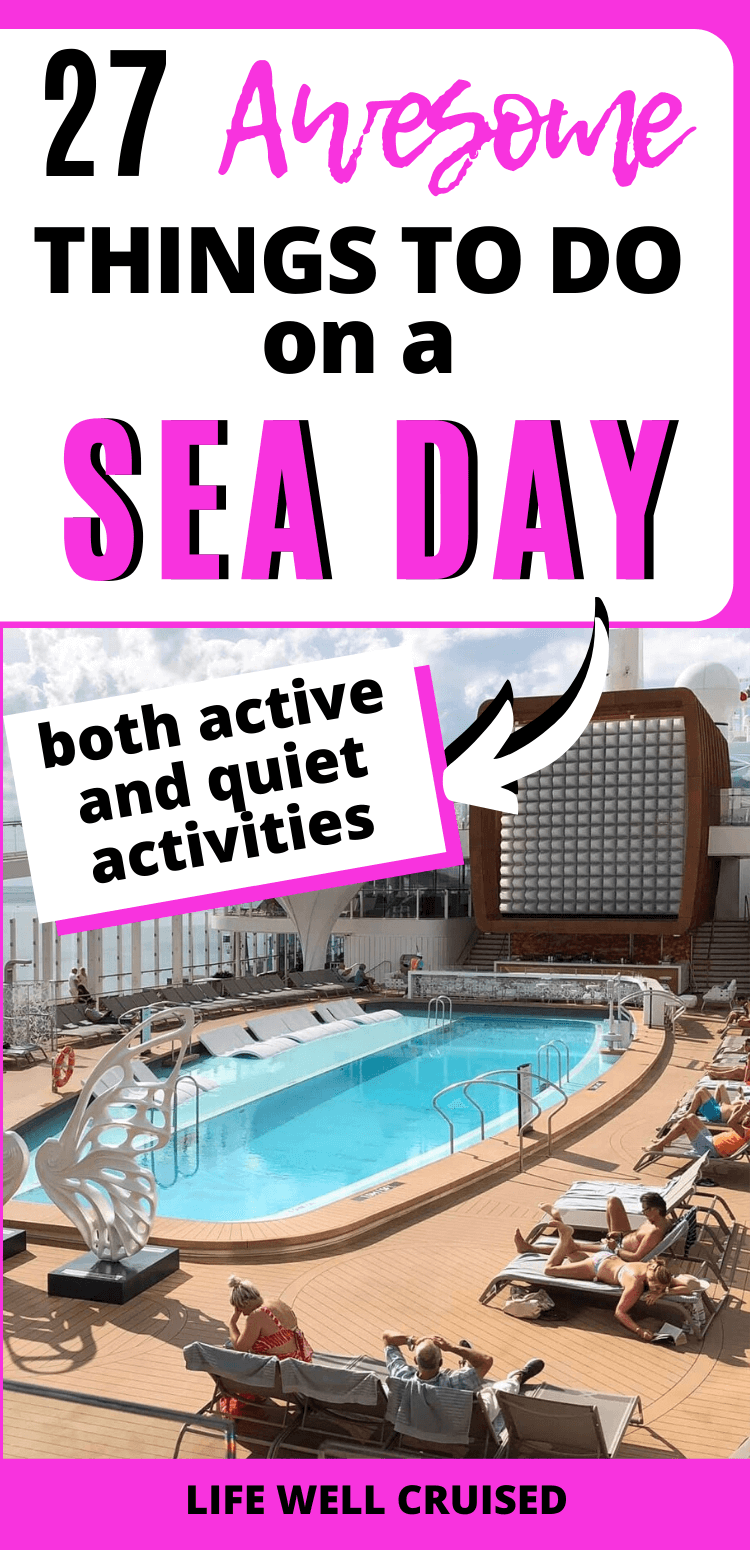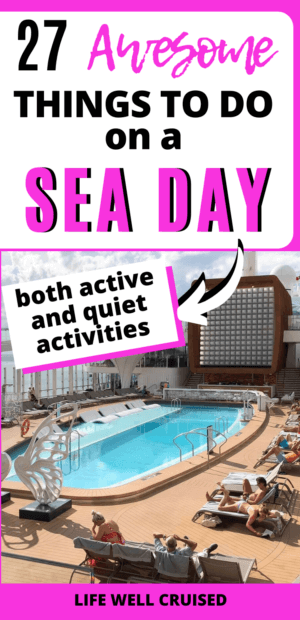 20. Take Photos & Memories
Cruise ships are great places to take photos. You can get a photo with the cruise ship's wake in the background or take a family photo on the elegant staircase in the ship's atrium.
You can also take single photos or book a session with the ship's photographer. This is especially nice for family cruises. Photos really are a keepsake that helps to keep precious memories alive in years to come.
This inspirational cruise travel quote by Katie Thurmes says it best "We take photographs as a return ticket to a moment otherwise gone".
21. DIY Cruise Ship Art Tour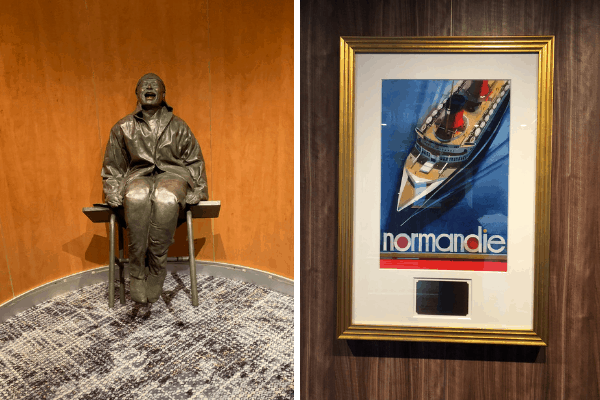 Check out the cruise ship's artwork and themed venues. Cruise ships have really interesting paintings, photography and sculptures displayed around the ship, including on passenger decks, in stairways and in different bars and lounges.
On a sea day, why not get some steps in and walk around the ship and admire all the incredible works of art on board.
22. Book Your Next Cruise
If this is your first cruise, you may be surprised to hear that booking your next cruise on board is a great hack to save money. Just head over to the Future Cruise Consultant desk and have a chat about your next cruise possibilities.
You can put down a deposit on a future cruise, or even work with your travel agent when you get back home to finalize details.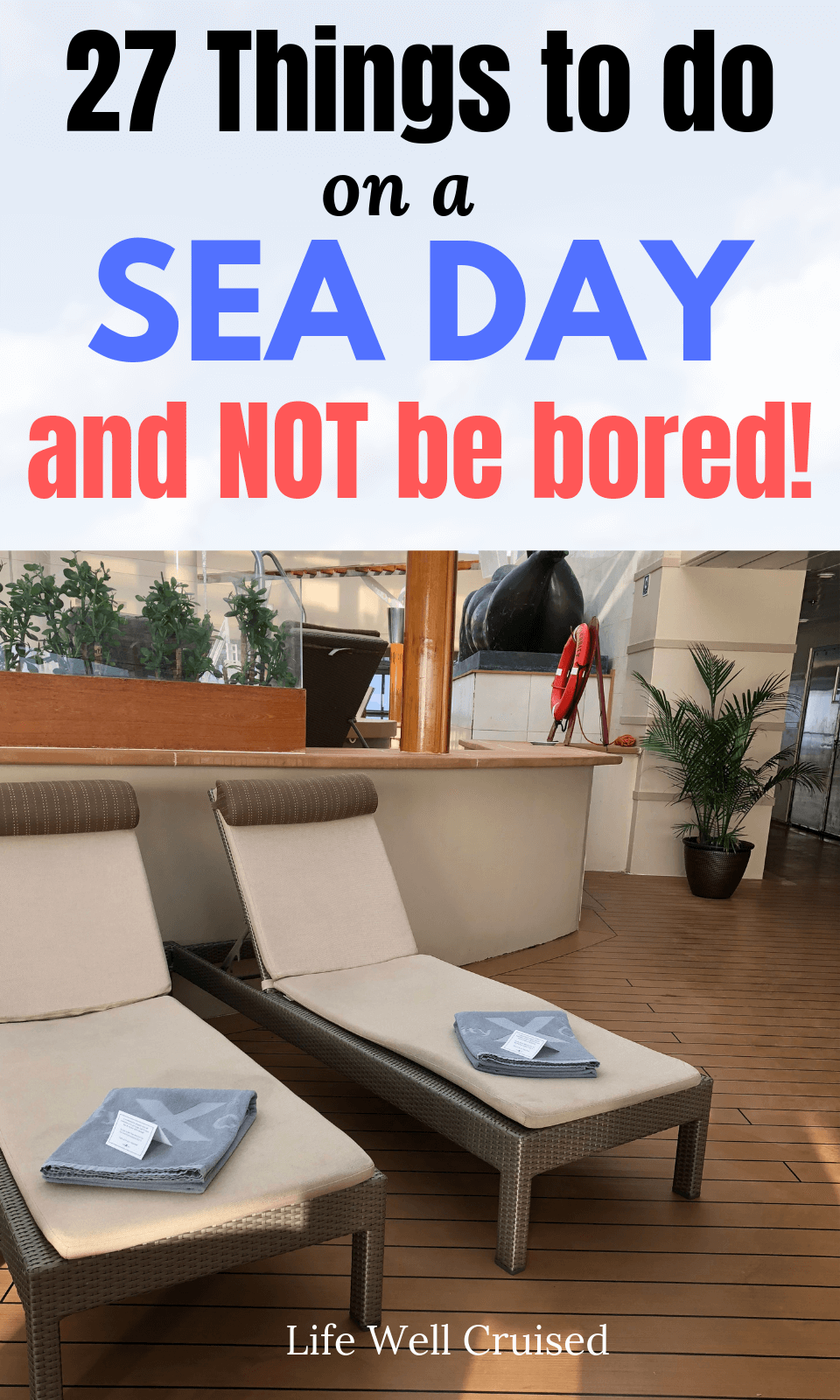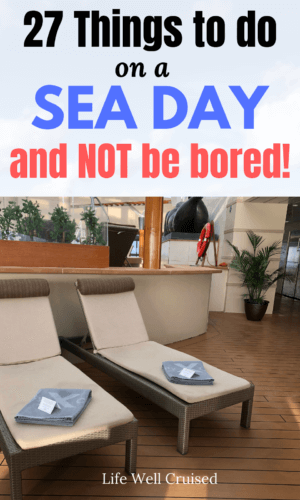 23. Wine Tasting
During your cruise, you may want to enjoy a wine-tasting event. For a small charge, you can have a mini-course in wine-tasting while you sip and savor. For those that prefer scotch, rum or other types of alcohol, you may find those tasting workshops as well.
We've done a couple of wine-tasting events on past cruises, and enjoyed what we learned.
24. Casino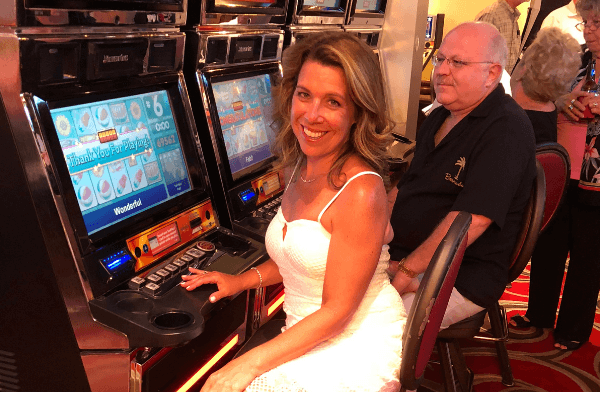 The casino is pretty popular on sea days, with those that would rather stay out of the sun, having some fun in there. Whether you're a serious player, or like to have fun at the slots, the casino is THE PLACE TO BE.
25. See a Show
Cruise ships have the best shows! Truly, the entertainment is incredible and well worth it.
If you're a mega cruise ship, they'll usually have several show times to accommodate all their guests. You can check your cruise planner, or in some cases you can even book your shows online before your cruise.
Related post: What To Wear on a Cruise Vacation
26. Catch a Movie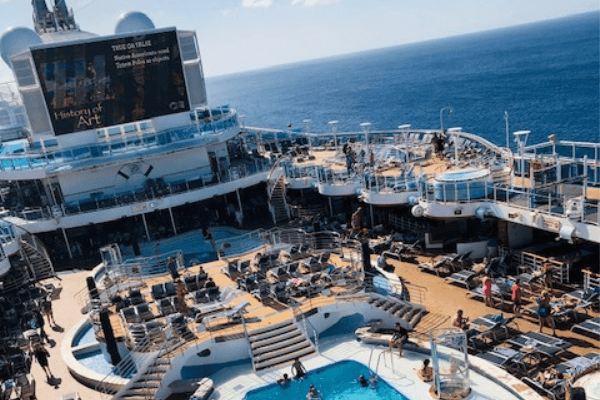 Cruise ships will show movies in the theater, lounges and even on a big screen outdoors. There's nothing like seeing a movie under the stars, with some popcorn, while at sea!
On a cruise over the Christmas holidays, there were several classic Holiday movies playing all week – such fun!
27. Relax & Enjoy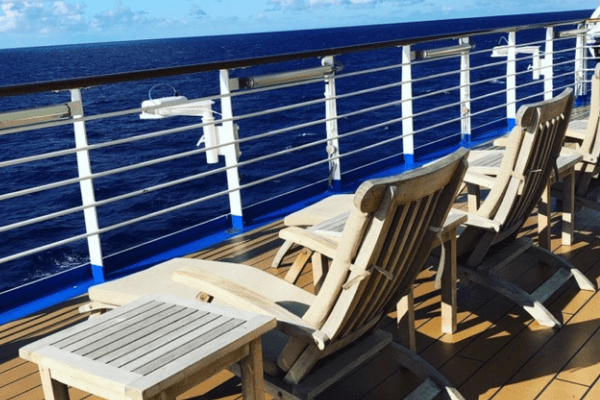 While this post was about all the best things to do on a cruise, especially on sea days, it's sometimes great to do nothing at all. The simple things might just be the times you really enjoy.
What else can you do on a cruise?
I could probably list 27 more cruise ship activities, but here are just a few simple and fun things to add:
Read a book
play a board game with friends
have a cocktail
make new friends
take a nap in the sun
hang out in the hot tub.
No matter what you choose to do, remember that you're on a cruise to explore, relax, have fun, recharge and reconnect with those you love. Enjoy every minute!
Video: What to Do on Cruise Sea Days
Take a look at our YoTube video all about what to do on a cruise during sea days. You'll see actual videos from a cruise ship with tons of great cruise activities to enjoy!
Related and Popular Posts:
30 Cruise Cabin Hacks Every Cruiser Needs to Know
50 Best Gifts for Cruise Lovers
50 Must-have Items for Your Cruise Vacation
63 Things NOT to Do on a Cruise Ship
What to Pack for a Caribbean Cruise
23 Essentials to Pack in Your Cruise Carry-On Bag
Recap: 27 Fun Things to do a Cruise Sea Day
Sea days can be some of the best days, and with so much to do on a cruise! Whether you like to be active, or find something quieter to do, there are tons of awesome cruise activities to keep your entertained.
What are your top things to do on a cruise? If you're cruising for the first time, please feel free to ask any questions in the comments below.
Happy Cruising!
Ilana
If you've found this helpful, don't keep it to yourself ;-)! Please share it on Facebook or save it for later on Pinterest (share buttons at the top of the post). Thank you!
Let's connect:
Follow me on Facebook at Life Well Cruised
Follow me on YouTube at Life Well Cruised
Follow me on Pinterest at Life Well Cruised
Follow me on Instagram at Life Well Cruised
Get The Ultimate Cruise Planner
Regular price: $27 Now just $17!