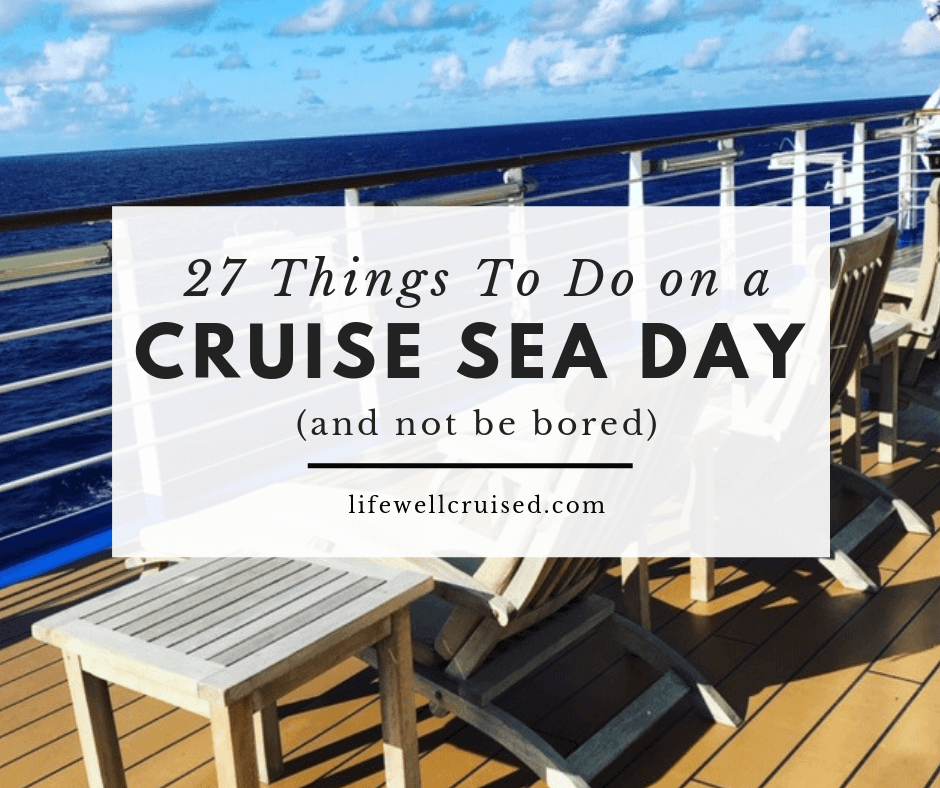 27 great ways to enjoy a sea day on a cruise
If you're a new cruiser, you might be wondering if you'll be bored on cruise sea days. In my experience, many people who are cruising for the first time are wary of "too many" sea days, and usually more interested in the cruise ports.
Of course, this is completely understandable. Cruising is a great way to visit and see a variety of destinations, all in one trip.
However, cruise ship life (and sea days) are one the top benefits of cruise travel. Cruising from one destination to another, with time to do what you like, in a resort like environment – ahhhhh…
There's so much to do on a sea day. Promise.
Chances are, you'll enjoy them so much that you'll even get hooked on cruising, like so many #cruiseaddicts before you.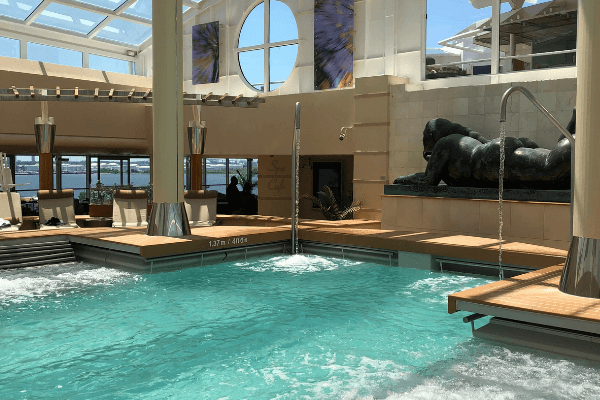 What to expect on cruise sea days
Planning for your cruise sea day
One thing to keep in mind with cruising, is that there are different ships and cruise lines, which may each offer a bit of a different experience. Depending on your cruise ship, you may find different options available. For more information about choosing the right cruise for you, I recommend this post.
Before I get started to this list, let me give you a cruise tip to help you plan for your cruise sea days.
Check your cruise daily planner for a time table of
activities

and hours of operation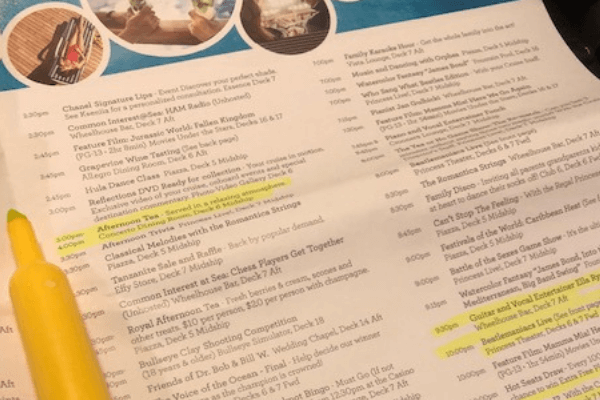 Your cruise cabin steward will leave a cruise daily planner in your stateroom each day (usually left in your cabin at evening turn-down). On Princess it's called the Princess Patter, on Celebrity it's the Today, and on Royal Caribbean it's the Cruise Compass and so on.
This planner will be sort of a newsletter, highlighting main shows and events. It will also have a full schedule of all the activities and happenings on board.
There's honestly something for everyone, and so much to do, that you could never get through everything. If you don't check the planner, you may miss something you'd really love to do!
Stretch class at 8? Music trivia at 3:00? 2 for 1 cocktails at 7:00? You get where I'm going with this ;-).
My personal cruise travel tip: Bring a highlighter or pen and mark off the things you'd most like to do or attend. I like to do this at night before I go to bed, and again in the morning at breakfast.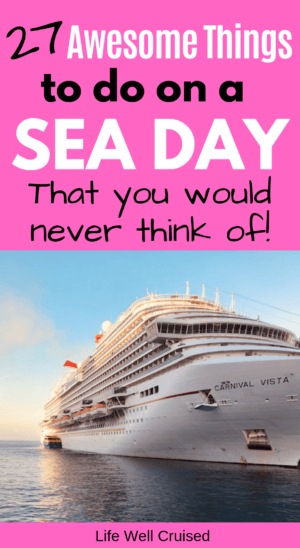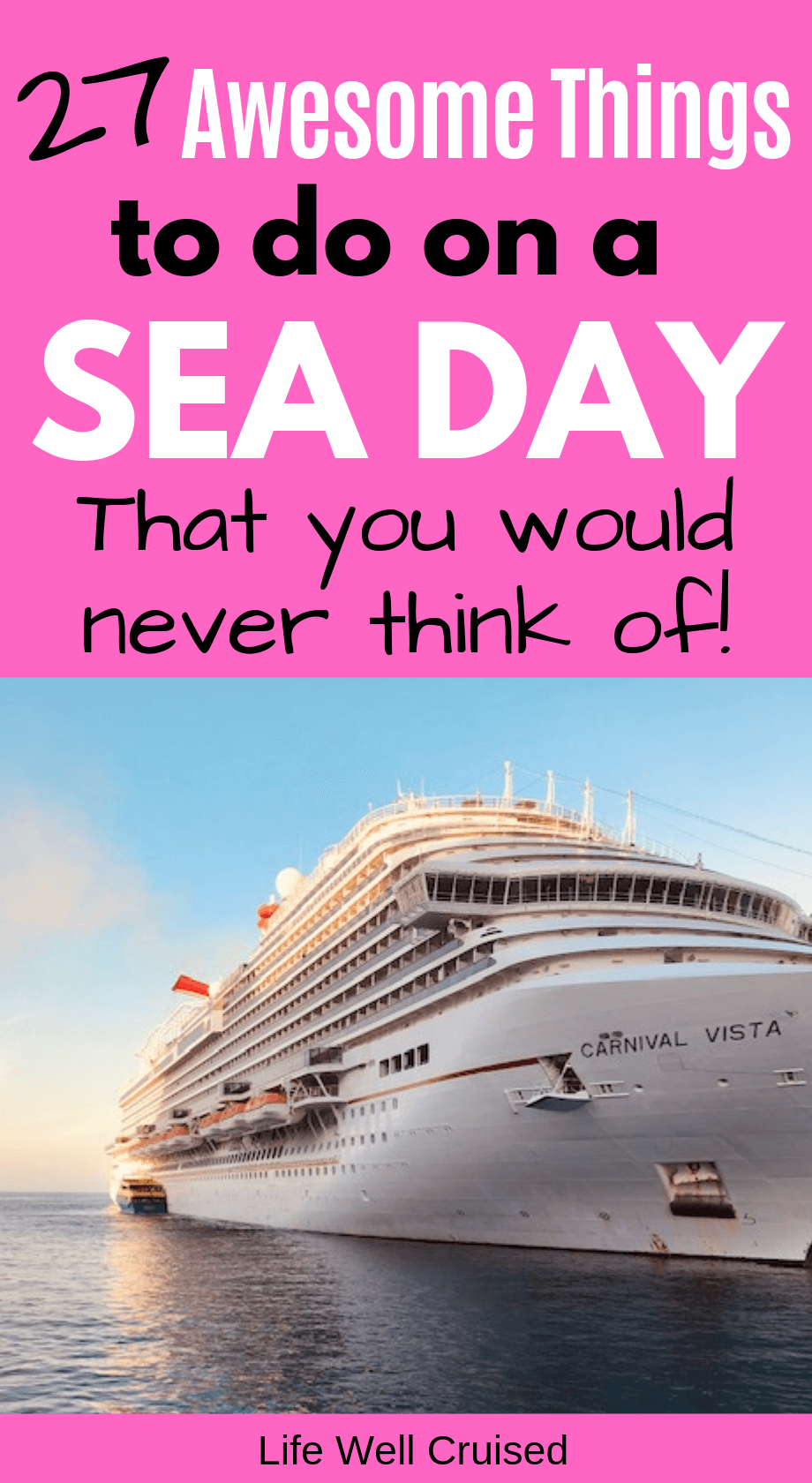 Check the cruise line app
Cruise lines now also often have an app on board that you can download, where you can check the daily planner at any time. You may also be able to view a schedule from portals around different areas of your cruise ship.
As cruises resume after the pause, most cruise lines will be promoting the use of their app and have invested to make it more functional and convenient to use.
In some cases, a daily planner or schedule of events or activities will be available on your stateroom TV and on portals or screens around the ship.
As an example, Princess Cruises is outfitting every ship in it's fleet with the Ocean Medallion technology.
Here's a video from our YouTube channel with an explanation of the new features it will have when cruises resume in 2021.
27 Things To Do on a Sea Day on a Cruise Ship
1. Sea days by the pool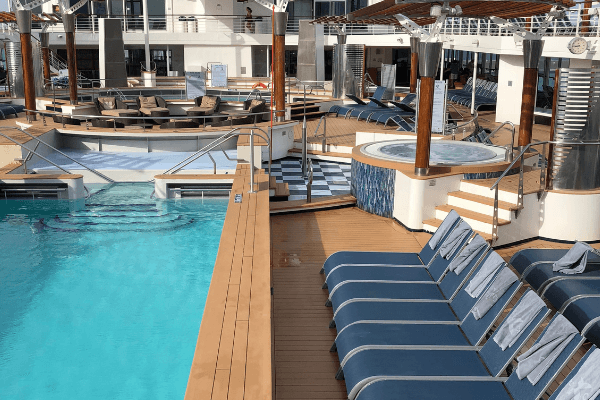 If you need to relax and are on warm weather holiday, the obvious thing to do is to hang by the pool. Most cruise ships have at least 2 and sometimes 3 or 4 pools. So check which ones fits your mood.
We've been known to hit at least 2 pools a day, starting with a quiet morning at the adult only pool, followed by some music and drinks at the main pool. However this is your cruise, so check out your favorite spots to be.
Don't forget your towel clips to keep your towel from blowing with the sea breeze – the flamingos are my favorite!
2. Pool games
If you enjoy some fun and games, join or watch the pool volleyball games and other antics.
Belly flop, sexy legs contest and more, is what you can find by the main pool on some cruise ships. Other games may be hosted by the cruise activities staff by the pool, and if you love some fun in the sun, you'll want to check that out.
3. Work out on a sea day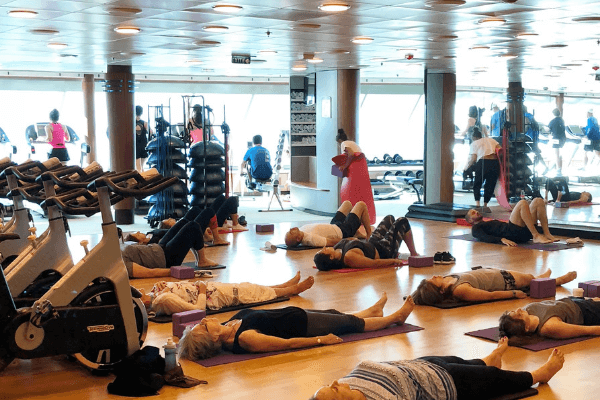 Join a fitness class or work out at the gym. I really use my cruise planner for this.
The fitness center will often have some awesome fitness classes, which require you to sign up in advance. So, I head to the gym and put my name down for the classes I really want to attend.
I actually like to pick one activity that I may not have tried before, as it's a great chance to try out something new, without the commitment. Some examples are Zumba, Cardio Kickboxing, Stretching, yoga, spinning and more.
To note: some are included while others have an additional fee.
4. Walk it like I talk it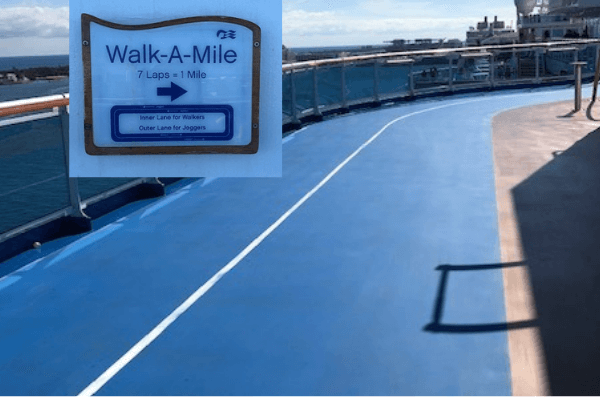 Is there anything better than walking or jogging on the cruise ship's outdoor track and taking in that sea view? Grab a friend and walk a few miles while you chat!
Truly, there's nothing that clears the head more than breathing in that sea air and walking off the cruise food ;-).
Recommended: How NOT to Gain Weight on a Cruise (and still eat)
5. Learn something new on a sea day
Spending all day outdoors might be a little much, but not to worry, there are many things to do on a sea day that are indoors.
You can take in a lecture. Sometimes there are special guests on board such as authors or speakers who are experts in their field.
If you enjoy the arts, you may want to learn origami or take some watercolor painting classes.
Check out the sea day offerings in your daily cruise planner.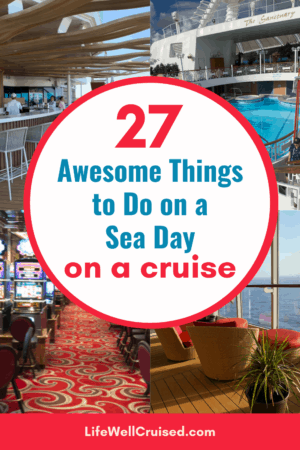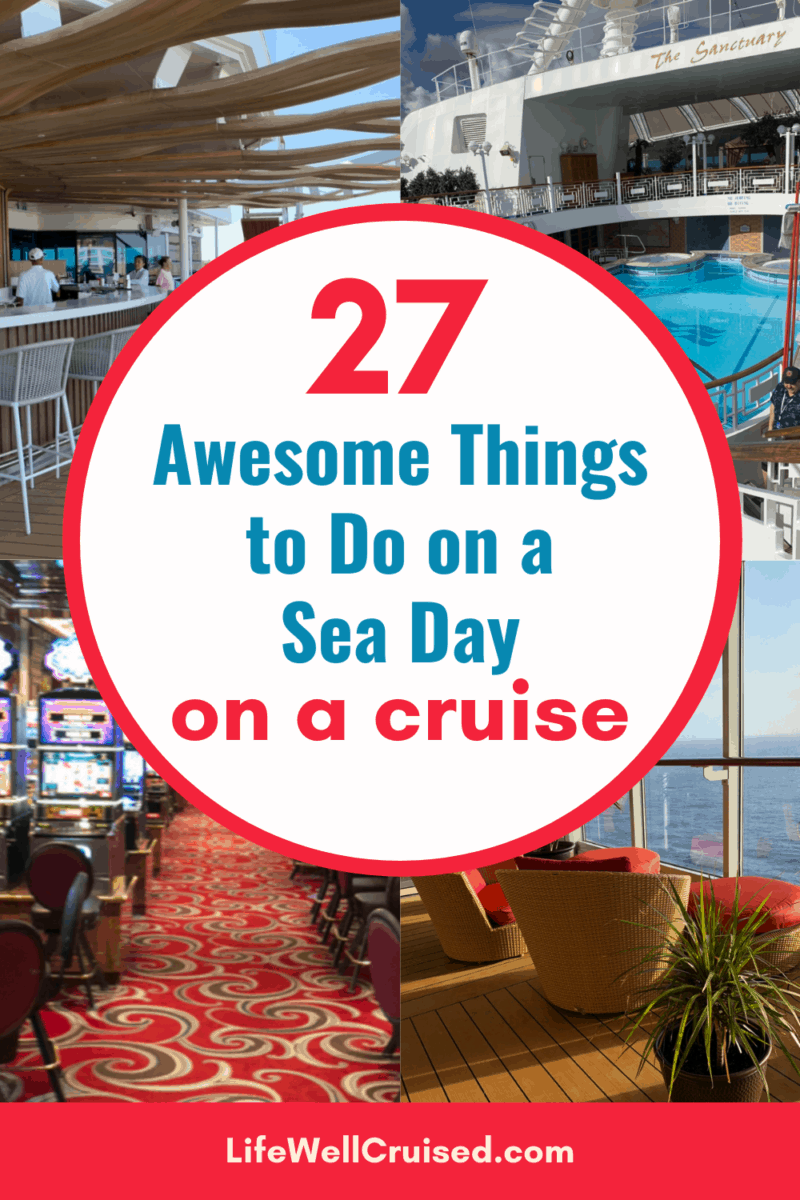 6. Sea day activities for the adventurous
If you're on cruise ship with a zip-line, ropes course or surfing pool, go for it! Do all the things you've wanted to do. You can sleep when when you get home, right?
All joking aside, if you're wanting a very active cruise vacation, just make sure that your cruise ship has some of the these exciting options onboard.
Between water-slides, ice skating rinks, sky-diving, rock climbing, ropes courses and more, there's literally no way to be bored on this type of cruise ship!
Cruise tip: Remember that not all ships have each activity, so do check out your ship's features before booking your cruise.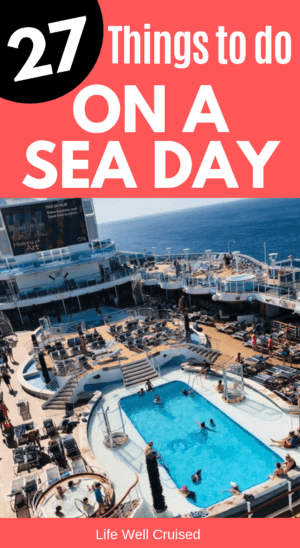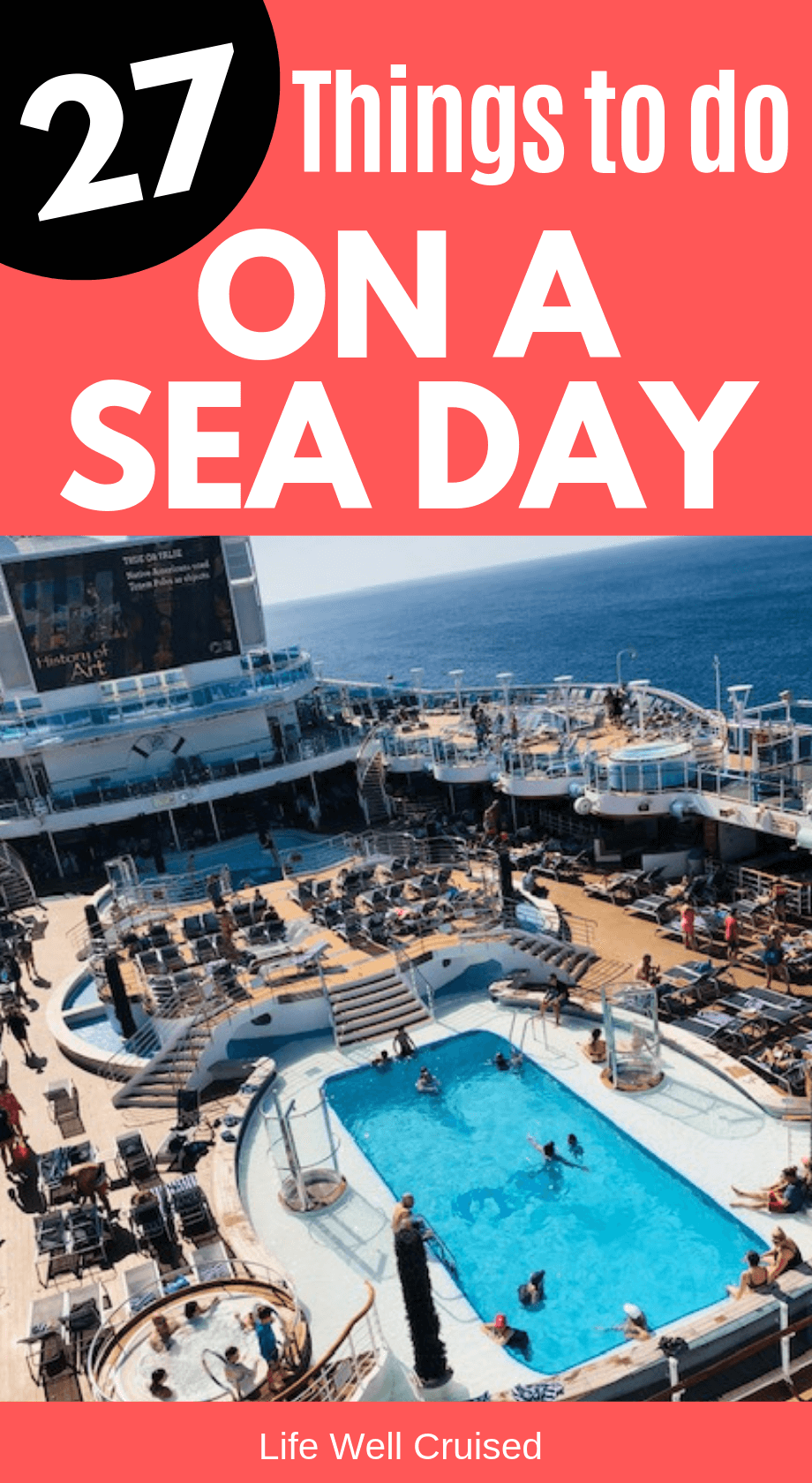 7. Go to a cruise port lecture
If you're cruising to a new port destination, plan on attending the cruise port lecture which is often held in the ship theater or a lounge. This can be especially helpful to find out about the area and get some great recommendations.
You'll often be given some maps and some information about the cruise port, which makes it easier to know what to expect and decide on any excursions.
8. Art Auction anyone?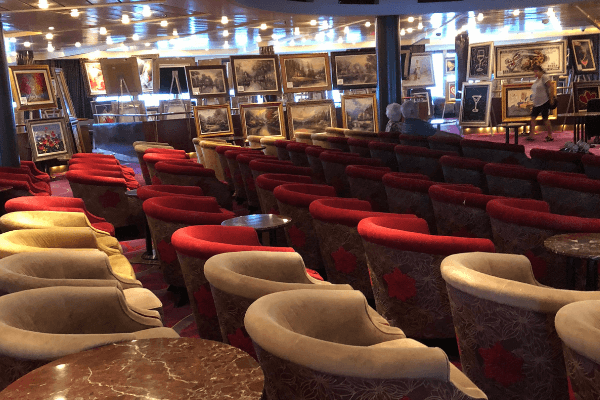 Have you ever attended an art auction? This is one of my favorite things to do on a rainy on a cruise, which is actually how we first discovered it.
However, you don't need to wait for rain. Since we found this a few cruises ago, we go on sunny days too and use it as an excuse to get ot of the heat and sun for a bit.
Even if you don't plan to buy, this is a great way to learn about the artists that are featured and their style. It goes on for about an hour and is quite interesting.
Cruise Tip: Attend the champagne art auction and enjoy some free sparkling wine with your art talk.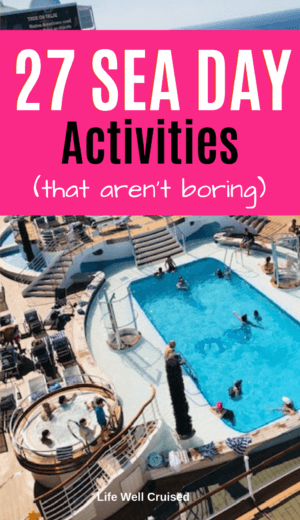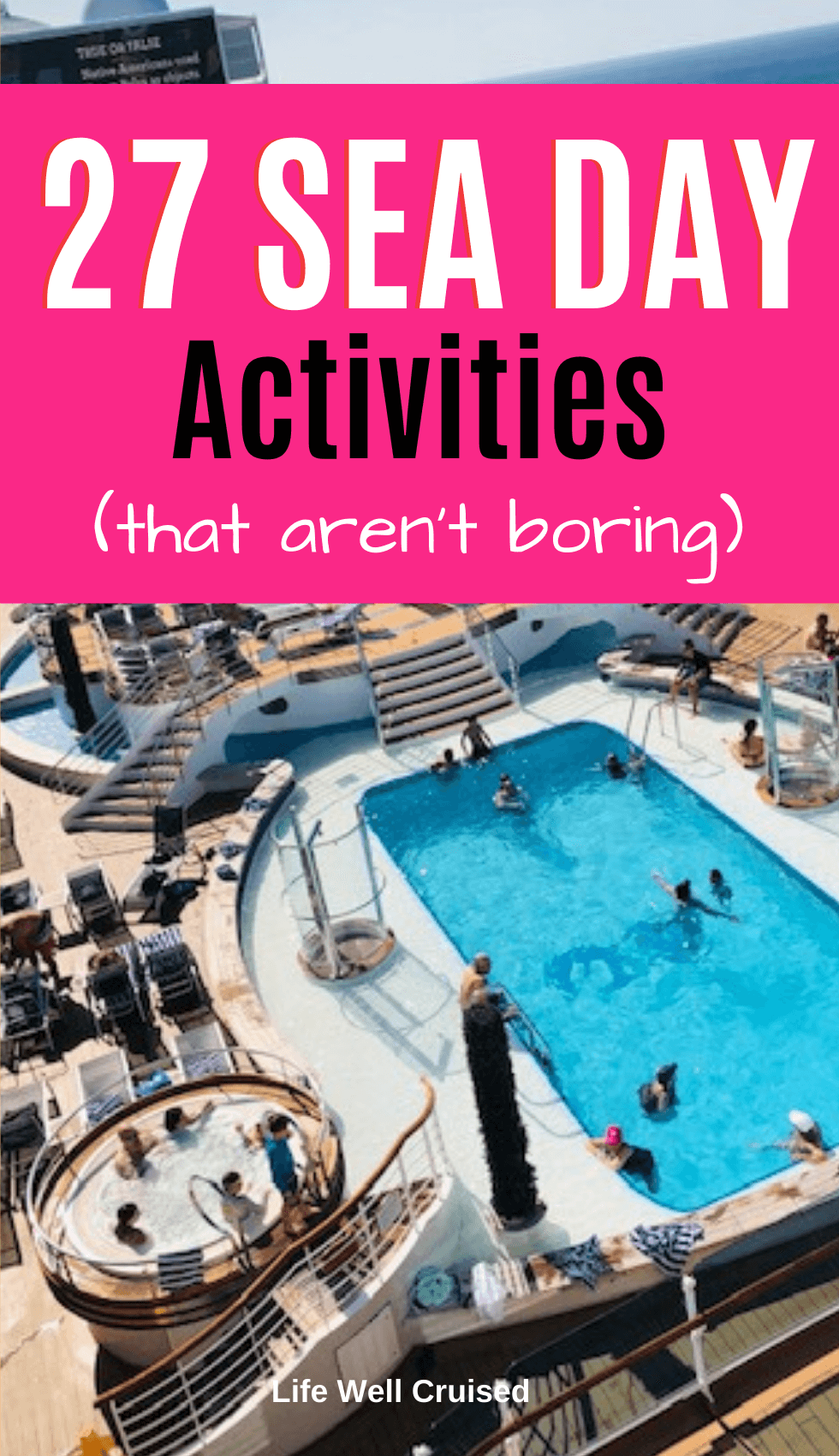 9. Take a Behind-the-Scenes Ship Tour
Cruise galley tours and Bridge tours are great ways to learn about the behind the scenes stuff that we cruise passengers don't usually get to see. Check the daily planner and make sure to sign up, as space is limited.
10. Focus on on your wellness or self-care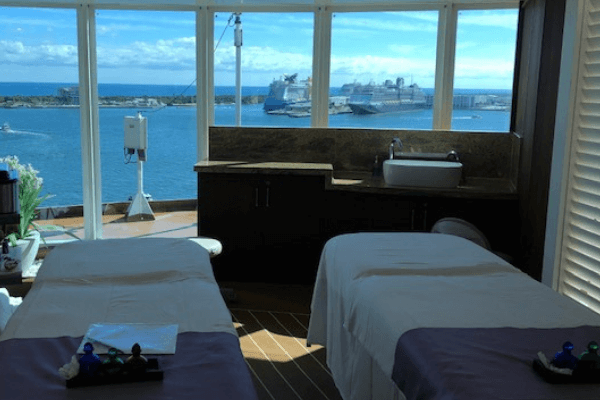 A cruise may just be the perfect place to treat yourself to massage or other treatment. You may even want to book a package to use the spa facilities for the whole cruise.
Some cruise ships have not only the spa, but chiropractors and acupuncturists. If you are needing some you time and self-care, explore the options on your cruise.
Cruise Tip: Your cruise ship will often have promotions if you sign up on embarkation day. So, do check out the cruise ship spa on the first day of your cruise.
Recommended: 10 Romantic Things for Couples to Do on a Cruise Vacation
11. Send the kids to camp
Are you cruising with kids? Encourage them to attend the kids club where they will make friends and participate in fun activities.
A cruise is a perfect place to have a balanced family vacation, where there can be kid time, adult time, and family time all within the same holiday.
Cruise tip: Make sure to visit the ids club together and sign the kids up on the first day of the cruise. This way they'll be more comfortable and more likely to want to attend activities later in the cruise.
12. Traditional sea day activities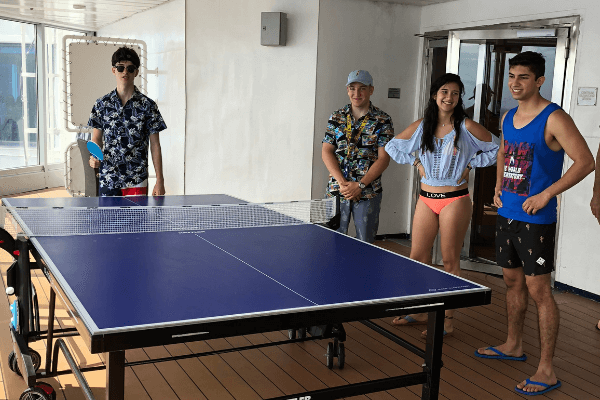 These are oldies but goodies may not compete with zip-lines and surfing pools, but they can be fun nonetheless. Check out mini-golf, shuffle-board, table tennis and giant chess games for some traditional cruise sea-day fun.
13. BINGO anyone?
This is a classic well-loved and well-attended sea day cruise activity! I've never gone, but wow, there are enthusiastic BINGO players on-board.
They seem to have great prizes, including winning a free cruise. So, if you're a BINGO lover, make sure to attend.
14. Join the cruise ship choir, flash mob dancing or karaoke style competitions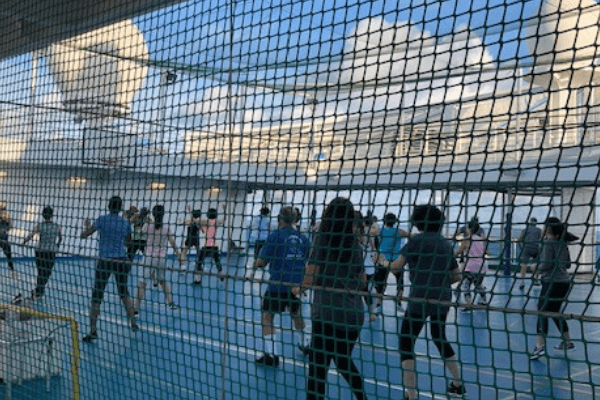 Are you someone who likes to work on something each day throughout the cruise week? Do you have some talent?
If so, activities such flash-mob dancing, choirs and singing competitions can be great fun. You'll meet up and practice throughout your cruise, then put on a performance later on in the cruise.
15. Join game-shows and knowledge trivia
Whether you're a trivia aficionado or prefer an Xbox challenge, there are several different types of games going on inside the ship on a sea day.
Just check your cruise planner for specific locations and times.
16. Check out the sea day dining options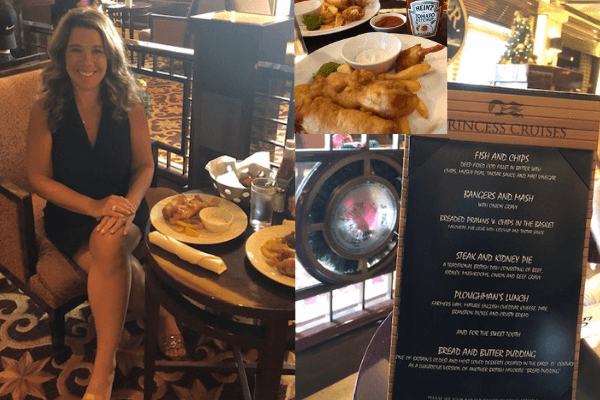 On sea days, many cruise ships have more dining options open, including some that are a little bit "special". Even if you want to have lunch in the main dining room, rather than the buffet. This in itself is an experience!
However, cruises often have a nice "afternoon tea" in the main dining room, or a special lunch in another venue. One of our favorites is the British Pub Lunch on Princess Cruises.
Cruise Tip: Why not try a specialty restaurant for lunch? It's often less expensive than at night, and still includes their signature dishes. Our sea day lunch at Royal Caribbean's Giovanni's a few years ago stands out as one of our favorites.
17. Shop till you drop
While on a cruise, there are many opportunities to shop and even get a great deal. Cruise ship shopping is duty-free, so while you should still check pricing back home, we've found truly amazing deals on watches, jewelry and perfumes.
In addition to the on board shops, you'll often see pop-up sales of 10$ items, beachwear, costume jewelry and more.
Cruise tip: Take a chance and fill out a raffle ticket and you just may win something at the cruise shops. My mother won a pair of stunning Crown of Light diamond earrings when we did a large family cruise for their 50th anniversary.
18. Drink of the Day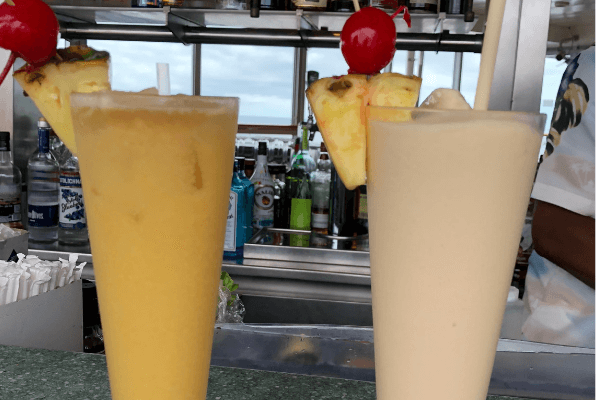 Cruises often have a promotional drink of the day, which is on "special" at the pool bar. If you enjoy some frozen cocktails or drinks by the pool, check out the bar offerings.
Sometimes, cruise ships will even have Buy One Get One (BOGO) specials at certain times of the day, so watch your cruise planner for the details.
19. Dance the day away
I happen to be a fan of cruise ship line dancing (although I'm not very good). While not every cruise I've been on has this, when they do, I am out there!
Other opportunities to dance include participating in dance lessons in one of the clubs or atrium. Whether it's ballroom, salsa or hip hop, your cruise ship will likely have something fun to learn and try.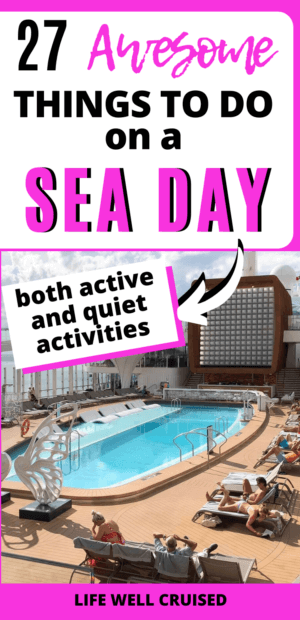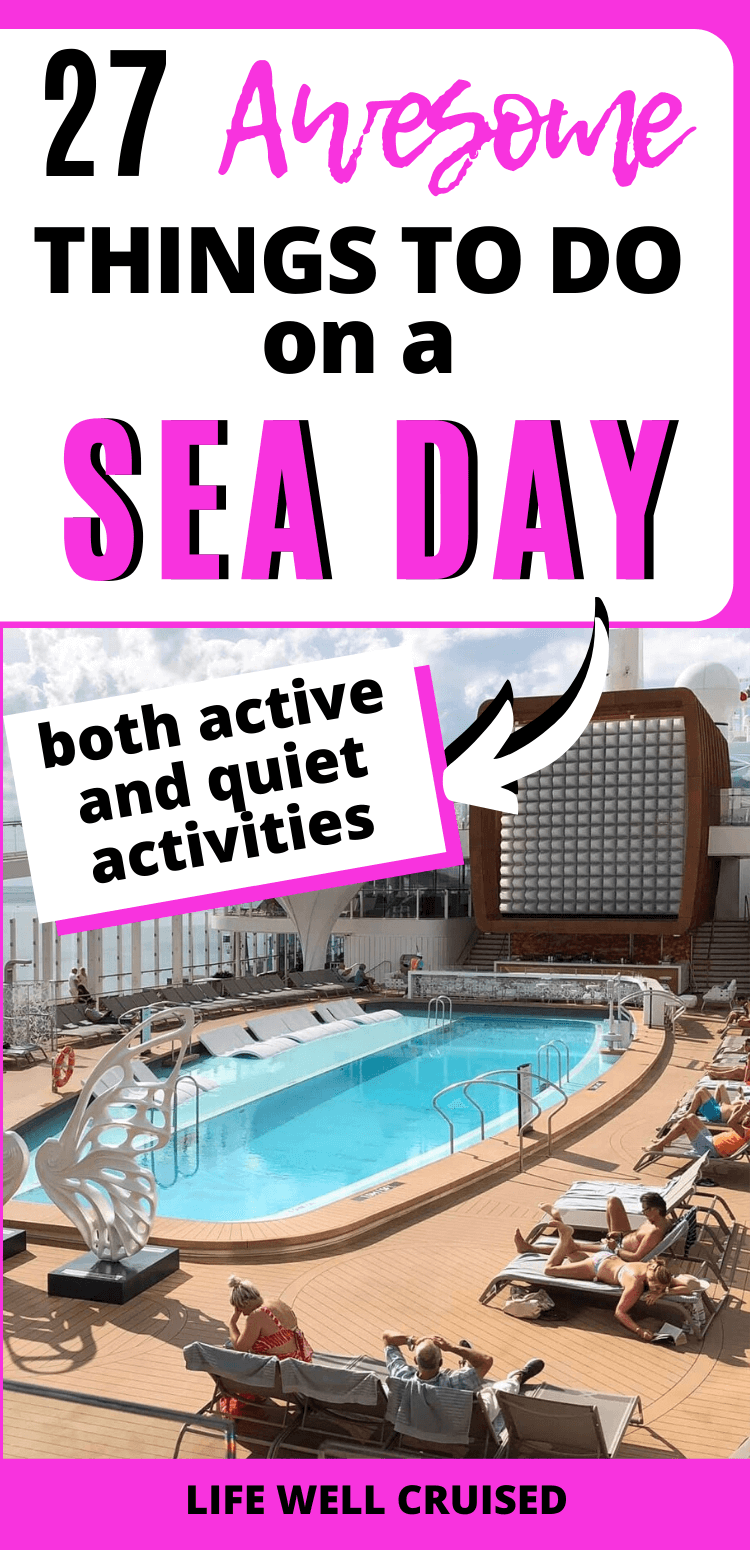 20. Take Insta-worthy photos
How many amazing photos can you take on a cruise ship? Grab your camera or phone and strike a pose! Scout that cruise ship for the best spots.
Why not take some family photos, romantic photos, or a gorgeous photo of yourself and update your profile pic?
I love a good inspirational travel quote. "We take photographs as a return ticket to a moment otherwise gone" said Katie Thurmes. I'd say she's right about that.
21. Create your own cruise ship art tour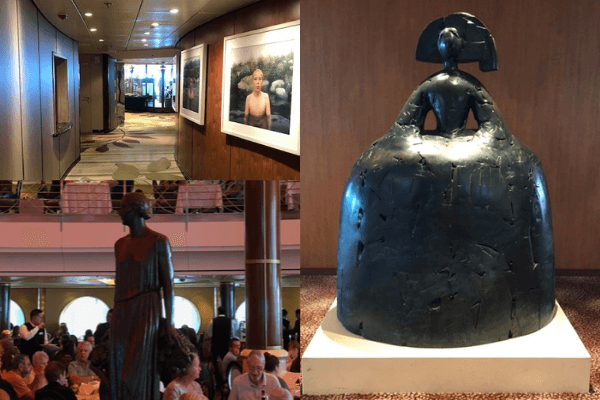 Check out the cruise ship's artwork and themed venues. Cruise ships have really interesting paintings, photography and sculptures displayed around the ship, including on passenger decks, in stairways and in different bars and lounges.
On a sea day, why not get some steps in and walk around the ship and admire all the incredible works of art on board.
22. Book another cruise
If this is your first cruise, you may be surprised to hear this, but booking your next cruise on board is a thing. Just head over to the Future Cruise Consultant desk and have a chat about your next cruise possibilities.
The advantage of doing this, is that most cruise lines will give you a fair size on board credit, to use on this cruise or the next, just for booking on board. If you don't know what cruise you'd like to do next, you can often put a deposit on an open booking.
If you have a travel agent you love dealing with, don't worry.
Cruise lines want you to book with travel agents, and will even create the booking on board and sent it over to your travel agent to service or allow you to transfer your booking once back home. This allows you to shop around and still get the best deal (do verify with the cruise line for terms and conditions).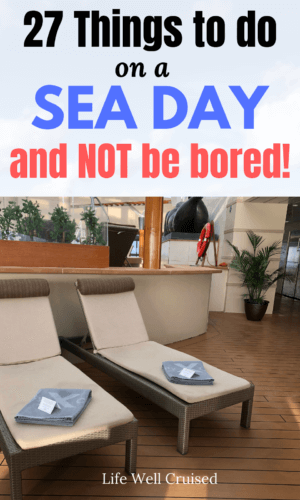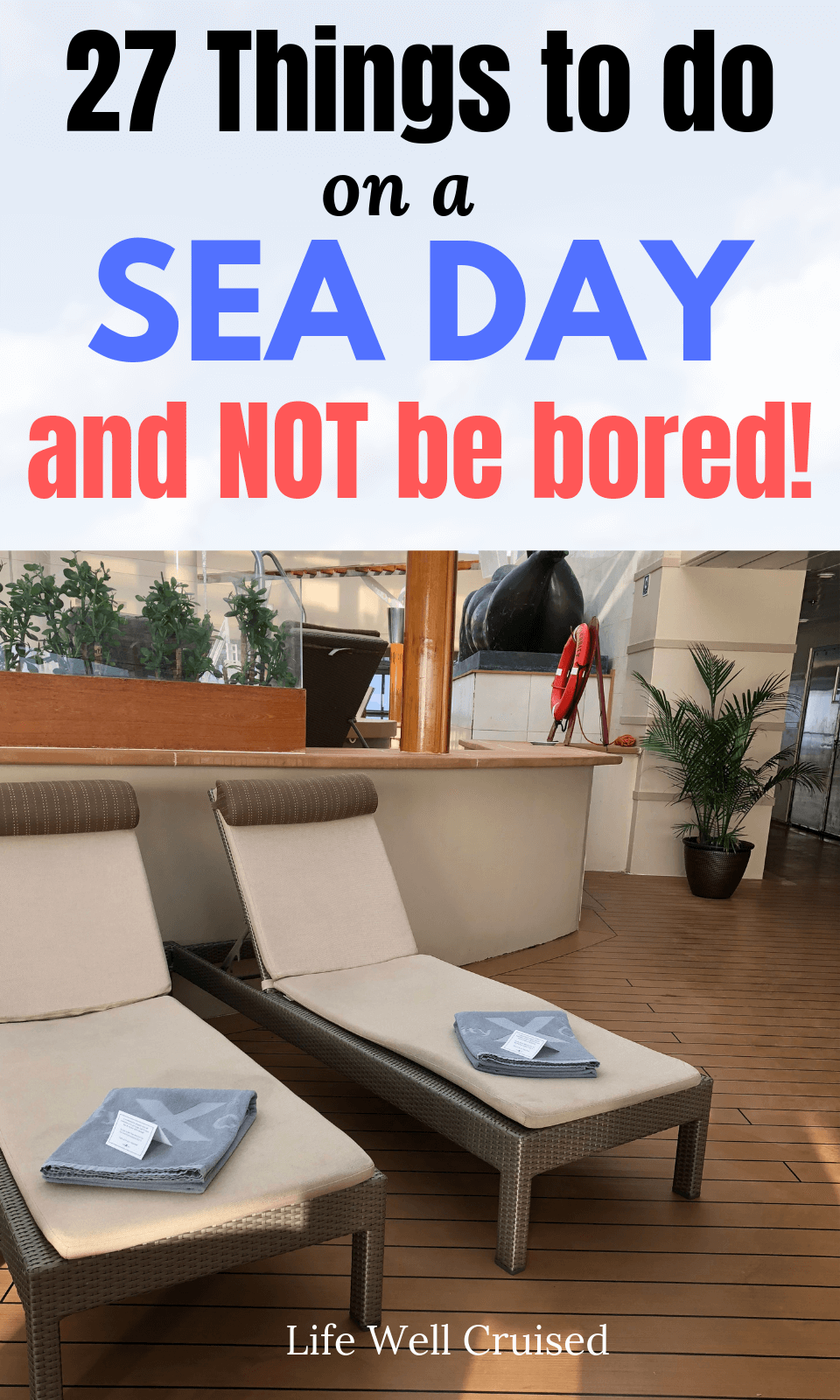 23. Wine tasting
During your cruise, you may want to enjoy a wine-tasting event. For a small charge, you can have a mini-course in wine-tasting while you sip and savor. For those that prefer scotch, rum or other types of alcohol, you may find those tasting workshops as well.
We've done a couple of wine-tasting events on past cruises, and enjoyed what we learned.
24. Casino time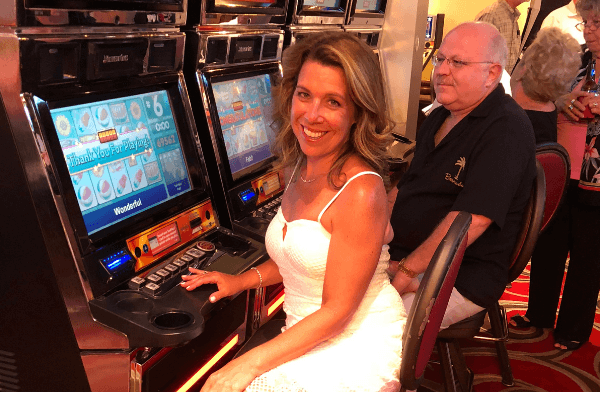 The casino is pretty popular on sea days, with those that would rather stay out of the sun, having some fun in there. Whether you're a serious player, or like to have fun at the slots, the casino is THE PLACE TO BE.
25. Watch a matinee
If you're a big cruise ship, often they'll have different show times to accommodate all their guests. You can check your cruise planner, (or even your pre-booking online planner in some cases) and see a main show during the day.
26. Catch a movie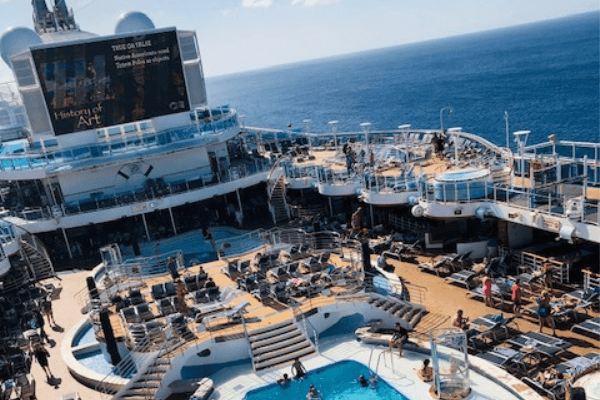 My father in law loves a good movie, so this is right up his alley. Cruise ships will often play movies during the day, both at an outdoor movie screen if they have one, as well as inside in a lounge or theater.
We were recently on a cruise for the Christmas holidays, and they had several classic movies playing all week.
27. Enjoy the simple things in life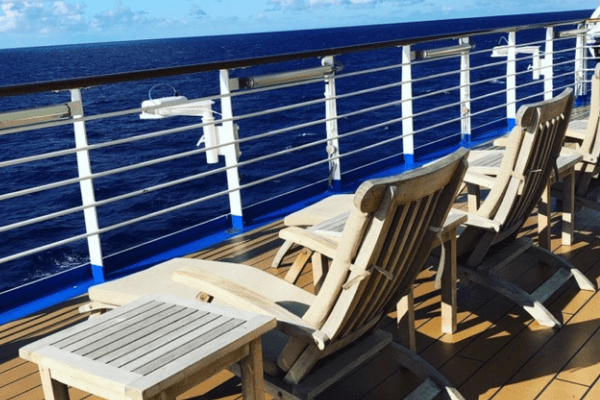 I was recently on a Facebook group where a question was asked about everyone's favorite sea day activities. So many responses were actually the simple things in life. Reading a book, playing a board game with friends, having a cocktail, making new friends, taking a nap in the sun, hanging out in the hot tub.
It's a great reminder that you're on a cruise to relax, have fun, recharge and reconnect with yourself and those you love. No matter what you choose to do, make it a great sea day!
Getting ready for your cruise? Suggested posts to read next
25 Must-have Items for Your Cruise Vacation
What to Pack for a Caribbean Cruise
21 Best NEW Cruise Luggage and Packing Accessories for 2021
23 Essentials to Pack in Your Cruise Carry-On Bag (updated 2021)
Recap: 27 Things to do a cruise sea day (and not be bored)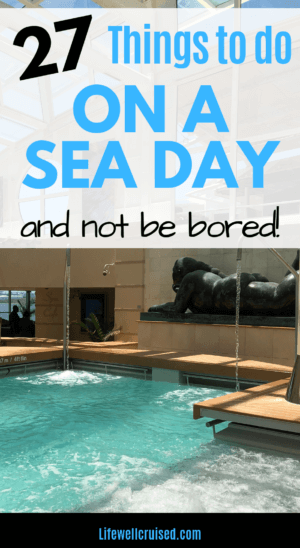 Sea days can be some of the best cruise days, and with so much to do on board, and there's surely no reason to be bored. Whether you like to be active, or find something quieter to do, there's always something to enjoy on a sea day.
If you're new to cruising, I hope this guide to cruise sea days was helpful. If you've gone on a cruise and enjoy sea days, let me know what you like the very best things to do in the comments below.
Happy Cruising!
Ilana
xoxo
If you've found this helpful, don't keep it to yourself ;-)! Please share it on Facebook or save it for later on Pinterest (share buttons at the top of the post). Thank you!
Recommended posts:
30 Cruise Cabin Hacks Every Cruiser Needs to Know
11 Best Reasons to Stay on the Cruise Ship While in Port
15 Cruise Embarkation Day Tips Straight from the Pros
Let's connect:
Let's connect:
Follow me on Facebook at Life Well Cruised
Follow me on YouTube at Life Well Cruised
Follow me on Pinterest at Life Well Cruised
Follow me on Instagram at Life Well Cruised