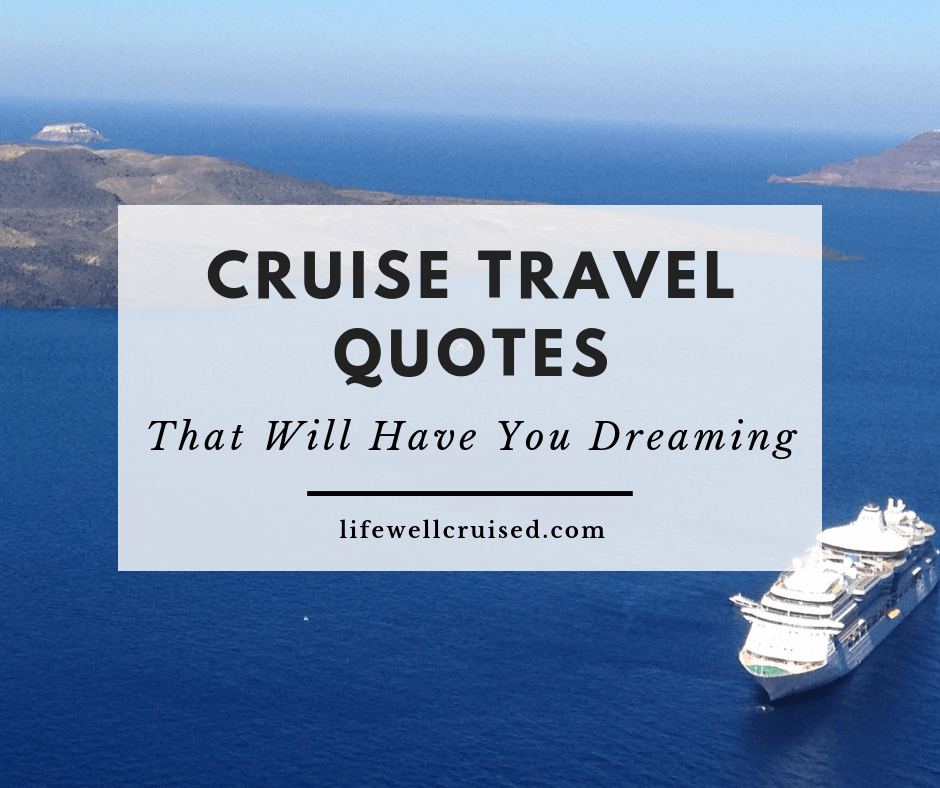 10 Inspirational Cruise Travel Quotes with photos (plus one bonus just for fun!)
Do you have a favorite cruise travel quote? Perhaps one that inspires thoughts of the sea and the ocean air? Maybe you get weepy when you read a cruise travel quote that brings back a cherished memory of cruising with someone you love. My personal favorite is a quote that reminds me to take time and appreciate the life I'm living, and enjoy every moment! Throw in a little adventure, and I'm all in!
How Cruise Travel Quotes can be helpful for cruisers
One of the ways that I cope with a bit of post-cruise blues, is to dream and get inspired by a good cruise travel quote (or two or three). While I am waiting for my next cruise, or in the process of planning, I can read my lovely quotes and look at pictures that fuel my wanderlust.
So here are some of my favorites, set against some of my own cruise travel moments captured in photos. These cruise travel quotes have been spoken and written by authors, sailors and those in different walks of life. However, I hope that each has an impact in some way, whether it is to laugh, to cry or to dream
1.Do you agree?
To move, to breathe, to fly, to float. To roam the roads of lands remote, to travel is to live.
– Hans Christian Anderson
2. Are you lost or found?
Some people get lost for so long, that they forgot what it was like to be themselves.
– Anonymous
3. How is your eyesight?
The real voyage of discovery consists not in seeing new landscapes, but in having new eyes.
-Marcel Proust
4. Does saltwater cure everything? I really think it does…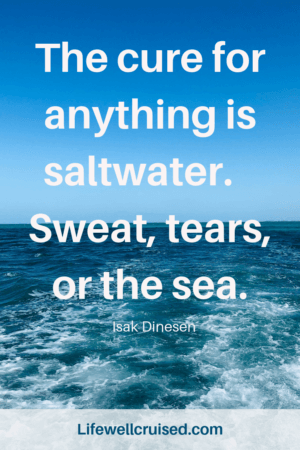 "The cure for anything is saltwater – sweat, tears, or the sea."
– Isak Dinesen
5. What is life to you?
Life is either a daring adventure or nothing at all.
– Helen Keller
6. How do you look?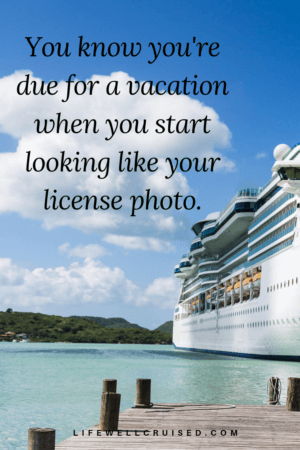 You know you're due for a vacation when you start to look like your license photo.
-Anonymous
7. Should we all travel just a little bit more?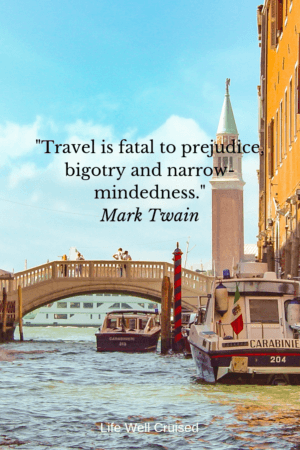 Travel is fatal to prejudice, bigotry, and narrow-mindedness.
– Mark Twain
8. Just for fun – I do love shoes!! (Ladies, never forget to pack your favorite shoes)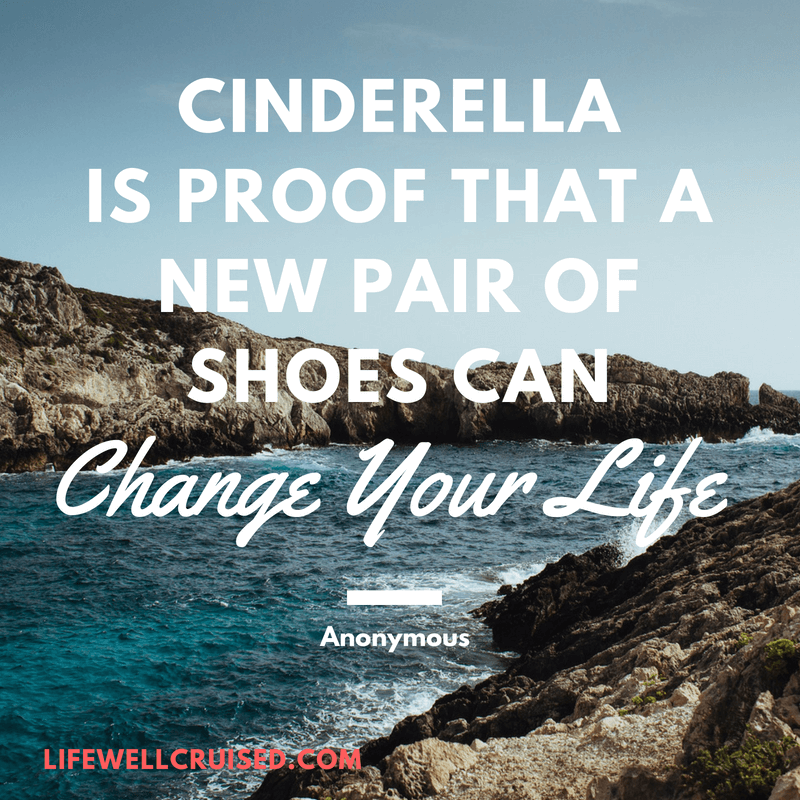 Cinderella is proof that a new pair of shoes can change your life.
– Anonymous
9. Is anything better than the sea?
"It is not that life ashore is distasteful to me. But life at sea is better."
— Sir Francis Drake, Sea Captain
10. Sounds like someone has cruised with Royal Caribbean (Adventure and Freedom, get it 😉
I wanted freedom, open air and adventure. I found it on the sea.
– Alaine Gerbault, Sailor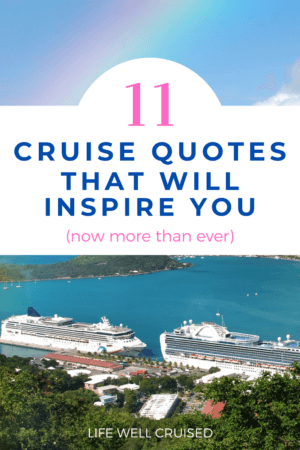 11. My all time favorite cruise travel quote is this, and yes, I'm a bit weepy as I read it….ahhhh
"Twenty years from now, you will be more disappointed by the things you didn't do than those you did. So throw off the bowlines. Sail away from safe harbor. Catch the wind in your sails. Explore. Dream. Discover."
— Mark Twain
Recap: I hope you enjoyed these inspirational travel quotes, all inspired by cruising.
These are some of my personal favorite cruise travel quotes; the ones that inspire me and have me dreaming while I am planning another cruise adventure.
If you've enjoyed these cruise travel quotes, you may enjoy reading my post about why cruising is the best vacation ever (find it here).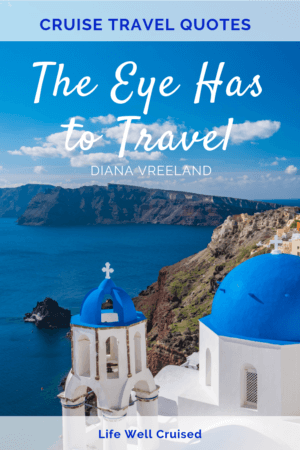 What's your favorite cruise travel quote? Let me know in the comments below.
Happy Cruising,
Ilana xoxo
If you enjoyed this, please help others to see it by sharing it on social media (Facebook or Pinterest). Thanks so much!
Let's connect:
Follow me on Facebook at Life Well Cruised
Follow me on Pinterest at Life Well Cruised
Follow me on Instagram at Life Well Cruised