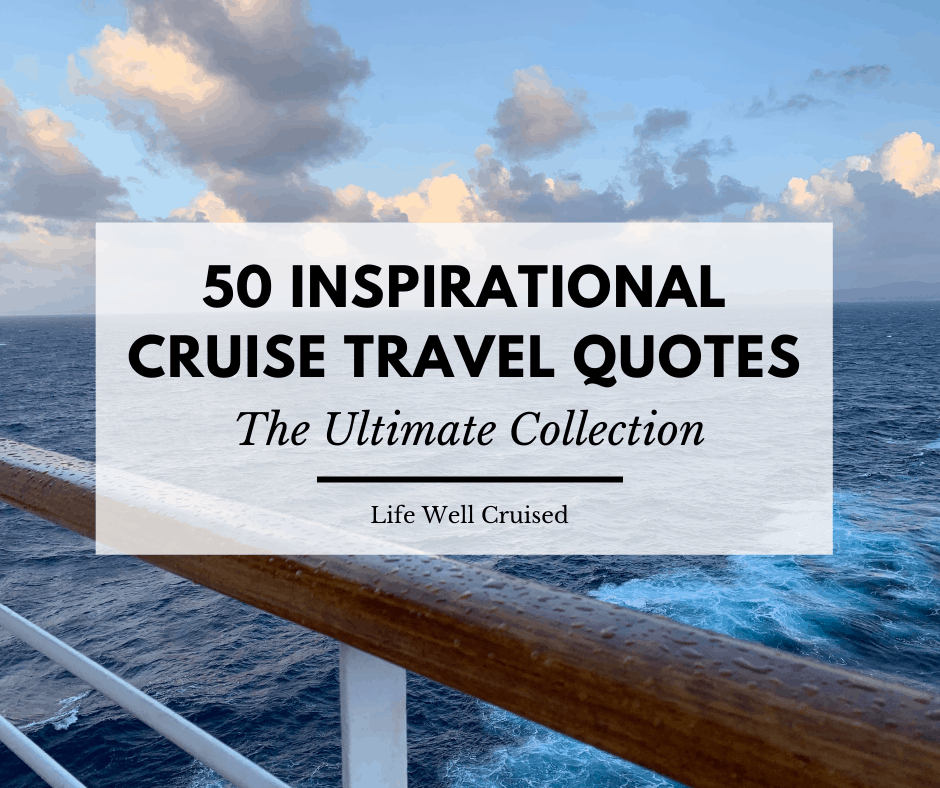 Do you love cruising quotes?
These days, I've been dreaming about cruising and traveling once again. It inspired me to update this post and include more than 50 cruise travel quotes that I find inspiring, and I hope you do too.
During the last year, not being able to cruise and travel freely, has reminded me that travel must not be taken for granted. Seeing destinations by cruise ship, meeting people from all over the world, waking up to the ocean waves every day…
There's something about cruising that's special. The combination of life onboard a cruise ship and traveling to different destinations is a perfect pairing!
If you love cruise travel, I hope that you'll enjoy these cruise quotes and that they'll bring back memories and fuel your wanderlust for cruising once again.
50 Inspiring Cruise Quotes for Those that Love Travel and the Sea
These cruising quotes and sayings were written by authors, artists, sailors, and those in different walks of life. Some will be familiar to you, but I guarantee that you'll find some new cruise travel quotes that will inspire you as much as me!
I've paired the cruising quotes with some of my own cruise travel photos as well as other inspiring images of destinations and cruise ports around the world.
Please feel free to save these cruise travel quotes to your favorite Pinterest board as inspiration. The quotes also make great Instagram captions.
1. "I wanted freedom, open air and adventure. I found it on the sea."
– Alaine Gerbault, Sailor
This cruise travel quote describes perfectly the feeling of a cruise vacation. It's more than a vacation, it's an adventure.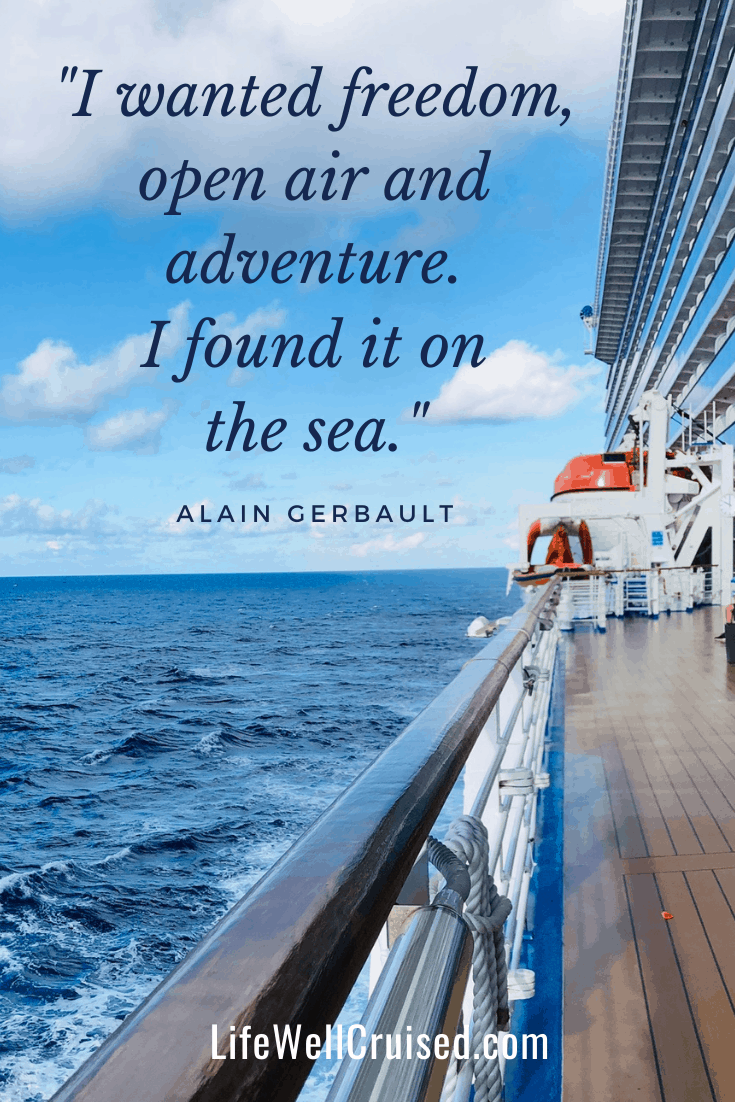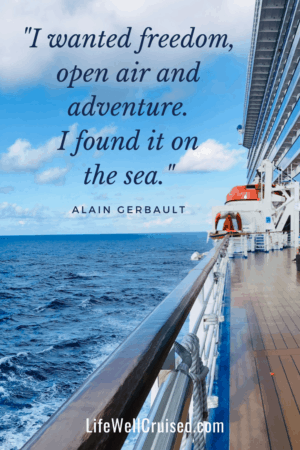 2. "Why do we love the sea? It is because it has some potent power to make us think things we like to think."
-Robert Henri
The ocean seems to have a healing power, and reminds us of our resilience and strength.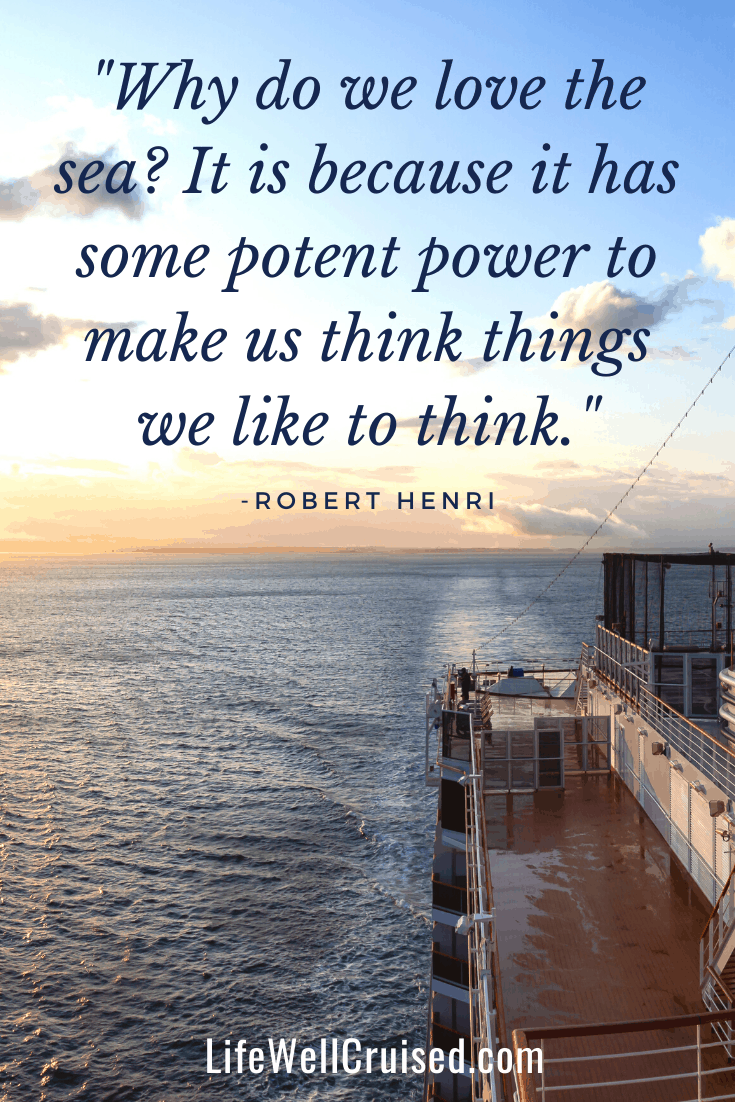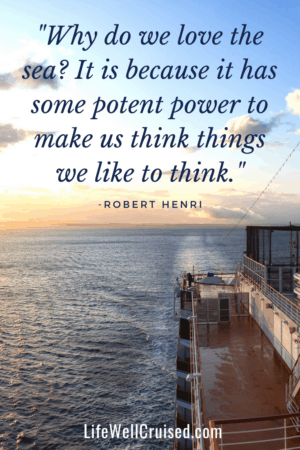 3."Adventure is worthwhile"
– Aesop
Where would you like to go? Travel changes us in a good way, and the experience is always worth it.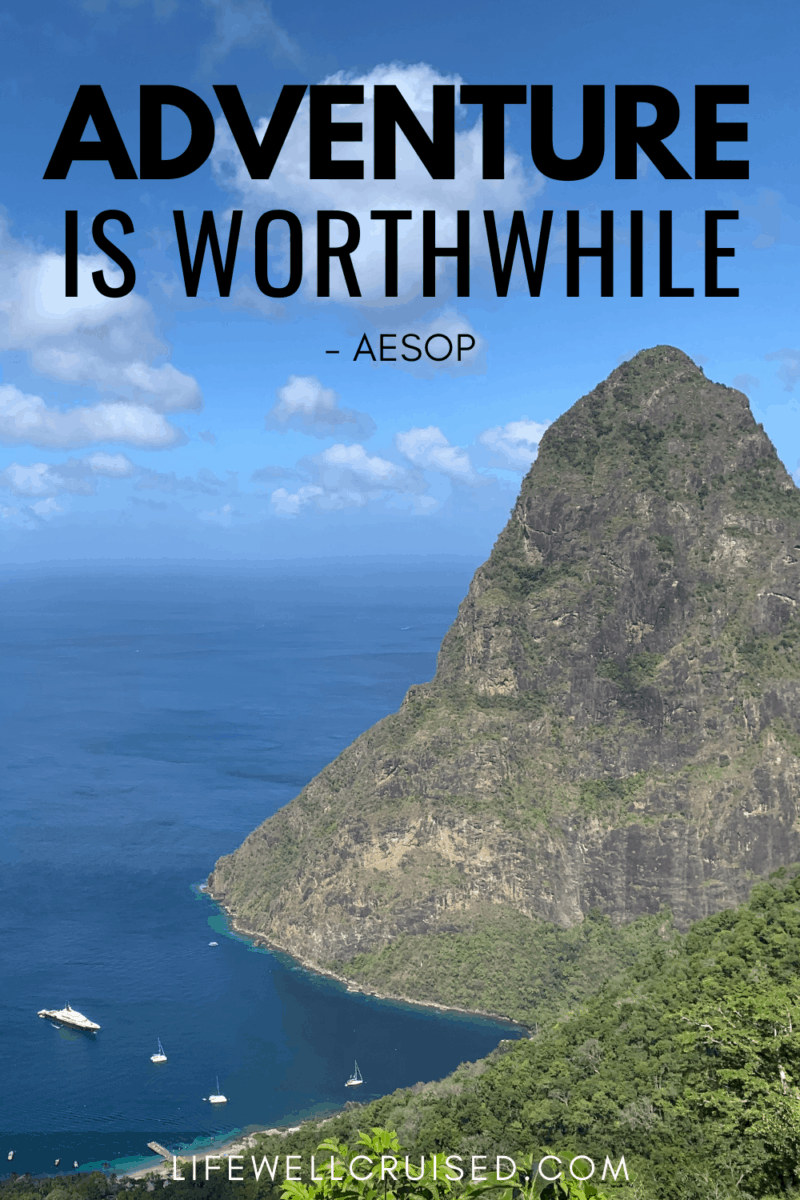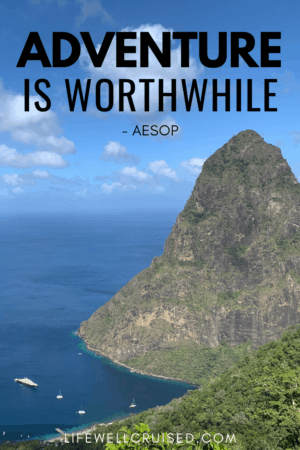 4. "Twenty years from now, you will be more disappointed by the things you didn't do than those you did. So throw off the bowlines. Sail away from safe harbor. Catch the wind in your sails. Explore. Dream. Discover."
— H. Jackson Brown Jr.
Interesting fact about this famous quote
This has always been my favorite life quote. Then, when we started cruising years ago, it became my most inspiring cruise travel quote as well.
However, I recently discovered that this quote has been misattributed to Mark Twain for years. The quote was actually written by H. Hackson Brown Jr., who attributes it to his mother in his book P.S. I Love You.
I think the words of wisdom are amazing just the same (although I still love Mark Twain).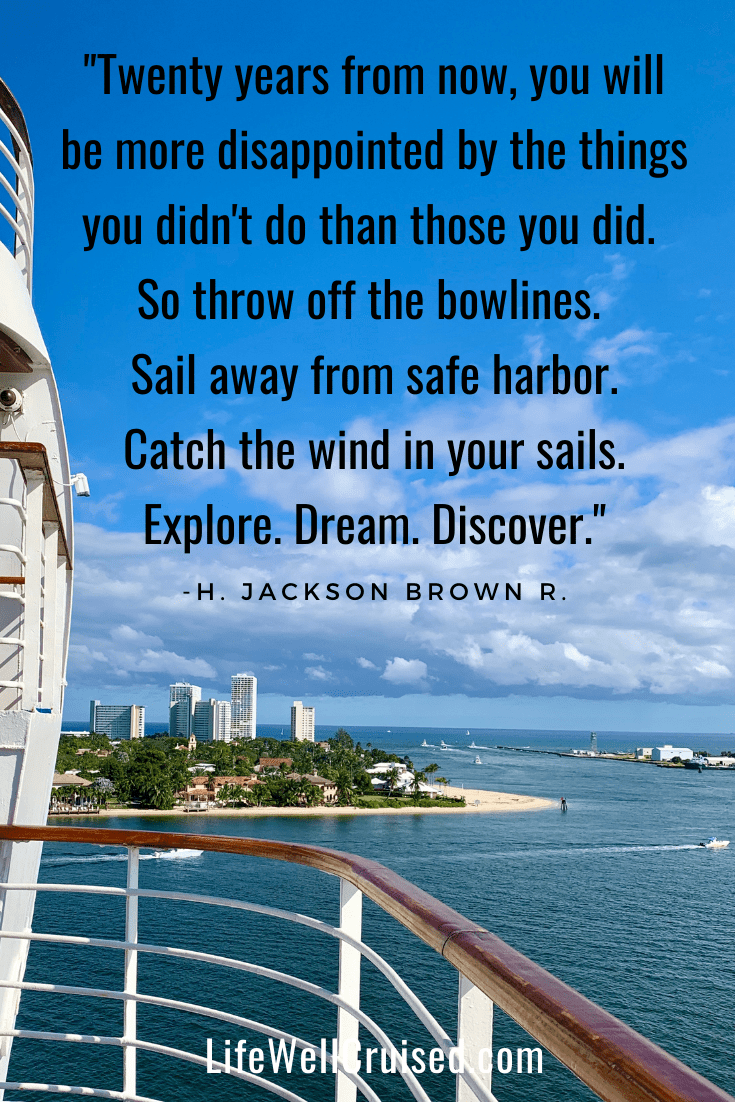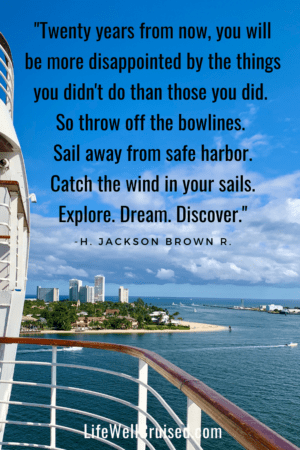 5. "Traveling—it leaves you speechless, then turns you into a storyteller."
– Ibn Battuta
One of the things I'm so grateful for, is the travel experiences we've had while cruising. Whenever I meet someone on a cruise who has traveled a lot, I know that I'm in for some amazing stories!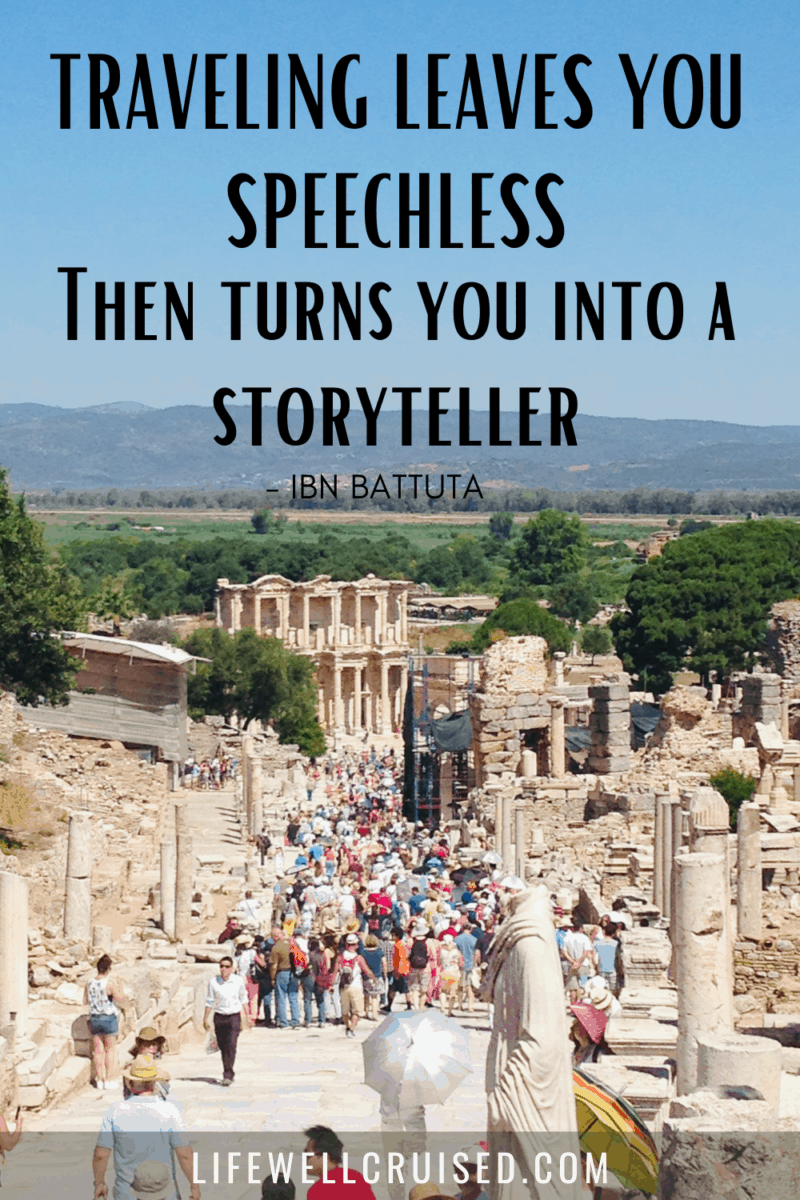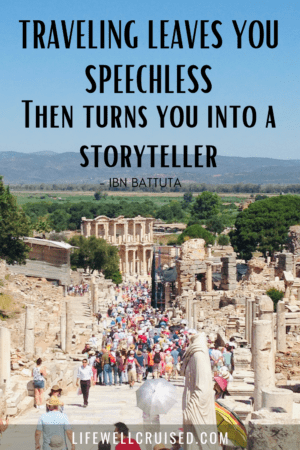 6. "Land was created to provide a place for boats to visit."
– Brooks Atkinson
If you love cruising, this cruise quote hits the nail on the head. There is something magical about arriving to your destination by cruise ship!

7. "The days pass happily with me wherever my ship sails."
– Joshua Slocum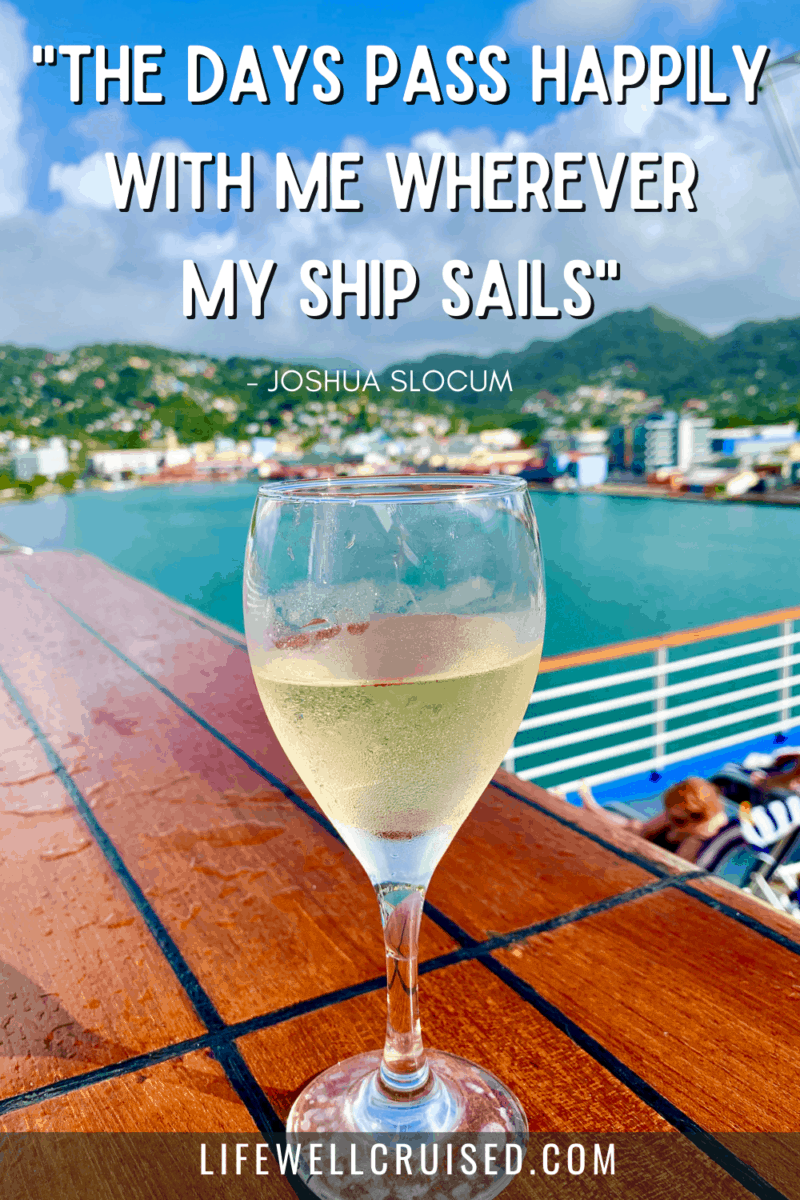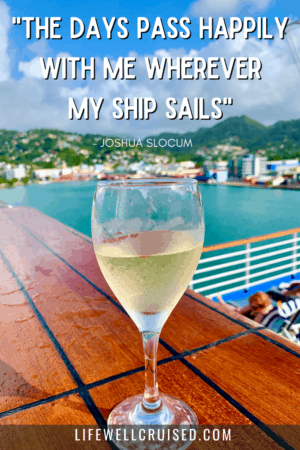 8. "I travel because seeing photos in books and brochures wasn't good enough for me. To be there, that was everything."
– Wiremu Ratcliffe
I love this travel quote because it's so true. Pictures may be worth a thousand words, but being able to be there in person is truly priceless.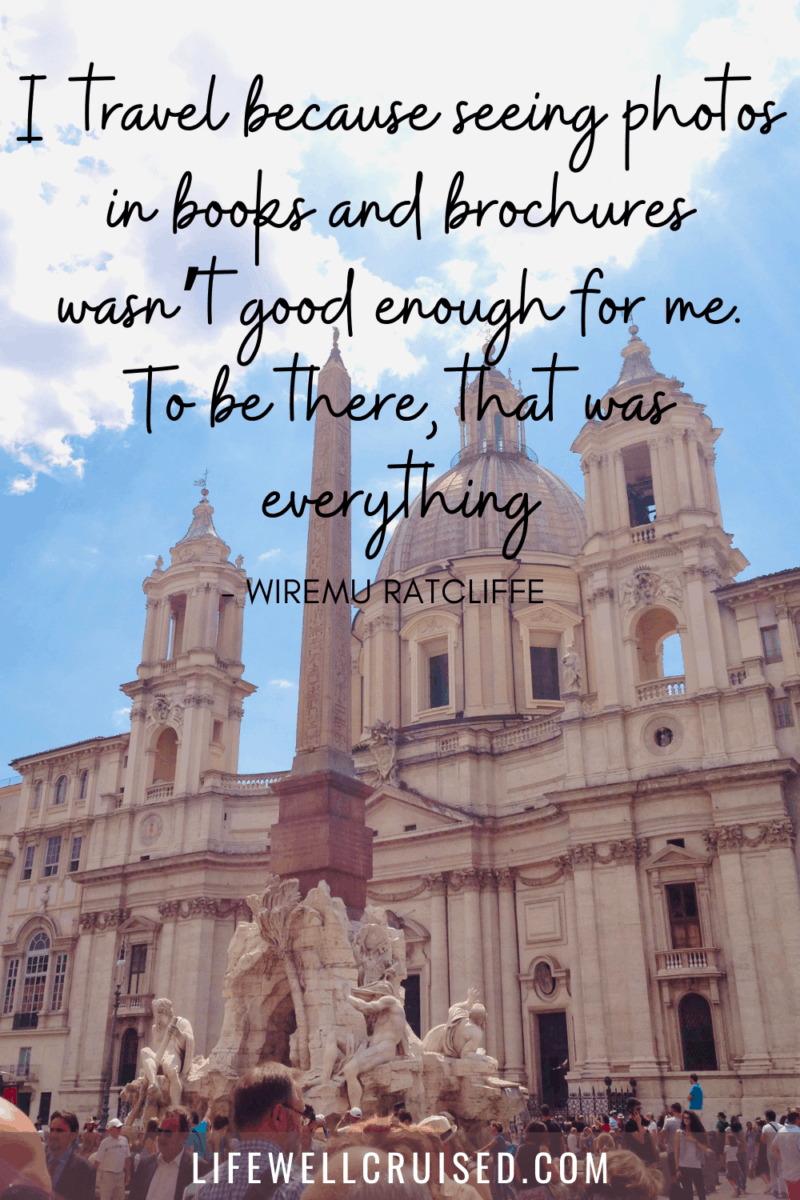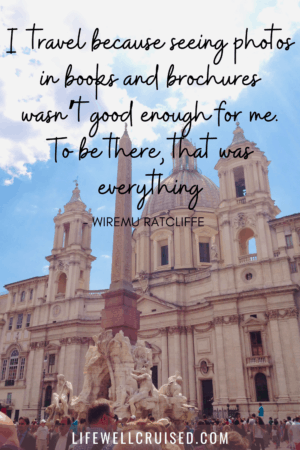 9. "It's out there at sea that you are really yourself."
-Vito Dumas
This simple quote reminds me of the feeling I have on a cruise, when I look out at the sea. I can't wait to get back to this again.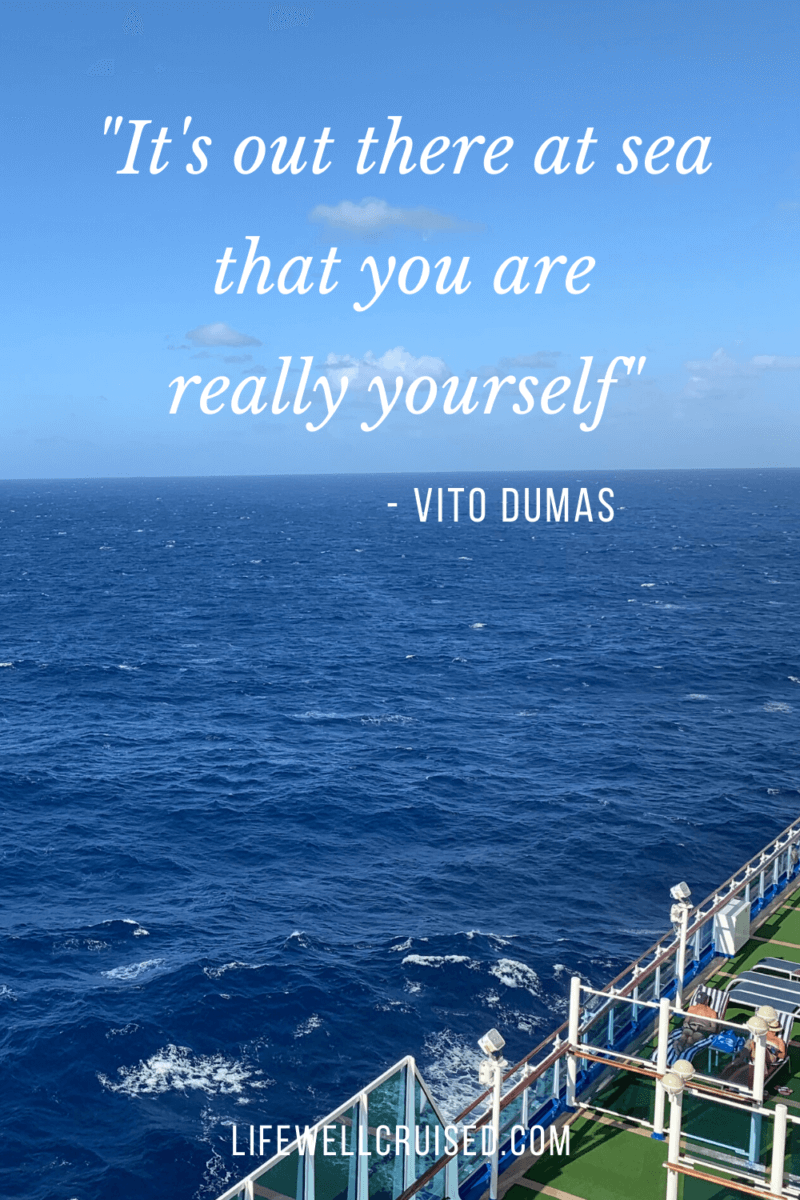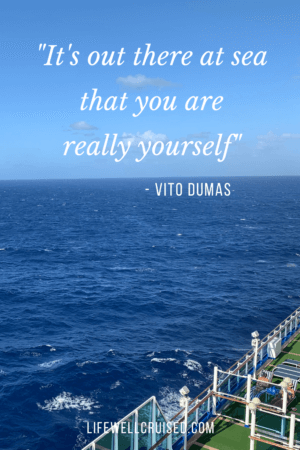 10. "Once a year, go someplace you've never been before."
– Dalai Lama
11. "To move, to breathe, to fly, to float. To roam the roads of lands remote, to travel is to live."
– Hans Christian Anderson
One of the best travel quotes, I love how Hans Christian Anderson included sailing or cruising in this famous saying.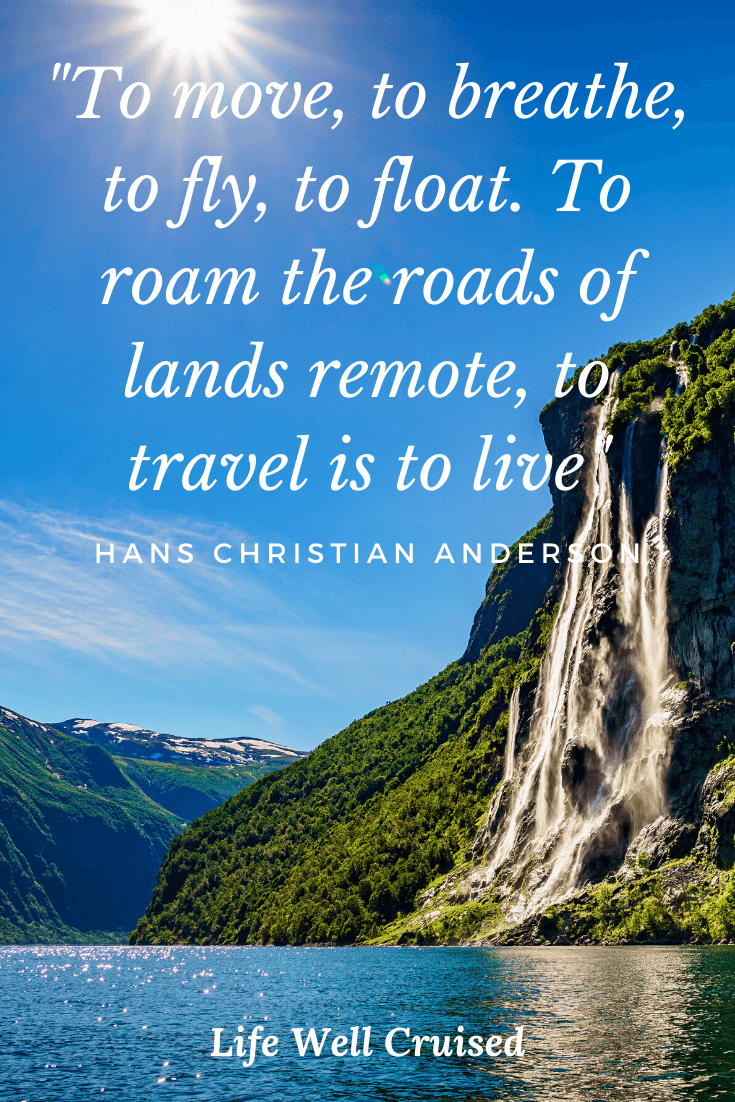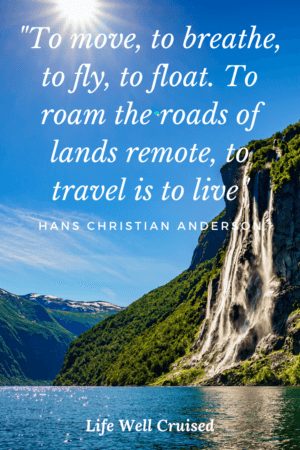 12. "People don't take trips, trips take people."
– John Steinbeck
They say travel changes you. This amazing quote illustrates it perfectly.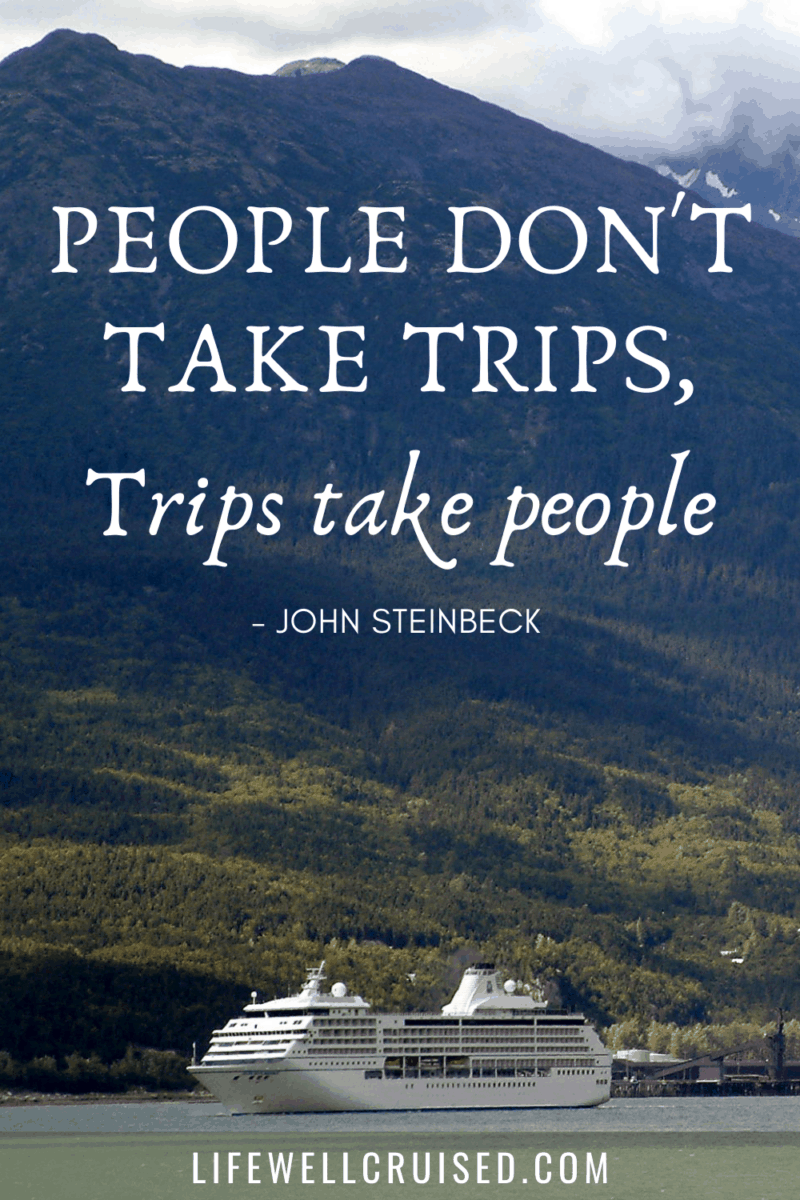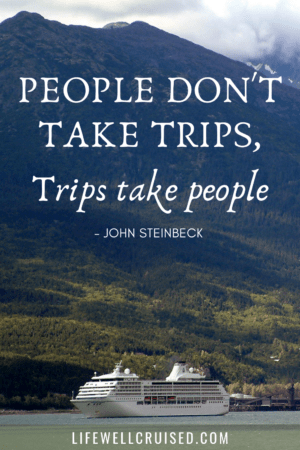 13. "The cure for anything is saltwater – sweat, tears, or the sea."
– Isak Dinesen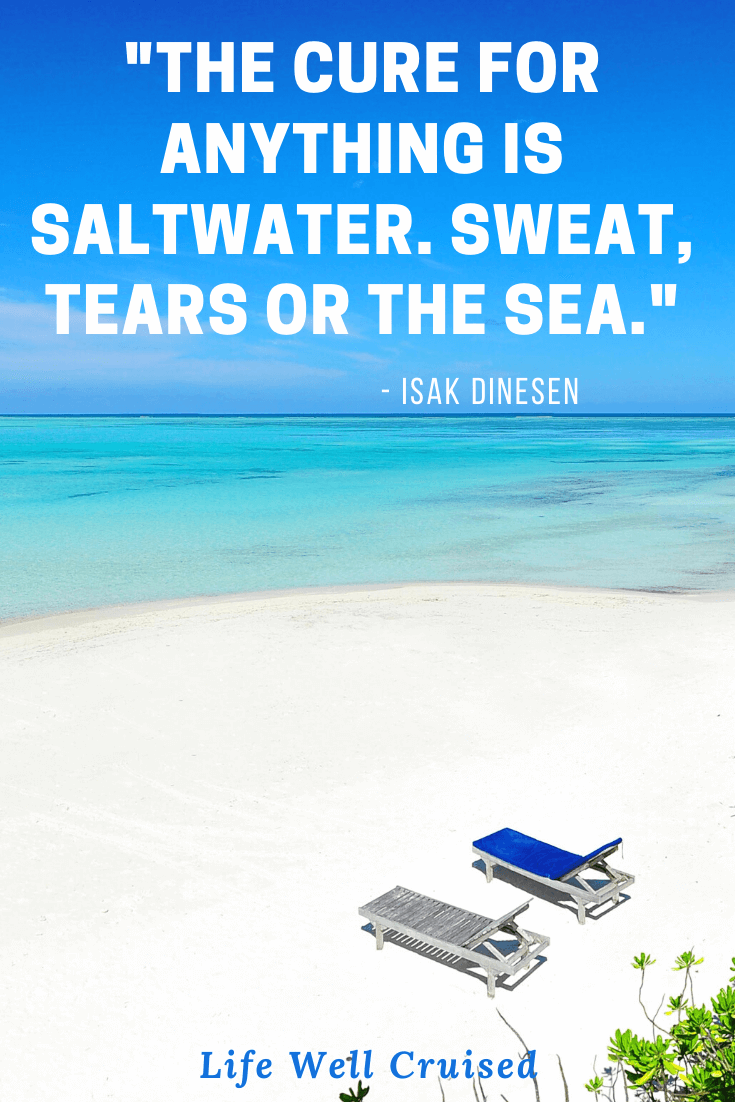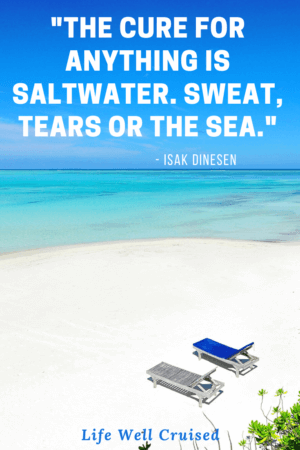 14. "The most beautiful thing in the world is, of course, the world itself."
– Wallace Stevens
15. "For my part, I travel not to go anywhere, but to go. I travel for travel's sake. The great affair is to move."
– Robert Louis Stevenson
16. "It is not that life ashore is distasteful to me. But life at sea is better."
— Sir Francis Drake, Sea Captain
Many cruise addicts would agree with this top cruise quote!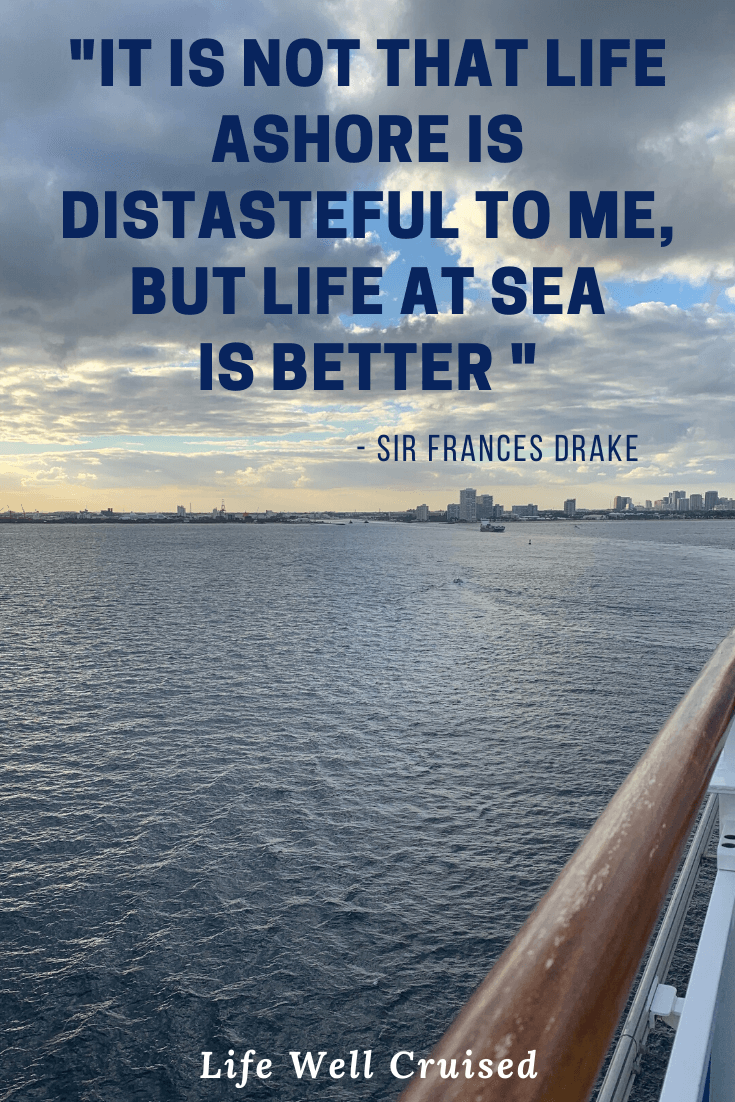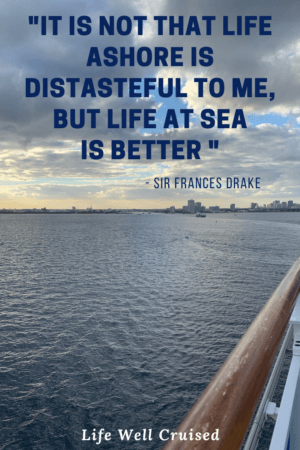 17. "We wander for distraction, but we travel for fulfillment."
– Hillaire Belloc
18. "Some people get lost for so long, that they forgot what it was like to be themselves. Find yourself again."
– Anonymous
We aren't meant to simply work and pay bills. This quote reminds us that we need to travel and find what makes us feel alive again.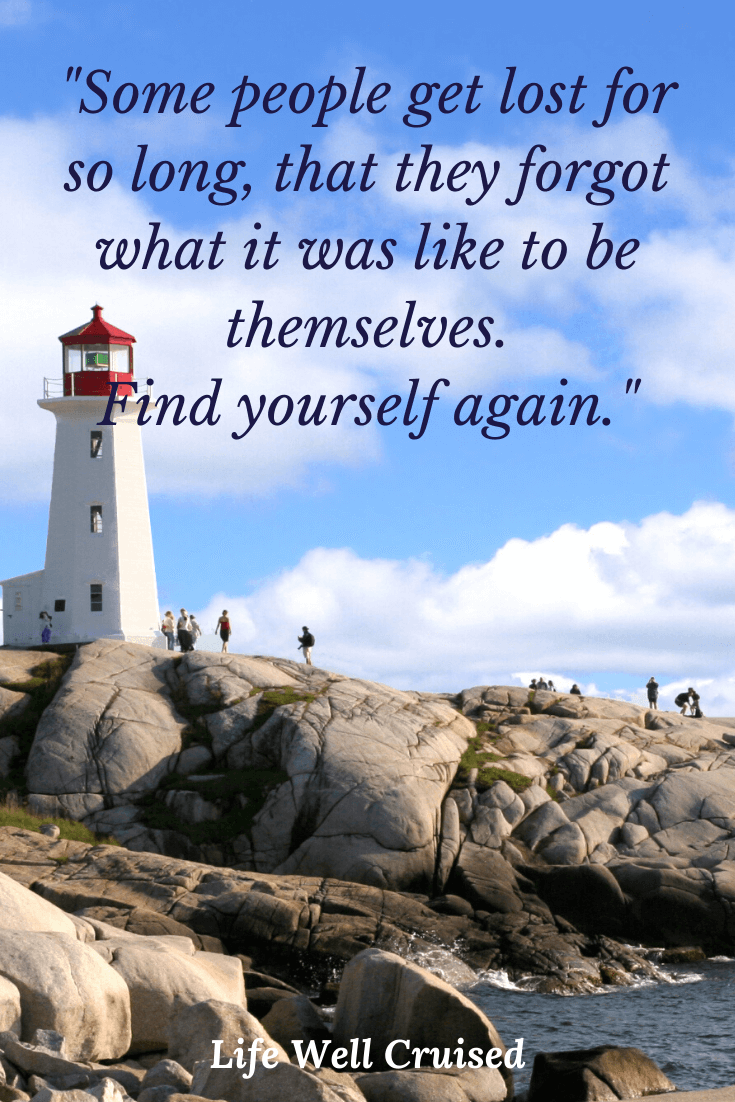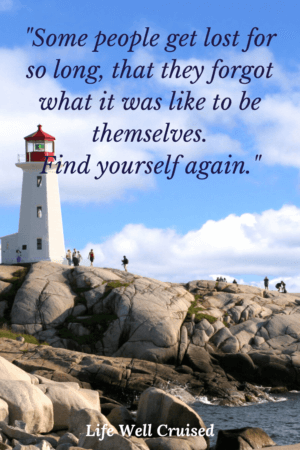 19. "With age, comes wisdom, with travel comes understanding."
– Sandra Lake
20. "The journey, not the arrival matters."
– T.S. Eliot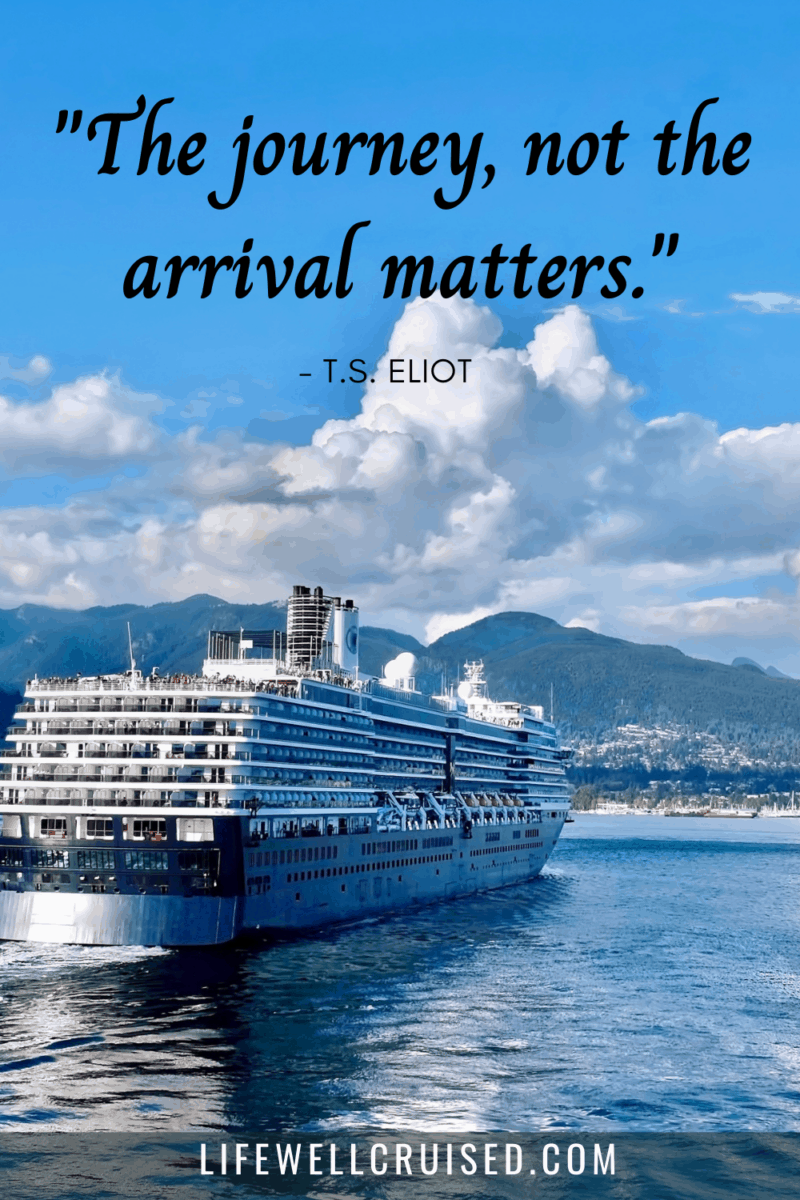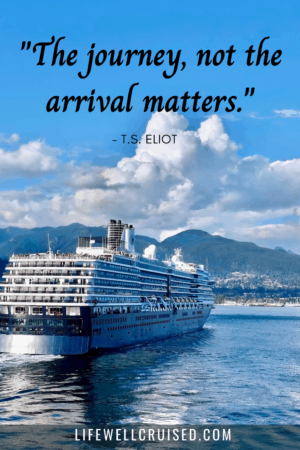 21. "I'm not afraid of storms for I'm learning how to sail my ship."
– Louise May Alcott
22. "Life is either a daring adventure or nothing at all."
– Helen Keller
Cruising gives us a chance to say yes to new adventures. Whether you cruise solo, as a couple or family, the travel experiences will be memorable.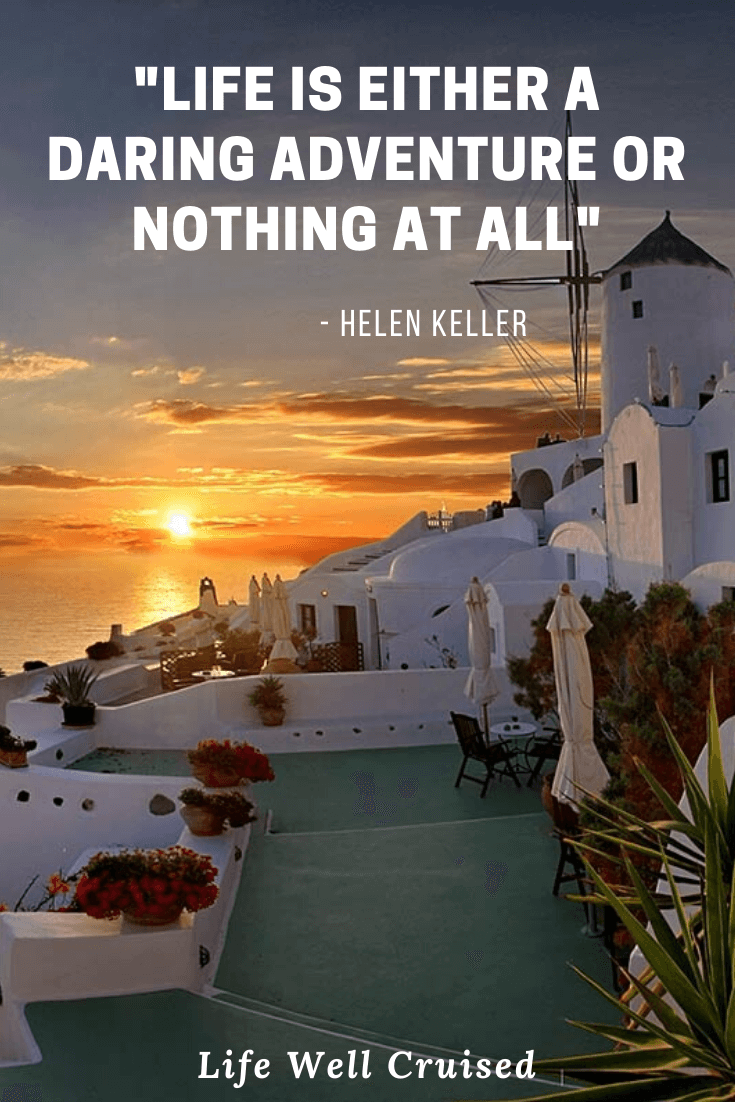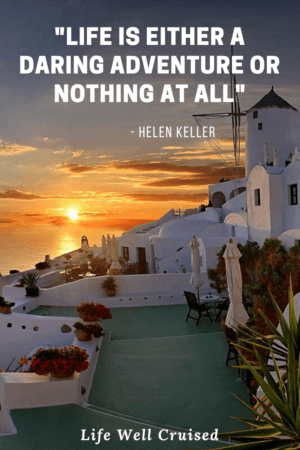 23. "May your adventures bring you closer together, even as they take you far away from home."
-Trenton Lee Stewart
This quote reminds us of the romance of cruising. Balcony breakfasts, fine dining, sunrises and sunsets at sea – there is nothing better.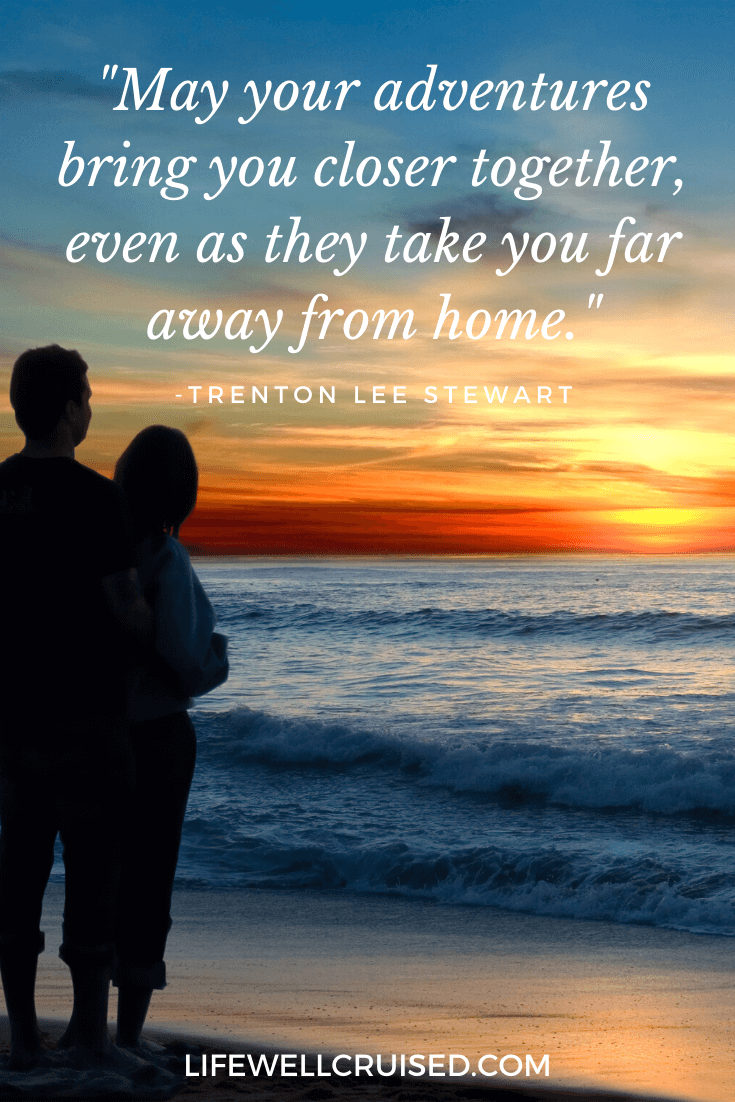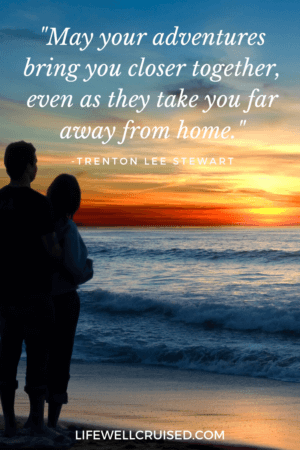 24. "Once the travel bug bites there is no known antidote, and I know that I shall be happily infected until the end of my life."
– Michael Palin
This travel quote is absolutely true! I would add that once the cruise bug bites, there is no escaping that cruising addiction!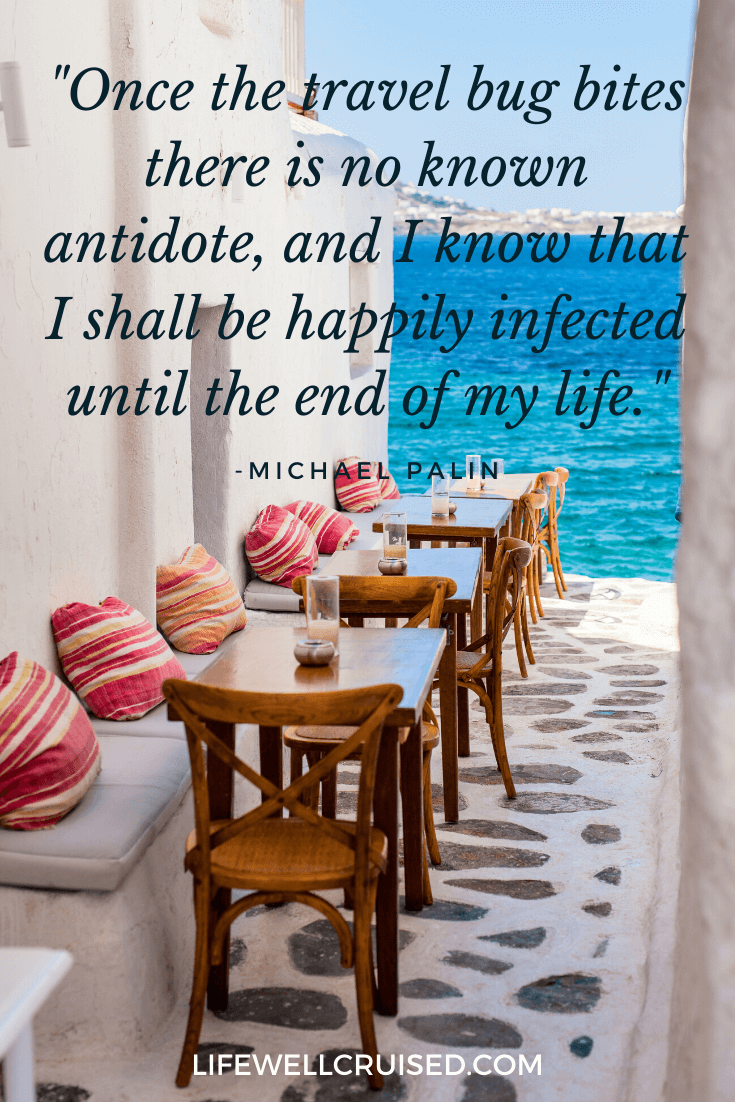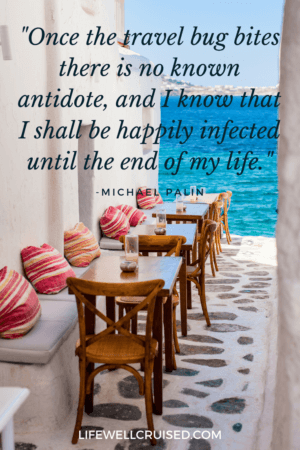 25. "Travel is fatal to prejudice, bigotry, and narrow-mindedness."
– Mark Twain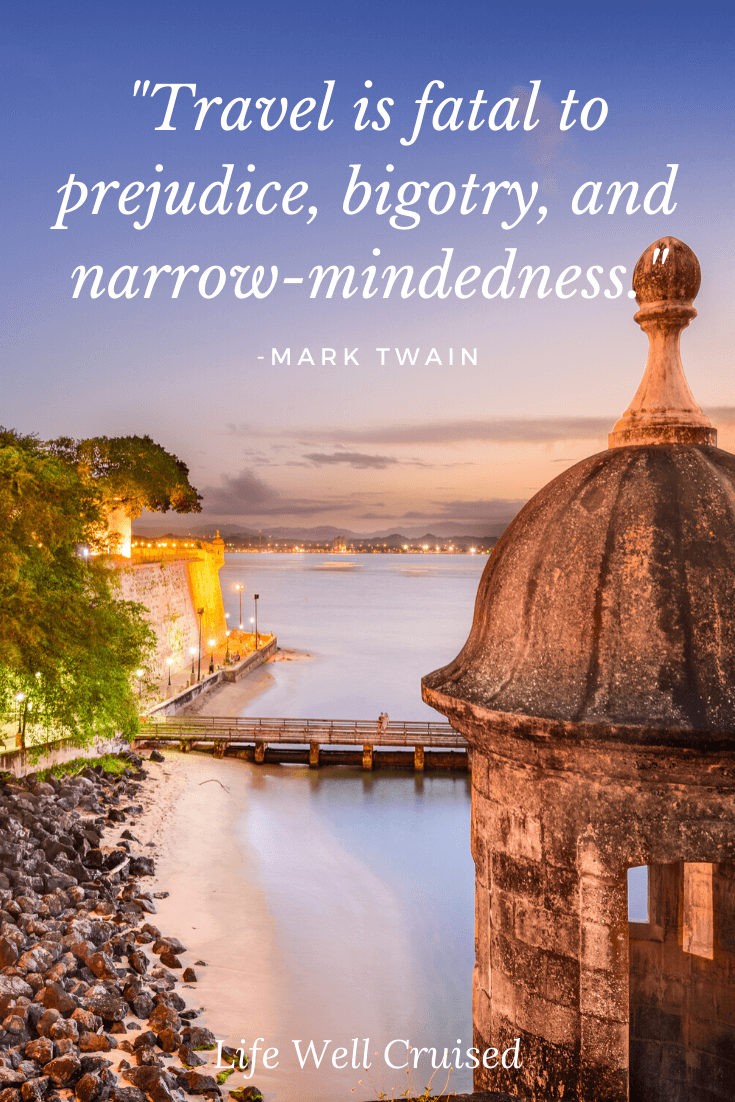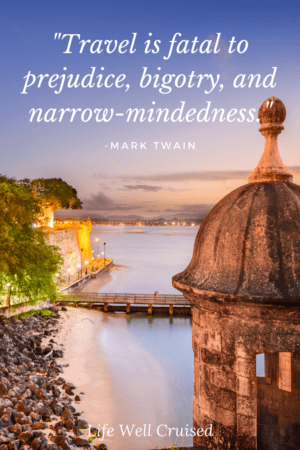 26. "The world is a book and those who do not travel read only a page."
– Hellen Keller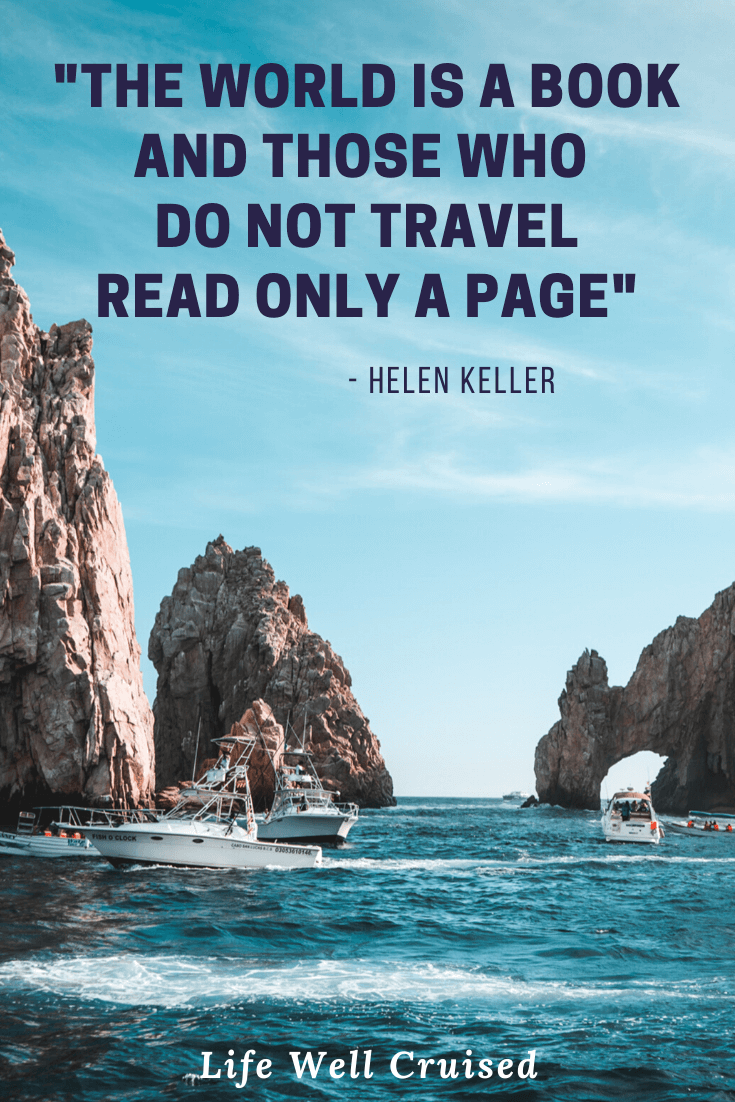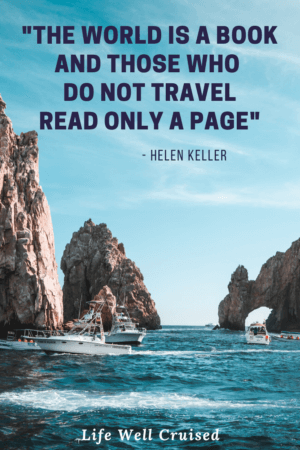 27. "Sunsets are proof that no matter what happens, every day can end beautifully."
– Kristen Butler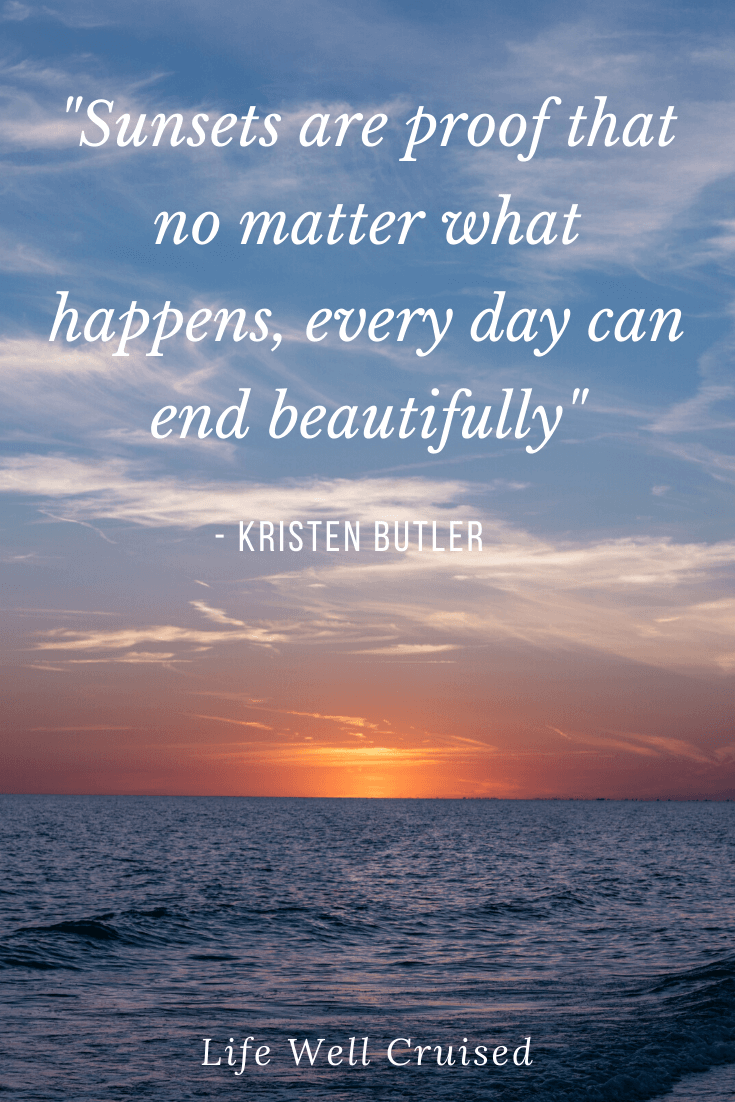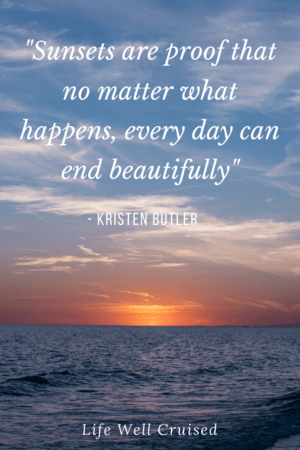 28. "If one doesn't know to which port one is sailing, no port is favorable."
– Lucius Annaneus Seneca
29. "The eye has to travel."
– Deena Vreeland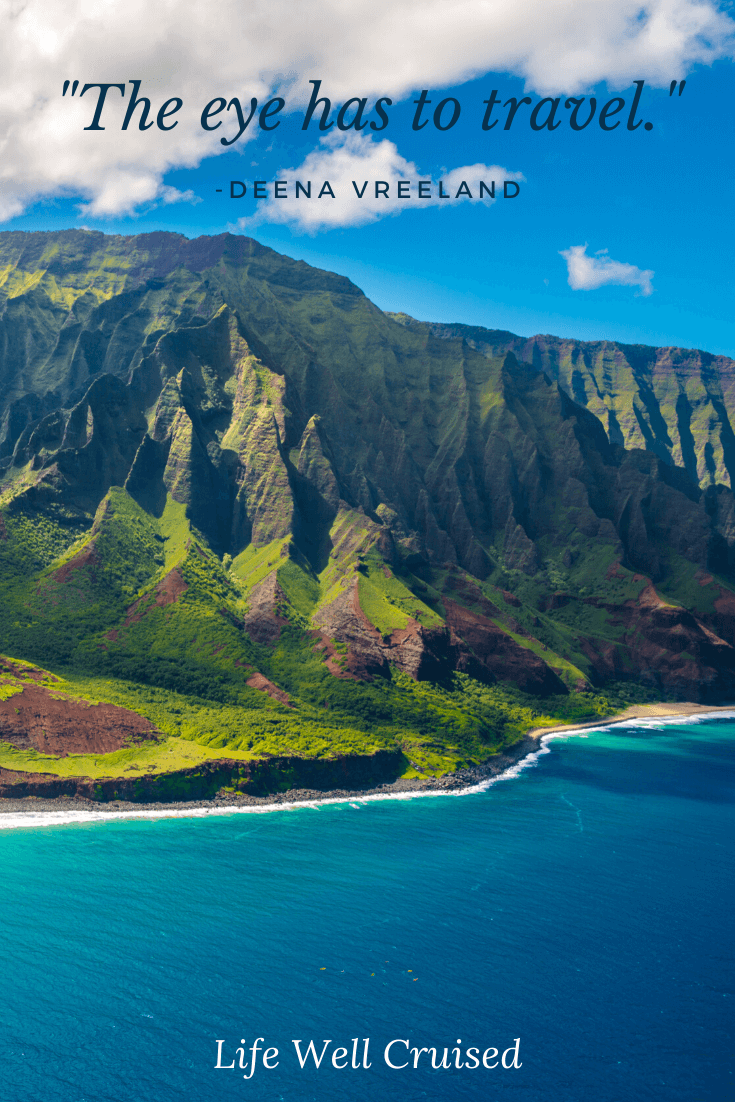 30. "Ships at a distance have every man's wish on board."
– Zora Neale Hurston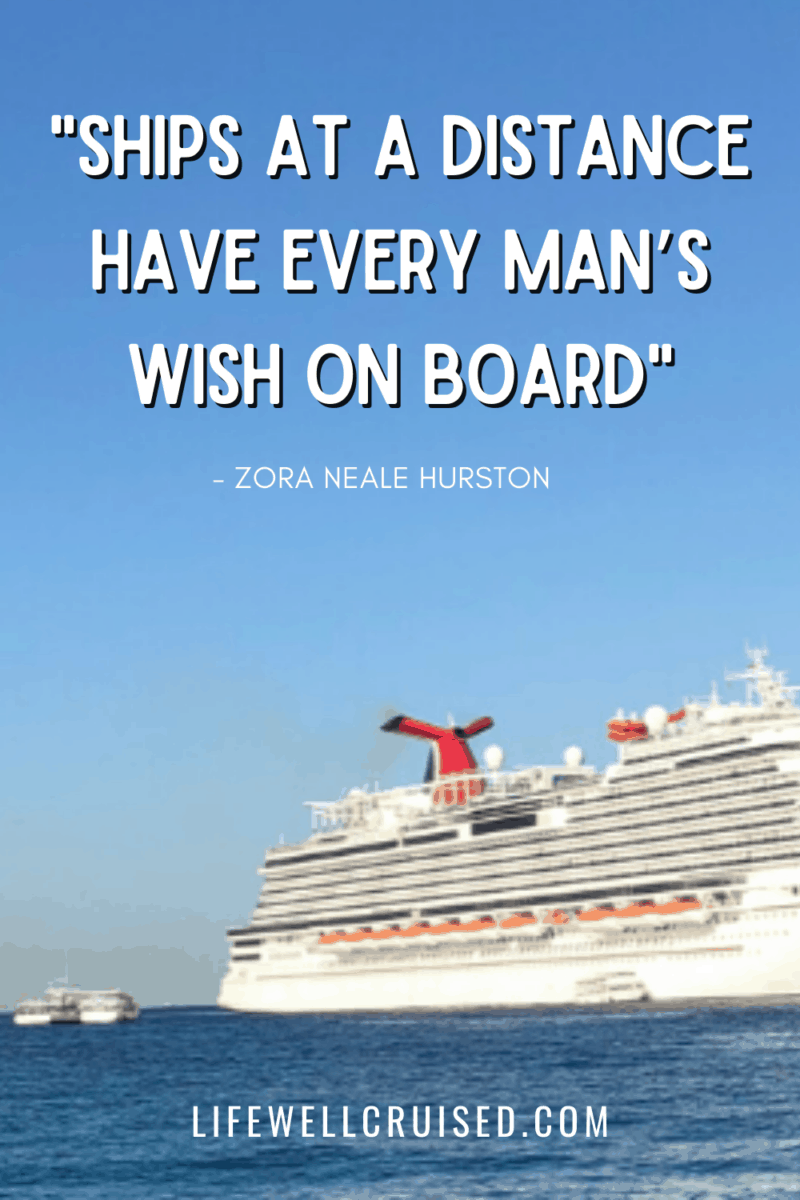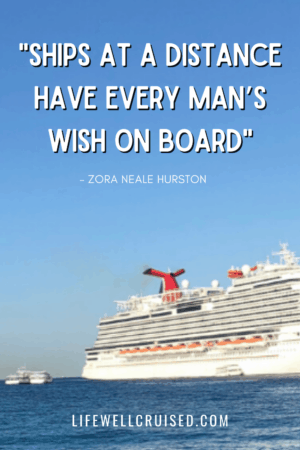 31. "Jobs fill your pocket, adventures fill your soul."
– Jamie Lyn Beatty
32. "The real voyage of discovery consists not in seeing new landscapes, but in having new eyes."
-Marcel Proust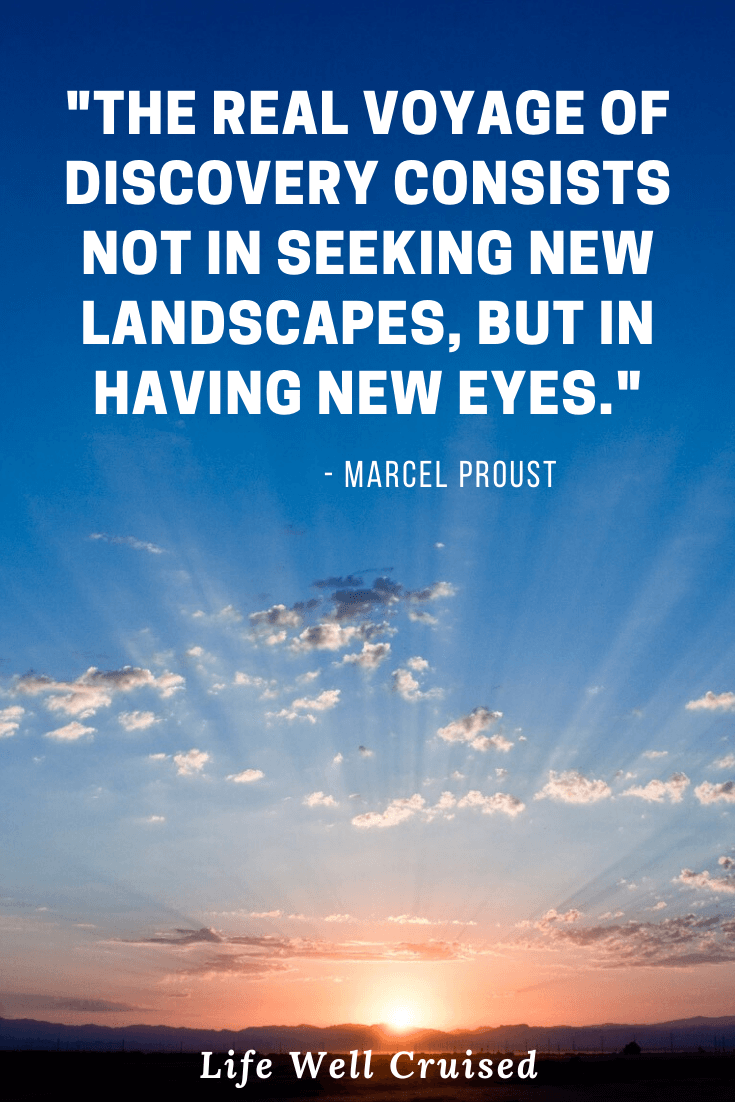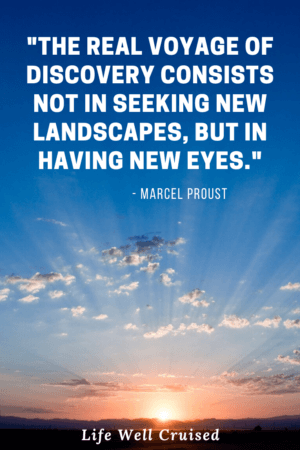 33. "May you live all the days of your life."
– Jonathan Swift
34. "We wander for distraction, but we travel for fulfillment."
– Hilaire Belloc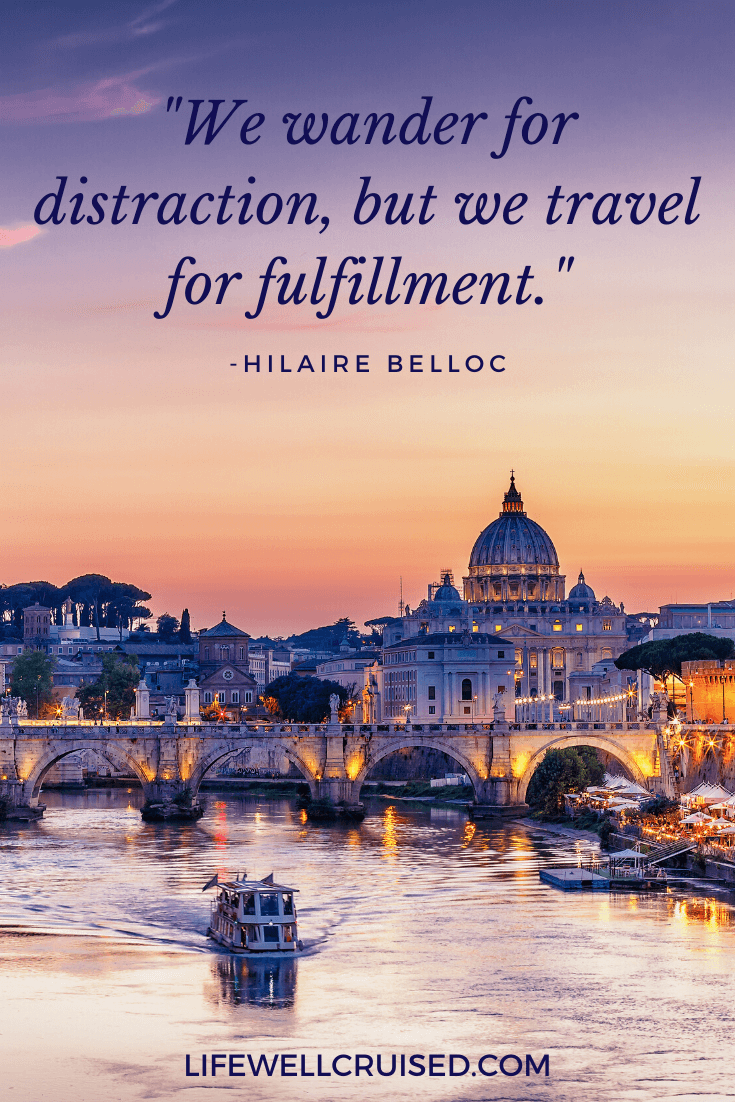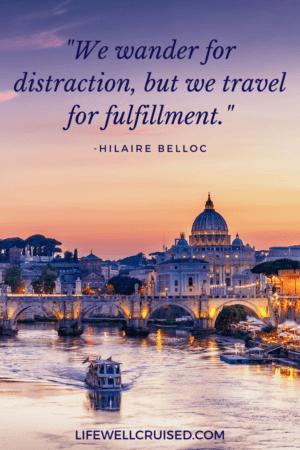 35. "We travel, initially, to lose ourselves, and we travel, next to find ourselves."
– Pico Iyer
36. "All journeys have secret destinations of which the traveler is unaware."
Martin Buber
37. "Take every chance in life, because some things only happen once."
– Karen Gibbs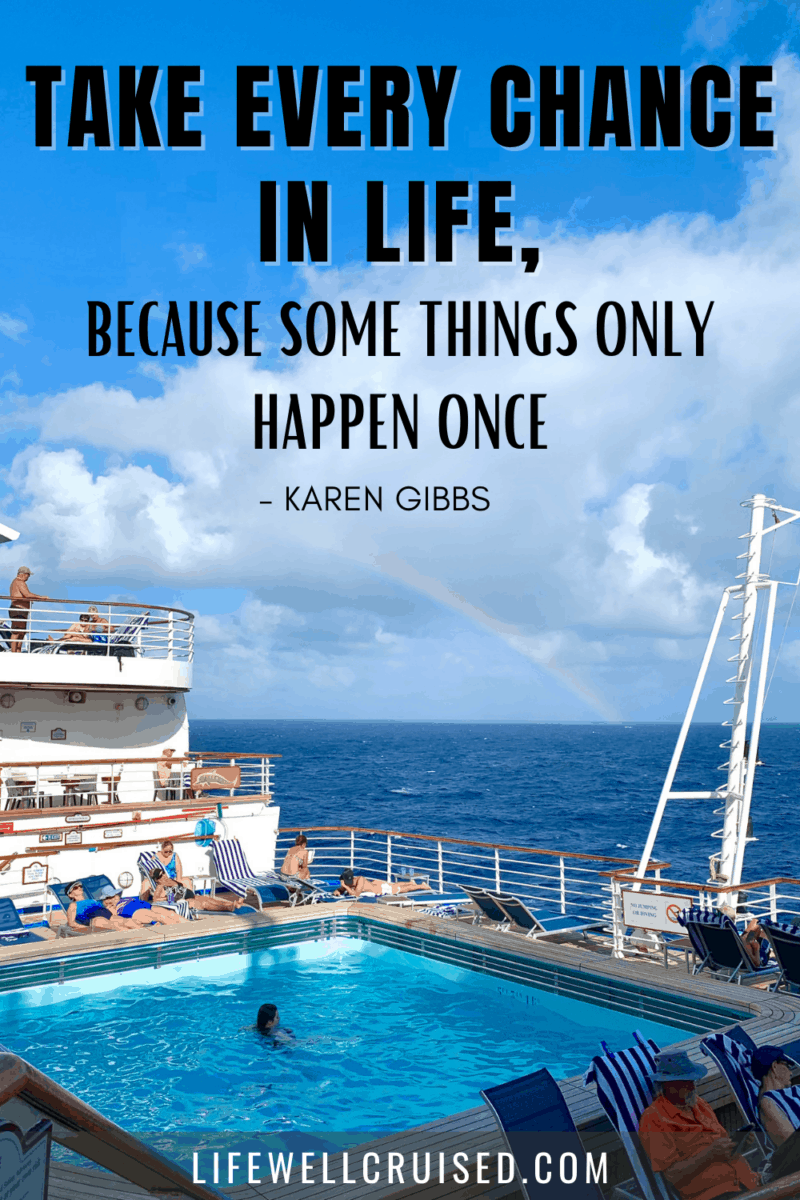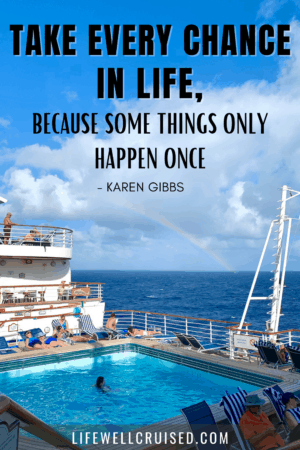 38. "In life, it's not where you go, it's who you travel with."
– Charles M. Schulz
39. "A ship in harbor is safe, but that's not why ships were built."
– John A. Shedd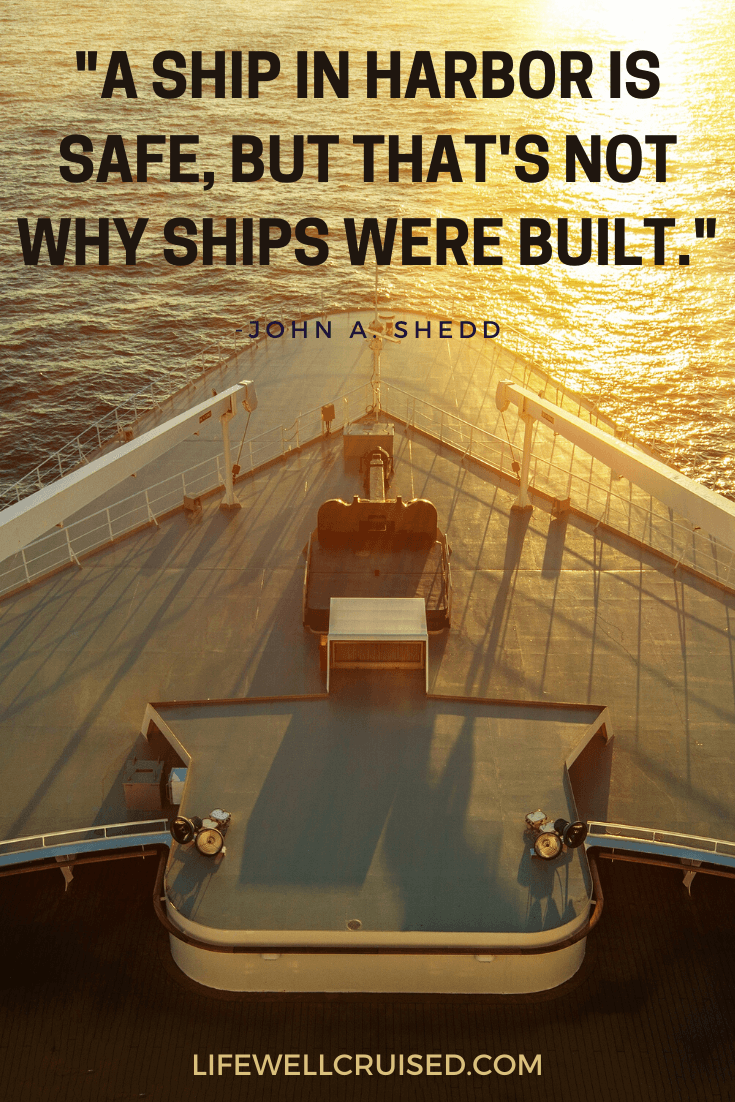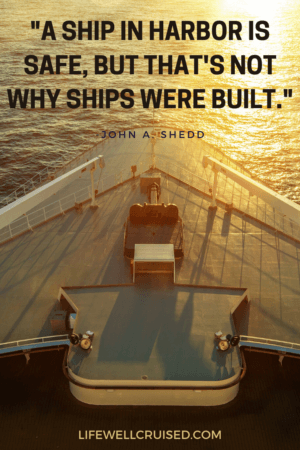 40. "One's destination is never a place, but a new way of looking at things."
– Henry Miller
41. "The great difference between voyages rests not with the ships, but with the people you meet on them."
– Amelia A. Barr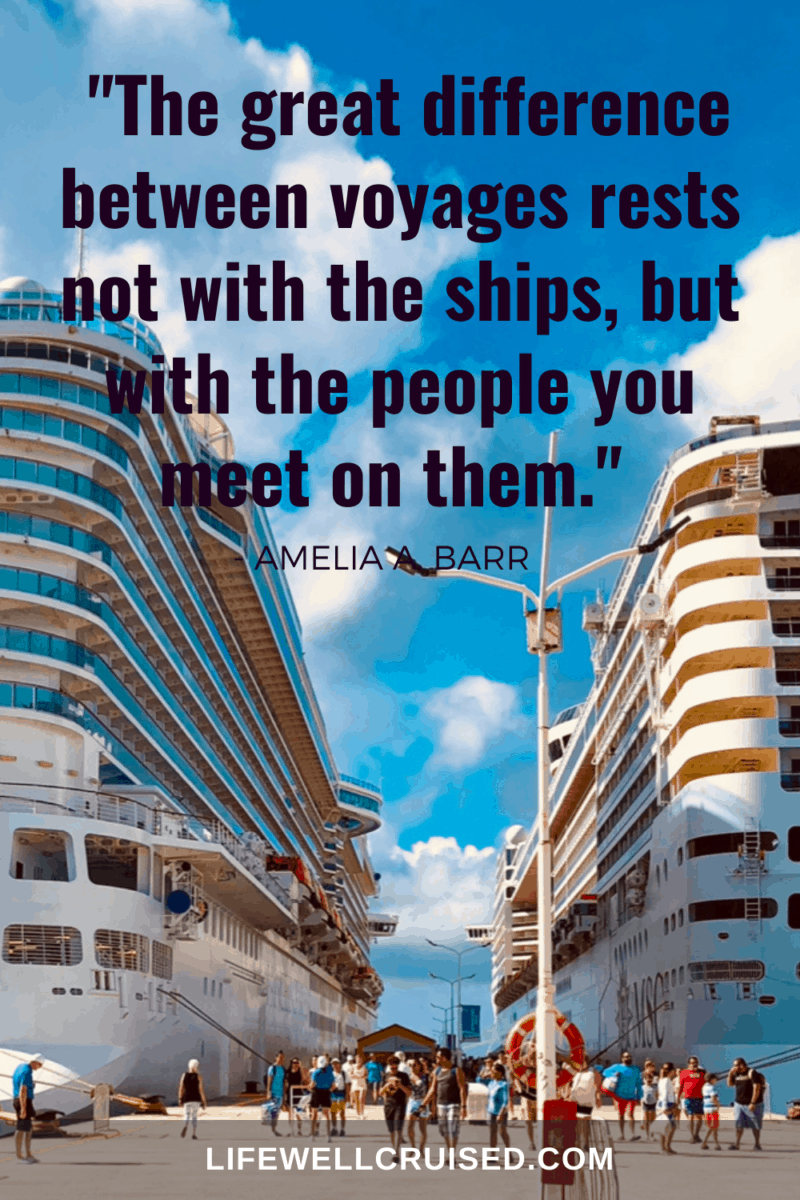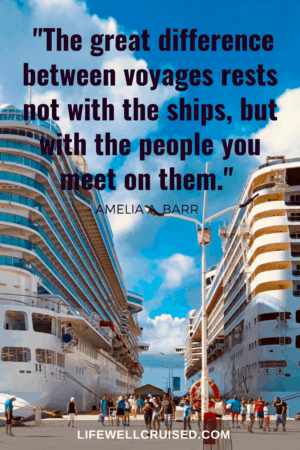 42. "Wherever you go becomes a part of you somehow."
– Anita Desai
43. "Travel not to escape life, but so life doesn't escape you."
– Anonymous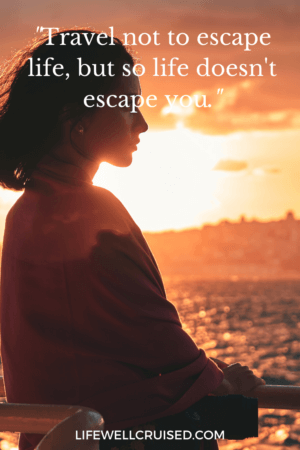 44. "I am not the same, having seen the moon shine on the other side of the world."
– Mary Ann Radmacher
45. "You haven't lived until you've sailed."
– David Sedaris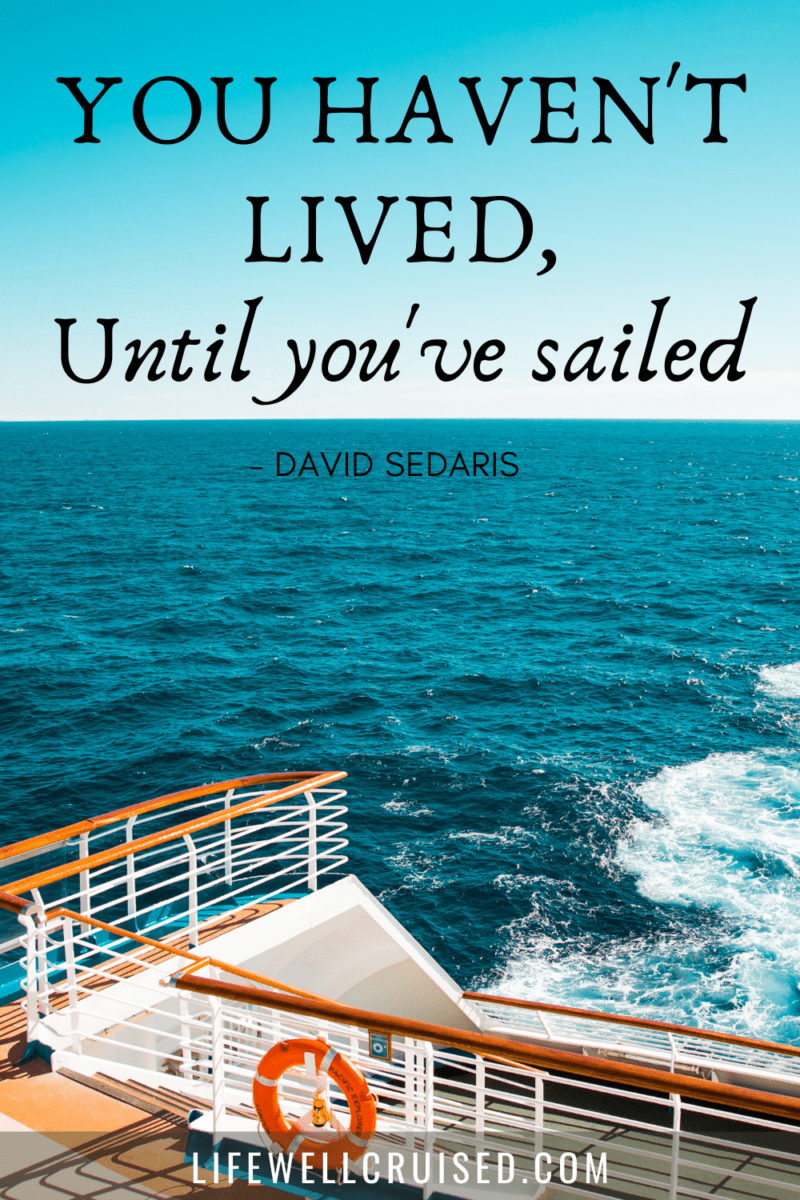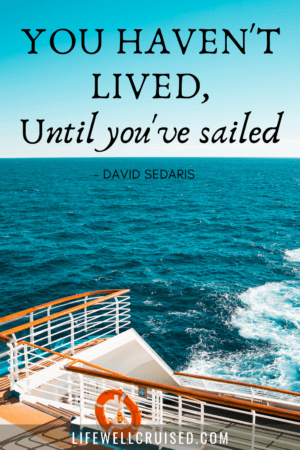 46. "Travel makes one modest. You see what a tiny place you occupy in the world."
Gustave Flaubert
47. "Make time for travel. The memories will last a lifetime."
– Ilana Schattauer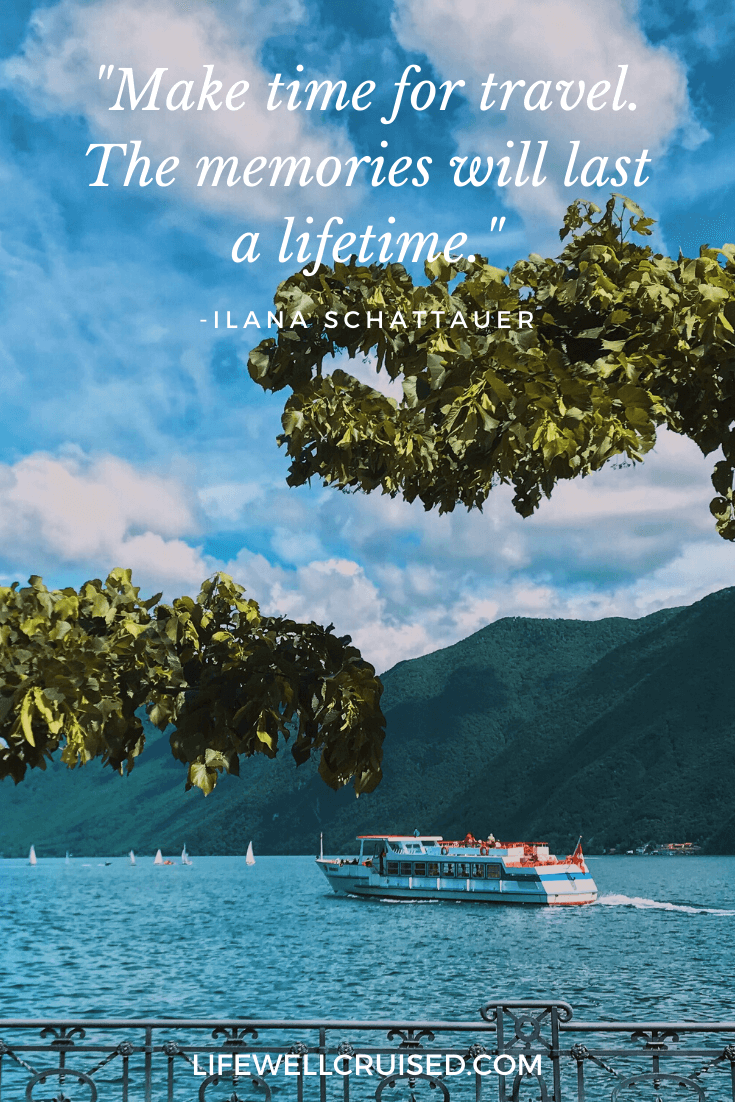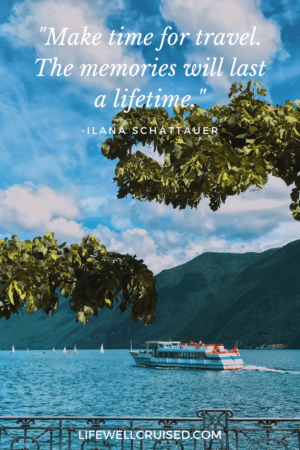 48. "The gladdest moment in human life, me thinks, is a departure into unknown lands."
– Sir Richard Burton
49. "Live in the sunshine, swim the sea, drink the wild air."
Ralph Waldo Emerson
50. "We are tied to the ocean, and when we go back to the sea, whether it is to sail or to watch, we are going back from whence we came."
– John F. Kennedy
This cruise travel quote is another favorite of mine. In truth, whether on a cruise ship, boat or even at the beach, the ocean seems to call.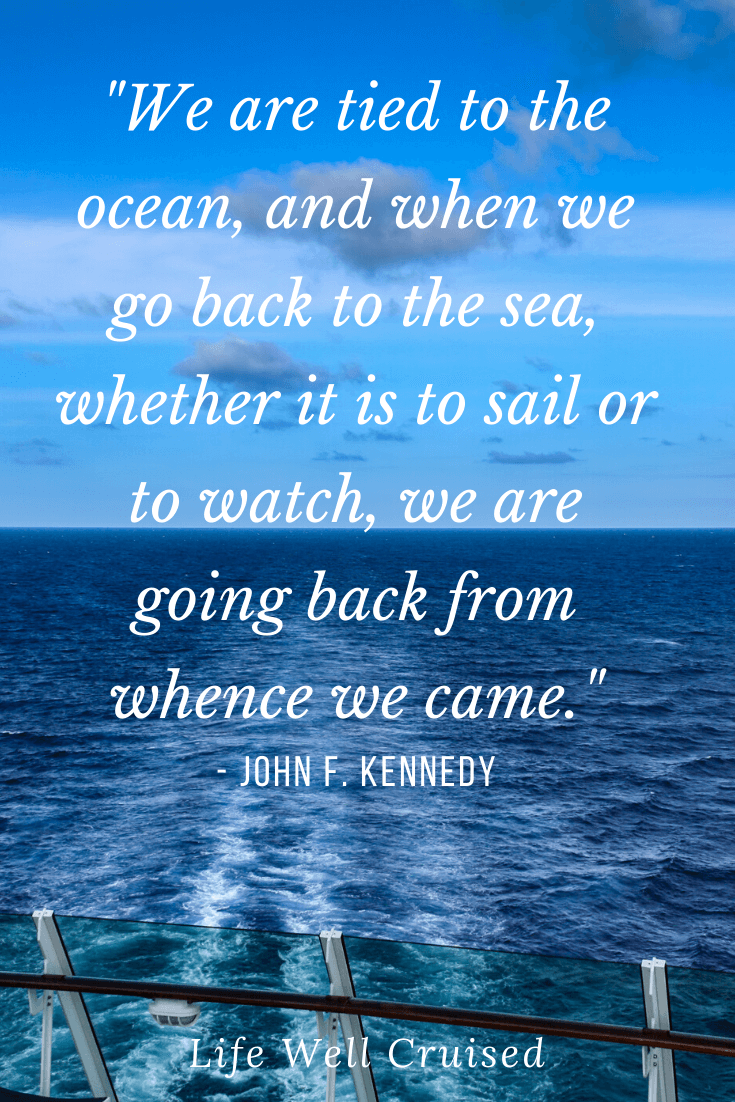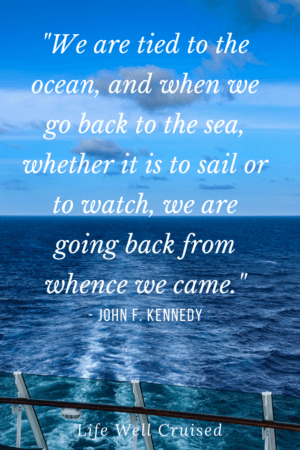 51."We must free ourselves of the hope that the sea will ever rest. We must learn to sail in high winds."
Aristotle Onassis
52. "I haven't been everywhere, but it's on my list."
– Susan Sontag
53. "The best and most beautiful things in the world cannot be seen or even touched – they must be felt with the heart."
– Hellen Keller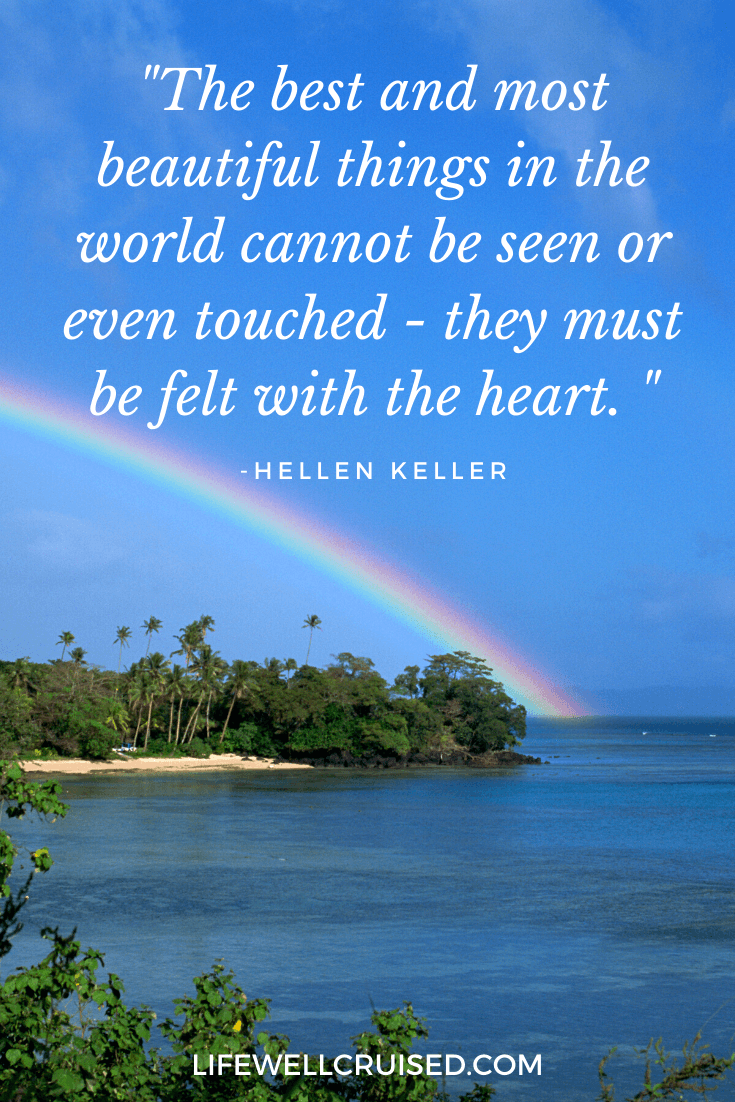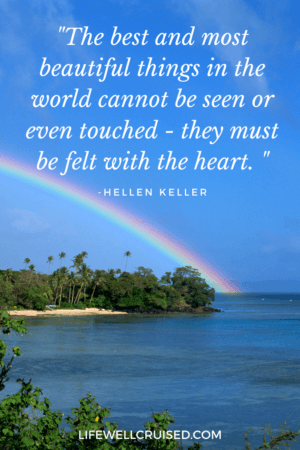 54. "Of all the books in the world, the best stories are found between the pages of a passport."
– Unknown
55. "One doesn't discover new lands without consenting to lose sight, for a very long time, of the shore."
– Andre Gide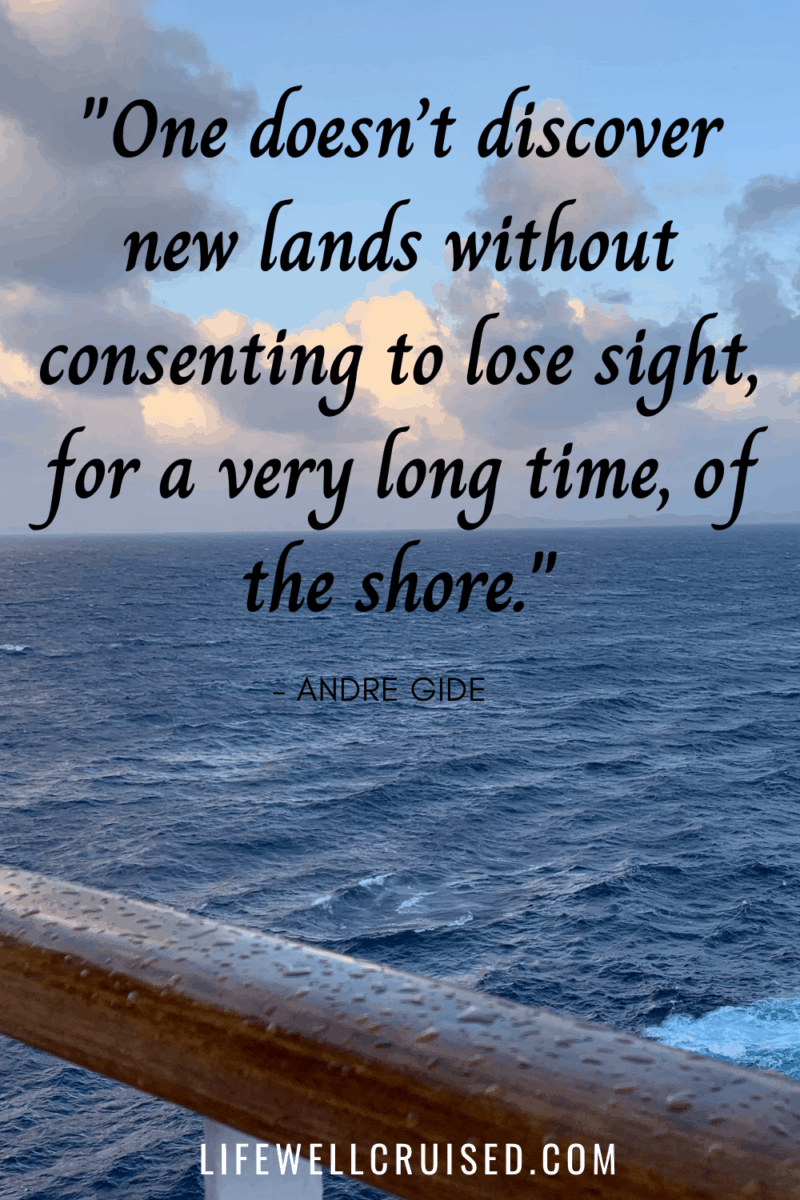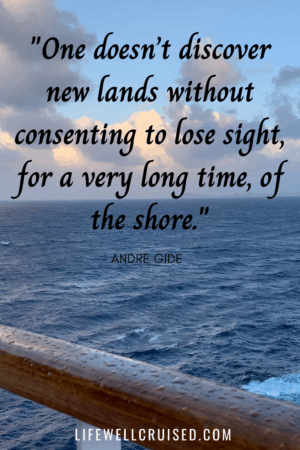 56. "Happiness is living each day as if it were the first day of your honeymoon and the last day of your vacation."
– Leo Tolstoy
57. "One of the great things about travel is that you find out how many good, kind people there are"
– Edith Wharton
58. "No literature is richer than that of the sea. No story more enthralling, no tradition is more secure."
– Felix Riesenberg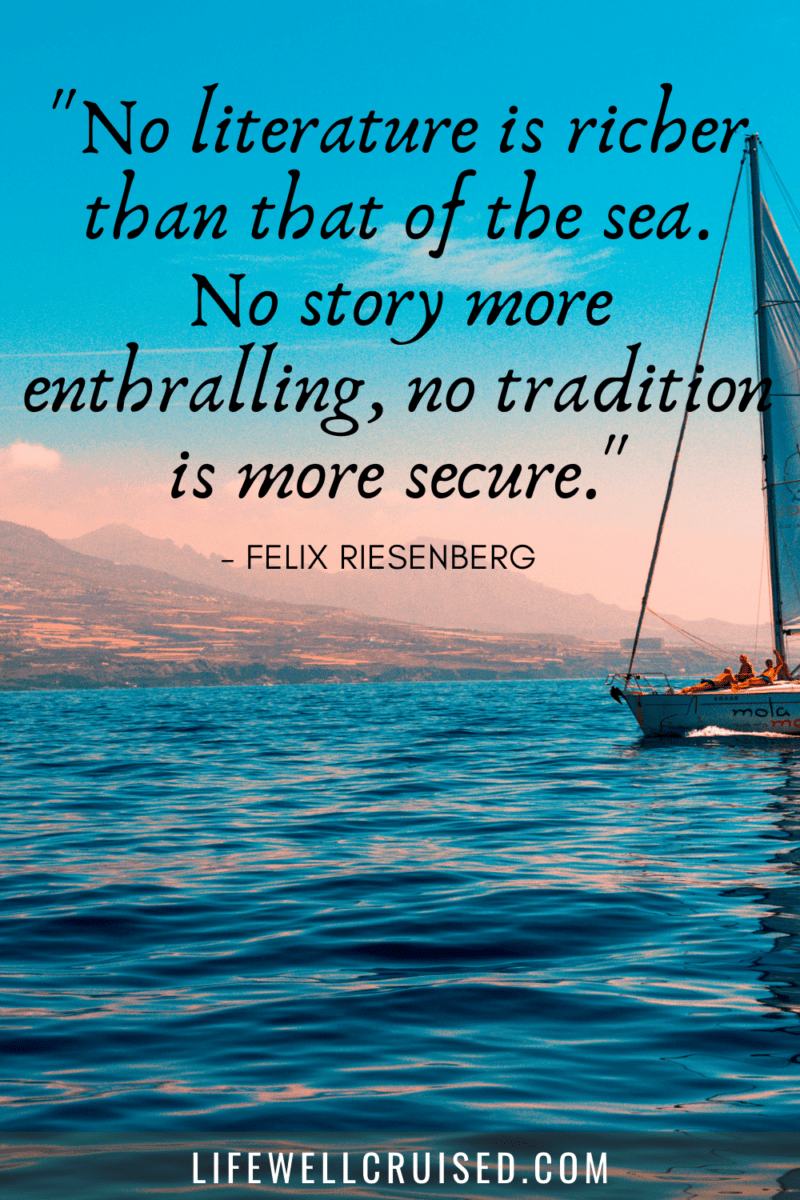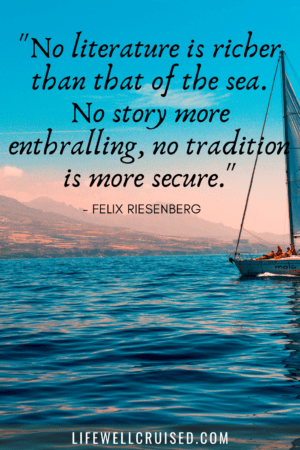 Funny Cruise Quotes
59. "There is no unhappiness like the misery of sighting land again after a cheerful, careless voyage."
– Mark Twain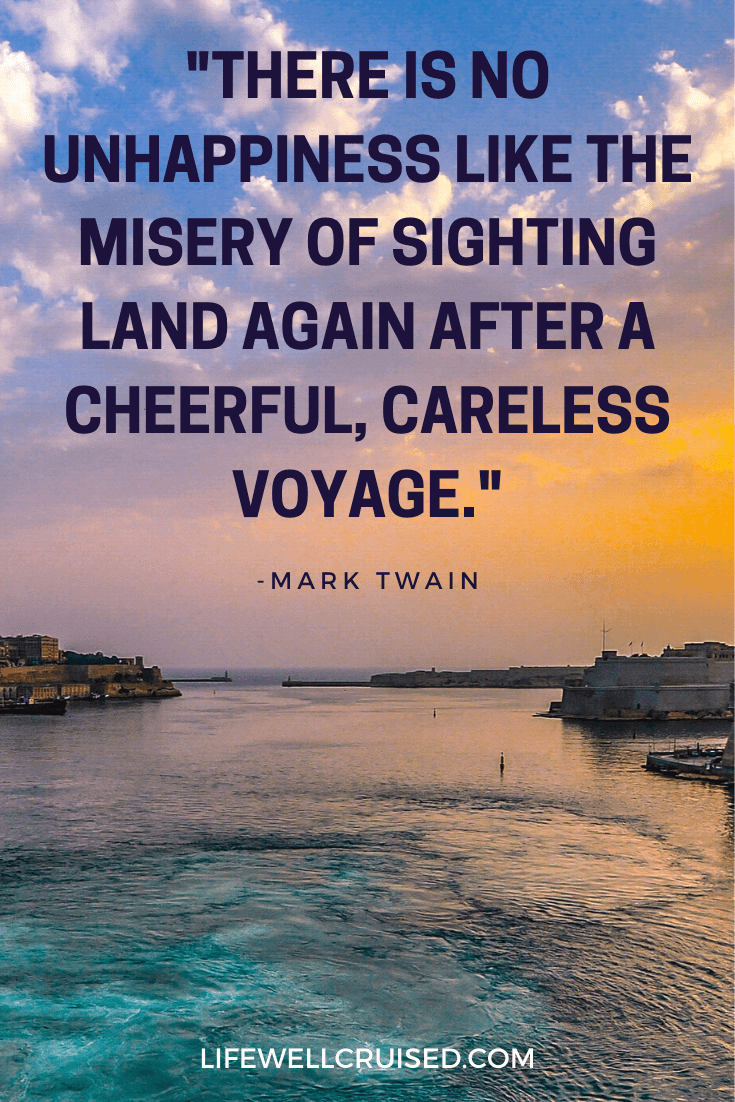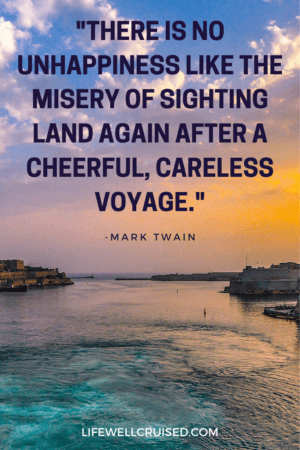 60. "If it wasn't for seasickness, all the world would be sailors."
– Charles Darwin
61. "Nothing lasts forever, except the day before you start your vacation."
– Gayland Anderson
Isn't this the truth? There's nothing like going on a cruise! If you agree, and can't wait until your next cruise, please let me know in the comments below.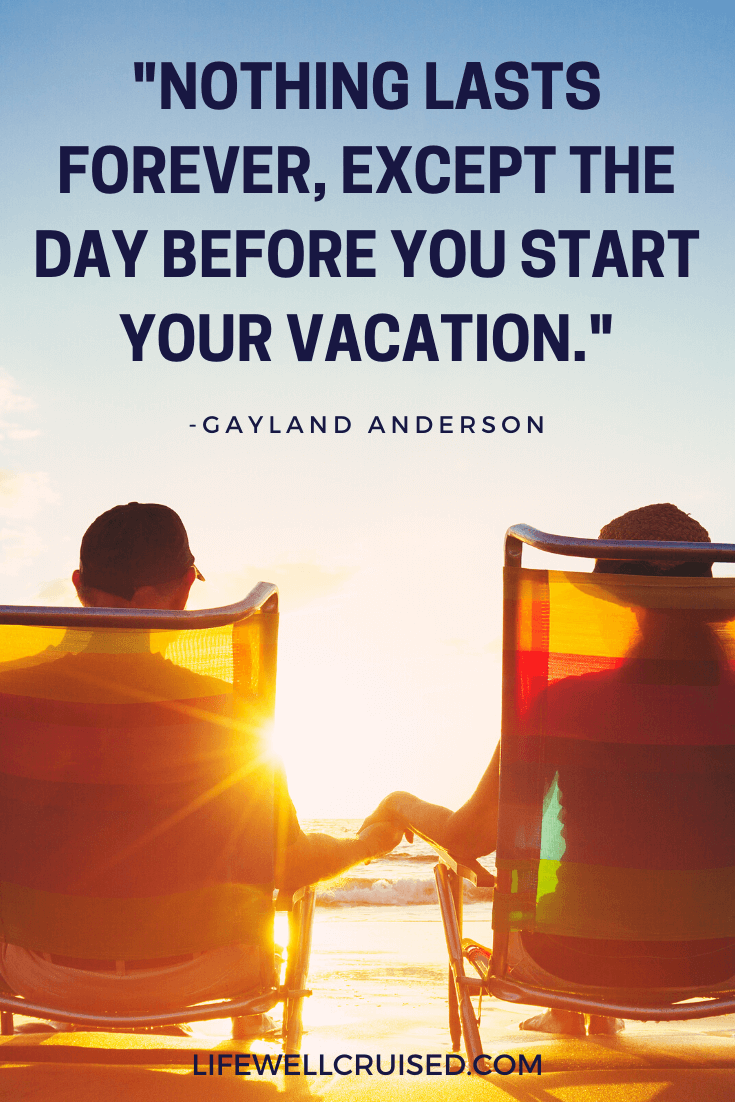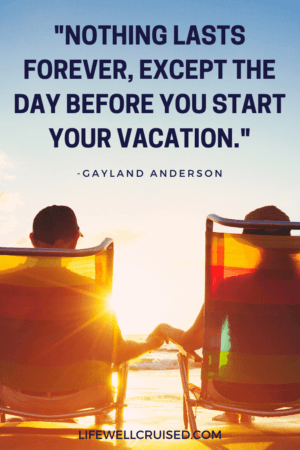 Cruise Quotes from Song Lyrics
62. "Sailing takes me away to where I've always heard it could be. Just a dream and the wind to carry me, and soon I will be free."
– Christopher Cross
Does anything say it better than these song lyrics? Please let me know if there are other songs about cruising and sailing that you love.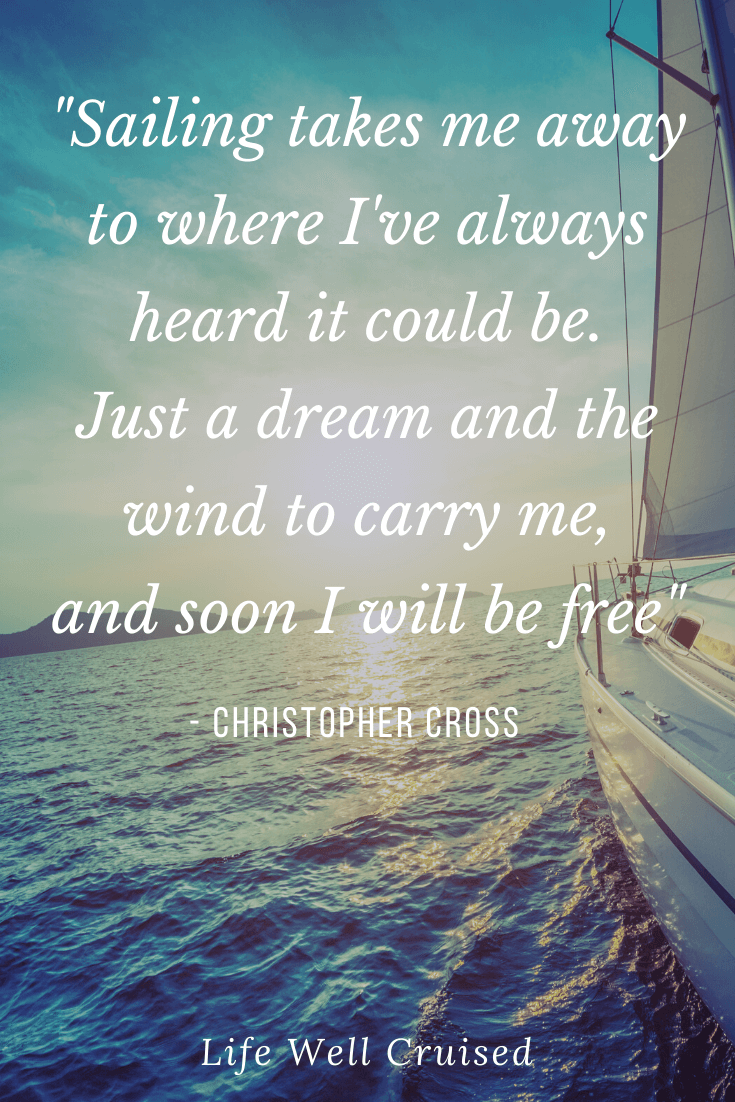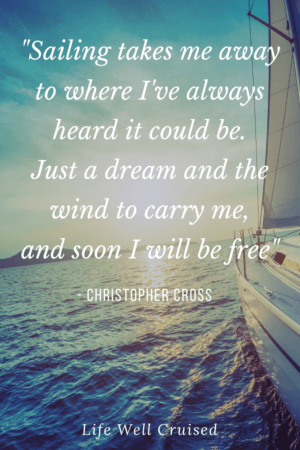 Posts to read next:
25 Rick Steves Travel Quotes and Travel Books that Will Inspire You
50 Best Jimmy Buffett Quotes: The Ultimate Collection
25+ Most Recommended Items to Bring on a cruise
20 Cruise Packing Tips all Cruisers Need
What to Pack for a Caribbean Cruise
Final thoughts: 50+ Inspirational Cruise Travel Quotes to Fuel Your Wanderlust
I hope you enjoyed these inspirational cruise travel quotes and that they reminded you of your love of cruising, travel and the sea.
Why do I love cruising?
Cruising is a way to see and experience the world, while traveling by sea. It's a chance to meet people from all over the world, both on the cruise ship and on shore, and discover what you have in common, as well as the interesting differences. It is reconnecting with those you love, as well as yourself.
What cruise travel quote inspires you the most? If you love cruising and miss it, please share what you like best in the comments below.
Happy Cruising!
Ilana xoxo
P.S. If you've enjoyed this, please don't keep it to yourself ;-)! Please share it on Facebook or save for later on Pinterest. Thanks so much!
Let's connect:
Follow me on YouTube at Life Well Cruised
Follow me on Facebook at Life Well Cruised
Follow me on Pinterest at Life Well Cruised
Follow me on Instagram at Life Well Cruised