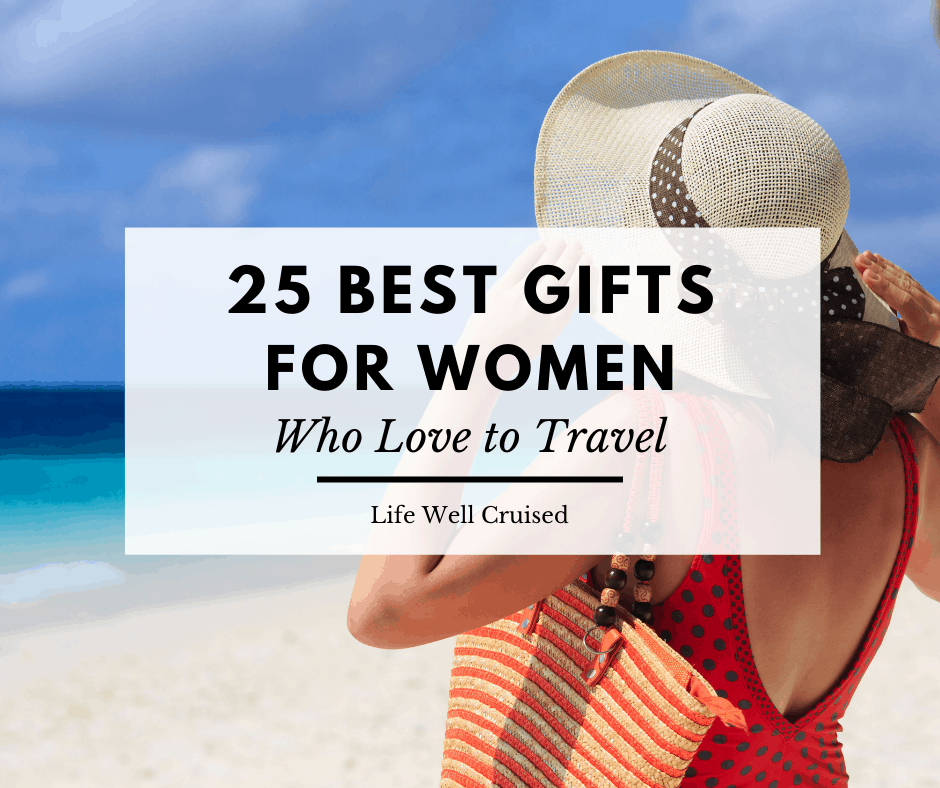 Best Gifts and Travel Essentials for Women
Have you been searching for the perfect gift for a woman who loves to travel? Whether she enjoys beach vacations, cruises or travelling abroad, these useful and unique travel items will be appreciated.
After the last year, I find myself dreaming of travel experiences to come, and craving some new travel accessories. I found more than 25 travel items that are must-haves in 2021!
Whether you're buying a gift for your friend, sister, mother, wife or for yourself, I hope you find a few treasures in this travel gift list.
Practical Travel Accessories for Women
This post contains affiliate links which means if you click and buy that I may make a commission, at no cost to you. Please see my disclosure policy for details.
Life Well Cruised is a participant in the Amazon Services in the Amazon Services LLC Associates Program, an affiliate program designed to provide a means for sites to earn advertising fees by advertising and linking to Amazon.com.
1. Bra and underwear travel cube
While I love regular packing cubes, they often don't have the support needed for intimate items like bras and bathing suits. This underwear and bra travel organizer has a firm shape as well as pockets and zippered sections.
Recommended: Travel Underwear & Bra Organizer Packing Cube
2. Packing cubes
A set of packing cubes is so helpful to keep organized when traveling. This set includes both a laundry and shoe bag and is available in several colors.
Recommended: 6 piece packing cube set (see over 6000 5* Amazon reviews)
3. Travel Organizer Stow-N-Go Packing Cube & Storage
For short trips or when packing carry on only, this unique packing cube and hanging shelf storage combo is amazing. It can be prepacked and then placed into your luggage, ready to hang in your hotel room or cruise cabin.
Recommended: Hanging travel luggage organizer and packing cube
4. Travel Jewelry Organizer Bag
I have this small jewelry organizer and it's practical, compact and as cute as the photo! It's perfect to keep jewelry organized and to make sure necklaces and bracelets don't get tangled when traveling.
Recommended: Foldable travel jewelry case (see details & over 3000 5* reviews on Amazon)
5. Hanging Cosmetic Bag Make up Organizer
Every woman needs a well made cosmetic travel bag. This hanging make up bag has clear, see through zippered compartments, perfect for short or longer getaways.
Recommended: Toiletry cosmetic bag with hanging hook (see reviews & color options here)
6. Silicone travel bottles set
This set of silicone travel bottles and small containers is a perfect gift for any woman who enjoys traveling. They are all leak proof and TSA approved, and will last for years.
Recommended: 7 piece silicone traveling bottles set
7. Secret travel bra pouch
Ladies, forget a money belt and bring along this pacsafe bra pouch, which is so much more discreet and safe.
Recommended: travel bra pouch for women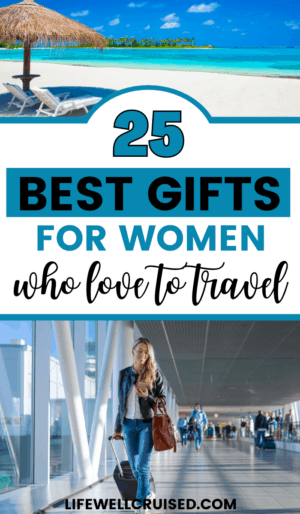 8. Small Travel Fan
Perfect for hot days or stuffy spaces in a plane, bus or anywhere. This mini travel fan recharges with a USB cable, so it's super useful on the go.
Recommended: Handheld mini fan – rechargeable with USB (see over 5000 Amazon reviews)
9. Make up removing cloths
Forget bringing separate make up remover and pads. These reusable make up removing cloths are activated by water, and are non-irritating and perfect for traveling.
Recommended: Resuable make up removing cloths (see over 10,000 Amazon reviews)
10. Contoured black-out sleep mask
Whether it's to get a good night's sleep in a hotel or even while napping on a flight, black out mask for sleeping while traveling is a must.
Recommended: 3 pack contoured 100% black out sleep masks
11. Travel scarf
I always have a travel scarf in my hand bag or carry on when traveling. A good size one, like this travel scarf, can be used as a blanket on a plane as well a light covering on a chilly day during a vacation.
Recommended: Travel wrap for women (available in several colors on Amazon)
12. Revlon Hair Volumizer
This two in one hair dryer and styling brush is 100% worth the hype! It's lightweight enough and easy to travel with, and is so much better than hotel and cruise ship cabin hair dryers. It's so easy to style your hair and get a salon look.
Recommended: Revlon One-Step Hair dryer and Volumizer brush (see amazing Amazon reviews)
Suggested: More beauty essentials I love and you will too!
13. Mini refillable perfume bottles
I love to bring perfume when I travel, but hate to bring glass bottles that can break. These small refillable perfume bottles are so cute and practical and take up so little room in your luggage.
Recommended: Mini refillable travel perfume bottles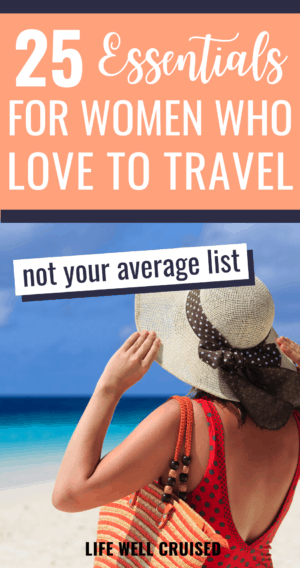 14. Cell phone grip
Never drop your phone while taking a photo or selfie again – this smartphone grip is so handy!
A short annecdote and true story
While on a cruise a couple of years ago, there was a couple taking photos on embarkation day. They were very close to the rail, and suddenly we heard a gasp.
All who were nearby watched as the ladies iphone fell more than a dozen decks into the ocean below. They were pretty devastated – photos & contacts were lost…
I was very thankful to have had a case with a strap to hold onto, and vowed to always have a way to hold onto my phone!
Recommended: Lovehandle phone grip (see many colors and styles here)
15. Travel coffee mug
This slim design travel coffee mug keeps your beverage hot, while being easy and comfortable to hold. A must have for road trips and cruises.
Recommended: Travel Coffee Mug (see various designs & colors)
16. Refillable 1 gallon water bottle
I love this large refillable water bottle, perfect for vacations as well as every day. After all, we all should drink more water, right?
Recommended: Large 1 gallon motivational water bottle
17. Face mask holder chain
Traveling in 2021? This pretty mask holder chain is pretty, functional and affordable.
Recommended: Face mask holder chain (see 600 excellent Amazon reviews)
18. Disposable face masks for women
50 disposable face masks are 3 layers and available in 5 colors.
Recommended: Disposable face masks for women (see details & reviews here)
19. Scrunchies with hidden pocket
I love silk scrunchies, but these are just perfect for traveling! These scrunchies have a hidden zippered pocket for money, lipstick etc.
Recommended: Silk scrunchies with zippered pouch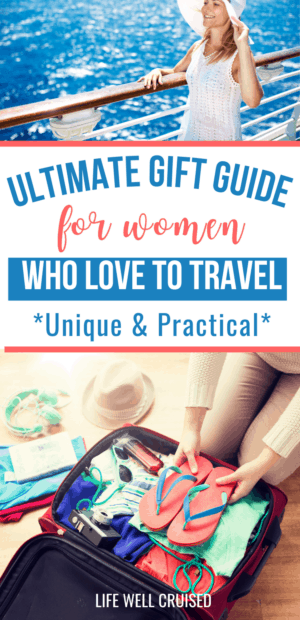 Best Luggage, Handbags and Accessories for Women
20. Travel duffel sports bag
Perfect as a carry on bag or weekender bag, this sporty duffel is very versatile. It's water resistant and airplane (and airport) friendly. You can simply slip it over your luggage handles, using the side pocket sleeve, and be hands free while traveling.
Recommended: Travel duffel bag carry on
21. Michael Kors Travel Jet Set Wristlet Wallet
This Michael Kors wristlet wallet is perfect for everyday use and for traveling. It's available in black and a variety of colors.
Recommended: Michael Kors Women's Jet Set Travel Double Zip Wristlet (see more than 2000 reviews)
22. Purse Organizer Insert
Keep you large handbag organized when traveling (and even every day). This purse insert has several different compartments, including zippered ones. The best part? You can keep this organized and simply more the insert into a different handbag when you change your purse.
Very popular with those that have the Louis Vuitton Speedy or Neverful bag!
Recommended: Purse organizer insert (see over 9000 great reviews)
23. Electronics carrying case
This compact carrying case is perfect to keep phone chargers, power banks and charger cables organized.
Recommended: Phone accessory case (see more than 4000 reviews on Amazon)
24. Portable charger
This high speed power bank/portable charger is the one I use and recommend. It's fast, slim and can charge 2 phones at the same time.
Recommended: Iniu power bank (do check for compatibility)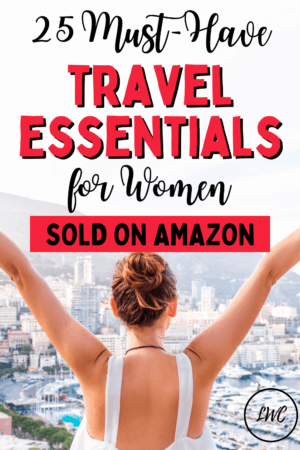 25. Portable digital luggage scale
Every woman who travels needs this essential – a digital portable luggage scale. This scale is one of the most recommended by travelers on Amazon.
Recommended: Luggage scale – an essential travel item
Travel related items for women
26. Travel journal
For the woman who likes to plan and journal during a trip, this travel journal makes a great gift.
Recommended: Travel and vacation journal (for up to 6 trips)
27. Cubic Zirconis Engagement ring or wedding set
A travel secret of many women is to leave the real diamonds at home and wear a CZ ring on vacation. Rather than risk good jewelry getting stolen or lost, consider buying an inexpensive but fashionable ring you love to take on vacation.
Recommended: CZ engagement ring/wedding set (see 1000 plus great reviews)
Posts you may enjoy next
25 Most Recommended Amazon Items to Bring on a cruise
60 Beach Essentials: The Ultimate Beach Day Packing List
What to Pack for a Caribbean Cruise
15 Awesome Beauty Essentials on Amazon (as seen on Tiktok)
21 Best Luggage and Packing Accessories for a Cruise
Final thoughts: Best Gifts for Women Who Love to Travel
In this post I shared more than 25 items that make great gifts for women who enjoy traveling. From practical travel accessories to unique items for those who are travel obsessed, I hope that you've found some gifts you like.
Have you tried any of these travel items or do you have any favorites to share? Please let me know in the comments below.
Happy travels!
Ilana xoxo
P.S. If you found this helpful, please don't keep it to yourself ;-). Please share on Facebook or PIN to your favorite Pinterest board (share buttons at the top). Thanks so much!
Let's connect:
Follow me on Facebook at Life Well Cruised
Follow me on YouTube at Life Well Cruised
Follow me on Pinterest at Life Well Cruised
Follow me on Instagram at Life Well Cruised