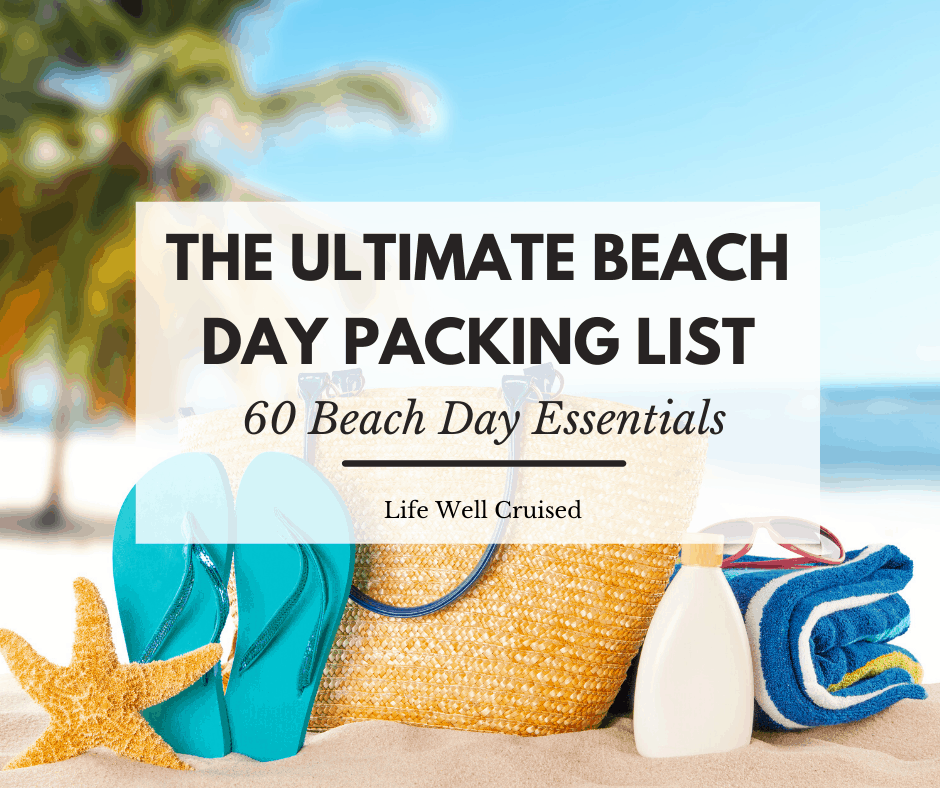 There's almost nothing better than a day at the beach! Whether you're going on a beach vacation, road trip or even planning a beach day as a cruise shore excursion, you'll want to be prepared with the "essentials".
Beyond "sunscreen", this beach day packing list includes the essentials (so you don't forget anything), but also some truly amazing beach accessories that will make the day even better!
You'll find everything you might need for kids and families, ladies and our personal items, and tech items that we all use so much!
The items below are all available on Amazon, and I've included links where you can see details including reviews and pricing.
This post contains affiliate links which means if you click and buy that I may make a commission, at no cost to you. Please see my disclosure policy for details.
The Ultimate Beach Vacation Packing List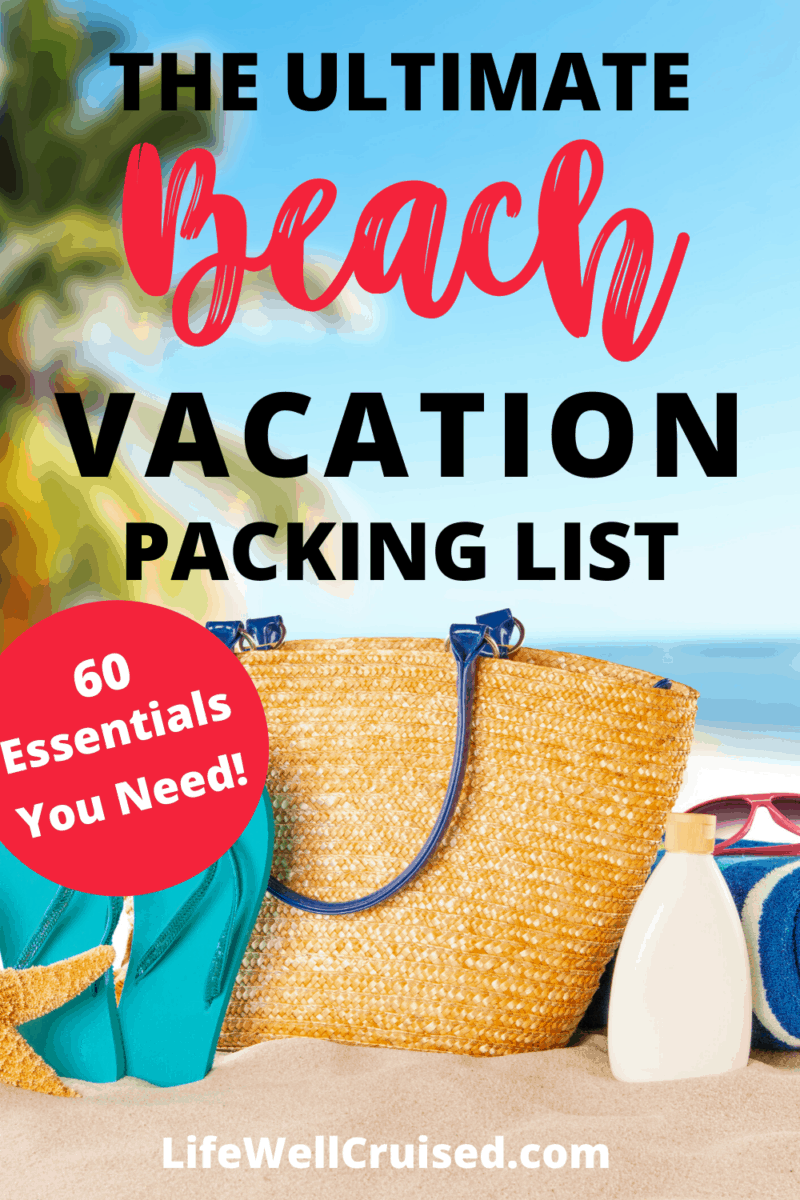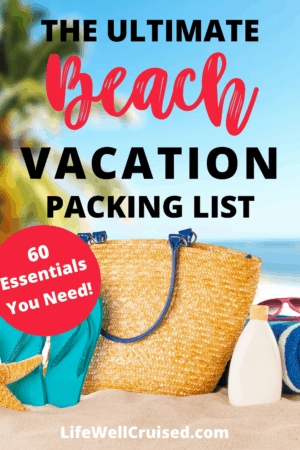 Beach Day Essentials
These are the must-pack items you definitely need to pack for a day at the beach. You may even want to keep these items stored, prepacked and ready to go if you have a few beach days planned.
1. Sunscreen
3. Bug Spray/Mosquito Repellent
4. Microfiber Beach towels (quick dry and absorbent)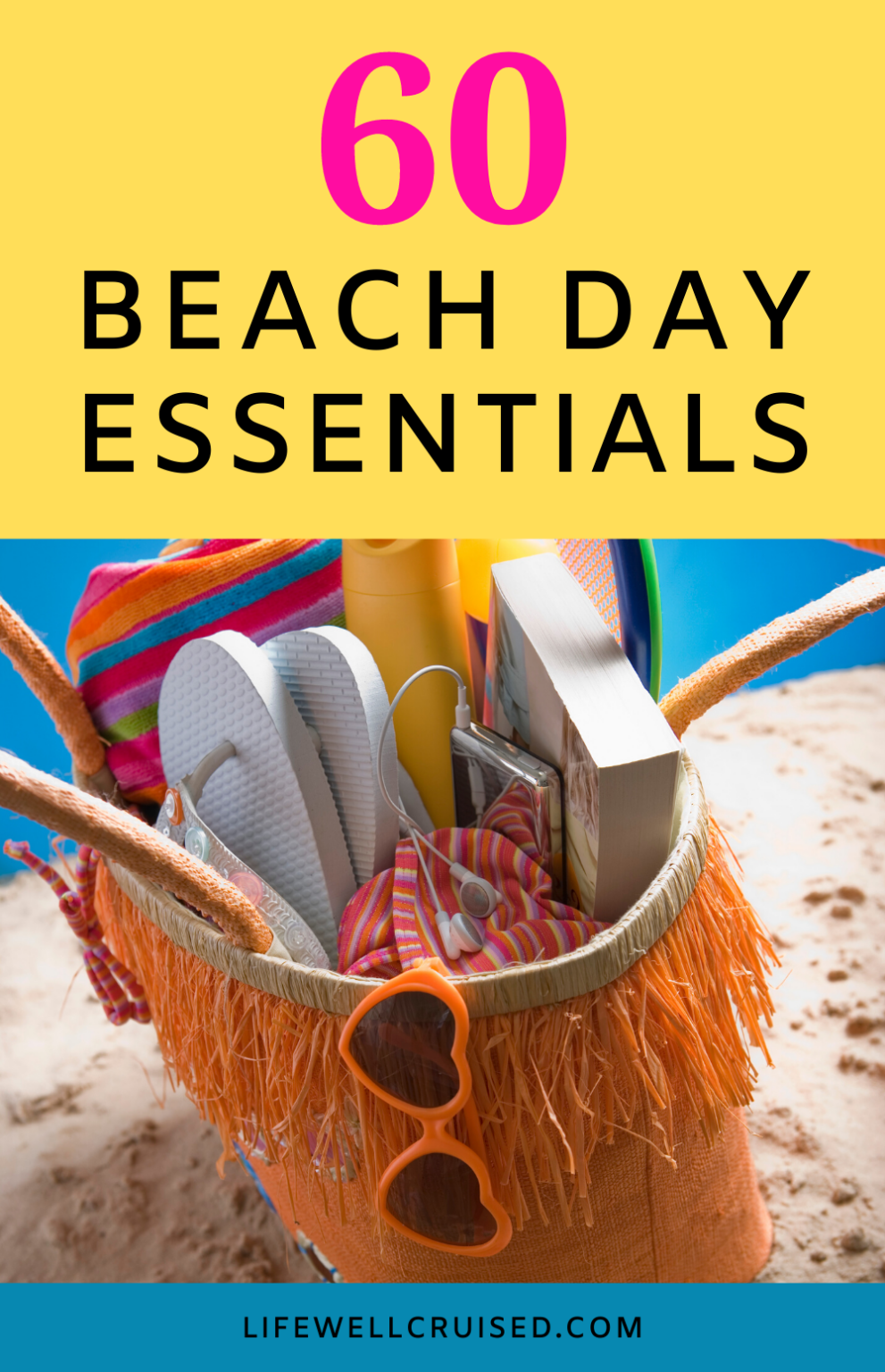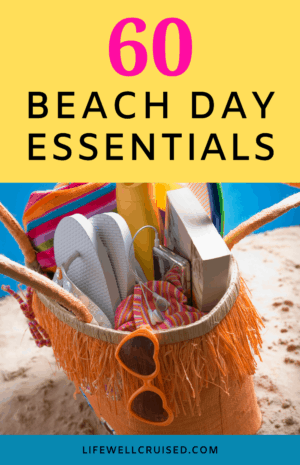 5. Insulated Cooler bag or Cooler Backpack
6. Large beach bag
You have a few choices for beach bags, however you'll want it to be large enough to carry towels and all your beach day necessities. You may want to choose a mesh tote (great if you have kids) or a good quality water resistant beach bag with a zipper.
These are 2 of my favorites:
Recommended: Large mesh tote beach bag (see Amazon reviews and details here)
Recommended: Extra large nautical stripe beach bag (Amazon link) – I have this one and use it as a carry on bag as well for my cruises
7. Cleansing wipes or baby wipes
8. Hand sanitizer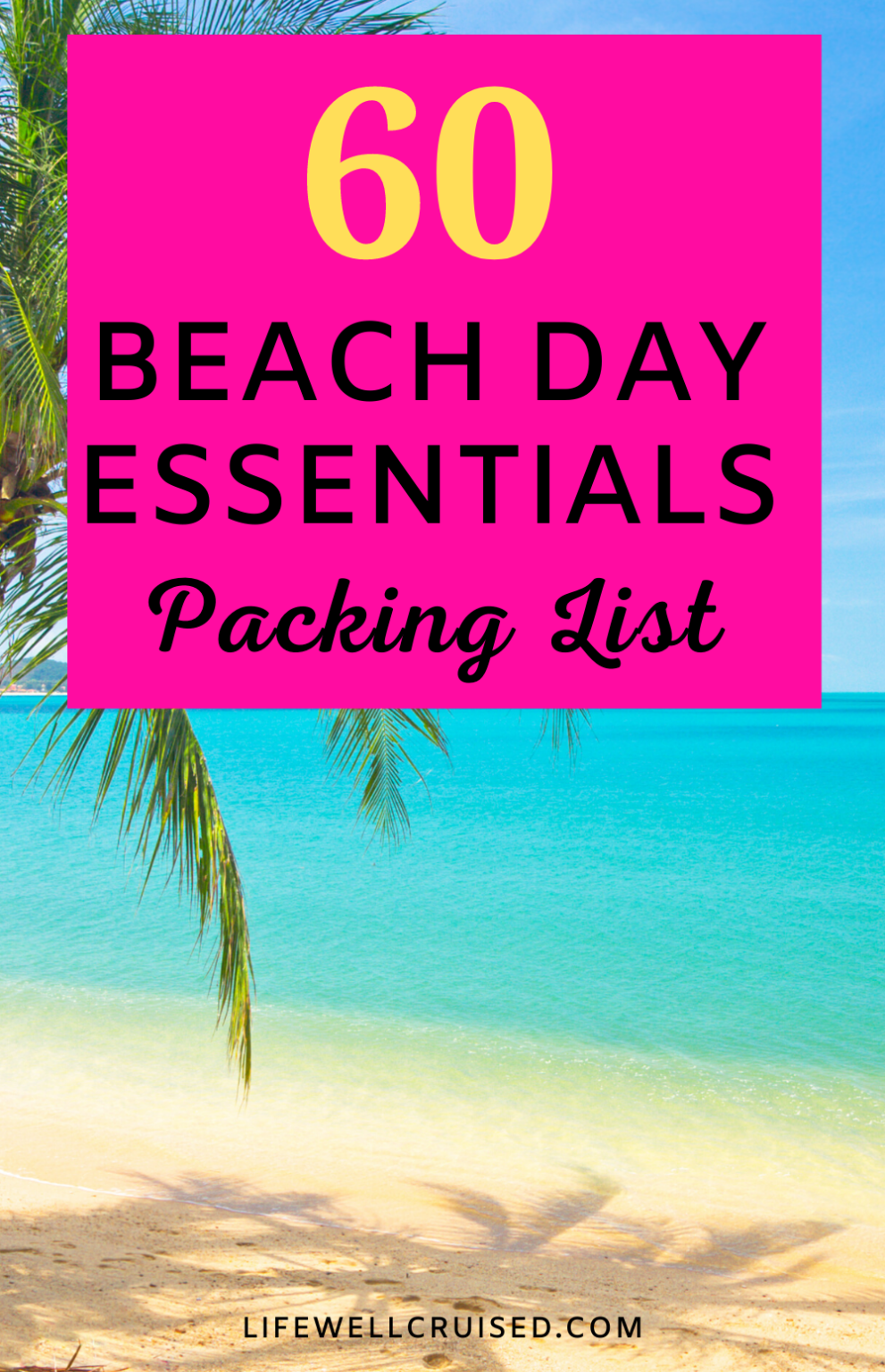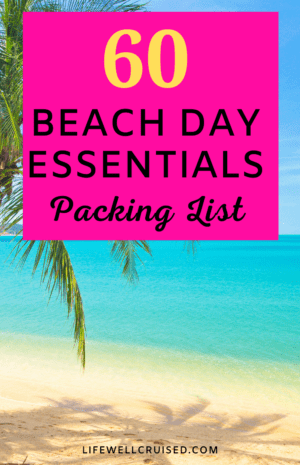 9. After sun care with aloe vera (see reviews)
10. Snacks and/or lunch
11. Ziplock bags
12. Flip flops
Recommended: Lightweight and comfortable Crocs Flip Flops (in different colors)
Beach Accessories and Handy Items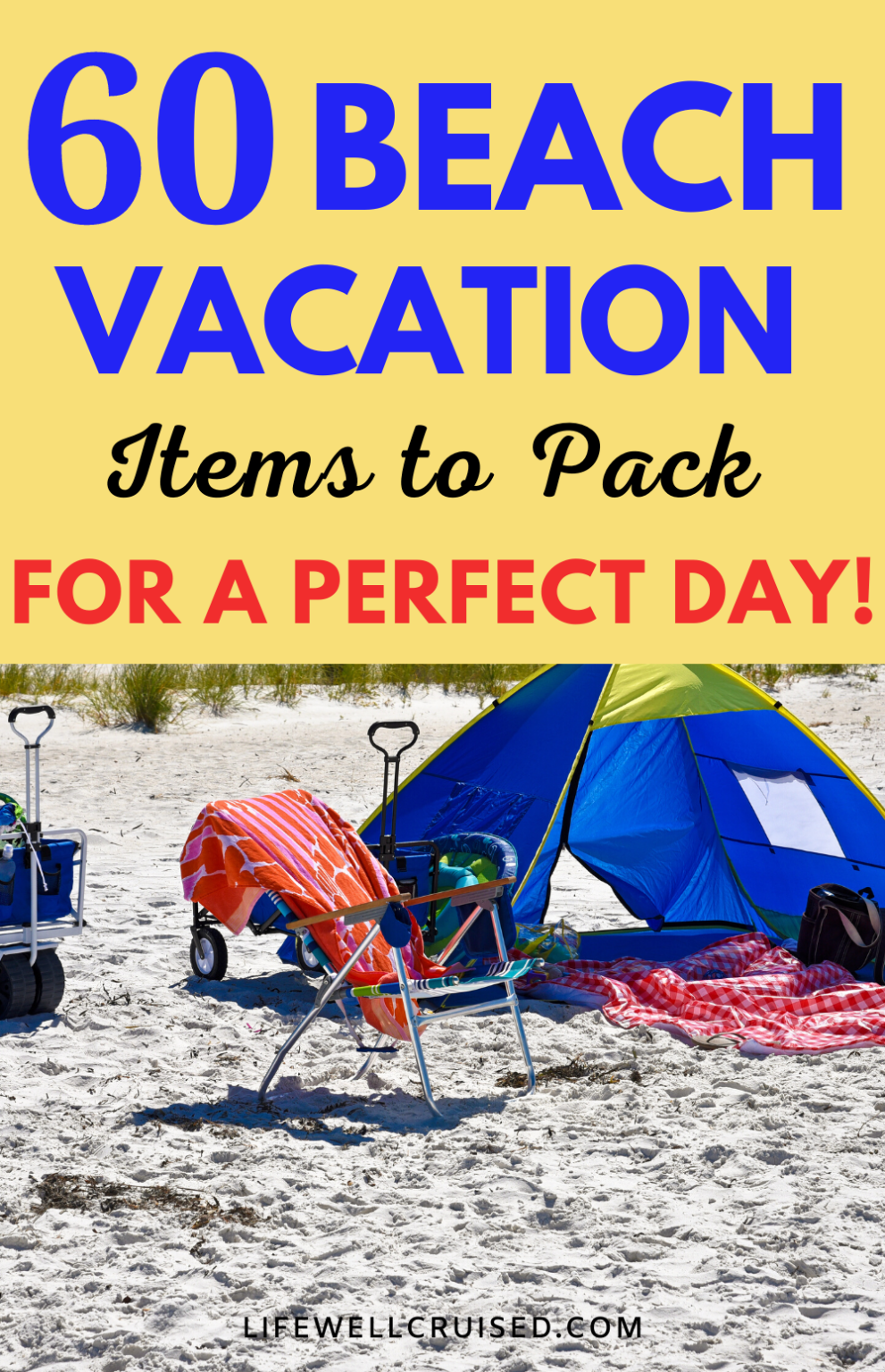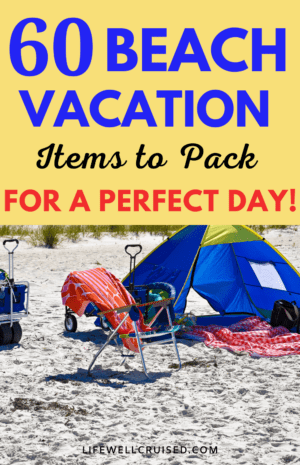 12. Backpack
If you may be walking a lot on your beach day, or even hiking or going along a trail to the beach, a lightweight backpack is a great beach essential.
Recommended: Lightweight backpack (see almost 2000 amazing reviews on Amazon)
These collapsible water bottles are so handy, as they fold up into nothing and can be stored easily in your back pack or beach bag.
Recommended: Collapsible water bottles (leak proof and space saving)
15. Portable lockbox safe for the beach
This handy item is amazing and can literally be used for years at the beach or pool when at a resort or on a cruise.
Recommended: Portable lockbox safe (see over 2000 Amazon reviews)
16. Towel clips
Towel clips are awesome especially when there's a breeze. Plus, they are super cute and you'll always feel like you're on vacation!
Recommended: Towel clips (see variety on Amazon)
17. Towel bandits
If you'd like to save space, but still keep towels in place, these towel bandits are practical and cute.
Recommended: Towel bandits – bands for towels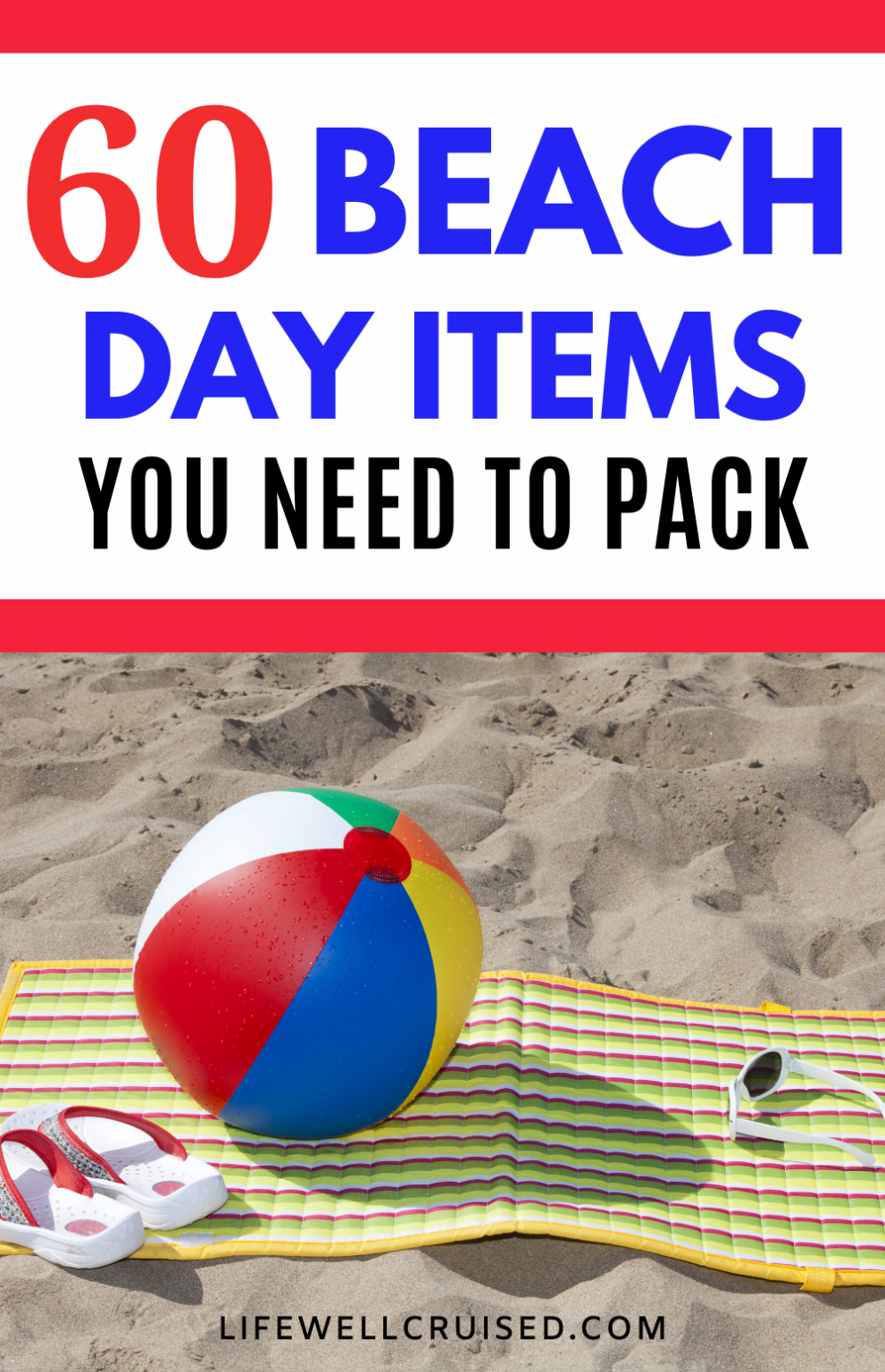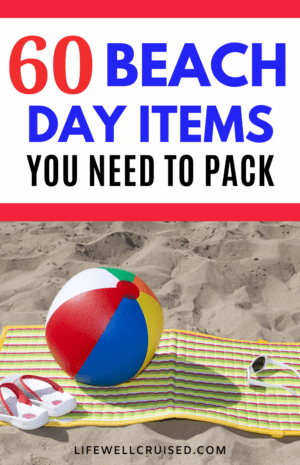 18. Waterproof Dry Bag
Recommended: Wet Dry Bag (see detailed reviews and price)
19. Water shoes
20. Large Sand-free beach blanket
My pet peeve is a sandy towel, but this beach blanket which actually repels sand is amazing!
21. Misting fan
This is especially helpful if you're walking to the beach or even heading to the beach on a cruise excursion on super hot days!
You can buy a ready made first aid kit or make your own, with the most important items you may need for your beach day.
Recommended: Ready made mini first aid kit (check included items)
23. Beach umbrella
If you can, bring a good size beach umbrella or beach tent to provide some shade from the sun and shelter.
Recommended: Beach umbrella canopy (see why this is a top Amazon choice)
Nothing says relaxing beach day like a low folding sand chair. If you're heading to the beach on a road trip, make sure to bring a couple of these.
Recommended: Folding beach chairs
Beach Day Packing for Kids and Families
If you're bring the kids or teens to the beach, you'll want to have a few fun things to occupy them. However, we can't forget about beach safety items and things to keep everyone comfy on hot beach days.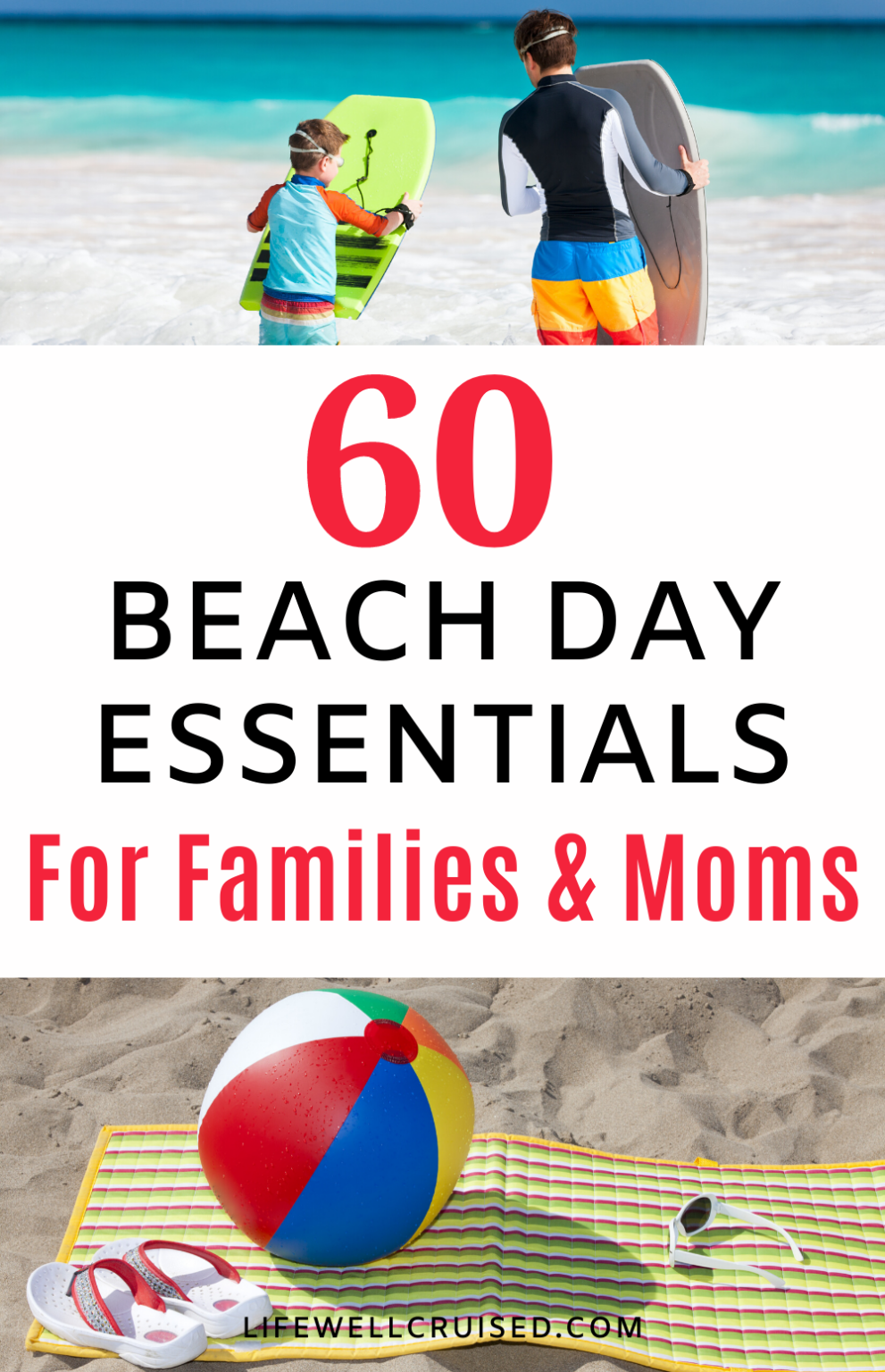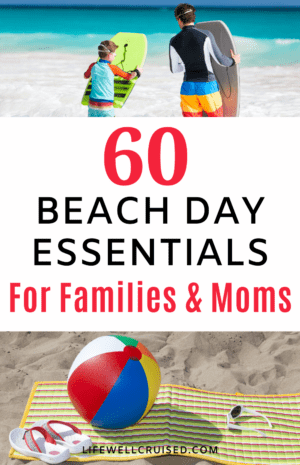 This big mesh sand toy bag is the best ever! Take a look and see (it's mesh, right?). You can actually run the entire bag through the shower at the beach and get all the sand, then just hang to dry. It's the simplest and easiest (and not expensive at all).
Recommended: Mesh sand toy bag (check reviews & price on Amazon)
When we head to the beach, space is always tight! So these space-saving sand pails are amazing. Plus, they're so sturdy, that they can be used again and again for beach vacations and cruises.
Recommended: Collapsible sand toys
29. Swim life jacket or floating device
This swim life jacket comes highly recommended with over 1500 5 star reviews on Amazon. Please check for sizing and the best floating device for your child's needs.
Recommended: Swim life jacket (see 5* reviews on Amazon here)
30. Swim goggles
Recommended:Quality swim goggles (see choice of colors and sizes)
31. Beach shirt/Rash guard swim suit
Recommended: Rash guard 1 piece swim suit (awesome choices for girls and boys)
32. Beach tent
Recommended: Beach tent (large family size)
Folding beach chairs are great to keep in the car or mini van, ready for beach days and soccer games. I love this one with a canopy, for those times when it's hard to find shade.
Recommended: Children's beach chairs (see reviews and features on Amazon)
34. Beach stroller (with big wheels for sand)
Perfect for walks to the park in the sand and for jogging, this stroller gets amazing reviews by Moms who love it!
Recommended: Beach stroller for jogging and sand (see Amazon reviews)
35. Utility Wagon for beach and sports
A carry all for everything for a beach day, this foldable utility wagon is awesome and priced right!
Recommended: Sturdy collapsible folding utility wagon (see over 2000 reviews)
36. Kid's snacks
Bring your favorites – cut up fruit, snack packs, juice boxes
37. Baby wipes
Even if you don't have babies anymore, aren't baby wipes just the best and most practical thing ever for beach days, road trips and any other outings?
Beach Toys and Games for all Ages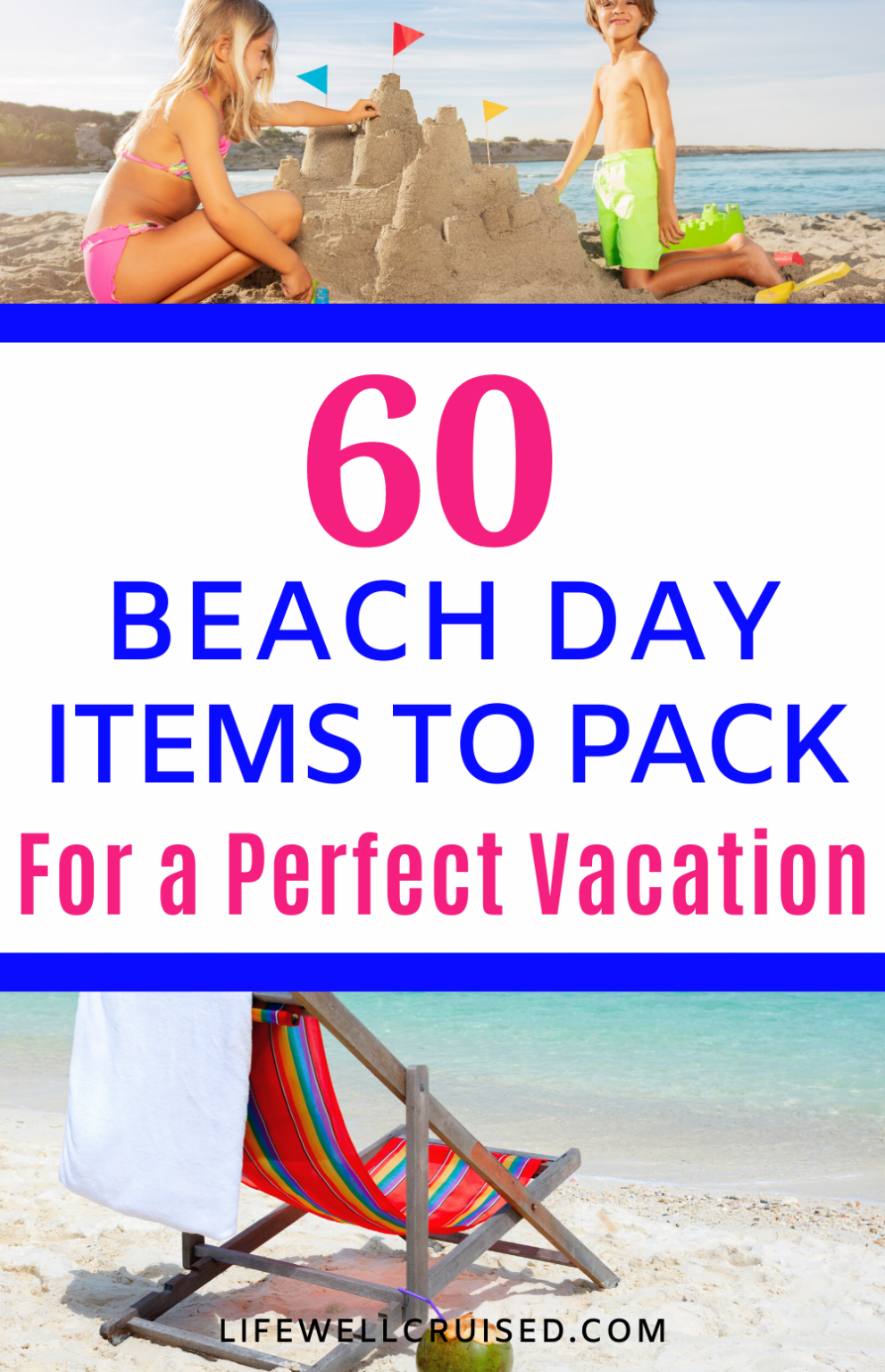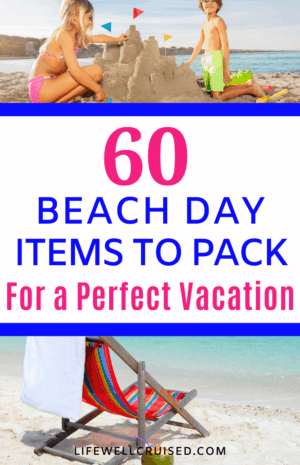 Recommended: Beach paddle game (see great reviews on Amazon)
Recommended: Outdoor ball with easy grip
40. Inflatable toys
Inflatables to float at the beach, lake or pool are always fun!
Recommended: Inflatable toy for beach or pool
41. Boogie board for beach
Recommended: Boogie board (with tether)
Snorkeling Gear
If you plan to snorkel a little during your beach day, you may as well buy your own snorkel gear, rather than rent. Many people save these and bring them along during cruise holidays and Caribbean vacations, and they can be used for years.
This anti-fog full and anti-leak full face snorkel mask is so comfortable that it makes snorkeling so much more enjoyable than older, traditional masks.
This one is available for children and adults, and is foldable so it can easily be stored and packed for beach vacations and cruises.
Recommended: Full face snorkel masks (see Amazon choices and reviews)
A must for snorkelers is a reef safe sunscreen, which is important to protect the coral, but also the rule in many destinations.
Recommended: Reef safe sunscreen SPF 30 (see 1500+ amazon reviews)
Beach Day Gadgets and Tech Items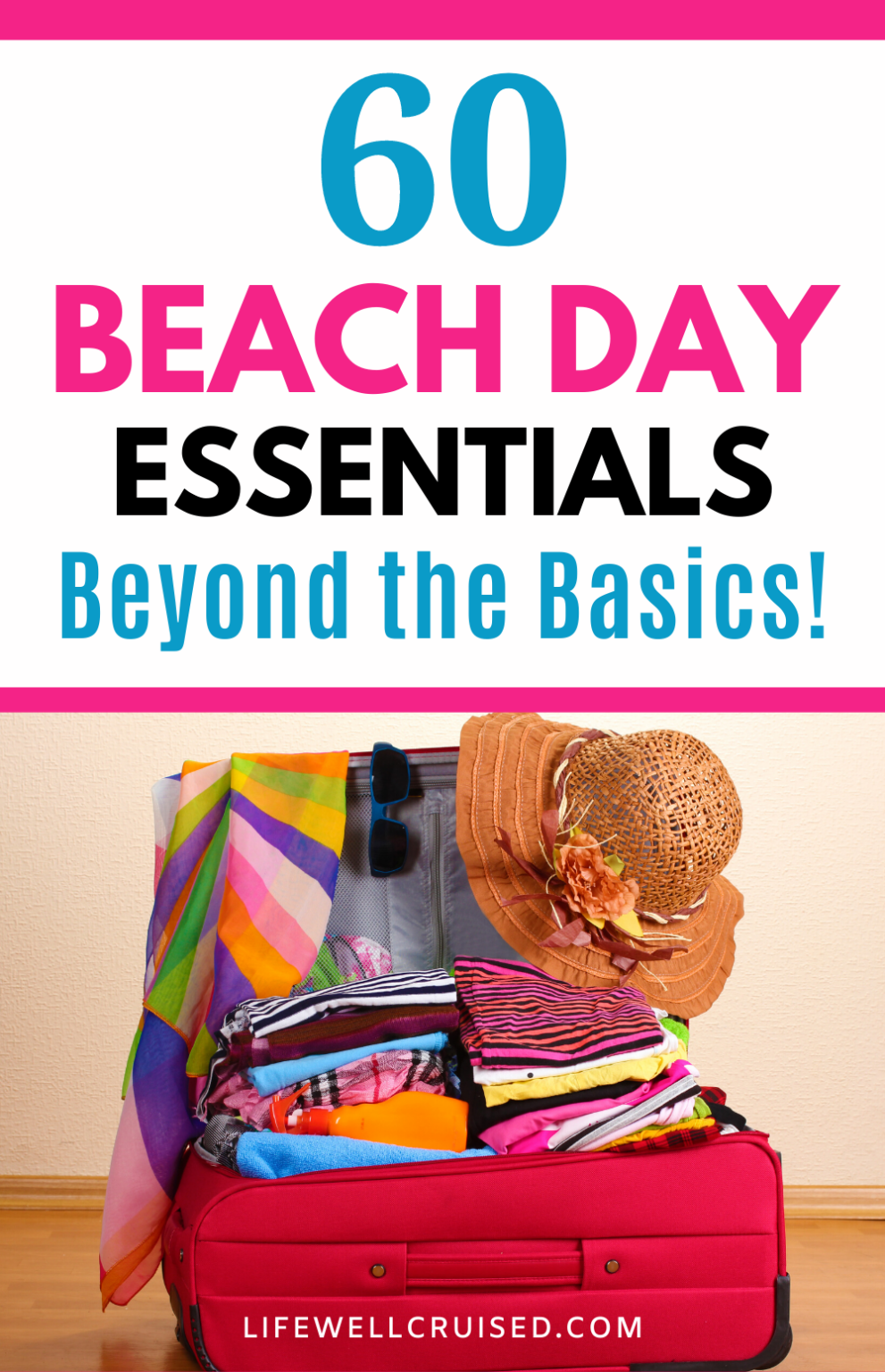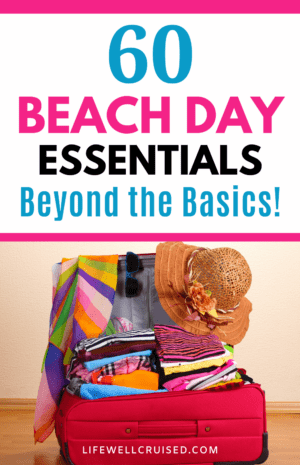 These are some favorite tech items that are great for beach days and vacations.
43. Go pro
We love our Go-Pro, which we bought before our last Caribbean cruise.
Shameless plug 😉 – if you'd like to check out those videos (Southern Caribbean islands on Crown Princess), please check out my YouTube Channel at Life Well Cruised.
Recommended: Go pro Hero 8 (see awesome reviews on Amazon here)
44. Portable waterproof speaker
This Bluetooth speaker is waterproof, small and portable, and inexpensive. Plus, it gets great reviews!
Recommended: Bluetooth waterproof speaker
45. Apple Airpods with charging case
I'm actually in love with my airpods and finally use ear buds because of them. Of course, they are handy for every time of the day, and not just at the beach!
Recommended: Apple airbods (on Amazon)
46. Kindle
Bring a book or kindle to read on the beach, while listening to those peaceful beach waves.
Recommended: Kindle with built in front light
47. Binoculars
Portable and light binoculars are amazing for watching marine life on the beach or even on a cruise ship. Make sure to keep with your vacation packing gear, so you have them for your next holiday.
Recommended: Easy viewing binoculars (see details here on Amazon)
This 4K underwater camera is amazing for the price. While not necessary if you have a Go-Pro, if you want a less expensive, but still great underwater camera, this one is highly recommended.
Recommended: 4K Underwater camera (see reviews, price and details on Amazon here)
49. Cell phone fan
This happens to me all the time – my cell phone gets too hot! These mini cell phone fans are super helpful.
Recommended: Portable mini fans for cell phones
50. Cell phone portable charger/power bank
Cell phone batteries don't last as long as they used to, so a portable charger or power bank is a must. This is especially true while on vacation when we tend to take lots of photos and videos.
Recommended: portable cell phone charger (see my Amazon recommedation here)
Beach Day Personal Items (for women)
Here are a few personal items to make sure you pack to have the most comfortable and best day at beach.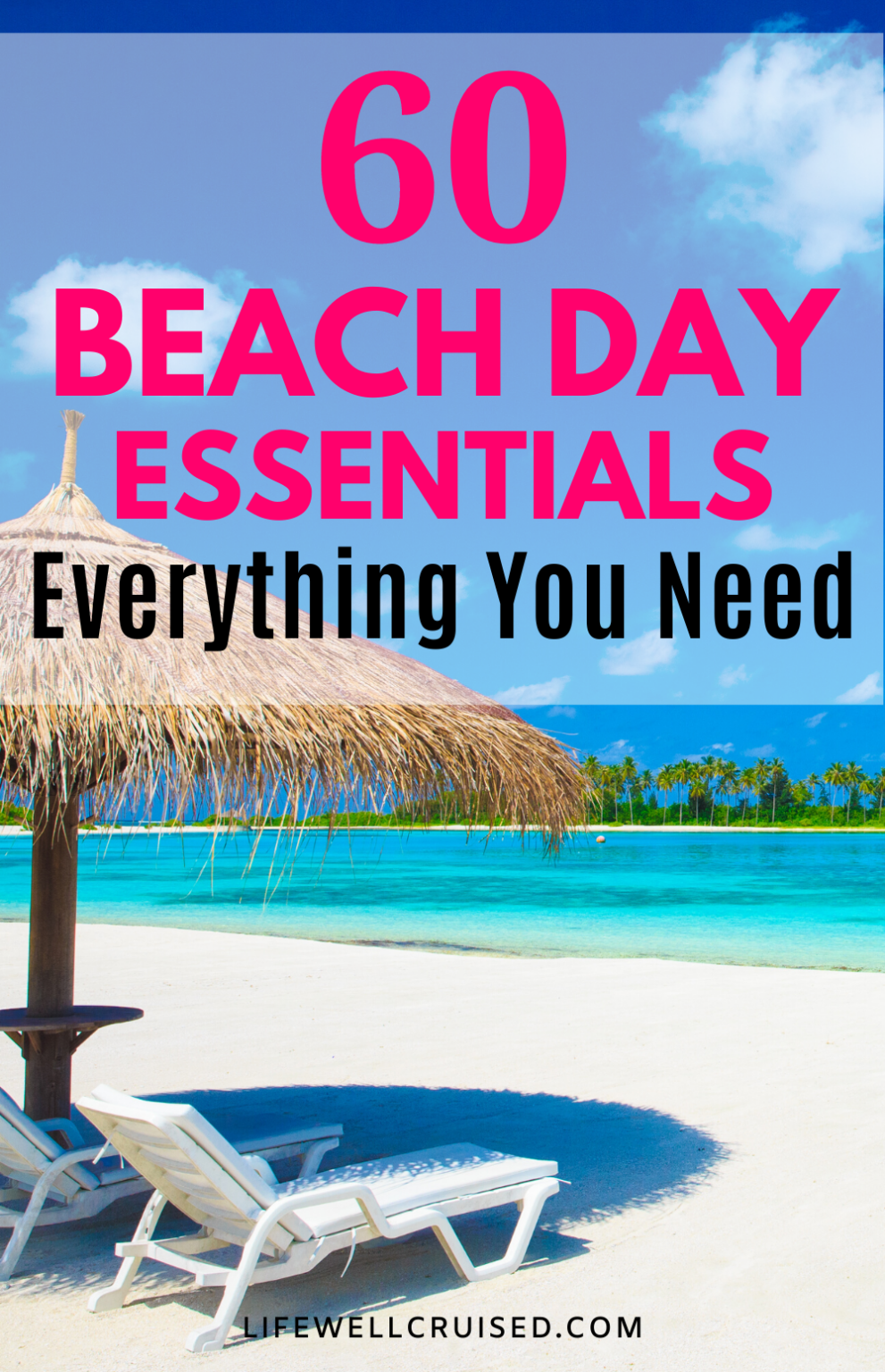 51. Beach tote bag for women
A practical tip for choosing a tote bag for the beach – make sure that it has a top zipper and is large enough to toss in some sun lotion, electronics and a book. Personally, I like a cute one that can double as a purse with a casual sundress in the evening on a beach vacation.
Recommended: Beach tote bag with top zipper (check Amazon price and reviews)
52. Polarized sunglasses
Obviously, you'll want to bring sunglasses with you to the beach. I just had to share my favorite sunglasses, that I bought last summer before heading on a Bermuda cruise.
They are the perfect color of lens, where everything looks like it glows just a bit. I don't like dark or green lens as it makes me feel like the sun went away – true story lol. They're also a universally great shape, the flattering aviator style.
Recommended: Ralph Lauren Aviator Sunglasses (Amazon link)
While you can certainly use the family sunscreen, if you want a natural golden glow from day 1 of your beach or cruise vacation, I highly recommend this sunscreen spray with bronzer.
It's available with an SPF 30 or 15, and actually moisturizes your skin and leaves it looking and feeling beautiful.
Recommended: Sunscreen with bronzer (see variety on Amazon)
54. Anti-Chafing cream rash guard
Rash guard is handy for everyone in the family, including Hubby. Let's face it – you're probably shopping for the your beach vacation must-haves 😉
Recommended:Anti-chafing rash guard
55. Sunhat
Make sure to pack sunhats or baseball caps for everyone in the family. However, there's nothing more flattering (and useful) for women that a wide brim straw hat.
This sunhat is perfect for both beach holidays and Caribbean cruise vacations, where you'll want a sun hat for shore excursions and port days. It's foldable so super easy to pack.
Recommended:Foldable sunhat (see over 1000 reviews on Amazon)
56. Swimsuit cover up
A versatile swimsuit cover up is a must for a beach day! This one is available in white, black, as well as other colors and patterns. Like every item included in this list, this cover up has awesome reviews.
Recommended: Swimsuit Cover up (see color options and pricing on Amazon)
Don't forget to pack your flip flops (best shoes ever). I like to pack a pair of cute flip flops or sandals that can go from beach to evening wear with a sundress or white jeans. Neutrals or a sparkly gold go with everything!
Recommended: cute flip flops
58. Hair ties and clips
Definitely a beach day essential, make sure to toss your hair elastics and clips into your beach day bag.
Recommended: Goody hair elastics
59. Hair mist texturizing spray
If you have wavy or curly hair, you know how unruly and frizzy our hair can get at the beach. This is why I love a good beach hair sea salt mist, like this one: Sea salt spray for all hair types (amazon link)
Recommended: Sea salt spray/hair mist
60. Nautical jewelry
While not an essential beach day packing item, an anchor or starfish necklace is so pretty for a beach vacation or cruise.
If you'd like more ocean theme jewelry items and gift ideas, you'll want to check out this post.
Recommended: Anchor necklace sterling silver
Read next: 38 Gift Ideas for People Who Love to Cruise
Final Thoughts: The Ultimate Beach Day Packing List: 60 Essential Items
If you're heading to the beach for the day, or for a week, I hope the packing tips were helpful and provided a good list of all the essentials you'll want to pack. We've gone through the best things to pack for families and kids, tech items, beach toys and games, and personal items for ladies.
Is there an item that you just love and have packed for a beach day? Please let me know in the comments below, so it can also help others getting ready for a beach vacation.
Happy beach day!
Ilana xoxo
P.S. If you found this helpful, please don't keep it to yourself ;-). Please share on Facebook or PIN to your favorite Pinterest board (share buttons at the top). Thanks so much!
Suggested posts:
25 Inspirational Ocean Quotes for Those That Love the Sea
25 Cruise Essentials Most Popular on Amazon
21 Things People Forget to Pack for a Cruise (and regret)
Let's connect:
Follow me on Facebook at Life Well Cruised
Follow me onYouTube at Life Well Cruised (Vlogs and cruise tips)
Follow me on Pinterest at Life Well Cruised
Follow me on Instagram at Life Well Cruised