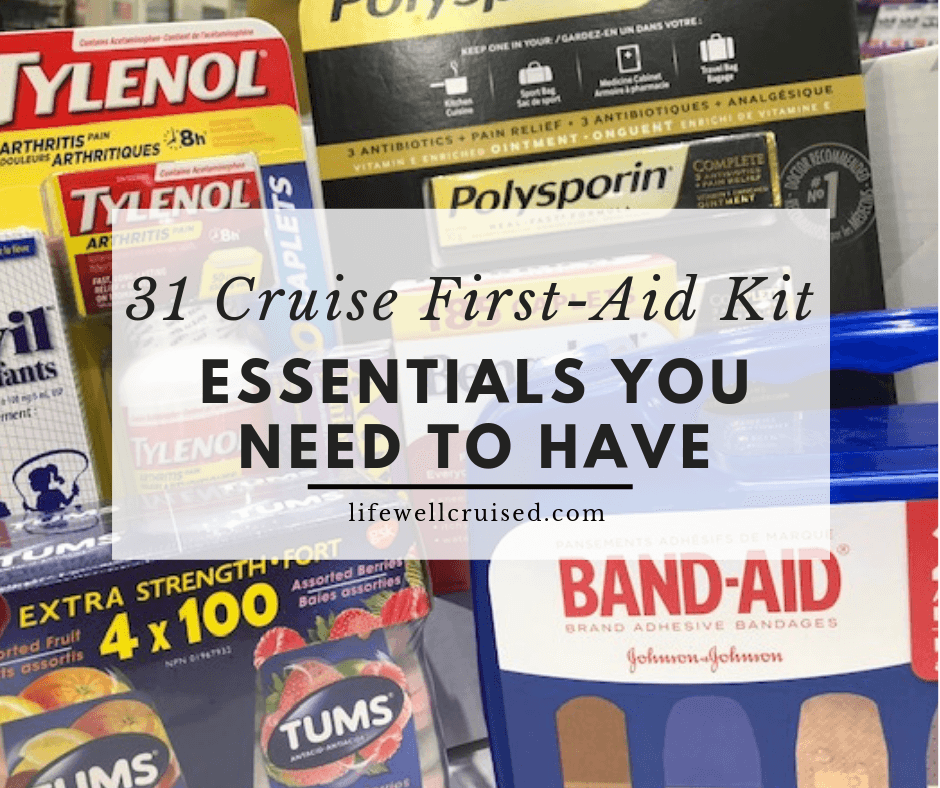 31 Must-Have Items for your Cruise First-Aid Kit
As you are getting ready for your cruise and working on your packing list, don't to forget about your cruise first aid kit essentials.
As travelers and cruisers, we hope not to have to use them. However, being prepared with your travel first aid kit, is one of the most important cruise preparations you can make.
I like to keep my cruise first aid kit together, and ready for use every time we cruise. Before each cruise, I simply take inventory and replenish as necessary.
Now, if you did forget something, you can pick up a few small items in the ship's store.
That said, I will guarantee you that it will be more expensive and the variety of items is extremely limited. Worse than that, if something occurs when the shop is closed (as they close while in port as well as at night), you could be really stuck.
To Note: On a cruise ship, there is a ship's doctor and medical staff. So while this post is about being prepared for minor situations where first-aid treatment or pharmaceutical products might be necessary, please do not hesitate to visit the medical center should you need medical treatment or advice.
This post contains affiliate links which means if you click and buy that I may make a commission, at no cost to you. Please see my disclosure policy for details.
First aid essentials
Small wound treatments
It's so common while on a cruise, or on any travels, to get small cuts, scrapes, blisters etc. Those little non-emergency things can happen so bring along a few things to make sure a little issue doesn't become a bigger issue.
1. Band-aids
Bring Band-Aids of all shapes and sizes
, and include some that are waterproof too. You can pick up a variety pack and you're all set. But don't forget to keep a few on you, especially if you're wearing some new sandals or flip flops to the beach.
I always need a few band-aids for blisters. New shoes, or walking so much more than usual just seem to bring this on. I bring some that are made for blisters and that will stay on in that water, like these band-aids (for blisters)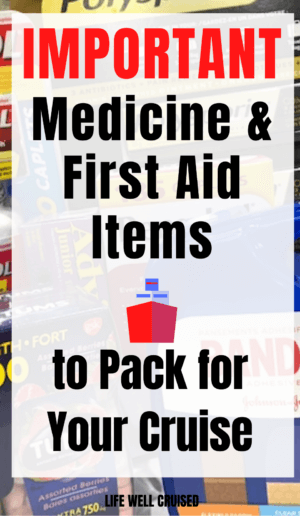 2. Antibiotic ointment
I am a huge fan of Polysporin
and actually have a small tube my purse at all times, plus another couple at home. It heels small cuts so quickly! I just think that stuff is magic, lol. Who needs an infection, right? Get a cut, use Polysporin (or your favorite brand). Enough said.
You can find my Polysporin fast-heal twin-pack recommendation HERE (on Amazon)
3. Hydrocortisone cream
This can be really helpful for swelling and bug bites, so definitely bringing some along just in case. My poor sister in law got sand flea bites in a not so pleasant area while sitting straight on the beach in San Juan (so be careful). In any case the anti-itch cortisone cream
was what saved her!
4. Gauze and alcohol wipes
Some small gauze and alcohol wipes can be useful for scrapes or anytime you need to disinfect, especially if you're on a shore excursion or off the ship.
You may like these Gauze Sponges for Cleaning Wounds
and Alcohol Wipes
.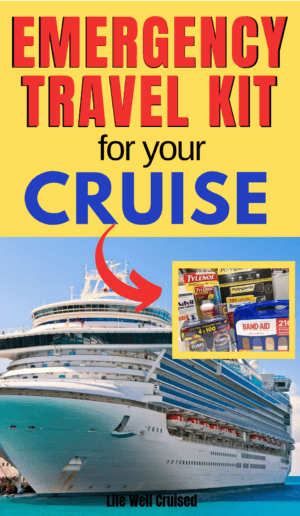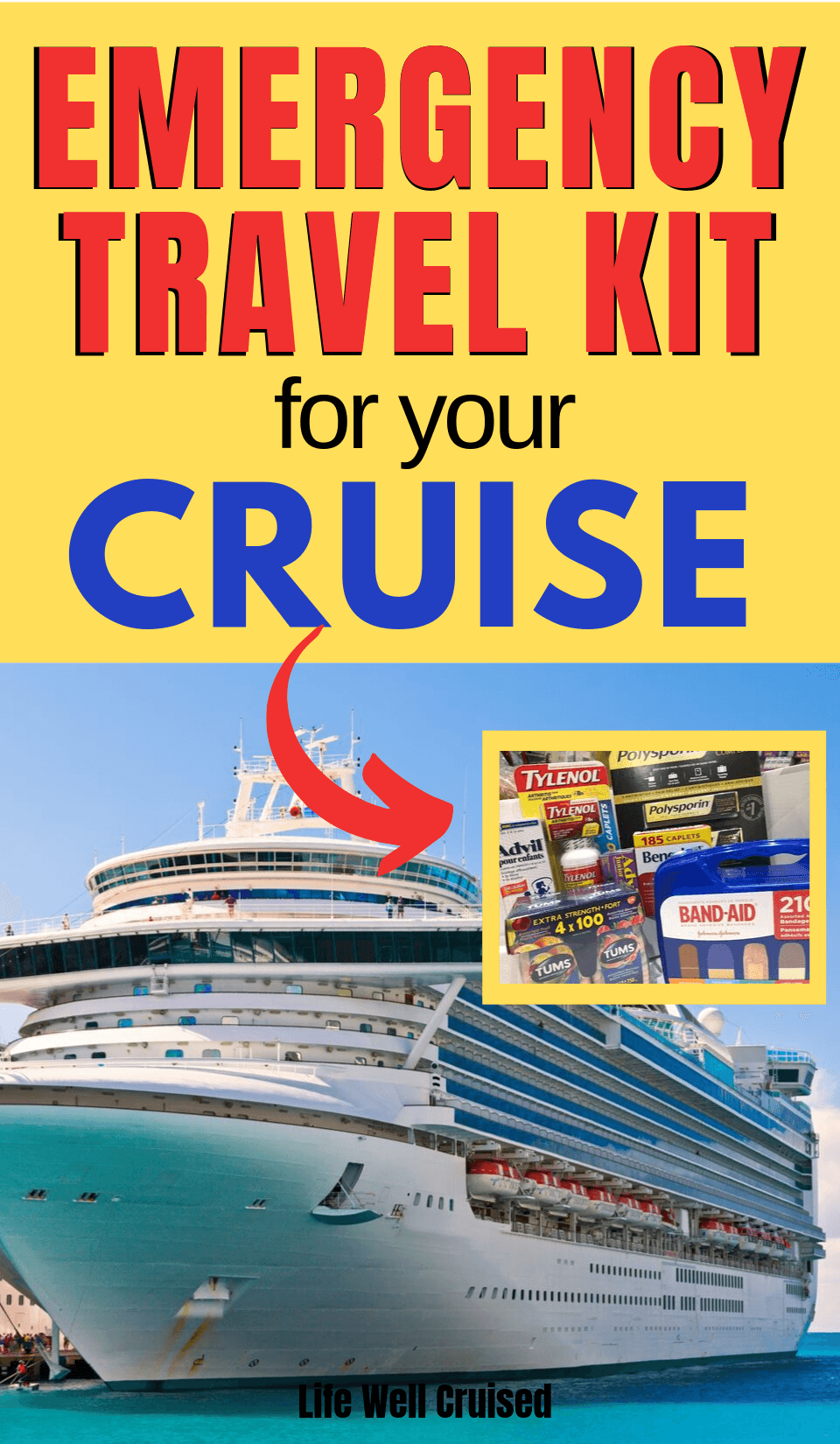 5. First Aid Kit
A first aid kit that you bring with you on your cruise is such a good idea! Plus, you can use it later in the house or even for road trips – plus future cruises of course!
This Cruisepaks Cruise Essentials (created for cruisers)
has a lot of what you need and actually includes 150 items. It might be worth buying a comprehensive cruise travel first aid kit, and skipping some of the items on the list (as they are in here).
You can check to verify the price on Amazon HERE.
Medications and pharmaceutical products
6. Pain relief medication
Bring along some of your preferred pain medications such as Advil and Tylenol or a brand you like and trust.
7. Cold medicine/sinus medication
It's an awful feeling to get a cold while on vacation. Bringing cold medicine to help alleviate symptoms will be so helpful. Something like Advil Cold and Sinus Congestion
or it's equivalent is probably what you need – remember to bring the non-drowsy kind so you can still function and have a good time.
If you're cruising with your children, make sure to bring children's medicine like Children's Advil
and other medications that you trust and use at home. Remember to bring the "just in case" stuff, like cold and cough medicines.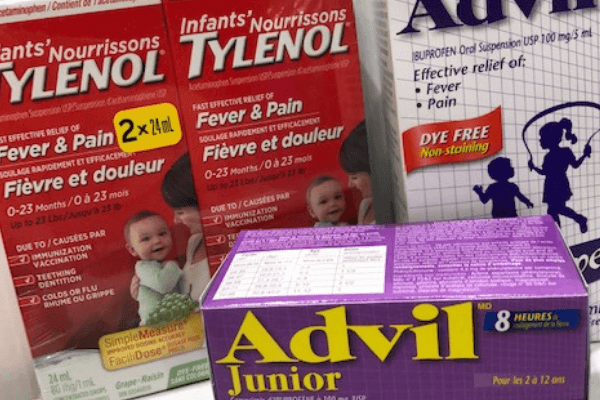 8. Cough and Sore Throat Medication
A good cough suppressant
as well some cough drops will be helpful if you start to get sick while on a cruise. I like Halls with cough syrup, as I find it soothing for mild coughs.
Cough candies and throat lozenges are a must, with dry sea air, bring some along in different flavors. You may like these Vitamin C Drops (I love them)
9. Prescription medication
It may go without saying, but do make sure your regular (or less regular) prescription medications make it onto your cruise packing list. There may be medications you don't use daily, but they are important to have with you just in case. So, do make sure these are packed.
Tip: Cruise lines recommend that you bring at least 14 days of extra medication, as an extra precaution.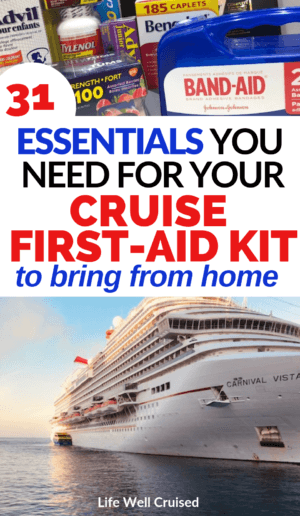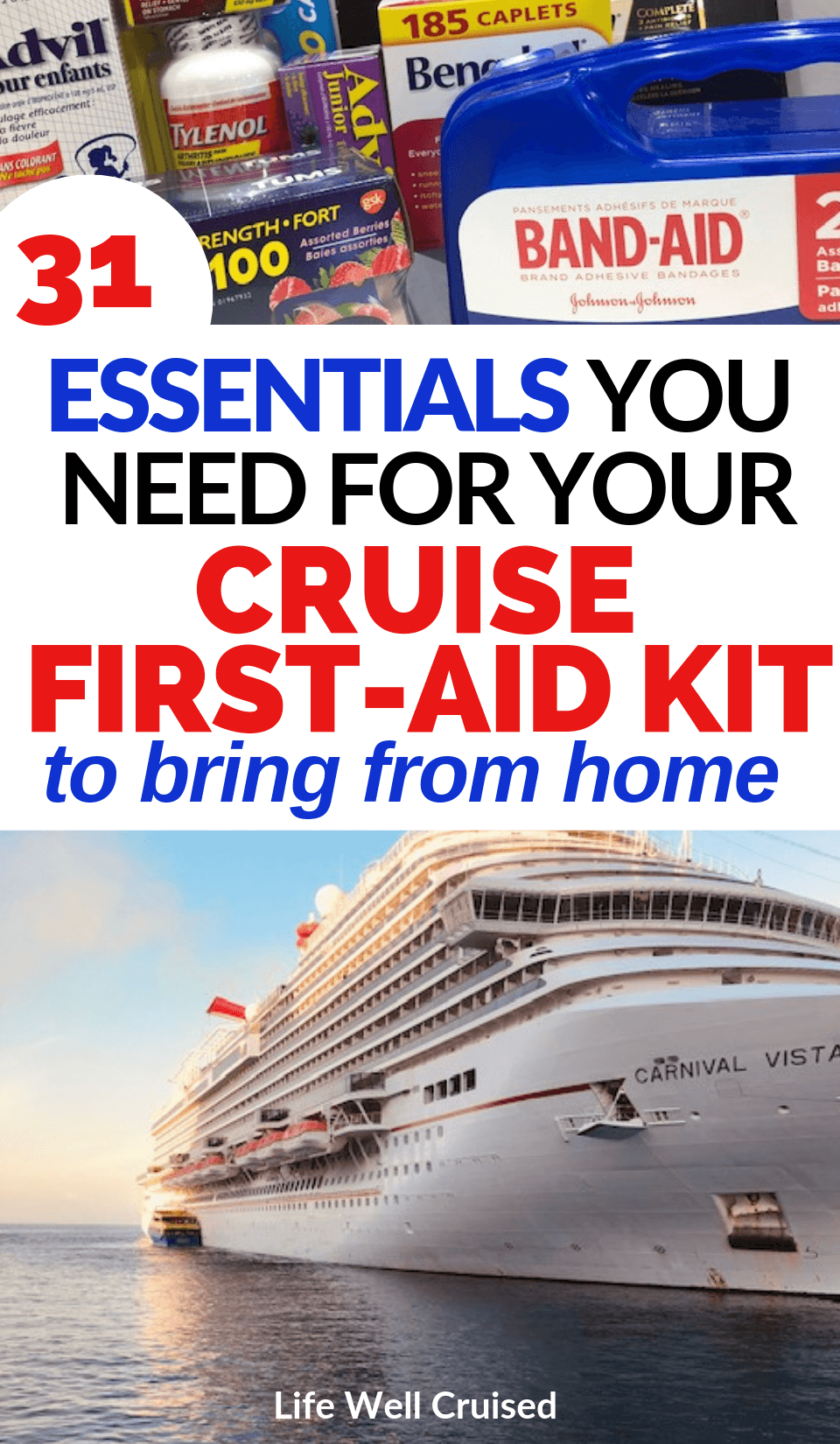 10. Coldsore/fever blister medication
If you're prone to fever blisters due to the sun or stress, having some cold sore/fever blister medication
can really feel like a lifesaver. It's a good addition to your first aid kit for your cruise.
11. Eye Drops
Whether from the sun, salt water, chlorine, late nights and more, having a small bottle of Visine or your favorite brand of eye drops
handy can really help if you develop red and itchy eyes on your cruise.
12. Ear drops
If you are prone to "swimmer's ear", pack some ear drops
too.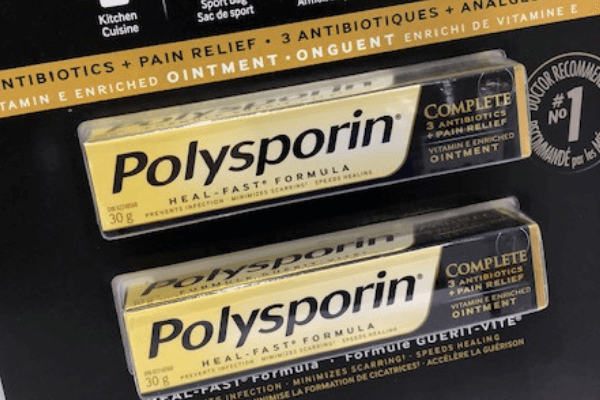 First Aid tools
13. Tweezers
Tweezers don't seem necessary until you or your child gets a splinter. Just throw it in there and forget about it.
14. Thermometer
A thermometer should be part of your first aid kit, but if you have kids, having one on hand is a necessity.
This Braun Digital Ear Thermometer
is so fast and good!
15. Flashlight
I like to bring a small flashlight every place we travel – including hotels and cruises. I just make sure the battery is still working, and if not I replace or buy a new one.
This is really my own thing and I know not everyone is a worrier like me. When I get to a hotel I always check where the exits are so you get where I'm coming from – I'm safety conscious. However, I think there's a good case to be made for why a flashlight could be very important in an emergency situation, so it lives in my cosmetic bag and travels with us ;-)'
This 4 pack of mini-flashlights is a good deal I think, so a couple can even be used at home. You can click on the Amazon link HERE for more info.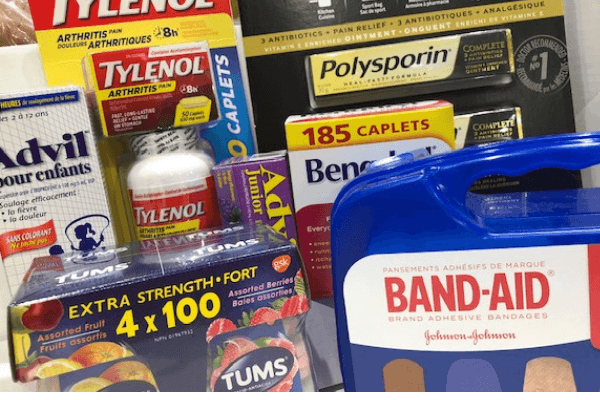 Stomach and Digestive Issues
16. Antacids
Tums, rolaids or Pepto Bismol can be useful for nausea, heartburn, indigestion, upset Stomach, and diarrhea. Whether it's due to eating or drinking too much, or just having a bit of traveler's stomach, it can be so useful. We've even found if a touch of ship movement is bothering us, a chewable antacid has brought such relief.
I also bring a few of these along in a little portable ziplock first-aid baggie I make up for excursion days.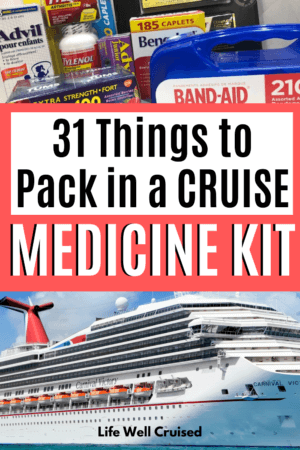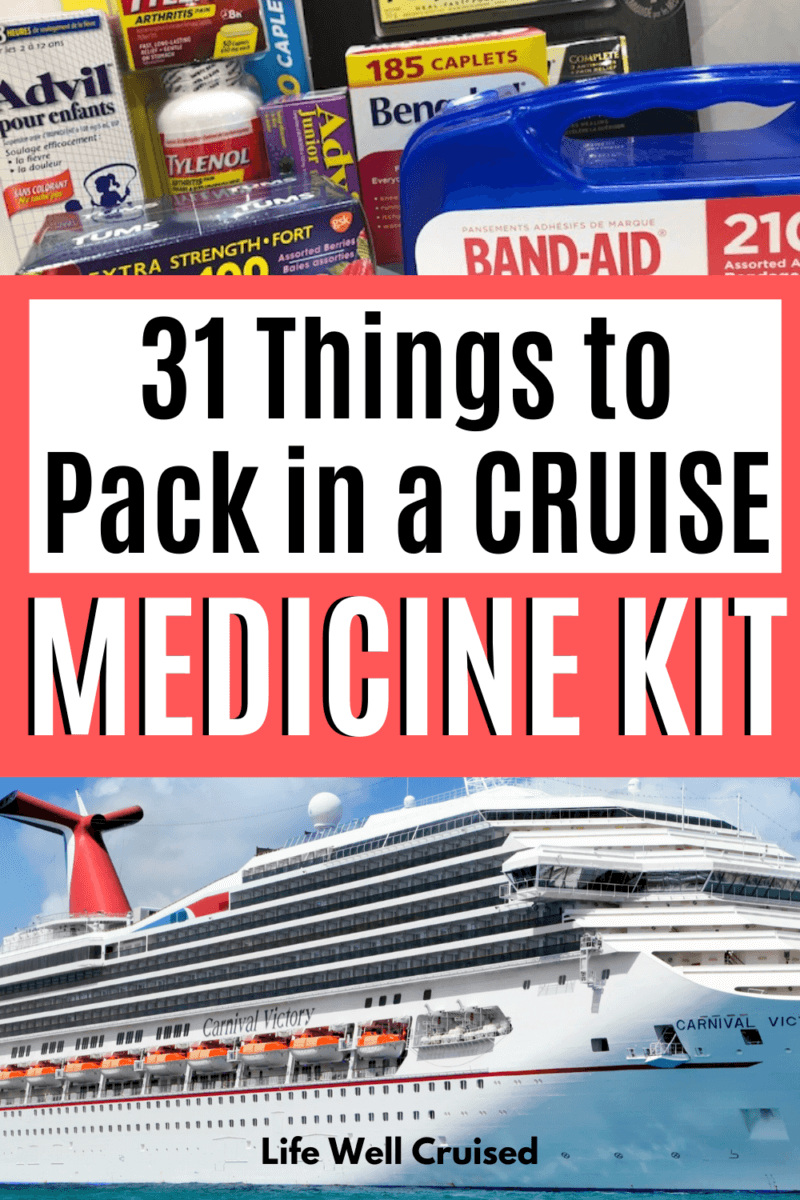 17. Imodium (diarrhea medication)
You can get an upset stomach for a variety of reasons. Now if it's a flu and you need to see the ship's doctor, definitely do so. However, if you get a bit of traveler's stomach bring along some Imodium.
18. Re-hydrating tablets
If you've felt ill or gotten to much sun, re-hydrating tablets can help to make you feel like yourself again. Basically this replenishes your electrolytes (it's amazing what we lose in energy when our electrolytes are off). These Hydralyte ones are what I use.
19. Laxatives
Sometimes, when traveling or when our eating habits are different, we can become constipated and bloated. It will be hard to find this on the ship, so bring some Dulcolax
with you just in case.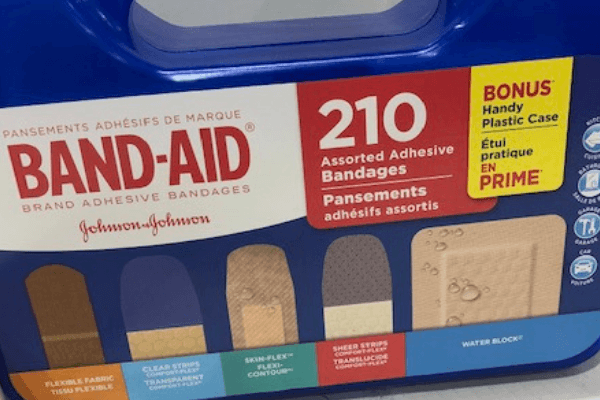 Sun safety and preventing sunburn on a cruise
20. Sunscreen
Having a high SPF good quality, even waterproof sunscreen is a must, especially if you're on a Caribbean cruise.
On our first cruise, we couldn't believe it! Although we're Canadian, we actually love the sun and had a pretty good base from many hours at our community pool that summer. My husband was a bit stubborn and didn't want to wear the sunscreen that first day. Needless to say, he suffered a bit the next couple of days and was slathering on the aloe vera!
That hot sun reflecting over the water is something else!
Here are 3 sunscreens that may be right for you (all amazon – cause I love them)
Coppertone sports sunscreen
– this is a favorite for our boys!
Hawaiian Tropic Sheer Touch SPF 30
– My husband and I usually start with this. I like the golden glow.
Reef Safe – Biodegradable Waterproof Sunscreen– if you're snorkeling, it's a good idea t get a reef safe sun screen like this.
Get The Ultimate Cruise Planner
Regular price: $27 Now just $17!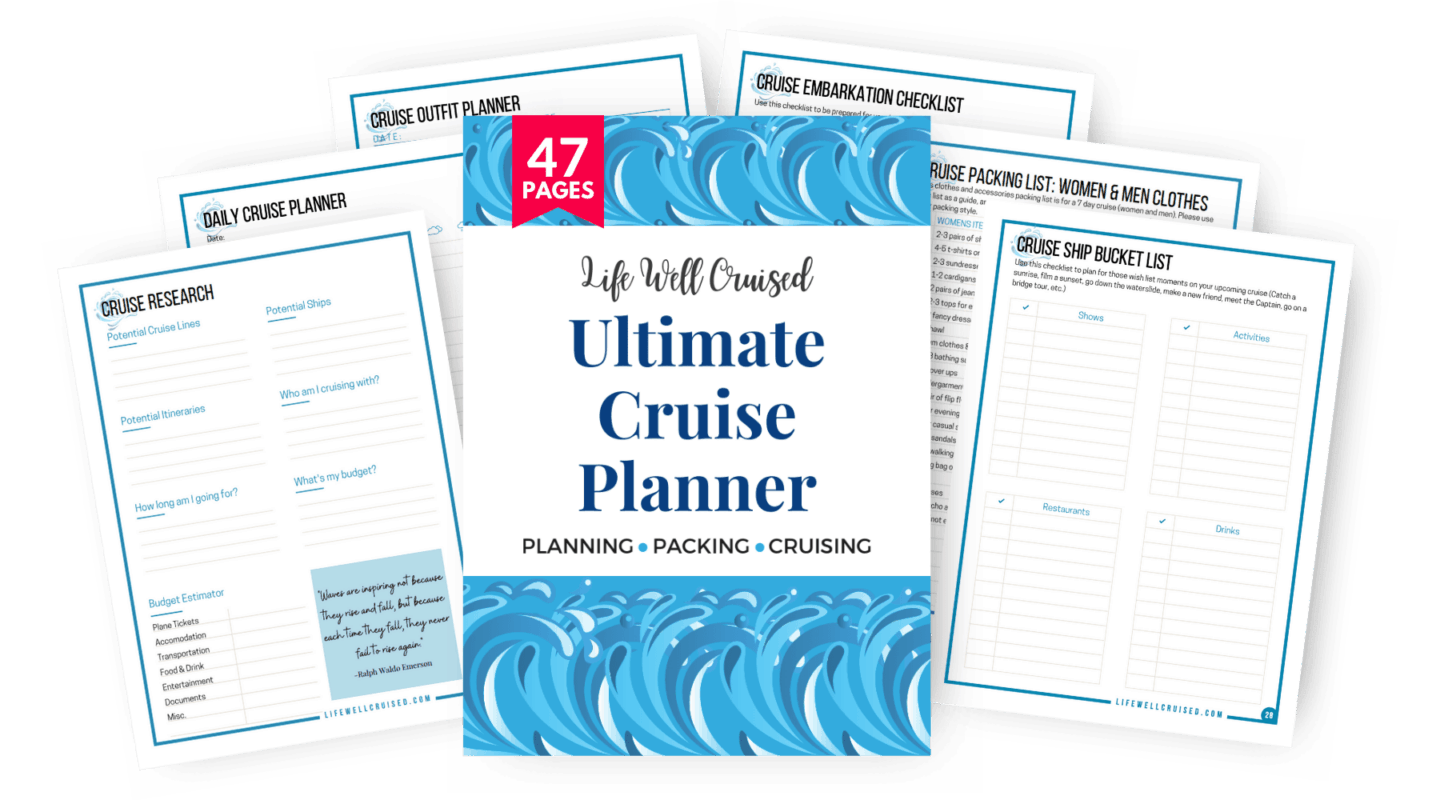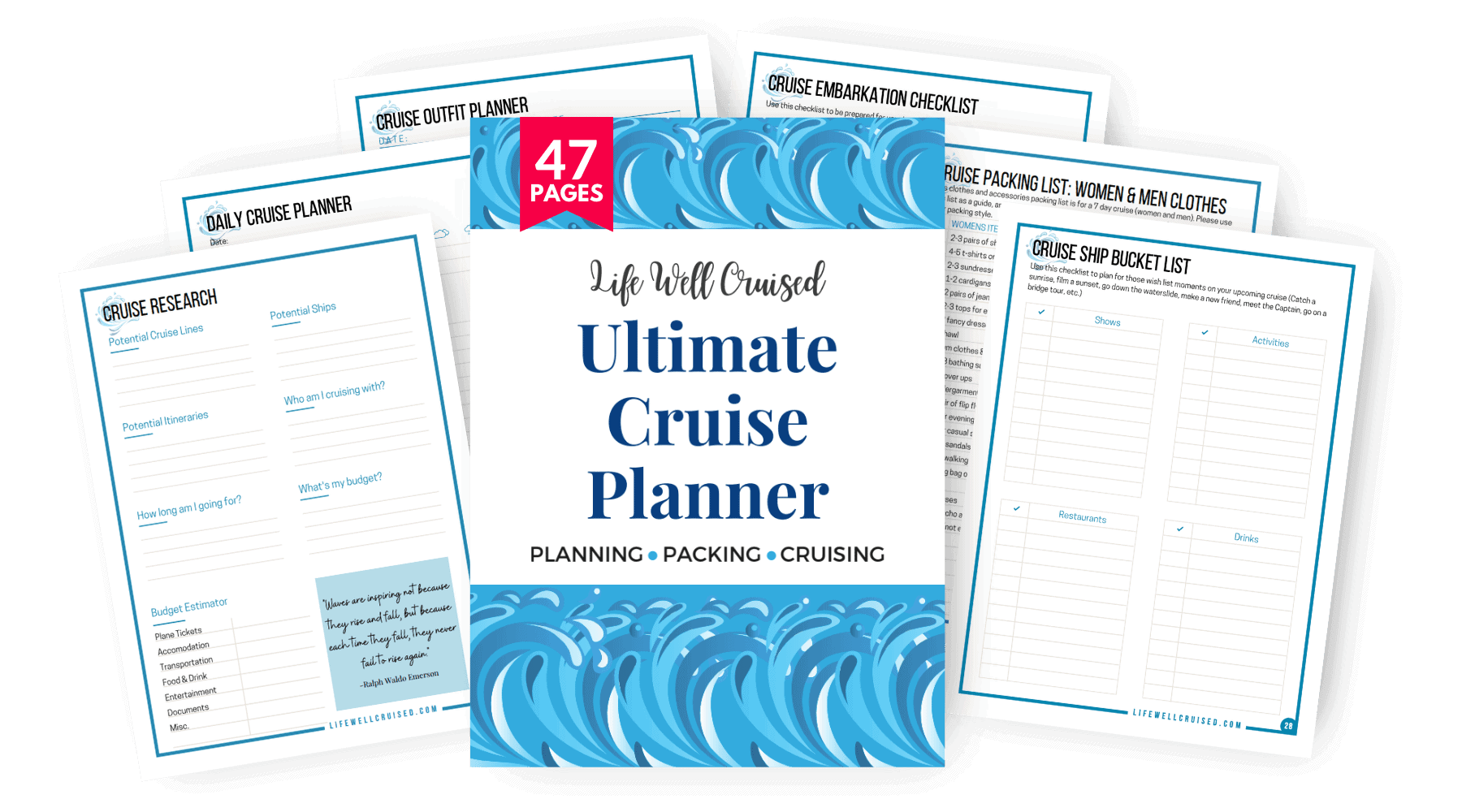 21. After-sun lotion or Aloe Vera Gel
If you do get a bit too much sun, be prepared with a good after sun cream that provides relief and moisture. Natural Aloe vera based gels
work really well.
22. Blistex or chapstick
If you're in the sun, apply some good moisturizing sun protection
to your lips.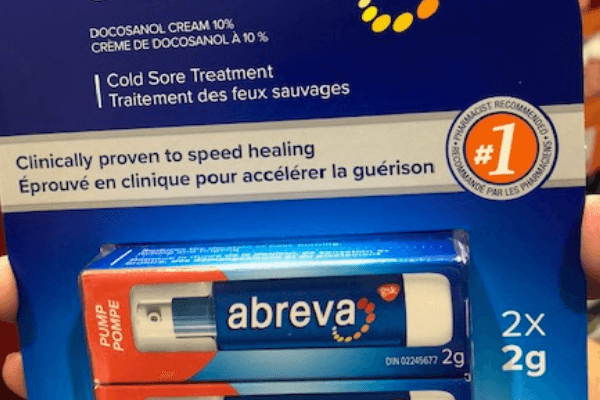 Bug bites
23. Mosquito Repellent
If you're doing excursions in rain-forests or jungles, or even depending on the port, it's possible that you'll encounter insects and mosquitoes. In that case make sure you have some Mosquito Repellent Spray
on hand. You can even spray your clothes and shoes to try to avoid getting bitten or stung
24. Calamine lotion
We keep a Calamine Lotion
us when we travel (and at home). I love it as it also takes away any swelling, especially if you can get to it as soon as possible.
25. After-bite
Smaller than a bottle of calamine, After Bite
gets good results and we often keep one in our handy first-aid ziplock. Seriously, you never know. You can get stung anywhere.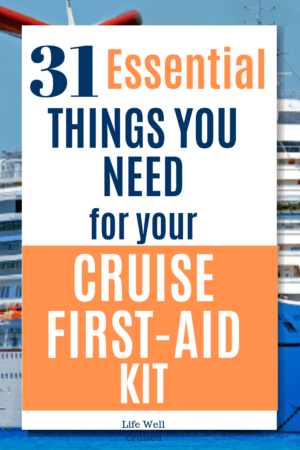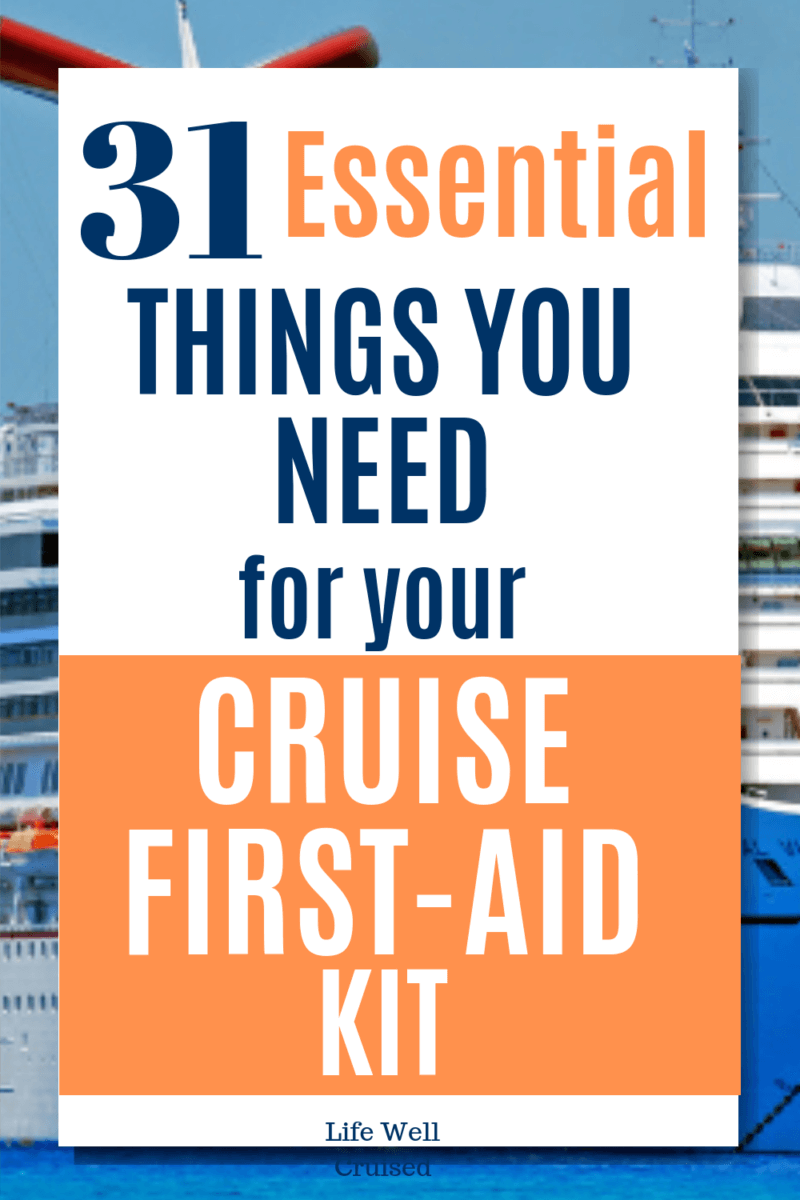 Allergic Reactions
26. Benadryl
Allergic reactions can happen and can be unpredictable. Obviously if you already know you or your child has an allergy, you probably have medication (perhaps a Epipen) and know what to do should this occur. However, people can get unpredictable allergic reactions, or even sensitivities unpredictably. Whether from a food that's new, or from a lotion or product, reactions such as swelling and hives can happen.
Benadryl
or an equivalent medication can really help, especially if taken as soon as possible. We always pack some with us.
Seasickness Medications
There are many ways to deal with seasickness while on a cruise, and having some of these items with you is a good idea.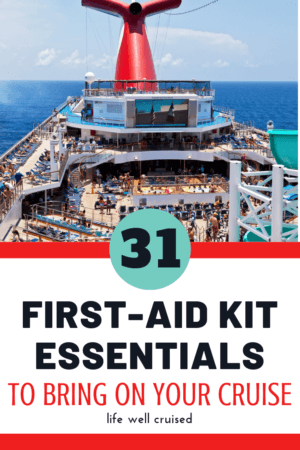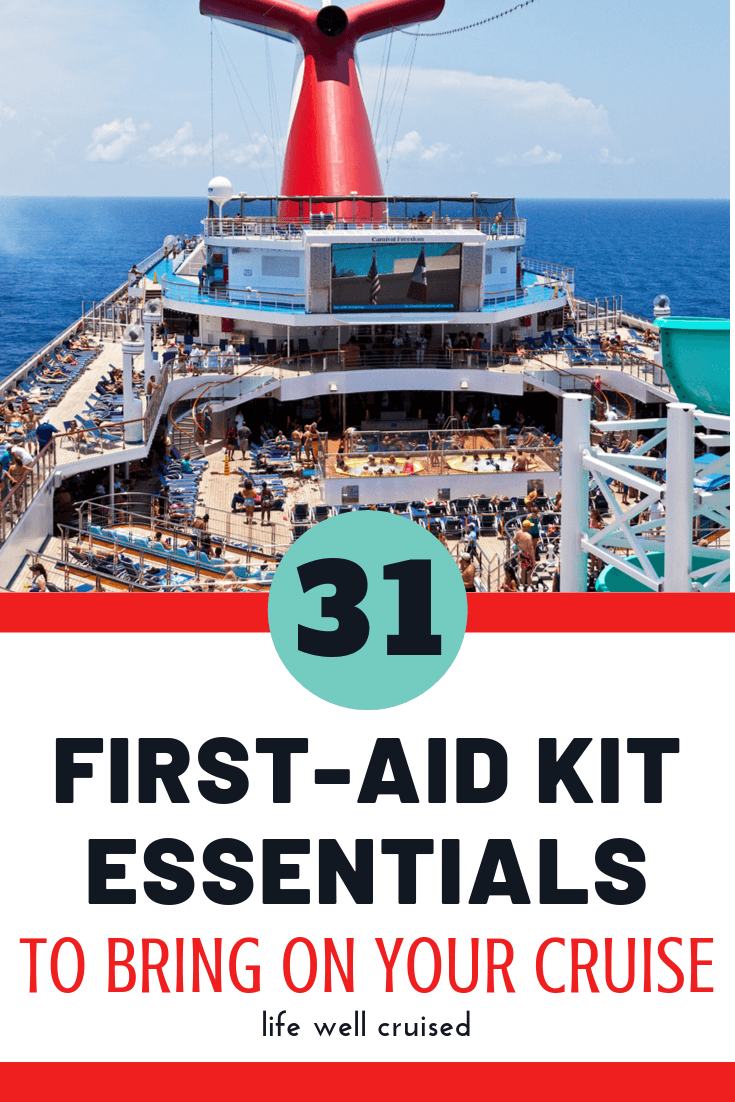 27. Motion Sickness Patches (behind the ear)
Placed behind the ear, motion sickness patches are THE most recommended treatment if you are prone to motion sickness Check here for current price on Amazon
. Do check if there are side effects that you should be aware of.
28. Seabands
This is a favorite for many as they are natural, reusable, and so many people love them and have good results.
Seabands – in sizes for children and adults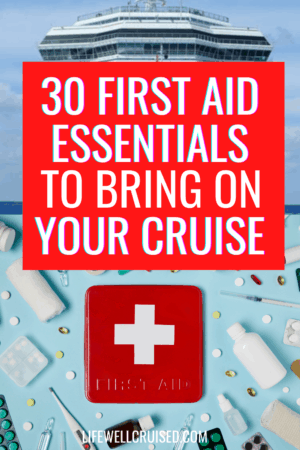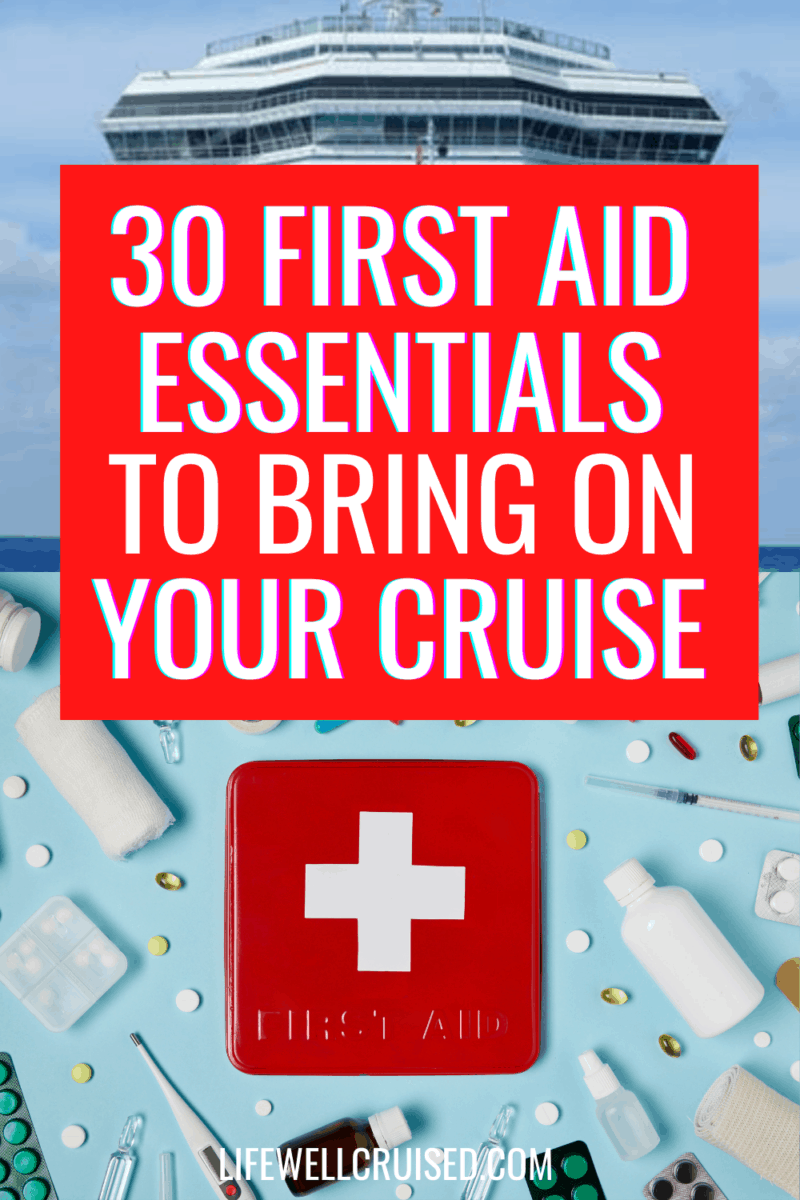 29. Seasickness medications
I definitely recommend you bring some seasickness meds in your cruise first aid kit. I really don't get seasick, but I'm always prepared. I can tell you that over the years ad cruises, someone in my family has had to use some form of seasickness medication or prevention.
*Dramamine (non-drowsy)
– this is tried and true and something to keep with you just in case! We actually used the children's dramamine with great success when our oldest son was young and got a little motion sickness the first day of the cruise.
*Bonine
– this medication is also one that many cruisers stand by. My friend recently used this on her first cruise and reported no ill effects.
30. Ginger
Ginger Candies
or ginger gum is a natural remedy for mild queasiness. I always bring some on my cruises, and have been known to pass a few around to my new cruise friends. Truly we love this!
Other essentials to have to stay healthy on a cruise
31. Hand sanitizer
Bring a small hand sanitizer bottle everywhere, and especially when you leave the ship to go on an excursion or even to go shopping. You touch money and all sorts of things, and hand sanitizer is great until you get back to the ship and can wash your hands with soap and water.
Travel Tip: Create portable mini-first aid packs (with ziplock baggies)
Something I always keep with me on my cruise and packing list, is ziplock baggies. I always have a little ziplock baggie filled with a few simple first aid products that stays in my tote or beach bag for excursions.
Although our larger cruise first aid kit is filled with various products and medications, it stays in our cruise cabin unless we need anything. The little mini first aid emergency kit just keeps a few basics such as waterproof bandaids, neosporin, alcohol wipes, tums or pepto bismol, pain reliever. You can personalize this to your needs.
We keep one packed in our shore excursion bag ready to go!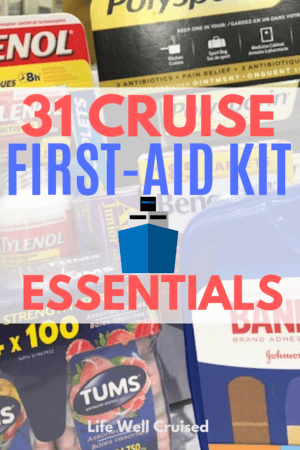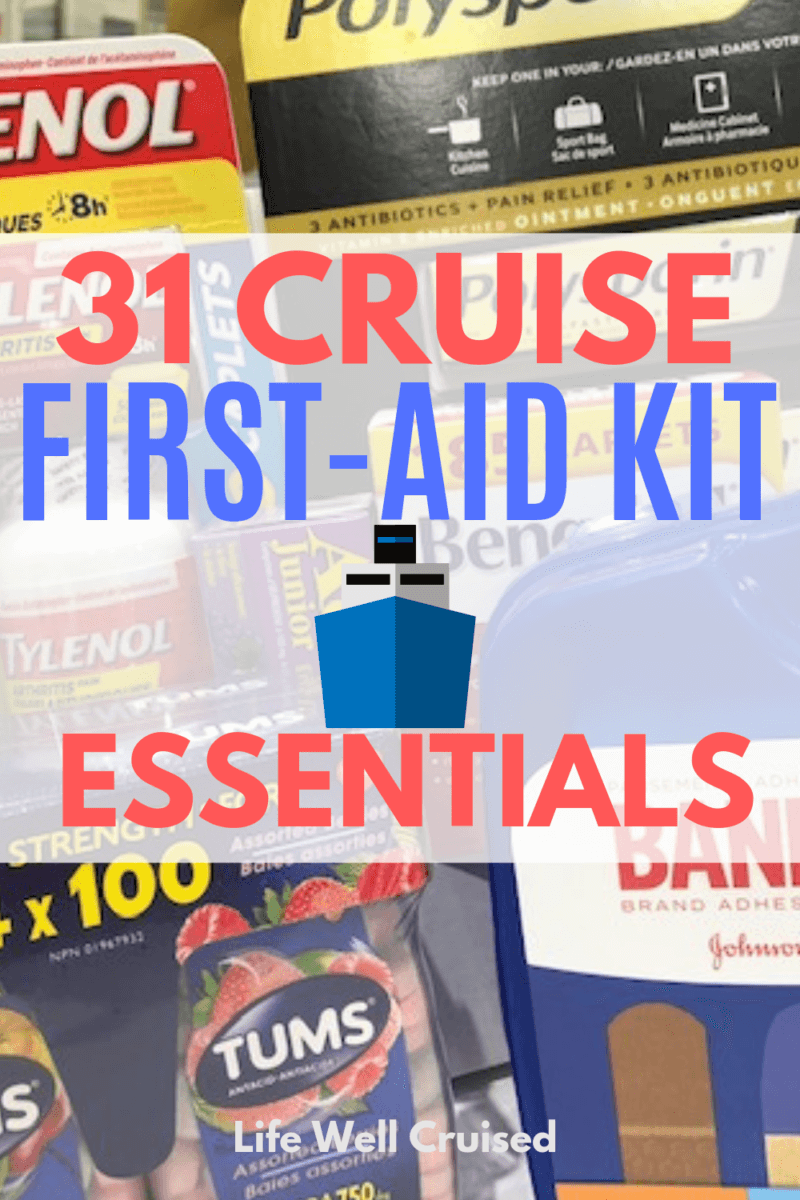 Get The Ultimate Cruise Planner
Regular price: $27 Now just $17!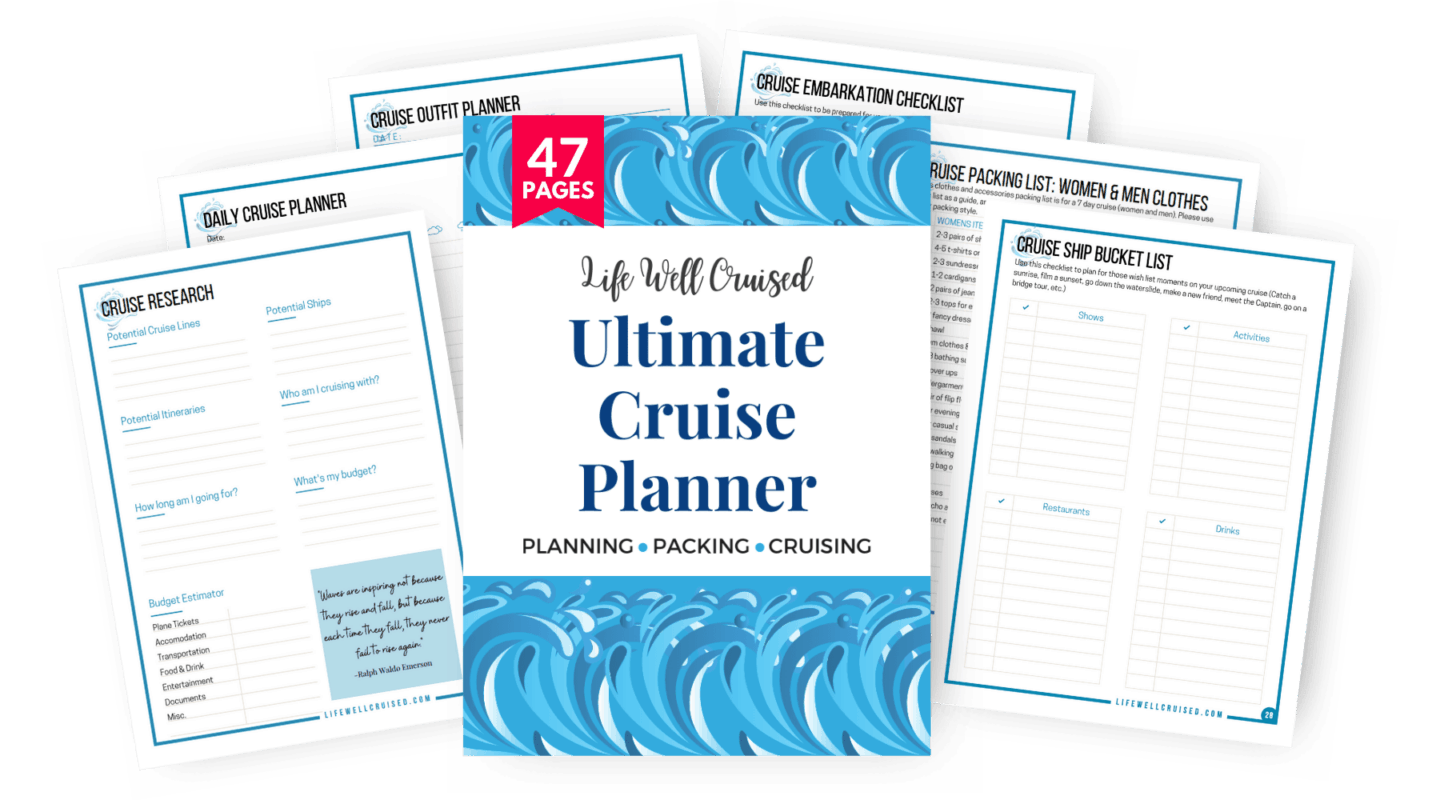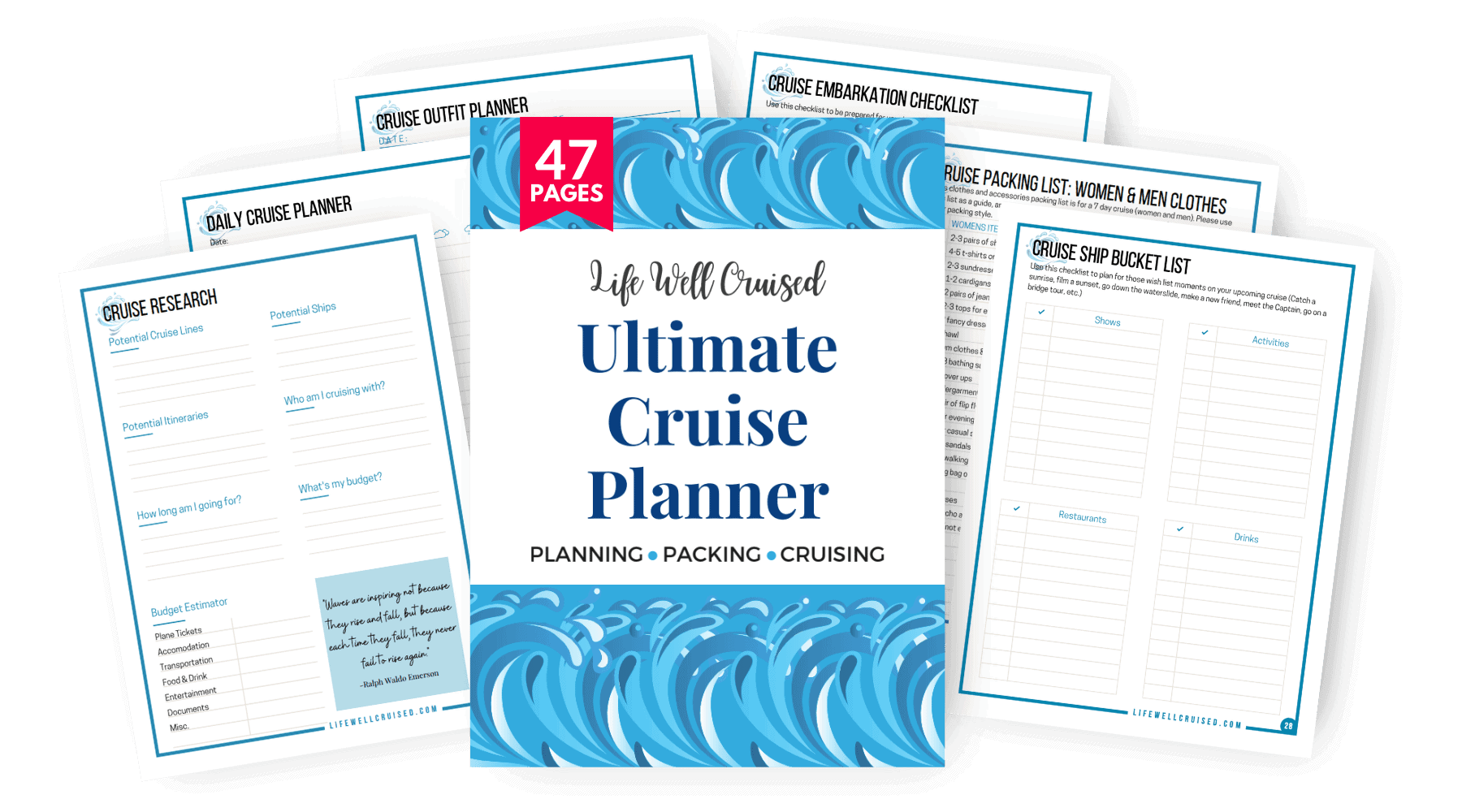 RECAP: 31 Essential Items for your cruise first aid kit
We've gone over the most important products to bring with you on your cruise in your cruise first aid kit. Keep in mind that the ship store's are quite small and products are limited. As well, the prices will likely be double or more than what you'd pay back home.
Take a look through the list and see which items will be most necessary for you and your loved ones on this cruise. You may also want to check this first aid kit that has 150 essential items included, to see if it's right for you – Cruisepaks Cruise Essentials (Amazon – created for cr
uisers)
Other posts that might be helpful as you plan your cruise essentials:
17 Cruise Stateroom Essentials Every Cruiser Needs
25 most recommended Amazon Items to Bring on a cruise
Have you started to pack your cruise emergency pack yet? Have you got any items in mind that I should include? Let me know in the comments below.
Happy Cruising!
Ilana
P.S. If you enjoyed this post and found it helpful, please don't keep it to yourself ;-). Feel free to share on Pinterest, Facebook or Twitter (share buttons at the top). Thanks so much!
Related posts:
20 Cruise Packing Tips all Cruisers Need
21 Things People Forget to Pack for a Cruise (and regret)
30 Cruise Cabin Hacks Every Cruiser Needs to Know
Let's connect:
Follow me on Facebook at Life Well Cruised
Follow me onYouTube at Life Well Cruised (Vlogs and cruise tips)
Follow me on Pinterest at Life Well Cruised
Follow me on Instagram at Life Well Cruised