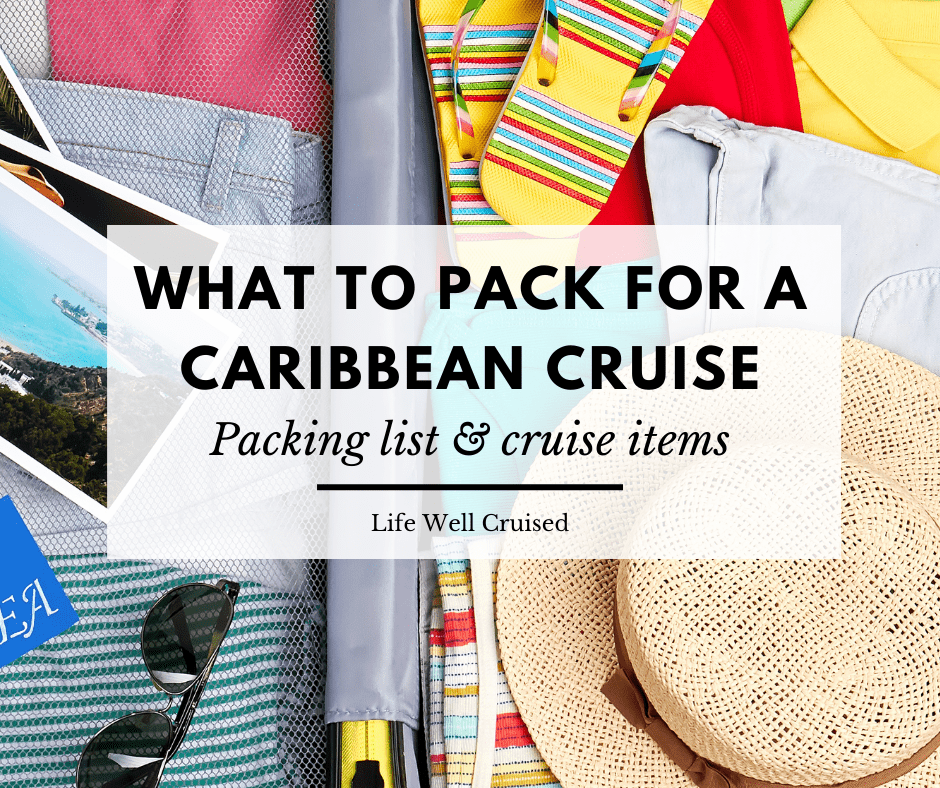 If you're planning a Caribbean cruise in 2023, you're probably wondering what to pack for your cruise vacation. You'll want to be prepared for fun sea days, beautiful days in port and elegant evenings on the cruise ship.
Knowing what to wear and what outfits to pack, as well as what must-have items to bring on your Caribbean Cruise is essential. I've also included a free printable cruise packing list, which you can print and personalize.
What to Bring on a Caribbean Cruise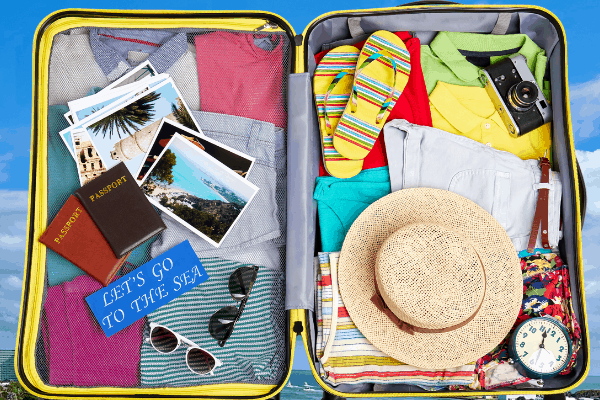 Some people will counsel you to pack light on a cruise, and while you don't want to overpack, you need to know that it isn't easy to pick up extras that you need once on the cruise ship.
It's important to be prepared with all your cruise essentials, including toiletries, medications, cruise accessories and shoes (yes, many people forget their formal night shoes!!).
In this post, we go over:
What clothes to pack for a Caribbean cruise (his & hers)
Must have items for a Caribbean cruise
Caribbean cruise packing list
How to pack for your cruise
**Looking for a printable cruise travel planner to keep organized? See what's included in the 47 page Ultimate Cruise Planner
Get The Ultimate Cruise Planner
Regular price: $27 Now just $17!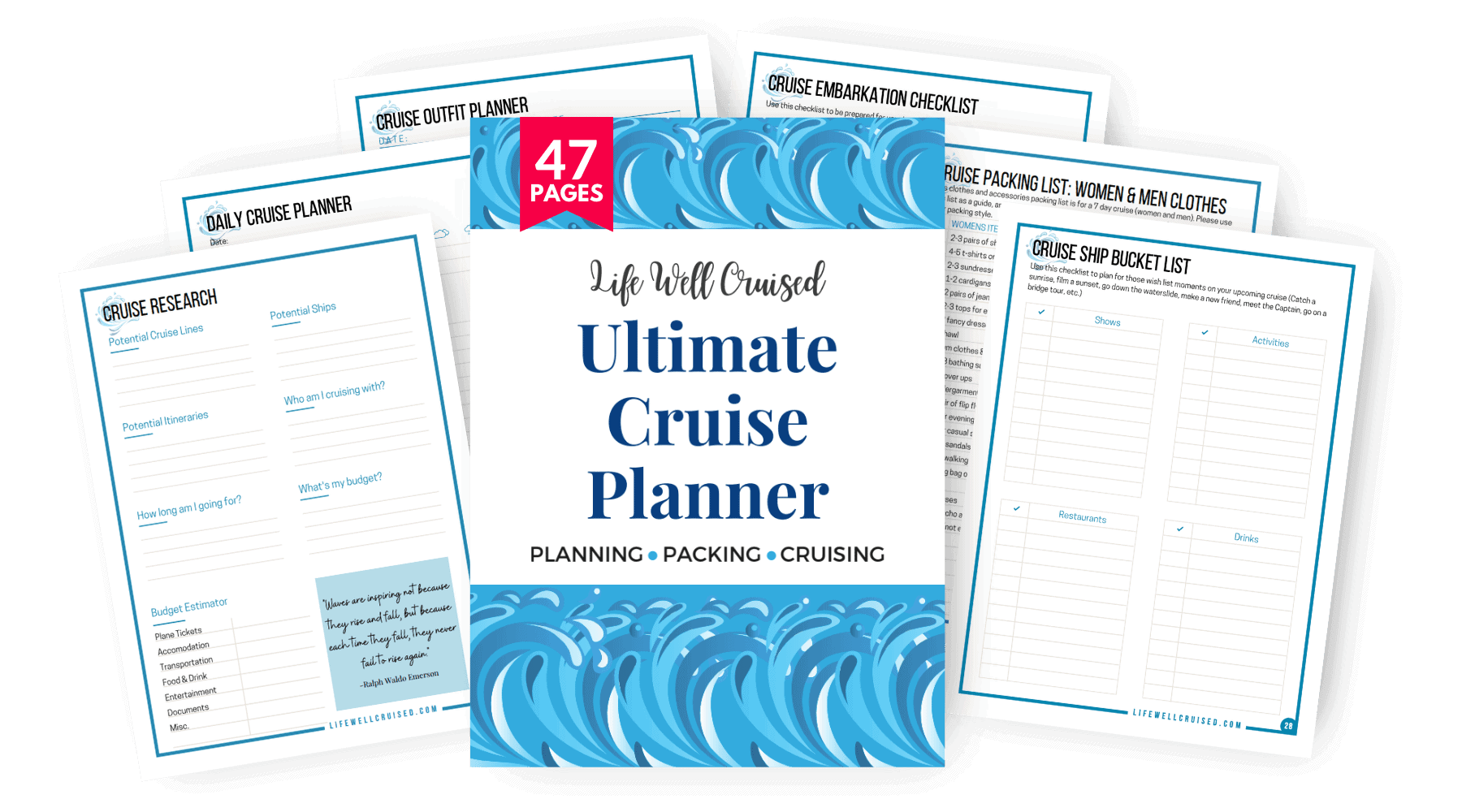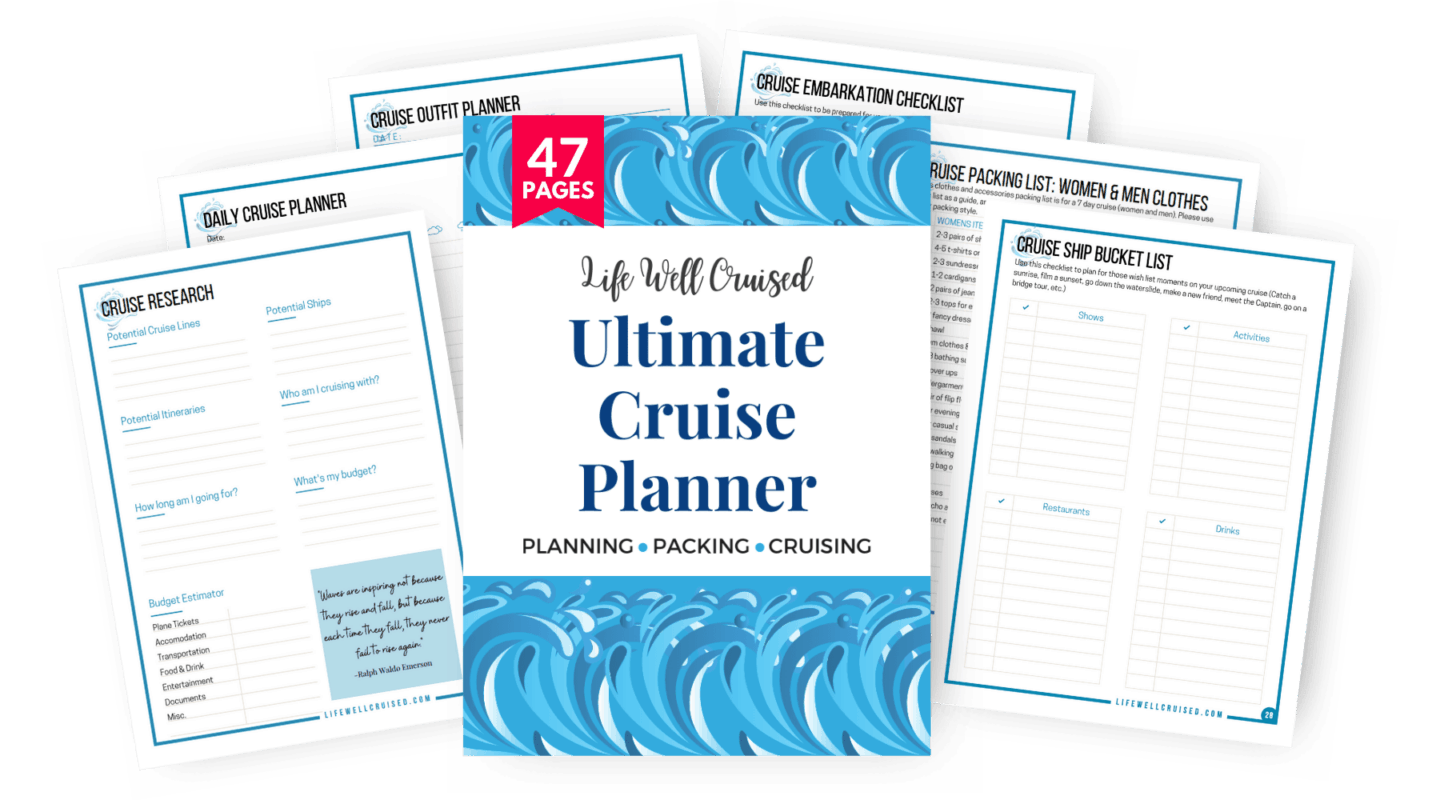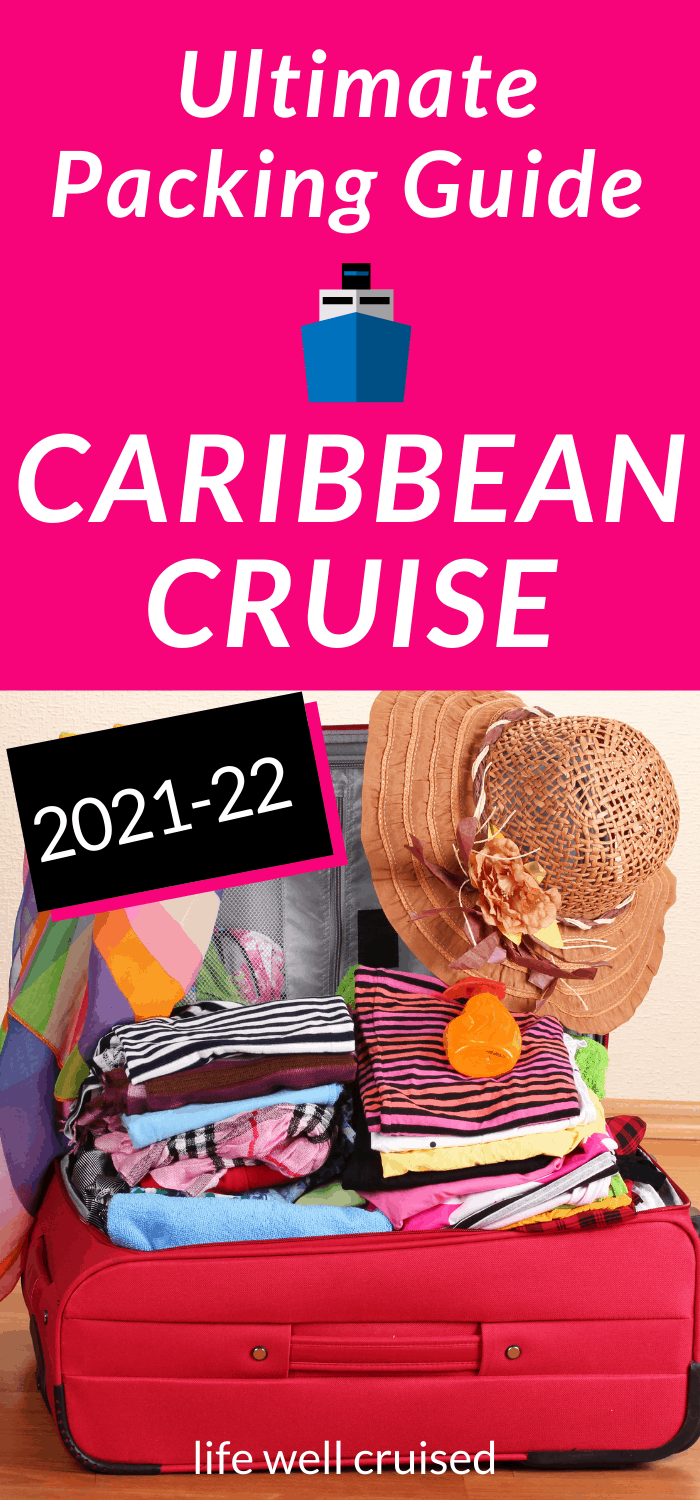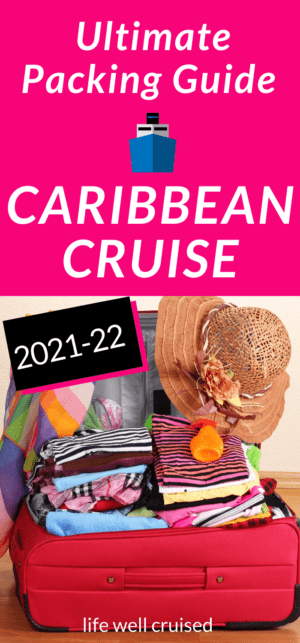 What to Wear on a Caribbean Cruise
If you're taking a 7 day Caribbean Cruise, you'll need outfits for your sea days on the cruise ship, and other days in port. You'll also need to plan for evening wear on your cruise.
It's a good idea to check your cruise line's dress codes. However, in most cases a 7 day cruise will include 2 Formal, Dress Your Best or Chic Evenings. The other evenings will be casual or smart casual dress.
If your cruise is 5 nights or less, you'll only need one formal attire outfit or there may not be a formal evening at all. However if your cruise is 10 nights or longer, you can expect an extra chic night. Keep in mind that cruise line dress codes apply in the main dining room, and not the buffet and casual restaurants.
Suggested: What To Wear on a Cruise Vacation (daywear, evening, formal nights)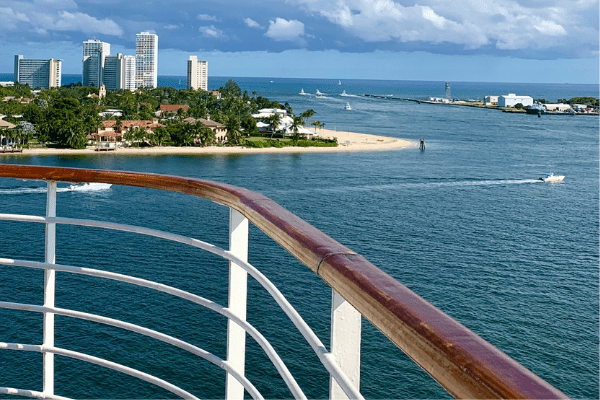 Clothes to Bring on a Caribbean Cruise
This cruise outfit packing list will be useful for any warm weather cruise, including Bahamas and Bermuda cruises.
Since the Caribbean weather is quite warm most of the year, plan on light clothing during the day, like shorts and a t-shirts or tank top, or a light sundress. Winter months (January, February, March) tend to be a little bit cooler, so plan accordingly.
Cruise Clothing Packing List for Women
2-3 bathing suits
2 cover ups
3-4 pairs of shorts
7-8 t-shirts or tank tops
2-3 sundresses
2-3 casual evening dresses
2 cocktail dresses/fancy dresses
2-3 Light tops/blouses for evening
2 Capri pants/nice jeans for evening
Gym wear (including gym shoes)
Sleepwear
undergarments & socks
Comfortable shoes for walking
Dressy shoes (evening)
Flip flops or sandals for beach or pool
Casual shoes for day
Casual shoes/wedge for evening
*Shawl or Pashmina (cruise ship air conditioning on the shoulders)
Light sweatshirt or cardigan for cooler evenings
Sunhat
Evening bag or clutch
Jewelry
Mask if required
If you opt to pack light for your cruise, here are some tips in this post, on how to mix and match your outfits.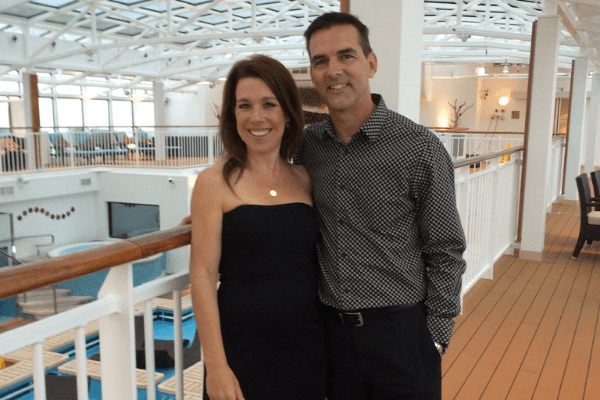 Cruise Outfit Packing List for Men
3-4 shorts
7 t-shirts
2-3 bathing suits
1-2 pairs jeans
1-2 khakis
3-4 polos
1-2 buttoned shirts
1 suit
2 dress shirts
undergarments and sleepwear
work-out clothes
1 sweater or sweatshirt
sandals/flip flops
Gym shoes
1 pair dress shoes
1-2 pairs casual shoes
baseball cap or hat
sunglasses
belt
mask if required
The Ultimate Cruise Planner
Do you need cruise packing lists, to-do checklists, shore excursion forms and more? Over the last year, I put together a 47 page cruise travel planner that has everything you need as you plan and get ready for your cruise.
Check out the Life Well Cruised Ultimate Cruise Planner. Plus, for a limited time, it's $10 off. Hope you enjoy!
See details here: Ultimate Cruise Planner -What's Included
Get The Ultimate Cruise Planner
Regular price: $27 Now just $17!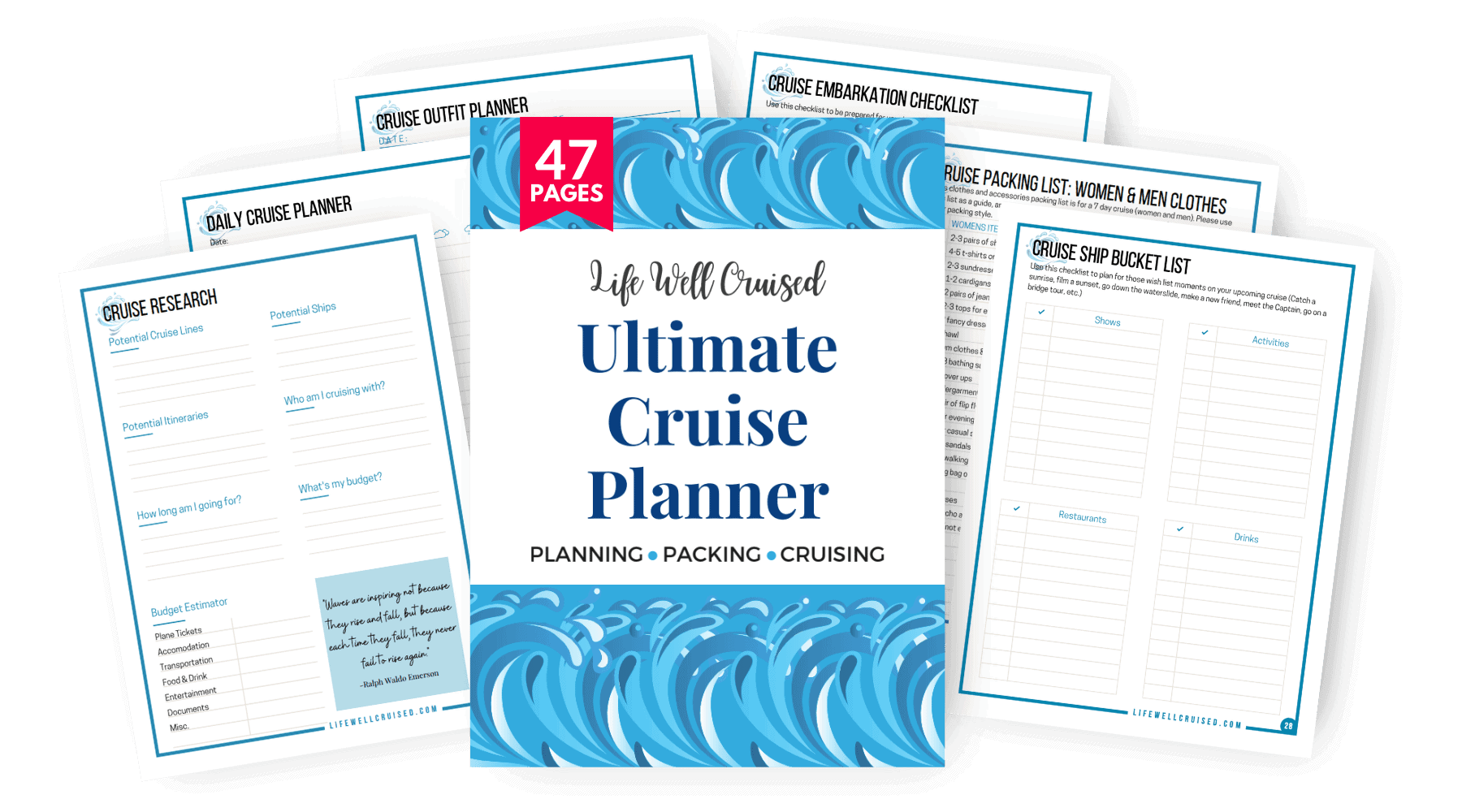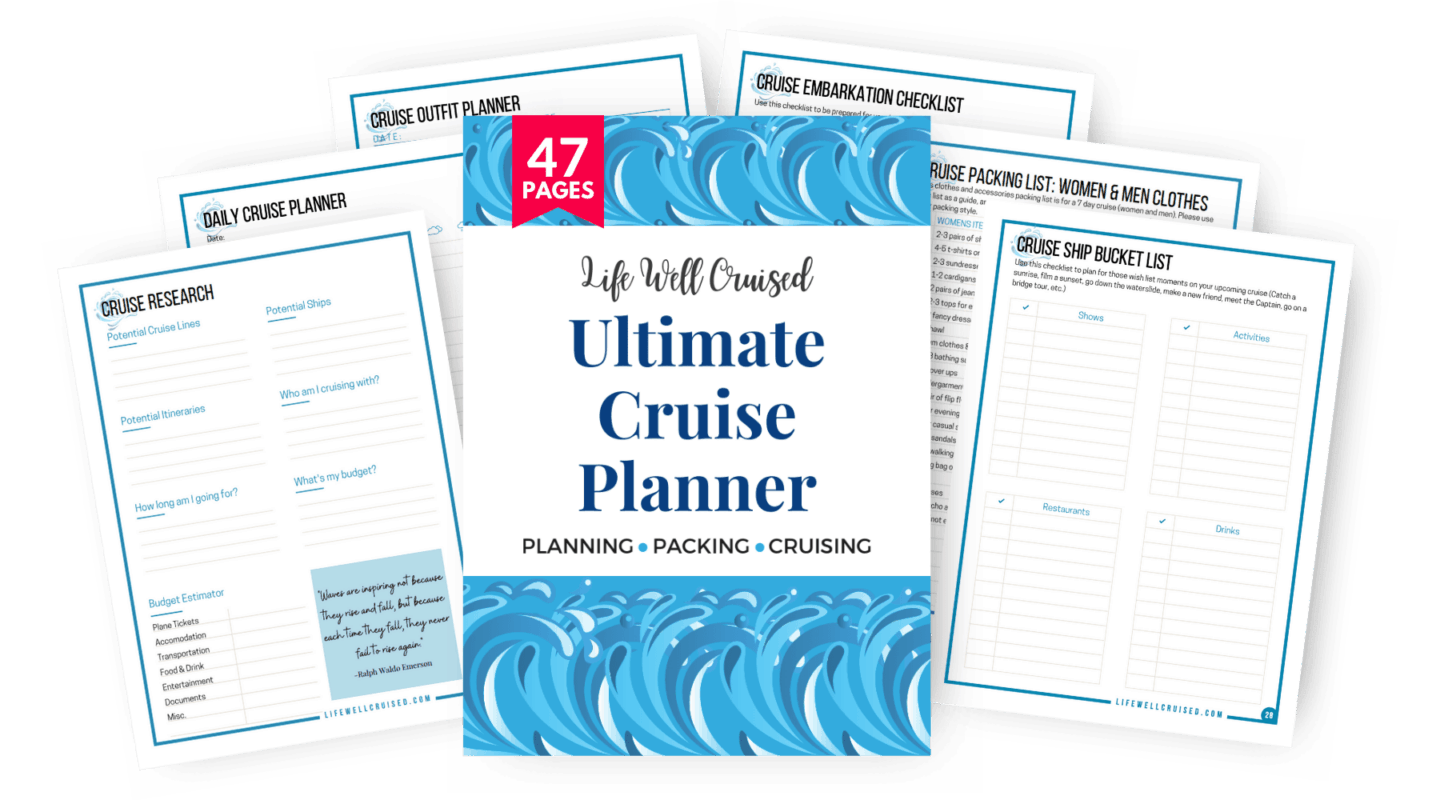 This post contains affiliate links which means if you click and buy that I may make a commission, at no cost to you. Please see my disclosure policy for details.
As an Amazon Associate I earn from qualifying purchases.
53 Must-Haves to Pack for your Caribbean Cruise
Here's a list of the most essential items to pack for your cruise. I've included both cruise accessories that will be useful for any cruise, as well as things to bring that are specific for your Caribbean Cruise.
1. Passport or Government Issued ID
The most important things to pack for your cruise to the Caribbean is your passport and government ID. Make sure to have this on you, and do not pack it in your checked luggage. If this happens, there's a good chance that you won't be able to get it back on time to be able to board your cruise.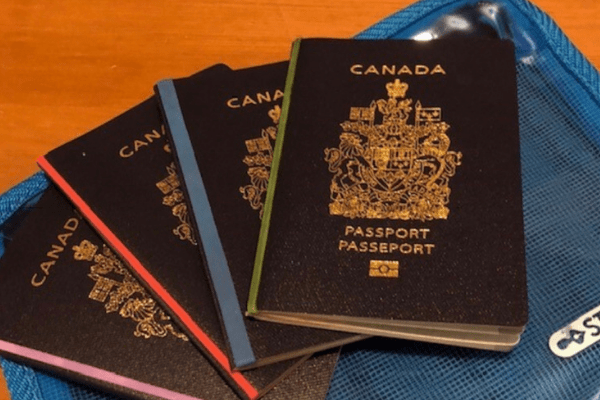 2. Proof of Vaccine and/or Testing Results
As cruises are sailing again, many cruise lines have vaccine requirements and/or will be asking for Covid 19 test results as you board on embarkation day. Please check with your cruise line or travel agent for requirements for your booking.
Vaccine protector
These waterproof vaccine holders on cruise lanyards are practical.
Recommended: Vaccine protectors on lanyards (see details on Amazon)
3. Cruise documents
Print out your cruise documents, as well as flight and hotel reservations and other travel documents you might need.
4. Passport Travel Wallet holder
It's a good idea to keep your passport in a passport wallet/holder. This one is so practical and will ensure that you don't make the mistake of packing your passport in your luggage.
Recommended: Passport travel wallet (check price & reviews on Amazon)
5. Cruise Carry-on Bag
While you'll check your luggage at the cruise terminal, you'll want to have a cruise carry on bag with all you need for embarkation day. In here, you can keep your essentials like a change of clothes, a bathing suit and cover up, and medications and valuable.
A small suitcase, small duffel bag or backpack all make great cruise carry-on bags.
Recommended: Nautical stripe weekender bag (see 2 types available on Amazon)
Here's full cruise carry on packing list, and I will include it at the bottom of this post as well.
6. Non-surge Protected Power Bar
It's surprising, but most cruise ship cabins have only 2 electric plugs. If you're bringing electronic items like phones, pads, speakers, go-pros and anything else, you'll really want more plugs.
Very important – Cruise lines won't allow you to bring a regular surge-protected power bar from home and it will be confiscated. It's very important to have a non-surge protected one that is "cruise approved".
Recommended: Cruise Power Strip with USB Outlets – Non Surge Protection & Ship Approved (verify price here)
7. Lanyard
A lanyard holds your cruise card both on the ship and in port, keeping your hands free. It's one of the most useful items to bring on a cruise.
Bonus – you can actually pick your own design or theme, which makes it a fun item to take on a cruise vacation!
Recommended: Cruise lanyards
8. Cruise Luggage Tag Holders
Your cruise luggage tags will need to be printed, then folded and stapled and put on your luggage. While this is perfectly fine, the paper can be flimsy and it takes time to do this the morning of your cruise.
Luggage tag holders are reusable, and truly one of the best cruise accessories you'll ever have. They're available for every cruise line (in wide or long sizes).
Recommended: Plastic Sleeve luggage tags (check link for specific cruiseline options)
9. Medication (prescription & over the counter)
Make sure to pack both prescription and over the counter medications. It's a good idea to pack a small pharmaceutical bag or DIY first aid kit with bandaids and other useful items.
For a complete list of items to pack in your cruise first aid kit, please see this post: 31 Cruise First Aid Kit Essentials To Bring on Your Cruise
10. Reef safe Sunscreen
One item not to forget to pack for your Caribbean cruise is sunscreen. The sun is much more intense on the cruise ship, especially when at sea.
Unfortunately, my husband learned his lesson the hard way 😉
Recommended: Banana Boat Reef safe sunscreen – SPF 50 (see almost 4000 reviews on Amazon)
11. Lip balm with SPF
I always pack several lip balms when we go on a cruise, for each member of the family – you don't want to forget these. Trust me – lips can burn and swell up, which isn't pretty or comfortable.
Recommended: Banana Boat Lip Balm SPF 50
12. Aloe Vera – After Sun Care
If you do get a bit too much Caribbean sun, you'll be happy to have non-sticky aloe vera after-sun gel that will ease a sunburn. While sold on the cruise ship, it will be more expensive than planning ahead.
Recommended: Organic Aloe Vera Gel (see almost 50,000 amazing Amazon reviews)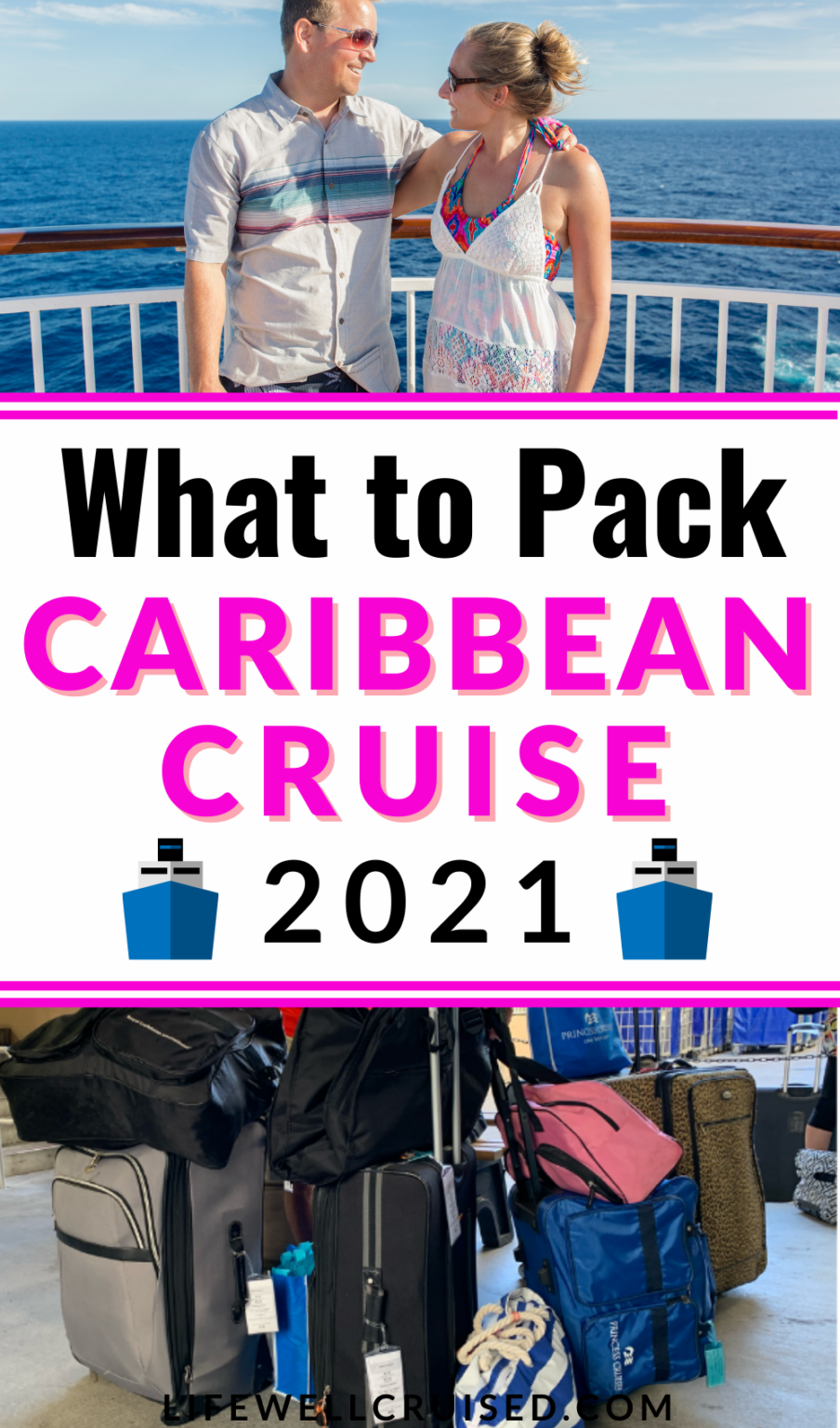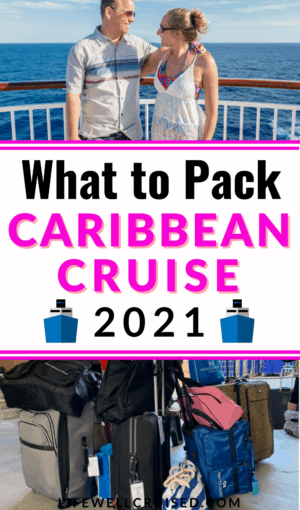 13. Polarized Sunglasses
This selection of fashionable polarized sunglasses for men and women on Amazon is so reasonable. If you need some sunglasses to bring along on your Caribbean Cruise, check out the awesome styles.
Recommended: Polarized sunglasses (see awesome choice of fashion brands here)
13. Insect Repellent
While you're unlikely to need mosquito or bug spray if you stay near the port or head to a beach, you'll need it for some shore excursions. If you're heading into the forest, like going zip-lining or river tubing, bring along insect repellent.
Recommended: Deep Woods Insect Repellant (see reviews here)
15. Beach Bag
Bring along a good quality waterproof, zippered beach bag that can hold all your towels, sunscreen, water bottles etc. This is the bag we use, and it actually doubles as our carry on bag for Caribbean cruises. You can find more beach and tote bags for all your needs in this post.
Recommended: Large zippered nautical beach bag
16. Waterproof Phone Case
It's a good idea to bring a waterproof phone case on your cruise, for sea days by the pool as well as port days by the beach. This one includes the ability to use the touch screen as well.
Recommended: Waterproof Phone Case with cruise lanyard
17. Seabands
Make sure to have some motion sickness remedies, as it's always possible to be affected by some seasickness during your cruise.
Seabands are a practical, natural remedy for many experienced cruisers.
Recommended: Seabands (see both adult and children's sizes on Amazon)
18. Seasickness Medication
Bring along some Bonine or other seasickness medication, in case you feel some motion due to rough seas. It's handy to have just in case.
Recommended: Bonine seasickness tablets
19. Ginger Candies
Ginger candies are a natural way to ease an upset stomach or mild motion sickness on a cruise. They're great on tenders and small boat excursions as well.
Recommended: Tummydrops ginger candies
20. Snorkel and Mask
If you're planning on heading to the beach or boat excursion, you'll want to bring your own snorkel set on your cruise. It can be used again and again, and will likely be one of your favorite things ever!
Recommended: Check out the Amazon reviews for this full face mask style snorkel set (to see why people are loving it)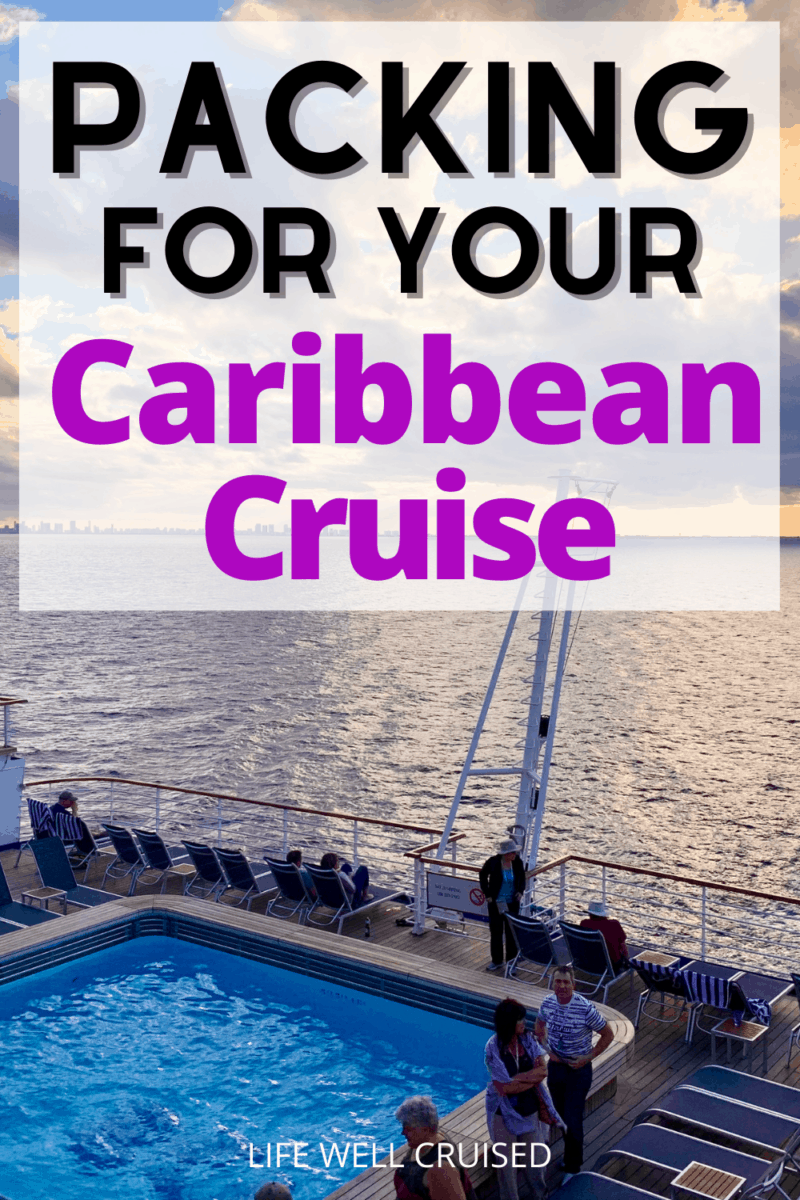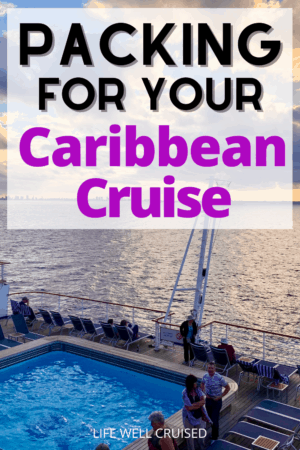 21. Towel Clips
While pool and beach towels are provided by the cruise line, so no need to pack these, they just won't stay put without towel clips. Caribbean cruises are breezy!
Beach and pool towel clips are available in different styles (flamingo, margaritas, flip flops) are a practical and fun item to pack for your cruise.
Recommended: Flamingo BocaClips Beach Towel Holder (check link for variety of clips)
22. Towel Bands
Save space with these cute and practical towel bands, a good alternative to towel clips.
Recommended: Towel bands (see variety of fun styles)
23. Refillable Water Bottles
I love these space-saving roll-able and collapsible water bottles. While obviously convenient on the cruise ship, more than that I love how they don't take room in my luggage or beach bag when not being used.
Recommended: Collapsible 20 ounce water bottles
23. Swimsuit Cover Up
A pretty bathing suit cover up is a must-have cruise wear for a Caribbean cruise. You may want to bring a couple for both cruise ship and beach days.
Recommended: Swimsuit cover up (see different colors on Amazon)
24. Water Shoes
These lightweight water shoes are comfortable and easy to pack for your cruise. Some Caribbean beaches, even cruise line private islands, can be grainy or rocky, so it's a good idea to pack a pair for everyone in the family.
Recommended: Water shoes/Water socks (see different color choices on Amazon)
25. Binoculars
Keep your eye out for flying fish, whales and dolphins. Although more common on Alaskan cruises, it's actually possible to see marine life during your Caribbean cruise. However, you'll want to have binoculars handy whether you're watching from the Lido deck or your balcony.
Recommended: Travel Folding Binoculars
26. Waterproof Dry Bag
This waterproof dry bag is perfect for cruise shore excursion days. This best-selling Amazon item comes in a several sizes and colors.
Recommended: Floating waterproof dry bag (verify price on Amazon)
27. Portable Lock-box Safe
Cruisers often wonder where they can put valuables and identification when on excursions or hanging out on the beach. This useful item has become one of the most popular cruise accessories.
Recommended: Portable lock box safe (check reviews on Amazon)
28. Portable Phone Charger
While a cruise power bar is important to have, a portable charger is super practical.
We used this one on our last cruise to charge two phones at a time! It was awesome and long lasting!
Recommended: INIU Portable Charger – compatible with most phones (but do verify)
Get The Ultimate Cruise Planner
Regular price: $27 Now just $17!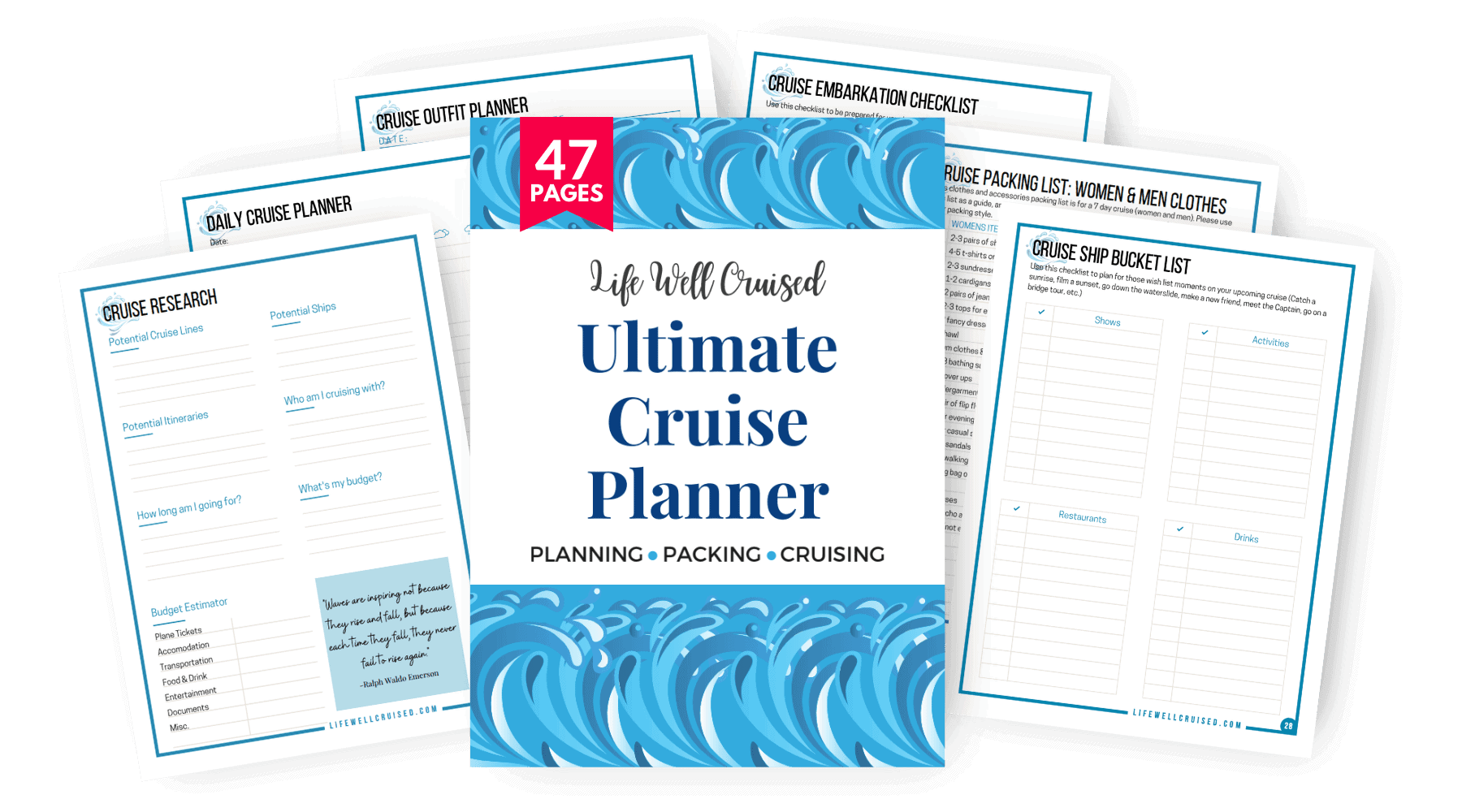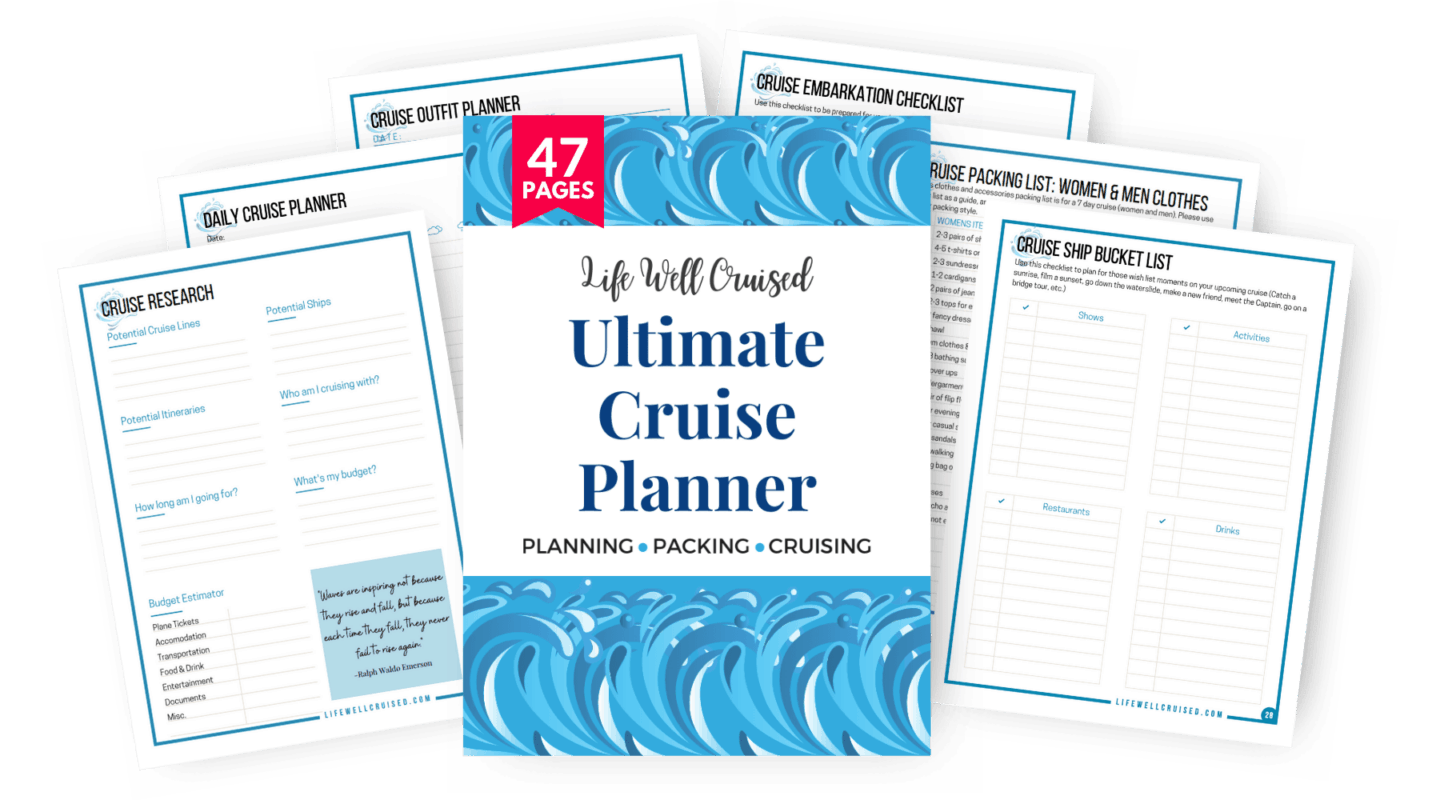 29. Go Pro
While not a true cruise must-have, a Go-Pro is a great way to get amazing video footage on your vacation, on active excursions and in the ocean (it goes underwater). If you're looking for a new toy and want to create a vacation video or Vlog, you'll love the image quality of the new Go Pro 9.
You can also pick up a few accessories made specifically for a Go Pro that will be helpful.
Recommended: Go Pro 9 (see price & reviews on Amazon)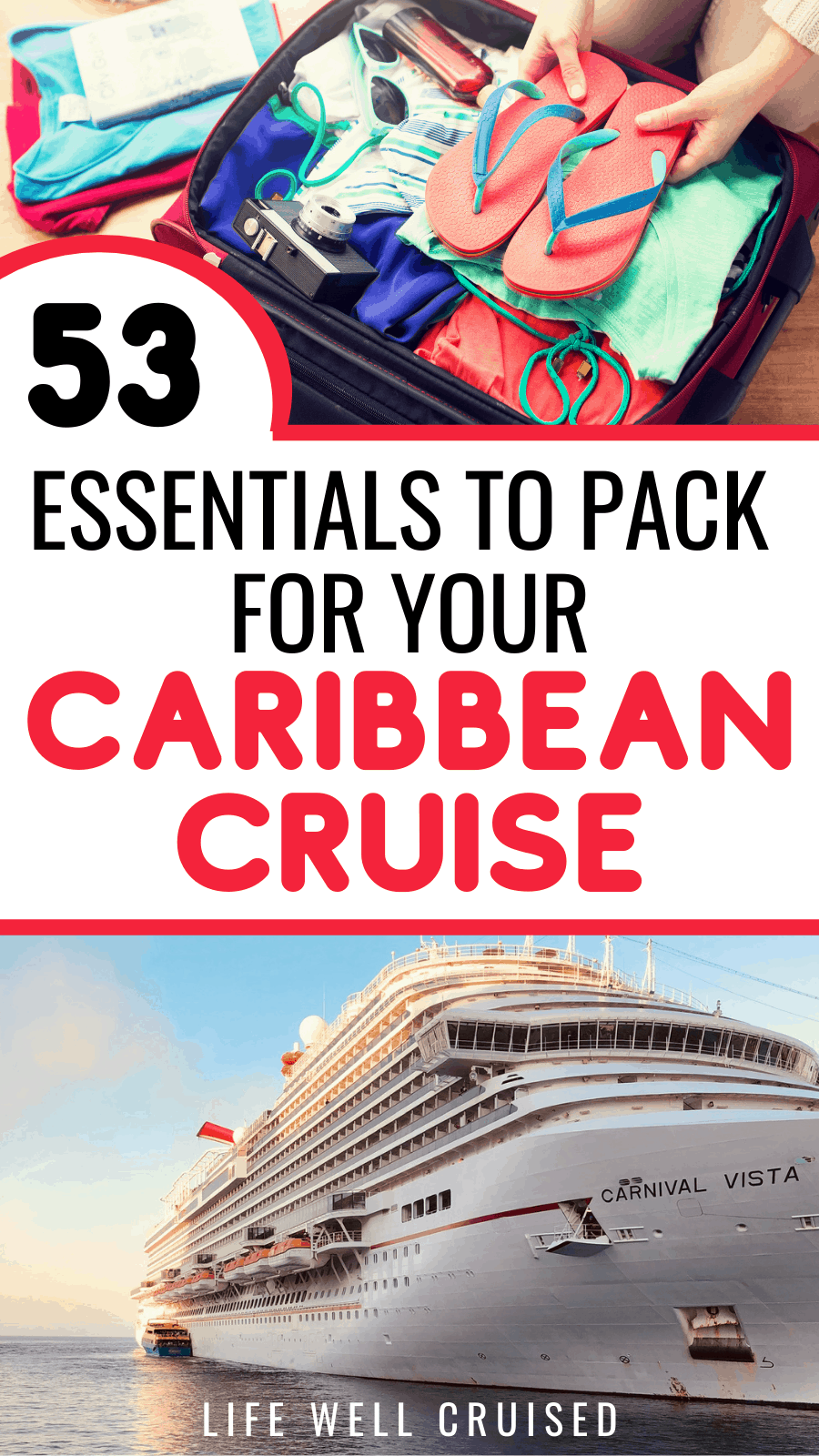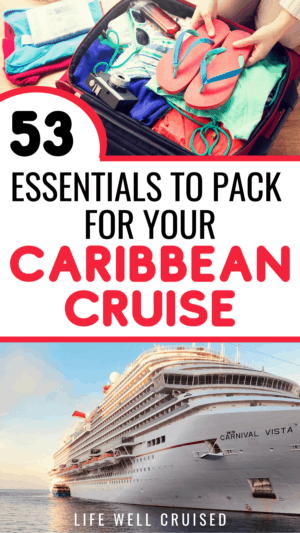 Useful Cruise Accessories
30. Hanging "over the door" Organizer
Cruisers swear by the hanging organizer for toiletries and other essentials on a cruise. This can be a great way to keep your cruise cabin organized.
Recommended: Hanging cabin organizer (see Amazon link for price & details)
31. Magnet Hooks
I personally recommend these magnetic cabin hooks. When we used them in our cabin on our last cruise, they freed up space in the closet (and on chairs). The small hooks are "heavy duty" so they can hold the weight of a backpack or sweatshirt, but also are a good place to store sunhats and hang bathing suits to dry.
Recommended: 6 pack Magnetic Hooks
32. Cruise Approved Power Bar or Cube
This multi outlet cube is a real space saver and absolute essential for cruising and traveling. In contrast to larger power bars, this "cube" is perfect if you're trying to pack light for a cruise (as it's so small). Yet it still has 3 electric outlets and 3 USB Ports!!
Tip: Cruise lines don't allow power bars from home with extension cords, so make sure to pack one like this which is "cruise approved".
Recommended: Cruise power cube (check price here on Amazon)
33. Hanging Toiletry Bag
This hanging toiletry bag and organizer makes it so easy to unpack the necessities on a cruise!
Recommended: Hanging toiletry bag (over 14000 5* ratings on Amazon)
34. Poo-Pourri Bathroom Spray
This one is well loved and not talked about that often. However, Poo-pourri one of the most popular Amazon cruise products being ordered.

Recommended: Poo-Pourri Before-You-Go Toilet Spray Bottle (verify Amazon price HERE)
35. Cabin Alarm Clock
If you like to know the time during the night or don't want to rely on your cell phone, consider a simple travel battery operated clock. A lot of cruisers swear this is one of their favorite cruise accessories.
Recommended: Digital Travel Alarm Clock (battery powered with a light)
36. Motion Sensor Nightlight
This portable motion sensor nightlight is so practical and makes a great gift for cruisers. This is especially handy for inside cabins, which will be pitch black when the lights are off.
Recommended: Battery operated nighlight
37. Portable Fan
Cruise cabins can get stuffy. This small fan is battery operated, but rechargeable, and gets great reviews on Amazon.
Recommended: Portable Travel Mini Fan
38. Packing Cubes
Packing cubes are fabulous for cruises. Consider getting at least 2 sets with different sizes, and color code to keep better organized.
Recommended: 5 star rated Packing Cubes
Related post: The Pros and Cons of Packing Cubes for Cruise Vacations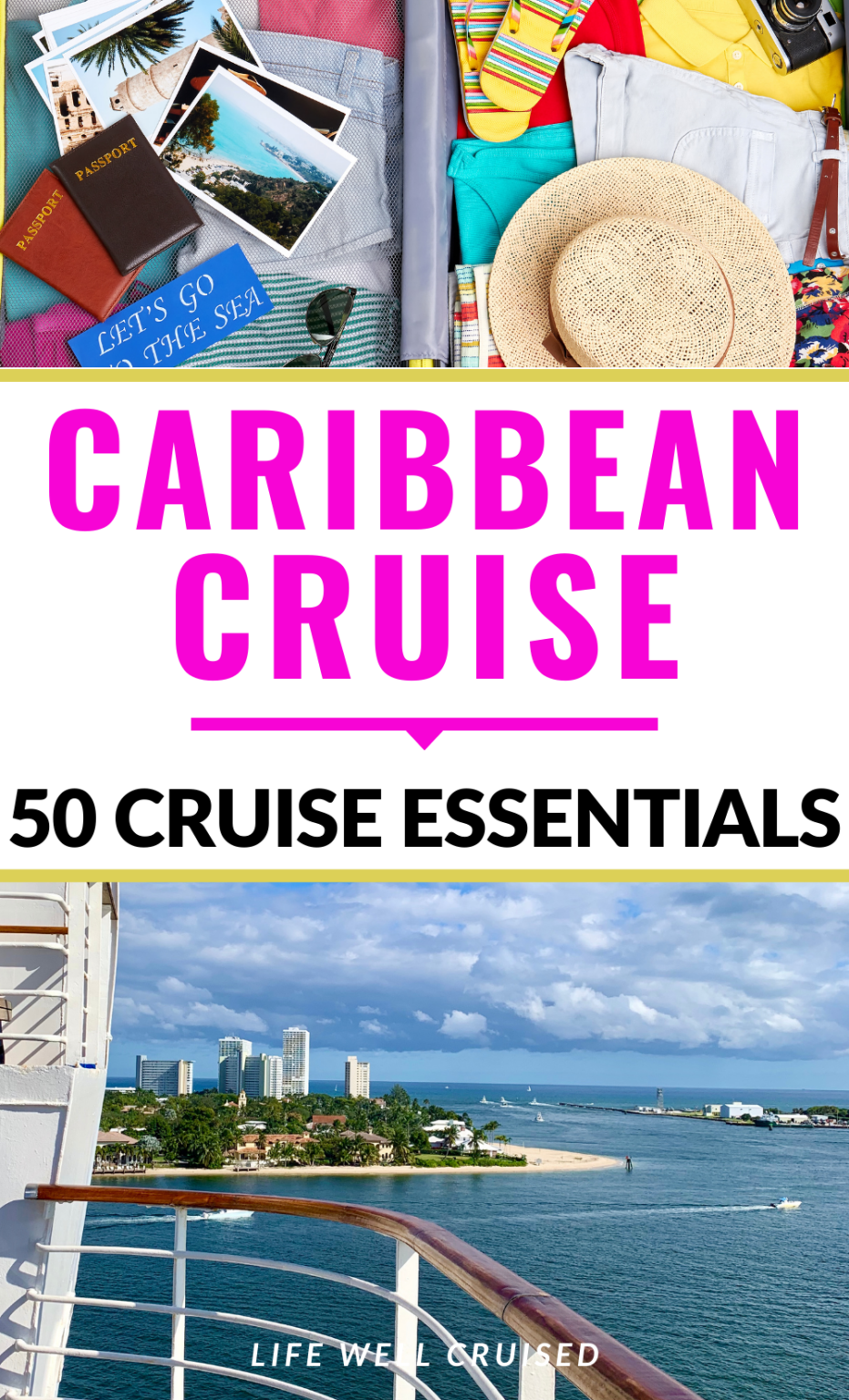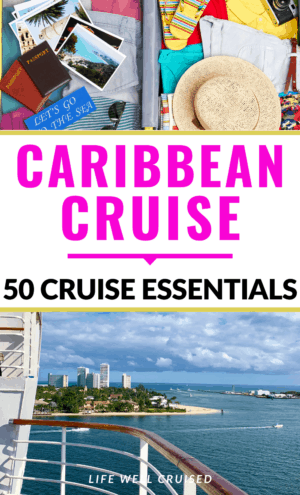 Extra Items to Pack for Your Cruise
39. Wine
Many cruise lines allow you to bring 1 bottle of wine per adult, without charge. You can place them in your carry on luggage. Please check your cruise line policy before you go.
40. Thermal Coffee Mug
This stainless steel tumbler comes with a bonus of stainless steel straws, perfect for cruises which have reduced plastic on board and therefore no longer give out plastic straws.
Recommended: Thermal Coffee Mug (see color options and 5 * reviews on Amazon)
41. Toiletries
Pack your favorite toiletries. This includes basic items such toothbrushes, toothpaste, shaving cream etc. You may also want to pack perfume, moisturizers and other personal items.
42. Wrinkle Release Spray
You might find that your cruise clothing gets a bit wrinkled as you unpack. Cruise cabins won't have irons, as they're a fire hazard – and you can't bring steamers either.
So, wrinkle release spray is a good way to get wrinkles out of your cruise outfits.
Recommended: Downy Wrinkle Release (travel size)
43. Tide-to-Go Stain Remover Stick
An essential item to have when cruising and traveling is a Tide To Go Stain remover stick. Inevitably you'll spill coffee or wine, or get pen marks on white jeans (me!!) and a little stain remover will save your cruise outfits!
Recommended: Tide To Go Stain Remover Stick
44. Individual Hand Sanitizer Wipes
Keep individual hand sanitizer wipes on hand for shore excursions and even when on a flight heading to your cruise ship.
Recommended: Purell Hand Sanitizer wipes (see Amazon link for price and package options)
45. Mesh Laundry Bag
When you need to put dirty clothes away, a Mesh Laundry Bag
is helpful. Just fill it up and throw the laundry bag into your suitcase.
Recommended: Mesh Laundry Bag with Drawstring Closure
46. Highlighter & Post it Notes
While your cruise line will have an app to use, you may also like to look at the print version of the daily planner. A highlighter can help to mark off the activities you want to do.
Post it's are also great to leave a note for your cabin steward.
47. Crew Thank You Cards
If you'd like a place to leave an additional tip or to write a note to your favorite crew members, these thank you cards are perfect.
Recommended: Crew thank you cards
48. Electronics Organizer Bag
Keep all your chargers, wires and cables together in a small electronics organizer bag.
Recommended: Electronics accessory organizer bag (see details & Amazon reviews)
49. Travel blowdryer
A small blowdryer will be provided in your cruise cabin. However the quality will be similar to that of a hotel. If that's not powerful enough for you, consider bringing a small quality blowdryer.
This compact hairdryer by BabyLliss Pro works almost as well as my large salon quality dryer, and is perfect to bring along on a cruise.
Recommended: BaByLiss Pro travel hairdryer (see over 3000 Amazon reviews)
How to Pack for a Caribbean Cruise
How to pack for your cruise is almost as important as what to pack for your cruise! Here are a few tips.
Stack and roll a few similar items together and roll tightly
Put socks in your shoes to keep their shape
Use packing cubes to keep organized and compress items
These packing accessories will help keep your cruise outfits organized and less wrinkled
50. Packing Cubes
While there are pros and cons to packing cubes, they are a very popular travel product for cruises.
Packing cube tips – consider buying at least 2 sets, in different colors. It helps to keep everything organized for each member of the family. As well, take a look at the different sizes available. We found large and medium to be the most useful for most of out clothing.
Recommended: Packing cubes (see colors & set options here on Amazon)
51. Compression Packing Cubes
Keep organized and fit more into your luggage with compression packing cubes. I love traditional packing cubes (above), and found them very helpful on our last cruise.
I'll give these compression cubes a try when I cruise again, however if you've used them, please let me know and share your review in the comments.
Recommended: Compression packing cube set (see reviews & options)
53. Garment Bag
Along with a good suitcase and carry on bag, a garment bag is a must-have if you're bringing dressy clothes or formal wear on your cruise.
You'll almost guarantee that your cocktail dresses, dress shirts and suits and suits will be wrinkle free!
Recommended: Garment bag (see 4000 plus Amazon reviews)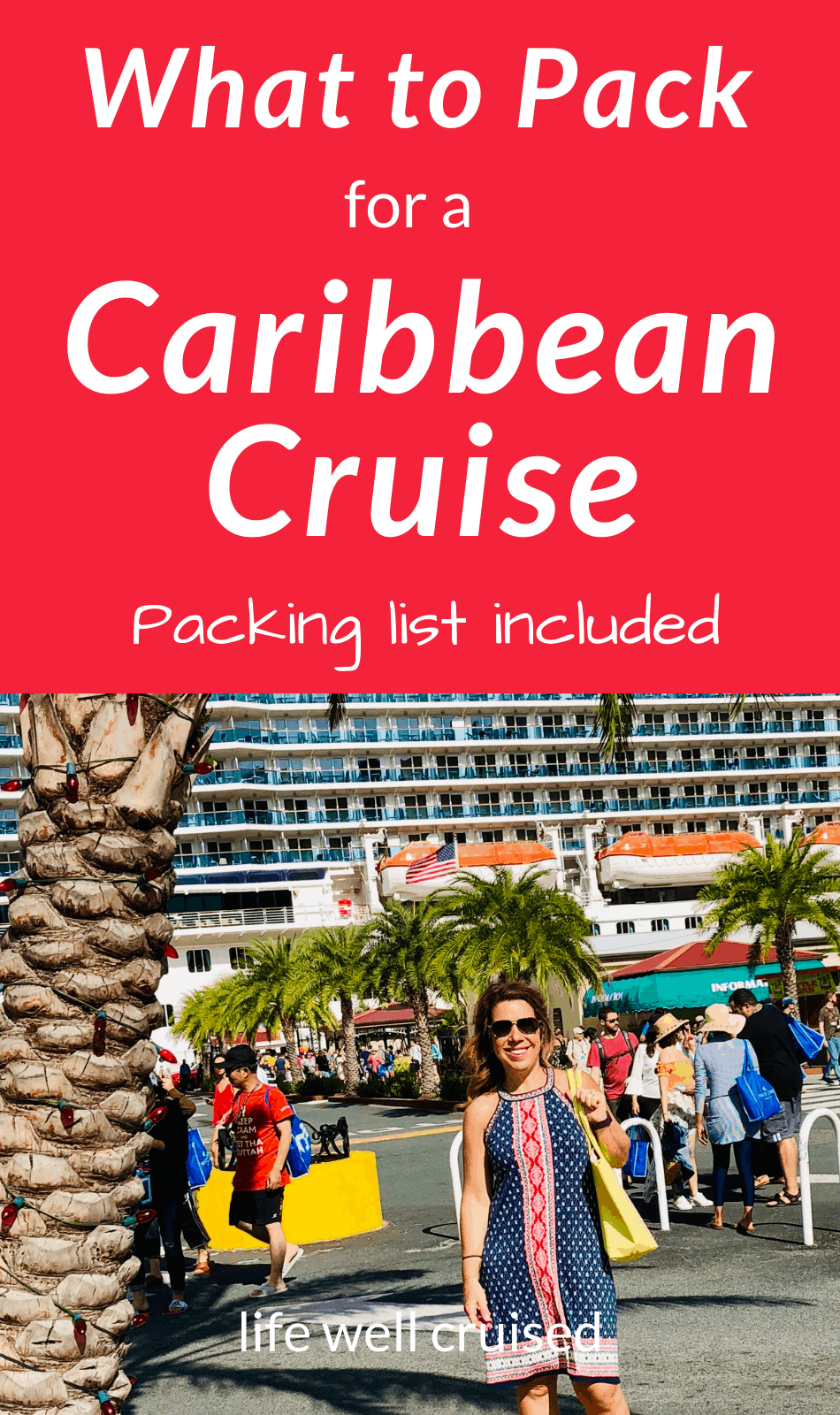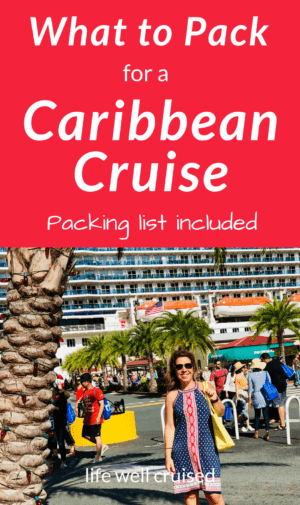 Caribbean Cruise Packing List Printable
Here's a free cruise packing checklist that you can download and print, along with a packing list that you can personalize.
Get The Ultimate Cruise Planner
Regular price: $27 Now just $17!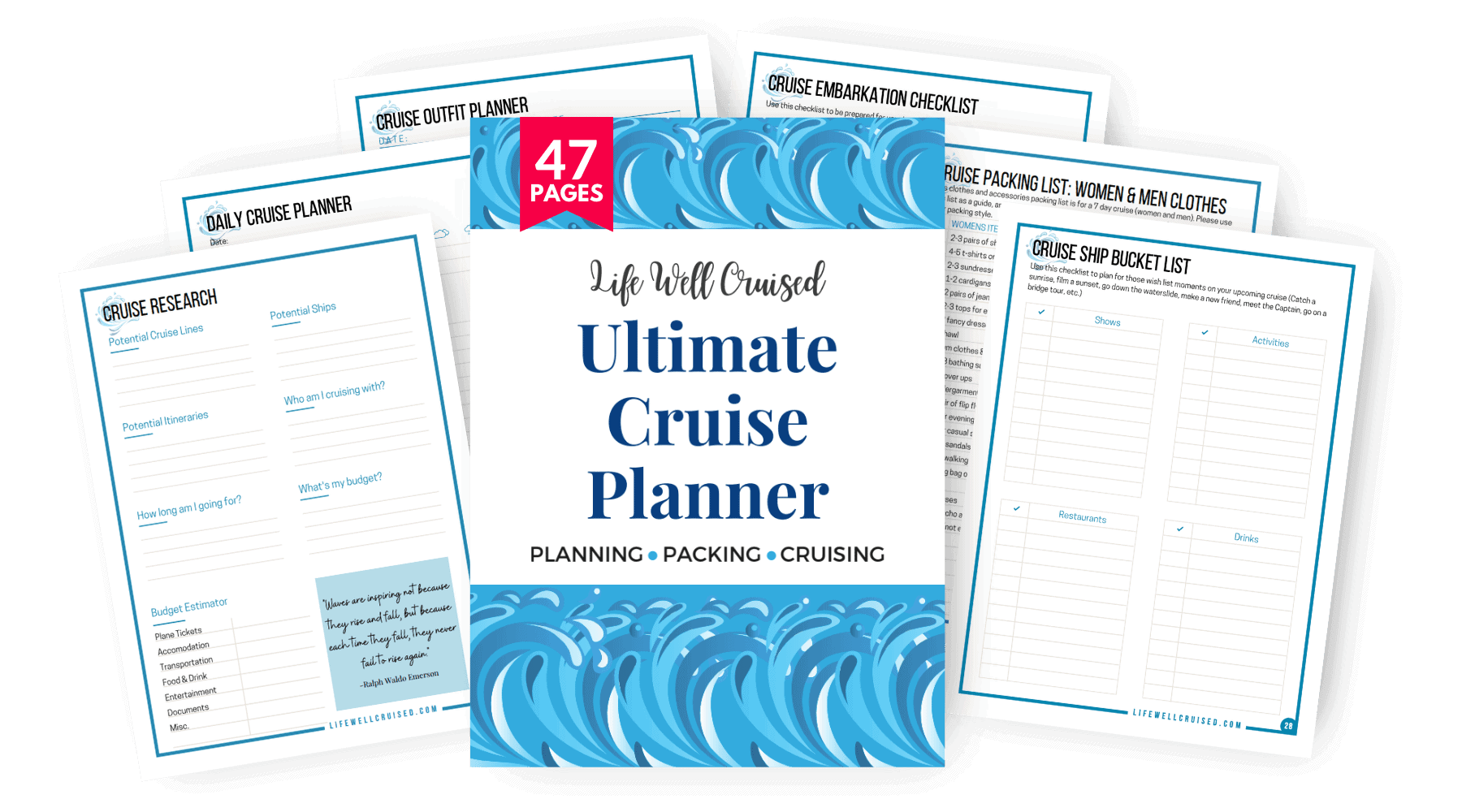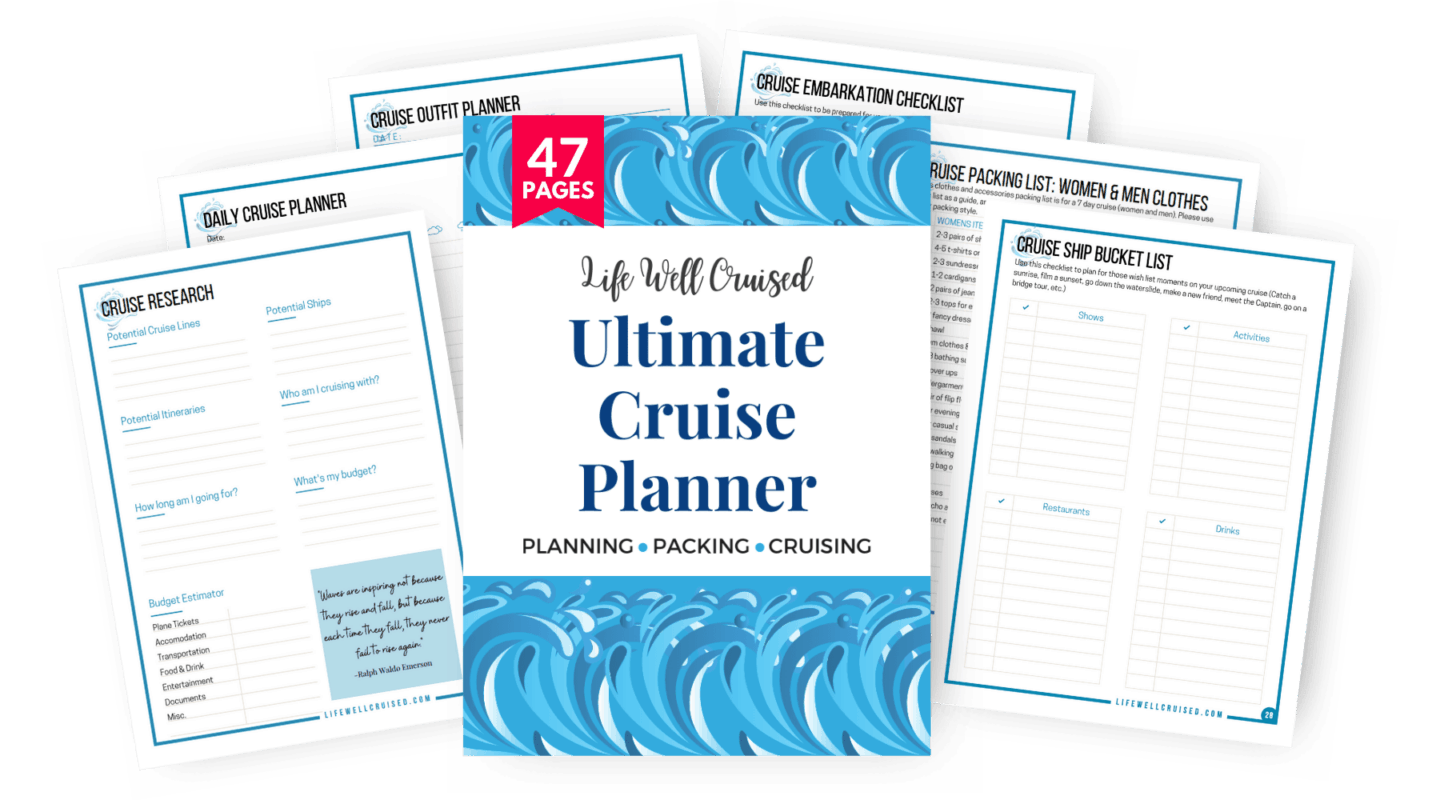 Related and Popular Posts:
25 Cruise Packing Tips All Cruisers Need to Know
75 Genius Cruise Hacks & Tips (save money, get organized, cruise better)
27 Awesome Things To Do on a Cruise on Sea Days
What to to Pack in Your Cruise Carry-On Bag
10 Things NOT to Pack for a Cruise
Note: Keep in mind that you cannot bring your own power bar from home, as it must be a cruise approved, non-surge protected power bar.
I recommend one with 2 USB outlets – click HERE to verify price on Amazon.
Recap: What to Pack for a Caribbean Cruise
In this post, we went over everything you need to know about packing for a Caribbean cruise. From what clothes to pack for a cruise, to all the must-have cruise accessories you'll use for years to come.
Have you been on a Caribbean cruise or will you be planning one in the future? What items have you found most useful to bring on a Caribbean cruise?
Happy cruising!
Ilana
P.S. If you found this helpful, please don't keep it to yourself ;-). Please share on Facebook or PIN to your favorite Pinterest board (share buttons at the top). Thanks so much!
Let's connect:
Follow me on Facebook at Life Well Cruised
Follow me on YouTube at Life Well Cruised
Follow me on Pinterest at Life Well Cruised
Follow me on Instagram at Life Well Cruised