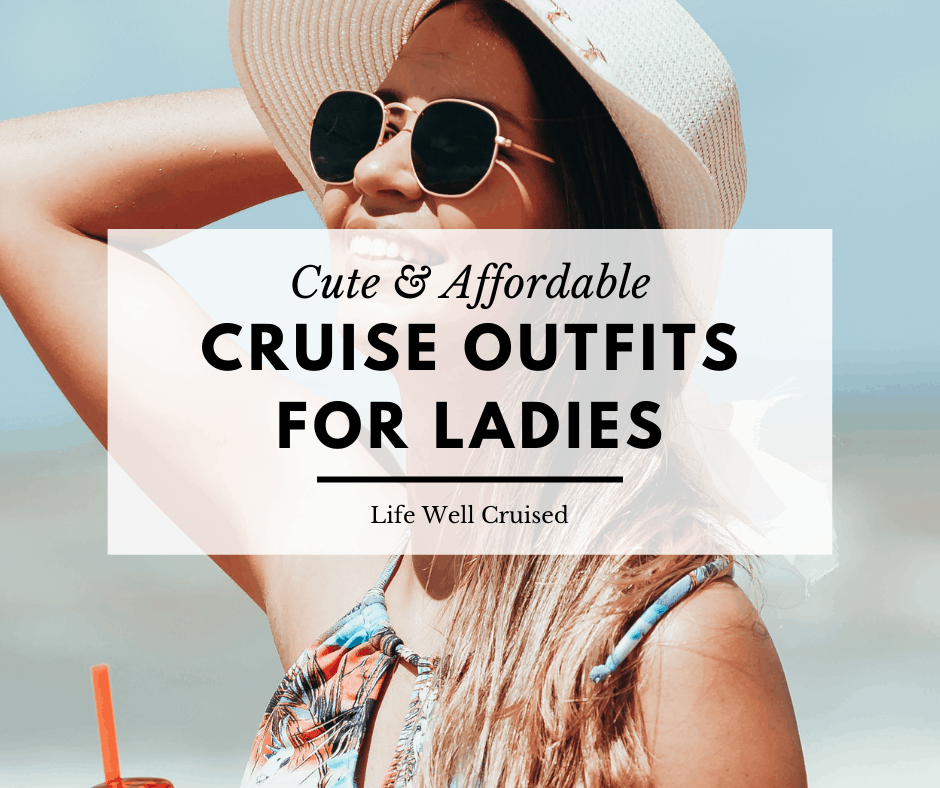 Are you going on a cruise and looking for cruise outfits that are fashionable and affordable? In this post you'll find casual cruise dresses and daywear, formal night dresses, plus a few must-have accessories.
Use this list of cruise wear to plan outfits to wear on a 7 day cruise. Of course, you can add more clothing items or bring less, depending on the length of your cruise.
All the cruise wear in this post is available on Amazon and linked for convenience. If you're simply looking for great cruise outfit ideas, you can find similar items elsewhere as well.
This post contains affiliate links which means if you click and buy that I may make a commission, at no cost to you. Please see my disclosure policy for details.
Life Well Cruised is a participant in the Amazon Services LLC Associates Program, an affiliate program designed to provide a means for sites to earn advertising fees by advertising and linking to Amazon.com.
Affordable and Stylish Cruise Wear for Ladies for a 7 Day Cruise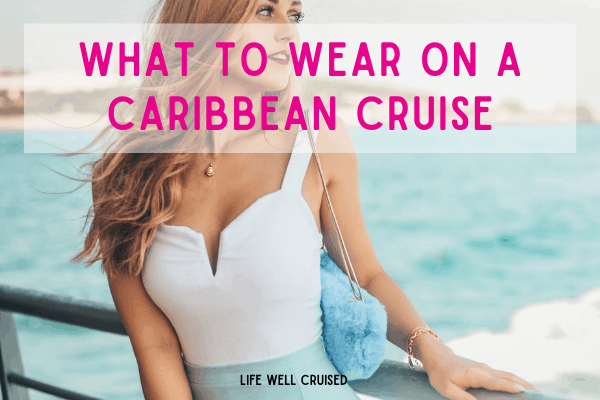 If you're going on a Caribbean, Bermuda or Bahamas cruise, plan on packing light sundresses, shorts and tops, bathing suits and cover ups. Add a couple formal night outfits and some dress shoes, and you're all set.
Remember that you can pack lighter by wearing outfits more than once on a cruise. A good tip is to pair a daytime outfit with dressier shoes and some jewelry, and wear it in the evening for a whole new look.
Shop my Amazon storefront for current favorites and deals.
Cruise tip: Always pack for the weather of your cruise destination. Cooler weather cruises require warmer clothing.
Cruise Embarkation Day Outfit Ideas
If you have time to change before heading to the cruise ship on embarkation day, wear something comfortable that you also feel good in. Shorts and a t-shirt or a light sundress are perfect.
Cruise tip: You may want to wear a bathing suit under your clothing, if you're planning on heading to the pool soon after you board your cruise ship.
Cute Romper
This cute romper is a very cute and affordable embarkation day outfit. It's perfect for shore excursions and tours as well.
Recommended: Cute romper (see different styles & fabrics on Amazon)
Casual Sundress
A sundress is a great embarkation day outfit. Plus, it can be worn later on in the cruise and no one would even know.
This sundress is so cute, with pockets, and available in small to plus sizes.
Recommended: Sundress with pockets sizes (see color and fabric options, & sizes)
Romper Tee and Shorts
Very cute and casual, this short sleeve romper shorts outfit is a great comfortable embarkation day outfit.
Recommended: Comfy short sleeve romper shorts set
Ladies Cruise Wear for Daytime
Swimsuit Cover up Dress
This sundress cover up is perfect for pool and beach days on a cruise.
Recommended: Sundress cover up (see price & Amazon reviews here)
Casual T-shirt Dress Tank Style
Wear this cute t-shirt style dress on boarding day, as a cover up or even dressed up with accessories in the evening.
Recommended: Casual t-shirt style tank dress (see amazing reviews on Amazon & color options)
Shorts, Tops and Rompers
One piece rompers are very popular and are perfect when you're hanging out by the pool or doing activities on the cruise ship.
Sleeveless romper shorts
This sleeveless tank romper jumpsuit is available in several colors.
Recommended: Sleeveless romper (see over 8000 Amazon reviews)
Spaghetti Strap Romper
Perfect for days on a cruise or even a beach vacation, this colorful romper shorts outfit gets amazing reviews!
Recommended: Romper Shorts Outfit (verify price & styles on Amazon here)
Cute Tops (daytime to evening)
Lace Detailed Top
This v-neck spaguetti strap tank top will look great during the day with shorts or in the evening on a cruise paired with dark jeans. The black is very flattering, but the white is gorgeous too!
Recommended: Vneck lace spaghetti strap top (see reviews & color options)
Halter Chiffon Top
A halter chiffon top like this pairs beautifully with a white skirt, pants or jeans. It can go from day to evening, depending on how dressy you're feeling.
Recommended: Halter chiffon tank top (verify pricing here)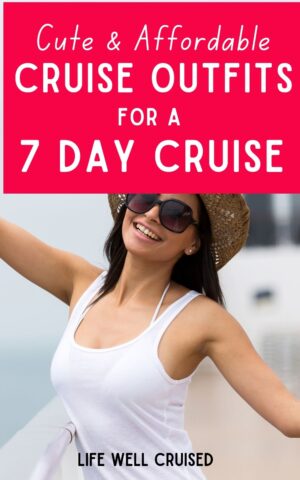 Casual Sundresses
Pretty Boho Dress
This tank style dress is great for day or casual evenings on a cruise. Love the pockets!
Recommended: Tank style boho dress (see fabric options & price here)
2 piece sundress
This sleeveless floral 2 piece sundress is so pretty for a Caribbean or even a Mediterranean cruise.
Recommended: 2 piece sundress (see beautiful style choices on Amazon)
Long sundress
This long boho floral print sundress is on trend this year and will look great on a cruise, either day or evening. I'm excited to wear this dress on an upcoming cruise!
Recommended: Long floral boho sundress (see reviews & other patterns here)
Casual Sleeveless Dress
A loose casual dress like this one can look great on it's own, or over a bathing suit if you're off on a shore excursion.
Recommended: Sleeveless dress tank style (see 15,000+ Amazon reviews)
Related: What I Wore on a 7 Day Caribbean Cruise (Cruise Outfits with Photos)
Get The Ultimate Cruise Planner
Regular price: $27 Now just $17!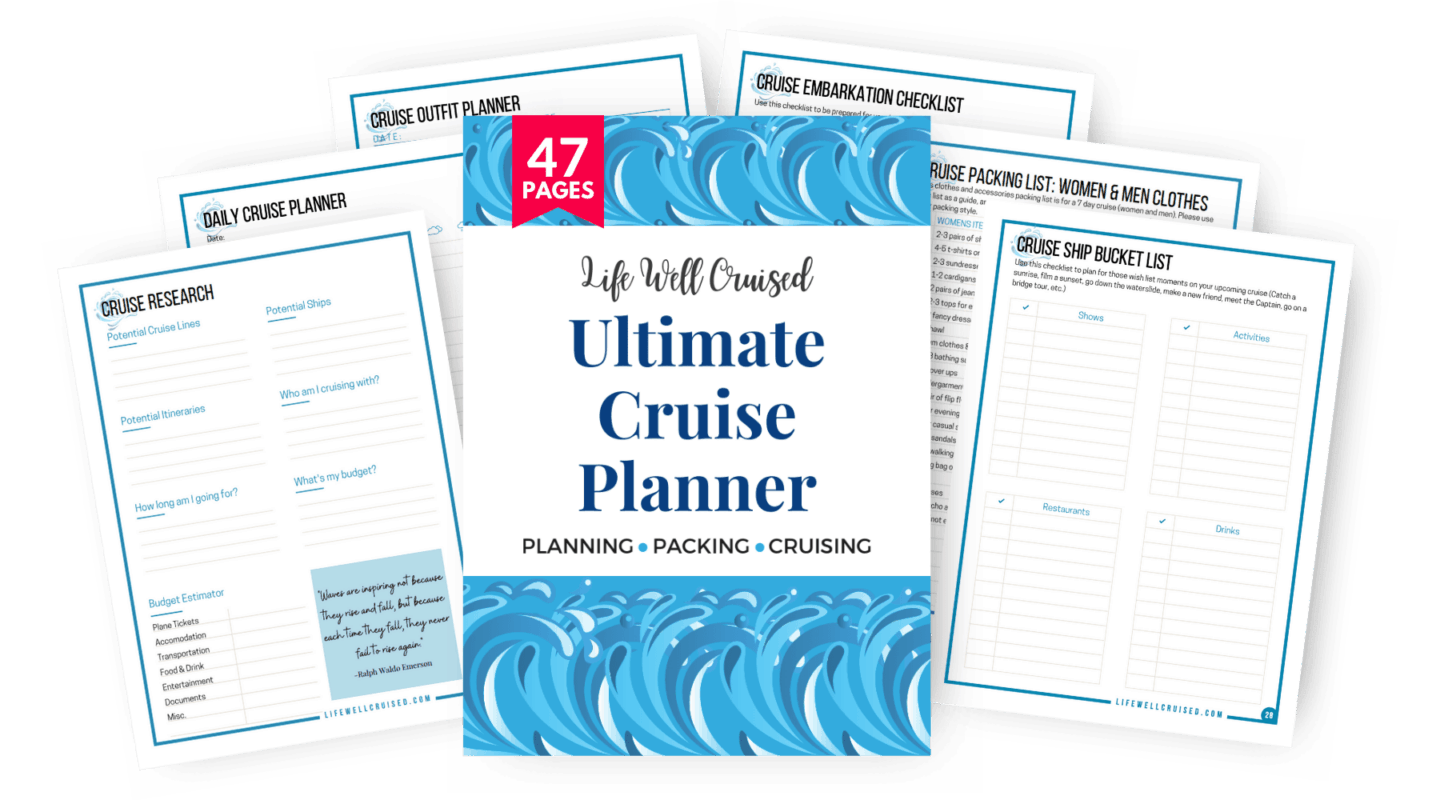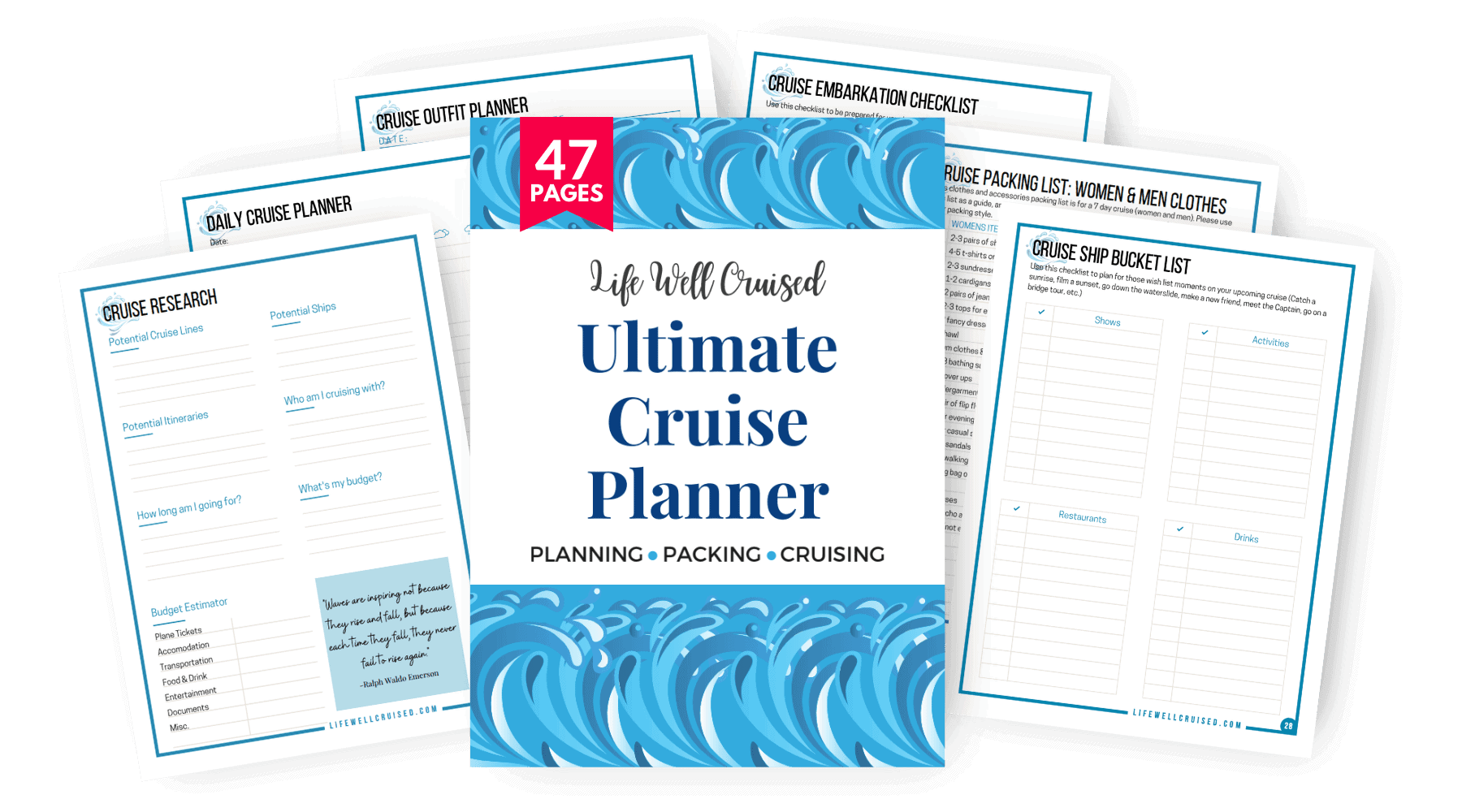 Maxi Dresses
I love maxi dresses! They're gorgeous for day or casual evenings on a cruise.
This halter style maxi dress is so flattering for ladies of all ages!
Recommended: Halter style maxi dress (verify price & color options here)
Maxi Dress with Pockets
This maxi dress with pockets comes in several fabric choices and two styles, with and without sleeves.
Recommended: Maxi dress with pockets (see style options here)
Loose Dress with Pockets (Racerback style)
This loose dress is so easy, cute and comfortable. I love the black, however there are so many colors to choose from!
Recommended: Tank style maxi dress (with pockets & racerback)
Summer Casual Midi Dress
This cute mid-length dress is on trend this year. It's classy, yet casual and perfect for cruising!
Recommended: Midi casual dress (see color and pattern choices on Amazon)
Ladies Dresses for Evenings on a Cruise
Cruise tip: The dress code on most cruise lines will be casual and smart casual for 5 days out of a 7 day cruise. There will usually be 2 formal nights or dress up evenings. Longer cruises will have an additional formal night.
Spaghetti Strap Dress with Lace Detail
A beautiful dress for any evening on a cruise, however it works especially well for smart casual dress codes.
Recommended: Spaghetti strap lace top dress (see colors & details here)
Mid-length Strapless Dress
Here's a pretty strapless dress that will look great in the evening on a cruise, from Celebrity to Norwegian.
Recommended: Mid-length strapless dress (available in solid colors too)
A Line Midi Dress
This elegant dress is beautiful in every color!
Recommended: Elegant mid length dress (see reviews photos on Amazon here)
Jumpsuit Romper
While there are a lot of beautiful dresses in this post, you can definitely wear pants and in many cases, even jeans on a cruise. Jumpsuits and rompers are trendy and flattering, and will look great on a cruise in the evening.
Recommended: Pants jumpsuit romper (see different styles here)
Halter Style Floral Summer Dress
This floral dress is so pretty! It's available from small to plus sizes.
Recommended: Halter style short dress (see 3500+ awesome Amazon reviews)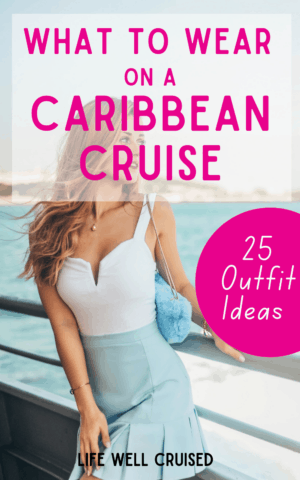 Ladies Cruise Formal Dresses
Mermaid Style Long Dress
This Bodycon long dress is perfect for formal nights on a cruise. The halter top style is absolutely gorgeous!
Recommended: Bodycon mermaid style long dress (see 5000+ Amazon reviews)
Short Cocktail Dress
A short cocktail dress is a popular choice for many women for cruise formal or chic evenings. The ruffle sleeves and slit add a beautiful detail to the dress.
Recommended: Ruffle sleeve cocktail dress (verify pricing & Amazon reviews here)
Lace Top Cocktail Dress
A little black dress is always appropriate for cruise formal nights, however the lace detail on this dress just adds an extra touch of elegance. Like most of the other dresses in this list of cruise outfit ideas, it's very affordable.
Recommended: Lace detail cocktail dress (verify price on Amazon here)
Plus Size Long Cocktail Dress
This short sleeve plus size dress is gorgeous and very flattering.
Recommended: Plus size cocktail dress (see sizing & color options here)
Must-Have Shoes and Accessories for a Cruise
Make sure to bring a cute sandal, a closed toe walking or running shoe, and a pair of dress shoes. If you're planning on hanging by the pool or beach, flip flops are a must as well.
Cruise tip: Often flip flops are not permitted in restaurants and main dining rooms, so make sure to bring a slightly dressier sandal for evenings.
For more shoe suggestions, please read this post next: Best Shoes to Pack for a Cruise.
Nice sandals
These stylish sandals look great and cost way less than anyone would think.
Recommended: Dressy flat sandal (check pricing on Amazon here)
Swimsuit Cover Up
Make sure to pack a bathing suit cover up or two for cruise sea days.
Recommended: Swimsuit cover up (see color options here)
Sunhat
Make sure to have a wide brim sun hat on your Caribbean cruise packing list! The bow detail on this sunhat elevates the look.
Recommended: Wide brim sunhat
More Cruise Outfit and Packing Ideas
Please feel free to check my Amazon storefront where I share and list my favorite cruise clothing items, packing essentials, jewelry and beauty essentials for a cruise and more.
Life Well Cruised Amazon Storefront – I update and add great items frequently, so make sure to Follow my pae and check back as you need items for your future cruise.
Get The Ultimate Cruise Planner
Regular price: $27 Now just $17!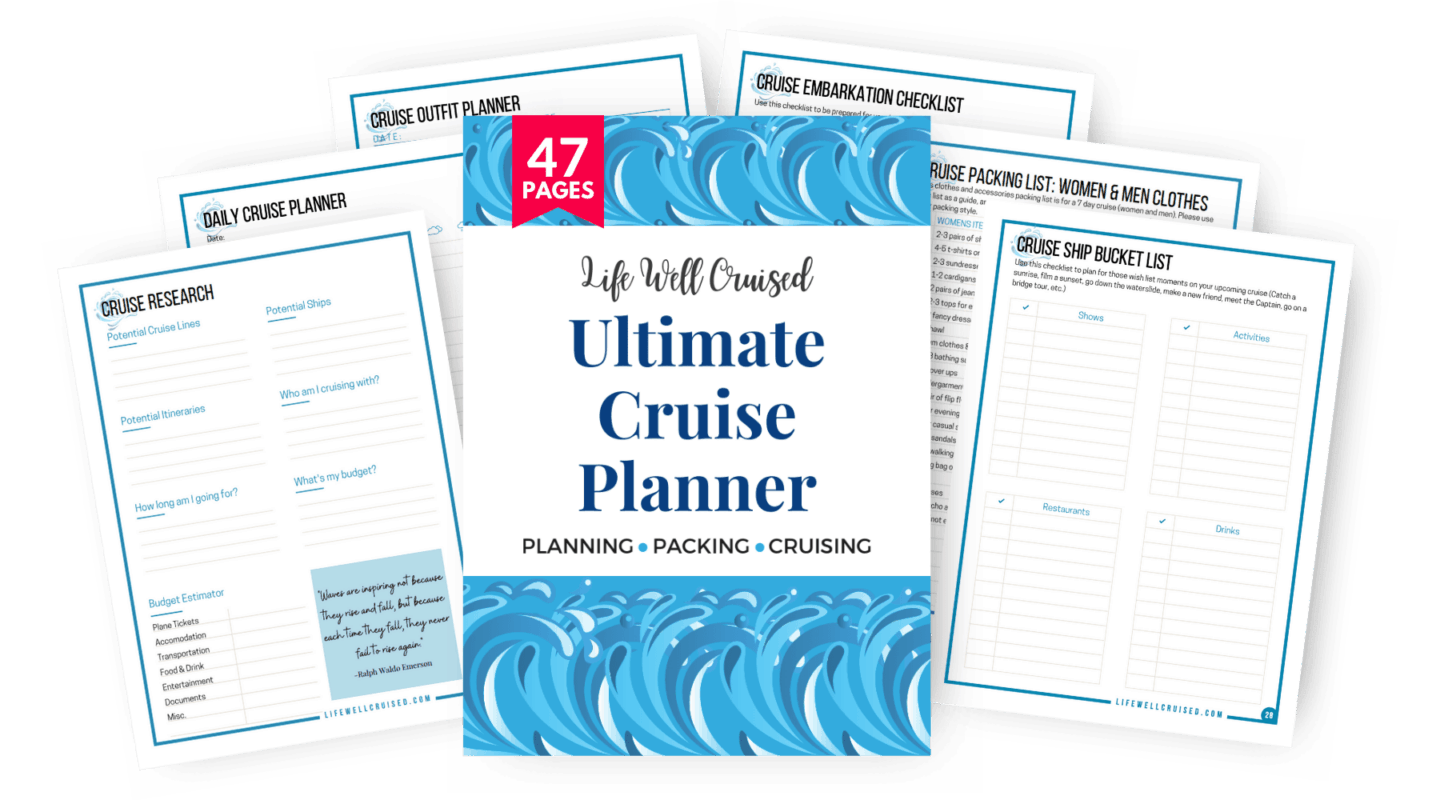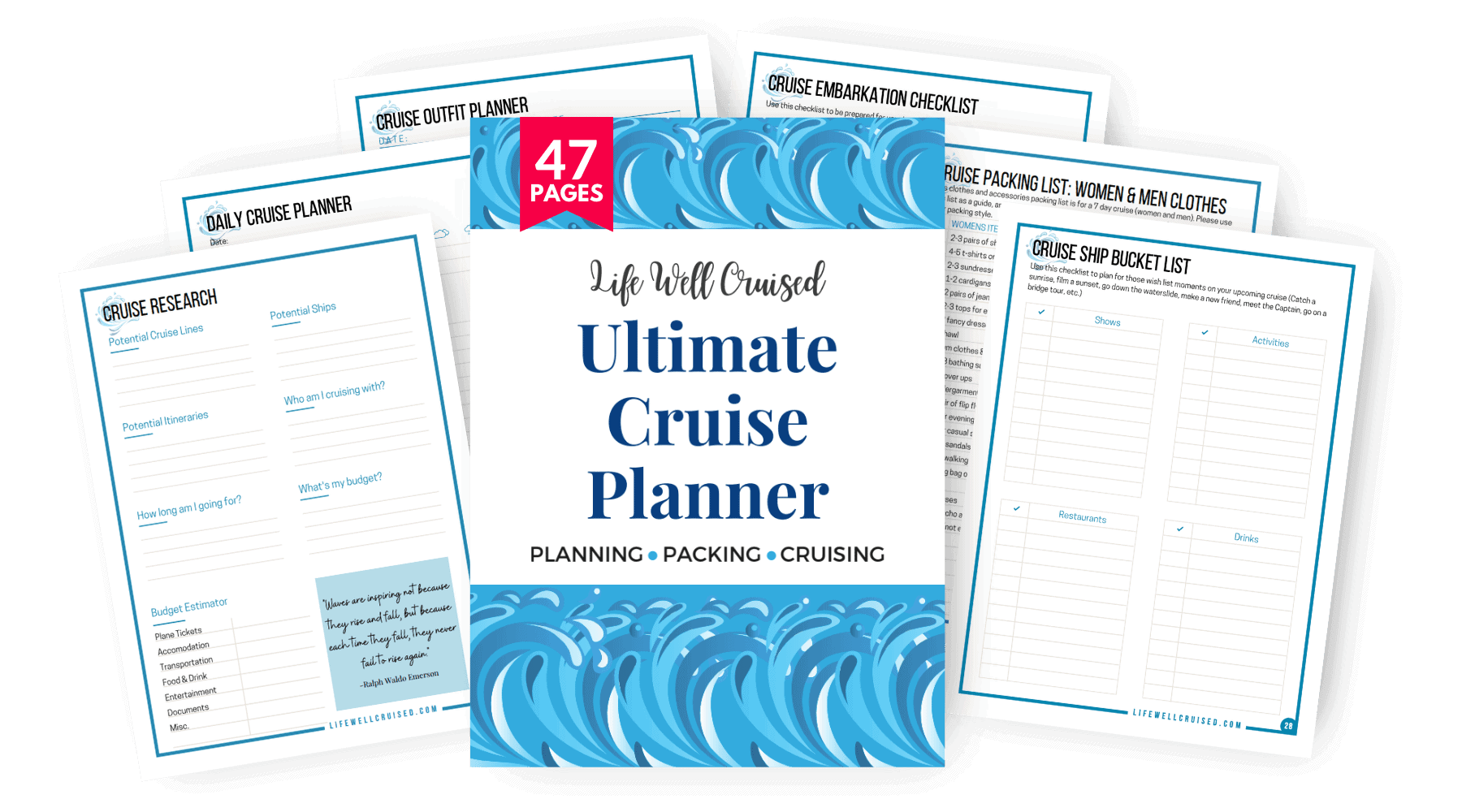 Read next: More Cruise Packing Lists
Final Thoughts: 25 Fashionable Cruise Outfits for Ladies (affordable cruise wear)
In this post I shared 25 cruise outfits for women that are stylish and affordably priced. Hopefully you'll have found some cruise wear suggestions that will be helpful as you plan your next cruise!
Have suggestions of outfits you love? Please let me know in the comments below.
Happy cruising!
Ilana
If you found this article helpful, please pass it along. Please feel free to share on Facebook or PIN to your favorite Pinterest board (share buttons at the top). Thanks so much!
Let's connect:
Follow me on Facebook at Life Well Cruised
Follow me on YouTube at Life Well Cruised
Follow me on Pinterest at Life Well Cruised
Follow me on Instagram at Life Well Cruised