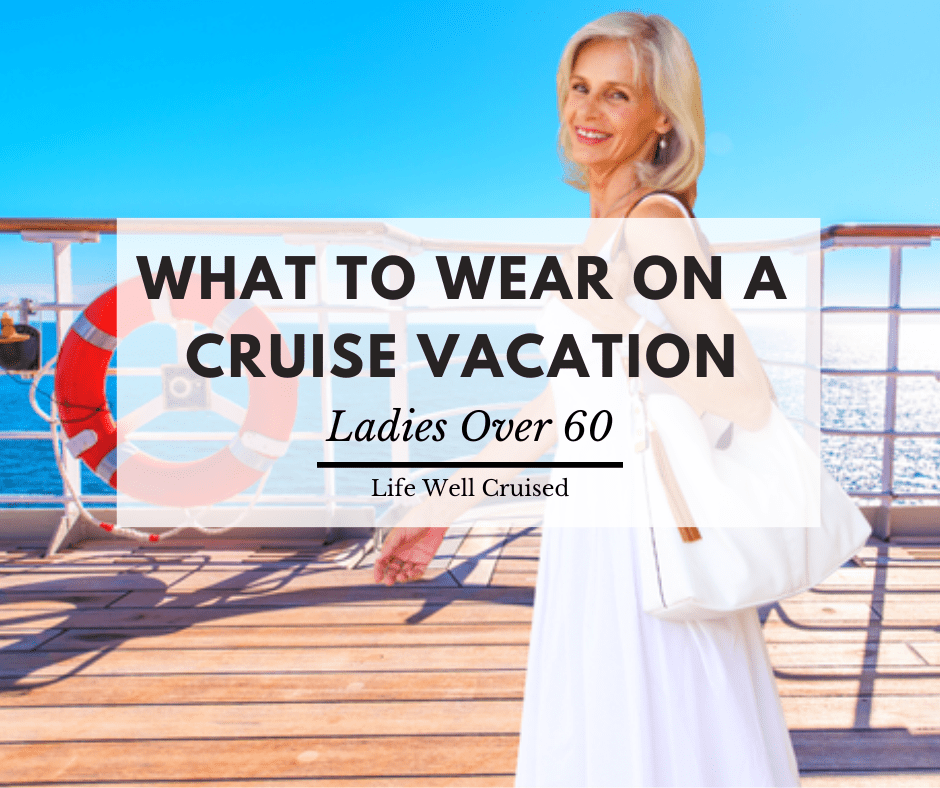 Are you going on a cruise and wondering what to wear as a women over 60? Stylish cruise wear isn't only meant for those under 30. These days there are beautiful cruise outfits for mature ladies, that are flattering, versatile and youthful looking.
This list of ladies' cruise wear includes long and short dresses, tops and pants, and formal outfits that can be worn during the day or evening on a cruise.
This list of cruise outfits for ladies over 60 includes tops and dresses that have sleeves and that are flattering on the different curves we all have.
As a woman over 50 myself, I firmly believe that everyone looks good on a cruise!
This post contains affiliate links which means if you click and buy that I may make a commission, at no cost to you. Please see my disclosure policy for details.
As an Amazon Associate I earn from qualifying purchases.
Cruise Wear for Ladies Over 60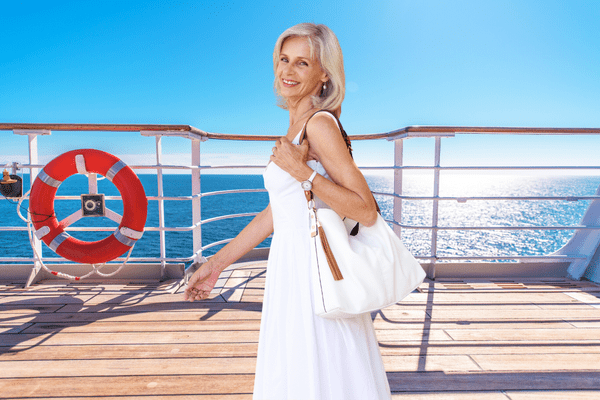 These cruise outfits are perfect if you're going on a 7 day cruise or planning on a longer cruise.
Please keep in mind that you can rewear your clothing or mix and match your tops and pants. If you're trying to pack light for your cruise, this is the trick!
1. Sleeveless Boho Style Sundress
A comfortable sleeveless dress is an essential if you're packing for a Caribbean or Bahamas cruise. It can also be worn with a cute white jean jacket or light blazer on casual evening dress codes on your cruise ship.
Recommended: Sleeveless t-shirt sundress (check price & more than 5000 4.5* Amazon reviews here)
2. Casual Short Sleeve Summer Dress
If you prefer a little sleeve, this short sleeve summer dress is light and flowy. It's also available in gorgeous patterns and solid colors.
This dress is perfect as an embarkation day outfit, but also works well for sightseeing in any cruise port of call.
Recommended: Casual short sleeve dress (check photos & over 4000 great Amazon reviews)
3. Casual Dresses & Sundresses
If you're looking for a nice casual short dress with sleeves, this one is loose and very flattering! It's also available in sleeveless styles, which is great for daytime in cruise ports on any hot weather cruise itinerary.
Recommended: Long Sleeve Dress (see price, reviews & styles on Amazon here)
4. Short Sleeve Dress with Pockets
This short sleeve dress with pockets is practical and looks nice on ladies of every body shape (thin, pear-shaped, plus size). It comes in several colors and pattern from small- XXLarge.
Recommended: Short sleeve dress (check price & over 14,000 Amazon reviews)
5. Printed Tunic Dress
I love this printed tunic dress! It's available in several colors and patterns, whether you like the trendy Boho style or a tropical floral look.
Recommended: Printed tunic dress with sleeves (check price & 8000+ reviews on Amazon here)
6. Mid Length Summer Dress
This light dress is so pretty, with short sleeves, buttons and a front tie. The delicate flower pattern is very trendy and flattering.
Related: Mid length small print floral dress (check price & different colors options on Amazon)
Get The Ultimate Cruise Planner
Regular price: $27 Now just $17!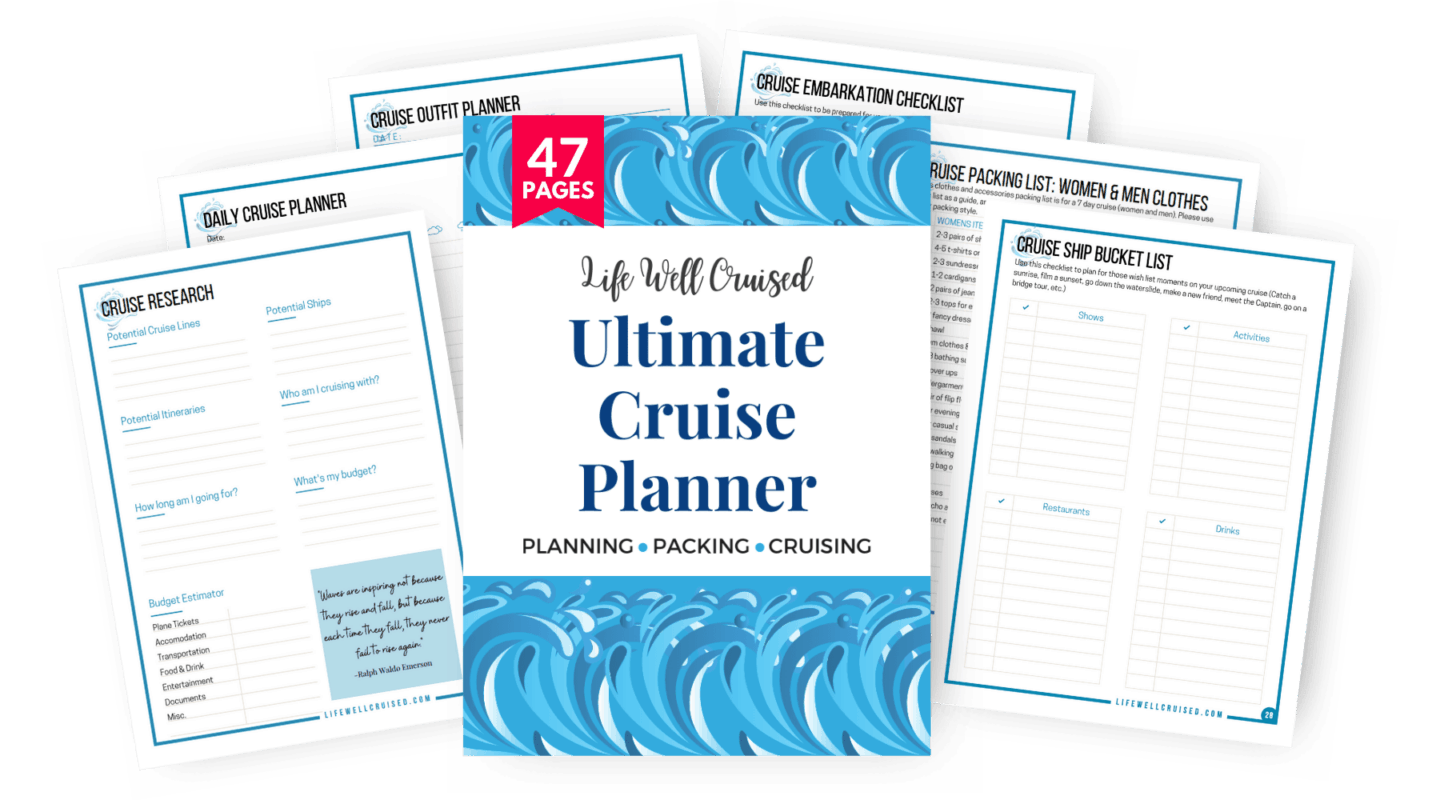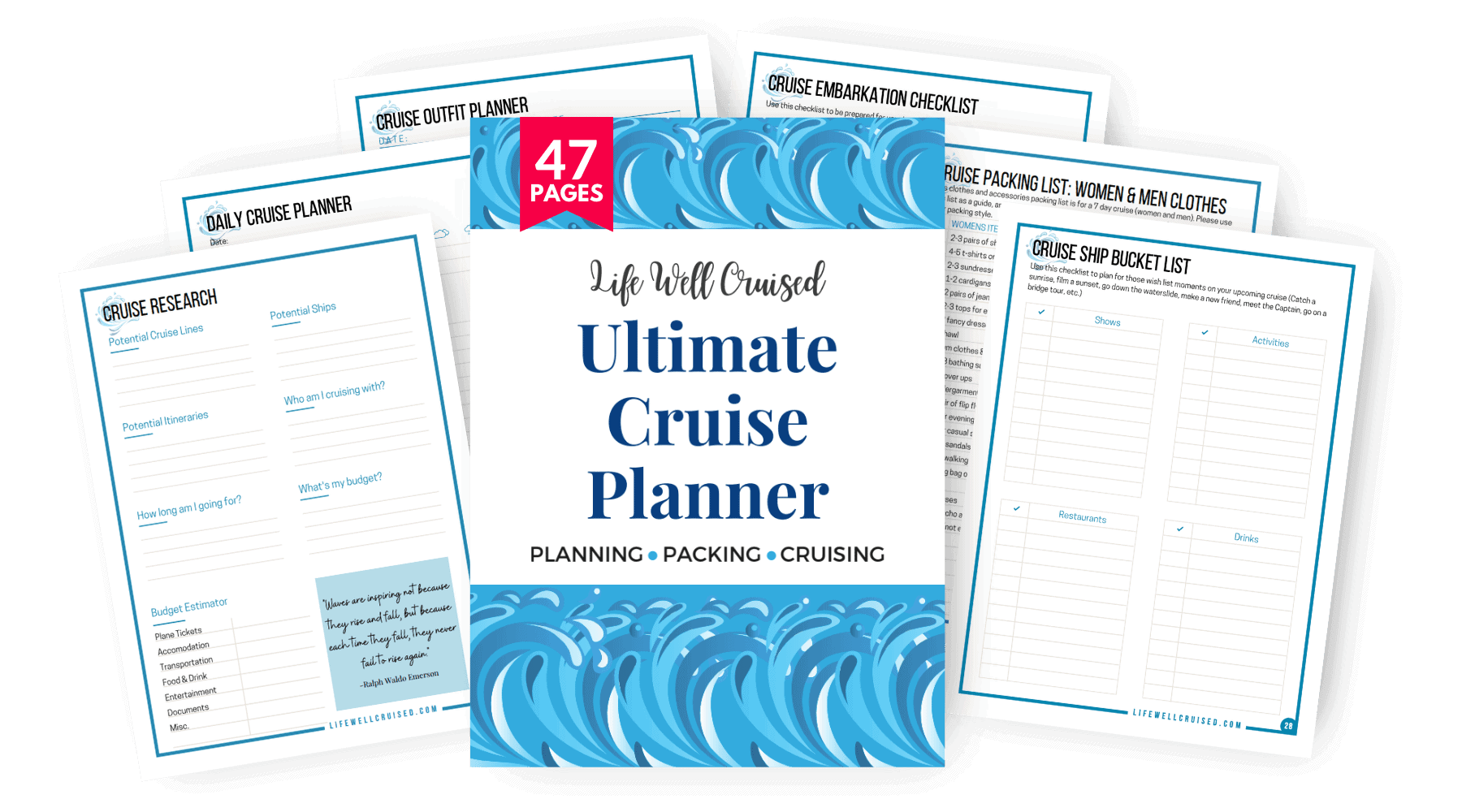 7. Casual Long Maxi Dress
This long casual dress is should be on your Caribbean or Bahamas cruise packing list. It can even be worn as a long swimsuit cover up for port days.
Recommended: Long maxi dress (see other patterns & check Amazon reviews here)
8. Sleeveless Loose Maxi Dress
This pretty sleeveless maxi dress is loose, but has a beautiful fit. It can be paired with a light cardigan or cute jacket, making it versatile to wear both on and off the cruise ship
Recommended: Sleeveless maxi dress (check price and reviews on Amazon here)
9. Front Tie Cardigan
This light cardigan (without buttons) can be worn open or tied in the front – perfect worn over dresses and tops.
Recommended: Light cardigan (size small-XXLarge)
10. Romper Jumpsuit with Wide Leg Pant
This romper jumpsuit makes for a great evening outfit on any cruise itinerary, from Caribbean, to Mediterranean to an Alaska cruise.
It's available in several colors, as well as in small through plus size (S-3XL) and is very flattering.
Recommended: Romper jumpsuit (check price & 14,000+ Amazon reviews here)
11. Ladies Plus Size V Neck Floral Dress
This plus size dress is a great cruise outfit for ladies of any age. The mid length style is perfect for dinners in the cruise main dining room or specialty restaurants.
Recommended: Mid-length floral dress (see different styles & size options)
12. Maxi Dress (available in plus size)
This maxi dress has a figure flattering high waist, with a beautiful neckline. If you prefer a little sleeve rather than a tank or sleeveless dress style, this maxi dress is perfect for ladies 50, 60, 70 (or any age).
Recommended: Maxi dress high waist (sizes small-plus size)
13. Chiffon Overlay Evening Dress
This pretty cocktail dress is both comfortable and flattering! It's also available in beautiful floral print accents and solid colors.
Recommended: Chiffon overlay cocktail dress (check price & see photos & 4.5* reviews on Amazon here)
Tops
Blouses and tops are perfect to mix and match with a pair of black or white pants, or even a nice pair of dark jeans.
14. Flutter Sleeve Ladies Top
This flutter sleeve top is comfortable and looks great. The bottom layer is stretchy, while the outer layer of the top is fluttery and very feminine. If you're looking for a top that can hide a bit of a tummy, you'll love this flattering blouse.
Recommended: Fluttery sleeve top (pattern)
15. Flutter Sleeve Top (solid color)
The same top is available in this gorgeous moth orchid color (dark pink/burgundy shade). Both are beautiful shirts and would work great in a capsule wardrobe for a cruise.
The top is available in smaller and larger sizes.
Recommended: Flutter sleeve top (check price & Amazon reviews here)
16. Long Sleeve Chiffon Blouse
This v-neck chiffon blouse is so pretty, and great worn in the evenings on a cruise to the main dining room, specialty restaurants and shows. Pair it with white pants or jeans for a beautiful smart casual.
Recommended: Chiffon blouse (check price and color options on Amazon here)
17. Elegant Casual Top
This elegant casual top is loose and flattering, which looks great with a skirt or pair or pants.
Recommended: Elegant casual top (check price & 7000+ Amazon reviews here)
18. Jean Jacket
Jean jackets are trendy again, and look great on women of every age! A little tip is to size up if you want a more relaxed fit.
If you're cruising in the Mediterranean in September or October or Canada/New England anytime, a cute jean jacket is great over a sundress or maxi dress. You can definitely wear it on a cruise in the evening as well.
Recommended: White jean jacket (other colors available too)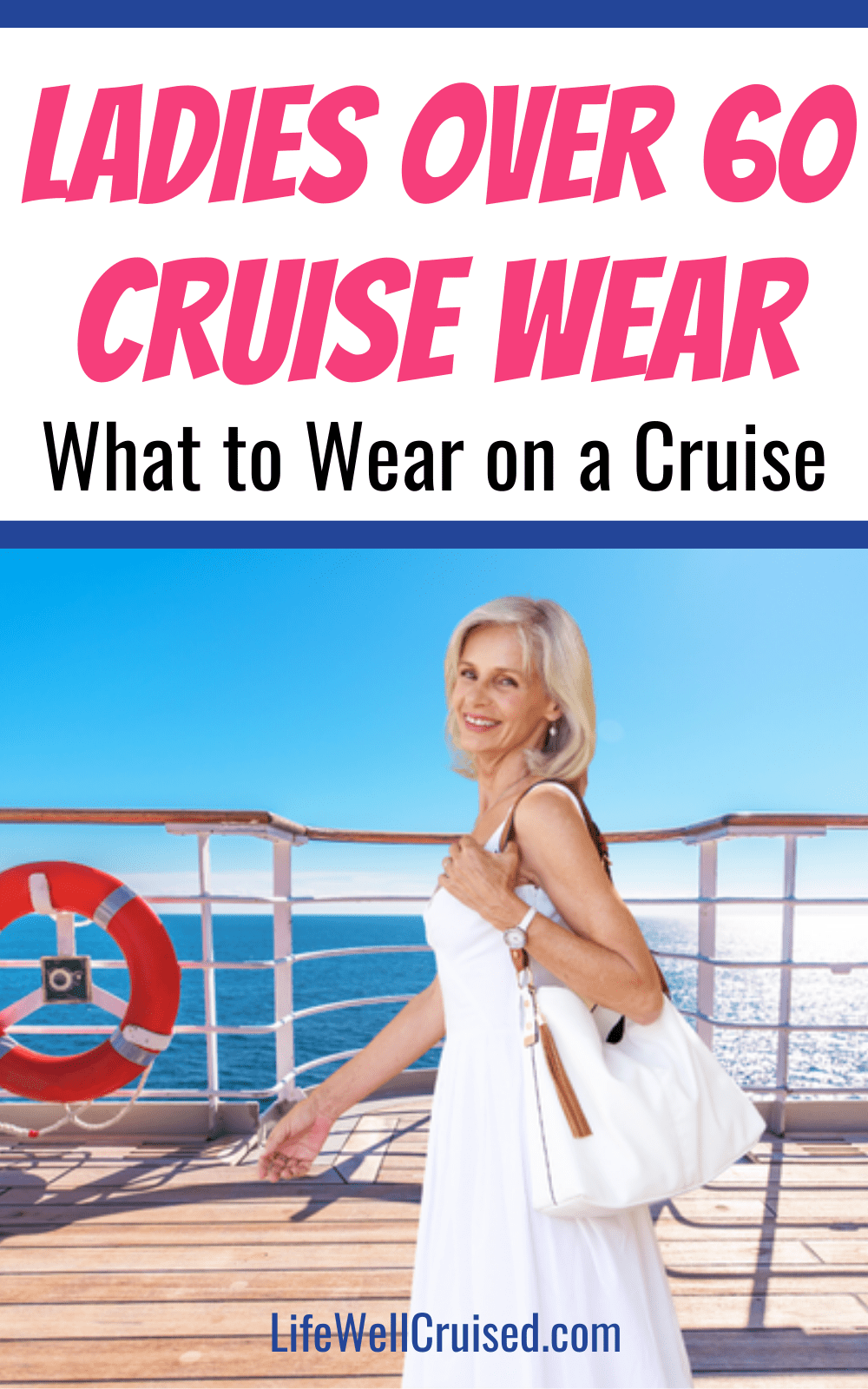 More Cruise Outfit Lists You'll Love
If you're looking for different styles of cruise outfits and inspiration, these cruise wear outfit lists can help.
Get The Ultimate Cruise Planner
Regular price: $27 Now just $17!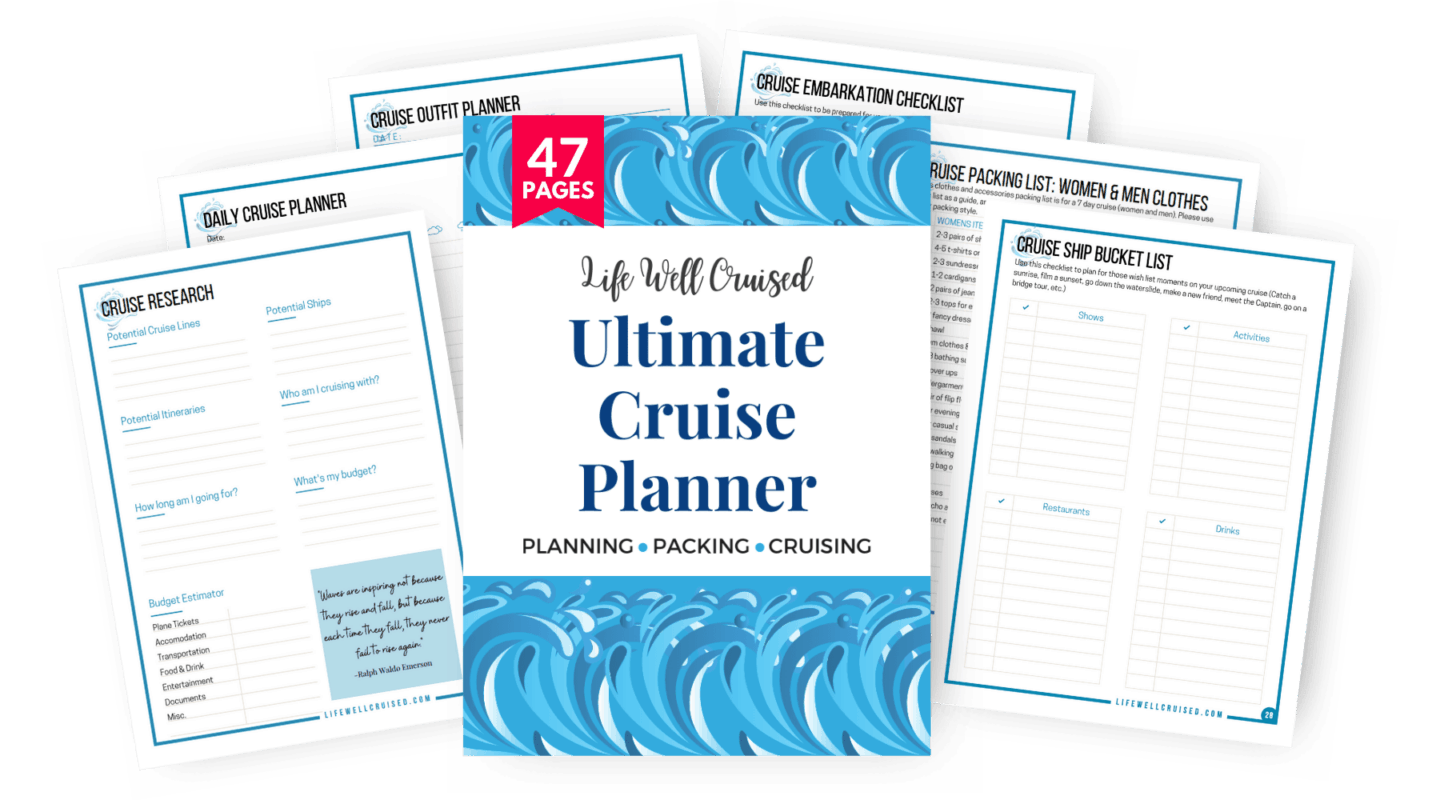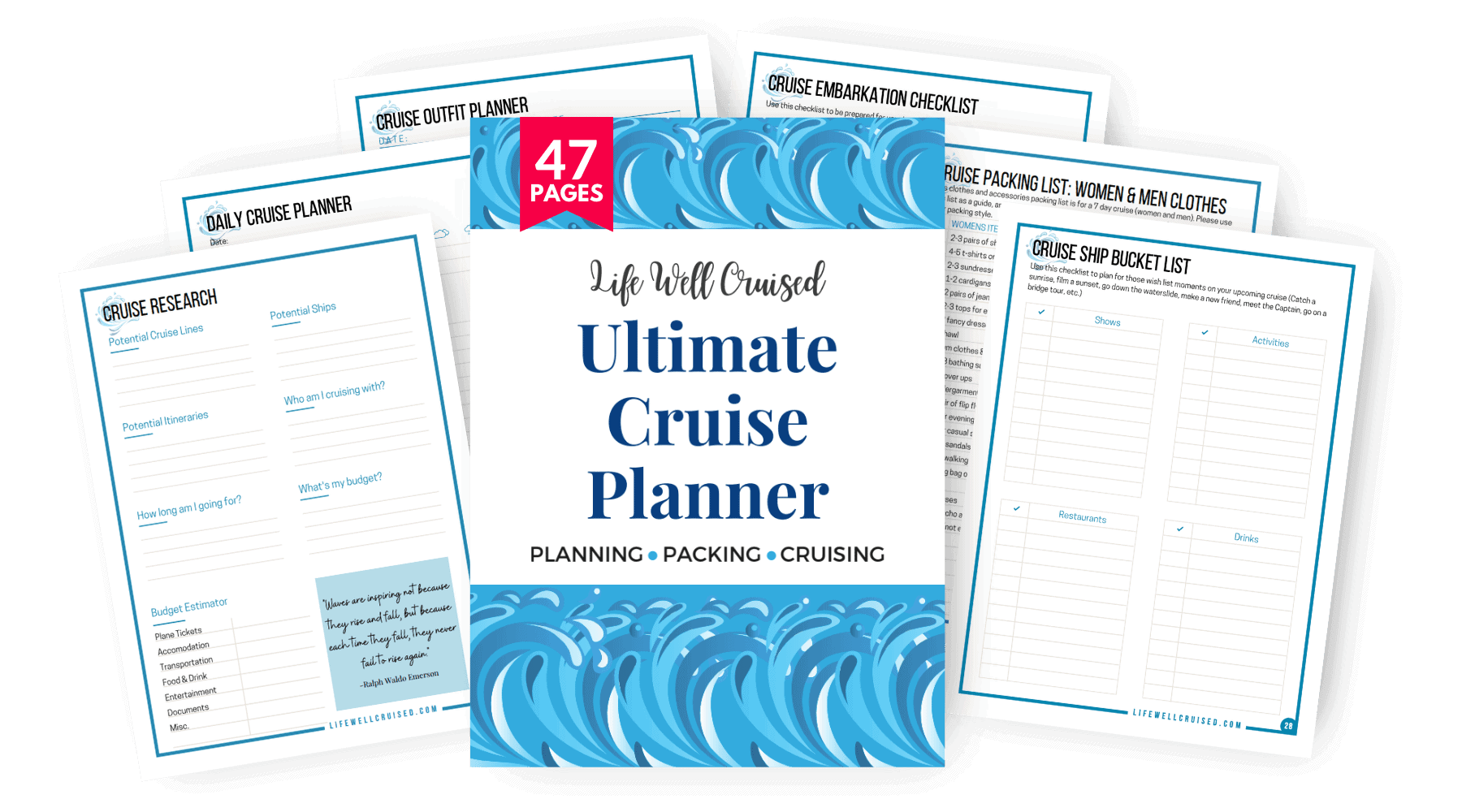 Final Thoughts on What to Wear on a Cruise for Ladies Over 60
As a woman of any age, it can be hard to know what to wear on a cruise, much less finind cruise wear that is flattering to our bodies as we are over 50, 60, 70 or any age.
In this post I shared dresses, tops and some light jackets that have sleeves and are made with materials that look good, even if we have some "problem" areas. Remember there is no age where you can and cannot wear certain outfits, so try different items to see what looks and feel right for you.
Final reminder – you are beautiful and will look fabulous on your cruise!
Happy Cruising!
Ilana
P.S. If you found this helpful, please don't keep it to yourself ;-). Please share on Facebook or PIN to your favorite Pinterest board (share buttons at the top). Thanks so much!
Follow me on Facebook at Life Well Cruised
Follow me on YouTube at Life Well Cruised
Follow me on Pinterest at Life Well Cruised
Follow me on Instagram at Life Well Cruised