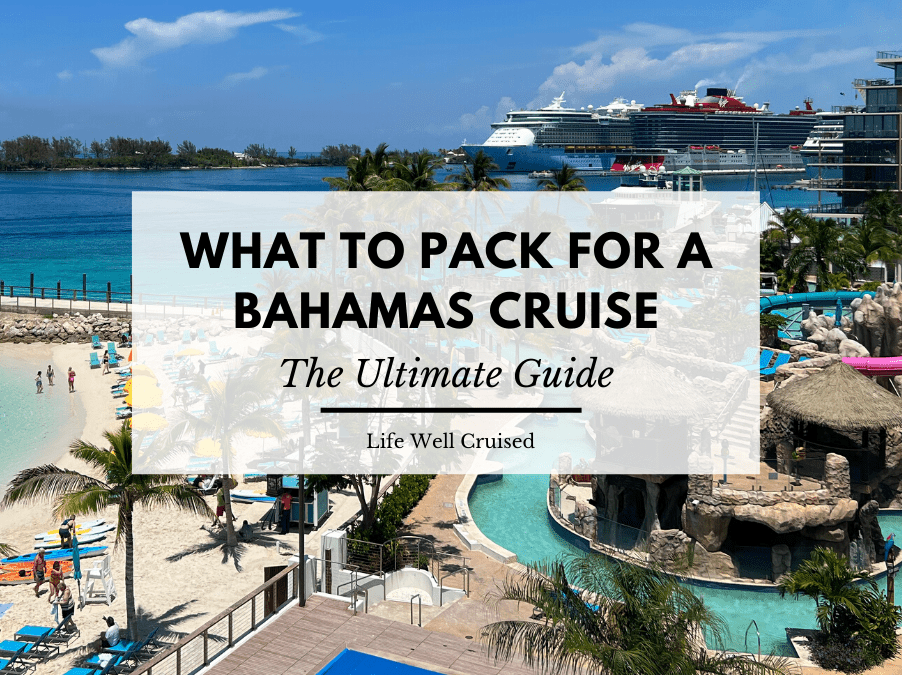 Are you planning a cruise to the Bahamas and wondering what to pack? You're in luck! We've recently returned from a 7 day Bahamas cruise, and I have a lot of tips to share.
You'll want to be prepared with cruise outfits for embarkation day, sea days, shore excursions in the Bahamas and evenings on the cruise ship.
Knowing what cruise outfits to pack, as well as what must-have items to bring on your Bahamas Cruise is essential. I've also included a free printable cruise packing list, which you can print and personalize.
Bahamas Cruise Packing List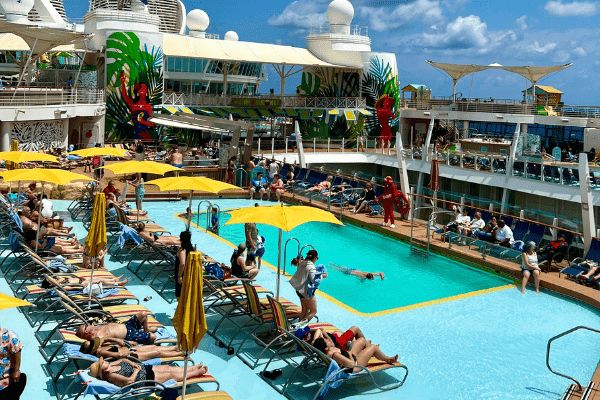 Packing for a Bahamas cruise will be similar to packing for a Caribbean cruise. However, there are some differences in the weather depending on the time of year and your embarkation cruise port. This will affect what clothing and other items you may want to bring for your Bahamas cruise.
In this post we go over:
What clothes to pack for a Bahamas cruise (his & hers)
Cruise Essentials to Bring on a Bahamas cruise
Packing for a 3,4 & 7 night Bahamas cruise
This post contains affiliate links which means if you click and buy that I may make a commission, at no cost to you. Please see my disclosure policy for details.
As an Amazon Associate I earn from qualifying purchases.
What to Wear on a Bahamas Cruise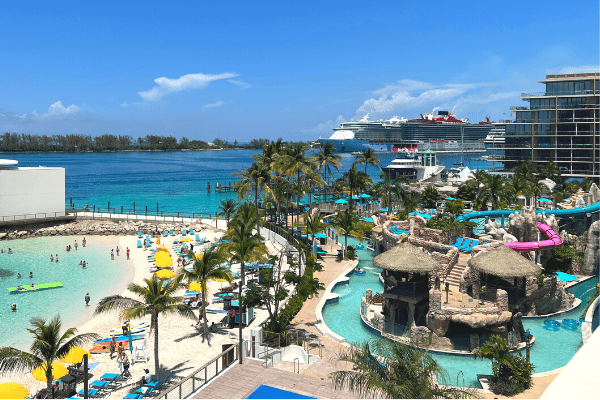 Cruises to the Bahamas can be short cruises of 3-5 nights, or longer 7 night cruises. Bahamas weather is generally warm with average temperatures in the mid 70's to the low 90's F, depending on the time of year.
On your Bahamas Cruise, you'll need casual wear for your sea days on the cruise ship, as well as for outdoor activities in Nassau or the cruise line's private island stop. A pair of shorts and t-shirts or tank tops are good options.
You'll also need to plan on a nice outfit or formal wear evening wear on your cruise.
Shorter cruises don't usually have a formal night, so you pack lighter for your cruise or even carry-on only. Longer cruises take a bit more planning for cruise outfits.
Bahamas Cruises from New York or New Jersey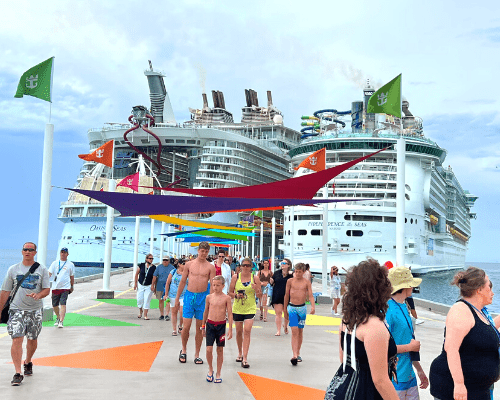 If your Bahamas cruise is departing from New Jersey, New York or Baltimore, it's important to plan warmer clothing for the first and last day of your cruise.
As with any cruise, check the weather forecast. However, typically the weather in the North East will be cooler than when leaving from a Florida cruise port. However, unpredictable weather is to be expected on this Bahamas cruise itinerary.
When we sailed on Oasis of the Seas from Cape Liberty, New Jersey, we had 2 cooler days out of a 7 day cruise, even though we cruised in May.
Bahamas Cruise Dress Codes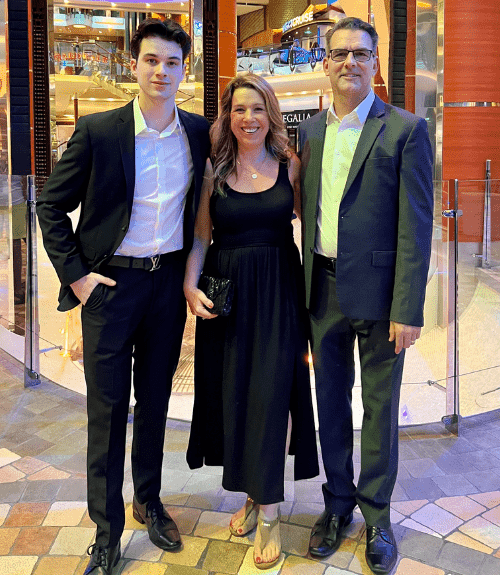 It's a good idea to check your cruise line's dress codes. Typically, 7 day cruises include 2 formal or elegant dress nights. Shorter cruises may only have 1, or none at all.
Overall, Bahamas cruises are pretty casual. Resort or vacation wear will be perfect for day and evening on your cruise.
Royal Caribbean
If you're sailing with Royal Caribbean, you'll have 2 formal nights on a 7 day cruise to the Bahamas. In our experience, formal night was a suggestion and not enforced.
Norwegian Cruise Line
Norwegian Cruise Line does not have formal nights, and have a freestyle dress code.
Bahamas Cruise Clothing Packing List for Women
Here's a list of clothing and shoes to bring on a Bahamas cruise. Please adjust this cruise packing list for short or longer cruises, as well as your personal preferences and style.
2-3 bathing suits
1-2 pairs of shorts
2-4 t-shirts or tank tops
2-3 sundresses
2-3 casual evening dresses
1-2 cocktail dresses/fancy dresses
1-2 Light tops/blouses for evening
1-2 pairs nice jeans or pants
Work out clothes (optional)
Sleepwear
undergarments & socks
Comfortable shoes or a pair of sneakers
Dress shoes (evening)
Flip flops or sandals for beach or pool
Shawl or Pashmina (cruise ship air conditioning on the shoulders)
Light sweatshirt or cardigan
Sunhat
Evening bag, clutch, or crossbody bag
Jewelry (optional)
Sunglasses
Tote bag or beach bag
If you prefer to pack lighter for your cruise, this minimalist cruise packing list can help.
Bermuda Cruise Outfit Packing List for Men
2-3 shorts
3-5 t-shirts
2-3 bathing suits
1-3 pairs of long pants or jeans
3-4 polo style shirts
1-2 button up shirts
1 suit (formal wear)
1-2 dress shirts
Undergarments and sleepwear
Work-out clothes (optional)
1 sweater or sweatshirt
Sandals/flip flops
Running or walking shoes
1 pair dress shoes
1 pair casual shoes
Dress & sports socks
Baseball cap or hat
Sunglasses
Belt
Related: Cruise Wear for Men: Men's Packing List for a Cruise
Get The Ultimate Cruise Planner
Regular price: $27 Now just $17!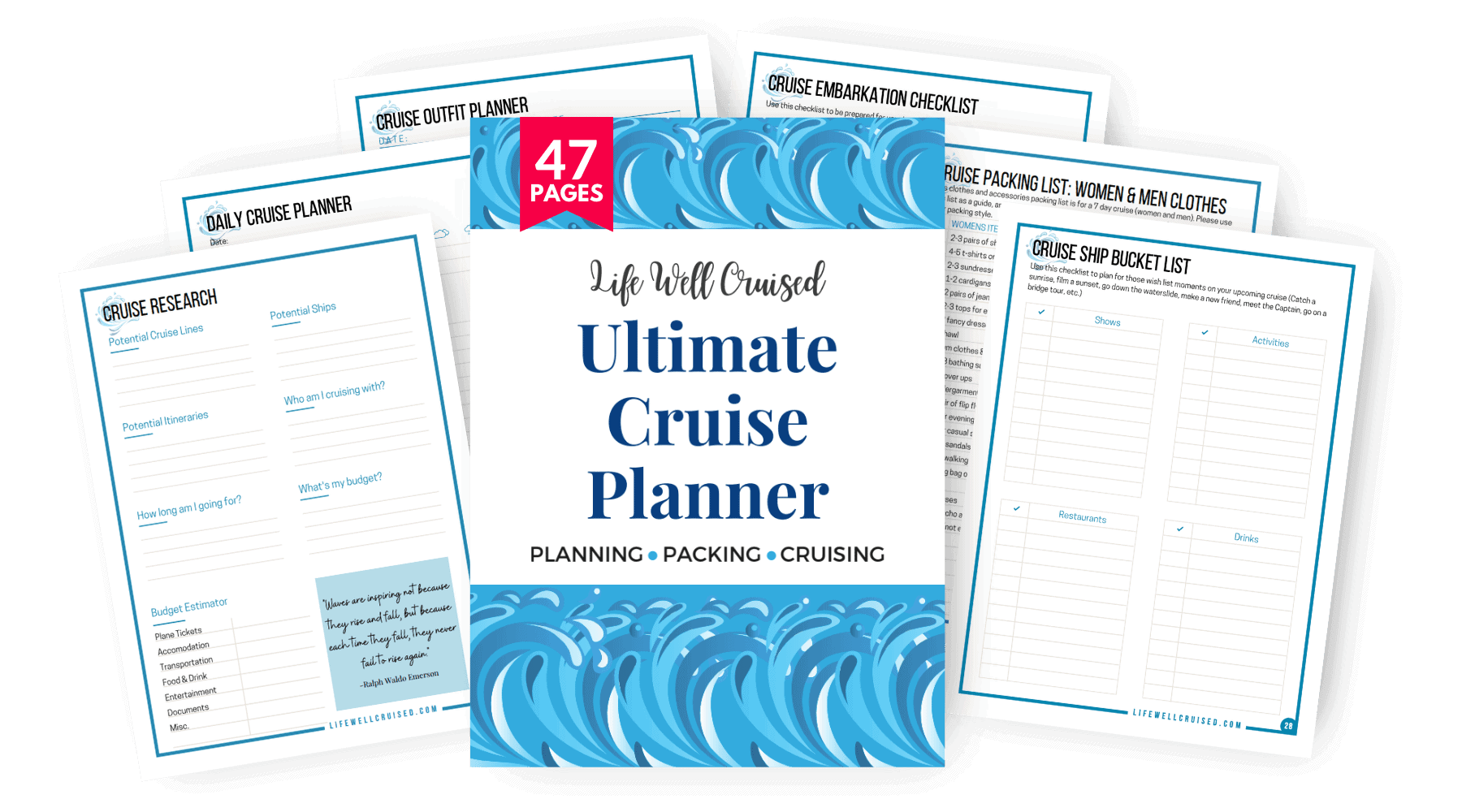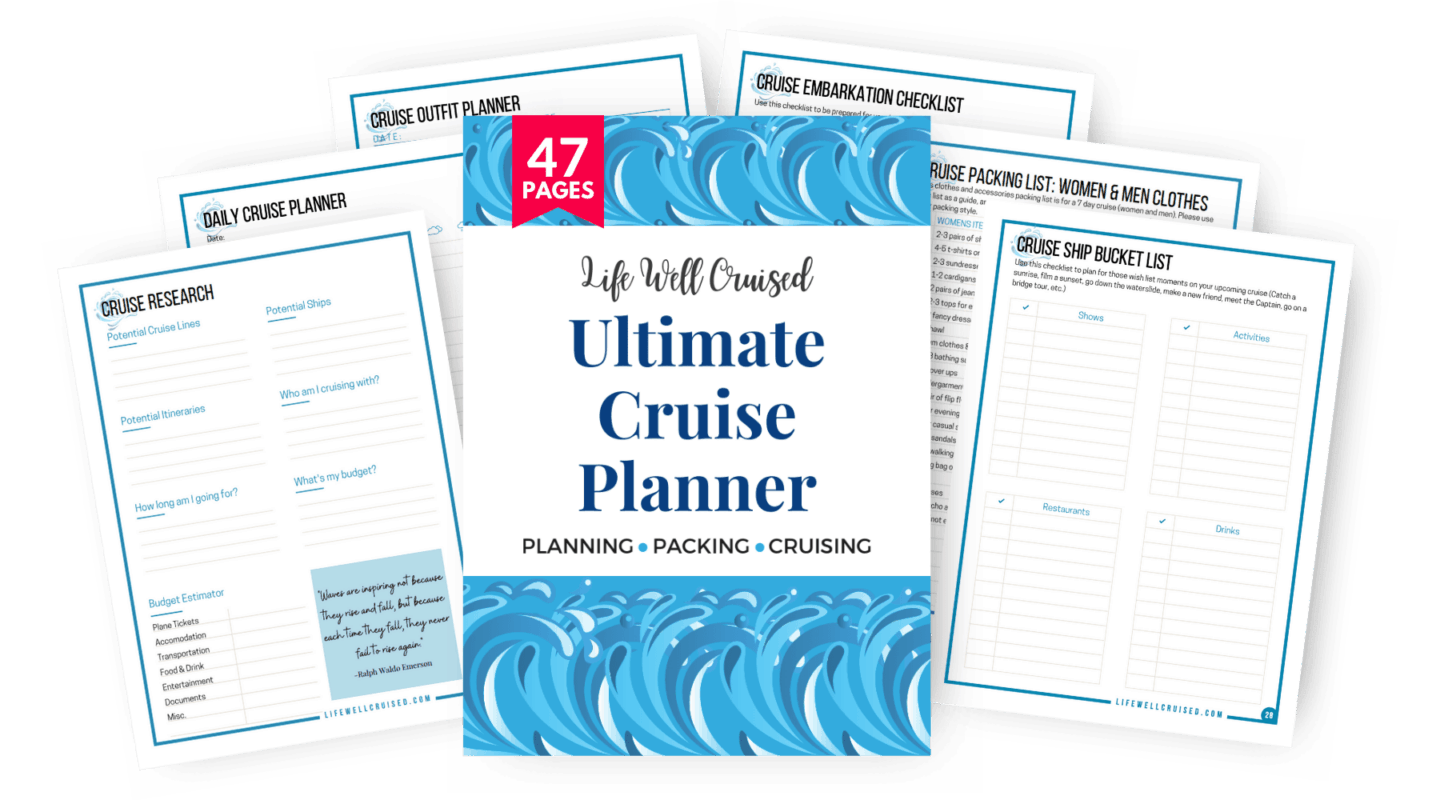 43 Essential Items to Pack for a Bahamas Cruise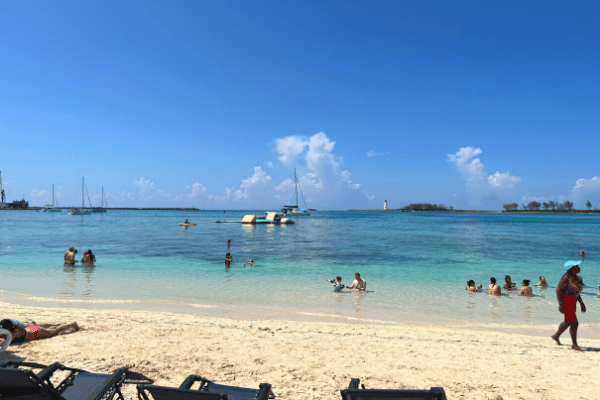 1. Government ID &/or Passports
The most important things to pack for your cruise to the Bahamas is your government ID (driver's license) and passport if applicable. US citizens may be able to take a Bahamas cruise without a passport, and sail with a birth certificate.Make sure to have this on you, and never pack it in your checked luggage. Unfortunately, if you don't have it with you, you'll be denied boarding.
It's a good idea to use a passport wallet holder. This one is so practical and will ensure that you don't make the mistake of packing your passport in your luggage.
Recommended: Passport travel wallet (check price & reviews on Amazon)
2. Travel Documents
Make sure to have your travel documents handy. This includes cruise or airline boarding passes, as well as shuttles or shore excursion reservations. It's a good idea to print these out, however in some cases cruise lines need only your boarding pass on the cruise line app.
3. Luggage Tags
Don't forget to print out your cruise ship luggage tags and attach them to your luggage on embarkation day. Since they are made of paper, I like to buy reusable cruise luggage tag holders which are sturdy and convenient.
Here are luggage tag holders by cruise line (on Amazon):Carnival
4. Proof of Vaccine & Test Results (no longer required on most sailings)
Most cruise lines have removed vaccination requirements. However, there are exceptions for different itineraries and cruise lines. Therefore always check the specific requirements for your specific sailing.
5. Credit Card
It's always a good idea to bring at least one credit card on a cruise vacation.
On our recent cruise to the Bahamas, we were required to pay with a credit card at our excursion to Margaritaville Resort for a Day. This included our deposit before our cruise, as well as the balance owed when we arrived at the gorgeous property. Even drinks and food needed to be paid for with a credit card.
6. Cash (small bills)
US dollars are accepted in the Bahamas and small bills are best for when buying souvenirs at Nassau's Straw Market and other small purchases. You may also want to give a tip to the porters as you arrive at your cruise ship on boarding day, so keep $1, $5 and $10 bills handy.
7. Carry-on Bag
While you'll check your luggage at the cruise terminal, you'll want to have a cruise carry on bag with all you need for embarkation day. In here, you can keep your essentials like a change of clothes, a bathing suit and cover up, medications and any valuables.
A small suitcase, small duffel bag or backpack all make great cruise embarkation day bags.
Recommended: Nautical stripe weekender bag (see 2 types available on Amazon)
8. Toiletries
In addition to your cruise outfits, pack travel sized toiletries. This includes basic items such toothbrushes, toothpaste, shaving cream etc. You may also want to pack perfume, moisturizers and other personal items.
Related: What Toiletries to Pack for a Cruise (packing list)
9. Medication
Your cruise packing list should include both over the counter and prescription medication. It's also a good idea to pack 2 extra weeks of medication as a precaution.
10. Non-surge Protected Power Strip
Cruise cabins are well known for not having enough electric outlets. If you're bringing electronic items like cell phones, an iPpad, hair straighteners or any other electronic item, you'll likely want more plugs and USB outlets.
Many cruisers pack a non-surge protected power bar, which is cruise compliant. Please note that you can't bring a regular surge protected power strip, as it's considered a safety hazard on a cruise.
Recommended: Cruise Power Strip with USB Outlets – Non Surge Protection & Ship Approved (verify price here)
11. Motion Sickness Medication
A pro tip is to always pack some things to deal with possible motion sickness during your cruise.
Some items that can be very helpful are:
Bonine or Dramanine seasickness medication
Related: How to Prevent Seasickness on a Cruise
12. Tote Bag
It's a good idea to bring a cute tote bag to carry your sunscreen, sunglasses and even a towel around on your cruise ship or in port. This mesh tote shoulder bag one is a new favorite of mine, although I have the tan color.
Recommended: Mesh tote bag (see reviews & different colors on Amazon here)
13. Waterproof Phone Case
It's a good idea to bring a waterproof phone case on your cruise, for sea days by the pool as well as port days by the beach. This one includes the ability to use the touch screen as well.
Recommended: Waterproof Phone Case with cruise lanyard
14. Water Shoes
These lightweight water shoes are very comfortable and easy to pack for your cruise and good to have for beach days.
Recommended: Water shoes/Water socks (see different color choices on Amazon)
15. Polarized Sunglasses
This selection of fashionable polarized sunglasses for men and women on Amazon is so reasonable. If you need some sunglasses to bring along on your Caribbean Cruise, check out the awesome styles.
Recommended: Polarized sunglasses (see awesome choice of fashion brands here)
16. Beach Bag
Bring along a good quality waterproof, zippered beach bag that can hold all your towels, sunscreen, water bottles etc. This is the bag we use, and it actually doubles as our carry on bag for Caribbean cruises. You can find more beach and tote bags for all your needs in this post.
Recommended: Large zippered nautical beach bag
17. Reef Friendly Sunscreen
Make sure to pack reef friendly sunscreen and reapply often to prevent sunburns.
Recommended: Reef safe sunscreen SPF 50 (see 1500+ excellent reviews on Amazon here)
18. Lip Balm
Remember to pack lip balm with SPF, as lips can burn in the sun and get swollen if this happens.
Recommended: Lip balm with SPF
19. Aloe Vera Gel
Bringing aloe vera gel or an after-sun care lotion is a must for your cruise. Unfortunately, even with taking precautions, getting too much sun can happen.
This organic aloe vera gel is non sticky and works really well!
Recommended: Aloe vera gel 100% pure (check price & see over 50,000 amazon reviews)
20. Swimsuit
Make sure to pack 1-2 one piece bathing suits or bikinis for Bahamas beach days and days on the cruise ship lido deck.
Recommended: One piece tummy control swimsuit (see price & Amazon reviews here)
21. Swimsuit Cover Up
A pretty bathing suit cover up is a must-have cruise wear for a Caribbean or Bahamas cruise. You may want to bring a couple swimsuit cover ups for your cruise, to go with different swimsuits :-).
Recommended: Swimsuit cover up (see different colors on Amazon)
Related:
22. Lightweight Travel Backpack
o Bermuda is a great idea. Whether you take an excursion to Atlantis Resort, Blue Lagoon or walk around the Bay Street retail shopping area, bringing a lightweight travel backpack is a great idea.
Recommended: Foldable backpack (water resistant)
23. Insect Repellent
At certain times of the year, you may need mosquito or bug spray. If you plan to walk Nassau's The Queen's Staircase or 66 Steps, the gardens can be a bit buggy, so plan accordingly depending on your planned shore excursions. Beaches and pools on cruise line private islands are usually fairly bug-free.
Recommended: Deep Woods Insect Repellant (see reviews here)
24. Money Belt
If you prefer to keep your ID, credit cards and cash a bit more discreet, an RFID protected passport holder and money belt is a good inclusion for any cruise packing guide.
Recommended: Money belt (see 1000+ excellent reviews on Amazon)
25. Cruise First Aid Kit
You can make your own travel first aid kit, or purchase a cruise first aid kit that's ready made and pre-filled with bandages and other items you may need for your cruise.
Recommended: Cruise first aid kit (check price & see over 50,000 excellent Amazon reviews)
Related: Cruise First Aid Kit Essentials You Need to Have
26. Anti-chafe Balm (for men & women)
Many people swear by this product for both beach vacations and cruises! If you get irritated when when spending lots of time outdoors, these anti-chafe rash guard balms are important things to have.
Recommended: Body-glide anti-chafe balm for men & anti-chafe balm for women
27. Reusable Water Bottle
Pack a refillable and reusable water bottle so you can stay hydrated during your cruise.
Recommended: Refillable water bottle (check price & see over 9000 amazon reviews here)
28. Waterproof Dry Bag
This waterproof dry bag is perfect for cruise shore excursion days. This best-selling Amazon item comes in a several sizes and colors.
Recommended: Floating waterproof dry bag (verify price on Amazon)
Get The Ultimate Cruise Planner
Regular price: $27 Now just $17!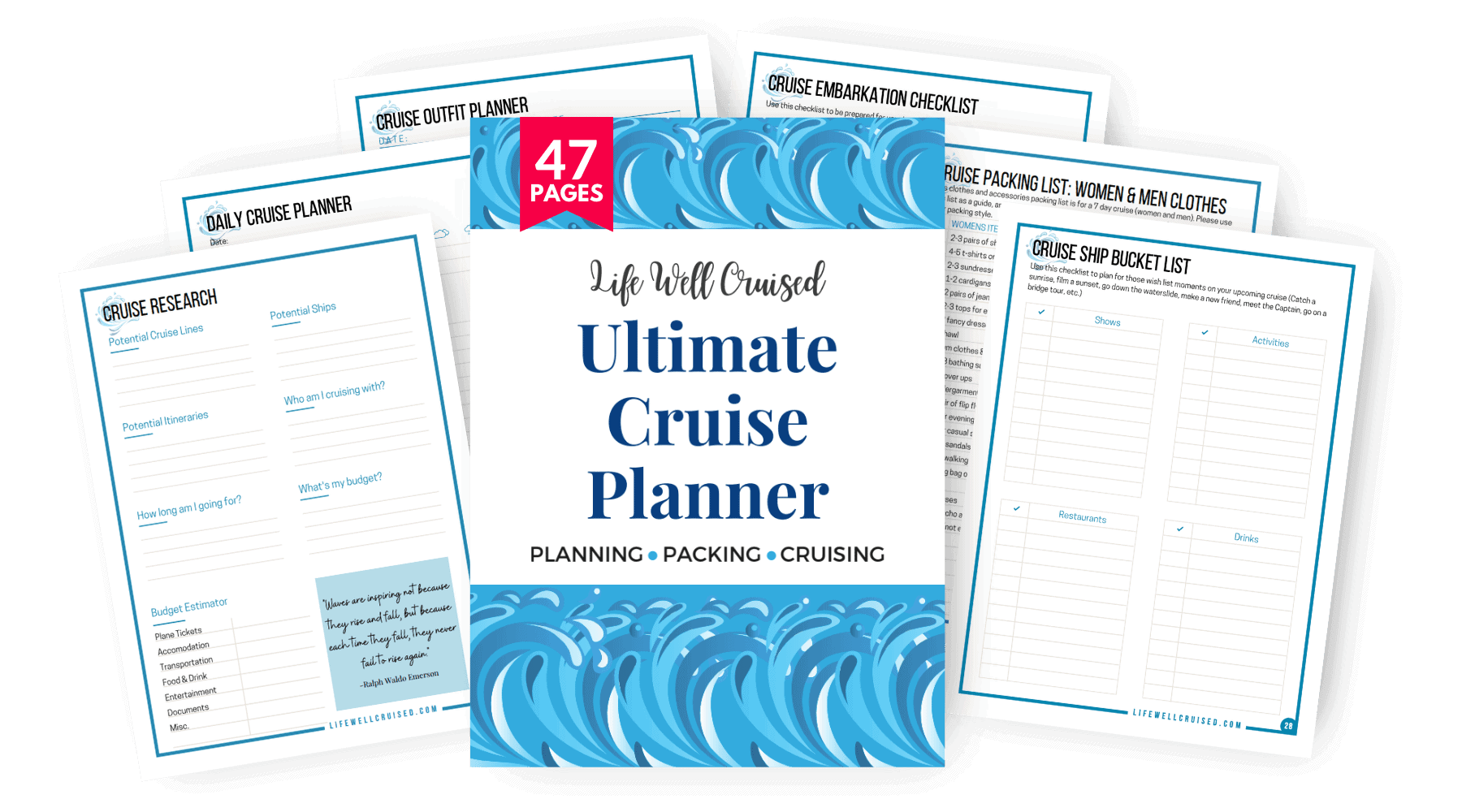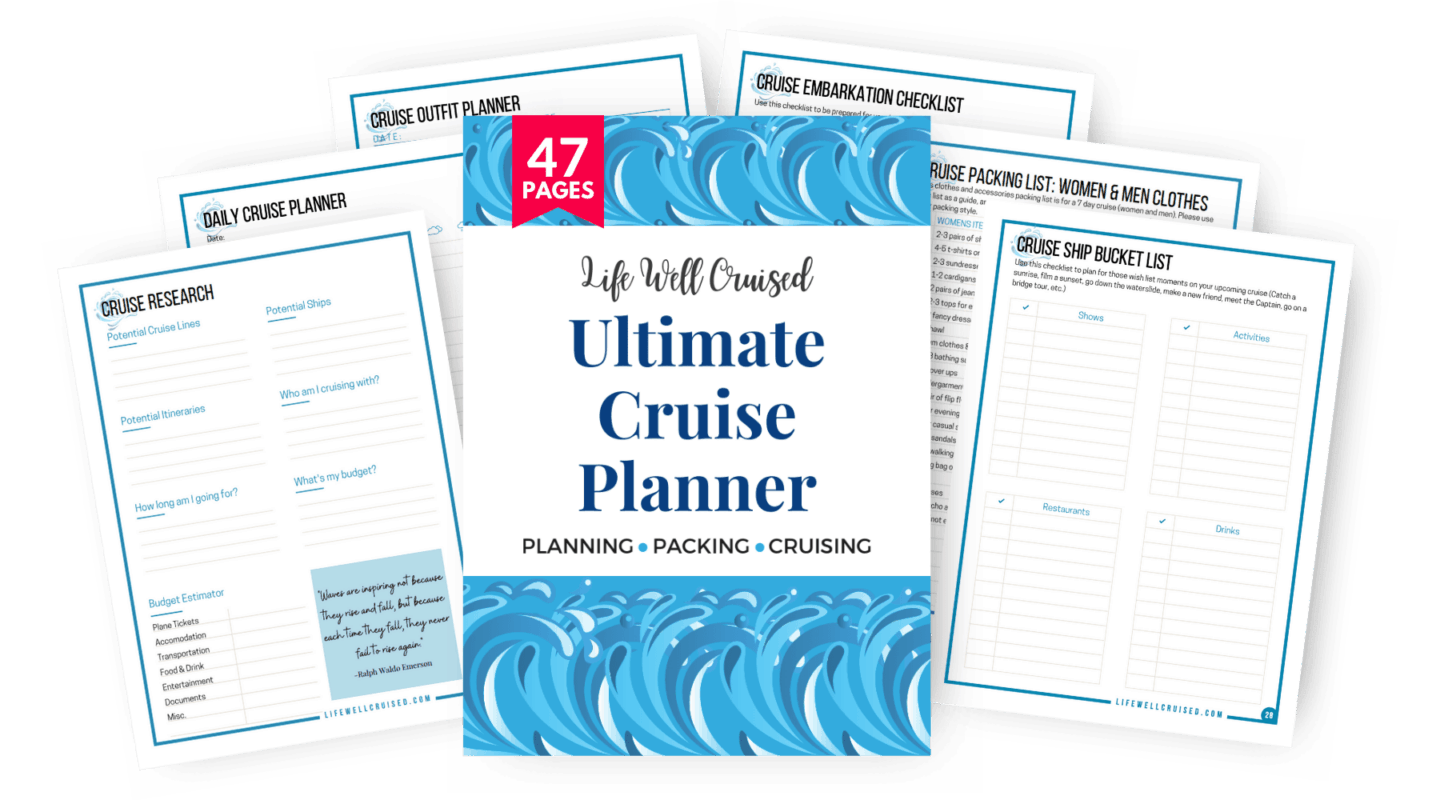 Useful Cruise Essentials
These are some practical cruise accessories and travel items. You can use these things to organize your cruise cabin to make packing for your cruise easier.
29. Hanging "over the door" Organizer
Cruisers swear by the hanging organizer for toiletries and other essentials on a cruise. This can be a great way to keep your cruise cabin organized.
Recommended: Hanging cabin organizer (see Amazon link for price & details)
30. Hanging Toiletry Bag
This hanging toiletry bag is a must to keep small cruise cabin bathrooms organized!
Recommended: Hanging toiletry bag (over 14000 5* ratings on Amazon)
31. Magnet Hooks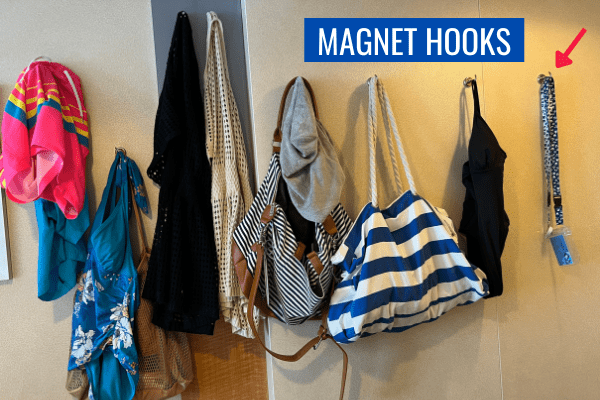 Magnet hooks are a cruiser's "secret" organization hack! Since most cruise ship cabin walls and doors are metal, you can use magnet hooks to add storage space to the walls in your stateroom. Hang bathing suits to dry, baseball caps, and even backpacks for excursions. Be sure they are heavy-duty and strong!
Recommended: Magnetic hooks – set of 10 (check price & see over 20,000 reviews on Amazon)
32. Magnet Clips
Magnet clips are great to keep shore excursion tickets and other paperwork from cluttering your desk or vanity.
Recommended: Magnet clips (set of 6 on Amazon)
33. Packing Cubes
If you haven't tried packing cubes yet, consider giving them a go. They can be a great help with packing for your cruise, as well as pre and post cruise hotel stays.
Recommended: Packing cubes (verify price & read over 24,000 5* Amazon reviews)
34. Poo-Pourri Bathroom Spray
No matter your cruise itinerary, cruisers swear by Poo-Pourri!
Recommended: Poo-Pourri Before-You-Go Toilet Spray Bottle (verify Amazon price here)
35. Cabin Alarm Clock
If you like to know the time during the night or don't want to rely on your cell phone, consider a simple travel battery operated clock.
Recommended: Digital Travel Alarm Clock (battery powered with a light)
36. Motion Sensor Nightlight
This portable motion sensor nightlight is so practical and makes a great gift for cruisers. This is especially handy for inside cabins, which will be pitch black when the lights are off.
Recommended: Battery operated nighlight
37. Portable Fan
Cruise cabins can get stuffy. This small fan is battery operated, but rechargeable, and gets great reviews on Amazon.
Recommended: Portable Travel Mini Fan
38. Wrinkle Release Spray
Cruise cabins will not have irons, as they're a fire hazard. Clothes steamers are prohibited on most cruise ships as well. So Downy Wrinkle Release spray is a good way to get wrinkles out of your cruise outfits.
Recommended: Downy Wrinkle Release (travel size)
39. Towel Clips
Towel clips are wonderful to use on cruise ship deck chairs, to keep your towel in place when there's an ocean breeze. It also makes it easier to recognize your chair!
Recommended: Cute towel clips (set of 2 pairs)
40. Electronics Organizer Bag
Keep all your chargers, wires and cables together in a small electronics organizer bag.
Recommended: Electronics accessory organizer bag (see details & Amazon reviews)
41. Portable Charger (power bank)
All travelers should pack a portable charger or power bank. In Bermuda, the days spent in port can be long and it's easy for your phone's battery to run low. This portable charger works very fast!
Recommended: Portable cell phone charger (see price & details on Amazon here)
42. Lanyard
A lanyard holds your cruise card both on the ship and in port, keeping your hands free. It's one of the most useful items to bring on a cruise.
Recommended: Cruise lanyards
43. Mesh Laundry Hamper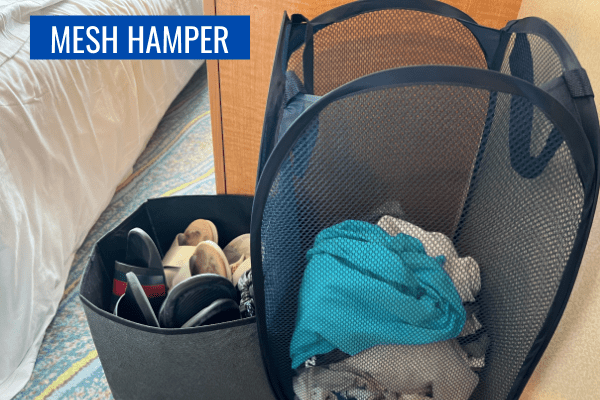 This foldable mesh laundry hamper was one of my most useful items for organizing our balcony cruise cabin (which was still rather compact).
Recommended: Mesh laundry hamper pop-up style (check price & read more than 40,000 Amazon reviews here)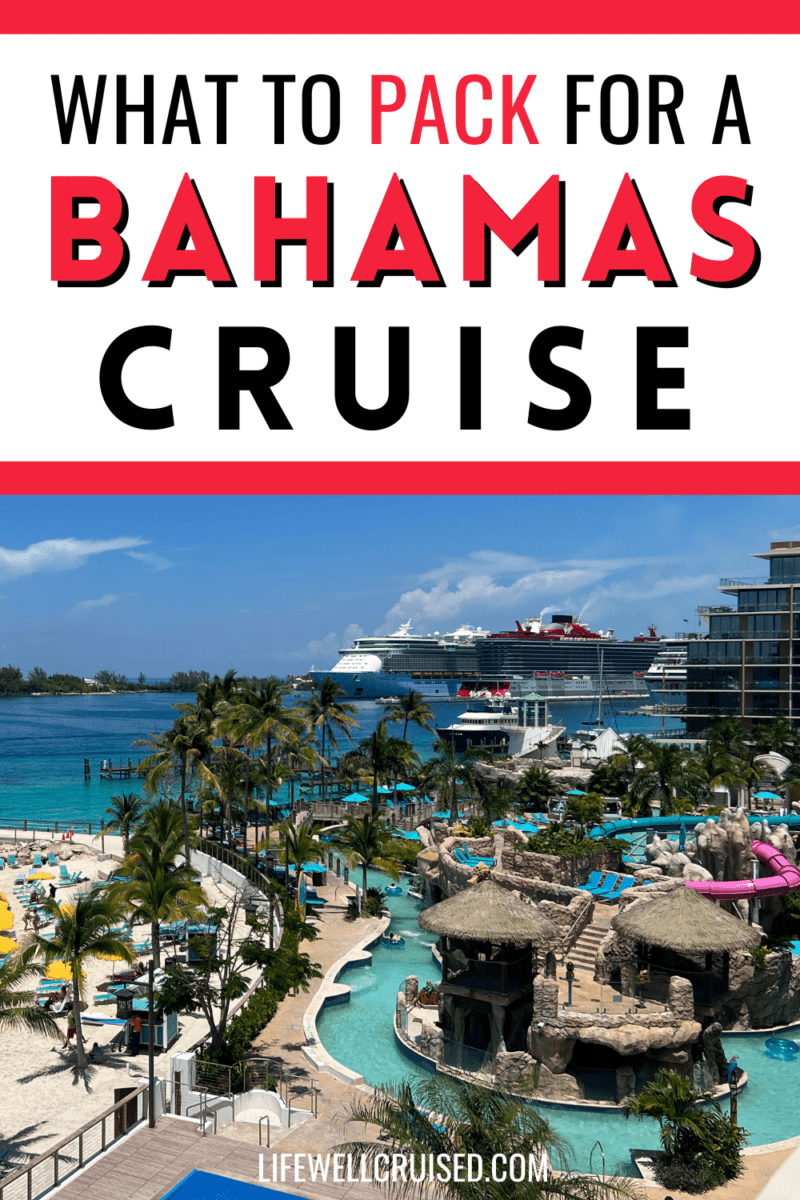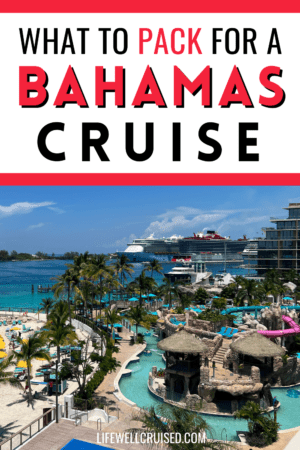 Cruise Packing Checklist Printable
Here's a free cruise packing checklist that you can download and print, along with a packing list that you can personalize. Don't forget to leave a bit of extra space in your luggage for souvenirs and t-shirt purchases.
Related and Popular Posts:
Get The Ultimate Cruise Planner
Regular price: $27 Now just $17!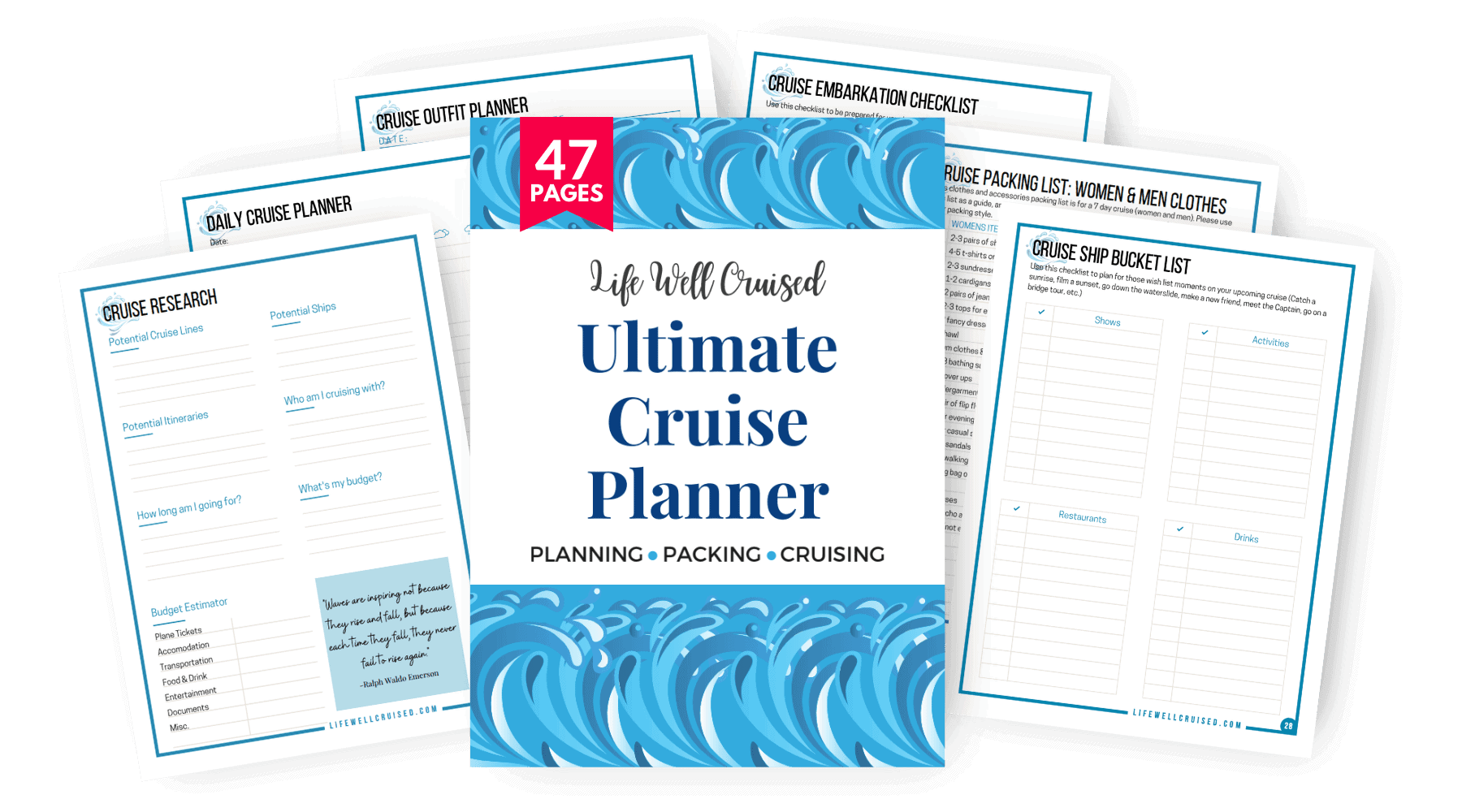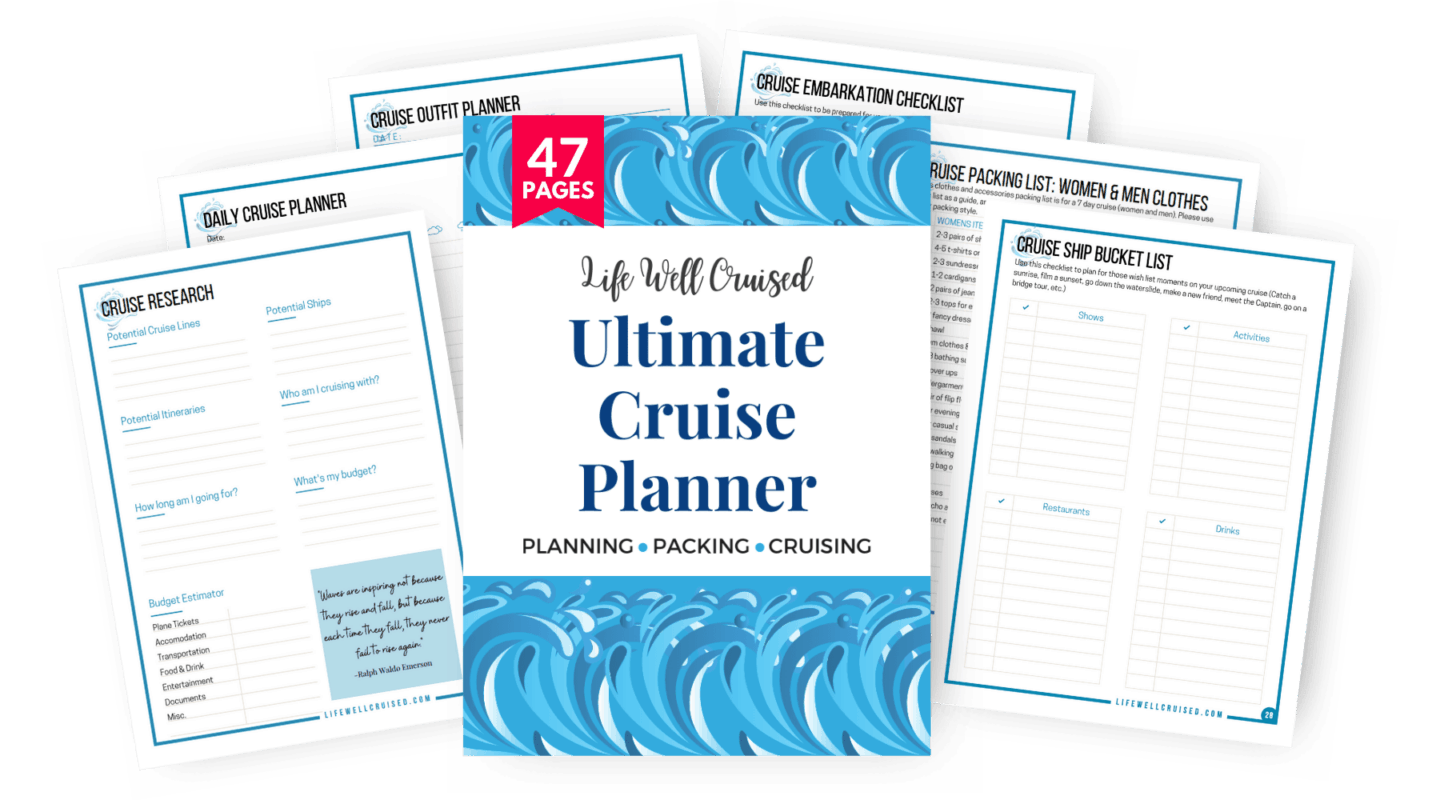 Final Thoughts on What to Pack for a Bahamas Cruise
Bahamas Cruises are some of the most fun and versatile cruises to book! In this post we went over what to pack for a Bahamas cruise, including what clothing to pack for men and women. I've also shared some important items to bring onto your cruise, for the cruise ship, cabin and days visiting your Bahamas cruise ports.
Have you cruised to the Bahamas or are you a first timer? Please let me know your tips and must-pack items in the comments below.
Happy cruising!
Ilana
P.S. If you found this helpful, please don't keep it to yourself ;-). Please share on Facebook or PIN to your favorite Pinterest board (share buttons at the top). Thanks so much!
Let's connect:
Follow me on Facebook at Life Well Cruised
Follow me on YouTube at Life Well Cruised
Follow me on Pinterest at Life Well Cruised
Follow me on Instagram at Life Well Cruised