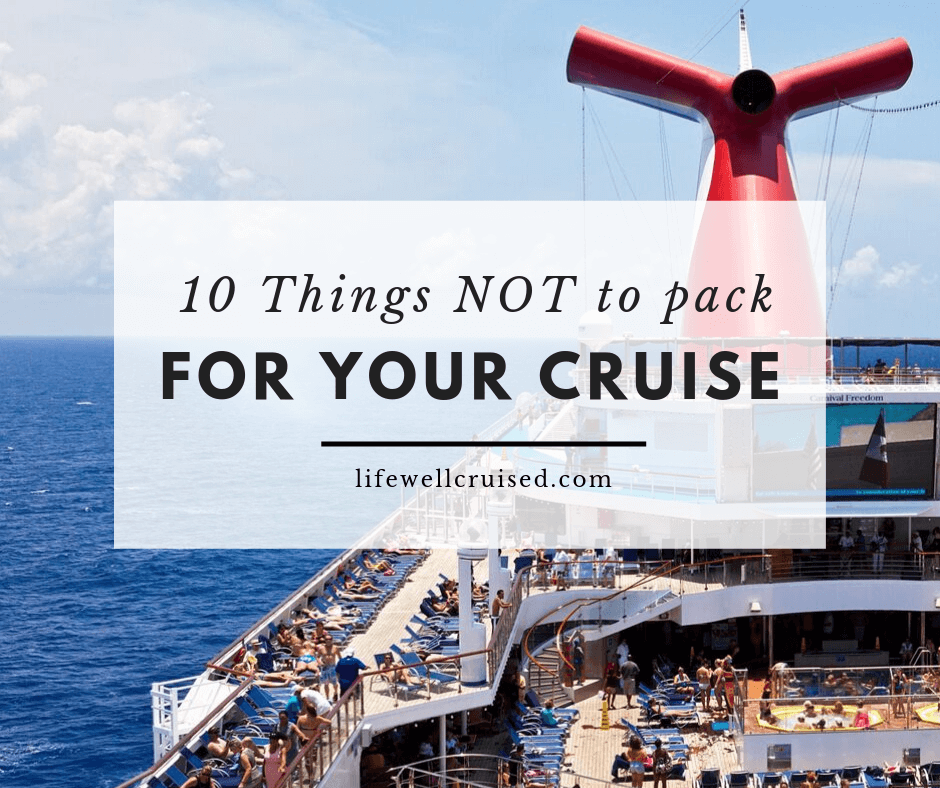 These are the items you don't need to bring on your cruise
If you're cruising for the first time, you're likely thinking about what to pack for a cruise as well as what you really need. However, as an over packer myself (I'm working on it), I know it's also just as important to know what you don't need to bring on a cruise!
There are some common questions that come up from new cruisers, so I asked some members of my Facebook community for their best advice, based on their recent cruise experiences.
Answers ranged from the very practical and pragmatic, to pretty funny! I'll include those later on in this post.
If you need a little cruise fun in your life, along with great info, you can find the Life Well Cruised Facebook page HERE.
This post contains affiliate links which means if you click and buy that I may make a commission, at no cost to you. Please see my disclosure policy for details.
Q & A – What NOT to pack for your cruise
1. Do you need to bring beach towels on a cruise?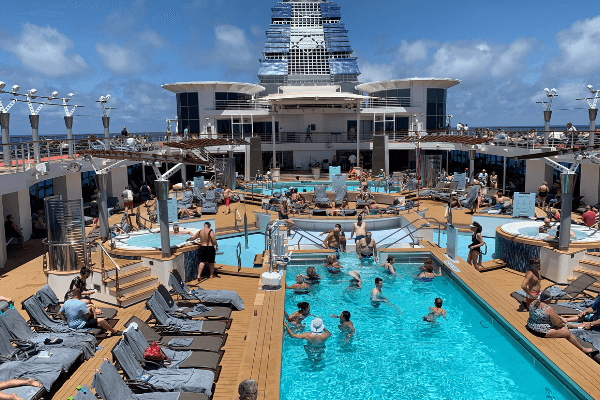 One of the most common questions new cruise passengers have is, whether they need to bring pool and beach towels on a cruise.
Thank goodness the cruise line provides great towels for the pool and even for your beach day excursions. And yes, you can take the cruise ship towels off the ship for your shore excursions. Do keep in mind that you may be charged a towel fee if you don't return your towel to the ship.
2. Can I bring an iron on a cruise?
Irons are a fire hazard, and of course safety at sea is the highest priority for a cruise ship. For this reason, you will not be provided with irons in your cabin,and you are not allowed to bring them on with you in your luggage.
Irons, and even steamers are some of the items you are't allowed to bring on a cruise, and they likely will be confiscated if you do.
So, what can you do instead to ensure that your clothes are not a wrinkly mess?
Firstly, a little packing hack. Try and roll rather than fold clothing. You can also use good quality packing cubes, which help your clothes to stay organized and less squishy.
But, a little inexpensive must-have item for new cruisers is Downy Wrinkle Release. I bring a little travel size spray bottle and it's more than enough for a week.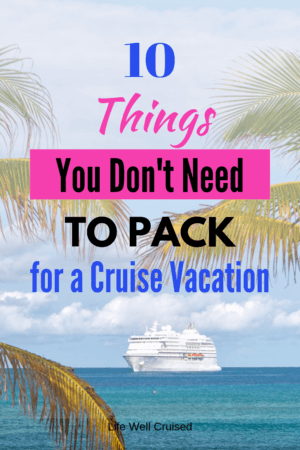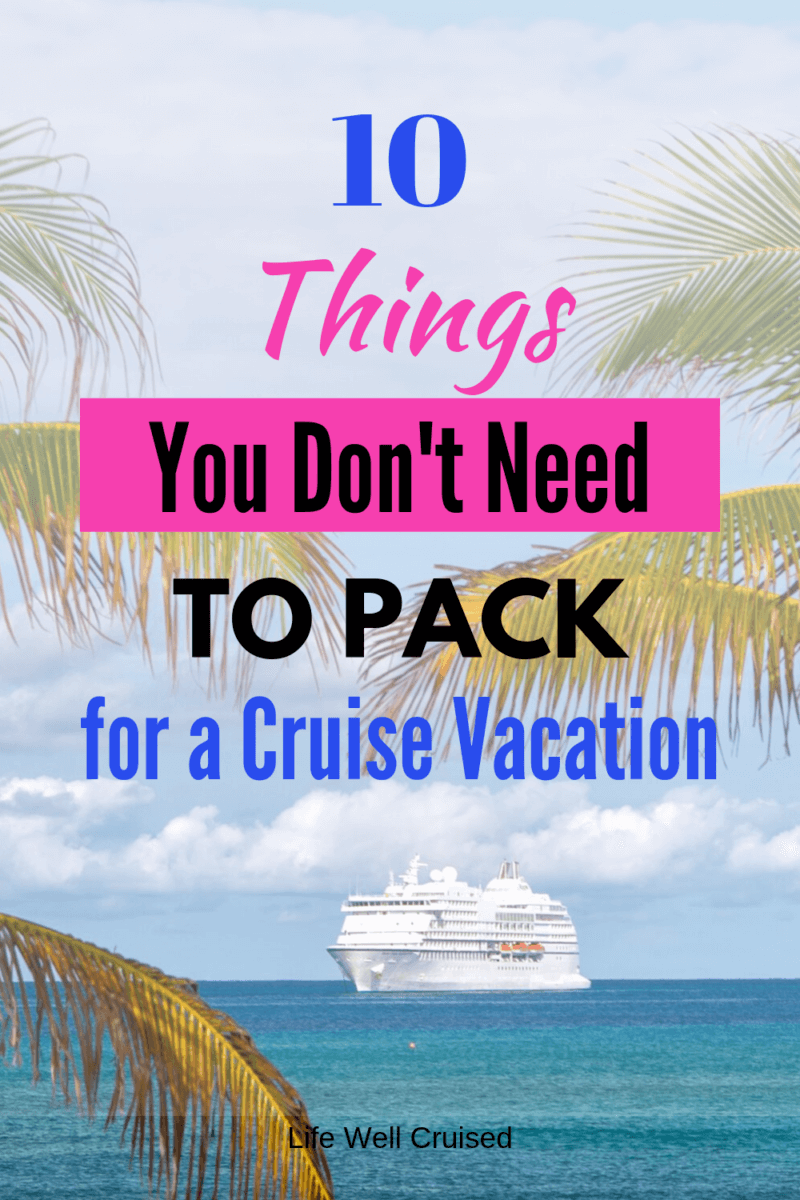 3. Should I bring hangers on a cruise?
Same space in your luggage and simply ask your cabin attendant if you need extra hangers on your cruise. One of my embarkation rituals, is to ask my cabin steward for about 20 extra hangers.
I find that by hanging things as much as possible, clothing is more likely to be wrinkle-free. You cabin steward will be happy to bring you some extra wire hangers.
4. What toiletries are included on a cruise?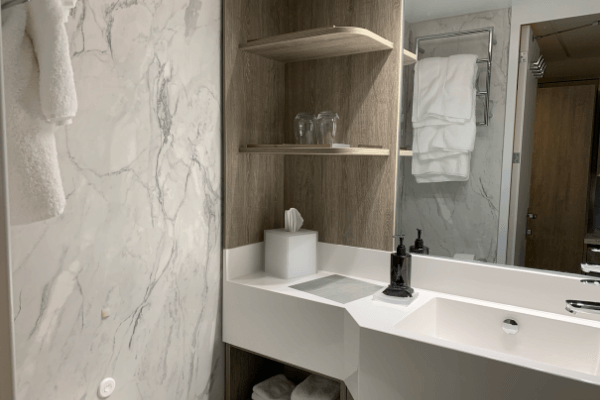 Do you need to pack shampoo and conditioner for your cruise? This is up to you, as it depends on your preferences.
The cruise ship will provide you with basics like soap or shower gel, shampoo and conditioner. Sometimes you might get a 2 in 1 shampoo/conditioner.
Personally, I bring my own hair products, as I have long curly hair so I have my needs ;-). That said, my hubby and kids are fine with the bath products provided.
Something to note: If you have a suite or a higher cabin category (like a spa class), your amenities are often upgraded, so do verify with your specific cruise line.
5. What outfits will I need for a cruise?
The consensus from most avid cruisers, is that we don't need as much clothes as we think. Most of us probably bring about twice as much clothes as we need.
Consider the weather for your cruise destinations. If you are doing a Caribbean cruise, you will probably spend a lot of time in pool wear and cover ups. For the evenings, sundresses or capris with light tops are perfect for most nights.
Do you need formal wear?
This really depends on the cruise line. Some cruise lines continue do have "formal"nights, while others have gone towards "Chic"nights and "Dress Your Best". All this indicates a trend towards less formality, but do check the dress codes for your own cruise booking.
For a specific guide to What to Wear on a Cruise (in 2020), please read this popular post: What To Wear on a Cruise; The Ultimate Guide
If you need some tips on packing less, this is the guide for you: How to Pack Light for a Cruise
6. Should I bring a pillow?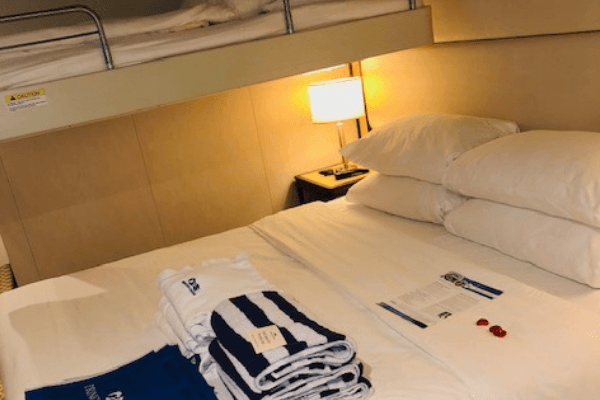 There's no need to bring extra pillows. Cruise ship beds and bedding is really quite comfortable, and this includes the pillows.
Something to note, is that if you do find the mattress too firm or if the sofa bed or bunk bed in the cabin isn't as comfortable as you'd like (for those with 3rd and 4th passengers), you can request an egg-crate style mattress topper from your cabin steward.
7. Are hairdryers provided on a cruise?
You don't need to pack a hairdryer, as they are usually provided on your cruise ship. You can expect the quality to be similar to a moderate range hotel.
While many can save on packing space by not bringing a hair dryer, if you need a more powerful hair dryer for styling, you may want to bring your own.
Personally, I bring mine from home, for the times when I want to style my hair. This, and a curling wand. The rest of the time, curl creams are my best friends!
This Bay Bliss Pro Travel Hairdryer is small, light and compact and pretty powerful, and my go-to these days.
I created this YouTube video to expand on Things You Don't Need to Pack for Your Cruise:
8. Should I bring snacks for my kids?
Although you can bring pre-packaged snacks with you, the reality is that there is so much good quality food, that you really don't need to.
Melissa, from Family on Time Out had a great tip for those with kids. She explained that she brought along several ziplock baggies, and had the children pick "snacks" from the breakfast or lunch buffet, for later in the day or even the cabin at night.
For example, her son put some cheerios in a baggie while her daughter packed up some cheese and crackers. They would snack on homemade soft cookies anytime they wanted.
There's also free soft serve ice cream, lots of fresh fruit, and more slices of pizza than you could imagine! They didn't miss any of the snacks she could have brought from home!
9. Should I bring a yoga mat or my own exercise equipment?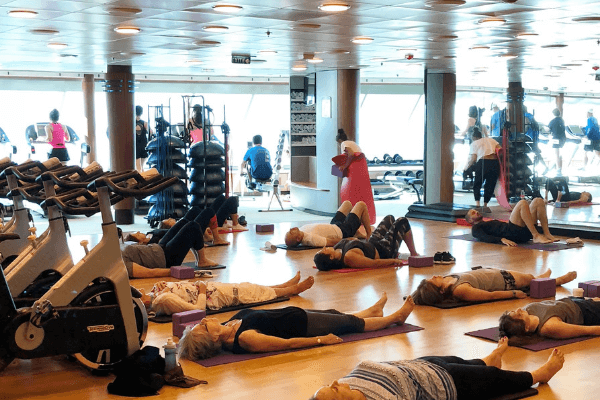 Whoever thinks of this question, I admire your dedication! Cruise ships have amazing gyms (much better than most hotels and land resorts), and you can use their equipment. This includes yoga mats and free weights, as well as the machines of course.
Your cruise ship will also have exercise classes that you might want to join. Some classes are included in your cruise fare, while others do have an additional charge.
10. Is it safe to bring my expensive jewelry on a cruise?
Bringing jewelry is a personal decision. Some people think it isn't a good idea to bring your good stuff on a cruise, due to the risk or loosing it or getting it stolen.
If this is a concern, leave the valuables at home and bring your favorite costume jewelry to dress up your outfits. There's nothing wrong with this and many people do this, and even bring a CZ diamond ring.
I'm of a slightly different mind on this, but hear me out.
I bring some of my prettier and fancier pieces of jewelry, because in my mind, I have them to enjoy. In reality, I don't have many occasions in my every day life to wear a double strand pearl bracelet, right?
So, if a cocktail ring goes with one of my dressy outfits, I bring it. However, I do take precautions, which I'll explain in case you decide to bring some more expensive jewelry or watches.
Precautions to take if you bring good jewelry and watches:
Use the cabin safe
Don't bring your valuable jewelry ashore
Keep your valuables in your handbag (or cruise carry on bag) as you board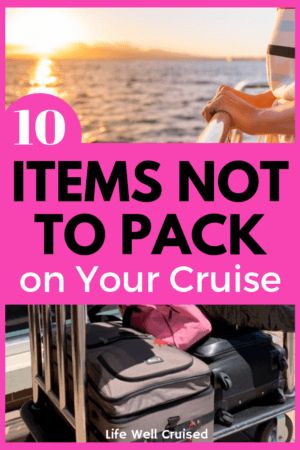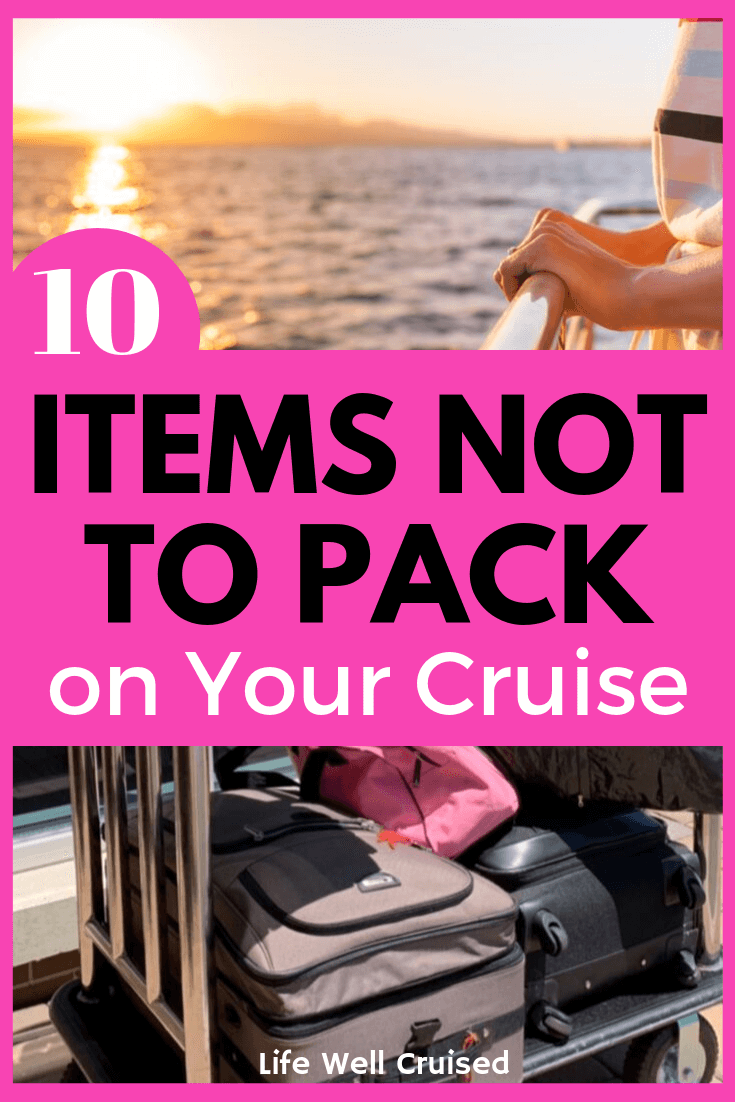 Bonus: Fun "What Not to Bring" Suggestions
When I asked the question, "What did you bring on a past cruise that you really didn't need", on the Life Well Cruised Facebook Page, it got almost 100 comments from past cruisers! Many in the "serious" suggestions above, however there were some that were just too funny not to mention.
What NOT to bring on a cruise: my ex, the in-laws, the kids, too many shoes & too many outfits!
For those that are interested,here is a link: Life Well Cruised Facebook Page
Other items you can't bring on a cruise
Some things that aren't allowed on a cruise include weapons; guns, diving knives, etc. You also won't be able to bring liqueur on board in most cases (although some wine may be permitted). Do check with your cruise line for their current policies.
Now that we got "what NOT to pack for a cruise" settled, these are popular posts that will be helpful as you plan and pack for your cruise:
1. Consider your cruise carry-on bag: 21 Essential Things to Pack in Your Cruise Carry-On
2. Consider your first-aid items: 31 Cruise First Aid Kit Essentials
3. Basic Cruise Packing List: 20 Cruise Packing Tips all Cruisers Need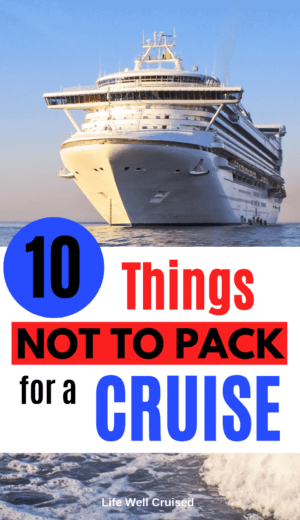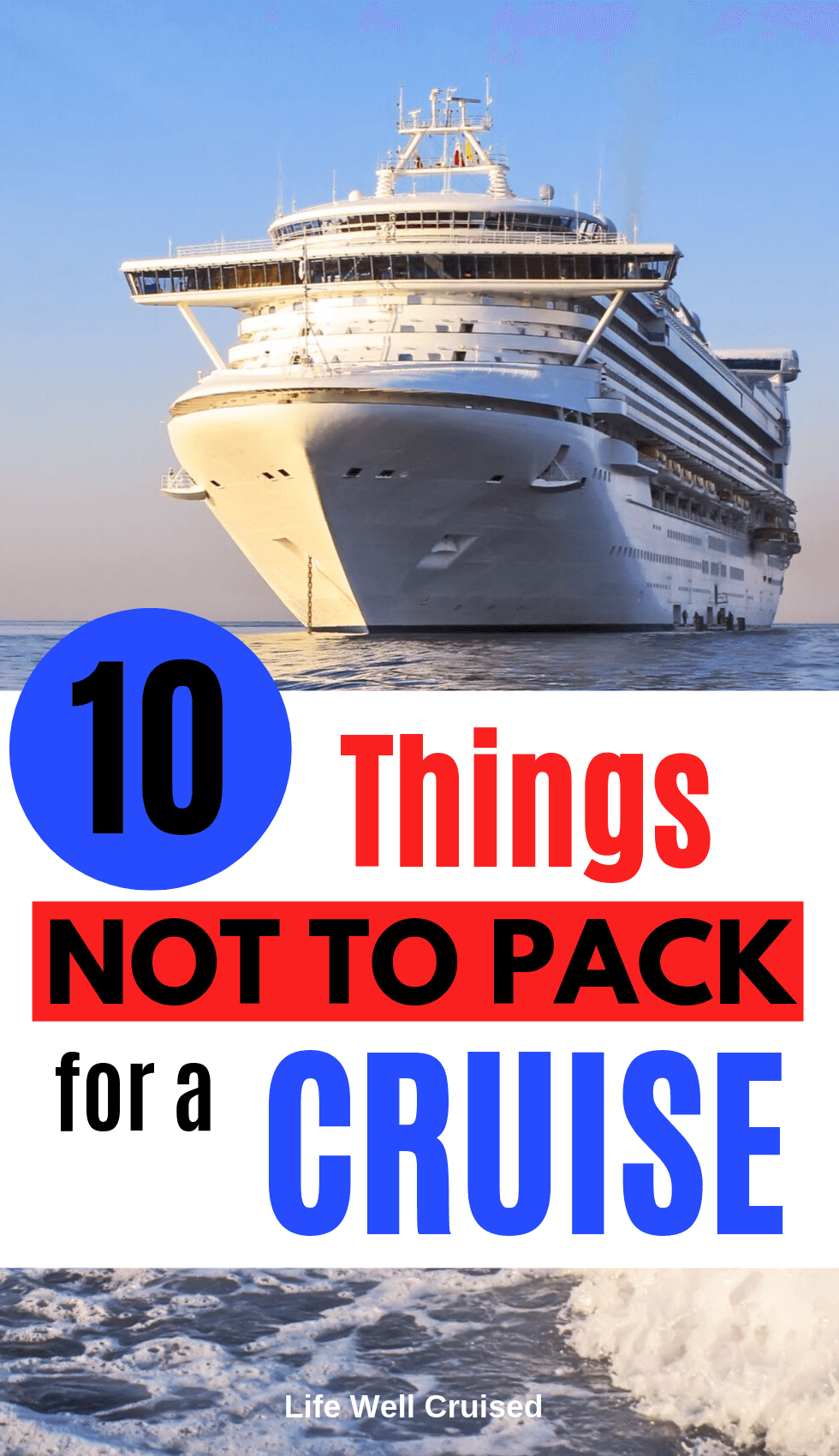 Recap: 10 Things You Don't Need to Bring on a Cruise
In this post we've gone over 10 items you just either can't or don't need to pack on your cruise. Hopefully these tips will give you a good idea of what to expect as you get ready for your cruise vacation.
If you've gone on a cruise, what did you bring, that you realized was unnecessary? Please let me know in the comments below.
Happy Cruising!!
Ilana xoxo
P.S. If you found this helpful, please don't keep it to yourself ;-). Please share on Facebook or PIN to your favorite Pinterest board (share buttons at the top). Thanks so much!
Popular Posts:
30 Cruise Cabin Hacks Every Cruiser Needs to Know
15 Cruise Embarkation Day Tips Straight from the Pros
Let's connect:
Follow me on Facebook at Life Well Cruised
Follow me onYouTube at Life Well Cruised (Vlogs and cruise tips)
Follow me on Pinterest at Life Well Cruised
Follow me on Instagram at Life Well Cruised