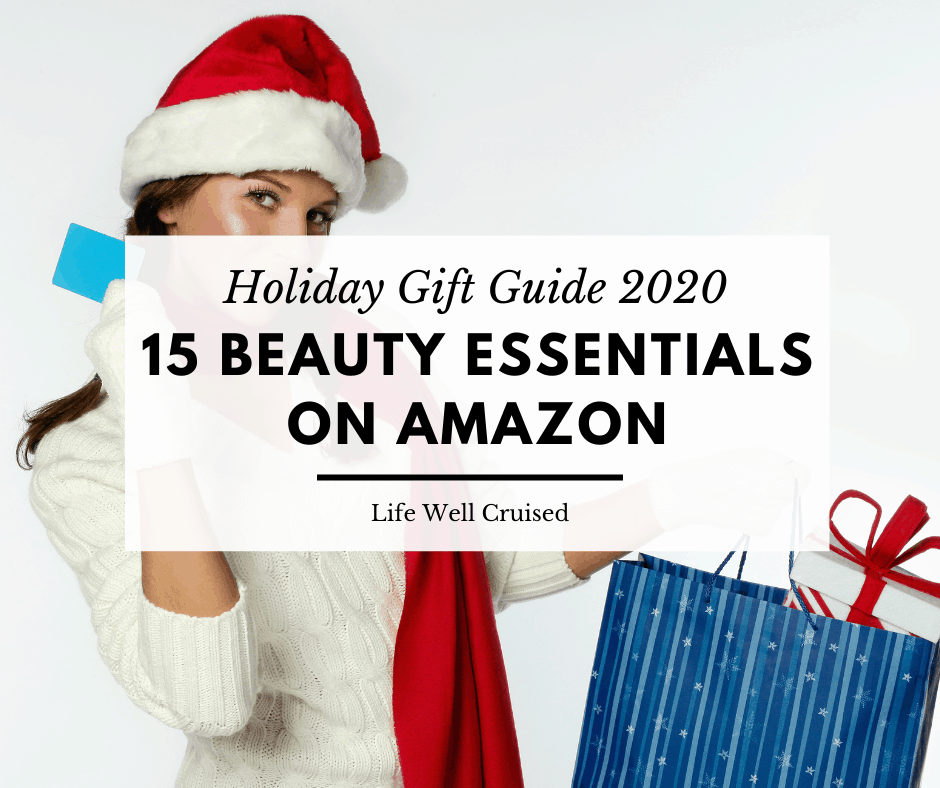 Beauty Essentials to Bring on a Cruise – Amazon Holiday Gift Guide 2020
If you're looking for the best beauty essentials and must-have Amazon items to bring on a cruise, I've put together a list of absolute favorites for 2020-21!
Whether you're shopping for a friend, Mom or sister, or even for yourself, you're bound to find something you love! These items are great for women who love to cruise and travel, however most can all be used and enjoyed at home as well.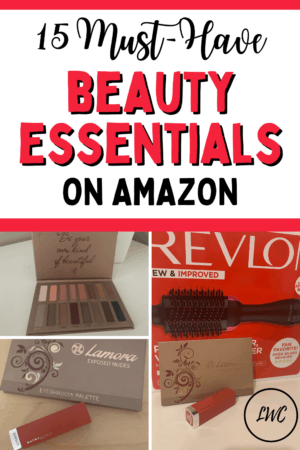 15 Amazon Beauty Essentials for a Cruise Vacation
This post contains affiliate links which means if you click and buy that I may make a commission, at no cost to you. Please see my disclosure policy for details.
Life Well Cruised is a participant in the Amazon Services in the Amazon Services LLC Associates Program, an affiliate program designed to provide a means for sites to earn advertising fees by advertising and linking to Amazon.com.
1. Travel Make-Up Bag
This gorgeous make up bag is perfect for organizing make up to bring on a cruise, and can even be used as a toiletry bag when traveling. I love this blush pink bag, however it's available in several colors.
Recommended: Travel make-up/toiletry bag (see color options here)
2. Revlon One Step Hair Dryer and Volumizer Hot Air Brush
I've recently purchased the Revlon One Step hair dryer blow dry brush to use at home and love it! It's so easy to use with virtually one hand, and it provides smoothness and volume. This is perfectwhen you're getting ready in the evening on a cruise.
The only disadvantage is it's size, especially if you're trying to pack light for your cruise. However, if you know that the cruise cabin blowdryer will never do, the Revlon On Step Dryer Brush is amazing, lightweight and very easy to use.
Recommended: Revlon One Step Hairdryer and Volumizer Brush (check over 100,000 reviews!!)
3. Silk scrunchies
These silk scrunchies feel so much better than regular hair elastics, and actually reduce hair breakage. You can use these during the day on a cruise, as you're in port or hanging out by the pool, or for the gym and even while you sleep. They're available in different sets of colors on Amazon.
Recommended: Silk Scrunchies Hair Ties (see variety/color choice)
4. Travel Refillable Perfume Bottles
This set of 4 refillable perfume bottles are perfect for both at home and when traveling and on a cruise. They're easy to fill and oh so pretty – and even make a great gift!
Recommended: Portable Mini Perfume Bottles (check over 2000 amazing reviews on Amazon)
5. Neutral Shimmer Eyeshadow pallette
I love these neutral eye shadows with a touch of shimmer are perfect for formal night on a cruise. I bought this a couple months ago and LOVE it (and truly it was inepensive).
I actually use these at home now, but can't wait to use them on a cruise to go from daytime glow to dramatic evening all in one set.
Recommended: Neutral Eye Shadow Pallette (16 highly pigmented shades)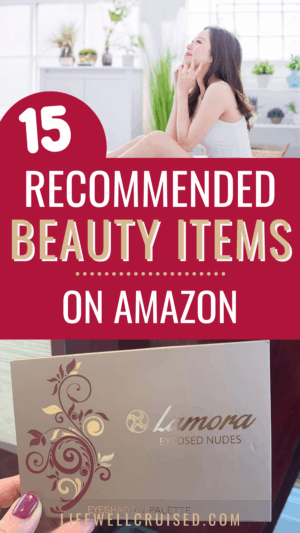 6. Waterproof Mascara
Have gorgeous long and full lashes, even during the day on a cruise. This high quality Lancome waterproof mascara will stay looking fresh even when in the water and when using lotion and sunscreen.
Recommended: Lancome waterproof mascara
7. Anti-frizz Hair Serum
If you're going on a Caribbean cruise, having a good beach spray or hair serum is a must-have beauty item to bring along. This coconut oil has a great smell and will keep your hair hydrated even after a day in the hot sun.
Recommended: Nourishing Coconut Oil Mist (see over 6000 Amazon reviews)
8. Dry Shampoo
There are some days when a good quality dry shampoo is a lifesaver! This is a favorite beauty essential to keep your hair looking and feeling good every day of your cruise vacation.
Recommended: Dry shampoo (check pricing on Amazon here)
9. Glass Nail File
This pretty glass nail file is perfect to go in your make up bag for your cruise. It's so much nicer than the sandpaper type (you know what I mean), and it will last! It's also perfect as a small gift or stocking stuffer for the cruise lover in your life.
Recommended: Glass nail file and case (available in 2 colors)
10. Red lipstick (that matches any skin tone)
They say every woman needs a red lipstick. It looks especially good in photos and in video (which is why I bought it).
I must confess that I only wore natural or neutral lipgloss before I purchased this red lipstick, that's advertised as being tested on almost 50 skintones. To my surprise, I LOVE the color.
Read lipstick can be worn at on cruise formal nights, Christmas, New Year's or even as an an everyday look. It's so pretty, and makes an inexpensive must-have beauty item!
Recommended: Maybelline New York Color Sensational "Red for Me" matte lipstick (see reviews on Amazon)
11. OPI "Red Apple" Nailpolish
As the winter sets in, a great red nail polish instantly makes me feel festive and more put together, even if I'm staying at home ;-).
This red polish from OPI is a classic gorgeous color that looks good on everyone! It's definitely an Amazon must-have for the Holiday season. You could of course, bring it on a cruise as well.
Recommended: OPI Red Apple nail polish
12. Make up removing cloths (reusable)
These microfiber reusable makeup removing cloths are water activated. No make remover lotion or oil required. These are washable and absolutely perfect for cruise travel!
Recommended: Erase Your Face Makeup Removal Cloths (read over 8000 Amazon reviews & check pricing here)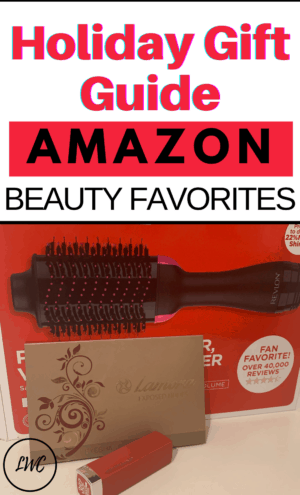 13. Ice Face Roller and Massager
Ice face rollers reduce morning inflammation and puffiness in the face and eyes – which I get on a cruise!
This is actually an item that I first learned about on TikTok (it's a great place to see random great Amazon finds) and have since seen on videos. It's now on my Holiday gift list!
Recommended: Ice roller and face massager ( see over 1000 great reviews on Amazon)
14. Microfiber Absorbent Hair Towel Wrap
This microfiber absorbent hair towel wrap is one of the most popular beauty items sold on Amazon. If you have thick hair especially, it's great to bring on a cruise.
The lightweight towel actually helps your hair to dry faster, as it's so absorbent. This way, you can easily style your hair once the moisture is out. The wrap style is amazing and actually stays put even as you get dressed and put make up on.
Recommended: 2 pack Microfiber towel hair wrap (available in different colors on Amazon)
Beauty Favorites for at Home
15. Silk pillowcases
Silk pillowcases not only feel luxurious, but they help skin and hair to feel and look healthier. Silk pillowcases are known to help reduce friction and even reduce wrinkles and fine lines. If you're experiencing some amount of hair loss, you'll find silk pillowcases to be a great beauty item as well.
Recommended: Natural Mulberry Silk Pillowcase (see Amazon reviews and color and size options)
16. Acrylic Make Up Organizer
The ultimate way to keep make up and skin care items organized on your vanity or on the bathroom counter. This clear acrylic organizer rotates and the shelves can be adjusted. This is an Amazon favorite!
Recommended: Acrylic rotating make up organizer
17. Jade face Roller Massager for Face
Choose from a jade or rose quartz face roller and massager which relaxes muscles and helps reduce fine lines and wrinkles. It can also be put in the fridge for a few minutes and used as a cool roller to reduce inflammation.
This is so beautiful, that it also makes a great gift!
Recommended: Jade or Rose Quartz Face roller and massager (see directions for how to use this)
18. Red LED Therapy Light Beauty Machine
This handheld, wireless red LED light theraphy machine boosts collagen, tightens and firms skin and improves fine wrinkles. This anti-aging therapy is a beauty must-have for any of us concerned about our skin as were getting older.
Recommended: Project EBeauty Red LED Anti-Aging Therapy (see Amazon link for reviews and how to use this product)
Final thoughts: 15 Best Beauty Essentials to Pack for a Cruise (Amazon 2020-21)
In this post I shared 15 recommended Amazon beauty essentials for a cruise and at home. These unique products are great to bring on a cruise, but also make awesome holiday gifts and stocking stuffers for Christmas, or any day of the year!
Have you used any of these products or do you have other beauty items to recommend? Please let me know your Amazon favorites in the comments below.
Ilana xoxo
P.S. If you found this helpful, please don't keep it to yourself ;-). Please share on Facebook or PIN to your favorite Pinterest board (share buttons at the top). Thanks so much!
Packing Guides:
60 Beach Essentials: The Ultimate Beach Vacation Packing List
How to Pack Wrinkle Free for a Cruise
23 Essential Things to Pack in Your Cruise Carry-On Bag
How to Pack Light for a Cruise
Let's connect:
Follow me on Facebook at Life Well Cruised
Follow me on YouTube at Life Well Cruised
Follow me on Pinterest at Life Well Cruised
Follow me on Instagram at Life Well Cruised
Would you like to join my mailing list and keep in touch each week? Please leave your name and email in the sign up box below