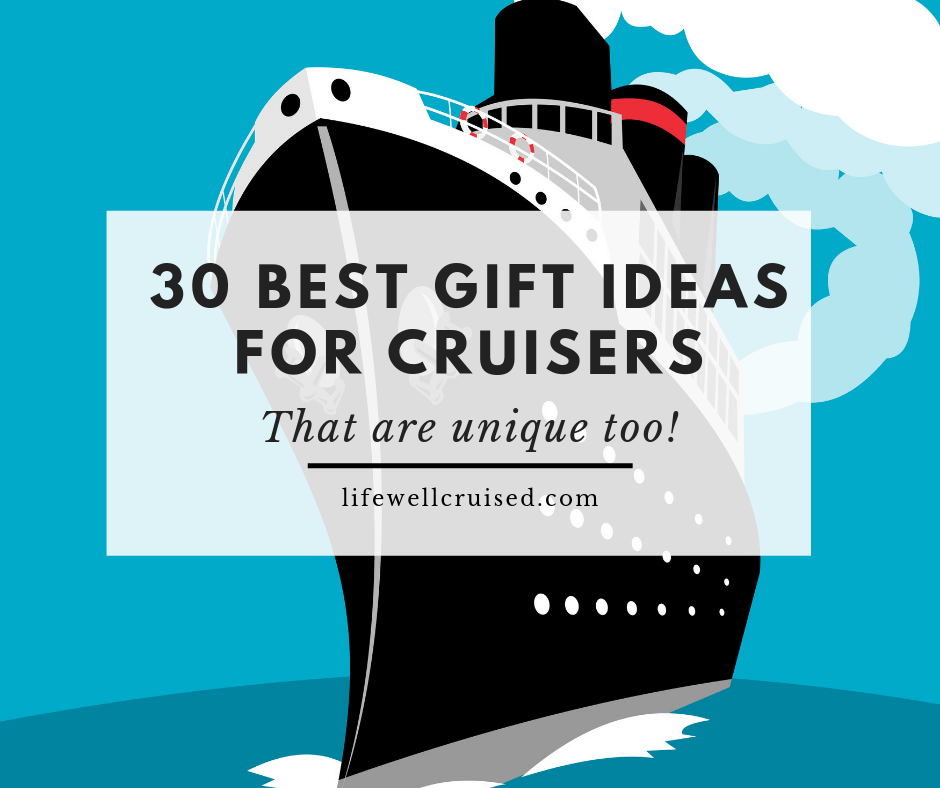 Favorite Cruise Gift Ideas for Cruisers
If you're looking for a unique gift ideas for the cruiser in your life, this list of 30 cruise items includes both fun and practical ideas. Whether on a cruise or at home dreaming of cruising, there's a good chance there will be something perfect on this list.
While this isn't a full list of all the cruise essentials, (which cruisers do need), I'll include links at the end of this post so you can have that information.
This post contains affiliate links which means if you click and buy that I may make a commission, at no cost to you. Please see my disclosure policy for details.
30 Best Cruise Gift Ideas for Frequent Cruisers (and new cruisers too)
This list of cruise items are some popular favorites, as well as some really unique ideas all sold on Amazon.
Cruise Coffee Mugs
When you love cruises and you love coffee, is anything better to remind you of cruising than a cruise themed coffee mug? These are some fun favorites!
1. Cruise thermal mug
Cruise coffee lovers know having a thermal coffee mug on a cruise is wonderful! This one is fun as a stocking stuffer or gift to self ;-).
Recommended: Cruise graphic thermal mug
2. Cruise lover's everyday coffee mug
If you love cruising, you know how accurate this is! It's a perfect mug to help count down the days.
Recommended: Cruise lover's coffee mug
3. Work to cruise mug
Would the cruise addict in your life love this? This cruise themed coffee mug just tells the truth 😉
Recommended: Cruising addiction coffee mug
Cruise Cabin Decorations
If a cruise is coming up, it might be fun to get some unique cabin door decorations, that will really be special!
4. Cruise Ship Banner Cabin Decoration (personalized)
There's nothing like having something personalized to commemorate an amazing cruise. This banner comes in a couple of sizes and will make a memorable souvenir!
Recommended: Customized cruise theme door banner (Amazon)
5. Custom Cabin door decoration (reusable)
These decorations can be reused on future cruises and are so cute!
Tip, when you check out the link, you can actually find a few different styles to personalize the banners even more.
Recommended: Personalized cabin door banners (check different styles here)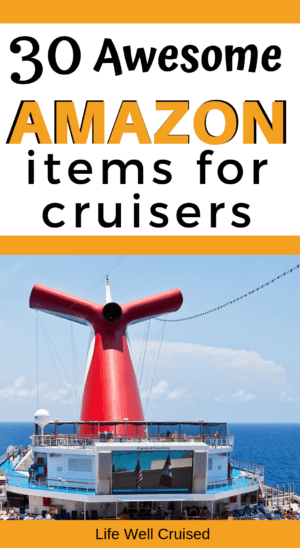 Popular Cruise Cabin Door Decorations
Simple cabin door decorations are used by many cruisers to help their stateroom door stand out among the long cruise ship hall. Do verify that the cruise line allows decorations on cabin doors.
6. Cruise ship porthole sticker
This is easy to apply and peels off, and can be great for any hard core cruiser to use both on the ship and off (home office maybe?)
Recommended: Cruise ship porthole sticker/decal
7. Cruise cabin door decoration set
This set of cruise cabin decorations is very popular and gets great reviews from cruisers.
Recommended: Nautical cruise cabin decorations
8. Drink package cabin door magnet decoration (personalized)
Cruise cabin doors are usually metal, so magnet decorations are perfect! Great for drink package fans!!
Recommended: Drink package magnet decoration (customizable)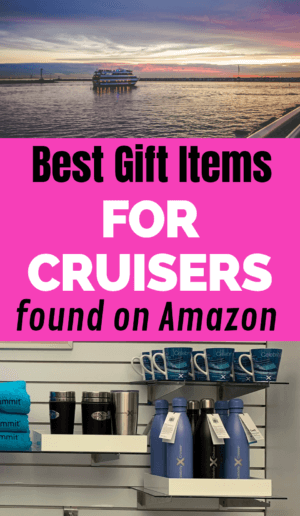 Cruise Clothing – Novelty T-shirts and Hats
9. Cruise "drink package" novelty t-shirts
There are a wide variety of fun cruise t-shirts that can be found.
Tip: Check on Amazon for your favorite styles.
Recommended: "I bought the drink package" t-shirt (choice of sizes and colors available – Amazon)
10. His and Hers Cruise t-shirts
Cruise t-shirts are just fun, and these couple tee sets are adorable!
Recommended: Sail and Anchor shirt set (verify on Amazon for sizing)
11. Cruise Caps
Matching cruise caps are the cutest thing! I can imagine how fun they would be to have on board.
Recommended: Captain and First Mate Cruise Caps
12. Sailor Hats
Sailor hats can be found in different sizes, from adult to child size. Cruise addicts across the seven seas will swoon!
Recommended: Sailor Hats
Cruise Themed Gifts and Jewelry
13. Cruise-ship tie clip
Do you have a man if our life who would love to wear this cruise tie clip? Think about this on formal night.
Recommended: Cruise ship tie clip
14. Cruise Anchor necklace for women
Love this simple and pretty necklace. I'd probably wear it when I'm not even on a cruise , but that's me ;-).
Recommended: Anchor necklace in gold and silver (Amazon)
Cruise Theme Stationary
15. Cruise staff thank-you cards
One of the best things about cruising is the amazing service and pampering by the cruise ship staff. These cruise staff thank you cards come with messages of appreciation printed inside – how thoughtful!
Recommended: Cruise staff thank you cards
16. Cruise Christmas Cards
If you have cruisers in your life, wouldn't they love to receive a Cruise themed Christmas card? Totally fun for all holiday cruisers too!
Recommended: Cruise Christmas Cards
Novelty Cruise items for the Cruise Lover's home
17. Cruise shower curtain
Bring a little cruise home, the selection of cruise and beach theme shower curtains is amazing on this site! Do remember to measure which length you need.
Recommendation: Cruise theme shower curtain
18. Cruise anchor door mat
This cruise themed door mat is a perfect entrance to a cruiser's home.
Recommended: Cruise anchor welcome door mat
19. Fun cruise sign
"What happens on the ship… stays on the ship." What a fun reminder of a great cruise vacation!
Recommended: Fun cruise sign
20. Create cute cruise towel animals at home
This fun cruise novelty item will actually teach you how to create 8 different towel animals, just like on the cruise ships.
Recommended: How to Make a Towel Monkey by Carol Mulanax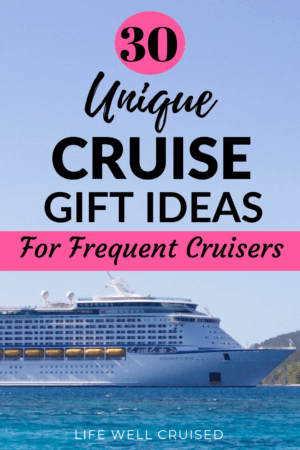 Cruise Planners and Journals
21. The Cruise Planner
Whether it's your first cruise or a special cruise that requires more planning, having a cruise planner where you can gather all your notes and important travel information can be really practical.
This popular cruise planner can make a useful gift for new cruisers.
Recommended: The Cruise Planner by Cathy Rogers (Amazon link)
22. Travel planner and cruise log with a fun twist
This 90 page planner is so fun looking, you might be surprised how thorough it is. It has space to fill in all your travel plans and includes packing lists and more.
Recommended: A Nauti-cal Cruise Log (verify price on Amazon here)
Cruise Books
23. Cruise Confidential
This popular cruise book is a bit of a behind the scenes look at cruise life (and all that really happens), as told by a former crew member.
Recommended: Cruise Confidential by Brian David Bruns
(check reviews here)
Cruise Travel Books
Cruisers may want to have fun, but we also love to travel! If you're looking for a gift for the cruise addict in your life, consider a cruise travel book.
24. Mediterranean Cruise Ports Travel Guide
One of my favorite travel resources is Rick Steves. If you are cruising to the Mediterranean this guide is geared specifically for cruisers who only have 8-10 hours in each cruise port and want to make the most of it.
Recommended: Rick Steves Mediterranean Cruise Ports
If you're a Rick Steve's fan (and taking a Med cruise), I think you'll enjoy this video.
25. Fodor's Alaska Guide
Cruising to Alaska? A guide book with information all in one place can be so handy! If cruising to another destination, check on other Fodor's Travel Guides.
Recommended: The Complete Guide to Alaska Cruises (Fodor's)
Practical and useful gifts for cruisers
26. Cute Towel Clips
These fun towel clips are great to keep towels put on a breezy sea day or at the beach. They make a great little cruise gift and are really something that many cruisers need.

Recommended: Towel clips – variety available (flamingos, margaritas, flip-flops)
27. Cruise Binoculars
Binoculars are a must have on Alaska itineraries, but can come in handy even on Caribbean or Bermuda cruises (think of the dolphin and whale sightings).
Recommended: Quality binoculars for the cruise traveler
28. Selfie Stick and Tripod (with Bluetooth wireless remote)
Cruises offer amazing photo opportunities, from the ship itself, the sea, the destinations – plus great photos and videos of loved ones. This small tripod is an amazing value and is my personal choice.
Before my family went on our last cruise, I bought this selfie stick (which I rarely use for selfies), and I love it! It has helped me to take decent videos and makes taking photos much easier than directly with your phone.
Recommended: Selfie Stick and Tripod with Bluetooth wireless remote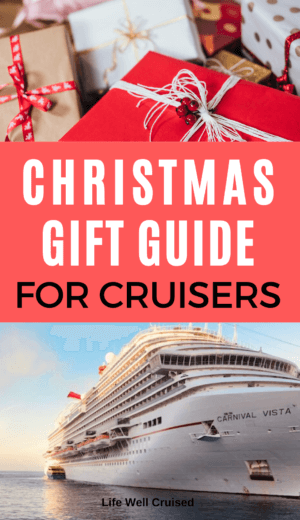 29. Waterproof Dry Bag
This waterproof dry bag is perfect for active cruisers. This best-selling Amazon items comes in a several sizes and colors.
Recommended: Floating waterproof dry bag (verify price on Amazon)
30. Portable lock-box safe – perfect for beach outings
Cruisers often wonder where they can put valuables and identification when on excursions or hanging out on the beach. This item is a cruise traveler's favorite!
Recommended: Portable lock box safe (check reviews on Amazon)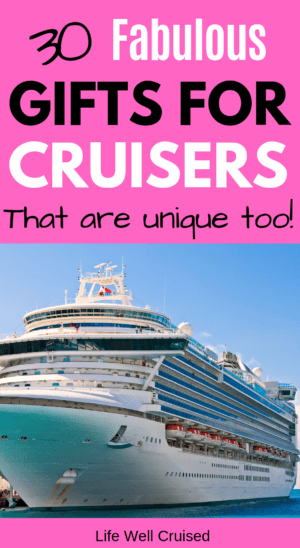 Recap: 30 Best Cruise gift ideas for cruise lovers
We've gone through 30 unique cruise items that make great gifts for frequent cruisers, as well as new cruisers.
From practical items, to fun novelty products, these items are great for anyone who loves to cruise. You may even want to use this guide for your cruise wish list.
Here are the cruise essentials I promised:
25 most recommended Amazon Items to Bring on a cruise
20 Cruise Packing Tips all Cruisers Need
31 Cruise First Aid Kit Essentials (many cruiser's forget)
What items have you used or bought as a gift that you can recommend? Is there something you really love? Let me know in the comments below.
Happy cruising!
Ilana xoxo
P.S. If you found this helpful, please don't keep it to yourself ;-). Please share on Facebook or PIN to your favorite Pinterest board (share buttons at the top). Thanks so much!
Let's connect:
Follow me on Facebook at Life Well Cruised
Follow me onYouTube at Life Well Cruised (Vlogs and cruise tips)
Follow me on Pinterest at Life Well Cruised
Follow me on Instagram at Life Well Cruised