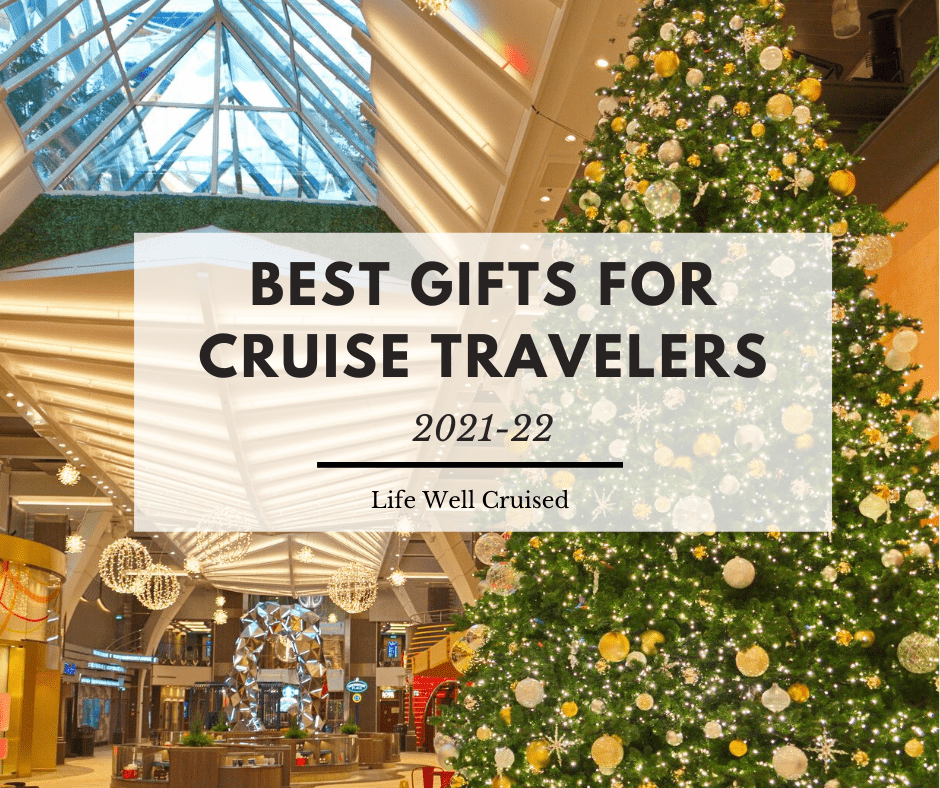 Perfect Cruise Gift Ideas for Cruise Lovers this Holiday Season
If you're looking for unique gift ideas for the cruiser in your life, this list of more than 65 cruise items includes both fun and practical ideas. This cruise travel gift guide will help you find the perfect gift for your cruise loving friends and family.
While nothing beats being on an actual cruise, getting cruise essentials that they can use on their next cruise will be so appreciated!
This cruise gift list includes unique travel gifts that you'll get excited over and be proud to give! Plus, they're all available on Amazon so you can conveniently shop online.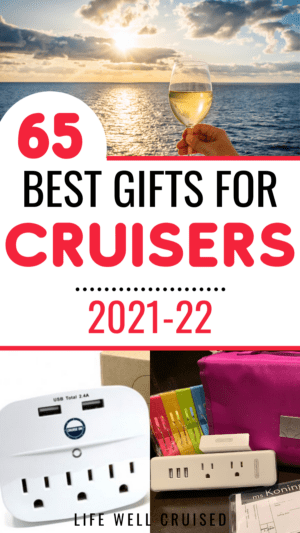 Looking for more cruise gift inspiration?
Check out our other related posts:
50 Most Recommended Amazon Items to Bring on a cruise
17 Cruise Cabin Essentials Every Cruiser Needs
23 Essential Things to Pack in Your Cruise Carry-On Bag
25 Cruise Gift Bag Ideas that Are Fun to Make, Give and Receive
25 Affordable and Cute Cruise Outfits for Ladies
This post contains affiliate links which means if you click and buy that I may make a commission, at no cost to you. Please see my disclosure policy for details.
Life Well Cruised is a participant in the Amazon Services in the Amazon Services LLC Associates Program, an affiliate program designed to provide a means for sites to earn advertising fees by advertising and linking to Amazon.com.
65 Best Cruise Gift Ideas for Cruise Travelers
In this cruise gift guide you'll find popular cruise accessories, travel related items, fun cruise t-shirts, masks and other novelty items. If you have additional suggestions of great gifts for cruisers, please leave me a comment at the bottom of this post.
Amazon Prime
Have you heard of Amazon Prime and wondered about the benefits?
*Free shipping benefits
As an Amazon Prime member, you have access to FREE faster shipping. Often, it's same day and other times it's 2 day shipping.
We've found the fast shipping so practical even for everyday items, especially as we've often tried to avoid going out for just a couple of things.
*Amazon Prime Video Steaming
We've now exhausted Netflix, and have found awesome shows and movies on Prime!
Seriously, during this past year that we've we've really enjoyed The Marvelous Mrs. Maisel (it's SO GOOD!!!!!!), Jack Ryan and more.
I realize there's actually so much more, that I don't even use. I'll be looking into it and updating for you as soon as I can.
If you aren't a member yet, you can get an Amazon Prime free 30 day trial here, and still take advantage of the promos.
*Tip – If you don't want to keep it, as there is a yearly fee, take note of the date you signed up and make sure to cancel before 30 days.
Back to the cruise travel item list, that are favorites any time of year, but especially as we get closer to the holiday season.
Free 30 day Trial Amazon Prime (amazon link)
Best Cruise Accessories for 2022
Some of the most practical and useful gifts are cruise accessories and helpful packing items. These popular essentials are well loved by cruise travelers everywhere!
However, for the cruise traveler who has everything, I've included some unique travel gift ideas as well!
1. Hanging Cabin Organizer
Cruisers swear by the hanging organizer for toiletries and other essentials on a cruise.
Recommended: Hanging cabin organizer (see Amazon link for price & details)
2. Magnetic Cabin Hooks
I personally recommend these magnetic cabin hooks. When we used them in our cabin on our last cruise, they freed up space in the closet (and on chairs). The small hooks are "heavy duty" so they can hold the weight of a backpack or sweatshirt, but also are a good place to store sunhats and hang bathing suits to dry.
Recommended: 6 pack Magnetic Hooks
3. Waterproof Dry Bag
This waterproof dry bag is perfect for active cruisers. This best-selling Amazon items comes in a several sizes and colors.
Recommended: Floating waterproof dry bag (verify price on Amazon)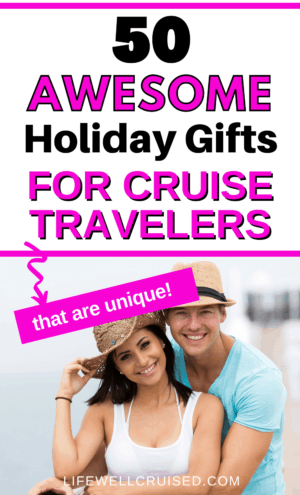 4. Cute Towel Clips
These fun towel clips are great to keep towels put on a breezy sea day or at the beach. They make a great little cruise gift or stocking stuffer for the holidays.

Recommended: Towel clips – variety available (flamingos, margaritas, flip-flops)
5. Towel bands
These lightweight towel bands are easy to pack for your cruise and are great to use both on the ship and on beach shore excursions!
Recommended: Towel Bandits (see different color options & sets available on Amazon here)
Get The Ultimate Cruise Planner
Regular price: $27 Now just $17!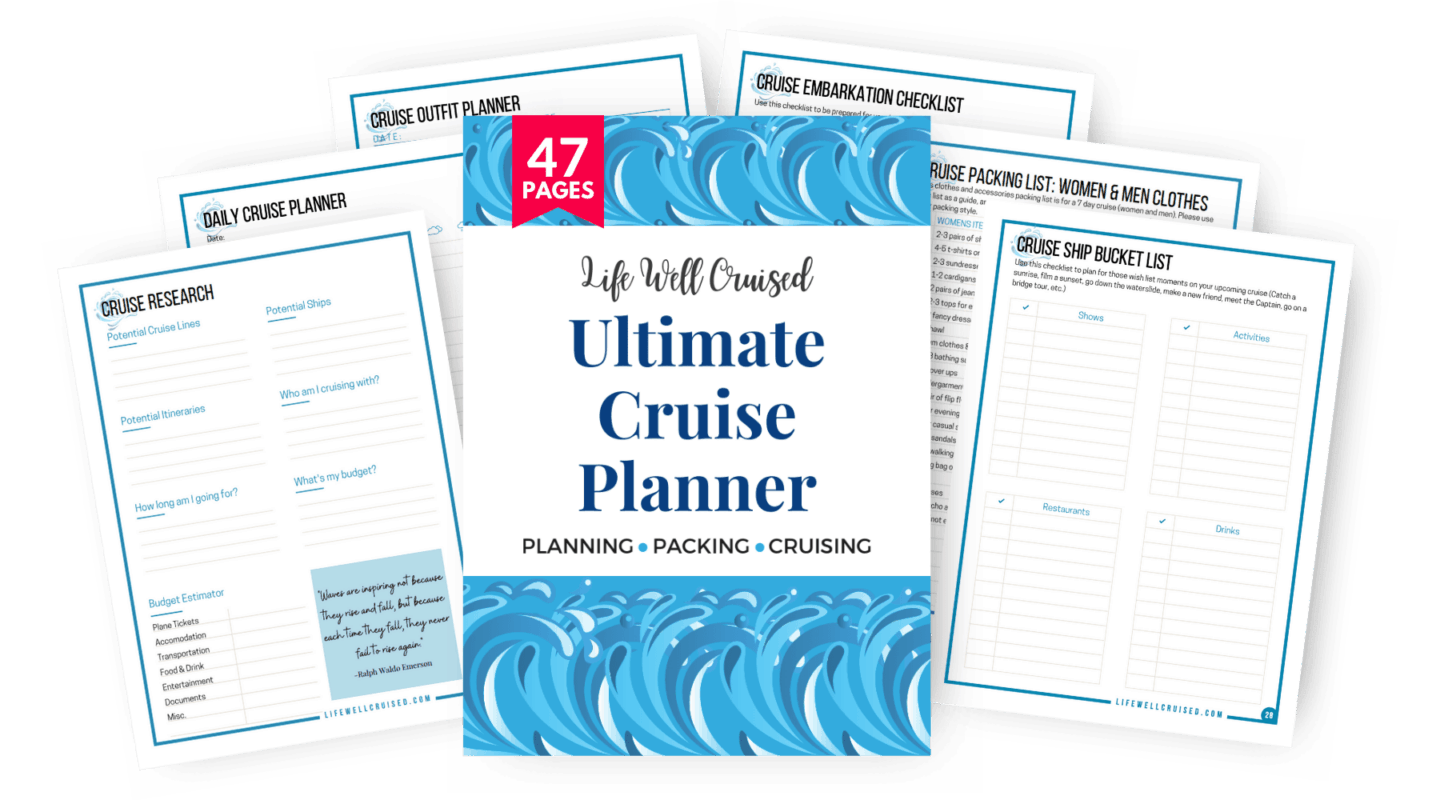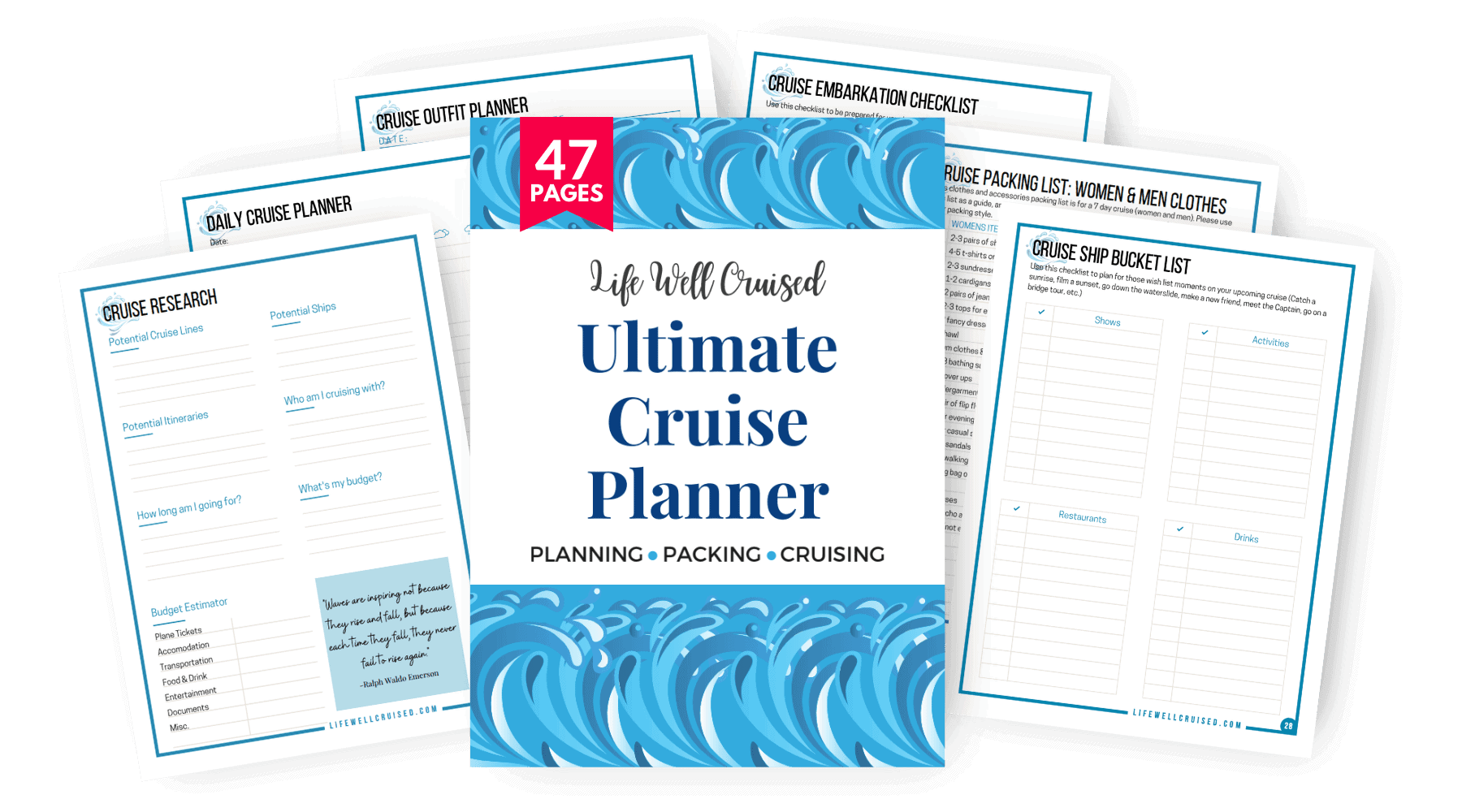 6. Portable Lock-box Safe
Cruisers often wonder where they can put valuables and identification when on excursions or hanging out on the beach. This portable lock box safe is perfect to keep a cell phone, money and other personal items.
Recommended: Portable lock box safe (see colors & reviews on Amazon)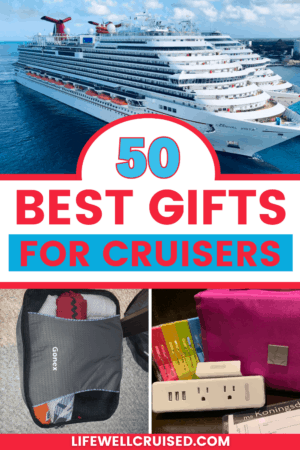 7. Non-surge Protected Power Bar (cruise approved)
If you're looking for a gift for someone going on a cruise, a non-surge protected power bar will be so useful! Cruise ship cabins are notorious for their lack of outlets, and regular power bars are not allowed to brought on board.
Recommended: Cruise power bar – non surge protected (verify current price on Amazon here)
8. Compact cruise power cube (USB & electric plus)
This multi outlet cube is a real space saver and absolute essential for cruising and traveling. In contrast to larger power bars, this "cube" is perfect if you're trying to pack light for a cruise (as it's so small). Yet it still has 3 electric outlets and 3 USB Ports!!
Tip: Cruise lines don't allow power bars from home with extension cords, so make sure to pack one like this which is "cruise approved".
Recommended: Cruise power cube (check price here on Amazon)
9. Poo-Pourri Bathroom Spray
Poo-Pourri is well loved by cruisers and not talked about that often. However, it's definitely one of the most popular cruise items being ordered on Amazon!

Recommended: Poo-Pourri Toilet Spray (verify Amazon price HERE)
10. Cabin Alarm Clock
If you like to know the time during the night or don't want to rely on your cell phone, consider a simple travel battery operated clock. A lot of cruisers swear this is one of their favorite cruise accessories.
Recommended: Digital Travel Alarm Clock (battery powered with a light)
11. Cabin Nightlight
This portable nightlight is so practical and makes a great gift for cruisers. This is especially handy for inside cabins, which will be pitch black when the lights are off.
Recommended: Battery operated nighlight
12. Small Travel Fan
Cruise cabins can get stuffy. This small fan is battery operated, but rechargeable, and gets great reviews on Amazon.
Recommended: Portable Travel Mini Fan
13. Packing Cubes
Packing cubes are fabulous for cruises. Consider getting at least 2 sets with different sizes, and color code to keep better organized.
Recommended: 5 star rated Packing Cubes
Read more: The Pros and Cons of Packing Cubes for Cruise Vacations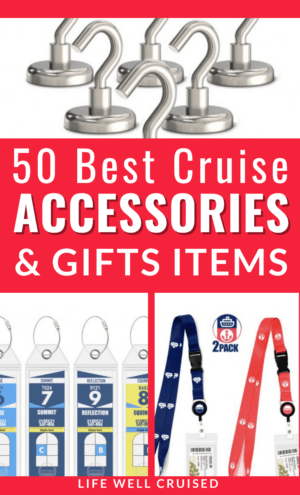 14. Hanging Toiletry Bag
This hanging toiletry bag and organizer makes it so easy to unpack the necessities on a cruise! The see through plastic pouches detach from the velcro backing, which is so convenient and versatile.
Recommended: Hanging toiletry bag (available in 3 colors)
15. Cruise Crew Thank-you Cards
Even if you've never used thank you cards before, this may be the time to say a very big thank you to your favorite crew members!
Recommended: Cruise staff thank you cards
16. Cruise Gift Cards
This cruise gift card is perfect to surprise your loved one with the gift of a cruise!! It says "Oh ship" on the front and "You're going on a cruise!" on the inside.
Recommended: Cruise gift card (see details/what's included here)
17. Seabands
Seabands are very practical to prevent motion sickness during cruises and boat excursions. These are great stocking stuffers or even as part of a cruise themed gift bag or basket.
Recommended: Seabands (see both adult and children's sizes on Amazon)
18. Snorkel Mask Gear
Cruise lovers are often beach and ocean lovers. If you're looking for a great gift this year, consider a good quality snorkel set. It's perfect for beach days or cruise excursions.
Recommended: Snorkel Mask Set (see details & price on Amazon here)
19. Stainless Steel Straws
In an attempt to use less plastic, many cruise lines have eliminated plastic straws on board. Stainless steel drinking straws make a fun and useful holiday gift for cruisers.
Recommended: Stainless Steel Reusable straws (this one has over 3000 5* reviews – Amazon)
20. Refillable (and collapsible) water bottles
The refillable water bottles are perfect for cruising, and safe space as well!I
Recommended: Collapsible 20 ounce water bottles
21. Brita Filtered Water Bottles
These Brita 32 oz refillable water bottles with filters are great to have both on the cruise and on port days. A great gift for cruisers, these bottles are so useful for at home and work as well.
Recommended: Brita refillable water bottles (available in many colors – over 14,000 Amazon reviews)
22. Cruise Luggage Tags
These plastic cruise luggage tags are reusable and save time on each and every cruise. They're available for every cruise line (in wide or long sizes).
Recommended: Plastic Sleeve luggage tags (check for specific cruiseline)
23. Cruise Lanyards
Never use a cruise card with lanyards to hold your cruise card. Great for excursion days and on the cruise ship!
Recommended: Cruise lanyards
24. Waterproof Phone Cases on Lanyard
These waterproof phone cases are amazing to keep your phone and other items dry while at the beach or on excursions. You can even take photos under the water when snorkeling.
Recommended: Universal waterproof phone cases (check models for phone compatibility)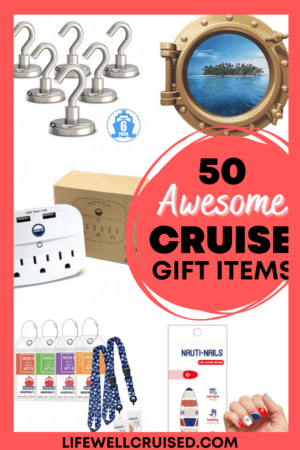 25. Nautical Carry-on Bag
This nautical travel tote bag is great to use as a carry on bag for cruises and flights. Roomy, sturdy and stylish, this carry on bag is an Amazon best seller!
Recommended: Nautical carry-on bag (different style options available)
26. Printable Cruise Planner
The Life Well Cruised Ultimate Cruise Planner is a printable cruise travel planner that makes a great gift! The printable cruise planner includes several different cruise packing lists, checklists, planning forms for hotels, shore excursions and more!
A great idea is to print the pages out as needed and create a cruise travel binder as a holiday gift this year. Tip – print out a few extra shore excursion planning forms for multiple ports of call.

Recommended: Ultimate Cruise Planner (printable planner – see details here $10 off)
27. Swimsuit Cover Up
This crochet style swimsuit cover up is available in while, black and other flattering colors. So pretty!
Recommended: Cupshe swimsuit cover up (see photos & reviews on Amazon here)
28. Cruise Binoculars
Binoculars are a must have on Alaska itineraries, but can come in handy even on Caribbean or Bermuda cruises (think of the dolphin and whale sightings). These compact binoculars are perfect for sightseeing on cruises and so reasonably priced.
Recommended: Quality binoculars for the cruise traveler (see 10,000+ amazon reviews)
29. Garment Bag Luggage with Shoulder Strap
This duffle style garment bag is perfect to carry on your cruise. It fits formal night outfits including a suit, dress shoes and more, and is less bully than traditional garment bags. This garment bag makes a great gift for men and women who love to cruise!
Recommended: Garment bag duffle style luggage (see different colors and reviews)
30. Hanging Travel Toiletry Bag
This hanging toiletry bag is a perfect size to bring your toiletries, make up and other cosmetics on your cruise. A hanging cosmetic bag is so useful, and this one is both attractive and well made. It can also be used everyday at home.
Recommended: Hanging Toiletry Bag (see different color options)
31. Jewelry Organizer Travel Bag
This foldable jewelry travel bag is perfect to organize your jewelry for a cruise. There are places to put your rings, earrings, necklaces and bracelets. This attractive design is a great add on to the cosmetic bag, also by Bagsmart, above.
Recommended: Bagsmart Travel Jewelry Organizer (see details and read almost 3000 5*reviews here)
32. Travel Shoe Bags
This set of 4 travel shoe bags are great for the organized cruiser. They fit women's and men's shoes and are made of waterproof nylon material.
Recommended: Travel shoe bags (over 7000 great Amazon reviews)
33. Aloe Vera Gel
This quality organic vera gel is a best-seller for cruise travelers! It absorbs quickly without a sticky residue, and a must-have on anyone's Caribbean cruise packing list.
Recommended: Seven Minerals Aloe Vera gel (verify price on Amazon here)
34. Travel Luggage Scale
The ultimate practical gift for any traveler, this electronic hanging travel luggage will be well used for years. It makes a great stocking stuffer too!
Recommended: Travel Luggage Scale (battery included)
35. Water Shoes
Going on a Caribbean or Bahamas Cruise? Water shoes are a great gift for everyone in the family! There are different colors, patterns and sizes.
Recommended: Water shoes (see over 80,000 Amazon reviews)
36. Passport Holder with Vaccination Card Protector Slot
It's never been more important to have passports, vaccination cards and other documents together as you board your cruise. This passport case (set of 2) is a combo passport holder and vaccination card protector slot.
Recommended: Passport holder & vaccination card set (verify price on Amazon here)
Cruise Cabin Decorations
Simple cabin door decorations are used by many cruisers to help their stateroom door stand out among the long cruise ship hall. Do verify that the cruise line allows decorations on cabin doors.
37. Cruise Porthole Sticker Decal
is easy to apply and peels off, and can be great for any hard core cruiser to use both on the ship and off. Hmmm…home office or guest room maybe?
Recommended: Cruise ship porthole sticker/decal
38. Cruise Cabin Door Decoration Set
This set of cruise cabin decorations is very popular and gets great reviews from cruisers.
Recommended: Nautical cruise cabin decorations
39. Drink Package Magnet Decoration (personalized)
Cruise cabin doors are usually metal, so magnet decorations are perfect! Great for drink package fans!!
Recommended: Drink package magnet decoration (customizable)
40. Disney Cruise Line Fish Extender
If you're heading on a Disney Cruise, best come prepared with a Disney Fish Extender for your cruise cabin door. The 3 pockets will fit all Disney Fish Extender gifts for kids & adults throughout the fish exchange.
Recommended: Disney Fish Extender Door Decoration (see reviews & details – Amazon)
Read more: Cruise Cabin Door Decorations: The Ultimate Guide for Cruisers
Cruise Novelty Items – cruise t-shirts, coffee mugs, masks and more
Perfect gifts for avid cruisers who want to continue the cruise lifestyle both on and off a cruise ship!
41. Cruise lover's everyday coffee mug
If you love cruising, you know how accurate this is! It's a perfect mug to help count down the days until the next cruise.
Recommended: Cruise lover's coffee mug
42. Work to Cruise Mug
Would the cruise addict in your life love this? This cruise themed coffee mug just tells the truth 😉
Recommended: Cruising addiction coffee mug
43. "We're Going on a Cruise" Puzzle
This cute cruise puzzle is a great way to give someone you love a cruise at any time of year!!
Recommended: Going on a cruise puzzle
44. Cruise "drink package" novelty t-shirts
There are a wide variety of funny cruise t-shirts that can be found.
Tip: Check on Amazon for your favorite styles.
Recommended: "I bought the drink package" t-shirt (choice of sizes and colors available – Amazon)
45. Cruise Caps
Matching cruise caps are the cutest thing! I can imagine how fun they would be to have on board.
Recommended: Captain and First Mate Cruise Caps
46. Sailor Hats
Sailor hats can be found in different sizes, from adult to child size. Cruise addicts across the seven seas will swoon!
Recommended: Sailor Hats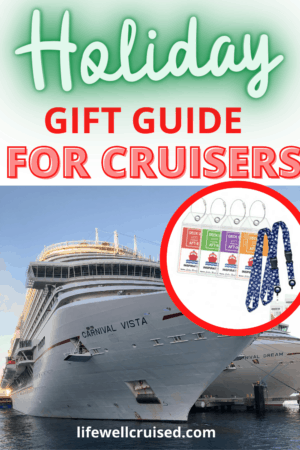 47. Nauti-Nails
If you have a fun cruise lady in your life, check out the nautical nail decorations!
Cruise Themed Gifts and Jewelry
48. Cruise-ship tie clip
Do you have a man if our life who would love to wear this cruise tie clip? This would be perfect for cruise formal night.
Recommended: Cruise ship tie clip
49. Men's Anchor Bracelet
Perfect for the man in your life that enjoys sailing, cruising or simply enjoys the sea. This handsome rope knot bracelet is adjustable to fit to any man's wrist size. I love that the anchor is quality stainless steel, which won't rust or tarnish.
Recommended: Paracord rope anchor bracelet (see details and color options on Amazon)
50. Cruise Anchor Necklace
I love this simple and pretty necklace cruise anchor necklace. I'd probably wear it when I'm not even on a cruise , but that's me ;-).
Recommended: Anchor necklace in gold and silver (Amazon)

Practical Tech Cruise Gifts
If the cruise lover in your life is into nature, photography or tech, these tech travel gadgets will be appreciated on future cruise vacations.
51. Selfie Stick and Tripod (with Bluetooth wireless remote)
Before my family went on our last cruise, I bought this selfie stick tripod and I love it! The fact is, it's just easier to take better photos and videos with the long reaching arm, even if you don't take selfies. It has a bluetooth remote (you don't need wifi).
Recommended: Selfie Stick and Tripod with Bluetooth wireless remote (verify price on Amazon here)
52. Portable Phone Charger
While a power bar is important to have in your cruise cabin, a portable charger or power bank is so practical when traveling to and from the ship, and on excursions. We used this brand on our last cruise to charge two phones at a time! It was awesome and long lasting!
I've updated this link to the latest model, to be compatible with most new phones, but please check for your own.
Recommended: INIU Portable Charger – compatible with most phones (but do verify)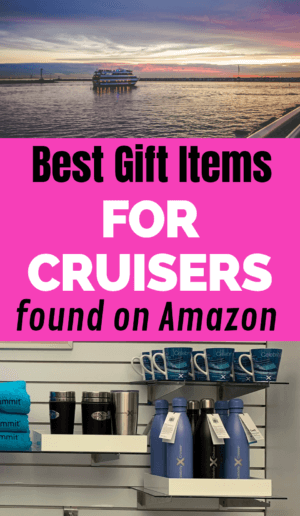 Cruise Items for the Cruise Lover's home
53. Cruise Anchor Door Mat
This cruise themed door mat is a perfect entrance to a cruiser's home.
Recommended: Cruise anchor welcome door mat
54. Fun Cruise Sign
"What happens on the ship… stays on the ship." What a fun reminder of a great cruise vacation!
Recommended: Fun cruise sign
55. Create Cute Cruise Towel Animals at Home
This fun cruise novelty item will actually teach you how to create 8 different towel animals, just like on the cruise ships.
Recommended: How to Make a Towel Monkey by Carol Mulanax
56. Cruise Shower Curtain
Bring a little cruise home, the selection of cruise and beach theme shower curtains is amazing on this site! Do remember to measure which length you need. I love the variety and it's so cute for a guest bathroom!
Recommendation: Cruise theme shower curtain
Cruise Books
Books about cruising are great gifts for anyone planning a cruise, or who enjoys reading both fiction and non fiction cruise books at home or at sea.
57. Cruise Confidential
This popular cruise book is a bit of a behind the scenes look at cruise life (and all that really happens), as told by a former crew member.
Recommended: Cruise Confidential by Brian David Bruns
(check reviews here)
58. Joy of Cruising by Paul C. Thornton
Recommended: The Joy of Cruising (see kindle and paperback versions)
Sign up for an Amazon Kindle Membership to have access to thousands of audio books and ebooks.
I love the idea, especially if you love to read on a cruise, but are trying to pack light and avoid bring lots of heavy books. You can find more information here: Amazon Kindle Membership
59. Cruising Interrupted: the Follow Up to Joy of Cruising
I'm proud to be among some of the great interviews in the book, Cruising Interrupted. What a time for the cruise industry! Author Paul C. Thornton did a great job with this interesting book any cruise lover will be happy to receive!
Recommended: Cruising Interrupted
60. Mediterranean Cruise Ports Travel Guide
One of my favorite travel resources is Rick Steves. If you are cruising to the Mediterranean this guide is geared specifically for cruisers who only have 8-10 hours in each cruise port and want to make the most of it.
Recommended: Rick Steves Mediterranean Cruise Ports
61. Fodor's Alaska Guide
Cruising to Alaska? A guide book with information all in one place can be so handy! If cruising to another destination, check on other Fodor's Travel Guides.
Recommended: The Complete Guide to Alaska Cruises (Fodor's)
Read more: 25 Best Selling Cruise Books – Cruise Travel Guides, Fiction & More!
Get The Ultimate Cruise Planner
Regular price: $27 Now just $17!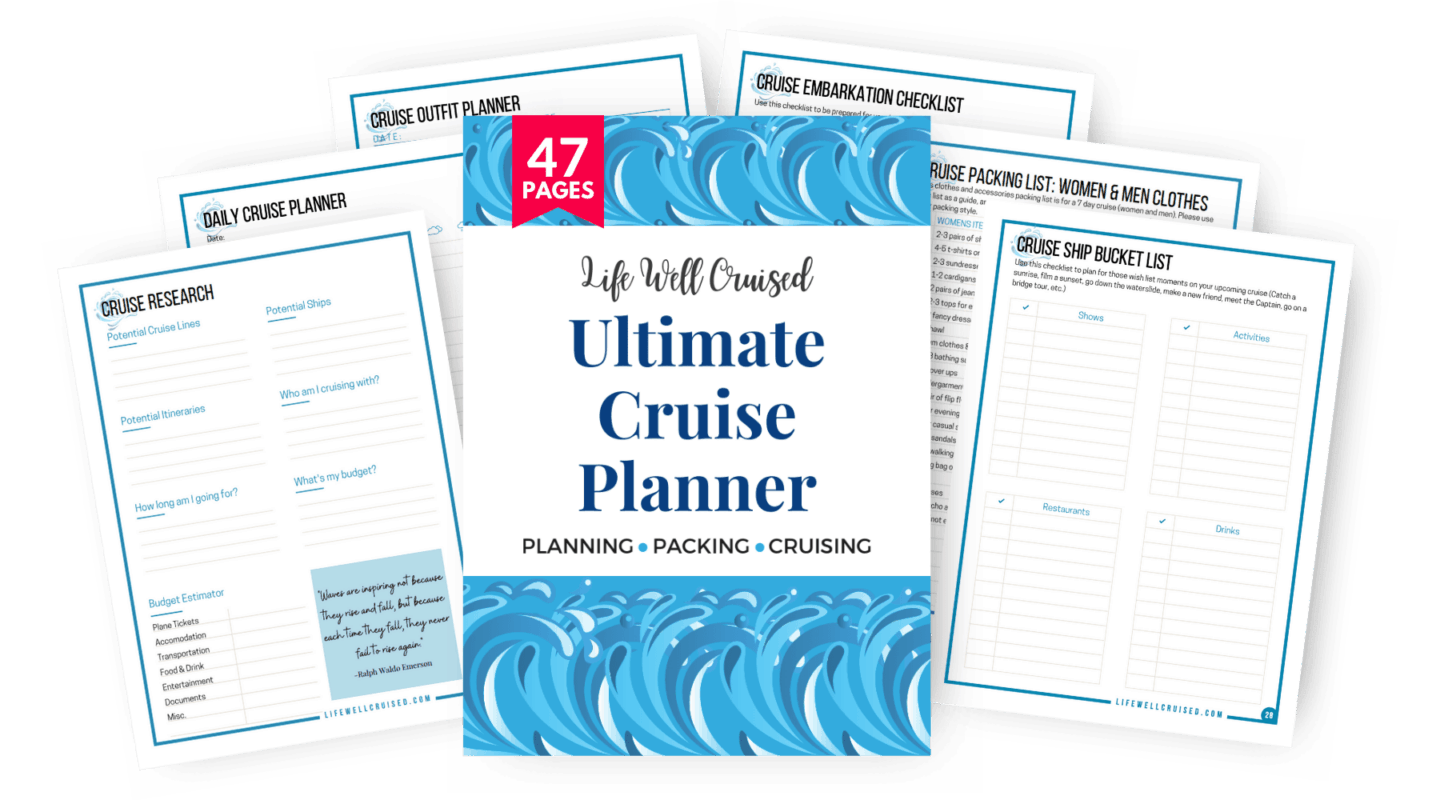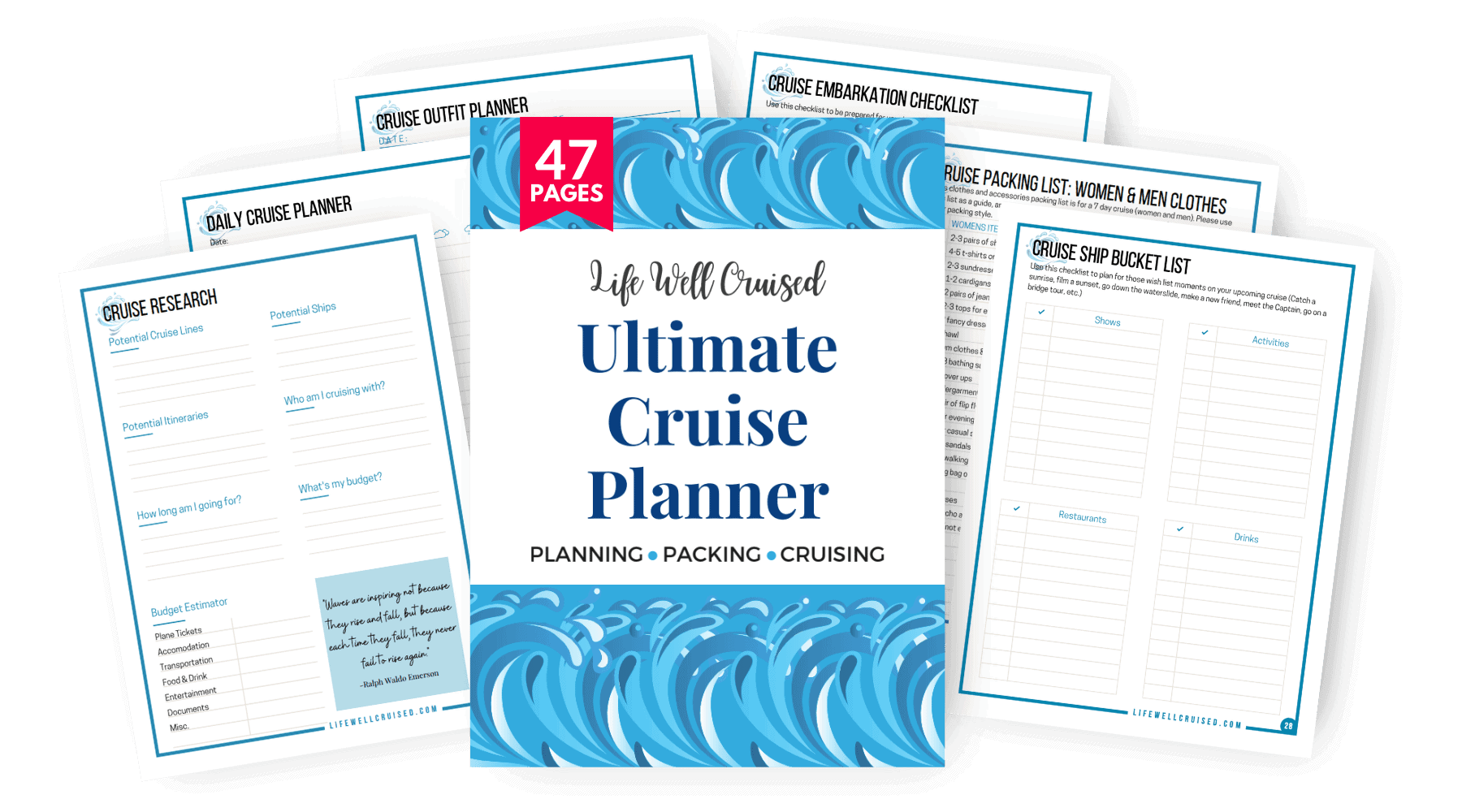 Cruise Theme Christmas Items & Gifts
62. Cruise Christmas Cards
If you have cruisers in your life, wouldn't they love to receive a Cruise themed Christmas card? Totally fun for all holiday cruisers too!
Recommended: Cruise Christmas Cards
63. Christmas Cruiseship Ornament
This old world cruise ship Christmas tree ornament is so nostalgic! It's glass blown and just beautiful.
Recommended: Old World Christmas Cruise Ship Ornament
64. Model Cruise Ship
This is awesome for Royal Caribbean fans and cruise enthusiasts!
Recommended: Cruise Ship Model Royal Caribbean (check Amazon link for more choices)
65. Merry Cruisemas T-shirt
Wishing you a wonderful Christmas and holiday season, whether you're celebrating with on Christmas cruise or at home this year! This cruise theme "Cruisemas" t-shirt is awesome!
Recommended: Merry Cruisemas t-shirt (various sizes and colors on Amazon here)
66. Ginger Candies
Ginger candies are so handy on a cruise as they help with motion sickness, and something cruisers may forget to pack and bring along.
Recommended: Tummydrops Ginger Candies (natural & organic – see reviews here)
67. Microfiber Beach Towel
For cruisers who prefer to bring a lighter towel to the beach and excursions, a large microfiber towel is perfect. It also keeps sand away and dries quickly, which is why this towel is becoming a cruise favorite for 2022.
Recommended: Large Microfiber Towel (quick dry)
68. Family Passport & Document Holder
This RFID passport wallet holder is one of my favorite new items I'm packing for my cruise. It has space for several passports and zippered pockets for documents other items.
Recommended: Family Passport & Document Holder (verify price & see details on Amazon here)
Get The Ultimate Cruise Planner
Regular price: $27 Now just $17!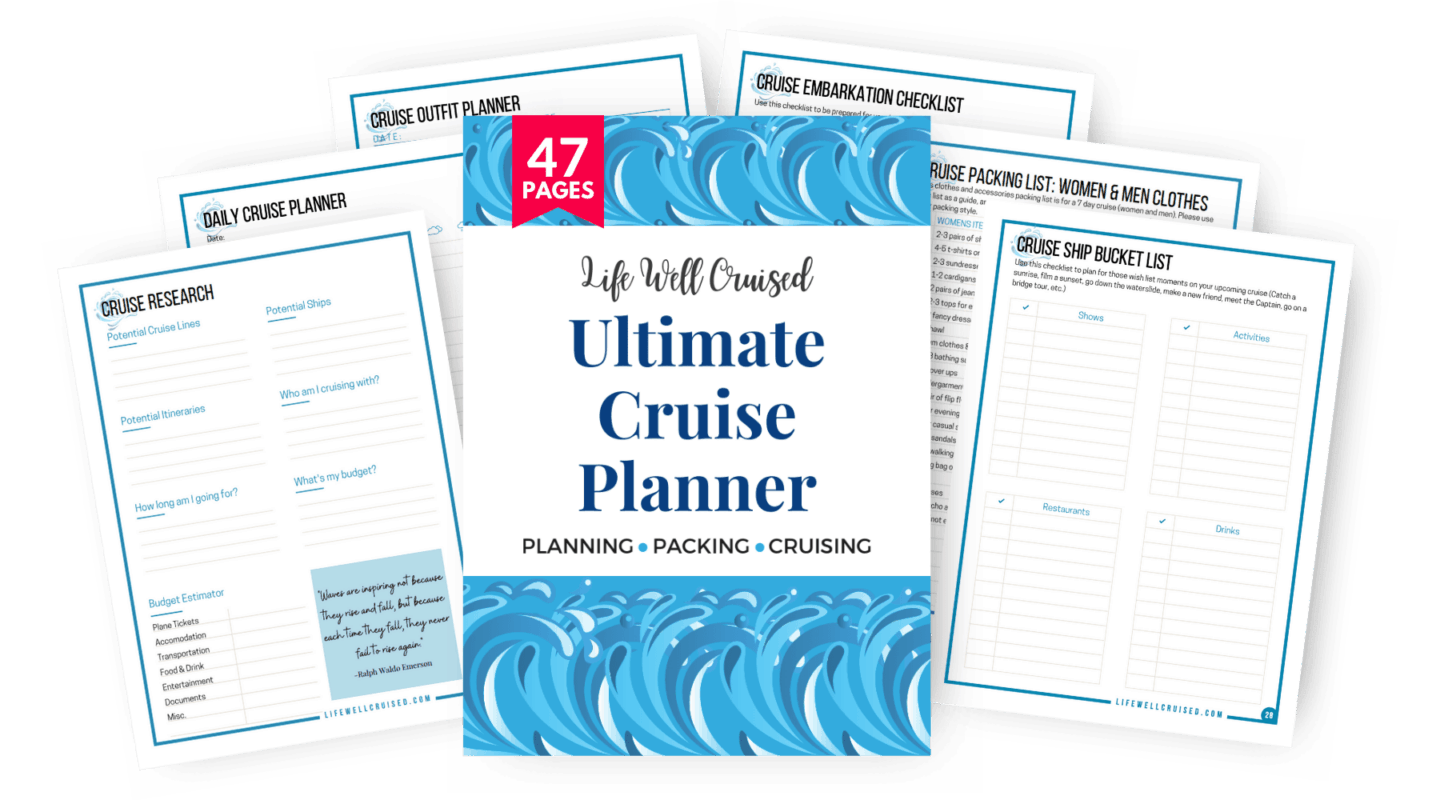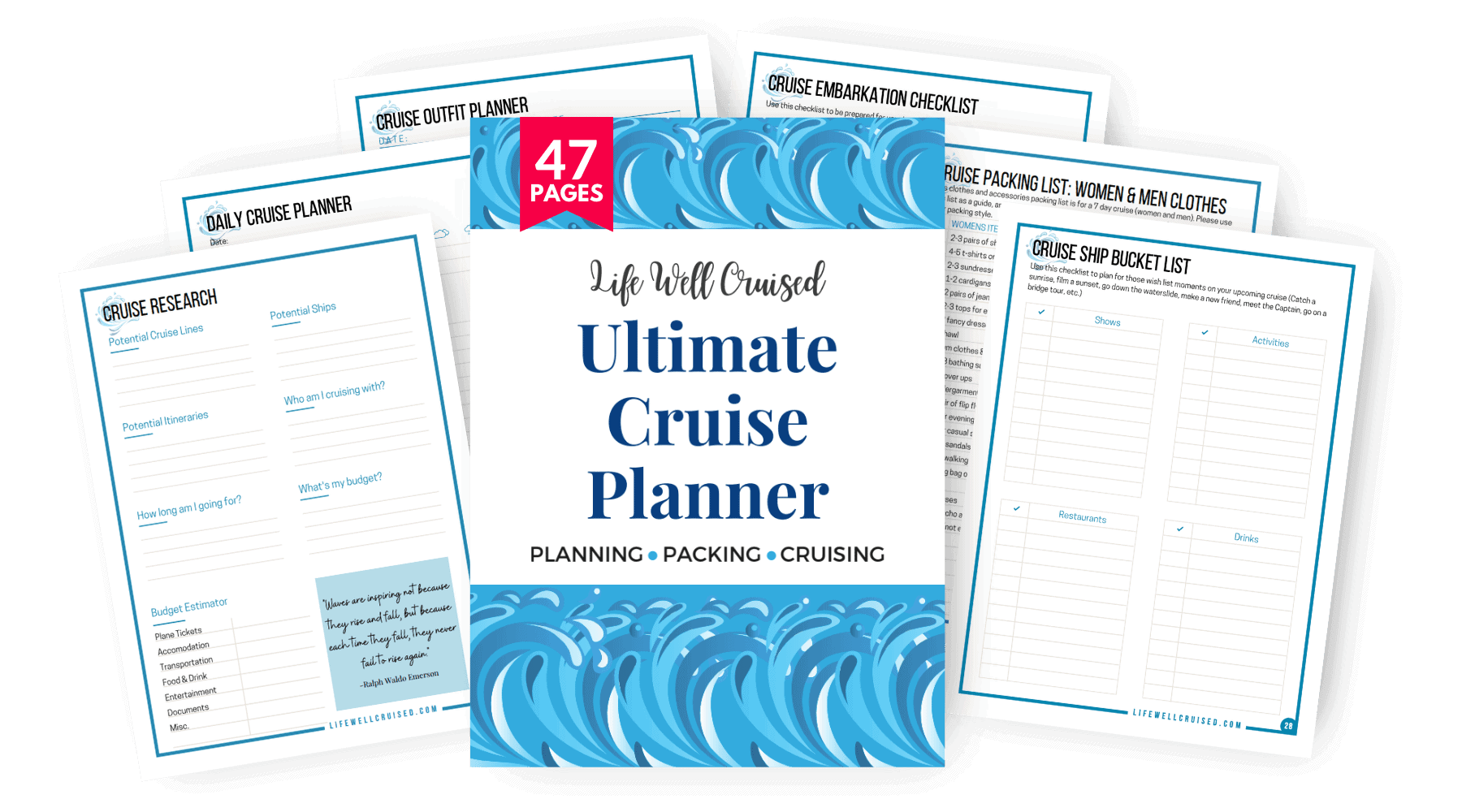 Bonus Cruise Gift Idea
Consider creating a cruise gift bag or basket out of some of the items on this list! It will be useful and anyone going on a cruise will love it!
YouTube Video 20 Best Holiday Gifts for Cruise Lovers
In this new YouTube video, you'll see some of the most popular cruise essentials as well as some new, unique travel items for cruisers.
Recap: 65 Best Cruise Gift Ideas for Cruise Lovers
We've gone through 65 unique cruise items that make great gifts for frequent cruisers, as well as new cruisers.
From practical cruise accessories items, cruise travel gadgets to fun cruise novelty products – these items are awesome for anyone who loves to cruise. You may even want to share this cruise gift guide with others who are shopping for you (hint hint).
If faster shipping would be useful, don't forget to check out the free 30 day Trial Amazon Prime (amazon link)
More Gift Guides & Lists:
25 Best Selling Books About Cruising
Best Travel Gadgets & Tech items to Bring on a Cruise
25 Best Gifts for Women Who love to Travel
13 Things to Bring on a Cruise that Will Save You Money
Plus Size Cruise Wear: Beautiful Cruise Outfits
25 Affordable Cruise Outfits for Ladies
17 Cruise Stateroom Essentials Every Cruiser Needs
What items have you used or bought as a gift that you can recommend? Is there something you really love? Let me know in the comments below.
Happy cruising!
Ilana
P.S. If you found this helpful, please don't keep it to yourself ;-). Please share on Facebook or PIN to your favorite Pinterest board (share buttons at the top). Thanks so much!
Let's connect:
Follow me on Facebook at Life Well Cruised
Follow me on YouTube at Life Well Cruised
Follow me on Pinterest at Life Well Cruised
Follow me on Instagram at Life Well Cruised
Would you like to join my mailing list and keep in touch each week? Please leave your name and email in the sign up box below