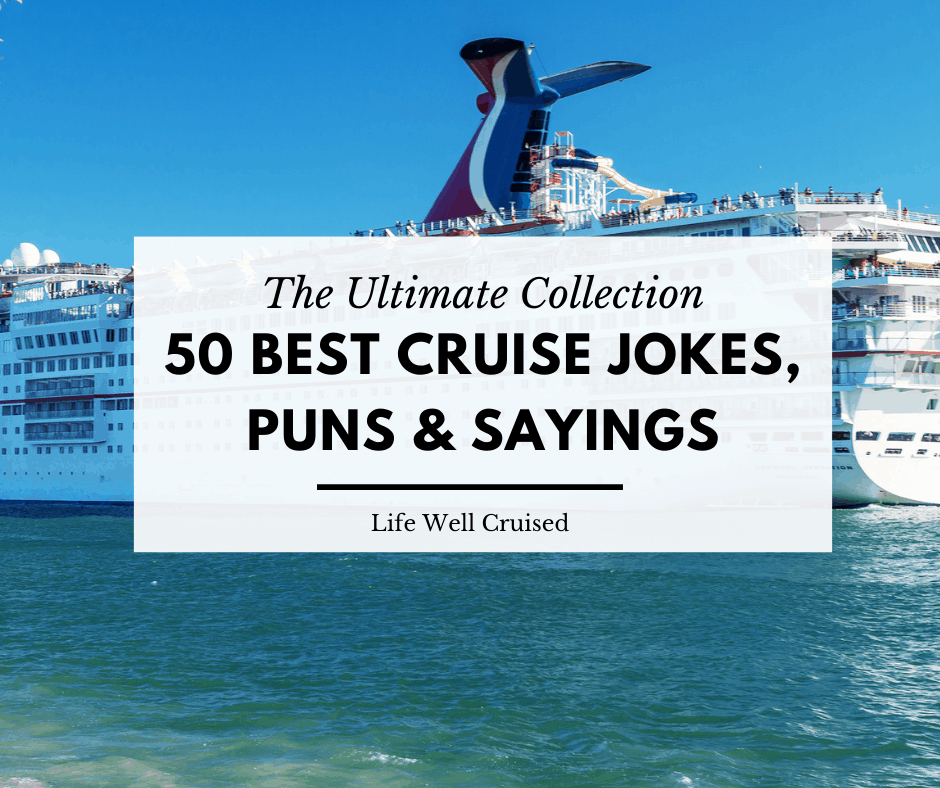 The Ultimate Collection of Cruise Jokes, Puns and One Liners
If you love cruising and can use a laugh or two, read on! This collection of 50 of the best cruise jokes, puns and even some funny things overheard on cruise ships, will surely give you a chuckle.
The cruise puns and sayings can also make great captions on social media, and can even be printed on cruise t-shirts and mugs as you get ready for a future cruise!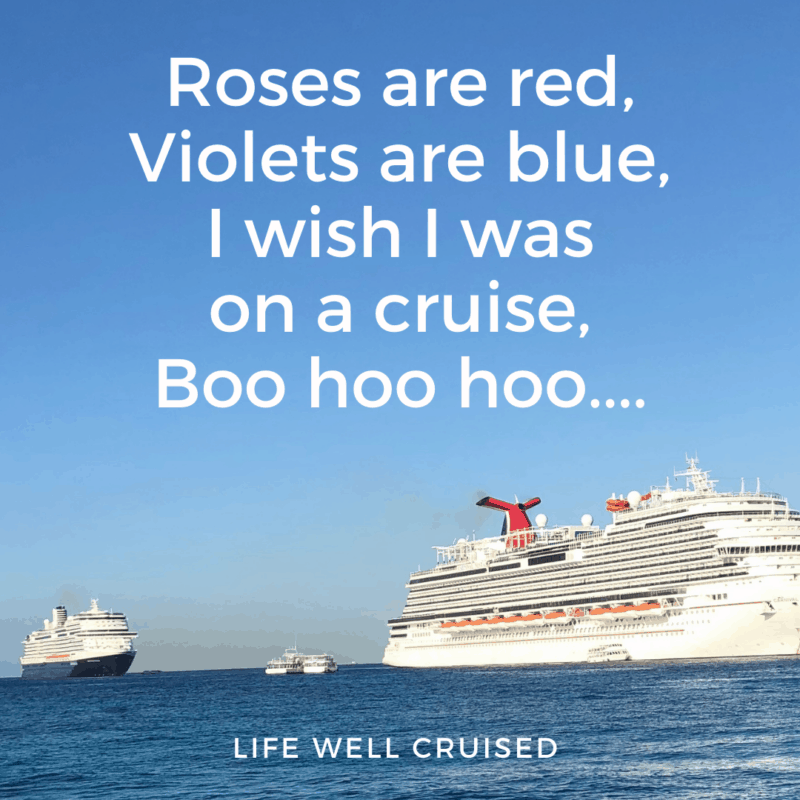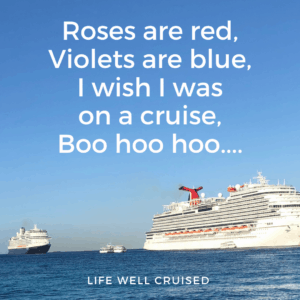 If you love cruise jokes, memes and cruise travel inspiration, you'll love our Life Well Cruised facebook page!
This post contains affiliate links which means if you click and buy that I may make a commission, at no cost to you. Please see my disclosure policy for details.
Life Well Cruised is a participant in the Amazon Services in the Amazon Services LLC Associates Program, an affiliate program designed to provide a means for sites to earn advertising fees by advertising and linking to Amazon.com.
Short cruise jokes
Most of these cruise jokes are family friendly, so you can even teach your children any of them before your next cruise.
1. Ocean waves
What did one ocean say to the other?
Nothing. They just waved.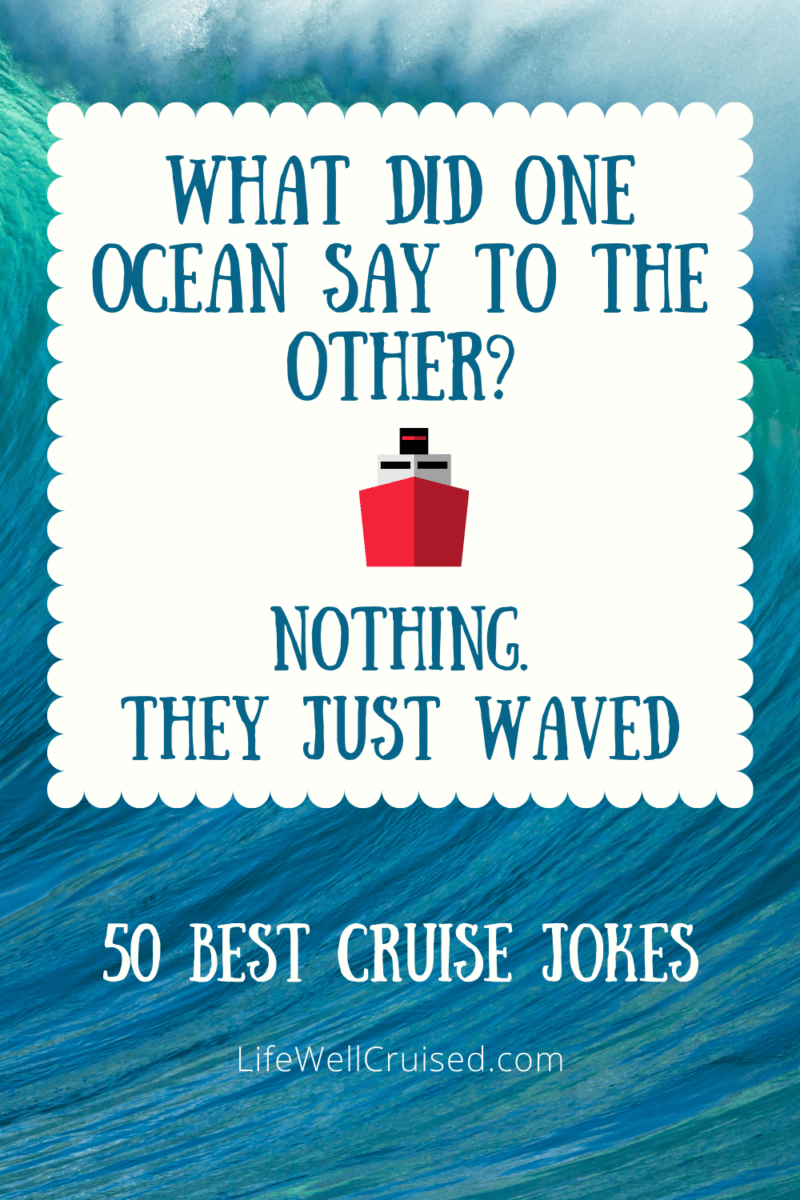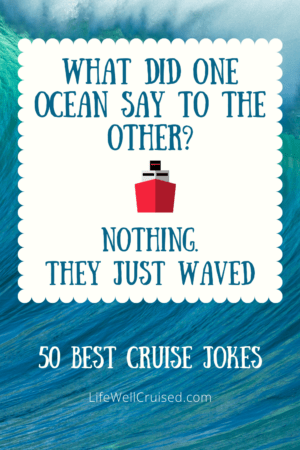 2. Colorful Cruise ship accident
Did you hear about the red cruise ship and the blue cruise ship that crashed into each other at sea?
All the survivors were marooned.
3. Marriage trouble
I bought my wife a ticket to go on a cruise. It's no Titanic, but I'm optimistic.
4. Latest cruise ship trend
Did you hear the latest trend is installing trampolines on cruise ships? Now everyone is jumping on board.
5. Cruise Ship Talk
What do you call an azipod that doesn't work?
A lazypod
6. Nervous new cruiser
A nervous first time cruiser asked the Captain, "Do ships like this sink very often?" No, replied the Captain, "Usually only once."
7. No Leeks allowed
What vegetable isn't allowed on cruise ships?
Leeks
8. Cruise crew joke
What's it like working on a cruise ship?
It has it's up and downs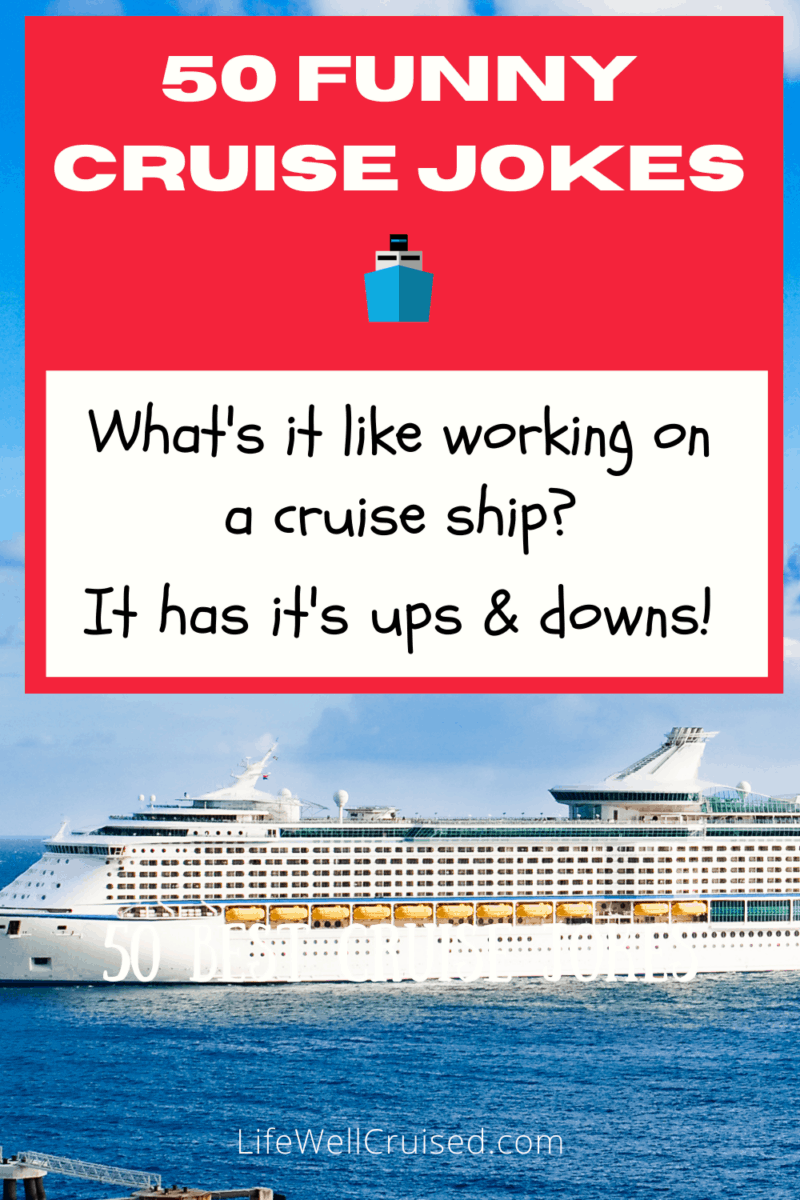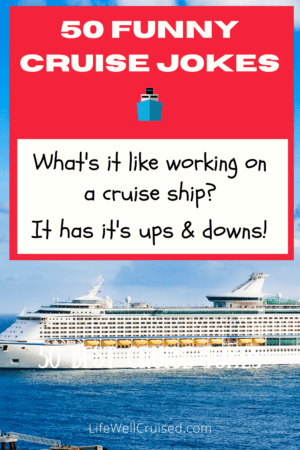 9. Christmas cruise joke
Where does Santa go on vacation?
Santa Cruz
10. Marine life
Why do fish swim in salt water?
Because pepper makes them sneeze
11. Bermuda Triangle
What would you call the Bermuda triangle if it had 4 corners? The Bermuda Wreck-Tangle
12. The friendly sea
How do we know we know the ocean is friendly?
It waves
13. Haunted cruise
What do ghosts eat on a cruise?
I-Scream
14. Mermaids
What does a mermaid use to call her friends?
A shell phone of course!
15. Cruise ship sickness
Where do sick cruise ships go?
The dock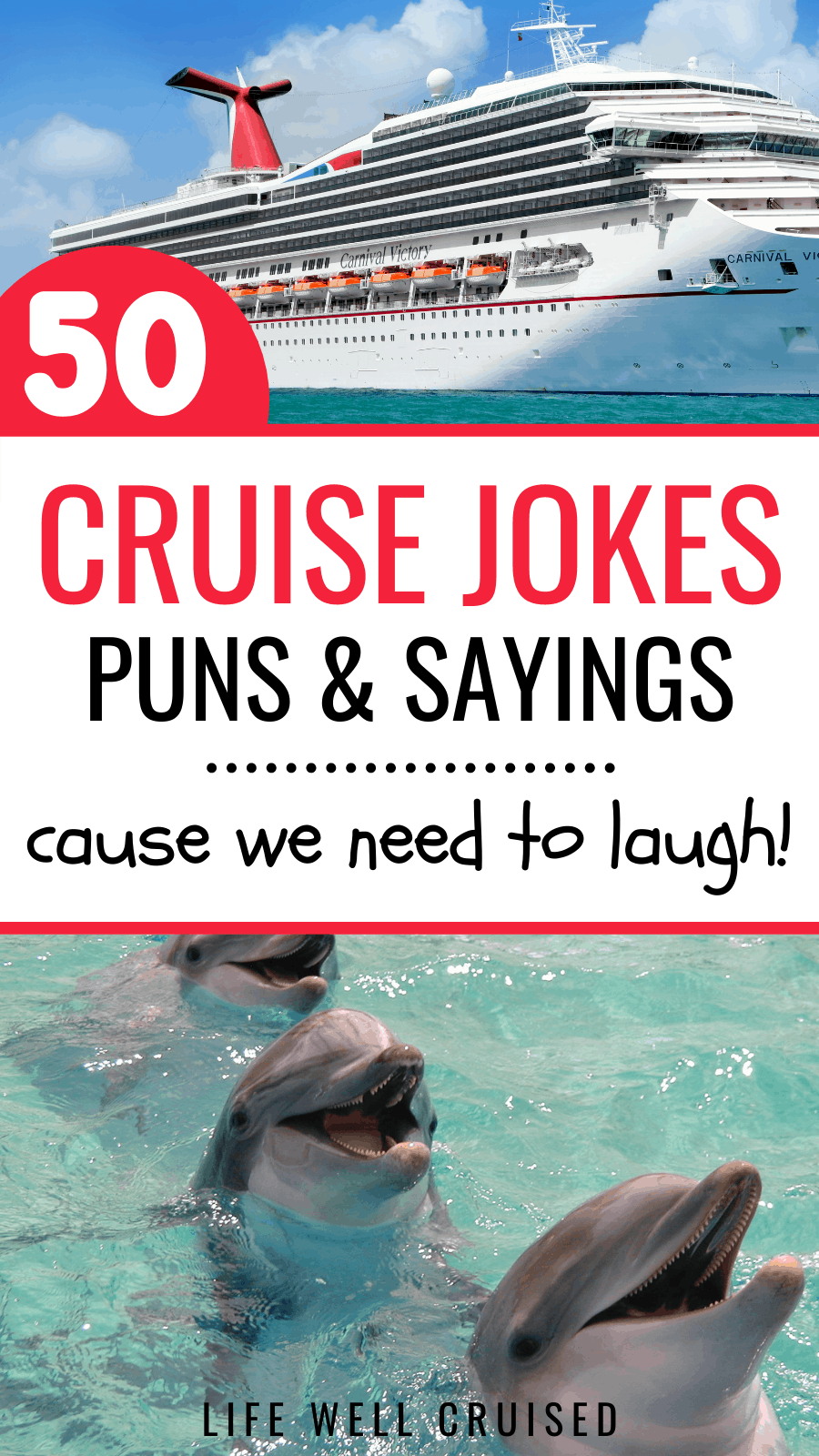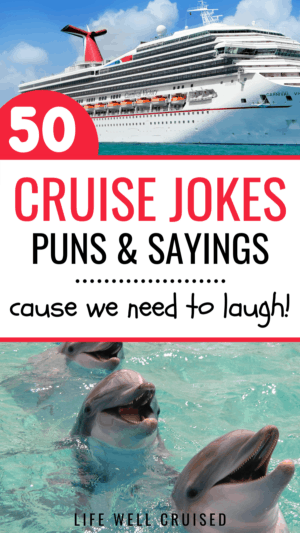 Longer cruise jokes
16. On a cruise ship deck
A man is standing on deck, gazing out at the water. As the ship passes a small remote island, he spots somebody. He squints to make out what he sees – a thin, straggly man with wild looking hair. He watches as the man runs from side to side, jumps up and down and waves his arm.
The cruise passenger turns to the captain and says "What's up with that guy?" The captain shrugs and replies "I don't know, but he's happy to see us every year when we pass!"
17. Sinking cruise ship joke
A cruise ship sinks in the middle of the sea and the cruise passengers manage to escape on life boats. A woman asks the Captain "How far is the closest land?"
"3 miles", he answers. "That's not too bad, in which direction?, she asks.
The Captain replied "Down"
18. Inside cabin problems
A couple called down to guest services, complaining that they were stuck and couldn't get out of their cabin.
"What's the issue?", answered the purser. "There are only 2 doors", replied the woman. "One is the bathroom and the other says Do Not Disturb."
19. A Pirate in a Bar
A pirate walks into a bar with a paper towel on his head. The bartender asks, "Hey, what's with the paper towel?" The pirate says, "Argh, I've got a bounty on my head."
What lies at the bottom of the ocean and twitches? A nervous wreck.
20. Popular cruise comedian joke
The showers in the cruise cabins are so small, I just soap the walls and spin around a few times!
21. Advice from the ocean
Be shore of yourself, come our of your shell, take time to relax and coast, avoid pier pressure, sea life's beauty, don't get tide down, make waves!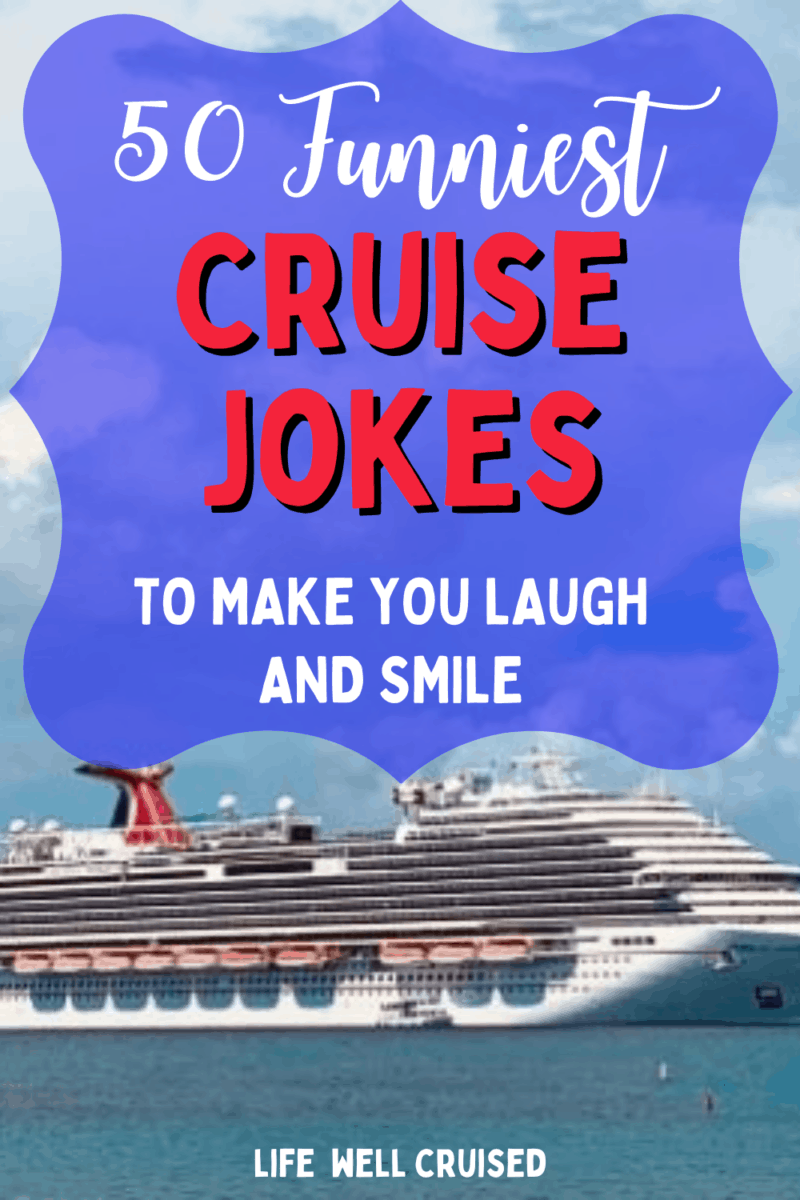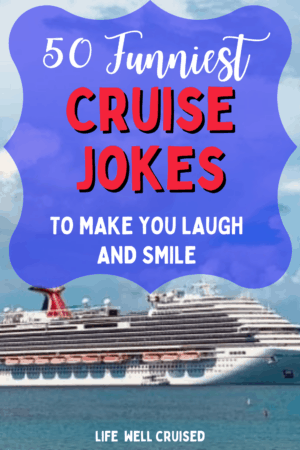 More travel jokes
22. Airplane travel
What kind of chocolate do they sell at the airport?
The plane chocolate.
23. Flight trouble
Why did the librarian get kicked off the plane?
It was overbooked
24. Emotional baggage
I told my suitcase there will be no cruise vacation this year. Now I'm dealing with emotional baggage!
Recommended: 50 Best Gifts for Cruisers 2021 (that are unique & practical)
Funny things overheard on a cruise
Cruise ship crew have been sharing some of the funny things they've heard cruise passengers say over the years. We've also heard a few things that have given us a chuckle as well.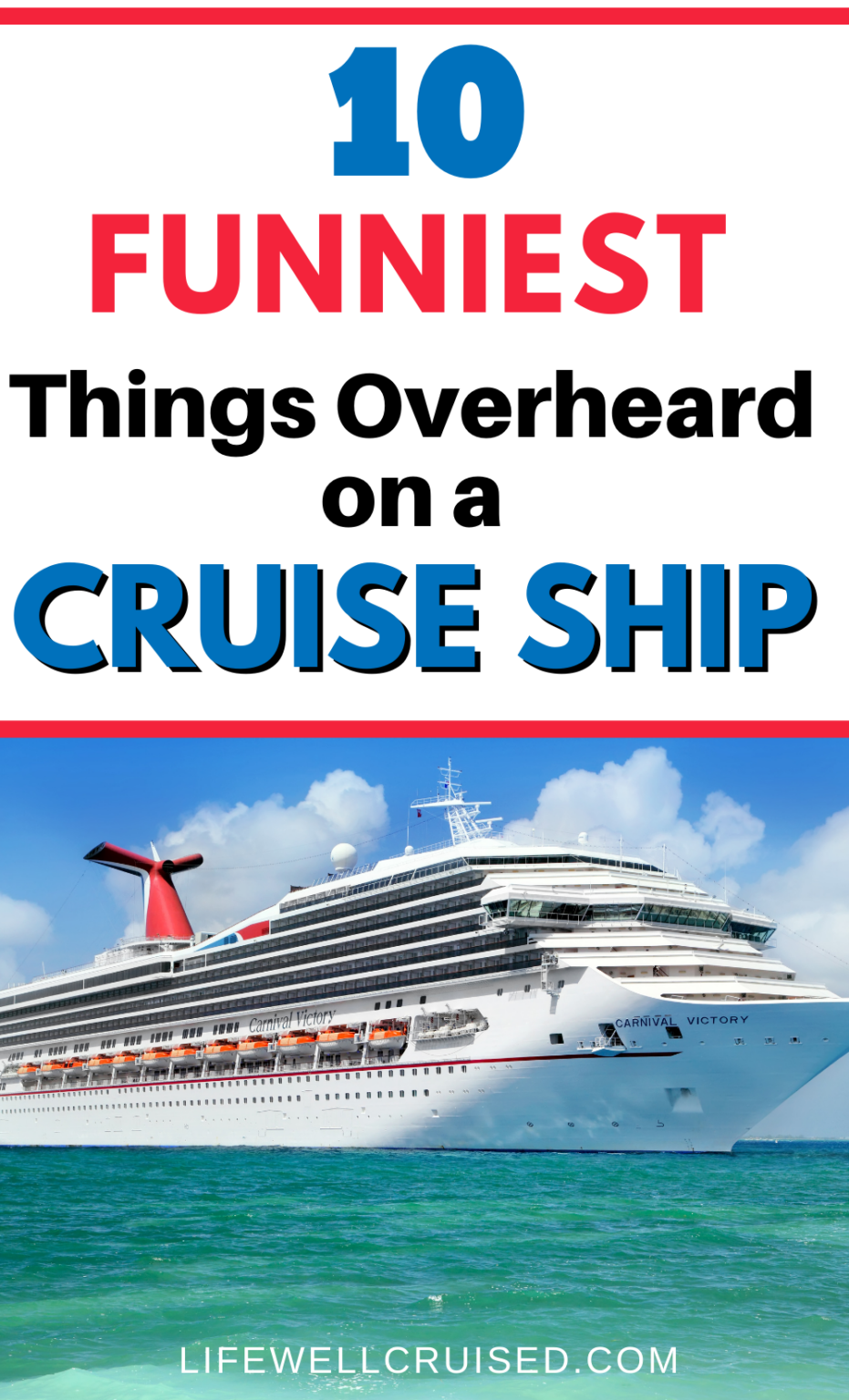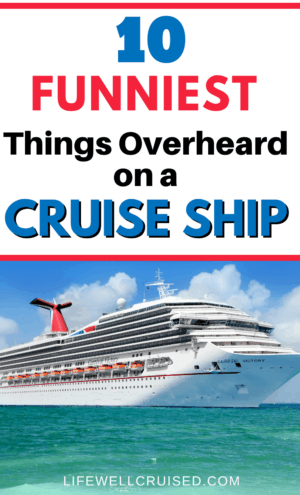 25. What time is the midnight buffet?
26. What happens to the ice sculptures after they melt?
27. To the Captain – "If you're here, who's driving the ship?" (please don't say this)
28. Do these elevators go to the front of the ship?
29. Do the crew sleep on board?
30. Is the ocean salt water?
31. When visiting Rome "I'm surprised the ruins are in such bad shape."
32. How do we know which pictures are ours?
33. How do they get enough water to fill the cruise ship pools while out at sea?
Suggested: 25 Surprising Things You Didn't Know About Cruise Ships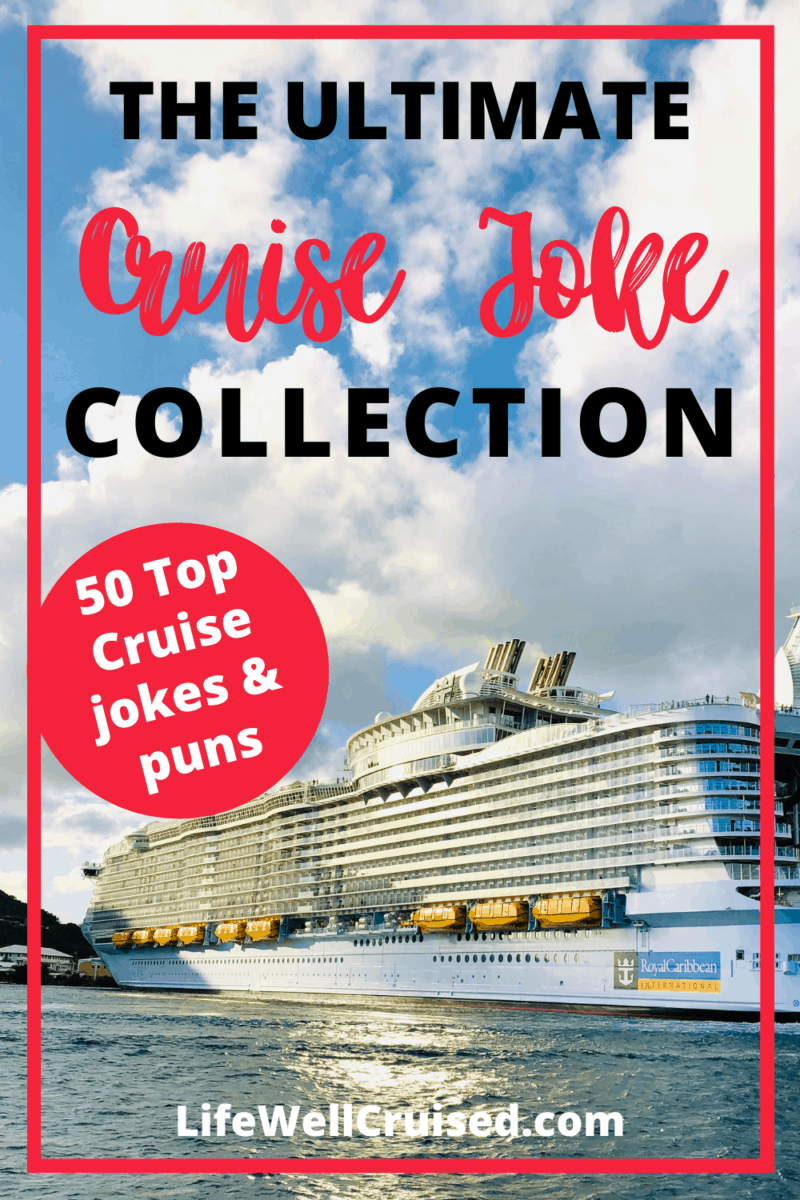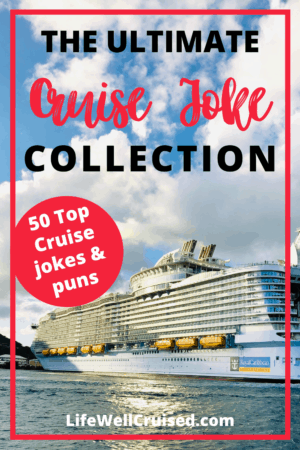 Cruise puns and one liners
34. I'm struggling with jokes today, so you'll have to put up with this one liner
Ok, in all seriousness, a good cruise pun often makes a fun, short and sweet Instagram caption, or can even be used on a personalized cruise t-shirt or mug design.
35. Cruiseitude (n) a grumpy mood from lack of cruising
36. Thallosphile (n.) a person who loves the sea, oceans.
37. Sea you soon
38. What happens on the cruise ship, stays on a cruise ship.
39. I'm on vacation and I don't give a ship
40. Ship happens
41. Feeling a little Nauti
42. Seas the day
43. Sea life's beauty
44. Keep calm and cruise
45. Sorry, I was ship faced
46. Happiness comes in waves
47. Cruise hair, don't care
48. I have no cruise control, It's like they book themselves.
49. I need my vitamin sea
50. Whatever floats your boat
Read next: 25 Inspirational Cruise Quotes for Those Who Love Travel and Sea
Funny Cruise T-shirts, Coffee Mugs and Novelty Items
"Ship Faced" Thermal Coffee Mug
Recommended: Ship Faced Stainless Steel insulated mug (amazon link)
Cruise Mug "I'm just counting the days until my next cruise"
Seriously, this rings true for me every. single. day!
Recommended: Cruise Funny Mug (amazon)
Cruise coffee mug "I don't give a Ship"
Recommended: Funny cruise ship mug
Funny Cruise t-shirt – "Blame it on the drink package"
Recommended: Funny drink package Cruise t-shirt
(see reviews on Amazon)
Final thoughts: 50 Best Cruise Jokes, Puns and Sayings that Will Make You Laugh and Smile
If you love cruising, I hope this post full of cruise jokes and sayings gave you a little pick me up. If you're a bit sentimental, and are missing cruise life these days, check out this popular post full of the best cruise travel quotes.
Another post you might enjoy, if you're a lover of the sea is: 25 Inspirational Ocean Quotes for Those That Love the Sea
Do you have a funny cruise joke, pun or story to share? Please let me know and share in the comments below.
Happy cruising!
Ilana xoxo
P.S. If you've enjoyed this post, please don't keep it to yourself ;-). Please share it with a friend on Facebook or save for later on Pinterest. Thanks so much!
Popular and related posts:
50 Best Gifts for Cruisers 2021 (that are unique & practical)
25 most recommended Amazon Items to Bring on a cruise
50 Inspirational Beach Quotes for Those that Love the Sea
Let's connect:
Follow me on YouTube at Life Well Cruised
Follow me on Facebook at Life Well Cruised
Follow me on Pinterest at Life Well Cruised
Follow me on Instagram at Life Well Cruised