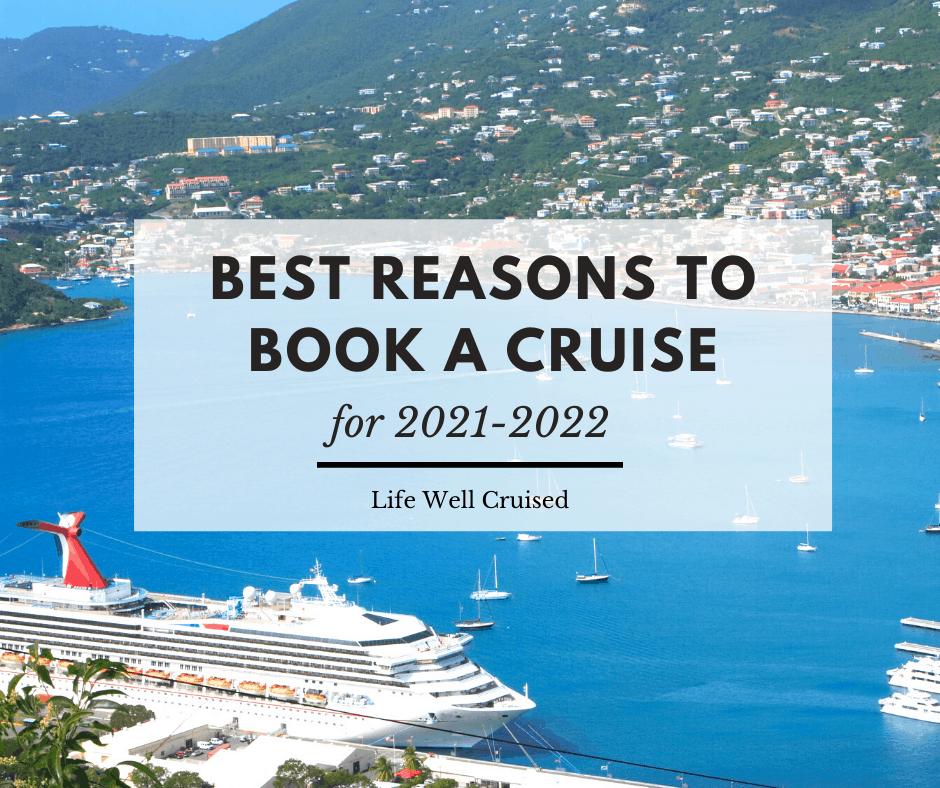 After not being able to cruise for about 18 months, there is definitely demand for cruise vacations in 2021, 2022 and beyond. While the cruise restart hasn't all been smooth sailing, it's gone well for all the major cruise lines. Cruise passengers who've sailed recently report being happy with both the safety on cruise ships and the overall cruise experience.
So, you might be wondering if now is a good time to book a cruise for 2021 or 2022, if you haven't done so already.
In this post, I share 11 reasons why it's smart to book a cruise now for later in 2021, 2022 or even into 2023. Plus, I share 3 important tips and things to watch out for, to avoid potential mistakes.
Why Book a Cruise for 2021 and 2022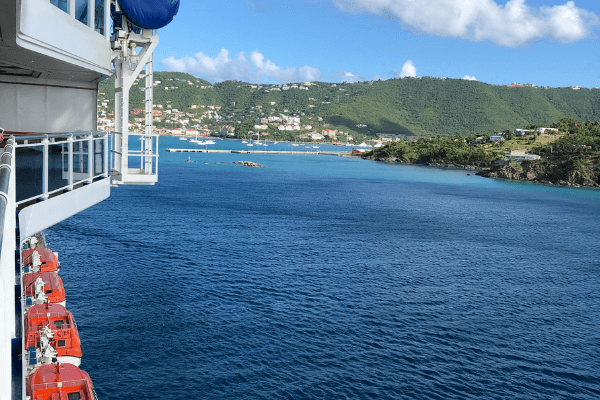 1. There are Great Deals
After about a year of fairly high prices on cruises due to pent up demand and limited ships sailing, we're finally seeing lower cruise fares, promotions and some genuinely good deals.
There are some amazing deals for the remainder of 2021, so if you feel comfortable, this can be a great time to book. While I've seen some steals on Carnival, which tends to have lower pricing overall, other cruise lines are also offering some good discounts.
Cruise lines such as Royal Caribbean, Norwegian, Princess Cruises and Celebrity all have a variety of promotions that are very attractive!I n fact, if you're reading this now and have a cruise booked for 2021 or 2022, check your pricing and ask for a refare it is has lowered since you booked.
2. Uncrowded Cruise Ships
Cruise ships still have limited capacity and are sailing at about 50-75% full. This is a great opportunity to sail with less crowds and have access to all the cruise ship activities without having to wait in long lines. It's quieter in the main dining rooms and restaurants. Many who've cruised have said it feels like a big, luxurious private yacht right now!
You won't even have to deal with any annoying passengers who hog chairs by the pool and save rows of seats at the theatre. This sounds perfect to me.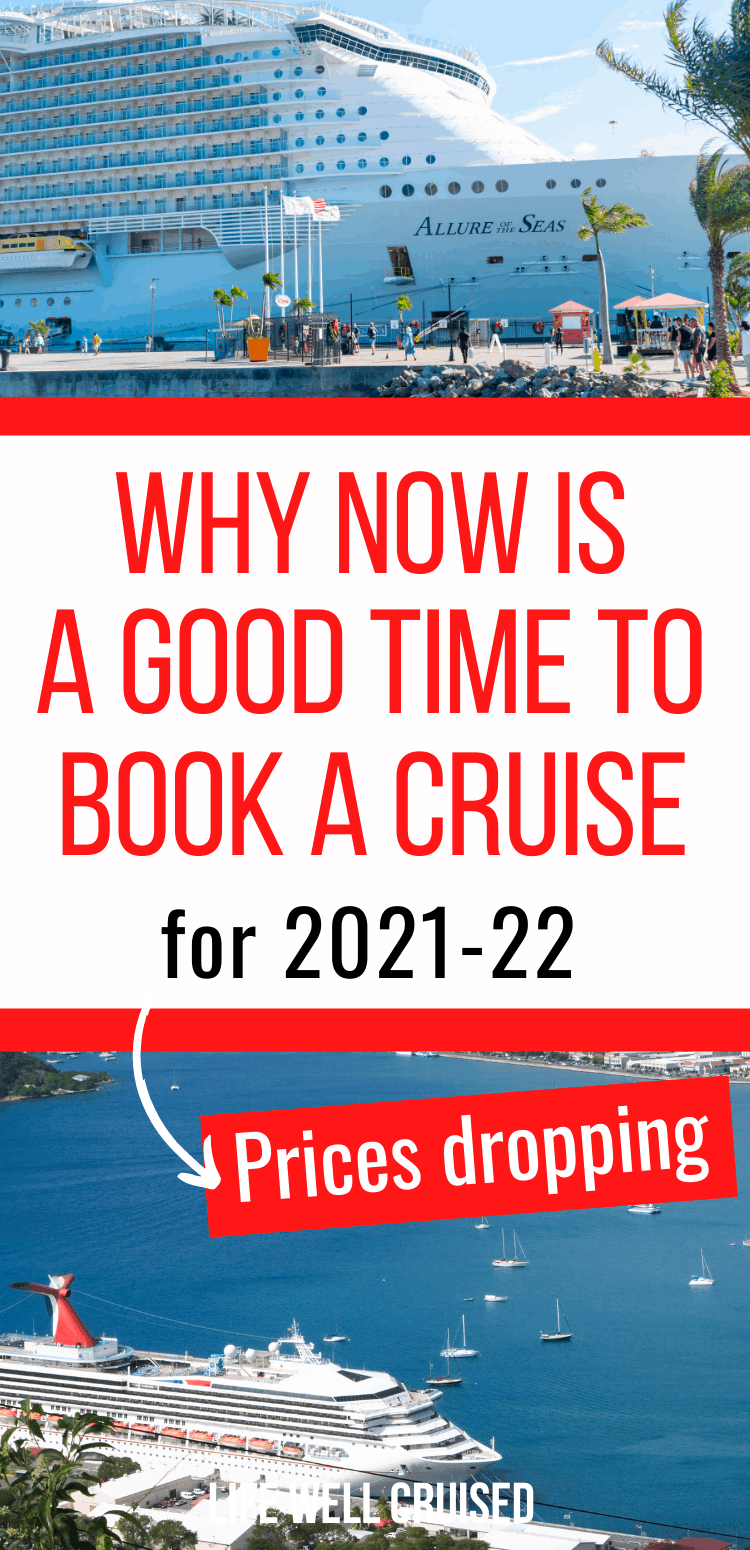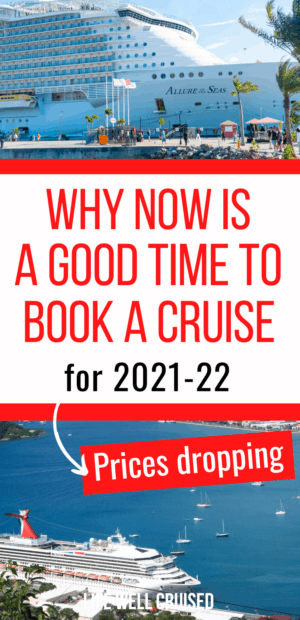 3. Vaccinated Passengers
At this point, due to CDC rules and cruise line protocols, almost everyone on most cruise ships are vaccinated. While some people aren't happy with this, it seems the majority of cruisers feel safer and more confident being on an all vaccinated cruise.
For the exact protocols and to know the vaccine requirements per cruise line, please check each cruise line's website for the most current information.
Get The Ultimate Cruise Planner
Regular price: $27 Now just $17!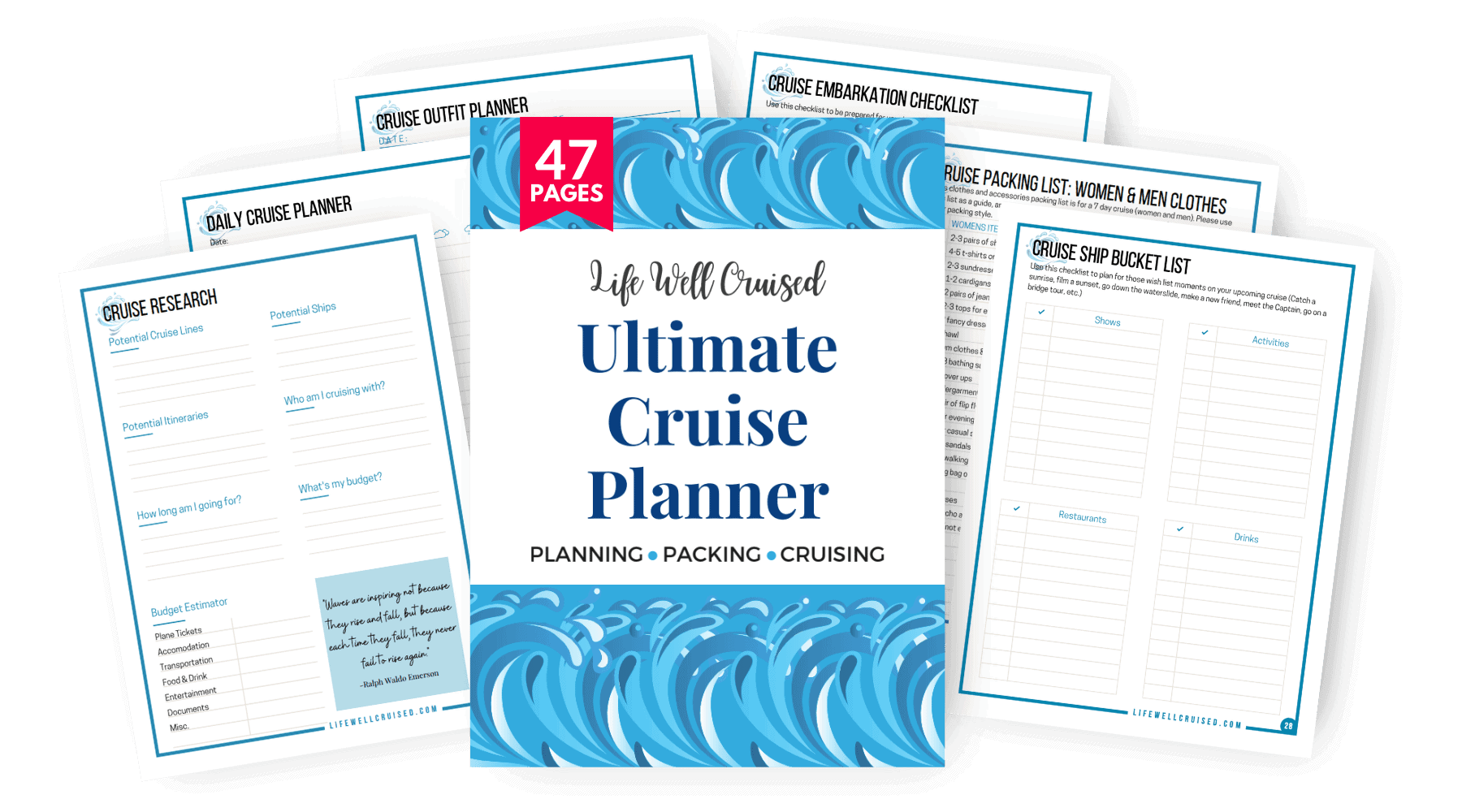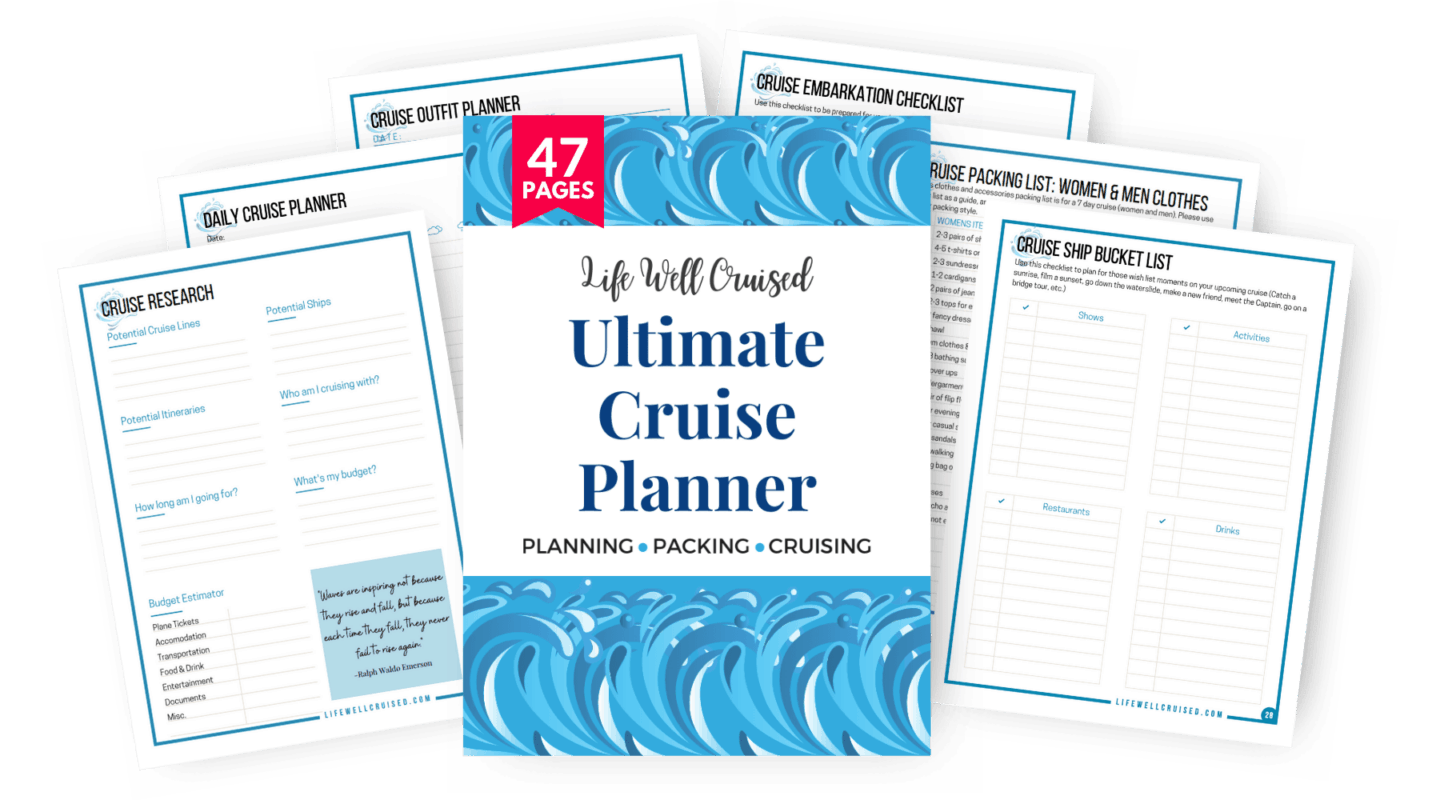 4. Flexible Cancellation Policies
The reality these days is that travel is unpredictable and there are changes that can happen. These days, most cruise lines now have flexible cancellation policies.
In many cases, you can book now for a cruise later in 2021, 2022 or even 2023 and reserve with a refundable deposit.
In "normal" times, cruise line cancellation policies were pretty strict, especially once you made final payment.
However, since March 2020, cruise lines have adapted and began to offer cruise passengers flexible cancellation options. In most cases this means that cruise travelers who decide to cancel will be able to get a Future Cruise Credit, to be used at a later date.
Royal Caribbean and Celebrity both have a Cruise with Confidence policy where guests can cancel their cruise up to 48 hours before their cruise, and receive a credit for the price they paid.
5. Safer than Other Vacations
Cruise lines have safety protocols in place that go far beyond any other types of vacations or even some events in major cities. There are many who say that cruising is the safest form of travel right now.
Vaccine requirements for most or all passengers (varies by cruise ship)
Pre-cruise testing for all passengers
Masks indoors in certain venues (varies by cruise line)
Medical facilities onboard with highly trained personnel
Updated air filtration
Stringent disinfection and sanitation
"Bubble" type environment
While cruising has many safety protocols in place, it's important to assess your own risk and talk with your doctor if you have concerns.
6. More Pre-Cruise Testing Options
There's no question that cruise protocols and the frequent changes and updates have led some to cancel or postpone cruises, at least for a little while. A big stress for many cruisers is making sure they get their Covid 19 test results back on time.
Cruise lines are now accepting certain home tests for vaccinated passengers. This has made pre-cruise testing somewhat easier than it was only a few weeks ago. Make sure to check with your cruise line for which tests are acceptable. This information will be on their website.
More Reasons to Book Your Cruise Vacation
7. Book your Bucket List Cruise
Truly, this might be the best reason to book a cruise for next year. While you can delay, if you've been dreaming of cruising to the Mediterranean, Alaska or South America, now is the time to plan for it.
One thing I've learned during this time, is that life is uncertain.
If you've been wanting to take a bucket list cruise for your anniversary, special birthday or for any other reason, this is your push.
Don't put it off any longer, plan it!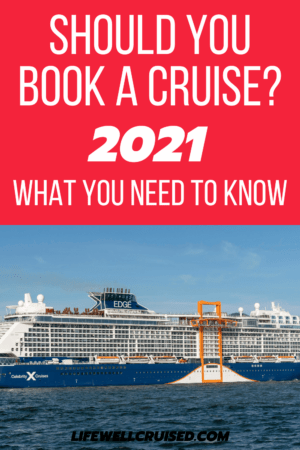 8. Use your Future Cruise Credit (FCC)
If you have a Future Cruise Credit, or more than one, then you definitely want to book your next cruise. There's just no down side.
However, I do have some tips below, for what mistakes you want to avoid when you book.
9. Best Cruise Cabin Choice
If you're happy with an inside cabin, this probably won't be as much of an issue. However, we're seeing that balcony cabins are more popular than ever.
If you want an aft balcony cabin or suite, there is even less availability. Booking early always gets you the best cruise cabin choice, and this is no exception.
Read more: 7 Best Reasons to Book a Balcony Cabin
Read more: 27 Best Ways to Save Money on a Cruise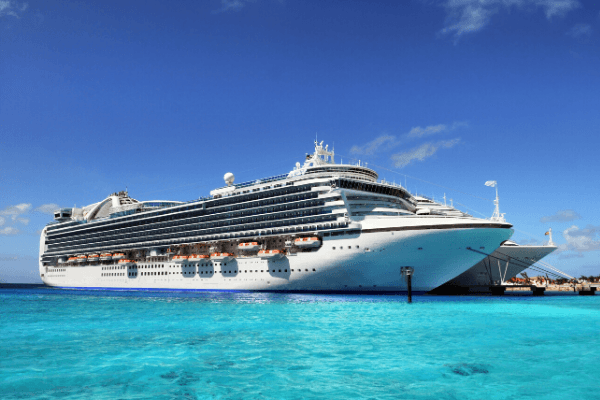 10. Cruise Prices May Increase
As there's less availability and travel gets a bit easier, it's likely that we'll see cruise prices increase.
However, the good thing about booking early for 2022 and beyond, is that you can almost always have your price adjusted and receive the lower fare or better promotion.
If you don't book and the price increases, you're stuck. If you want to cruise in 2021, 2022 or even 2023, it's really better to book as soon as possible.
11. Have Something to Look Forward to
This last reason to book your cruise is purely psychological. As human beings, we need things to look forward to, and nothing is better than booking a cruise!
Read more: 27 Cruise Travel Hacks Repeat Cruisers Swear By
Avoid These Mistakes When Booking a Cruise for 2021 or 2022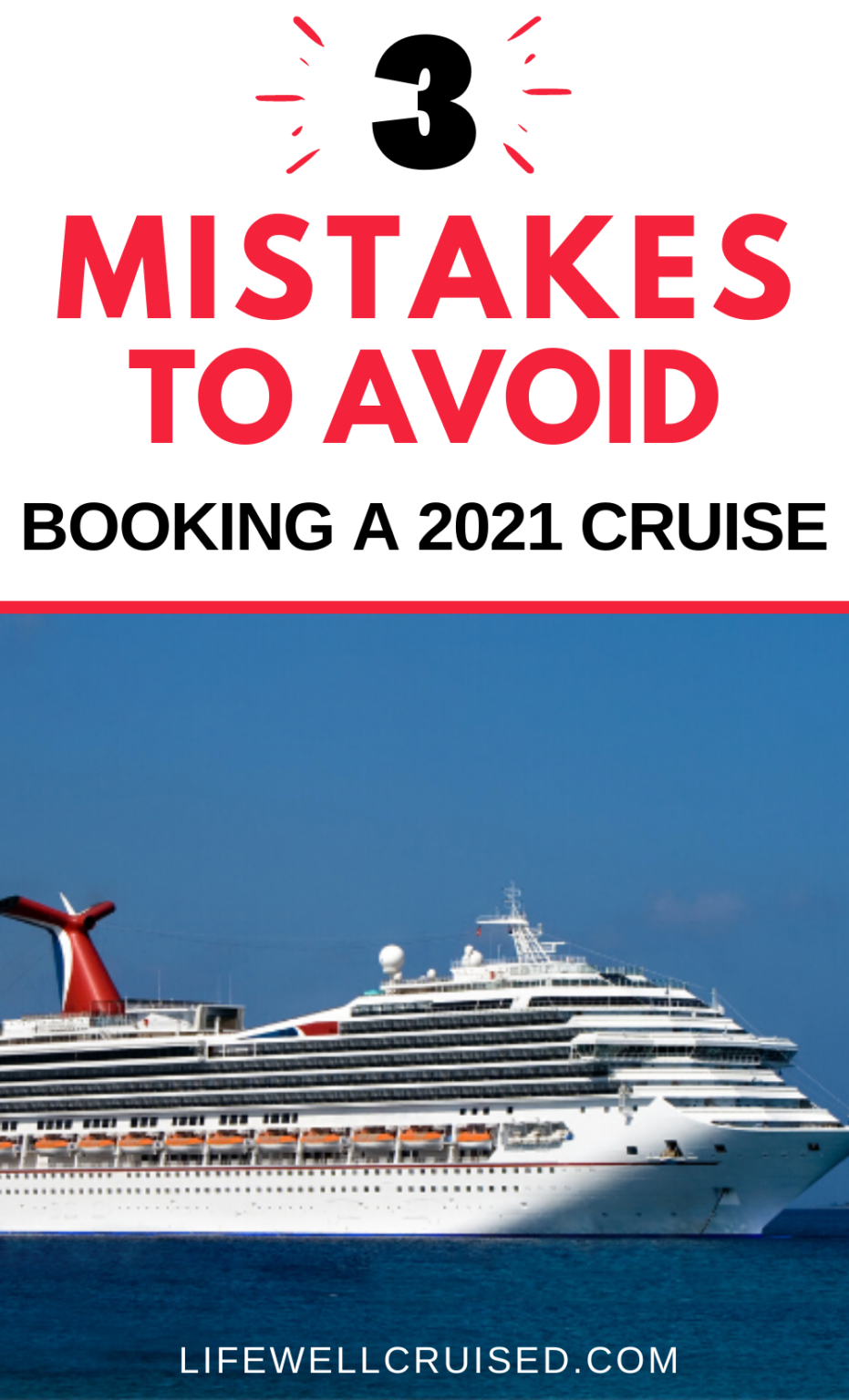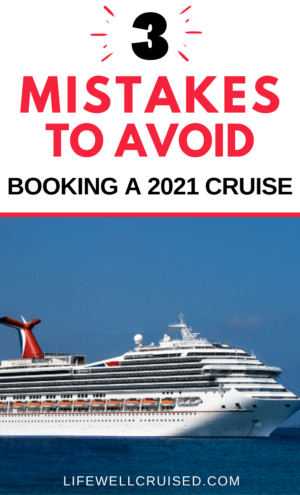 For all the reasons above, it's a good idea to book a cruise for 2021 or even 2022. However, there are some things to watch out for, so you can save yourself a potential headache down the line.
12. Avoid Non-refundable Fares
Personally I don't like non refundable deposits and fares when booking a cruise far in advance. This is especially true during these uncertain times. Give yourself maximum flexibility by booking with a refundable deposit. A good travel agent should be able to help you to navigate your options.
13. Be Careful Booking Flights
Be careful as you book any flights, as travel in general continues to have it's challenges. It might be a good idea to look at the advantages of cruise line air. If you book your flights on your own, just make sure that your tickets are flexible at this time.
Read more: 6 Cruise Line Air Tips & Tricks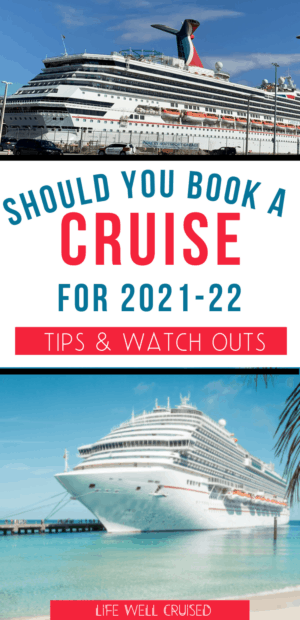 14. Keep Track of Cruise Payments, Refunds and Credits
Finally, don't forget to keep a log of your cruise payments and related purchases in a cruise travel planner. I use my planner to keep all my notes, including potential cruise excursions and items I want to pack for my cruise.
*Ultimate Cruise Travel Planner*
Over the last year, I put together a 47 page cruise travel planner that has everything you need as you plan and get ready for your cruise.
If you could use cruise packing lists, to-do checklists, shore excursion forms and more, you'll love the Life Well Cruised Ultimate Cruise Planner.
Plus, for a limited time, it's $10 off. Hope you enjoy!
See details here: Ultimate Cruise Planner -What's Included
Video: Why Now is a Good Time to Book a Cruise (2021/22)
In this video we go over the benefits of booking a cruise now for later in 2021 and 2022, and look at the lower cruise fares and promotions from major cruise lines.
Popular & Related Posts:
Best Way to Book a Cruise: Travel Agent or Direct with the Cruise Line?
50 most recommended Amazon Items to Bring on a cruise
27 Cruise Packing Mistakes You Might be Making
23 Essential Things to Pack in Your Cruise Carry-On Bag
21 Best Cruise Luggage and Packing Accessories (2021)
What to Pack for a Caribbean Cruise (with packing list)
Get The Ultimate Cruise Planner
Regular price: $27 Now just $17!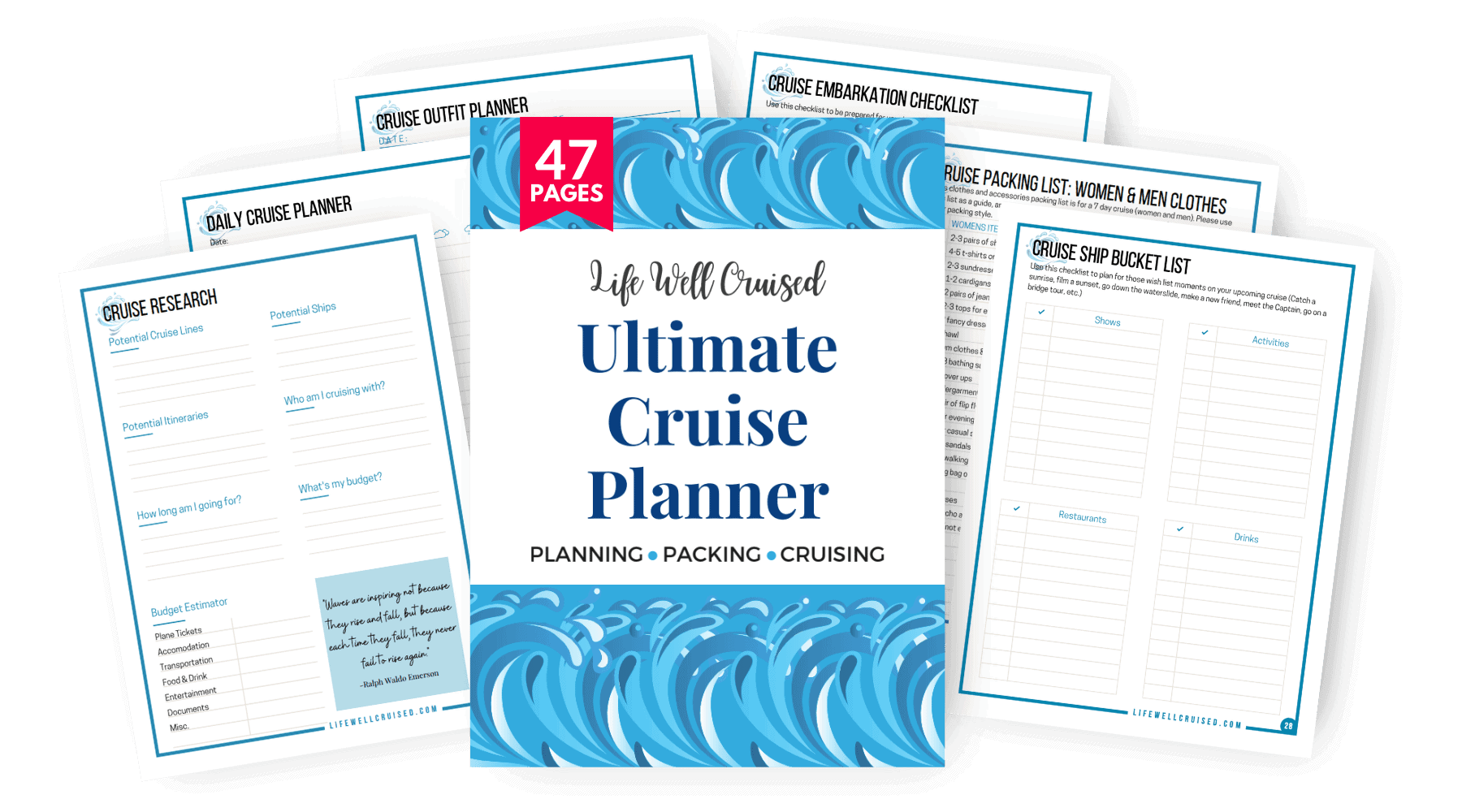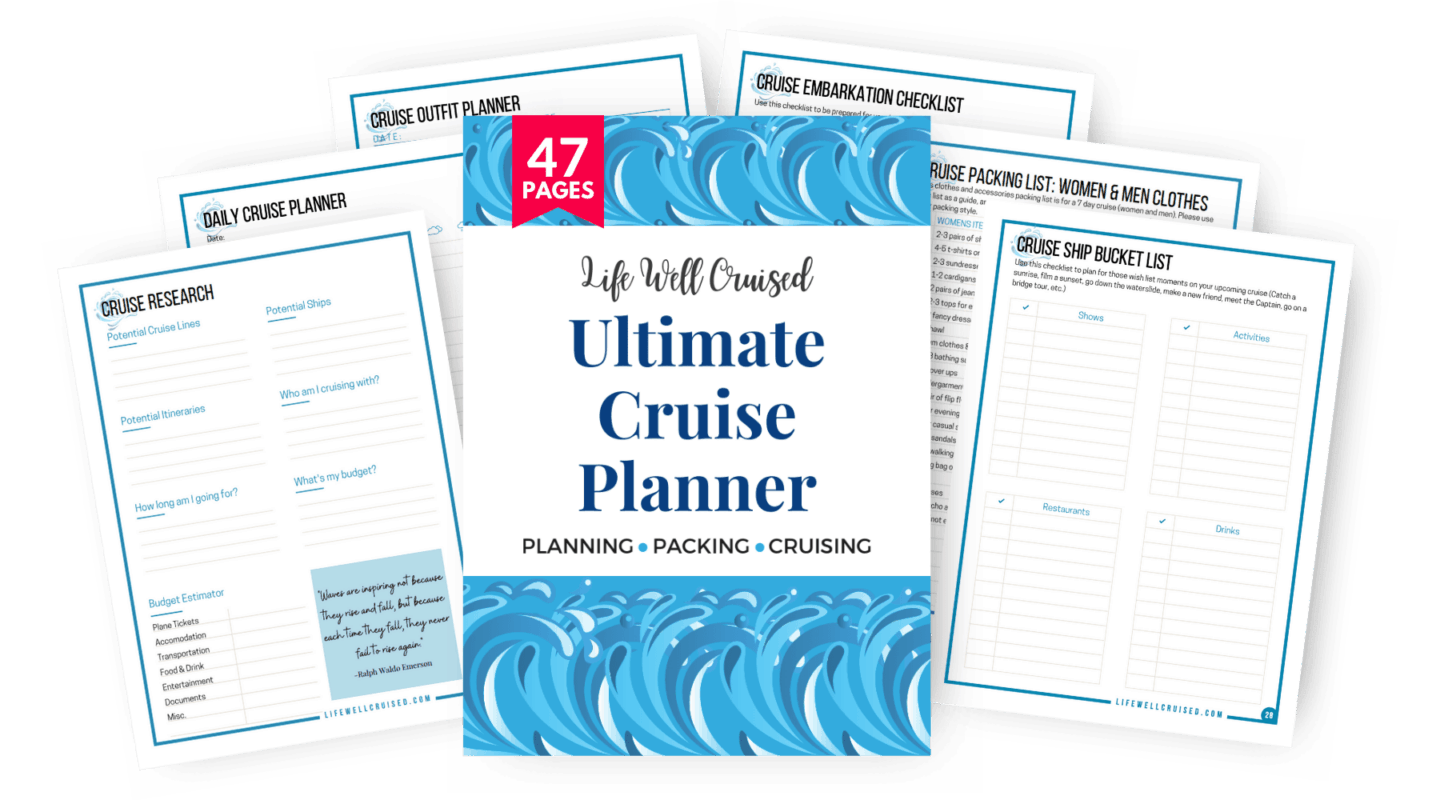 Final thoughts:Why Now is a Good Time to Book a Cruise for 2021 or 2022
I hope these tips have been helpful in helping you decide if now is a good time to book your cruise for 2021 or 2022. Even if you don't want to sail now, it can be smart to book now for a future cruise, especially if you book with a refundable deposit.
Do you have a cruise booked for 2021, 2022 or beyond? Please let me know in the comments below any tips you have to share.
Happy Cruising!
Ilana
P.S. If you've enjoyed this, please don't keep it to yourself ;-)! Please share it on Facebook or save for later on Pinterest. Thanks so much!
Let's connect:
Follow me on YouTube at Life Well Cruised
Follow me on Facebook at Life Well Cruised
Follow me on Pinterest at Life Well Cruised
Follow me on Instagram at Life Well Cruised