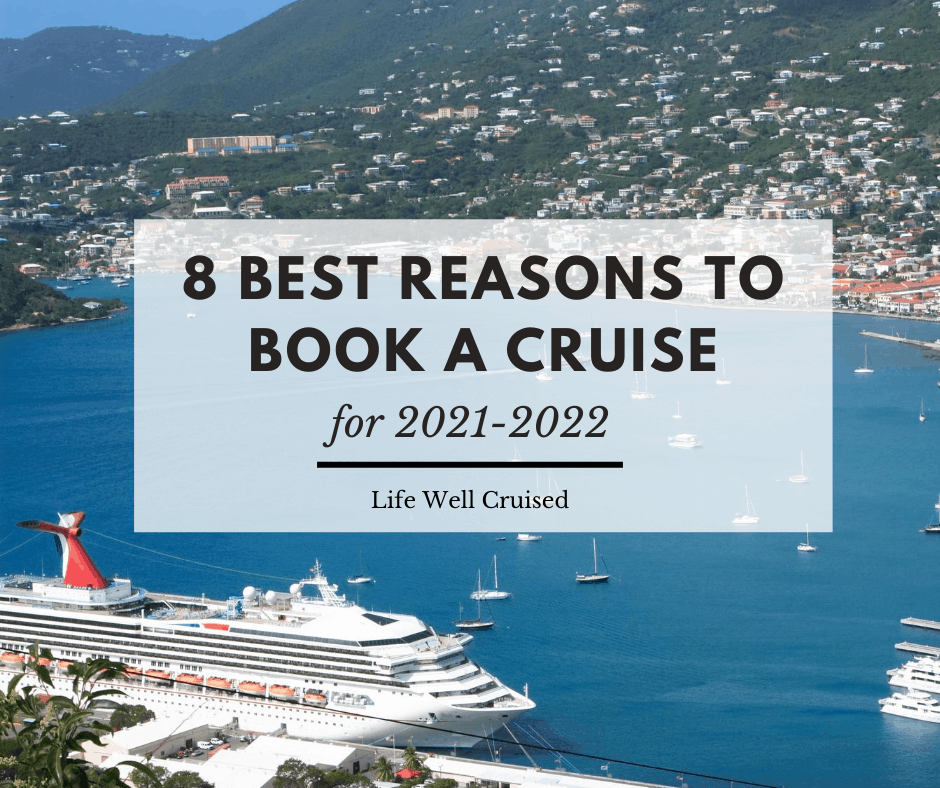 Why Should You Book a Cruise in 2021 – Do's and Don'ts
As I'm writing this, cruises are cancelled until at least October 31, as CLIA extended ted it's voluntary suspension. In addition, other cruise lines have cancelled cruises until some time in December.
This makes cruising in 2020 uncertain at best. But what about cruising 2021 or later?
If you've been asking yourself the question "Should I book a cruise for 2021 or 2022?" you're not alone.
After this is over, we seriously need a cruise!!
There have been strong bookings for bucket list destinations, including Alaska and Europe, in addition to always popular, Caribbean Cruises.
This can mean that there will be less availability.
If there's a certain ship or cruise destination that you really want, booking now for the the next year or two, can be a really smart decision.
In this post I'll go over the best reasons to book a cruise in 2021 and beyond, as well as some tips on cruise booking mistakes to avoid.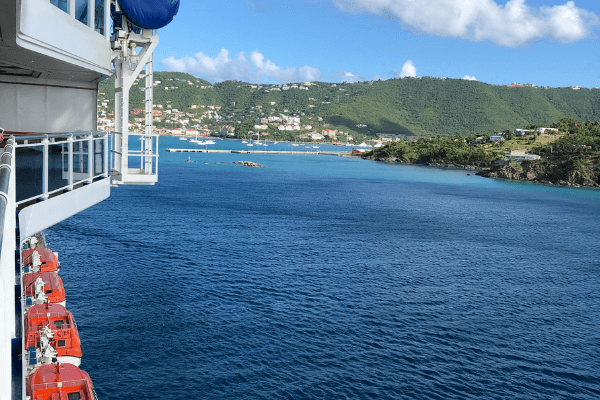 8 Best Reasons Book a Cruise in 2021
1. Book your Bucket List Cruise
Truly, this might be the best reason to book a cruise for next year. While you can delay, if you've been dreaming of cruising to the Mediterranean, Alaska or South America, now is the time to plan for it.
One thing I've learned during this time, is that we never know what will happen in life.
If you've been wanting to take a bucket list cruise for your anniversary, special birthday or for any other reason, this is your push.
Don't put it off any longer, plan it.
3. Use your Future Cruise Credit (FCC)
If you have a Future Cruise Credit, or more than one, then you definitely want to book your next cruise. There's just no down side.
However, I do have some tips below, for what mistakes you want to avoid when you book.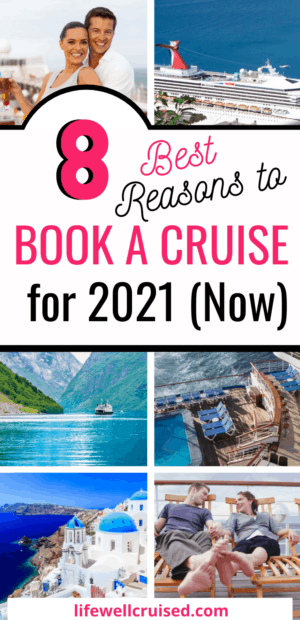 4. Best cruise cabin choice
If you're happy with an inside cabin, this probably won't be as much of an issue. However, we are seeing that balcony cabins are more popular than ever.
If you want an aft balcony cabin or suite, there is even less availability. Booking early always gets you the best cruise cabin choice, and this is no exception.
Read more: 7 Best Reasons to Book a Balcony Cabin
5. Book your favorite cruise ship
There are some amazing cruise ships that we were waiting for in 2020. Since they are delayed until 2021, anticipation has increased.
Are you excited to sail on one of the brand new cruise ships, like Carnival's Mardi Gras with the first ever roller coaster at sea, or Royal Caribbean's Odyssey of the Seas?
Perhaps you're looking forward to the innovative Celebrity Apex, a sister ship to the Celebrity Edge or a Princess ship, the Enchanted Princess.
While these ships have been delayed, they will be sailing in 2021 and are sure to be an amazing experience!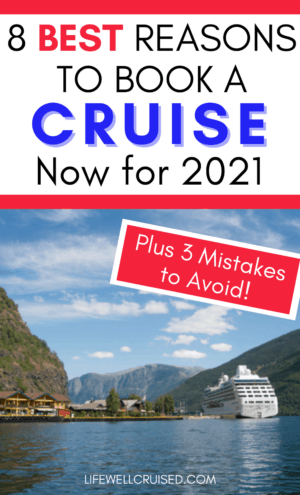 6. Reduced deposit promotions
Cruise lines are having sales and promotions to encourage future bookings, and one of my favorites is the reduced deposit promotion.
This just makes it so easy to pick your ideal cruise and put a small refundable deposit to reserve.
Cruise Tip: Get the best and most fair price
Here's an easy way to save money on your cruise. Cruise fares can almost always be adjusted up until the final payment date.
So, if you book now and the price is lower in a couple of months, simply call your cruise line or travel agent and ask them to please make the adjustment.
Read more: 27 Best Ways to Save Money on a Cruise
7. Flexible cruise line cancellation policies
Thank goodness for flexible cancellation policies that cruise lines are offering right now. Let's face it, even though we want to cruise, we're all aware that there are still some unknowns.
When will cruises start and what what changes will we see once cruising starts back up?
While I personally believe changes won't be so bad short term, and will actually lead to improvements in the long run, we can't know for sure until we are closer to sailing.
These more flexible cruise line cancellation policies will allow you to cancel even closer to sailing, and receive a full credit to reschedule your cruise at a later date.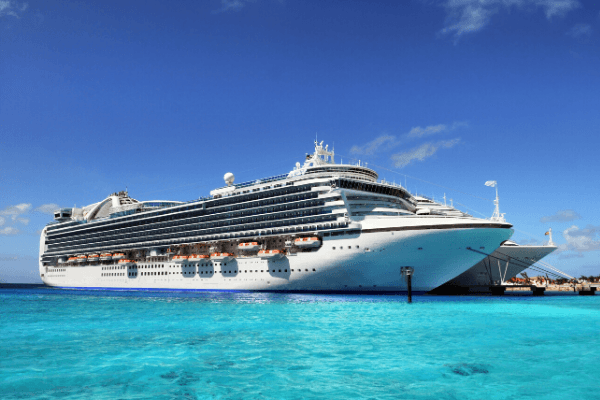 8. Cruise prices may increase
I always wonder if cruise prices will go up or down.
However, the good thing about booking early is that you can almost always have your price adjusted and receive the lower fare or better promotion.
But… if you don't book and the price increases, you're stuck. If you want to cruise in 2021 or even 2022, it's really better to book as soon as possible.
9. Have something to look forward to
This last reason is purely psychological. As human beings, we need upcoming events to look forward to.
I have no doubt will get through this, but we can't deny that 2020 has been tough on many. If booking a future cruise to look forward to will make you feel better, consider it a mental health priority ;-).
Read more: 27 Cruise Travel Hacks Repeat Cruisers Swear By
Avoid These Mistakes When Booking a Cruise for 2021 or 2022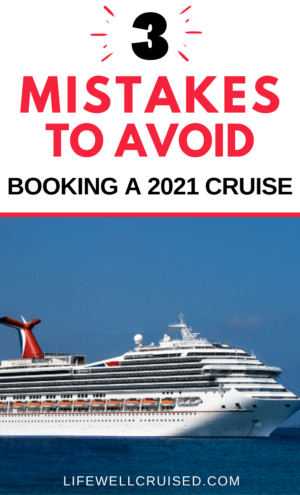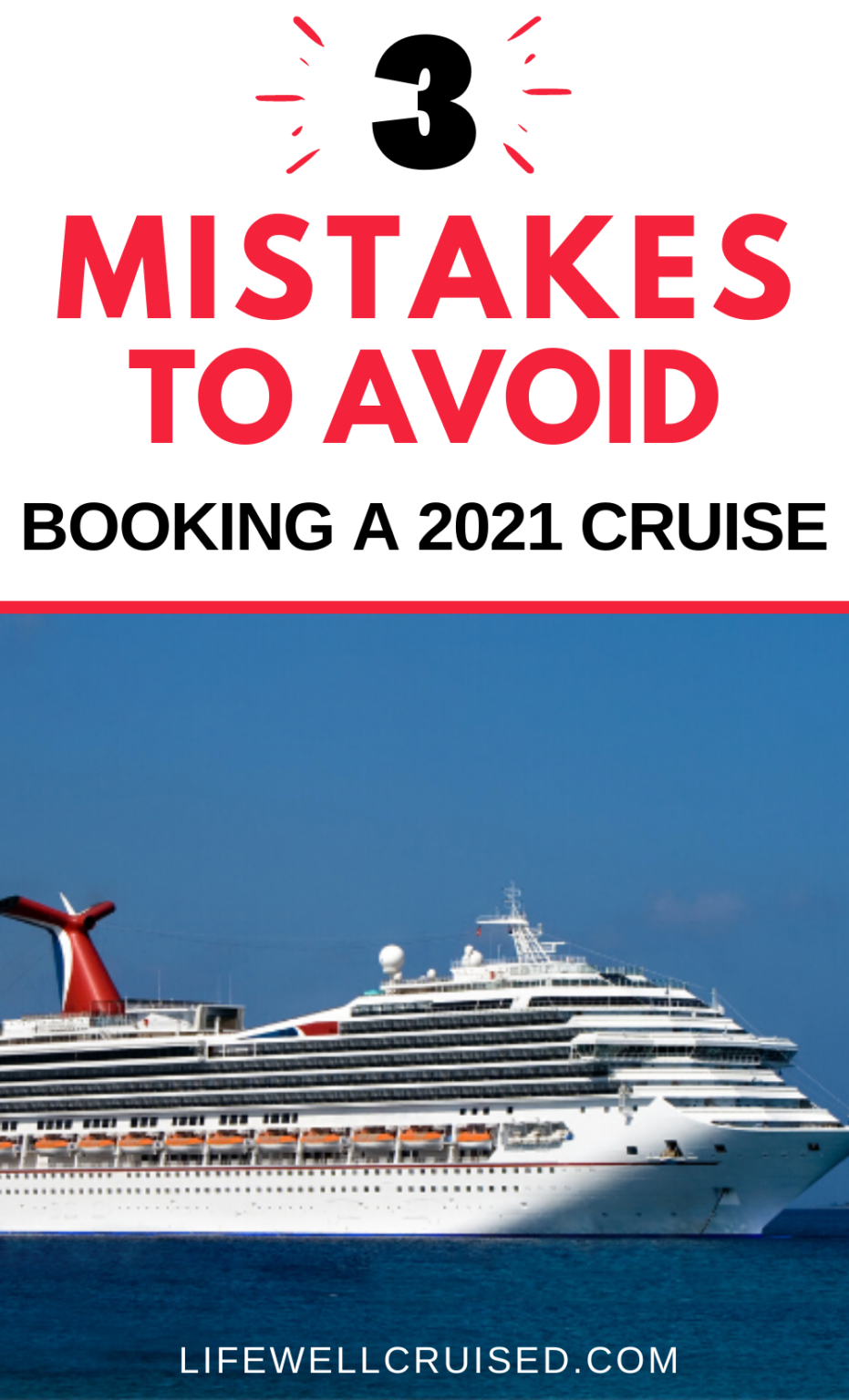 For all the reasons above, it's a good idea to book a cruise for next year or even 2022. However, there are some things to watch out for, so you can save yourself a potential headache down the line.
10. Don't book non-refundable fares
Personally I don't like non refundable deposits and fares when booking a cruise far in advance. This is especially true during these times when cruises haven't yet restarted and travel is still uncertain.
Give yourself maximum flexibility by booking with a refundable deposit.
10. Hold off on booking flights
Until cruises are sailing again and travel has returned to a somewhat more normal state, wait to book your flights. This is especially true for international travel.
It has been difficult for travelers to get a refund on cancelled flights from airlines the last few months, who were often issued credits. While you ca still use air credits, it does limit your options.
Check out cruise line airfare
In some cases, cruise line airfare, can be reserved and payed when your cruise final payment is due. This allows you to book and get the best price now, while not having any risk.
As an example, when my Princess Alaska cruise was cancelled, our air was refunded as well. We booked with Princess EZ Air (flexible air option) and this ended up being a very good decision.
Read more: 6 Cruise Line Air Tips & Tricks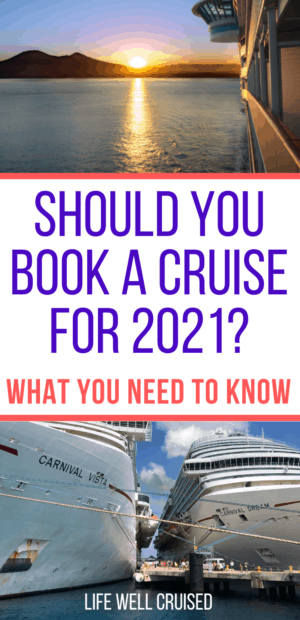 11. Remember to keep track of cruise payments
Finally, don't forget to keep a log of your cruise payments and related purchases in a cruise travel planner. I keep a binder with all my notes, including potential excursions and items I want to pack for my cruise.
If you or the cruise line cancels and you need refunds, you'll be happy you kept track of expenses as well as how they were paid (credit card, gift card, FCC).
Final thoughts: Should You Book a Cruise Now for 2021/2022
I hope I've helped you to make a decision and decide if booking a cruise now for 2021 or 2022 is worth it. If you follow me on Facebook or Instagram, you'll know that I have an upcoming cruise in January 2021.
I'm so looking forward to it, but of course I realize that things may change. I'm in full shopping/planning/dreaming mode now for later in 2021.
What cruise are you considering booking? I'd love some ideas 😉
Please let me know in the comments below.
Happy future cruising!
Ilana xoxo
P.S. If you've enjoyed this, please don't keep it to yourself ;-)! Please share it on Facebook or save for later on Pinterest. Thanks so much!
Popular and related posts:
10 Big Changes to Cruising as They Start Up
25 most recommended Amazon Items to Bring on a cruise
23 Essential Things to Pack in Your Cruise Carry-On Bag
17 Cruise Stateroom Essentials Every Cruiser Needs
Let's connect:
Follow me on YouTube at Life Well Cruised
Follow me on Facebook at Life Well Cruised
Follow me on Pinterest at Life Well Cruised
Follow me on Instagram at Life Well Cruised