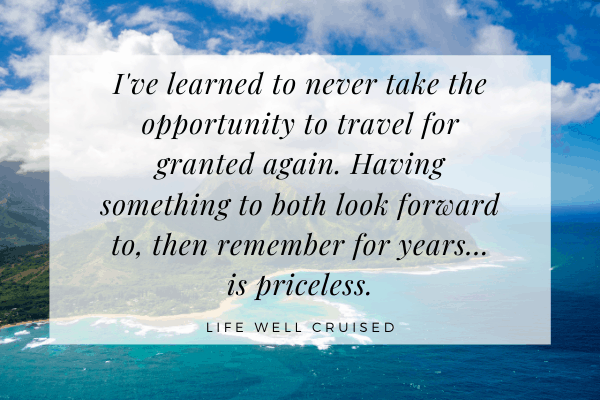 The last few days, I've been reflecting on 2020…
Like you, it's been a year filled with a lot of angst and a feeling of loss.
But before I end the year, and bring in the new, I like to think of the lessons I learned and things I'm grateful for.
While this was going to be a social media post, it turned out that 2020 had so many lessons. It was too long and really deserved it's own blog post.
A few of these lessons may serve you well too – although if yours are different that's ok too.
While they apply to cruise and travel, they are definitely more broad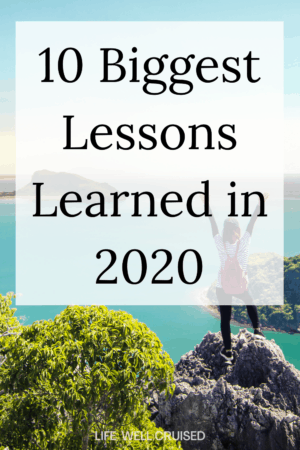 Lessons I learned in 2020
1. Life is unpredictable
2020 was humbling. We all had plans and things we thought we'd do or accomplish that may not have happened.
In March, I thought this might last a couple of months, maybe even 3 or 4. However, by June it was clear that this was a major shift for the year and prior plans needed to be tossed away.
We can plan, but some things are out of our control.
To quote Jimmy Buffett, Breathe in, breathe out, and move on
2. To never take the opportunity to travel for granted
I'm so grateful for the opportunities I've had to cruise and travel. This includes seeing new and interesting places, and the people we've met and connected with. Throughout this time, our memories have given us reasons to smile, and to look forward.
2020 has reinforced how much we love and miss traveling. There is no better way to combine travel, relaxation and fun than a cruise. Plus, the ocean calms and resets.
This year is etched in my memory and I will never take this for granted.
3. Who cares if things are perfect?
Being in my house a lot with my husband, 2 young adult sons, and a puppy, has taught me to be more accepting and easy going.
The house is a mess? Oh well.
People are up late? Ok.
Is everyone healthy? Good
I stopped caring about things being perfect, and realize these are imperfect times. Letting go of both control and of things being "perfect" has been one of the healthier things I've ever done.
4. Just keep swimming
Dory: "When life gets you down do you wanna know what you've gotta do? Just keep swimming. Just keep swimming. Just keep swimming, swimming.."
Many days I thought of these words and put one foot in front of the other. I know you did too.
We need to be proud of this!
5. Keep showing up
Being a cruise travel blogger, there were days I looked at the news with dread. While many other online businesses and blogs thrived during this time, this was not the case for many in travel.
Much less cruising…
While some could pivot and I admire that, I decided to stay the course. I love cruising and serve an audience who loves it too.
So I continue to show up on my blog, and share important cruise news and tips on YouTube. While it hasn't been easy every week, I'm always glad I have.
I know that this time will pass and the effort I've put in will bear fruits in coming years. If this is the same in your business, be proud that you showed up!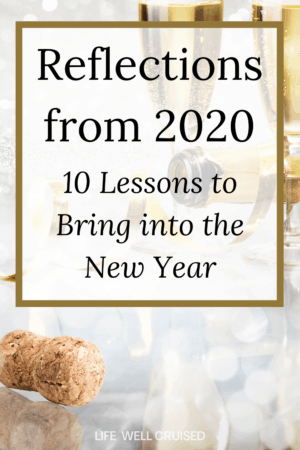 6. It's ok to unfollow
I unfollowed any social media account that made me feel anxious or "scared". I like to be informed, but these emotions weren't serving me or my family.
While we're at home more and scrolling on Facebook, Instagram or Tiktok, it seems like we're bombarded by messages that might not mean harm, but can be harmful.
If reading them fills you with anxiety, unfollow even for 30 days. Trust me, it helps.
7. We are more the same than we are different
In a year where so many topics have been polarizing, I'm grateful to have met so many people over the years and know that at the heart of it, we are the same.
Remember that your neighbors and even people elsewhere in the world are mostly good people, even if they seem to think differently on some things.
8. Find gratitude where you can
I like to wake each morning and think of what I'm thankful for, from family to home and work related things. I'll be honest, this has been tough for me some days.
But a few times a week I do it and even think ahead and imagine the good things to come. It leaves me feeling better and more hopeful. It also reminds me to trust that that things will work out.
Even during hard times and difficult days, the sun still rises and sets. Setbacks aren't permanent.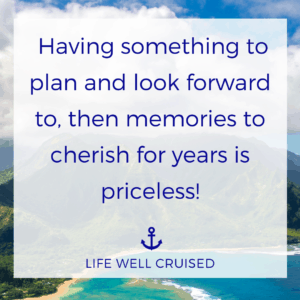 9. It's good to learn new things
During the months that passed I haven't had a moment of boredom. This is one thing I'm very grateful for.
It's because I'm always learning something new and diving in. It keeps me busy and productive in my "free time".
The New Year is a great time to decide to learn something new or do something you always wanted to do. The time passes anyway, and think what you'll have accomplished by 2022.
10. Plan the trip – have memories
This past year, we planned an Alaskan cruise and a New Year's cruise, both which didn't happen of course. I really miss the excitement of planning and the anticipation of what we will see and do.
It might be hard to see where we can go and when right now, but planning and looking ahead is good for us.
When the time feels right, book the bucket list trip or big family cruise. This might mean 2022 or beyond and that's ok.
Having something to plan and look forward to, and then memories to remember for years is priceless!
So, I am ready to say goodbye to 2020. I am hopeful that 2021 will slowly bring in the good things we enjoy in life.
I wish you an easy and joyful 2021, filled with good health and growing prosperity! Let's let 2020 remind us of our resilience and help us to thrive, each in our own way in the year to come.
What lessons have you learned in 2020 or which of mine have resonated with you? Please let me know in the comments below.
Happy New Year!!
Ilana xoxo
P.S. If you enjoyed this post, please pass it along to others who will enjoy it too. Please share on Facebook or PIN to your favorite Pinterest board (share buttons at the top). Thanks so much!
Popular posts:
17 Cruise Cabin Essentials Every Cruiser Needs
25+ Most Recommended Amazon Items to Bring on a cruise
21 Best Cruise Luggage and Packing Accessories (2021)
Let's connect:
Follow me on Facebook at Life Well Cruised
Follow me on YouTube at Life Well Cruised
Follow me on Pinterest at Life Well Cruised
Follow me on Instagram at Life Well Cruised