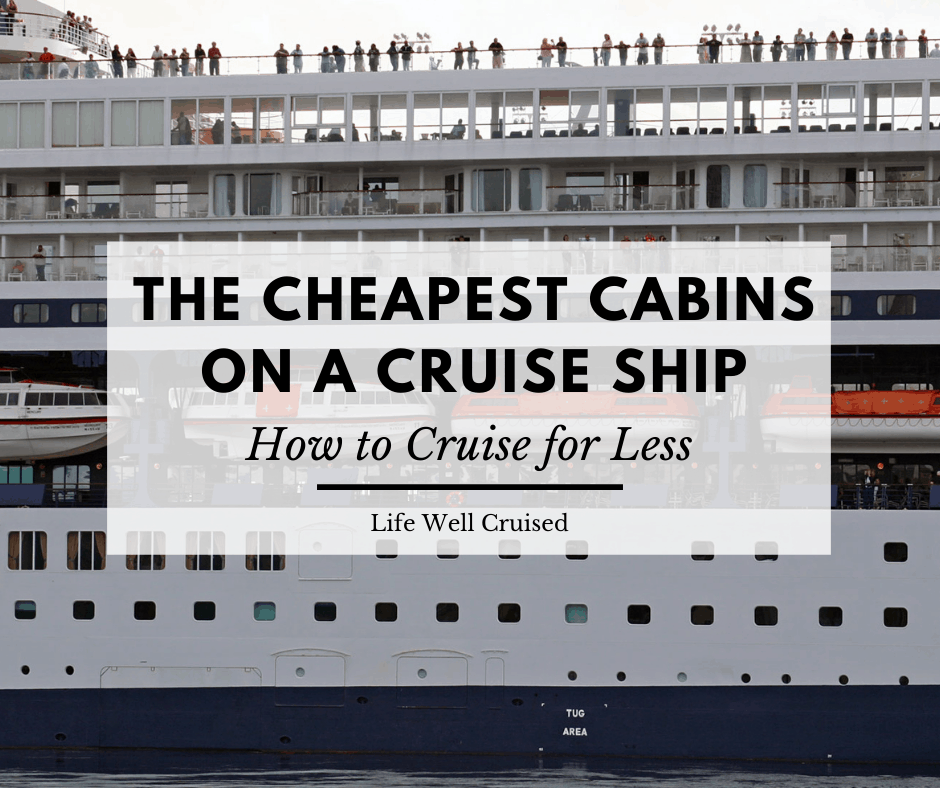 Do you want to cruise for less, but still have an amazing cruise experience? If so, your best option is to book the cheapest cruise cabin available, on the best cruise ship or itinerary you can find.
If you want to cruise for $50-$70 a night or less, you need to look at the 3 cheapest cruise cabins on any cruise ship. While there are many ways to
save money on a cruise vacation
, the biggest cost savings will be found in your cruise stateroom.
Cheapest Cabins on a Cruise Ship
The three cheapest cabins on a cruise are inside cabins, obstructed cabins, and guarantee cabins.
However, before you book a cabin based on price alone, we'll go through what to expect from each of these types of staterooms. There are some definite pros and cons that you need to know.
Inside Cabins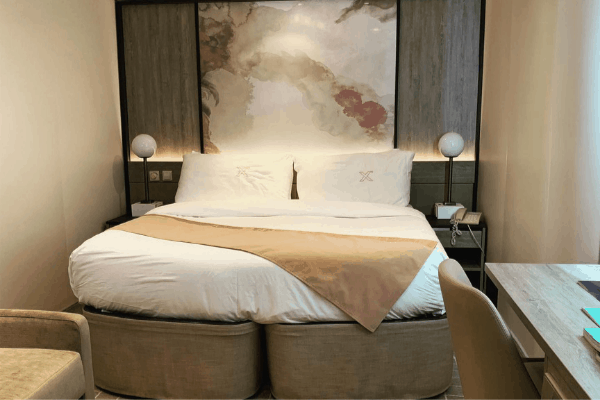 On any cruise ship, the least expensive cabin is an interior stateroom. Inside cabins are comfortable and are often about the same size as oceanview cabins.
While smaller than a balcony cabin, most of the time you'll still have the same basic features – 2 twin beds that convert to a king/queen, 2 night tables, a desk with some storage, a mini fridge, tv, and a closet. There may or may not be a loveseat as this depends on the cruise line.
The biggest difference and downside for some, is that inside cabins don't have a window or any source of natural light.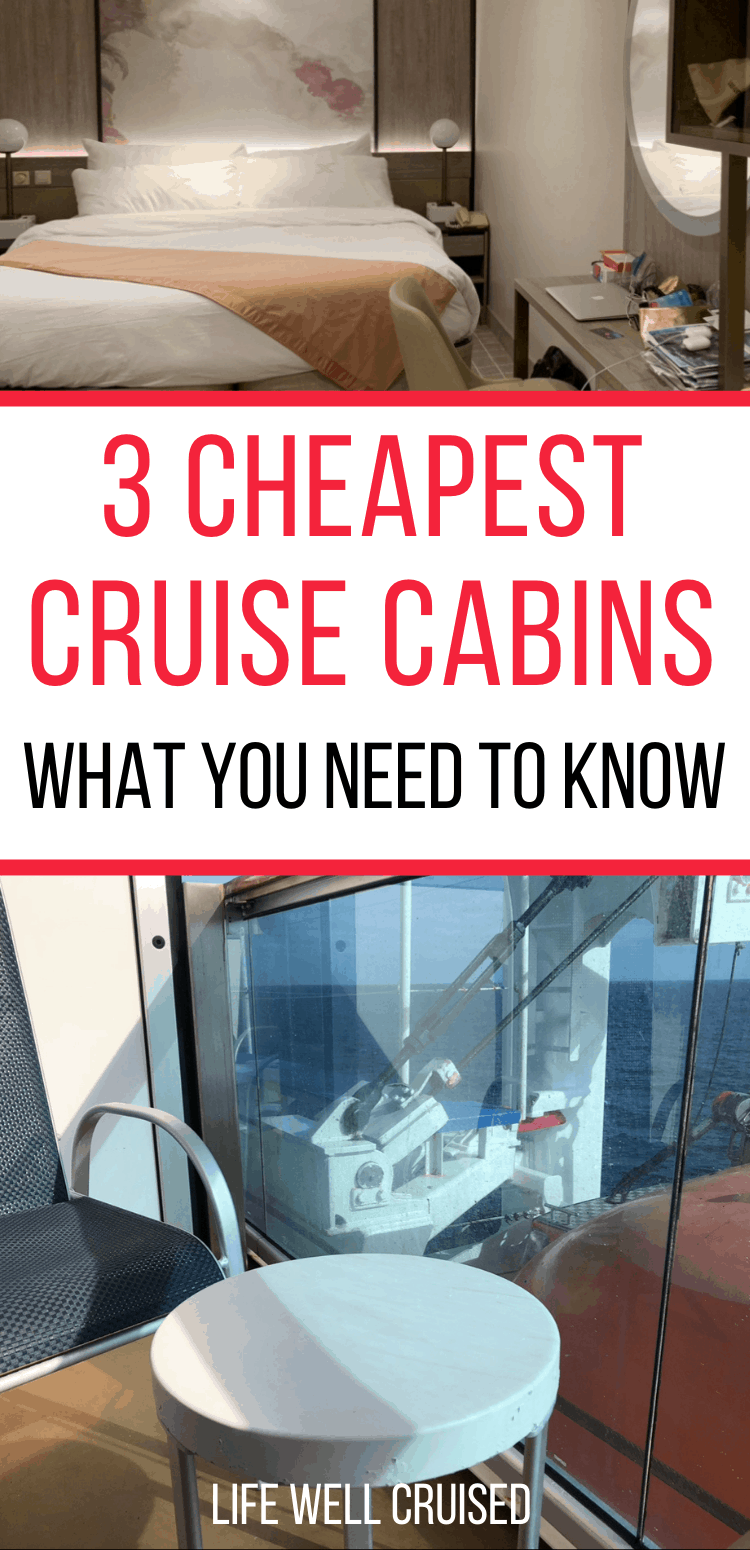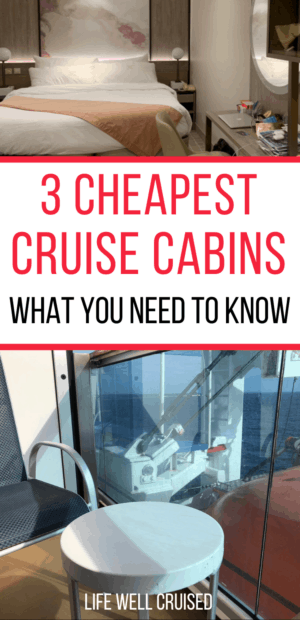 However, if the lack of a window doesn't bother you, you can save 50% off your cruise or more by booking an inside room. If you think you're only going to be in your cabin to sleep, and plan to enjoy everything the ship has to offer, this is the best bang for your buck.
The fact is, once you're on a cruise ship, you're going to get the same service if you're in an inside, oceanview or balcony cabin. Even the awesome cruise food, the shows and activities are the same.
Obstructed Cabins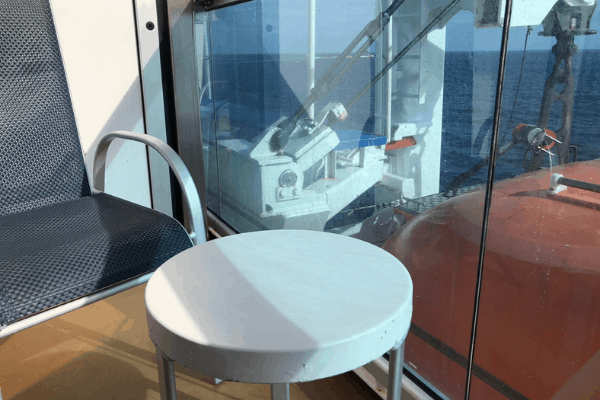 Obstructed cabins are an interesting cabin type. There are oceanview obstructed cabins as well balcony obstructed cabins.
However, these come with a warning.
Different cabins can have different types of obstructions, making some better or worse than others. You might have a thin pole obstructing your view or a whole lifeboat obstructing your entire window. One is clearly worse than the other.
The savings could be 20-30% or more of a non-obstructed cabin. If you're on a budget, this might help to stretch your vacation dollars and get you a "better" room than an inside cabin.
Being honest, I have mixed feelings about obstructed cabins as in some cases they can be some of the worst cabins on a cruise ship!
When considering obstructed cabins, whether it's an oceanview or a balcony cabin, if possible, find out what the obstruction is and where your cabin is located. If you have a minor obstruction, the better cabin type and cost savings may still be worth it.
On a past cruise, we had an obstructed balcony cabin which only cost slightly more than an inside cabin. Even though a lifeboat blocked the ocean view when we were sitting, we still benefited from the extra outdoor space and were able to enjoy the view when we were standing.
Guarantee Cabins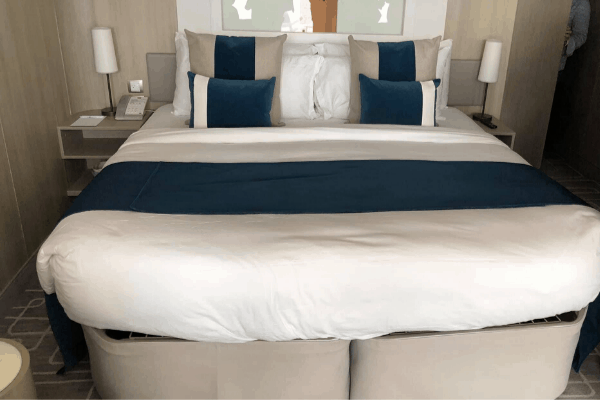 Have you wondered
what a guarantee cabin means
? Guarantee cabins are often available for inside, ocean view, balcony cabins and junior or mini suites and are cheaper than a cabin that you choose yourself.
Having a guarantee cabin simply means that your cabin is unassigned when you book. The cruise line guarantees you the cabin category that you book, or higher – often for a much lower price. Guarantee cabins are often the cheapest cabins and can be a great value.
For example, if you book an inside cabin guarantee, you'll get a cheaper price then if you pick your own state room, however you are guaranteed an inside state room or better. The same applies to
balcony or veranda cabins
.
If you aren't picky about cabin location, then this is probably the best way for you to find the cheapest cabin on a cruise. But beware, if you aren't happy with your cabin location or the fact that your cabin is connecting to another, as an example, you're pretty stuck.
Once you agree to a guarantee cabin, you get what the cruise line gives you.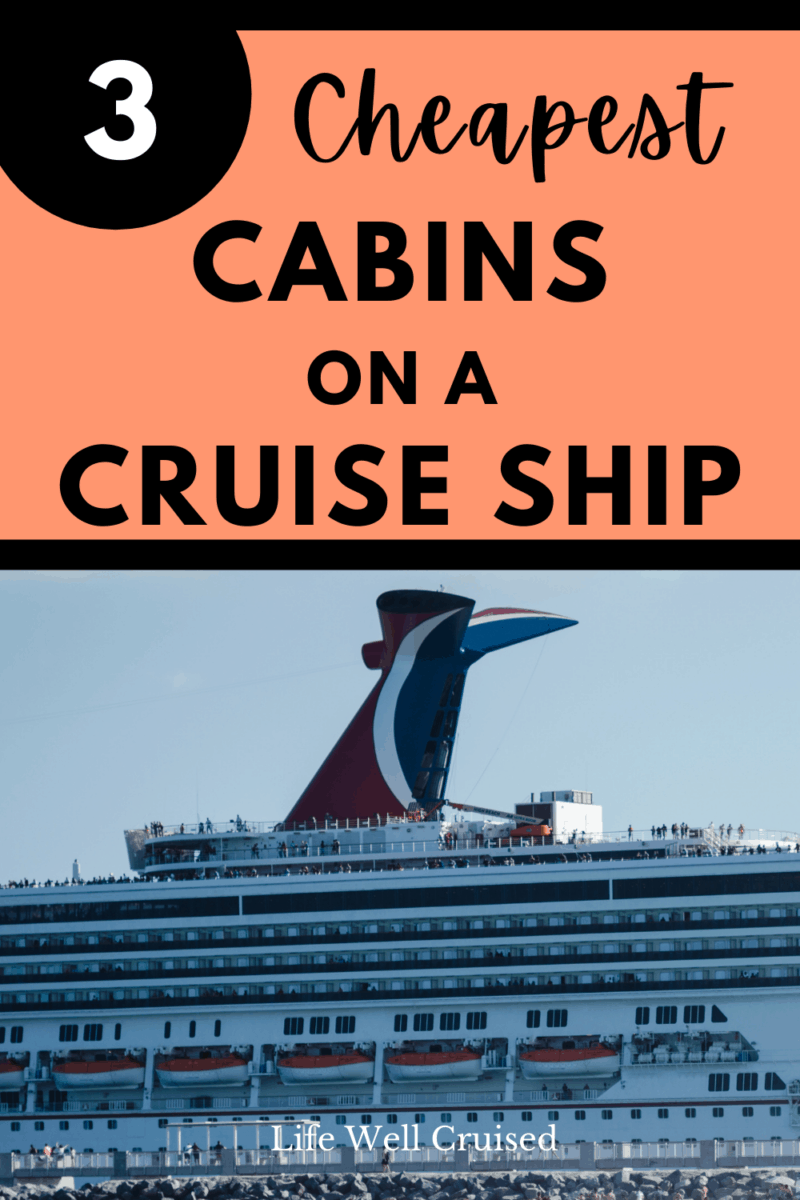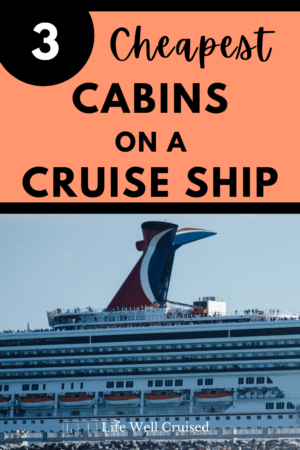 Other cabin options:
If you're still on the fence and need more cruise cabin information, these posts will be helpful.
Final thoughts: The Cheapest Cabins on a Cruise Ship
In this post we went over the 3 cheapest cabins on a cruise, so that you can save the most money when you're booking a cruise. While not for everyone, by saving money on a lower cost cabin, you leave room for other splurges and cruising more often.
Have you ever booked an inside, obstructed or a guarantee cabin and what was your experience? Was the cost savings worth it for you? Please let me know in the comments below
Happy Cruising!
Ilana xoxo