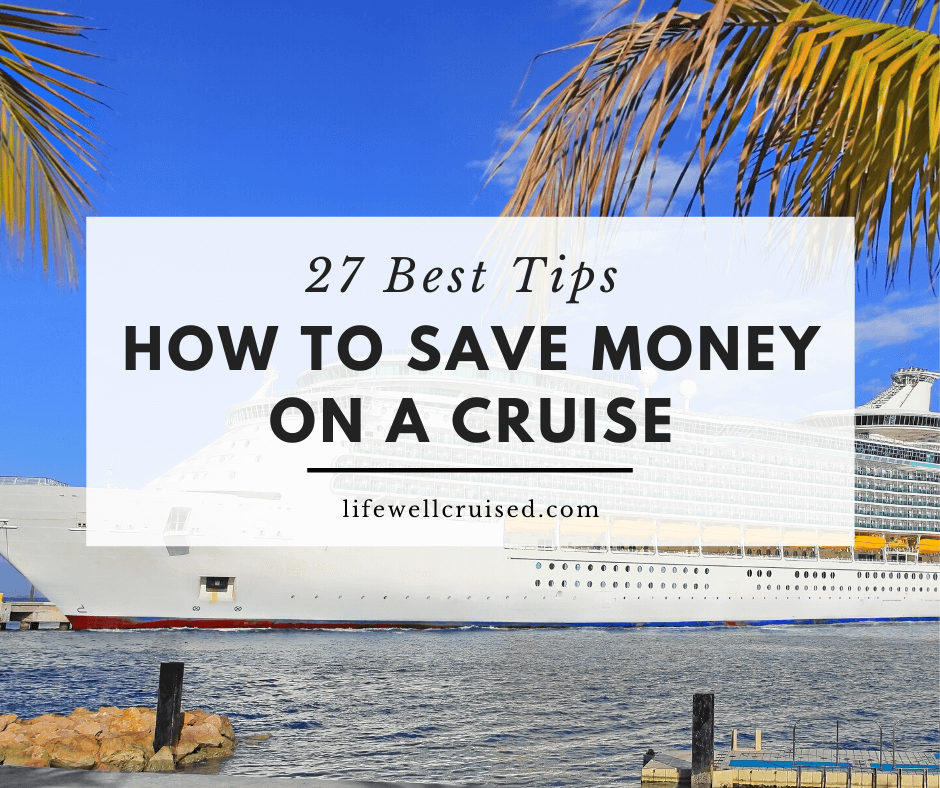 If you're looking for ways to get the best deal and save money on a cruise, you're not alone. Now, more than ever, we want to get the best value and stretch our vacation dollars as far as they can go!
Plus, we're starting to see some great deals on cruises, so it's a good time to be planning a cruise for months or even a year or more ahead.
One of the great things about going on a cruise, is that you can enjoy a pretty luxurious vacation, and it can be surprisingly affordable.
Whether you're cruising as a couple, as a family, or even as a solo traveler, the cruise deals are out there.
In this post, I'll share some of the best cruise tips, secrets and hacks that veteran cruisers use to save money on each and every cruise. While some may be familiar, many will be new ways to save money on your cruise vacation.
This post has been recently updated to share the most current information and helpful tips.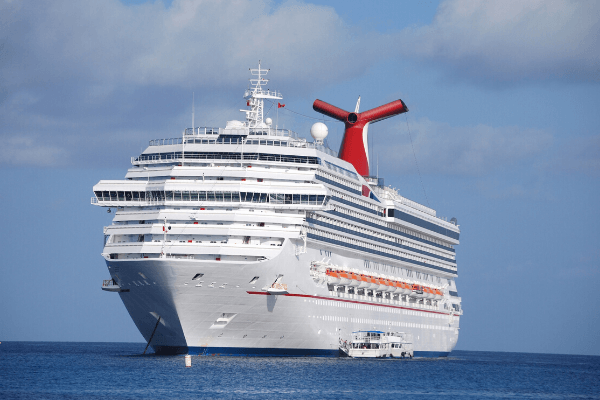 This post may contain affiliate links. Please see my full disclosure policy for details.
How to Save Money on Your Cruise Vacation
1.Choose the least expensive cabin (*that you will be happy with)
This may seem obvious, but the cost of your cruise is heavily influenced by the type of cabin you choose, and therefore one of the most obvious ways to save money on a your cruise vacation. However, this is your holiday and you do want to be comfortable and happy.
The three main cabin types are interior, ocean view and balcony staterooms. Inside cabins will almost always be the lowest priced rooms on the ship.
Our family has cruised in balcony, oceanview and inside cabins, and our decision is highly based on price and overall value.
We find inside cabins pretty comfortable, for the time in them. Our view is that we'd rather save money by getting a less expensive cabin, and spend on things that matter more to us, including cruising more often.
However we're all different. If you're considering an interior cabin, keep in mind that the rooms are on the small side and you will not have a window, so there is no natural light. Although we like interior cabins and think they have many benefits, they aren't for everyone.
Knowing this you can plan to spend a lot of time up on the deck or in other areas of the ship. If having some quiet and private outdoor space to relax is important to you, consider the best priced balcony you can find.
Suggested: 7 Top Benefits of an Inside Cabin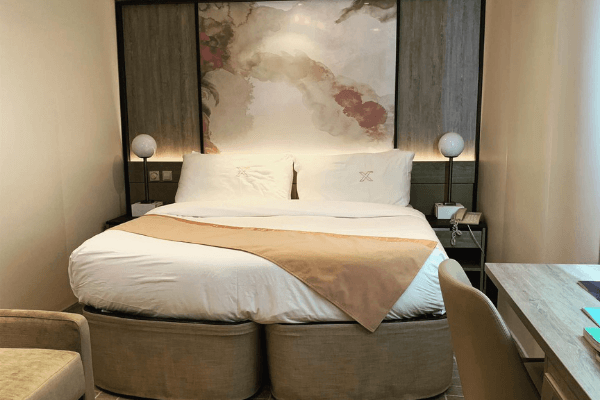 2. Check the balcony prices and compare your stateroom options
While interior cabins will still likely be your cheapest cruise option, there are times when balcony or veranda cabins are only slightly more than inside or even ocean view cabins.
Cruise lines may be running a promotion with free cabin upgrades or offering certain perks with higher cabin categories. It's always worth doing a cruise price comparison before booking your cruise.
Suggested: 30 Cruise Cabin Hacks Every Cruiser Needs to Know
3. Choose the cheapest time to cruise
Cruises have high and low season, and times in between. Holidays and summer cruises are usually the most expensive times to go on a cruise, although the exact time for "higher pricing" depends on the cruise itinerary.
For instance, Caribbean cruises will be the cheapest in the Fall, when kids are in school, the weather is moderate, and it's hurricane season.
However, as Mediterranean cruises have gained popularity and September has been touted as the best time to go, to beat the crowds and avoid the summer heat, pricing has increased to meet the demand.
Consider shoulder season for best prices on Caribbean, Bahamas and Bermuda cruises, which is typically Fall and early Winter.
Suggested: 5 Things to Know about Cruising During Hurricane Season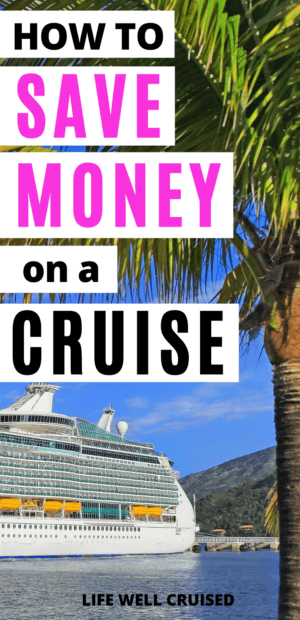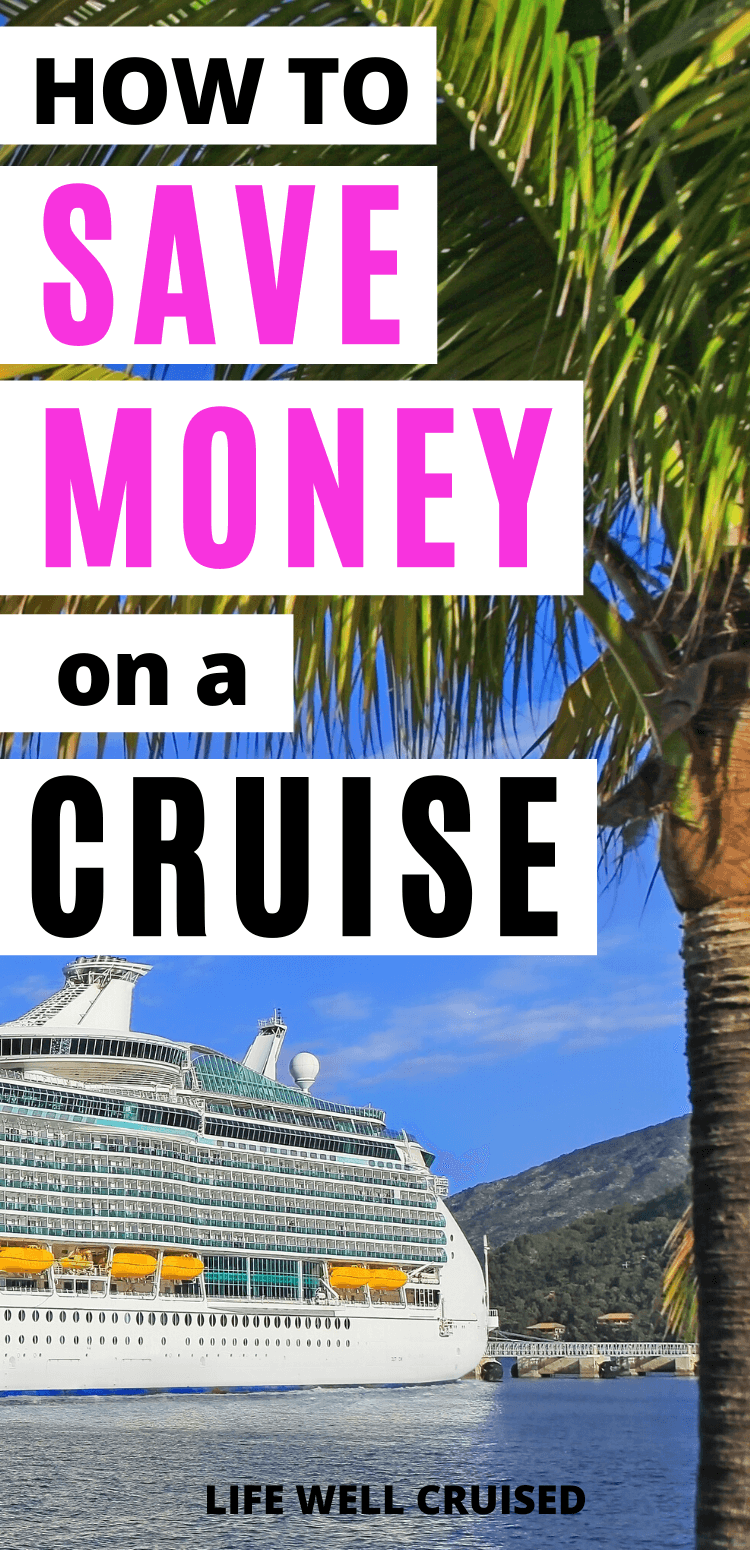 4. Bring wine or champagne on board
Many cruise lines allow you to bring a couple of bottles of wine on board. In some cases there will be a small corkage fee charged when you bring it on board. Other cruise lines will only charge you if you bring the full bottle to the dining room.
Wine glasses are available at any bar, so take a couple to your cabin and enjoy a glass on your balcony or bring your glass with you. A little known fact is that you can bring your drinks from one lounge to another, and into the dining room and restaurants.
5. Bring your own soda and water bottles onto the cruise ship
Although this varies by cruise line, some cruise ships will allow you to bring a small amount of cans of soda or water bottles onto the cruise. Always check your cruise line's policy on what you can and cannot bring onto a cruise ship.
If you don't think hat you'll be drinking enough soda to make buying a soda package worth it, this can be a small way to save some money on your cruise vacation.
A case of water bottles can be picked up near the cruise port and brought straight on board. Keep in mind that although the water is safe to drink on the cruise ship, you'll definitely want to bring water bottles with you on cruise port days, and the cruise ship will charge a lot for these.
An alternative to hauling a case water bottles onboard, is packing good refillable water bottles, which you can fill up with safe to drink water on the cruise ship.
What to pack on a cruise: 25+ most recommended Amazon Items to Bring on a cruise
6. Buy the cruise beverage package
Should you buy an "all you can drink" beverage package? The fact is that a cruise line beverage package may or may not be worth it for you.
Having cruised both with and without an all inclusive beverage package, I can attest to how wonderful it is to not have to think and calculate these expenses. Drinks on cruise ships can be expensive, and in many cases, if you're having 6 or more drinks a day, you'll find it pays for itself.
However, you do still need to calculate the value for you, and cruise line drink packages do vary by cruise line.
Beverage packages you may want to consider are: alcoholic drinks (usually standard alcohol and soda), premium beverage packages (premium liqueurs and more), non-alcoholic packages including virgin cocktails, coffee packages, soda packages
Here's a little tip to save some money before your cruise. Make sure to log into to your online cruise planner and watch for promotions and sales on beverage packages. Keep an eye on your emails as well. It's not uncommon for some cruise lines to offer pre-cruise beverage package discounts of 20%.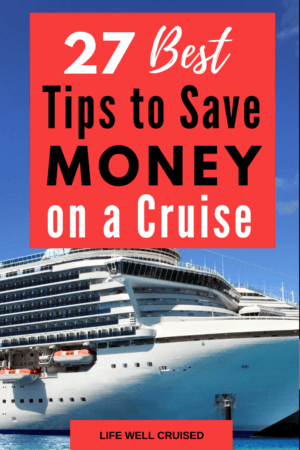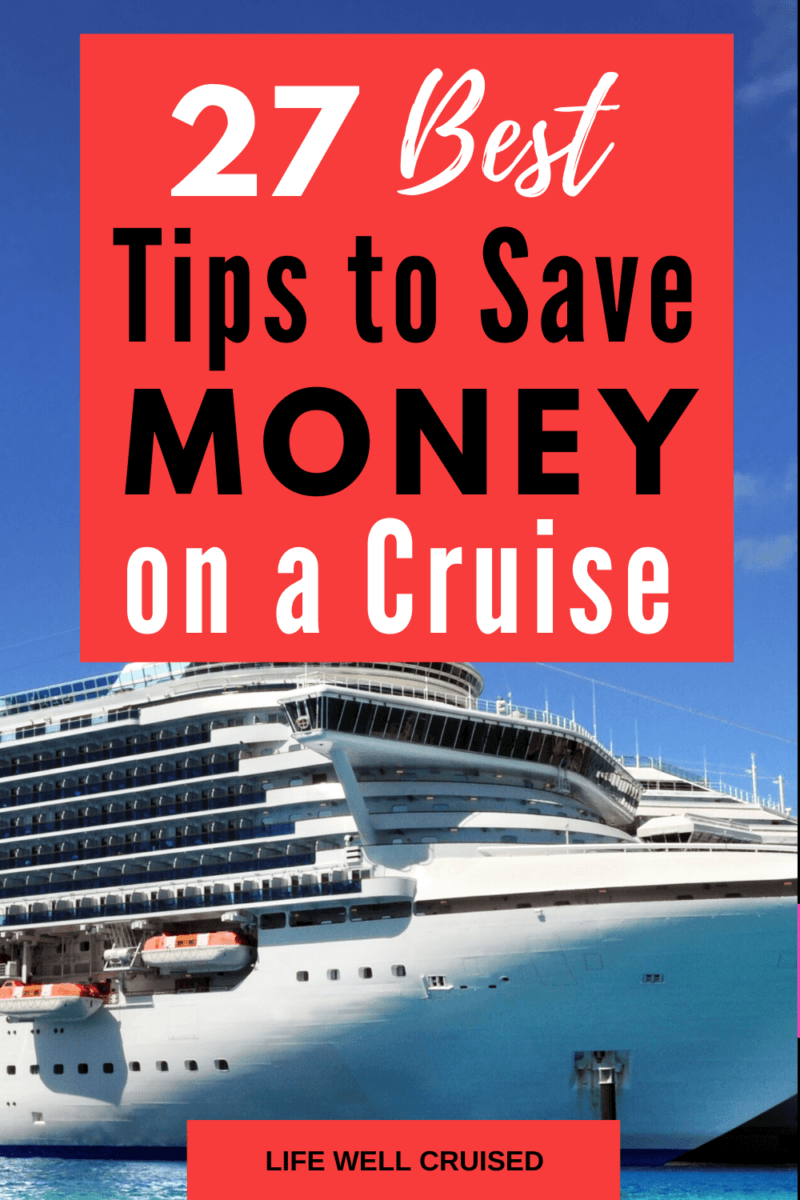 7. Book a cruise with perks
More and more cruise lines are offering some great values through their cruise perks. While the price for a cruise may be higher, it's worth it to calculate the value for you.
With cruise line perks, you can sometimes get free gratuities, extra on board cash credits (OBC), a free beverage package, shore excursion credits, free wifi, kids sail free promos, and more.
Cruise lines who've been offering some good perks to watch are Norwegian Cruise Line, Celebrity Cruises, Princess Cruises and Holland America.
As cruisers have been enjoying booking with perks, we may see more cruise lines offering some fresh promotions, so look out for this.
8. Look for drink specials on board
If getting the cruise drink package isn't worth it for you, there are still ways to save money on a cruise once onboard. Most cruise ships will have daily drink specials. In some cases it's a drink of the day, and in other cases it's a 2 for 1 happy hour.
You can find that information in your daily cruise planner, so make sure you look at it regularly.
A little tip for anyone who uses a cruise line app. Always check to see if there are drink promotions available through the app.
On a recent Princess Cruise, we found out that when using the Ocean Medallion app to order a drink from the bar, your first order was free.
9. Save money on cruise shore excursions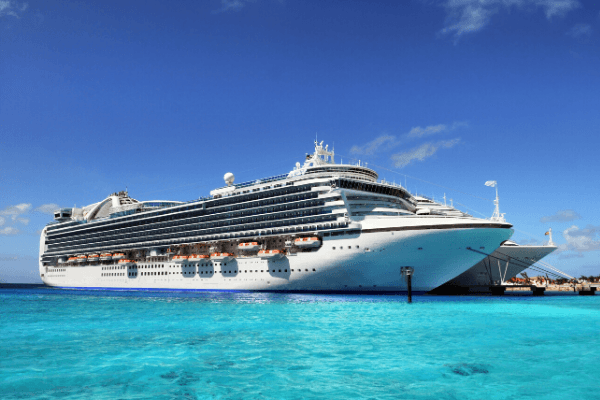 Shore excursions can really add up and increase the cost of an otherwise affordable vacation. While I wouldn't say to never do shore excursions, you may want to pick and choose. You certainly don't need excursions in every cruise port.
One of the best ways to save money on cruise excursions is to do a bit of research ahead of time. Read cruise blogs, check YouTube videos, or join a cruise roll call on Cruise Critic or on Facebook where people will chat about what activities they're planning in each port of call.
I like to pick and choose where I'll opt for an island tour or special activity, and where our family will head over to a local beach and enjoy a more relaxed day in port.
If you are planning an excursion, you may want to book with a local tour operator or with the cruise line. There are pros and cons to this, which I go into in more detail in this post (shore excursion tips).
10. Book cruise shore excursions online
One thing we noticed on recent cruises, is that prices for shore excursions are higher once onboard the cruise ship. In some cases the price difference was $10-20 person, and at other time it was even more than this.
This is another reason to research your cruise ports ahead of time, which also gives you time to compare cruise line shore excursions to other options.
If you have onboard credits to use, you can usually use these to book your cruise excursions ahead of time. In some cases, if you aren't able to do this online, you can do this with a phone call to the cruise line shore excursion department. Shore excursions are often refundable up until sailing, however do check the policy.
I love to let Princess cruisers know about this little known tip. Princess Cruises has an amazing Best Price Shore Excursion Guarantee Program where they will not only match a competitor's price if you find the same excursion cheaper online, but they will add an extra 10% as an On Board Credit (cash to use on your cruise).
Even though shore excursions can add up, they really do add to your cruise experience and memories. Hopefully these little tips will save you some money on the extra expenses on a cruise.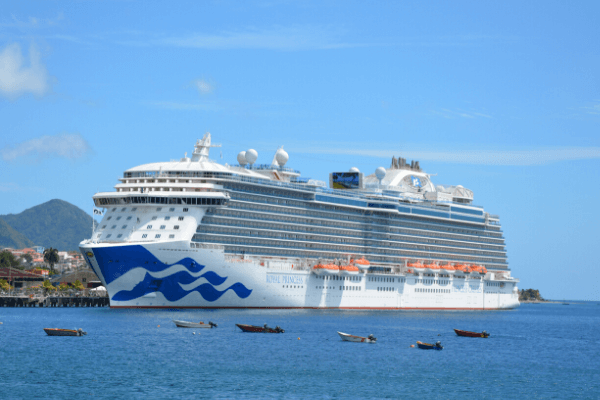 11. Specialty dining do's and don'ts
While there is so much great food included on a cruise, you don't really need to go to any specialty restaurants, it can still be a nice experience that you may want to try.
Here are some tips to save money on specialty dining on your cruise, if you decide to go.
Firstly, check for perks packages when booking your cruise that include one night or more at one of the cruise ship's specialty restaurants is available. NCL Free at Sea is a good example of this.
Secondly, monitor your emails and pre-cruise online account for discounts on dining packages. Many cruise lines will have some special offers.
Finally, check once on-board for embarkation day promotions, lunch specials and surprise sales. Depending on the cruise ship, some specialty restaurants may be open for lunch at almost 50% off, which can be a great thing to do a sea day.
Eat in the diningroom, buffets and casual venues which are included with your cruise. Avoid the specialty restaurants which can be pricey and even the a la carte restaurants restaurants which may have a smaller charge.
Cruises have so much food that is included, and can it can be tempting to try out a steakhouse, sushi venue or even a fun burger joint that has an up-charge. These extra charges can add up, and are really unnecessary since your meals and snacks have already been paid in your cruise fare. Instead, why not try various appetizers and main dishes in the main dining-room and have some of the great casual food as snacks.
12. Check for price reductions on your cruise
One of the best ways to save money on a cruise is by simply monitoring the price. This is especially true of you've booked your cruise a few months or more ahead of time.
If you're wondering how this works, usually, only a deposit is required to book a cruise. Final payment may be due anywhere from 60 to 120 days before your cruise.
If the price on the cruise line website decreases before final payment, in most cases the cruise line will honor the lower price and reduce your cruise fare.
There are some things to consider, such as, the cabin category must be available. You'll also want to make sure that you aren't losing any extra promotions and perks that were available at the time you booked, that may not be part of this new, lower priced option.
13. What if the price goes down after final payment?
In the fine print, you'll notice that cruise lines won't honor price drops after final payment. However, it's always worth calling the cruise line or checking in with your travel agent to see if there are any options.
One thing that might be available is a cabin upgrade. If the price of the next cabin type is just a little higher, it's often possible to upgrade and simply pay the small difference.
On a past Celebrity cruise, we upgraded from an ocean view cabin to a veranda cabin for an additional $39 for the whole cabin. Well worth it!
I've heard in some cases of cruise lines occasionally giving an additional on board credit as a good will gesture. It's always worth checking and asking.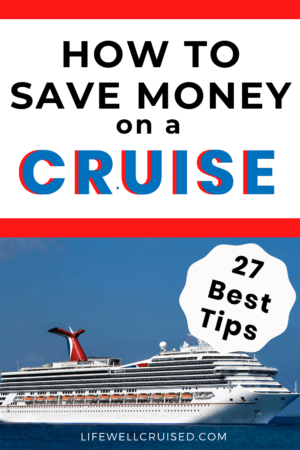 14. Get free cabin upgrades (or discounted)
If you aren't picky about your stateroom, choose the lowest price cabin that you'll be happy with. However, when asked by the cruise line or your travel agent if you'd like a free upgrade if one becomes available, say yes.
However, at the same time, it's also really important to make sure you you note the booking, "no upgrade" if you don't want a potential change in cabin, especially if you've carefully chosen it's location.
This might be surprising, but it's one of the cruise cabin mistakes many people make when booking a cruise.
Over the last couple of years, it's actually become more rare to see free cabin upgrades. Instead, many cruise lines are offering a chance to bid for a room upgrade.
In some cases this can be a tremendous savings on a cruise! Of course, there's no guarantee, but you can always put in a minimum bid and see what happens.
15. Refundable vs non-refundable deposits
Booking a cruise with a non-refundable deposit can save a couple hundred dollars per person, and may be worth it if you're pretty much set to go. Don't forget to purchase travel insurance for the things you can't plan for, but this could be a great way to save money that you can put towards something else.
Personally, I prefer the flexibility of refundable deposits, especially if I'm booking a year or so ahead, but it's a good idea to do a price comparison and weigh your options.
16. Guarantee cabins for the win
Picking a cruise cabin can be confusing, especially when one of the options is a guarantee cabin. What this simply means is that the cruise line will choose your cabin for you. This means you won't have control of where your cabin is located on the cruise ship.
Generally, choosing a guarantee cabin will absolutely be your lowest price option for a cruise. Sometimes, those amazing last minute deals you see are for guarantee cabins, which of course come with their pros and cons.
17. Drink at the cruise ports
The prices for drinks on a cruise can definitely add up, and in many ports of call, having a beer, glass of wine or frozen cocktail will be much cheaper than on the cruise ship.
Some shore excursions will include both sodas and alcoholic drinks like rum punch or rum swizzles.
18. Take advantage of the free things that are included on your cruise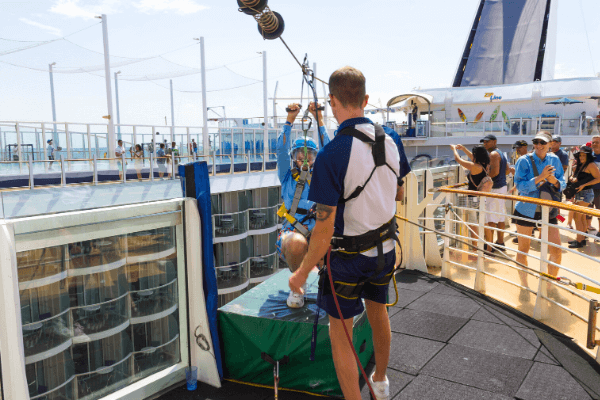 It can seem like there are a lot of extras to think about on your cruise vacation, however it's important to remember to take advantage of all the free stuff on your cruise as well.
This can include the restaurants and dining options that are included on your cruise ship. From the main dining room, to buffets, to free or included cafes with snack and pastries and gourmet pizzerias. Even room service may be included with your cruise fare, on some cruise lines.
On top of the food, of course there are plenty of activities and amenities that are included on cruise ships. From ropes courses and waterslides on family orientated cruise ships, to lectures with renowned authors and speakers on cruise ships that attract a more mature crowd.
All cruise ships have amazing entertainment that will keep you as busy as you want to be.
19. Skip the cruise line transfers
Cruise line transfers can be convenient to take you from the cruise ship to the airport, however a cheaper option is to use a cab, uber or private shuttle service. This is especially true if you're traveling as a larger group and definitely worth exploring the savings.
20. Get extra on board credits by booking your next cruise on board
Have you been on a cruise and wondered why people are booking their future cruises right now? Perhaps you've wondered if it's actually worth it. This is one of my favorite cruise travel hacks!
If you think you'll cruise again, it's definitely worth it to book your next cruise onboard. Depending on the cruise line, you'll either get extra onboard credits, or money you can use on your next cruise, or, you can get savings on the cruise you are on.
In some cases, you can reduce your on board expenses by opting to buy a future cruise certificate and get a substantial onboard credit to use on the cruise you are on.
In other cases, you can book a cruise in the future, and be able to have a nice on board cash credit apply on your next cruise. Either way, the cruise line is giving you free money. However, it's always important to read the terms and conditions.
Something to remember is that you can always make changes to your booking once off the ship, and still keep the booking with your travel agent, even when you've booked on board.
21. Save money on photo packages
While no one really needs professional photos on a cruise ship, they can be a great memory, so this may make it worth it for you. Cruise lines now have photo packages, including digital ones, that are a pretty good value.
You may also want to check the daily planner and in the photo shop for on board specials and 2 for 1 offers.
22. Shop onboard and wait for the last day sales
If you're planning to bring souvenirs home, such as cruise line t-shirts, you'll find a big huge sale on the last day of the cruise. One thing to keep in mind, is that most of the time, this isn't the same merchandise you'll have see in the cruise ship stores.
However, if you love some of the stuff you find on board, not to worry. There are sales throughout the cruise and you can get some amazing deals. Remember that all jewelry and other high end items are duty free, and in some cases this makes it more affordable than at home.
If you'd like to know more, I put together this post, all about: duty free shopping deals on cruises.
23. Do your own laundry on a cruise
Using the cruise ship laundry services can be quite pricey. Having a cabin that comes with some free laundry perks is amazing.
However, otherwise, you'll probably want to avoid sending clothing to the laundry service. You can save some money, while still having your clothes stay wrinkle free, with these cruise tips.
Use the cruise ship's self-serve launderettes if they have them (not all ships do). This is about the only place you might find an iron on a cruise ship.
Alternatively, bring some a small DIY laundry kit from home and wash a couple of items as need be in your cabin.
There are 3 products I like and recommend.
1. Travel size laundry soap packages. These are great for pre and post cruise stays in pre and post cruise destinations.
2. Tide-to-Go travel size stain remover sticks. I love these so much and almost always have one in my handbag.
3. Downy Wrinkle Release is amazing. You can bring along a small travel size bottle and it will really get the wrinkles out of your clothes on a cruise. Although it doesn't get the items crisp like with an iron, it still does a pretty good job, and were all in the same boat – cruise pun intended 😉
Finally, you can also wait for laundry bag specials that the cruise ship might have a few days into your cruise. As an example, it may be $25 for a bag of clothing, and this may be worth it for you.
24. Buy the internet package
If you plan on using internet on your cruise, buying the internet package is the only way to go and will definitely save you money.
Internet used to be very expensive on a cruise, however we are seeing that while cruise ships are integrating new technology, the pricing on internet packages has been decreasing.
In some cases, booking a cruise that has free wifi as a perk option might be a good idea.
Here's a little tip – as in many cases, booking online before your cruise or on the first day of your cruise will save you some money. On our last Princess Cruise, we saved 50% off our Medallion Net internet package when we purchased on embarkation day.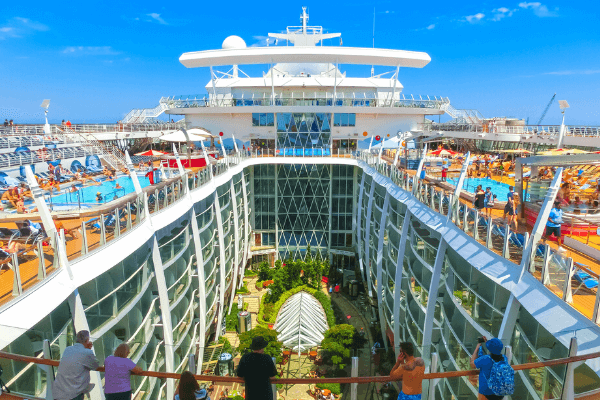 25. Use your travel rewards and credit card points programs
So many people collect points and travel reward and don't redeem them. If you're sitting on some Air Miles, travel rewards or credit card points, put them to good use.
On a recent cruise, we cashed in some Air Miles that we earn at our bank for everyday transactions. It was great to save $200 on a beautiful pre-cruise hotel stay.
If you aren't a points collector, you may want to collect rewards for your favorite cruise line with their branded credit card. However, you might get even more value from a broader travel reward credit card.
26. The best time to book a cruise and save
One of the best ways to save money on a cruise, is to book it at the best time. Booking early often combines a better price with extra perks like on board credits. You also have a greater choice of cabins, which is especially important if you need more than one cabin, or need a cabin for 3, 4, or 5.
Solo travelers will want to book early as well, to get those coveted studio cabins and other accomadations that are priced for single occupancy. They aren't available on every cruise line or ship.
However, booking last minute may just get you the rock bottom best price on a cruise. Do keep in mind that this really depends on occupancy and availability. If you have your heart set on a Christmas or New Years cruise, or even a summer sailing, best not to wait.
If your calendar is open and vacation time is flexible, last minute bookings are probably still your best bet to save money on your future cruise.
27. Take advantage of cruise ship specials on port days
Days when cruise ships are at port are days when the cruise ship might make less money. After all, on sea days, the cruise ship has a captive audience. Cruise passengers are busy going to the spa, sitting by the pool with frozen drink, signing up for courses and activities that all have extra costs involved.
On port days, cruise lines know that cruisers are mostly off the ship. For this reason, they offer incentives and discounts to book spa appointments and other beauty and wellness treatments on port days.
Look out for these specials to save money on some things that you want to do anyway., and enjoy a quieter, more relaxing time on the ship during these less busy days.
Want to know more money saving cruise hacks? Here are some tips in this YouTube video:
Final thoughts: How to Save Money on a Cruise – 27 Best Tips and Secrets
Cruises are a great way to vacation and travel affordably. If you're hoping to save money on a cruise in the future, I hope that these cruise tips have been helpful.
We went over a lot of information in this post, and I wanted to make sure it was pretty thorough and gave some advice you may not have heard before. These cruise travel tips aren't "one size fits all", as everyone's vacation needs, hopes and dreams are different.
Whether you're trying to budget for a cruise and keep to a budget, or simply want to get the best deal – I hope these tips will help you the best and most memorable cruise vacation possible!
Have you had an amazing deal on a cruise or found some great ways to save money while cruising? Please share in the comments below.
Happy Cruising!
Ilana xoxo
P.S. If you enjoyed this post and found it helpful, please don't keep it to yourself ;-). Feel free to share on Pinterest, Facebook or Twitter (share buttons at the top). Thanks so much!
Popular posts:
20 Cruise Packing Tips all Cruisers Need
30 Cruise Cabin Hacks Every Cruiser Needs to Know
10 Ways to Prevent and Avoid Seasickness on a Cruise
25+ most recommended Amazon Items to Bring on a cruise
Let's connect:
Follow me on Facebook at Life Well Cruised
Follow me onYouTube at Life Well Cruised (Vlogs and cruise tips)
Follow me on Pinterest at Life Well Cruised
Follow me on Instagram at Life Well Cruised