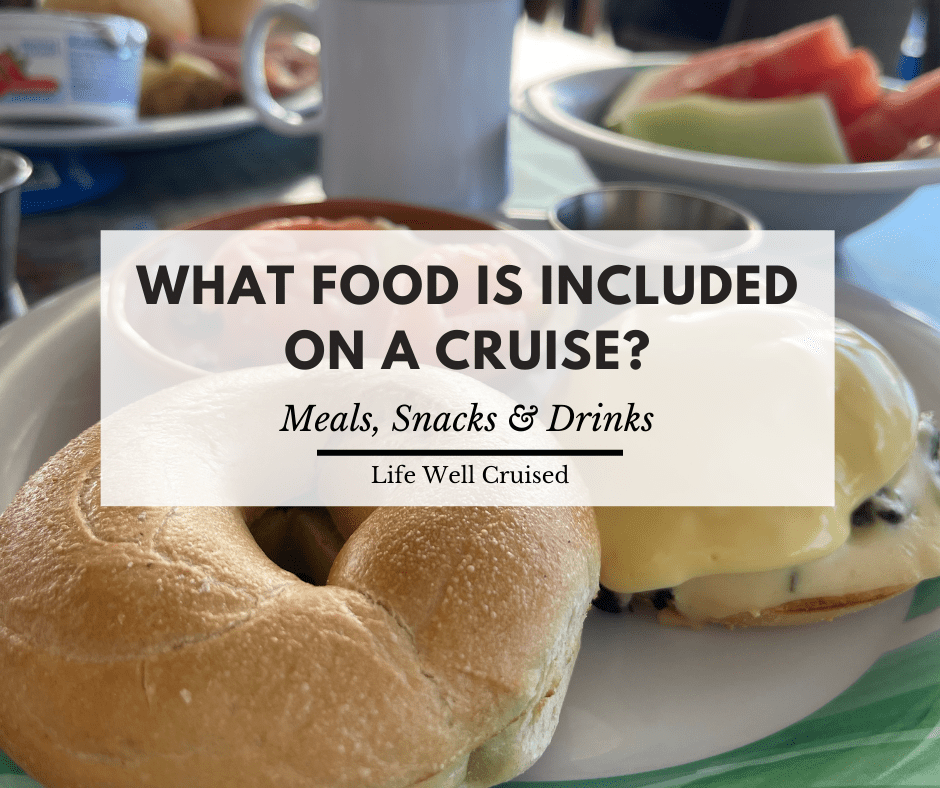 Are you going on a cruise and wondering what food is included with your cruise fare? With the rise of specialty restaurants and different dining options on cruise ships, it can be confusing to know what to expect.
When I was new to cruising especially, I wanted to know what food was free on a cruise and what wasn't, so I could plan and budget. Since dining is one of the best parts of cruising, this is something I still research before every cruise.
In this post I share what meals are included on a cruise and answer some frequently asked questions about cruise ship food. I also let you know what drinks are included on a cruise, as well as which drinks have an extra cost.
This post contains affiliate links which means if you click and buy that I may make a commission, at no cost to you. Please see my disclosure policy for details.
As an Amazon Associate I earn from qualifying purchases.
Is Food Included on a Cruise?
Most food is free or included on a cruise. This includes breakfast, lunch and dinner in the main dining room, buffet and some casual restaurants on the cruise ship. Alternative dining in specialty restaurants often has an additional charge and is not included in the cost of a cruise.
Food Included on Cruises – What to Expect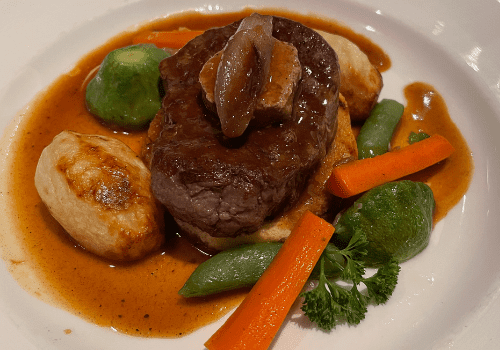 What Meals Are Included on a Cruise?
While every cruise line is different, all major cruise lines include a good variety of food. Breakfast, lunch, dinner, and even afternoon tea are offered daily.
You can opt to eat your meals in the main dining room, buffet, poolside grill and pizzerias on most cruise ships. In other words, you have sit down restaurant type options for dining, as well as very casual choices all free on a cruise.
There are some dining venues and specific foods not included on a cruise. I'll share more information below.
Main Dining Room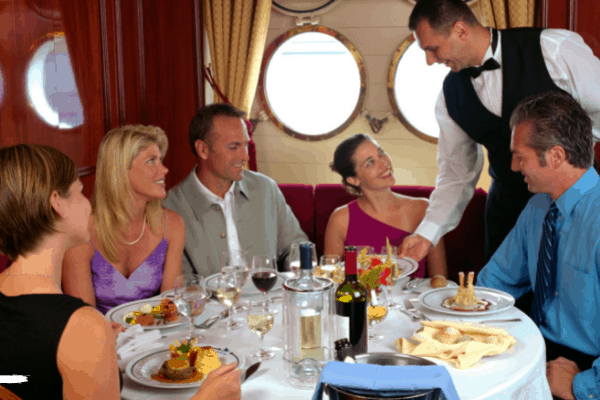 The main dining room is open for breakfast, lunch and dinner on most days of your cruise. However, hours may vary, especially on port days.
Similar to a restaurant, the main dining room will have a variety of food on the daily or nightly menu. You can expect to find popular dishes, as well as vegetarian, vegan and low fat or healthier meal options.
If you have an allergy or food preference, it's important to let the cruise line or your travel agent know when you're booking. While cruise lines are very good at accommodating food related allergies and diets, knowing in advance will help them to ensure you are well cared for.
Related: 13 Cruise Main Dining Room Tips All Cruisers Need to Know
Cruise Ship Buffet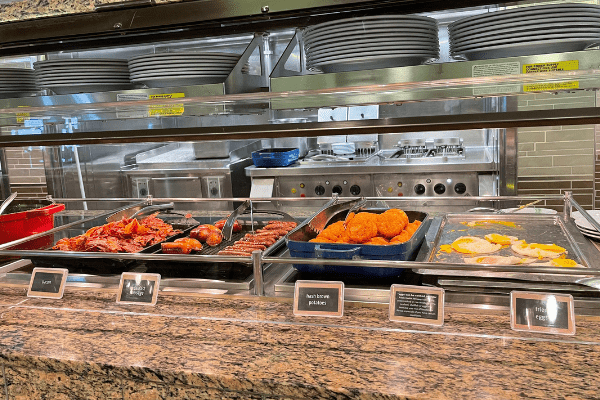 If you love a good buffet, cruises are known to have some of the best! Most cruise lines have a self serve buffet, while a few offer a full serve buffet.
Either way, there are a lot of choices for breakfast, lunch, dinner and snacks throughout the day at the buffet. You can expect to find roast meats and potato dishes, pasta dishes, indian food, vegetarian and vegan options, fruits and salads.
Casual Restaurants and Snacks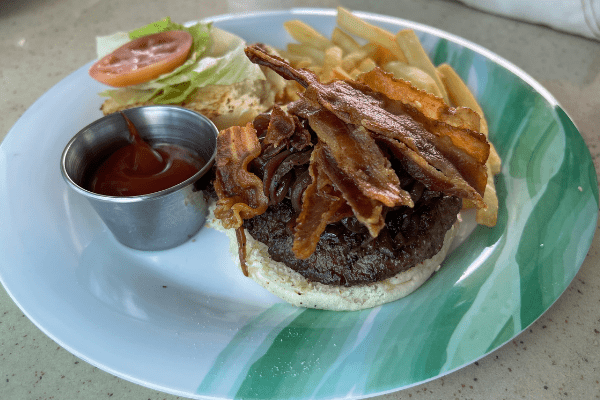 Most large cruise ships have at least a couple of casual restaurants and snack counters which are included. Some will be indoors in the atrium or promenade, while others will outdoors on the Lido Deck.
You can find pizza, burgers and hot dogs, tacos and other casual grab and go food included on a cruise. Cookies, pastries, soft ice cream and desserts are also available freely.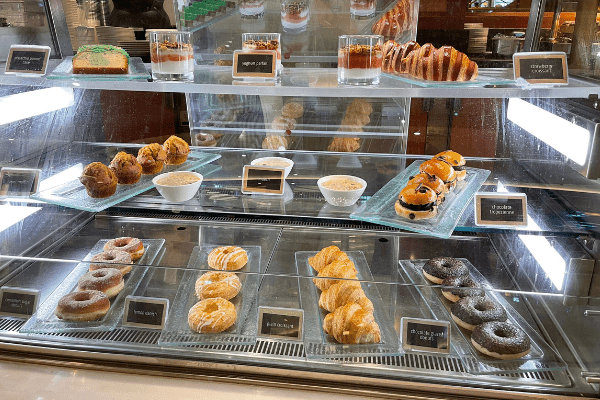 Many of these venues will be open during certain hours of the day.
Poolside grill
Pizzeria
Sandwich cafe
Pastry and donut cafe
Spa cafe
Soft ice cream station
Related: Cruise Essentials List – 50 Favorite Amazon Items
Room Service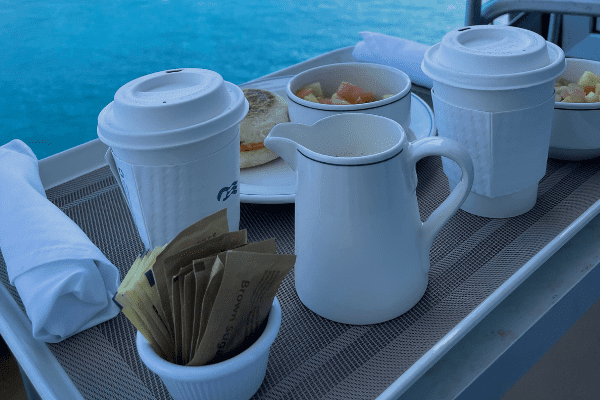 Room service is available on all cruise lines, however it's not always free. While a few years ago most cruise lines offered free room service on a cruise, it now differs by cruise line.
Some contemporary cruise lines have a room service delivery charge at all times (about $5-8), while others offer free continental breakfast room service delivery in the mornings.
On premium cruise lines, such as Princess Cruises, Holland America and Celebrity, room service is available free or with a small charge when food is ordered during the late night.
Get The Ultimate Cruise Planner
Regular price: $27 Now just $17!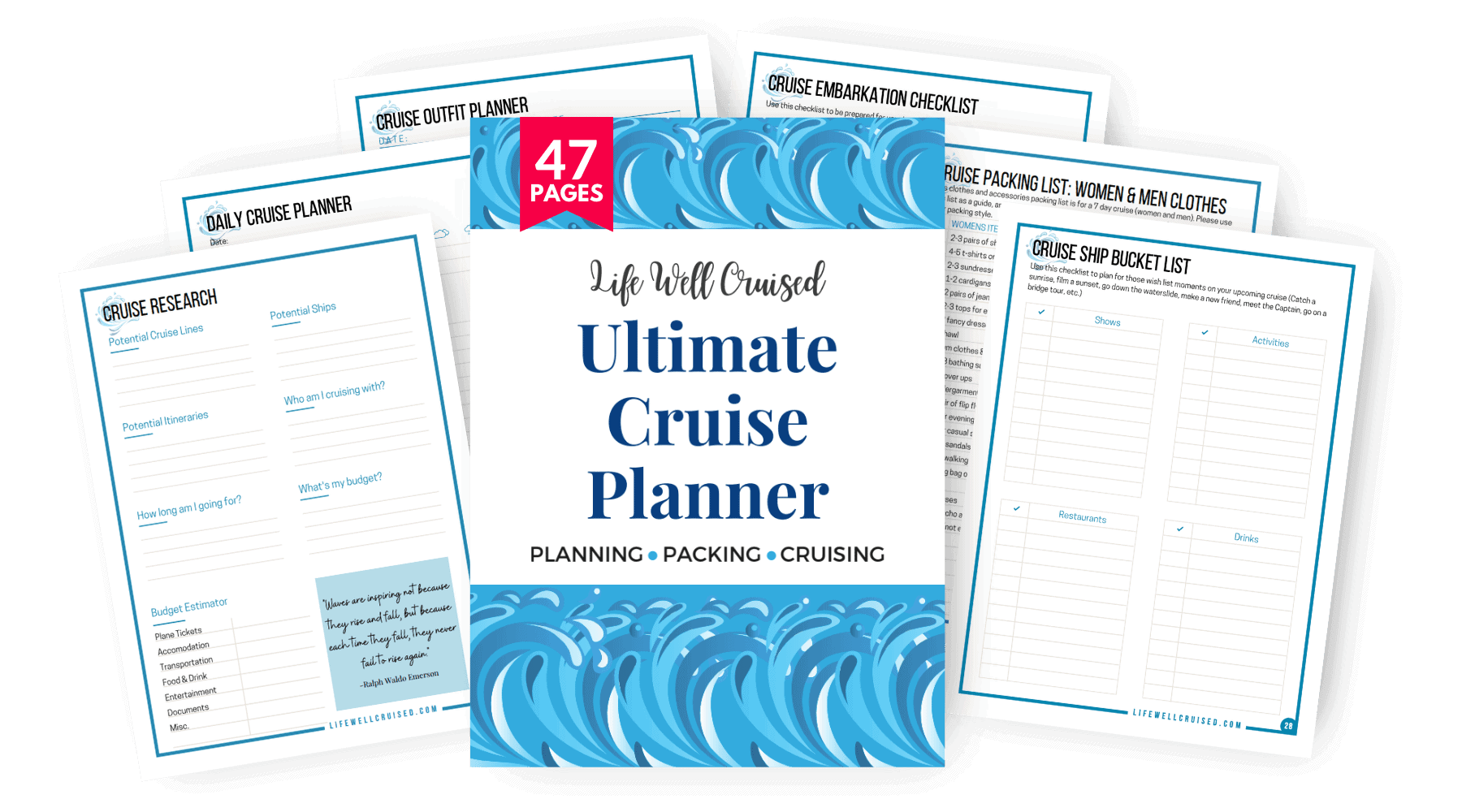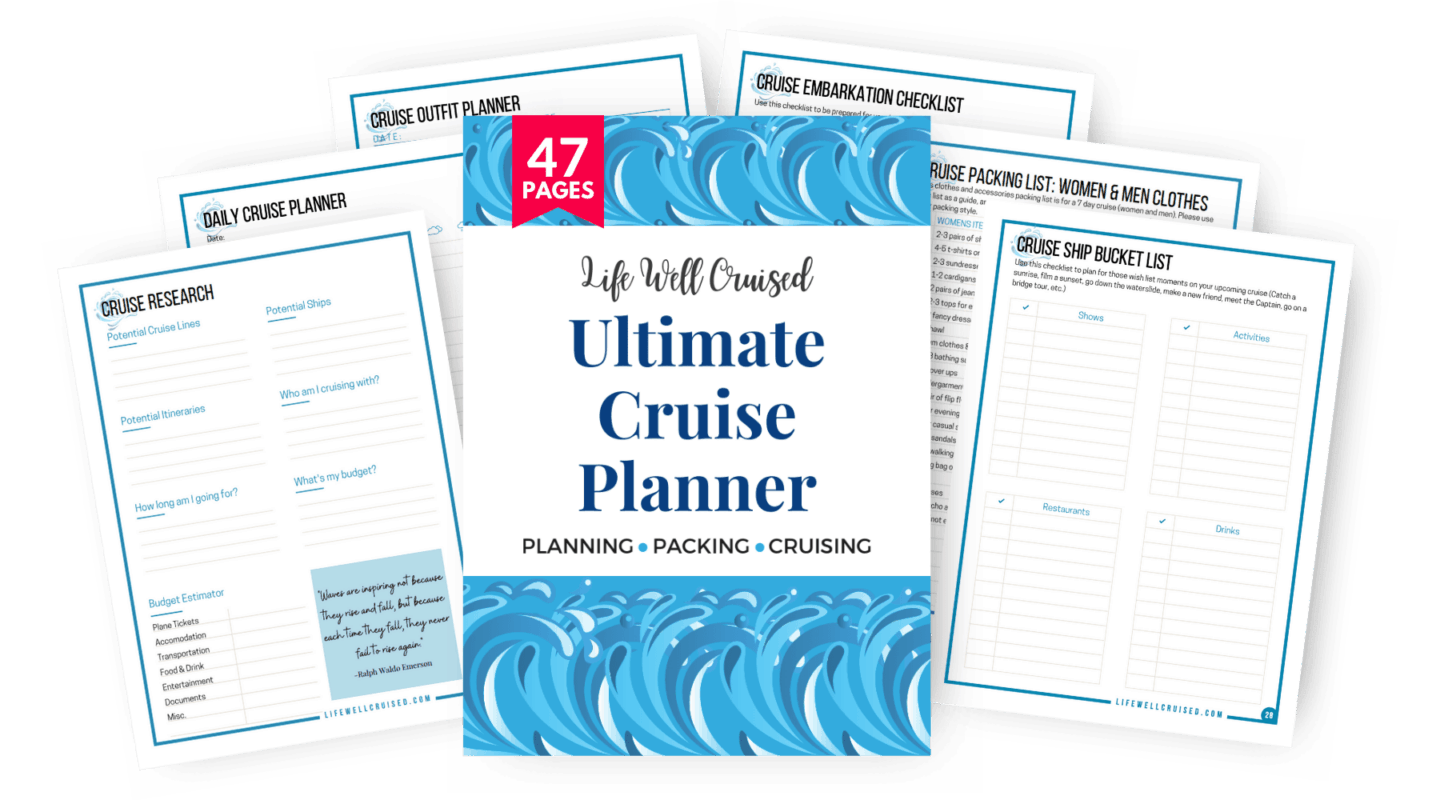 What Food Is Not Included on a Cruise
While there are a lot of food and dining options that are included on a cruise, there are some meals that cost extra. In some cases there are extra charges for an additional lobster tail in the main dining room.
Most cruise ships have 2 or more specialty dining restaurants, which are not included.
As well, there are some foods that have an extra charge elsewhere on the ship. These may include chocolate covered strawberries and other "special" snacks, as well as some menu options in the main dining room.
Specialty restaurants tend to book up quickly, so if you do want to have a more intimate dinner, it's best to make reservations early.
While there are some dining experiences that are offered at an additional charge, there is a great selection of food included on a cruise for both meals and snacks.
Can You Bring Food Back to Your Cabin?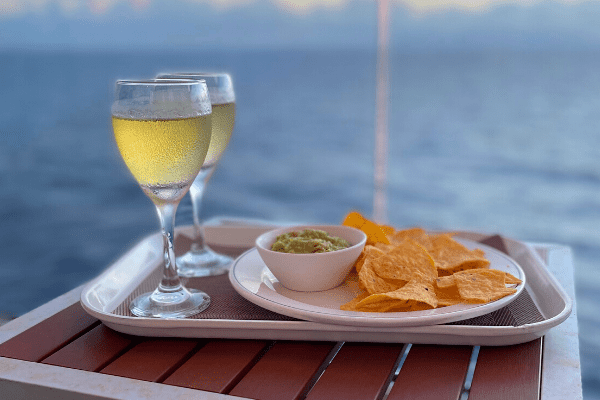 If you don't want to eat in the buffet or public area, you can take food back to your cabin and eat it there. At the buffet, you can make a plate with snacks or even a larger meal.
If you have kids, you may want to bring small milk cartons to keep in your cabin mini-fridge, along with some cookies for an occasional snack.
Wondering if you can take food off the cruise ship? Read this next:
Can You Take Food Off a Cruise Ship While in Port?
Wondering what food and drinks you can bring on a cruise? Read this next:
What Food and Drinks Can You Bring on a Cruise? (snacks, water bottles, wine)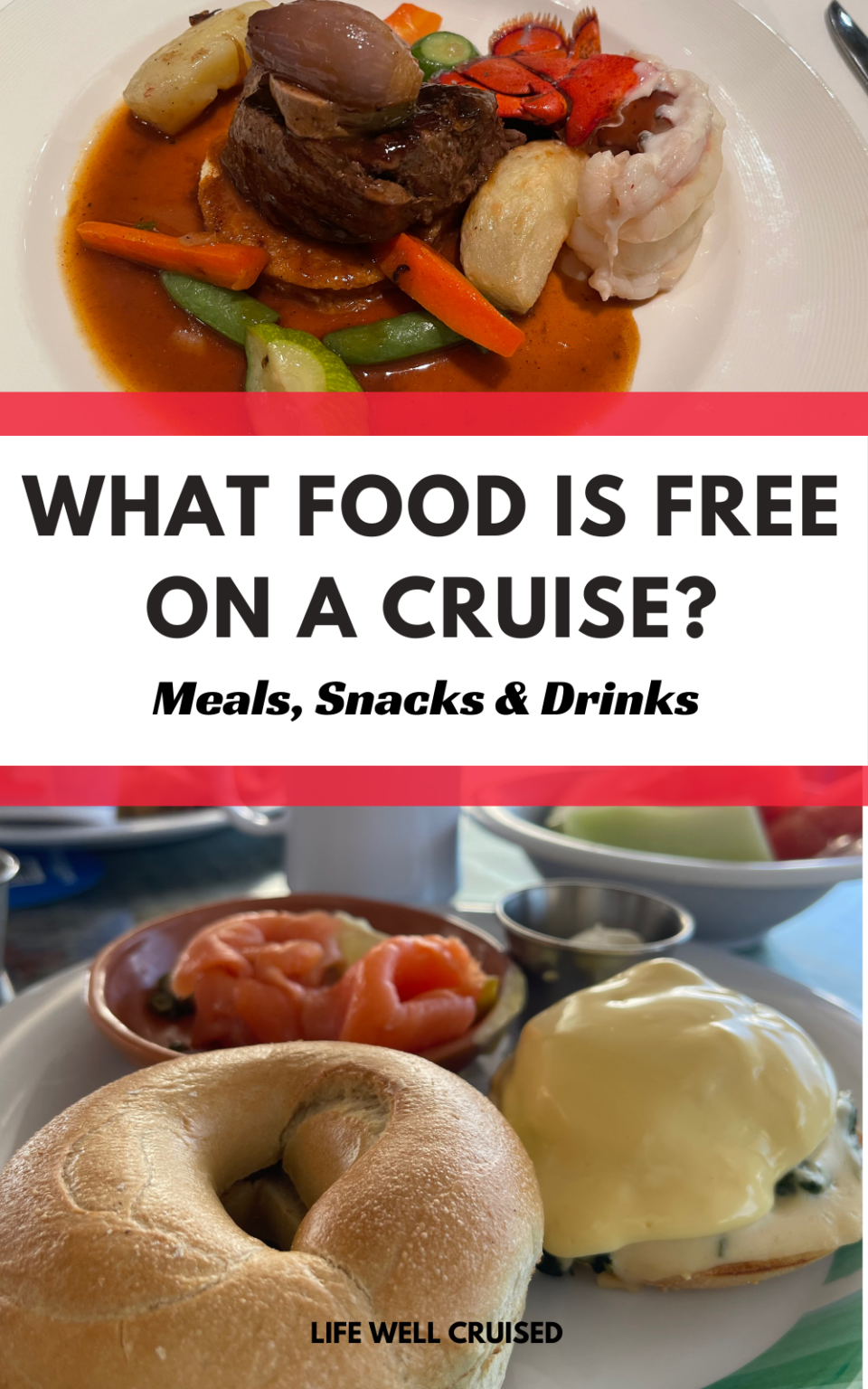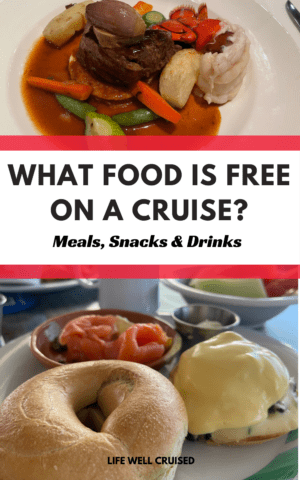 What Drinks Are Included on a Cruise
Most major cruiselines include water, unsweetened ice tea, lemonade or flavored punch, coffee and tea in the cost of a cruise.
Soda or pop, with the exception of Disney Cruise Lines and all-inclusive cruises, has an additional charge. Specialty coffee and premium teas have an extra charge, and alcohol is not included on a cruise.
Soda and other beverage packages are available and may be worth it on a cruise.
*If you're cruising with Norwegian Cruise Line, check put the Free at Sea perks (includes beverage package).
*If you're cruising with Princess, check out Princess Plus (great value)
*If you're cruising with Celebrity, check out the Always Included program.
Related & Popular Posts
How Not to Gain Weight on a Cruise (& still enjoy cruise food)
What Food and Drinks Can You Bring on a Cruise?
50 Must-have Items to Bring on a Cruise
Cruise Cabin Door Decorations: The Ultimate Guide for Cruisers
10 Romantic Things to Do When Cruising Together
Port Side vs Starboard on a Cruise – Which Side of the Ship is Best?
75 Genius Cruise Hacks and Tips: Get Organized, Save Money, Cruise Better
Final Thoughts on What Food is Included on a Cruise
Cruises are a great value vacation, as so much food is included on a cruise! There is food for everyone, even the most picky eaters!
While there are specialty restaurants which have an extra charge, this is really optional. Whether you choose to try a specialty restaurant or enjoy the free food options that are included, you won't feel hungry at all!
Happy Cruising!
If you found this post helpful, please don't keep it to yourself ;-). Share it on Facebook or Save for later Pinterest (share buttons at the top). Thanks so much!
Let's connect:
Follow me on Facebook at Life Well Cruised
Follow me on Pinterest at Life Well Cruised
Follow me on Instagram at Life Well Cruised