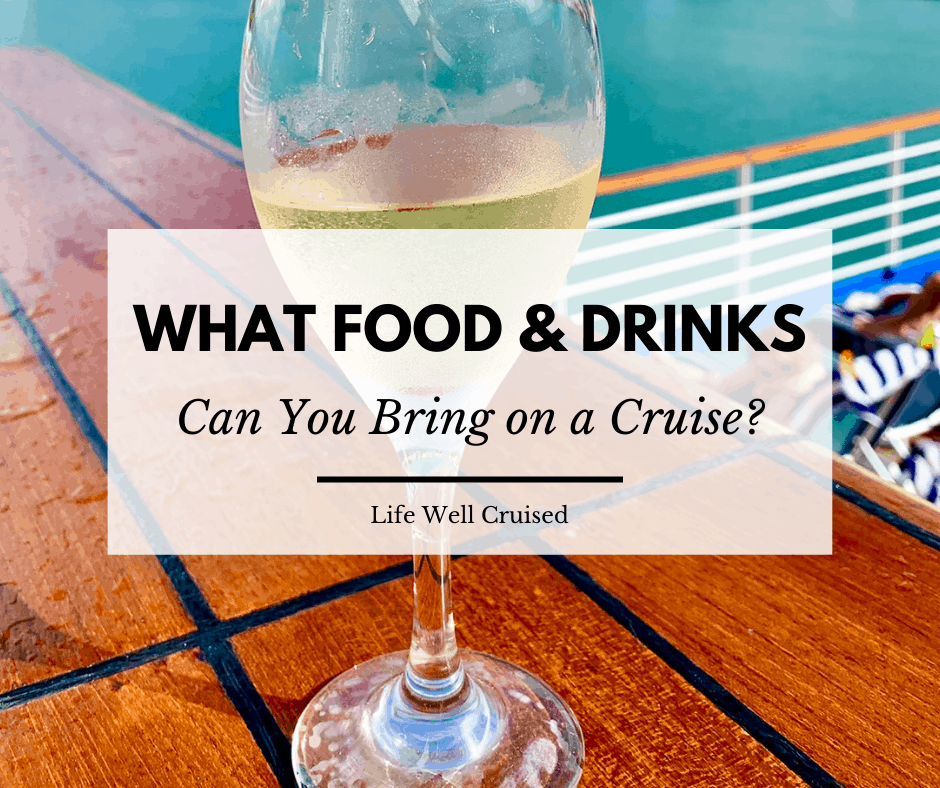 Have you wondered what food and drinks you can bring on a cruise? There's a lot of delicious food and amazing drinks available on a cruise, so you probably don't have to bring any extras onboard at all.
However, if you have a picky eater, will miss your favorite snacks, or want to bring drinks onboard to save a little money, I've got you covered!
In this post, I answer several common questions and share the cruise line policies on bringing snacks, water, soda, wine and more onboard a cruise.
This post contains affiliate links which means if you click and buy that I may make a commission, at no cost to you. Please see my disclosure policy for details.
As an Amazon Associate I earn from qualifying purchases.
Can You Bring Snacks on a Cruise?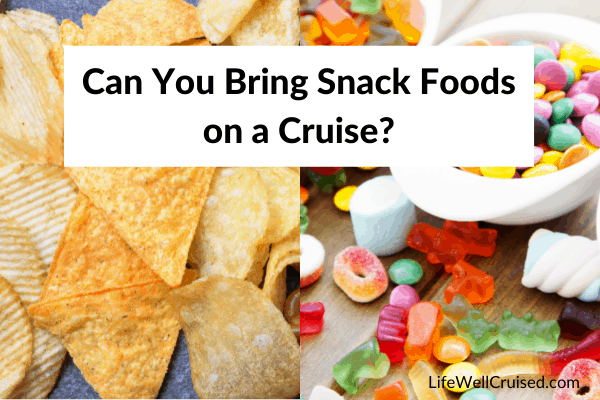 Have you wondered if you can bring some of your favorite snacks on a cruise? While there's a lot of great food included on a cruise, there may be times when you crave your favorite chocolate bars, chips or candy.
Yes, cruise lines allow you to bring snacks on board, provided they are non-perishable. In other words, you're welcome to bring pre-packaged snacks and treats for you or your kids to eat onboard your cruise.
Please note that you can't bring can't bring any homemade foods, meats, fruits or cheeses on a cruise.
Cruise Tip: Bring along some small ziplock baggies and make your own "kid's snack bags" from the buffet to eat later in your cabin. You'll find crackers, nacho chips, cookies, cut up fruits and cheese and other food options your kids will love.
What Food and Drinks Can You Bring on a Carnival Cruise?
If you're going on a Carnival cruise, you might be wondering about what food and drink you can bring on your cruise. Carnival allows passengers to bring snacks and other perishable, packaged foods onboard. Guests can also bring small quantities of canned soda or pop, that must be carried on during the embarkation process.
Can You Bring Baby Food on a Cruise?
If you're cruising with a baby, make sure to check your specific cruise line for their policies as well as what food they will provide. In some cases, cruise lines may provide baby food free of charge, while other cruise lines require you to bring your own.
When bringing your own baby food and formula, make sure it's pre-packaged and sealed. Homemade food is prohibited on cruise ships. You can bring it in your checked luggage or carry on bag.
Related: What to Pack for Your First Cruise
What Drinks You Can Bring on a Cruise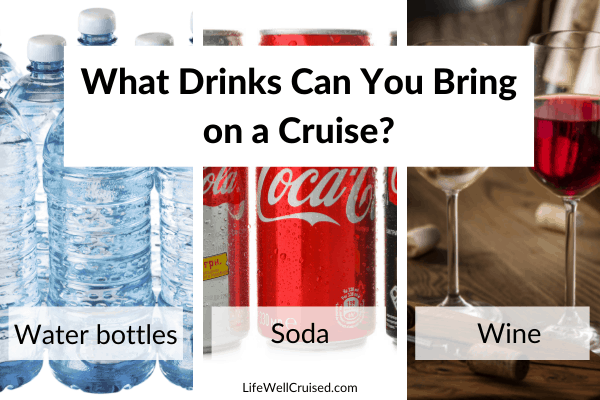 Many cruise lines will allow you to bring small quantities of non-alcoholic drinks and wine onboard. Hard alcohol and liqueurs are not permitted.
Water Bottles
Always check your cruise line policy on bringing water bottles onboard, as this has been changing in recent years. Most cruise lines have water packages that you can purchase before your cruise, so that water bottles or cartons can be delivered to your cabin.
If you bring water bottles on board, it must be done on embarkation day and should be brought on as carry on luggage.
At this time, the following cruise lines allow you to bring water bottles on your cruise:
Holland America
Disney Cruise Line
Royal Caribbean (12 bottle limit)
Cruise lines that don't allow you to bring water bottles on a cruise:
Carnival Cruise Line
MSC Cruises
Cunard (bringing food and drink onboard is not encouraged)
Virgin Voyages
Cruise Tip: Bring along a refillable water bottle to use onboard and take on shore excursions and port days.
Related post: 50 Popular Cruise Accessories and Travel Essentials
Soda and Non-Alcoholic Drinks
Most cruise lines allow you to bring small quantities of soda and non-alcoholic beverages in cans or cartons and in some cases, sealed plastic bottles.
If you'd like to bring your favorite soda or energy drink onboard, make sure to put it in your cruise carry on luggage on boarding day.
Exception
Norwegian Cruise Line does not permit any non-alcoholic beverages to be brought onboard.
Related: 13 Big Drink Package Mistakes Not to Make on a Cruise
Can I Bring Wine on a Cruise?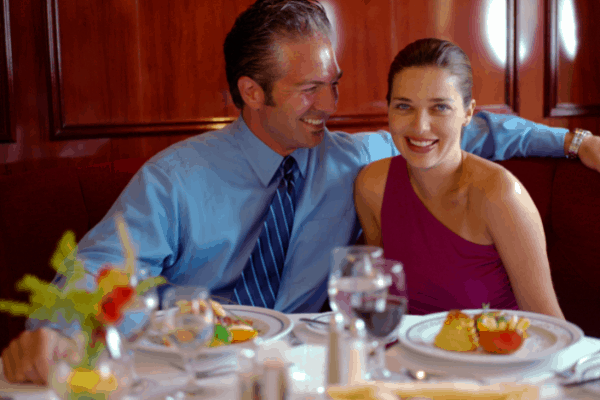 While cruise lines don't allow you to bring alcohol onboard, wine is often an exception. Most cruise lines allow you to bring one bottle of wine per adult on embarkation day only. If you pick up a bottle while in a port of call, the cruise line will collect it and return it to you on disembarkation day.
You can expect a corkage fee if bring the bottle to the dining room, restaurants or bars.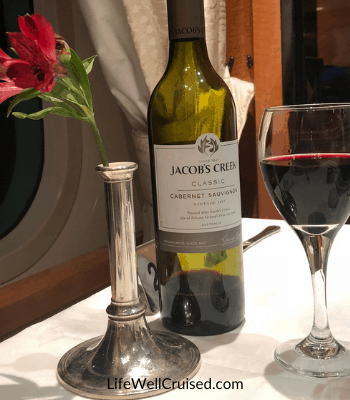 Here are the policies by cruise line:
Carnival Cruise Line
Carnival allows guests aged 21 and over to bring 1 750 ml bottle of wine or champagne on embarkation day.
Royal Caribbean
On boarding day, each stateroom may bring up to two 750 ml bottles of wine or champagne, as long as one guest is of legal drinking age.
Princess Cruises
Princess Cruises allows guests to bring 1 bottle of wine up per adult on embarkation day. Additional bottles can be brought onboard, however a corkage fee of $15 per bottle will be added to your onboard account.
Holland America
A bottle of wine per guest can be brought on board on embarkation day. Bottles consumed outside of the stateroom are subject to a corkage fee. Additional bottles can be brought on board but will be charged an $18 corkage fee upon embarkation.
Norwegian Cruise Line
Cruise passengers can bring bottles of wine and champagne on board, but are subject to a corkage fee whether you drink in your cabin, restaurant, bar or lounge. The price is $15 for a 750 ml bottle of wine and $30 for a 1500 ml bottle of champagne.
Celebrity Cruises
Guests of legal drinking age can bring up to 2 bottles of wine per stateroom, which is subject to a corkage fee.
Disney Cruise Line
Disney Cruise Line Guests 21 years and older may bring a maximum of 2 bottles of unopened wine or champagne (no larger than 750 ml) or 6 beers (no larger than 12 ounces) on board at the beginning of the voyage and at each port of call. These beverages must be packed in carry-on (not checked) bags or luggage.
Guests wishing to consume wine or champagne that they have brought on board in one of the dining rooms will be charged a corking fee of $25.00 per bottle.
MSC Cruises
MSC Cruises does not permit wine of any other alcoholic beverages to be brought onboard.
Virgin Voyages
Virgin Voyages, an adult only cruise line, allows guests to bring 2 bottles of wine per cabin.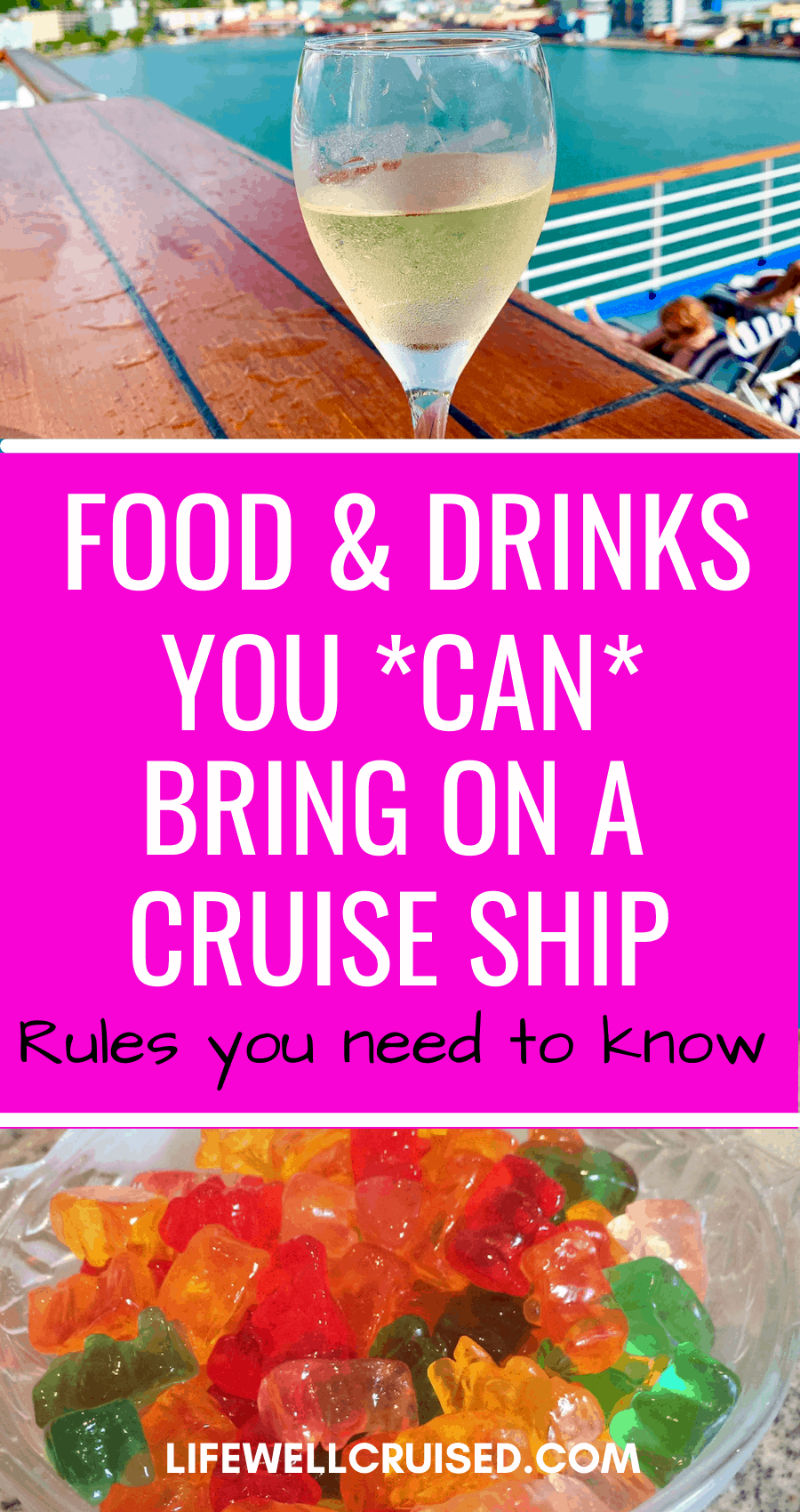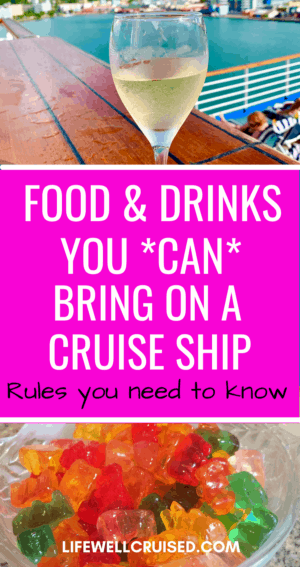 Sneaking Alcohol on a Cruise
Thinking about sneaking alcohol onto a cruise ship? Cruise lines are quite strict about bringing alcohol onto a cruise, and will confiscate if it's found.
What happens if you're caught?
What happens if you get caught sneaking alcohol onto your cruise ship? Mostly, we hear stories of being being called down to the "naughty room" to verify what was found in their luggage. At that point, the alcohol is confiscated. An embarrassing story to tell for sure!
However, consequences for breaking cruise line policies have the potential to be more severe.
Keep in mind that cruise lines will scan your luggage looking for full bottles of liquor and may as inspect any bottles of liquid (ie. mouthwash). If you think you'll be drinking alcohol, consider the cruise line beverage package or even one of the "free drink package" perks.
Related and Popular Posts
Final Thoughts: What Food and Drinks Can You Bring on a Cruise?
In this post we went over the cruise line policies on bringing food and drinks onboard a cruise ship. While each cruise line is different, several policies are similar. Things you can't bring on a cruise include homemade food, perishable items and alcohol (other than wine).
Do you have questions about bringing food, snacks and drinks on a cruise? Please share your experiences, questions and tips in the comments below.
Happy Cruising!
Ilana
P.S. If you've found this post helpful, don't keep it to yourself ;-). Please share on Facebook or save for later on Pinterest (share buttons at the top). Thanks so much!