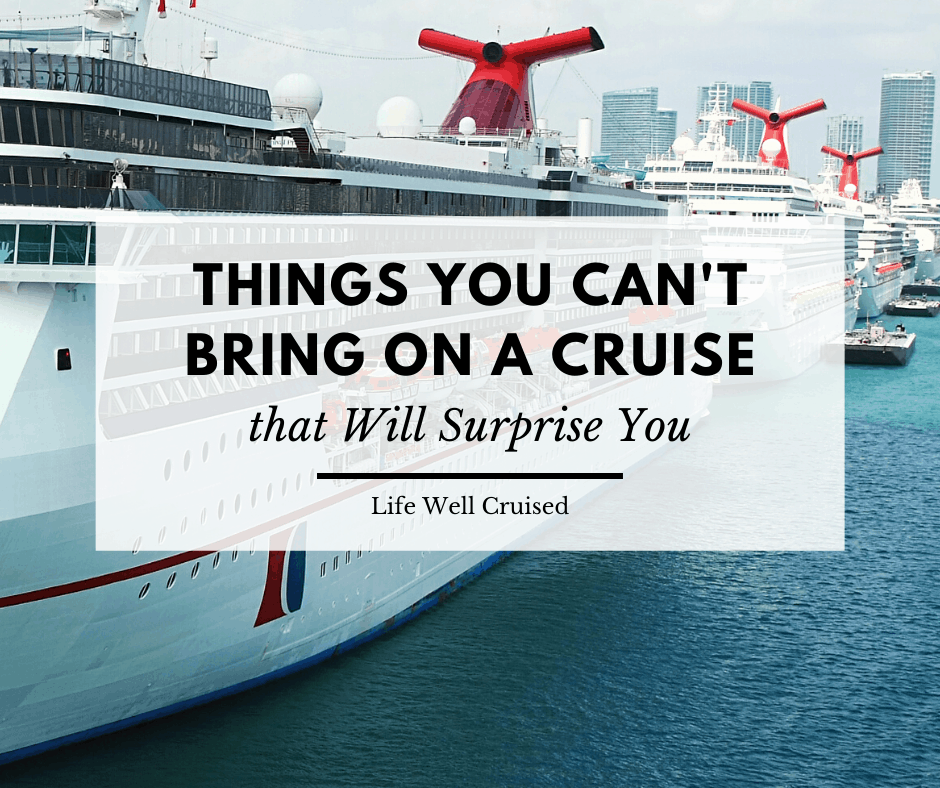 If you're getting ready for a cruise you're probably thinking about what you'll need to bring on your cruise vacation. However, it's just as important do you know what you cannot bring on your cruise.
Cruising is different than a land vacation and even airplanes. In fact, you might be surprised to find out some of the items that are actually prohibited on cruise ships!
While some things are obvious, others may seem a bit weird or strange, and can even get you in trouble if you bring them. There are also some practical travel items that you might normally bring on a vacation, but aren't allowed onboard cruise ships.
In this post, I share the prohibited items you can't take on your cruise. However, if you have questions about what not to pack (like hairdryers, hangers or towels), you'll want to read this post.
Items that Are Prohibited on a Cruise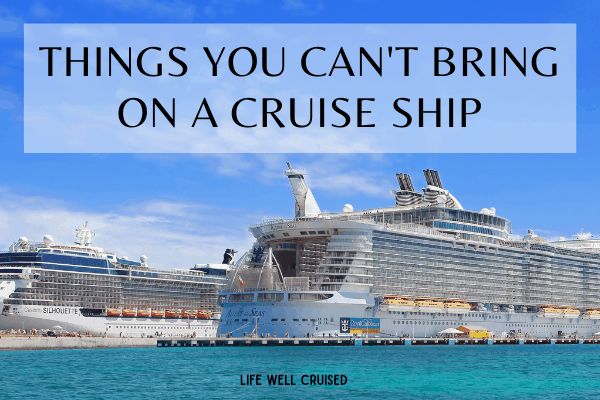 This post contains affiliate links which means if you click and buy that I may make a commission, at no cost to you. Please see my disclosure policy for details.
As an Amazon Associate I earn from qualifying purchases.
Clothing Irons and Steamers
Many people wonder if they can bring clothing steamers or irons on a cruise ship. Since these things are a potential fire hazard, they're prohibited to be brought on a cruise ship. Fire is considered to be the worst thing that could happen on a cruise ship and therefore this is strictly enforced.
It might be surprising to know, especially if you're cruising for the first time, that unlike a hotel room, you won't have an iron in your cruise cabin.
If you do need to get wrinkles out of your cruise outfits, some cruise ships have public laundry rooms that cruise passengers can use. You can also use the ship's laundry and pressing service at an additional fee.
Cruise tip: Use packing cubes and roll items to prevent wrinkles as much as possible. Then, bring along a travel size Downy Wrinkle Release for touch ups.
Related post: What to Pack for a Caribbean Cruise
Coffee Makers, Kettles and Mug Warmers
People try to bring all sorts of things onto cruise ships, however most are best left at home. Coffee makers, kettles, hot plates, mug warmers cannot be brought on a cruise.
Surge Protected Power Bars
Surge protected power strips and extension cords are not allowed on a cruise. Since cruise ship staterooms often don't have enough electric and USB outlets, many cruisers bring a non-surge protected power bar instead.
Recommended: "Cruise approved" non-surge protected power bar (see price & 5* reviews on Amazon)
CBC Products and Marijuana
Illegal substances including marijuana are prohibited on cruise ships. CDC products are also not allowed, even if it's medicinal or legal in certain states.
Weapons
Guns, knives and other weapons aren't allowed on board cruise ships. Some less obvious weapons that are listed as cruise line banned items include throwing stars and pepper spray.
Candles and Incense
Anything with an open flame is a fire hazard and not allowed. So candles and incense can't be brought on board a cruise ship.
Cruise tip: If you're in need of a "fresh smell" in your cabin, bring along a favorite cruise essential, Poo-Pourri Spray (verify price on Amazon here).
Drones
Cruise line policies on drones vary, as you can never fly a drone above the cruise ship while at sea. Some cruise lines allow you to bring a drone on board and store it in your cabin. Other cruise lines forbid drones completely.
Cruise ports also have strict rules as to when and where you can fly a drone. Make sure to check with your cruise line before you bring on on board, as it can be confiscated.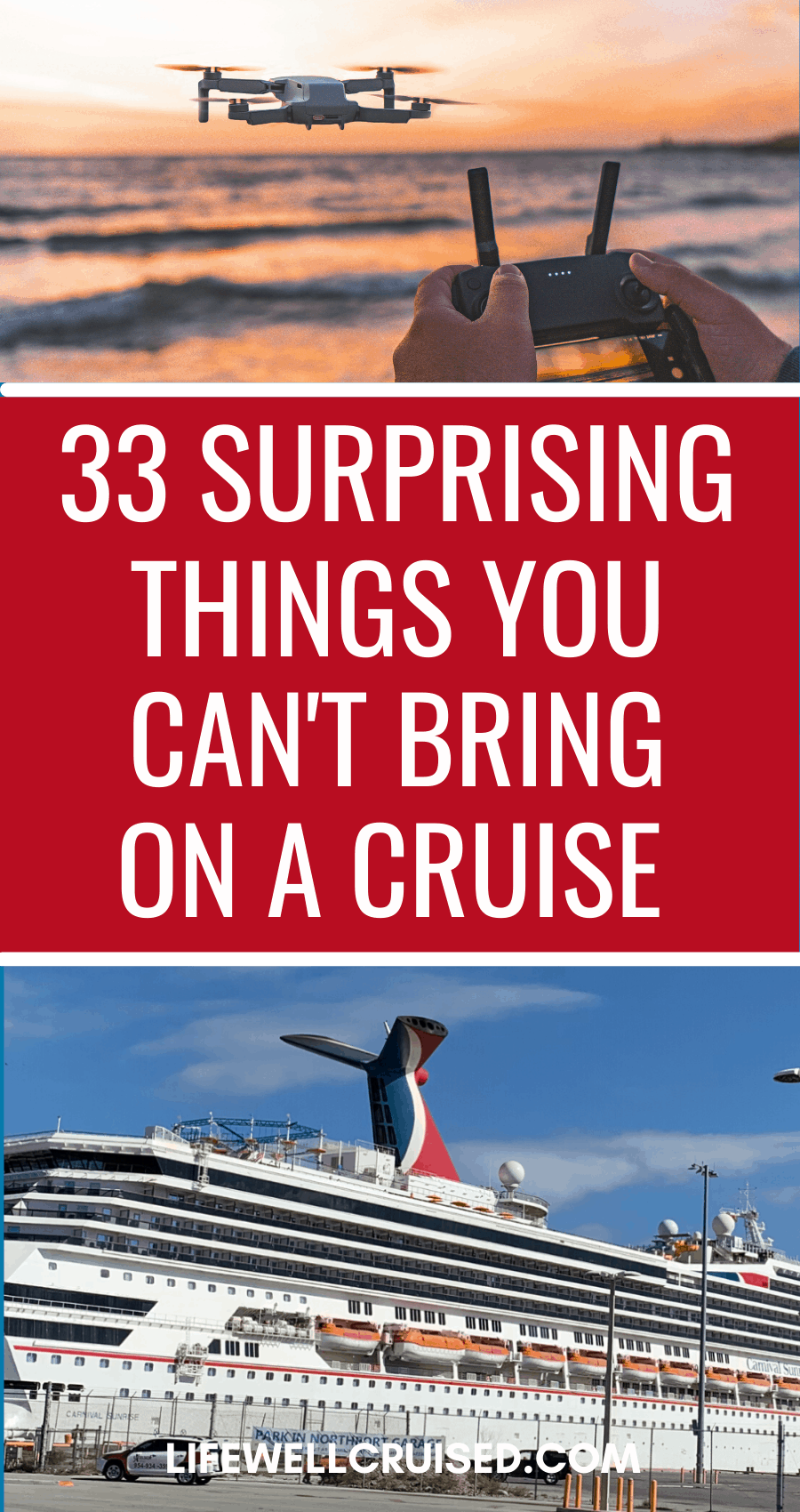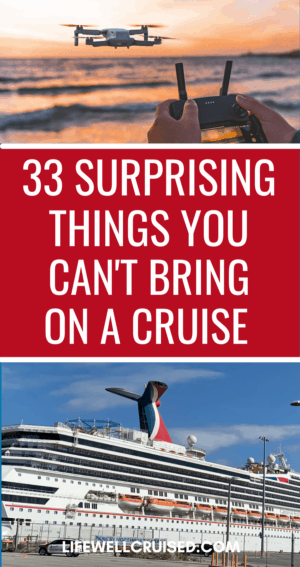 Homemade Food
While you are allowed to bring packaged snacks onboard a cruise, such as chips, candies and granola bars, homemade food is not permitted.
Liquor or Beer
Cruise lines don't permit passengers to bring hard alcohol or beer onboard the cruise ship. However, if you enjoy wine, most cruise lines allow you to bring one bottle of wine per adult
Related post: 27 Cruise Travel Hacks Repeat Cruisers Use
Get The Ultimate Cruise Planner
Regular price: $27 Now just $17!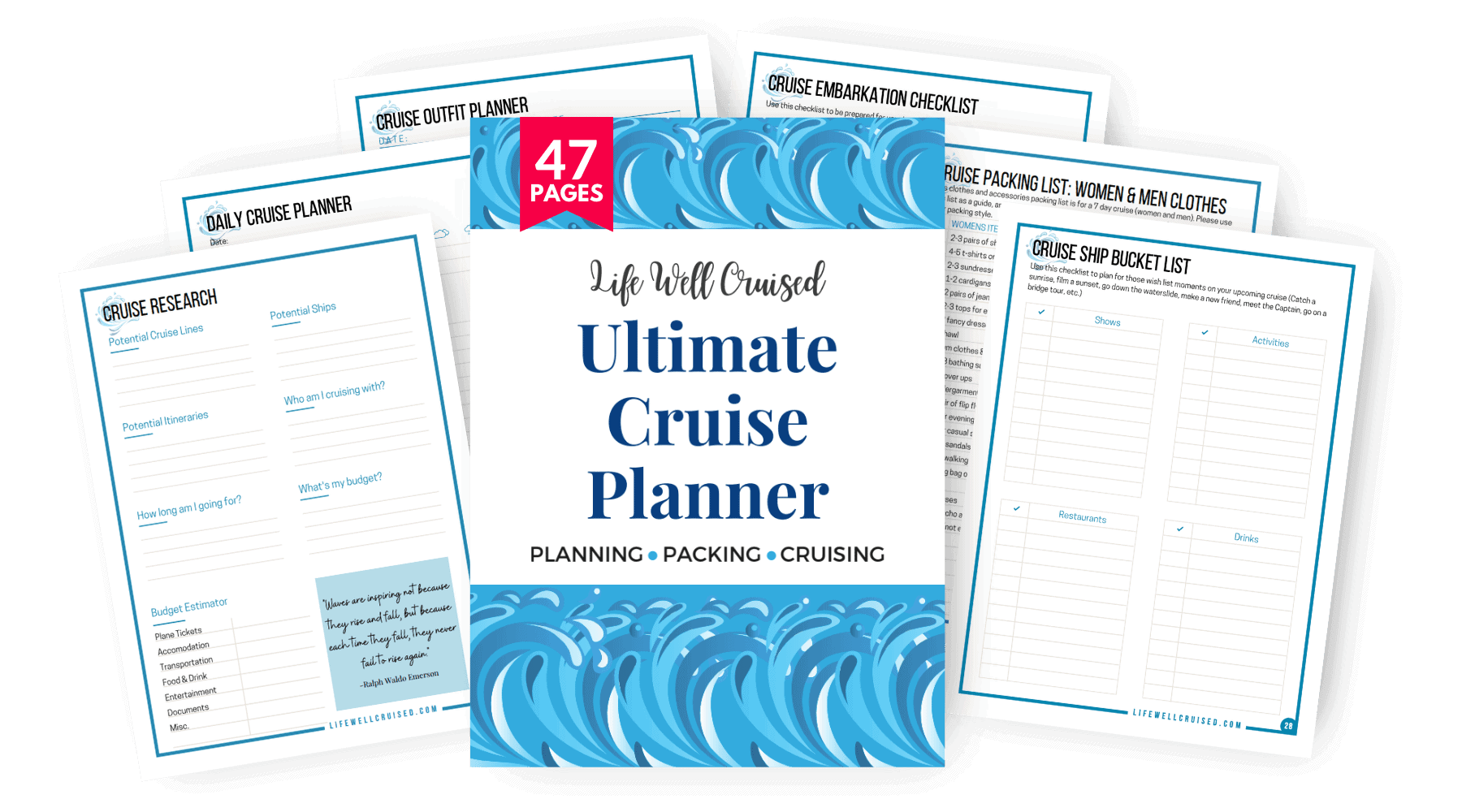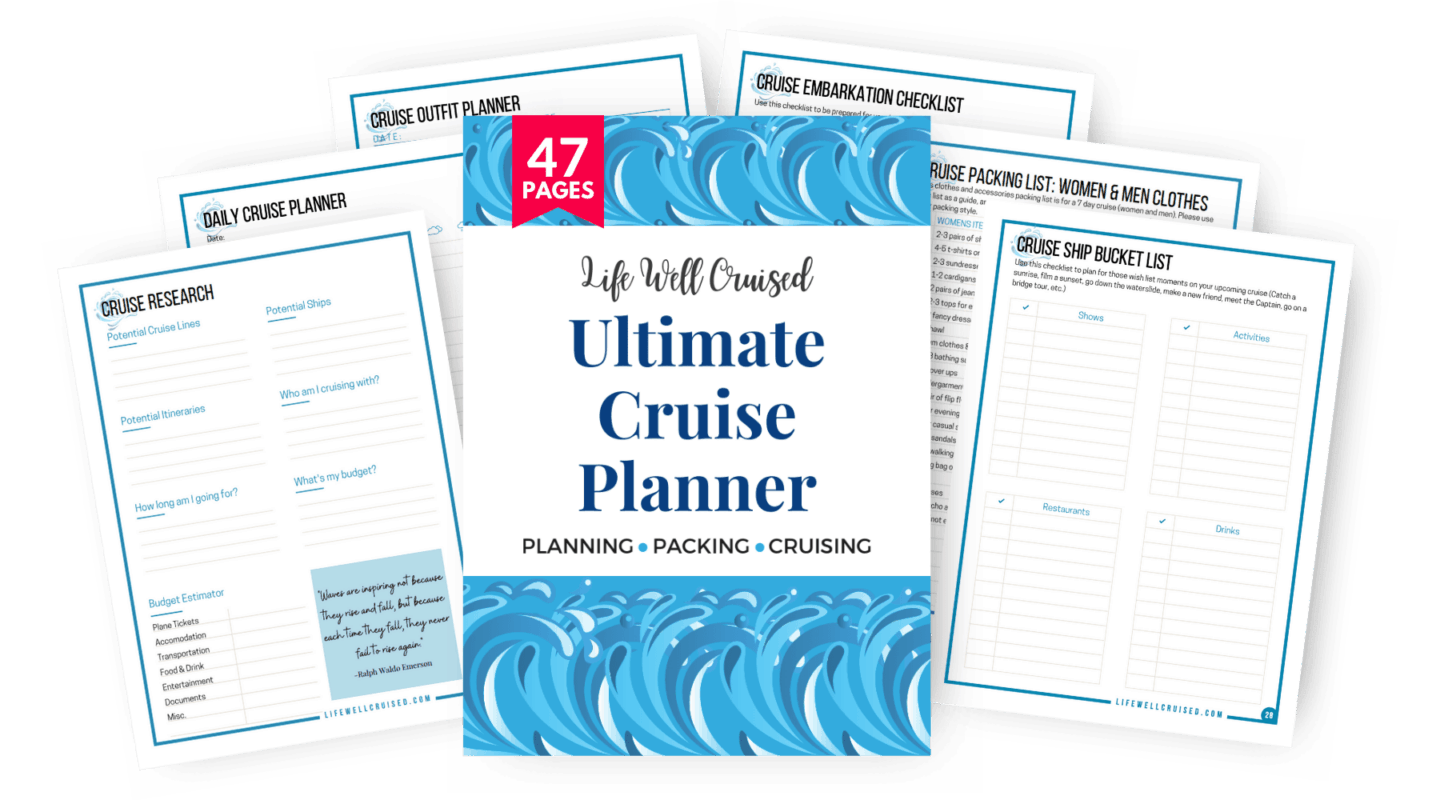 Wheeled Shoes, Hoverboards and Skateboards
Shoes with wheels, hoverboards and skateboards could all be dangerous on a cruise ship and are not allowed.
Pool Noodles and Inflatable Pool Toys
While they might be fun, there's simply no room in cruise ship pools for inflatable pool toys, so best to leave them at home. If you're cruising with young children, life jackets for swimming are usually available.
Toy Guns
Toy guns or gun replicas are not permitted on a cruise.
Baby Monitors
Surprising to many, you can't take baby monitors on most cruise lines. Do check your cruise line website for their rules and policies on prohibited items.
Kayaks and Surfboards
Kayaks, canoes and surfboards are not allowed on a cruise ship. According to cruise line policies, anything that can be launched off a cruise ship is prohibited.
In some cases you are able to bring items that you might use in a cruise port onto a ship and leave them in your cabin. So do you check with your cruise line.
Kites
Flying toys like kites are prohibited on a cruise ship.
Fireworks
Fireworks are a fire hazard and can't be taken onto a cruise ship.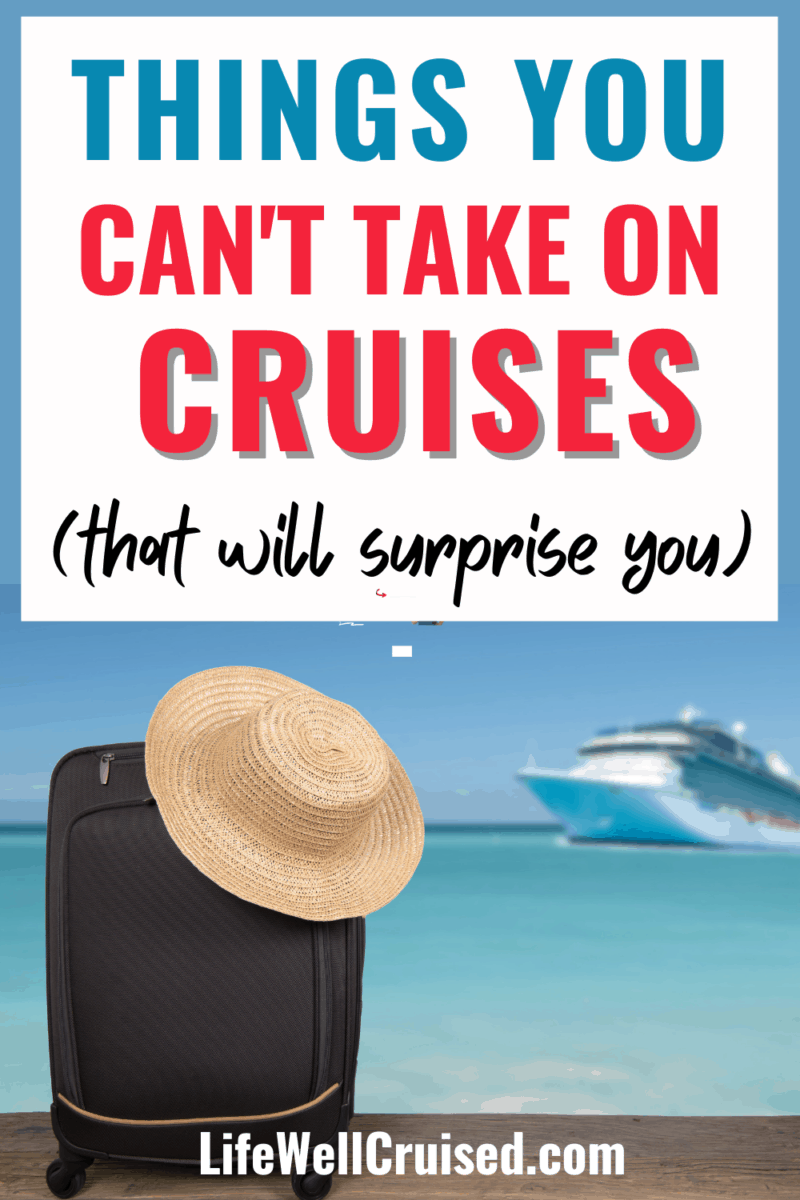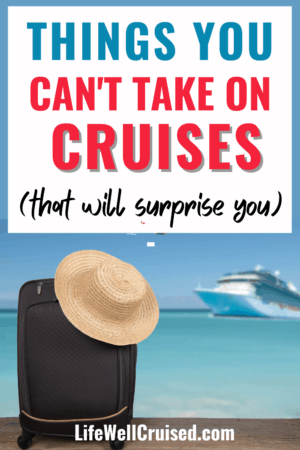 Dive Tanks & Diving Knives
Cruise lines won't permit you to bring dive tanks onto the cruise ship, however the policy on diving knives may vary from cruise line to cruise line. In some cases, short diving knives can be taken onboard, however they may not be kept in the passenger's possession.
Cruise passengers are always advised to check the information for your specific sailing and booking.
Hookah Pipes
Although you can smoke cigarettes and cigars on a cruise in designated areas, as well as vape and smoke e-cigarettes, hookah pipes are not allowed.
Restraints
Restraints of any kind, including handcuffs cannot be brought on a cruise.
Helium Balloons
It might seem fun to bring helium balloons on a cruise to celebrate or even decorate your cruise cabin door, however they aren't permitted.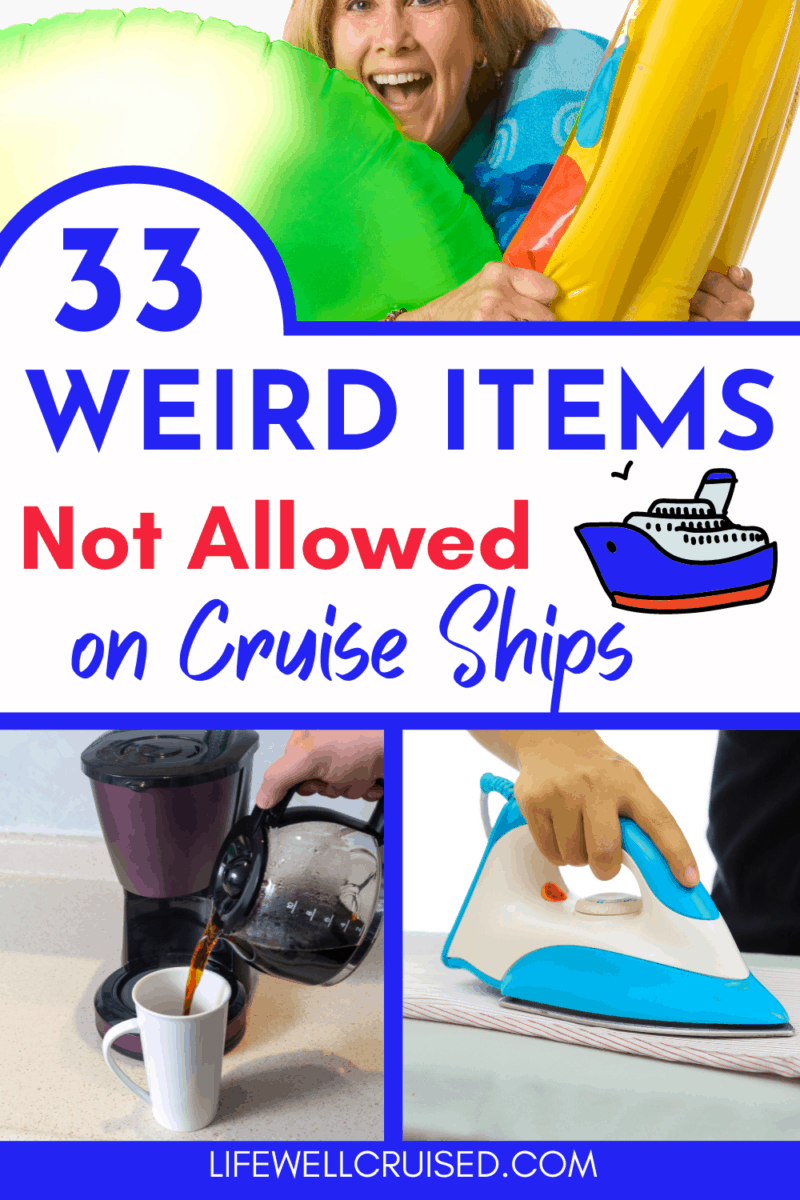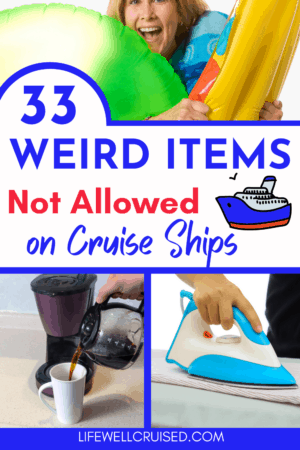 Meat or Fish Products
No perishable food can be taken onboard a cruise ship, nor can you bring fish or meat.
You might be wondering why this might happen? Perhaps on a fishing shore excursion or even in Alaska when people may want to bring home some "fresh" salmon packed on ice.
While you can't bring fish or meat onto a cruise ship, companies may be able to pack and ship the items to your house instead.
Metal Detectors
Metal detectors are on the prohibited items list for most cruise lines. It seems that they could cause a problem with the ships electrical and navigational systems.
Related post: 63 Things Not to Do on a Cruise Ship
Read next: 10 Things NOT to Pack for a Cruise Vacation
Things You Can Bring on a Cruise (Must-know)
After reading about all the things you can't bring on a cruise, you might be wondering about what you can bring on a cruise (and not get in trouble).
You can bring:
Hairdryers, straighteners and curling irons or wands
Electric shavers
CPAP Machine (contact cruise line)
Strollers
**Please note – If you need to bring a power bar/extra outlets and USB's, it must be non-surge protected. Anything else will be confiscated.
This is what I recommend: 5* "cruise approved" power bar (see info on Amazon)
Get The Ultimate Cruise Planner
Regular price: $27 Now just $17!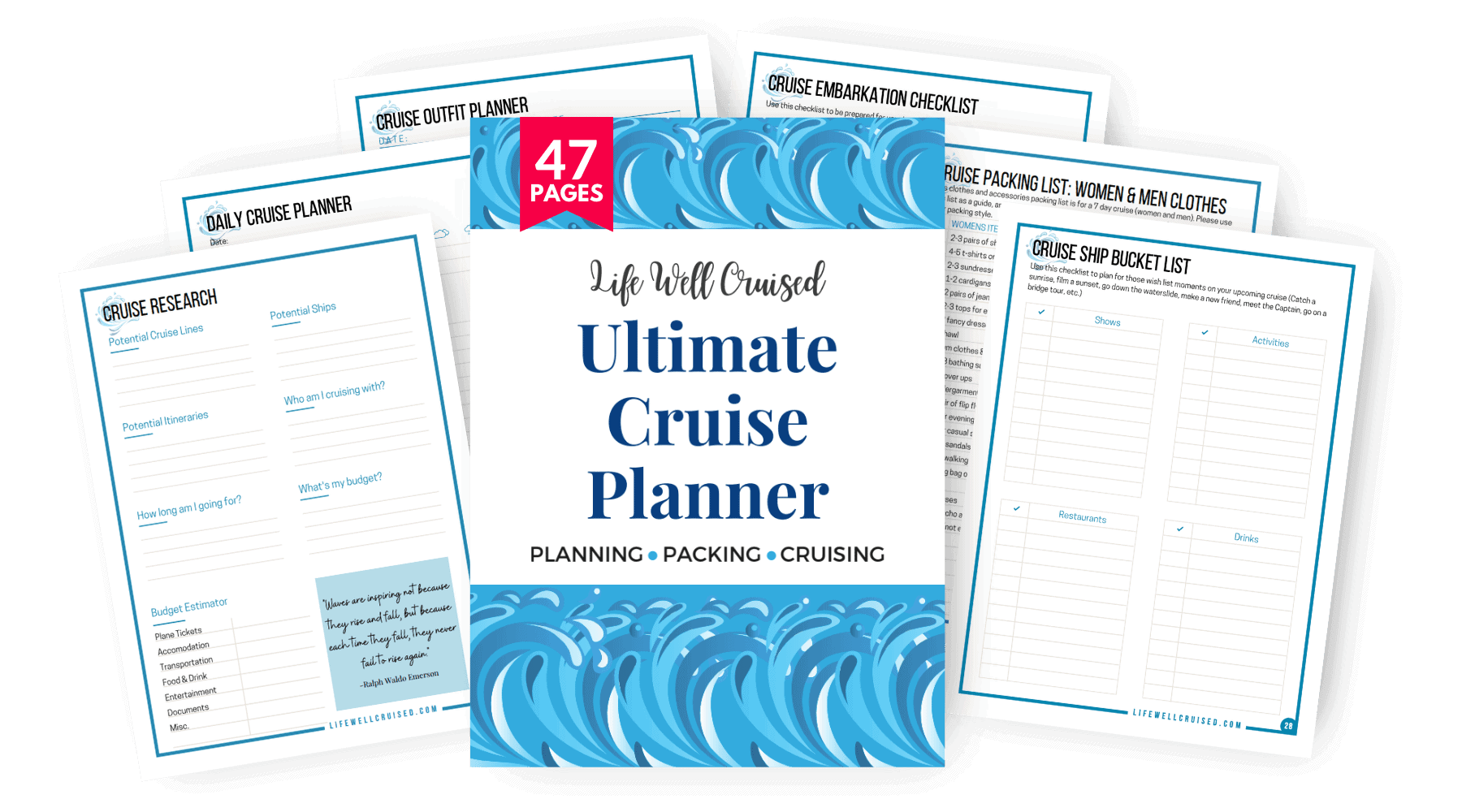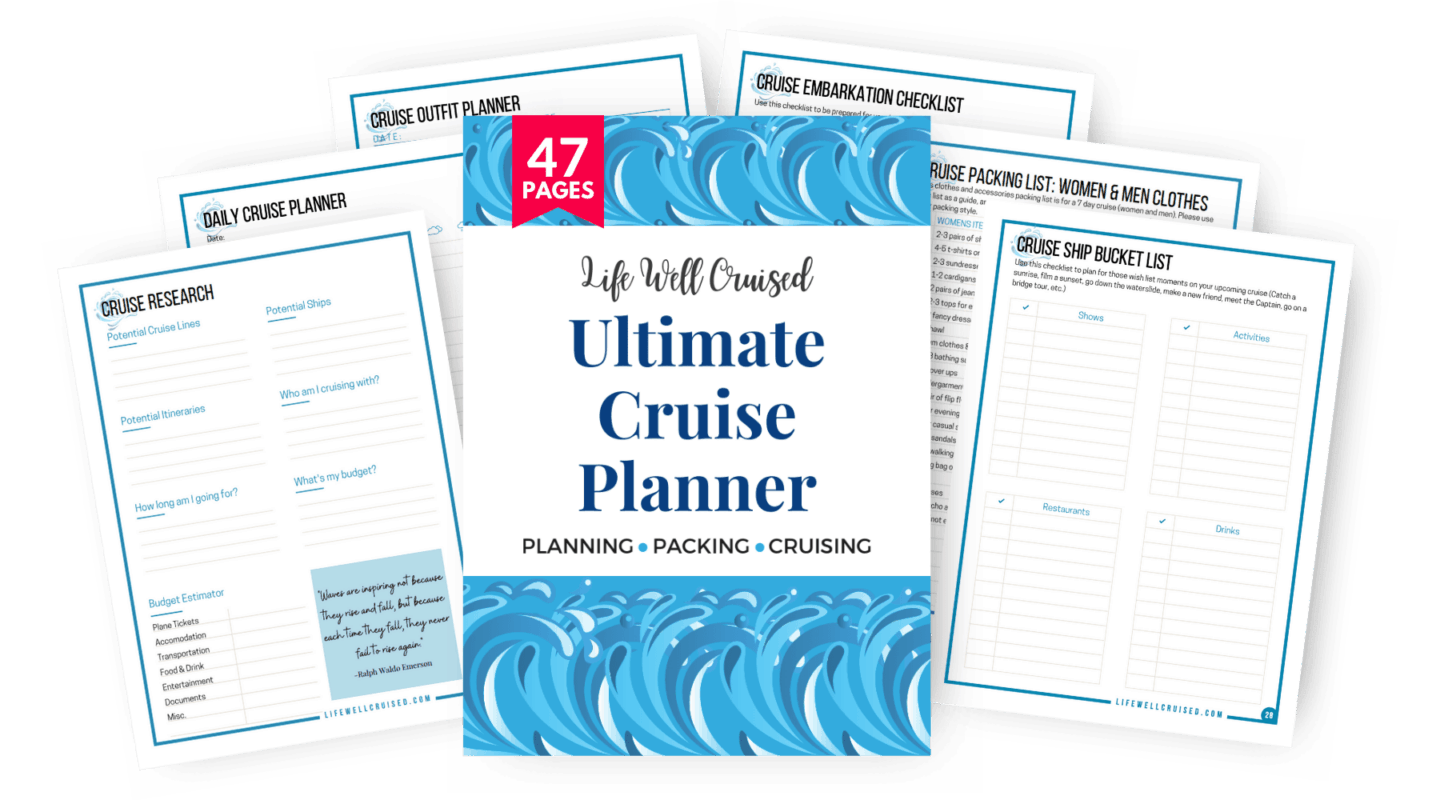 Related and Popular Posts:
50 Must-have Cruise Essentials (Packing, Organizing & Shore Excursion Items)
What To Wear on a Cruise Vacation
Cruise Luggage Tags Holders (all major cruise lines)
33 Fun Things to Bring on a Cruise
Video: Things You Can't Bring on a Cruise
In this video, I go over more of what you need to know about items that are banned on cruise ships. If you enjoy cruise tips, cruise vlogs and information, please subscribe to my Life Well Cruised YouTube channel.
Recap: Surprising Things You Can't Bring on a Cruise (prohibited items)
In this post we went over the items that are not allowed to be brought onto a cruise ship. From items that can be a potential fire hazard to things that are illegal and get you in trouble, this is important information to know before you cruise.
As well, I shared a few items that you can bring on a cruise, that people wonder about. I hope this post has been helpful as you plan and get ready for your cruise vacation.
Did any of the items that are prohibited on a cruise surprise you? Are there other items that you know of that you absolutely cannot bring on a cruise please let me know in the comments below
Happy Cruising!
Ilana
If you've found this helpful, don't keep it to yourself ;-)! Please share it on Facebook or save it for later on Pinterest (share buttons at the top of the post). Thank you!
Let's connect:
Follow me on Facebook at Life Well Cruised
Follow me on YouTube at Life Well Cruised
Follow me on Pinterest at Life Well Cruised
Follow me on Instagram at Life Well Cruised