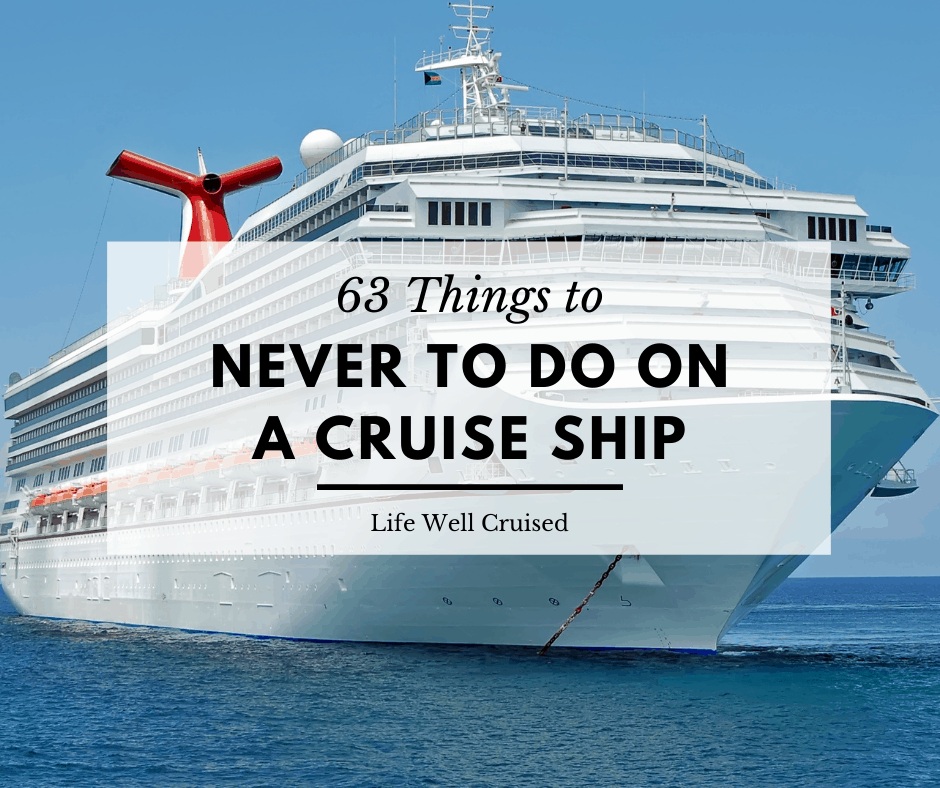 Cruising is an amazing, fun and relaxing way to travel. That said, there are some basic rules, guidelines and cruise etiquette that you'll want to know about in order to have the best cruise vacation possible!
As is important as it is to know what to do on a cruise, it might be more important to know what not to do on a cruise!
This list of things not to do on a cruise ship has a little bit of leeway, after all, this is your vacation. Some things are at your discretion, but other things are dangerous and in some cases can actually get you kicked off the cruise ship!
This post contains affiliate links which means if you click and buy that I may make a commission, at no cost to you. Please see my disclosure policy for details.
As an Amazon Associate I earn from qualifying purchases.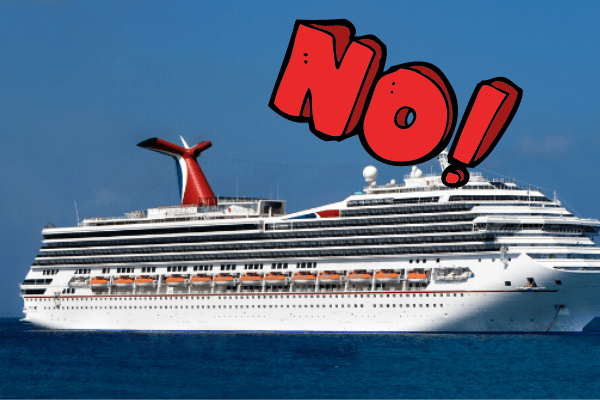 63 Things to Never Do on a Cruise Ship
1. Don't show up be late for your cruise
This is rule #1 for what not do on a cruise! You'll miss the cruise ship if you arrive late – every cruiser's worst nightmare.
It's a good idea to avoid flying or even driving in the same day as your cruise. While some people do it, it's a classic first time cruiser mistake and best avoided.
2. Don't arrive too early
In the past I recommended arriving at the cruise port as early as possible to make the most of embarkation day. However, cruise lines are now following a staggered embarkation procedure, to avoid crowds of people all arriving at the same time.
When you complete your online check in, you'll have a check in time allotted with a window of time. Early birds risk being asked to return later, so don't chance it.
3. Don't cruise without being aware of travel protocols
While most cruise lines no longer require Covid 19 testing and proof of vaccination, there are still countries that may. Before booking and going on your cruise, be sure to check the requirements.
4. Don't pack your passport in your checked luggage
Always keep your passport and government ID on you, and never in your checked luggage. This mistake has resulted in passengers sadly being refused boarding.
I recommended keeping passports safely in your handbag or using a passport neck wallet.
Related: Cruise Luggage Restrictions and Baggage Rules Every Cruiser Needs to Know
5. Don't forget to pack a carry on bag for embarkation day
When you arrive at the cruise port you'll check your luggage and it can take several hours until it's delivered to your cabin. Make sure to pack a carry on bag or backpack with essentials for the first day of your cruise.
Things like swimwear, sunscreen, medications and valuables should all be packed in your carry on bag.
Related: 17 Cruise Embarkation Day Luggage Rules All Cruisers Must Know
6. Don't bring an iron or steamer
Another thing to not do on a cruise ship is to bring irons, steamers or any other prohibited items on a cruise. These items can cause a fire and are likely to be confiscated.
7. Don't forget to put your phone on airplane mode
Your cell phone won't be the same on sea as it is on land. In most cases, you'll need to put your phone on airplane mode to avoid huge cell phone charges.
8. Don't forget to take in Sailaway
There's nothing like Sailaway. Whether you go to the Sailaway party on the Lido Deck or take it in from your own private balcony, make sure to savor those few minutes. Many avid cruisers describe Sailaway as the best moment of the cruise!
9. Don't forget to bring seasickness meds
Whether this is your first cruise or you've cruised in the past, the motion of the ocean can get you. It's a good idea to bring along some over the counter medication like Bonine or a seaband just in case.
If you're prone to motion sickness, here are some tips that will really help prevent the feelings of seasickness.
10. Don't forget to register your kids for the kid's club
The kid's club is one of the very best things on a family cruise. Let's face it, a vacation for everyone!
Make sure to enroll your kids in the kid's camp, which can often be done online.
Cruising with kids tip: Even when you sign up online, do go to the Open House the first day of your cruise to visit along with your children. You'll both feel more comfortable and the experience will be all the better!
11. Don't save a whole row of seats in the theater or pool deck
No one likes a chair hog, so please don't save chairs by the pool for hours for family members who might not show up. The same goes for saving seats in the theater or lounge.
12. Don't wait for the last minute to book shore excursions
If you really want to do a shore excursion, book it online before you go. Often, the price will be just a little bit cheaper than once onboard the cruise ship. Plus, your cruise line may even have shore excursion discount promotion a few weeks before your cruise.
13. Don't take fruits and vegetables off the ship
You can't take fruit and vegetables, and possibly other food, off the cruise ship when in the ports of call. Doing so can result in a fine from cruise port.
This has happened to cruisers in Cozumel in recent years, so it's definitely something not to ever do on a cruise vacation.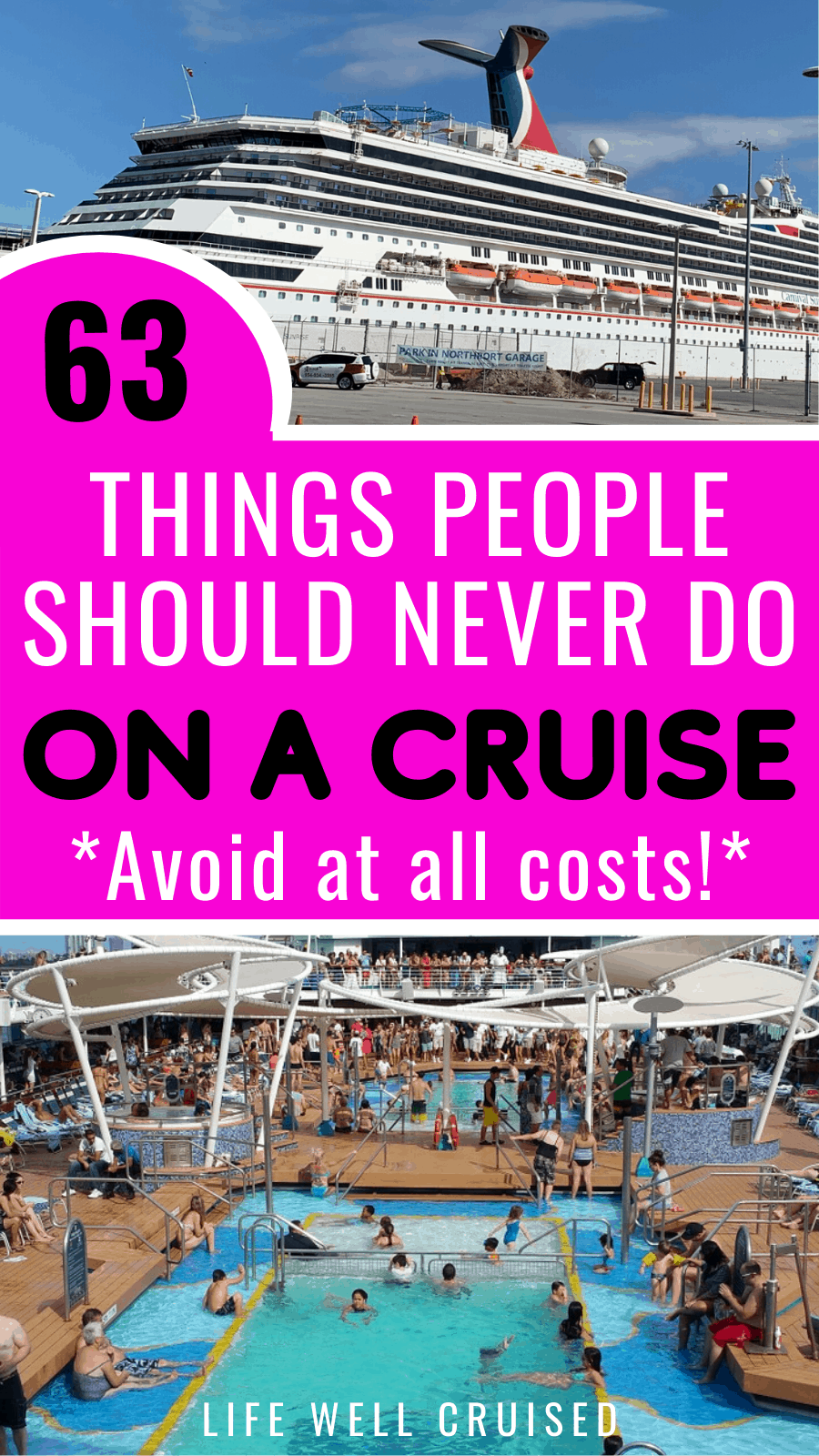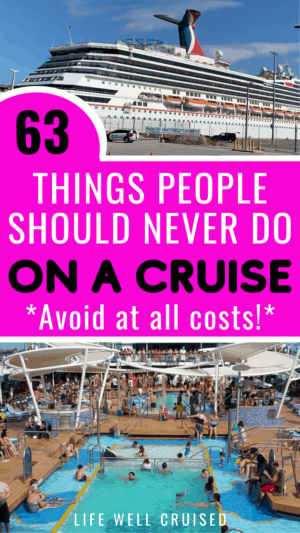 14. Don't overpack
I will admit I'm guilty of over packing, especially clothes and shoes! However, I'm working on it and definitely trying to bring less stuff I just don't need.
A good idea is to keep a cruise packing list handy before your cruise, as well as an outfit packing list. Sort through, try on, and bring what you actually think you'll wear. Bring travel size toiletries and other items.
15. Don't pack too little
I know this contradicts my advice above. However, while you don't want to over pack, you don't want to forget things you need either. Out of the two problems, it's still better to have more than you need than less.
Don't forget comfortable shoes, bathing suits, sunscreen, formal outfits, over the counter medications… and more. Keep in mind it's a big hassle to forget stuff and try to find it on the ship.
Related: How to Pack Light for a Cruise (or Carry-on Only)
16. Don't put valuables in your checked luggage
Don't pack jewelry, tech items and or even cash in your checked luggage. Always keep these and other valuables in your cruise carry on bag.
17. Don't throw anything overboard
Several years ago I read about a family that was kicked off a cruise ship because their kids threw silverware overboard. Throwing anything overboard is a big no-no and one that can actually get you booted off the cruise!
18. Don't be rude to staff
Never yell at the crew or be rude to cruise staff members. The crew work really hard and want to please passengers and make our vacation the best it can be. While it's absolutely fine to bring up an issue or make a complaint, always try and remain calm and respectful.
19. Don't refuse to use the hand sanitizer
Hand sanitizers and hand washing stations are everywhere, and especially when entering the buffet, restaurants and dining rooms. You'll be asked and expected to use the hand sanitizer. Please do, for yours and everyone's health.
20. Don't forget to make time to unpack
Set aside an hour on the first day of your cruise or the next morning to unpack and get comfortable. Getting your clothes are hung up and your cabin organized will make it easier to keep your stateroom clutter free.
21. Don't book the cheapest cabin on the cruise ship
You may save money by booking a cheaper cabin on your cruise, but you'll want to be careful. While there's absolutely nothing wrong with booking an inside room on a cruise or a guarantee cabin, it's not for everyone.
If you know that you'll be bothered by too much noise, the motion of the cruise ship or even the lack of natural light, do not book the least expensive cabin, no matter how good a deal it is!
Suggested: 9 Cruise Ship Cabins to Avoid
22. Don't book adjoining cabins
Unless your own family members are next door, don't book connecting staterooms. You may hear the TV, loud talking or yelling, or other noises you can do without.
Get The Ultimate Cruise Planner
Regular price: $27 Now just $17!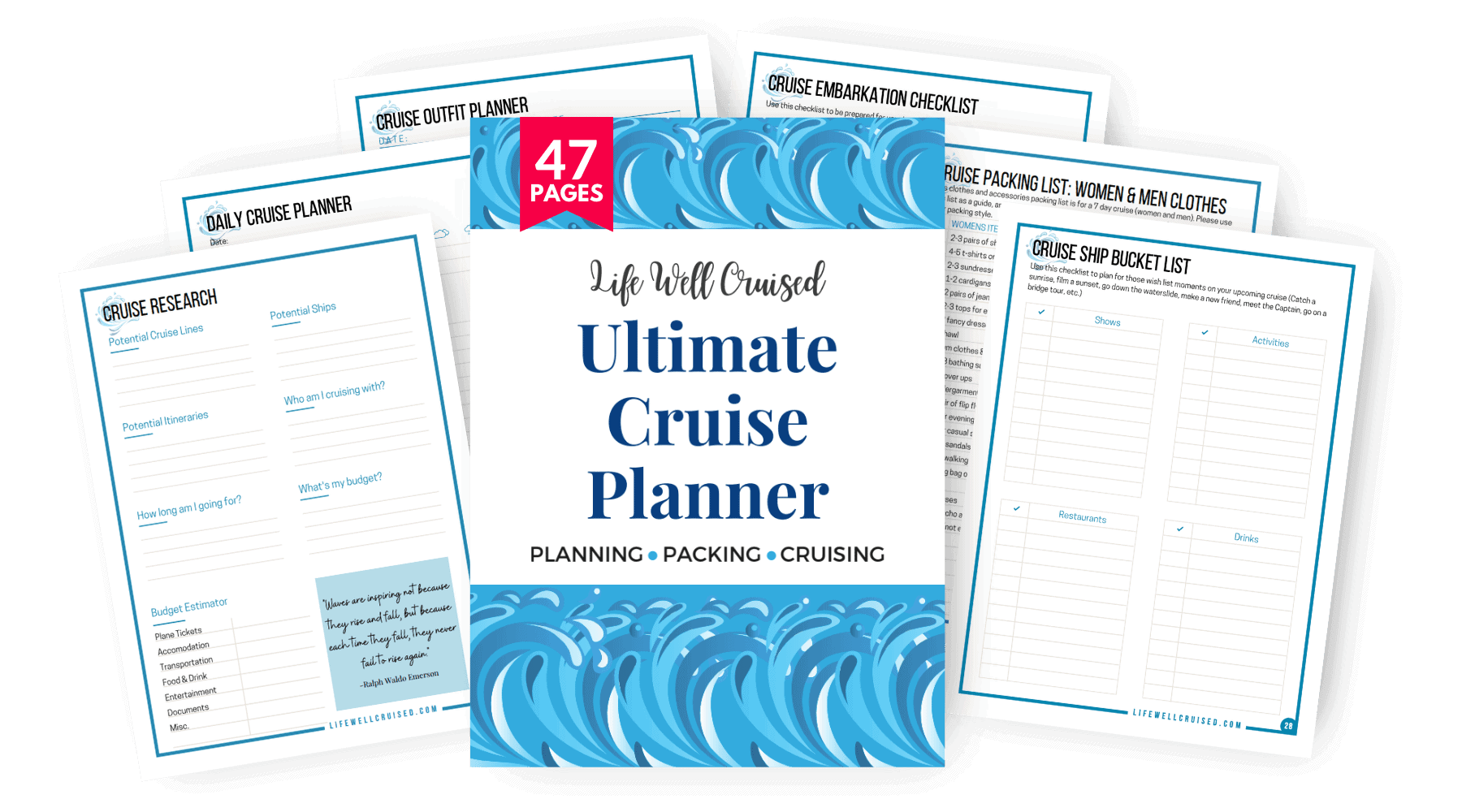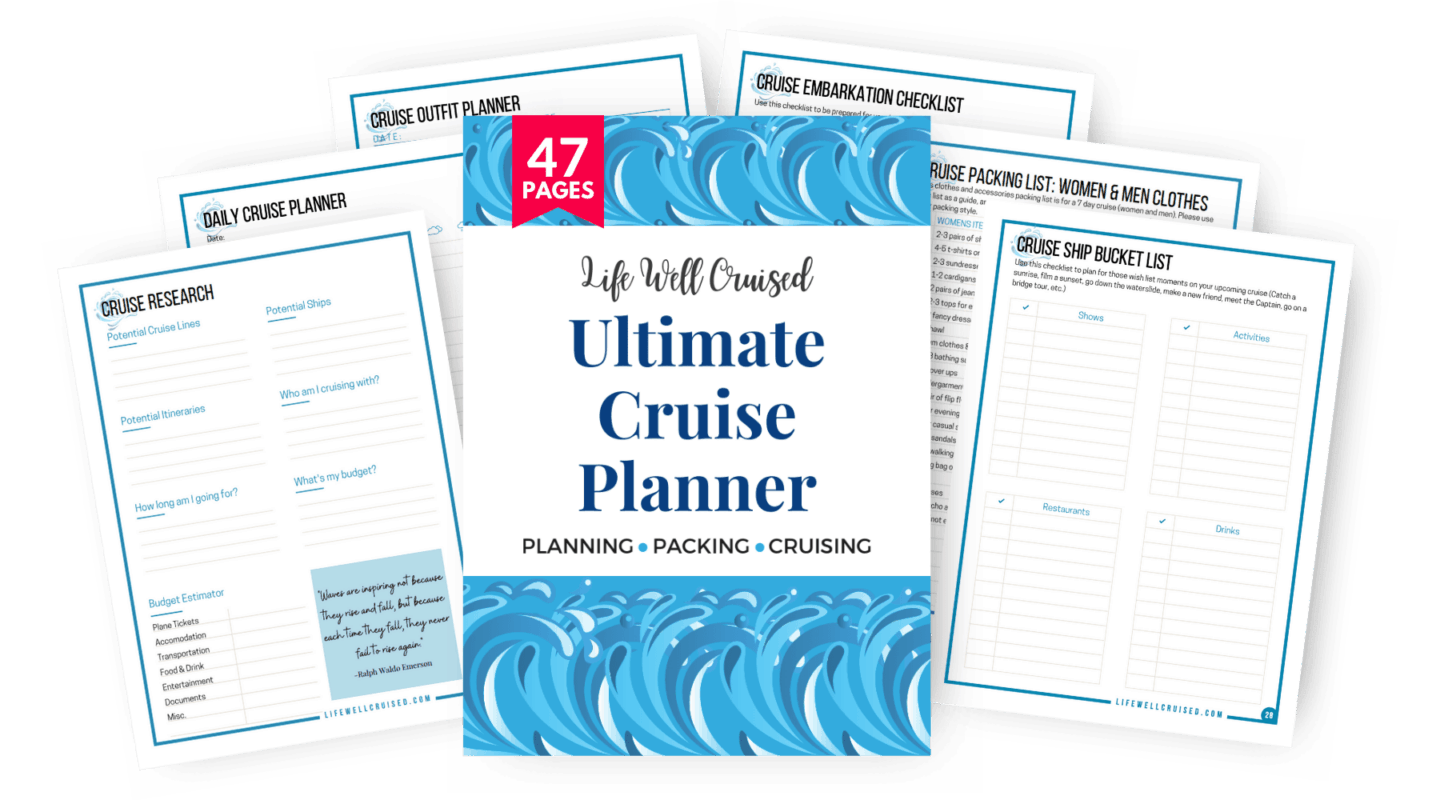 23. Don't open your cabin and balcony door at the same time
Can you say wind tunnel? Opening your "front" cabin and balcony door will result in a mini tornado effect.
Remember to close your balcony doors when you leave your cabin. Not only will it be very hard to push that door open, but the air conditioning will work better as well.
24. Don't forget to explore the ship
One of the worst things that can happen, is that late in your cruise you find an aft pool you never knew about or a free casual restaurant you haven't tried (that you would have loved!). You can avoid this by exploring the ship on the first or second day of the cruise.
25. Don't overschedule
It can be tempting to try to participate in every single activity on a cruise, but then you'll just be tired and need another vacation! Try and leave some unplanned time to relax and enjoy the sea, the people and some downtime.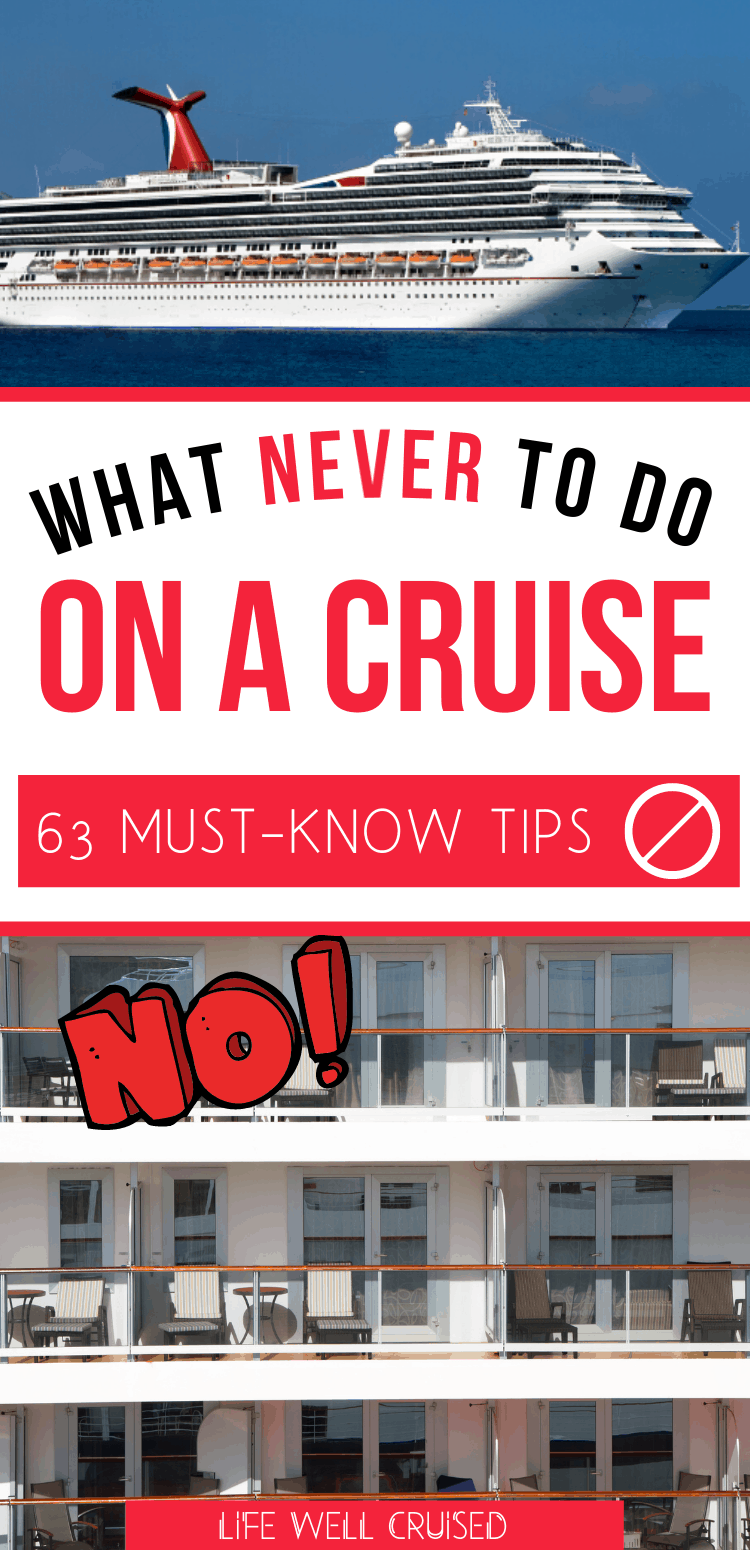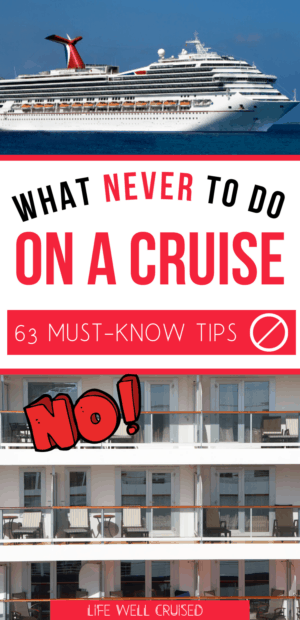 26. Don't skip the cruise shows and activities
I've made the mistake of skipping some shows with guest entertainers, only to find out from other guests how amazing it really was! On the most part, theater shows and evening entertainment on cruise ships is fabulous, and worth checking out.
27. Don't remove gratuities
Cruise ship tipping etiquette is a controversial subject, and at the end of the day, you have to do what's right for you. However, I would urge against removing automatic gratuities.
The reality is, the crew will usually go above and beyond to provide service on your cruise vacation, and the gratuities are a big part of how they make a living while working on a cruise ship.
If you do have an issue and service hasn't been what you expected, it's a good idea to bring it up to guest services, so that things can improve.
28. Don't pick the wrong cruise ship or cruise line
This cruise tip should probably be earlier in this list, however it really isn't in any particular order. In truth, nothing will make or break your cruise like picking the wrong cruise line or cruise ship.
If you love to party, you'll be bored on some lines. If you want family fun, some cruise ships have more to offer than others. At the same time, if you love a more refined and upscale experience, you will be miserable on some value cruise lines.
Doing some research by chatting with a an experiences cruise travel agent, reading cruise blogs and watching cruise vlogs can help you make the best choice in cruise ship for you.
29. Don't forget comfortable walking shoes
Even if you mostly plan to hang out by the pool and head to the beach on port days, you'll still want to pack some comfortable walking shoes for your cruise.
You may want to work out at the gym, walk on the promenade deck or jogging track, or even do some of the ship activities that require closed toe shoes. Plus, there may be more walking than you think on a shore excursion.
30. Don't forget to try new things
One of the best parts of a cruise vacation is the opportunity to try new things. Try a dance class, craft activity or new food each night in the main dining room!
31. Don't talk politics with new cruise friends
Do yourself a favor and leave talk of politics at home. One of the nice things about cruise travel, is that you'll meet people from all over the country and the world. Be mindful of all the things you have in common (namely a love of cruise and travel) and be open to talk about about culture and life experience.
32. Don't forget to research cruise ports and excursions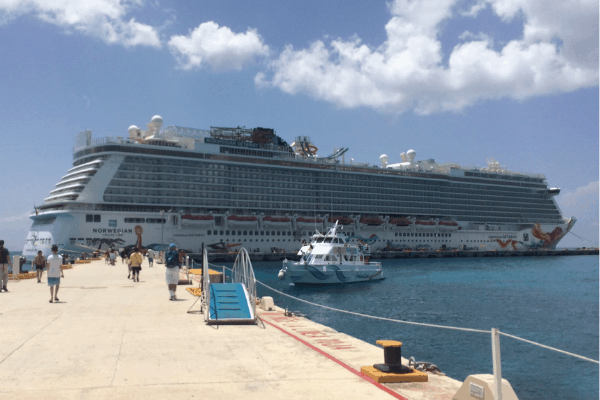 Wondering about the best things to do in each port of call? Check out your cruise line excursion options, however research on your own in cruise Facebook groups and even in a cruise roll call.
33. Don't wear camouflage clothing in cruise ports
Did you know that it's illegal to wear camouflage clothing in certain cruise ports? Some Caribbean islands that don't allow camouflage include Barbados, Antigua and Jamaica
34. Don't bring drugs on your cruise
While this might seem obvious, even if certain drugs (like marijuana) are legal in some jurisdictions, they are not allowed on a cruise ship. Be especially careful in cruise ports of call where drugs can be common and do not use or bring any back on the cruise ship.
This can result in actually getting arrested in a foreign port, absolutely something you never want to do on a cruise ship!
35. Don't forget to wear sunscreen
If you're on a Caribbean cruise, don't forget to pack wear sunscreen for both on the cruise ship and in ports of call. As well, have some SPF lip balm and after-sun care lotion on hand.
36. Don't forget to check your cruise line's dress code
These days, each cruise line has a slightly different dress code. While most cruise lines are less formal than years ago, there are still guidelines as to what to wear on a cruise during the day and evening.
It's important to know if jeans are allowed in the restaurants and dining rooms, and if you're expected to dress up on Formal or Chic Nights.
37. Don't forget to pack formal night clothes (including shoes)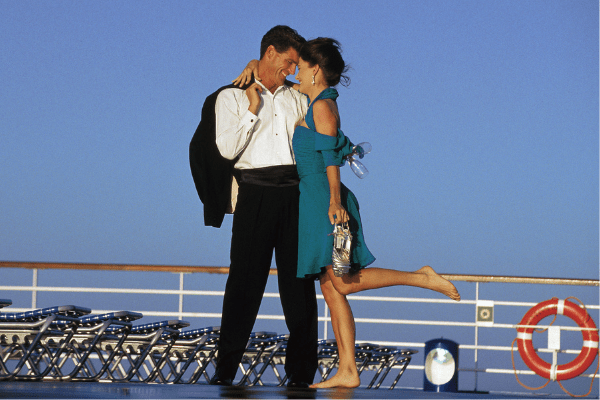 If you're planning to dress up during your cruise, remember shoes, belts and other accessories you'll need to go along with formal night attire.
Suggested: How to pack Light on a Cruise (20 tips)
38. Don't ever sit or stand on balcony railings
Something to never do on a cruise ship balcony is sit or stand on the railing. Unfortunately, accidents have happened as cruise passengers have attempted to climb over balcony railings or stand to take selfies!
Not only should we never do this on a cruise ship and can get kicked off – it's extremely dangerous. Be especially mindful of children and never allow them to even stand on a chair near a balcony or other railing.
Related: 10 Things That Can Get You Kicked Off a Cruise
39. Don't smoke on balconies or any non designated area
Cruise ships are very cautious about anything that may start a fire on board, so smoking is only allowed in designated locations around the cruise ship. In most cases, you are not allowed to smoke or even vape on a cruise ship balcony.
40. Don't be late at cruise port days and all aboard time
We've all seen the pier runner videos. It can be a cruiser's worst nightmare to be late at the cruise port and see the ship sailing away!
Avoid being late by double and triple checking the all aboard time and plan to be back to the cruise ship early rather than last minute.
41. Don't be late for traditional time dinner
If you booked early or late seating, don't arrive late for your set dining time. If you prefer to eat on a more flexible schedule, open dining is often possible. Check the dining options available with your cruise line.
42. Don't eat too much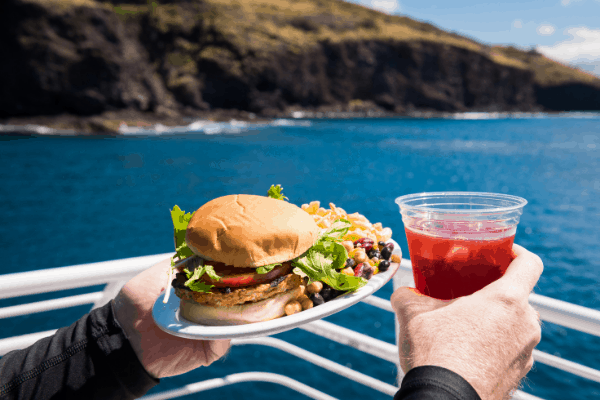 A cruise vacation is a great time to indulge on delicious cruise food. However, try and resist the urge too much, too often. There are so many delicious things to eat, and there will be tomorrow.
Just in case you do get an upset stomach, bring along some Tums or other antacid for relief.
Suggested: How NOT to Gain Weight on a Cruise
43. Don't drink too much
It can be easier said than done, especially if you have a beverage package or your cruise includes alcoholic drinks. However, its' no fun to be drunk and feel unwell on a cruise, and can even be embarrassing. Pace yourself, especially if you've been in the hot sun all day.
Related: 13 Big Drink Package Mistakes Not to Make on a Cruise
44. Don't use the elevator to go up or down a deck (unless you need to)
There's no judgement if you need to use the elevator rather that the stairs. However, whenever possible try and take the stairs, especially if you're just going up or down one or two decks.
You'll avoid crowds and line ups, and it's a pretty effective way to keep from putting on weight on a cruise.
45. Don't forget elevator etiquette
When waiting for an elevator, let people out before you go in. It just makes things easier.
46. Don't go into the crew area
There's an absolute rule that cruise passengers are not allowed in the crew area. Don't even try.
47. Don't forget to read the daily planner
Your daily planner will let you know the schedule of shows and activities, but you'll also find updated information like port time changes which can be very important. This can be found on paper copies, but can also be seen on your cruise line app such as Ocean Medallion.
48. Don't forget to check out wifi packages
Having internet while cruising is pretty useful, even if you don't use it all the time. In the past cruise ship wifi was very expensive, but these days there are more reasonably priced wifi packages.
In some cases, wifi may be included as a perk (such as on Norwegian Cruise Line) or even included with your cruise (Celebrity Cruises).
49. Don't go on a group cruise without setting out vacation expectations
Planning a family and friends group cruise? It's a lot of fun, but don't forget to chat about what everyone expects, before your cruise.
Are you eating dinner together nightly or meeting up for excursions? Does everyone do their own thing? People will be much happier if they know what to expect.
50. Don't call the cruise ship a boat
There's a whole glossary of cruise lingo, and nothing irks veteran cruisers and cruise ship staff more than calling a cruise ship a boat. Trust me on this!
Related: Cruise Lingo All Cruisers Need to Know
51. Don't let your kids run around the ship unsupervised
Cruise ships might feel like a safe haven, but accidents can happen. Be especially mindful of your children when they're in and around the swimming pool, just like you would on land. Always remind your children to never play or climb on ship railings, for their own safety.
The kid's club will have qualified staff to care for your children and provide them with fun, supervised activities.
52. Don't forget travel insurance
Anything can happen – flights can be delayed, someone can break an arm on an excursion, the car can even break down on the way to the cruise. These are all good reasons to make sure to have travel insurance for your cruise.
Suggested: Why Travel Insurance is a Cruise Essential
53. Don't book a return flight too early
Did you know that sometimes the cruise ship arrives late on debarkation day? Rough seas or fog can delay the cruise ship from making it into port at it's scheduled time.
It's a good idea to book your return flight home later in the day at the end of your cruise.
Related: 10 Mistakes Cruisers Make on Debarkation Day
54. Don't forget to keep an eye on expenses
It can be easy to throw caution to the wind on vacation. However extra expenses like drinks and specialty coffee, excursions, special activities and souvenirs can add up. You can view your purchases by printing a statement or in most cases by checking your cruise line app.
Suggested: What's included in your Cruise Price (and What's Not)
55. Don't gamble more than you can afford to lose at the casino
If you enjoy casino play, give yourself a limit. Keep in mind that the casino is meant to make the cruise line money, so it's unlikely to be in your favor.
56. Don't forget to leave an outfit out for the last day of your cruise
On the last night of your cruise, you'll be asked to put your luggage out in the hall. Crew members will take it and have it ready in the cruise terminal when you disembark. Make sure to leave sleep clothes out, toiletries, and clothes for debarkation day.
57. Don't think you must get off the ship in every port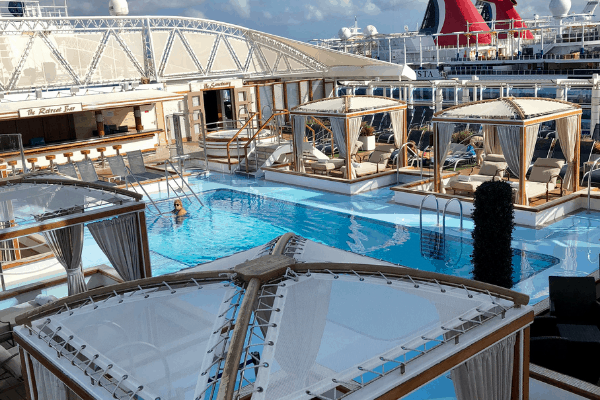 While ports of call offer a chance to visit and tour and do excursions, there are times when staying on the ship can be even better! In some cases it may be that you've visited the destination in the past, or it might be that your cruise is port intensive and you need a break.
Whatever the reason, staying onboard while most people get off can be a great way to enjoy the ship!
Suggested: 11 Best Reasons to Stay on the Cruise Ship While in Port
58. Don't be obvious about not following the dress code
If you don't want to dress in formal wear on formal night, most of the time you can wear less dressy clothes and be fine. However, if you really want to wear a t-shirt and shorts, it's best to go to the buffet that night.
On another note, cruise line dress codes have become more relaxed. It's best to wear what you're most comfortable wearing, and not judge what others choose to wear.
59. Don't stress about what to wear on a cruise
It's your vacation and you want to have fun, so don't worry too much about cruise outfits and what others will think. While people might have opinions on Facebook, in reality, once on the cruise most people are more interested in themselves and their own party, and really won't notice or care what you wear.
60. Don't expect things to be perfect
Cruises are great, but not everything will be perfect. Expect possible bad weather days, missed ports and even little things to go "wrong". These things happen, but try and be flexible so that you don't let small things ruin your vacation.
61. Don't be afraid to ask for what you want
Cruise vacations are known for their great service. If you'd like something, don't be afraid to ask politely. Often, crew members are happy to oblige if they can.
On a recent cruise, we asked if calamari would be on the menu one night. Although it wasn't, the chef had some for us a couple of nights later. We've found this to be the case on many cruises over the years.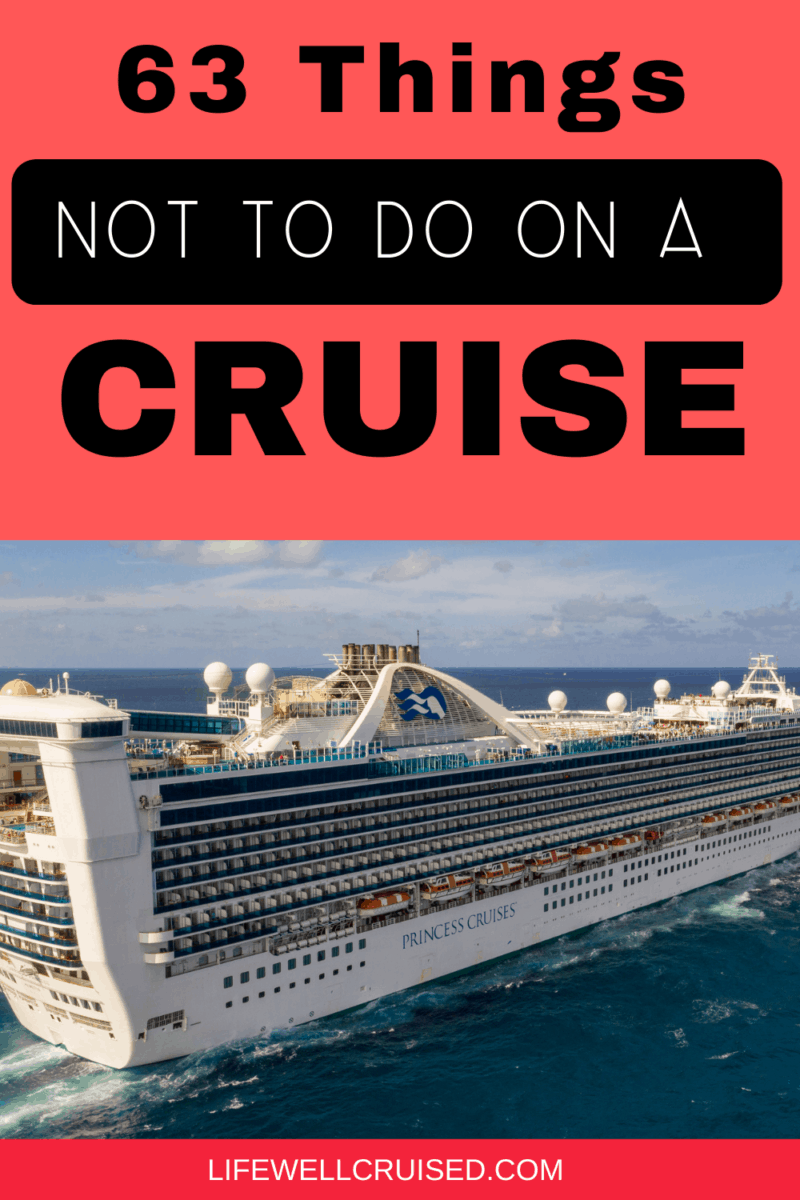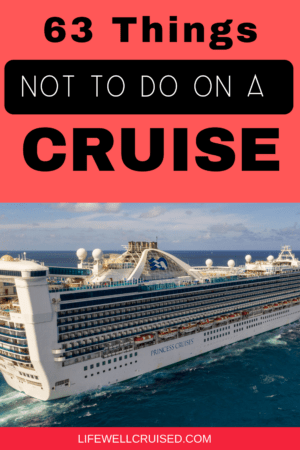 62. Don't forget to book another cruise while onboard
If you've enjoyed your cruise and will be booking another, it's a good idea to book with a Future Cruise Deposit. This gives you extra advantages like an onboard credit on a future cruise.
63. Don't book the spa at full price
While you can pay full price at the spa, know that there are often promotions if you make an appointment on the first day, even for later in the cruise. As well, making appointments on port days are a great way to save money on spa services and other treatments.
64. Don't forget about your cruise essentials (bonus)
Make sure to pack the essentials you need for your cruise, which are likely quite different than what you might pack for a land vacation. You'll be happy to have all your need for cruise packing and cabin organization.
Get The Ultimate Cruise Planner
Regular price: $27 Now just $17!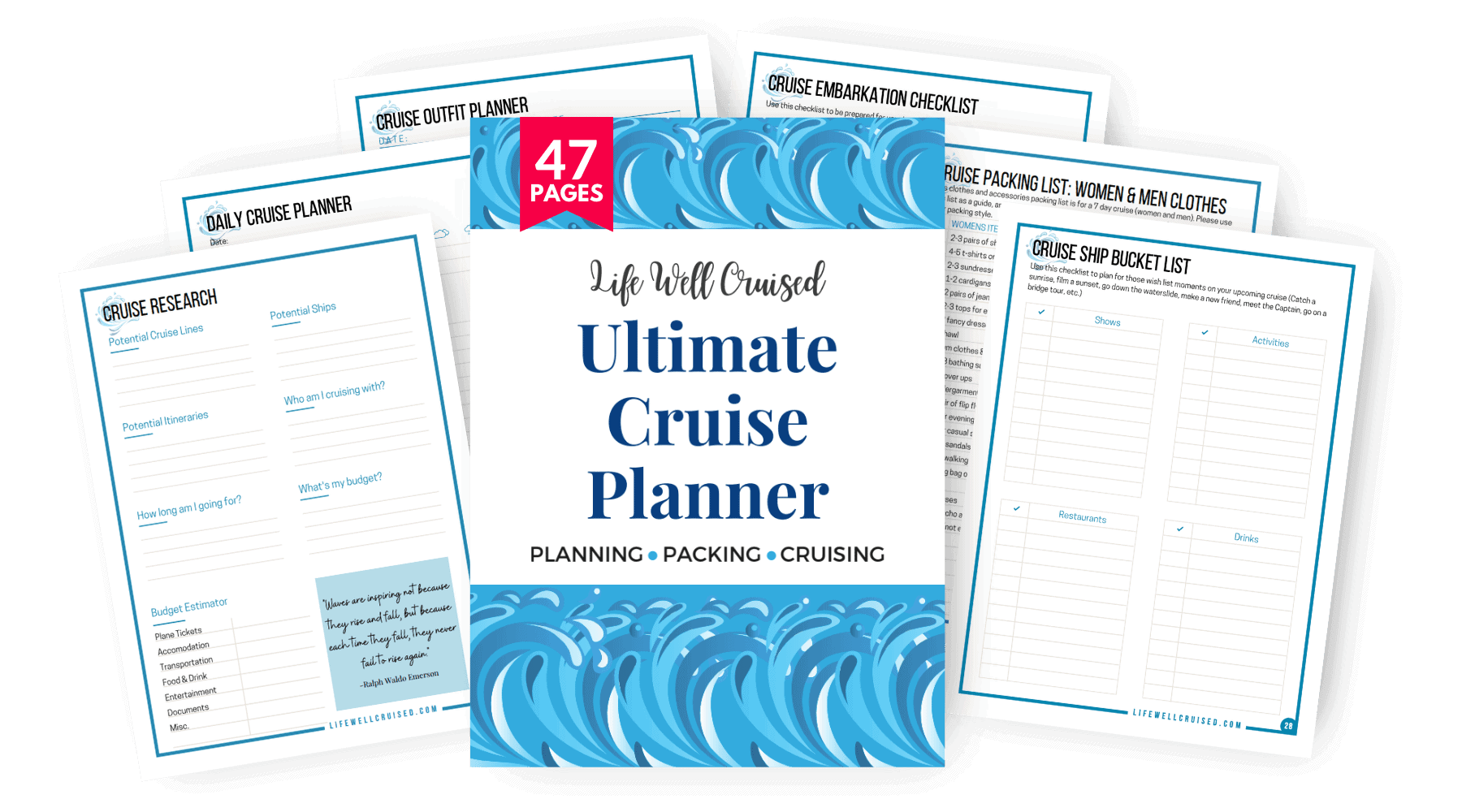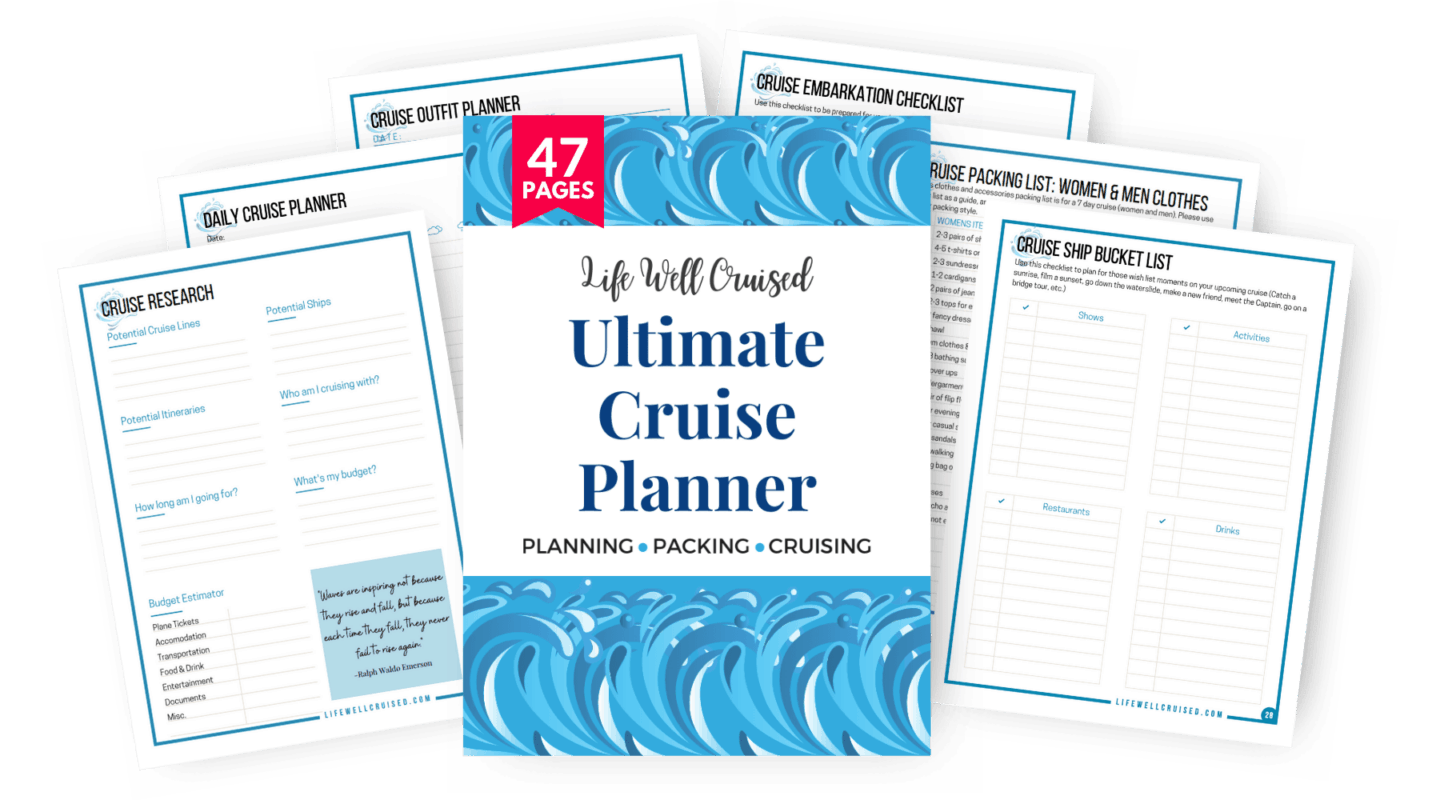 Related & Popular Posts:
30 Cruise Cabin Hacks Every Cruiser Needs to Know
What to Pack for a Caribbean Cruise
50 Must-have Cruise Essentials from Amazon
27 Cruise Travel Hacks Repeat Cruisers Swear By
15 Things to Do Before Your Cruise (in last 30 days)
Final thoughts on Things Not to Do on a Cruise
This exhaustive list of over 60 things to avoid on a cruise vacation can obviously be taken with a grain of salt, and to your discretion. However, being aware of many of the things not to do on a cruise, will help you to have the best vacation possible and stay out of trouble ;-).
Do you agree or disagree with some of these things to not do on a cruise? If you have any extra tips to add, please let me know in the comments below.
Happy Cruising!
Ilana xoxo
P.S. If you found this helpful, please don't keep it to yourself ;-). Please share on Facebook or PIN to your favorite Pinterest board (share buttons at the top). Thanks so much!
Let's connect:
Follow me on Facebook at Life Well Cruised
Follow me on YouTube at Life Well Cruised
Follow me on Pinterest at Life Well Cruised
Follow me on Instagram at Life Well Cruised