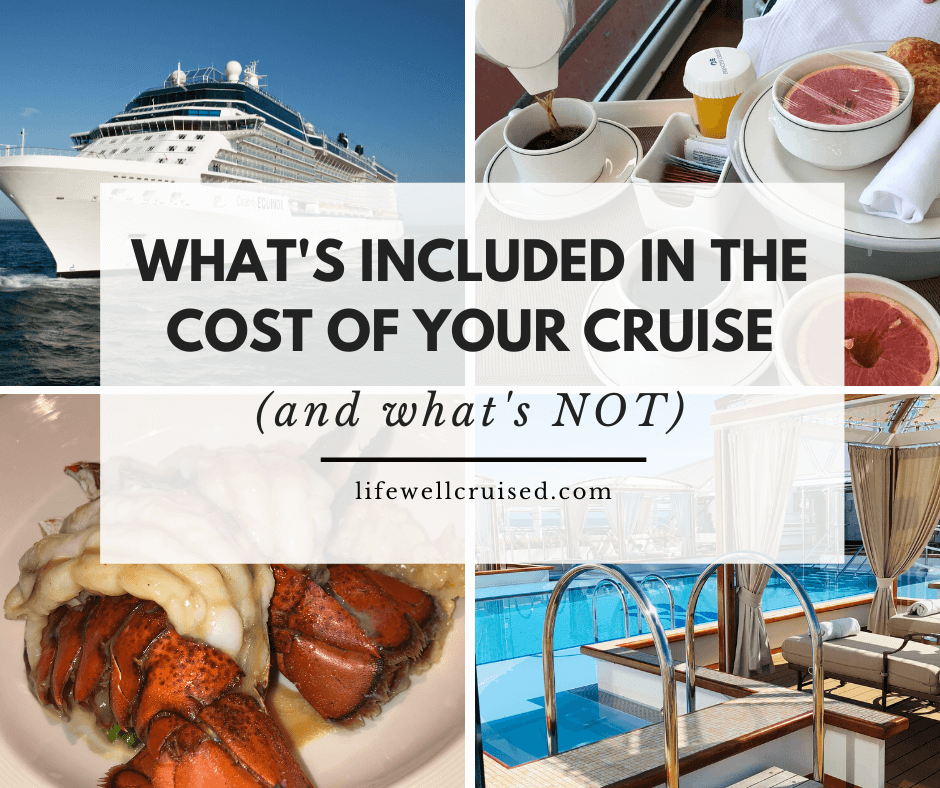 What Is Included on a Cruise Vacation – and What Isn't
If you're planning a cruise and researching your cruise options, you've probably noticed that not everything is included with your cruise fare. Taxes, gratuities or a service charge, plus other "extras" are just some of the things not included with your cruise fare.
As cruise lines encourage cruisers to pre-book specialty restaurants, beverage packages, photo packages and more, many new cruisers are wondering… what IS included on a cruise.
This can be confusing and even overwhelming, especially if you're on a budget, which is why I wrote a post about this a little while back: 10 Things Actually Not Included With Your Cruise
However, the fact is, a cruise still remains pretty a great value. Many of the "extras" are totally optional, and outside of alcoholic beverages expenses, a cruise can still be almost all-inclusive.
In this post, I'll be going through what's included with your cruise price (and what isn't), so you can know what to expect and choose and budget accordingly.

What's Included in the Cruise Fare and What's "Extra"
1. Cruise cabin accommodations and transportation to cruise port destinations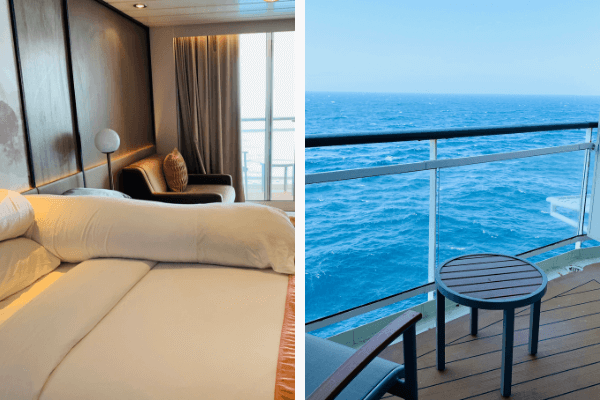 This is really "the basics" right? Simply choose the cabin type that works best for you (interior, ocean view, balcony or suite) on your cruise ship or choice and your itinerary.
No matter the cabin you choose, you'll have comfortable accommodations and a great place to sleep. Plus, all cruise staterooms come with twice a day housekeeping services, which means that you will feel very taken care of!
Extra expenses to be aware of when cruising
When you arrive at the cruise port, you may want to do an activity. You can book a shore excursion with the cruise line, choose a local vendor or even go on your own.
Excursions can add up, but you'll find that most cruise ports have a beach close by as well some shops near the ship.
Tip: Research your cruise ports in advance, especially if you'll be booking an excursion on your own or doing your own thing.
Recommended: How NOT to be a pier runner (and miss the cruise ship)
2. Cruise dining and food options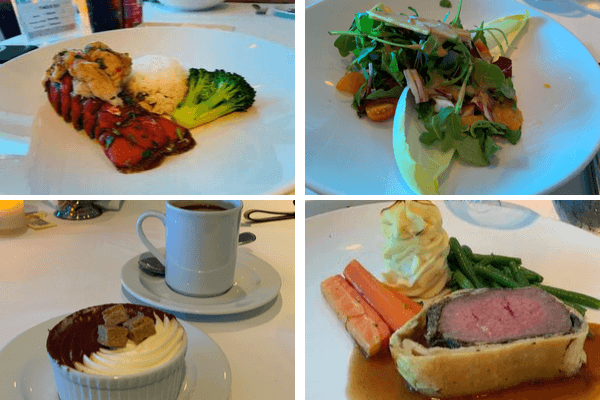 Most of the food and dining on board is included on a cruise. This includes the Main Dining-room, the buffet, as well as some other casual venues such as cafes and poolside grills or pizza.
It's also pretty much unlimited. So if you love an appetizer in the Main Dining Room, feel free to order 2.
Snacks like fruit, soft ice cream, popcorn and snacks during the day and night are usually available and complimentary.
Truly, no one goes hungry on a cruse!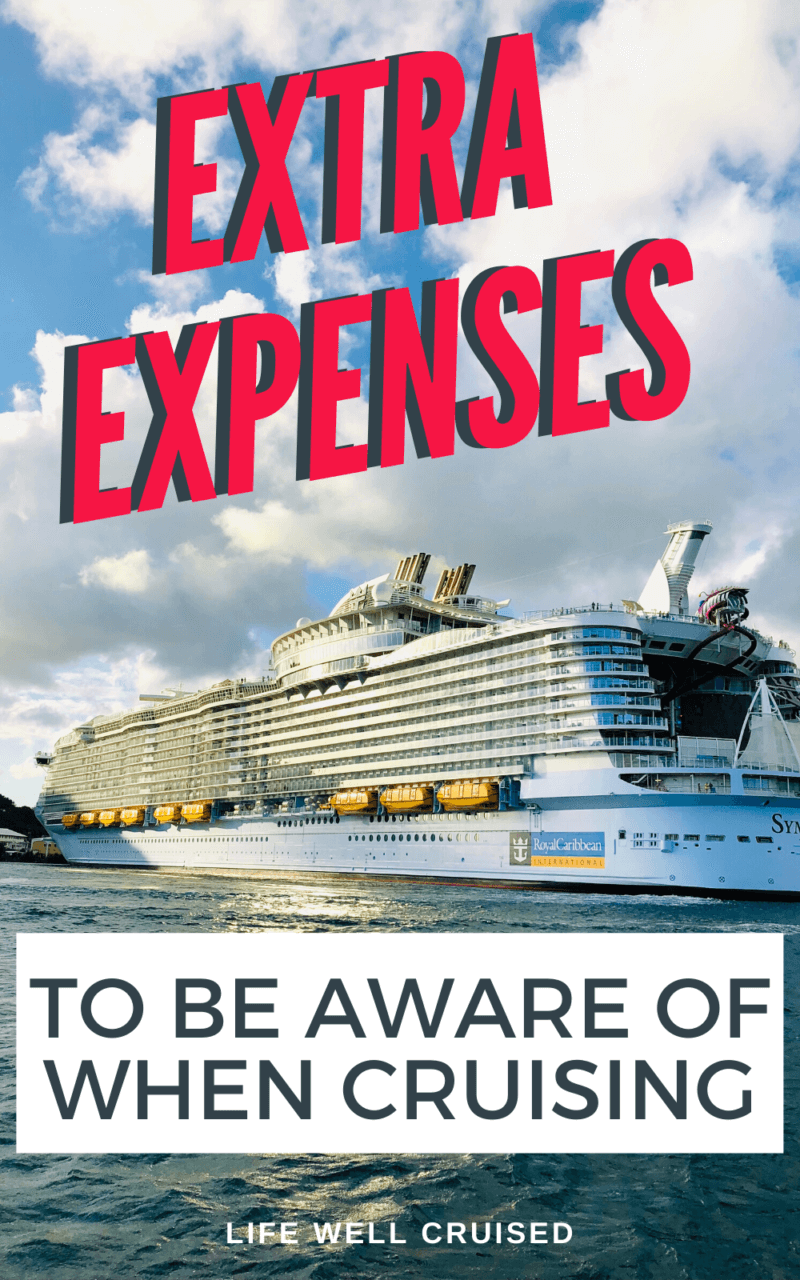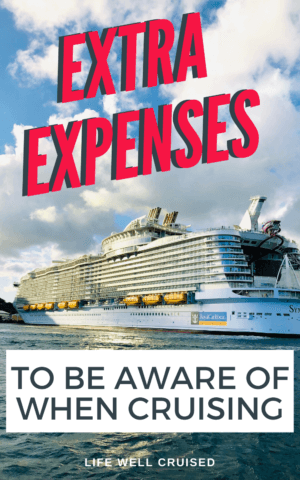 What food isn't included with your cruise?
Even though there's honestly so much food to eat on the ship included with your cruise fare, there are some foods and optional restaurants that have an additional charge.
If you want a more intimate and special dining experience, check out the specialty dining restaurants on your cruise ship.
There may be fun casual restaurants that have an additional fee, but have a special experience, that can be fun (like Johnny Rockets on some Royal Caribbean ships).
3. Room service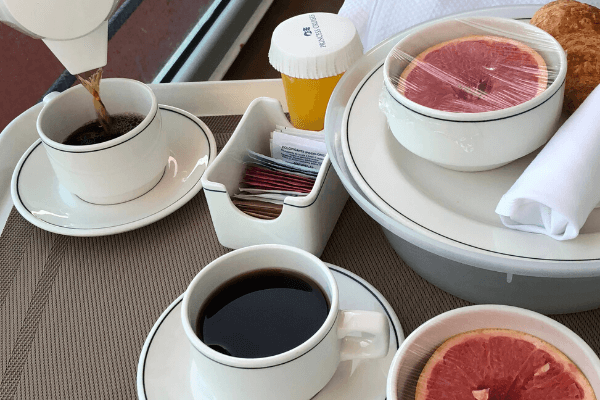 Speaking of cruise food, some cruise lines include FREE room service. We love the occasional breakfast out on our balcony, or a late night snack for the teen son, so it's a good perk for us.
When is room service not included on a cruise?
Up until about 5 years ago, most popular cruise lines included free room service, but times have changed and now some family-friendly cruise lines do charge a service fee. Other cruise lines still include it, but have a surcharge after a certain hour.
If you enjoy this little luxury, see if it's included when you research and plan your cruise.
4. Cruise private island beach days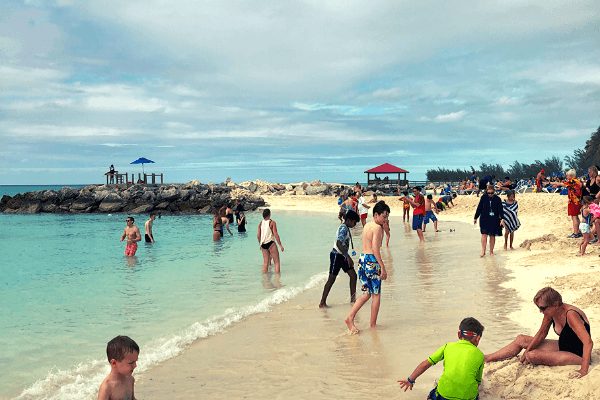 If you love an easy beach day, many cruse lines offer a private island experience on their Caribbean Itineraries. You'll experience is a beautiful beach, lounge chairs, and a beach BBQ lunch.
There's no need to pay anything extra on the private island, unless you want to for optional additional activities.
Princess Cruises has the gorgeous Princess Cays in Eleuthra, Bahamas. Holland America and Carnival use Half Moon Cay (with the most stunning turquoise waters!).
NCL has the Great Stirrup Cay and Harvest Cay. Disney has the magical Castaway Cay.
Royal Caribbean has Labadee, a peninsula off the coast of Haiti with beaches, a zipline and more! And finally, Royal Caribbean has the amazing newly updated (to say the least) Perfect Day Coco Cay.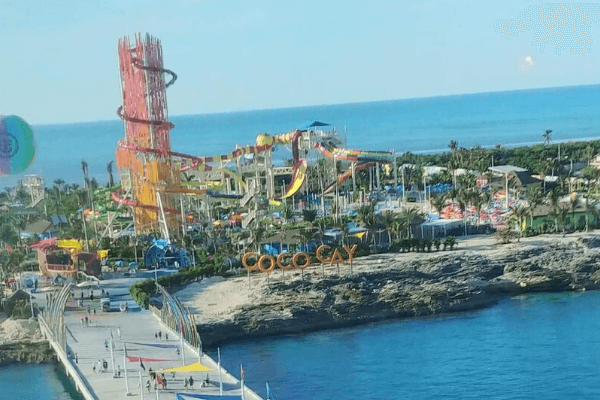 What is "extra" on the cruise private islands?
Most private islands have activities such as a glass bottom boat tour or banana boating as an optional excursion or activity.
However, each cruise and private island offers different experiences.
Perfect Day Coco Cay in particular (see photo above), has the ultimate choice of extra activities, and some come with extra fees.
Coco Cay does have a pool, beach and play park for kids that are included with your cruise fare.
However, there are some things that are really upgraded special experiences, such as a huge water slide/park and activities like a hot air balloon.
Like all cruise "extras", budget accordingly if this is of interest to you.
Tip: Consider bringing your own snorkeling equipment from home and using it at several cruise ports.
5. Pool areas and lounge chairs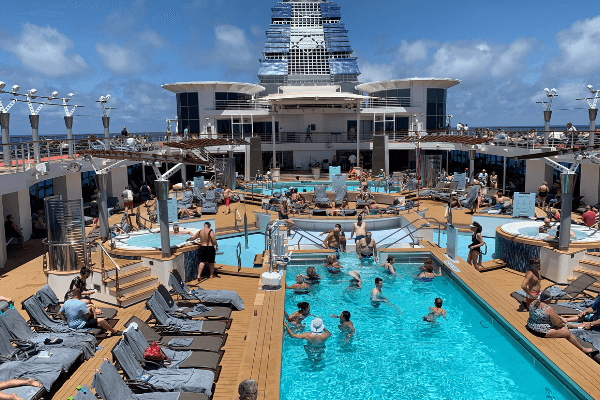 This might seem obvious, but hanging out by the pool on a lounge chair is a pretty great way to spend a sea day. Poolside games, line dancing, and other pool deck activities are included with your cruise.
Many cruise ships have both a main pool area, and an adult pool area if you prefer a more quiet atmosphere.
Are there sundecks private areas not included with your cruise?
Most cruise lines do have an area that is more private, either reserved only for suites, or an adult only area that is additional.
Private spa like areas, such as Princess Cruises' Sanctuary, has a beautiful and luxurious space with a limited number of reserved lounge chairs. There's a lovely spa menu available and included with the price, for either a half or full day.
Other cruise lines may have private adult only areas, that have different offerings, so do check the specifics of your cruise ship.
Tip: Towels are also given to you complimentary, so definitely don't pack these from home.
Recommended: Cruise Packing 101
6. Cruise Ship Entertainment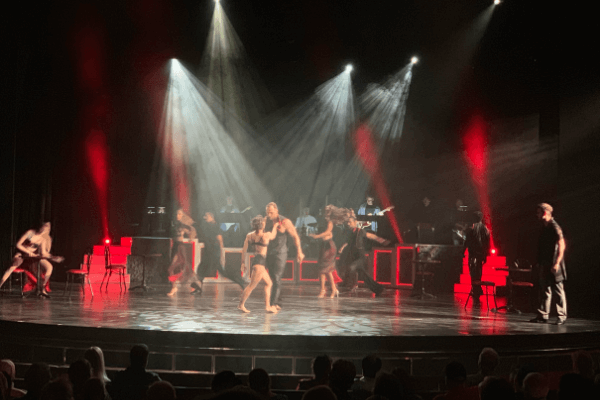 Cruise ship entertainment is so worth it. If you've ever been to an all inclusive land resort, you'll notice the variety and quality of on board shows is a huge step up!
On most cruise lines, the shows at night in the theater, lounges, and even in the skating rink and pool (Aqua show on some Royal Caribbean ships) is included.
This includes the cruise ship's singers and dancers, as well as a band. However there's always a variety due to guest entertainers such as comedians, hypnotists and musicians.
We have seen amazing acts that I would gladly pay to see in a show back home.
What entertainment is additional on a cruise?
Occasionally, some cruise ships have a theater or a dinner show that's optional and has an extra charge. Check your cruise reservation and activity options to see exactly what is included with your cruise.
7. What drinks are included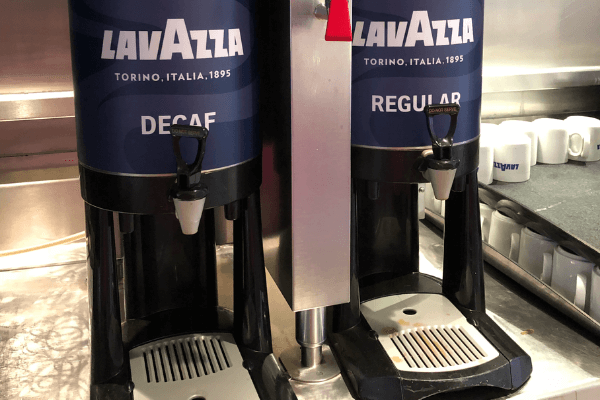 There's so much talk about beverage packages, and I've seen these question come up many times in cruise Facebook groups.
"Is there anything for me to drink?"
"Is water free on a cruise?"
"Will I be able to get tea or coffee on a cruise, or so I need to buy the coffee package?"
Drink packages and what's included on a cruise can be confusing.
What drinks are included on a cruise?
Coffee and tea in the buffet and main dining room. In some cases, like on Royal Caribbean ships, there is complimentary coffee also available at the Promenade Cafe.
A variety of juice from concentrate and flavored drinks are usually available in the buffet. At breakfast there will also be milk available.
The classic cruise ship drink, unsweetened iced tea is usually available as well. Since we started cruising in 2004, since is still one of our favorites. I add a slice of lemon and a splenda (as sugar doesn't dissolve in the cold water/tea) and it's perfectly refreshing.
Water is always available on board and safe to drink.
Tip: Consider bringing a good refillable water bottle or coffee mug with you on your cruise.
What drinks are not included on a cruise?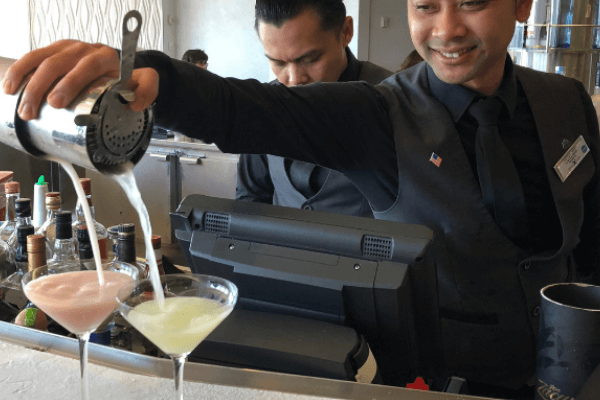 Will you need or want to buy a beverage package? You might, depending on what you drink and how much you might drink.
Firstly, alcohol and soft drinks cost extra on most popular cruise lines. As well, fresh juice, bottled water, and specialty coffee have a extra fee.
In some cases, you may bring wine on board and will be charged a corkage fee (verify your cruise line's policy).
If you would enjoy drinking alcohol, soft drinks or specialty coffee, consider checking the different packages available on your cruise line.
An example of a good value for some is Norwegian Cruise Line's beverage package in the Free at Sea promotion .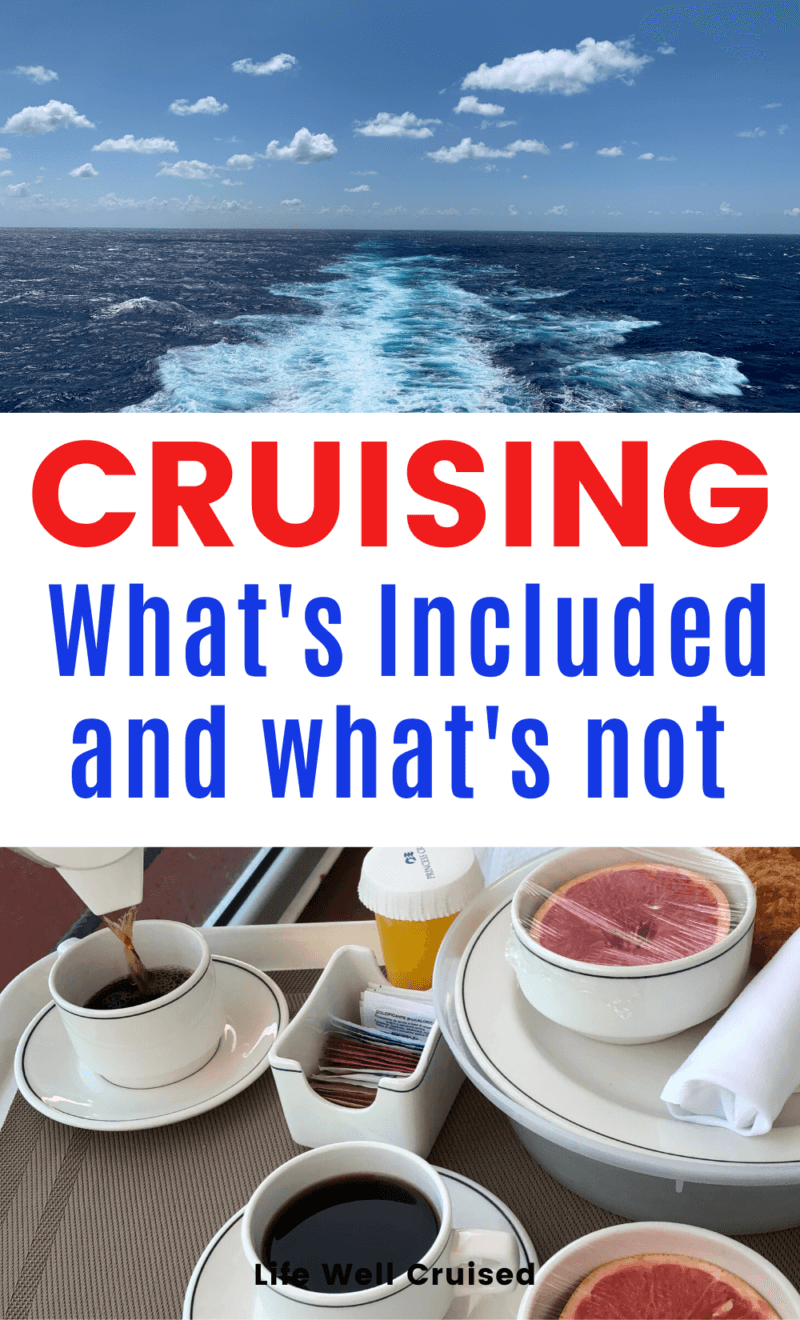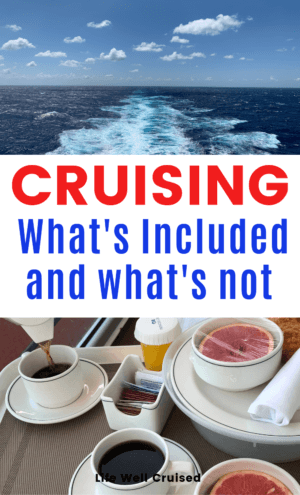 8. Cruise ship Kids Club
If you're cruising with kids, you'll love the cruise line kid's club. Cruise lines offer fun and interesting activities for children, and excellent supervision by the kid's club staff.
Each cruise line has it's own program such as Adventure Ocean on Royal Caribbean, Camp Carnival on Carnival ships, Princess Pelicans on Princess and so on.
When is there an extra charge for the kid's club on a cruise?
While the kids club is available and complimentary during the day, there is an additional cost for evenings after 10 pm. If you do need or want some adult time, the small charge is well worth it, in my opinion.
Do check with your cruise line for the hourly fee, opening hours and other policies.
9. The Fitness Center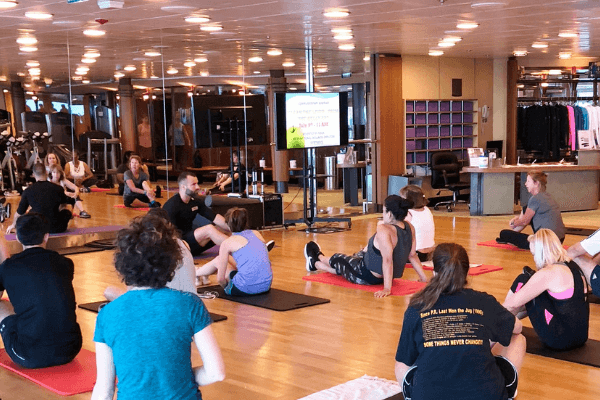 The usage of the cruise ship gym and fitness equipment is included in the cost of your cruise. Most cruise ship fitness centers are nicer and larger than hotel and resort gyms.
If you're concerned about not gaining too much weight on your cruise, definitely check out the gym and pick a convenient time of the day to work out.
Many cruise ships have a few optional classes which are complimentary.
Is there an extra fee for fitness classes on a cruise?
While many cruise lines have a few fitness classes that are free, there will be optional classes available with an extra fee of about $10 or so per class.
We've cruised on Princess and Celebrity and found the classes that were included fantastic!
If you're interested in this, when you board your cruise ship on embarkation day, head on over to the fitness center to sign up for some of the classes. Sometimes they fill up quickly, so best to sign up in advance.
10. Sea Day Activities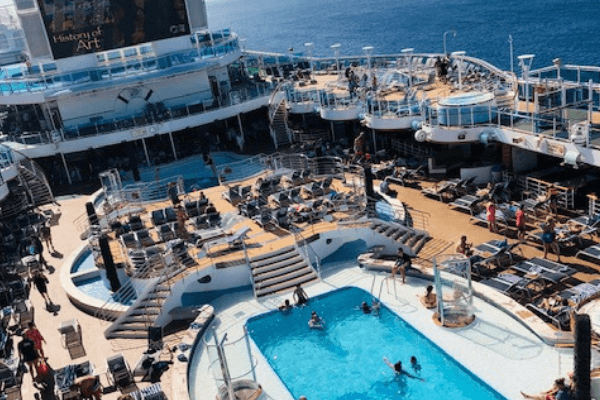 Tons of fun sea day activities are included with your cruise fare. Pool games , trivia, dance classes, zumba, movies on a big screen, lectures in the theater – there's truly something for everyone.
On a recent cruise, our son did a fun archery activity (a sea-safe one) while my parents water color painted on a cruise! All included!
If you'd like to know more detail about what's NOT included on a cruise, please watch this video below on our YouTube channel, Life Well Cruised.
What daytime activities aren't included on a cruise?
While there are literally dozens of things to do on a cruise ship that are included, some that do have an extra fee include Bingo games (which are super popular).
Certain ships have some very "special" activities available, that have an extra fee.
This includes race cars on the Norwegian Bliss and the North Star on Quantum of the Seas. If you're going on a cruise ship with a lot of the newest bells and whistles, do check to know what's included on the cruise, and what's not.
Is it worth it to do these special activities? They are pretty incredible and may be once in a lifetime. My suggestion is to check what will cost extra, and budget accordingly, if it will be special to you.
Want even more Sea Day Activity suggestions? I put a list of 27 great ones together in this post: 27 things To Do on a Cruise Sea Day (and not be bored)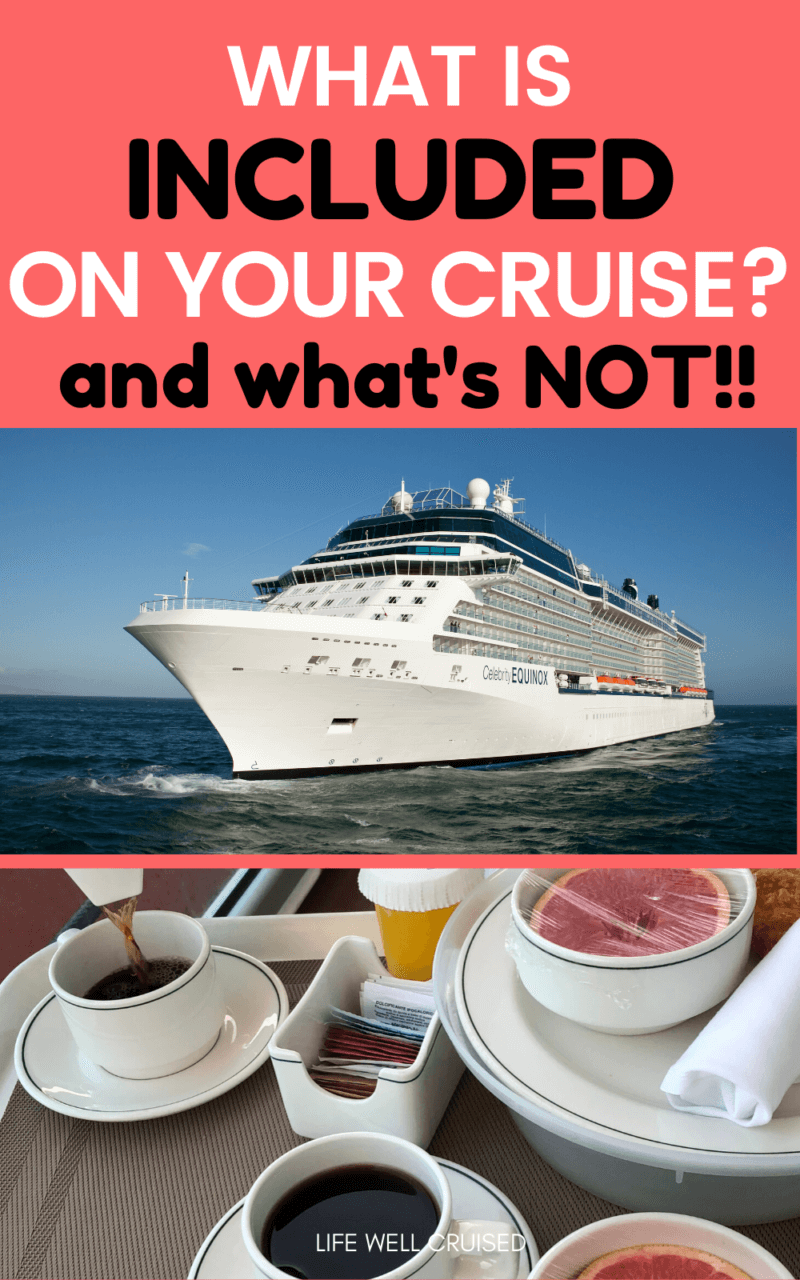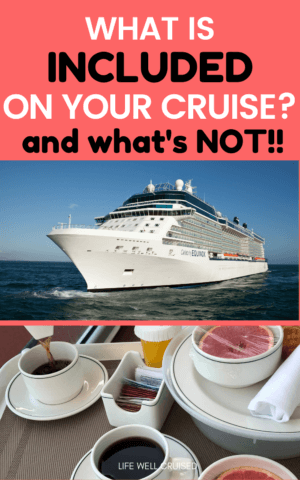 Recap: 10 Things That are Included in the Cost of Your Cruise (and what is extra)
In this post we went over 10 things that are actually included with your cruise fare, and some that are not. In addition to comfortable accomodations, most activities, entertaiment and food is included on a cruise.
Something to keep in mind is that gratuities for certain staff are not included, but suggested and usually automatically charged by the cruise line.
If you'd like to know more about cruse line gratuities and what to expect, this post is recommended: Cruise Tipping Guidelines and Etiquette in 2019 (and beyond)
Is there something else that's included with a cruise that we should mention? Will you pay more for some of the "extras", or are you happy with what's included with the cruise price?
Happy Cruising!
Ilana xoxo
P.S. If you found this helpful, please don't keep it to yourself ;-). Please share on Facebook or PIN to your favorite Pinterest board (share buttons at the top). Thanks so much!
Related posts:
17 Free Things to do on a Cruise (that are awesome!)
30 Cruise Cabin Hacks Every Cruiser Needs to Know
25 Most Recommended Amazon Items to Bring on a cruise
20 Cruise Packing Tips all Cruisers Need
Let's connect:
Follow me on Facebook at Life Well Cruised
Follow me onYouTube at Life Well Cruised (Vlogs and cruise tips)
Follow me on Pinterest at Life Well Cruised
Follow me on Instagram at Life Well Cruised