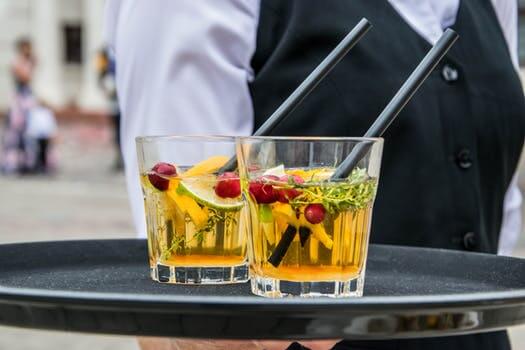 If you're like many cruisers, you LOVE the idea of getting a perk or two included in your cruise fare! Norwegian Cruise Line's Free at Sea promotion is just that!
Are you planning a cruise on a Norwegian Cruise Line ship? Then you've probably heard about the Free at Sea promotion, and perhaps you have some questions.
NCL's perks promotion is very popular with cruisers. However, when planning your first cruise, you'll want to know the details and see if it's the best option for you.
Want to know what is the most popular "perk"? You guessed it, the all inclusive beverage package.
Well, Norwegian's popular Free at Sea promotion gives you that and more. While other cruise lines sometimes (mostly rarely) offer promotional perks when you book, Norwegian offers this pretty consistently so its worth talking about.
Just an FYI, Norwegian's Free at Sea promotions change periodically, so always check with Norwegian Cruise Line's website to see the most up to date information, or with your travel agent. Since I get the most questions about the all inclusive beverage package, I'll give you lots of details about what's included and what's not, further down below.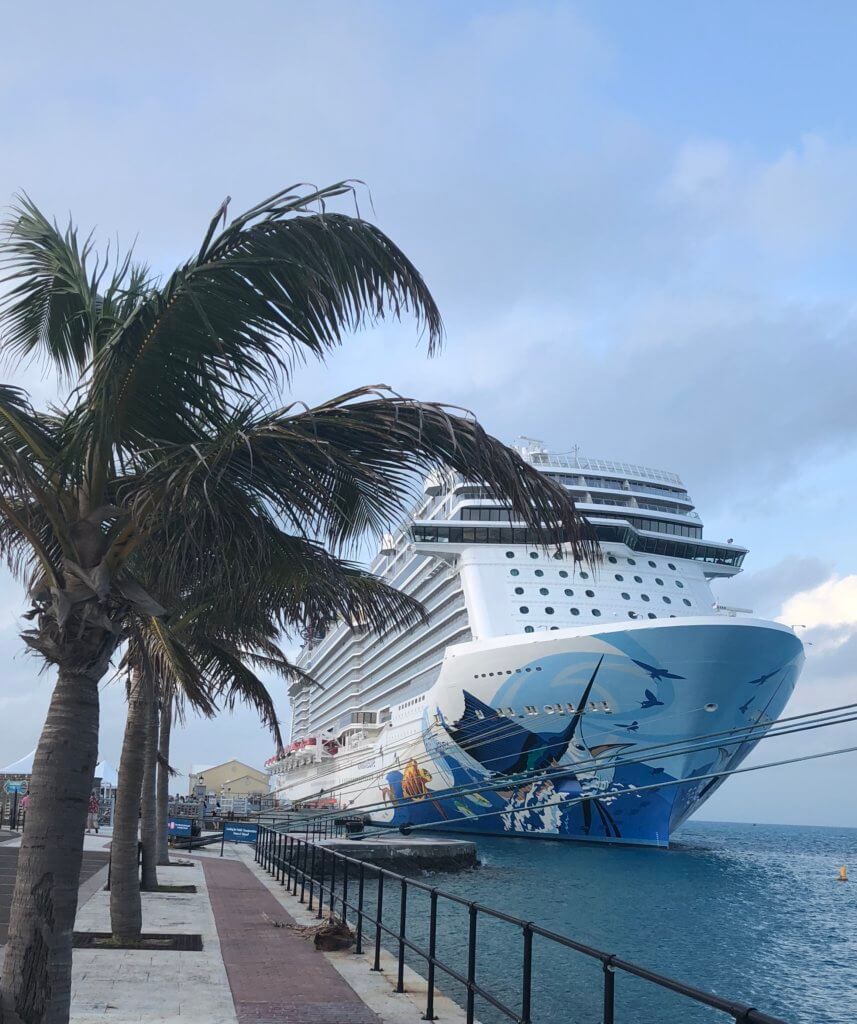 First, what can you expect on a Norwegian Cruise?
Norwegian Cruise Line is a cruise line in the Contemporary category, along with Royal Caribbean and Carnival. Norwegian markets the cruise as Freestyle, so a relaxed cruise ship experience where you can NOT dress up if you don't want to, although many still do in the evening. Think very casual during the day and resort casual at night, but it really is up to you!
What they do well is offer a casual fun ship for families and individuals who generally prefer having a lot to do, including water-slides and other on board activities such as a ropes course. The entertainment is generally very good quality and high energy.
There are no set dining times, so you can eat at a different time if you like each evening. Just keep in mind that sometimes it may be busy and there can be a wait time. You may choose one of the dining rooms with the menu of the evening, or a more casual venue like O'Sheehans for pub style food or maybe the buffet. You can also choose to book a specialty restaurant which will offer generally more upscale dining such as the French Bistro or the Japanese Teppenyaki.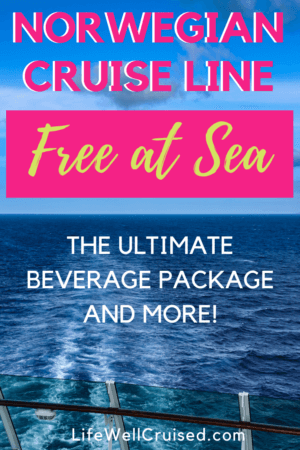 Norwegian Cruise Line Cruise Tip
Although there are some areas to relax on the ship, keep in mind that the bigger ships especially can be a bit busy and loud, especially in the pool areas. My personal tip is to book a cabin with a balcony if possible. When I sailed on the Norwegian Breakaway I just loved the ship's energy. However, when I wanted to read a book or just relax and look at the sea (with a glass of wine), I was really thankful to have my balcony to get away from it all.
Norwegian's Free at Sea – Understanding the basics about the perks offered
With the Norwegian Cruise Line Free at Sea promotion, most of the time there are 4 or 5 perks are offered – The Ultimate Beverage Package, the dining package, 250 minutes free WiFi, and a 50$ shore excursion credit per port. On some sailings the 3rd and 4th passenger (in the same cabin) sail free and pay only the taxes. This is a great benefit for families!
If you're sailing in an Inside cabin, you may choose 1 perk. If you're sailing in an Oceanview cabin, Balcony cabin or Mini-suite cabin, you may choose 2 perks (best value!). If you are sailing in the Haven, lucky you, you get all 4 perks! What's the Haven? It's exclusive, it's luxurious, it's pricey… but may be worth considering for a truly special cruise experience.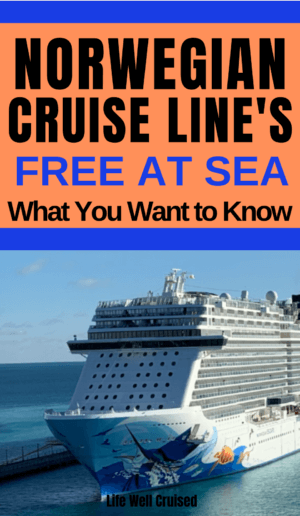 The Free at Sea promotion explained, including some pros and cons
1. The Ultimate Open Bar
I get a lot of questions about the beverage package, and there are a lot of things to say about it! Alcoholic beverages can be very expensive on a cruise, so this perk can be amazing, even if you are not a very big drinker. If this is of interest to you, keep reading and I'll give you all the details below.
*Something to note when choosing Norwegian Cruise Line perks is that the beverage package and the dining package have an extra gratuity or service fee that will be added on to your booking. This can still be a very good value, but do be aware that there will be an extra cost for this option.
2. Free Specialty Dining
Norwegian Cruise Line is known for it's choice of really great and interesting specialty restaurants including Le Bistro (French cuisine), Teppentaki (Japanese) and Moderno Churrascharia (Brazilian Steakhouse). On 7 night cruises the 1st and 2n passenger in a cabin receive a 3 night package. On longer cruises extra nights are added.
*Note that there is an extra gratuity charge that will be added on to your cruise booking for this perk.
3. Free WiFi
You will receive 250 minutes of free WiFi for the cabin. Internet at Sea is NOT what it is on land – and it is very expensive, so this is a good perk. There is no extra amount that is added for this Keep in mind that you can get free or inexpensive wifi on land when you get to each port.
4. 50$ Shore Excursion Credit
The shore excursion credit is 50$ per cabin per port, so if you book a shore excursion on your own you will not benefit. You cannot double up in any given port, its really 50$ for each port. If you plan on booking excursions with the cruise line for more than port, this will be worth it for you.
5. 3rd and 4th passenger sail free
This is truly a great benefit, especially for families. o keep a look out and try to book early to take advantage of this promotion. It may not be available on all sailings, so do check with your travel agent or Norwegian Cruise Line. Keep in mind that the cruise is free, but government taxes are additional.
Norwegian's Free at Sea Ultimate Beverage package – what you need to know! (update – now called Open Bar)
As mentioned earlier, there is an extra charge for this perk, so it is not totally free. If you were paying for this perks (which you are not) – the package retails for about $800 p/p for a 7 day cruise. Norwegian charges passengers only the gratuity on the package, which amounts to about $100 p/p for a 7 day cruise. Check you cruise final tally for the exact amount you will be paying, but this gives you a good idea.
For many this is an amazing value, even when calculating the gratuities on the value of the package. Once you get over a slight sticker shock pre-cruise, you will totally enjoy and be worry free once onboard!
This was one of my very favorite drinks on board! I highly recommend trying the incredible martinis and finding your favorite!!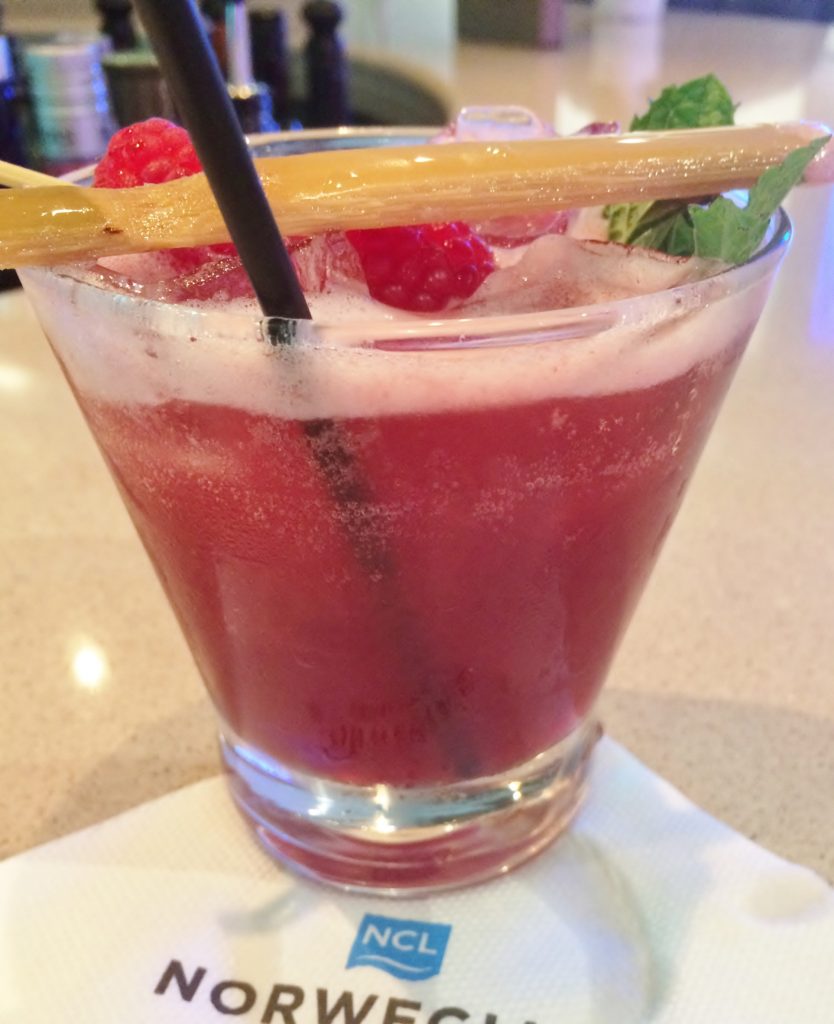 What's included in the NCL drink package?
A variety of soft drinks, beers, spirits, cocktails, wines by the glass and bottled or draft beer up to and including $15 USD. The fact is that an average cocktail on Norwegian is about 12$ or more, so the bill can add up quickly without a package! Some of the best drinks were at the Mojito Bar, and all were included so no need to upgrade.
It is also a plus that all cabins are eligible to pick this Perk. I like that inside cabins can benefit from this option on NCL, which is not the case on some other cruise lines when a free perk is offered.
What's not included in the NCL beverage package?
Specialty coffees, water bottles, fresh squeezed juice.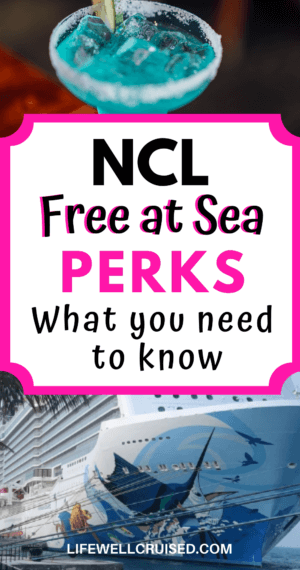 Final Thoughts: Norwegian Cruise Line's Free at Sea Perks
I have sailed with and without a package,and definitely thought the Ultimate Beverage Package was worth it. I drink more than 100$ p/p for a 7 night cruise, even when I am being careful. Plus, the drinks on Norwegian were great and they didn't skimp anywhere.
I do wish that specialty coffees were included as I love to have a nice cappuccino after dinner and this would have been a plus if it was included. Conclusion – still totally worth it.
So, what do you think? Have you sailed with any of the cruise lines offering Perks promos and has it been worth it for you? I would love to hear from you in the comments below.
Ilana
xoxo
If you're planning a cruise, you may find these posts helpful: Practical cruise packing list and what you need to bring in your cruise carry-on.
P.S. If you've enjoyed this or any other post on this blog, I'd be so appreciative if you'd share it with others who love cruising on your favorite social media. Thanks so much!
Let's connect:
Follow me on Facebook at Life Well Cruised
Follow me on Pinterest at Life Well Cruised
Follow me on Instagram at Life Well Cruised