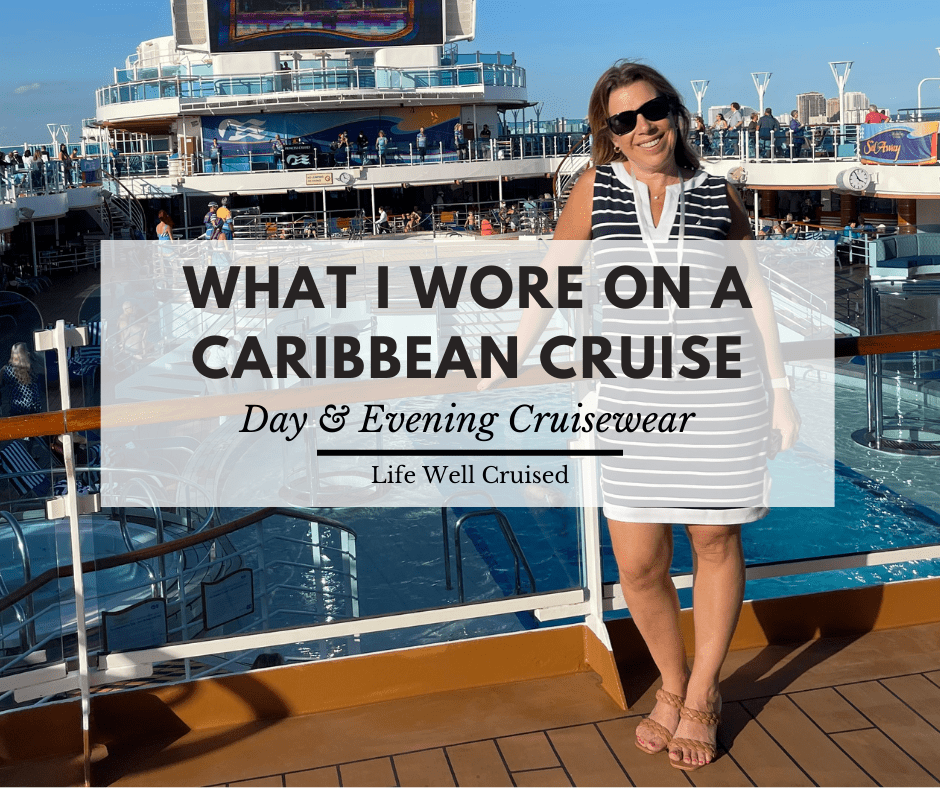 Are you going on a Caribbean or Bahamas cruise and wondering what cruise outfits to wear? Personally, I love some good cruise outfit inspiration!
I recently returned from a 7 day Caribbean cruise and thought I'd share some of the clothes I wore to give you a few cruise outfit ideas.
It had been almost 2 years since I've cruised I needed some new dresses, bathing suits and cover ups. The stores near me weren't selling resort wear at this time of year, so this time I bought most of my new cruise outfits online.
In this post, I share photos of cruise wear I wore for embarkation, during the day on the ship and ports of call, and formal wear. Where possible, I've included links to the items in case you'd like to check them out.
This post contains affiliate links which means if you click and buy that I may make a commission, at no cost to you. Please see my disclosure policy for details.
As an Amazon Associate I earn from qualifying purchases.
My Cruise Outfits for a 7 Day Cruise
Embarkation Day Outfit
On embarkation day I wore a navy blue and white stripe casual dress. It was super comfortable, and I figured I could wear it both during the day on our cruise as well as in the evening on a smart casual night.
I purchased this nautical stripe dress on Amazon in a size small and it was true to size.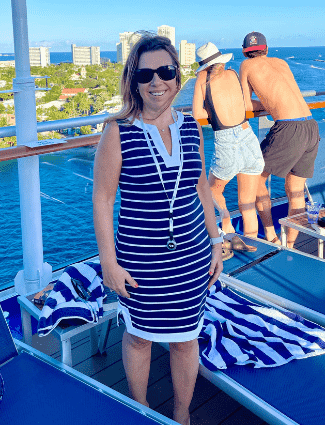 Recommended: Navy blue and white stripe casual dress (check price & details on Amazon)
What I Wore During the Day on a Cruise
I don't like to stress about what to wear on a cruise, especially Caribbean cruise itineraries. I like to pack comfortable sundresses and rompers that I can wear both on the cruise ship when hanging out on the lido deck, as well as in cruise ports of call.
These are some of the cruise outfits I wore.
Sleeveless Shorts Romper
I realize I so like navy stripe clothing, bags and accessories!! This cute shorts romper is also available in solid colors and I will probably purchase a couple more for summer. It's very comfortable and has pockets!
I bought this outfit from Amazon in a size small and it was a nice loose fit.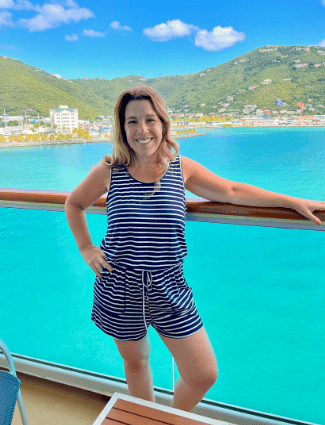 Recommended: Navy & white stripe shorts romper (check price & color options on Amazon here)
Casual Sundress with Pockets
When I saw this dress on Amazon, I was pretty sure I had to have it for my cruise. It's not only cute and very comfortable, but it has pockets!!
I bought this dress in size small and it was true to size. For reference, I'm 5, 2 and about 130 pounds.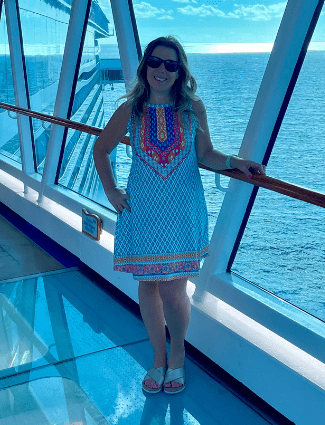 Recommended: Sleeveless summer dress with pockets (verify price & style options here)
Cruise T-shirts and Shorts
While I live in sundresses on a cruise, I like to wear t-shirts and shorts for walks on the jogging track in the morning or even to head to the pool.
These 2 cruise t-shirts are from our Life Well Cruised collection, which is sold on Teespring.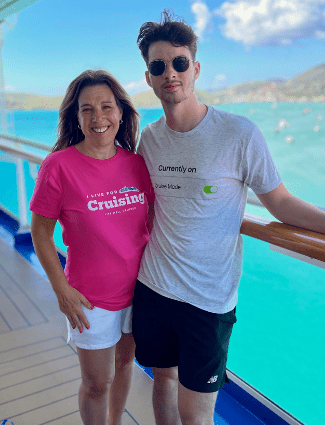 Ilana: "I Live for Cruising" t-shirt (available in women's, men's and children's sizes)
Ethan: "Currently on Cruise Mode" (available in mens & ladies styles)
Spaghetti Strap Sundress
This light sundress was perfect for the day we spent in St. Thomas shopping and walking around the cruise port. Since we weren't going to the beach, I wore it with a beige small crossbody purse.
I'm short and love to wear comfortable wedge sandals that I can walk in easily. I always pack at least one pair of stylish neutral wedge style sandals to wear during the day and evening (seen in photo below).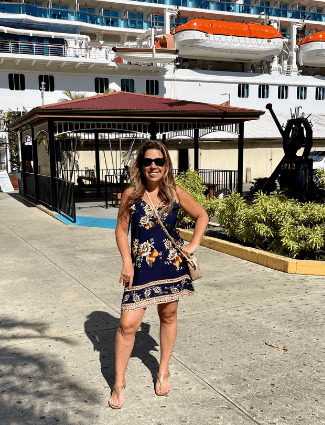 Recommended: Light short sundress (similar to one in photo)
Tank Style Sundress
I wore this tank style loose beach dress on our shore excursion in beautiful St. Kitts. However, I also wear it on cruises as a bathing suit cover up when I head to the pool on sea days.
I've had this sundress for a few years, however I have seen similar styles in solid colors and patterns on Amazon, which I'll share with you.
Recommended: Tank style beach dress & cover up (see style options & 9000+ Amazon reviews here)
Get The Ultimate Cruise Planner
Regular price: $27 Now just $17!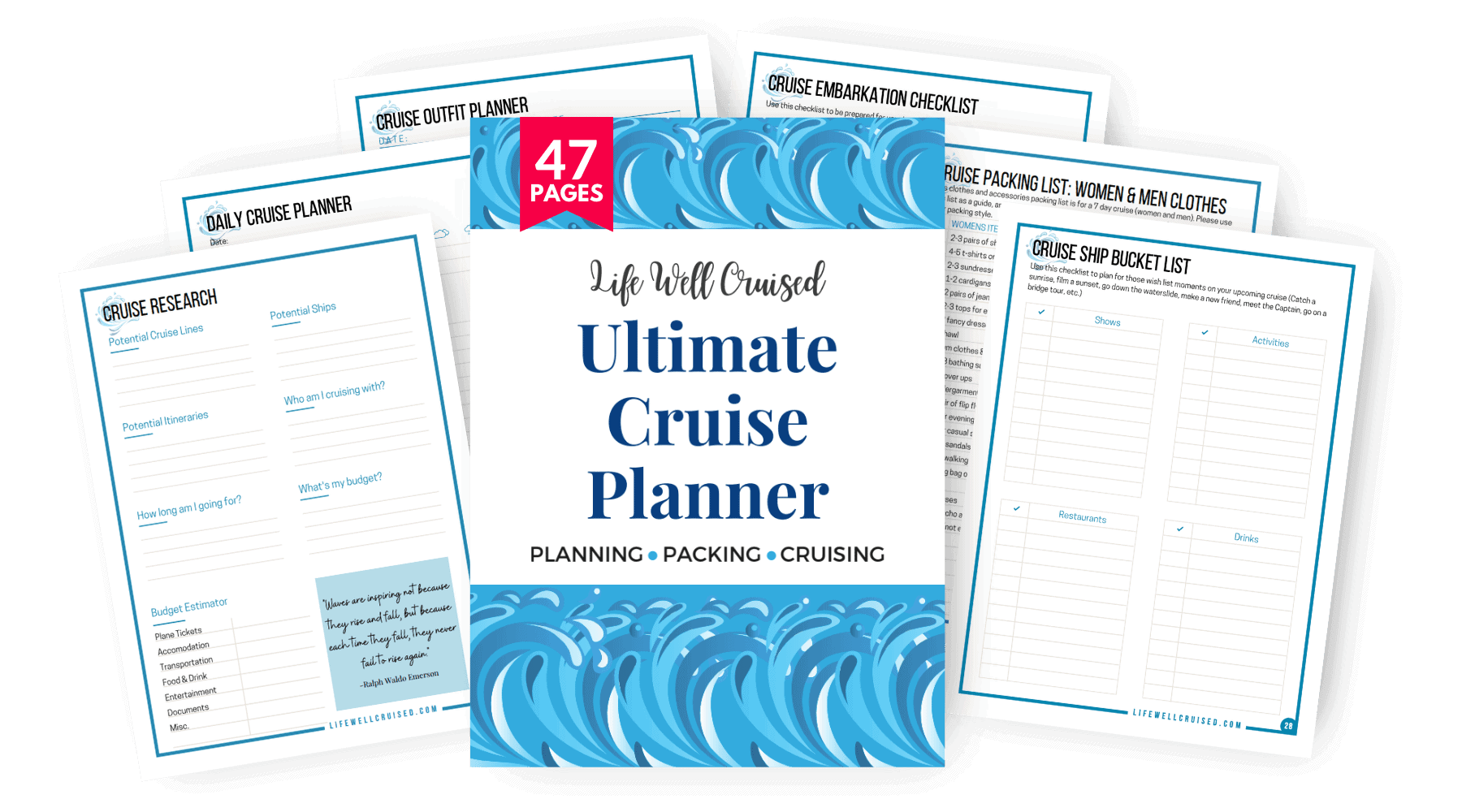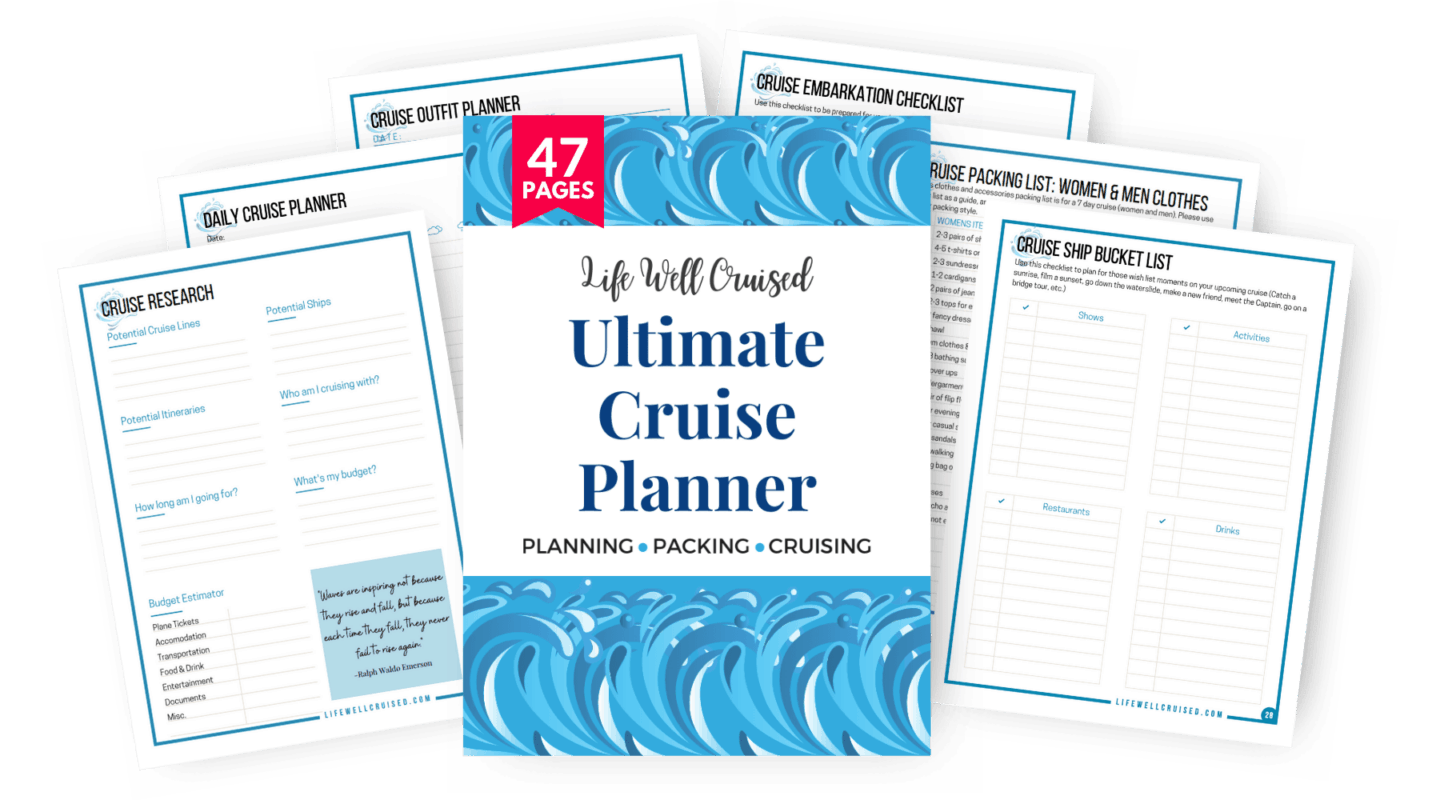 What I Wore in the Evening on a Cruise
The evening dress code on our Princess cruise was smart casual for most nights. We also had 2 formal nights.
After not dressing up much the last couple of years, I was happy to dress up a little bit, although I chose outfits I was comfortable in.
Casual Midi Dress
This rose purple summer dress ended up being one of my favorites! Since I'm only 5.2 it's a bit longer than a true mid length dress, but I still loved it. The straps are adjustable and it has a loose top, which makes it a flattering cruise outfit for women of any age and body type.
In the evening, since I had my ocean medallion to carry as well as lip gloss, reading glasses and Advil (I'm always prepared), I wore it a neutral cross body purse. However I wore it on one shoulder simply to go with my outfit.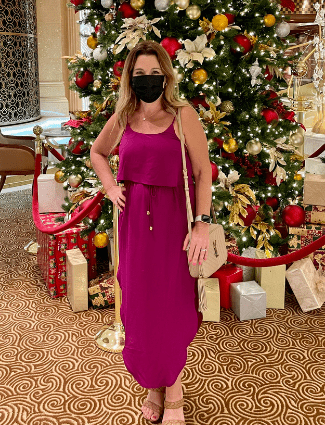 Recommended: Strappy midi style casual sundress (see gorgeous color options here)
Casual Summer Dress High Low Style
I wore dresses most nights on our cruise. Although you don't see it in the photos, I did bring a light sweater with me as well as a shawl. I like wearing sleeveless dresses, however the air conditioning in the dining room can be cool, so having a light sweater is a must.
I should note that clean, dark jeans are allowed in the main dining room. On most nights my husband wore khakis, but this evening he wore a jeans and a polo style shirt.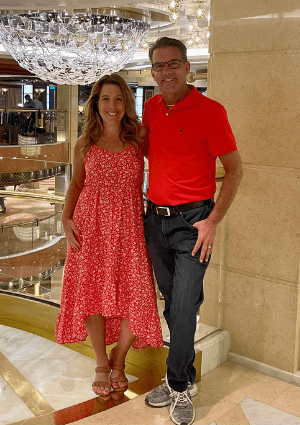 Recommended: High low dress (similar to dress in photo)
Strappy Casual Dress
Another dress I wore for the evening on our cruise was this light strappy mid length dress. I tried to choose clothing that would stay pretty wrinkle free and that I wouldn't need to iron.
I wore tan sandal heels with most of my dresses in the evenings on my cruise.
Recommended: Similar style to the photo (see dress patterns & colors)
Floral Romper
I love comfortable romper jumpsuits, both the pants style and shorts. This floral romper is an old favorite that I still enjoy wearing on a cruise.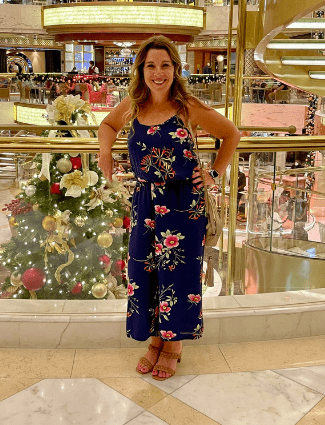 Recommended: Floral romper (similar style on Amazon)
What I Wore on Formal Night on My Cruise
On our 7 night cruise, we had 2 formal nights. So, for my Princess cruise, I packed 2 fancier dresses and my husband and son each packed one suit, with 2 different dress shirts. Don't forget to pack dress shoes and any accessories you may need like an evening bag, clutch or jewelry.
Related: What to Pack for a Princess Cruise
Long Black Evening Cocktail Dress
It's been a long time since I've worn a long cocktail dress for formal night on a cruise, but I really liked this style and was happy with it. It was one of my best Amazon finds, I must say!
For sizing, I ordered a size small and it fit snugly a few days into the cruise – Princess cruise food is good 😉
To be more comfortable, a size medium may have been a better option.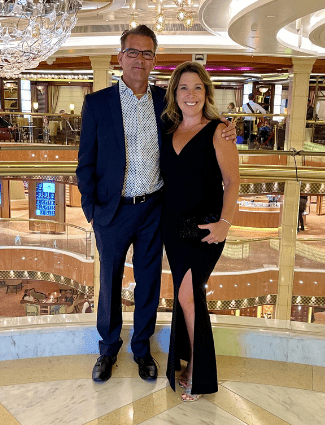 Recommended: Black long cocktail dress (see several color options & 5000+ Amazon reviews)
Off the Shoulder Cocktail Dress
I wish I had a better photo of this dress, as I just love the off the shoulder ruffle style and color. Is blue every cruiser's favorite color or is it just me?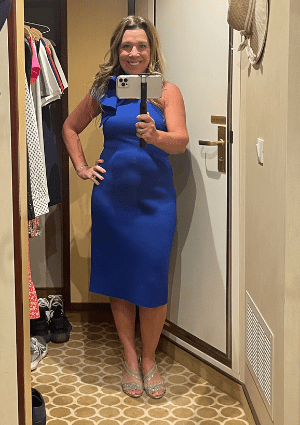 Recommended (similar dress): Off the shoulder ruffle style cocktail dress (see colors & Amazon reviews here)
Somehow we didn't take any good photos this night, but did take a few selfies!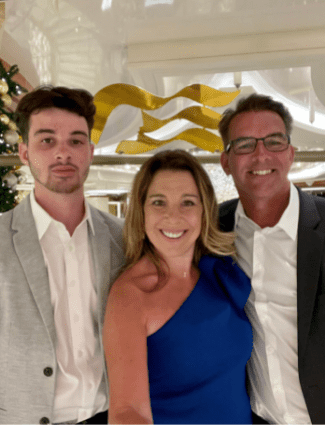 By the way, if your teenagers are wondering what to wear on a cruise, this post that can he helpful. It's written by my son Ethan for his own blog, but I know it's so helpful for young men and teenage boys.
Related: What to Wear on a Cruise for Teenage Guys
Bathing Suits & Cover Ups
I brought 3 bathing suits on my cruise. 2 one piece bathing suits and one black bikini. I also found a great bathing suit cover up that doesn't run big and is very flattering.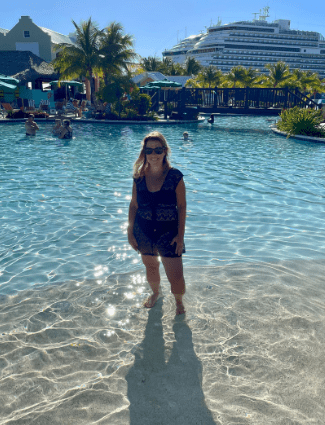 Here's another look at the bathing suit cover up. It's available in several colors, including black and white, so it will go with every bathing suit!
Recommended: Bathing suit lace style cover up (check price & amazon reviews here)
I also bought these high waisted bikini bottoms and to go with a bandeau top. I like to have at least one strapless bathing suit to avoid tan lines.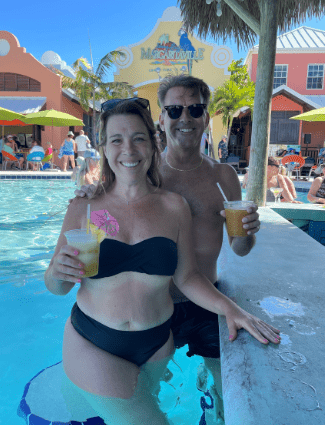 Here's a one piece bathing suit I wore for our excursion to The Baths in Virgin Gorda.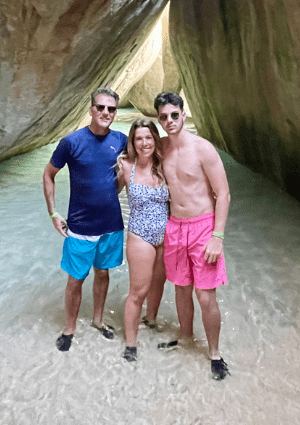 Related: 25 Gorgeous Swimsuit Cover Ups for a Cruise
Shoes I Wore on my Cruise
I tried not to over pack too much on this cruise. However, bringing shoes on my cruise that are both comfortable and cute is not something I cut back on.
I brought a pair of flat sandals in gold (a neutral), a pair of cream flip flops for the pool, tan wedge sandals for walking, tan sandal heels for evening, gold dress shoes for formal nights, white sneakers and a pair of water shoes for our beach excursions.
I probably could have cut back on one pair, but we were driving to the cruise port and I had room in my luggage.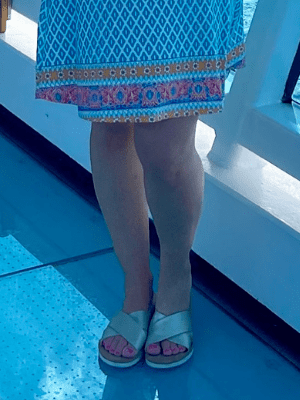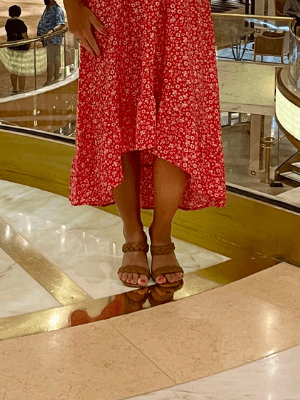 Water Shoes
We brought water shoes for everyone in the family and they are a now a cruise essential that will remain on my Caribbean cruise packing list!
Recommended: Water shoes (lots of sizes & colors)
Related: 20+ Best Cruise Dresses: Amazon Ladies Resort Wear
Get The Ultimate Cruise Planner
Regular price: $27 Now just $17!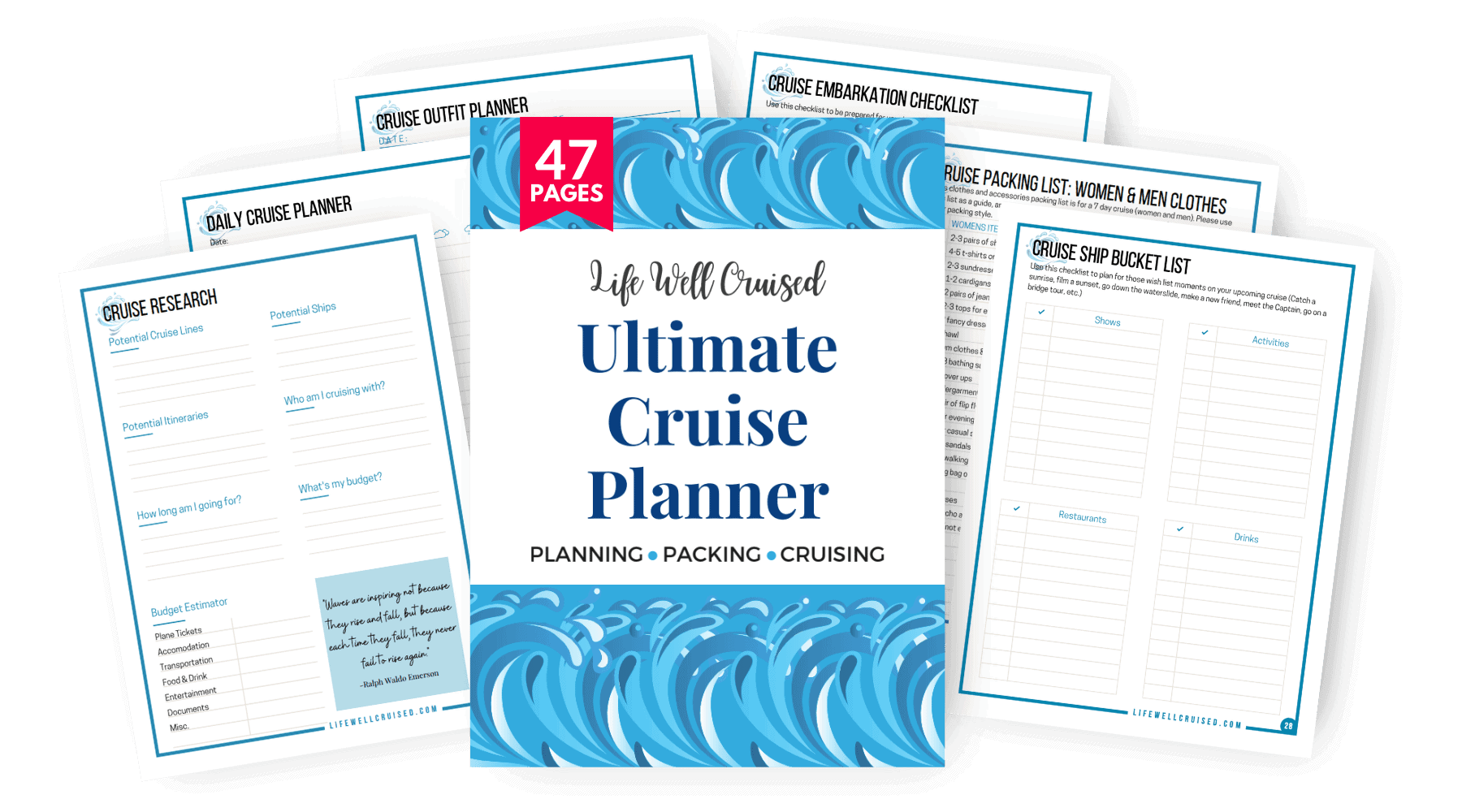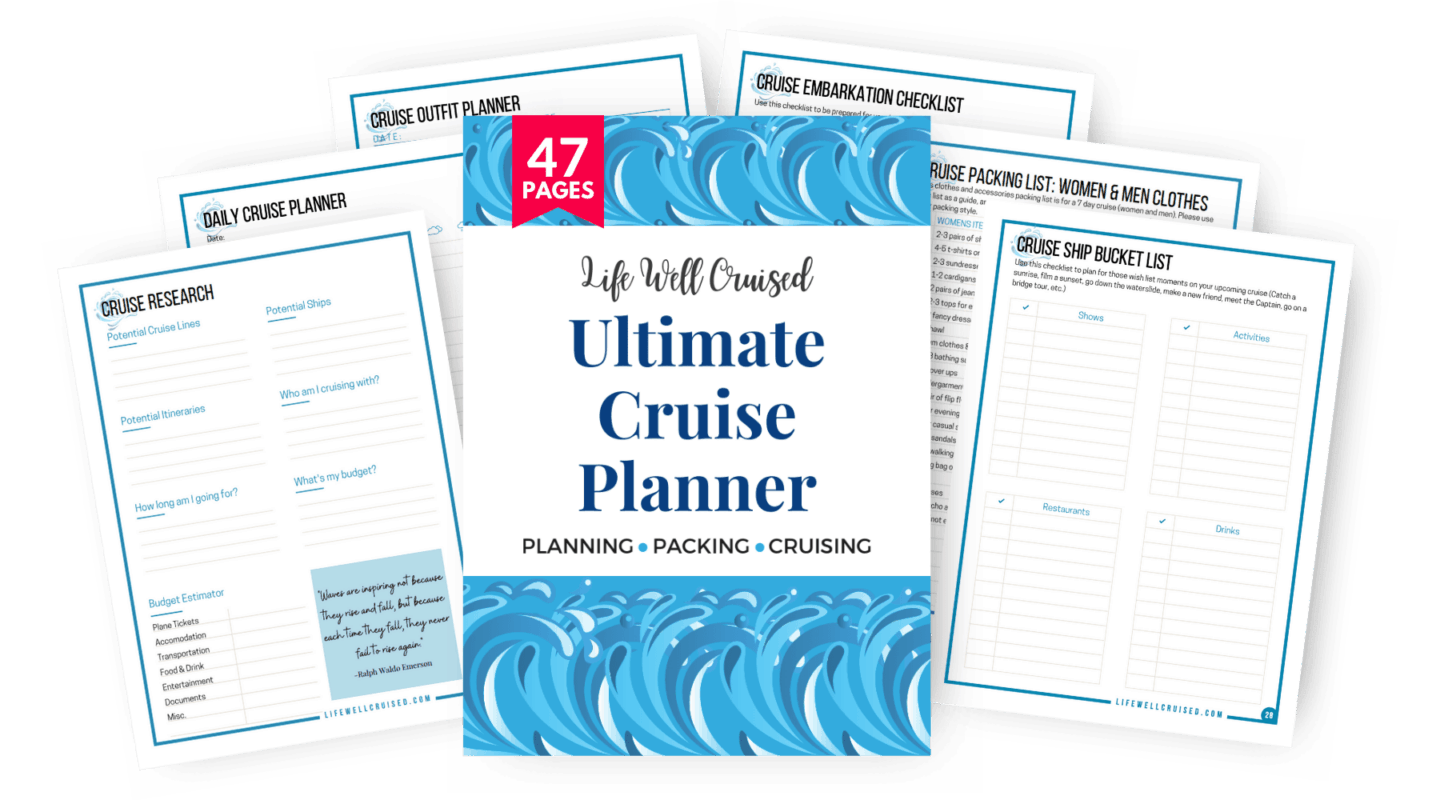 Video: What I Wore on a 7 Day Cruise
Here's a video where I go over what I packed and wore on my 7 Caribbean cruise. If you enjoy watching cruise videos on YouTube, please subscribe to our Life Well Cruised YouTube channel.
Need More Cruise Wear and Packing Tips? Read these posts next:
Cruise Wear over 50: Flattering Cruise Outfits for Women (plus packing list)
25 Cruise Outfits for Ladies (affordable cruise wear)
Best Shoes to Bring for a Cruise
21 Best Cruise Luggage and Packing Accessories
50 Must-have Cruise Essentials from Amazon
Plus Size Cruise Wear: Beautiful Cruise Outfits for Curvy Women
What to Pack for a Caribbean Cruise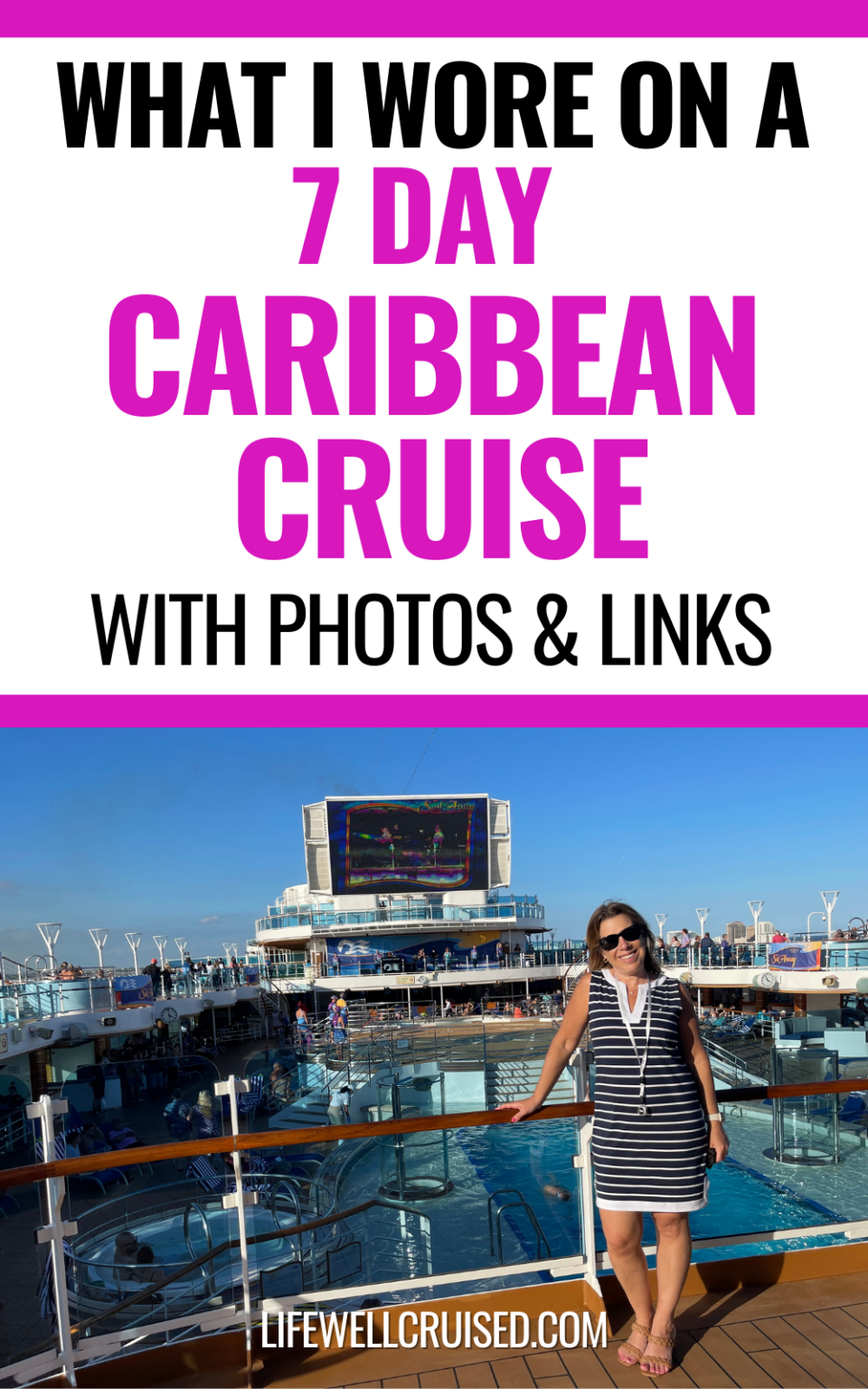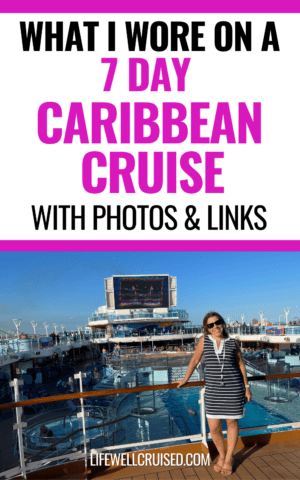 Final Thoughts on What I Wore on a 7 Day Caribbean Cruise
If you've been wondering what to wear on your Caribbean cruise, I hope this post gave you some cruise outfit ideas and inspiration. Of course, we're all different and everyone should wear what feels comfortable on a cruise vacation.
Along with your clothing, don't forget to pack accessories, like a cross-body bag, tote bag, a shawl, sunglasses and a sunhat.
Do you like to dress up or be casual on a cruise? I realize I like a bit of both!
Please let me know your thoughts and any cruise outfit recommendations in the comments below.
Happy Cruising!
Ilana
If you found this article helpful, please pass it along. Please feel free to share on Facebook or PIN to your favorite Pinterest board (share buttons at the top). Thanks so much!
Let's connect:
Follow me on Facebook at Life Well Cruised
Follow me on YouTube at Life Well Cruised
Follow me on Pinterest at Life Well Cruised
Follow me on Instagram at Life Well Cruised