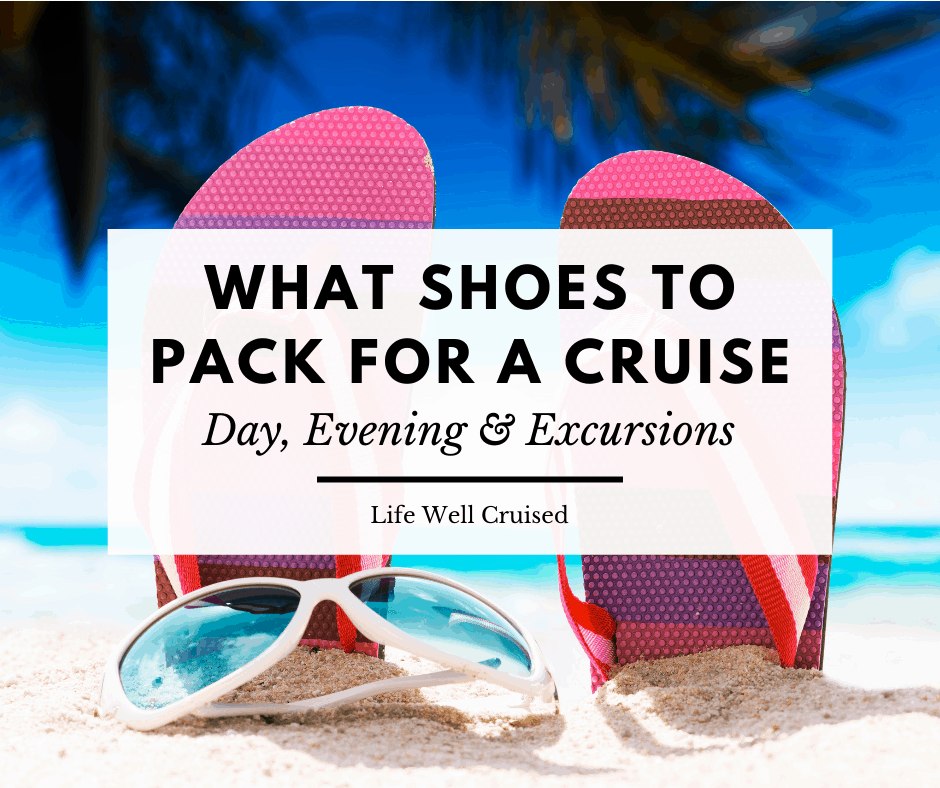 When packing for a cruise, shoes are unfortunately often an afterthought. However, there's nothing worse than bringing uncomfortable shoes or even forgetting the shoes you need to go with your cruise outfits. Knowing what shoes to bring on a cruise is important.
I love shoes, and definitely make room for them as I'm packing for a cruise. While we don't want to overpack, bringing shoes that are comfortable, versatile and stylish is a must.
In this post, I share the types of shoes you'll want to bring on your cruise for daytime and evening, and for casual to formal nights. As well, I'll answer some frequently asked questions and share some helpful cruise packing tips.
What Shoes to Pack for a Cruise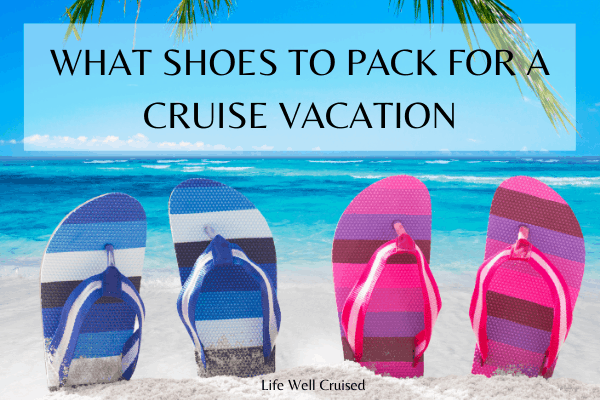 How many pairs of shoes should you bring on a cruise vacation? That depends who you ask, however, in my experience having between 4 and 6 pairs of shoes for a 7-14 day cruise is about right.
You could get away with 3 pairs, if you're packing very light for a cruise. However, if you like a bit of flexibility and enjoy pairing different shoe styles with your cruise outfits, you'll want to bring at least 4.
My feet and ankles sometimes get swollen on a cruise, so I like to change shoes between the day and evening, and even have some open back shoes just in case.
Shoe Packing List for a Cruise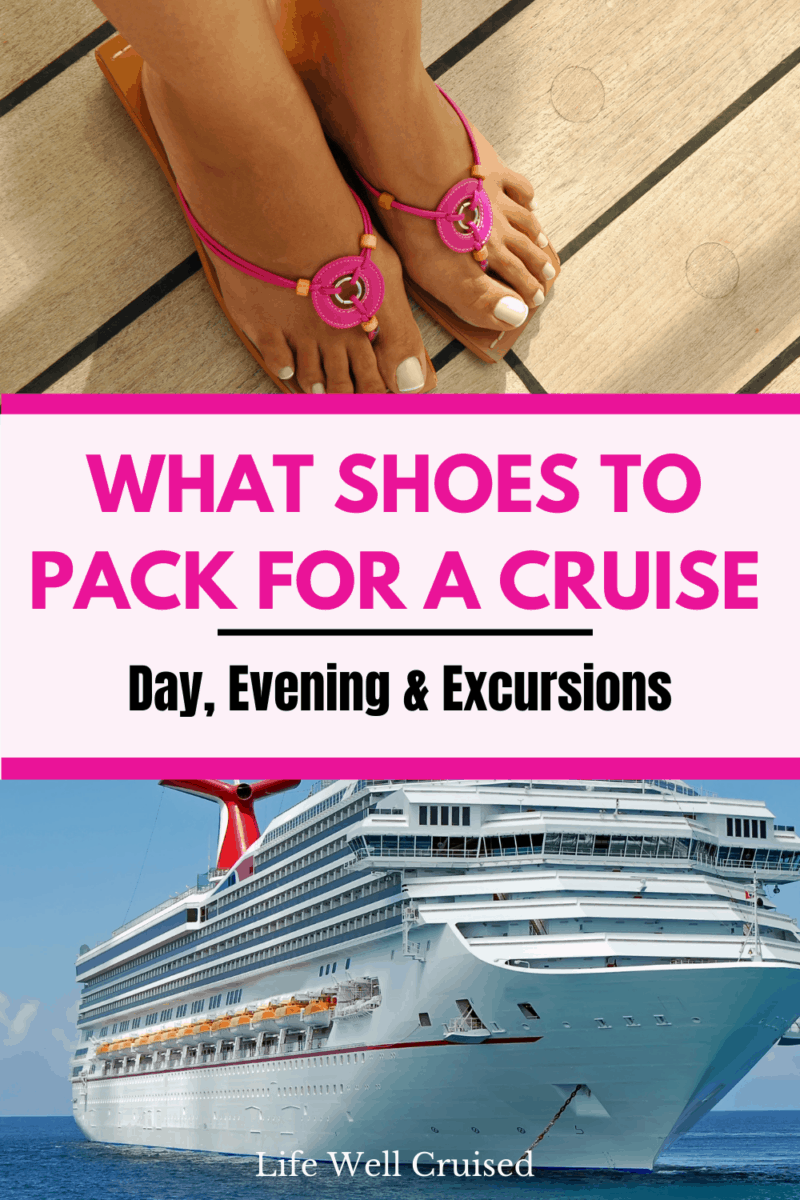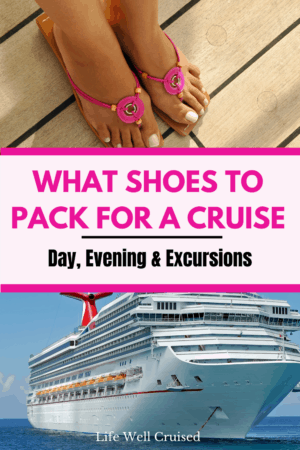 Here are the types of shoes to pack for a Caribbean or warm weather cruise. This list will work equally well for Bahamas, Bermuda and even Mediterranean cruises.
If cruising to Alaska or in cool or wet weather, make sure to bring warm shoes for outdoors, and/or ankle boots.
Flip flops
Sneakers or walking shoes
casual sandals or wedges
Dressy shoes
Water shoes (optional)
Cruise tip: Make sure to wear and break in any new shoes before your cruise to avoid blisters or any discomfort on your vacation.
This post contains affiliate links which means if you click and buy that I may make a commission, at no cost to you. Please see my disclosure policy for details.
Life Well Cruised is a participant in the Amazon Services in the Amazon Services LLC Associates Program, an affiliate program designed to provide a means for sites to earn advertising fees by advertising and linking to Amazon.com.
Best Shoes for Cruise Vacations
Flip flops
I usually bring 2 pairs of flip flops. They take such little room and can even be tossed into a tote bag when on a shore excursion, just in case your walking shoes give you a blister.
Ofcourse, if you're not planning to spend much time at the pool on cruise sea days, or are trying to avoid overpacking for your cruise, one pair of flip flops or thongs will be fine.
Most comfortable flip flop
These Reef brand flip flops are both cute and comfortable. They're great to take you from the Lido deck to the Promenade deck for a stroll around the entire ship.
Recommended: Reef cushion breeze flip flops (see over 5000 awesome Amazon reviews)
Cruise and beach flip flops
These designs on these flip flops are so cute! If you love flamingos or other cruise and beach day styles, you'll like these affordable and well reviewed Vera Bradley flip flops.
Recommended: Vera Bradley flip flops (see different styles & pricing here)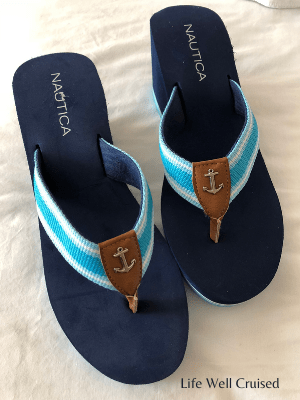 Sandals
Woven sandal slides
These cute and casual woven flat sandals are very popular this year for good reason. They sell out quickly, so if you do like them, make sure to order when they are in stock. I love the nude shade, but these sandals are sold in several colors.
Recommended: Woven sandals slides (check pricing & availability here)
Trendy platform sandals
These trendy Reef sandals are so comfortable, and really are perfect for shore excursions, when you may do a bit of walking and shopping in the cruise port.
Personally, I like a little lift and arch support, and this platform style sandal is a great fit!
Recommended: Cushion Vista H1 Reef sandals
(they are so cute in gold, neutral and pale pink – see options here)
Espadrilles
Espadrilles look stylish and are perfect for a Caribbean or a Bermuda cruise. They can be worn for casual and smart casual evenings on a cruise, however will also look cute with nice shorts for a day of shopping in port.
These espadrille sandals are cute and comfortable, and have stylish details that I just love (look at that heel).
Recommended: Espadrille sandal (see reviews & color options on Amazon)
Cruise tip: If you're heading on a Mediterranean cruise, you can find pretty and authentic espadrilles in many boutiques in Barcelona.
Stylish flat sandals
A good tip for bringing shoes on a cruise, is to choose neutral colors for versatility – think beige, tan, and even gold. In many cases, a good pair of neutral sandals, can be worn with shorts during the day and with a casual dress or jeans in the evening.
These cute flat sandals are comfortable and can be worn on sea days as well as when walking in the town on port days. The price is also very affordable.
Recommended:
Flat slides (verify pricing on Amazon)
Read more: Cruise Wear over 50: Flattering Cruise Outfits for Women
Sneakers/Running Shoes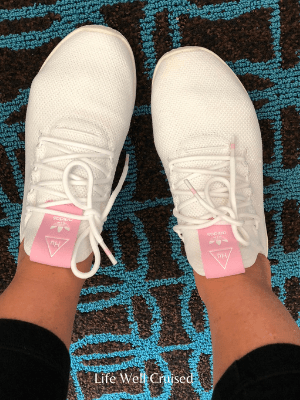 Lightweight sneakers
These affordable sneakers are perfect for travelling – they're so lightweight and comfortable! If you don't want to pay an arm and a leg for designer sneakers, but still want a good quality, consider these shoes, which are available in several colors.
Recommended: Lightweight sneakers
(see 7000+ Amazon reviews)
Gym shoes
Don't forget to pack your gym shoes! Cruise ships have amazing fitness centers and a jogging track. If you work out at home, you can definitely keep up with your fitness routine on a cruise.
These Adidas Cloudform running shoes are great for home and cruise. They are one of the most highly rated and reviewed running shoes, and reasonably priced for the quality.
Recommended: Adidas cloudform running shoes (see 50,000+ Amazon reviews)
Walking shoes
Comfortable walking shoes are a must to bring on your cruise. Running shoes or sneakers could work equally well, especially for active shore excursions.
Even if you're walking around on the cruise ship, since you could easily walk miles, you'll want shoes that are comfortable and easy to wear. These sketchers slip on shoes are extremely lightweight and have a comfortable memory foam cushioned heel and insole.
Recommended: Sketchers performance slip on shoes (see over 14,000 Amazon 4.5* reviews)
Read more: 50 Must-have Cruise Essentials from Amazon
Wedges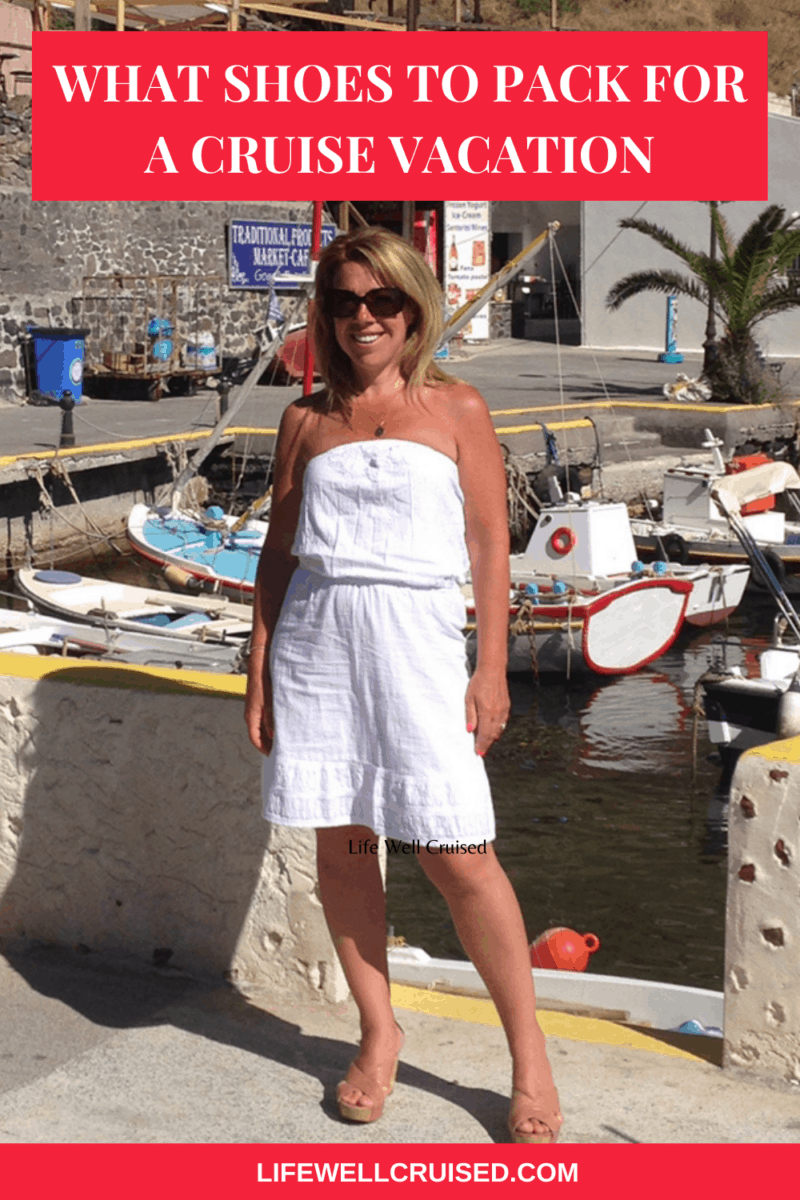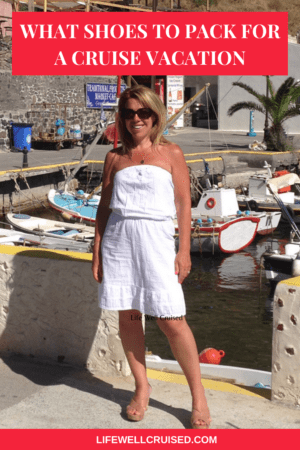 Sketchers slide wedge sandals
Wedge shoes are my personal favorite casual, but cute shoe to wear on a cruise. If you like a bit of a heel, but still want stability, wedges just work. They go with dressy shorts, a casual dress and can even dress up a pair of dark jeans and a flowy top.
A good pair, like these Sketchers wedge sandals, can be as comfortable as flats.
Recommended: Sketchers Slide Wedge Sandals (3 style & color options available on Amazon)
Rockport leather wedge sandal
These genuine leather Rockport wedge sling sandals are a flattering style and a great quality shoe. It's available in several beautiful colors – the neutral is just gorgeous btw!
Recommended: Rockport leather sling wedges (see color choices here)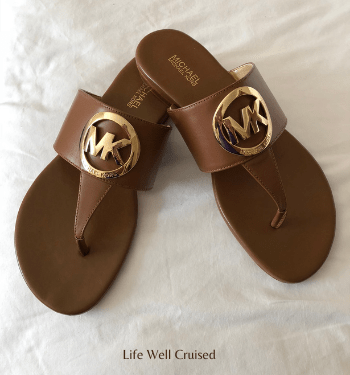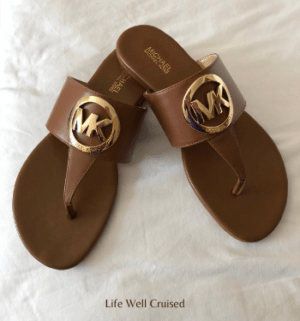 Dressy shoes
Strappy dress shoes
It's a good idea to bring just one pair of dress shoes that can go with your outfits for formal nights. I like to bring a pair of gold strappy dress shoes, as they look fabulous with every color of dress (black, white, navy ect).
Of course, you may prefer black or a neutral tan dress shoe, which can go with more than one outfit as well.
Recommended: Strappy open toe gold sandals (available in other colors – see Amazon reviews & price)
Naturalizer strappy dress sandals
These Naturalizer strappy dress shoes are not too high and get great reviews for comfort. They're also very affordable and available in several colors (including champagne, silver and black).
Recommended: Naturalizer strappy dress sandal (see over 2000 amazing Amazon reviews here)
Read more: What to Wear on a Cruise Formal Night
Water shoes
When you think of shoes to bring on a cruise, water shoes may not come to mind. However, water shoes can be a practical beach day essential.
This is especially true if you prefer less touristy beaches which may have less groomed sand, and you may encounter small rocks. When we were on an excursion to Dunn's River Fall's in Ocho Rios, Jamaica several years ago, we needed water shoes for the shore excursion.
Recommended: Water shoes (available for women & men)
Read more: What to Pack in Your Cruise Shore Excursion Bag
Footwear on a Cruise – Frequently Asked Questions
Can you wear heels on a cruise?
You can absolutely wear heels on a cruise. In general, modern cruise ships are quite stable and you won't have difficulty walking. Many ladies wear heels in the evening on a cruise, especially for formal nights.
How should I pack shoes for a cruise?
You can pack your shoes directly in your suitcase. If you want to protect the shape of your shoes, stuff a sock into the toe area of the shoe. You can a use a packing cube to organize or even use a thin shower cap to cover your shoes, so they don't get your clothing dirty.
What shoes are best for Caribbean cruises?
If you're going on a Caribbean cruise, you'll want to pack shoes that are light, airy and open. Leave your heavier shoes at home, and make sure that your summer shoes are on your cruise packing list.
What else will you need for your cruise?
Many people forget to bring socks on Caribbean cruises. However, you'll need socks and closed toe shoes (like a sneaker) for many of the activities on your cruise ship.
Is it common for legs to get swollen on a cruise?
While having swollen legs on a cruise isn't as common as on flights, it does happen to some. If you've experienced leg and ankle swelling while cruising or are concerned about it, I put together this post, with several tips that can help.
Read more: How to Prevent Swollen Legs and Ankles on a Cruise
Popular & Related Posts:
50 Must-have Essentials to Pack for a Cruise
What To Wear on a Cruise Vacation (when dress codes are changing)
Cruise Wear over 50: Flattering Cruise Outfits for Women
Caribbean Cruise Full Packing List
Packing Cubes: Pros & Cons for Cruises
30+ Fun Things to Pack for Your Cruise (you may not have considered)
Amazon Prime Free Trial
If you're ordering shoes, travel gadgets or luggage for your cruise from Amazon, you may want to get Amazon Prime.
Amazon Prime comes with many benefits, including faster, free delivery, movies and TV shows (Prime TV) and even borrowing Kindle books. If you don't already have Amazon Prime, check out the FREE 30 day trial.
Final thoughts: What Shoes to Bring on a Cruise
Cruising is a different type of vacation than most, and knowing what shoes to pack can be daunting. I hope that this post has been helpful in giving you ideas and suggestions for the best shoes to bring on your upcoming cruise vacation.
How many pair of shoes do you bring on a cruise? Which shoes do you like best and think are important not to forget to pack when cruising? Please let me know in the comments below.
Happy cruising!
Ilana
If you found this post helpful, please don't keep it to yourself ;-). Share it on Facebook or Save for later Pinterest (share buttons at the top). Thanks so much!
Let's connect:
Follow me on Facebook at Life Well Cruised
Follow me on Pinterest at Life Well Cruised
Follow me on Instagram at Life Well Cruised
Follow me on YouTube at Life Well Cruised