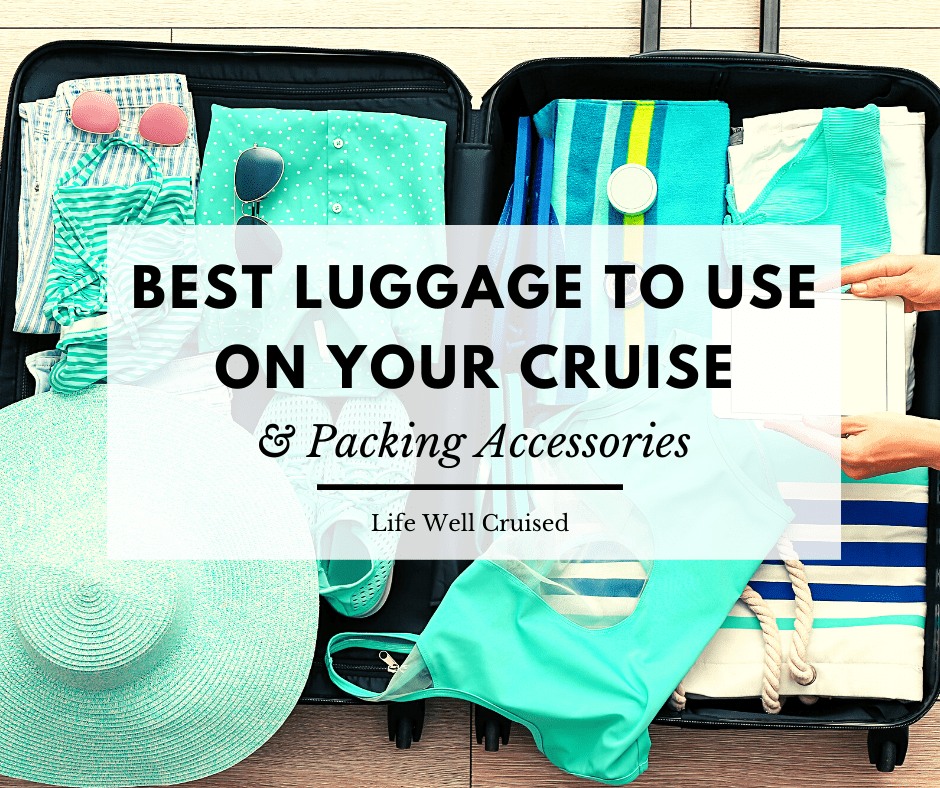 Are you thinking about getting new suitcases, carry on bags or packing accessories for your next cruise? 2021 is a great time to upgrade your luggage and get organized with some new lightweight packing items.
In this post, I'll share some of the best reviewed and most practical luggage to use on a cruise. I'll also include some useful items that will take your cruise packing organization up to another level!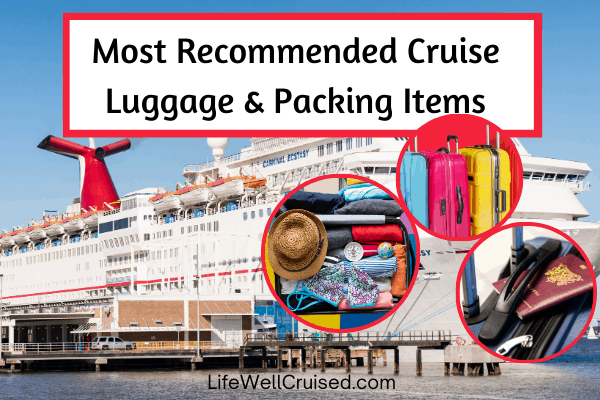 What luggage should you bring for your cruise?
Cruise lines aren't very strict on how much luggage you can bring, but do encourage each cruise passenger to bring no more than 2 suitcases, less than 50 pounds each. In reality, 1 suitcase per person should be sufficient for a 7 night cruise. In addition to your suitcase, you should pack a carry on bag for embarkation day.
Beyond this, items like garment bags are very helpful to transport formal wear like suits and cocktail dresses. You may also want to pack a backback or beach bag for shore excursions and port days.
This post contains affiliate links which means if you click and buy that I may make a commission, at no cost to you. Please see my disclosure policy for details.
As an Amazon Associate I earn from qualifying purchases.
Best Cruise Luggage, Carry-on Bags, Packing Cubes and Accessories
Here are my top recommendations of suitcases, carry on bags and packing accessories you'll want to bring on your cruise vacation.
1. Lightweight 4 Wheel Luggage – Hardshell
If you're going on a cruise, it's so important to have easy to maneuver luggage – both for the airport and cruise terminal.
This Samsonite hard shell luggage with spinner wheels is both high quality and great value. These lightweight suitcases are available in different sizes, colors and different set combinations. You may even want a His and Hers piece of this roomy, expandable luggage.
Recommended: Samsonite Hardshell Luggage (see over 9000 Amazon reviews)
2. 4 Wheel Lightweight luggage – Soft-sided
If you prefer soft sided suitcases for your cruise, we love this Samsonite spinner luggage set. With their comfortable lightweight design, these expandable suitcases are a great choice for quality and good value.
Recommended: Samsonite soft sided luggage (see pricing & details here)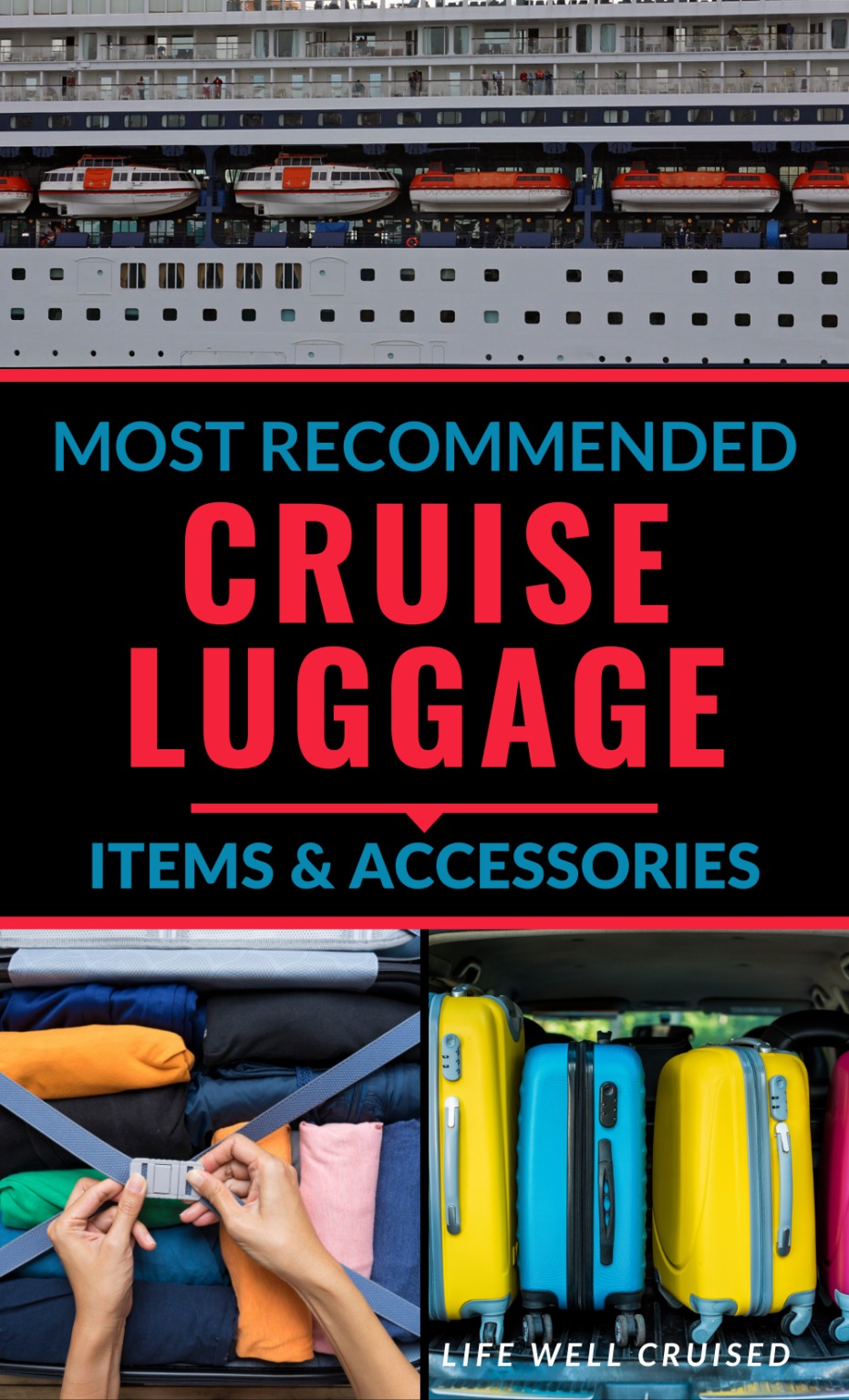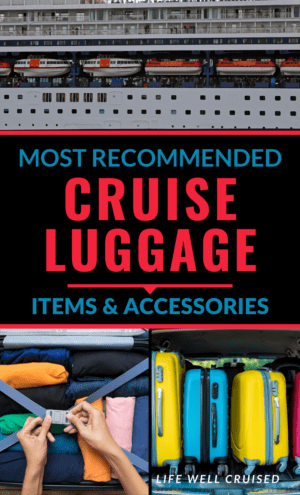 3. Rolling Duffel Bag (extra large)
An alternative to the traditional suitcase is a large rolling duffel bag. These extra large duffel bags are especially popular with families and those driving to the cruise port.
This duffel bag has both a handle and comfortable straps, and is easy to travel with (also available in 3 sizes)
Recommended: Large rolling duffel bag (see details and sizes on Amazon)
4. Carry on luggage
A carry on bag is a must for embarkation day. Since it will take a few hours to get your luggage delivered to your cabin, your carry on bag should be packed with your first day essentials and valuables.
If you're up for a challenge, you may even want to pack light for your cruise and go carry on only.
Recommended: 21 inch Carry on suitcase (see reviews and color options)
5. Garment Bag
Perfect for packing formal wear for a cruise, this garment bag is an Amazon bestseller. Avoid dealing with wrinkles on your cruise wear by using a practical garment bag for your suits and cocktails dresses.
Recommended: Garment bag (see over 4000 Amazon reviews)
While we have the above garment bag, it needs to be carried with the over the shoulder strap. A convenient alternative is this garment bag with wheels and a handle.
Recommended: Samsonite garment bag with wheels
6. Weekender Bag
Whether you use this as a carry on bag, or even as your luggage for 3-4 night cruise – you will love this!
This nautical weekender bag is not only cute, but extremely practical as you can use it for weekend trips and even pre cruise hotel stays as well. It's truly an amazing value for the price (seriously, no one would know and it even makes a great gift for a cruiser!)
Recommended: Duffle style weekender bag (see 3000 Amazon reviews)
If you like this, it's also available in a more masculine style so you can have a his and hers weekend bag.
Recommended: Canvas and leather weekender duffel bag (see different colors here)
Suggested: 23 Useful Items to Pack in Your Cruise Carry-On Bag
7. Shore Excursion Bag
When going on your cruise, it's a good idea to bring along a zippered tote to use as a shore excursion bag. I love this nautical striped tote or handbag, which goes perfectly with the weekender bag featured above.
Recommended: Nautical Stripe Weekender Tote Bag (check pricing on Amazon)
8. Backpack
For embarkation day or heading on active shore excursions, a backpack is a very useful cruise essential!
These back packs are water resistant and a perfect "not too big – not too small size".
Recommended: Lightweight backpack (see almost 7000 amazing reviews on Amazon)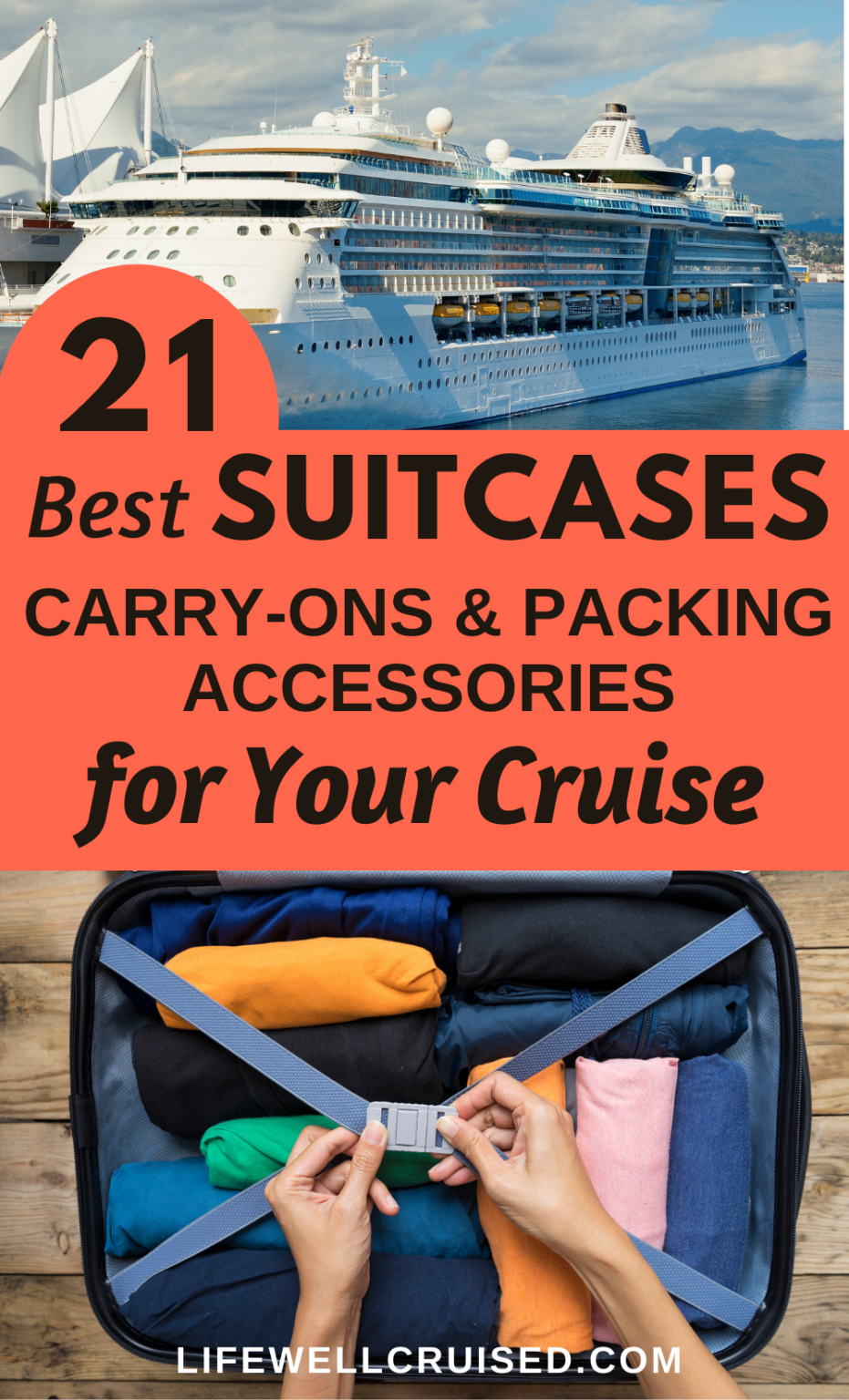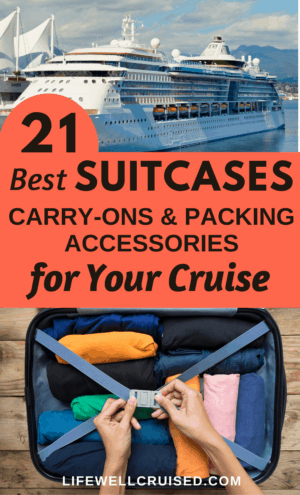 9. Beach bag
This extra large beach bag is the best for cruise shore excursions to the beach. We have this bag, and were amazed that it can fit 3-4 large towels, sunscreen, water bottles and all the beach essentials we pack for our excursions.
Recommended: Shore excursion beach bag
Suggested: What to Pack in Your Cruise Shore Excursion Day Bag
10. Toiletry Bag
This hanging toiletry is a nice large size, and can hold all the toiletries you'll need on a cruise.
Recommended: Hanging toiletry bag (large size for men & women)
11. Hanging Cosmetic/Make up Bag
This cosmetic bag is a perfect size to bring your make up, face creams and other cosmetics on your cruise. A hanging make up bag is so useful, and this one is both attractive and well made (I have it myself).
Recommended: Bagsmart Make Up/Cosmetic Bag (see different color options)
12. Men's Toiletry Bag
This smart simple design fits all the toiletries a man could need on a cruise. Space for a shaver and more!
Recommended: Men's toiletry case (see smart color options & Amazon reviews)
13. Bagsmart Jewelry Organizer Travel Bag
This foldable jewelry travel bag is perfect to organize your jewelry for a cruise. There are places to put your rings, earrings, necklaces and bracelets. This attractive design is a great add on to the cosmetic bag, also by Bagsmart, above.
Recommended: Bagsmart Travel Jewelry Organizer (see details and read almost 3000 5*reviews here)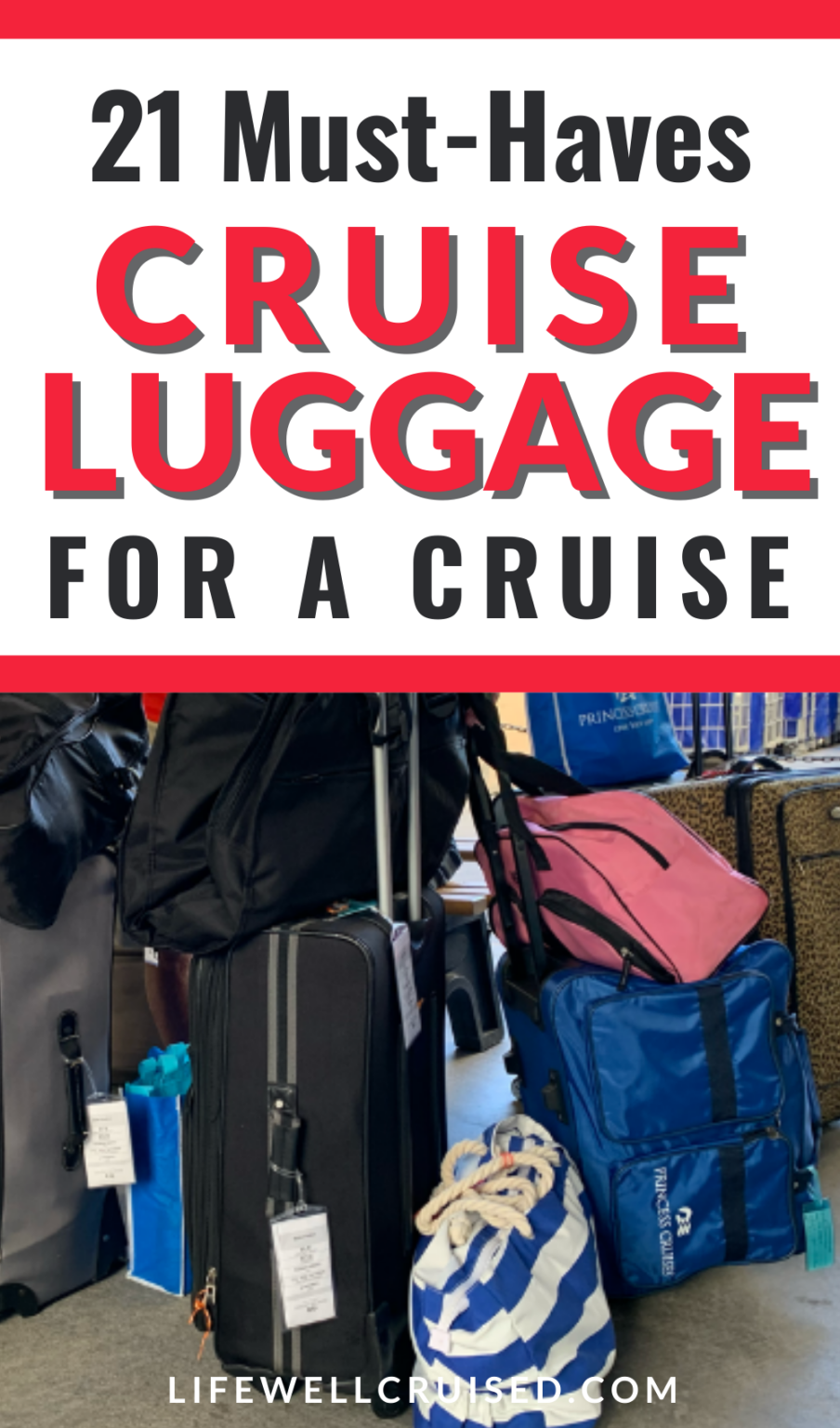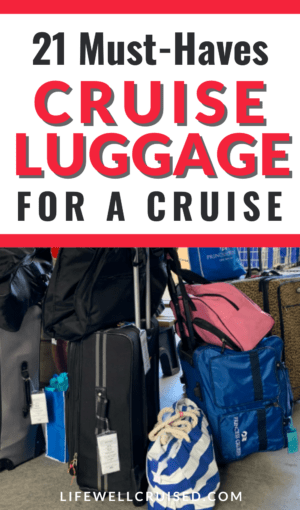 Helpful Cruise Packing Accessories
14. Packing cubes
Packing cubes are one of the best ways to organize your cruise clothing and outfits. It's a good idea to get 2 sets in different colors, especially if you'll be traveling with more than one person.
I absolutely love packing cubes, and found them extremely helpful to keep organized in on our last cruise!
Recommended: Packing cubes (different sizes available)
15. Compression Packing Cubes
These lightweight packing cubes claim to compress your clothing, much more than regular packing cubes. While I love packing cubes, and the structure they have, the compression abilities are minimal.
On my next cruise, I'll be trying these compression packing cubes and I'll report back. In the meantime, you can read the excellent reviews on Amazon (they're a great quality).
Recommended: Compression packing cube set (see Amazon reviews & set options)
16. Stow-N-Go Luggage Organizer/Packing Cube
One of the newest packing accessories on Amazon, the Stow-N-Go travel luggage organizer has built in shelves, storage for laundry, and is ready to hang when you arrive on your cruise. It's a space saver as you may not even need to unpack!
Recommended: Stow & Go Travel Organizer (see detailed reviews here)
17. Carry on Under the Seat Tote
This under the seat tote is perfect as a carry-on bag that goes from flight to cruise on embarkation day.
Recommended: Compact under the seat tote carry on bag
18. Evening bag clutch for women
While you won't need a purse or handbag on your cruise, an evening bag clutch is perfect for formal nights or chic evenings. Black, gold or silver clutches will match virtually any cocktail dress or evening gown.
Recommended: Black evening bag (see color options & over 2000 Amazon reviews)
Here's another style that I love, and I think you may as well. If you're cruising during the holidays or for New Year's, a sparkly bag is very fitting.
Recommended: Rhinestone clutch purse (see choices here)
19. Neck wallet
Make sure to keep your passports, documents and cash safe when cruising and traveling by using a neck wallet.
Recommended: Neck wallet (see over 5000 detailed Amazon reviews)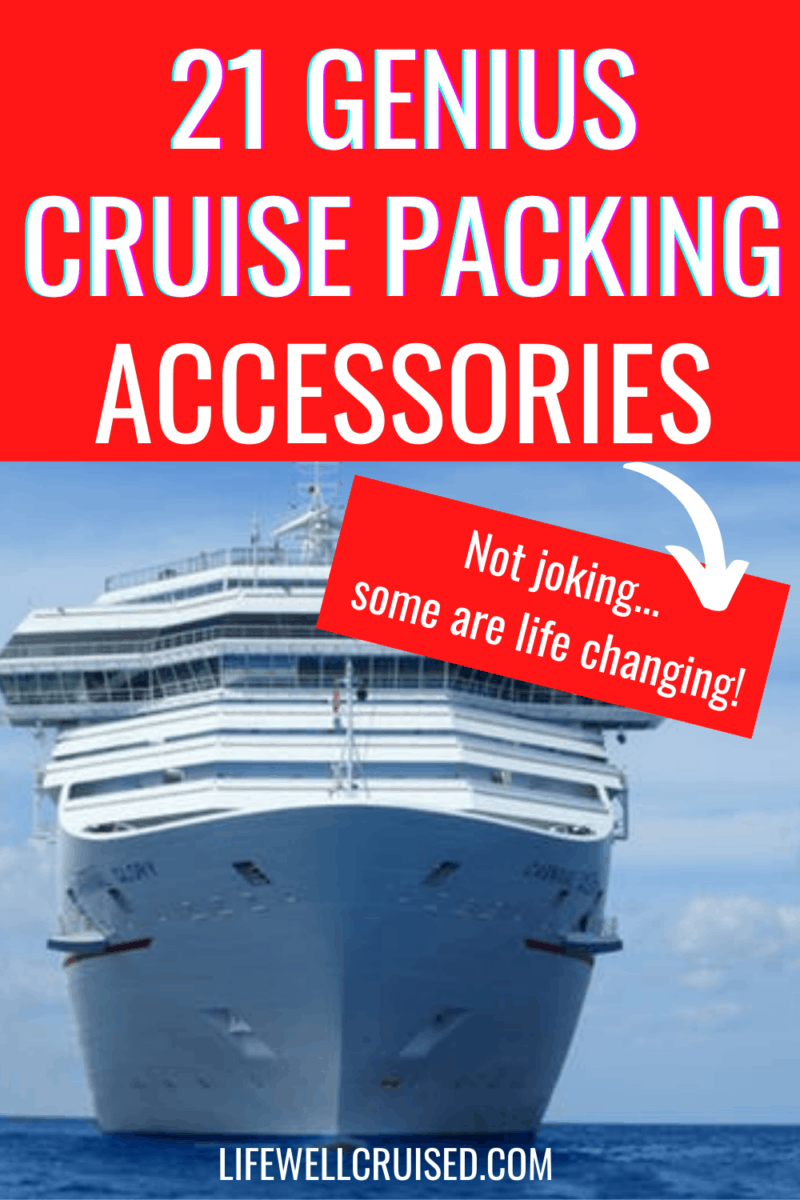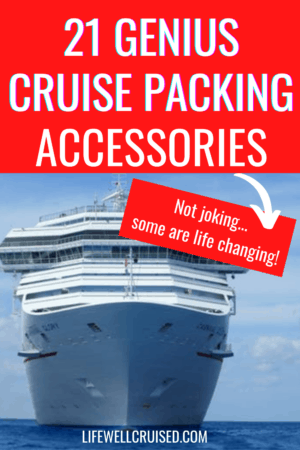 20. Luggage travel scale
If you're taking a flight after your cruise, having a portable travel scale will be a very useful cruise travel accessory.
Recommended: Portable handheld luggage scale
21. Luggage tags
Last, but not least, if you haven't bought luggage tags, just get on that. These plastic luggage tags are reusable and save time on each and every cruise.
True story – I asked in my Life Well Cruised Facebook community who used and recommended these plastic cruise luggage tags. 90% of the avid cruisers within the group said Yes, and commented that they are an absolute cruising essential.
Recommended: Plastic Sleeve luggage tags (check for specific cruiseline)
Posts you may enjoy next
25+ Most Recommended Amazon Items to Bring on a cruise
What to Pack for a Caribbean Cruise
20 Cruise Packing Tips (simple, easy, practical)
10 Things NOT to pack for a cruise
Final thoughts: Best Cruise Luggage and Packing Accessories (2021)
Staying organized and packing well for your cruise will help you to have a stress-free vacation. In this post I shared more than 20 essential cruise luggage pieces and accessories. Hopefully, some of these items can be useful as you get ready for your upcoming cruise.
What luggage, packing or organization items have you found most useful when cruising? Please let me know your recommendations in the comments below.
Happy cruising!
Ilana xoxo
P.S. If you found this helpful, please don't keep it to yourself ;-). Please share on Facebook or PIN to your favorite Pinterest board (share buttons at the top). Thanks so much!
Let's connect:
Follow me on Facebook at Life Well Cruised
Follow me on YouTube at Life Well Cruised
Follow me on Pinterest at Life Well Cruised
Follow me on Instagram at Life Well Cruised