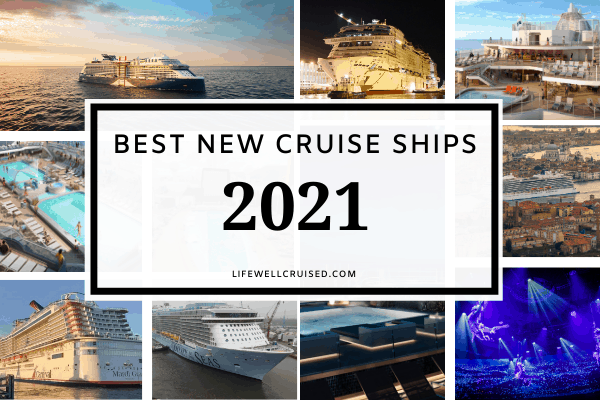 Who else wants to put 2020 behind us, and look forward to a better year for cruising (and everything else) in 2021? If there's any silver lining, it's that we now have several new cruise ships to book, which will be ready for sailing in 2021.
In this post, we'll go over the the 10 best new cruise ships for 2021, and their features. I'll share a few insider tips so you can know which cruise ships are best for you, whether you're a traditionalist, cruising with kids, or looking for a sophisticated adult vacation.
This year's new cruise ships have something for everyone!
Most Exciting New Cruise Ships for 2021
1. Carnival Mardi Gras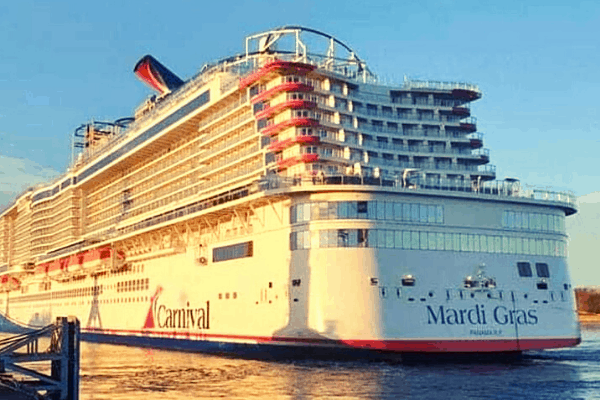 Let's get started with one of the most anticipated ships of 2021!
I am not overselling the newest Carnival cruise ship, the Carnival Mardi Gras. At 180,000 tons, it's Carnival's largest cruise ship and the 7th largest cruise ship in the world.
However, beyond it's size, it's pretty groundbreaking and has a number of firsts for both Carnival and for the cruise industry.
The Carnival Mardi Gras has the first rollercoaster at sea, called the Bolt Seacoaster. If you're into innovations and thrill seeking, how cool is that?!
It runs on an LNG (liquefied natural gas) propulsion system, a "green technology", which is better for the environment.
The Mardi Gras has several amazing new restaurants including Emeril's Bistro (extra) and Big Chicken (yum! – included)
Like many new cruise ships, the Carninal Mardi Gras was delayed a couple of times due to circumstances in 2020.
However it is finally here! In late December 2020 the Meyer Turku shipyard in Finland handed the new build over to Carnival Cruises in a Virtual Ceremony. The Mardi Gras is now scheduled for it's inaugural sailing on April 24, 2021
Best for: Families, kids of all ages, thrill seekers, theme park aficionados, Carnival loyalists
2. Royal Caribbean Odyssey of the Seas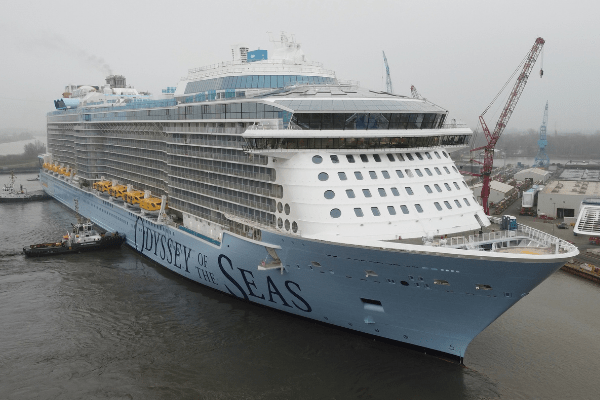 Much like Carnival Mardi Gras, Royal Caribbean's Odyssey of the Seas has experienced delays in construction. However, progress is being made and the ship is due to be delivered to Royal Caribbean in Spring 2021.
The Odyssey of the Seas is the second Quantum Ultra Class ship for the cruise line. At 169,000 tons, the cruise ship will have some amazing features including the North Star, the Sky Pad, the Sea Plex with bumper cars and a roller skating rink. Royal Caribbean never disappointa, and always has the coolest things to do on a cruise ship!
In addition to the great things to do on this family friendly ship, there are several of Royal Caribbean's restaurants and bars, including a favorite "Lime & Coc0nuts".
Best for: Families, kids of all ages, active cruisers, multi-generational travel, Royal Caribbean fans
3. Enchanted Princess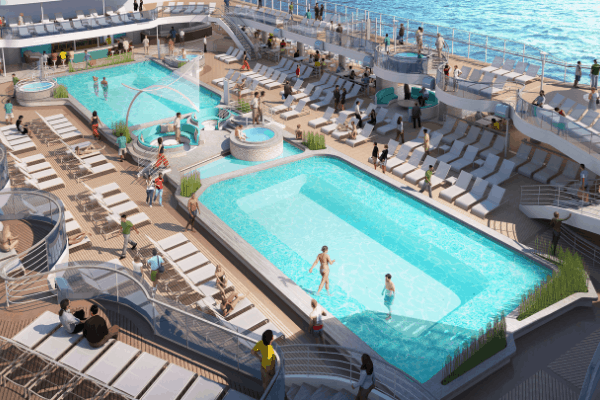 The Enchanted Princess was delivered in late 2020, however passengers won't have a chance to sail until 2021, making this ship a "new one" for Princess fans to enjoy in 2021.
A Royal Class ship, at 160,000 tons the Enchanted Princess boasts some newer features including the infinity aft pool and the stunning, spacious Sky Suites.
This Princess ship has many of the favorite signature features of Princess fleet, including the beautiful 3 deck Piazza, the Sanctuary, Movies Under the Stars, and exclusive theatrical performances.
Finally, like other Princess Cruises ships, Enchanted Princess has Ocean Medallion. Ocean Medallion now has even more features, making the contactless technology even more convenient for cruise passengers in 2021.
Suggested: 21 Things You Need to Know About Ocean Medallion
Best for: Those looking for a relaxing and fun vacation, romantics, traditionalists, travel minded, multi-generational travel, Loyal Princess cruisers
4. Discovery Princess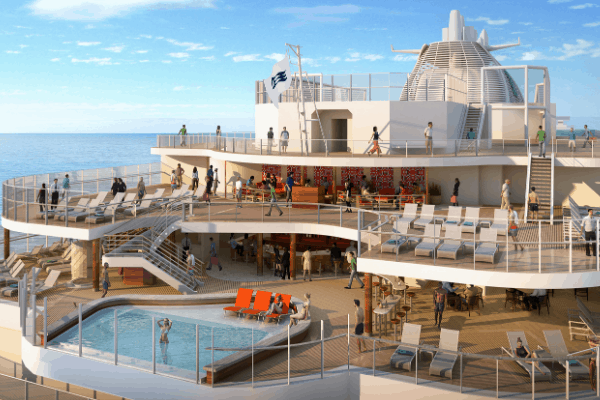 With much of the same features as Enchanted Princess, Discovery Princess is due to come out in late 2021. The 6th ship in Princess' Royal Class, the Discovery Princess combines the best of a modern cruise ship with the traditions of classic cruising so many still enjoy.
The Discovery Princess will sail both in Europe and later in the Caribbean.
Like Enchanted Princess, Discovery Princess has the amazing touchless technology Ocean Medallion.
Suggested: Princess Cruises: 15 Tips, Tricks and Insider Secrets
Best for: Those looking for a relaxing and fun vacation, traditionalists, travel minded, multi-generational travel, Loyal Princess cruisers
5. MSC Virtuosa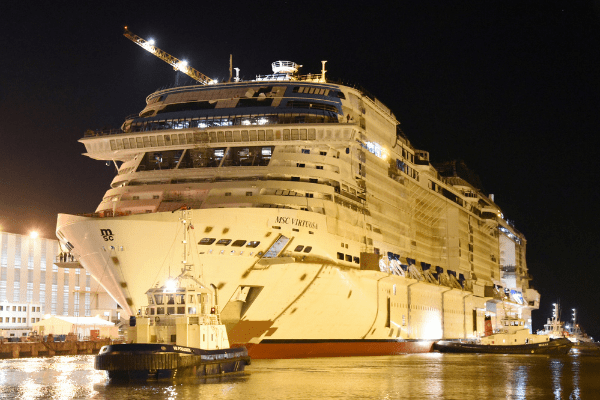 MSC Virtuosa is not only a stunning ship, but it's one of the most environmentally friendly and energy efficient ships at sea. At 177,000 tons, Virtuosa is the second Meraviglia Plus Class ship and due out in April 2021.
Interesting features to note – the MSC Virtuosa has an Underwater Radiated Noise system reducing impact on large-size marine mammals, an advanced purification systemfor the cleanest waste water and reduced CO2 emissions, due to the latest technology.
While these are "features" we don't see, as passengers, they're very important and meaningful to the environment and the future of cruising.
Ship features we love – the MSC Virtuosa has a stunning Galleria Promenade along the interior of the ship, featuring the longest LED Dome at Sea. The pools and pool areas look both modern and luxurious, like a luxury resort.
Of course, for those that want a little more "luxury" there is the exclusive Yacht Club experience ( a ship within a ship concept).
Families and kids will love the LEGO themed cabins, in addition to the LEGO themed activities in the kids club. There's also an amazing indoor amusement park and outdoor water park for the kids.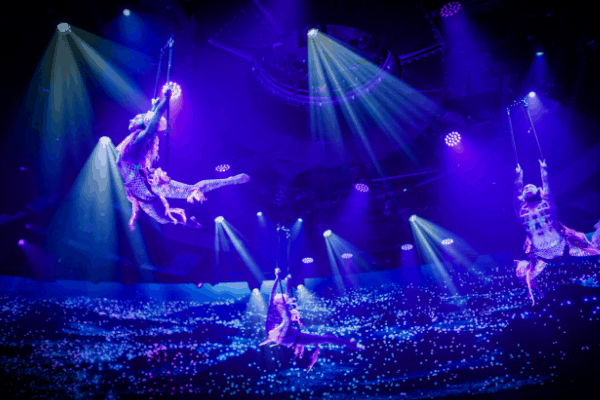 As for entertainment, the MSC Virtuosa will WOW passengers with it's Cirque de Soleil performances.
MSC has also been cruising safely and successfully in the Mediterranean since the summer 2020. Even with health and safety protocols, these sailings have received rave reviews from passengers. MSC uses the MSC for Me touchless wristband technology.
Best for: Forward thinking cruisers, International cruisers, environmentally minded cruisers, family cruisers, MSC Fans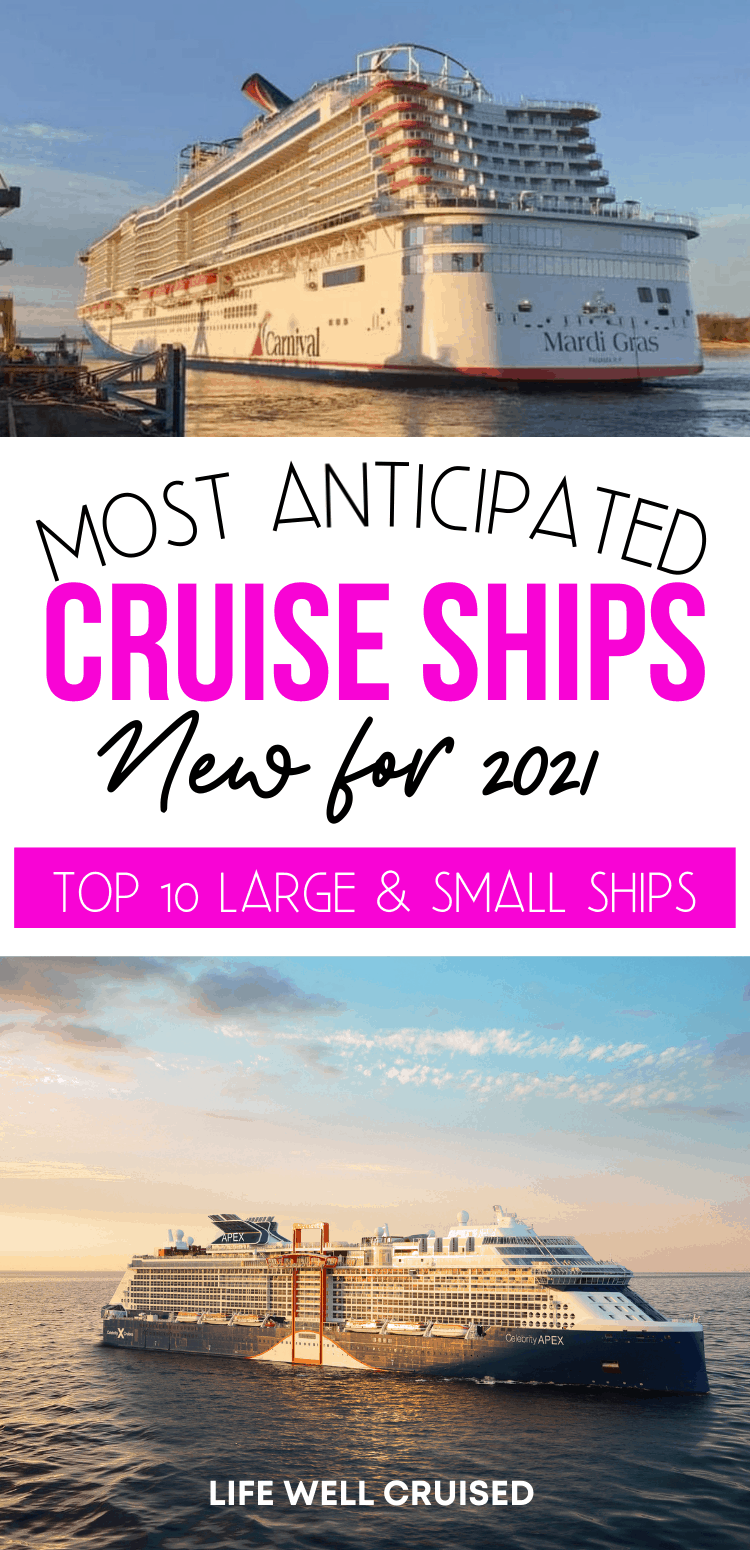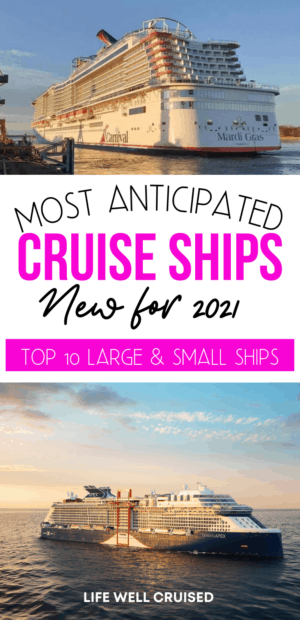 6. Virgin Voyages Scarlet Lady
The new cruise line, Virgin Voyages, was due to have it's Inaugural sailing of the Scarlet Lady in 2020, but like others, has been delayed. Scarlet Lady will now debut in May 2021.
Virgin Voyages is shaking things up by doing things very differently. The adult only cruise line offers a non traditional cruise experience. While not for everyone, there are some things you may really like.
Virgin Voyages is mostly inclusive, meaning all 20 restaurants, basic drinks plus soda and specialty coffees and gratuities are all included with your price. Expect the ship to be beautiful, modern and a bit edgy.
If this doesn't sound very different so far, Virgin's Scarlet Lady features the first and only tattoo parlour at sea.
Best for: Non-traditional cruisers, young adults, those that want to try something different
7. Celebrity Apex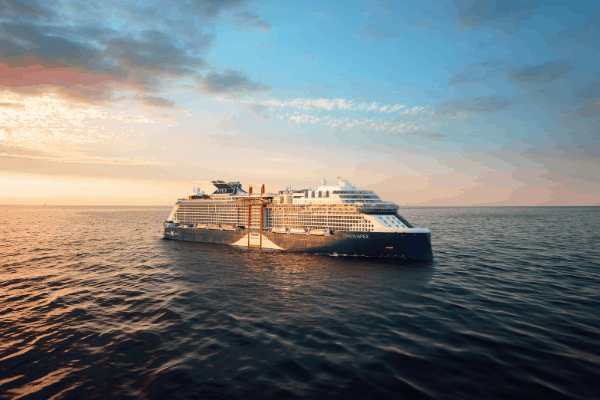 At approximately 130,000 tons, Celebrity's second Edge class ship, Apex, bucks the trend of larger ship builds common to most mainstream cruise lines. Yet, it has so many unique features, while retaining the quality, service and attention to detail
Celebrity Apex was delivered to Celebrity Cruises in 2020, but will be new for passengers in 2021.
The Apex looks and feels upscale and sophisticated, yet also modern and innovative. Some of best and most interesting elements include:
Infinite Verandas (warning – some people love them and others prefer traditional verandas).
Stunning resort style pool with martini shaped hot tubs
Magic Carpet, an outdoor bar and restaurant that is on that rises along the side of the ship, also serving as a platform for tendering at cruise ports of call
Eden – a 3 story gorgeous venue featuring a restaurant & bar, with hand crafted cocktails and unique theatrical performances
If you enjoy the classic Celebrity venues like Cafe Al Bacio, not to worry. Thankfully, the Edge Class ships still have this popular specialty coffee shop!
Also NEW for Celebrity when cruises resume is the Always Included program. With every Celebrity Cruise booking, you'll receive drinks, wifi and gratuities.
You can read more about Celebrity's Always Included and exactly how it works here: Celebrity Cruises Always Included; Everything You Need to Know
Best for: Experienced cruisers, new cruisers, cruisers who want a relaxing and fun experience, those who enjoy an all inclusive experience, foodies, Celebrity fans
8. Holland America MS Rotterdam
For those that long for the days of traditional cruising and enjoy a mid size ship, Holland America's New MS Rotterdam is very exciting. At just over 99,800 tons, the MS Rotterdam is the 3rd Pinnacle Class ship for HAL.
In addition to all you'd expect from Holland America; wonderful dining, service and beautifully appointed staterooms, MS Rotterdam also offers innovative entertainment.
The MS Rotterdam has a focus on music, "a soundtrack of discovery", in much of the onboard venues and entertainment. Enjoy the B.B. King's Blues Club, BBC Earth in Concert, the World Stage and seeing shows performed on the Lincoln Center Stage. If you love some classic rock, there's the Rolling Stone Rock Room for great live music.
Best for: Traditional cruisers, cruisers who enjoy quiet activities, foodies, classic music fans, HAL loyalists
9. Viking Venus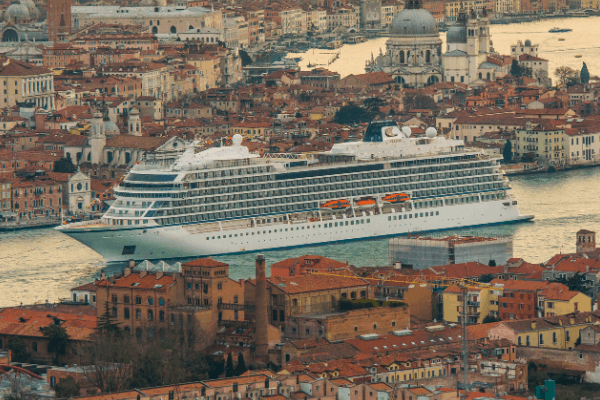 Viking Venus is the smallest of the new ocean going cruise ships due out in 2021. At 47,842 tons, Viking Venus is almost identical to it's sister ships and boasts a gorgeous Scandanavian decor and influence.
Viking Ocean is inclusive cruise experience. Specialty restaurants are included, as is beer, wine and soft drinks with lunch and dinner. Guests also receive free Wi-Fi a free shore excursion in each port of call. Spa access is included as well, featuring a hydrotherapy pool, saunas, thermal loungers, and a snow room.
Viking Venus provides a comfortable luxury cruise experience, with an all balcony cruise ship. The ship boasts beautiful and delicious food venues, 2 pool areas (one with a retractable roof), and well appointed veranda cabins and suites.
Different from most other ocean going cruise ships, Viking Venus does not have a casino and offers live music and more "low key" entertainment rather than Vegas style shows.
Best for: Luxury cruisers, destination driven cruisers, the "non-cruiser", the cerebral cruiser, foodies, Viking repeat cruisers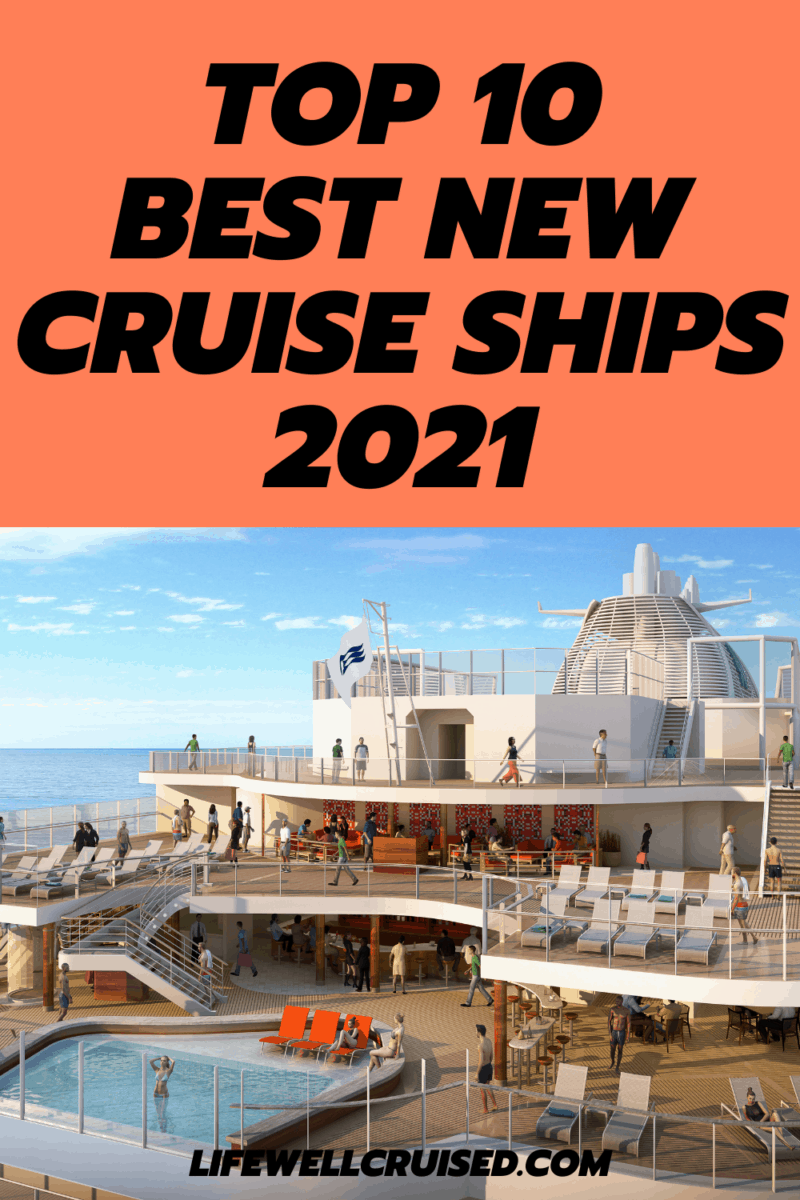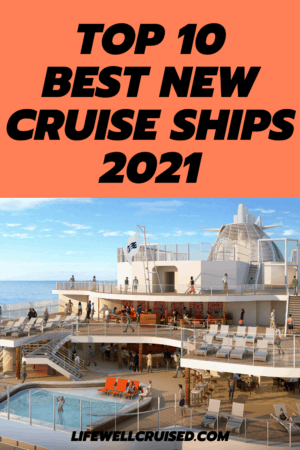 10. MSC Seashore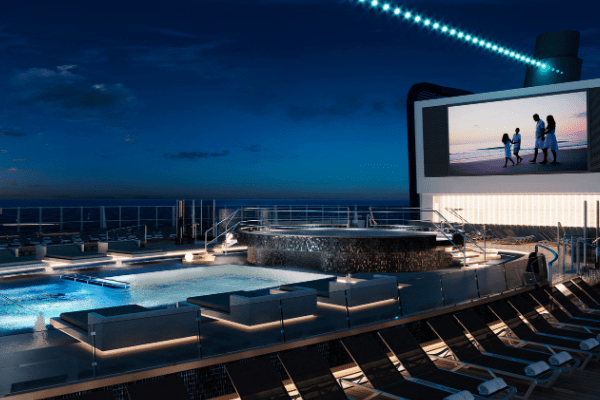 At 169,380 tons, the MSC Seashore will be larger than sister ships MSC Seaside and Seaview and feature many innovations that cruise passengers will appreciate. It is due to arrive in August 2021.
Some great features of the EVO Class ship include:
A stunning redesigned aft pool
A larger indoor pool with retractable roof
A more expansive Yacht Club – a ship within a ship concept
More hot tubs
Outdoor seating and al fresco dining on Deck 8
MSC for Me touchless technology
Digital assistant Zoe
Environmentally friendly additions, like MSC Virtoasa (above)
Best for: International travelers, Forward thinking cruisers, environmentally minded cruisers, experienced cruisers, new cruisers, MSC Fans
Here's a video where we share the details of each new cruise ship for 2021. If you enjoy it, please subscribe to our channel.
Final thoughts: 10 Best New Cruise Ships 2021
Let's put 2020 behin us and look ahead at the amazing new cruise ships for 2021. From classic favorites to incredible innovations, there really is a new cruise ship for every cruiser's style and taste in 2021.
What cruise ships are you the most excited about and what would be your pick for best cruise ship for 2021? Please let me know in the comments below.
Happy Cruising!!
Ilana xoxo
P.S. If you found this helpful, please don't keep it to yourself ;-). Please share on Facebook or PIN to your favorite Pinterest board (share buttons at the top). Thanks so much!
Read more:
25 Best Cruise Essentials for 2021
21 Best Cruise Luggage and Packing Accessories (2021)
23 Essential Things to Pack in Your Cruise Carry-On Bag (updated 2021)
30 Cruise Cabin Hacks Every Cruiser Needs to Know
Let's connect:
Follow me on Facebook at Life Well Cruised
Follow me on YouTube at Life Well Cruised
Follow me on Pinterest at Life Well Cruised
Follow me on Instagram at Life Well Cruised