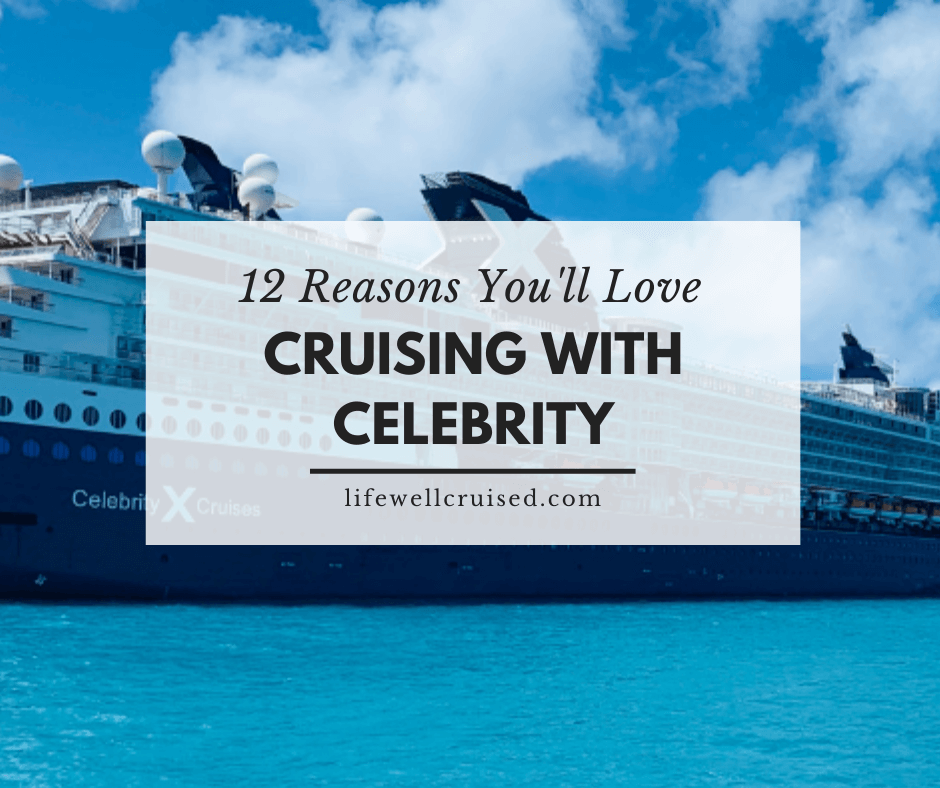 12 Top Reasons to Take a Celebrity Cruise
I've recently returned from my second Celebrity Cruise, and while on board I was struck by all the little things that Celebrity Cruises does to make your cruise a truly fulfilling vacation. I like to refer to this as Celebrity "Special Touches", as this really how it feels for me.
Celebrity does the big things well; beautiful ships, excellent food, attentive service. However it was the little things (that really weren't so little) that just made our cruise vacation experience seamless and utterly enjoyable.
*Updated – We've returned from our 3rd Celebrity Cruise on the beautifully Revolutionized Celebrity Summit. If at all possible, the experience sailing with Celebrity simply got even better!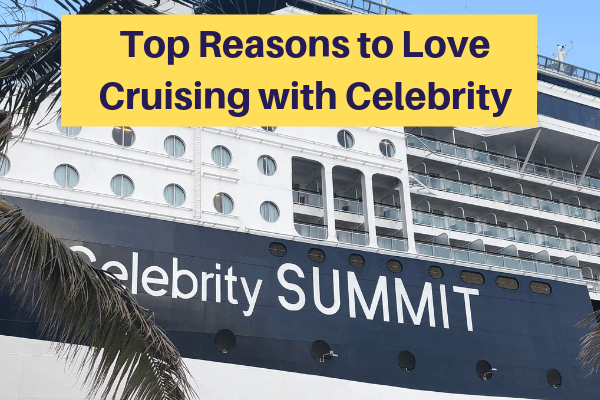 I have sailed on other cruise lines, and in all honesty have had some amazing cruises. While I have been on some cruise lines that have done some of these little things in their own way, the majority of these extra special touches are not the norm on most popular cruise lines. Celebrity Cruises really did leave me with a feeling that was a little bit special.
A short anecdote
My friend messaged me the evening that I came back from my most recent cruise on the Celebrity Summit and asked me "Isn't it good to be home and sleep in your own bed?". This was my response, paraphrased. "No it is NOT (lol). I was living the high life for a week in an incredible luxury apartment at sea, where all my meals were prepared for me and almost every wish granted. You should see my home, it comes with everyone else's laundry and I am the cook!".
I love my home and life, but when I need a vacation, nothing beats a cruise!
Here are 12 of my TOP Celebrity special touches – which definitely made me love Celebrity!
1.Easy early embarkation
It was such a pleasure embarking on our Celebrity Summit cruise. Check in was easy and efficient and within a short time we were allowed to embark on the ship, and it was early! We were on by about 11:30 am and although not all areas of the ship were accessible yet, early passengers were encouraged to enjoy the ship's Crush Martini Bar or Cafe Al Bacio. It was a great atmosphere as we started our cruise vacation.
2.Welcome Champagne cocktails
Upon entering the ship, Champagne (ok sparkling wine) cocktails were offered to guests. It was a really special feeling to be able to toast to our cruise with good friends and made a really warm welcome. One of the Celebrity Cruises special touches that just helps to start the cruise off right!
We sat for a little while and had fabulous martinis at the Crush Martini Bar before we headed up to the buffet to have a delicious lunch. A great start to our embarkation day.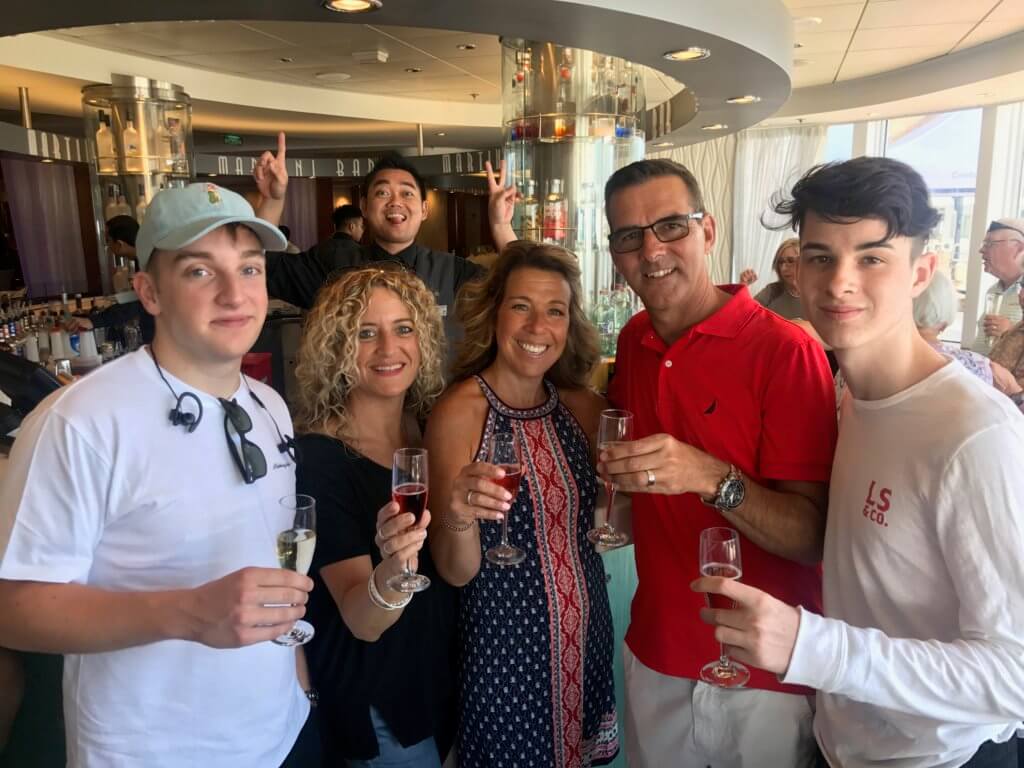 3. Dressed pool loungers
What a pleasure to arrive at the spacious and open pool deck in the morning to relax on a lounge chair, and not have to search to find towels or worse yet, to have to lug them up from our cabin! One of my favorite Celebrity special touches for sure. And, I was reminded of this daily as I walked on the pool deck and saw all the welcoming lounge chairs.
It was like my lounge chair was just waiting for me and saying "Come, sit down. Put your feet up. It's your cruise calling". Awe. Just amazing!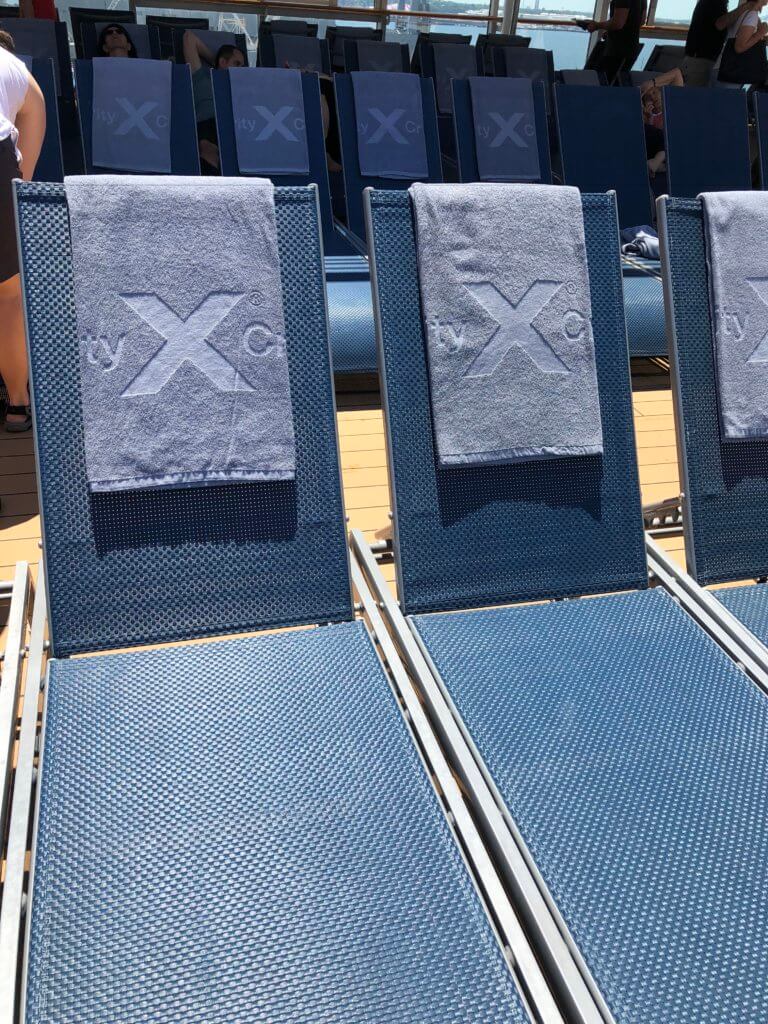 4. Cafe Al Bacio
This cafe is truly special. It feels very different from some other ship cafes in that it has an atmosphere and menu that feels upscale, gourmet and definitely European inspired. The service was always excellent and the choice of coffee and teas were beyond the imagination. There is a charge for these items, however they are included in the Celebrity Classic Beverage Package Perk, which I highly recommend.
I will be publishing a separate post about all that is available at Cafe Al Bacio, including menus shortly, as there is just too much to include here. Most mornings I would get an Americana to go, and my husband would get a cappuccino. Just look at the presentation!
*update – Celebrity Cruises: 7 Reasons You Will LOVE Cafe Al Bacio is now available.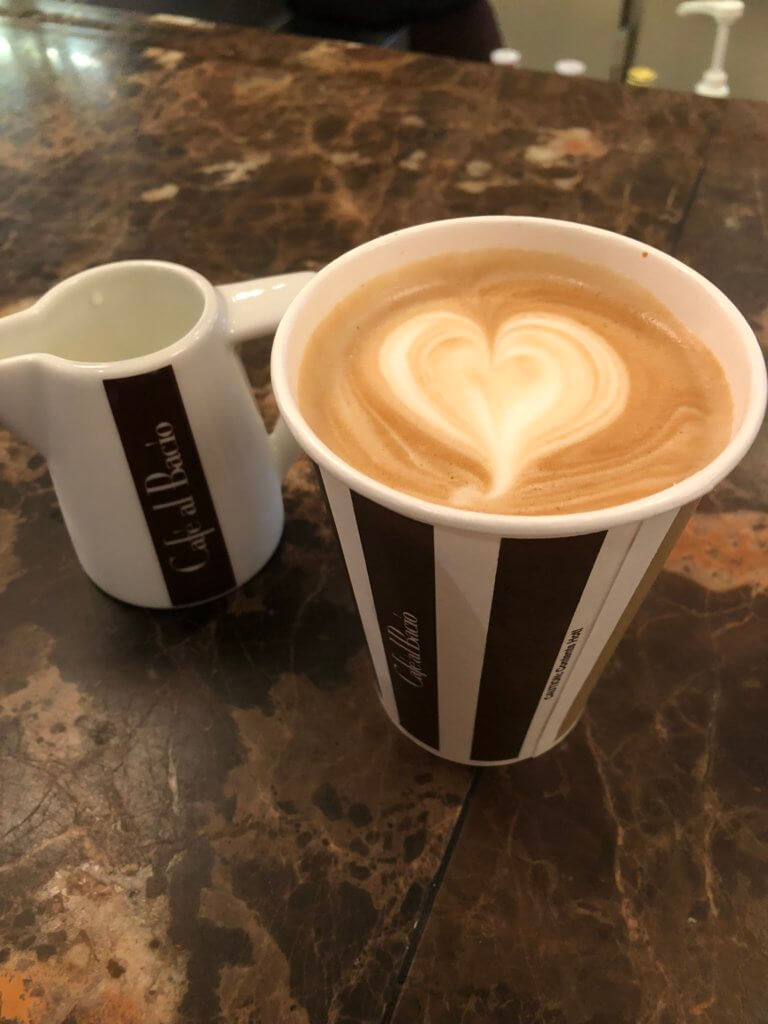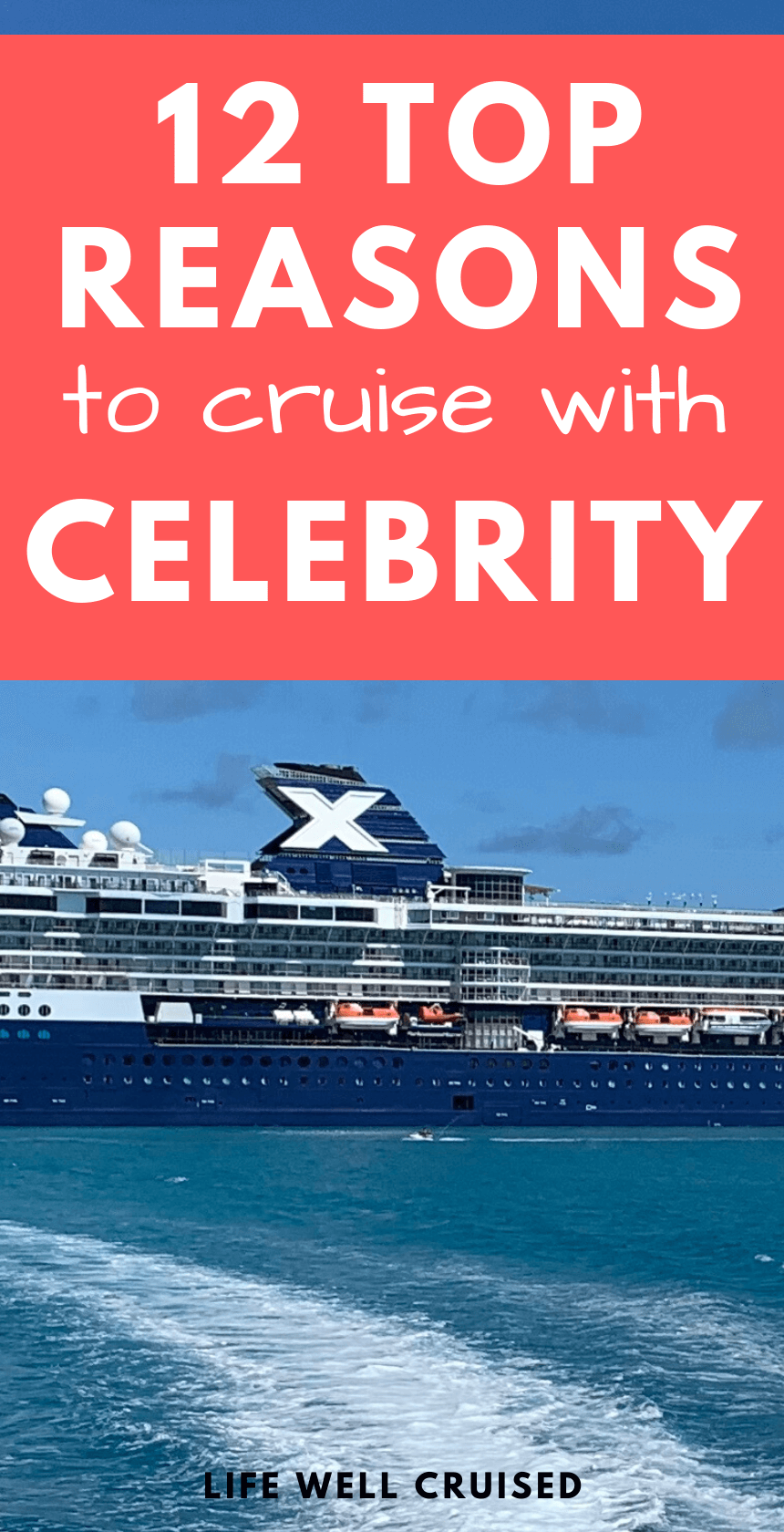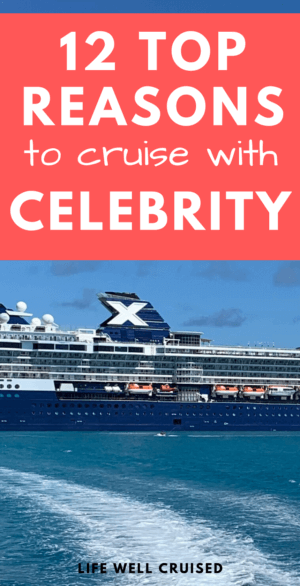 5. Celebrity Cruises "Welcome Back" on port days
What a way to be welcomed back when returning after a hot day on an excursion, at the beach or exploring. Imagine walking back to your beautiful ship (your home away from home) and being greeted happily and handed a crisp, icy cold towel to refresh. One of Celebrity's best special touches, 100 percent!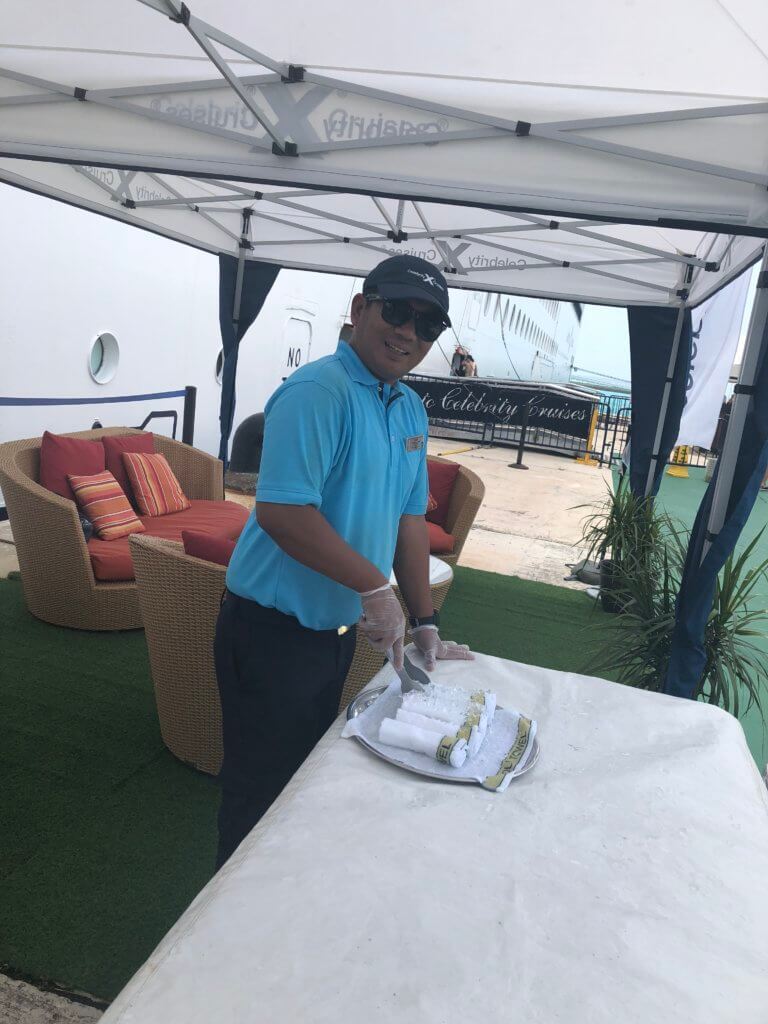 6. Cloth rolled hand towels in the public washroom
I know that this is a little thing, but it feels so nice to be just a little bit pampered, even when using the public washroom. No paper towels all over the floor, or loud noises coming from hand dryers. Plus, they are displayed so delicately. Forgive me for looking like a total nerd taking a photo in the bathroom :-)!
One of the small, but very appreciated special touches I enjoyed about my Celebrity Cruise!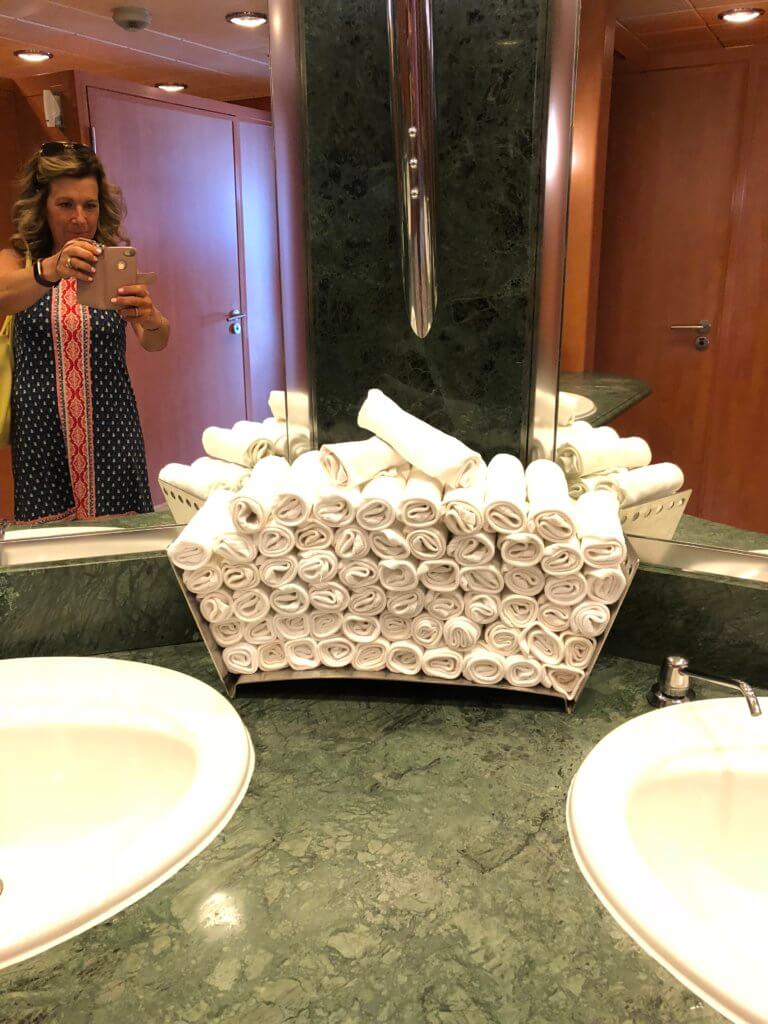 7. Citrus infused water
I have to say that this was one of the "little things" that totally sold me on Celebrity Cruises when I cruised on Celebrity for the first time about a year ago. When waiting for a tender on a hot day with lots of walking in Newport, R.I., under a Celebrity Cruises branded canopy were beautiful carafes of refreshing citrus infused water. It was such a nice special touch. Having my grapefruit water I felt instantly hydrated and well, just a little bit "fancy". I'm cruising and I like that ;-)!
So, on the ship citrus infused water was available on the pool deck, and my favorite, at the fitness center!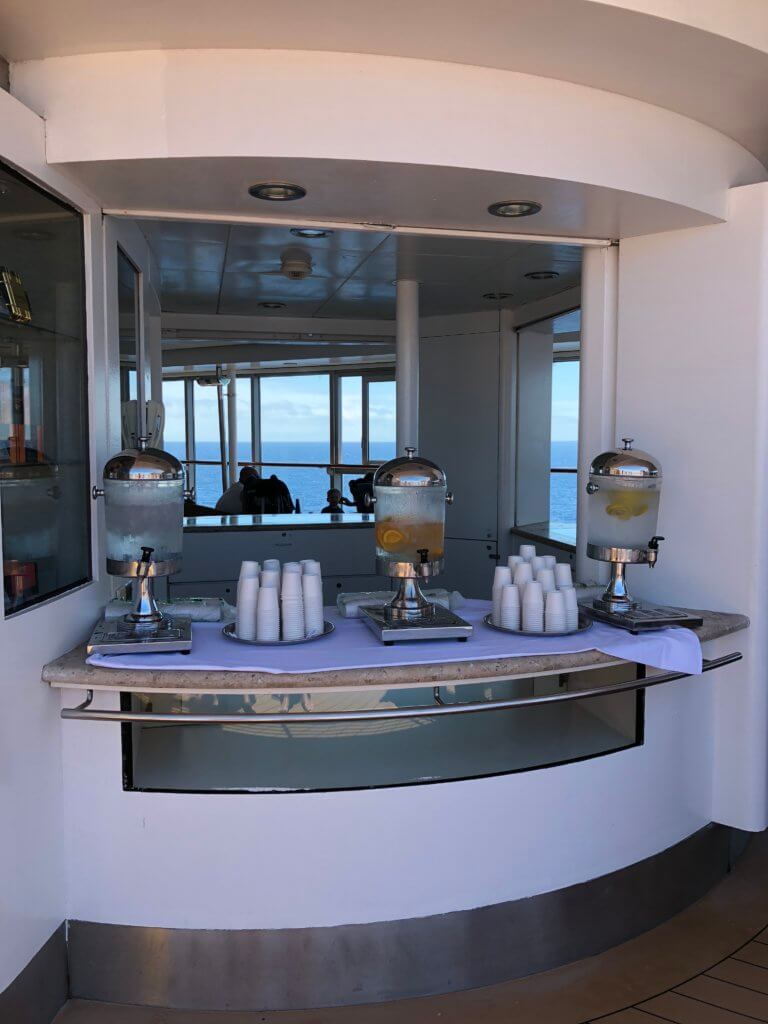 8. Crush Martini Bar
If you've sailed, or even if you haven't sailed with Celebrity Cruises, you've probably heard of Crush Martini Bar. This is a fabulous place to get martinis (and other drinks) and also be thoroughly entertained by friendly and skilled bartenders. My two favorite martinis were the Fresca Martini and the Decadence Express Martini (with Triple Espresso Vodka, Kahlua, Baileys and espresso) and my husband just loved the Lemon Drop Martini. So many choices, and all looked fabulous and some totally decadent!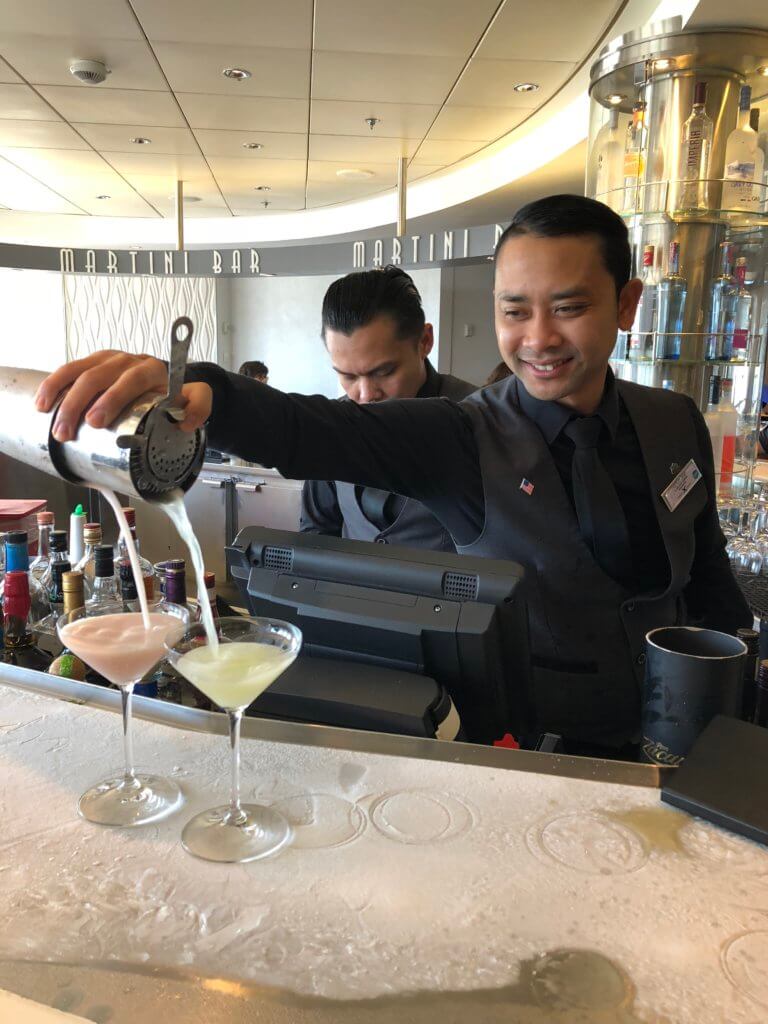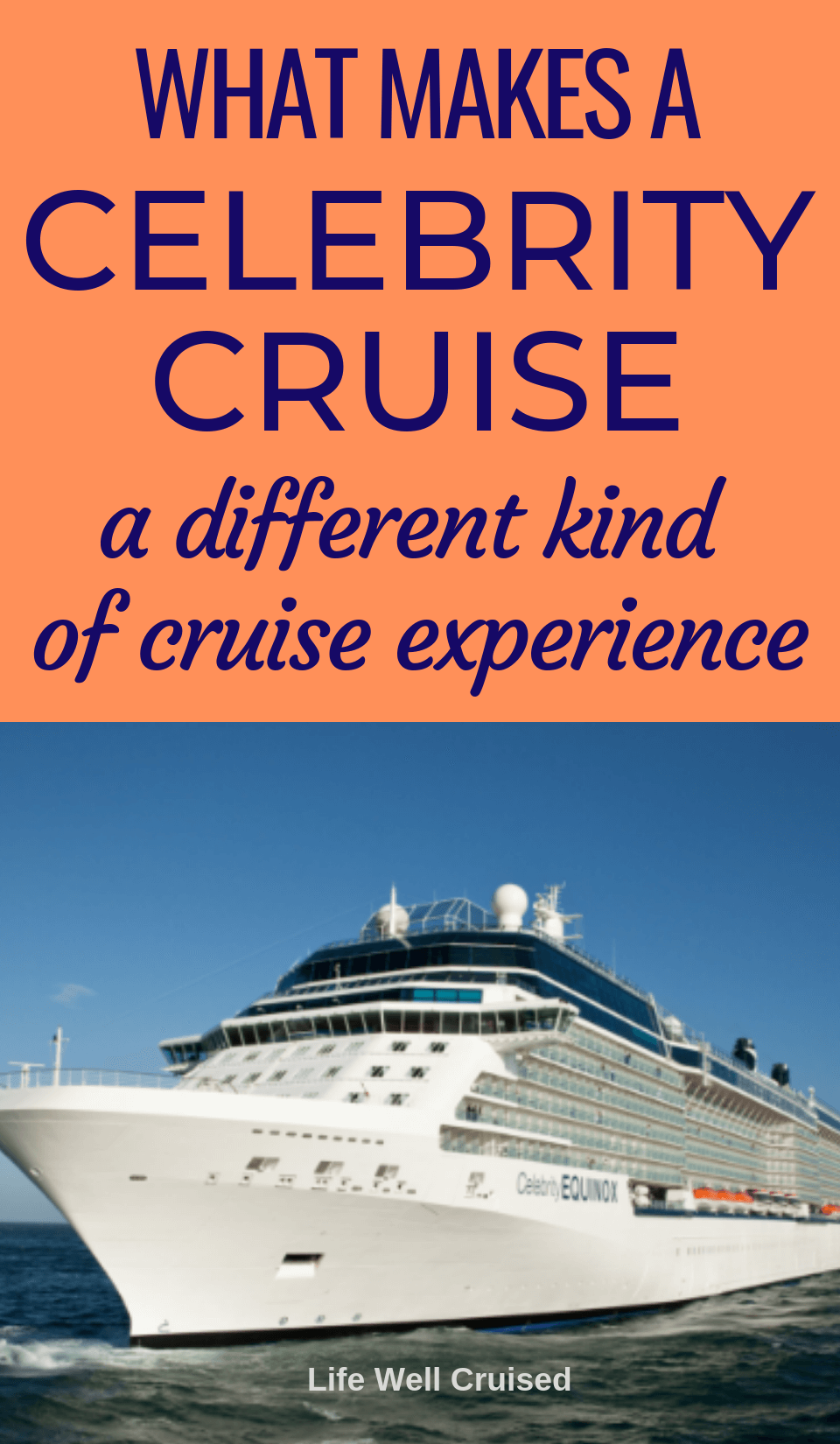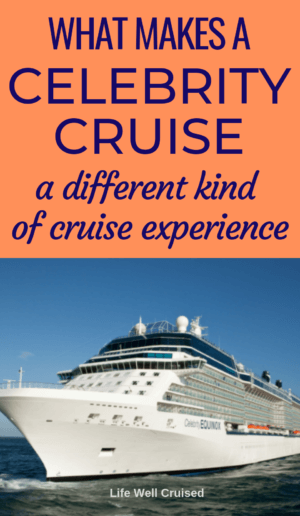 9. Savory dips and spreads served pre-dinner
Once again this is a "little thing", but what I really consider one of Celebrity Cruises special touches. Each night when we sat at our table in the main dining room, our friendly and uber-attentive waiter would bring us an assortment of delicious homemade breads and bread sticks (my fave) along with dips and spreads that changed nightly. It was like a little surprise waiting for us each evening.
This photo shows a whipped butter which was always presented in the middle, with a hummus and tzaziki spread on either side. So delish and indulgent.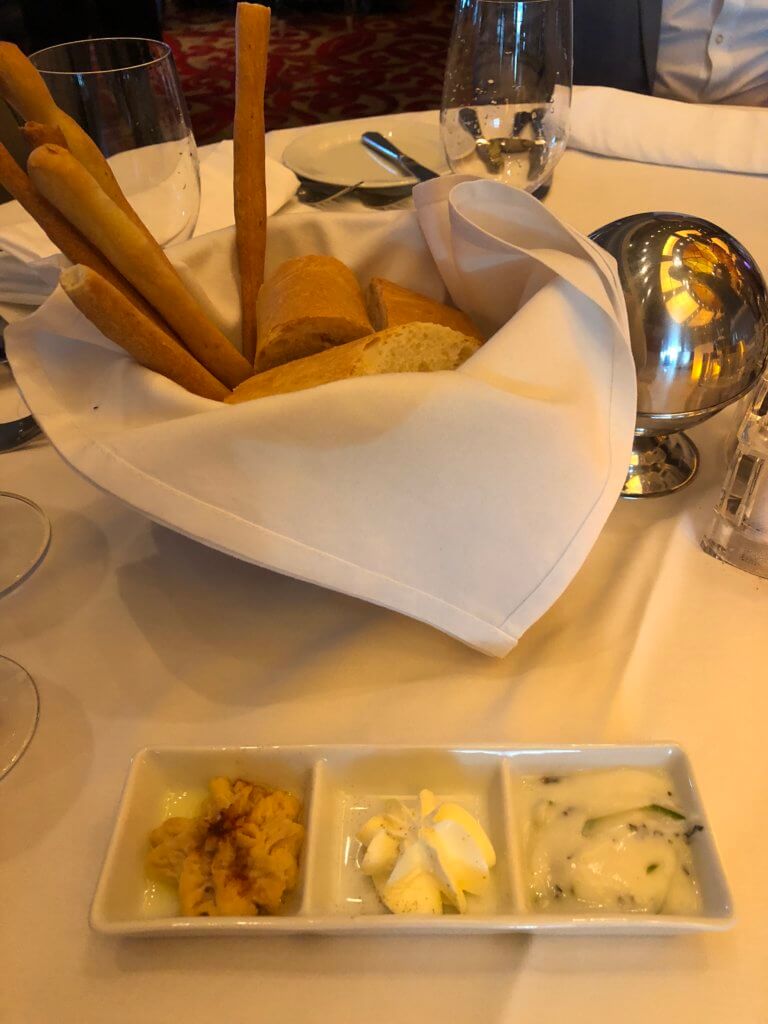 10. Healthy Indulgences at the Aqua Spa Cafe
I love that you can pick up such pretty and healthy food choices right at the Solarium Aqua Spa cafe. Fresh fruit plates were available along with a variety of healthy options for every diet; low carb, high protein, organic, keto, gluten free, weight watchers friendly, you name it. Some delicious options I tried included a lovely caprese salad and a delicious salmon tartar.
Something that was truly special was the fruit smoothie bar with amazing choices of fresh fruits, spinach and kale, and a variety of healthy seeds. There was a charge for this, but if you had the Celebrity Cruise Premium Beverage Package or the Premium Non-Alcoholic Beverage Package these were included.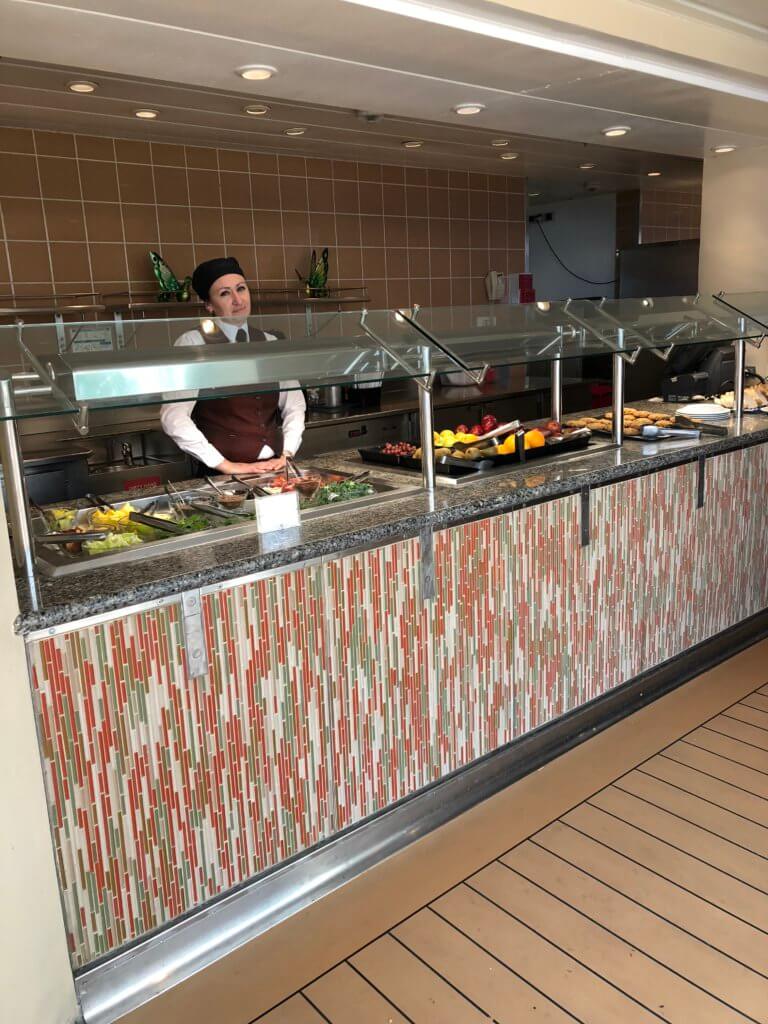 11. Good self-service coffee
So I LOVE the fancier coffees at Cafe Al Bacio, whether it was an Americana, an ice-coffee, an affogato (if you're wondering what that is check out my Cafe Al Bacio post). However, sometimes it was just convenient to grab a coffee in the buffet or at the Aqua Spa Cafe on the pool deck. You know what? It was the best self-serve drip style coffee I have ever had on a cruise. Just sayin'.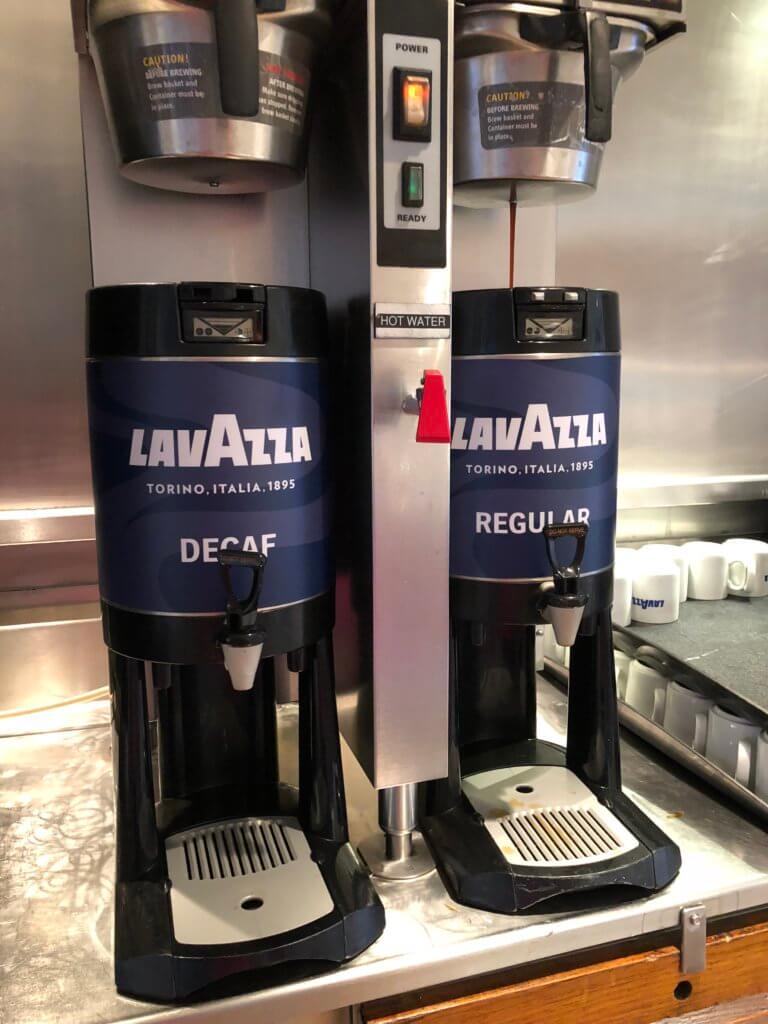 12. Free Room Service
When we first started cruising, room service was always included. Then over the years, we saw that some cruise lines added a nominal charge after a certain hour (which there is on Celebrity Cruises). However, in recent years, some cruise lines have done away with free room service altogether are charging a lot for this indulgence.
For me, it's always felt special to be able to order room service on a cruise, because it is totally outside of our regular routine at home, or even at a hotel, for that matter. I would let my kids order cookies and milk at night and as they got older even a burger and fries. On a cruise, I could feel like super mom!
Well, on a sleepy morning when we were heading out on a somewhat early excursion, my teen son ordered his breakfast in bed. What a treat! Thanks Celebrity Cruises for keeping this truly special touch and nice cruise extra!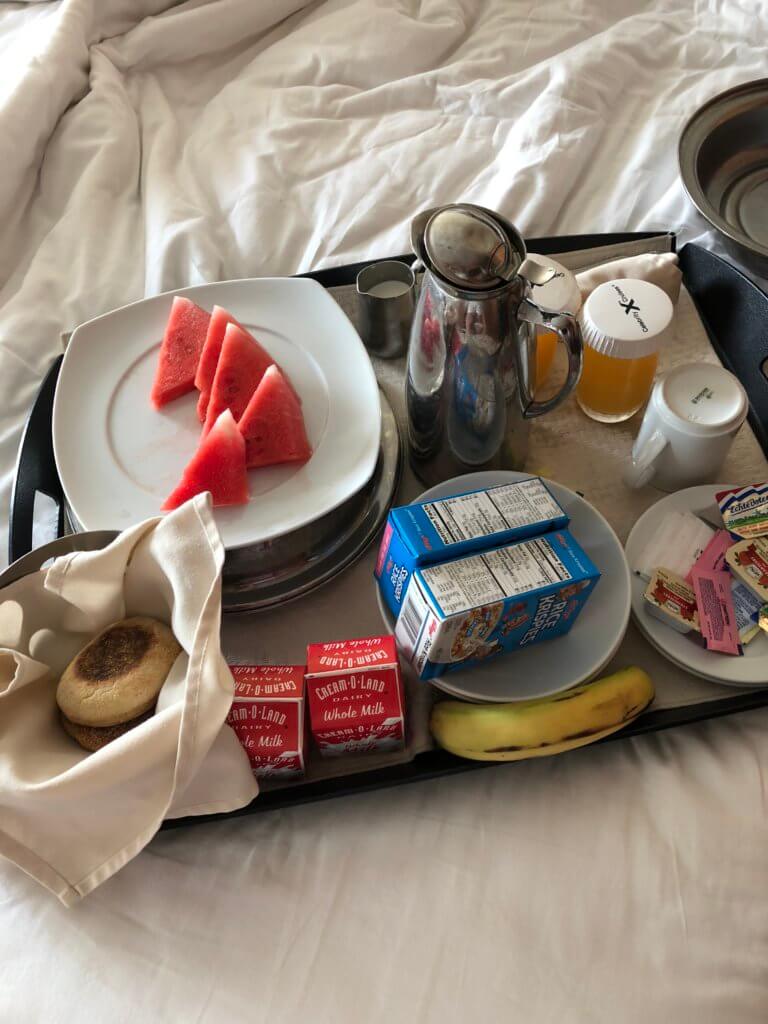 Bonus Video: Here's a look at the Celebrity Summit – updated and "revolutionized" – It's gorgeous!!!
Recap: Top reasons Celebrity Cruises – Special Touches
I hope this list of 12 special touches that I personally loved on Celebrity Cruises has been helpful. Thank you to David Perrien, amazing Captain's Club Host and Dan France, amusing and super energetic Cruise Director for a memorable cruise and for your assistance with my list of Celebrity Cruise Special Touches.
Perhaps the most special touch of all is a warm and friendly staff, that seem to go above and beyond to make your cruise special! Thanks to all the staff and crew on Celebrity Summit for, well, just everything!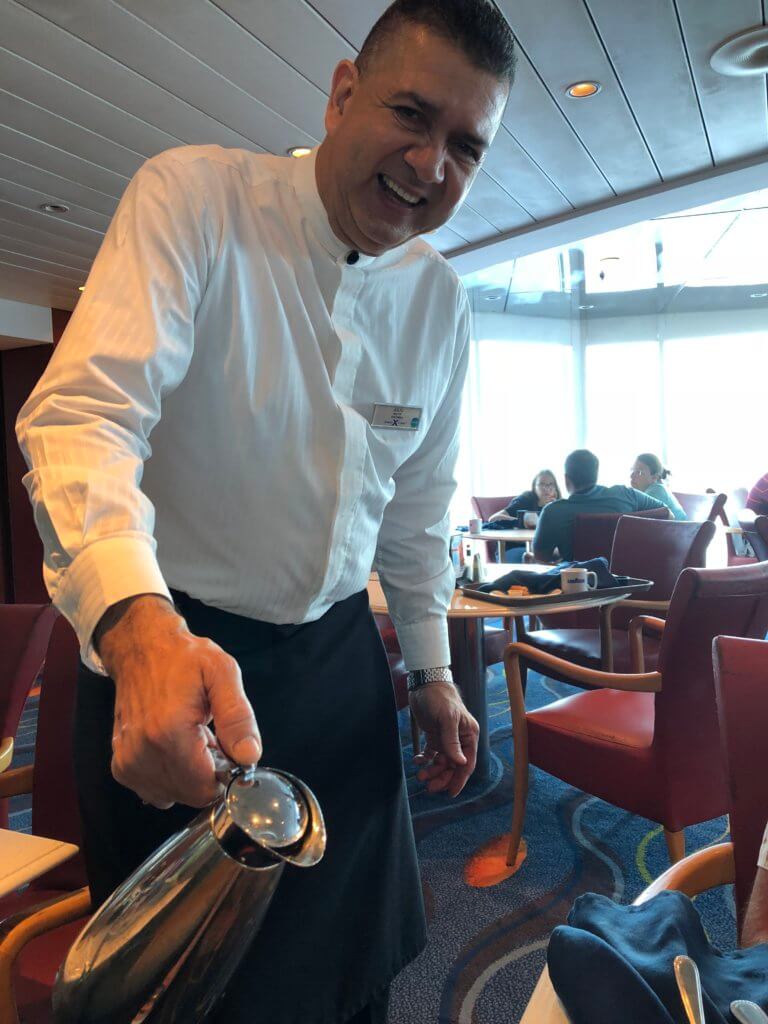 Since this cruise and original "review" Celebrity Summit has been updated and Revolutionized. Take a look at the ship and our recent review here: Celebrity Summit Cruise Review: Post Revolutionized (with photos)
Other Celebrity Cruises blog posts:
Celebrity Cruises: 7 Reasons You Will LOVE Cafe Al Bacio (with menus)
The Ultimate Celebrity Cruises Tuscan Grille Review (with menus)
How to Stay Fit and Healthy on a Celebrity Cruise Vacation
Our first cruise with Celebrity: Celebrity Summit Bermuda, Boston and Newport Cruise Review.
Best Things To Do in Boston on a Cruise (Celebrity Summit Cruise Port Review)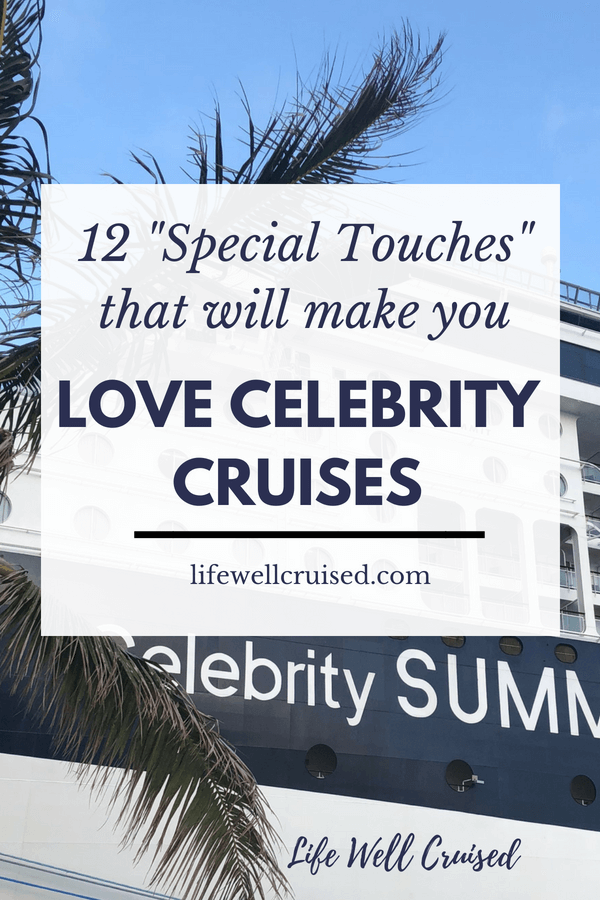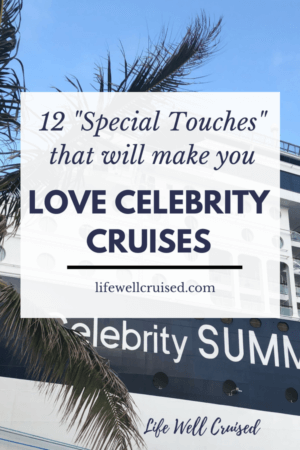 Have you cruised with Celebrity or are you considering it? Please share what you enjoy most in know in the comments below.
Happy Cruising,
Ilana xoxo
P.S. If you've enjoyed this, please don't keep it to yourself ;-)! Please share it on Facebook or save for later on Pinterest. Thanks so much!
Popular and related posts:
30 Cruise Cabin Hacks Every Cruiser Needs to Know
17 Reasons We're Excited to Cruise on Celebrity Summit: Revolutionized
21 Essential Things to Pack in Your Cruise Carry-On
How to Get the Best Deals, Specials and Promotions on a Cruise (in 2020-21)
Let's connect:
Follow me on YouTube at Life Well Cruised
Follow me on Facebook at Life Well Cruised
Follow me on Pinterest at Life Well Cruised
Follow me on Instagram at Life Well Cruised