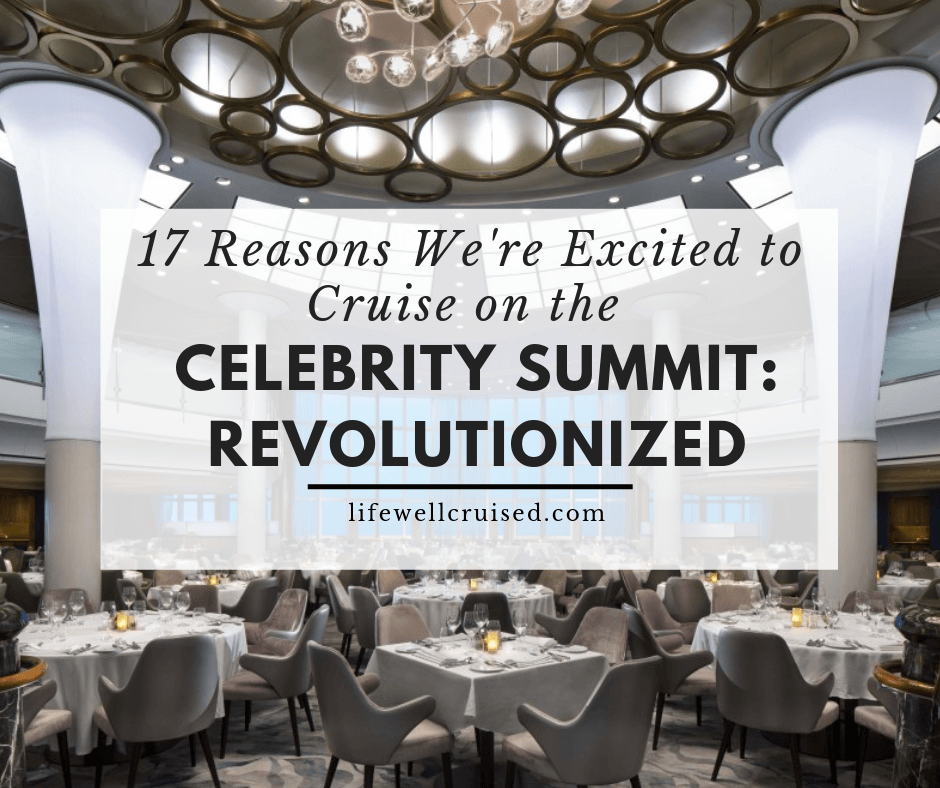 Exciting Features of the Celebrity Summit: Revolutionized (that you'll love!)
If you're anything like me, you get pretty excited as your next cruise is approaching. In just a few short weeks, we are cruising on the recently "revolutionized" Celebrity Summit and we have a lot of reasons to be happy about this!
If you've booked a cruise on the Celebrity Summit, I think you'll enjoy this and be excited about the ship updates as well.
Cruising on the Celebrity Summit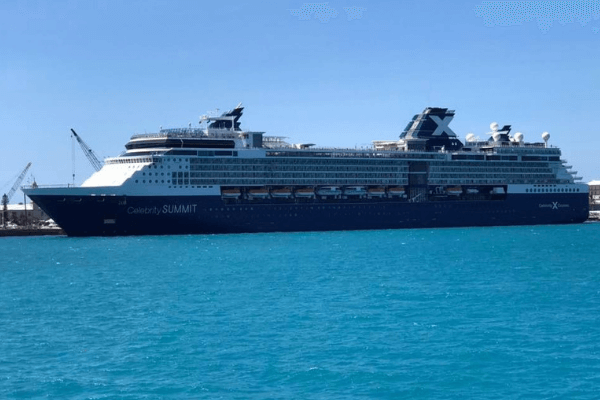 First, for a bit of History. My husband and I have cruised on the Celebrity Summit twice over the last few years, and truthfully she's one of our favorite cruise ships.
We enjoy the size, the intimacy of the public spaces, and the spacious pool areas. The fact that she carries about 2200 passengers seems to make for a pretty relaxed atmosphere on board, married with excellent service and cuisine.
Full disclosure: In case you haven't noticed, we already LOVE Celebrity.
If you want to know how I really feel, you can find that out by reading THIS POST I wrote after our last cruise on the Summit.
However, with these latest updates, which have been part of Celebrity Cruises incredible fleet wide Revitalization – my regular pre-cruise anticipation is through the roof!
Here are the 17 things we're most excited to see and experience on the revitalized Celebrity Summit
Cruise ship enhancements include:
1. Modern Redesigned Staterooms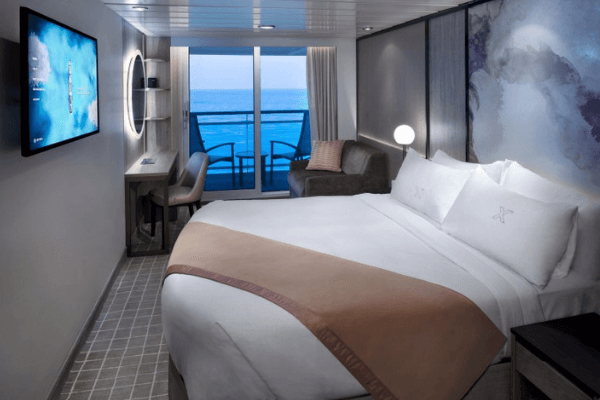 As part of Celebrity Cruises Edge Revolution, the cruise cabins throughout the entire fleet are getting a modern and updated "Edgisized" look.
On our past cruises on the Summit, although we thought the ship was beautiful (it had been updated in 2016), the cabins felt a bit dated. In recent photos of the Celebrity Summit staterooms, we can see this new clean and modern design.
I don't like to rely on promotional material alone, so I've payed special attention to recent reviews and photos from passengers. Obviously everyone has their preferences, but I am loving the updated look!
2. Redesigned Bathrooms
Hello new bathrooms!
Funny story – On our last cruise, I was taking a video of the bathroom for my blog, when I nearly fell into the shower as I mistakenly leaned on the shower curtain. It was clearly my fault and a case of "don't do as I do" :-0!
In any case, I'm very excited about the fresh bathroom design! The bright whites, open shelving and lighter woods are so attractive.
From photos I've seen so far in Facebook groups, I think there might be a glass shower door! If you know, let me know in the comments below please.
3. Ocean View Cafe (buffet)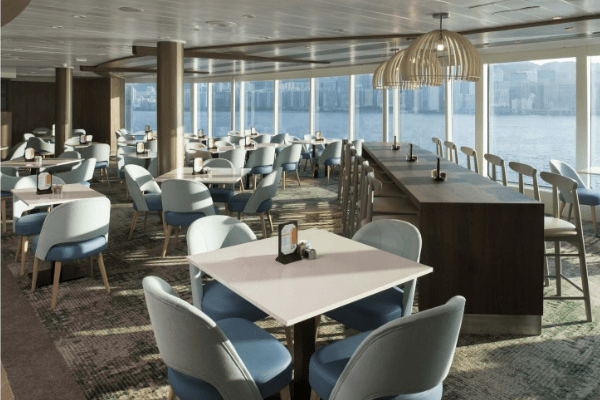 Wow, the updated Ocean View Cafe looks fantastic. I already know that the food is amazing and we love the various stations with several options. I even appreciate that the Summit has so many healthier options, so I feel less guilty indulging later in the day ;-).
However, we're looking forward to seeing the bright and open space for ourselves.
4. Cosmopolitan Restaurant – Main Dining Room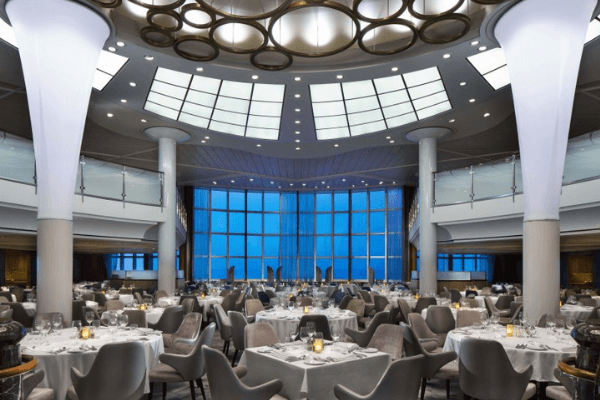 We truly loved the Cosmopolitan Dining Room on past cruises and only have good things to say. The menu, food, service and even the decor was appealing to us. However, the woods were dark, and I guess in hindsight an update was probably due.
Seeing photos and videos of the new Main Dining Room with a palette of sumptuous grays, neutrals and whites – the designers obviously knew what they were doing. So elegant!
I do wonder what has happened to the old SS Normandie Statue that stood in the middle of the first floor of the dining room? If you've got the answer, please let me know.
5. Redesigned Casino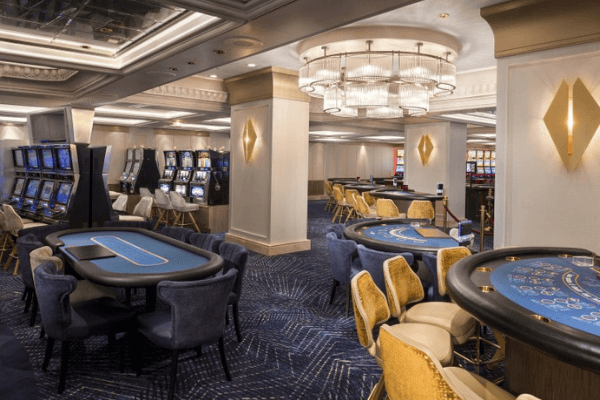 I'm not a big casino goer, so I probably won't spend much time here, however I have some cruise friends that I know will love it! Updated and gleaming, and non-smoking, it's a breath of fresh air, literally.
6. Sunset Bar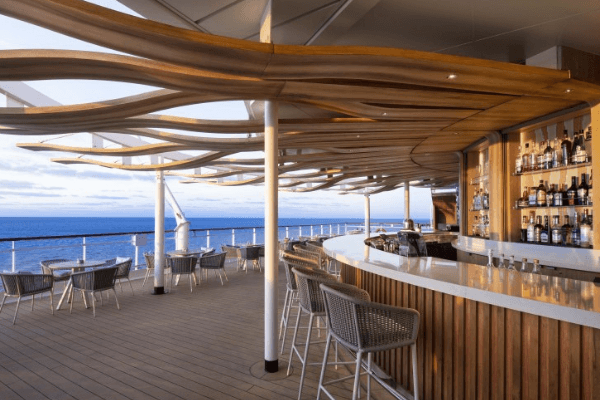 The Sunset Bar is the aft bar right outside of the Ocean View Cafe buffet area. I can't think of a place on any ship where I feel more connected to the sea, and for that reason, the Sunset Bar is a favorite spot on the Celebrity Summit.
My husband and I have had breakfast and lunch there on past cruises almost daily. We often have one casual Al Fresco meal here one night when we're in Bermuda, as truly the view doesn't get any better than this!
This bar, seating and tables look so good now – and I can only imagine loving it here even more!
7. American Ballet Theater
I'm looking forward to seeing this new entertainment on Celebrity. Being honest, we've never gone to the ballet (although I love musicals), but I'm thrilled for the opportunity while cruising, to get a taste of this experience.
In some ways, I think this is what cruising and travel is about – being exposed to new and different things than you might not do or try at home. This includes food, destination experiences, and entertainment.
I'm genuinely so excited to see the dancers and experience the ballet on Celebrity.
8. Celebrity Summit – Beautiful Inside and Out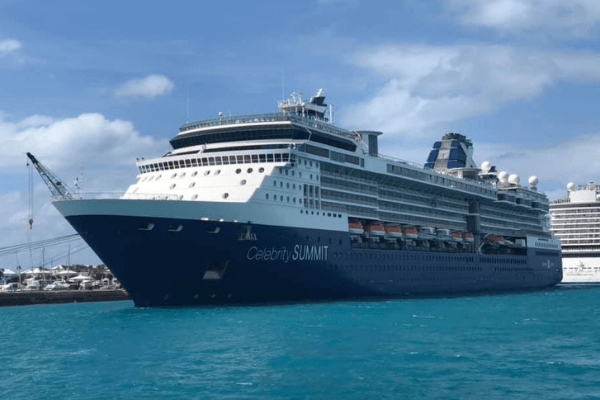 The Celebrity Summit was already an understated stunner, but with her updated navy blue bottom, she's looking even more elegant! Did you see her new paint job? I can't wait to get some new photos of her in Bermuda.
9. The Retreat and sundeck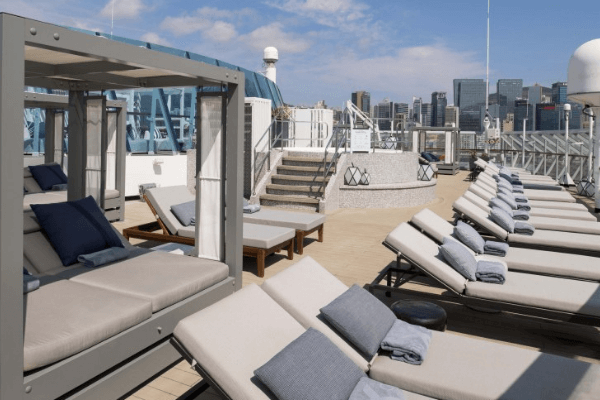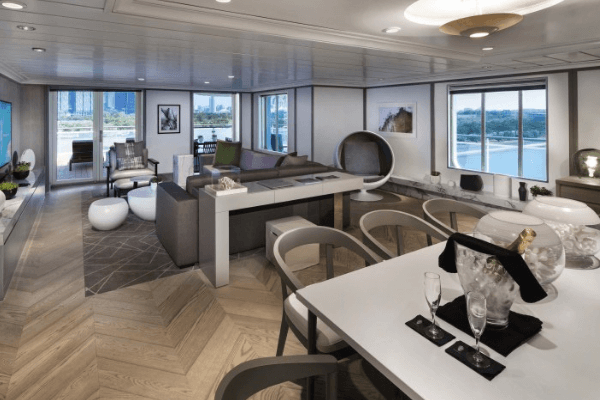 This area looks like a dream. If you're looking at the Celebrity Summit suites, take a peek at the gorgeous lounge and private sundeck. How beautiful is the Retreat?
A suite is not in my budget at this time. However, a girl can dream #cruisegoals ;-).
10. Rendez-Vous Lounge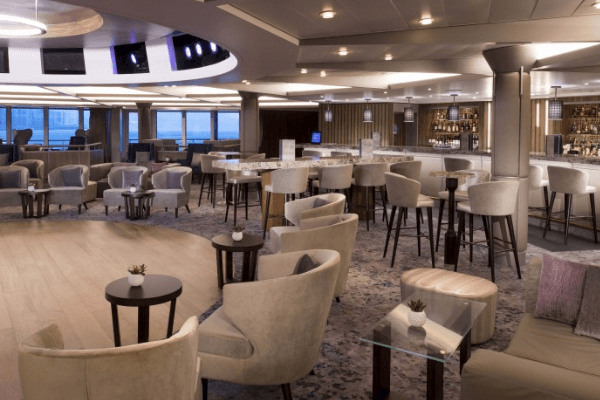 The Rendez-Vous Lounge looks like it has undergone the most drastic transformation. To give you a bit of an orientation, to get to the main dining room from the Atrium or Grand Foyer, you'll be walking through the Rendez Vous lounge.
On past cruises, I recall squinting to try and see as it was so dim with heavy looking furnishings. There was even a great band playing after we ate dinner one night, and we didn't stay as the atmosphere was just too dark for us.
Now, I'm excited to have a pre-dinner drink here or stay to catch a show. The seating options are so cool! It's so modern, airy and bright and looks beyond beautiful.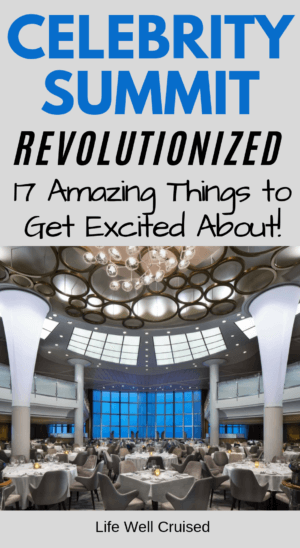 11. Faster Wi-fi
I'm loving that cruise lines are updating their wifi on cruise ships. Despite having a cruise blog, I'm actually not someone who wants to be "connected" all the time.
However, I know that faster wifi means more efficiencies. For anyone who has to quickly get a bit of work done or even simply to check on emails once a day, what a pleasure this will be.
Classic Celebrity Summit Favorites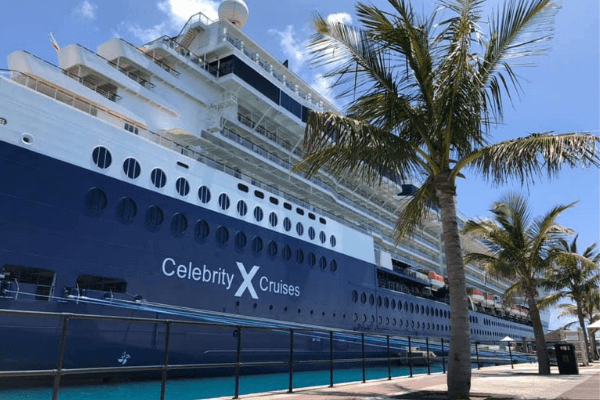 As much as we're looking forward to the updates I mentioned, we're really also excited to get back to some of our Celebrity Summit favorites such as:
12. Crush Martini Bar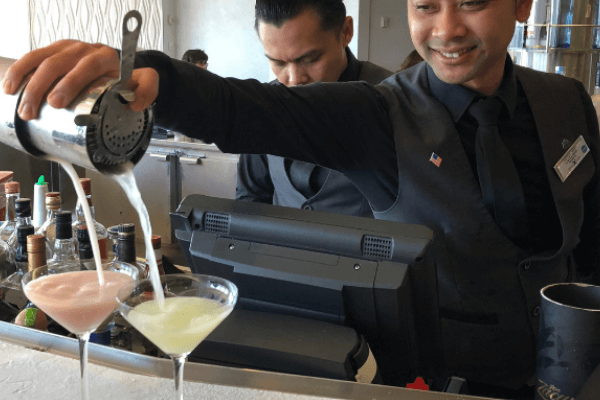 The iced topped Crush Martini Bar is a great spot to have a first drink, as we embark on our cruise. Most evenings we'll find ourselves there for a pre or post dinner drink as well.
Can't wait for to have my favorite martinis, and try out a couple of new ones! My faves include the Espresso Decadence Martini and the Fresca Martini. My hubby enjoys the Lemon Drop.
13. Cafe Al Bacio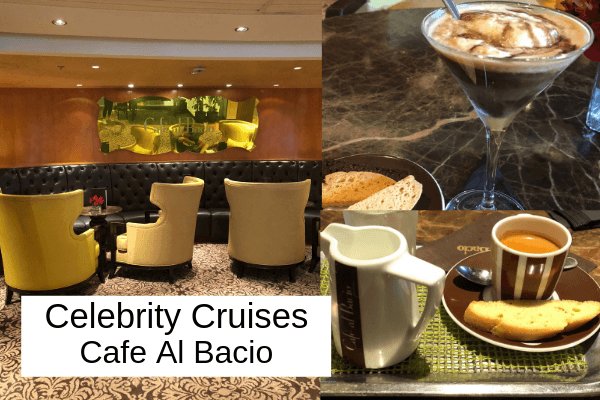 Quality Lavazza coffee, friendly Baristas, elegant furnishings = coffee heaven.
I am a HUGE coffee lover, and Cafe Al Bacio is my favorite cruise ship cafe. Plus, it's included in the Classic Beverage Package!
I'm excited to have an Affigato – have you ever tried this? It's a small scoop of vanilla Gelato topped with Espresso and a touch of chocolate syrup, served in a martini glass. It is 100% as good as it sounds!
You may enjoy reading my review of Cafe Al Bacio (with menus).
14. Aqua Spa Cafe
There are so many good food options, and one I really enjoy during the day is the Aqua Spa Cafe (it's nice that a healthier option is available right on the pool deck). Their mozzarella and Tomato Salad is calling to me already!
15. Specialty Restaurants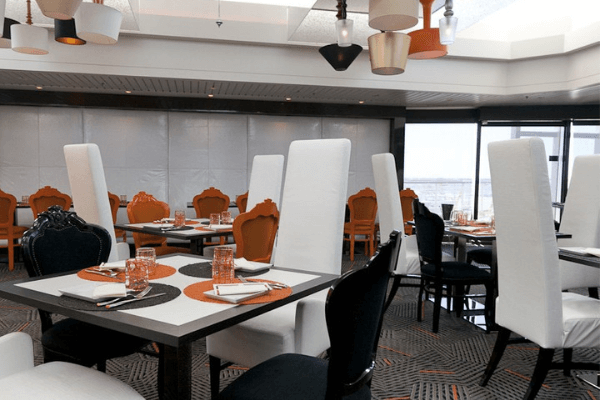 As good as the main dining room food is, there's something special about having an intimate dinner in one of the specialty restaurants (surcharge applies).
Our home-style Italian Steakhouse dinner at Tuscan Grille was fantastic (review here). This time, perhaps we'll give the whimsical Qsine restaurant at try.
16. Taste of Film
This looks like a really unique and interesting experience. On one of the upper decks, there is a large outdoor movie screen with comfortable patio style furniture, offering a great space to watch movies and sports.
As part of the entertainment and dining options, Taste of Film is offered. I've never done it, however my understanding is that small thematic dishes are prepared to accompany the movie going experience.
If you've done this, I would love to hear from you and know how you enjoyed it. It seems really different, and since we have 11 nights on this sailing, we may give it a try.
17. Thalassotherapy Pool (Solarium Pool)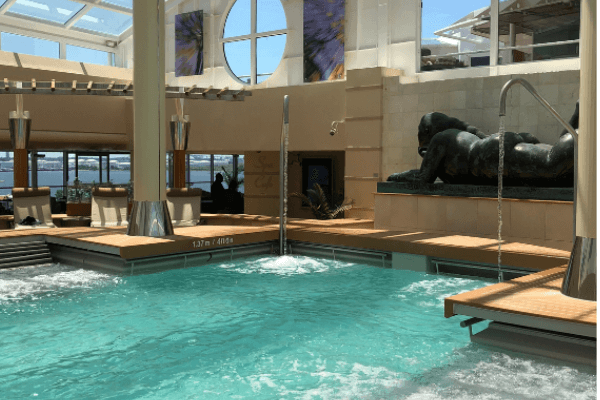 I've yet to find a more relaxing pool than the thalassotherapy pool on the Celebrity Summit. We usually don't care much for indoor pools on cruise ships, however the Solarium lets in the perfect amount of sun and warmth and has a truly calming feeling.
I've actually had a shoulder injury recently, and I'm looking forward to the "therapy" part of this pool. If you've ever had frozen shoulder, I know you can relate. This is the perfect place, and perfect cruise, for some rejuvenation!
Resources – for more Celebrity Summit information from cruisers
One of the best places I've found for specific information about the Revolutionized Summit, including photos and Q & A's from recent cruisers, is the Facebook Group Celebrity Summit 2.0. I suggest you head on over there for current info (plus it's a great group).
Another great Facebook group to glean information (and photos) of Celebrity Cabins as well as other pertinent information is Celebrity Cruises Staterooms and More.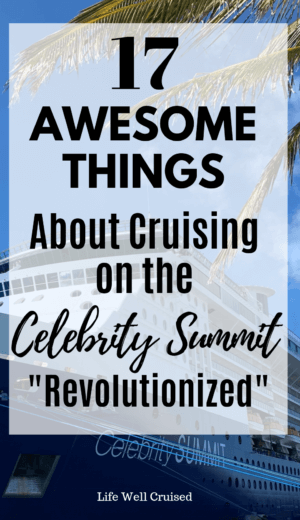 Recap: 17 reasons we're excited to cruise on Celebrity Summit: Revolutionized (and we think you will be too!)
Although these are our top reasons we are looking forward to seeing and experiencing the revitalized Celebrity Summit, we know there are so many other things that we'll enjoy.
1. Itinerary (Bermuda and New England): Seriously, this is going to be good! We've been to Bermuda before, but truthfully never tire of it. Each time we go, we try and learn or see at least one new thing.
If you're interested, please follow along on Facebook or Instagram for photos and videos. In the meantime, if you're heading to Bermuda on the Celebrity Summit during the next few months, you may find these posts helpful for planning:
16 Top Bermuda Attractions Cruisers Will Love
The Ultimate Guide to Horseshoe Bay Beach Bermuda (for cruisers)
Bermuda Rising Son Cruises Catamaran Snorkeling Review
2. Can't wait to get back on a Celebrity Ship: If you're reading this, you probably know that a Celebrity Cruise is a great way to travel! We're looking forward to the wonderful food, entertainment, relax time and a chance to unwind.
If you're interested you can read more about our experiences in these posts:
12 Special Touches That Will Make You LOVE Celebrity Cruises
The Ultimate Celebrity Cruises Tuscan Grille Review
Celebrity Cruises: 7 Reasons You Will LOVE Cafe Al Bacio
Have you cruised on Celebrity Summit recently or do you have a cruise planned? Let me know what you think in the comments below. Is there anything I should watch out for and try?
Happy Cruising!
Ilana xoxo
P.S. If you enjoyed this, please don't keep it to yourself ;-). Share it with your friends on Facebook or Pinterest (share buttons at the top). Thanks so much!