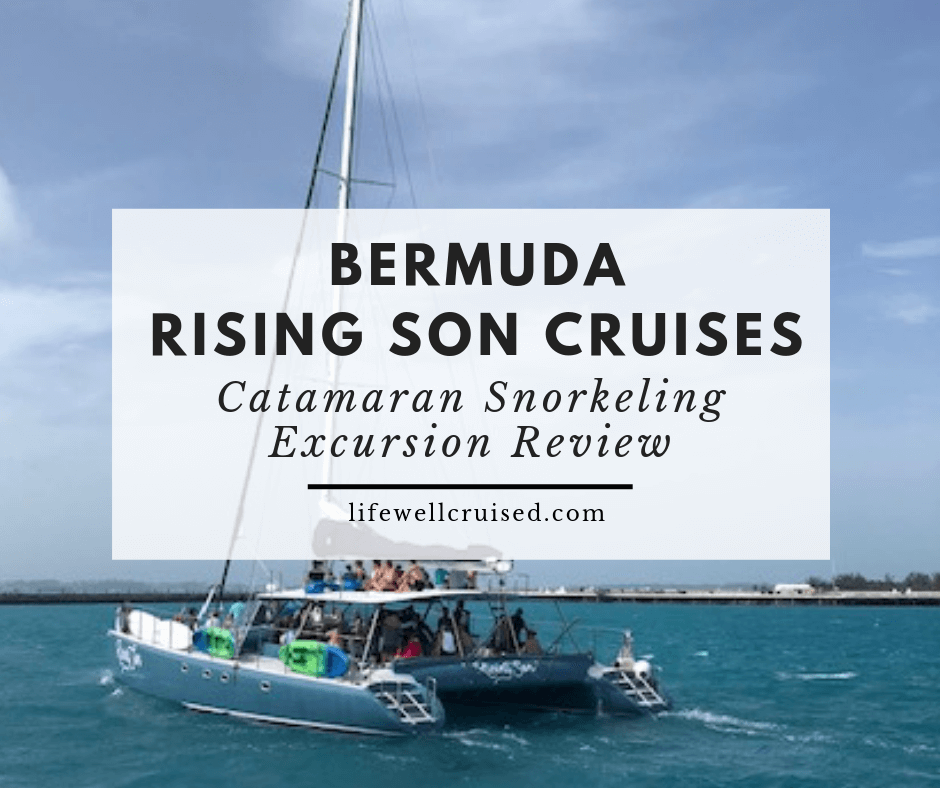 Rising Son Catamaran Snorkel Adventure Excursion Review
During our last cruise to Bermuda, we enjoyed a catamaran snorkeling excursion with Rising Son Cruises. This review will give you some details about the excursion and what we liked best. It will also include a recommendation as to who might be best suited for this excursion.
Why book a snorkeling excursion in Bermuda?
When in Bermuda, we often book at least one excursion that's on the water (usually snorkeling). As much as we like sightseeing by land, there's something about seeing Bermuda by water that's pretty special.
Bermuda catamaran and snorkeling excursions are pretty popular, and definitely on my list of things to do in Bermuda. You can book them through your cruise ship, with tour operators as well as online directly with local vendors in Bermuda.
Whether you do this excursion, or choose another such as a glass bottom boat, sunset catamaran tour, or even a different snorkeling excursion – I highly recommend booking something where you can get out into the waters surrounding this gorgeous island. It's totally worth it!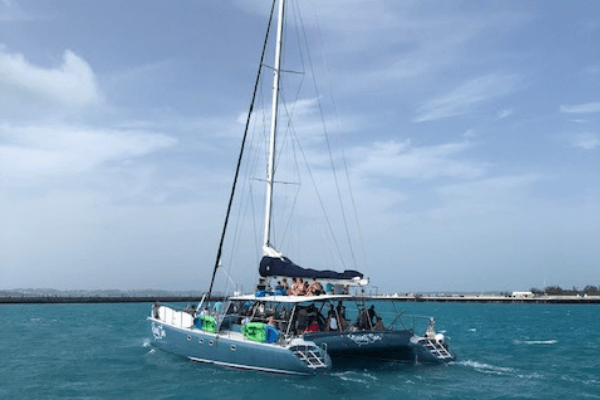 How we booked Rising Son Catamaran Snorkeling Excursion
For this cruise, we booked our excursion directly through Rising Son Cruises, on their website. Something interesting to note, once on board our catamaran, we were with others who were from our cruise ship. I'm not sure if this is always the case, but we were happy to know that this was one of the preferred local tour companies with the cruise line.
About us: Ilana and Frank from Life Well Cruised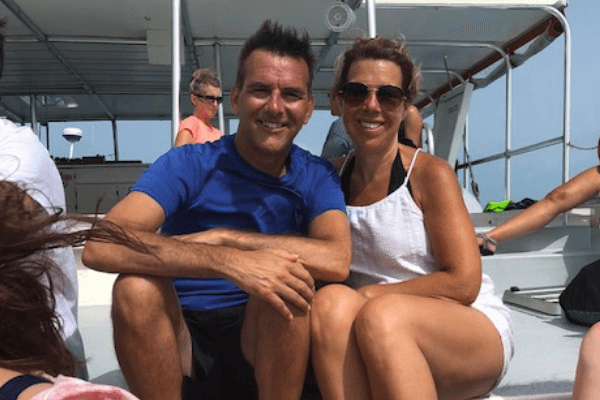 On this cruise, there was myself, my husband, my son, his friend and his Mom. We love Bermuda and have been cruising here since 2007.
Even though we've been to Bermuda 6 times by cruise, we usually book at least one excursion. We've done a couple of other snorkeling excursions in the past, and have enjoyed them. However, if given the chance, we just love to get on a catamaran, sit on the netting, and take it all in.
This time we were looking for a fun excursion with easy snorkeling and were very pleased.
Meeting up for our excursion
We met one of the Rising Son crew members right outside our ship just before 10:00 am for our 3 hour excursion. We then walked over to the dock area right outside our ship, where the catamaran was waiting.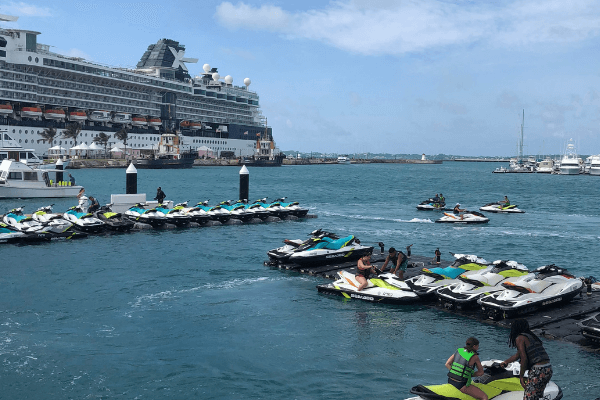 Things we enjoyed about our excursion with Rising Son Cruises
1. Beautiful Catamarans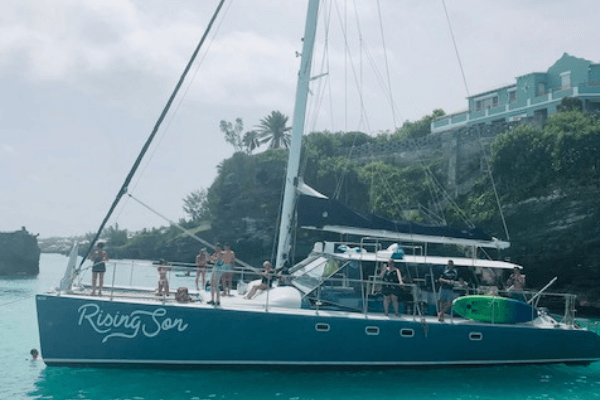 I am a huge fan of catamarans!
There were 2 catamarans, as Rising Son brings in a catamaran from Antigua for the summer season, in order to accommodate more guests. Both were beautiful and we had a great smooth ride over to our snorkeling location, about 20 minutes away.
While we love to sit on the netted area, there was comfortable seating along the sides of the boat, in the shade.
Once anchored in our snorkeling location, Deep Bay and Spanish Cove, the water was so calm. It was a perfect location!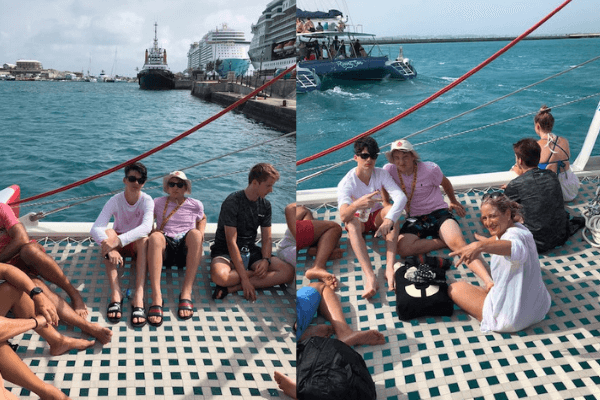 2. Bermuda information and stories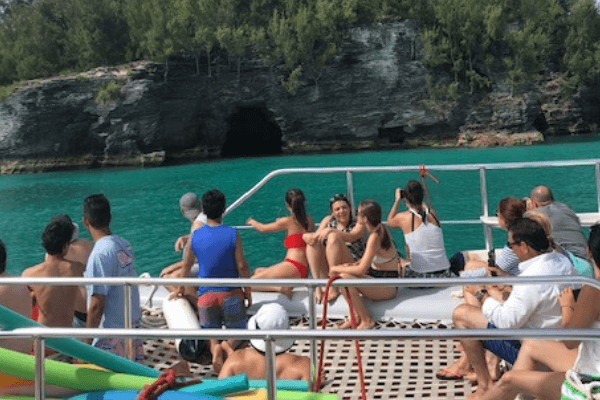 While we wanted a "fun" excursion, we enjoy learning about the places we visit and hearing of some local news. We were pleasantly surprised by the amount of information we were all provided.
Captain Steve, otherwise known as "Squid", told us all some interesting facts we didn't know about Bermuda, as well as some pretty good stories. He even answered a variety of questions from the passengers.
It was entertaining and informative all at once. Big win!
3.Water sports equipment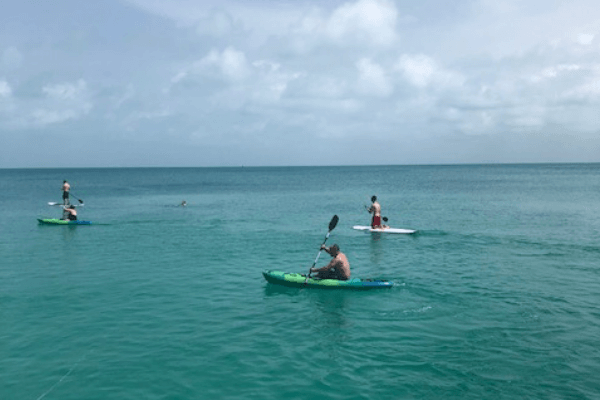 This was such a plus! The catamaran was equipped with tons of pool noodles and some paddle-boards and kayaks. Of course, there was also all the basic snorkeling gear as well.
I'll tell you a little bit about me. I LOVE snorkeling excursions, however I'm not the biggest snorkeling fan.
I'm happy to get in the water and float. So, for me, having a couple of pool noodles and just hanging out in the crystal clear Bermuda water is a perfect time!
My son and his friends enjoyed the paddle-boarding and kayaking. My husband did some snorkeling and liked going into the little cave areas where you could see all sorts of interesting things.
This is my kind of trip, something for everyone!
4. Professional and friendly crew
Our ship's crew were Captain Steve, Micah, Marcus, and Adrian (may he rest in peace). They were all friendly and professional and really took care of their guests.
You could see that the crew really enjoyed their jobs and interacting with those on the excursion. They were also safety conscious, and were monitoring everyone pretty closely.
5. Snorkeling location – Deep Bay and Spanish Point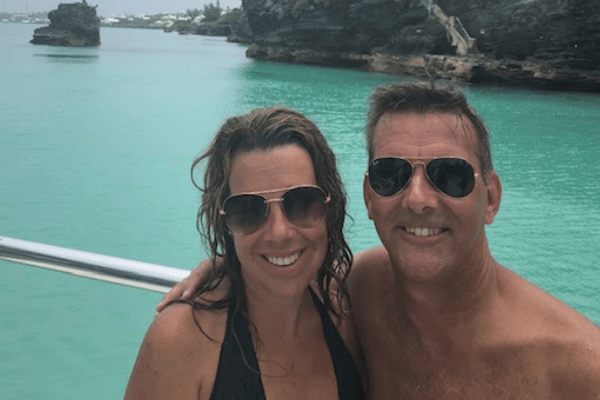 The cove area that we went to was ideal. Even though there were larger boats out there (a bit further away), the cove really insulated us and we benefited from very calm waters.
It was also not especially deep, and there was a small sandy beach area to swim to, for those that wanted. There were small caves around the cove and even a jumping area off a small cliff. Those that wanted to jump, were escorted there by one of the crew.
6. Who doesn't like Rum Swizzles when in Bermuda?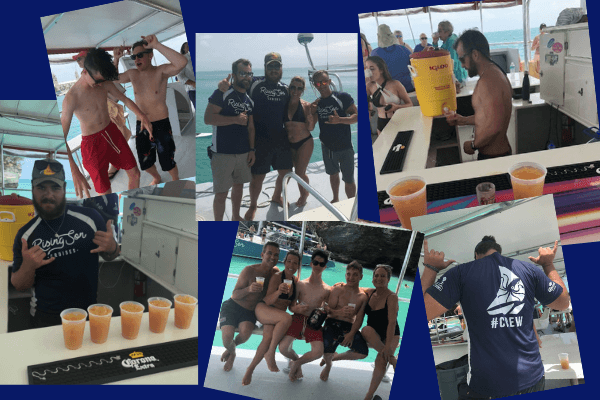 Unlimited Rum Swizzles were provided after the snorkeling part (for safety reasons I think).
If you don't drink or love Rum Swizzles, there was water and juice as well.
I will tell you, they were generous with the Goslings Rum, and we probably had a bit too much fun due to it ;-)!
Note to self, and others – although you can't necessarily taste the rum, it's in there!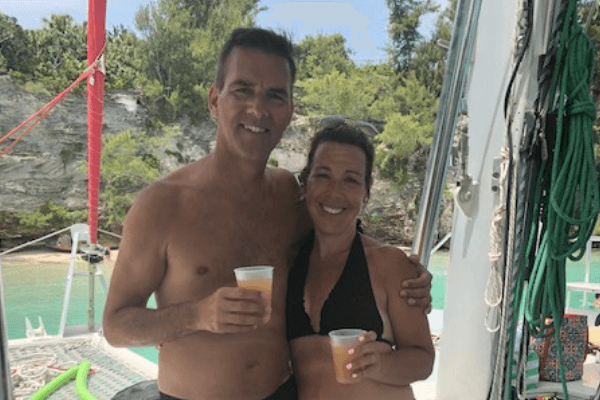 A short anecdote
My friends Rich and Bill, from the podcast Guys Telling Stories, asked me about this excursion, as well as Rum Swizzles during our interview all about The Best of Bermuda for cruisers.
Well, we chatted about where to get the best Rum Swizzle on the island and what ingredients went into this famous Bermuda beverage. It seems everywhere we went the recipe was slightly different. Rich determined that the secret ingredient is LOVE. Lol, I think so.
Would you like to hear that interview? You can listen to it HERE.
7. Fun atmosphere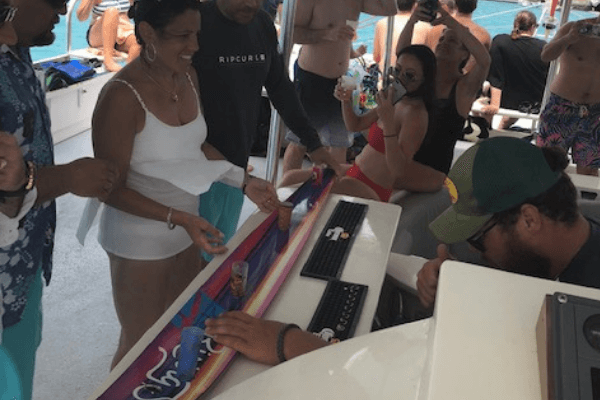 This may depend on the group of people on board, but we had really fun atmosphere with music and dancing on the ride back to Heritage Wharf in Dockyard.
For those that were up for it, there were some shots placed on a sort of small surf board that some people (not me) had a great time with. By the end of our excursion, the crowd was pretty happy.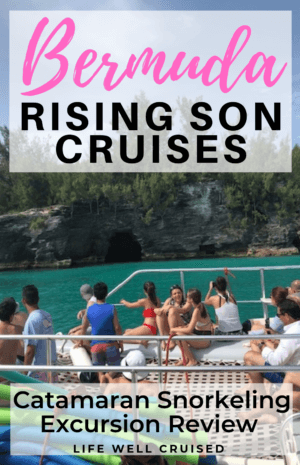 Who is this excursion for?
If you want a good, relaxed excursion that's pretty fun and informative, you'll enjoy this. If you have a group of people or a family where some are more active, while others are less, this is a perfect excursion. It's good for children-seniors and in between.
Who is this excursion not for?
If you're looking for more advanced snorkeling with opportunities to see shipwrecks or a large variety of coral and fish, you'd probably enjoy a different excursion.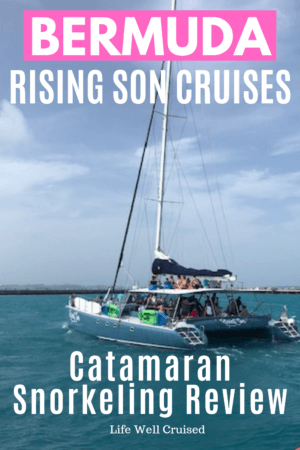 Recap: Bermuda Rising Son Cruises Catamaran Snorkeling Review
We had a great time on our catamaran snorkeling excursion with Rising Son Cruises. This was actually our second time with them over the years, and we wouldn't hesitate to book with them again.
Something to note – we didn't see a lot of fish. To be fair, having snorkeled along reefs in Belize and Bonaire, I'm thinking that this isn't what Bermuda is known for. However, Bermuda's waters are crystal clear and make for a great relaxing day of snorkeling, water sports and Rum Swizzles!
Have you been to Bermuda? Have you done this excursion, and what do you most recommend? Please leave your comment or question below.
Happy Cruising!
Ilana
If you enjoyed this review, please share on Facebook or Pin for later on Pinterest (share buttons at the top of post). Thank You!
Recommended posts:
A Guide to Horseshoe Bay Beach Bermuda (for cruisers)
The Best of Bermuda for cruisers – 16 Top Bermuda Attractions
Cruise Lingo Glossary – Brush up on the cruise vocabulary you need to know
Let's connect:
Follow me on Facebook at Life Well Cruised
Follow me on Pinterest at Life Well Cruised
Follow me on Instagram at Life Well Cruised