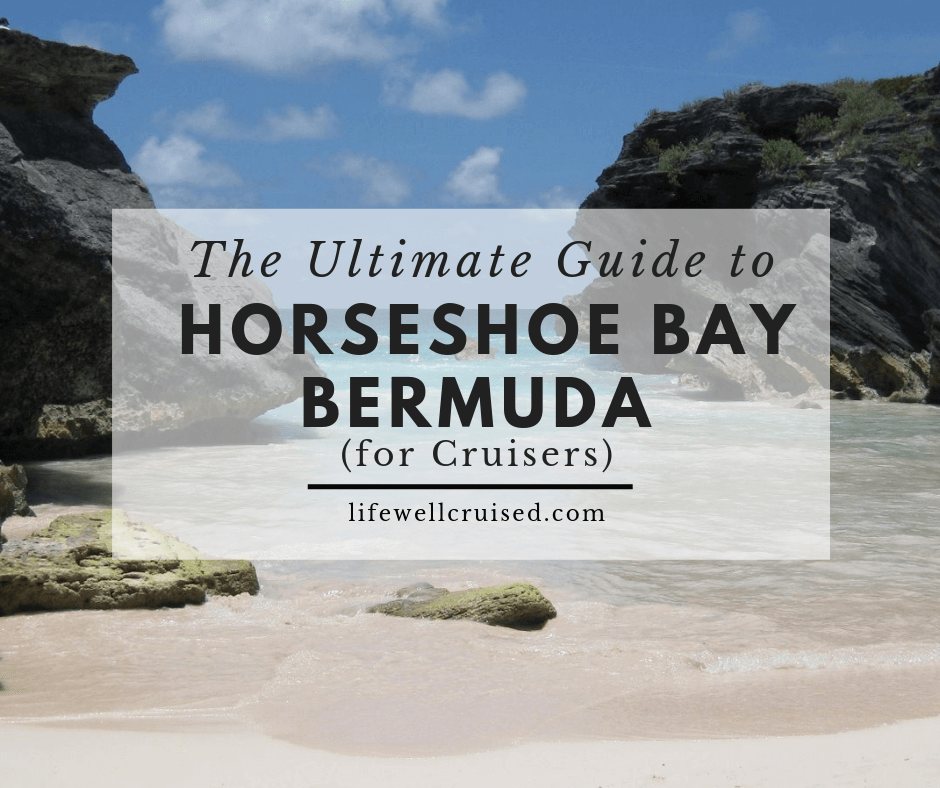 A guide to Horseshoe Bay Bermuda for Cruisers
Horseshoe Bay Beach in Bermuda may be the the most beautiful beach you'll ever see. With its pale pink sand, stunning clear blue water and striking rock formations lining the beach, it's understandable why this free public beach, is so popular with tourists and cruisers visiting Bermuda.
We love Bermuda, and have been here 6 times, so I'll be going through the questions that many people ask and want to know about Horseshoe Bay Beach.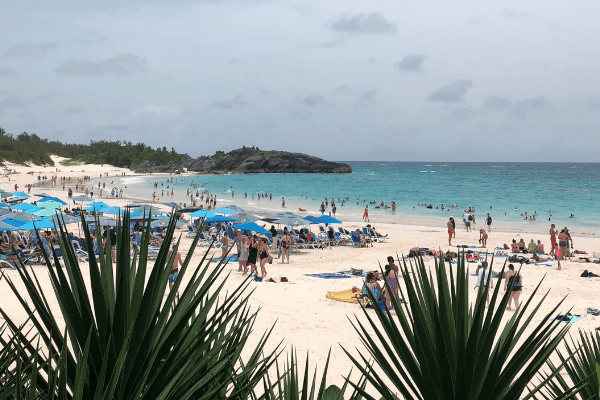 This post contains affiliate links which means if you click and buy that I may make a commission, at no cost to you. Please see my disclosure policy for details.
As an Amazon Associate I earn from qualifying purchases.
Horseshoe Bay Bermuda Tips
How to get to Horseshoe Bay from Dockyard
If you're coming to Bermuda by cruise ship, you'll most likely be docked at the large cruise port, King's Wharf, also known as Dockyard. Over the years, Bermuda's cruise port has built up and it's pretty easy to get from here to many sights and beautiful beaches in Bermuda.
Bermuda Currency Tip
Many people ask about the local currency. The good news is that Bermuda dollars and US dollars are 1:1 and pretty much taken interchangeably. No need to get any Bermudian dollars, unless you want to, as it is pretty.
Transportation options from Dockyard to Horseshoe Bay Beach
There are several ways you can get to Horseshoe Bay Beach, including public bus (which is safe and a great way to travel), scooters and mini electric cars, mini-buses or shuttles or taxis.
The easiest way, in my opinion, is to use the mini-bus/shuttle to get to Horseshoe Beach, or even one of the other, perhaps quieter, beautiful Bermuda beaches that are close by.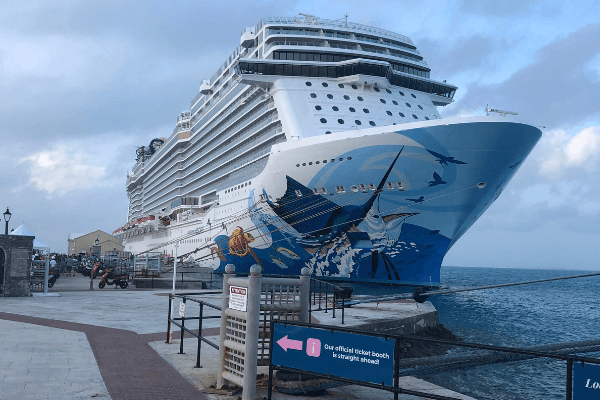 Local Bus
Bus: Bus #7 will drop you off at the road just above the beach. Buses run about every 30 minutes, but do verify the current bus schedule.
Something to keep in mind is that Horseshoe Bay Beach is located at the bottom of a fairly steep hill. We've gone by bus several years ago and it was fine for us. However, for some with mobility issues, or anyone who is tired at the end of the day (us!!), other options may just be more convenient.
One way fares/tokens are $4.50.
Tip: Bus and ferry passes are available right in dockyard. If you're there for 2 or 3 days, consider a multi-day pass.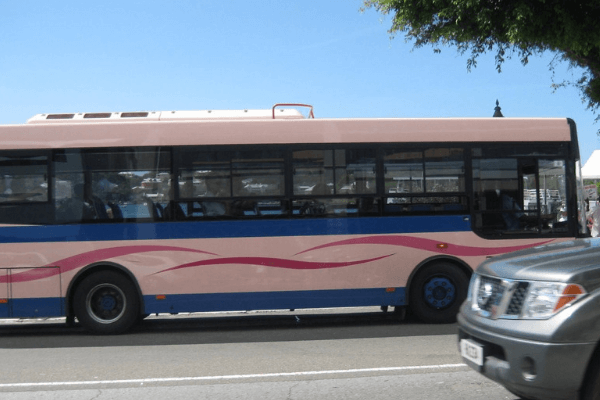 Mini-buses/shuttle
I recommend heading over to Horseshoe Bay by mini-bus. These are actually van style shuttles that fit about 15 people per ride. There will be several right in Dockyard close by to your cruise ship.
Something to keep in mind is that they will wait and fill up the shuttle. In our case, we've always gone when it's been busy, so we've only waited 5-10 minutes. However, if you go on a less busy day, a taxi might be a better option if you're pressed for time.
These shuttles will bring you all the way down the road to the beach. There will be several vans lined up to take you back to the cruise port, so no need to worry.
Fare is 7$ per way.
Tip: If you like some Bermuda commentary, sit up close to the front near the driver. We've been lucky at times where we've had almost a mini tour with tons of great local Bermuda information.
Other transportation options include renting a scooter or electric car.
Renting an electric car is something new this year, as far as I can see, so I welcome any information if you've done it. Unfortunately almost every time we've been to Bermuda, we've heard of a horrific scooter accident often involving cruisers. For that reason, I would stay away from this.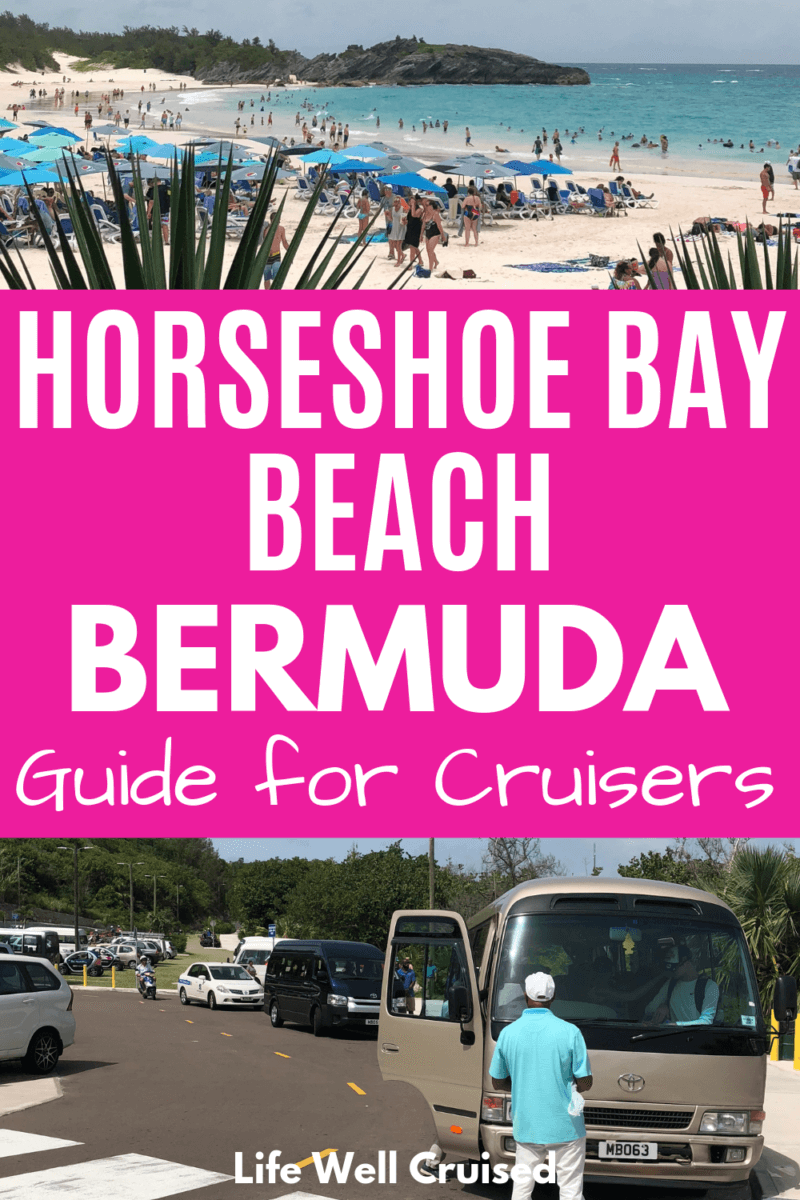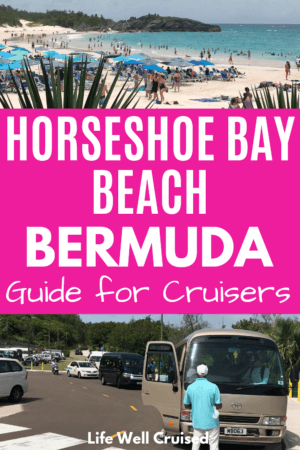 Facilities at Horseshoe Beach
There are ladies and men's washrooms to the right when you enter the beach. They are clean but not fancy (it is a public beach). There are some "foot" showers on the outside and the shuttle drivers will appreciate you getting the sand off your feet before you get in.
What can you eat or drink Horseshoe Bay Beach?
There is a very casual restaurant on your right as you enter the beach area. It has American style foods such as burgers and hot dogs made on a grill, and chicken nuggets. They also had some jerk chicken.
There's a bit of seating inside and some picnic tables nearby, as well as a little patio area right in back where you can sit and eat.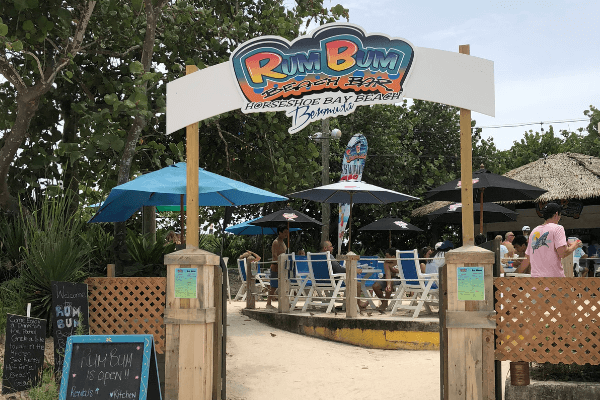 Rum Bum Beach Bar
If you've been wondering, "Where I can get a Rum Swizzle?", you can get one here.
Although it was 10$ and served in a large plastic cup, it was SO GOOD! I'm a fan of Rum Swizzles and in Bermuda, why not?
If you're feeling like a beer or frozen cocktail, they have these too. People were pretty happy with the margaritas too.
Do you know what was really nice about the Rum Bum Beach Bar? They had live musical entertainment. There was a very talented local steel band player that provided just the right atmosphere. I suggest you take a short beach break and check it out.
Horseshoe Beach Chair Rentals
We've actually never rented chairs while at Horseshoe Bay, as the sand is very soft and clean, however loungers and umbrellas are available to rent.
The price for rentals was $22 per lounger an $15 for an umbrella when we went. A set of 2 loungers and an umbrella is $50.
The people who work on the beach are very courteous and will set them up for you where you'd like to sit.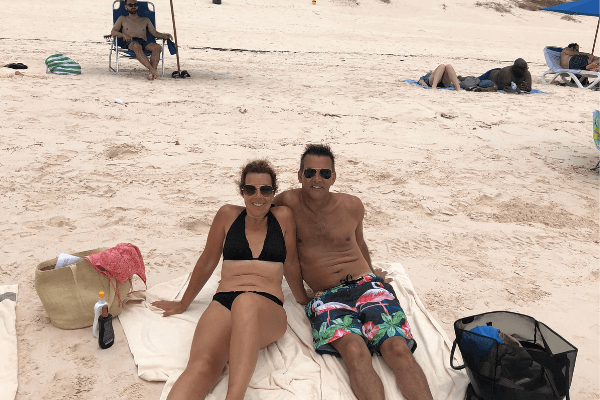 Other Beach Rentals
Other beach rentals include a tent, boogie board and snorkel equipment.
Tip: Consider bringing your own snorkel gear from home.
About Horseshoe Beach
When you arrive at Horseshoe Bay Beach, if you're there with a cruise ship, you may find that it's quite crowded. However, there are spots and hideaways where you can get away from the crowds if you want to.
The main part of the beach, to your left as you enter, will be a good stretch of sand, in sort of a horseshoe shape. The water can be a bit wavy in this area, but usually not overly so. Most people will sit within this area.
Hidden gem: Our preference is to walk all the way to the left, past the first couple of rock formations. It can be a good idea to bring mesh water shoes if you have them, as you may be walking into a foot or two of water to get around to the best spots.
There are a couple more secluded beaches just after the first set of two of rocks. There are even some small caves and large rocks you can climb. It's truly stunning.
Tip: If you want gorgeous, "Instagrammable"photos, this is where you need to go!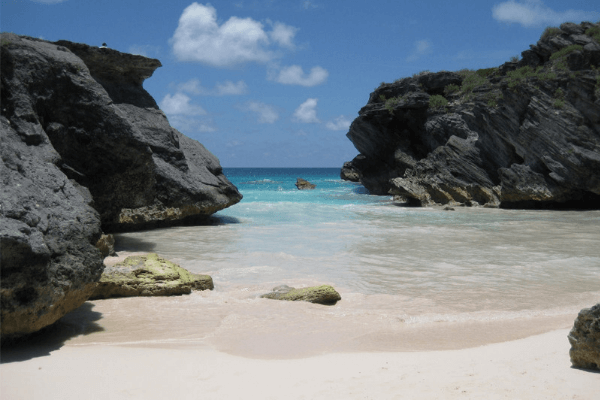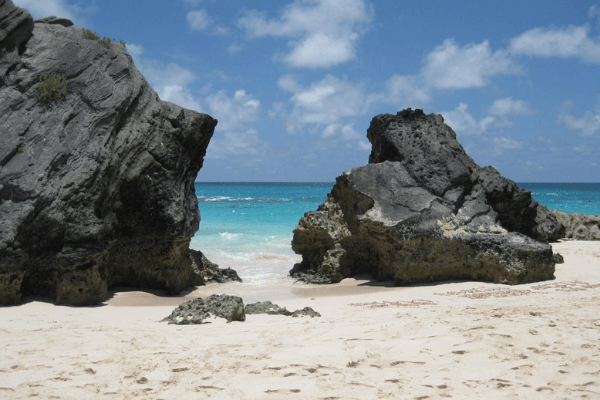 Horseshoe Bay Cove or Baby Beach
Rather than heading left, if you like much calmer water, you'll probably enjoy Baby Beach or Horseshoe Bay Cove, to the right when you get to the beach.
This is a great area if you have children, if you want to snorkel, or if you prefer shallower and calmer waters. This part of Horseshoe Beach is shielded from the rest of the beach and by several rocks lining the cove.
We've seen small fish swim around us and little crabs climbing on the rocks. It's a really nice spot to do some snorkeling.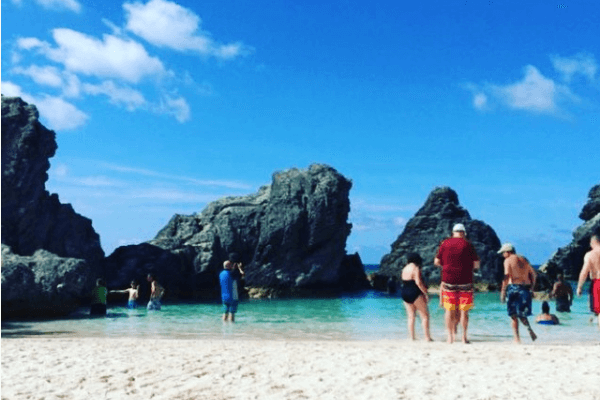 Is there a lifeguard at Horseshoe Beach?
Yes, Horseshoe Bay Beach is one of the only public beaches in Bermuda that has a lifeguard, at least during high season.
Is the Bermuda sand really pink?
I wondered this myself when we first visited Bermuda a few years ago. Let me tell you, all photos in this post are mine and unfiltered.
Yes, the sand is pink.
However, it is a a hue between blush pink and peachy pink and it's subtle. I've noticed it's more apparent on sunnier days rather than overcast, which seems true of all colors (they appear brighter with sunlight).
My understanding as to why Bermuda's beaches have pink sand is that there are tiny organisms called red foraminidera that live under coral reefs. When they die, their shells get washed to the shoreline and mix with the sand and tiny and all together it creates that gorgeous pale pink color Bermuda is famous for!
Horseshoe Bay and Warwick Long Bay are said to have the "pinkest" beaches in Bermuda.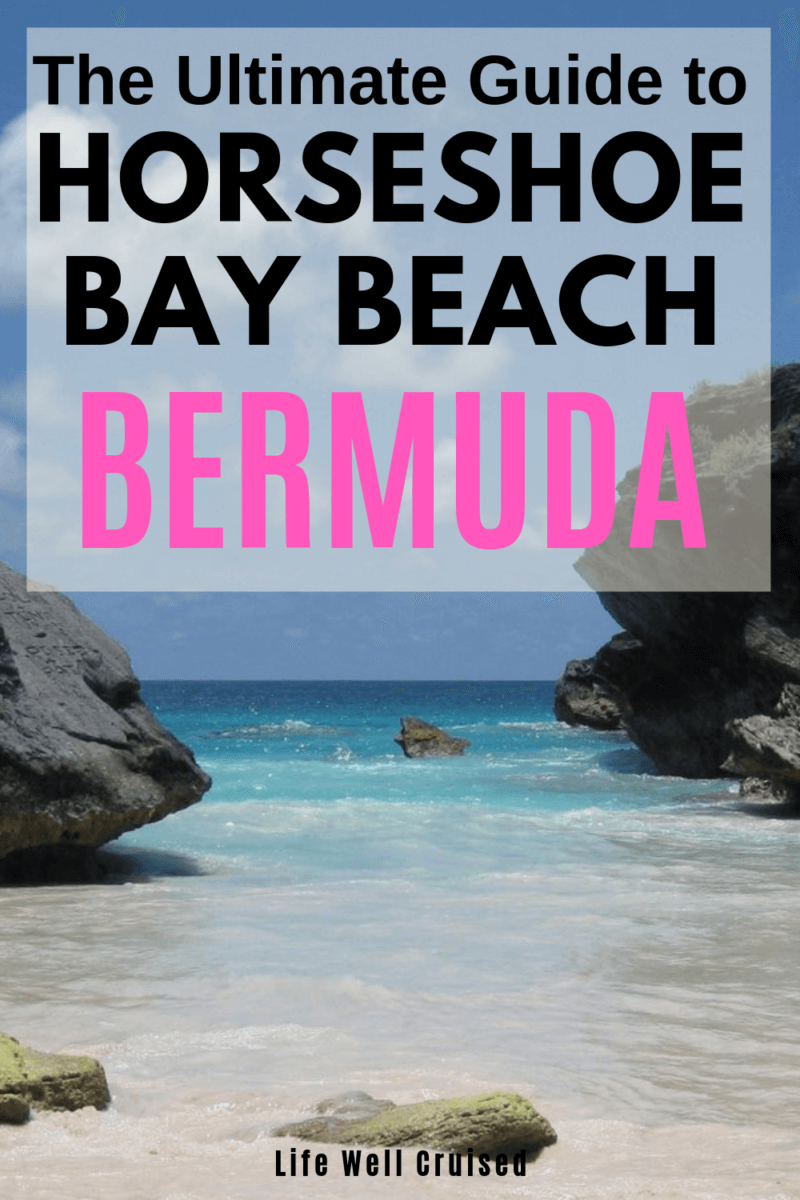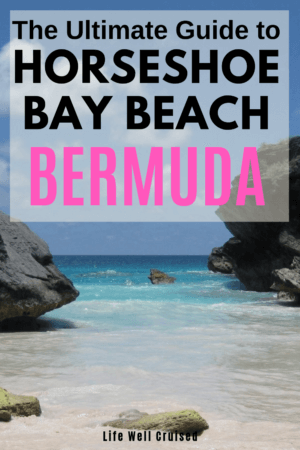 Recap: The Ultimate Guide to Horseshoe Bay Beach Bermuda
Bermuda's Horseshoe Bay Beach is really popular for good reason. It's so beautiful, has good facilities and is easily accessible from Dockyard by several modes of transportation. Even after visiting Bermuda by cruise several times, it's still a favorite for us!
I hope that I've answered any questions you might have about Horseshoe Bay Beach. If you have others I haven't addressed, please ask them in the comments below.
Want even more Bermuda information for cruisers (see links below)?
If you are in Bermuda for 2 or 3 days, you've got lots of time to explore. As a matter of fact, even though we've been a few times, we still have so much more to see and do!
Read this popular post: 16 Top Bermuda Attractions Cruisers Will Love
Check out this podcast: 48 Hours in Bermuda (a Cruiser's perspective) with Guys Telling Stories and Ilana from Life Well Cruised.
Have you been to Horseshoe Beach? What did you like best?
Happy Cruising!
Ilana
P.S. If you've found this post helpful, please share it with others on Facebook or save it for later on Pinterest (share buttons at the top).
Popular cruise related posts you may enjoy:
30 Cruise Cabin Hacks Every Cruiser Needs to Know
15 Cruise Embarkation Day Tips Straight from the Pros
25 most recommended Amazon Items to Bring on a cruise
Let's connect:
Follow me on Facebook at Life Well Cruised
Follow me on Pinterest at Life Well Cruised
Follow me on Instagram at Life Well Cruised