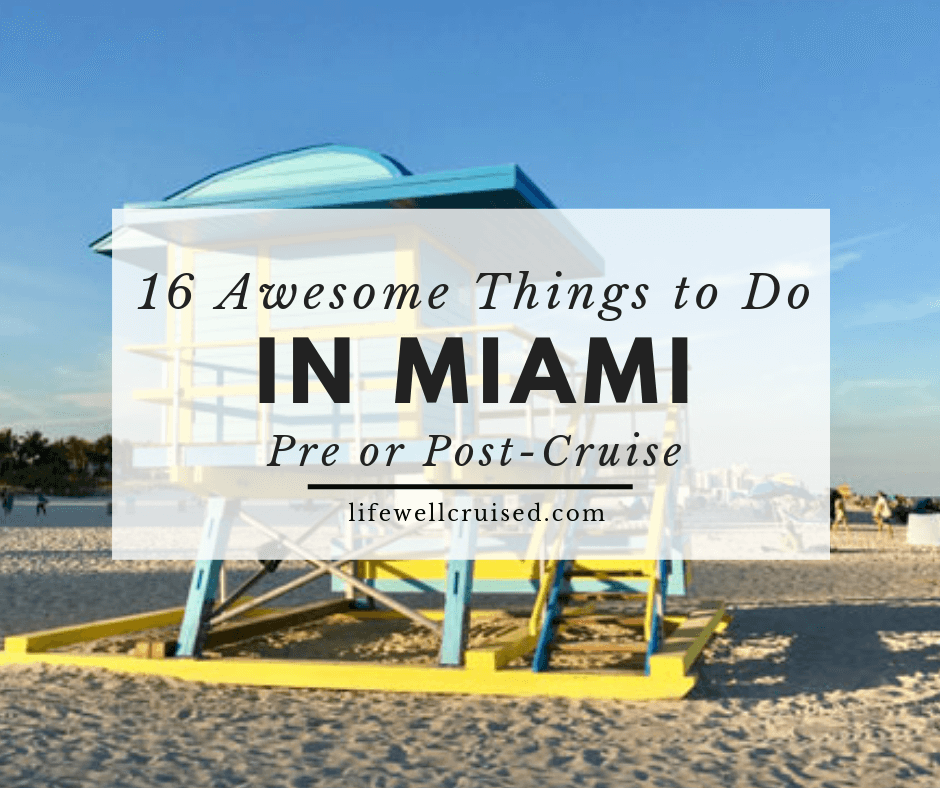 Best activities to do in Miami when you're visiting before or after your cruise
One of the best things about cruising out of South Florida, is the opportunity to visit the vibrant city of Miami. So I'm thrilled that Miami based blogger, Roslie from Coastlines to Skylines, has offered to share her best Miami tips, from a local's perspective.
16 Fabulous Things to do and see in Miami, from a local expert
Miami, Florida: Cruise capital of the world
With its stately white cruise ships gliding in and out of PortMiami all day, its no wonder Miami, Florida has earned the reputation of "cruise capital of the world." Being the largest passenger port worldwide, it's a place where thousands of cruise ship guests stop in the city, whether it's for a couple of hours or a few days.
Follow advice from both travel experts and avid cruisers and plan on arriving at least one day before your cruise.and therefore have some time to explore the beautiful city. You may also want to hang out a day or two after your cruise and visit Miami.
There are tons of things you can do that will still give you a taste of the culture, spirit and heritage of Miami, whether it's an authentic Latin-style dinner and a stroll through the vibrant city center or a day spent amongst the warm turquoise waves of South Beach. Whatever you decide your options are plentiful.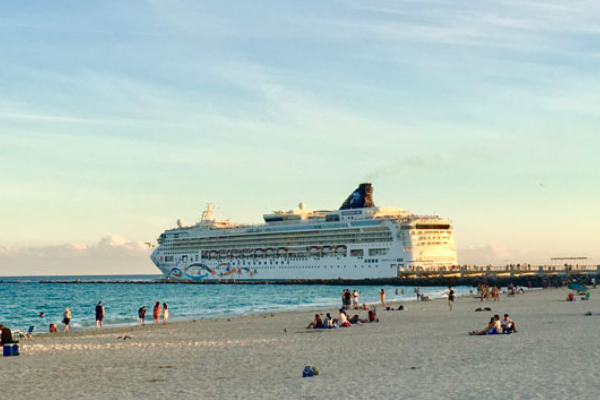 How to Get Around Miami Before Your Cruise
One great bonus of the port being so close to downtown Miami is that you have plenty of options to get around easily – and for free in some instances. Hop on and off the free trolley that circles some of downtown's major sites, or take advantage of the free Metro Mover, which connects to many major destinations as well. Other Miami transportation options include:
Metrorail

– The Metrorail is an above-ground light-rail train that connects outer suburbs like Coral Gables, Coconut Grove and the Miami airport to the downtown area. A little bit of careful planning maybe require for sightseeing locations, but an option. Metrorail fares are $2.25 and run until midnight seven days a week.

Metrobus

– The Miami-Dade County public transit bus system connecting many of Miami's neighborhoods and main shopping, entertainment, and tourist destinations.

Rental Car

– Having a car is the most reliable and convenient way to get around Miami. It's a practical option especially if you're planning to visit several neighborhoods, or taking any side trips. Be forewarned, Miami drivers are known to be a bit aggressive, and traffic can be a gridlock nightmare. If you do rent a car, I recommend getting a SunPass to cover the tolls, as they can add up rather quickly.

Taxis

– Taxis are abundant in Miami, but like many cities, the cost can begin to add to the budget especially after a few rides through the city. If this is your preferred option be ready to call for a taxi lieu of flagging down.

Ride-Shares

– Depending on your time constraints and needs, ride-shares such as Lyft and Uber are always a popular option. If you plan to explore near primarily Downtown Miami or Miami Beach, I recommend ditching the rental car and sticking with a ride-sharing service. In many cases, the ride will cost less than parking. Just be sure to download the service app in advance.

Citi Bike

– A public bike-sharing (rental) service available through hourly rental or via the Bike Share Membership program.
Here are some of the most popular things to do while in Miami:
Greater Miami is a sprawling region, and whether you're planning to visit the outer areas or sticking to Miami's central pockets, the Port of Miami is close to several of the area's major attractions. Here some of my recommendations for exploring Miami with limited time.
Trendy Things to do in Miami
1. Miami Beach and South Beach
For the quintessential upscale Miami experience, head across the causeway over to the barrier island known as Miami Beach and into South Beach. Aside from long boardwalks and polished white sand warmed by the Atlantic waters, you'll find luxury shops, restaurants, bars, and glittering nightlife in this part of the city, surrounded by well-preserved art deco architecture.
For shopping and dining experience on South Beach, stroll along the mile-long, pedestrian-friendly Lincoln Road, an upscale open-air strip with designer boutiques, high-end art galleries, eateries, and bars.
A few blocks south of Lincoln Road, you can't miss Espanola Way, a picturesque and warm, old-world charm lined with boutiques and sidewalk cafes, an area you will find serene and yet exciting. From pasta to Cuban cuisine to crepes, you will be tempted around every corner to taste just one more bite.
While exciting and entertaining, beware South Beach is the major hotspot in the city, that doesn't come cheap. Parking in itself can be problematic as it's limited to the street, municipality parking, or hotel valet parking.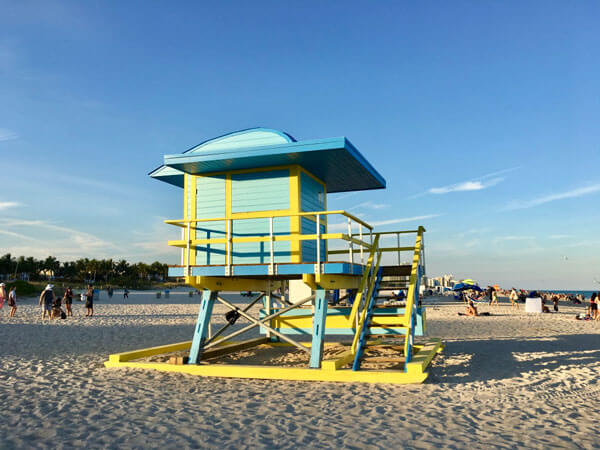 2. Ocean Drive
If you have access to a car, you may consider cruising along Ocean Drive; the main stretched between the Art Deco buildings and the palm tree-lined Atlantic coast. It starts just south of 1st Street almost right on the Atlantic Ocean and goes north to 15th Street. Along the iconic road, you'll find luxury cars, ocean side restaurants, trendy boutiques, and pastel-colored Art Deco buildings, many of which have been featured in films and on television.
Be warned: Ocean Drive is almost always crowded and traffic is practically a crawl along the entire stretch. Take an alternate route if you're press for time, but at just 1.3 miles long, it's easily walkable and my preferred method of taking in the glitz of Ocean Drive.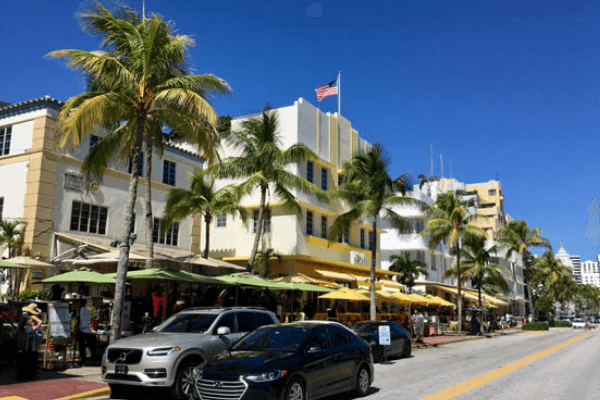 3. Lummus Park and South Point Park
What is a visit to the Miami area without checking out the beach? While on South Beach, you're unlikely to miss the palm tree-lined Lummus Park along the Atlantic Ocean but make sure to seek out the less visible South Point Park as well. They are both urban parks spanning the coastline offering public beach access, striking ocean views and expansive boardwalks under a canopy of leafy palms.
South Point Park, with its ocean-themed children's playground, stretches right out to the very tip of Miami Beach, with an impressive panoramic view of the city and coastline. Spend the day strolling or biking along the sandy shores, or relaxing with the family while enjoying the (hot) Miami sun and warm, blue ocean waters.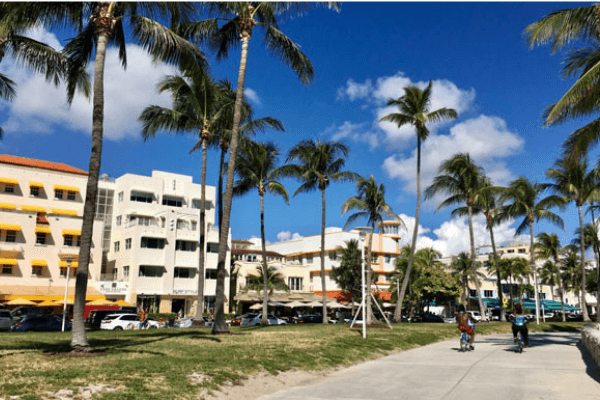 4. Miami Art Deco Walking Tour
Want to learn more about the concentration of Art Deco buildings found along Ocean Drive and Collins Avenue? Catch a Miami Design Preservation League Art Deco tour, a guided two-hour walking tour that provides a meandering look at the culture and architecture – of the more than 800 Art Deco buildings – within the Miami Beach Architectural Historic District.
Enjoy the experience as only it can be felt, by walking along the grounds and into some of the most unique structures in the district including the iconic Colony Theatre, and Casa Casuarina, the former Versace mansion. I've twice participated in this tour and both times left feeling more informed with the historical anecdotes shared by the knowledgeable and engaging guides.
The daily tours begin at the Art Deco Museum and Welcome Center, 1001 Ocean Drive, departing at 10:30 a.m., with a second tour on Thursdays at 6:30 p.m. If you prefer to explore at your own pace, self-guided audio tours are available during the Welcome Center's open hours. At 90-minutes they are perfectly scheduled for you to catch an early tour, then head to the port just in time for embarkation.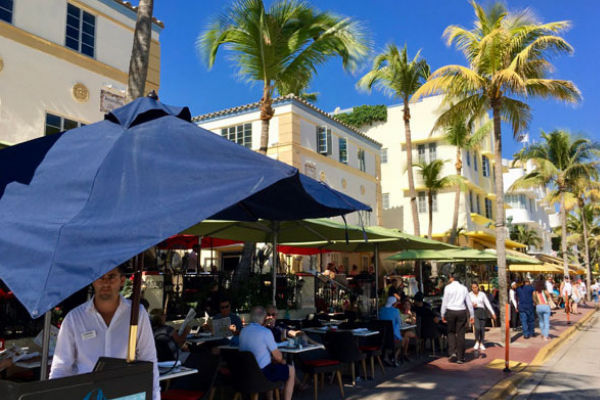 Things to Do for Families in Miami
5. Miami Children's Museum
If you have little ones in tow, you'll be happy to know that the Miami Children's Museum is just minutes away from the port, designed to inspire kids' imaginations, this museum is chock full of interactive exhibits, programs and stations that showcase arts, culture and community. From the "Pet Central" station, where kids get to try their hand at being a vet, to a mock fire station, your kids will learn and be entertained for hours. Admission is Free on the third Friday of each month from 4 to 8 p.m.
6. Vizcaya Museum and Gardens
Situated along the shoreline of Biscayne Bay, Coconut Grove is one of Miami's most historic neighborhoods. Leafy and quaint, it's perfect for strolling or grabbing a coffee at one of the sidewalk cafes. Here you'll also find the landmark Vizcaya Museum and Gardens.
If you only make one stop in Coconut Grove, make it this one. Once the lavish home of prominent Miami businessman, James Deering, this sprawling European-style villa now functions as a museum (and popular event venue) with beautifully manicured gardens and delicately preserved buildings designed in the Mediterranean Revival Art Deco style.
There's so much to admire here: stunning architecture with old world craftsmanship, artistry, reflection pools, fountains, and amazing bay views – a must see in Miami!
You can stroll through the home and gardens at your leisure, but I recommend opting for the audio or guided tour for historical context. Run your hands over the ancient marble, stroll through the stunning grounds, feel the warm sun on your shoulders and step back in time.
Free Things to Do in Miami (before and after your cruise)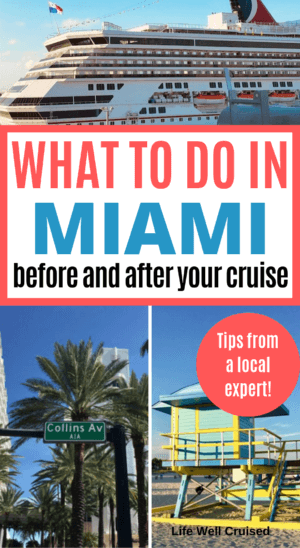 7. Wynwood Art District
If you love artsy neighborhoods, a stop in Wynwood is an absolute must. A short trip north of downtown Miami, this pocket is known for its colorful murals and outdoor art exhibits, known as the Wynwood Walls.
A former industrial neighborhood, its many warehouses have been converted into art galleries, boutiques, craft breweries, and bustling restaurants. Within blocks of each other, you can check out various cool murals, dine at a newly found taco joint, shop for souvenirs, and pick up a local brew. Wynwood is an epic display of creativity; if you're big on the arts culture, this neighborhood is an absolute must.
If your cruise happens to coincide with the second Saturday of the month, I highly recommend you catch the Wynwood Art Walk, a lively street party featuring galleries opening to the public, live music, vendors, and gourmet food trucks. It's one of the many exciting free things to do in Miami – and a great way to explore this vibrant area.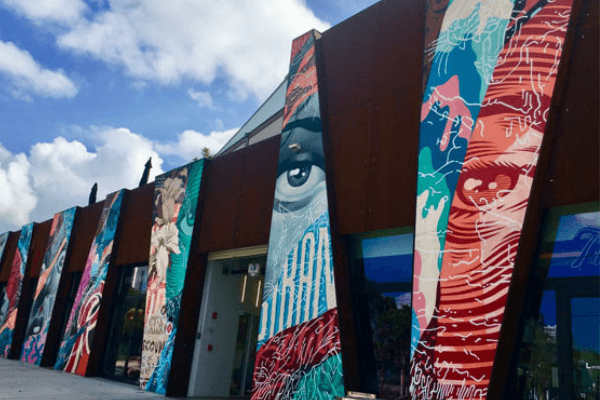 8. Bayfront Park
This massive urban park hugs the shoreline of Biscayne Bay and is a great way to view the dazzling waterfront, as well as a major gathering place. It's a 32 acres picturesque urban greenspace ideal place for a stroll, picnic or just sitting and appreciating the views while awaiting your cruise.
9. Miami's Little Havana
Steeped in history, Little Havana is an authentic homage to the Cuban influence in Miami. From Cuban coffee shops to Latin American art galleries and Maximo Gomez Park, where you'll find locals having lively debates over games of dominoes, this neighborhood is exciting, vibrant and unique. A stop at CubaOcho, which boasts the city's most extensive collection of Cuban art, is a must. And at night, be sure to check out some of the Latin clubs.
Try your hand at free salsa lessons at neighborhood mainstay, Ball and Chain. Looking to give your taste buds a try at authentic Cuban fare, this is your neighborhood!
If your dates find you in town on the third Friday (night) of the month, you're in for a special treat. Aim for a stop in Little Havana for Viernes Culturales (Cultural Fridays), a monthly street festival on Calle Ocho, showcasing art, music, food, and Latin culture.
Take a leisurely walk along the vibrant street, stop by a local cigar shop and watch them hand roll Cuban Cigars, visit the art galleries, stroll along the Walk of the Stars honoring Latin star like the Queen of Salsa, Celia Cruz, or Gloria Estefan, or try your best salsa move from the blaring music on the street. There is something here for everyone! And even if your travel dates don't line up, Little Havana – and the unforgettable Calle Ocho – is worth a visit.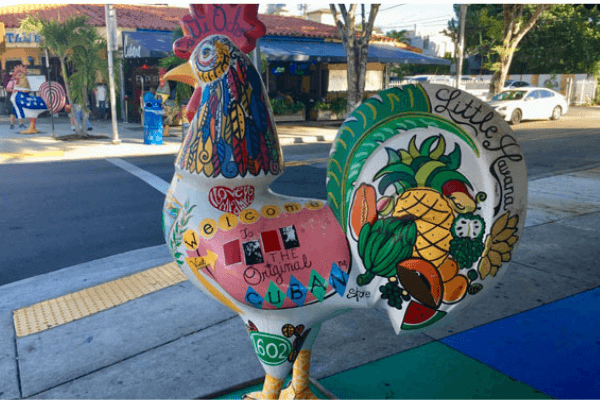 Things to do for Adults in Miami
10. History Miami
Are you a museum buff? Downtown Miami is home to this gem, an institution dedicated to gathering, preserving and celebrating Miami's colorful history. From iconic community photography to the history of Miami International Airport, this place is one of the best if you want to understand Miami's strong, historical roots.
11. Wynwood Brewing Company
After a long day of tours or beaching, what could be sweeter than a good cold fermented hoppiness in an ice-cold glass? Just take your over 21 self to Miami's first craft brewer, Wynwood Brewing, where you can sample such enticing beers as Pop's Porter, La Rubia or a seasonal special. Frankly, I'm more of a cider girl with the pineapple flavor being my favorite, but the staff is excellent at making recommendations based on your preference.
With a local feel, the Family ran, Wynwood Brewing has a cool homey vibe with plenty of nostalgic board games to keep you entertained while sipping on some cold brews. Tours are available of the brewing process and ending in the taproom.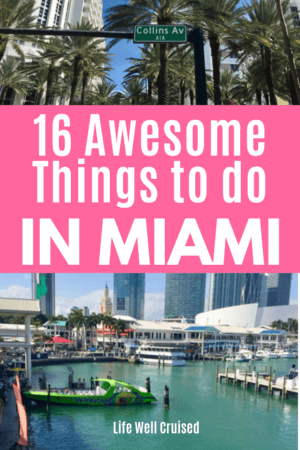 Things to Do Near the Port of Miami (PortMiami)
12. The Freedom Tower
Located on the downtown campus of Miami Dade College, The Freedom Tower is now a contemporary art museum. The Tower was built in 1925 like the Giralda Cathedral Bell Tower in Seville, Spain, as newspaper headquarters for The Miami News. Later was used by the federal government as the primary processing point for Cubans seeking exile from their native land. Now a Historic National Landmark, this is a "must see" for its architecture and historical value.
Located directly across from the American Airlines area and Port of Miami Bridge, it is accessible by the MetroMover Freedom Tower Station on the Omni loop. If your cruise happens to coincide with the last Sunday of the month, admission is free from 1:00 to 6:00 p.m.
13. Bayside Marketplace
If you want to stay close to the port, and appreciate a quintessential Floridian waterfront shopping and dining experience, check out Bayside Marketplace. This casual open-air shopping center encircled by Biscayne Bay and the city's main marina is within view of several downtown Miami landmarks including the Port of Miami Bridge, American Airlines Arena (home to the Miami Heat basketball team), and the Freedom Tower.
You'll find a variety of shops and restaurants at the Marketplace, including traditional chain restaurants, artisan stalls along with daily live music performances. Many private charter boats and tours boat leave from the docks here, so it's your opportunity to spend an afternoon jetting along the bay seeing the Miami skyline from another perspective.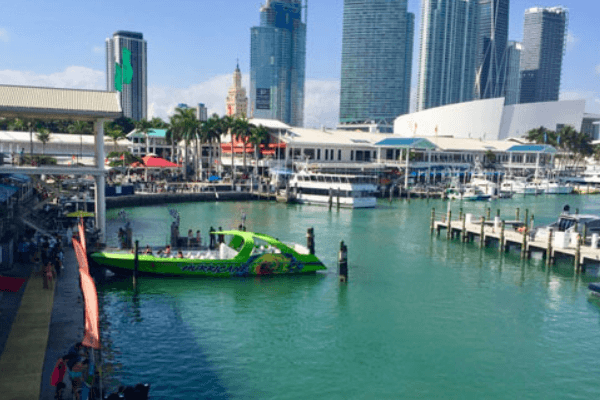 14. Museum Park
Spanning 30 acres, this waterfront park holds the Phillip and Patricia Frost Museum of Science and the Perez Art Museum Miami. If you're looking for a low key sit by the water and take in the views before embarking your cruise type of day, this is your spot.
A museum admission ticket isn't required to access to the park or remarkably relaxing and stunning exterior outdoor space. Lounge on the lovely funky outdoor patio swing seats, stroll along the bay, or pack a picnic and take in the extraordinary beauty of the unobstructed Biscayne Bay and Downtown Miami views. Let out your inner child and check out the quirky interactive outdoor blue string exhibit for the perfect photo op.
At $8 for the first hour, and $4 each additional hour, parking is expensive even by Miami standards. Thankfully the museum and park are directly served by the free Metromover (Museum Park Station) and are within easy access walk across the street.
Off-the-Beaten-Path Things to Do in Miami (pre and post cruise)
15. The Everglades
Almost no trip to South Florida is complete without a trip to the famous Everglades. Expect to drive about an hour (from Downtown Miami) to get there (you can rent a car or book a tour), but the drive is worth it.
The rich, subtropical ecosystem of the Everglades includes vast marshland, pine grove forests and more. You can walk, bike or catch an air-boat ride through the Sawgrass prairies. Hang out at the Alligator Farm, catch an alligator feeding, a guided wilderness tour, or my favorite, bike the infamous Shark Valley Loop! The opportunities are varied, but whatever you decide, be prepared for the mosquitos, sun and Florida heat.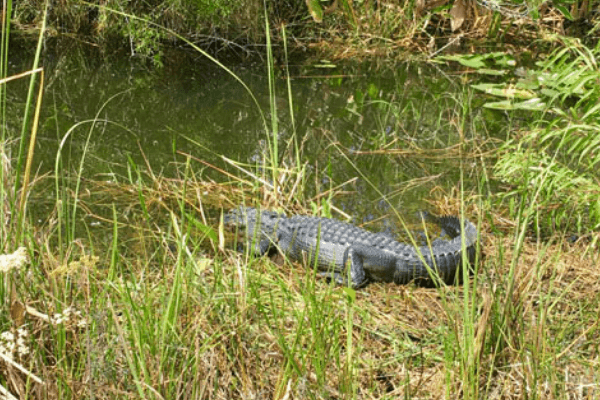 16. The Ancient Spanish Monastery
The oldest European-built structure in the Western Hemisphere, the monastery is a sacred place with stunning stone architecture and lush grounds. Initially built in Spain in the 12th century, it was dismantled stone by stone, shipped to the USA and reassembled here.
They still offer church services, which is open to anyone, and the location is a popular place for photo shoots and private events. Guided tours are available on Saturdays and Sundays beginning at 1 p.m. If you have any interest in history, architecture, or art, it's worth a stop, but a car will be required.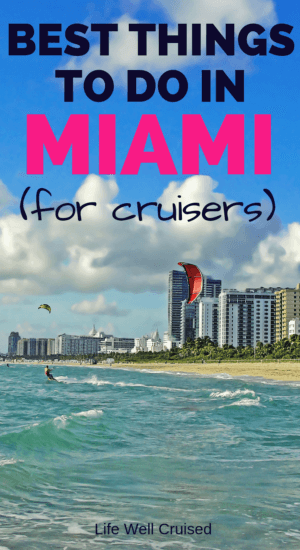 Recap: 16 Awesome Things to Do in Miami (before or after your cruise)
As you can see, Miami makes a great place for cruise layover. Whether you're around for a few hours or a few days, there's so much to experience, and much of it is within minutes of the port.
Whether you're into museum-hopping, luxuriating in the warm Atlantic waters or scouring the city for the best Cuban sandwich, there's something here for everyone!
P.S. If you found this post helpful, please don't keep it to yourself. Please share on Facebook or save for later on Pinterest (share buttons at the top). Thanks so much!
Guest post Bio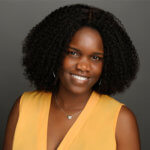 Roslie is a Miami based travel enthusiast, and founder of "Coastlines to Skylines", a travel blog dedicated to showcasing Florida's cultural gems. An avid traveler – having been to over 30 countries – with an extensive backround in the tourism industry, she knows the transformative power of travel. Having called Miami home for almost 3 decades, she focuses on spotlighting Florida's cultural variety (what to see, eat and do) with tips and resources for exploring the Sunshine State..
You can also follow Roslie's ensuing adventures on Instagram and Facebook!
Words from Ilana
Thanks Roslie for the truly awesome guide to Miami activities, and the great tips. I can't wait to get back to Miami and visit a couple of places I've not yet been!
Have you been to Miami? What are your favorite things to do or see?
Happy Cruising!!
Ilana
Popular Posts:
15 Cruise Embarkation Day Tips Straight from the Pros
How to Pack Light for a Cruise