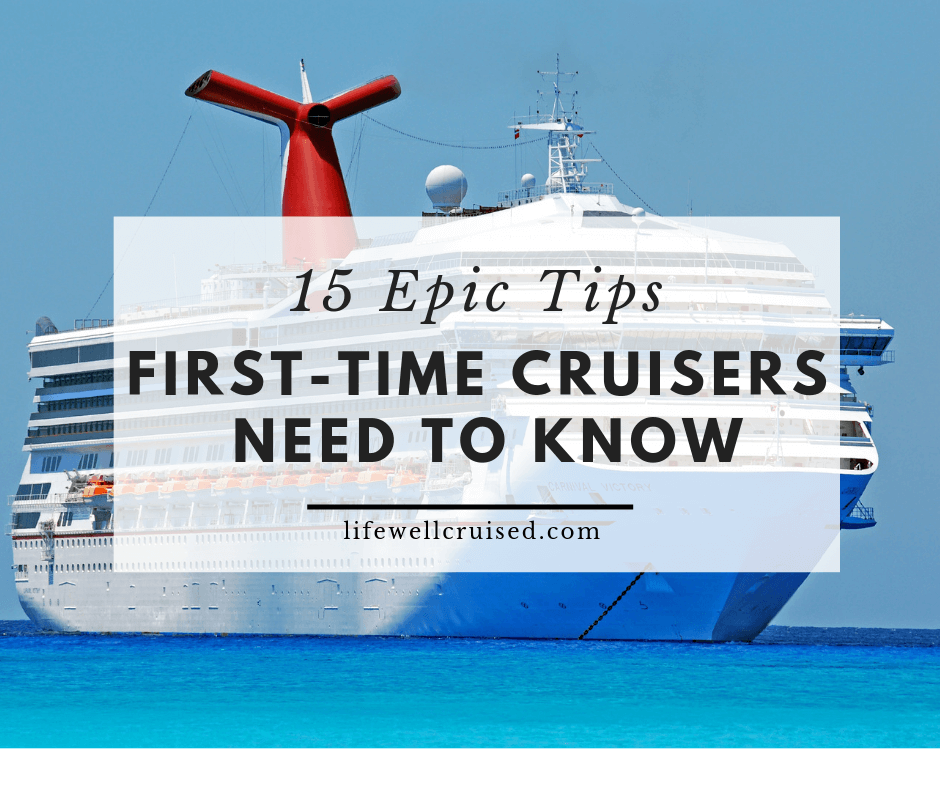 If you're cruising for the first time, these are the most important tips to know before you set sail
If you've just booked your cruise, you may be wondering, "what's next? How do I plan for my cruise and what do I need to know?"
We'll go through 15 essential tips first-time cruisers need to know – to help you be totally prepared for your first cruise.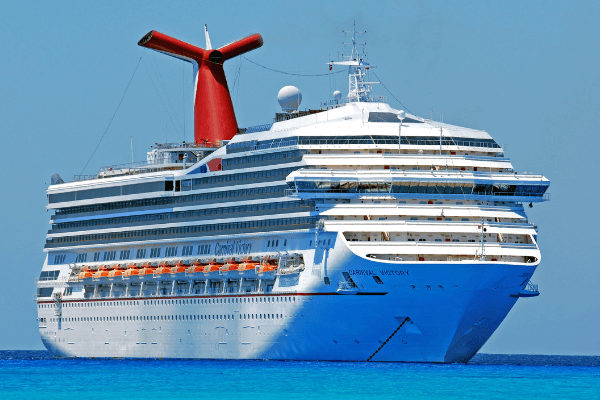 This post may contain affiliate links. Please see my full disclosure policy for details.
1.Arrive the day before your cruise
If you're flying into your cruise port, or even if you're driving more than a couple of hours, plan on arriving at least a day ahead.
There are 2 reasons you should do this.
Firstly, the fact is that anything can happen. Winter storms and mechanical reasons have kept planes from taking off, resulting in many travelers who miss their cruise each year. You can be driving and get a flat or have a problem with your car. For peace of mind, plan to arrive the day before your cruise.
Secondly, your cruise port city can be part of your vacation. If you are cruising out of Miami or Fort Lauderdale, you are in for a treat. Book a hotel and see the sights, go to the beach or find many of the free things there are to do closeby!
If you're cruising from New York, Rome, Barcelona (I could go on and on) – these are world class cities worthy of at least a day or two. Take my advice and add this to your cruise vacation. You'll be happy you did!
2. Book your return flight allowing time to disembark
Have you noticed on your cruise itinerary, that the arrival time at the cruise port on the last day of the cruise is listed as 6:00 or 7:00 am? This is the scheduled docking time. Unfortunately, you and other cruise passengers won't be able to get off the cruise, until the ship has been cleared, usually an hour or more after this time.
Once the ship has permission to allow guests to disembark, you've got to get your luggage and plan for some time at customs. Cruiselines have guidelines of recommended flight times, so do check with your travel agent or cruise consultant before finalizing flights.
3. Book a pre-cruise hotel
Cruise booked, check.
Flights booked, check.
Now what? Hotel reservations
If you're coming in a day or 2 ahead, consider booking a hotel in a touristic area where there are a lot of great things to do and see. However, if you're only flying into the cruise port area in the late afternoon or evening the day before your cruise, a hotel close to the cruise port may just be easier. Some hotels offer shuttles to the cruise port, and possibly from the airport, so do check into that.
Tip:Before you book your hotel, check with your cruise line and find out which hotels they are using as their "pre-cruise" hotel stays should you book with them. These will be recommended hotels in good areas, so if you're not sure, that's a good place to start. You can even book with the cruise line, as there are some advantages. However the convenience will come with at a higher cost that booking on your own.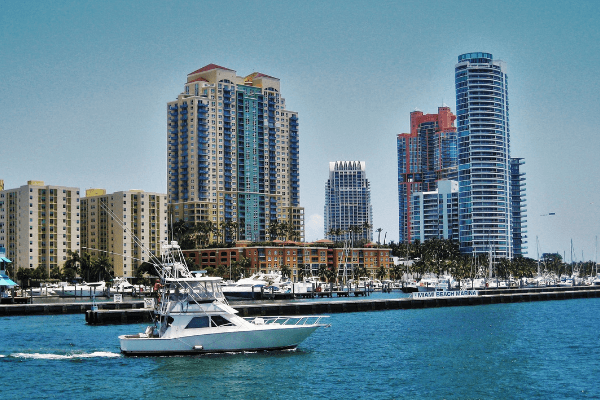 4. Book on board activities and other things on your cruise planner/cruise personalizer
Once your cruise is booked, you'll receive a reservation number. Simply go on your cruise line's website and follow the instructions for those "already booked".
You might think that you can wait until you're on-board, but there are things you'll want to reserve before you go. Each cruise line is different, however in some cases (the very large ships), reserving your shows ahead of time is suggested. This allows the cruise ship to accommodate thousands of people, without everyone arriving to see the same show time and being disappointed. While they will try to accommodate you once on the ship, you may not get your preferred show time.
In some cases, you can reserve a different dining time each evening, to coordinate with the different show times. This is especially helpful if you are a large group and can help you to avoid wait times on the ship. Please note, if you were given a set dining time such as Early or Late dining, you will not need to make any changes.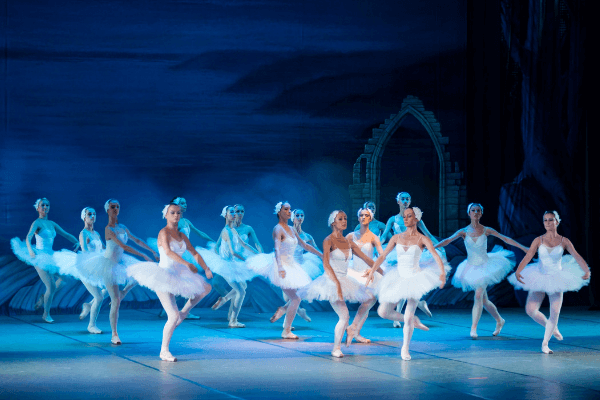 5. Know the cruise line dress code
Overall, most cruises are pretty casual during the day. However, different cruise lines have various rules about how to dress in the main dining room and restaurants in the evening. Many cruise ships have dress codes for each evening of your cruise – casual, smart casual, formal (now sometimes called chic). Still others are quite formal (ie. Cunard) and some more casual (ie. Norwegian).
Don't over-stress about how to dress in the evening. A good rule of thumb is to dress like you'd go to a nice restaurant at home. Many cruise lines now allow nice jeans on a casual night, although the majority don't allow shorts. Do verify with your specific cruise, just so you're prepared.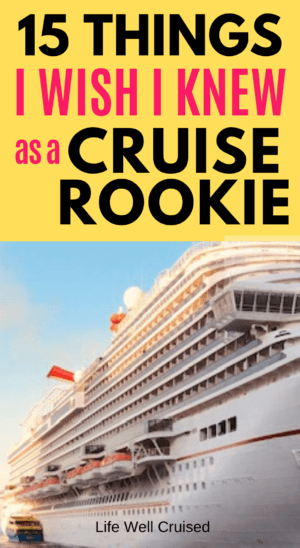 6. Cruise shopping and packing
This is the fun part for me, that not a lot of people talk about. Make a list of what you think you'll need, or better yet, download my FREE cruise packing list.
There are definitely things that you need that are specific for a cruise, to keep your cruise cabin organized.
Some items you may want to get before your cruise (all Amazon links)
1. An over the door organizer best as its mesh rather than plastic and a good size – Check HERE for pricing – On Over The Door Hanging Organizer
2. A power strip bar (cabins have about 2 outlets) – see my recommendation Cruise Power Strip with USB Outlets – Non Surge Protection & Ship Approved here.
cruise power bar
3. Packing cubes – these can help you stay organized Packing Organizers Packing Cubes Set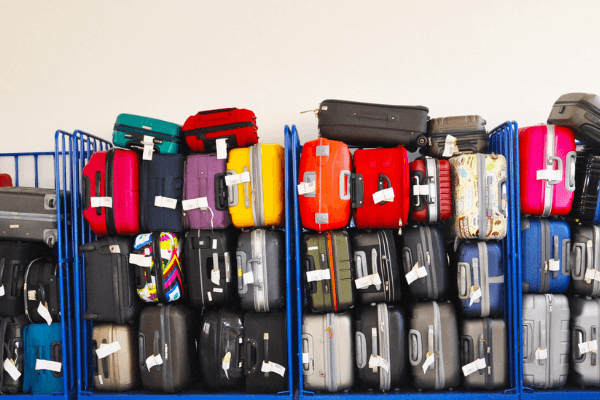 Clothes shopping
Make a list of what you need by day and evenings of your cruise. You absolutely can wear the same outfit twice or in a different way. Shoes can go with more than one outfit.
Personally, for a 7 day cruise I like to have 2 dressy outfits (usually cocktail dresses), 3-4 pretty dresses that I can dress up or down, and 2 cute but casual outfits like capris or a casual jumpsuit. Daywear for me is sundresses, shorts and flowy tank tops. Pack a couple cardigans or little sweaters for cooler evening weather and air conditioning.
My husband usually brings one suit that he may wear twice (sometimes with the jacket off), a couple dress shirts, 2 pairs of khakis, 1 pair of jeans and some polos. Daywear will be shorts and t-shirts or polos.
Tip: Check with your cruise line for the cruise dress code suggestions.
7. Research your shore excursions
Whether you book an excursion with the cruise line, or decide to explore on your own, research is key. The most common regret heard from first time cruisers is that they were not prepared for port days, and they did nothing. That's a bit of a waste.
Each port will have a long list of choices for activities, from an easy beach day, to sightseeing, to something more adventurous and off the beaten path. The best place to start, is to look at the cruise line excursions which will be available on your online cruise planner. If you're feeling like you may want to do this on your own, do a bit of research by looking up tours on Trip Advisor or other websites. You may find out that a beach is really close to the ship port and you can take a cab.
Tip: If you're cruising for the first time, consider the ease and peace of mind of booking an excursion with the cruise ship.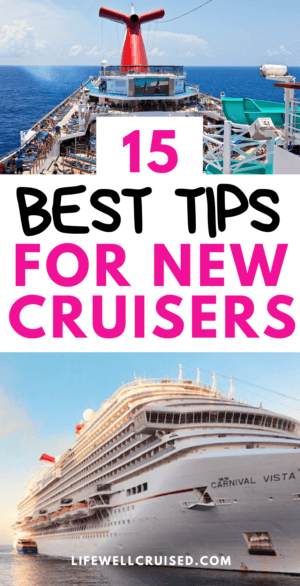 8. Understand cruise ship wi-fi
Cruise ship internet/wifi just isn't the same as internet on land, which can be a surprise for first time cruisers. While cruise ships are getting more advanced technology to make internet more affordable than just a year or two ago, do know that wifi is not included. You should check on what wifi packages are available as well as their cost. Consider if buying a package is worth it for you, and do verify if it's less expensive to buy it online on your cruise planner before you set sail.
Tip: Princess Cruises, and I suspect others will follow suit, has implemented MedallionNet (as part of OceanMedallion) on many of it's cruise ships. It's really phenomenal, fast internet and reasonably priced. Do verify the ship and sail date if this interests you as it's being rolled in.
9. Cruise line gratuities/service charge
It may surprise you that now that you're booked, you should plan some room in your budget for cruise line gratuities or a service charge. When we first started cruising several years ago, we were given envelopes and we would tip a suggested amount to our cabin steward, waiter, assistant waiter and Maitre'd at the end of our cruise.
These days, there is a suggested amount which is usually charged to your credit card. The amount varies by cruise line, but is in the range of 14$ per person, per day and the money is divided up between the staff that work in various venues to serve you. Checking with your cruise line will give you the exact amount.
Tip: If you want to make things easier, you can prepay the service charge before your cruise. Simply contact your travel agent or cruise line to do so.
10. Consider a beverage package
Buying a beverage package is a personal decision – some people get it and find tremendous value, while others find the cost outweighs the value of what they would drink. Do your homework and check on the price of the package, and if you'll benefit.
Keep in mind that many cruiselines allow you to bring a couple bottles or wine or champagne on board. As well, although soft drinks are not included in most cruises, there will be some juice, milk, iced tea, coffee and tea that is available.
11.Complete your online check in and print your cruise documents
Anywhere from a couple of weeks, to a month before your cruise, go to the cruise line website and complete your online check-in and print your cruise documents and luggage tags. Remember to bring these with you on the day of the cruise, and have them handy along with your passport or government ID if applicable.
Tip: On embarkation day, be careful to keep your cruise documents and passport on you, and do not pack them in your luggage.
12. Pack a large tote or carry on bag
When you arrive at the cruise port, you'll check your luggage and it will be delivered to your cabin several hours after you embark on the ship. Since you want to enjoy the day, plan on bringing a carry on or large tote bag.
Inside your carry on, you'll want to make sure you've got your essentials such as medication and valuables. On a Caribbean Cruise, you'll may want to bring a bathing suit, flip flops and sunscreen to make the most of the first day of your cruise vacation.
Recommended reading: What to pack in a cruise carry-on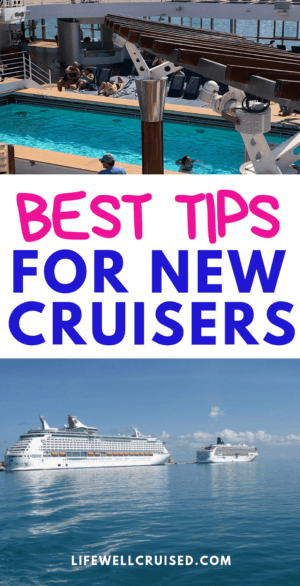 13. Don't bring towels
There is no need to pack towels from home. Many first time cruisers are surprised about this, however we don't want you wasting precious luggage space with towels you don't need. Your cruise ship will have towels for you to use both on the ship as well as in port for your beach days and excursions.
Tip: Pick up your towels from the pool deck the day before your port day, and have them ready for your excursion in the morning. We like to keep our big beach bag packed with our sunscreen and other stuff we'll need.
14. Read your daily cruise planner
In your cabin each day, you'll receive a daily planner, often delivered at night. It's a good idea to read through it to see what you most want to do. I like to go through it with a highlighter and mark off the things I want to remember and plan for. It can be disappointing to miss a comedian you want to see or a special activity during the day you were looking forward to.
Tip: Bring a highlighter to mark off what you really want to do each day.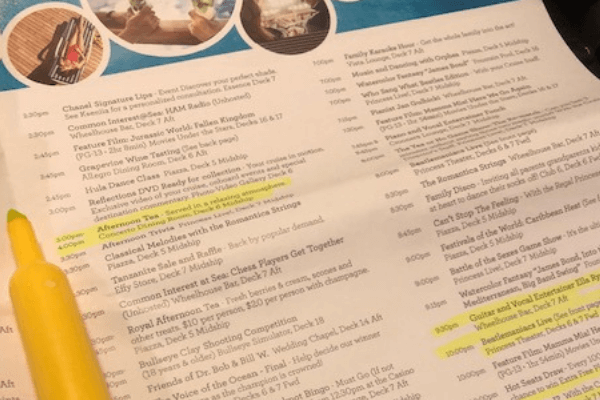 15. Be extra careful with time when in a cruise port
This might go without saying, but its very, very important. Check and double check what time you must be back at the end of the day at a port of call. Usually, the time will be printed on your daily planner – it will say "all aboard time". This is usually 30 minutes before the ship is scheduled to depart.
If you have booked an excursion with the cruise ship and you're late, the ship will wait for you. However, if you're late otherwise you're out of luck. I actually suggest playing it safe and arriving back to the ship with at least an hour to spare, just to be safe.
We do not want THIS happening to you 🙁 (or anyone).
Recap: 15 epic tips first-time cruisers need to know
*Arrive a day early
*Be careful with flight times
*Reserve onboard activities online
*Know the cruise line dress code
*book excursions
*plan for what your cruise clothing
*do your online check-in
*pack a cruise carry-on bag
*watch the time when in port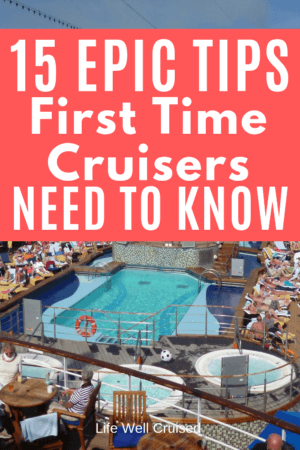 I hope these tips for first time cruisers have been helpful as you plan and get ready for your own cruise. Remember to prepare for your cruise by completing your online check in ahead or time and researching your cruise ports. You're sure to have a great cruise!
Do you have any questions that I can help with as you plan your cruise? Please let me know in the comments below.
Happy Cruising!!
Ilana
If you're going on a cruise soon, you may enjoy this post on how to avoid seasickness on your cruise.
P.S. If you've found this post helpful, I'd really appreciate if you would share it on social media or save for later on Pinterest. Thanks so much!
Let's connect:
Follow me on Facebook at Life Well Cruised
Follow me on Pinterest at Life Well Cruised
Follow me on Instagram at Life Well Cruised