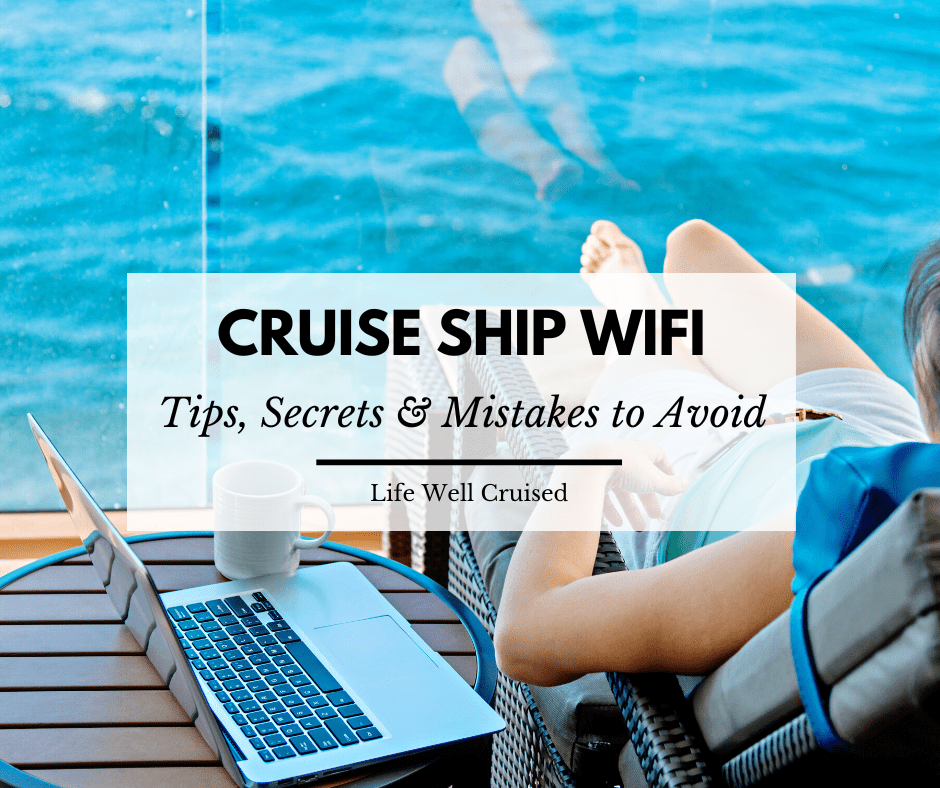 Are you going on a cruise & wondering if you need to buy the cruise internet package, use an international plan or simply go without?
Cruise ship WiFi has changed over the years, making it more accessible, less expensive, and faster than ever. However, many cruisers are making huge mistakes when it comes to cruise ship WiFi.
In this post I share what to expect on a cruise, when it comes to WiFi & internet service. We also go through how to get faster internet speeds, free WiFi and the best ways to keep in touch with other cruise passengers & people back home!
This post contains affiliate links which means if you click and buy that I may make a commission, at no cost to you. Please see my disclosure policy for details.
As an Amazon Associate I earn from qualifying purchases.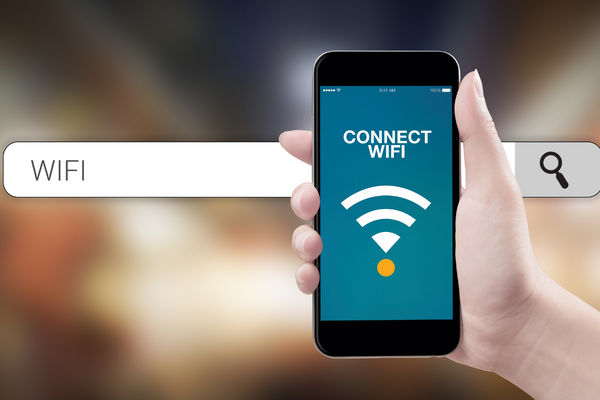 Cruise Ship Wifi – Everything You Need to Know
1. Cruise Ship WiFi Is Slower Than on Land
Whether you're on a cruise ship with Starlink internet or a cruise that claims to have the "fastest WiFi at sea", the WiFi speed will still be slower than on land. Unfortunately, even with the enhancements, cruise ship WiFi just isn't 100% reliable at all times.
It's important to have low expectations the WiFi may lose connectivity and will certainly be slower on a cruise ship. Often, cruise ship WiFi speed depends on the cruise line and ship you are sailing on, as well as your itinerary.
In my experience and that many other cruise passengers, the internet is usually better on Caribbean cruises than in other destinations. Mountainous regions like the Norwegian Fjords are notorious for having bad wifi connections.
2. The Cost of Wi-Fi on a Cruise
Unlike most hotels on land, cruise ship internet isn't usually free. Internet prices and packages vary by cruise line. The cost ranges from $8 a day for the least expensive plan with Carnival Cruises, to $34.99 a day for an unlimited premium internet plan with Norwegian Cruise Line.
3. How to Get Free Wi-fi on a Cruise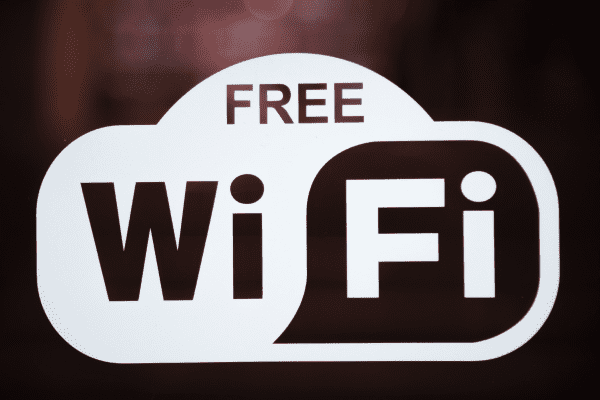 Wi-fi can be expensive, so getting Wi-Fi or internet for free on a cruise is always good. Unfortunately, most cruise lines don't include unlimited Wi-Fi in the cost of the cruise. However, there are some exceptions.
Luxury cruise lines like Viking Ocean and Silversea Cruises include WiFi for the duration of your cruise. When it comes to mainstream cruise lines, Virgin Voyages includes basic internet with the cost of the cruise.
4. Get an All-Inclusive Package That Includes Wi-Fi
If you're not cruising with those cruise lines, there are some great options if you need wifi while cruising. Look for all-included cruise packages or WiFi bundles.
All-Inclusive Packages
For example, if you're sailing with Princess Cruises, you can purchase Princess Plus at the time of booking. With Princess Plus, you'll get WiFi for one device per person, a beverage package, the crew gratuities included. If you do the math, this is a great value.
Other cruise lines that offer a similar all-inclusive plan are Celebrity Cruises and Holland America.
Celebrity's all-included plan includes basic WiFi, a beverage package and tips for the crew. Holland America's Have it All promotion is all-inclusive plan consisting of WiFi , a beverage package, and specialty restaurant.
Free-Wifi Perks
If you book with Norwegian Cruise Line, take a look at the Free At Sea promotion. This includes perks such as a beverage package, specialty dining, a shore excursion credit and 75-350 minutes of Wi-Fi, depending on the length of your cruise.
Wi-Fi Package Bundles
Even if your cruise line does not have an all-inclusive package, you may have the option of purchasing two items together, bundling internet with another package. For example, buying the Wi-Fi and beverage package together is often less expensive than buying each on its own.
5. Purchase Your Internet Package in Advance
By purchasing your WiFi plan in advance on the cruise line's website, you can save 15% or more on the internet package. Many first-time cruisers make the mistake of waiting until they board their cruise to purchase wi-fi, and then they have to pay the price.
It's best to purchase your WiFi, specialty dining, and drink packages on the cruise website's cruise planner before you go. This is a good way to save some money on your cruise.
6. Cruise Line Loyalty Discounts
Cruise lines have loyalty programs which reward their guests with points that accumulate. Once cruise passengers reach higher levels, they are often able to get access to some loyalty perks and discounts.
This can include discounts on the Wi-Fi package, or even on an upgrade from the basic internet package to a high-speed internet package.
Depending on the cruise line, cruise loyalty rewards can also include free laundry, specialty dining, and discounts on the drink package.
7. Put Your Phone in Airplane Mode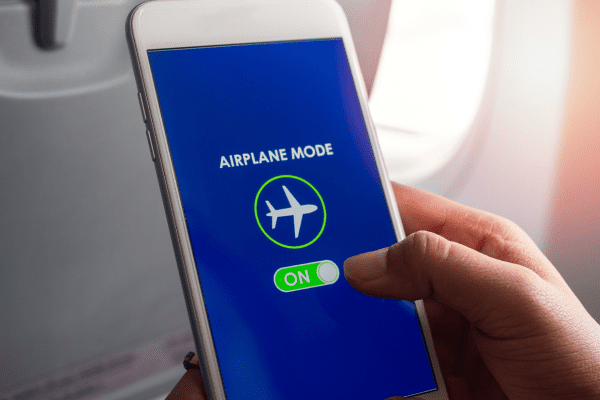 Many people wonder how to use Wi-Fi when their phone is on Airplane mode. However, when you are in airplane mode, you can still access the cruise ship's Wi-Fi.
Forgetting to put your cell phone onto airplane mode, can be a huge mistake for cruise ship passengers. Once away from land and out to sea, you can can be faced with the cost of international roaming charges, which can be hundreds or even thousands of dollars.
To connect to the cruise ship's WiFi and onboard app, first put your mobile phone in airplane mode. If you need help with this, you'll find crew members at the internet help desk that will be glad to assist.
Get The Ultimate Cruise Planner
Regular price: $27 Now just $17!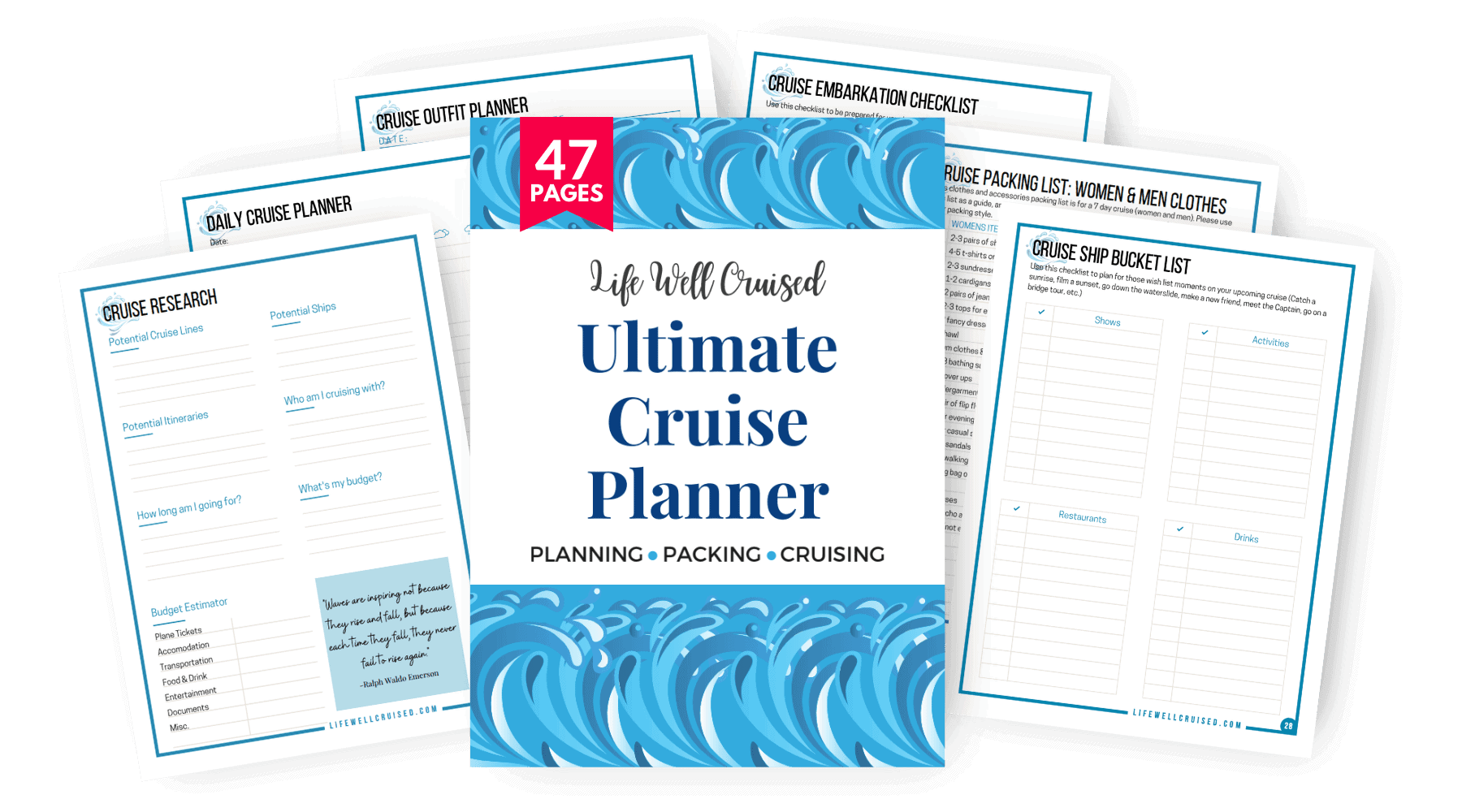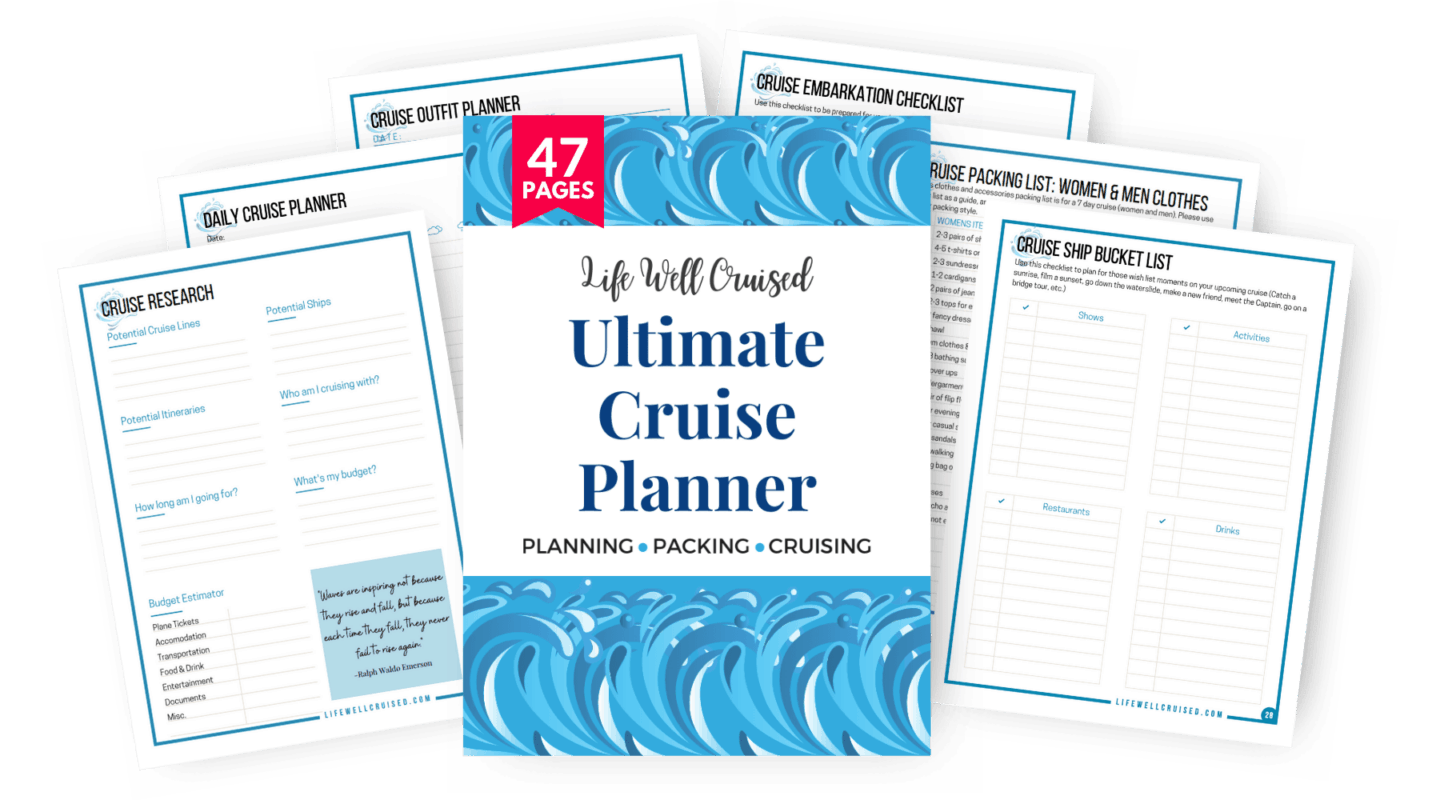 8. Cruise Line App
Even if you don't want to purchase the cruise ship WiFi, you can still access the cruise line app. The cruise ship will have a wi-fi network so that you can access their app.
Nowadays, cruise line apps are more important than ever for seeing the daily activities, making reservations, and booking shore excursions.
You can often look look at the dining room menus, order room service, and even order food to your location or to pick up (on certain cruise lines).
Some cruise lines have a control which allows you to access controls in your cabin. For instance, on Celebrity Beyond I was able to open the blinds in my Infinite Veranda cabin, open and close lights, and even adjust the temperature from the cruise line app.
9. Messaging & Chats
Messaging People on Your Cruise
Wondering how to keep in touch with family member and friends onboard your cruise? Many cruise lines offer free messaging to other passengers through the cruise line app. Norwegian Cruise Line and Carnival charge a small fee ($5-10).
This is a great way to reach your friends, family, and other passengers you meet on the cruise ship.
Messaging People Back Home
If you purchased the cruise ship's Wi-Fi, you could message your friends and family on the cruise or back home by using Facebook Messenger, WhatsApp or iMessage.
You can even use FaceTime or FaceTime Audio to make calls while on your cruise vacation.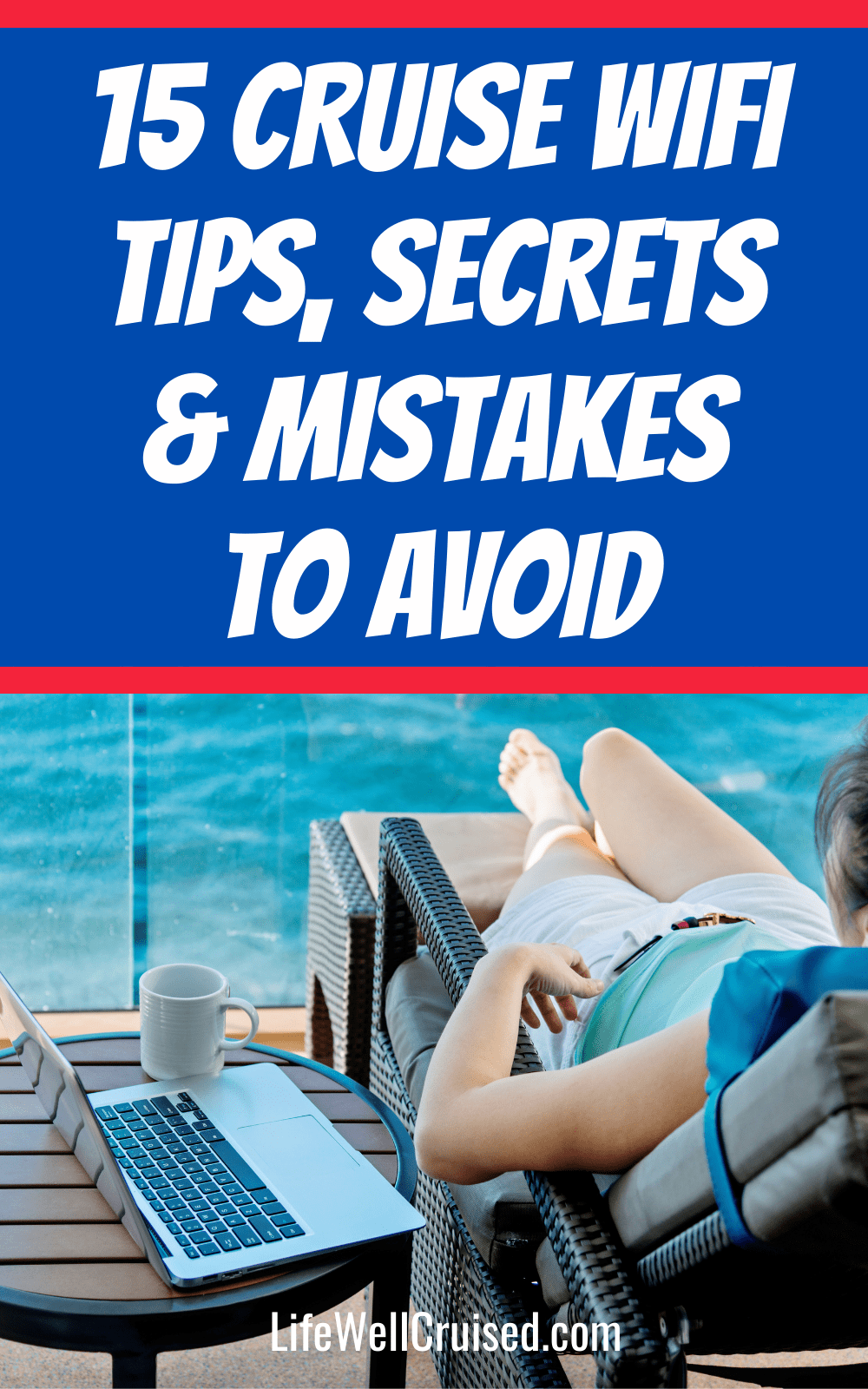 10. Cellular at Sea
These days many people are asking about ways to use a mobile phone on a cruise and wonder if Cellular at Sea programs are good options.
It's possible to purchase an international phone plan. However, this doesn't mean that using your phone will be free while you're at sea.
Verizon and AT&T have Cellular at Sea plans. With At & T, plans start at $50 for 30 days, with up to 50 minutes of talk and unlimited texts.
Something to note is that Cellular at Sea is not available on all cruise ships. If you go over your limits, fees can be costly.
It's a good idea to check the available plans, ask questions and read the fine print, to see what is best for you.
11. How to Save Money on Cruise Ship Wi-Fi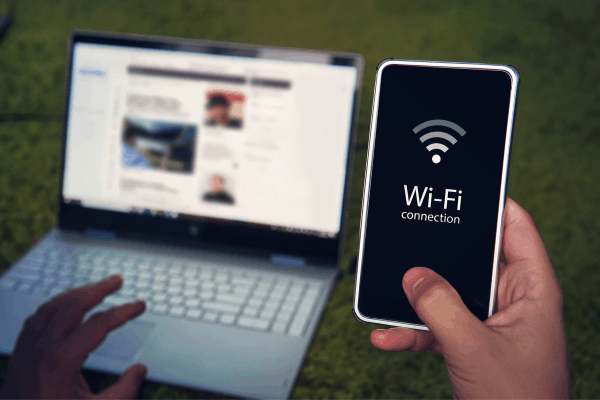 It's no secret that cruise ship WiFi can be expensive. However, in recent years cruise lines have been making an effort to lower the cost of onboard internet.
Most cruise lines offer a couple different WiFi packages. Basic packages often allow access to popular social media platforms, text messages and email. Premium packages have faster speeds and usually allow uploads and streaming, in addition to social media and email.
If you don't plan on streaming videos while on your cruise, consider purchasing the basic or cheaper packages. This is a great way to save money on cruise ship WiFi.
The other thing you can do is share a WiFi plan with the other people in your cabin. Rather than buying a multi-device plan, you can buy a plan for one single device. This is great for those who plan on using wi-fi on only their phone rather than on their tablets or computer.
13. Save Time By Downloading Before Your Cruise
If you like to read books on your mobile device, listen to audiobooks, or watch Netflix while you're on a cruise, then be sure to download them before your cruise.
Since the cruise ship WiFi can be slow, it can take very long to download your online content. You will save tons of time by downloading your e-books, audiobooks, podcasts, and movies in advance.
14. Wi-fi Is Usually Faster Early in the Morning or Late At Night
If you're using the wi-fi for work or streaming, use it early in the morning or late at night. From our experience, we've found that when fewer people are on the WiFi, the internet works faster.
The wi-fi tends to be slower during the day, as many people are using the internet at the same time and there is some congestion. If you need to use the WiFi for work or school, you will want to go on the internet in the morning or in the evening.
15. Look for Free Public Wi-Fi in Ports of Call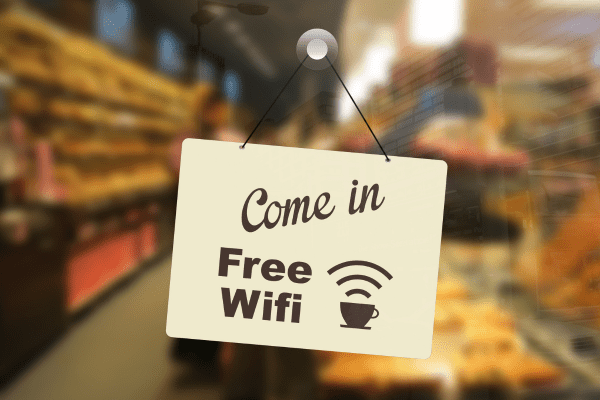 Often, most cruise ports will have places, like restaurants and cafes, where you can find free public Wi-Fi. If you like to disconnect while you're on vacation, this is the perfect way to send a quick message or email to your family to let them know you're safe.
Tip: When you're in port, you will see groups of crew members on their phones hanging out by the places that offer free internet. You can also ask crew on your ship, as they often know some good spots at the cruise port.
16. Can You Use a VPN on a Cruise?
Many people are concerned about using public wi-fi. However, many cruise ships do not allow passengers to use a VPN while on board (an exception is Norwegian, with it's premium plan).
Cruise lines tell us cruise ship WiFi is safe. However, you may want to consider using a VPN if you're accessing public WiFi during your travels.
Video: 15 Cruise Ship Wifi Tips, Tricks & Things to Know
Related & Popular Posts
Get The Ultimate Cruise Planner
Regular price: $27 Now just $17!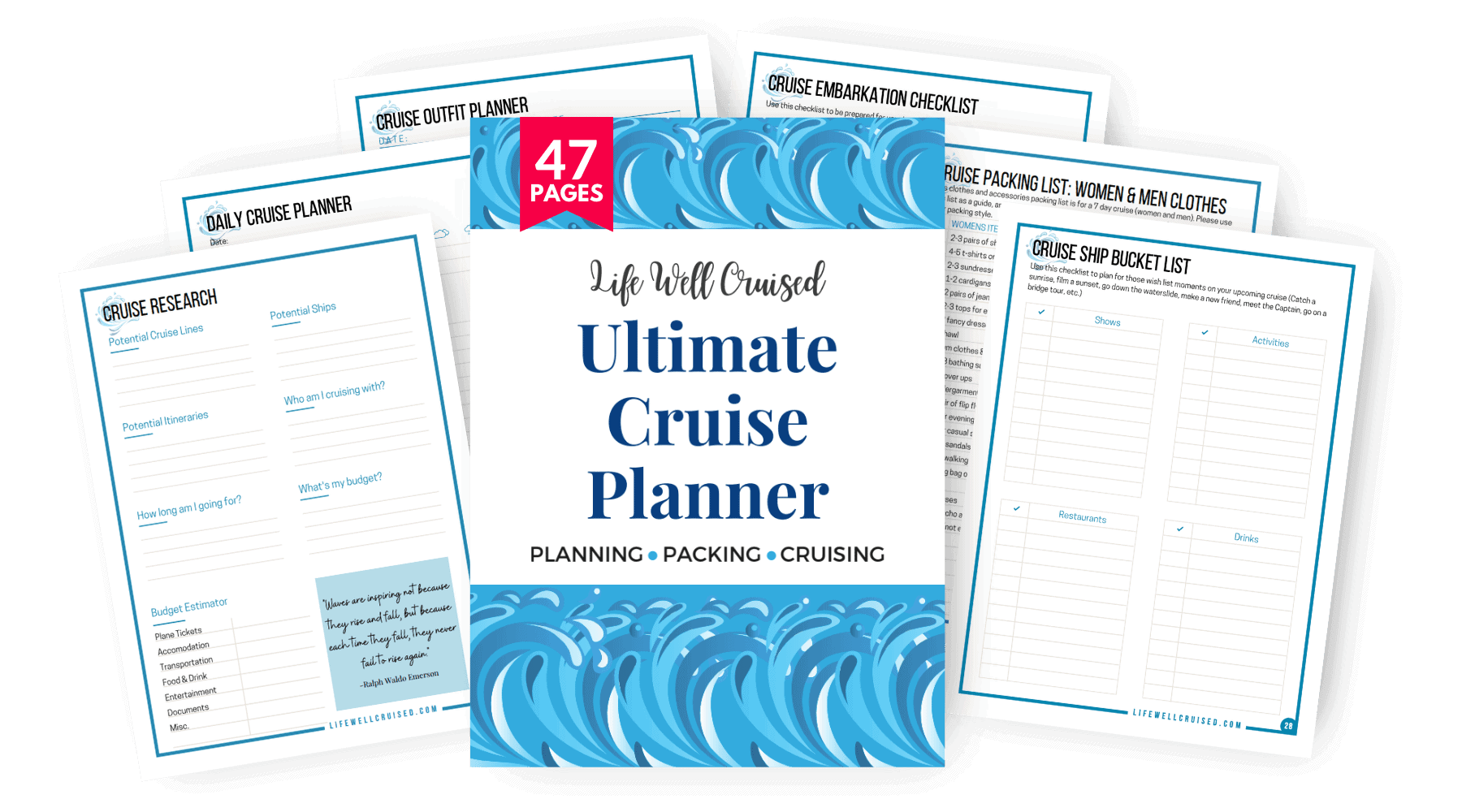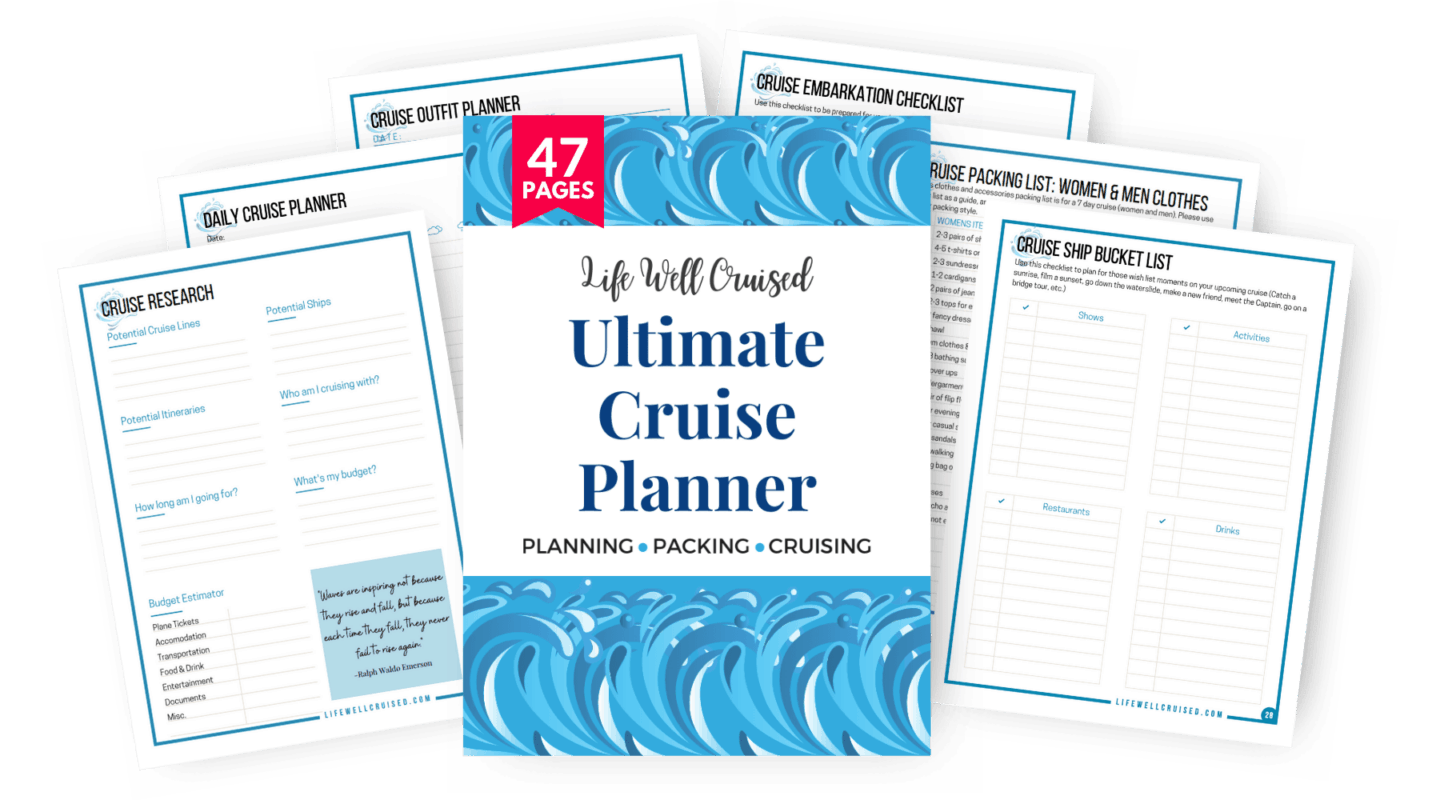 Final Thoughts on Cruise Wi-Fi Tips, Secrets & Mistakes to Avoid
Well, there it is, all the cruise wi-fi tips, secrets, and mistakes you must avoid!
Whether you're an experienced cruiser or a new cruiser, there is so much to know about cruise wi-fi. Knowing these cruise ship internet tips will be helpful for your next cruise.
Cruise internet is changing. Do you usually get a Wi-Fi plan on a cruise? Please let me know your questions and tips in the comments below.
Happy Cruising!
Ethan
If you enjoy this post please don't keep it to yourself ;-). Please feel free to share on Facebook or Pinterest (share buttons at the top). Thanks so much!
Author Bio: Ethan Schattauer writes about fashion, travel and college advice on the website WhatToWearMen.com. As a frequent cruiser, Ethan shares his unique perspective on what cruising is like for teens and young adults.