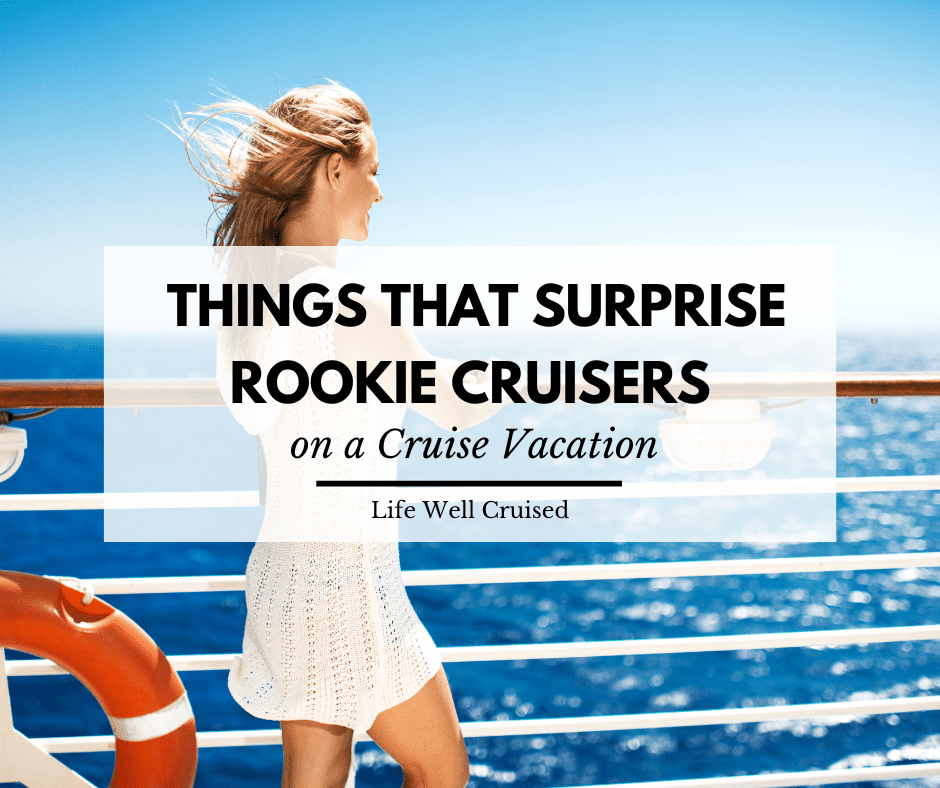 If you're new to cruising, many things about cruises will come as a surprise. After all, cruises can be very different from land vacations and hotel stays.
When going on your first cruise, you'll want to know all the information and cruise tips you can get. These are the things that the cruise lines don't often talk about, and even experienced cruises may take for granted.
In this post, I share the 10 things that may surprise or even shock rookie cruisers!
This post contains affiliate links which means if you click and buy that I may make a commission, at no cost to you. Please see my disclosure policy for details.
As an Amazon Associate I earn from qualifying purchases.
10 Things That Surprise New Cruisers
1. Shops & Casinos Are Closed on Port Days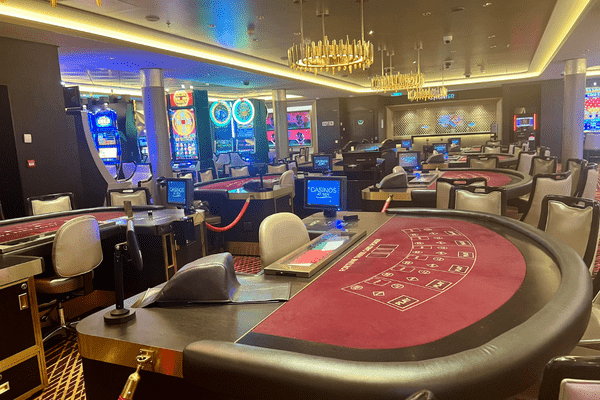 Some cruise passengers may decide to stay on the cruise ship while it's in port, instead of disembarking. This can be a great way to enjoy the cruise ship ammenities without the crowds!
However, a surprise for many first time cruisers, is that due to maritime law, the casinos and shops are closed during port days.
Even though the shops and casinos are closed during a port day, there are still activities taking place around the cruise ship. The bars, pools, and other entertainment areas will still be open.
During a port day, the shops and casinos will reopen once the cruise ship has left the port.
2. Double Tipping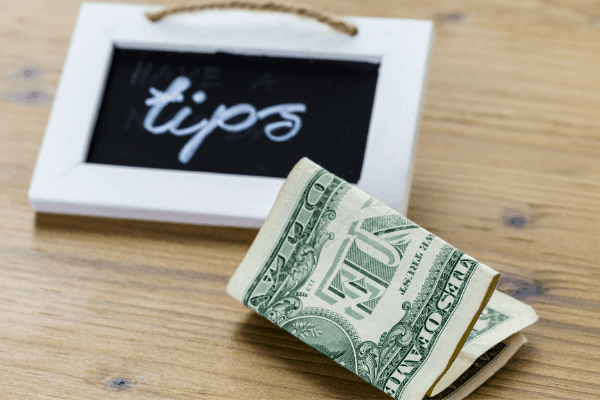 Tipping on a cruise is always a controversial subject. Beyond the daily gratuities, many rookie cruisers are surprised to find out that there are additional gratuities charged for certain services, including a tip or service charge on drinks (18-20%).
Many first-time cruisers will give a tip to the bartender and realize later on that they have already paid a service fee. Offering an additional tip is optional and will make the bartender very happy, but that is a personal choice.
3. Crowds Are Not What You Think
Cruise ships are more relaxed and less busy than you think!
Since cruises can fit over 3,000 passengers, many new cruisers think they will be too crowded. However, once you're onboard, you will realize that the crowds are dispersed across the different areas.
Unless you are next to the pool on a sea day or a big event is taking place, it is rare for a cruise ship to feel overly crowded.
Finding a chair next to the pool on the lido deck may be challenging. However there are ways to beat the crowds. If you want a chair by the pool, you can find one early in the morning or look further back on the pool deck.
Related: 12 Things to Never Do on a Cruise Ship Lido Deck
4. Diverse Crew
When you are going on a cruise, you will have a very diverse staff and crew. The international crew may catch some new cruisers by surprise, especially when traveling with an American cruise line like Carnival, Royal Caribbean, or Princess.
Many cruise ship crew members will be from places like India, Jamaica, Eastern Europe, and the Philippines. You'll also find crew members from Canada, Australia, and the United States.
Related: 7 Gifts Cruise Crew Members Really Want & Need
5. Cruise Cabin vs. Hotel Room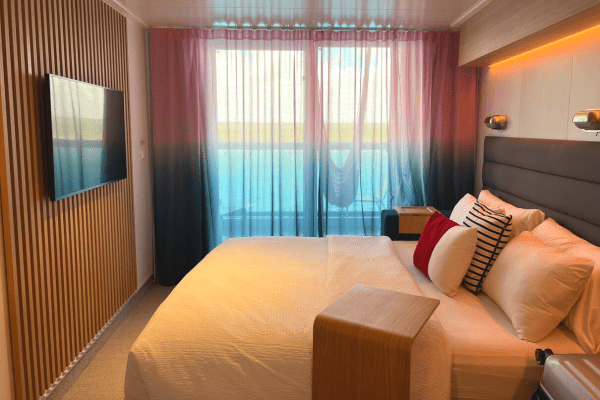 New cruisers don't always realize that cruise cabins differ from hotel rooms. This make not make a huge difference if you are only two people in a cabin, or even if you're cruising solo.
However, if you are four people in a cabin, you should know that your cabin will be different from a hotel room. This is because the size of your cruise cabin will be the same, whether you have double, triple or quadruple occupancy!.
When four people share a cabin, there will typically be a queen-sized bed (or two singles), with either a small pull out sofa or trundle beds (bunk beds). Since cruise cabins are smaller than hotel rooms, four passengers in a cruise cabin can be very tight.
If you are cruising as a family in one room, make sure to use a few cruise cabin hacks to organize and save space!
Related: 17 Cruise Cabin Essentials Every Cruiser Needs
6. What's Included
Over the last few years, cruise lines have been offering a lot of potential extras, allowing cruisers to upgrade their experience. Whether it's dining packages, drink packages, or private areas, these all cost extra on a cruise.
For some, these cruise extras are worth the price. However, it's essential to know that there are plenty of included options on your cruise.
Whether in the dining room, buffet, or restaurants around the ship, there are several dining venues that don't have an additional charge. Coffee stations, juice stations, and water stations are all included as well.
What is included on a cruise does vary from cruise line to cruise line. For instance, some cruise lines offer free room service, while others have an extra charge for this.
Once onboard, if you're not sure what's included, don't be shy. You can always ask a crew member or even a fellow passenger, and they will let you know.
Related: What's included in your Cruise Price (and What's Not)
Get The Ultimate Cruise Planner
Regular price: $27 Now just $17!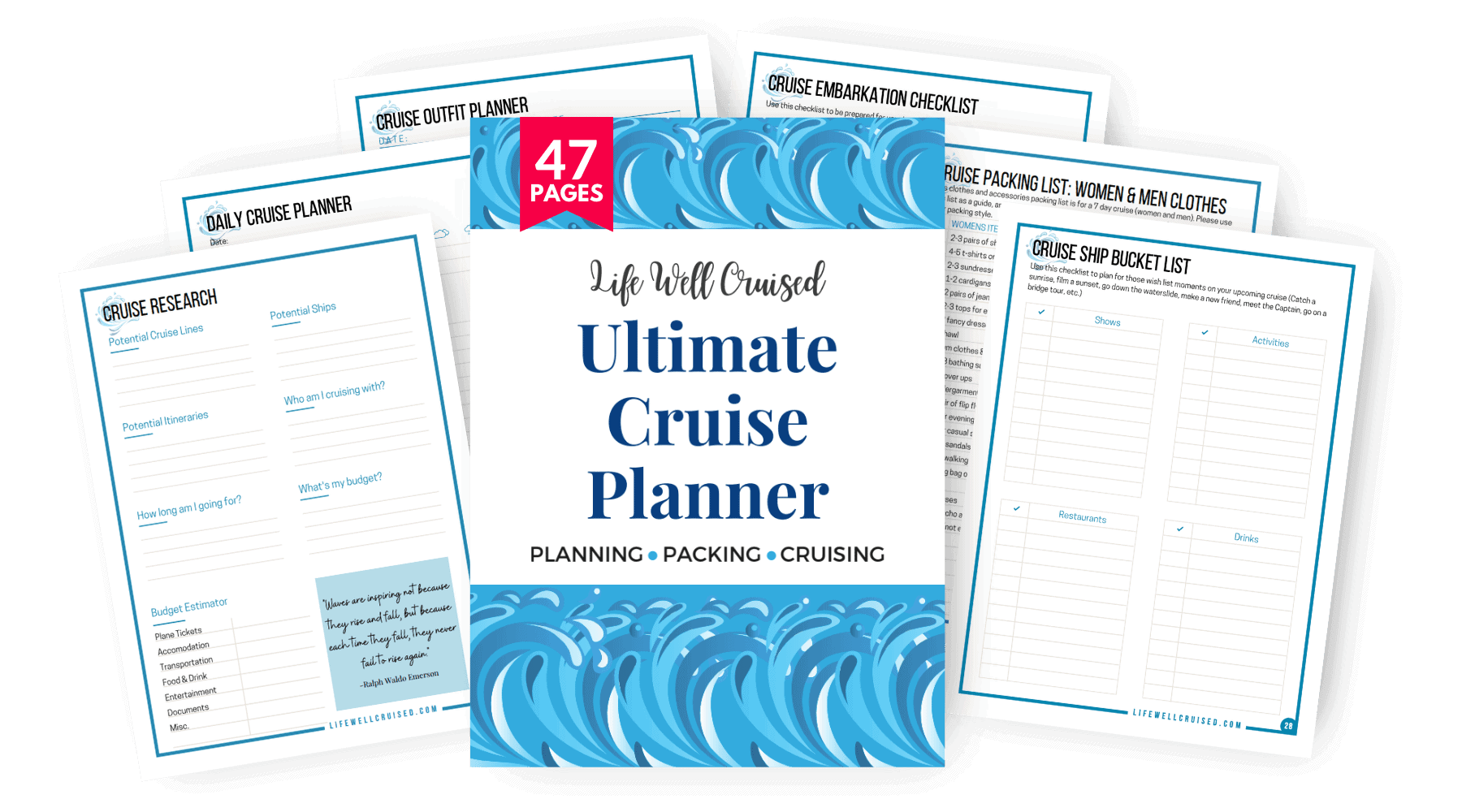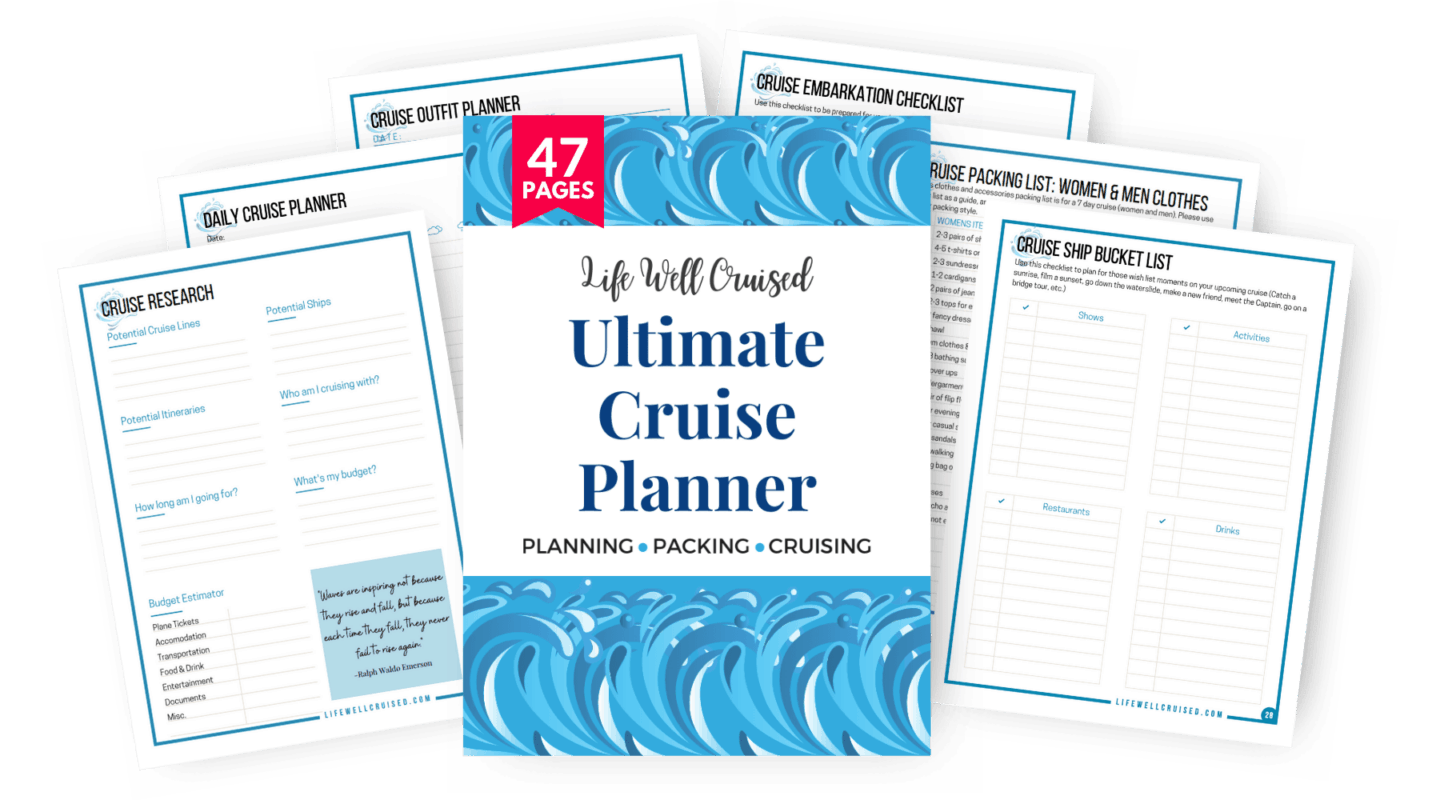 7. Shorter Days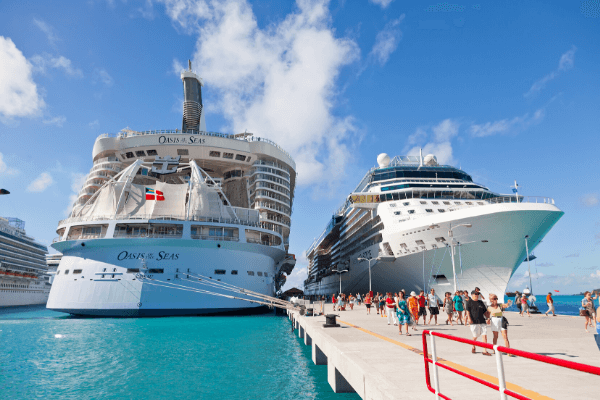 When you are in a cruise port of call, your days will always be shorter than they may appear on the itinerary.
For example, if you're in port from 8:00 am to 4:00 pm, you will probably only get off the ship by 8:30 or 9:00 am.
Since the ship leaves at 4:00, you will have to be back on board by 3:30, 30 minutes before sail away. If you're at a tender port (check your itinerary), you will have to plan to get back even earlier.
One thing to be aware of is that the cruise ship will leave on time. When a cruise ship says to be back by 3:30, make sure to allow extra time and never be late.
Unfortunately, we've all seen videos of pier runners and people missing the cruise ship and being left behind!
8. Land Sickness
Something rare, but some people do experience, is land sickness or mal de debarquement. After you get off the cruise ship, you may feel a floating sensation or like the land under you is swaying.
Some new cruisers experience this feeling for the first few days once they get off a cruise ship. Some first time cruisers report this feeling lasting only a short time, while it's more bothersome for others.
Some people report that rest and hydration helps, while other says that taking an over the counter motion sickness medication like Dramamine or Bonine can be effective. As always, be sure to consult your physician if you're feeling unwell and need medical advice.
9. Pack Multiple Outfits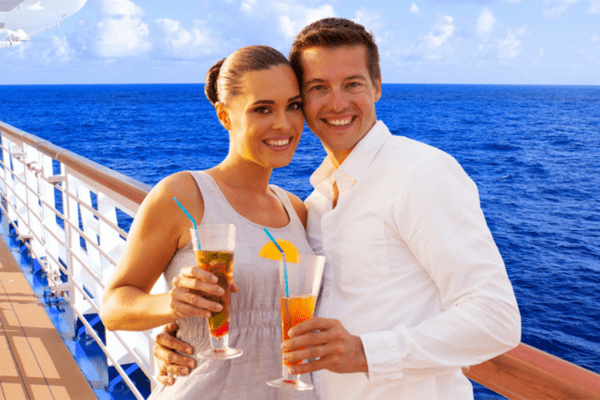 When you're on a cruise, you may change cruise outfits more often than you would think. Most cruisers will change outfits twice, and occasionally, three times a day.
Whether it's by the pool, inside the cruise ship, or when you eat in the main dining room, you will want to wear different outfits. When you are visiting a port of call, you may be wearing one outfit for sightseeing, but may want to change once you get back on the ship.
On a sea day, you may be in a swimsuit and cover up for the morning, but will want to change into shorts and a t-shirt for indoor activities like trivia or bingo.
If you want to pack light for a cruise, don't stress. You can wear clothing more than once and cruise with a capsule wardrobe.
Related: 27 Cruise Packing Tips All Cruisers Need to Know
10. You Will Love Sea Days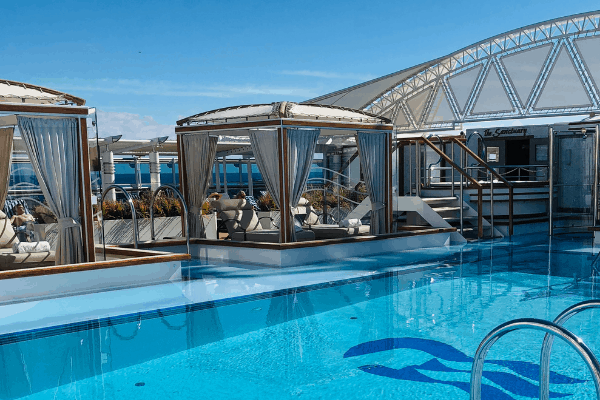 Many new cruisers don't realize that sea days are one of the best parts of cruising! Often, first time cruisers will try to book an itinerary with as many ports of call as possible, which is a rookie mistake.
Sure, visiting multiple destinations is one of the benefits of cruising. However, it's hard to beat a relaxing and fun sea day.
Many experienced cruisers will stay on the ship during ports of call to take advantage of an almost empty ship. Everybody has their preference, but sea days are one of the reasons why cruising is such a good vacation!
Related: 27 Awesome Things To Do on a Cruise on Sea Days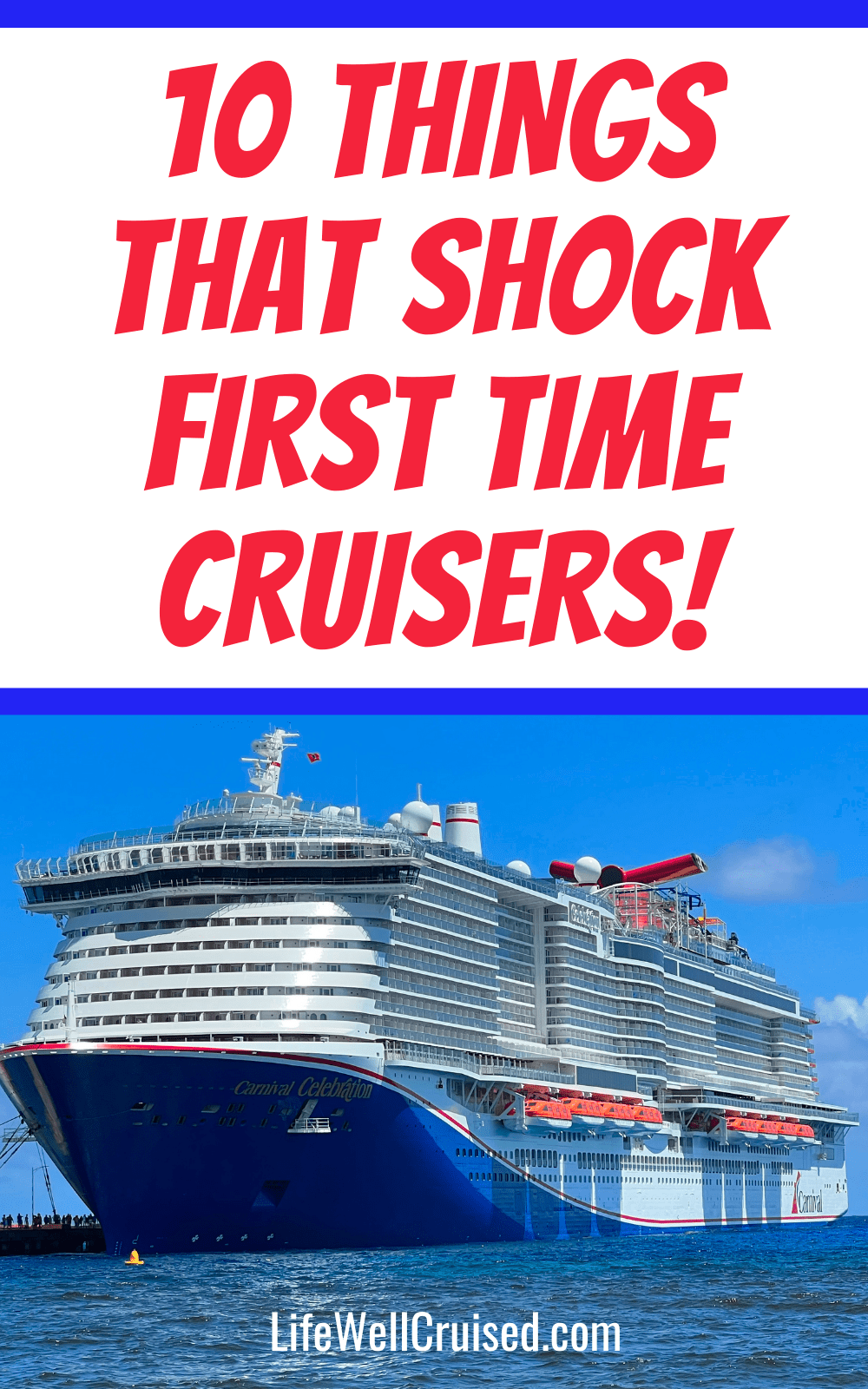 Bonus: You Can Eat Unlimited Food
When it comes to the food in the main dining room, buffet, or casual restaurants, there's so much great food on a cruise. Plus, it's a great opportunity to try new foods and dishes.
With a few exceptions, you can order multiple appetizers, main dishes, and desserts in the main dining room. Many experienced cruisers will do this since the portions aren't oversized on a cruise.
Video: 10 Things that Almost Always Surprise New Cruisers
Related & Popular Posts:
Get The Ultimate Cruise Planner
Regular price: $27 Now just $17!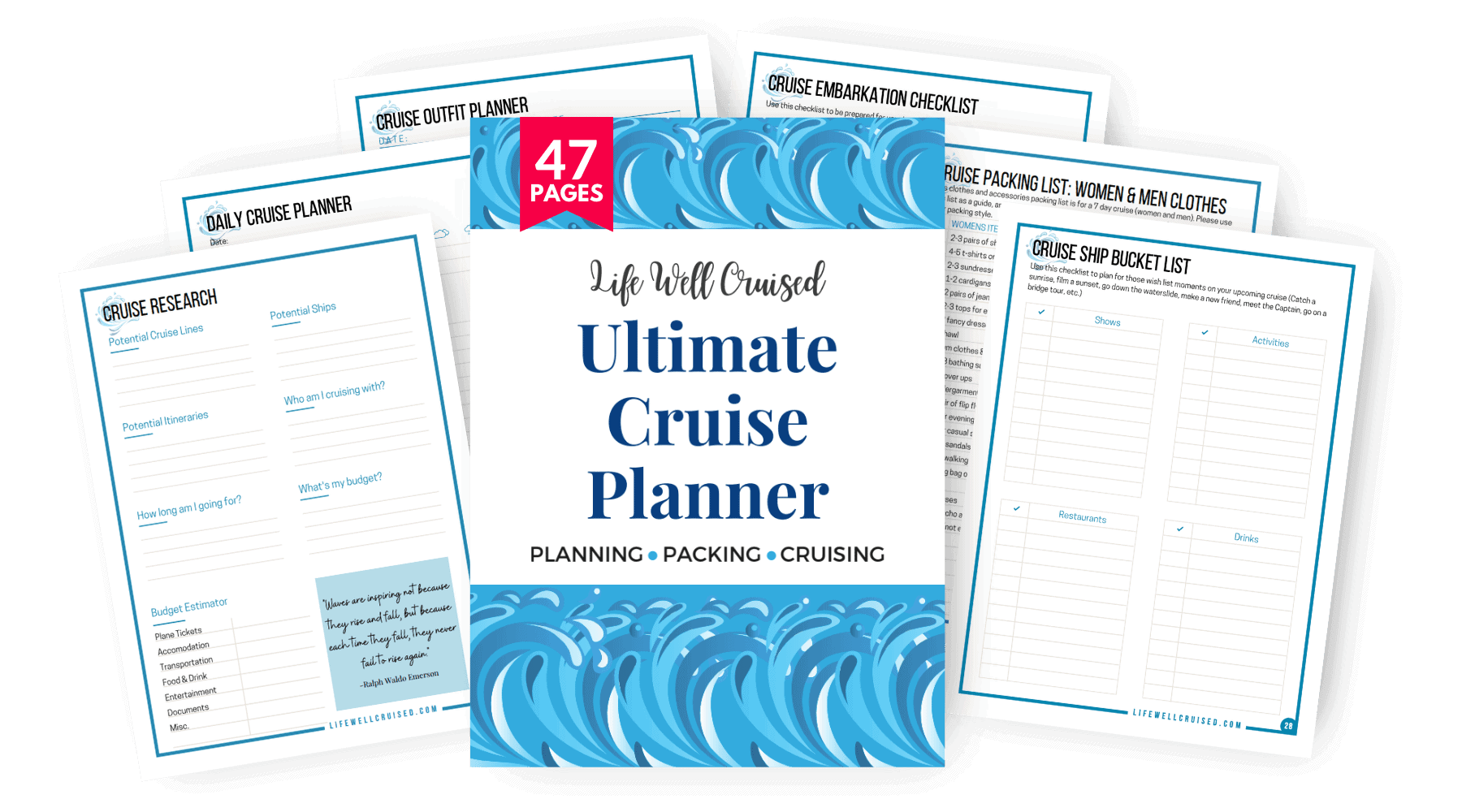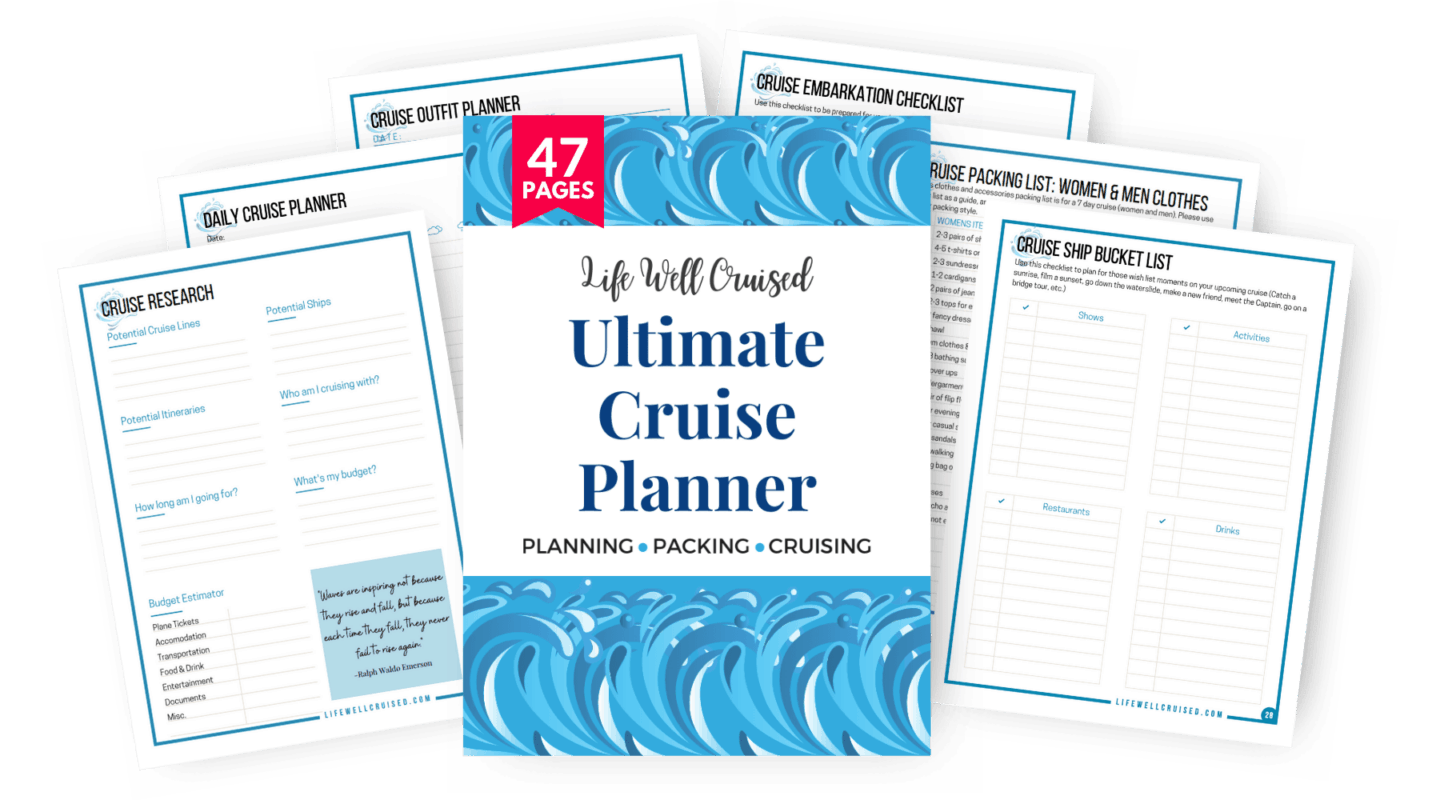 Final Thoughts on 10 Things All New Cruisers Need to Know
Well, there are the 10 things all new cruisers need to know!
A cruise vacation is different from an all-inclusive resort or land vacation. However, cruising is a great way to be entertained, relax and visit destinations.
If you're a first-time cruiser, it's important to get as much information as possible before going on your cruise.
Are there any surprises for first-time cruisers that I missed? Please let me know in the comments below.
Happy Cruising!
Ethan
If you enjoy this post please don't keep it to yourself ;-). Please feel free to share on Facebook or Pinterest (share buttons at the top). Thanks so much!
Author Bio: Ethan Schattauer writes about fashion, travel and college advice on the website WhatToWearMen.com. As a frequent cruiser, Ethan shares his unique perspective on what cruising is like for teens and young adults.