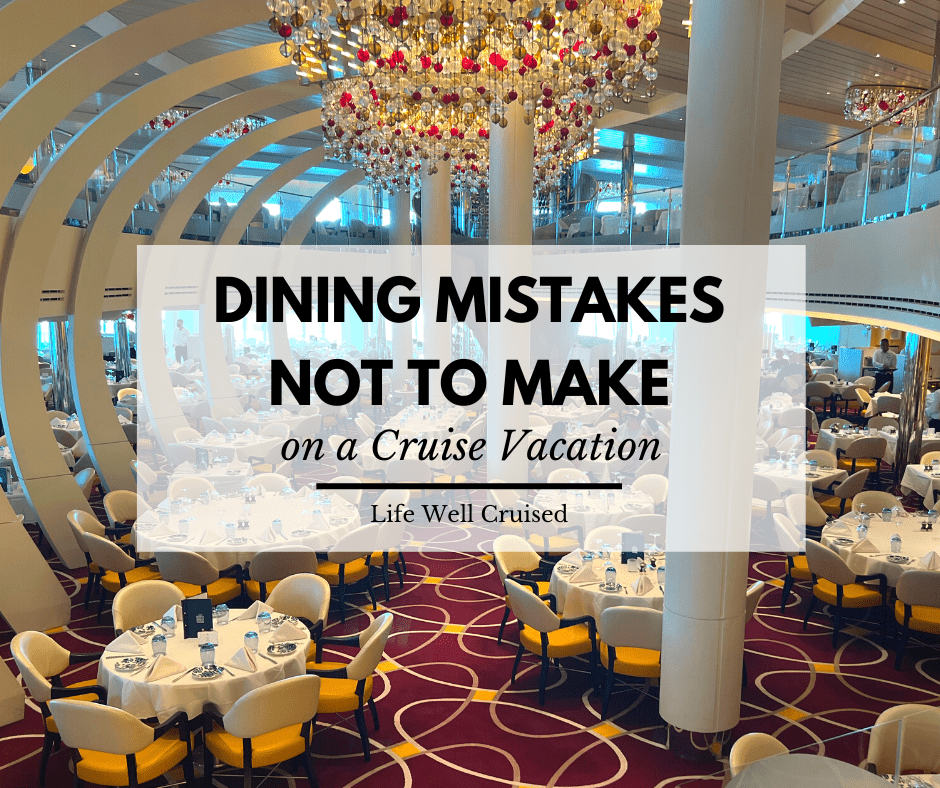 Cruises are different that other types of vacations, and this includes food & dining. These are the dining mistakes that cruise passengers are making, that you want to avoid!
Over the years, dining on cruise ships has gone through some changes. Whether you're going on a cruise for the first time or you're a frequent cruiser, these cruise tips will help you have the best cruise main dining room experience.
This post contains affiliate links which means if you click and buy that I may make a commission, at no cost to you. Please see my disclosure policy for details.
As an Amazon Associate I earn from qualifying purchases.
Cruise Ship Dining Mistakes to Avoid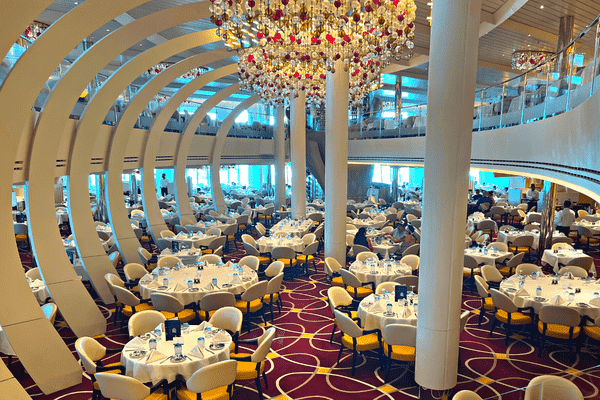 1. Assuming Everything Is Included in the Main Dining Room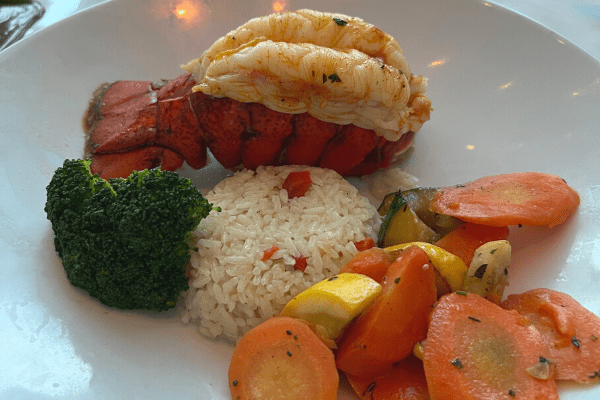 While a few years ago this was true, these days it's possible to see some items on the main dining room menu that have an additional charge. While this varies from cruise line to cruise line, there may be an extra cost for a better steak from a specialty restaurant, for a large lobster tail, or even a charge for more than 2 plates.
In fairness, the menu in the main dining room and included restaurants still includes most main dishes, appetizers and desserts. Cruise passengers can order more than one item from different parts of the menu and enjoy.
2. Not Making Dining Reservations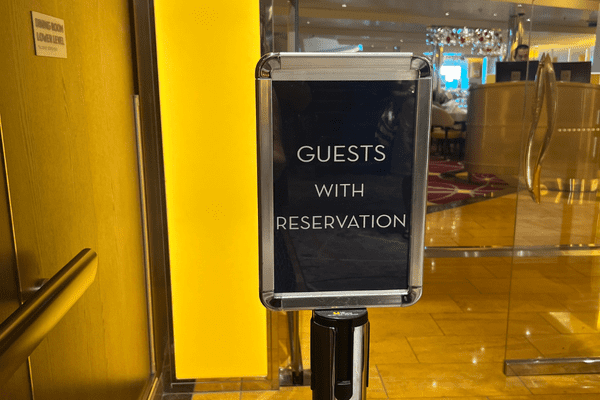 On most popular cruise lines, you'll be able to choose between traditional early and late dining times, or open dining. However, open dining doesn't mean that you can walk in, and be served, anytime you want.
While open dining is flexible, it's best to make reservations when possible. This is especially important if you have other plans for the evening, like going to shows at a specific time.
If you don't make reservations, don't worry. You'll always be able to eat, but you may need to wait.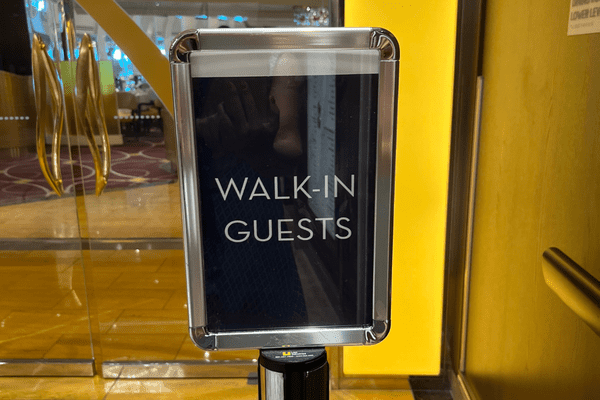 3. Not Planning Enough Time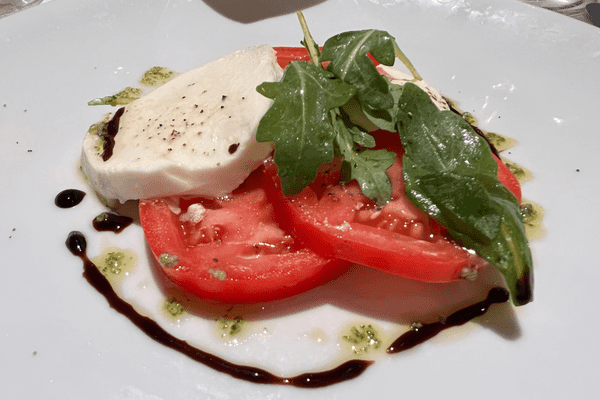 When eating dinner in the main dining room or restaurants, it's important to plan enough time. This is especially true if you have a show or other reservation to get to.
Many cruisers make the mistake of not leaving enough time. Inevitably, it's frustrating to be late of miss out on an event.
If you have a show or are in a hurry, let your waiters know that you'd like to eat more quickly. They can usually accomodate you.
As an alternative, you can also eat in the buffet or another casual restaurant on the cruise ship.
4. Not Knowing Your Cruise Line's Dress Code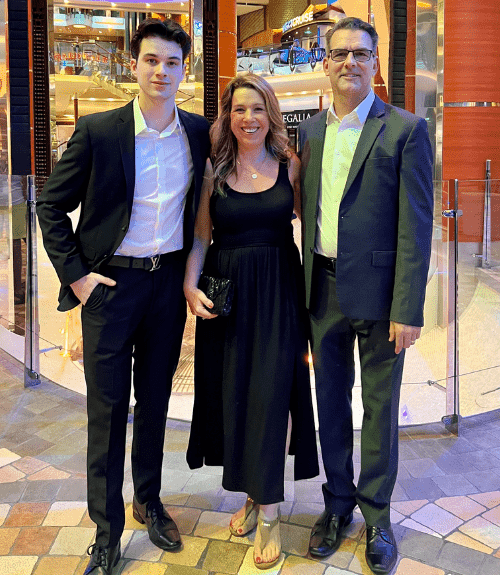 Cruise line dress codes have definitely changed over the years. Cruises have become more casual, and many cruisers dress less formally than a few years ago.
That said, there still are dress codes, which differ by cruise line. If you're someone who prefers a more dressed up cruise experience, you may prefer a more traditional cruise line such as Cunard (most formal), Princess or Holland America. Celebrity Cruises has officially ditched formal night for an "evening chic" dress code, but many people still "dress up" for dinners.
If you prefer a more relaxed way of dressing on a cruise, Carnival, Royal Caribbean or Norwegian cruise lines might be best for you.
Either way, things to remember is that swimwear won't be permitted in the main dining rooms and restaurants, even on casual nights. Tank tops and flip flops are often frowned upon, and may not be allowed.
Many cruise ships don't allow shorts in the dining room. For men, it's a good idea to pack at least one pair of pants or nice jeans, as well as a polo style shirt to wear in the evening.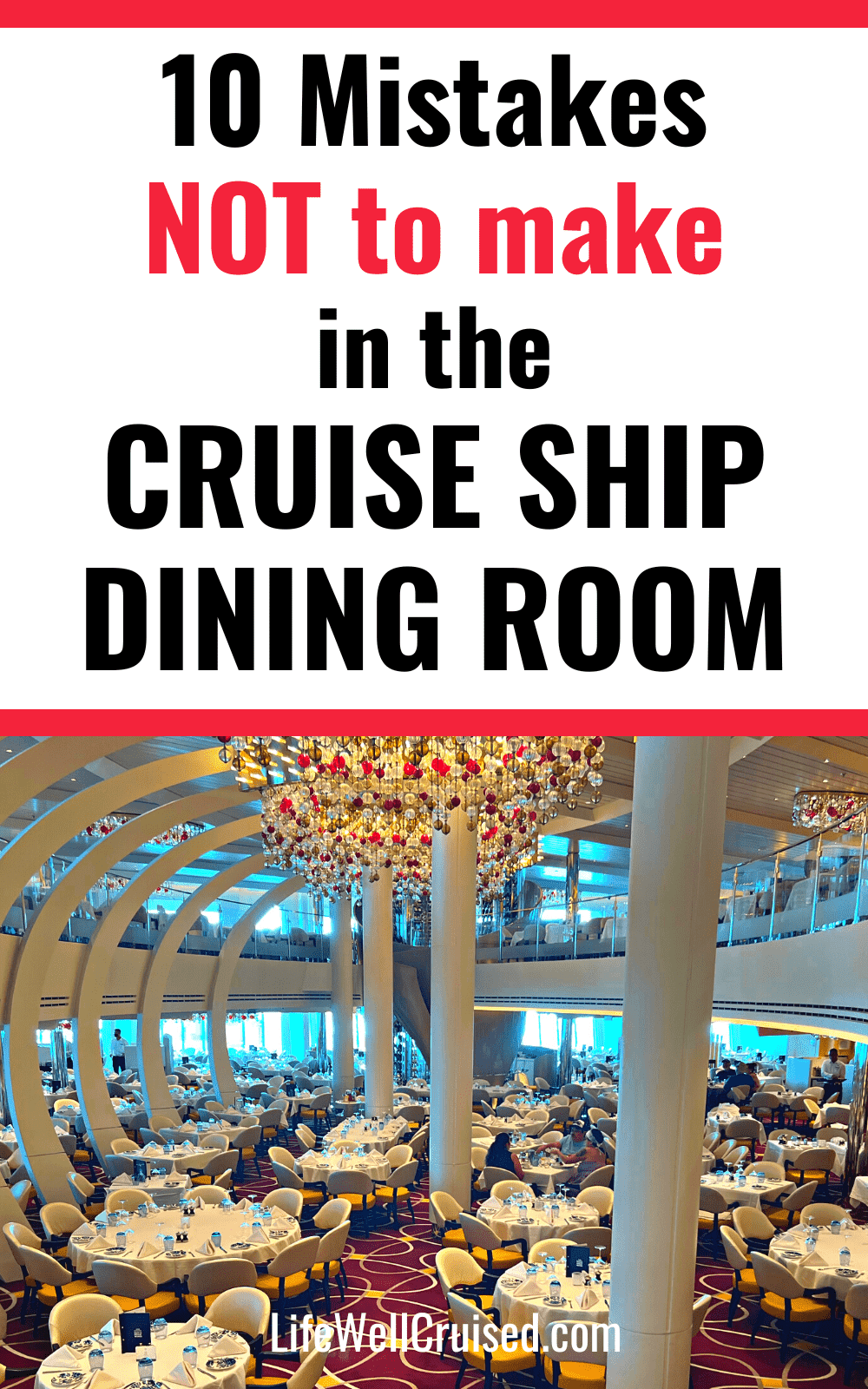 Related:
5. Not Checking Out Your Table Location on Embarkation Day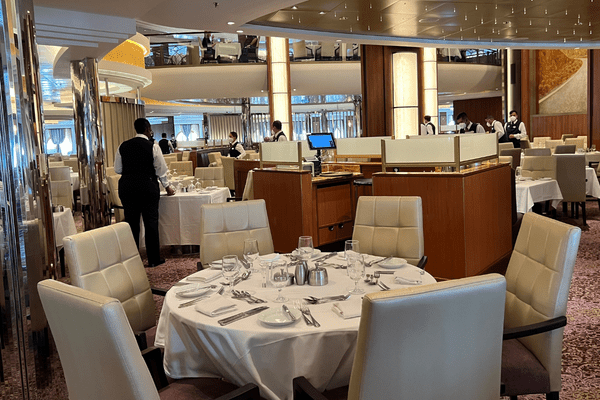 If you have traditional cruise dining reservations, why not check out your table location on embarkation day?
You may not want to be stuck at a table in a bad location, such as near the kitchen or waiter's station. One way to avoid this problem is to see the maitre'd in the afternoon and check where your table is located. Often, they are able to change your table.
6. Dining Arrangements for Large Groups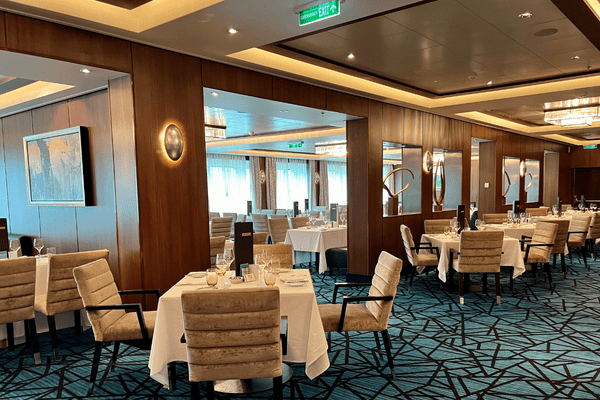 If you're doing a group cruise, don't assume that you'll always be able to sit together in the main dining room. In particular, this can be really hard to do if you have open dining.
Large groups are best off booking traditional early or late seating, where several tables can be reserved in the same section. There aren't many tables that can accomodate 10 or more people, so reserving early is best.
Get The Ultimate Cruise Planner
Regular price: $27 Now just $17!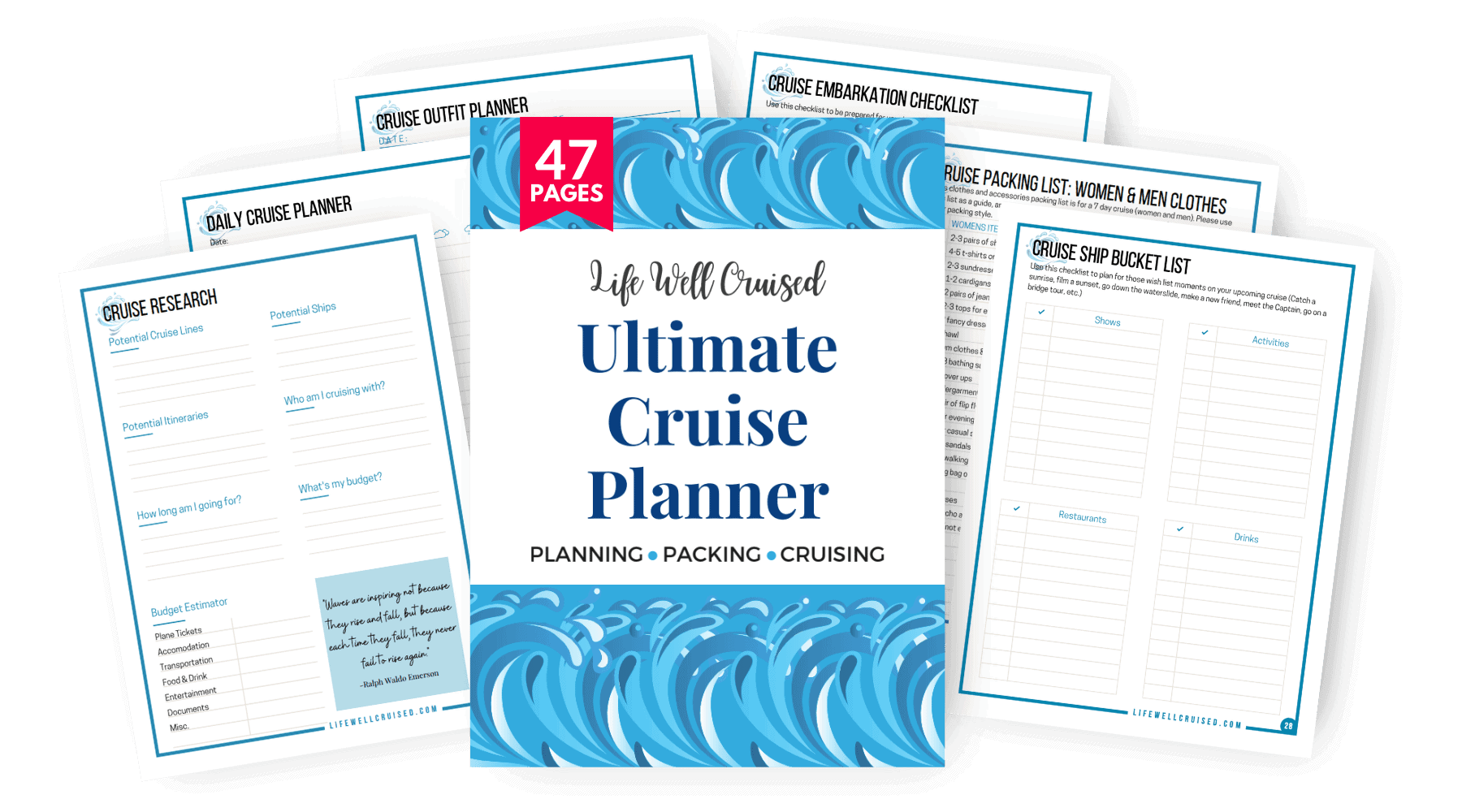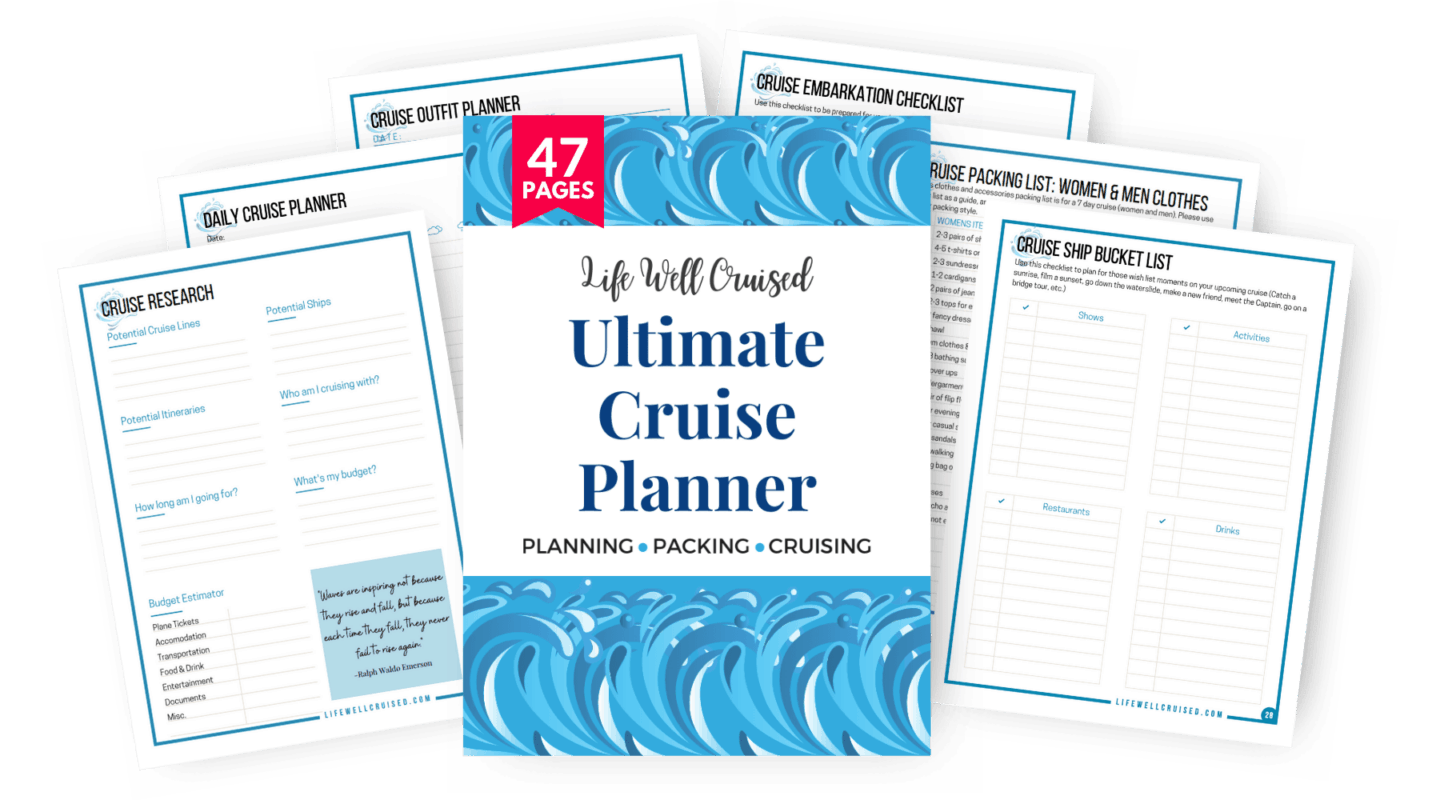 7. Not Informing the Cruise Line About Food Allergies or Dietary Restrictions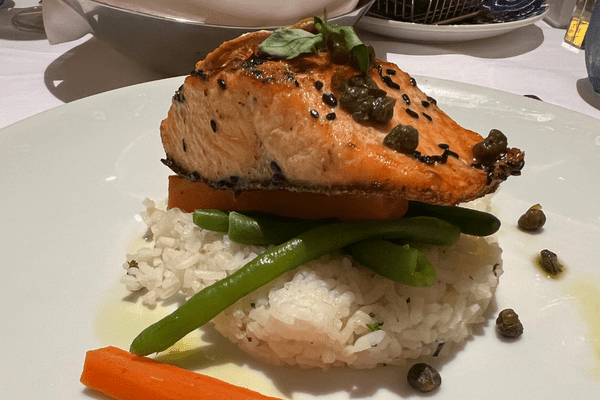 Cruise lines take food allergies seriously, and can often adapt dishes or make alternative meals to accomodate. However, it's important for the cruise line to be aware.
Food allergies and dietary restrictions can usually be noted on your reservation through your travel agent or directly with the cruise line.
Once onboard, make sure to let the maitre'd know, as well as anyone who is serving you throughout the cruise vacation.
8. Not Asking Your Waiter for Food Recommendations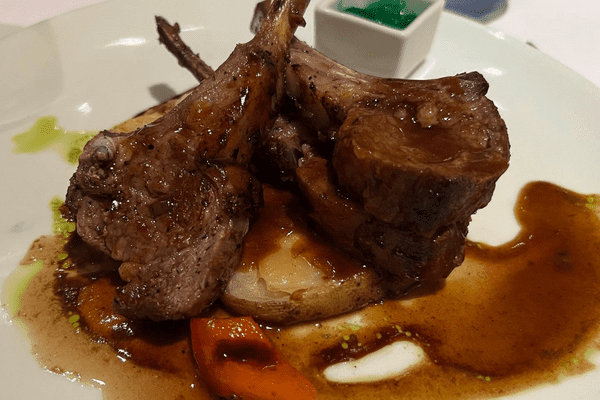 The menu items might look great, but your waiter will often know what are the best dishes of the night. It's a good idea to ask your waiter for his or her recommendations.
Servers hear the feedback of other cruise passengers, and also know which dishes are the most popular and enjoyed. They can often give you some insider tips on the cruise food options, and it's a mistake to discount them.
9. Not Trying a Specialty Restaurant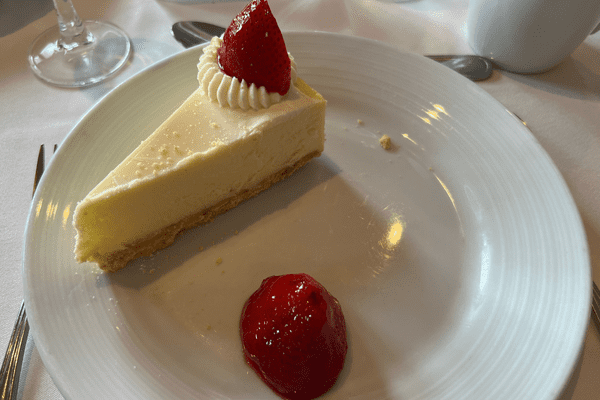 It's always great to eat the food that's included on a cruise. However, if you're a foodie, it can be a mistake to miss out on some amazing dining at a specialty restaurant.
While there is a an additional charge, it may be worth having higher quality prepared meals on occasion while on your cruise.
If you're celebrating a special occasion, want a romantic evening, or simply want a quieter, less busy environment, you may appreciate eating in a specialty restaurant during your cruise.
10. Not Trying the Main Dining Room for Breakfast or Lunch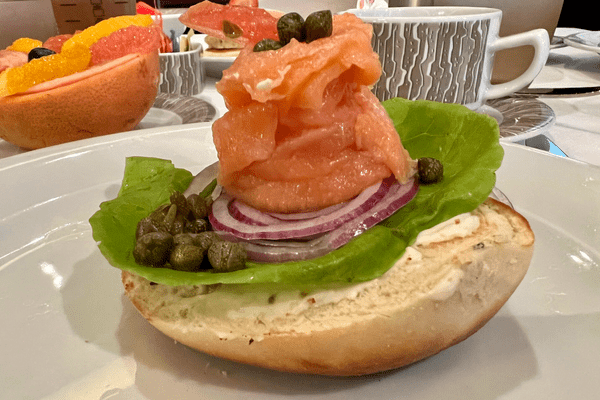 A common cruise mistake is eating only in the buffet (unless you really want to). A surprise for many first time cruisers, is that you can also eat breakfast and lunch in the main dining room.
Yes, this is included and it's wonderful!
Consider eating breakfast in the MDR on quiet sea day on your cruise. Having lunch in a sit down restaurant can be a nice change of pace, especially when we get busy on a cruise.
Bonus: Order Off menu Items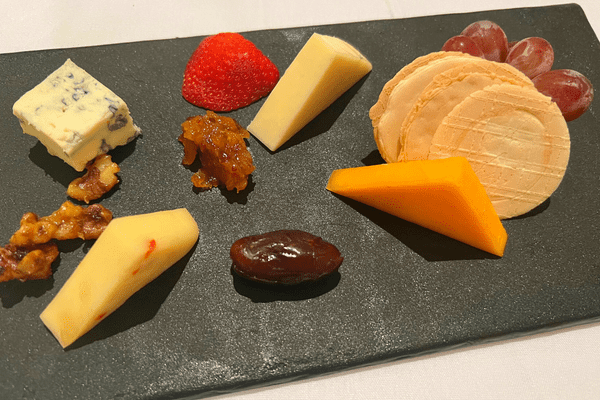 There are some basic food items that may not be on the menu, but are often available in the main dining room. While there's no guarantee, if you'd like something that is off menu, just ask.
Some of these things are usually available are:
Fruit plate for dessert
Cheese plate (before or after a meal)
Ice cream or sorbet
Children's menu items (including an ice cream sundae)
Video: 10 Big Dining Room Mistakes Not to Make on a Cruise
Final Thoughts on Dining Room Mistakes Not to Make on a Cruise
Cruise food and eating in the main dining room is a big part of cruising. In this post we went over mistakes to avoid in the dining room on a cruise. As well, we went through some cruise tips to help have the best dining experience possible.
Do you have any dining tips to share? Please let me know in the comments below.
Happy Cruising!
Ilana
P.S. If you enjoyed this post, please don't keep it to yourself ;-). Please feel free to share on social media (like Facebook or Pinterest – share buttons are at the top). Thanks so much!