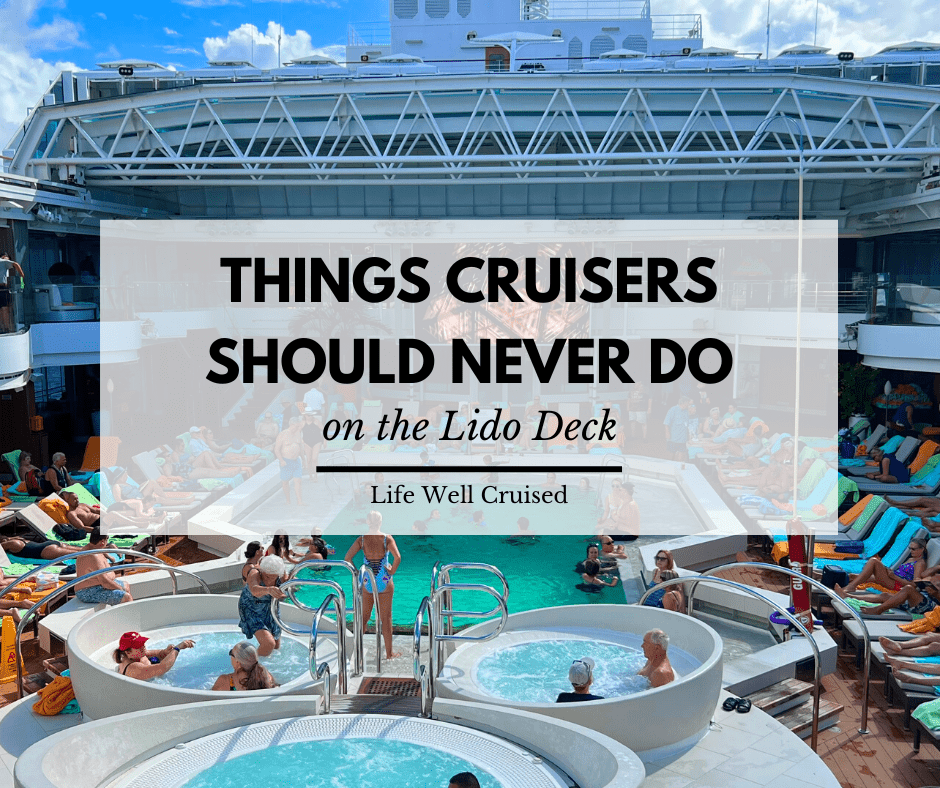 Cruises are great vacations. However, there are some things that might surprise you, especially when it comes to the cruise ship lido deck! There are some rules, guidelines & etiquette all cruisers should know, before going on a cruise.
The cruise ship lido deck, or pool deck, is a fun place to hang out on sea days. However there are some things you don't want to do, that may be against the rules or disturb other people.
Here are some tips, reminders and do's and don'ts for the cruise ship pool deck.
This post contains affiliate links which means if you click and buy that I may make a commission, at no cost to you. Please see my disclosure policy for details.
As an Amazon Associate I earn from qualifying purchases.
Don't Do These Things on a Cruise Ship Pool Deck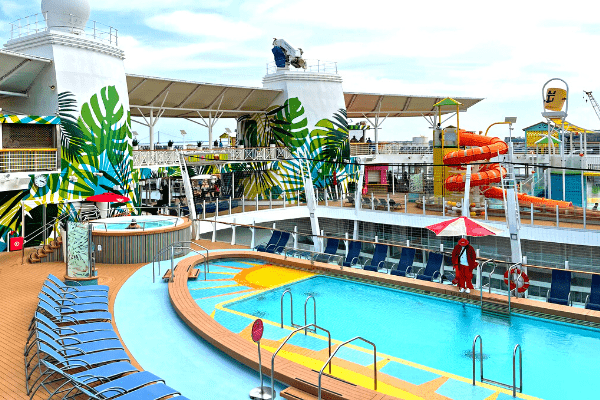 1. Don't Reserve Deck Chairs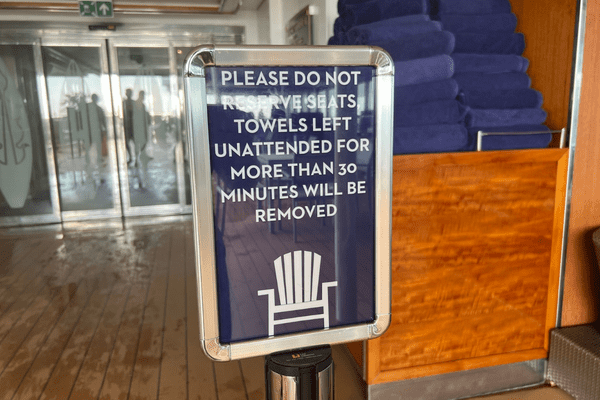 We all love a deck chair by the pool. However, reserving lounge chairs for long periods of time is frowned upon, and against the rules on most cruise lines.
One of the most annoying things you'll find on cruises is "chair hogs", people that reserve deck chairs for long periods of time.
While it's fine to sit on a chair and go in the pool or get up to grab a slice or pizza, cruise passengers can have their items removed if they are away from their chairs for longer than 30 minutes.
In our experience, this isn't always strictly enforced. However, some cruise passengers have reported seeing cruise ship crew being more pro-active in monitoring this.
That said, there are usually chairs available on the higher deck above the pool, as well as areas a little further from the action (which can be more pleasant).
2. Don't Play Your Own Music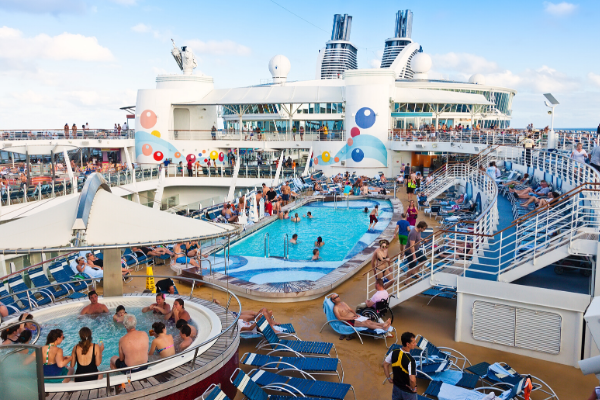 Cruise ship pool decks are public areas. So bring your headphones or AirPods, but leave your blue tooth speaker in your cabin.
Playing your own music at the lido deck can disturb others and is a bit of a faux-pas.
3. Never Leave Your Children Unsupervised
Kids should always be supervised on a cruise. However, the cruise ship pool can be especially dangerous for young children.
While some cruise ships may have lifeguards near the pool, others will not. For safety reasons, parents should always keep a close on eye on kids on the cruise lido deck at all times.
As well, unless children are in the kid's club, an adult should be supervising young ones.
Related: 27 Awesome Things To Do on a Cruise on Sea Days
4. Don't Bring Kids in the Adult Pool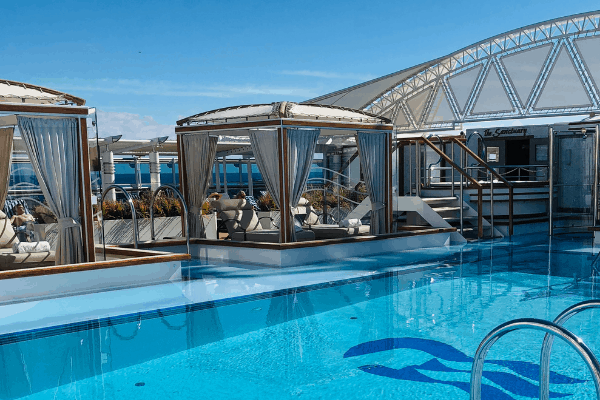 There are a lot of places to bring kids on a cruise ship. However, the adult only pool isn't one of them.
Many cruise ships have an adult pool, for cruise passengers that are 16 or 18 and up. Even if younger children are well behaved, this is against the rules and can disturb other guests.
5. Don't Smoke in No Smoking Areas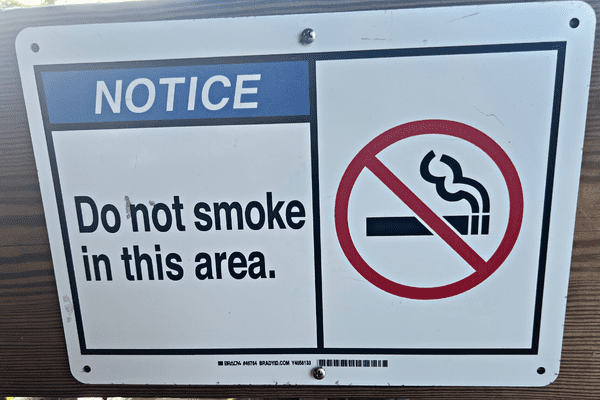 Smokers can often find an area at one side of the lido deck where smoking is permitted. If you're a smoker, make sure to check out and find a deck chair nearby the smoking section.
Here's a tip for non smokers. If you're a non-smoker and don't like the smell of smoke, before choosing a place to sit near the pool, check out where the smoking section is. This way you can choose a deck chair that is not close to or even above the smoking areas.
6. Don't Hog the Hot Tub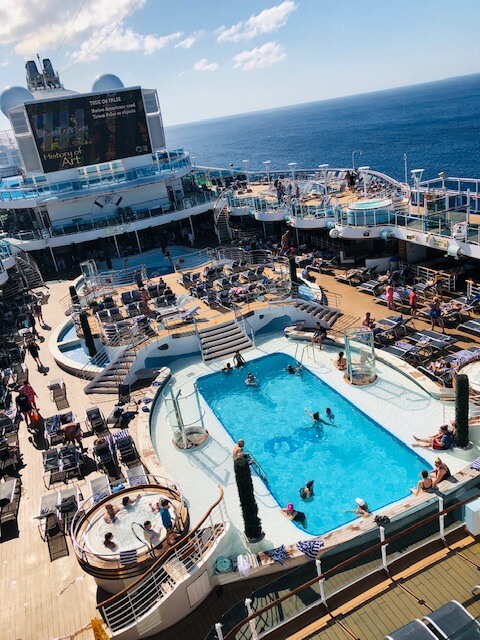 Hot tubs are notoriously small on many cruise ships. It's good cruise ship etiquette to enjoy, but try not to hog the hot tub. If you're a group of friends especially, try to limit time in the jacuzzi so others can also get a chance.
Of course if you're drinking while in the hot tub, bathroom breaks are important ;-).
7. No Diapers or Swimmers Are Allowed in the Pools
For sanitary reasons babies and young children aren't allowed to go in the cruise ship pools wearing diapers or swimmers. Of course, they should be toilet trained as well.
Unfortunately, if anyone has accident in the pool, the cruise ship staff would likely need to drain and sanitize the whole pool. This can mean a closed pool for hours on a hot day and lots of unhappy cruisers.
Related: 13 Cruise Main Dining Room Tips All Cruisers Need to Know
Get The Ultimate Cruise Planner
Regular price: $27 Now just $17!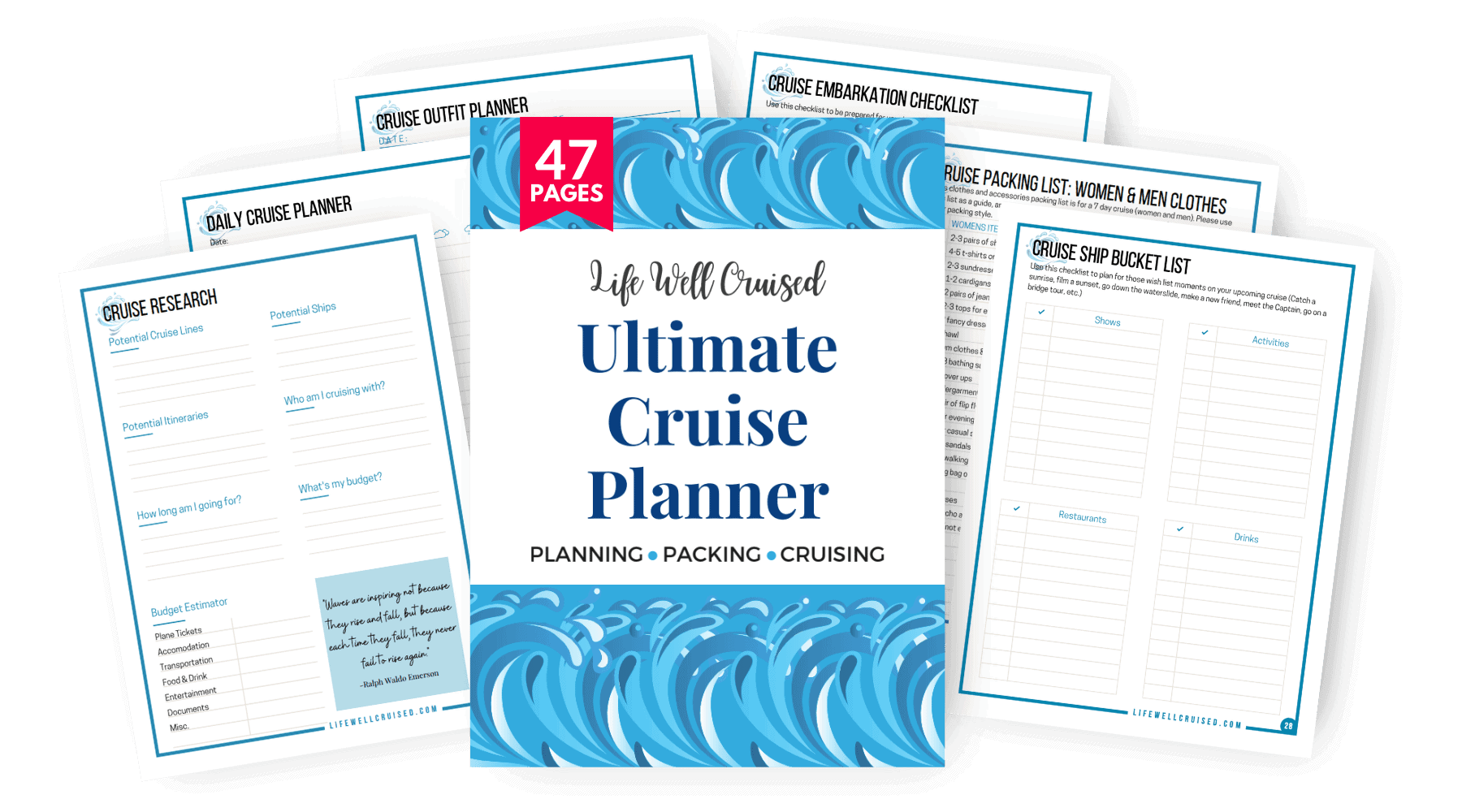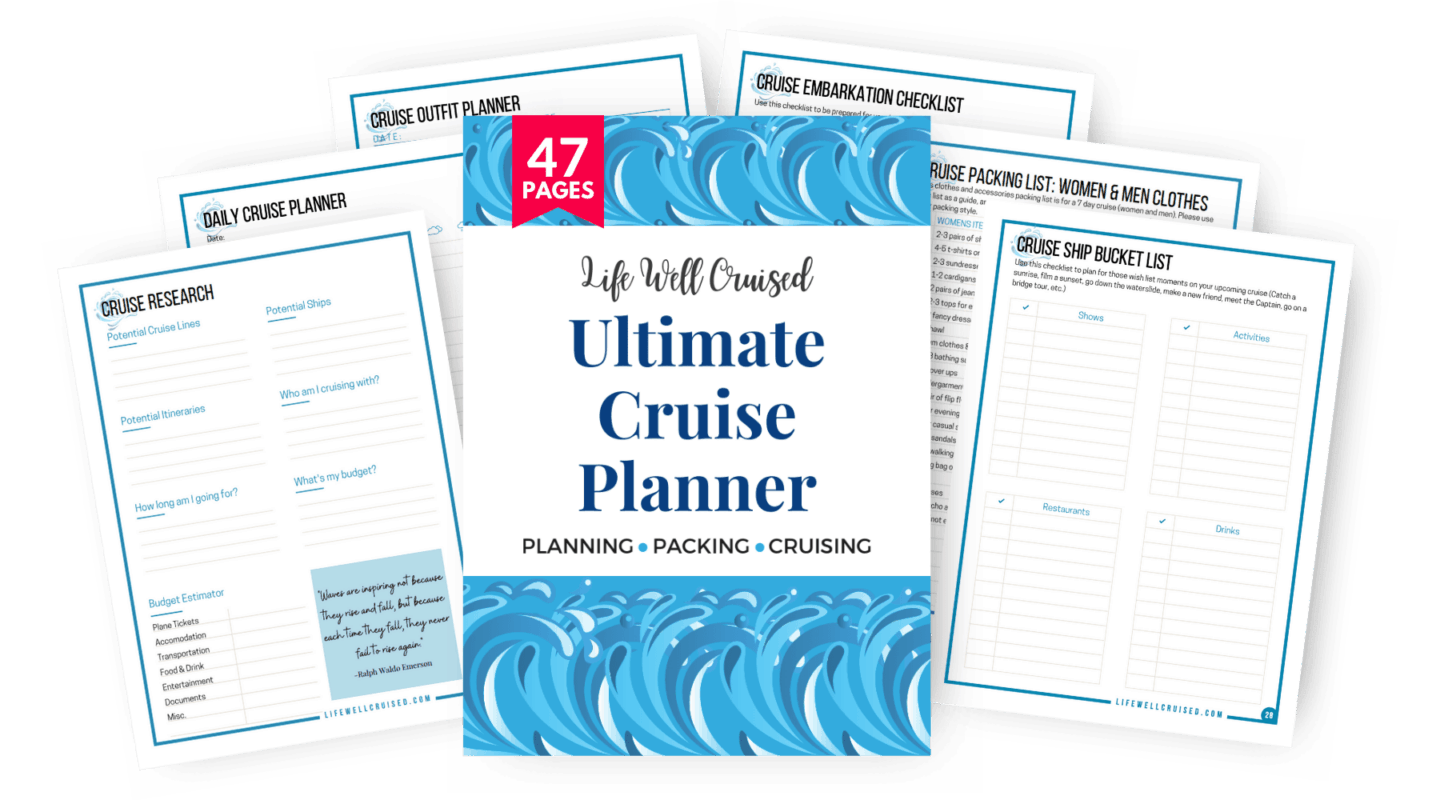 8. Don't Go to the Bathroom in the Pool
This goes without saying, but adults shouldn't go to the bathroom in the pool either. If you got an image of Caddy Shack in your head, so did I…
9. Don't Move Lounge Chairs into the Jogging Track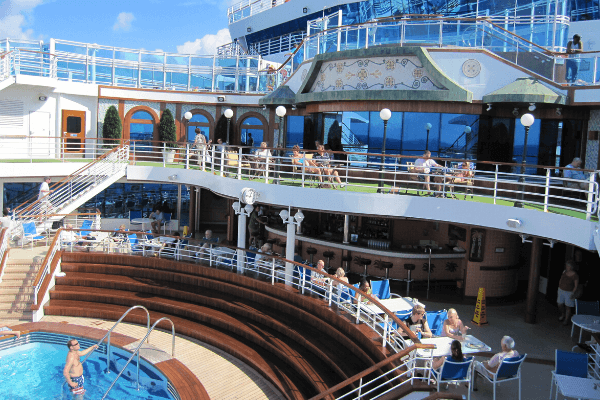 It's not uncommon for people to move their chairs on occasion with the direction of the sun, or to sit closer to others. However, it's important to make sure that there's a path for passengers and crew to walk as well as for wheelchair or scooter users.
Often times, deck chairs are placed alongside the walking or jogging track. Be sure not to move a chair into the path of someone walking or running, and cause an accident.
10. Don't Go Topless
Years ago some cruise ships had topless pool decks, or sun decks. However, most mainstream cruise lines don't allow topless sunbathing anymore.
For those that do wonder about this, there are some topless beaches where this is permitted. If you're on a Caribbean cruise, the island of St. Martin has Orient Beach where there is a topless section to the right.
11. Don't Forget Your Sunscreen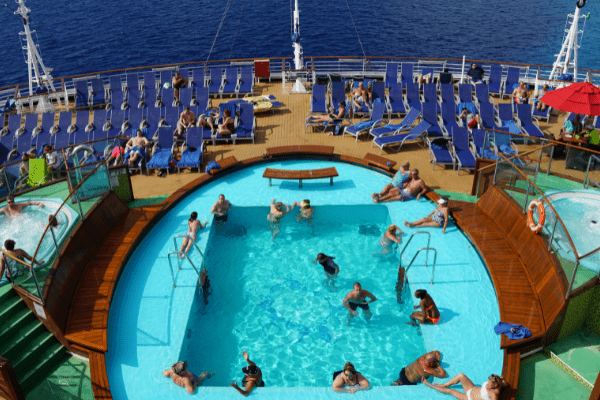 This practical cruise tip is a must to remember. The sun may be hotter and stronger than what you are used to, and a good sunscreen should be on your cruise packing list!
Along with sunscreen, don't forget to bring a lip balm and aloe vera gel, just in case.
Related: What to Pack for a Caribbean Cruise
12. Don't Walk Barefoot on the Pool Deck
The cruise ship pool deck can get so hot! Even if you're just walking from your lounge chair to the pool, put on your flip-flops.
If not, you'll likely be doing a funny hopping dance around the pool area as you look for shady spots that don't burn the soles of your feet!
Video: Things to Never Do on the Cruise Ship Lido Deck
Get The Ultimate Cruise Planner
Regular price: $27 Now just $17!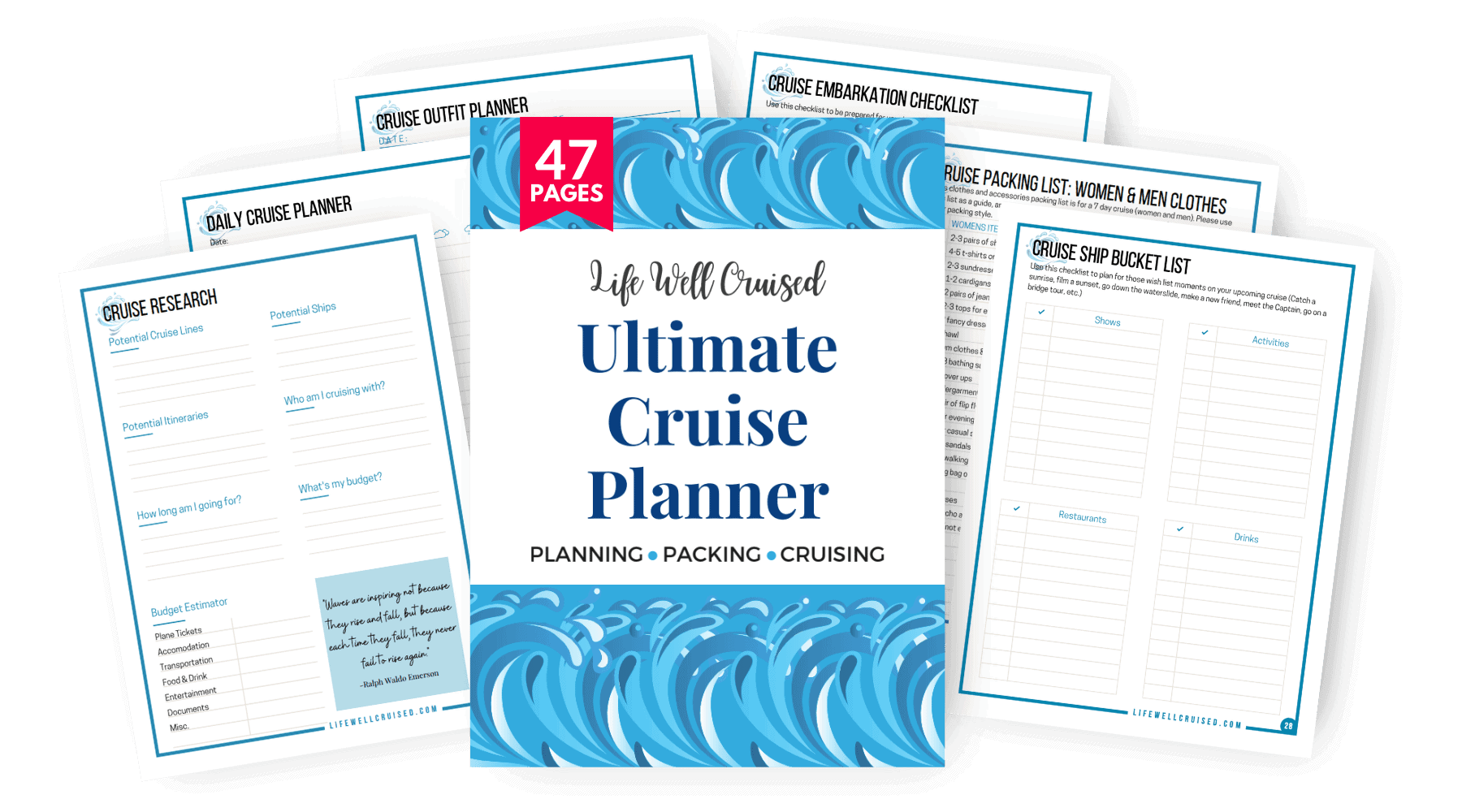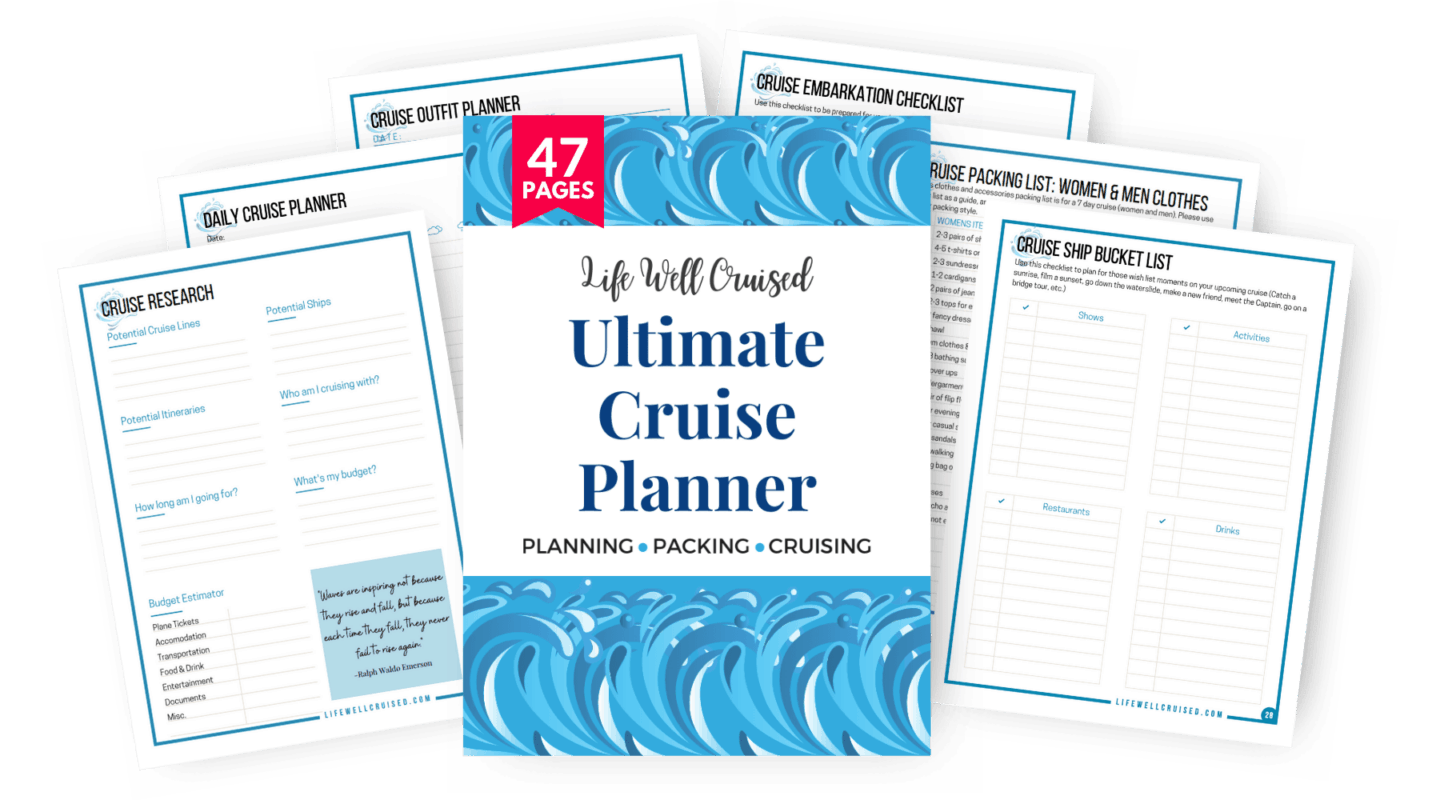 Related & Popular Posts
Final Thoughts on Things to Never Do on a Cruise Ship Lido Deck
Cruising is a lot of fun, and there aren't too many rules and restrictions. However, there are some guidelines and etiquette for having a better time as you spend the day on the cruise ship lido deck.
I hope these fun cruise tips will help as you look forward to sea days at the pool on your next cruise.
Happy Cruising!
Ilana
If you enjoy this post please don't keep it to yourself ;-). Please feel free to share on Facebook or Pinterest (share buttons at the top). Thanks so much!