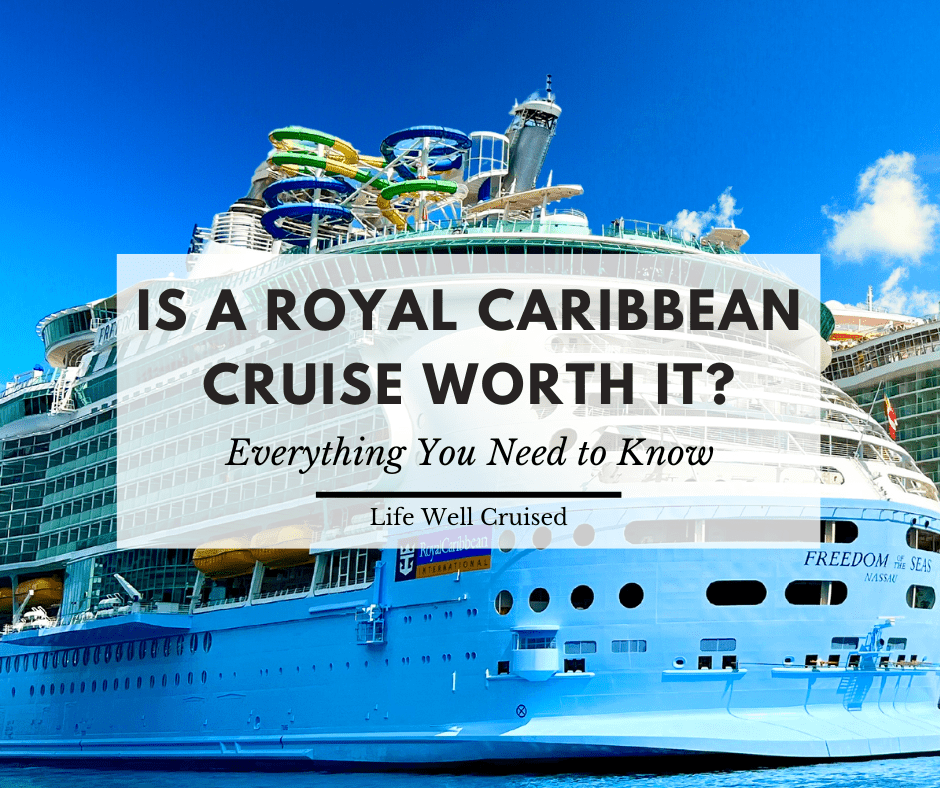 Are you considering booking a Royal Caribbean cruise and wondering if it's worth it, or even the right cruise for you?
Planning a cruise is not one size fits all, and there are many different cruise lines to choose from.
Royal Caribbean is known for having the biggest cruise ships at sea, world class entertainment and insane onboard attractions.
As someone who has cruised with Royal Caribbean since I was young, I know first hand why a Royal Caribbean is so worth it!
In this post, I'm going to share 10 reasons why a Royal Caribbean cruise is worth the money. I also answer some frequently asked questions about Royal Caribbean.
This post contains affiliate links which means if you click and buy that I may make a commission, at no cost to you. Please see my disclosure policy for details.
As an Amazon Associate I earn from qualifying purchases.
10 Reasons Why a Royal Caribbean Cruise Is Worth It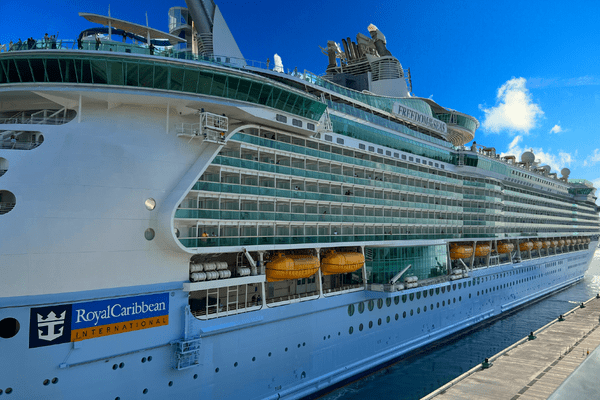 1. Amazing Entertainment
Royal Caribbean is known for having some of the best and most unique entertainment in the cruise industry.
In fact, when it comes to entertainment on a cruise ship, it's really hard to beat what Royal Caribbean has to offer. Not only are there comedians, live bands and production shows, there are also special shows on select Royal Caribbean cruises.
On certain Royal Caribbean cruise ships, you'l find an ice skating show in Studio B and an aqua show in the aqua theater. These shows are an amazing experience and something you will only find on Royal Caribbean cruises.
In addition, when you cruise with Royal Caribbean there will be broadway musicals, guest entertainers, parades and audience participation game shows every night of your cruise.
The amazing entertainment onboard Royal Caribbean, is one of the many reasons why cruising with Royal Caribbean is so worth it.
2. Perfect Day at CocoCay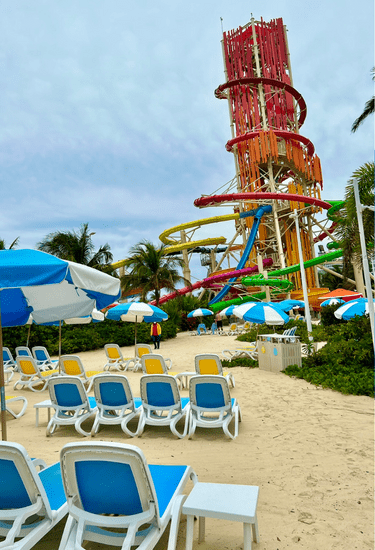 Royal Caribbean has their own private island in the Bahamas called Perfect Day at CocoCay. Out of all of the major cruise lines, Royal Caribbean has the best private island by a long shot.
On CocoCay there's a beach, a massive water park (with the tallest water slide in North America), kid's play areas, plus restaurants and bars. The great thing about going to CocoCay is that the food is included and your Royal Caribbean drink package works on the island.
You'll also find Oasis Lagoon, giant resort style pool with a swim-up bar. On CocoCay, you can also do shore excursions and activities including a hot air balloon ride and zip lining. You can even rent an incredible floating cabana for a very special day!
Perfect Day at CocoCay is a destination every cruiser has to visit at least once. No matter how old you are, you can have a good time at CocoCay.
If your Caribbean cruise itinerary doesn't include CocoCay, it may include Royal Caribbean's other private island, Labadee, on the coast of Haiti. Although CocoCay has all the bells and whistles, Labadee is still a great destination with beautiful beaches.
On Labadee, there is an included barbecue lunch and awesome activities, including a zip line and dragon tail coaster. The landscape of Labadee is also gorgeous!
3. Included Activities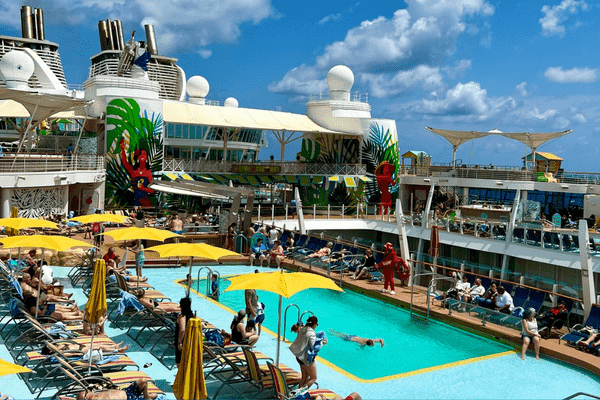 When it comes to activities onboard a cruise ship, it doesn't get much better than Royal Caribbean. Royal Caribbean has ice skating, water slides, zip lining, rock climbing and surf simulators which are all included in the cruise fare.
There are also fun activities like dance classes and karaoke, which are also free on Royal Caribbean cruises. While most activities are included, two attractions that have an additional cost on Royal Caribbean cruises are the North Star and iFly (sky diving simulator).
Compared to other cruise lines, such as Norwegian and Carnival Cruise Line, Royal Caribbean has so many free things to do on their cruise ships. This is a huge plus, since paying for extra activities on a cruise can really add up, especially when you're cruising with a family.
Related: What to Pack for a Royal Caribbean Cruise
4. Plenty of Food Options
One of the main reasons why cruising with Royal Caribbean is so worth it is because of the great dining options. Royal Caribbean has a wide variety of included restaurants as well as specialty dining, which has an extra cost.
Included Food Options
The Windjammer Marketplace is the all you can eat buffet onboard all Royal Caribbean ships. In the buffet, you will be able to have classic food and try foods from different cultures.
The main dining room is another included place to eat that is very popular among Royal Caribbean guests. This is where many passengers will go for a sit down dinner. However, the main dining room is open for breakfast and lunch as well.
Many Royal Caribbean ships also have free food at casual restaurants like Sorrento's (pizza), El Loco Fresh (Mexican food), Café Promenade (pastries & sandwiches) and Dog House (hot dogs).
For those who like room service, there is also free continental breakfast that can be delivered to your room. However, if you do want room service for lunch or dinner, there is an additional charge.
These places are perfect for grabbing a quick bite throughout the day.
Specialty Dining
If you're looking for a special culinary experience, Royal Caribbean has some amazing specialty restaurants. The specialty restaurants on Royal Caribbean are a great value and it really does enhance the cruise experience.
If you're looking for a change from the included food your cruise, trying a specialty restaurant is worth the money. You may even want to book a specialty dining package as you plan before your cruise.
Here's a list of the specialty restaurants on Royal Caribbean cruises:
Royal Caribbean Specialty Restaurants:
Izumi
Giovannis Italian Kitchen
Portside BBQ
Johnny Rockets
Wonderland
Fish & Ships
Chops Grille
Teppanyaki
Hooked Seafood
150 Central Park
There are more specialty restaurants, however these are the most popular ones that can be found on many Royal Caribbean cruises.
Related: Best Free Things on Oasis of the Seas
5. Comfortable Cabins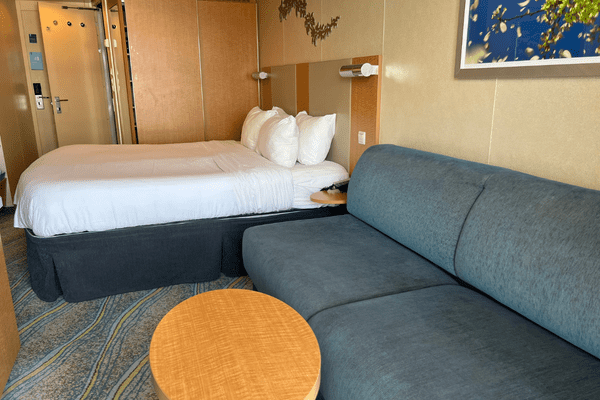 No matter your budget, you are going to find comfortable cabins on a Royal Caribbean Ship. Whether you cruise in an inside cabin, balcony cabin or a suite, there is something for everyone.
If you're cruising on a budget, you'll be happy to know that most Royal Caribbean cruise ship cabins have a small couch and sitting area. There are also plenty of staterooms to accommodate families of four and even five people (on select cruise ships), as well as connecting rooms.
Get The Ultimate Cruise Planner
Regular price: $27 Now just $17!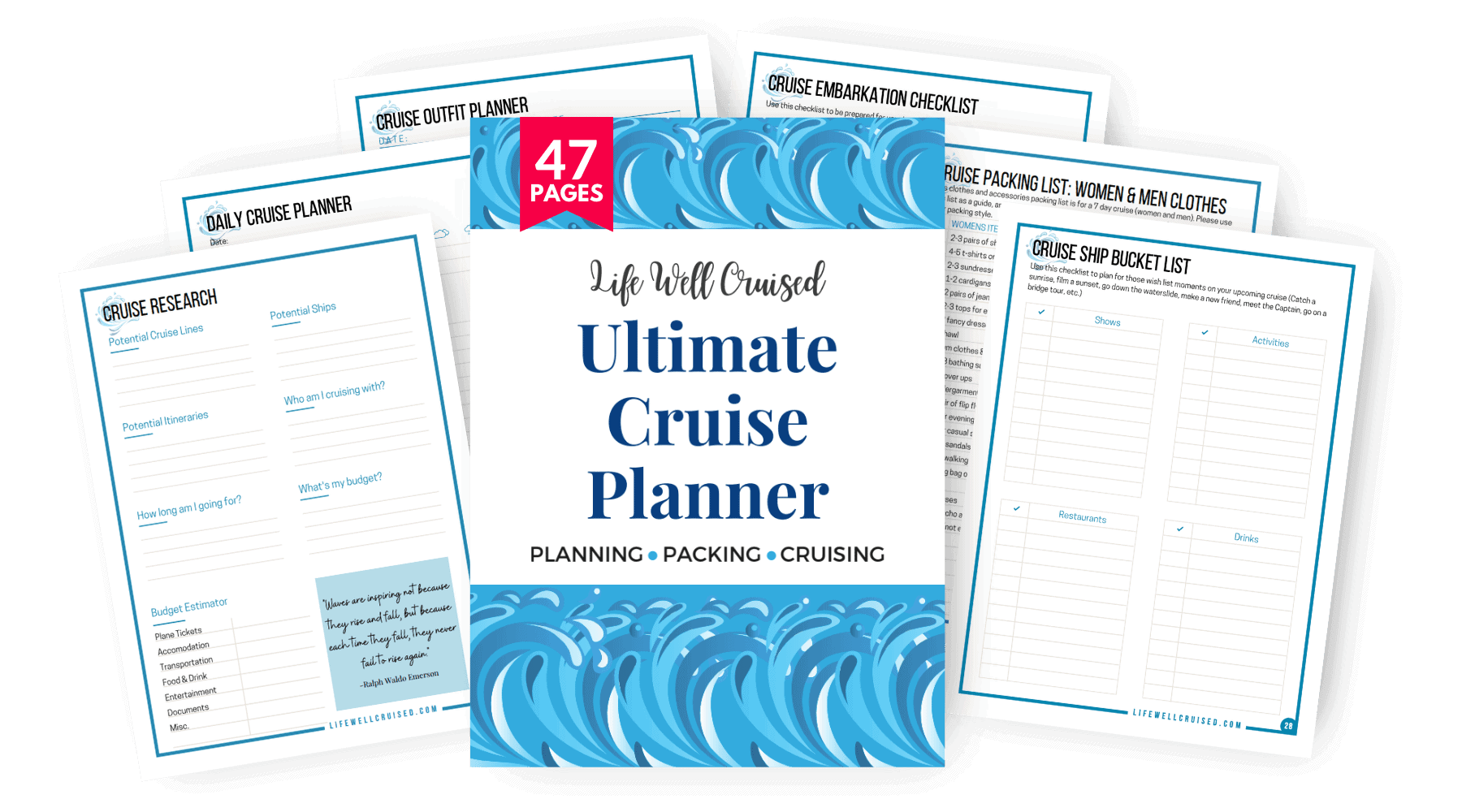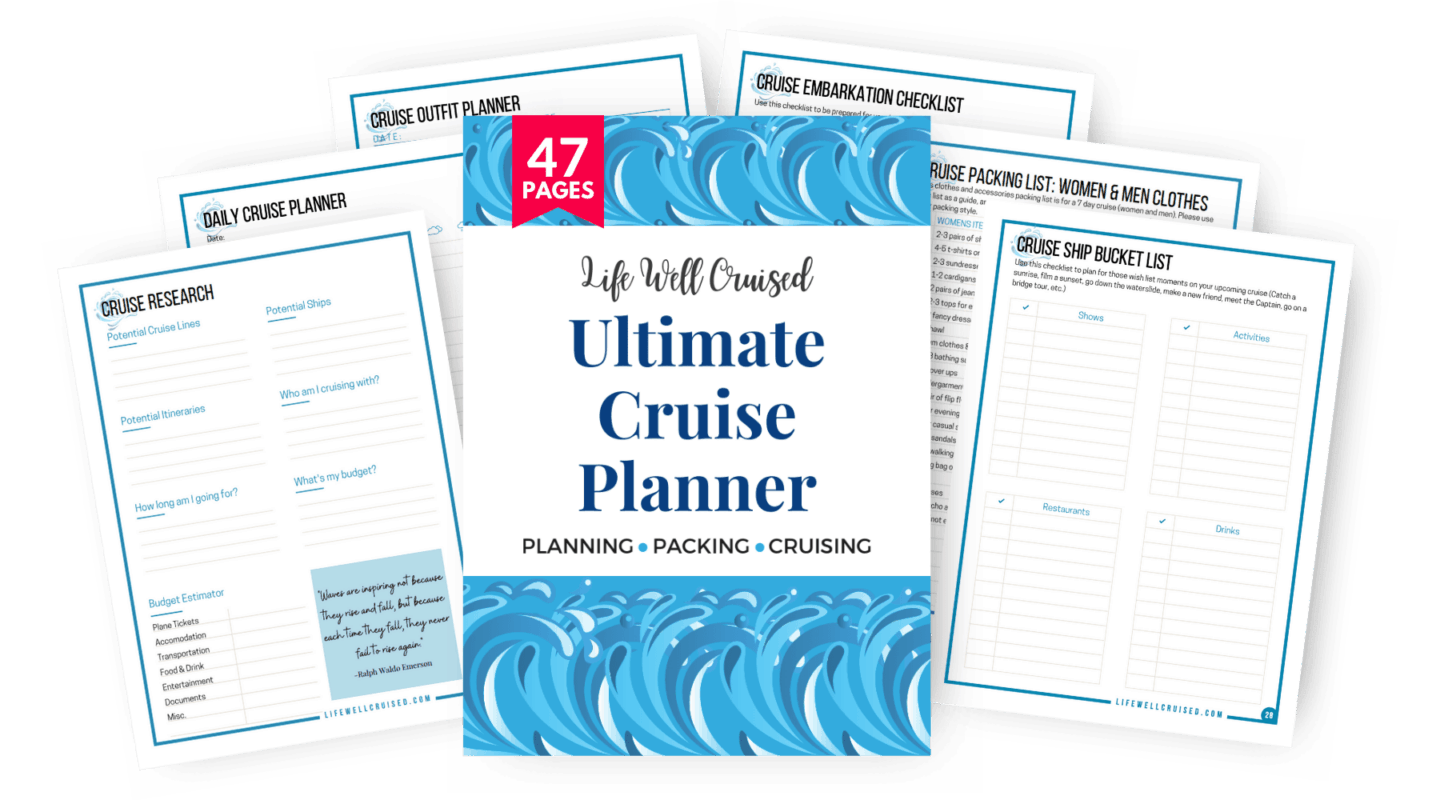 6. Beautiful and Innovative Cruise Ships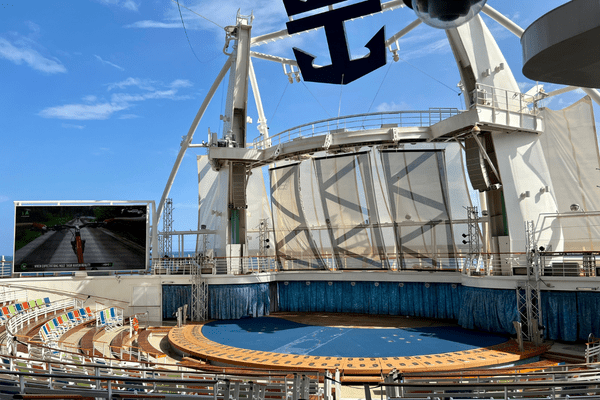 Whether if it's the newer ships or an older ship, Royal Caribbean is known for having beautiful and innovative cruises. Every time Royal Caribbean releases a new cruise ship, they are constantly pushing the limits.
Royal Caribbean has done a great job at building cruise ships that make the ultimate vacation. With water slides, zip lines, surf simulators and much more, it's hard to top what Royal Caribbean has to offer on their cruises.
The decor onboard a Royal Caribbean cruise is always very nice and on certain ships they have the Central Park which has real trees and plants.
Since Royal Caribbean makes the largest cruise ships in the world, they are always innovating and doing things that have never been done on cruise ships before.
Video: Oasis of the Seas Review & Cruise Tips
7. Family Friendly Atmosphere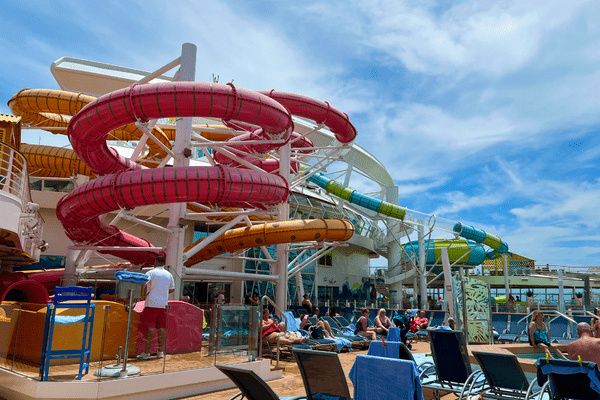 Royal Caribbean is not only for families. However, if you are cruising with kids, it's hard to beat a Royal Caribbean cruise. Everything from the activities to the entertainment is fun for the whole family.
If you're traveling with kids, a great thing about Royal Caribbean is that they have an amazing kid's club, Adventure Ocean. This is a supervised area where you can leave your kids throughout the day or in the evenings.
The great thing about the kid's club is that it's super fun and it's a great way to make new friends. As we grew up, my brother and I spent a lot of time in the kid and teen club and made amazing memories!
Cruise passengers love Royal Caribbean because of the family friendly atmosphere. No matter how old you are, there is always something to do on a Royal Caribbean cruise.
Related: Best Royal Caribbean Ships For Families
8. Friendly Crew
The crew members onboard Royal Caribbean cruises are always very helpful and friendly. Whether if it's at guest services, in the dining room or by the pool, the staff are very kind and are always smiling.
The friendly crew onboard Royal Caribbean ships, really makes the cruise vacation experience so amazing.
9. Pre-Purchase Package Options
A great option that Royal Caribbean offers, is that you can pre-purchase package options before your cruise. This is a great way to save money on a cruise and have all of the extra packages you want once you're onboard your cruise.
If you like alcoholic beverages, it's a good idea to purchase the beverage package before the cruise. This way, you will save money and you don't have to worry about paying for alcoholic drinks once you're on the ship.
Another option that is really popular is the internet package. If you plan on using your phone while you're at sea, then you're going to want to pre-purchase the wifi package.
Other packages that cruisers often purchase include a specialty dining package and the photo package.
10. Something for Everyone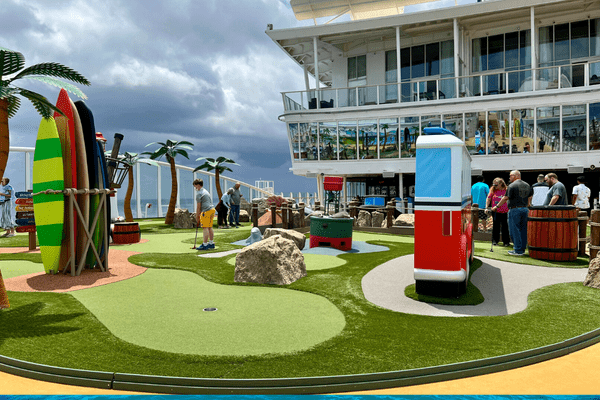 It seems like Royal Caribbean cruise ships keep getting bigger and bigger, just look at the incredible Icon of the Seas! However, Royal Caribbean actually has cruise ships of different sizes in their fleet of 26 ships.
Royal Caribbean has cruise ships to suit cruise travelers who prefer small to mid-size cruise ships, as well as families who love a mega ship with tons of onboard attractions.
Royal Caribbean truly does have something for everyone. If you're looking for an enjoyable way to cruise and you're young at heart, you will find the value in cruising with Royal Caribbean.
Get The Ultimate Cruise Planner
Regular price: $27 Now just $17!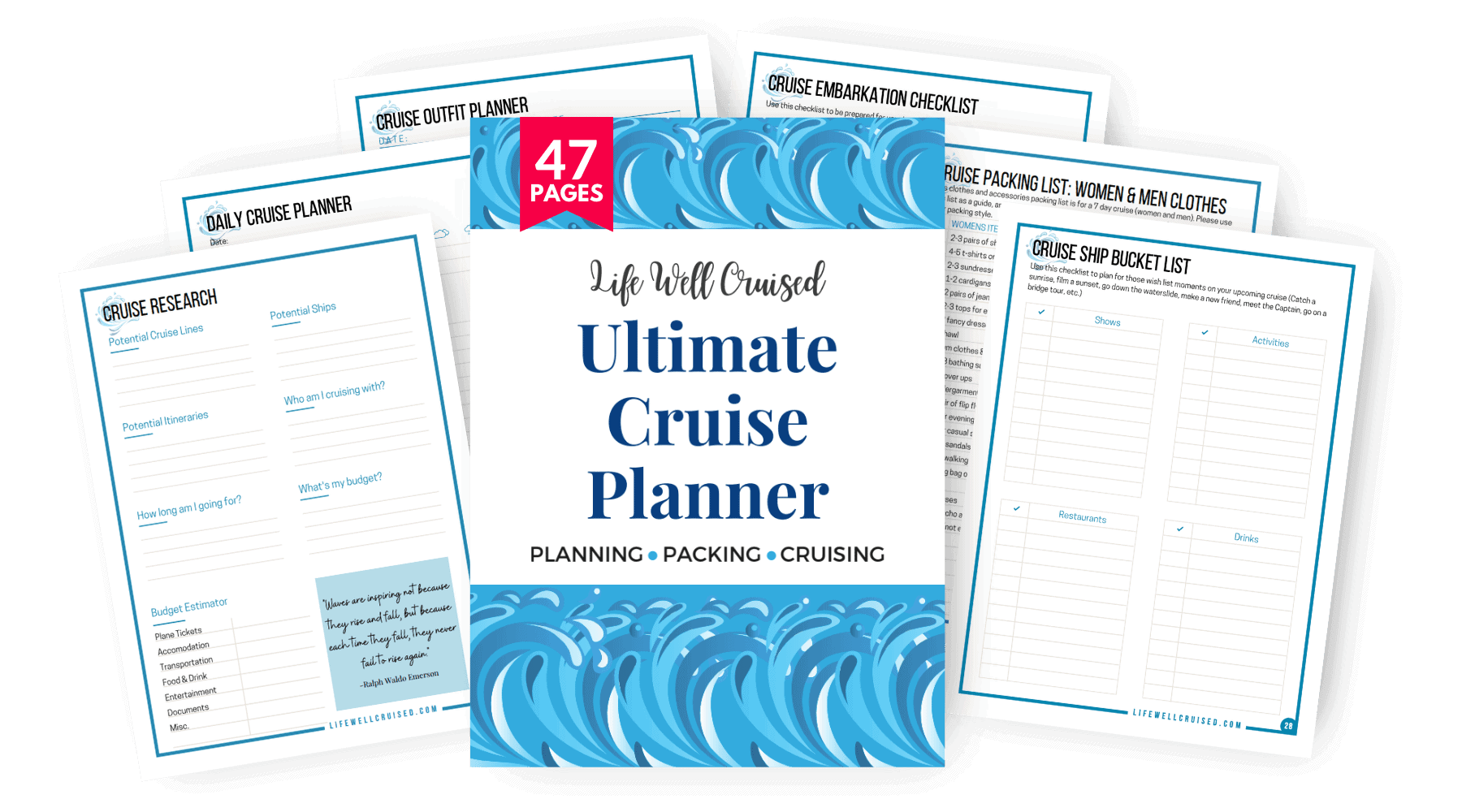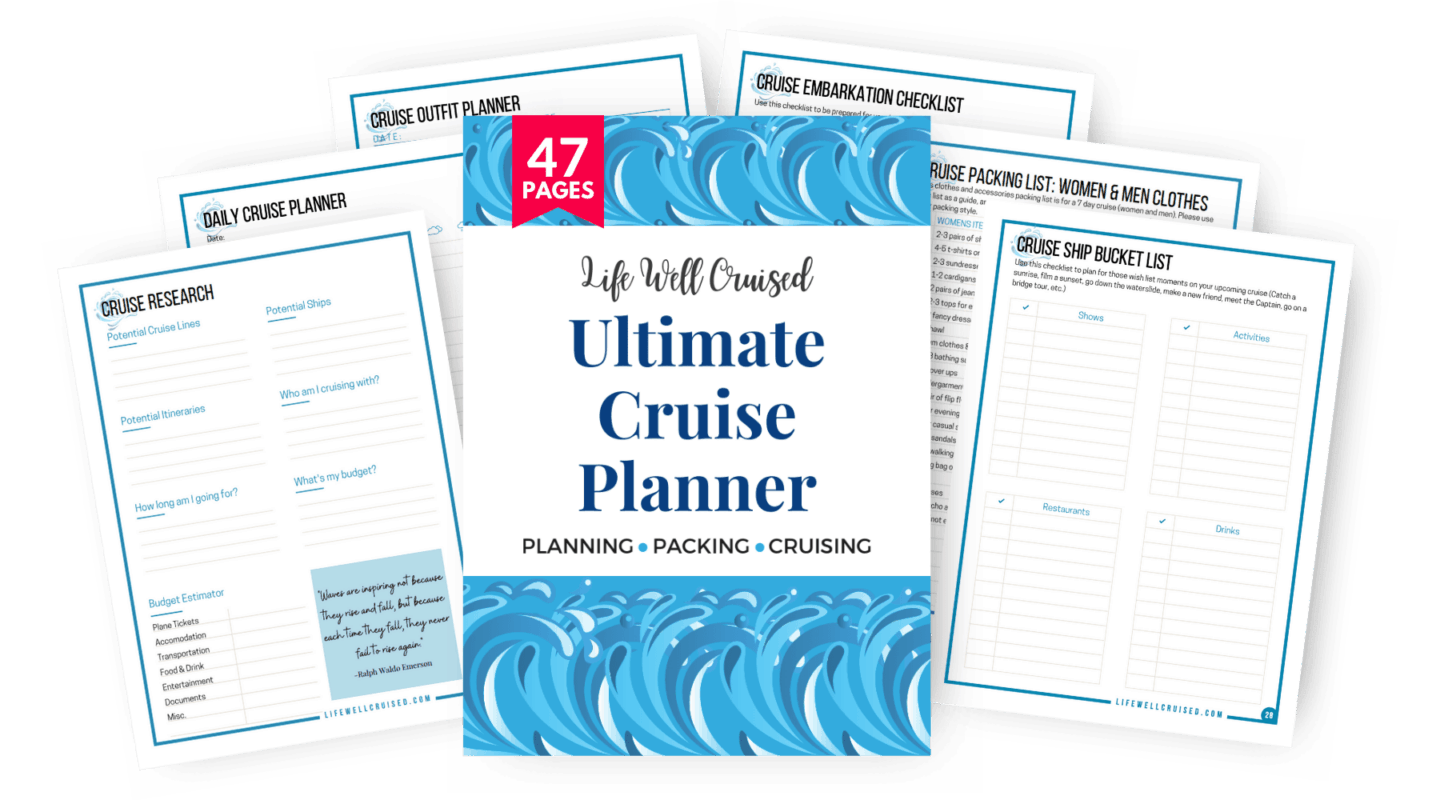 Frequently Asked Questions
Is Royal Caribbean Considered Luxury?
Royal Caribbean is an affordable, quality cruise, but not a luxury cruise line. The target demographic for Royal Caribbean is families and the atmosphere is relaxed and fun.
However, there are suites and accommodations for those who want a more luxurious experience.
The great thing about Royal Caribbean is that it can be an affordable vacation if you want it to be. However if you have bigger budget or want some extras, you can enhance your cruise experience.
Which Royal Caribbean Ship Is the Most Fun?
The most fun Royal Caribbean ship really depends on personal preference. However, the Wonder of the Seas, Odyssey of the Seas, Harmony of the Seas, the Oasis of the Seas and the Allure of the Seas are known as some of the most fun cruise ships in the world.
When it comes to Royal Caribbean cruises, the newer ships tend to be the most fun, since they offer such cool activities. Royal Caribbean just keeps innovating and pushing the limits by adding new and exciting attractions to their cruises.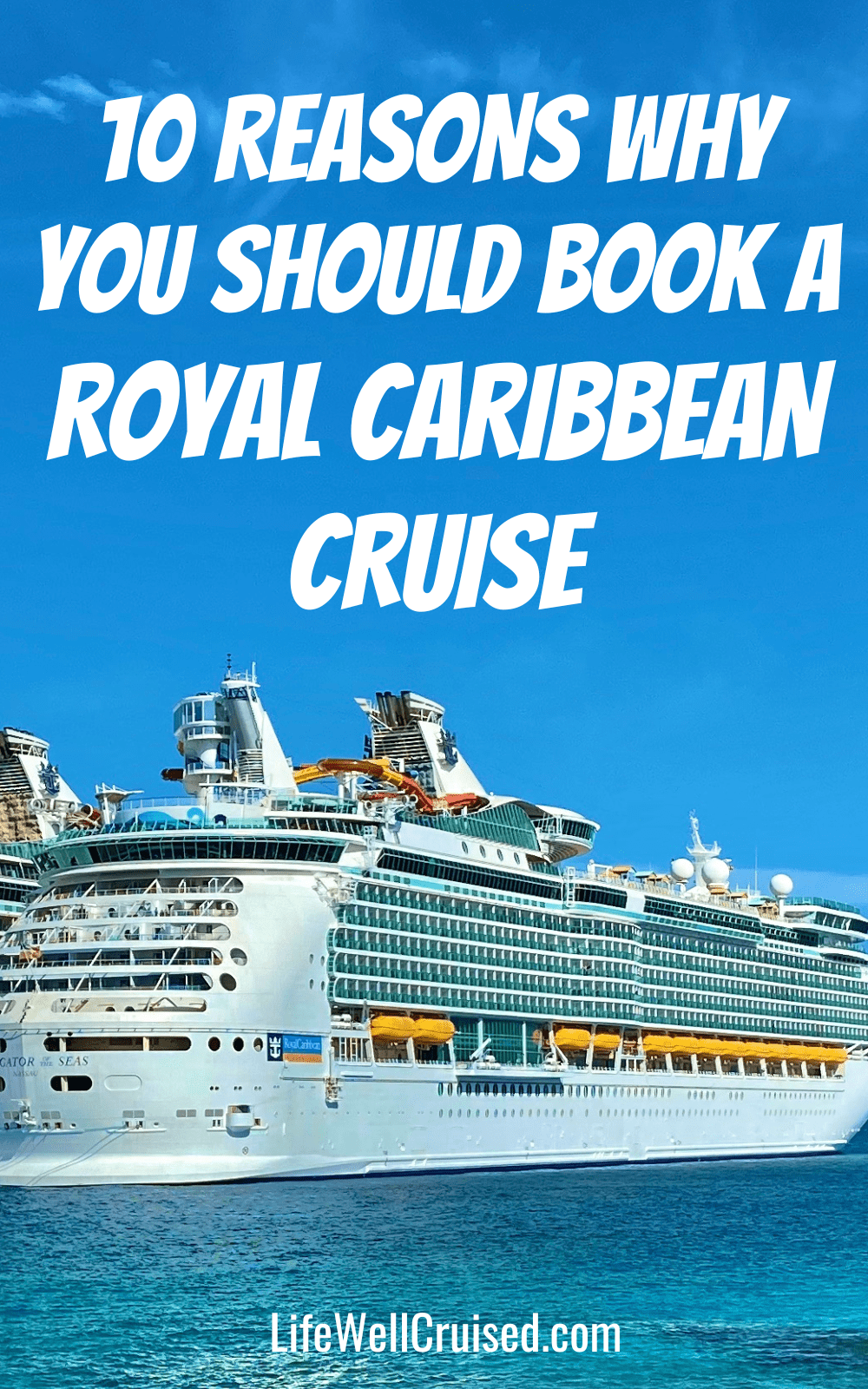 What is The Key Program on Royal Caribbean?
The Key Program offers special perks and access to certain activities onboard Royal Caribbean cruises. This includes an exclusive welcome lunch of the first day of your cruise, priority access into the terminal and private time for onboard activities.
It also includes high speed wifi on one device and VIP access to the aqua show, main theater, studio B and Two70.
Related & Popular Posts:
Final Thoughts on Is Royal Caribbean Worth it?
Well there it is, 10 reasons why Royal Caribbean is worth it!
As someone who has cruised with Royal Caribbean my whole life, I think that cruising with Royal Caribbean is super worth it. When it comes to activities and entertainment on a cruise, it's hard to beat Royal Caribbean.
When it comes to booking the right cruise, it often depends on each person's wants and needs. If you're someone who likes to have fun on vacation, then you will love cruising with Royal Caribbean!
Are you thinking about booking a Royal Caribbean cruise? Please let me know in the comments below.
Happy Cruising!
Ethan
P.S. If you found this helpful, please don't keep it to yourself ;-). Please share on Facebook or PIN to your favorite Pinterest board (share buttons at the top). Thanks so much!
Author Bio: Ethan Schattauer writes about fashion, travel and college advice on the website WhatToWearMen.com. As a frequent cruiser, Ethan shares his unique perspective on what cruising is like for teens and young adults.