Is Cruising on a Mega-Ship your best cruise option?
With the latest cruise news being all about cruise ship size – think Norwegian Bliss, the Symphony of the Seas and Celebrity Edge – it got me thinking. Is cruising on the newest and biggest ship the best option?
While the mega-ships do have certain advantages, there are always pros and cons.
Pros and Cons of Cruising on a Mega-Ship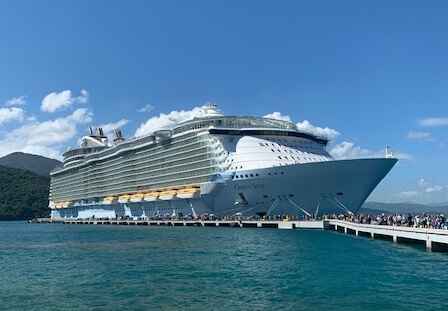 Being completely honest, our family cruised on the Oasis of the Seas a few years ago when it was THE MOST TALKED ABOUT SHIP!!! And you know what, it was not my most favorite cruise!
Was it bad? Of course not. Not by a long shot.
We truly had a great time and I am glad that I've experienced this amazing class of ship.
I just realized that with it's pros and cons, it isn't the best fit, for me.
Pros of a Mega-Ship
To be fair, it had the very best shows I have ever seen on a cruise: Hairspray, Come Fly With Me (incredible Aerialists), an Aqua Diving Show and more! It was beautiful! There was soooooooo much to do! Zipline, surfing pool, rock climbing wall, carousel, Central Park, the Rising Tide Bar. I could go on and on.
Oh and yes, several pools and hot tubs that really weren't overly crowded. Anyone who knows me, knows I like a good deck chair not far from the pool, lol.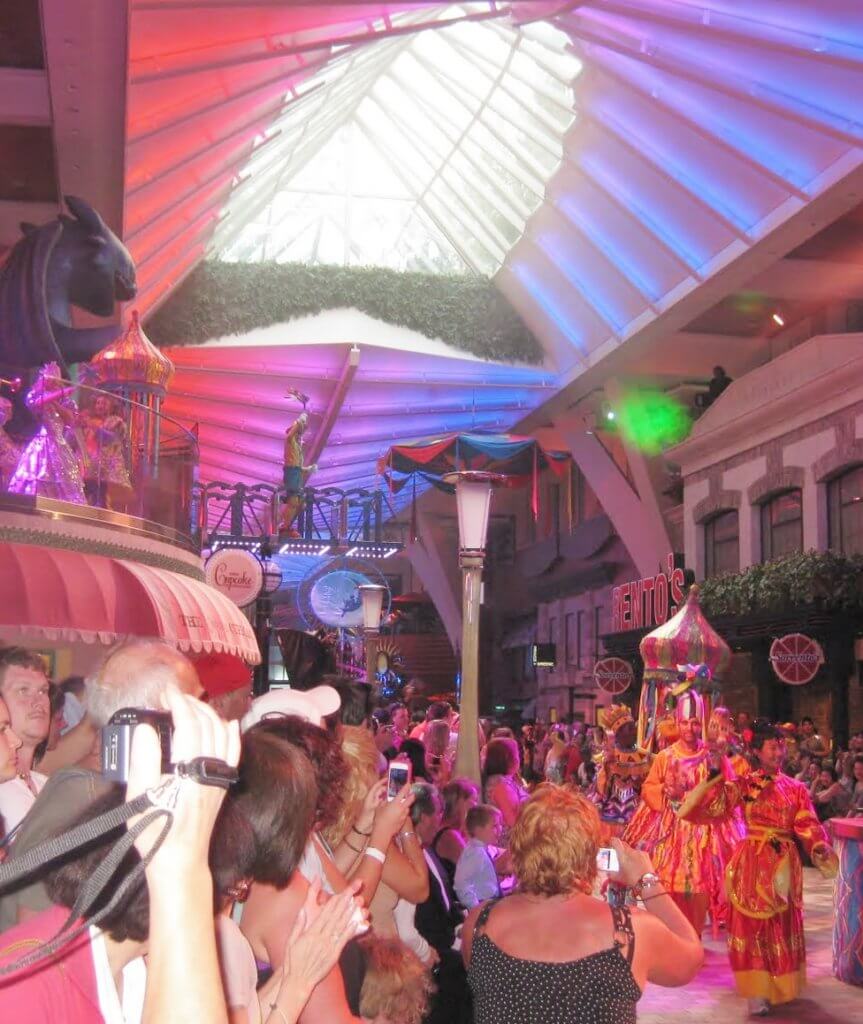 Cons of a Mega-Ship
Still, there were some cons.
With over 6500 passengers on board, it makes for less than personal service, right? This is a given.
Mega line-ups to do all the best activities? Yup!
Do you and your family want to eat different things for lunch? I adored the lunch options at the Solarium Cafe, while my husband probably preferred something from the buffet most days. I am thinking I'm not the only one who loves a salad, with a hubby that wants a burger and fries. Not a big deal, except this ship is HUGE. So when I did go get food in a different area, I was gone for 30 minutes before I returned.
Oh, and don't get me started on when one of us forgot something in the cabin and we were about to get off the ship. Eek, 20 minutes would be a sprint!
I'm actually not trying to discourage people from trying out a super large or Mega-Ship, as maybe with the extensive choice of dining venues, shows and entertainment options, this is exactly what you want. However, if you aren't sure this is your cup of tea, consider your options and take a look at some (perhaps older) mid-size to large cruise ships.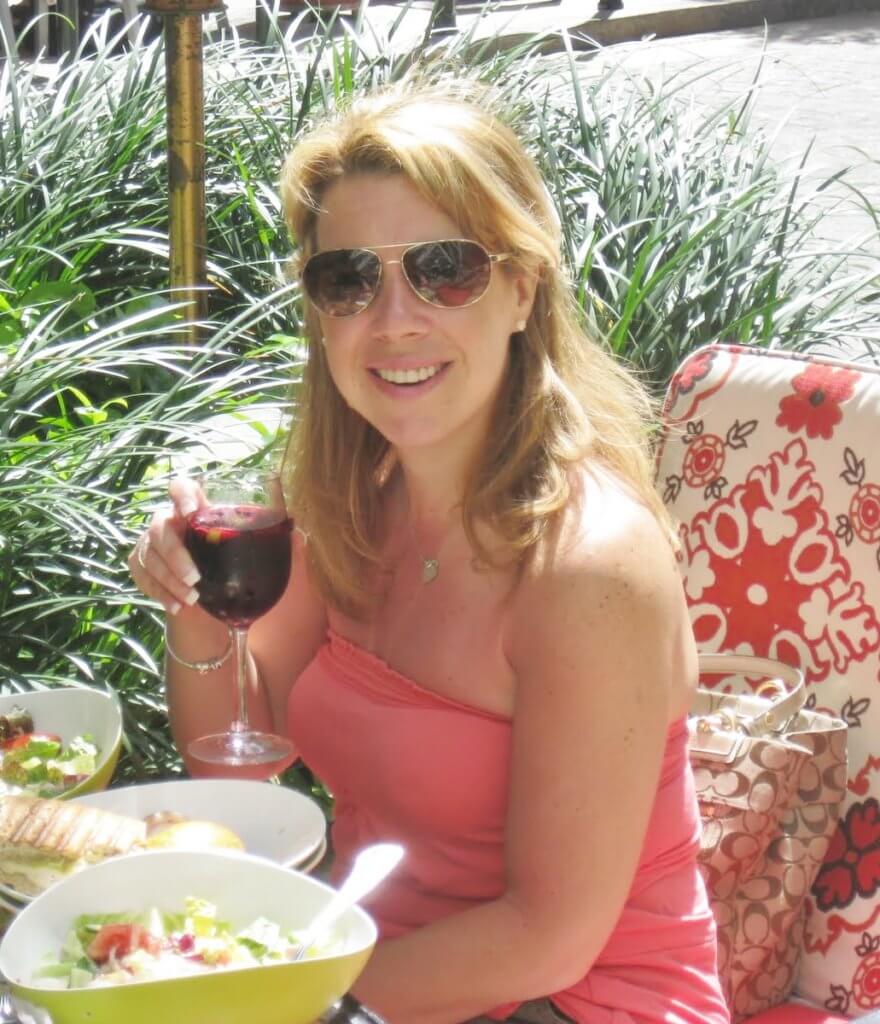 Alternatives to the Mega-Ship
I'm thinking that if you have considered cruising on a mega-ship, you are attracted a ship that isn't too small, and one that offers a ship experience with a lot of options. For this reason I think your best alternative would be to choose a Medium-Large Cruise Ship.
Firstly, I need to clarify that what I mean by a Medium to Large size ship. I consider this to be a ship that is approximately 80,000-120,000 tons. I realize this may not be the official definition, but mega-ships of today are approximately 160,000-220,000 tons, so fully twice the size of what I am describing.
15 years ago, a ship that was over 100,000 tons was considered to be quite big. But now, it's pretty "average". I think of this size as Medium/Large, like a perfect pizza :-).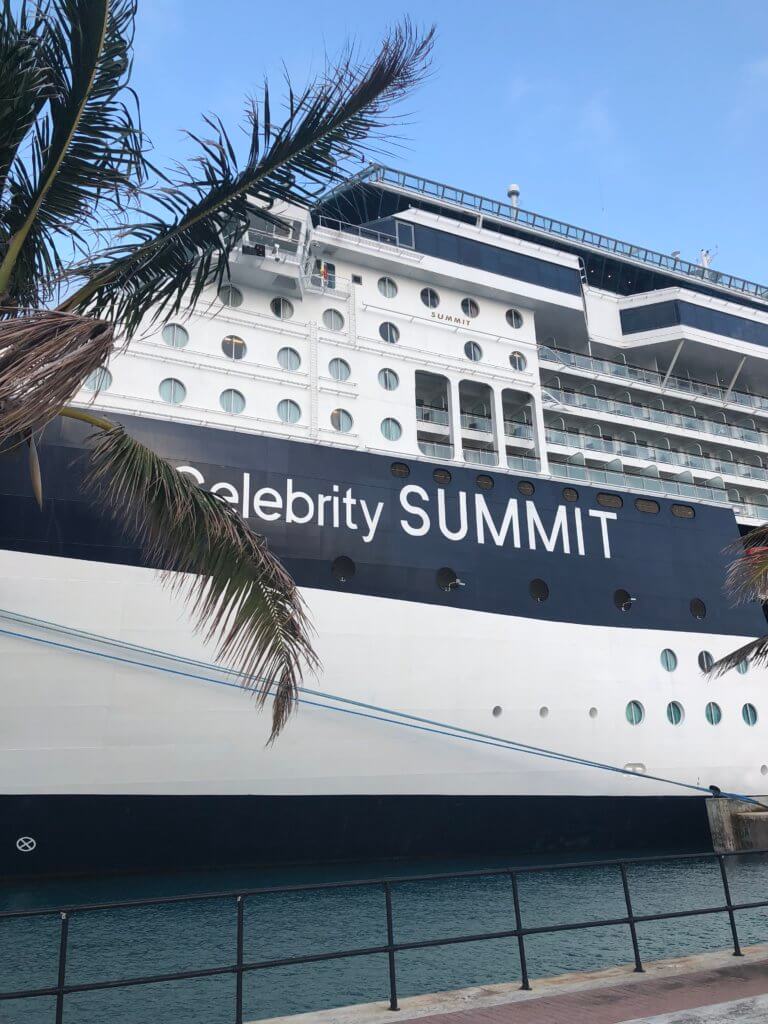 Why I love a Medium/Large Cruise Ship (and I think you may as well)
1. Many Options
This size cruise ship is large enough to have many options for pools, lounges, bars etc. You'll find theaters, cafes, big outdoor movie screens, and a cool kids club. There will also be a spacious fitness center and spa.
Two of my favorite medium/large ships are the Crown Princess (and her sisters) and the Celebrity Summit (and siblings of course!). Both of these ships offer at least 3 pool areas, including an adult only pool. I love the grand Atrium or Piazza on the Crown Princess as well as the more intimate one on the Celebrity Summit. Both ships have numerous bars to suit your preference (mine is the Martini bar so its a win either way!).
2. Modern and Updated
Many older cruise ships have been refurbished and modernized in the last 2 years. This is an important one!! I understand the appeal of a dazzling brand new ship. However, with many major cruise lines (Celebrity, Royal Caribbean, Norwegian, Princess, Cunard) doing serious and extensive updates on many of their ships, these ships are looking pretty fantastic!
Tip: to find our which ship has been refurbished, and when, contact your travel agent or cruise line.
3. Better Service
These medium-large cruise ships aren't so big that you lose out on service. The fact is, as great as a crew can be, service will always become less personal, the bigger the ship is. Choosing a medium size ship might even give you an advantage here! This size of ship has a greater staff to passenger ratio, allowing for a more personalized and overall better service experience.
4. More relaxing and less planning
One of the things I noticed when I cruised on the Oasis of the Seas, is that we really needed to be organized and had to reserve our shows (ideally online before our cruise). Now this isn't meant as a complaint, as they need to do this for crowd control. I get that, right?
But one advantage of cruising on medium-large ships is that they still have amazing shows, but I can be more spontaneous and decide day by day what I want to do. It's a vacation, and I don't always want to plan ahead. For me, this is just more relaxing.
5. Less Crowds
Did you know that the average Mega-Ship holds over 5000 passengers (and over 6500 when sailing at full capacity). This doesn't even include the staff. The fact is, very large cruise ships hold so many people, that it can be more common to be caught up in lines to enter the theater, eat in the buffet, or even exit the ship. Smaller ships just have less people to contend with, and this means less waiting time and crowds.
6. More Space
Awe, space… I love that medium-large size cruise ships offer more space per passenger in public areas and on pool decks. It just feels more relaxing. Did you know that balconies and cabins are often larger on the older ships too? This is one of the little secrets experienced cruisers know ;-).
7. Meeting Fellow Passengers
Do you enjoy talking and meeting other passengers and creating connections? I do (but if you don't just skip over this ;-). One thing I noticed on mega-ships, is that it can be hard to meet the same people twice. Whereas on a smaller ship, you'll be more likely to meet up with people you like at the pool, or a bar or cafe. Personally, I like new-found cruise friendships.
8. Value
The bottom line is that cruising on a older ship can save money and be a fantastic value. Older ships, even when they have been refurbished will be selling at at least 20% less than their newer counterparts. You'll still have great food, great service, great entertainment. I just love the value of cruising on an older and totally refreshed ship.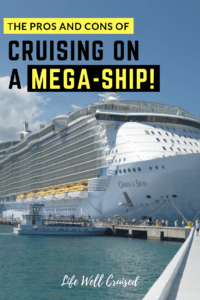 The Pros and Cons of the Mega-Ship and the Best Cruise Alternatives
I've gone over the pros and cons of cruising on one of the super large ships. I absolutely think they are worth trying, provided you know what to expect. For more of what to look for when planning a cruise, read this popular article Cruising F.A.Q.'s and Cruise Tips You Need to Know.
But, my advice? Give them a couple of years and let others try them first. Get all the feedback and read the reviews. If you can wait a bit, you'll see the price will come down as well.
I'd love to know, what's your preference for size of ship? If you've cruised on a Mega-Ship, did you love it or was it not all you hoped for? Please let me know in the comments. I love to hear your thoughts, and I respond to every comment.
Happy Cruising!!
Ilana xoxo
Recommended/most popular posts that you may like:
30 Cruise Cabin Hacks Every Cruiser Needs to Know
15 Cruise Bloggers Reveal Their Best Cruise Tips
21 Essential Things to Pack in Your Cruise Carry-On
Simple, Easy and Practical Cruise Packing Tips for the Best Cruise