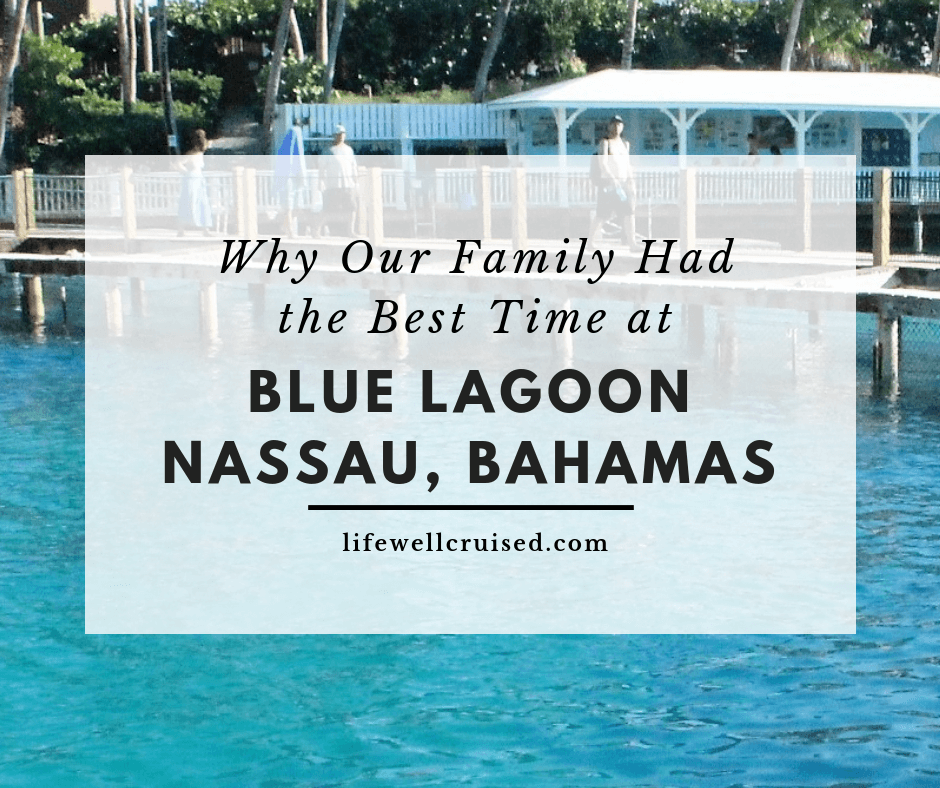 Cruise port review: Blue Lagoon, Bahamas
Guest Post by Melissa at Family on Time Out – thanks Melissa for this awesome review of Blue Lagoon!
Looking for a fun and relaxing day excursion for your family on your next trip to the Bahamas? Blue Lagoon is just a boat ride away from Nassau's Prince George Wharf!
Last November, our family of four went on our very first cruise on board the Norwegian Breakaway, and Blue Lagoon was one of the most memorable parts of the trip.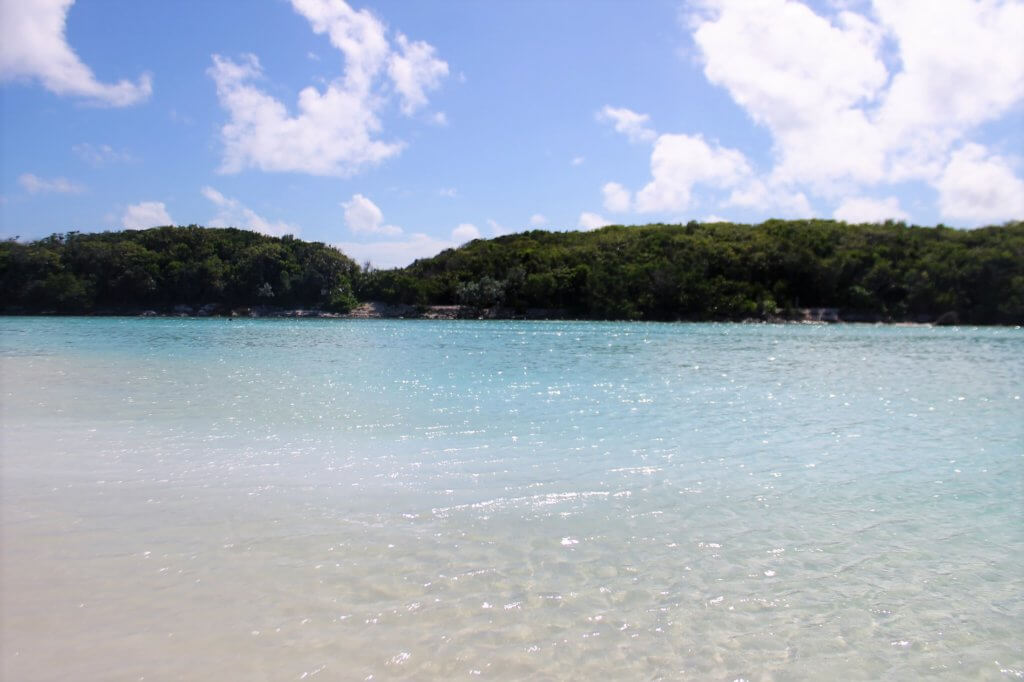 Why book a cruise shore excursion?
I was really adamant on booking excursions with our cruise line for our family's very first cruise. I'm an anxious person in general, not just when travelling, so I really wanted ease of mind travelling around somewhere we've never been before, preferably with a guide who is familiar with the location, and returning to the ship on time.
Usually, when you book an excursion with your cruise line, you are guaranteed that you will be brought back to your ship before it departs. So, if you're like me and you like to be prepared and don't want to worry about these things on your first cruise, I highly recommend booking with your cruise line.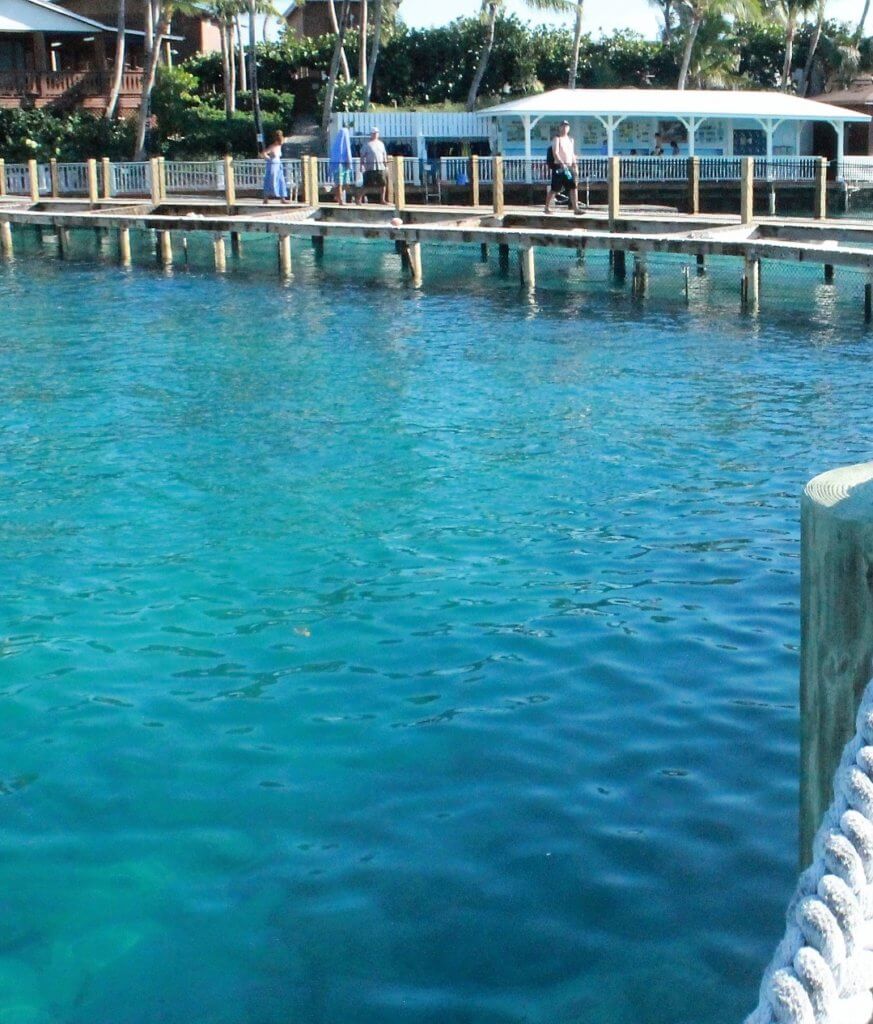 Choosing a Nassau Excursion
I've always wanted to visit Bahamas, but downtown Nassau was never particularly on my list. While researching our trip all over the internet, I began to see that Nassau isn't a favorite port for seasoned cruisers, appearing on lists with such titles as "The Worst Caribbean Ports of Call for Cruises".
Staying at Atlantis Resort however, located on Paradise Island just over the bridge from Nassau, was always a dream of mine. While it of course crossed my mind to go there for a day excursion when we docked in Nassau, I was looking for more of a relaxing day at the beach, preferably with lunch included, and getting the best deal for a day with just those two necessities.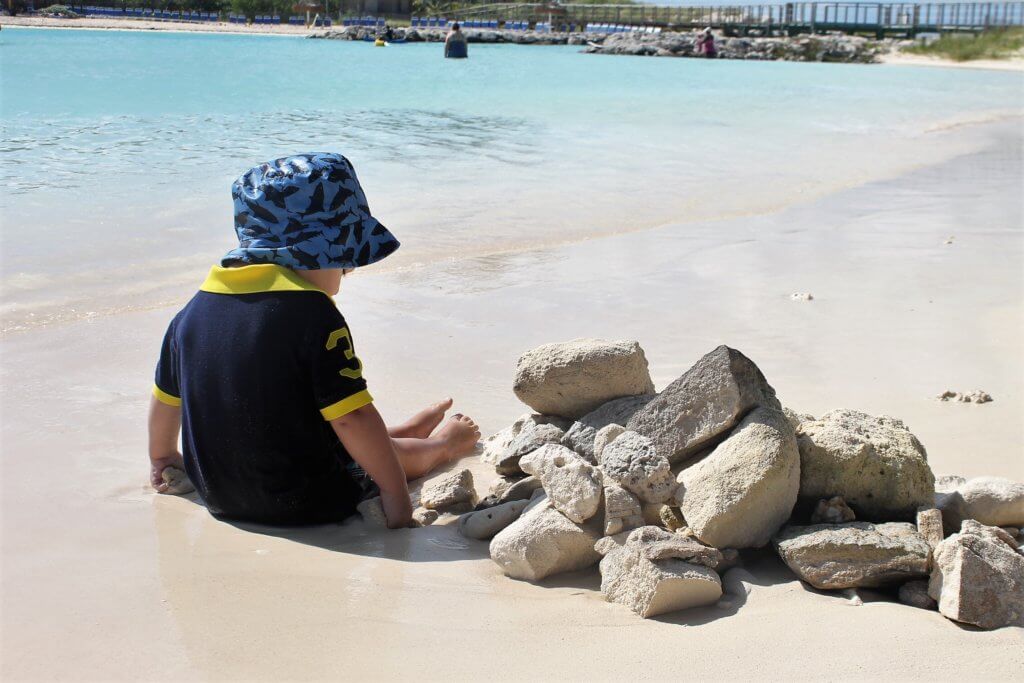 I had received advice from a family friend that the beach at Atlantis could be just as crowded as Junkanoo Beach on the mainland of New Providence. All of the Atlantis packages included the aquarium tour and/or water park, and I thought… there were water slides on the Breakaway for our older child (aged 6 at the time), our youngest was too small (Just having turned 2 before the trip), and we have great aquarium options back home. I just knew I would want to lounge in a chair or in the sand and watch the kids play in the ocean all day.
There were many "Beach Lunch" retreat excursion options on Norwegian Cruise Line's Shore Excursion page, but Blue Lagoon really stood out for us. For one, it seemed more kid friendly with water inflatable games, and since it's a lagoon, they'd be protected from any strong waves, currents, and coral and rocks. They also have optional animal encounters. Bonus: I rather liked that they were not performing animals, and they were enclosed in their natural habitats: not tanks! But more on that later…
The Ferry to Blue Lagoon, Nassau
Blue Lagoon Fun Facts
Just kidding! The ferry to Blue Lagoon doesn't take three hours… but you DO get a guided tour on the way there, and it takes you past the very same mini-island where they filmed the opening for – you guessed it – Gilligan's Island! The guide also pointed out mansions belonging to many A-List celebrities, and upon pulling up to the dock at Blue Lagoon, I learned that it is where the movie Flipper was filmed (1996). They go over a bit of the history of the island and it's many famous visitors.
Blue Lagoon Ferry Tour
Blue Lagoon's two story catamaran leaves from Prince George Wharf. We got on right across the dock from the Norwegian Breakaway. The tour guides were lots of fun, and got everyone dancing with them to the Caribbean music coming from the speakers on the boat.
Blue Lagoon Island
As we passed the trees and entered the lagoon, it took my breath away: it looked like a secret, secluded, private mini-resort: relaxing and fun all at once, and most of all, inviting. We took a hike down to the farthest part of the lagoon, near a foot bridge separating the lagoon and the ocean, and set up camp with another family we had met on the ship.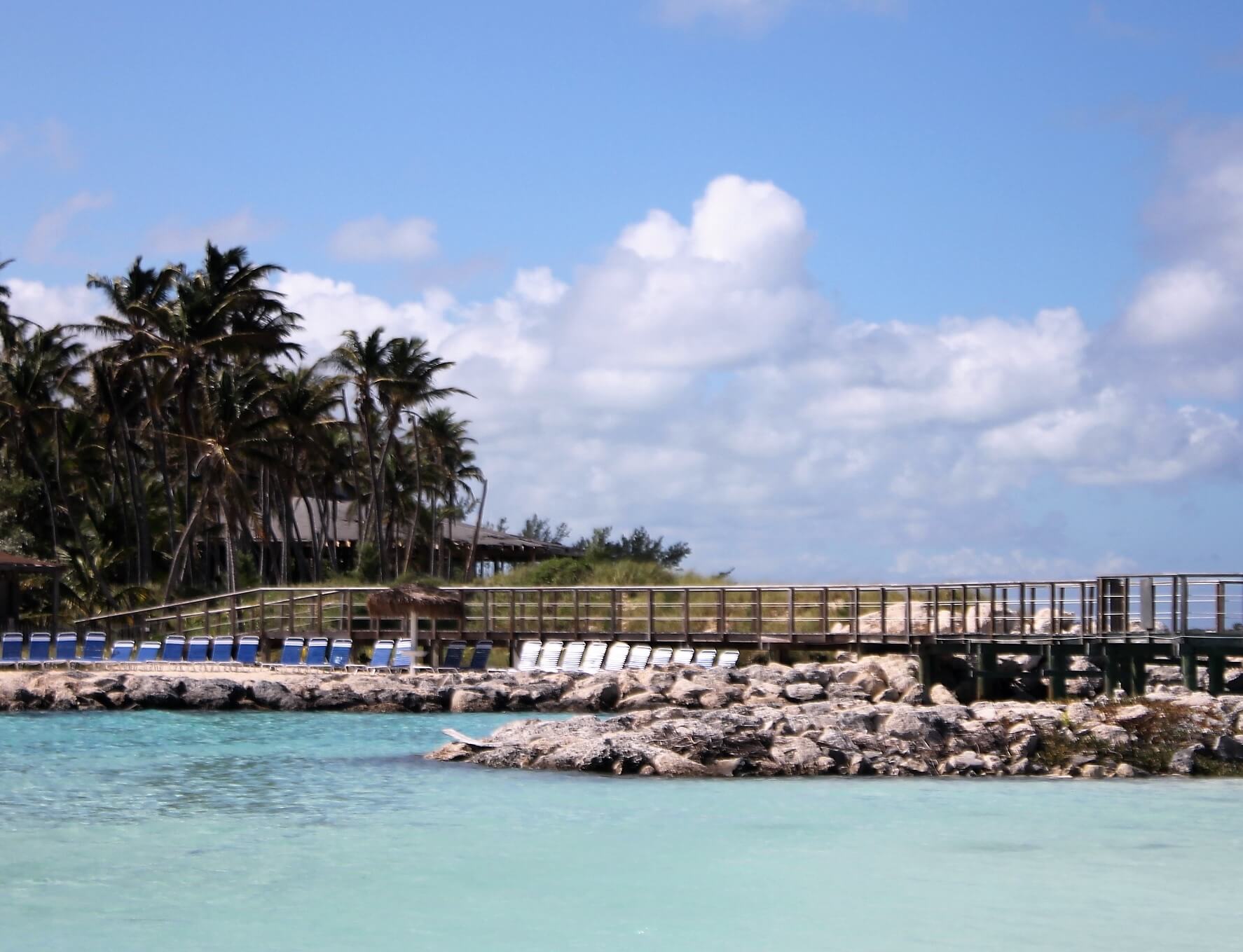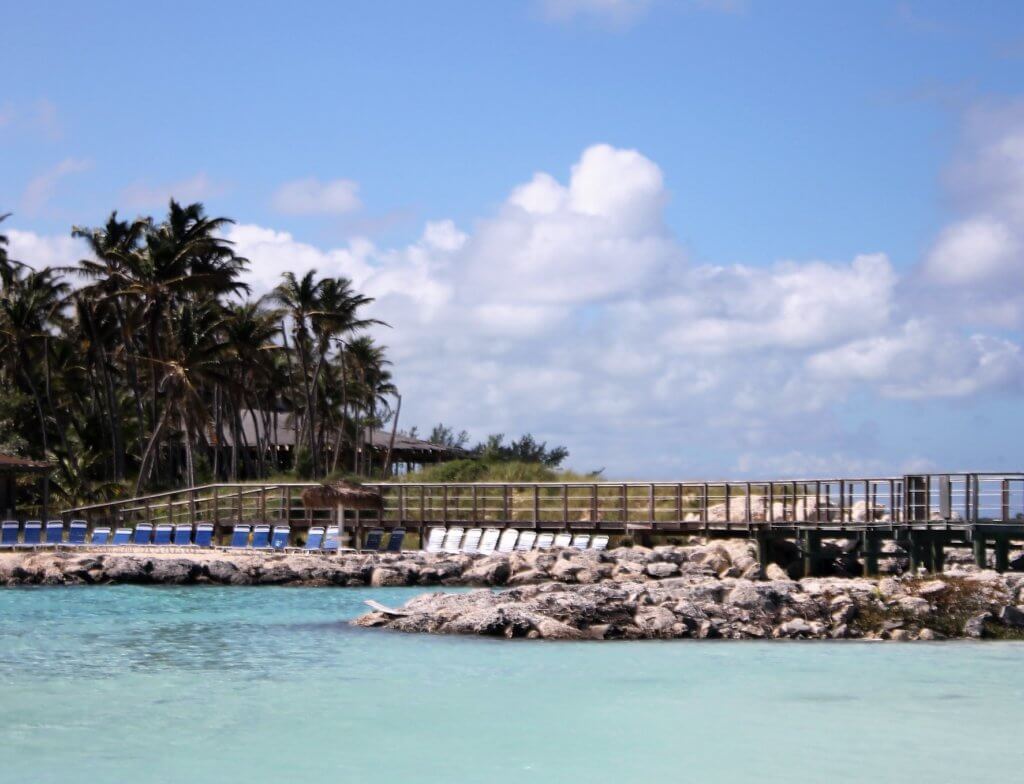 Family Fun at Blue Lagoon
The whole day, the kids had fun playing in the soft white sand, collecting rocks, pieces of coral and shells and floating in the clear turquoise water. The lagoon is very shallow: the adults were able to walk across to the other side at certain points.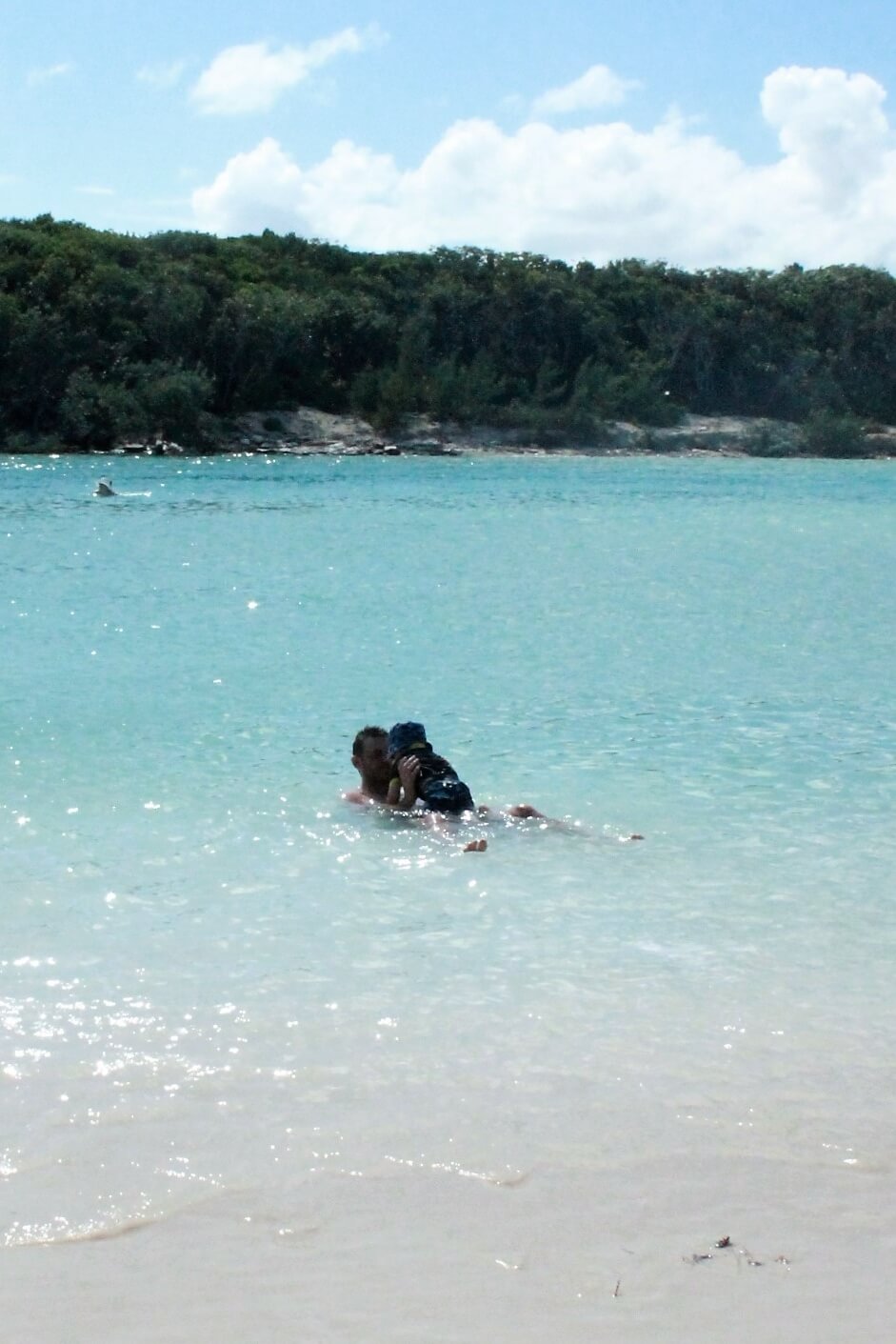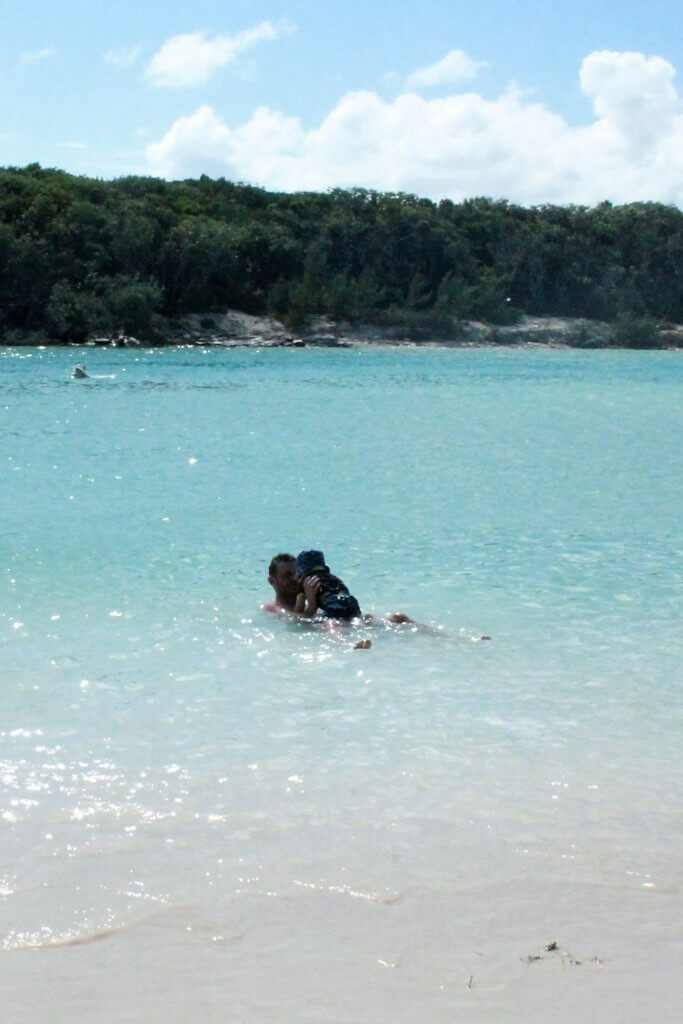 The only thing I wish there was more of was natural shade. The trees lining the beach area were back from the water and condensed. This is where I regretting not bringing our sun shelter with us, however there were some clam shell shelters on the island to rent. Some workers were in the middle of repairing palm leaf umbrellas when we were there just after Hurricane Irma (September 2017), so there will be more shade next time we go!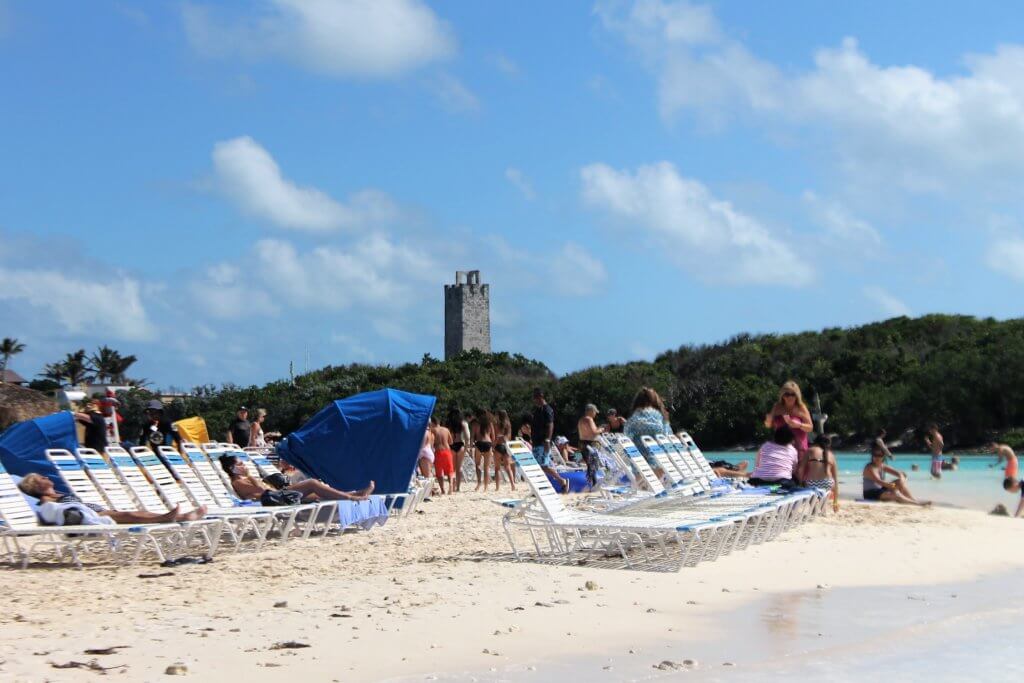 Map of Blue Lagoon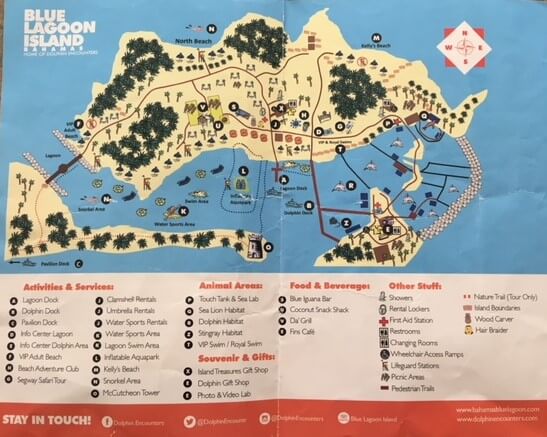 As you can see in the map (above), there is a giant inflatable games course on the water right in the middle of the lagoon. While it looked like a lot of fun as we walked past it to set up at the end of the beach, our daughter never asked to go on it – she was having so much fun playing in the water and sand with the other children all day. And our son was, again, not old enough to participate.
Activities also available on the island that we didn't get a chance to partake in were nature hikes, segway tours, and kayak, paddle board, and water trike rentals. A "VIP Beach Experience" upgrade for adults is also available for purchase, which includes a wait staff and an even more secluded beach, away from the main beach.
Blue Lagoon Da Grill
Lunch was included in our excursion package. We each received a ticket for lunch, and this gave us access to the Grill. The food was all barbecue fare with hot dogs, burgers, some salads, and your choice of juice. If you're into gourmet dining at all times, I don't know how much you'd enjoy it. Myself, I do love a beach barbecue, and the food wasn't bad. We were all well fed.
The venue is picnic tables set up in a covered terrace, so it was a good retreat from the sun.
Blue Lagoon Animal Encounters
We only got to do a quick walk around the boardwalk of the animal enclosures right before leaving because we enjoyed lounging on the beach so much. I felt we could just reach down and touch the dolphins as they jumped in the ocean around us. It was the closest we have ever been to a dolphin, so my daughter and I were just in awe. You can visit the dolphins and sea lions more closely, photograph included, for an additional cost. Stingray encounters were included in our package but we opted not to go.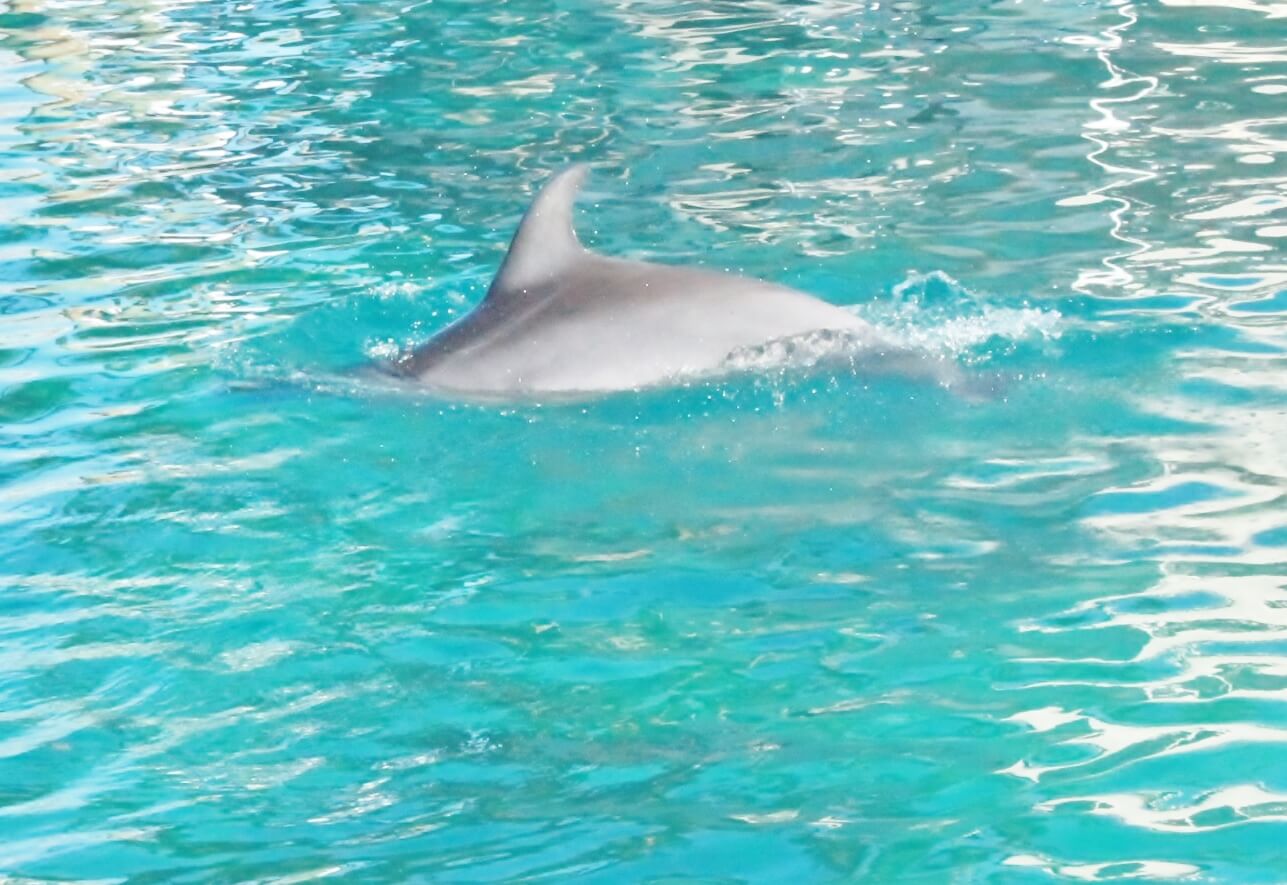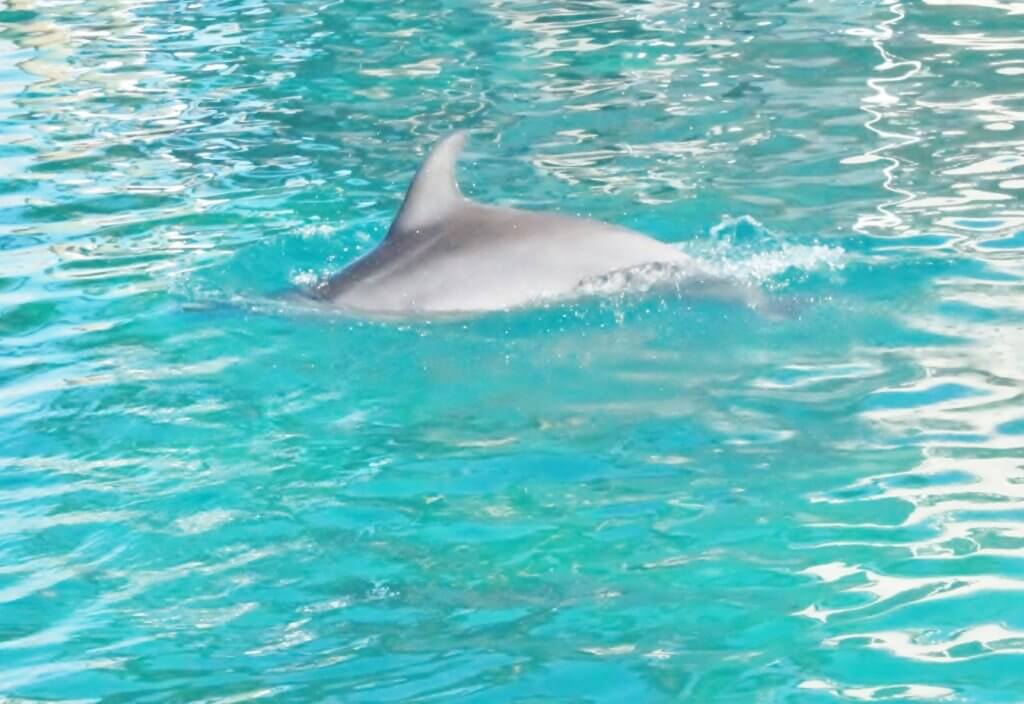 Getting back to Prince George Wharf, Nassau
There are several boat rides back to the port during the day. The departure times are all posted on a sign by the dock, so make sure you take note for when you want to return to your ship. Tip: snap a quick pic with your phone to refer to later!!
The trip back was much faster and quieter. We really enjoyed the breeze and mist from the waves after the long day in the sun. And of course, we made it back to the ship in time for departure!
Memories of Blue Lagoon
We had such amazing family time at Blue Lagoon that I didn't take the time to pull out our camera or phones to take photos. I do however, picture it in my mind as my "Happy Place" whenever we are having a particularly cold winter day back home in Canada!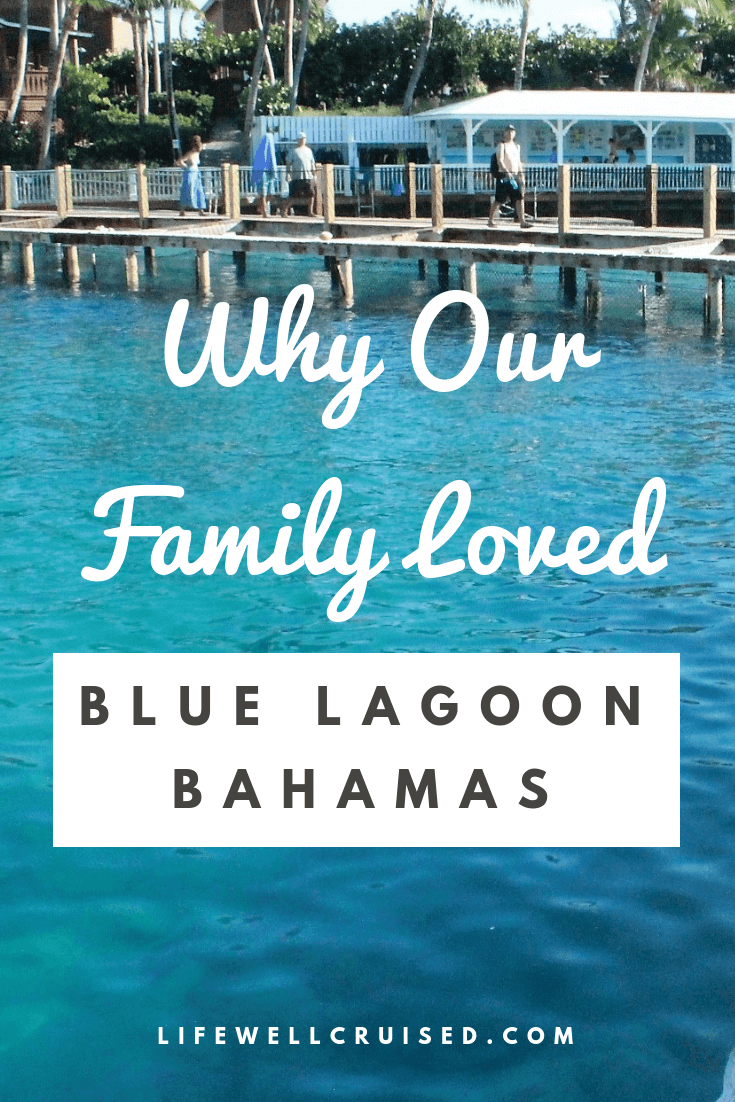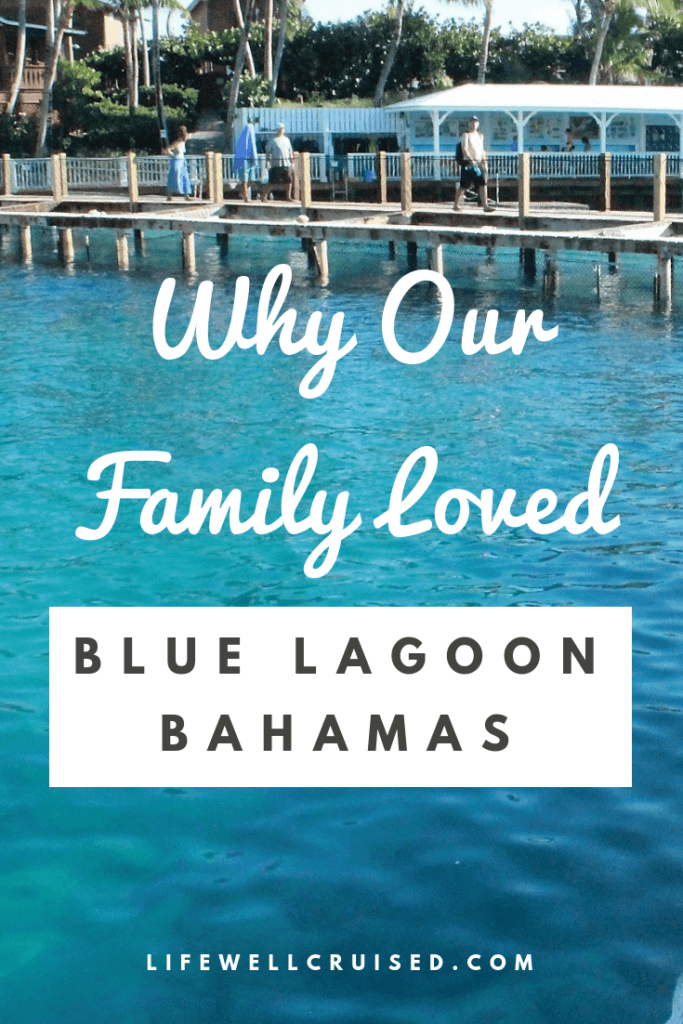 About the author
Melissa is an early childhood educator and the mom of a fun-seeking family looking to make memories during their time off together at home in Canada and while travelling. She blogs about about their journey at FamilyOnTimeOut.com.
Do check out her blog for an awesome 7 Day Bahamas/Florida cruise review from a First -Time Cruiser Perspective (I LOVE it!!). Thanks Melissa :-)!!
Have you cruised to Nassau? Do you usually take shore excursions when cruising? Let us know in the comments about your experience at Nassau or another favorite cruise port.
Happy Cruising,
Ilana xoxo