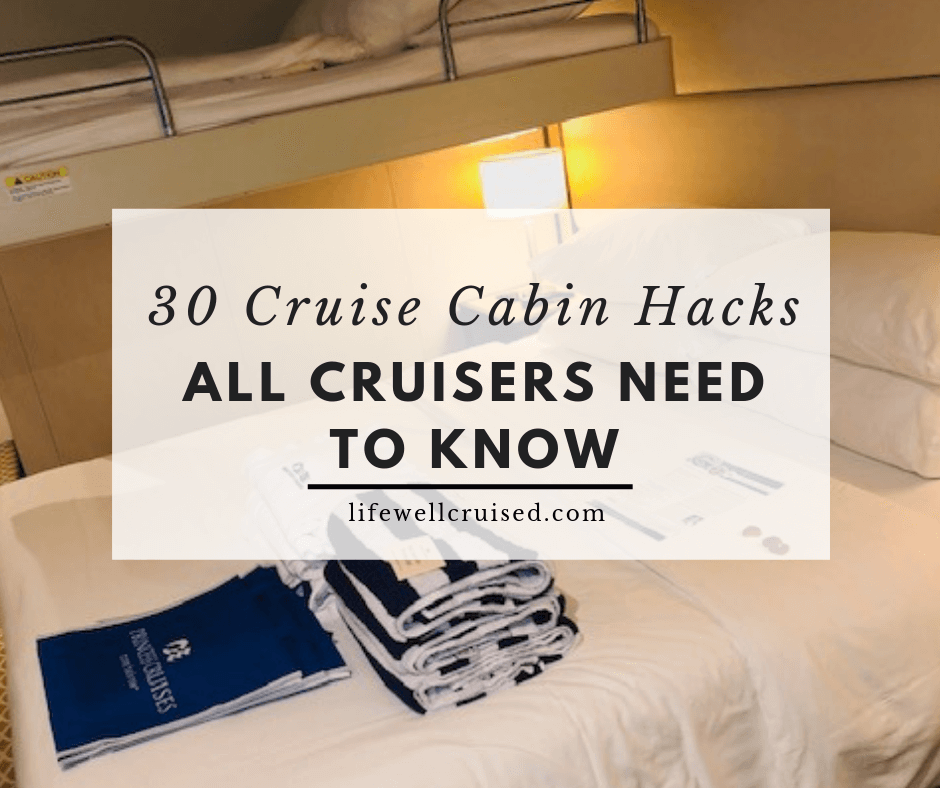 30 Helpful Cruise Organization Tips for Cruisers
If you're going on a cruise, you've probably heard by now cabins are pretty compact. As a matter of fact, an inside cabin will likely be about half the size of an average hotel room. Even ocean view and balcony cabins can be tight on space.
If you're cruising in a suite, it's unlikely that you'll need these cabin hacks to save space, however you may appreciate the cabin organization tips just the same.
One thing I've always liked about cruise ship cabins, is that they're laid out pretty efficiently. Despite their small size, there are a lot of small spaces that can be put to good use for storage.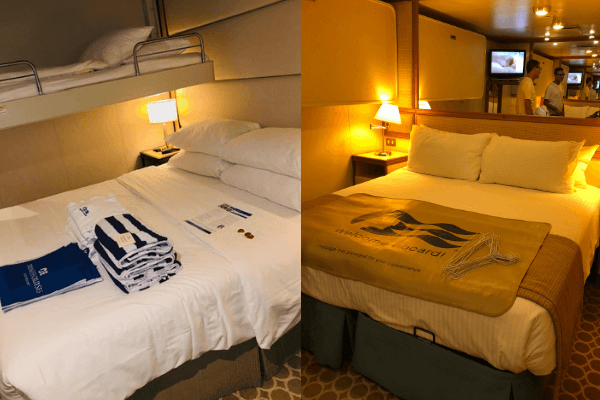 This post contains affiliate links which means if you click and buy that I may make a commission, at no cost to you. Please see my disclosure policy for details.
Life Well Cruised is a participant in the Amazon Services in the Amazon Services LLC Associates Program, an affiliate program designed to provide a means for sites to earn advertising fees by advertising and linking to Amazon.com.
Cruise Tips and Cabin Hacks for 2023
Over the years, we've become savvy cruisers, and have picked up some great cruise tips from articles, videos and other cruisers.
In this post I'll share with you what works for us today, as well as what some great tips that other cruisers have been kind enough to share!
Keeping a cruise ship cabin organized (for a couple or a family)
Whether you are 2 in a cabin, or 4 (or on rare occasions 5), there are ways to keep your cabin space organized and feeling as "spacious" as possible.
Short Anecdote:
I hear some people say that cabins are so small, that you could NEVER fit a family of four in them. However I disagree – because we've done it.
For years when our children were young, we booked inside cabins for 4. This meant the children slept in bunk beds above us.
It really wasn't bad during the day, as our cabin steward would tuck those pullman beds into the wall or ceiling. Out of sight until after dinner, he would turn down the beds before we arrived back in our cabins later at night.
While we were cozy, we still had enough room, but we needed to be organized!
By the way, if we ever thought of complaining, I reminded us all that many people go camping and all stay in one tent. An inside cabin on a luxurious cruise ship is infinitely better!
Tips on How to Organize Your Cruise Ship Cabin
In order to have an organized and efficient cruise cabin, you'll want to be prepared with a few things you bring from home that you buy from Amazon or your preferred store. However, there's more to using your stateroom space well than buying a few gadgets. I'll go through tips that we personally have used that have been an immense help.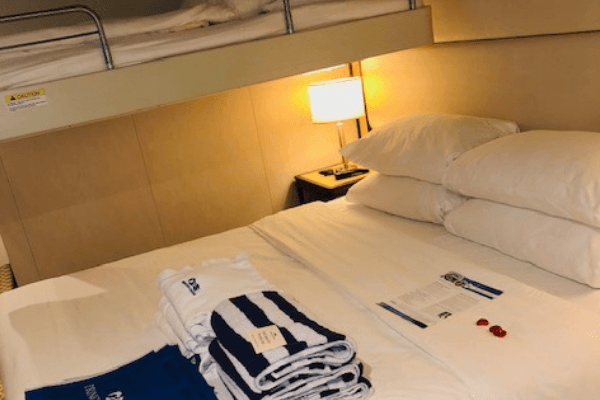 1. Pack light but realistic
This is easier said than done, and being honest with you I'm an over-packer who is making minimal improvements with each cruise. Try to bring only what you'll need by preparing outfits you'd like to wear for day and evening. Try things on and make sure you feel good in them. Add some swimwear and shoes and you're set.
Do check on your cruise line's dress code and suggestions in case there's a formal or chic night.
Tip: Wear the tighter clothes on the first days (not even joking lol)
Read more: What To Wear on a Cruise Vacation (day, evening, formal nights)
2. Get extra hangers
Don't bring these from home, as they just take up extra room in your luggage and why do that? When you arrive in your cabin, you'll soon meet your room steward. After some introductions, ask for some extra hangers if you need any (I always do!).
It can be a space saver to hang as many items as you can. I often hang two sundresses on the same hanger if it's just spaghetti straps.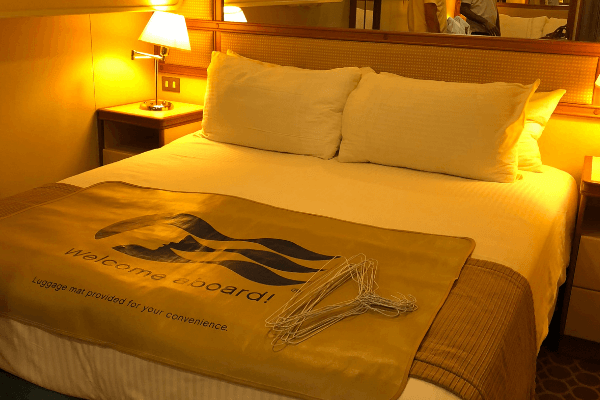 3. Store luggage under your bed
First things first, as soon as you can, get everyone to unpack their luggage quickly the first day of the cruise. Then, as soon as this is done, tuck suitcases (sometimes one fits in another) under the bed. Often your cabin steward can even do this for you.
4. Packing cubes
Packing cubes really help to keep everything organized and can be a space and time saver. In fact, you can even keep some items in the cube (just unzip) and place the packing cube right on the shelf or in the drawer.
If you have kids, consider buying different color packing cubes for each member of the family.
If you want to keep organized by using packing cubes, this packing cube set comes in several colors (amazon link).
Read more: The Pros and Cons of Packing Cubes for Cruise Vacations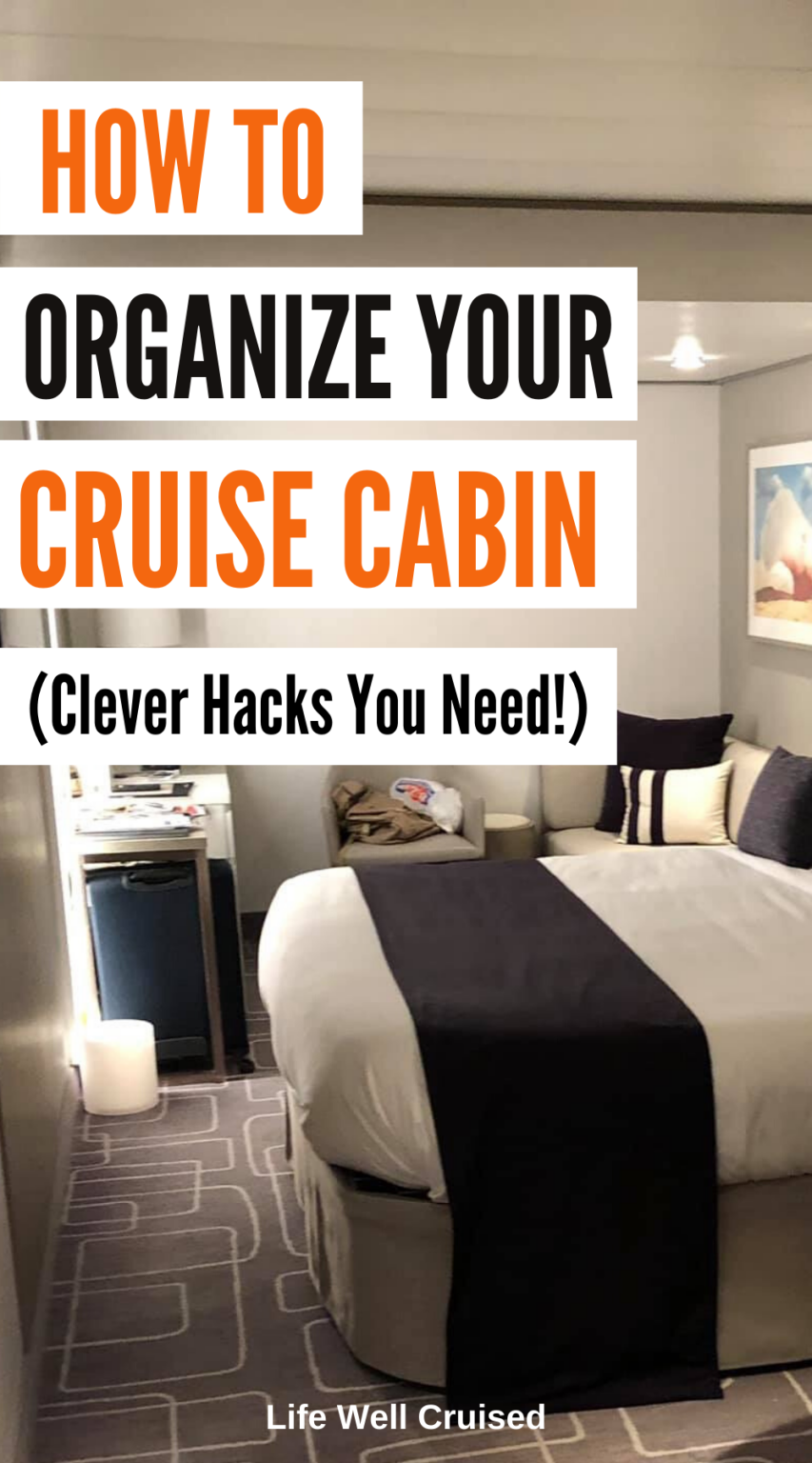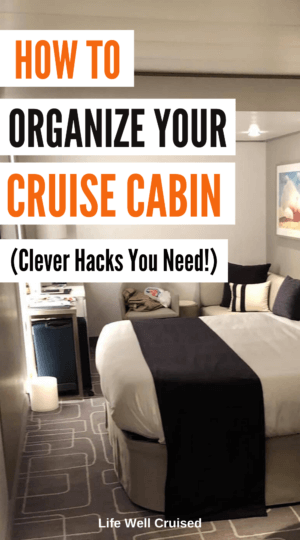 5. Use an over the door hanging organizer
This can be a huge space saver for all your personal products and more! Hang the over the door organizer on your bathroom door and free up limited space in the small cruise bathrooms with tiny shelves. It's perfect for keeping sun lotion, after sun lotion, creams, medications, hair products and more.
Tip: Consider pre-packing this before you leave your house and placing it in your luggage. Imagine how quickly you can unpack on your cruise embarkation day!
Often considered a must-have cruise essential, you can find a good variety on Amazon, however I personally like THIS ONE (Over the Door Organizer) due to it's mesh pockets rather than plastic
, and how durable it is.
You may even want to consider a Hanging Toiletry/Cosmetic Bag
, which will be useful on any type of travel.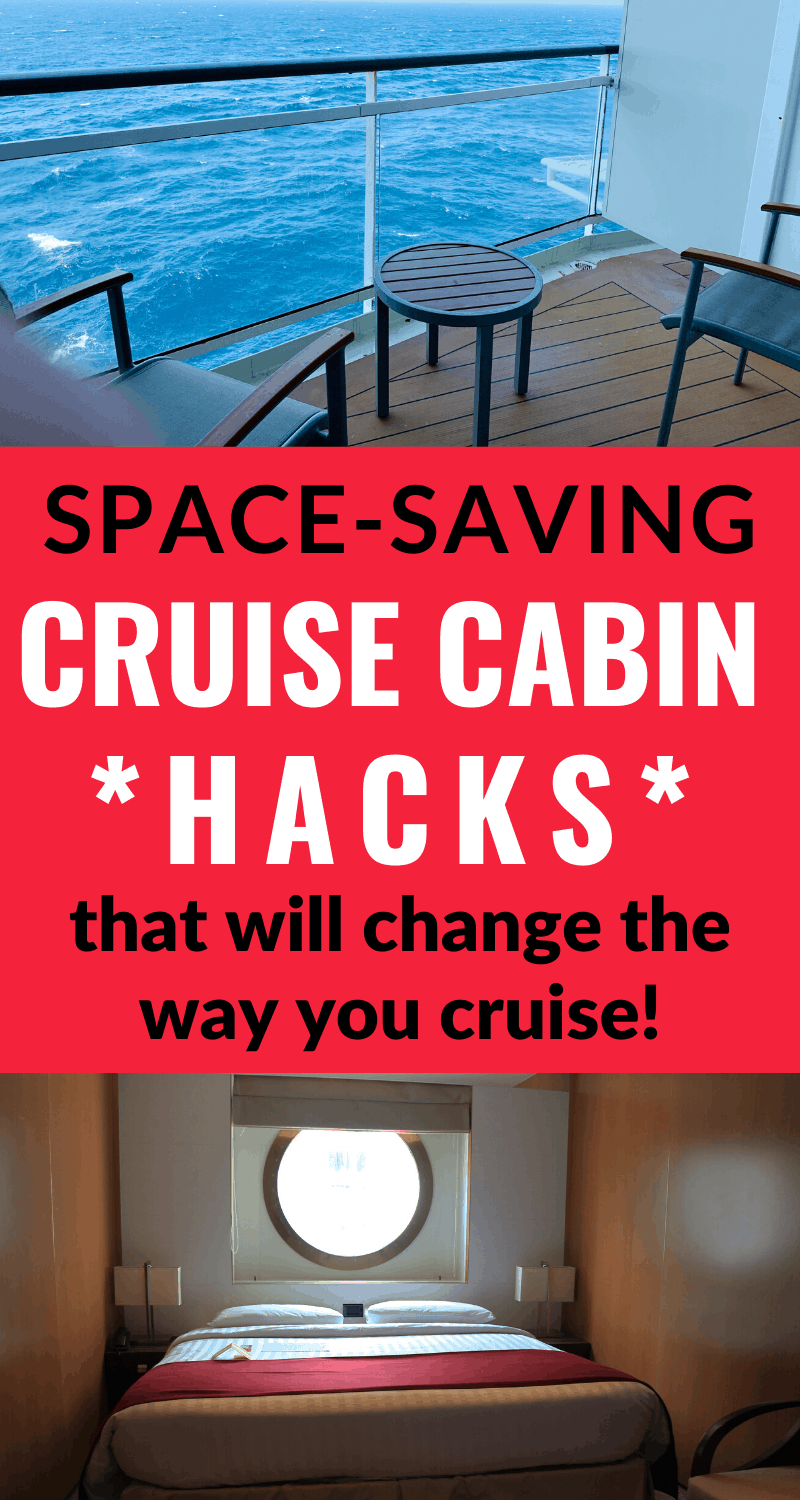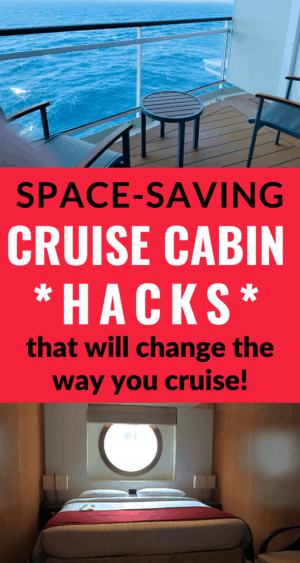 6. Empty out your mini-fridge
Make space in your mini-fridge if you've brought on your own case of water bottles (check cruise line policy), as well as to put any milk containers the kids may take for later from the breakfast buffet. You may want to keep some wine in the fridge etc. Plus, no one will mistakenly grab something way too expensive!
Tip: Ask your room attendant to fill your ice bucket if you like that.
Related: What Food and Drinks Can You Bring on a Cruise? (snacks, water bottles, wine & more)
7. Clear up the cabin clutter you don't need
When you arrive in your cabin, you will often find a few things on your counters or desk. If you're not going to use them, stash them away. If you won't need the ice bucket, wine glasses or other items, ask your cabin steward to remove them.
Some people ask the attendant to take away a small coffee table or even an extra chair that you just don't need. Don't be shy, they'll remove those things for you and it will create more cabin space.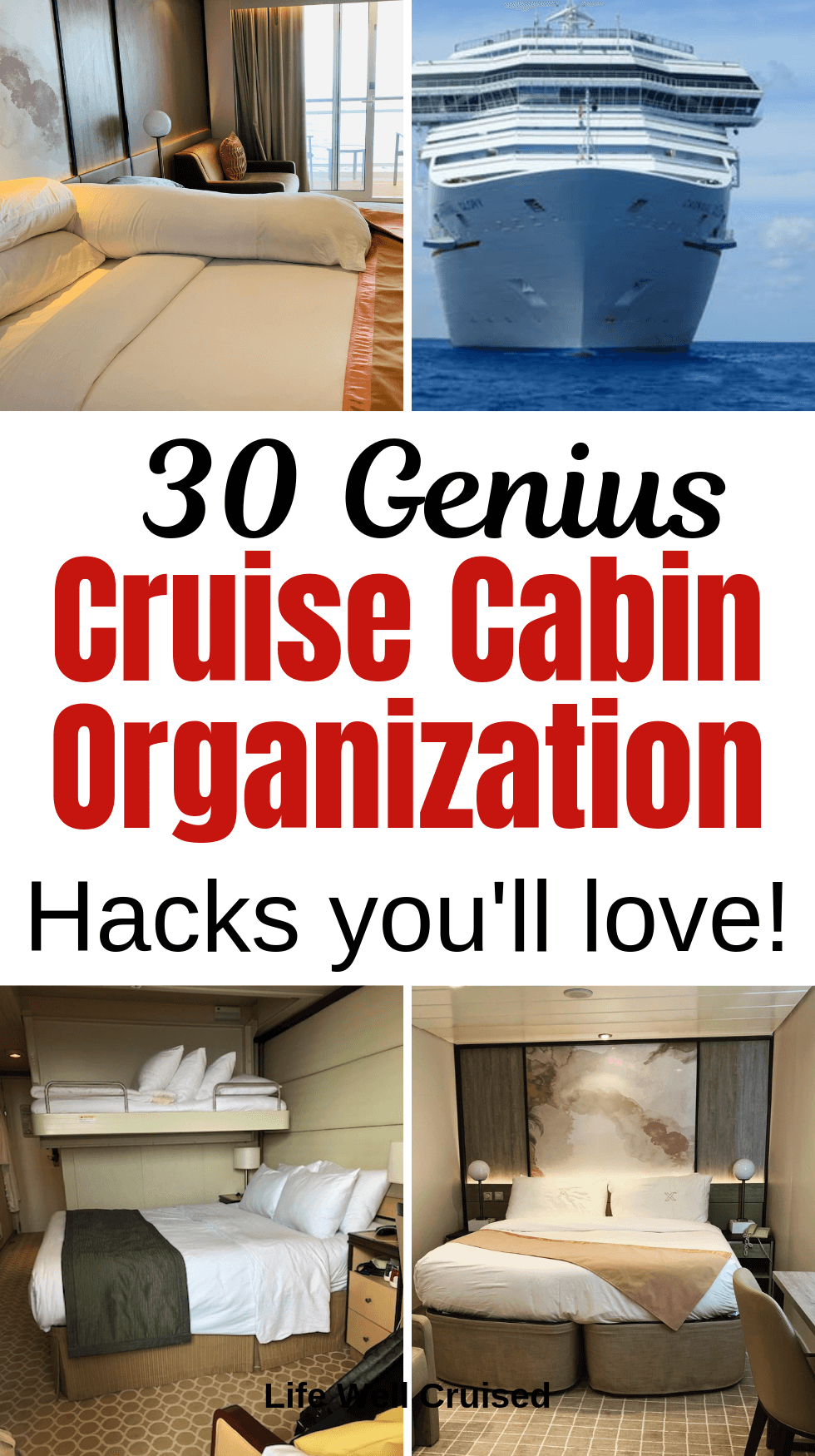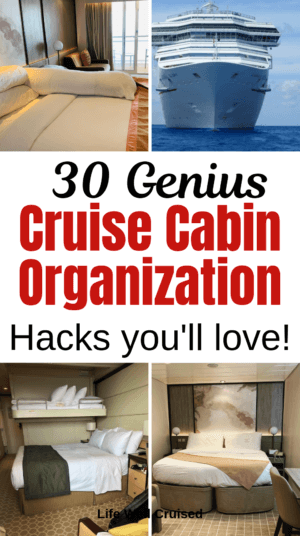 8. Turn your desk into a vanity
Ladies, this is for you. Turn the desk into a vanity. Use the side drawers for your make up, nail polish and other beauty items you have. I like to use another drawer for my hairbrushes and curling wand and my Elchim hairdryer (that I LOVE and bring everywhere).
9. Organizing your papers
Do keep papers that you need and want to refer to in a regular spot. If you've got tickets for shore excursions that you've printed out and other important papers, put them in a legal size envelope or a pocket folder that you bring from home. Then, when you're on your cruise, you can stash away any important papers or even receipts in one spot. I like to bring a couple of extra envelopes as well and keep everything together.
You may prefer to use small magnet clips and keep tickets and other items hanging on the cabin wall (see next point).
**Looking for a printable cruise travel planner to keep organized? See what's included in the 47 page Ultimate Cruise Planner
10. Magnetic hooks
*I haven't brought these yet, but they are on my list for my next cruise. Cruise ship cabins usually have 2 hooks already in the cabin. Once we've hung bathrobes, we don't have a good spot for hats and caps and even for a sweatshirt any of us may want to grab. If you saw my cabin, you'd notice we pile those items on a chair in the stateroom. Definitely not the best use of space.
Cabin walls are metal, so magnetic hooks are perfect. However they should be pretty heavy duty, so get some good ones for this. Amazon has some that are a big hook, and others that have a small clip.
*Update – we bought magnetic hooks and they were amazing!! I highly recommend!
We also now bring magnetic clips for papers to organize our papers, shore excursion tickets and event invitations and hang them right on our cabin wall!
Recommended: Magnet hooks
Recommended: Magnet clips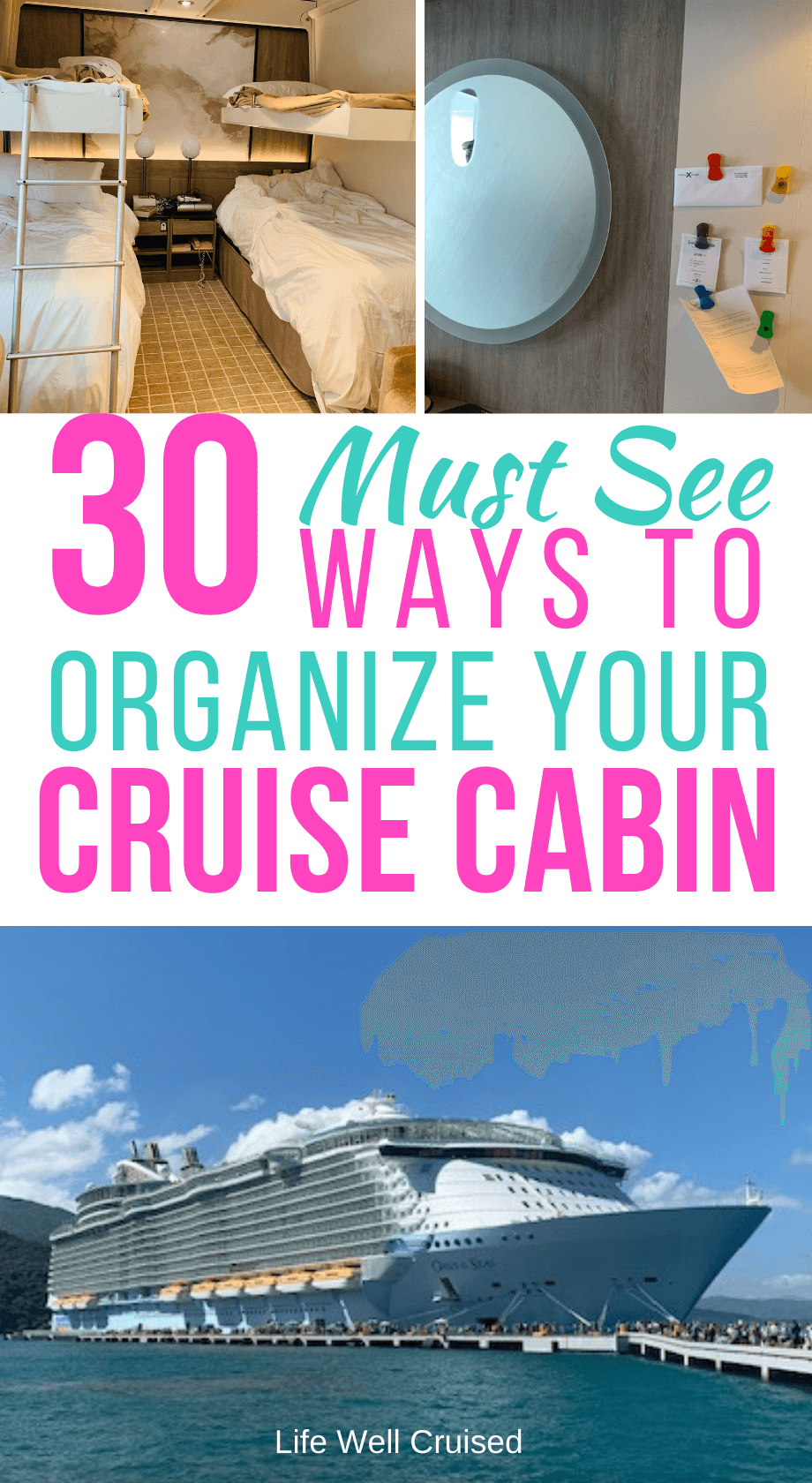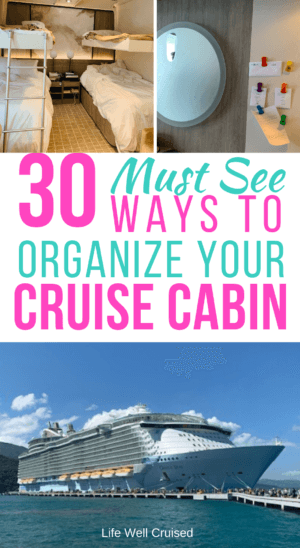 11. Pop up hampers
Very handy, keep a couple foldable material shoe boxes as pop up hampers and keep them under the desk or tucked on the closet floor. You may want to keep a second one to throw in your flip flops when you come in the cabin.
12. Mesh laundry bags
When you need to put dirty clothes away, a mesh laundry bag
is helpful. Just fill it up (from your hamper) and throw the laundry bag into your suitcase.
Recommended: Mesh foldable laundry hamper (see over 30,000 Amazon reviews here)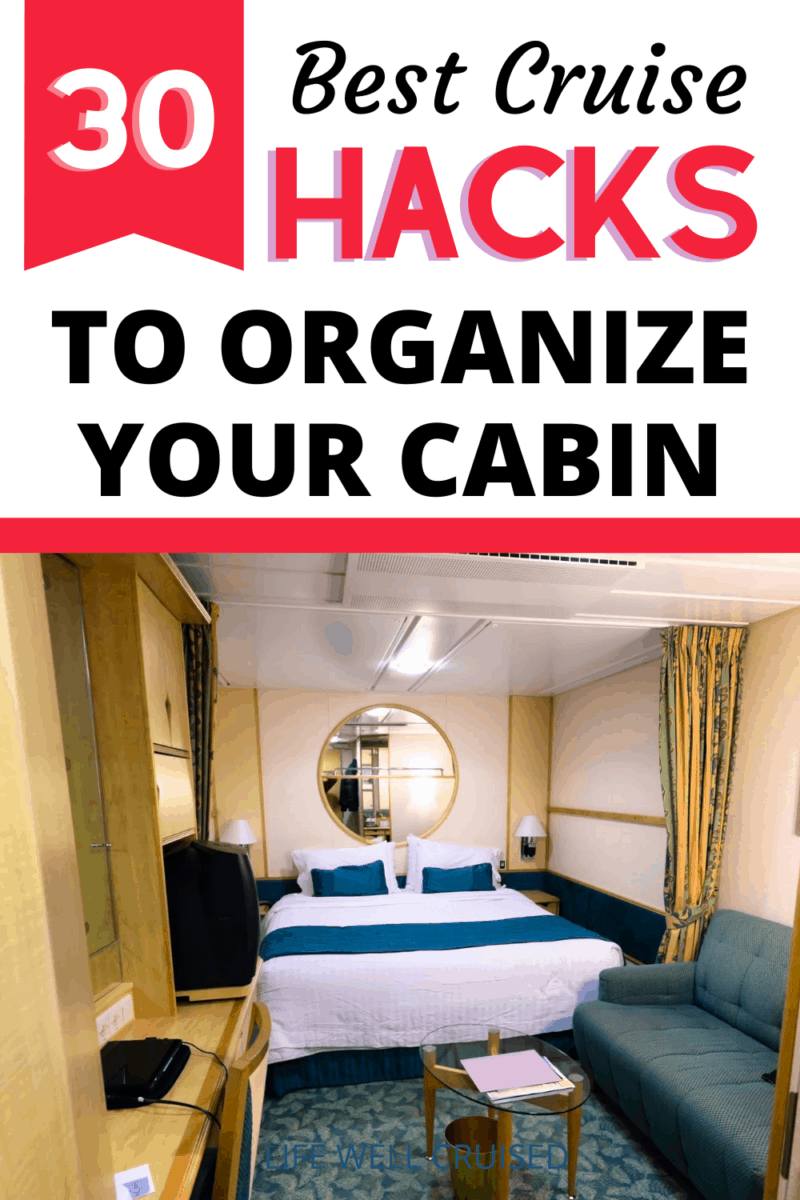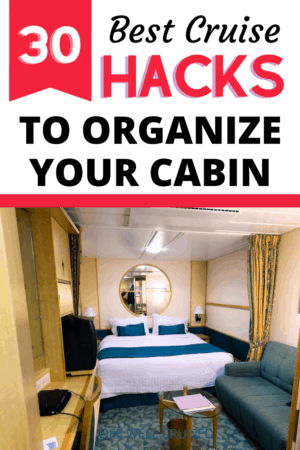 13. Clothes Pegs
If you've decided to wash a few small items or hang some bathing suits up on the little clothes line in the shower, you'll want to have a few inexpensive clothes pegs handy. You can pick up a small package at the dollar store.
14. Extra electric outlets and USB's
Perhaps the newest ships have accounted for this, but literally every cruise cabin I've had from inside to Balcony, has had 2-3 plugs if I was lucky! Nowadays, we just need more plugs for all our electronics and chargers. You may think you can bring a power par from home, but the ones with surge protectors are actually not allowed. It's very important that you purchase one that is cruise approved (cruise ships will confiscate).
See my recommended: Cruise Power Strip with USB Outlets – Non Surge Protection & Ship Approved here.
15. Portable charger
A travel necessity is a portable charger or power bank.
This is the super fast portable charge I recommend: INIU Portable Charger – compatible with most phones (but do verify)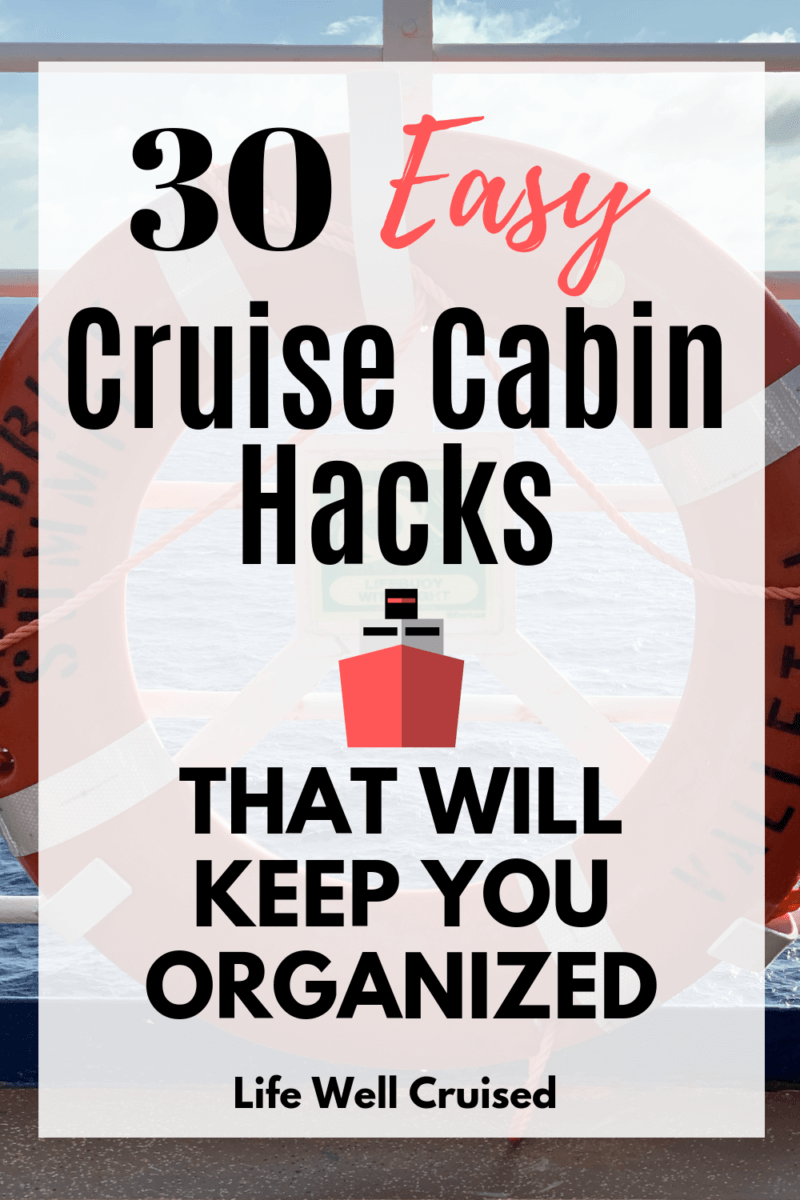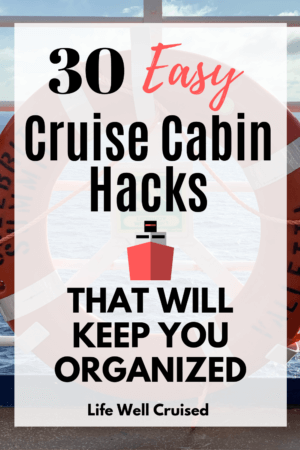 16. Portable speakers
Why not bring a portable speaker
to enjoy your very own cruise playlist? I've heard from people who make a great Sailaway soundtrack, which sounds like a lot of fun!
17. Cabin nightlight
Cabins are obviously quite dark at night, especially if you're in an inside cabin.
So, here's my very simple cabin hack. If you're in an inside cabin, open the light in the bathroom and leave the door open just a sliver. It will add just enough light to the room so you don't trip or stub your toe if you do need to get up during the night.
If you have a balcony, you can also pull the shades just a touch and let some moonlight in. We like natural light in the morning, so we often leave the curtains partially open to get that early light peeking in.
On a recent cruise, we used a battery operated motion sensor nightlight. This was a really useful cruise accessory!
Recommended: Motion sensor nightlight for cruise cabins (check price & Amazon reviews here)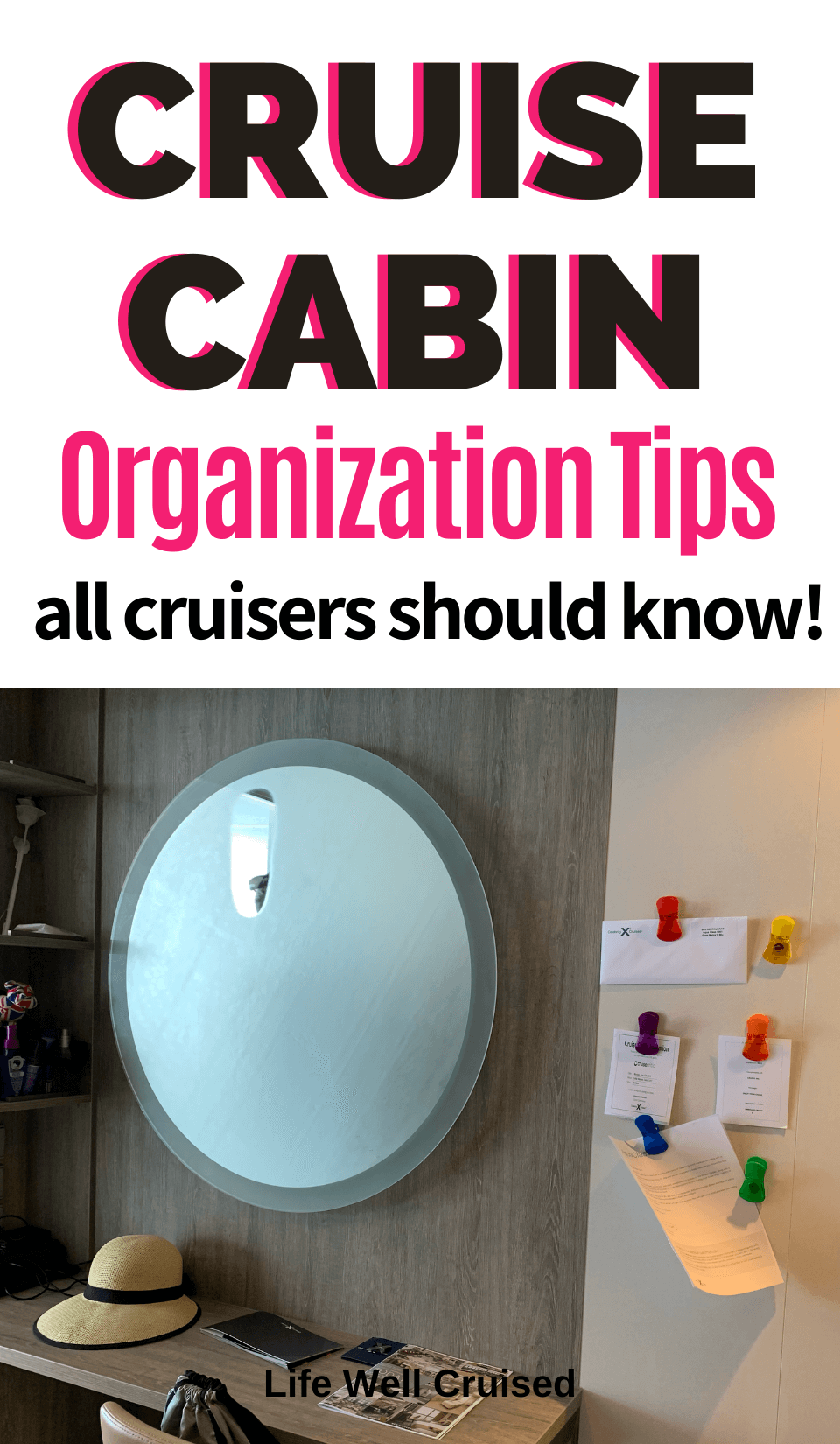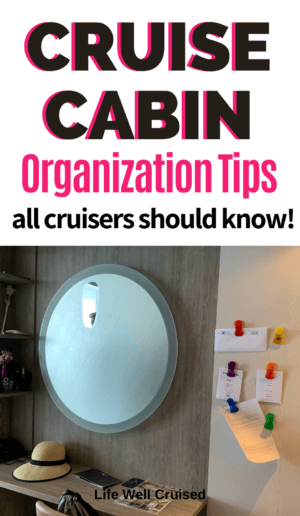 18. Small cabin fan
This is something that some cruisers appreciate, however we've always found the cabins to be well air conditioned and haven't needed an additional fan. If you like one and find small spaces hot and stuffy, consider bringing a small portable fan
(check reviews on Amazon) for your stateroom.
19. Store your valuables and personal items
Keep not only your good jewelry, wallet and cash in your safe – but also keep your passports and car or house keys. We realize we often have these with us when we travel, and to avoid searching for them at the end of the cruise, they simply go in the safe the very first cruise day.
20. Jewelry storage
If you have small items like earrings and pendants, a pill container that you can pick up at the dollar store is handy to keep organized. You can put everything in ahead of time and then have it ready when you need it.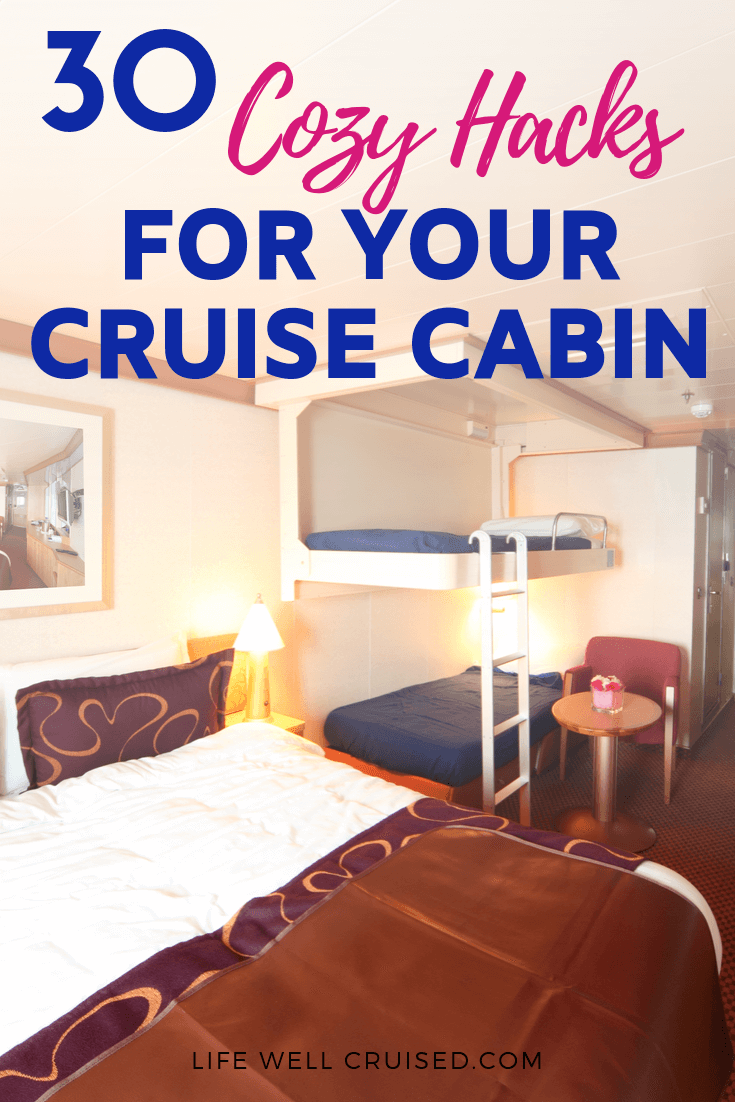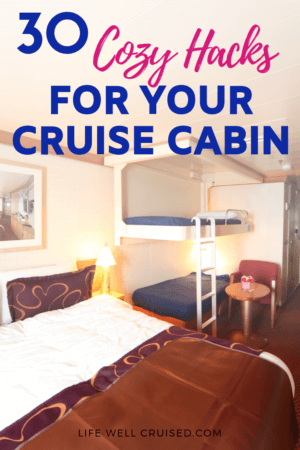 Keeping Organized on a Cruise
21. Highlighter
Keeping organized for the ship's activities can be a bit of a challenge. You'll definitely want to go through the daily cruise planner (Cruise Compass, Freestyle Daily, Princess Patter, etc.) and plan for certain activities you really want to attend.
While you can also view this on the cruise line app (check availability with your cruise line), on your phone, I personally like planning ahead by looking through the paper daily planner.
Bring a highligher and this way you can highlight your favorite things and see them at a glance.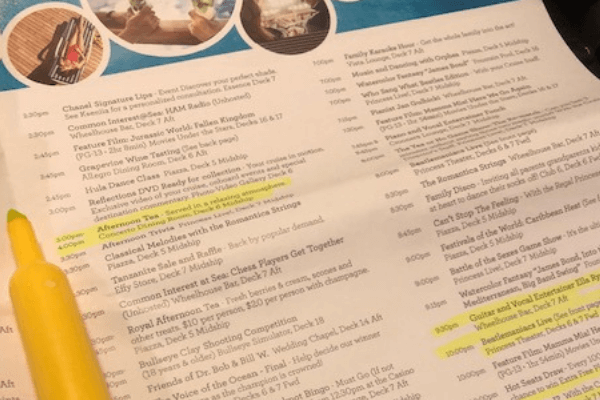 22. Dry erase board
Some people really like to use a dry erase board for messages and notes between family members, or to write down reminders. Consider if this will work for your family.
Over the last few years, we've been using the cruise ship messaging apps, so we really haven't found a need for this, but if your kids are young, it may be practical for you.
23. Post-it notes
Who doesn't love post-it notes? Honestly, I can always use a post it. This can be great to write a note to your cabin attendant and leave it on the mirror, or to write yourself a note and place it where you need it to be.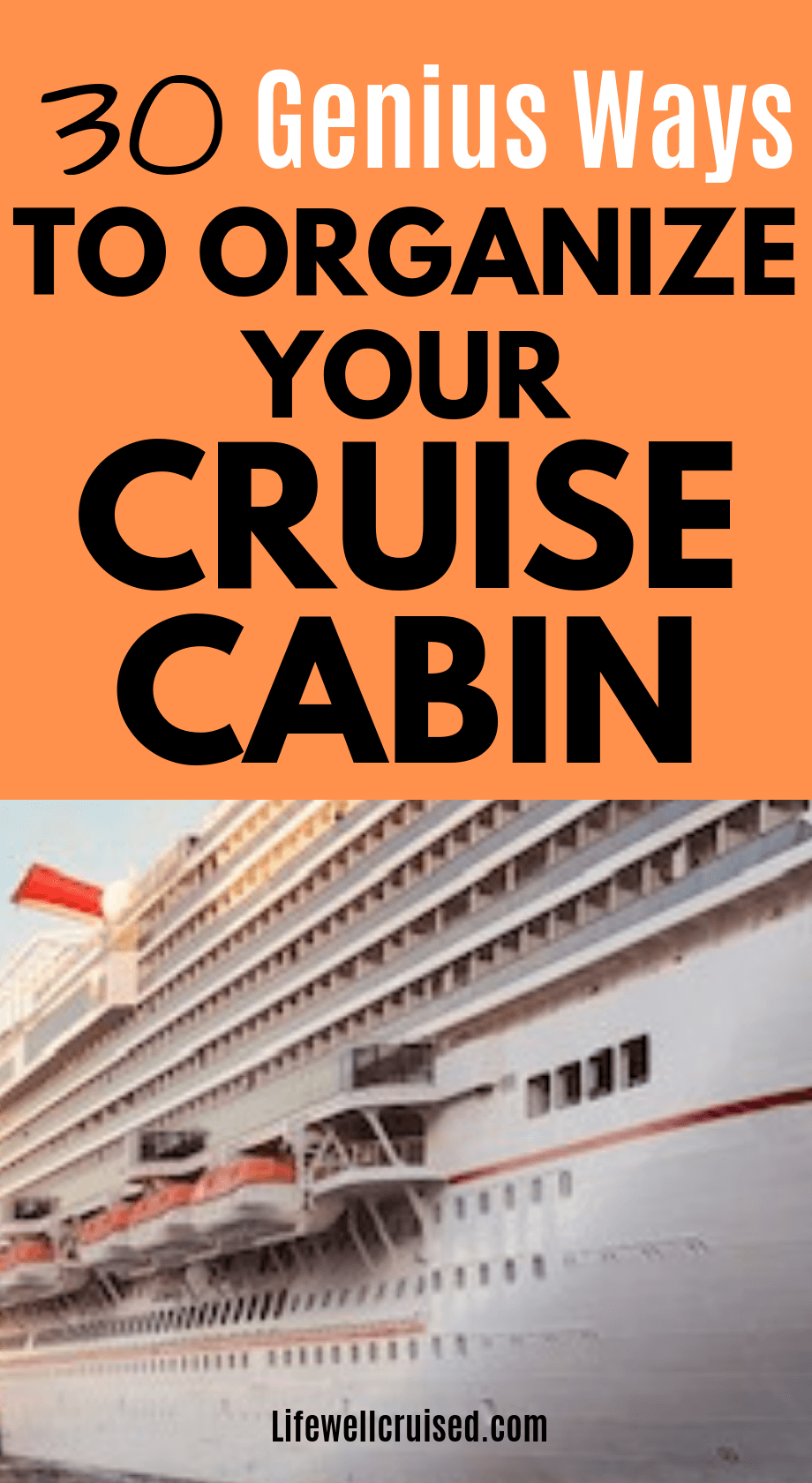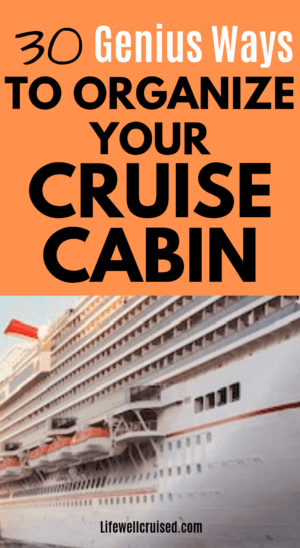 Video: Genius Space Saving Cruise Hacks
Want even more cruise cabin tips and hacks? I share more genius space saving tips in this YouTube video:
24. Reusable water bottles
While not exactly a cruise cabin hack, this is something really practical to have on your cruise. Perhaps buy different colored ones for each person in the cabin to keep organized, but definitely you'll appreciate those portable bottles, especially when you get off the cruise ship.
Set of 4 in different colors – Sports Water Bottles (amazon link)
25. Thermal coffee mugs
Ahhhhhh coffee. Enough said 😉
Actually all joking aside, a quality thermal travel mug
is great to grab a big coffee and keep it hot for as long as you need. It can also be used for a cold drink later on if you like.
26. Ziplock bags
Ziplock baggies are so useful. They can keep your passports dry if you need to take them with you at a cruise port. You may want to put a few bandaids in a ziplock and throw it in your beach bag. You get the idea. Just bring a few, you never know.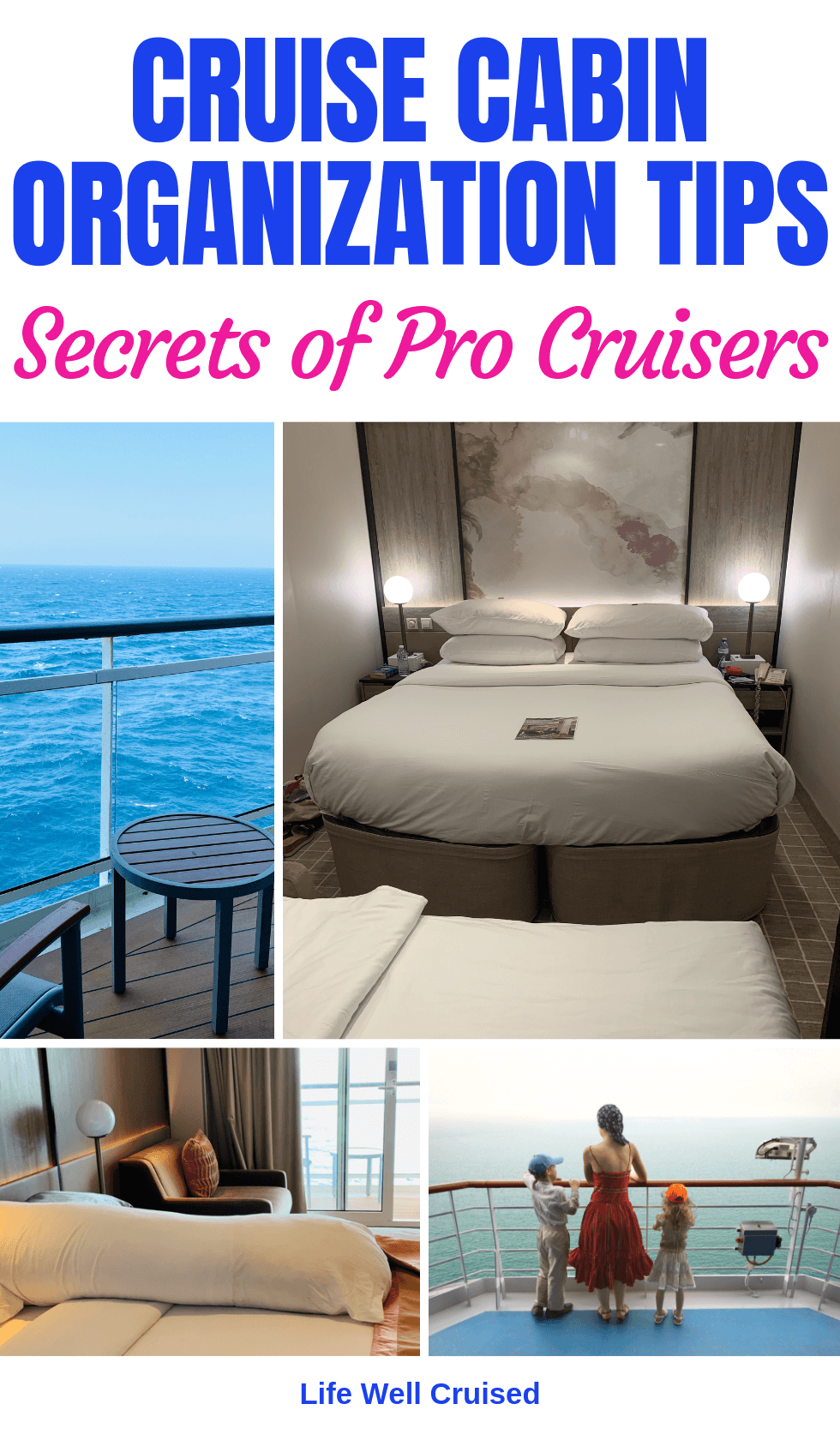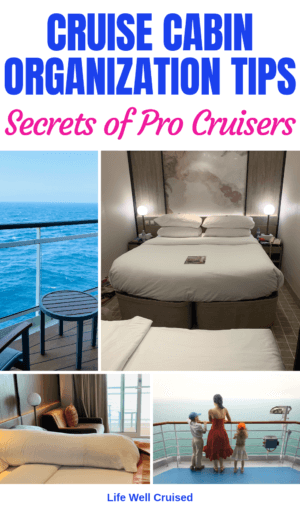 Getting ready for shore excursions
27. Towels
Don't bring any towels from home, as your cruise ship will provide them. And, you can even take them off the ship for excursions and beach days while you're in a cruise port.
Tip: We like to prepare the day before by getting towels from the pool deck and placing them in a beach bag we use. Along with that, we throw in our sun tan lotion and sunscreen and we're all ready when we get to our port of call the next morning. *Note, some cruiselines leave pool towels in your cabin, while many will not, so plan for this.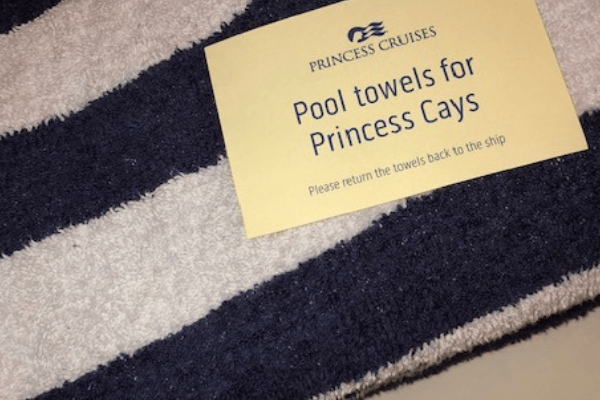 28. Beach bag or backpack
To keep organized, which really saves space in your cabin, consider bringing a good zipped beach bag and/or a knapsack. Hang it on one of your heavy duty magnetic hooks
, and leave it there until you need it for shore excursion days. We try and pre-pack the night before, so it makes mornings easier.
29. Towel Clips
I'm so in love with my towel clips. The cruise ship deck is windy, and towels tend to fall down and even fly away a bit.
For years I saw others with them and just didn't get around to buying them. Then I secretly envied my fellow shipmates and their adorable and practical towel clips. Finally I have them and we put them to good use on our last cruise!
You can get towel clips to suit your personality like flamingos or parrots or margaritas, or you can get a simple and colorful set as well.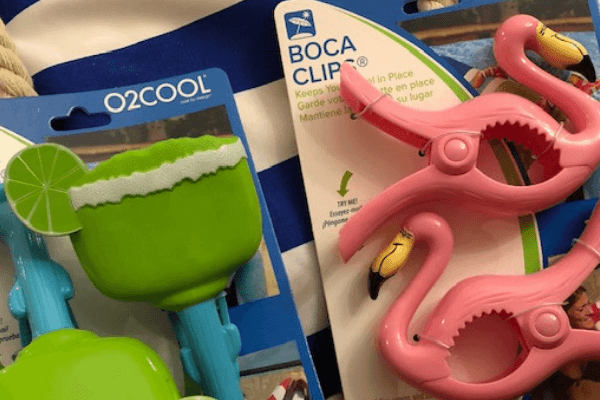 Recommended: Set of towel clips
If you prefer to pack lighter, a great alternative to towel clips are towel bands. They are practical and lightweight, and don't take up much space at all!
Recommended: Towel Bands (see price & reviews on Amazon here)
Decorating your cabin door
30. Decorative magnets
On some cruise lines, decorating your cabin door is a bit of a thing. I have to say, we just haven't done this.
However, it's always fun to see the doors that are decorated. So if you're in the mood or celebrating a special occasion, definitely bring some fun magnets and other items to decorate and personalize your cabin door. Something fun I saw on our last cruise, was a door decorated with those scrabble style letter magnets. People were forming words – it was pretty cute.
A bit of a random fun fact I discovered recently, decorating your cabin door with pineapples has meaning, so proceed with caution. Just google it. If it made you smile or laugh let me know with a haha in the comments below :-).
Read more: Cruise Cabin Door Decorations: The Ultimate Guide for Cruisers
**Looking for a printable cruise travel planner to keep organized? See what's included in the 47 page Ultimate Cruise Planner
Get The Ultimate Cruise Planner
Regular price: $27 Now just $17!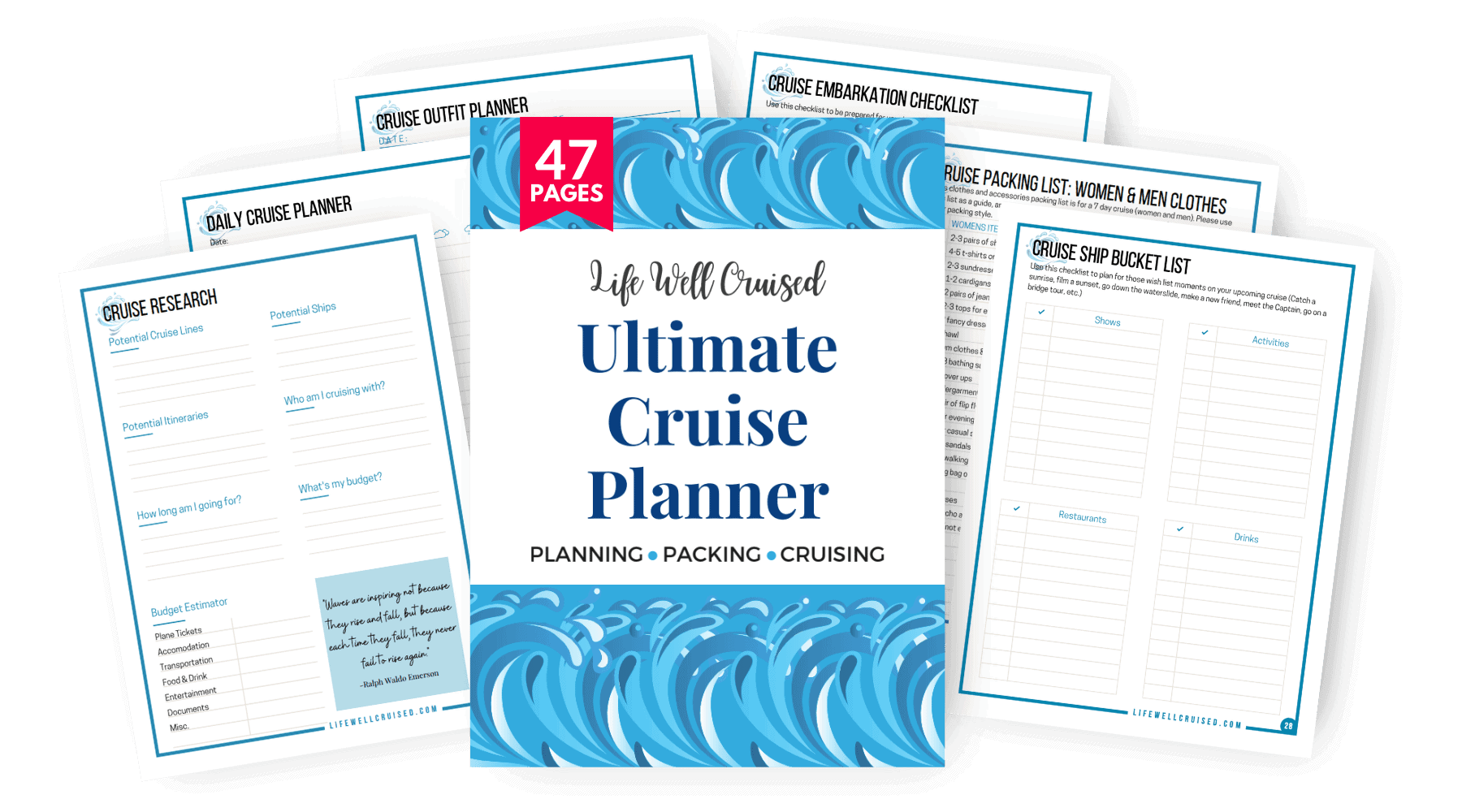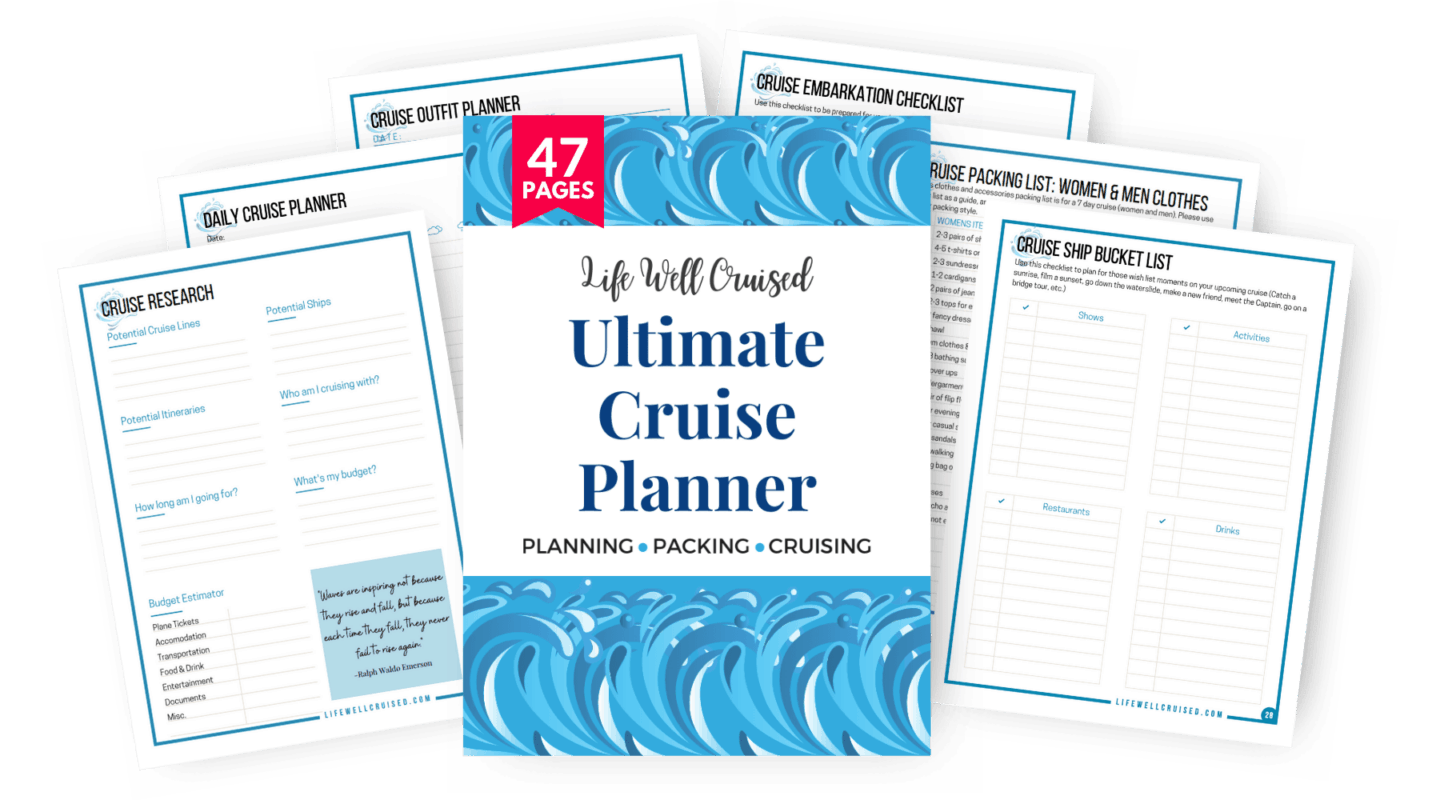 Popular & Related Posts
Recap: Cruise Cabin Hacks Every Cruiser Should Know
Keep in mind that although cruise cabins are small, they can also be organized and efficient. Not all cruise tips or organization products will be for you, but pick and choose the things you can do that will make your life just a bit easier while on vacation.
If there's anything to keep in mind, it's definitely planning for plugs and USB's by bringing along a cruise-approved power strip (with USB).
Check current pricing Check current price HERE
.
What tips do you have? Please let me know in the comments below, and I may just add them to this post. Any products you love or really didn't need at all?
Happy Cruising!
Ilana
P.S. If you found this helpful, please don't keep it to yourself ;-). Please share on Facebook or PIN to your favorite Pinterest board (share buttons at the top). Thanks so much!
Let's connect:
Follow me on Facebook at Life Well Cruised
Follow me onYouTube at Life Well Cruised (Vlogs and cruise tips)
Follow me on Pinterest at Life Well Cruised
Follow me on Instagram at Life Well Cruised