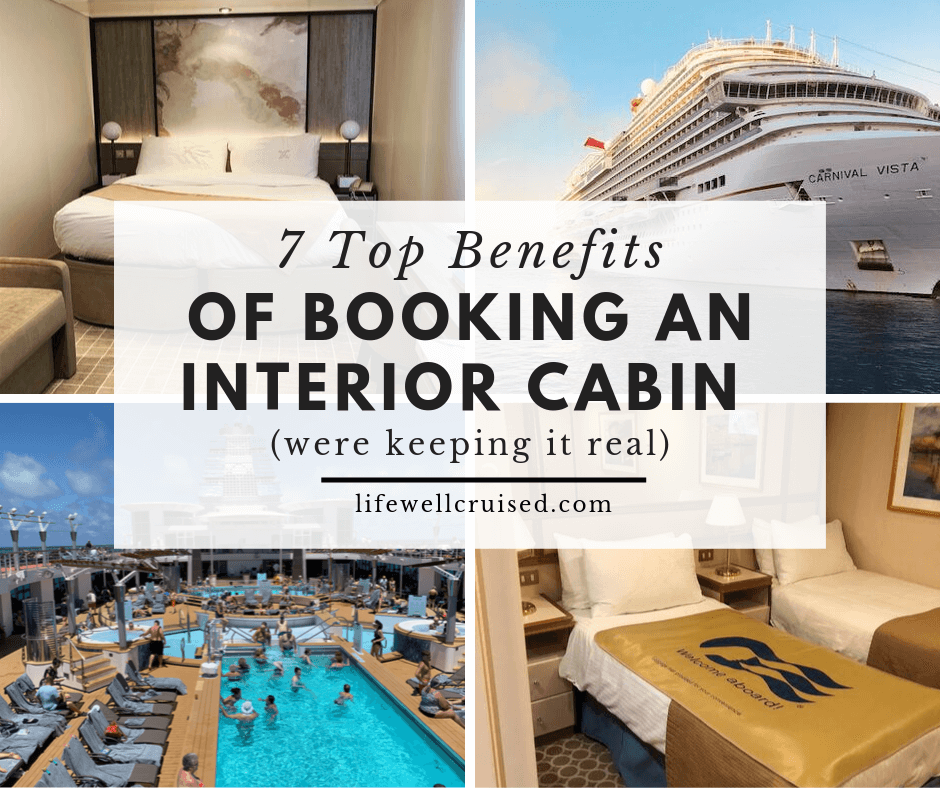 When my husband and I booked our very first cruise about 15 years ago, we booked an inside cabin. Friends and family had recently cruised in interior staterooms, and this is what they recommended, so this is what we did.
Based on their vacation photos and cruise stories, we knew what to expect. The cabin would be small and compact, without a window, but still "liveable".
So,when we boarded the Navigator of the Seas and saw our interior cabin we were pleasantly surprised. We weren't expecting much, but the room was cozy and had a small sitting area with a loveseat. It was pretty cute!
At that time we looked at this from a "value perspective" and the advice we got always included the statement "You're not going to be spending time in your cabin anyway" (which we will get to later).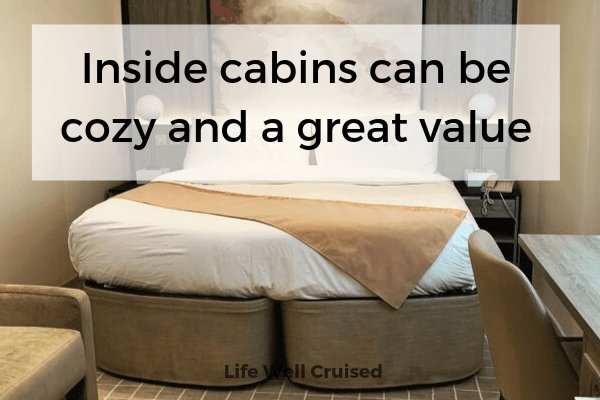 Why Should You Book an Inside Cabin?
While an inside cabin isn't right for everyone, it definitely has it's benefits.
Even though we've been on over 25 cruises, and have cruised in balcony and ocean view cabins (they are great!), we still love our inside cabins.
If this is your first cruise, or even if you've cruised before and are considering trying an inside cabin, I'll tell you the benefits – while keeping it real.
7 Top Benefits of an Interior Cabin
1. Interior cabins are often the best value
Generally, inside cruise cabins are the least expensive accommodations on a cruise ship. For your vacation dollar, it would be hard to find a better value than this.
When we first started cruising with our 2 kids,we didn't have a huge vacation budget. However, we realized that we could cruise for about the same cost of a road trip or land vacation once we added up hotel stays, restaurants and activities to keep the family busy.
By cruising in interior cabins, we were able to have an amazing and pretty luxurious vacation.
If you're a mom reading this, I defined luxury by the fact that I wasn't cooking or cleaning for a week, and didn't have to think about planning anybody else's meals. Add on a fantastic free kid's club and it was parent heaven ;-)!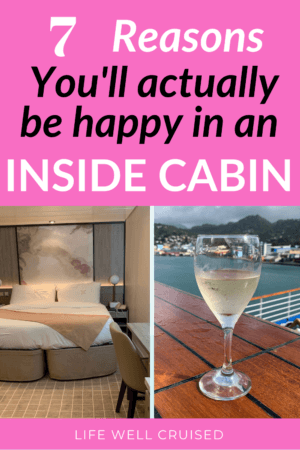 2. A great night's sleep
Many people who just need a good night's sleep, claim that there's no better rest than the tranquility of an inside cabin.
Many people are sensitive to light from the moon or even daylight in early morning, and sleep much better in total darkness. The room is pitch black at night (unless you cabin hack a little) and you won't be disturbed by any outside sounds.
Our good friends came with us on a cruise several years ago. We laugh a little as they weren't sure they'd like it, but now cruise 2-3 times a year.
They almost always cruise in an inside cabin and a big reason is that for them a vacation means catching up on much needed rest. They love a good, dark, inside stateroom!
3. Cruise more often
No matter your cruise budget, having an inside cabin keeps cruise vacation dollars costs on the lower side. Whether this means that you can cruise once a year, twice a year, or once every couple of years – having a less expensive cabin definitely saves money.
When we first started cruising, this was certainly our mindset. We would rather put extra dollars towards excursions and experiences.
Even now that our vacation budget is larger, we still prefer to cruise more often so we are always looking at the overall best value.
4. Best cruise ship experience
This may be surprising, but it isn't always only about the dollars and cents. We've found that we could get the best cruise ship experience (for us) by taking an interior cabin.
Here's the tip:
Booking the cheapest cruise cabin on the very best ship, is the best way to have a top quality cruise, at the best value.
Over the years, we could have easily booked a better cabin on a ship that was less interesting for us. However, we didn't want to have a balcony cabin on a cruise ship that didn't have the entertainment, dining, or ship activities that we most enjoyed.
What each of us likes most on a ship is very individual, so the important thing isn't so much "what's the least expensive cruise?", but "How can we get the best value on the BEST cruise, for US?"
5. Great service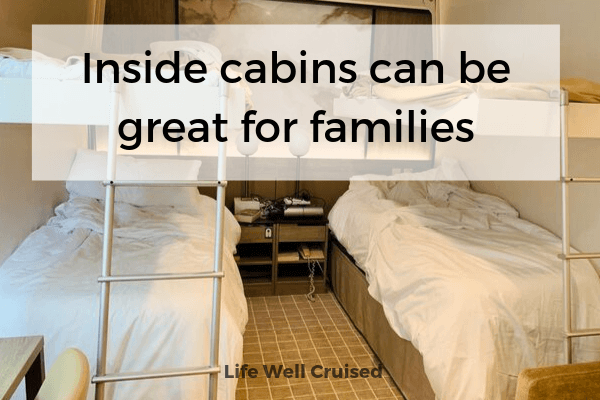 I know that the service is incredible in a suite with a butler. It should be, right?
So, putting those higher cruise cabin categories aside, we can compare the service on a cruise between inside, ocean-view, and balcony or veranda cabins.
Having stayed in these 3 cabin categories, I can tell you that you wouldn't see a difference. Either way, your stateroom is cleaned twice a day (vacation heaven) and cabin stewards are generally very accommodating and want to meet your needs.
On our recent cruise on the Celebrity Summit, we had one of the most amazing stateroom attendants, despite having one of the least expensive rooms on the ship.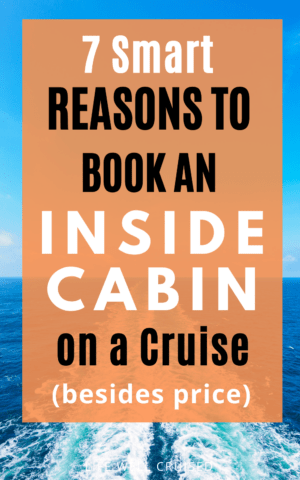 6. Loyalty Perks
Did you know that by cruising more often with the same cruise line, that you earn and accumulate loyalty points? These points give you a few perks each time you cruise, and certainly have more value as you move up the loyalty ranks.
While there are ways to earn double or more points by staying in suites and higher cabin categories, the other way to work the cruise loyalty program is pretty simple – cruise more often.
We met a sweet older couple on a recent Princess Cruise who did a lot of cruising (several a year!) all in inside cabins. They told us about the great benefits of cruising so often, and for them this meant being loyal to one cruise line.
They really enjoyed their cruises and cruise ship life, but this philosophy served them well.
Recommended: Princess Cruises: 15 Best Tips for First Timers (with loyalty perk info)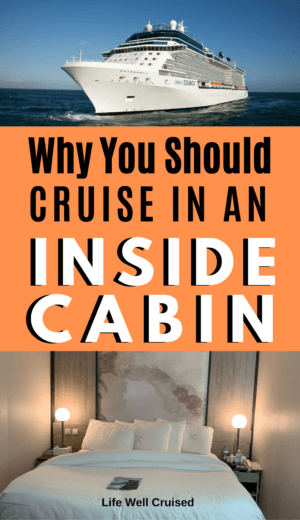 7. Spend time enjoying every thing the cruise ship has to offer
Cruise myth or reality? "You don't spend time in your cabin anyway"
I started this post off with the advice we heard from our friends and family, and over the years we've heard these words said often.
In my opinion it's both true and false.
I do think that when you have an inside cabin, you're less likely to spend time in your cabin. However, when you have the extra space and a sea view on your own balcony, you may enjoy more private time there.
If you want to get the most out of the cruise ship and it's gorgeous pools, lounges and public spaces, you may not miss a balcony at all.
We've noticed that when we've cruised in an inside cabin, we tend to be out and about and enjoy a lot of the ship's entertainment and other offerings.
On many our our cruises, we've enjoyed hanging out and people watching from the ship's cafe or atrium.
Recommended: 30 Cruise Cabin Hacks Every Cruiser Needs to Know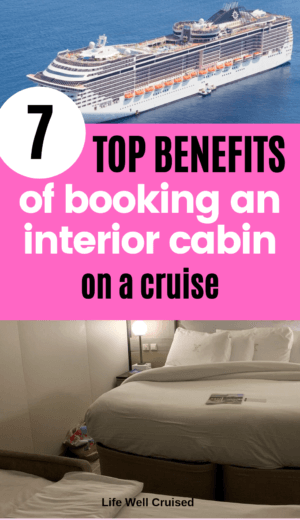 Why You Should Not Book an Inside Cabin
Even though inside cabins have a lot of clear advantages, the fact is, there are some times when it's probably not the best idea to book an interior room.
If you are claustrophobic
This might be an obvious one, but inside cabins are pretty small and average about 150-160 square feet per cabin. So if you suffer from claustrophobia, you will probably want a window at the very least. The reality is an inside cabin may feel tight on space.
If you get seasick
This may seem counter-intuitive, but if you tend to suffer from motion sickness,small inside cabins aren't usually your best bet. Instead, you'll probably do best with a balcony cabin,where you can get the extra space and open the door for fresh air.
If you are more than 2 people in the cabin
This will be different for everyone, but some people won't feel good having more than 2 people in a cabin. If you're 2 adults and 2 children,often the configuration of the cabin will have the 3rd and 4th passenger in bunk beds coming out of the wall or ceiling, directly above the main bed below.
Some families may prefer one larger balcony cabin, or 2 cabins that are side by side or connecting. Always do a price check as sometimes getting 2 cabins is less expensive than we think.
If natural light is important to you
We cruised with friends a couple of years ago, and one of our friends had a really hard time getting up in the morning and she was in an interior cabin. We joked about it, but the reality was that she really felt physically better with natural light.
We found this out on a future cruise,when she had an ocean view and noticed a huge difference. She's sworn, no more inside cabins!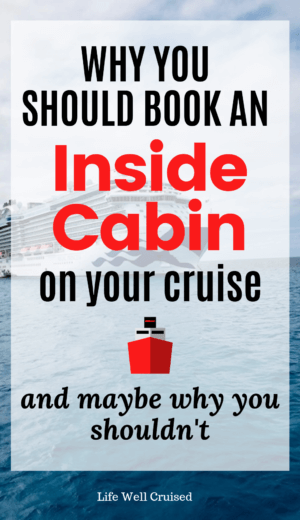 Recap: 7 Benefits of cruising in an Inside Cabin
We've gone over some big advantages of cruising in an inside cabin. We've actually cruised in inside cabins for more than half of our cruises, and think they are a great value and a great way to cruise more often. They're also a cozy space and there's some good to that.
Whether you are 2 people in an interior cabin, or a family of 3 or 4 (or even 5), there are ways to make the more compact space cozy and work for you.
One of the ways we, and other cruisers, have done this is by following a few simple tips to keep organized with cruising. If you're going to be cruising, I highly recommend reading THIS POST (Cruise Cabin Organization Tips) .
Have you cruised in an inside cabin? What tips do you have to make the cruise comfortable and the cabin space work? Please let me know in the comments below.
Happy Cruising!
Ilana
P.S. If you found this helpful, please don't keep it to yourself ;-). Please share on Facebook or PIN to your favorite Pinterest board (share buttons at the top). Thanks so much!
Related posts you may enjoy:
27 Cruise Travel Hacks Repeat Cruisers Swear By
21 Essential Things to Pack in Your Cruise Carry-On
15 Cruise Embarkation Day Tips Straight from the Pros
30 Cruise Cabin Hacks Every Cruiser Needs to Know
Let's connect:
Follow me on Facebook at Life Well Cruised
Follow me onYouTube at Life Well Cruised (Vlogs and cruise tips)
Follow me on Pinterest at Life Well Cruised
Follow me on Instagram at Life Well Cruised