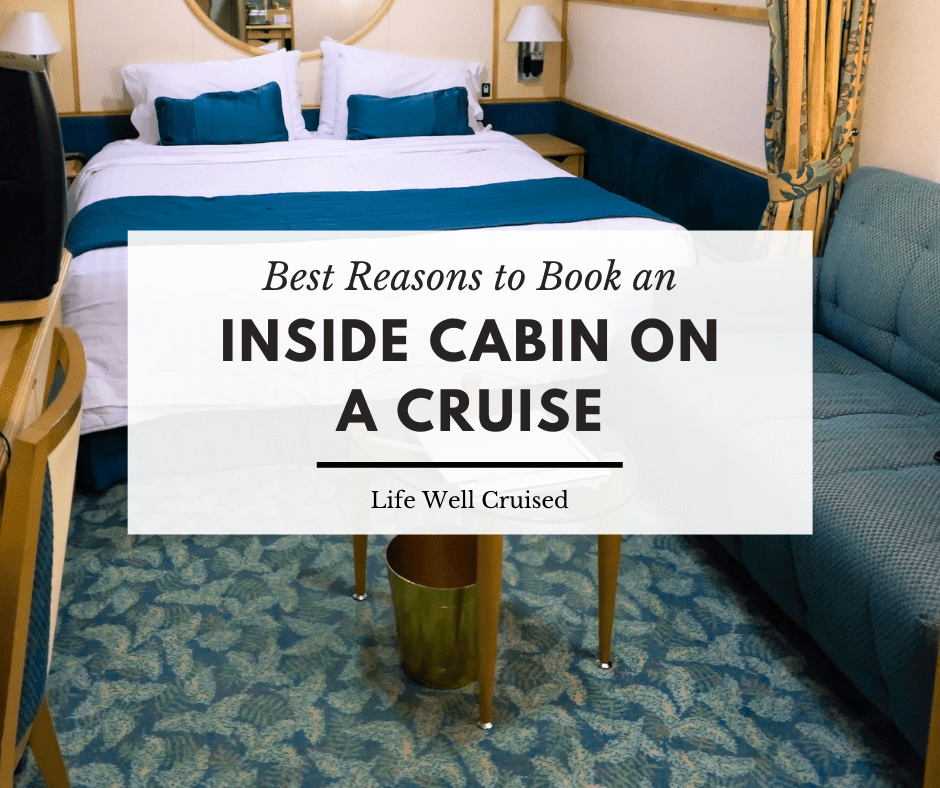 Why Should You Book an Inside Cabin?
If you're planning a cruise, you might be wondering what inside cabins are like and if they're right for you. While an inside cabin isn't for everyone, we've done over 20 cruises in inside cabins and have found many reasons to love them.
Now, I'll admit that as cruises restarted, I had some reservations and worries about being "stuck" in an inside cabin. However, these days this isn't a concern.
In this post I share 10 reasons to book an inside cabin on a cruise, as well as answer some common questions about inside staterooms that you may have.
This post contains affiliate links which means if you click and buy that I may make a commission, at no cost to you. Please see my disclosure policy for details.
As an Amazon Associate I earn from qualifying purchases.
10 Top Reasons to Book an Inside Cruise Cabin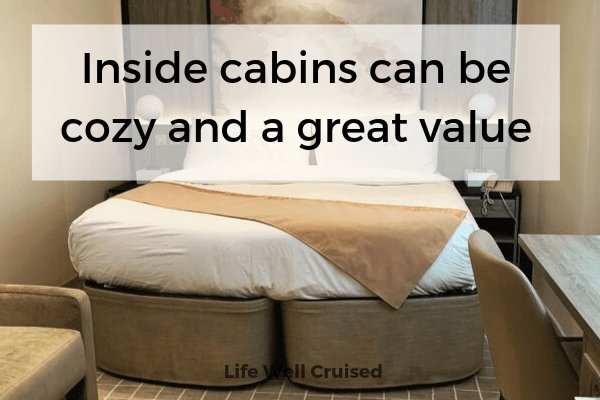 1. Inside Cabins Are Usually Cheaper
Generally, inside cruise cabins are the least expensive accommodations on a cruise ship. For your vacation dollar, it would be hard to find a better value than this.
These days, balcony cabins can be double the cost of an interior room. If you're trying to save some money on your cruise vacation, booking an inside cabin is a great way to do it!
2. Sleep Better
Many people who book inside cabins love the fact that they get a really good night's sleep in a dark, windowless cabin.
If you're sensitive to light when you sleep, you might find the lack of light coming in from a window or balcony door a huge benefit of having an inside cabin.
Inside cabins can also be quieter than balcony cabins, where you may hear your neighbors who are outside talking or playing music during the day or night.
3. Being Quarantined in Your Cabin is Unlikely
Are you concerned about getting quarantined in an inside cabin during your cruise? I was too. However, I realize that my worries were probably exaggerated and this is unlikely to happen these days.
Most cruise lines are no longer testing (for many itineraries). They also have various protocols for dealing with positive cases, including cabins designated to quarantine passengers if needed. These cabins are often located in the same area, in many cases close to the medical center.
4. You're Not in Your Cabin Much
While some people really enjoy spending time in their cabin, especially on a balcony or veranda, others prefer to be out and about enjoying the cruise ship. If you know that you'll only be in your cabin to eat, sleep and change clothes, than an inside cabin is perfect for you!
Many people who book inside rooms, say that it pushes them to take part in activities and explore the different areas on the cruise ship, from outside decks to restaurants and lounges indoors.
Related: 27 Awesome Things To Do on a Cruise on Sea Days
5. Port Intensive Itineraries
There's no better time to stay in an inside cabin, then when you've booked a port intensive itinerary. If you're going to be off the ship for several days during your cruise, it may be worth it to book an interior room.
If you're going on a Mediterranean cruise or port intensive Hawaii itinerary, these may be cruises where you just won't be on the ship much, and your days will be spend visiting and doing shore excursions.
Related: What to Pack in Your Cruise Shore Excursion Day Bag
Get The Ultimate Cruise Planner
Regular price: $27 Now just $17!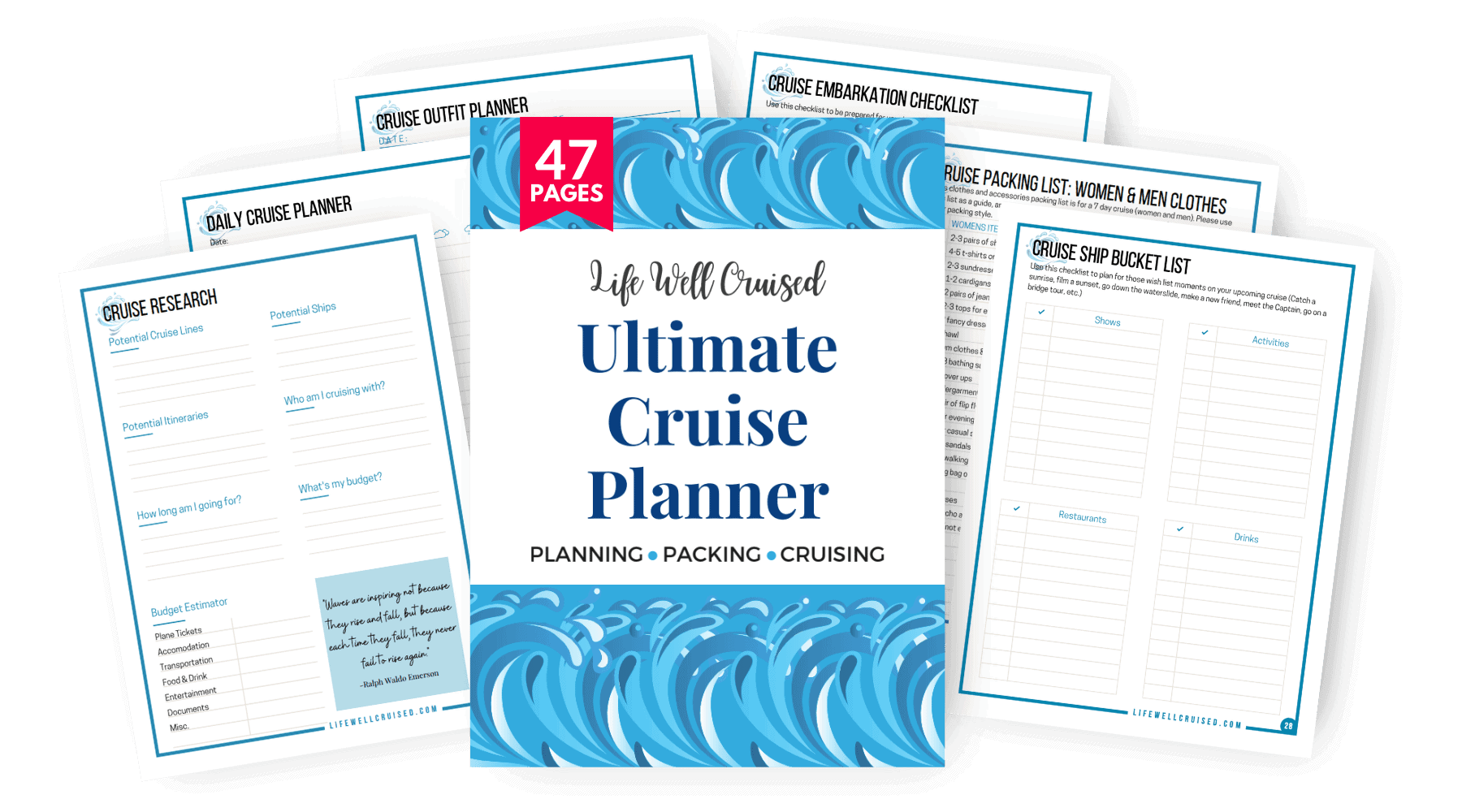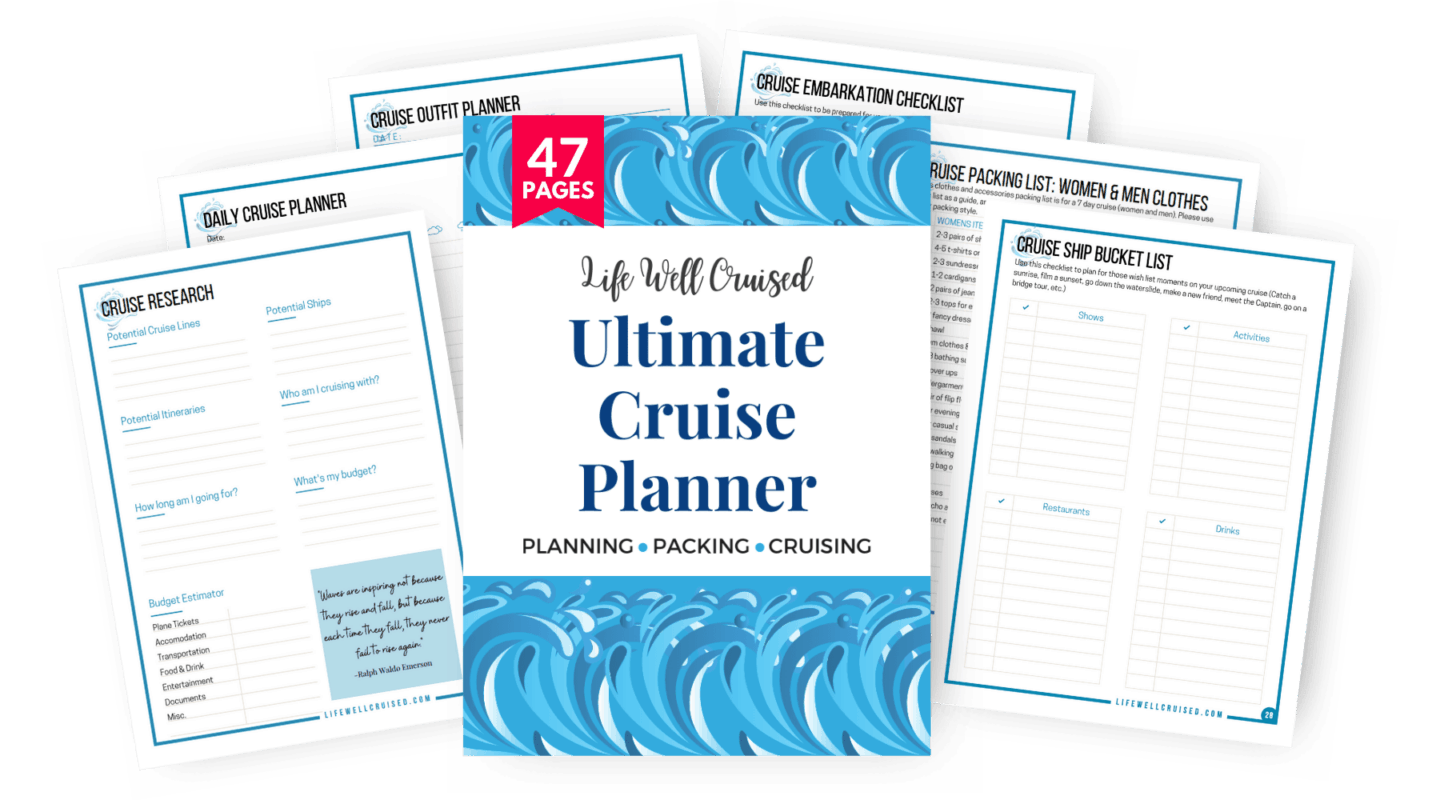 6. Seasickness Less Likely
While booking an inside cabin doesn't mean that you'll avoid getting seasick, you may have a better cabin location, which will likely help. Inside cruise cabins can be found on most decks, and you can even book mid-ship cabins at a great price.
If you book a mid-ship cabin on a cruise, you'll usually have the best chance or preventing seasickness.
Related: Bonine vs Dramamine: Which is the Best Motion Sickness Medicine on a Cruise
7. Solo Cruisers
Unfortunately solo cruisers usually have to pay for double occupancy when booking a standard cabin. While single berth cabins are available on some cruise ships, they aren't very common.
Booking an inside cabin is usually the most economical option for solo cruisers, and the benefit is having the extra room and storage space.
Related: Best Cruises For Solo Travelers – Everything You Need To Know
8. Prioritize Cruise Ship Over Cabin
A great reason to book an inside cabin is to be able to cruise for less, on the best cruise ship. While the "best" cruise ship is subjective and might be a luxury cruise to some, and a mega-ship to others, the principal remains.
Booking the cheapest cruise cabin on the very best ship, is the best way to have a top quality cruise, at the lowest price.
If you want the best value, booking an inside cabin on the cruise ship that you really want will be worth it!
9. Cruise more often
No matter your cruise budget, having an inside cabin will help you to save money and cruise more often.
Whether this means taking a cruise once a year, twice a year, or once every couple of years – having an inside cabin is a great way to stretch your vacation dollars.
Related: How to Save Money on a Cruise: 27 Tips, Tricks & Hacks
10. Functional & Organized
Inside cabins may not be large, but they are great functional cabins that are fairly easy to keep organized. Whether you're cruising with 2 people, or even a family of 4, with a few cruise cabin hacks, you can optimize your space and have room for everything you need.
Related: 30 Cruise Cabin Hacks Every Cruiser Needs to Know
Video: The Best Reasons to Book an Inside Cruise Cabin
Here's a video where I share more about booking inside cabins, with up to date information.
Who Should Not Book an Inside Cabin
Inside cabins have a lot of clear advantages. However, there are some times when it's probably not the best idea to book an inside cabin on a cruise.
If you are claustrophobic
This might be an obvious one, but inside cabins are pretty small and average about 150-160 square feet per cabin. So if you suffer from claustrophobia, you will probably want a window at the very least. The reality is an inside cabin may feel tight on space.
If you are more than 2 people in the cabin
This is different for everyone, but some people won't like having more than 2 people in a cabin. If you're 4 people in one cabin, the 3rd and 4th passenger may have pullman beds (like bunk beds coming out of the wall or ceiling) directly above the main bed below.
Some families may prefer one larger balcony cabin, or 2 cabins that are side by side or connecting. Always do a price check as sometimes getting 2 cabins is less expensive than we think.
Related: 20 Ways to Save on Your Family Cruise
If natural light is important to you
We cruised with friends a couple of years ago, and one of our friends had a really hard time getting up in the morning and she was in an interior cabin. We joked about it, but the reality was that she really felt physically better with natural light.
We found this out on a future cruise, when she had an ocean view and noticed a huge difference. She's sworn, no more inside cabins!
Related: Port Side vs Starboard on a Cruise – Which Side of the Ship is Best?
Get The Ultimate Cruise Planner
Regular price: $27 Now just $17!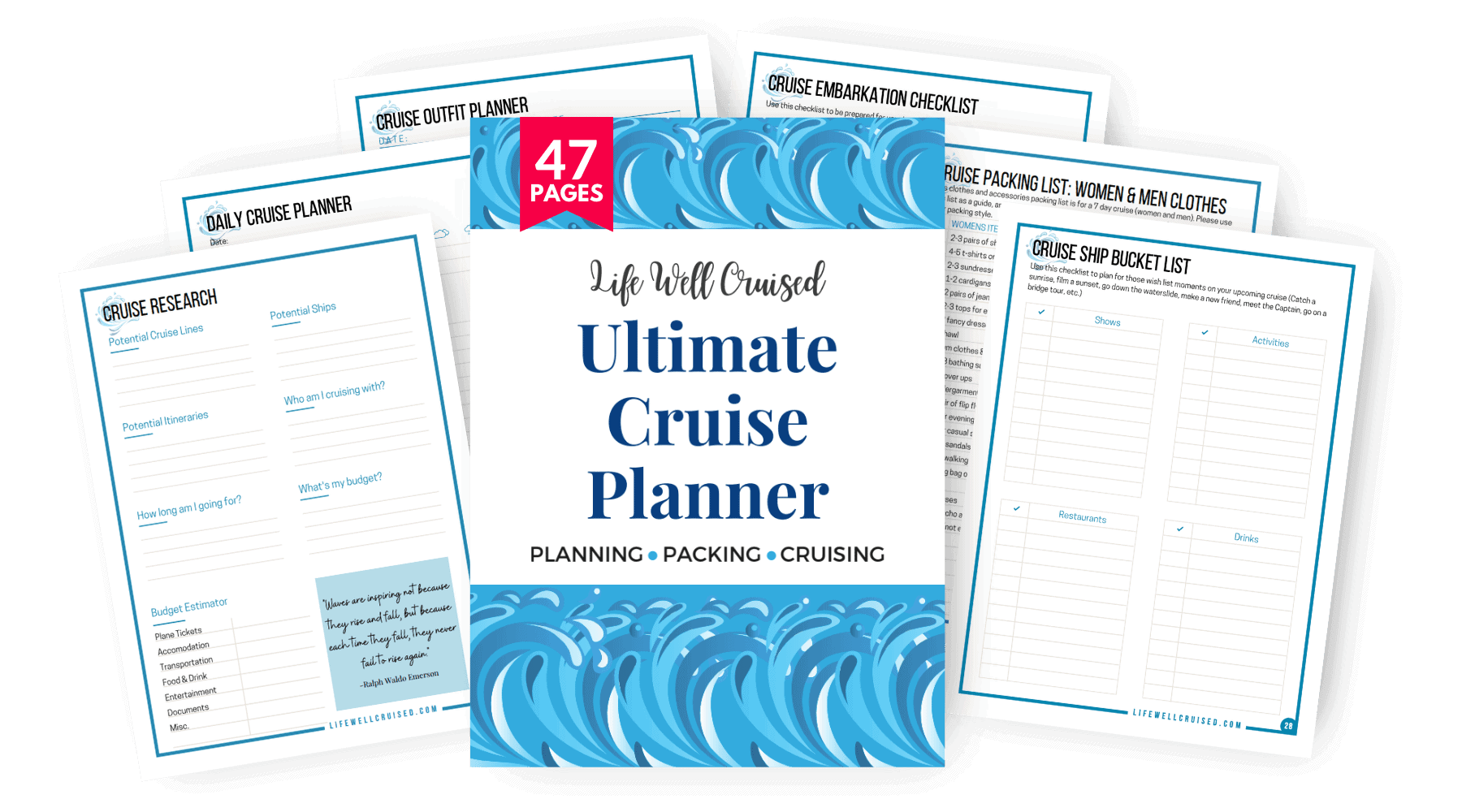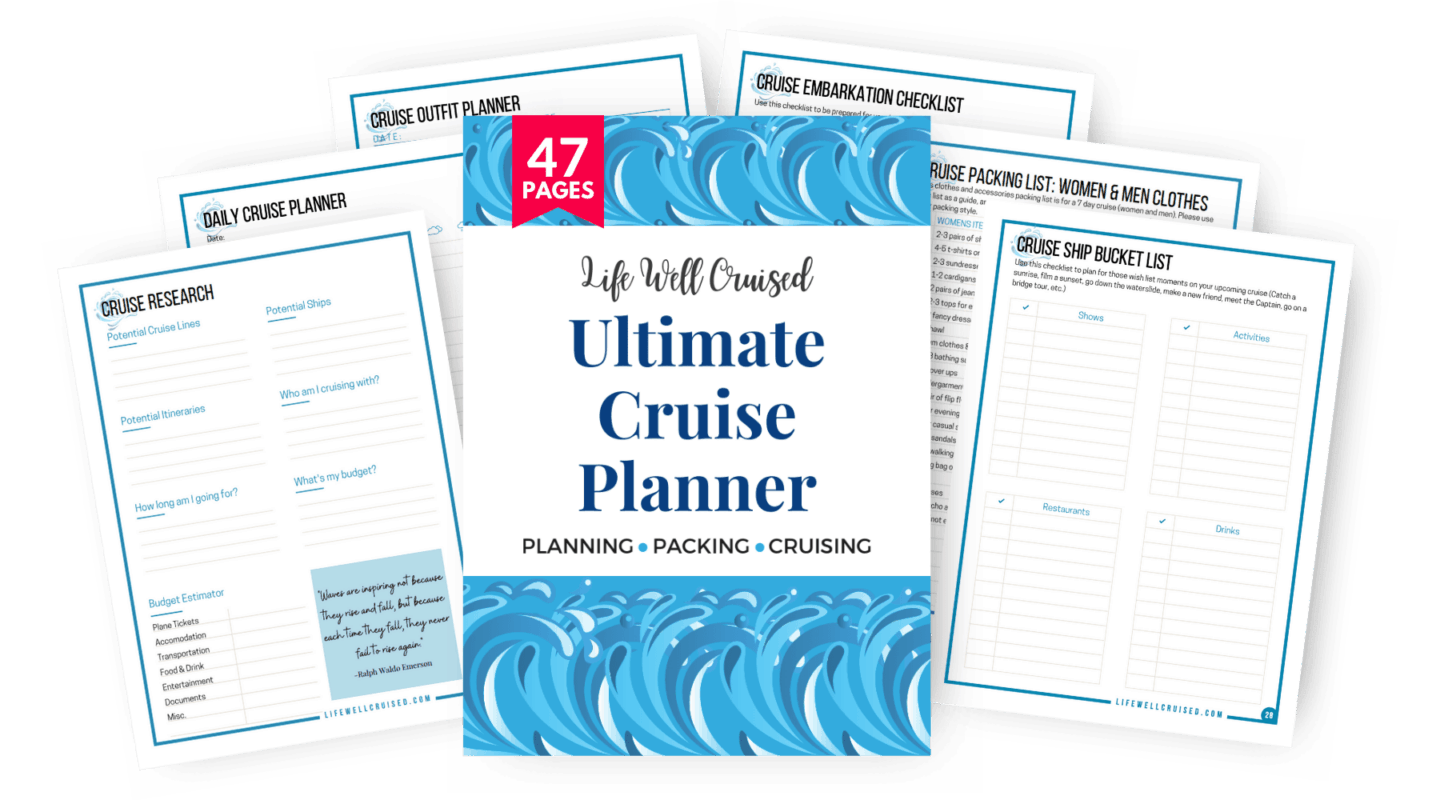 Related & Popular Posts:
Final Thoughts on Booking an Inside Cabin on a Cruise
We've gone over some good reasons to book inside cabin on a cruise. Inside staterooms are a great value and can allow you to cruise more often, for less.
Have you cruised in an inside cabin? Please let me know in the comments below.
Happy Cruising!
Ilana
P.S. If you found this helpful, please don't keep it to yourself ;-). Please share on Facebook or PIN to your favorite Pinterest board (share buttons at the top). Thanks so much!
Let's connect:
Follow me on Facebook at Life Well Cruised
Follow me onYouTube at Life Well Cruised (Vlogs and cruise tips)
Follow me on Pinterest at Life Well Cruised
Follow me on Instagram at Life Well Cruised