If you're looking for a cruise ship cabin that accommodates three or four passengers, there's a good chance your stateroom will have pullman beds.
Most cruise cabins are smaller than an average size hotel room and meant for double occupancy. If you are more than two guests in a cabin, you'll either have pullman beds or a single sofa bed for third and fourth passengers.
While space can be tight, cruise cabins do have a functional design. Whether you're taking a family cruise with kids or a fun adult girl's trip, expect to find a pullman bed in most cabins that exceed double occupancy.
In this post I go over everything you need to know about pullman beds on a cruise ship, and answer some frequently asked questions. I've also included real cruise passenger photos from a several cruise ships on Carnival, Royal Caribbean and other cruise lines.
This post contains affiliate links which means if you click and buy that I may make a commission, at no cost to you. Please see my disclosure policy for details.
As an Amazon Associate I earn from qualifying purchases.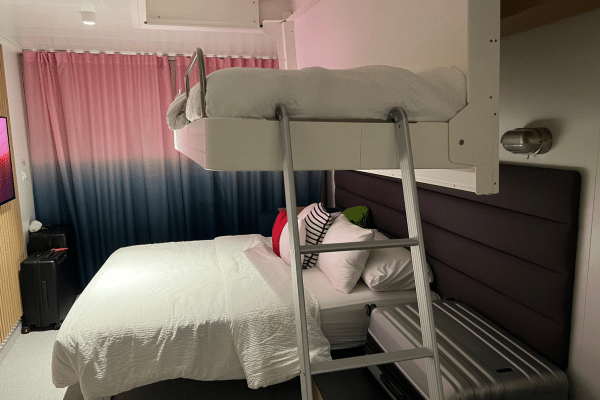 What Is a Pullman Bed on a Cruise Ship?
A pullman bed is a bed that either comes out from the wall of a cruise ship cabin or pulls down from the ceiling. The purpose is to add single beds for third and fourth passengers in a cabin. The Pullman bed creates extra room in a cruise cabin while allowing additional passengers to sleep.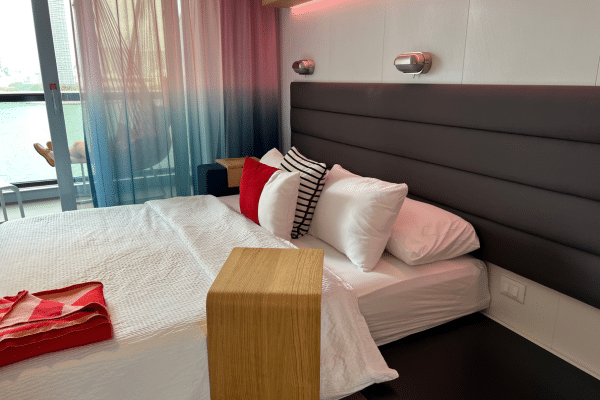 Over the years, we've had a lot of experience with pullman beds in different cabin types on several cruise lines and ships. From the small space of an inside cabin to larger balcony rooms, these foldable beds worked well for us!
Our family cruised a lot when my kids were young, and we often had a quad cabin with two pullman beds. Each bunk style bed was above the main bed in the stateroom.
Even today, our young adult son often cruises with us in a triple occupancy cabin.
Different Types of Pullman Beds on a Cruise Ship
You might be wondering what a pullman bed looks like. Depending on the cabin, a pullman bed may come out of the ceiling or cabin wall. The upper bunks will often be directly above two twin beds below.
Pullman Beds that Come Out of the Cabin Ceiling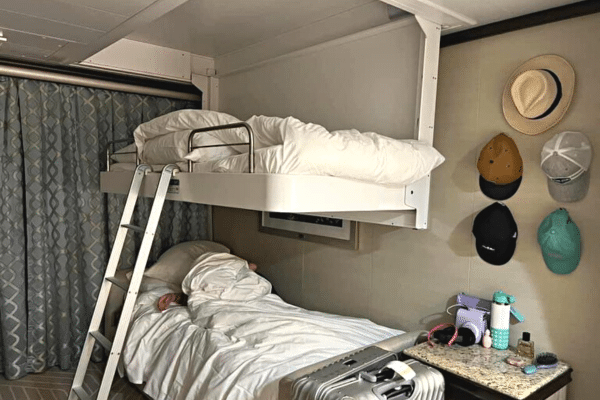 Pullman beds that come out of the ceiling are usually hidden from sight. This means that the pullman bed won't be visible during the day or when not in use.
Pullman Beds that Come Out of the Cabin Wall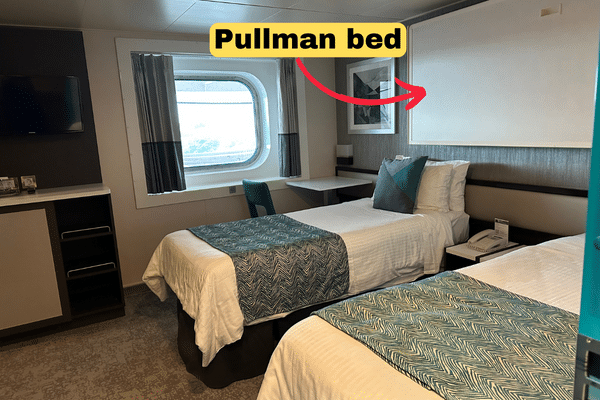 Pullman beds that come out of the wall usually fold up onto the wall. However, the convertible bed may not be completely hidden when not in use.
If you are only two passengers in a cabin, this type of cabin is probably one you'll want to avoid. Some people have shared that they would knock their heads on the bed when folded, even if not being used.
What is the Difference Between a Pullman Bed and a Sofa Bed?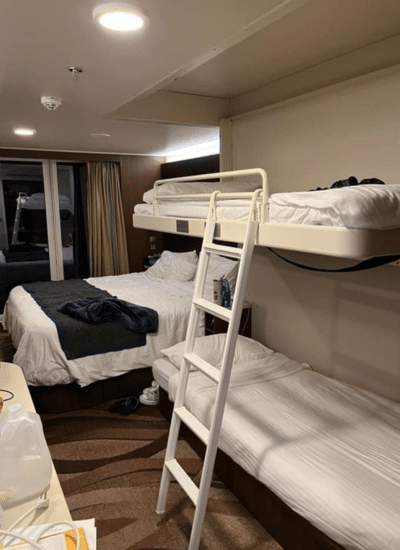 While pullman berths are frequently found on a cruise ships, there are some cabins that may have a sofa bed for third or fourth passengers.
There are actually many different and unique cabin configurations, so it's a good idea to check the cruise ship deck plan. Better yet, ask your travel agent so they can do all the work for you.
As an example, if you look at the deck plan of the cruise ship you are interested in, cabins with a sofa bed usually have a small circle in the cabin diagram to indicate two lower beds and 1 sofa bed (for three people). A small square will often indicate two lower beds and one or two pullman beds.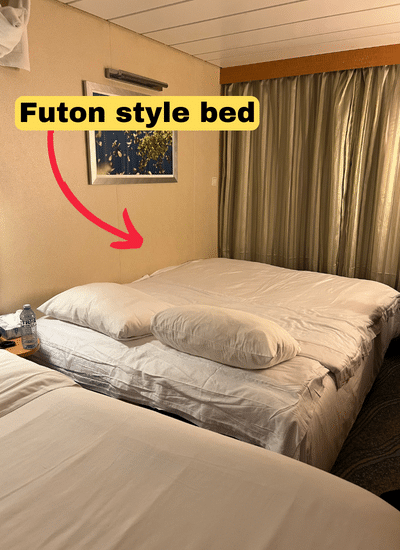 We've sailed on cruise ships in cabins with pullman beds, sofa beds, trundle beds and even a futon bed. In some cases, a rollaway bed may be provided. This is another way to maximize floor space.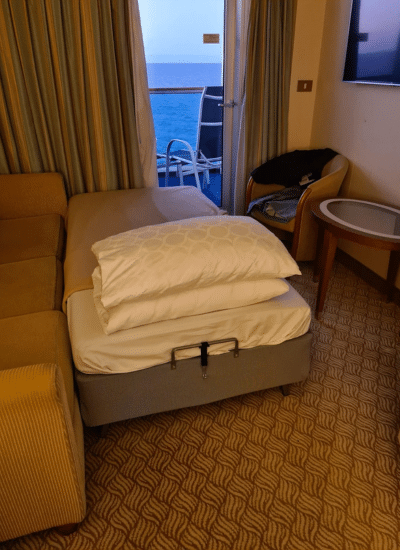 While rollaway beds or cots are less common for third or fourth guests in a stateroom, they are available on some cruise ships. During the day, the extra bed can be folded up, provided there is room, like in this mini-suite cabin.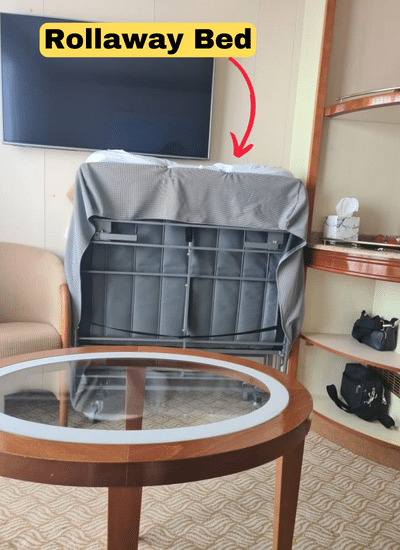 How Do You Setup a Pullman Bed?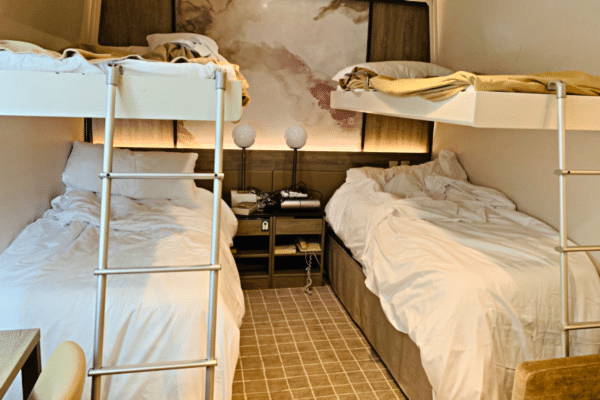 Cruise passengers are not expected to set up the pullman bed in their cabin. The stateroom attendant will set up the extra bed each day. You cabin steward may ask you if you prefer to leave the bed out during the day, or keep it out all the time.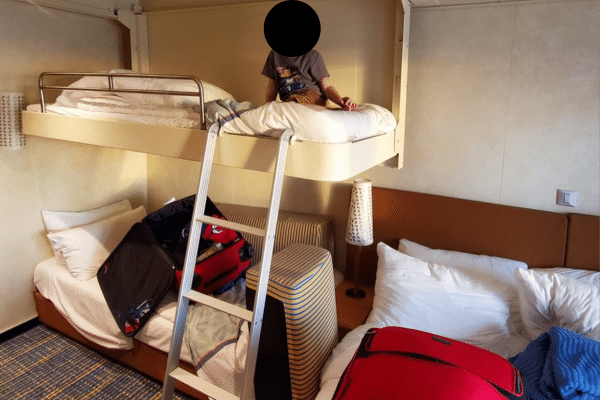 If you have a child, teen or tween, or young adult that might want to relax on the bed, you can ask to leave the pullman bed made up all the time.
However, if you prefer more open space in your cabin during the day, you can ask your cabin attendant to fold up the bunk bed when not being used.
This Carnival Cruise Line photo shows two regular beds and a single pullman berth the size of a single bed. Safety feathers include a guardrail and ladder.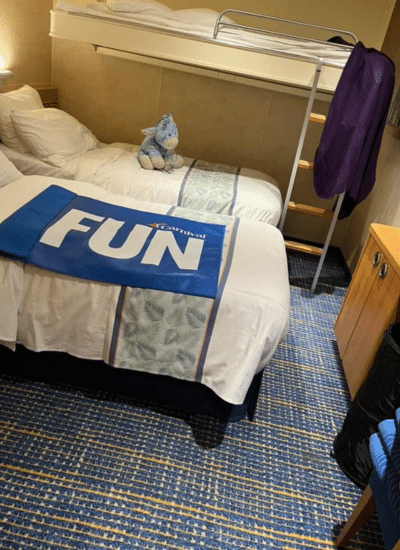 Related: 7 Best Cruises for Teenagers & Families
Are Pullman Beds Comfortable?
Pullman beds are fairly comfortable and usually have a good mattress. In fact, kids usually love this bunk bed style sleeping arrangement.
However, a single pullman bed isn't very big. Teens and adults may find a pullman bed less comfortable than a regular cruise ship bed.
If the person is quite tall or big, an upper pullman bunk bed might make it hard to have a good night's sleep.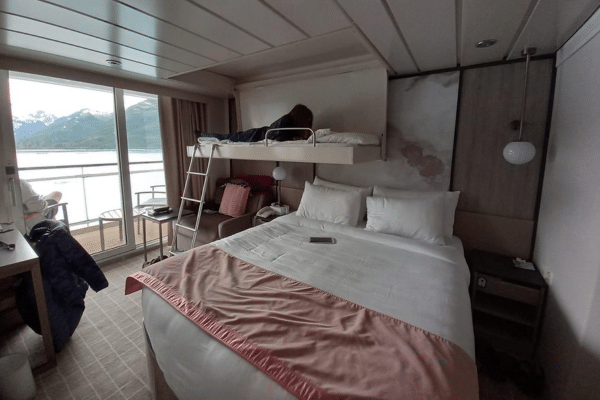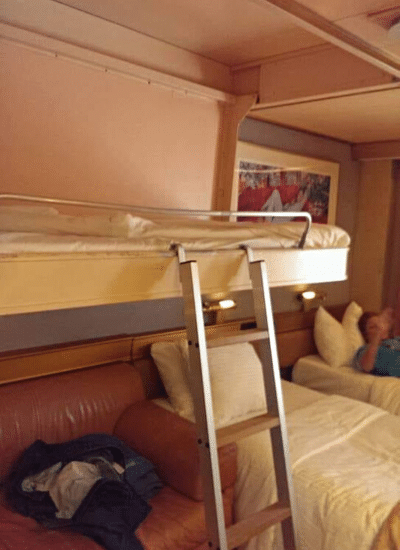 Who Can Sleep on a Pullman Bed?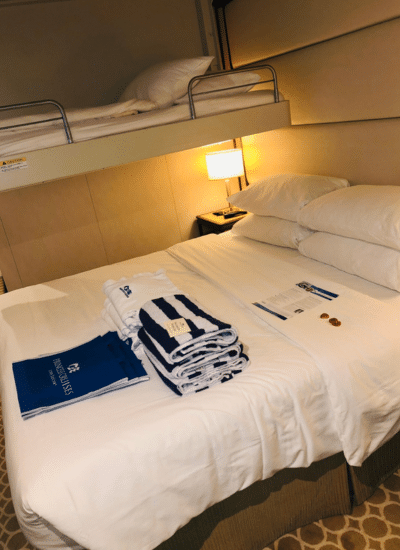 Children and adults can sleep on a pullman bed. However, keep in mind that this is an upper top bunk bed. You'll want to make sure that it's both safe and comfortable for whomever will be sleeping on it.
There are safety guidelines for age, height and weight to be aware of.
Are Pullman Beds Safe for Children?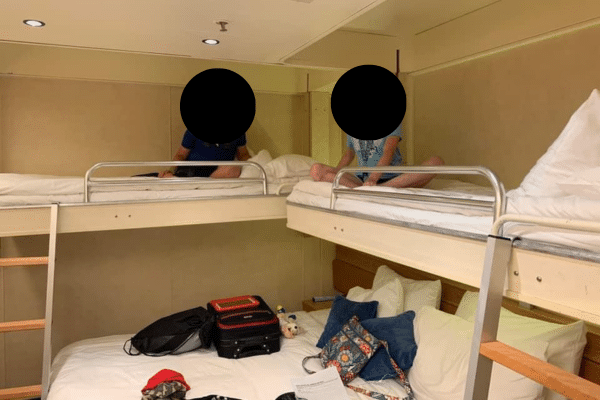 Cabins with pullman beds coming out of the wall or ceiling are popular with families with young children and are considered safe.
Some cruise lines advise that guests must be six years or older to sleep on the pullman beds, or upper bunks. This includes Royal Caribbean Cruises and MSC Cruises.
When it comes to safety, pullman beds come equipped with guard rails, although some are lower than others. Some parents like to reinforce the existing guardrail.
Related: What to Pack for Kids on a Cruise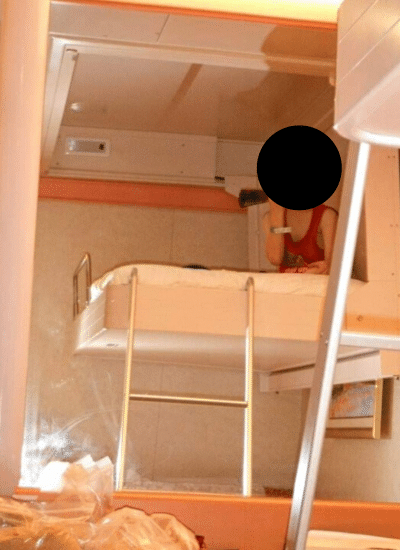 You can also ask your cabin attendant if they have an additional guardrail, although there's no guaranteed that they can provide it.
My own children slept in the upper pullman beds from the ages of 5 and 9. I felt that these were safe sleeping arrangements given their size. If your child is likely to roll or fall our of bed, or sleepwalks, they are likely better on the lower beds.
Can Adults Sleep on Pullman Beds?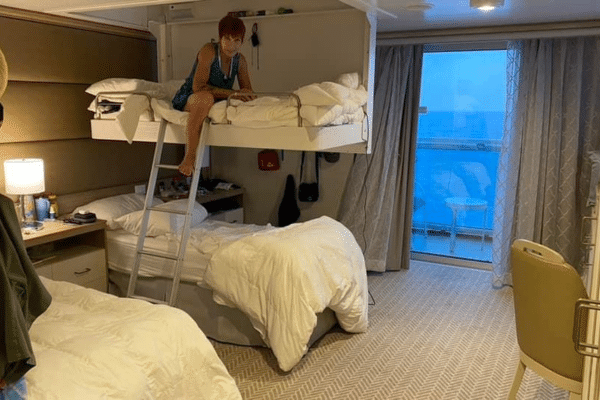 Adults can definitely sleep on pullman beds on a cruise. While cabin quarters will be tight, if you're three to four friends who are cruising on a limited budget, why not?
Pullman beds are very solid and can handle the weight of many adults, although there are weight restrictions to be aware of.
That said, there are some negative points to pullman beds to be aware of, especially for adults. If you're tall, you may find the space cramped and hit your head on the ceiling.
You'll also have to be agile enough to climb a ladder up and down from the bed, even during the night. If anyone has mobility issues, pullman beds are likely not the best choice.
Mature cruisers may want to look at other options, including cabins that have small sofa beds.
Get The Ultimate Cruise Planner
Regular price: $27 Now just $17!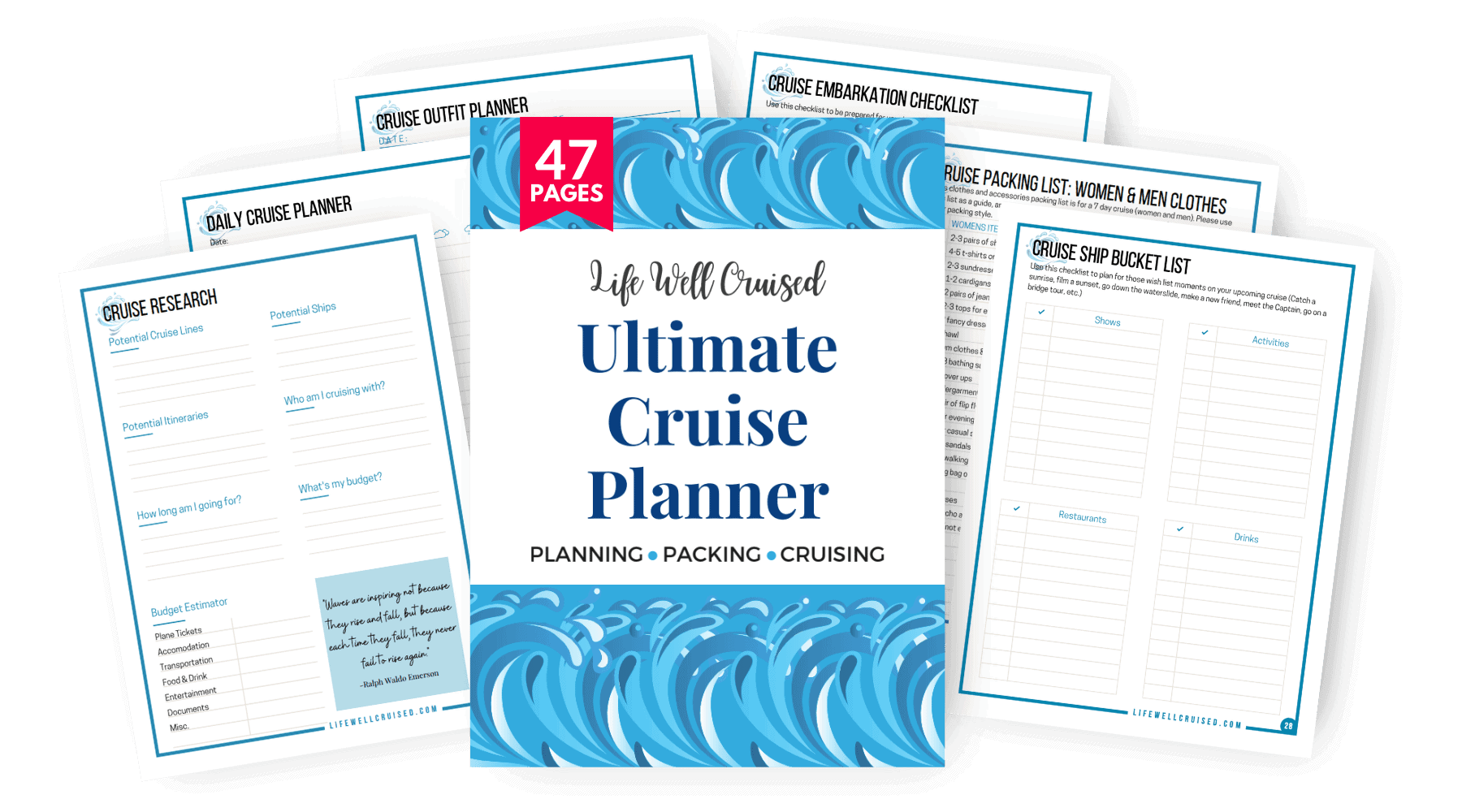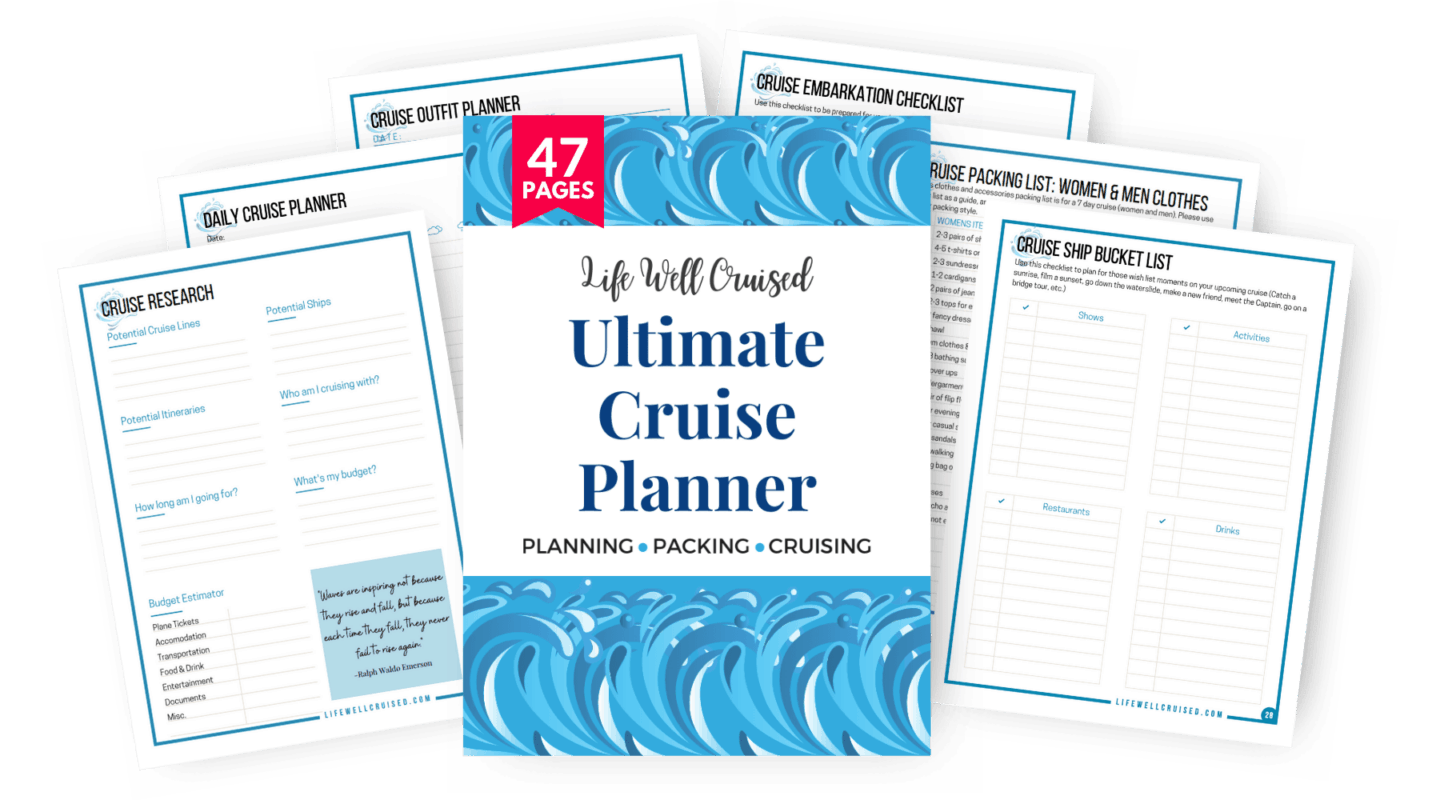 What Type of Cabins Have Pullman Beds?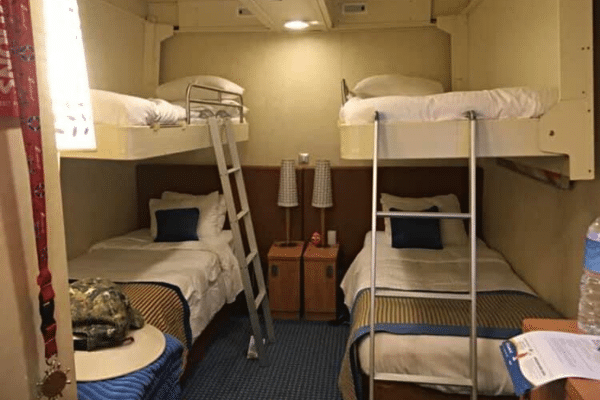 You'll find pullman beds in several types of cruise ship cabin, on most cruise ships. This includes inside cabins, ocean view cabins, balcony cabins and even the bedrooms in the suites.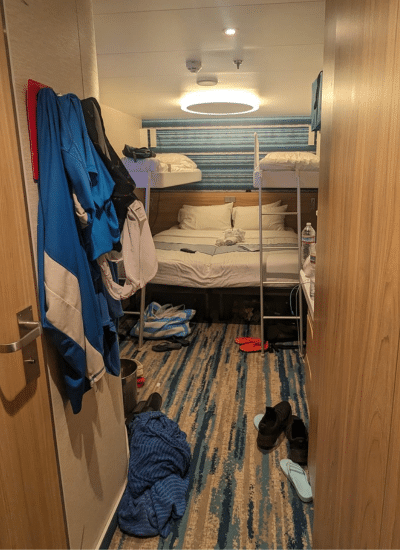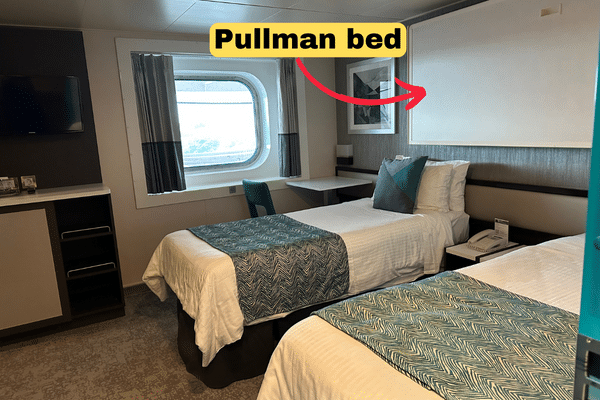 Cabins for Five Passengers
While most cruise ship cabins hold four passengers at a maximum, there are some exceptions on certain cruise ships.
These cabins with pullman beds and sofa beds accomodate five cruise passengers, often with 2 pullman beds and a small sofa or trundle bed.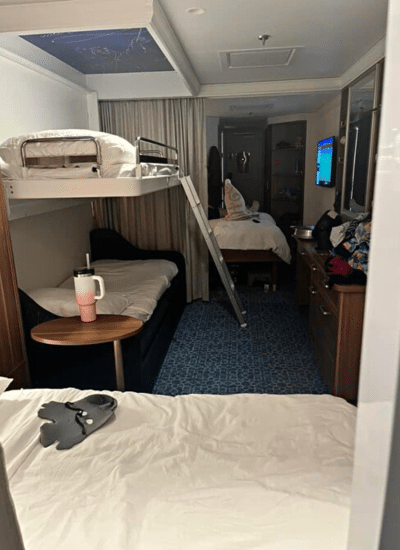 In the next photo, you can see how this family made a small inside cabin work for sleeping. They used some smart cabin hacks to add some privacy and coziness.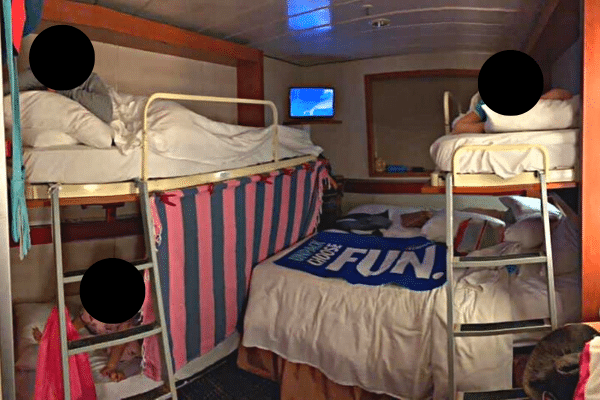 What Is the Weight Limit on a Pullman Bed?
Although pullman beds are solid, for safety reasons, cruise lines have weight restrictions for these upper bunk beds.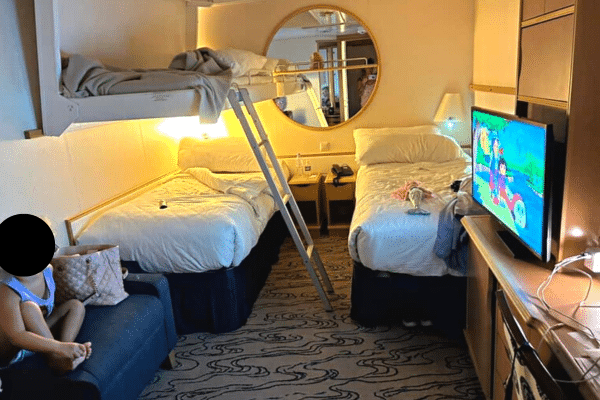 The weight restrictions of a cruise ship pullman bed range from a maximum of 200 pounds to 360 pounds. Since this information can vary by cruise ship, it's best to check directly with your cruise line when choosing your cabin.
Here are the weight limits for popular cruise lines
Carnival: 250 lbs (113 kg)
Celebrity Cruises: 200 lbs (90 kg)
Disney Cruise Line: 220 lbs (100 kg)
MSC Cruises: 330 lbs (150 kg)
Norwegian Cruise Line: 360 lbs (163 kg)
Princess Cruises: 250 lbs (113 kg)
Royal Caribbean: 300 lbs (136 kg)
Virgin Voyages: 300 lbs (136 kg)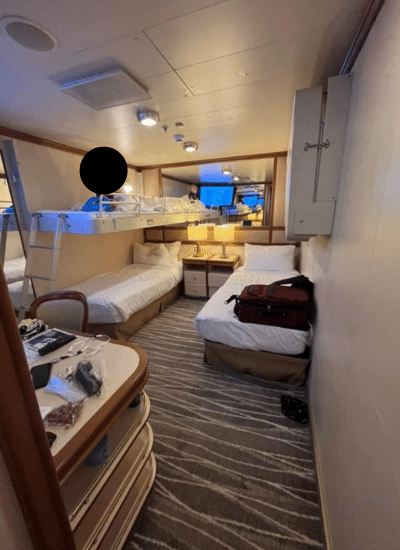 Alternatives to Pullman Beds
Pullman beds are great for those cruising with family and friends who want to room together. Since third and fourth passengers are often discounted, this is a good way to save money if you're cruising on a budget.
However, these bunk bed style sleeping arrangements aren't for everyone. Whether you're cruising with teens who might need a little more space, or older adults who might not be willing to climb into an upper bed, there are options.
Connecting Cabins (& more)
You may want to get two connecting cabins. As a bonus, you'll get two bathrooms!
If the budget is tight, go for inside cabins. You can also opt for one balcony cabin and one interior cabin right across the hall.
The History of the Pullman Bed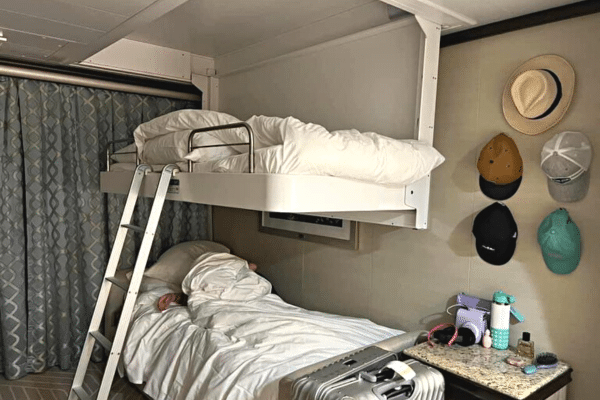 If you're fascinated with cruise ship facts, you'll appreciate the history of the pullman bed, and how it became used in the maritime industry.
The history of Pullman beds on cruise ships traces back to their origin in the mid-19th century. In the late 1850s, inventor George M. Pullman's sleeper cars featured these fold-down beds that could accommodate passengers, while maximizing space.
Murphy beds or wall beds had been a popular space saving solution since the late 16th century in Europe. However, because of George Pullman, the Pullman Bed became associated train travel and luxurious sleeper cars with fold down beds.
This innovative concept found its way onto cruise ships, where cabins had limited space.
Related & Popular Posts:
Get The Ultimate Cruise Planner
Regular price: $27 Now just $17!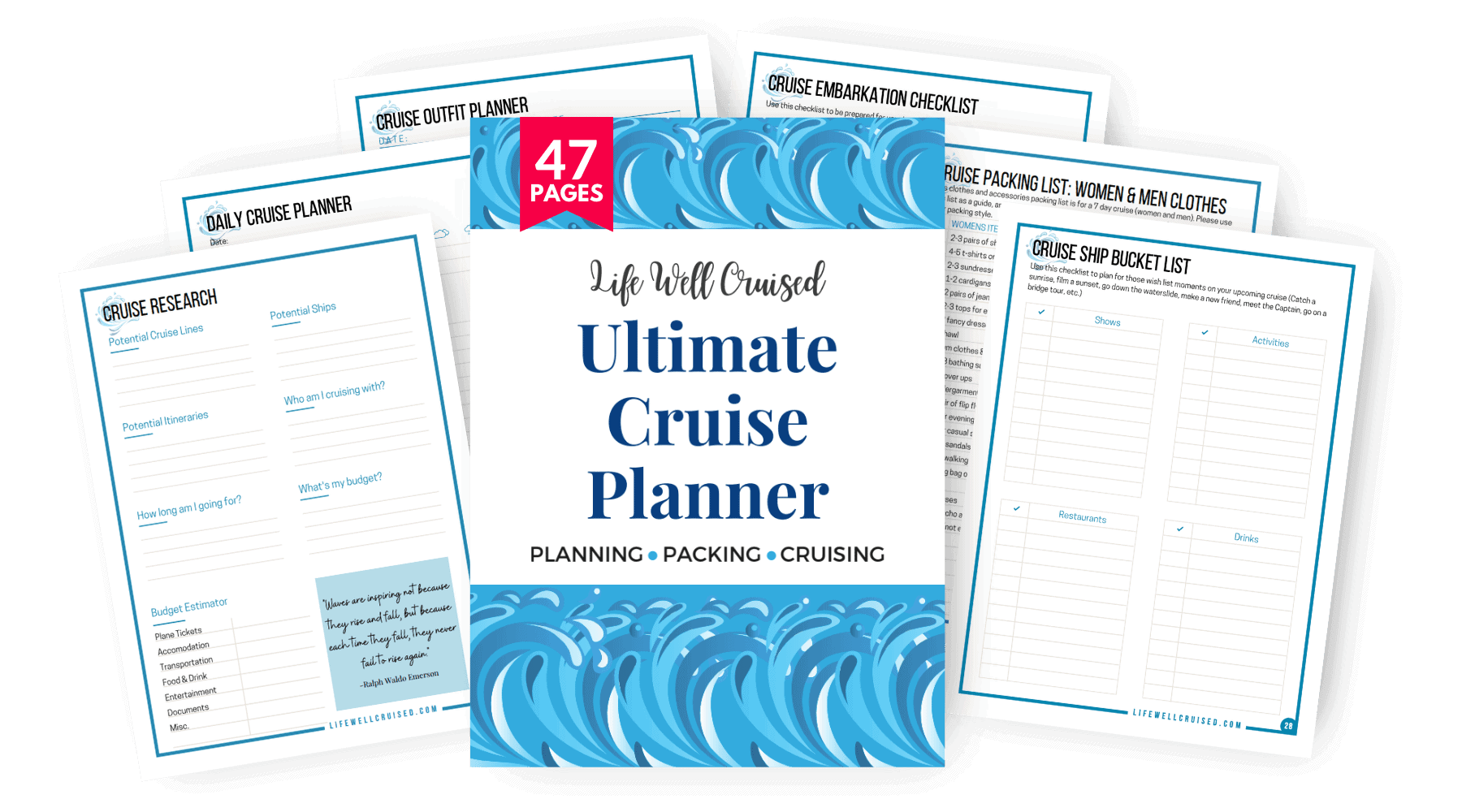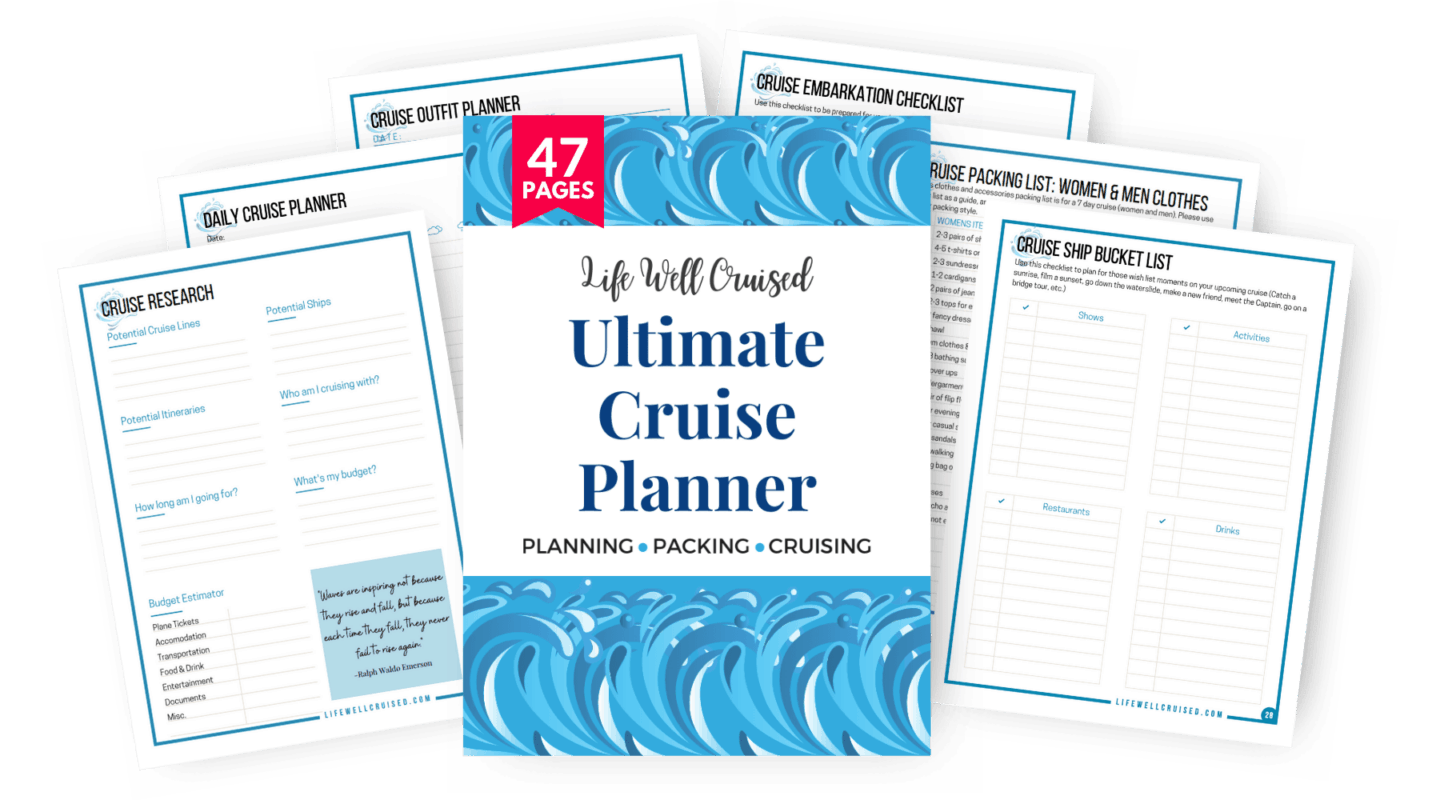 Final Thoughts on What Is a Pullman Bed on a Cruise Ship
Pullman beds are another reason that cruises are different than other types of vacations. After all, cruise ship staterooms are smaller and more compact than hotel rooms.
Pullman beds are a great solution for people who want to cruise with more than two guests in a cabin. In this post I shared what is a pullman bed, alternative bed configurations and real photos from cruise travelers.
Have you ever had a pullman bed in a cabin on a cruise? Please let me know in the comments below.
Happy Cruising!
Ilana
If you found this article helpful, please pass it along. Please feel free to share on Facebook or PIN to your favorite Pinterest board (share buttons at the top). Thanks so much!