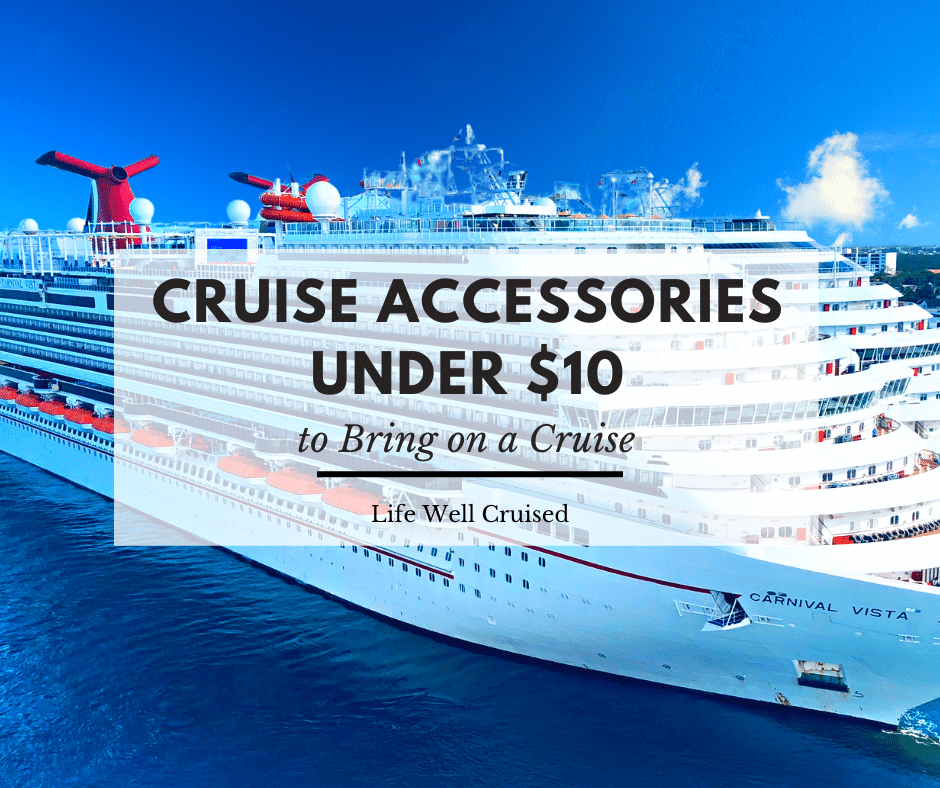 I'm always on the lookout for great cruise accessories that are budget friendly. These cruise essentials under $10 are some of the best things to bring on a cruise!
I scoured Amazon for inexpensive travel items that are useful for your cruise cabin, shore excursions and even on your flight (or road trip).
While you won't need all of these things, just know that they'll be more expensive if you need to buy them on your cruise ship. Plus, they make great gifts or stocking stuffers for cruisers!
This post contains affiliate links which means if you click and buy that I may make a commission, at no cost to you. Please see my disclosure policy for details.
As an Amazon Associate I earn from qualifying purchases.
Best Things to Bring on a Cruise (all $10 & under)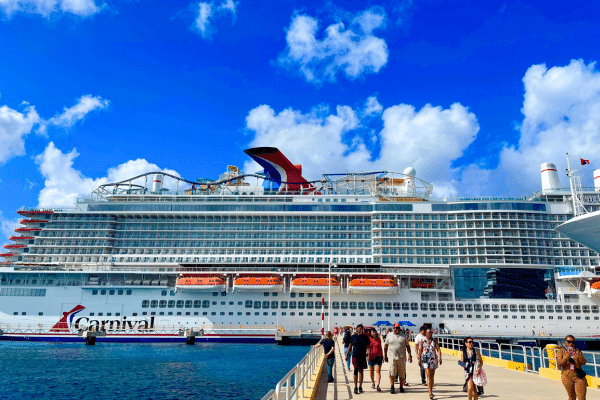 At the time of writing this, every item was available for under $10. However, please note that prices on Amazon can vary from time to time.
1. Magnet Hooks
Magnet hooks are one of the best things that we bring on every cruise vacation! Since most cruise ship cabins walls are metal, using small magnetic hooks helps us to keep our stateroom organized.
We hang our cruise lanyards, sun hats, tote bags and even swimsuits to dry. The magnets
Recommended: Cruise magnet hooks (6 pack)
2. Cruise Luggage Tag Holders
If you're going on a cruise, make sure to purchase inexpensive, reusable clear plastic cruise luggage tag holders.
Cruise Line Luggage Tag Holders compatible with:
Cruise Line Luggage Tag Holders compatible with:
3. Lanyards
if you're going on a cruise, you'll want to have handy place to keep your cruise card. After all, you'll need to show your cruise card every time you get a drink, make a purchase or get off the cruise ship in ports of call.
This is why cruise lanyards are a must-have cruise essential for so many cruise passengers! These lanyards are inexpensive, but well made.
Recommended: Cruise lanyards with clips (see 5* amazon reviews here)
4. Water Shoes
If you're going on a Caribbean or Bahamas cruise, water shoes are great for the beaches, including cruise line private islands.
We purchased or water shoes to use on an excursion to Virgin Gorda in Tortola, and have used them many times since.
Recommended: Water shoes (quick dry)
5. Mesh Beach Tote Bag
This waterproof, sand proof mesh beach bag is a cruise and beach vacation essential. Put your flip flops, sunscreen and beach towels in your pool bag for use on the lido deck or on shore excursions.
Recommended: Waterproof sand proof mesh beach bag
6. Sunscreen Lip Balm
Don't forget to pack sunscreen lip balm for your cruise! Buying it onboard will cost you about double.
Recommended: SPF 50 Lip Balm
7. Collapsible Water Bottles
These days, many cruise passengers are bring a refillable water bottle. These smart collapsible water bottles will actually save space in your luggage!
Recommended: Collapsible water bottles
8. Waterproof Phone Pouch
This waterproof phone case pouch is about $10, with over 60,00 reviews. When it comes to a waterproof phone pouch, the quality is important.
Recommended: Waterproof phone puch (check price & Amazon reviews here)
9. Over the Counter Motion Sickness Medication
Today's modern cruise ships have stabilizers and the latest technology to make for smooth sailing most of the time. However, ask any frequent cruiser and you'll find out that rough seas do still happen, causing motion sickness for some.
Be sure to pack some seasickness prevention just in case. Over the counter medications like a non-drowsy Dramanime or Bonine can prevent motion sickness on a cruise.
10. Travel Size Poo-Pourri
If you're traveling carry-on only, this small (10 ml or 0.34 oz) travel size Poo-pourri is just what you need.
Recommended: Mini size Poo-pourri bathroom spray
11. Pop-up Mesh Laundry Hamper
While not on everyone's cruise packing list, this pop-up hamper has been a game changer for me and my family! Having one place to throw our dirty clothes, just makes it easier to keep our cabin organized.
Plus, if you're on a cruise ship with a self service laundry room, a laundry hamper is a crucial item you'll want to pack for your cruise.
Recommended: Mesh laundry hamper (foldable)
12. Travel Size Toiletry Bottles
If you're going on a short cruise or simply want to bring your own shampoo, conditioner, lotion and other toiletries, these leak-proof 3 oz toiletry bottles are perfect.
Recommended: Leak-proof 3 oz toiletry bottles set
13. Mini-first Aid Kit
This mini-first aid kit is great to have on every vacation, from road trips to cruises! I would add an anti-biotic ointment too.
Recommended: Mini first aid kit for travel
14. Downy Wrinkle Releaser
If you're a first time cruiser, it might surprise you to know that there are no irons provided in your cruise ship cabin. Plus, since its a potential fire hazard, cruise passengers are prohibited from bringing irons and clothes steamers onboard.
This is where Downy Wrinkle Releaser comes in. This de-wrinkle spray will help to get wrinkles out of your cruise wear.
Recommended: Downy Wrinkle Releaser travel size
15. Travel Sink Packets
These Tide travel sink packets are super handy to hand wash a few clothing items on cruises and hotel stays.
Recommended: Travel sink packets
Get The Ultimate Cruise Planner
Regular price: $27 Now just $17!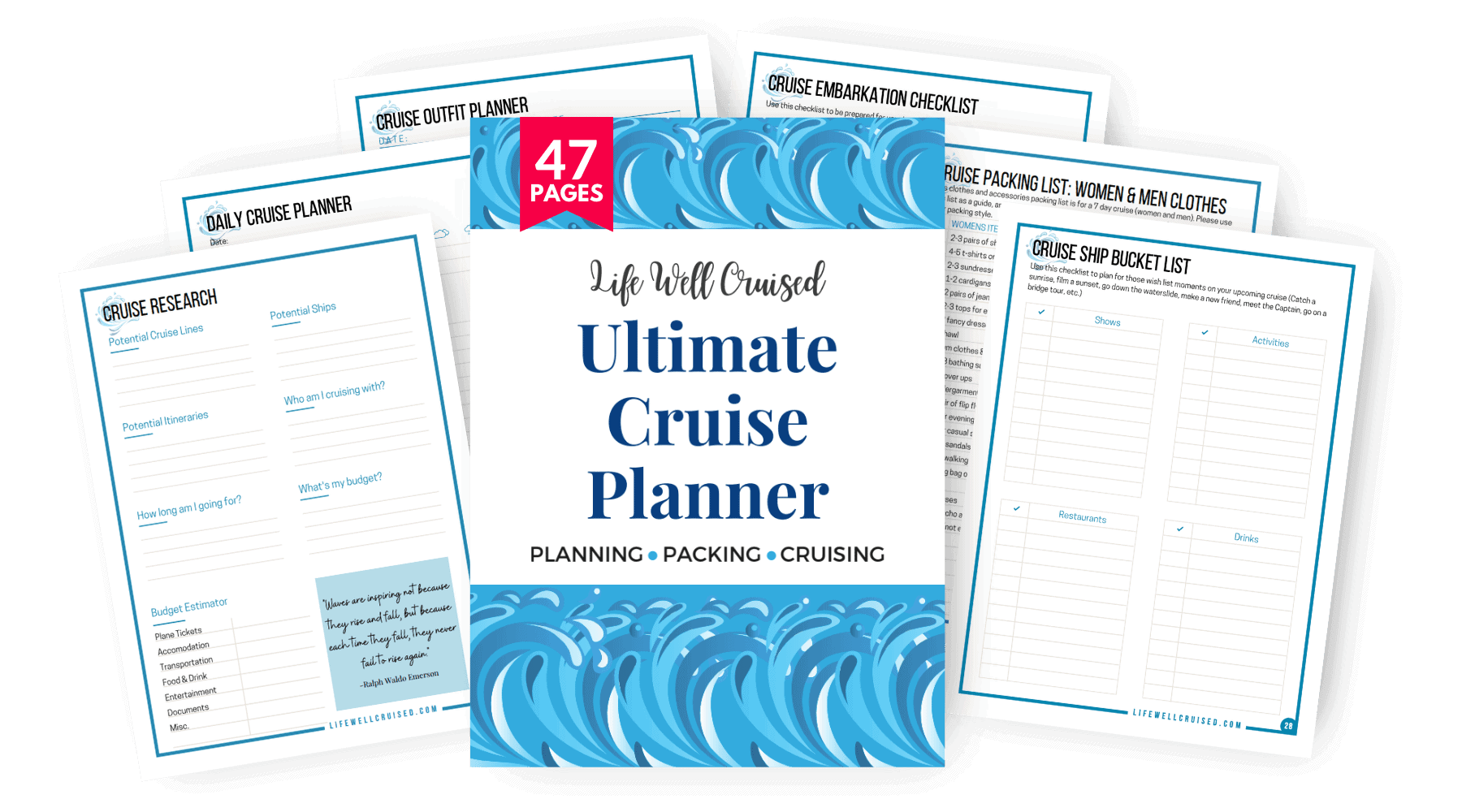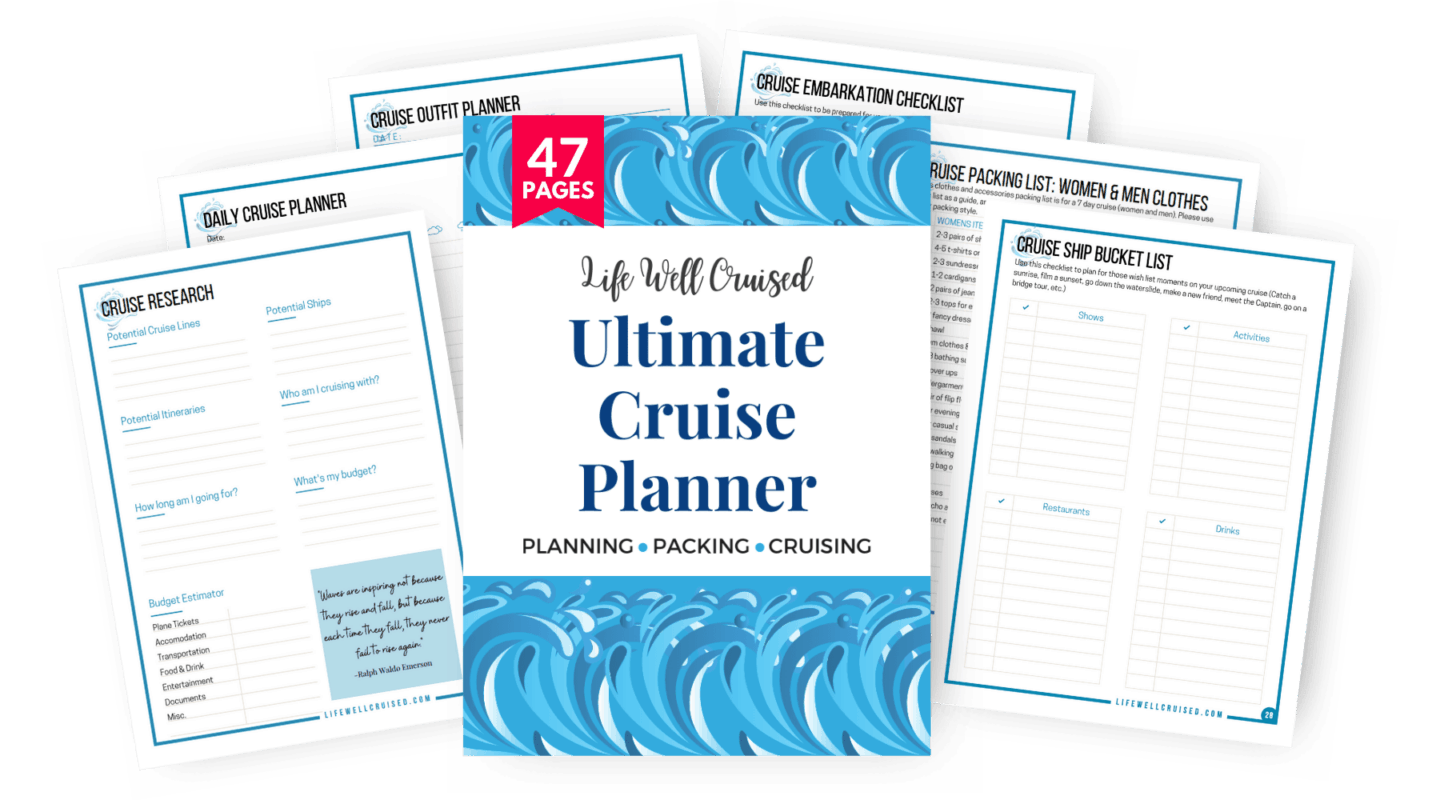 17. Portable Clothesline
If you're planning on hand washing a drying a few cruise outfits during your vacation, this portable clothesline is perfect. It includes small clothes pegs, so you don't have to bring anything else.
Plus, you'll save money on your cruise by bringing this from home (and avoiding paying for a laundry service).
Recommended: Portable clothesline (amazon best-seller)
18. Electronics Organizer Pouch
Keep your charger boxes, wires and portable charges organized in an electronics organizer pouch. This small travel gadget bag has 2 zipped compartments to fit all your items.
Recommended: Electronics organizer pouch bag
19. Set of Towel Clips
Towel clips are useful cruise accessories to hold your towels in place when you're on the breezy cruise ship pool deck!
This simple and colorful set of 8 towel clips are an affordable cruise accessory.
Recommended: Set of 8 towel clips
20. Beach Towel Clips
If you like something a bit more fun, this set of two beach towel clips (parrots & flamingos) is a great price!
Recommended: Beach towel clips (set of two)
21. Ziploc Reusable Travel Bags
I love these reusable travel bags and pouches. They're great for make-up and other accessories you'll want to bring on a plane, cruise or resort stay.
Recommended: 5 pack Ziploc Accessory Travel Bags
22. Plastic Baggies
Ziploc bags in different sizes are a smart thing to pack for your cruise. Small plastic baggies are great to keep small items and snacks. Larger Ziploc type bags are the perfect place to store wet bathing suits after an excursion.
You could pick up a variety of plastic baggies on Amazon or at the dollar store , from snack size to freezer size!
Recommended: Ziploc bags (freezer gallon size)
23. Cruise Door Decoration
Always find your cabin door with an "I Bought the Drink Package" door decoration magnet sign. There are a few different designs. The surface of this magnetic door sign is erasable, so you can personalize it.
Recommended: Cruise cabin door magnetic decoration
24. Tide to Go Stain Remover
Along with a wrinkle release spray, Tide to Go is under $5 and can save the day on a cruise!
Recommended: Tide-to-go stain remover
Cruise Travel Essentials Between $10-20
These genius cruise travel items are all between $10 and $20. Even though they're above $10, they're still a great value and some of the best items to bring on a cruise.
I've included some new, unique items you won't want to forget to pack for a cruise!
25. Portable Handheld Fan
After my recent Mediterranean cruise, I'll likely never travel without a handheld mini-fan again! If you're on a hot weather cruise, you'll appreciate having a small portable travel fan.
Recommended: Portable handheld mini fan (rechargeable)
26. Cruise Card Holder (phone pouch)
My husband's favorite cruise essential is this cruise card holder wallet. It's true, since he started using it, he's ditched the lanyard!
Recommended: Cruise card holder
27. Motion Sensor Night Light
This battery operated motion sensor night light is a cruise cabin essential, especially for people cruising in an inside cabin.
Recommended: Motion sensor night light
28. Non-Surge Power Cube
There are never enough outlets in cruise ship cabins. This cruise approved, non-surge power cube includes 3 electric outlets, 2 USB-A outlets and 1 USB-C (to charge Iphones, Android etc.)
Recommended: Non-surge power cube with USB-C & A (check 5* Amazon reviews)
29. Over the Door Hanging Organizer
Use the space behind your bathroom or closet door, or hang the over the door hanging organizer to add extra storage space and keep organized.
Recommended: Over the door hanging organizer (best-selling cruise item)
30. Plastic Travel Hangers
If you're someone who could use more hangers in hotel rooms and cruise cabins, these lightweight foldable travel hangers are great to bring on cruise vacations.
Recommended: Foldable travel hangers (10 in a pack)
31. Air Tag Holders
If you're using air tags in your luggage, you'll want to keep them in place and secure with a set of air tag holders. These work really well!
Recommended: Air tag holders & set of 4 airtags
Related & Popular Posts:
Get The Ultimate Cruise Planner
Regular price: $27 Now just $17!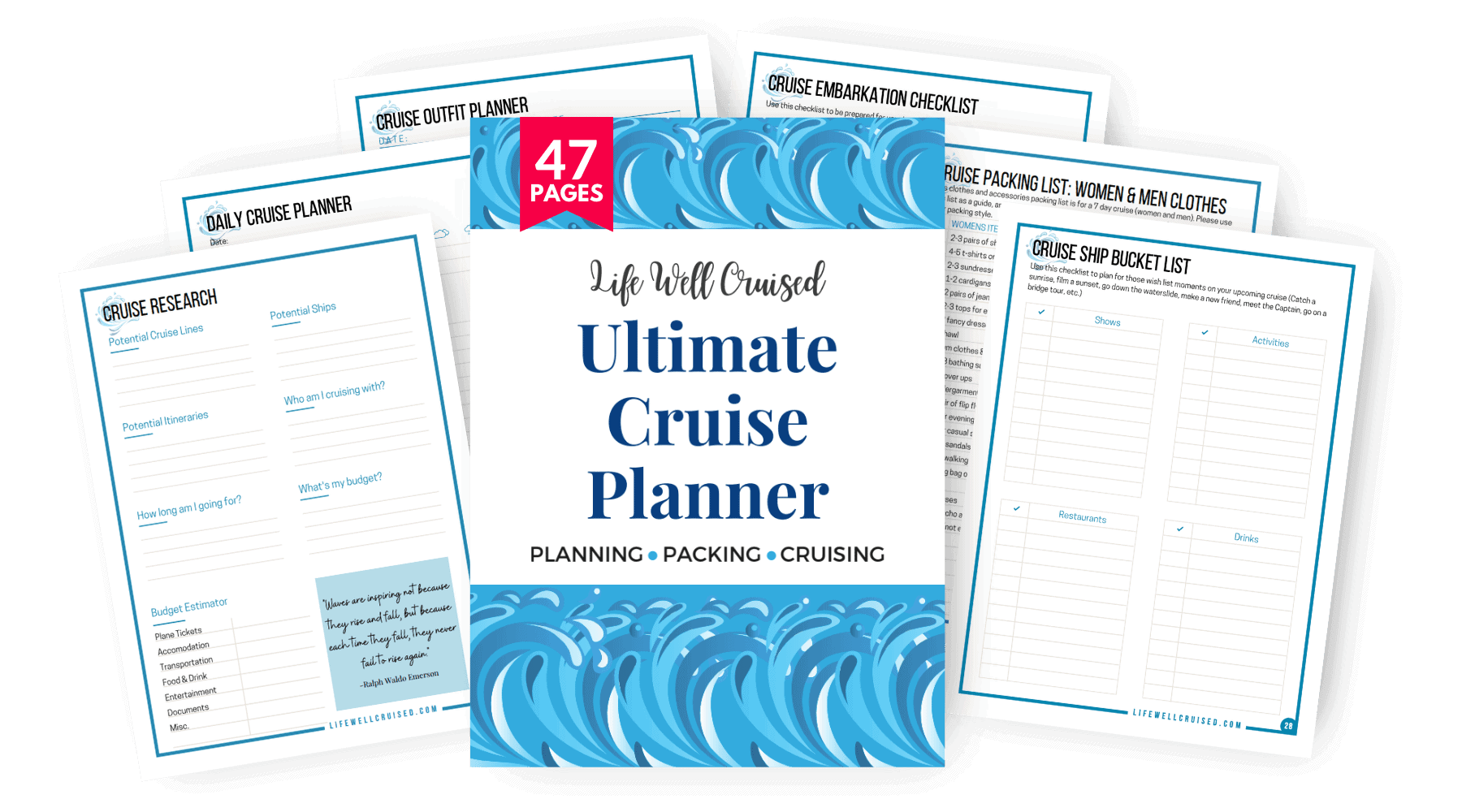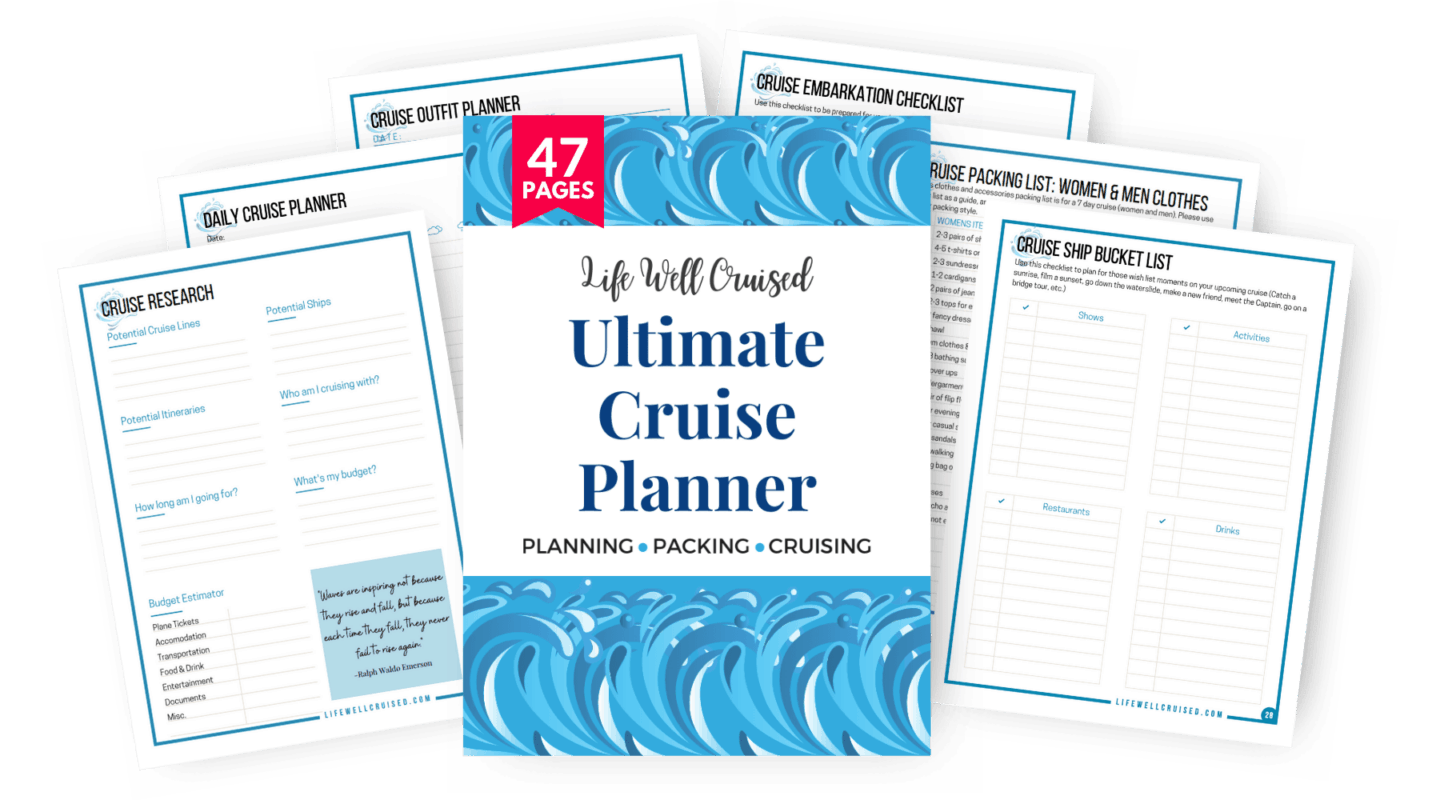 Final Thoughts on Cruise Essentials Under $10
Cruise accessories don't have to be expensive to make an impact! These cruise essentials under $10 will help you to stay organized, pack better and have a more enjoyable cruise.
Are there other inexpensive items that you bring on a cruise that should be added to this list? Please let me know in the comments below.
Happy Cruising!
Ilana
If you found this article helpful, please pass it along. Please feel free to share on Facebook or PIN to your favorite Pinterest board (share buttons at the top). Thanks so much!