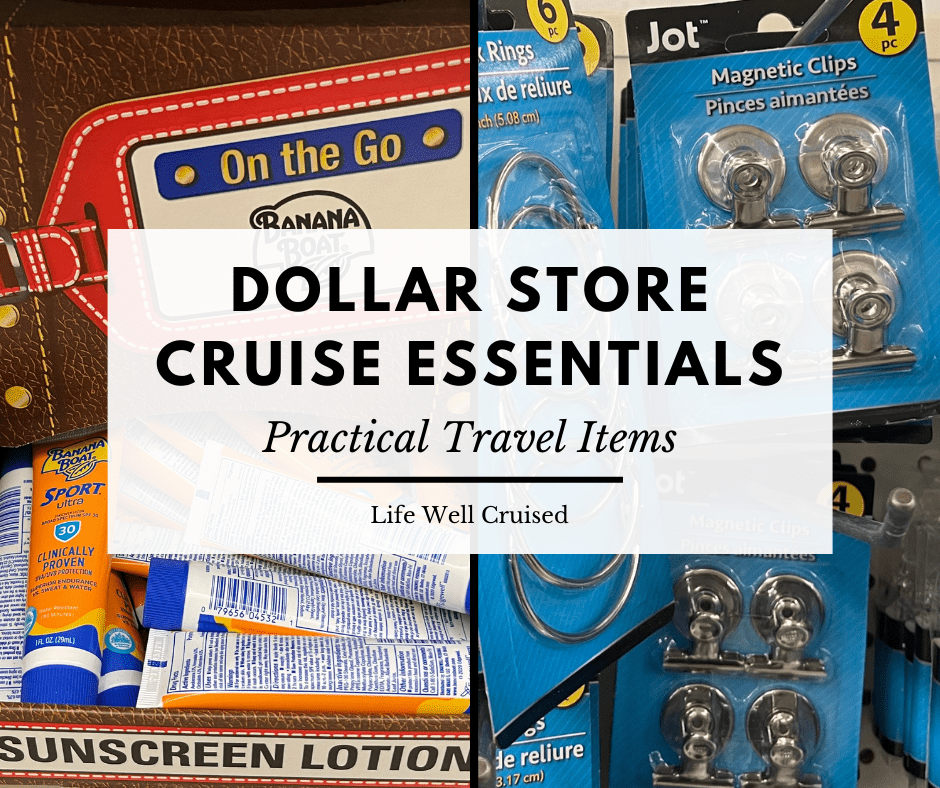 Are you going on a cruise and looking to buy travel items for cheap? Dollar store has some really useful cruise items that won't break the bank. From travel items, first aid items, children's items and more, it's definitely worth taking a trip to the dollar store to prepare for you cruise vacation.
In this post, I share more than 30 items that you can find at the dollar store to bring on your cruise that are a good value. I also share some dollar store cruise hacks using items you can find at your Dollar Tree or other local dollar store.
This post contains affiliate links which means if you click and buy that I may make a commission, at no cost to you. Please see my disclosure policy for details.
As an Amazon Associate I earn from qualifying purchases.
Dollar Store Cruise Essentials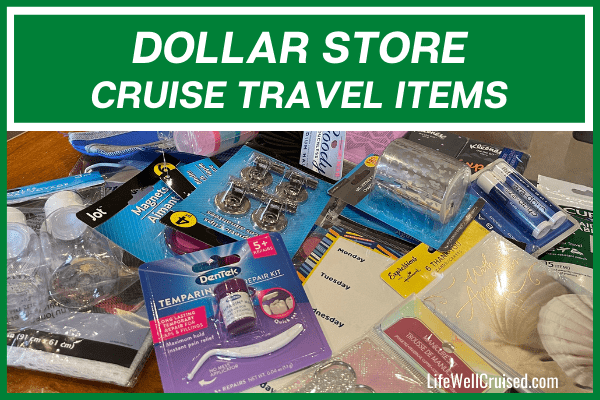 1. Travel bottles
The dollar store sells small travel bottle sets that are perfect to put your shampoo conditioner and other hair products. If you're worried that they might leak use this little tip. Place a small piece of plastic wrap along the top of the bottle before you close the lid. This will help stop any potential leakage.

2. Small Beauty Containers
At dollar tree you can find small beauty jars or containers that are perfect to bring small quantities of facial moisturizer and other skin products on your cruise.
Get The Ultimate Cruise Planner
Regular price: $27 Now just $17!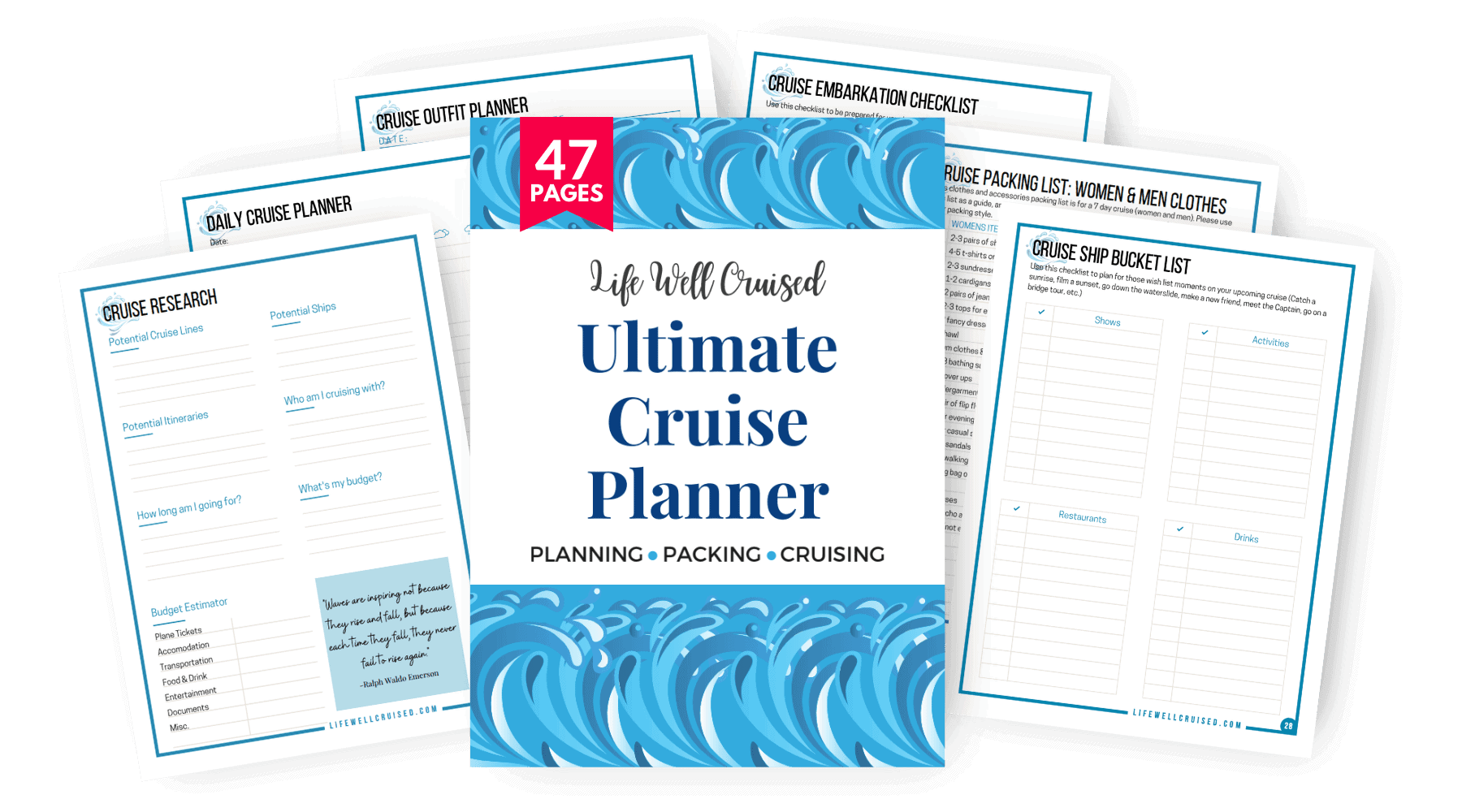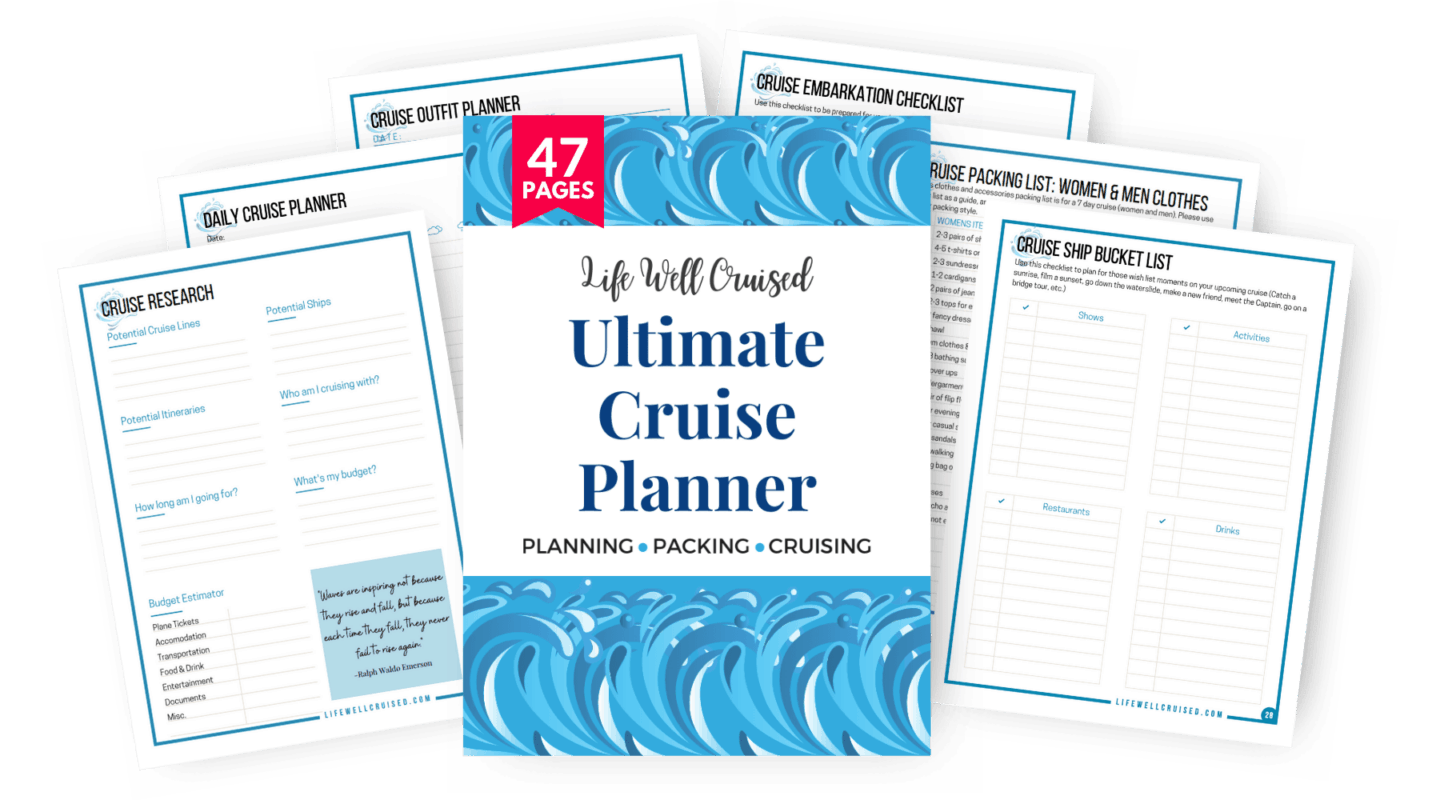 3. Toothbrush sets
It's a good idea to replace your toothbrush every few months, so why not get a new toothbrush set every time you cruise.
Set sound of the dollar store include your toothbrush a case and a mini toothpaste if you're going on a seven day cruise this is absolutely perfect. You can even get a different colour for every member of the family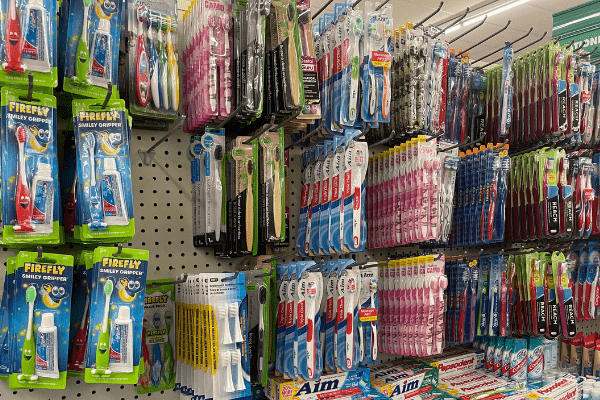 4. Toothbrush Covers
Antibacterial toothbrush cases are a great buy at the Dollar Tree.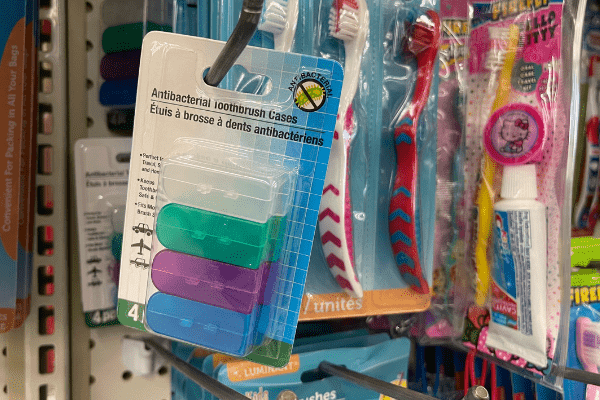 5. Travel Size Sunscreen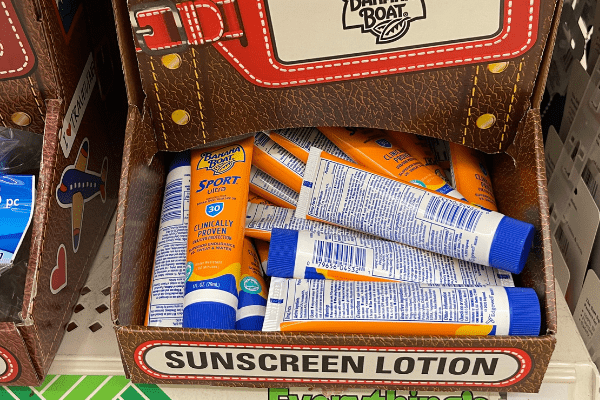 At the dollar tree you can find small travel size tubes of sunscreen. Since the quantity is pretty small in the tube I just don't find it enough for a longer cruise. However if you're on a short three day cruise bringing a couple of tubes may be enough.
Something to keep in mind is that many Caribbean islands now require you to wear reef friendly sunscreen this may be one product that you may prefer to buy from Amazon.
See recommendation here: Reef friendly sunscreen (check price & reviews on Amazon here)
6. Aloe Vera (travel size)
A cruise essential is an aloe vera after sun gel. Small travel size bottles of aloe vera gel can be found at most local dollar stores.
7. Lip Balm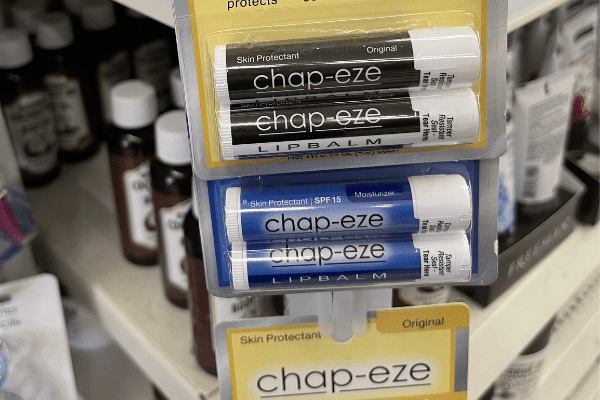 Lip balm is an a must to pack for your cruise. Along with sunscreen, make sure that you bring lip balm with an SPF on your cruise to avoid your lips burning. I like to bring several and make sure everybody in the family has one. We even make sure that these are packed in our cruise carry on bag.
8. Magnet Clips
A cruiser favorite for organizing a cruise cabin, are magnet hooks and magnet clips. Most cruise stateroom walls are metal, so using the walls store shore excursion tickets, invitations and other papers just makes sense.
While I still but my magnet hooks on Amazon, as they need to be heavy duty to hold backpacks and other heavy items, the magnet clips are pretty good.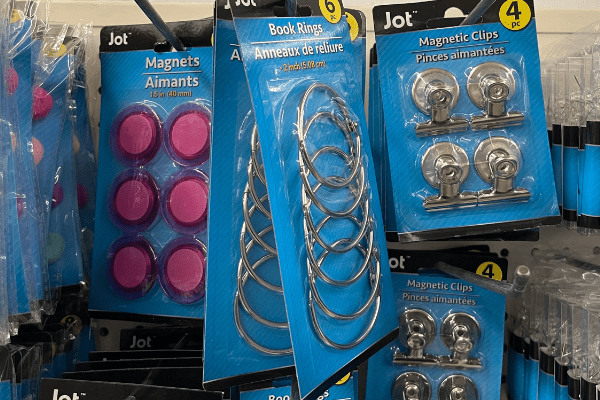 Recommended: Magnetic hooks – 22 lbs heavy duty (see 20,000+ Amazon reviews here)
9. A Mini Manicure Set
It's great to have a manicure set along on your cruise. At only a dollar this is a steal of a deal.
10. Earplugs
If you like quiet I do at night or even during the game consider bringing some earplugs along on your cruise.
11. Mini First Aid Kit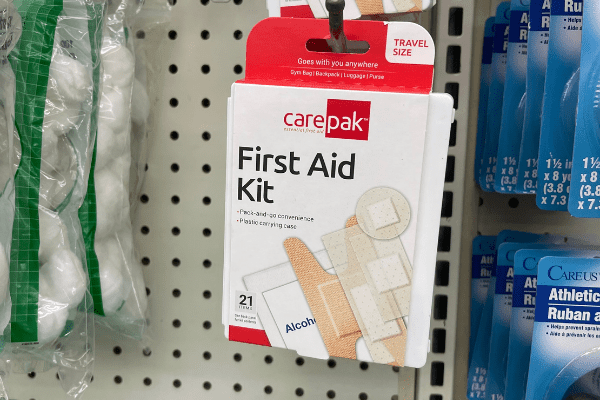 Every cruiser should bring along a cruise first aid kit. There's so many products available at the dollar store, including mini first aid kits which have several different sizes of Band-Aids and alcohol swabs.
Related post: 31 Cruise First Aid Kit Essentials
12. Mesh Laundry bag
I like to bring a couple of mesh laundry bags on a cruise to store any dirty laundry along the way.
A mesh laundry bag is also great for storing San toys for any beach excursion days and even to carry towels back to the ship after of each day.
13. Whiteboard
Magnetic whiteboards are great for writing messages to your cabin mates or even notes to yourself. You can find a selection of whiteboards, including this weekly planner style one I found at the dollar tree.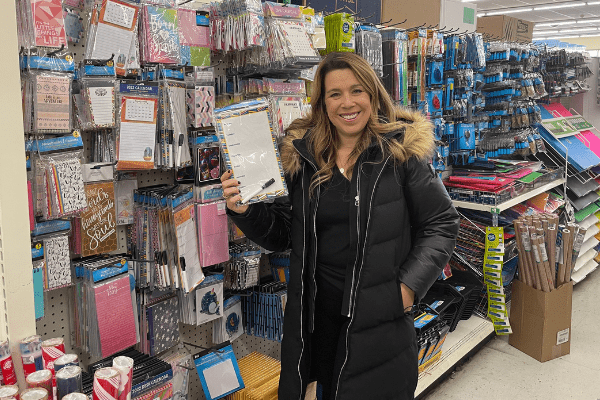 14. Hair Elastics, Scrunchies & Hair Clips
The dollar store has an amazing selection of name brand hair elastics, hair clips and scrunchies.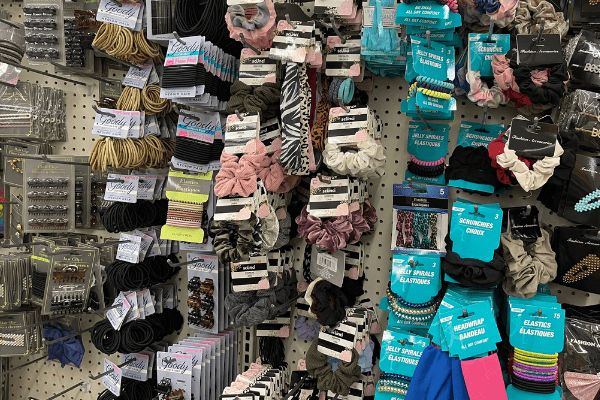 15. Mini Sewing Kit
A small sewing kit is great to have when cruising and traveling, just in case you need to use it. There are often a few safety pins as well.
16. Refillable Water Bottles
During the summer months, the dollar store shelves are full of refillable water bottles of different sizes and colors. Pick these up for everyone in the family to use both on sea days on your cruise, as well as on cruise port days.
17. Battery LED Votive Candles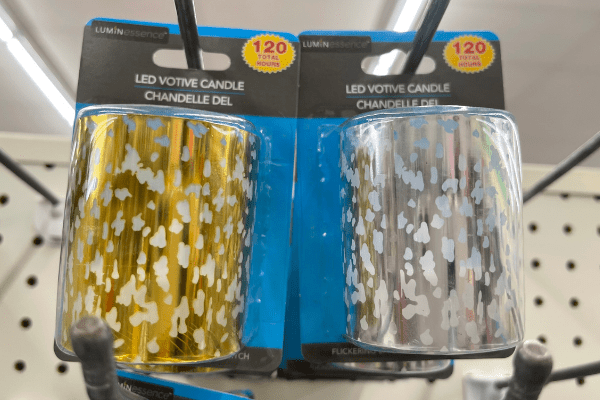 18. Pencil Cases (as Travel Cases)
The fabric pencil cases sold at the dollar store are great for storage and make great cruise hacks. You can use pencil cases to make DIY cruise first aid kits, passport and document holders, and electronics and charger cases.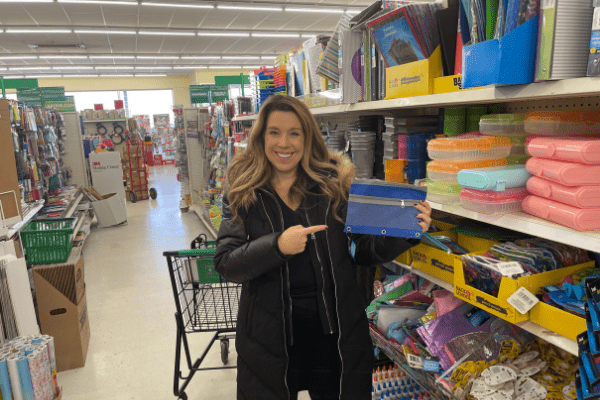 19. Travel Size Toiletries
The Dollar Tree has shelves full of travel size toiletry items. From brand name travel size shampoo, conditioner, lotion, sunscreen and more, these are great items to pack up as you prepare for your cruise.
Related: 25 Cruise Packing Tips All Cruisers Need to Know
20. Shower Caps
One of the best and cheapest cruise packing hacks I've ever learned, is packing shoes in plastic shower caps before placing them with your clothing. You can pick up a pack of shower caps at your local dollar store.
21. Over the Counter Medication
The selection of over the counter medication at the dollar store is amazing. In particular, you can find travel size versions of your favorite name brands as well as other brands sold at the dollar store.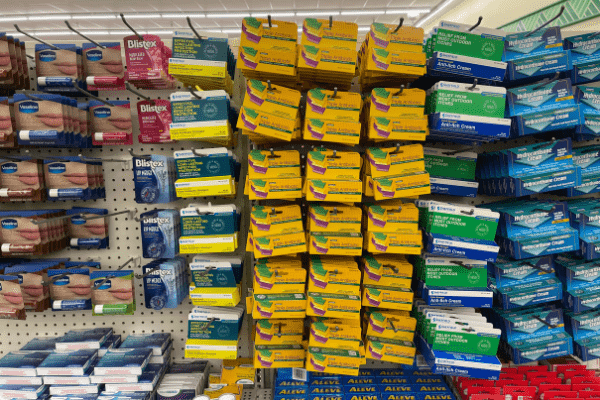 22. Antibiotic Ointment
Along with band-aids, make sure to pack antibiotic ointment. Even if you get a blister, this is a must-have.
23. Beach Tote Bags
Beach tote bags and reusable bags are great to bring on a cruise for beach days and days on cruise line private islands.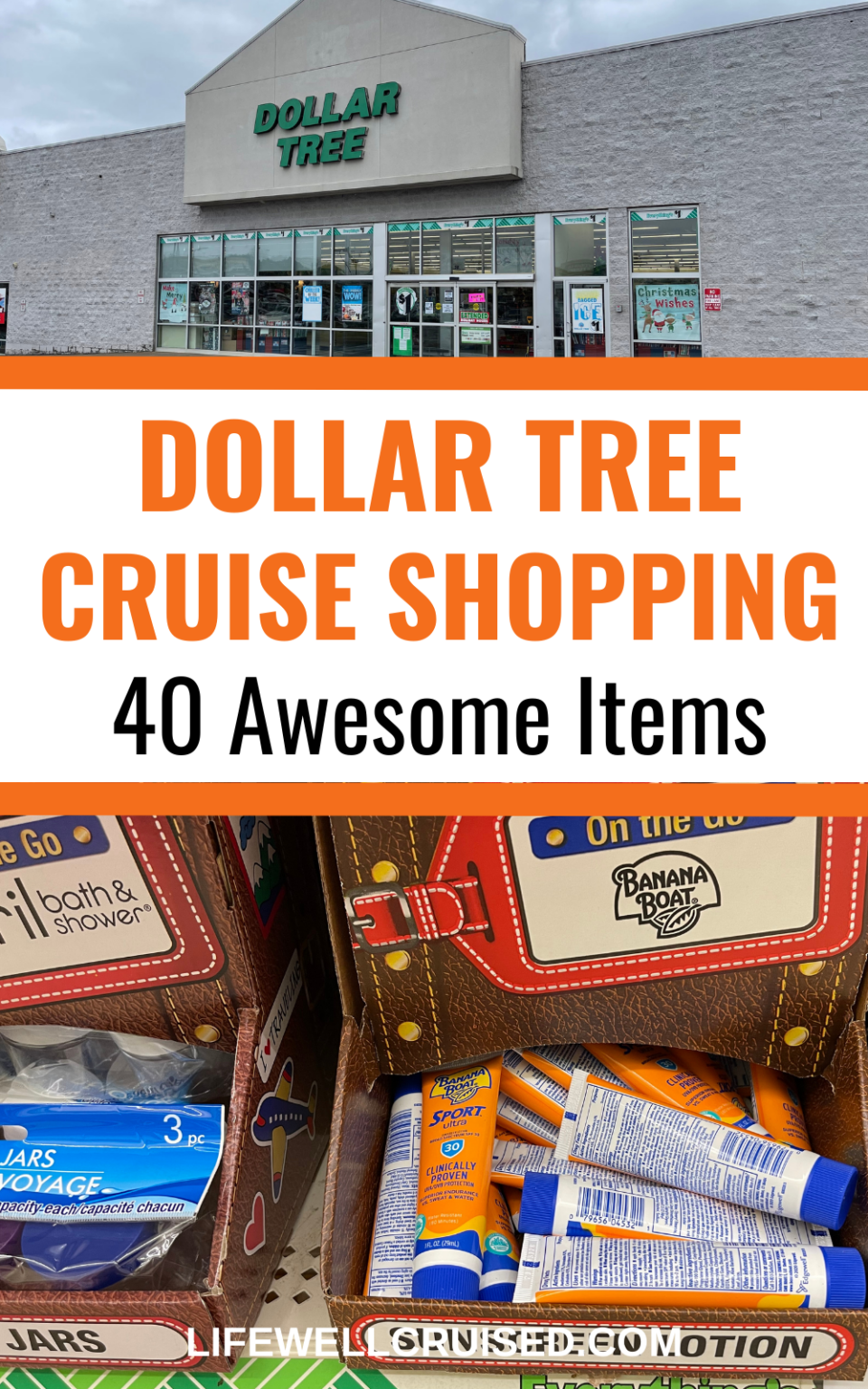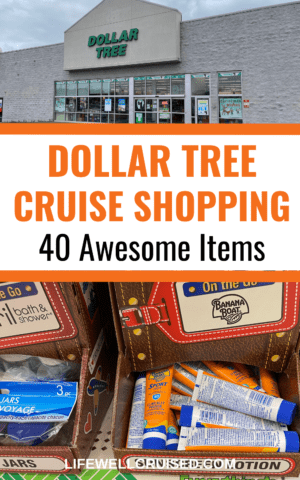 24. Flip Flops
Packing inexpensive flip flops to use at the pool or on beach days is a good idea. In summer months, the dollar store has a really good selection of various beach vacation items.
25. Crossword & Sudoko Books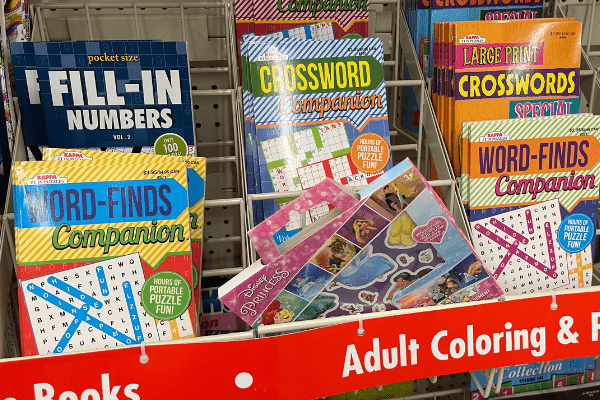 26. Coloring Books
If you're crusising with kids, pick up some coloring or activity books to keep busy on the flight or on sea days on your cruise.
27. Sand Toys
If you're planning beach days with your kids, don't forget to bring along sand toys or other items to play with on the beach. The best time to get these items is near the summer, so try to grab them when you see them.
28. Sunglasses
Do you need an extra pair of sunglasses, or some sunglasses for the kids? You'll find lots at the dollar store.
29. Pill Organizer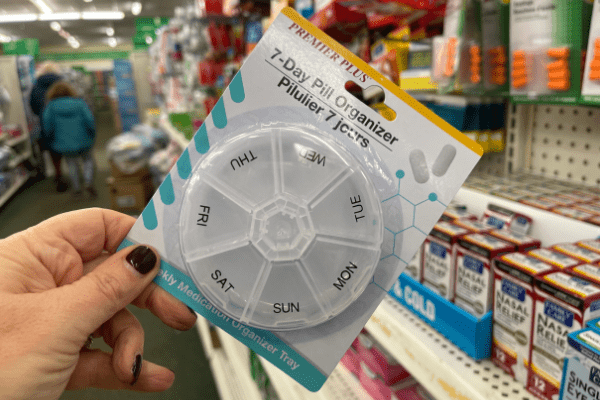 You can use your pill box to actually organize your medication and vitamins for the days you're on your cruise, or you use it as a makeshift earring or jewellery organizer. This cruise packing hack is a good one. You can use the different small compartments of the pill organizer to place earrings, rings, charms, small bracelets or necklaces.
You do want to be careful of tangling necklaces, so you may want to bring a small jewellery bag or use straw to string your necklace through.
30. Extra Reading Glasses
If you need glasses for reading, grabbing an extra pair of reading glasses from the dollar store can be a great idea. Put an extra pair in your carry on bag just in case you lose or break yours.
31. Kleenex Travel Packs
One of the best values from the dollar store are travel size kleenex travel packs.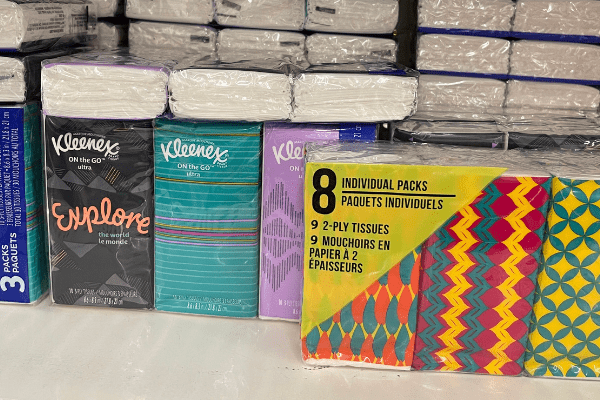 32. Hand Sanitizer
The dollar store has some travel size hand sanitizer bottles, including some with clips to attach on handbags, suitcases and totes.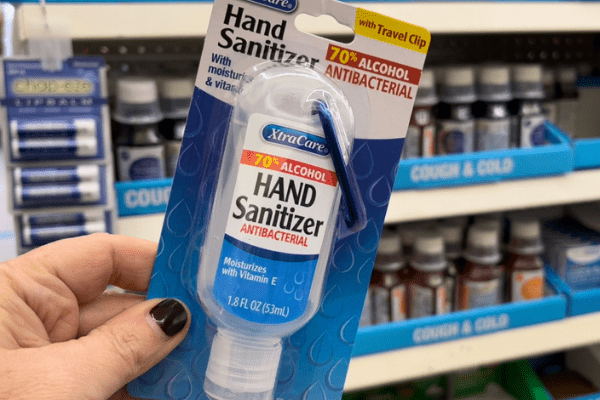 33. Disinfectant Wipes
Disinfectant wipes are great to have for airplane travel as well as a way to try and keep healthy while on your cruise vacation. The travel packs are a good size, and you can keep a pack in your cabin as well as your shore excursion bag or backpack.
Get The Ultimate Cruise Planner
Regular price: $27 Now just $17!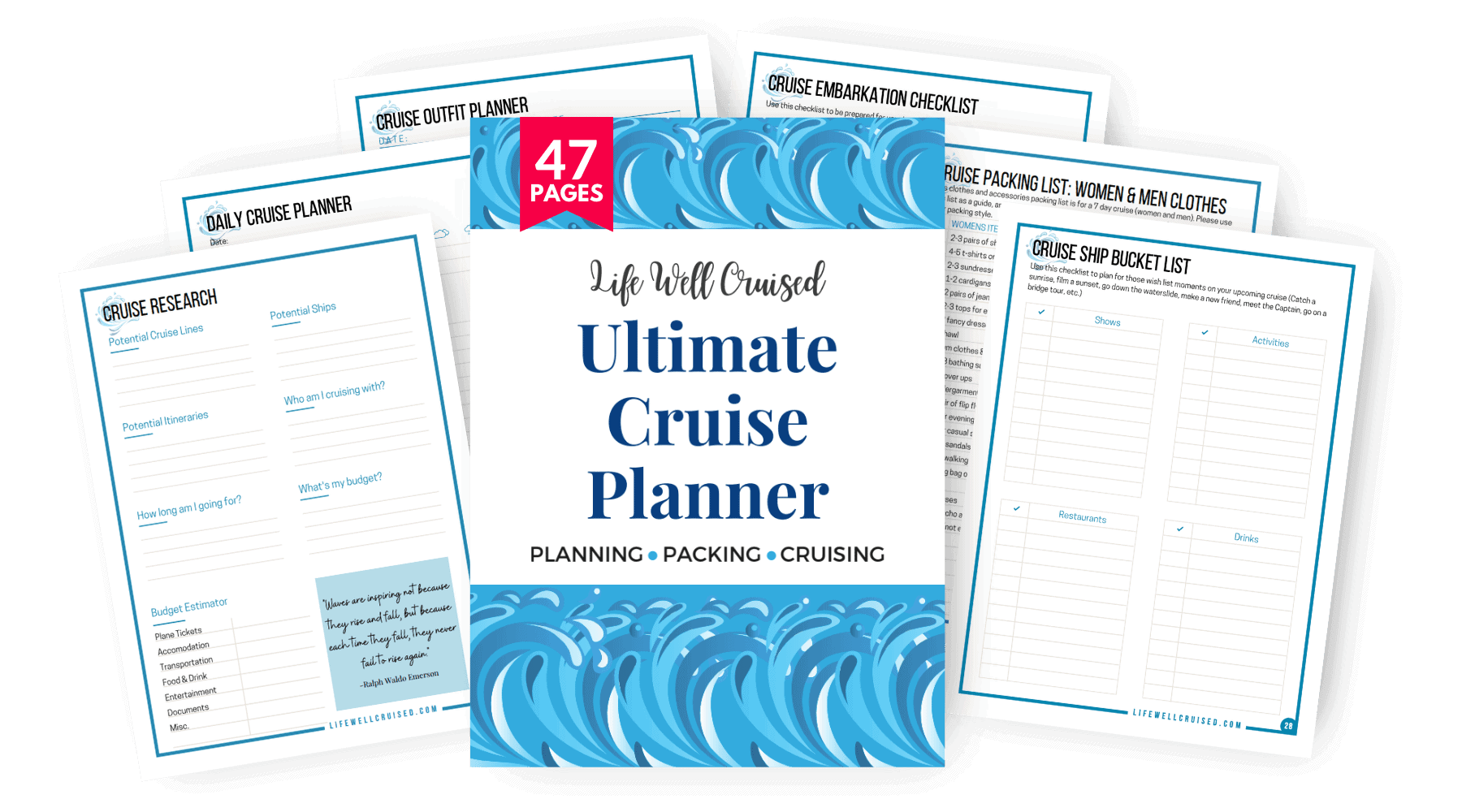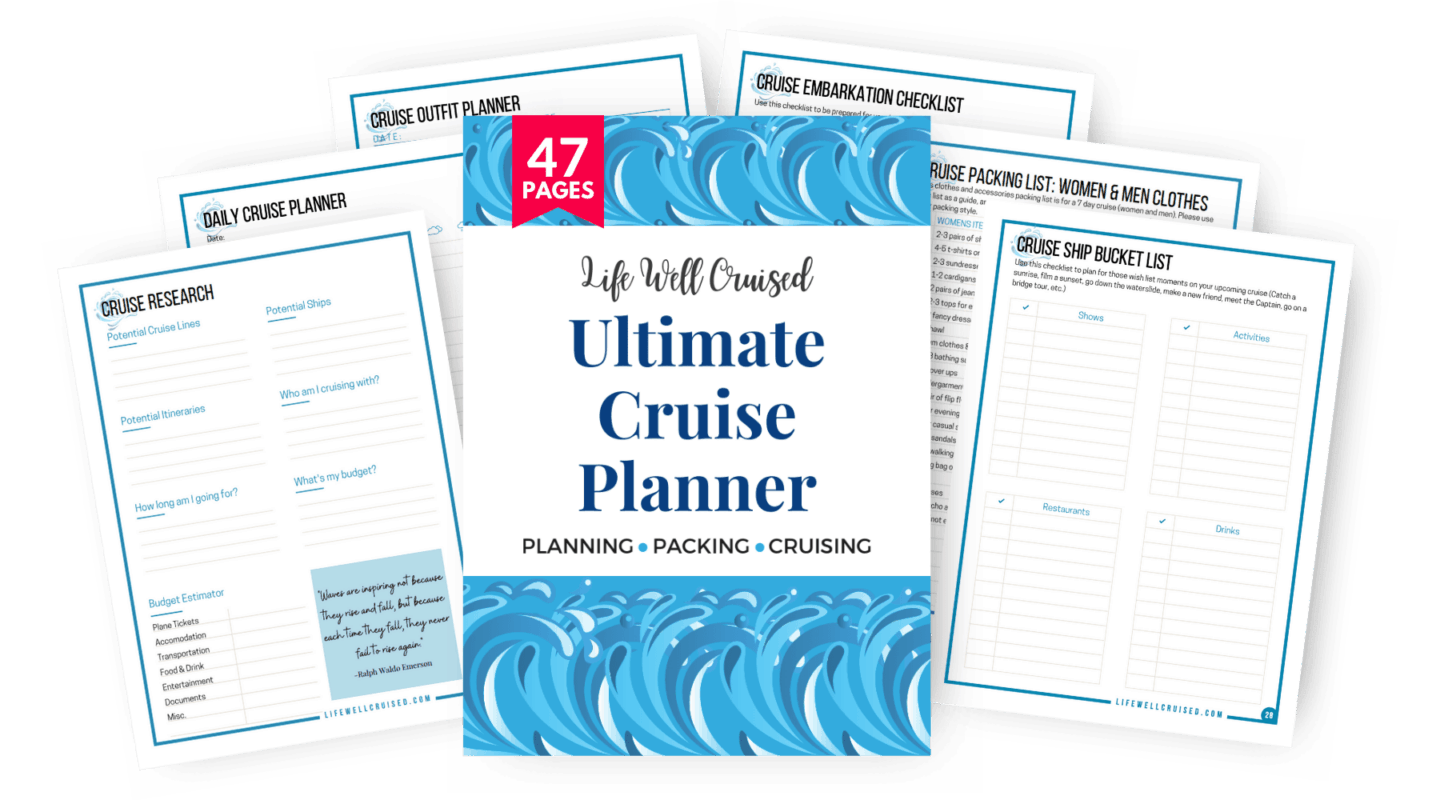 34. Ziplock Plastic Baggies
Plastic baggies are super practical to bring on your cruise to pack wet bathing suits or dry snacks. If you don't have any at home, you can find different sizes and brands at the Dollar Tree or other dollar store.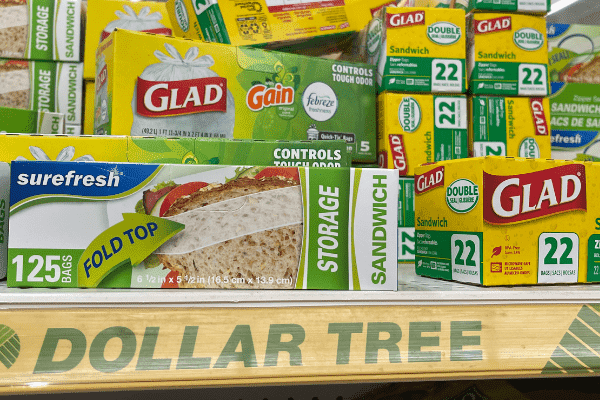 35. Scented Kitchen Bags
Scented kitchen bags are great to keep dirty laundry, when packing it up at the end of your cruise. Make sure to bring a couple of these bags along in your luggage.
36. Highlighters
Pick up a few highlighters while shopping at the dollar store. i like to use them to highlight activities or shows in the daily cruise planner. Even though most cruise lines now have this information available on an app, if you prefer to keep organized with a paper planner, most still have this available upon request.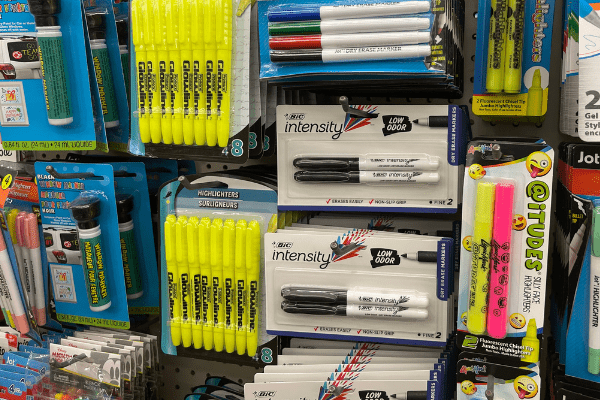 37. Folding Storage Box
If you're cruising with kids, you'll probably have a lot of shoes and flip flops taking up space, especially if you have an inside cabin. Our friends brought along a folding storage box and kept it at the bottom of their closet. They left it on the ship so it didn't need to be brought home.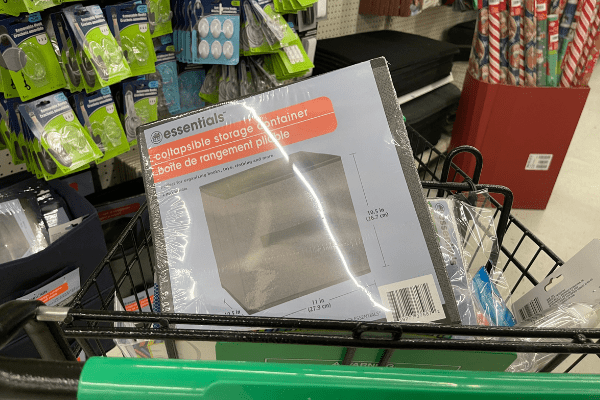 38. Dental Repair Kit
Did you know that cruise ships have doctors on board, but unfortunately no dentists (true cruise fact). Some people bring a small dental repair kit, just in case. I was surprised to find this on a recent Dollar Tree cruise haul!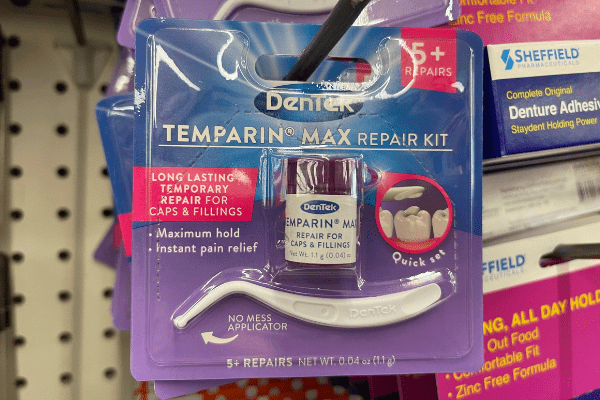 39. Rain Poncho
There are 2 places that ponchos come in very handy in my experience – at Disney and on cruises!! I think this is because we've been caught twice with really bad days of rain on both vacations.
Pick up ponchos for only about a dollar and you won't be sorry, in case you need them.
40. Crew Thank You Cards
When giving a tip to crew members on a cruise, you may want to write a nice note of appreciation on a thank you card. Packs of 6 are sold at the dollar store.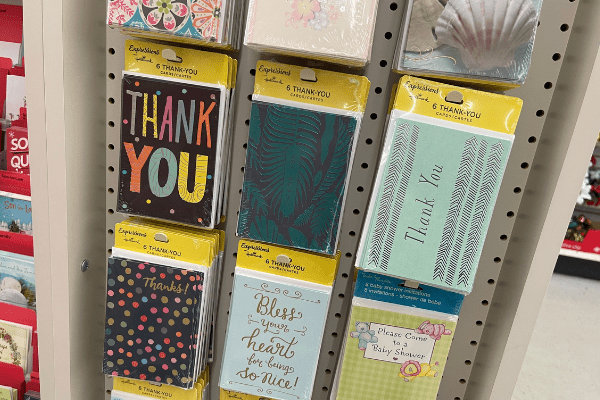 Get The Ultimate Cruise Planner
Regular price: $27 Now just $17!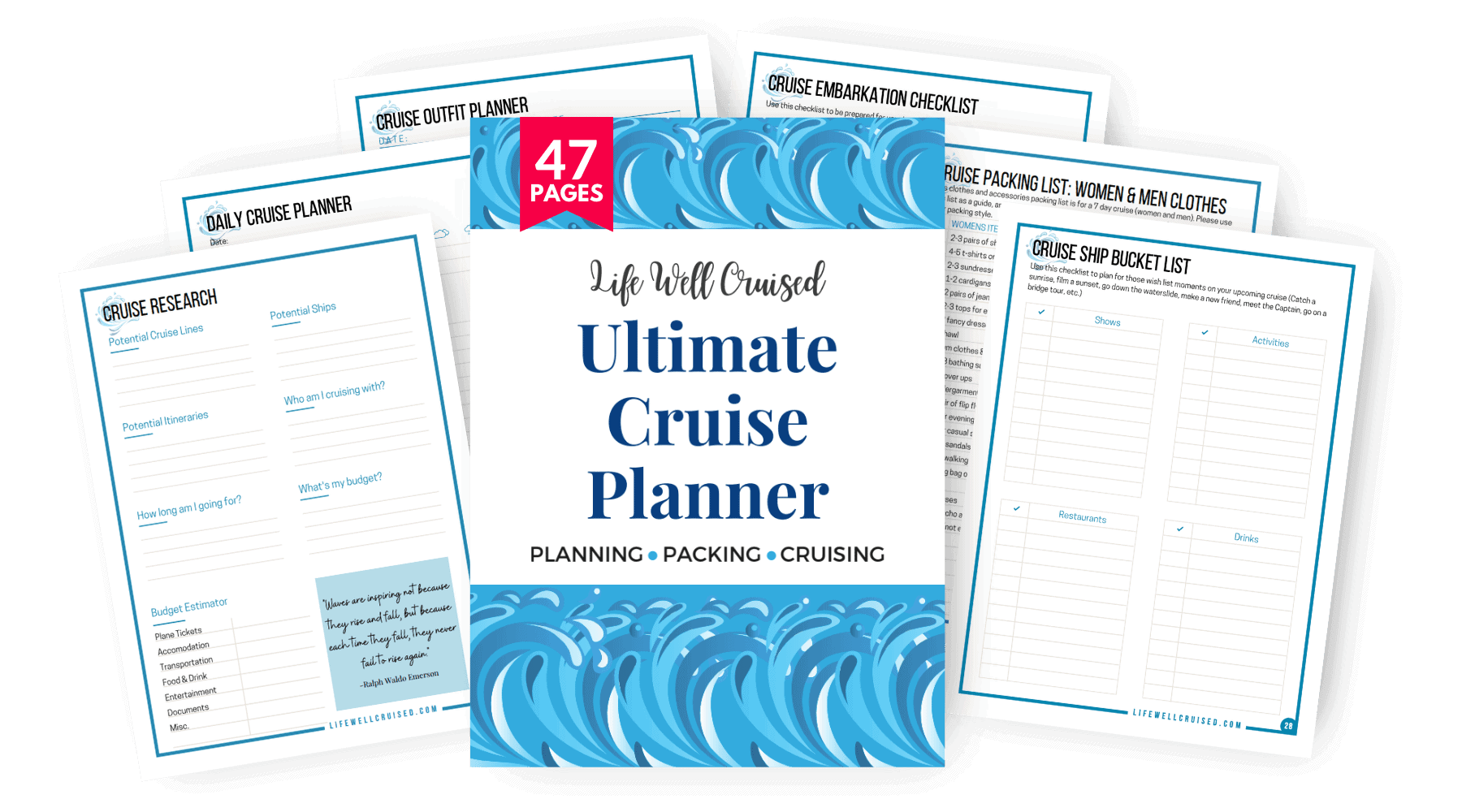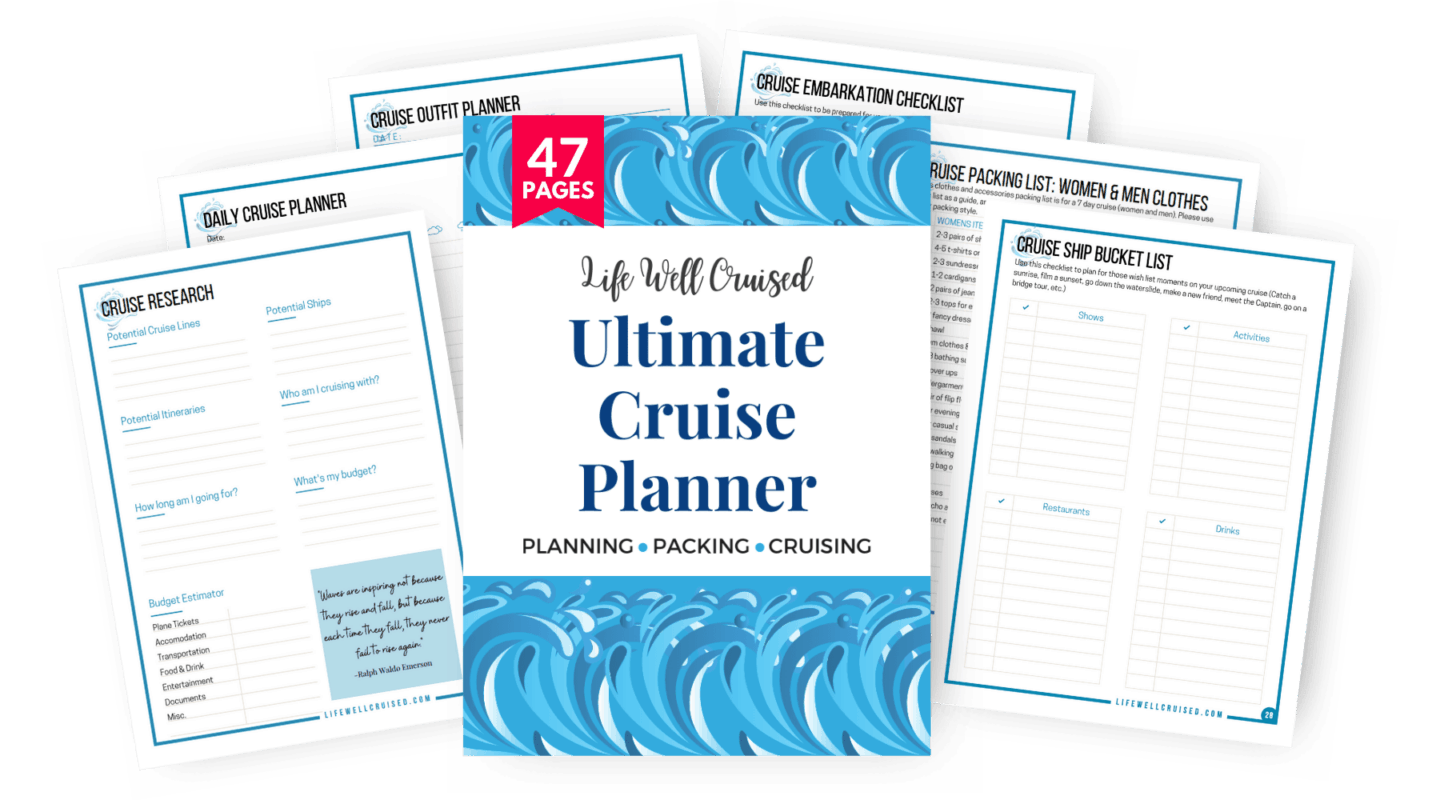 Essential Items to Bring on Your Cruise
While the dollar store is great for some items, there may be times of the year when some of these things are harder to find. As well, since these are all dollar store items, sometimes the quality isn't as good as products found elsewhere.
Here are a few of the most popular cruise essentials found on Amazon, that many cruisers find useful.
As an Amazon Associate I earn from qualifying purchases.
Waterproof phone cases on lanyards
Power bar (non-surge cruise approved)
*Very important* Inevitably you'll need more electric outlets and USB outlets on your cruise. Do not bring a power strip from home as it is prohibited and will be confiscated. Instead, pack a cruise approved power bar (see details here)
Video: Dollar Store Cruise Shopping Haul
Here are more than 20 things I found on a recent Dollar Tree cruise shopping haul. In this video I share some cruise tips and hacks as well.
Related and Popular Posts
50+ Must-have Amazon Cruise Essentials
27 Awesome Things To Do on a Cruise on Sea Days
15 Epic Tips First Time Cruisers Need to Know
15 Best Beach Bags for a Cruise (practical & affordable)
15 First Things to Do on a Cruise Immediately After Boarding
Final thoughts on Dollar Store Items to Bring on a Cruise
The dollar store is a great place to pick up inexpensive travel items for your cruise. In some cases, having items that are in convenient, small size or single use packaging can be really practical as you pack for your cruise.
Which things do you buy from the dollar store before a cruise? Please let me know in the comments below.
Happy Cruising!!
Ilana
If you found this article helpful, please pass it along. Please feel free to share on Facebook or PIN to your favorite Pinterest board (share buttons at the top). Thanks so much!
Let's connect:
Follow me on Facebook at Life Well Cruised
Follow me on YouTube at Life Well Cruised
Follow me on Pinterest at Life Well Cruised
Follow me on Instagram at Life Well Cruised