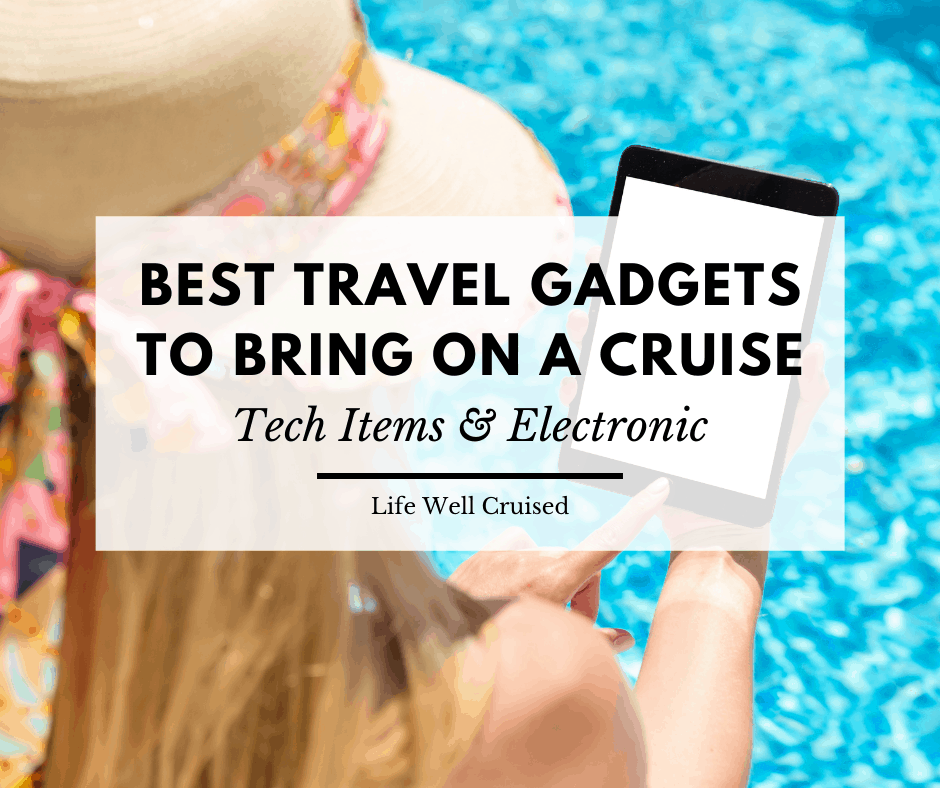 In recent years, cruises and cruisers have become more tech friendly. In fact, in 2022 and beyond, you'll probably be using the cruise line app onboard to make reservations and even see the menus.
Of course, you don't need a smart phone and electronic items to cruise, but they sure can add convenience! Beyond this, there are some cool tech gadgets that could add to your cruise experience.
In this post, you'll find 15 cool travel gadgets and tech accessories that might be a great addition to your cruise packing list!
Tech Items to Bring on a Cruise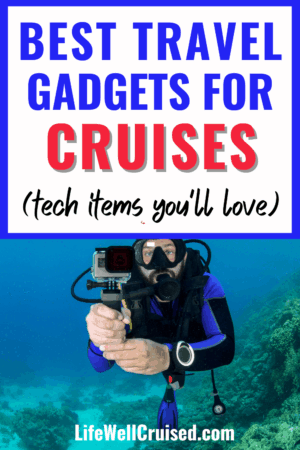 This post contains affiliate links which means if you click and buy that I may make a commission, at no cost to you. Please see my disclosure policy for details.
Life Well Cruised is a participant in the Amazon Services LLC Associates Program, an affiliate program designed to provide a means for sites to earn advertising fees by advertising and linking to Amazon.com.
Amazon Prime Free Trial
Amazon Prime comes with many benefits, including faster, free delivery, movies and TV shows (Prime TV) and even borrowing Kindle books. If you don't already have Amazon Prime, check out the FREE 30 day trial.
Electronics & Cables Organizer Travel Case
This electronics organizer case is a favorite cruise packing accessory. Keep all your chargers, cables and wires in organized conveniently one place.
Recommended: Electronics cable organizer case (see color options & Amazon reviews here)
Kindle Oasis
An amazing item to have on a cruise, this Kindle is waterproof so you can read while relaxing in the pool or hot tub on the lido deck! The displayed Kindle Oasis is bundled with a beautiful leather cover and power adapter, however you can see other options as well.
Check out: Kindle Unlimited Membership Plans – First 30 days free
Recommended: Kindle Oasis (see Amazon reviews & check pricing here)
Bluetooth Earbuds
Whether you're working out at the gym or listening to music or a podcast on the pool deck, make sure to bring along some wireless earbuds. These are inexpensive but work great, which is perfect to take on a cruise or to the beach.
Have you tried the Audible Plus Free Trial (30 days)? You can download thousands of audiobooks, documentaries and podcasts. You can find more info here.
Recommended: Wireless earbuds (see over 8000 4.5* Amazon reviews)
Cruise Power Bar
A non-surge protected power bar is a must-have cruise item. Cruise cabins just don't have enough electric and USB outlets for all our devices. This power bar is "ship approved" and one I highly recommend.
Recommended: Non-surge protected power bar (see 4000+ excellent Amazon reviews)
Powerbank or Portable Charger
This portable charger is perfect to charge your laptop, cell phone or other USB powered electronic device. What I like best is that this charger is incredibly fast!
This is so practical for days in a cruise port when phones tend to lose power quickly (as we tend to take lots of photos, videos and go on social media).
Recommended: Portable charger (see details & Amazon reviews here)
Waterproof Smartphone Case
A waterproof phone case is a must-have cruise essential! Of course it's convenient while on the cruise ship, but even more so on shore excursions and beach day outings. The phone case seals to keep both water and sun out, plus you can store your ID and cash in it as well.
Recommended: Waterproof phone case (touchscreen & neckstrap)
Laptop Backpack with Built in Phone Charger
If you're bringing a laptop with you on your cruise, this anti-theft backpack is so useful and convenient. We've used this backpack, which includes a built in charger, and carried it on embarkation day. We also brought it on tours and used it to carry our gear, including a go-pro and accessories. It's comfortable and fits more than you'd think.
Recommended: Anti-theft travel laptop bag with charging port (see almost 20K Amazon reviews)
Bluetooth Tripod Selfie Stick
Take amazing photos and videos with this Bluetooth tripod and selfie stick. The Bluetooth remote means you can be in every photo that you want and have it timed perfectly!
Recommended: Bluetooth Tripod Selfie Stick (check for compatibility with your smart phone)
Go Pro and Floating Hand Grip
If you want to take some great action or underwater videos, or even just amazing videos on your cruise ship, the Go Pro 9 is pretty cool. Don't forget to get the floating hand grip for beach and snorkeling excursions.
Recommended: Go Pro 9 (starter bundle with extra battery and floating hand grip)
Waterproof Digital Underwater Camera
A less expensive alternative to a Go Pro, this waterproof underwater camera takes great photos and videos. Great for snorkeling excursions, it can also make a great gift for the cruiser in your life.
Recommended: Waterproof digital underwater camera (check price on Amazon)
Waterproof Bluetooth speaker
Have your own music in your cabin or at Sailaway on your cruise. This waterproof Bluetooth speaker is a favorite beach essential too!
Recommended: JBL Waterproof Bluetooth Speaker (see 40,000+ 5* reviews)
Water Resistant Watch
Having a an inexpensive digital watch is a good idea on a cruise, and especially useful for cruise port days. This affordable sportswatch is waterproof and shows the time brightly in the dark (good for inside cabins).
Recommended: Digital water resistant watch (check pricing and Amazon reviews here)
Binoculars
While not a high tech item, binoculars are a travel gadget that is great to bring on cruises. If you're cruising to Alaska, it should definitely be on your cruise packing list. However, if you love to see marine life, bring binoculars on Caribbean or Bermuda cruises as well.
Recommended: Waterproof travel binoculars (verify price on Amazon here)
Sanitizer Box
This UV light sanitizer box is an effective quick way to disinfect your cell phone, masks, key card and more. This cool travel gadget uses a UVC wavelength, an ultraviolet sanitizing frequency which kills bacteria.
Recommended: UV light sanitizer box (check pricing & details on Amazon)
Best Selling Cruise Accessories:
These are some of the most recommended and popular cruise accessories – I personally use them as well.
Packing cubes – They really just make packing and unpacking easier, and nothing will make you feel more organized for your cruise (or any type travel)
Reusable luggage tags– It's a good idea to buy luggage tags before you cruise. You'll simply slip the printed luggage tags (from your cruise line) into the durable plastic sleeves and attach them to each suitcase. Make sure to check this link to find the tags for your specific cruise line.
Magnet hooks – Did you know that cruise cabin walls are metal? This is why magnet hooks are a top recommendation by avid cruisers to add extra hooks and storage to your stateroom.
Bonine (seasickness meds) – Make sure to bring along your favorite non drowsy motion sickness medication. Personally, I find Bonine to be very effective without negative side effects (for my family).
Power bar (non-surge cruise approved)
*Very important* Inevitably you'll need more electric outlets and USB outlets on your cruise. Do not bring a power strip from home as it is prohibited and will be confiscated. Instead, pack a cruise approved power bar (see details here)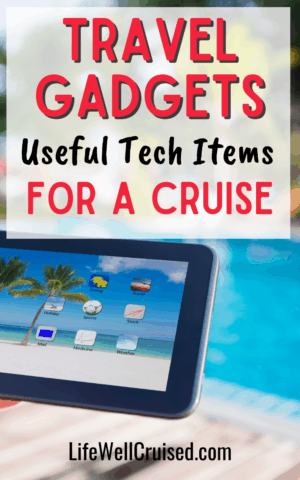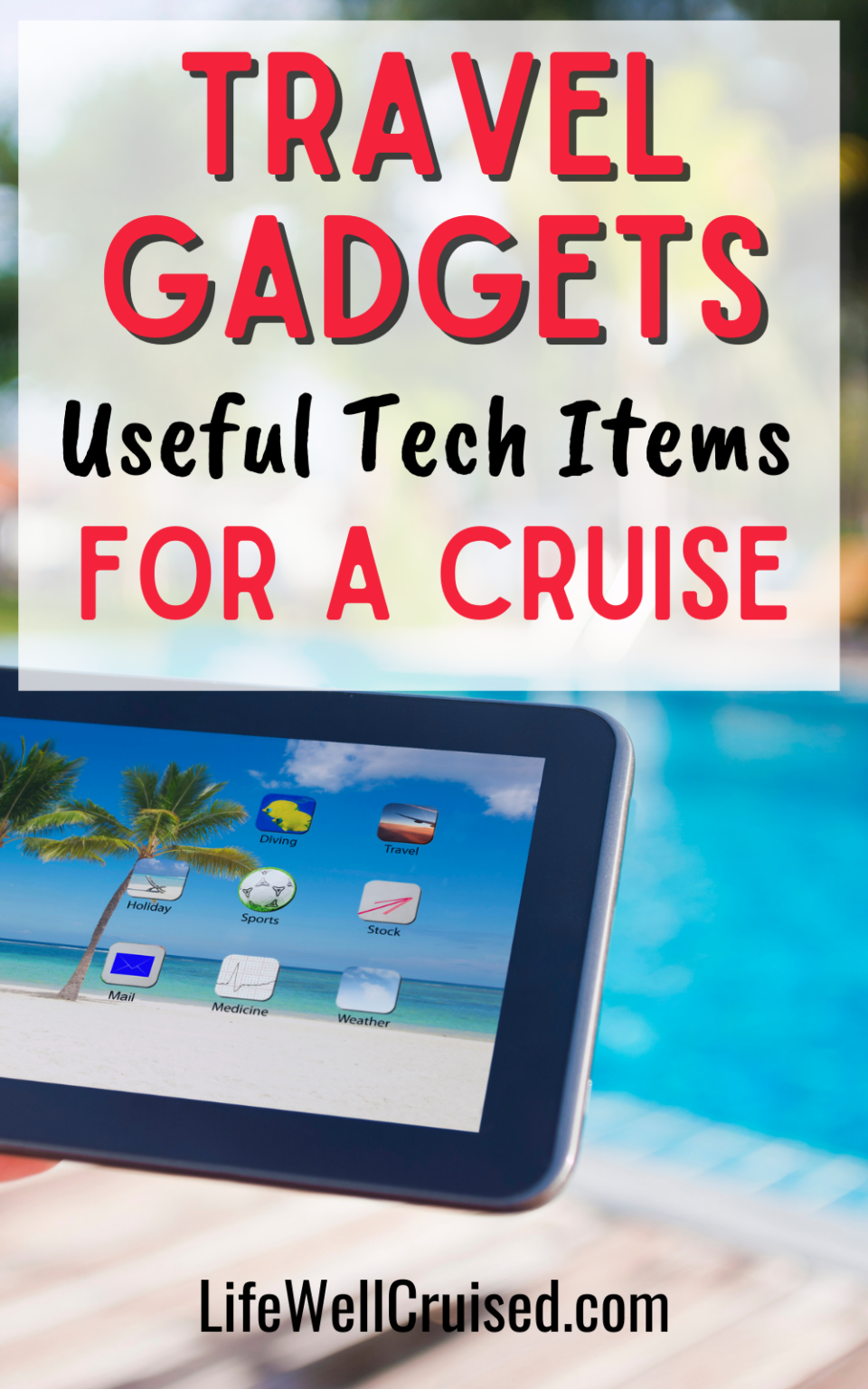 Amazon Prime Free Trial
If you're ordering any items from Amazon (even in future), you may be interested in signing up for Amazon Prime . Benefits include faster shipping and free delivery, Prime TV and more. If you don't already have Amazon Prime, check out the FREE 30 day trial.
Related and Popular Posts
50+ Must-have Cruise Essentials
27 Awesome Things To Do on a Cruise on Sea Days
What I Wore on a 7 Day Caribbean Cruise (Cruise Outfits with Photos & Links)
Plus Size Cruise Wear for Ladies: 25+ Cruise Outfits
15 Epic Tips First Time Cruisers Need to Know
37 Interesting Cruise Ship Facts that Will Surprise You
15 First Things to Do on a Cruise Immediately After Boarding
Final thoughts: Best Travel Gadgets to Bring on a Cruise
If you're going on a cruise, some of these cool travel gadgets and cruise accessories can be add convenience to your vacation. In fact, these tech items can even make some things on your cruise more enjoyable.
Which tech items do you bring on a cruise, or would you consider in the future? Please let me know in the comments below.
If you found this article helpful, please pass it along. Please feel free to share on Facebook or PIN to your favorite Pinterest board (share buttons at the top). Thanks so much!
Let's connect:
Follow me on Facebook at Life Well Cruised
Follow me on YouTube at Life Well Cruised
Follow me on Pinterest at Life Well Cruised
Follow me on Instagram at Life Well Cruised