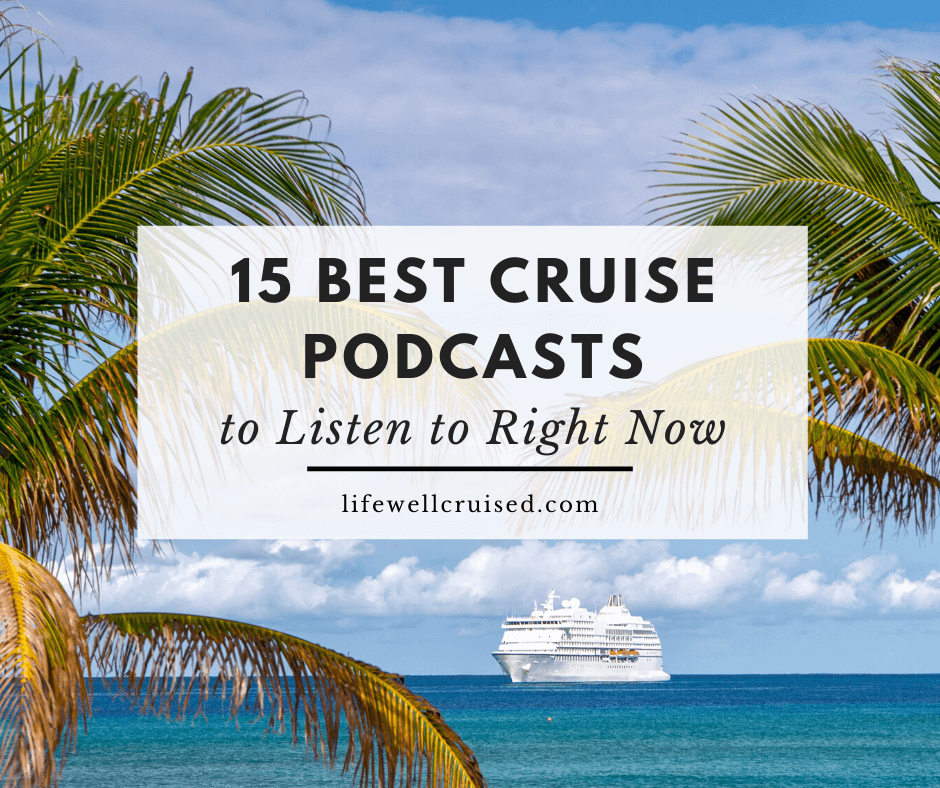 Top Cruise Podcasts from Cruise Tips to Cruise News
Have you been looking for some awesome cruise podcasts? I love to listen to podcasts during commutes to work or anytime I'm in my car, and these days, listening to cruise travel podcasts has been a great way to get my cruise fix.
I've put together this list of the best cruise podcasts to listen to right now! You may recognize the names of some of these cruise influencers from their cruise blogs or YouTube channels. Still others, may be a new discovery.
Whether you're interested in cruise news, cruise tips, cruise port information, cruise ship reviews, cruise crew life or simply cruise chatting – you're bound to find a cruise podcast to enjoy!
This best of cruise podcasts list is in no particular order.
15 Best Cruise Podcasts – 2020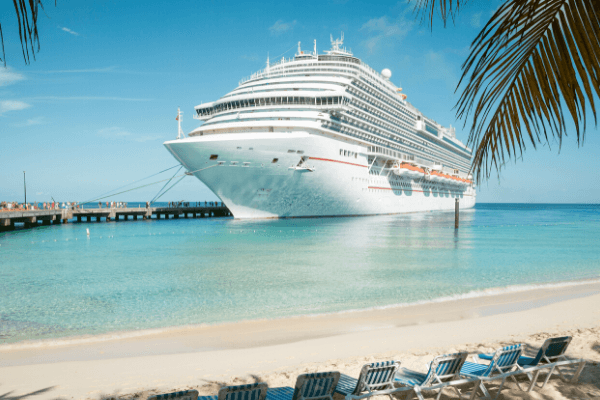 1. Cruise Radio Podcast – 2016-2020
Host: Doug Parker
The Cruise Radio Podcast was created by Florida-based radio personality Doug Parker, who wanted to use his broadcasting experience to share his love of cruising with fellow enthusiasts. His weekly podcast features ship reviews, money-saving tips and interviews with both industry insiders and everyday cruisers.
2. Cruise Radio News Briefs – 2020
Host: Doug Parker
Each weekday, Doug shares the latest cruise industry news in a very short audio format (under 90 seconds).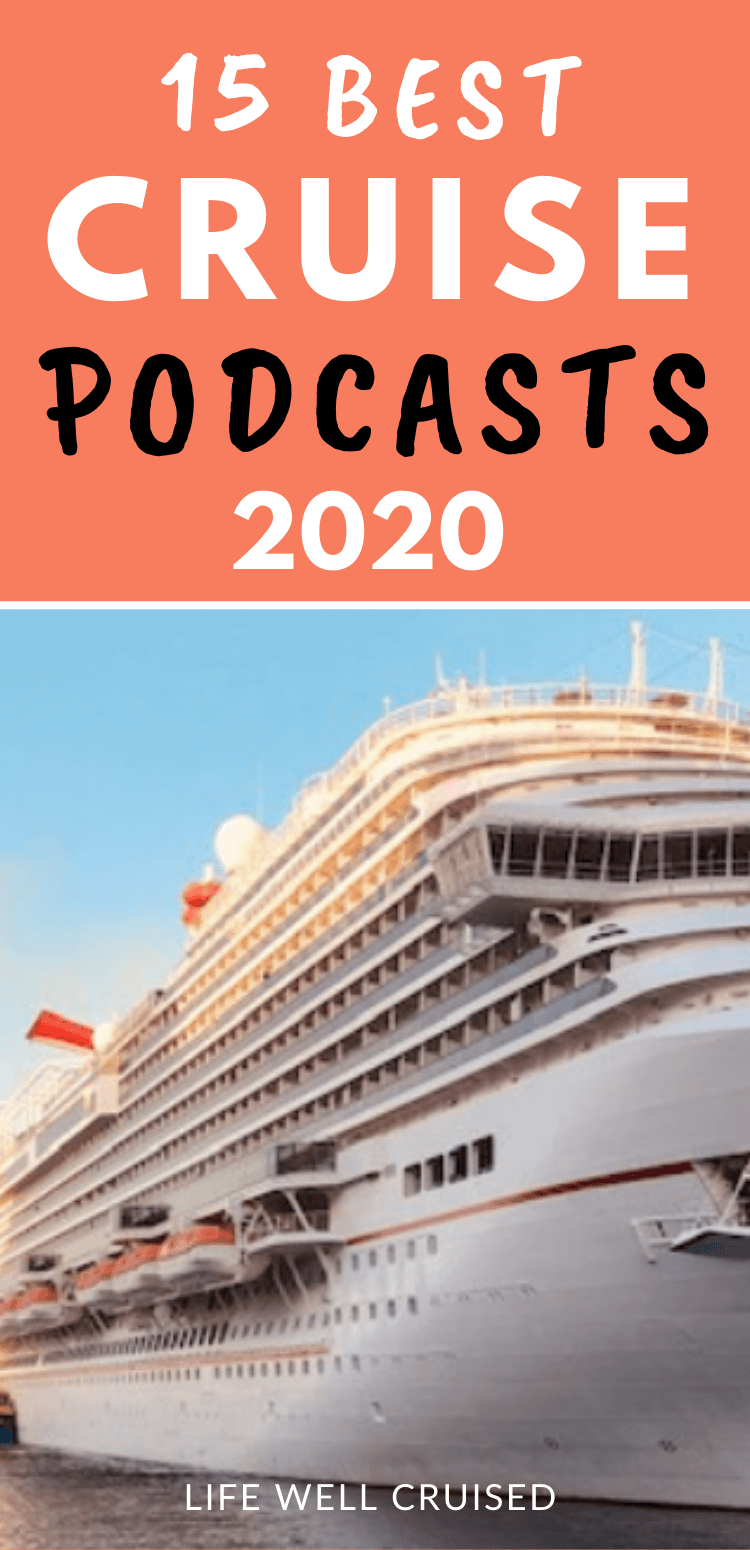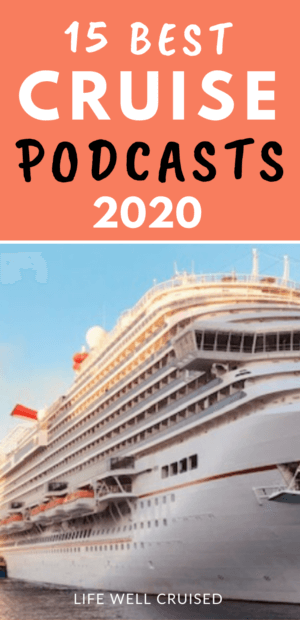 3. La Lido Loca Cruise Podcast – 2019-2020
Hosts: Jenny and Tony
The
La Lido Loca Cruise Podcast
talks about all things cruising and life. If you've watched Jenny and Tony's cruise vlogs and cruise shows on YouTube, you know how they are a lovable combination of both cruise fun and great information.
4. Cruise Tips TV unplugged – 2019-2020
Hosts: Sheri, Mr CCTV and occasionally Junior
Cruise Tips TV is the OG! While the
Cruise Tips TV Unplugged podcast
was founded in 2019, the Cruise Tips TV family have been making amazing cruise content on YouTube since 2013.
In the weekly podcast, Sheri shares cruise tips, cruise news and information in both an informative and positive way. If a podcast can be binge-worthy, this is it!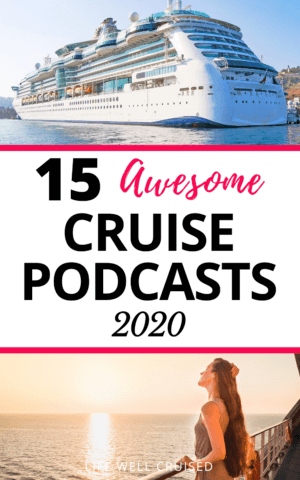 5. Always Be Booked Cruise Podcast – 2017-2020
Host: Tommy Casabona
Always Be Booked
is a fun chat about all things cruising. Podcast Host Tommy Casabona shares his own thoughts on cruise industry news, cruise reviews and cruise tips. He also has some very interesting interviews with guests.
I was hooked from the intro song – just sayin' 😉
6. Royal Caribbean Blog Podcast 2018-2020
Host: Matt Hochberg
The
Royal Caribbean Blog Podcast
is a weekly podcast that discusses everything about a Royal Caribbean cruise. Host Matt Hochberg from Royal Caribbean Blog is the ultimate Royal Caribbean fan and cruise expert. If you're going on a Royal Caribbean cruise, this is a podcast you must subscribe to!
7. DCL Podcast – 2018-2020
Host: Steve Kriese
The
DCL Podcast
centers around the Disney Cruise Line, focusing on news, history, and trip reports. It also focuses on general changes in the travel industry.
I really enjoyed the upbeat episodes and banter with guest co-hosts. If you're a Disney Cruise Line fan, this cruise podcast is a must-follow!
8. Essential Cruise Tips – 2013-2020
Host: Gary Bembridge
Gary from
Essential Cruise Tips
packs so much helpful cruise and port tips into each weekly episode! Whether you're going on an ocean going cruise, or a river cruise, this is a cruise podcast that you are guaranteed to learn from.
9. Cruise Dudes Podcast 2014-2020
Hosts: Tommy and Scott
Tommy and Scott, hosts of The Cruise Dudes Podcast have been sharing their passion for cruising since 2014! They share cruise information, cruise reviews and have some fascinating interviews with cruise personalities and cruise industry experts.
Along with great information, the show is just fun to listen to!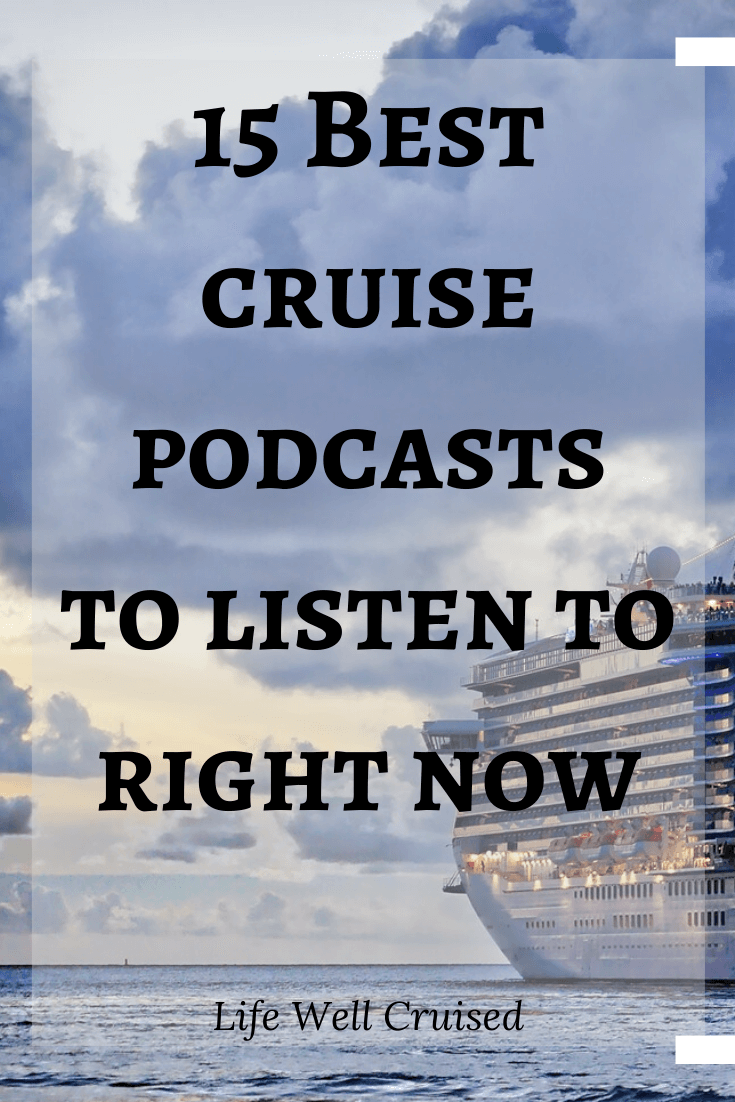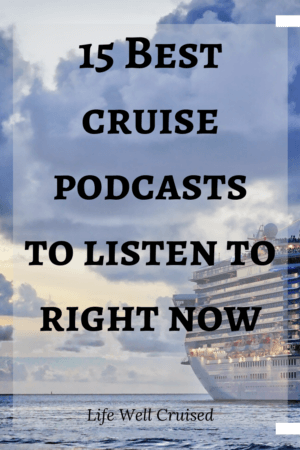 10. Disney Cruise Line Blog Podcast 2016-2020
Host: Scott Sanders
The show discusses various topics relating to Disney Cruise Line including recent news, DCL tips and cruise ship and port reviews. Each episode is highly informative.
11. Behind the Crew Door – 2019-2020
Hosts: Sarah and Tom
Behind the Crew Door
is a cruise podcast about what really happens behind the crew door of cruise ships. If you're interested in a crew perspective and enjoy chats about crew life, tips, and some fun stories, definitely tune in!
12. Just Cruisin' with Larry – 2017-2020
Host: Larry Jackspon
Just Crusin' with Larry
is a cruise podcast that covers a broad range of cruise topics – from cruise tips like choosing a cruise cabin, to reviews and information about cruise lines. Larry and his wife Lynda are vacation planners.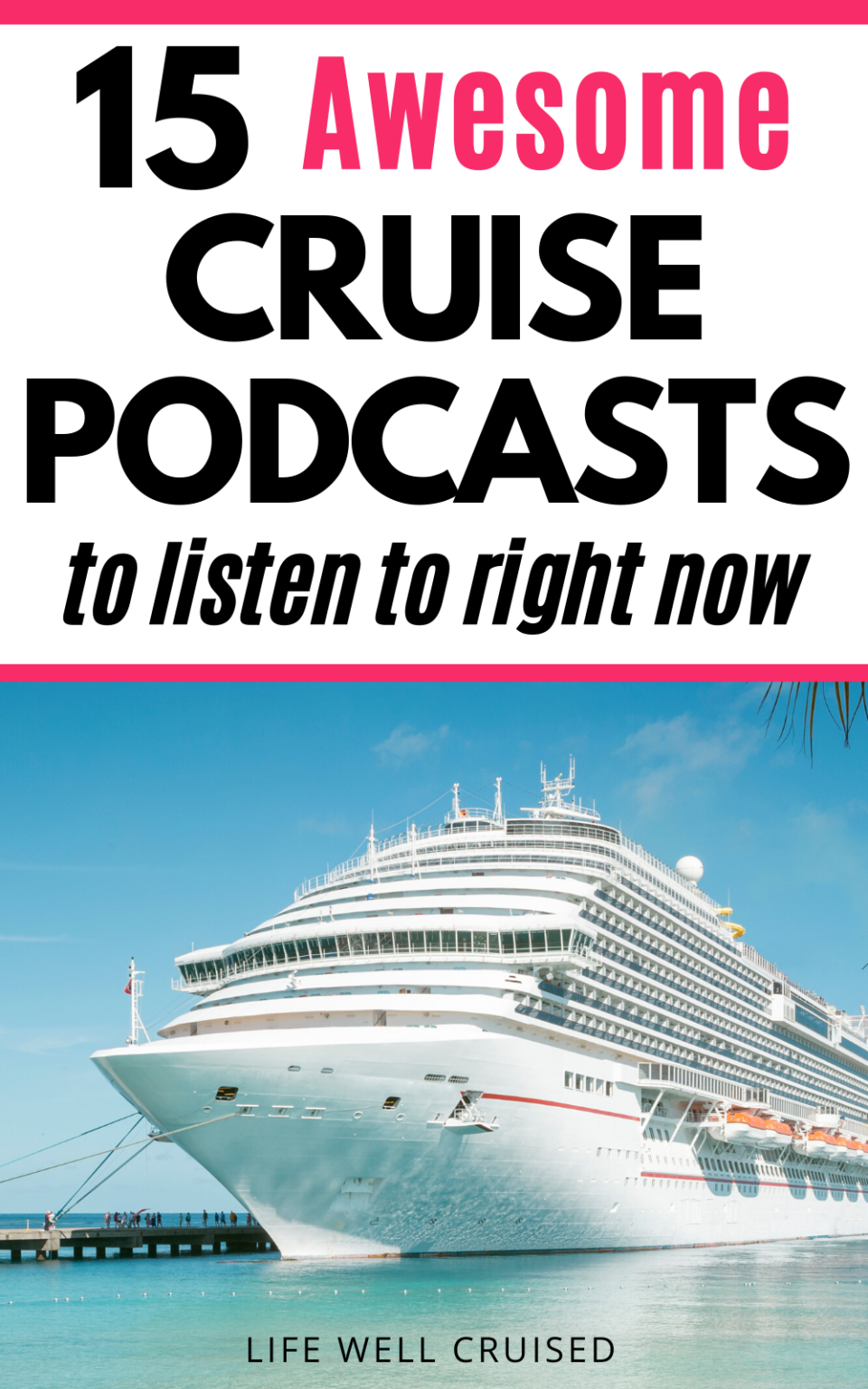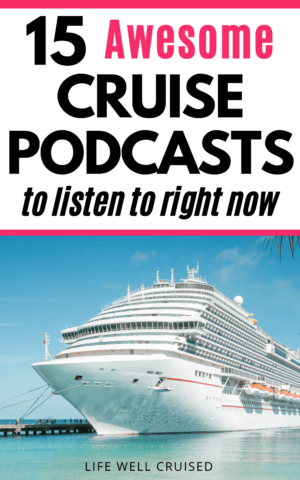 13. Cruise Life Experience – 2020
Hosts: Cruise Director's Mitch and Mike
In their own words "Love to cruise or work onboard? We take a lighthearted and informative look at the industry and people who make it sail. Fun interviews, stories (behind the scenes past and present), news, tips and questions answered."
14. Fintastic Cruising – 2019-20
Hosts: Kimbra and Matt
In their own words, "Fintastic Cruising is a podcast that celebrates cruising, creatures and community". Kimbra and Matt's friendly voices are a pleasure to listen to, as they share cruise tips, shore excursion ideas, and interview interesting cruise experts and personalities.
Unique to this podcast, they love and also talk about the sealife and other wildlife you may encounter on a cruise.
15. The CLIA Cruise Podcast – 2018-20
Host: Andy Harmer
The CLIA cruise podcast
covers topics related to the cruise industry. There are interesting chats with a variety of speakers and cruise experts from different cruise lines and destinations.
16. DCL Dude Podcast 2017-2020
Host: Wes Dauer
I had to add a bonus cruise podcast, which I recently discovered! If you are a Disney Cruise Line fan, you're in luck with some amazing content creators!
The DCL Dude Podcast has a new episode every other week. The show is strictly Disney Cruise Line and includes cruise tips and news, however also has some incredible interviews with special guests. They include Disney cast members, historians, authors and even a former Disney Imagineer! This is a great, fun podcast to add to your subscriptions!
Honorable mentions:
When I researched this article, I came across some really good cruise podcasts that are not currently producing content. This includes Popular Cruising, Cruise Habit, Cruise Maven and River Cruise Radio, and Cruise Critic. If you'd like to go back and listen to some past episodes, you may find some shows you enjoy.
Final thoughts: 15 Best Cruise Podcasts to Listen to and Follow
There are the top 15 cruise podcasts to follow in 2020. If you love cruising and could use an escape from other media from time to time, consider tuning into one of these awesome shows!
Have you found a favorite cruise podcast? Please let me know which cruise podcasts you most enjoy, as well as if I missed one that should be added to this list in the future.
Happy Cruising!
Ilana xoxo
P.S. If you've enjoyed this, please don't keep it to yourself ;-)! Please share it on Facebook or save for later on Pinterest. Thanks so much!
Popular posts:
25 most recommended Amazon Items to Bring on a cruise
23 Essential Things to Pack in Your Cruise Carry-On Bag
Related posts:
15 Reasons Why Cruising is the Best Vacation Ever
100 Awesome Reasons Why You Should Take a Cruise
Let's connect:
Follow me on YouTube at Life Well Cruised
Follow me on Facebook at Life Well Cruised
Follow me on Pinterest at Life Well Cruised
Follow me on Instagram at Life Well Cruised