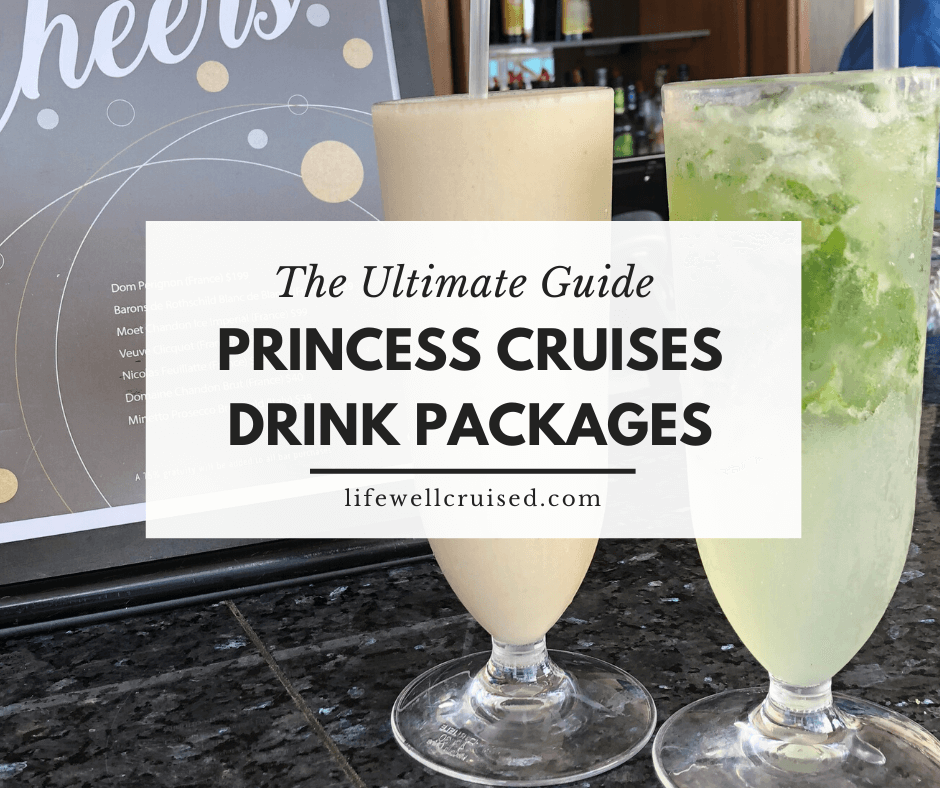 Are you planning a Princess Cruise? That's great! Princess Cruises have some of the best options for drink packages, both alcoholic, non-alcoholic and specialty coffee.
Princess also has an all-inclusive type pricing option called Princess Plus, where the Premium Beverage Package is included as a perk.If you enjoy even more perks, consider the newest way to book your Princess cruise, Princess Premier.
In this post, I'll go over the details of each drink package. I've also included some frequently asked questions by other cruisers and Princess Cruises bar menus.
Plus, at the end, check some Princess drink favorites to tempt you as you await and anticipate your next cruise!
The Ultimate Guide to Princess Cruises Beverage Packages
This post contains affiliate links which means if you click and buy that I may make a commission, at no cost to you. Please see my disclosure policy for details.
Princess Cruises Drink Packages
Princess Cruises have 3 drink packages available, or 4, depending how you look at it.
Premium Beverage Package
Premier Coffee and Soda Package
Soda Package
Grounds Coffee Package
Premier Beverage Package
The Premier Beverage Package includes alcoholic drinks up to $12 such as beer, wine by the glass, cocktails, and liqueurs and spirits. In addition, non-alcoholic drinks such as virgin cocktails, fountain soda, fresh juice, bottled water, milkshakes and frappes, energy drinks, and specialty coffees and teas are included as well.
The cost is $59.00 USD per day, per person plus an additional 18% gratuity or service charge.
There are some terms and conditions you should know. While still considered an all-inclusive option, there is a daily limit of 15 alcoholic drinks per day, per person. Drinks brought by room service and *mini-bar items (including water bottles) are not included.
*I'll include a little cruise cabin hack at the bottom of this post to avoid this.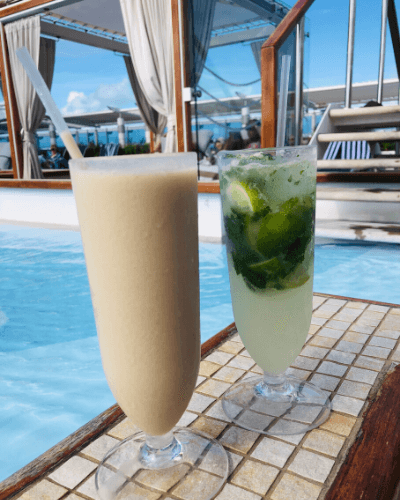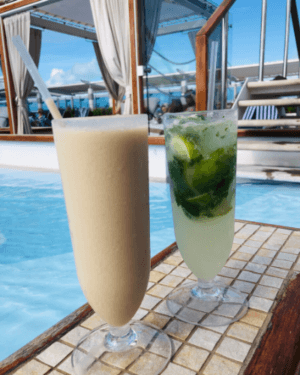 Premier Coffee & Soda Package
For those that won't get value from the all-inclusive drink package, the non-alcoholic beverage package includes just about everything else.
With the Premier Coffee and Soda Package, you'll enjoy specialty coffees and teas at the International Cafe and in the dining room, as well as virgin cocktails or "mocktails", fountain sodas, fresh juice, hot chocolate, energy drinks and milkshakes (when available).
The Premier Coffee & Soda Package is $19.99 USD per person, per day, plus an additional 18% service charge.
Classic Soda Package
This Classic Soda Package is best for non-coffee drinkers and is the simplest of Princess' drink packages. It includes all fountain sodas, fruit juices, mocktails and smoothies.
The Classic Soda Package is $9.99 USD per person, per day, plus an additional 18% service charge.
New Grounds Coffee Package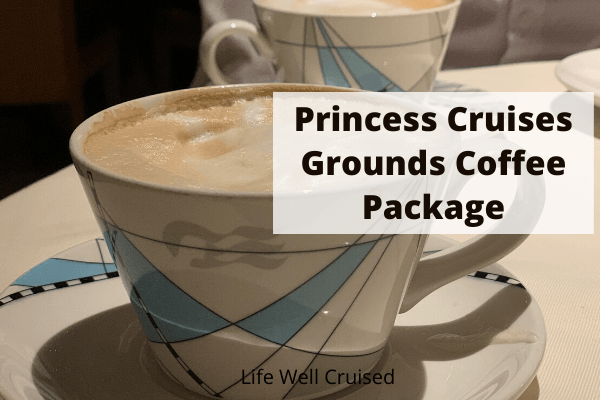 For those of you that have cruised with Princess in the past, you'll likely be aware of the Princess Coffee Card, which offered 15 specialty coffees plus unlimited brewed coffee for about $36. This was a very popular specialty coffee option!
Princess Cruises has replaced the original coffee card with a new specialty coffee package – the New Grounds Coffee Package. The coffee package is now linked to your onboard account.
With the New Grounds Coffee package, you get specialty coffees or teas which can be used anytime during your cruise – the number of coffees varies by the length of your cruise. As well, you'll have unlimited fresh brewed coffee, tea and hot chocolate from the International Cafe throughout your cruise.
Here are the details:
The specialty coffees can be shared, however, the unlimited fresh brewed coffee, tea and hot chocolate is said to be only for the original purchaser. In our experience, there is leeway on this. The cost of the coffee package depends on the length of your cruise, and the information can be found on your cruise personalizer.
On our last Princess Cruise, the cost of the New Grounds Coffee Package was in line with the old package. The main difference is that you can no longer hold over unused specialty coffees on a punch card for your next cruise. Being fair, it's still a great value.
Cruise tip: Try the frozen specialty coffees, and ask the baristas for suggestions. They are perfect when coming back to the ship after a hot day in a cruise port of call.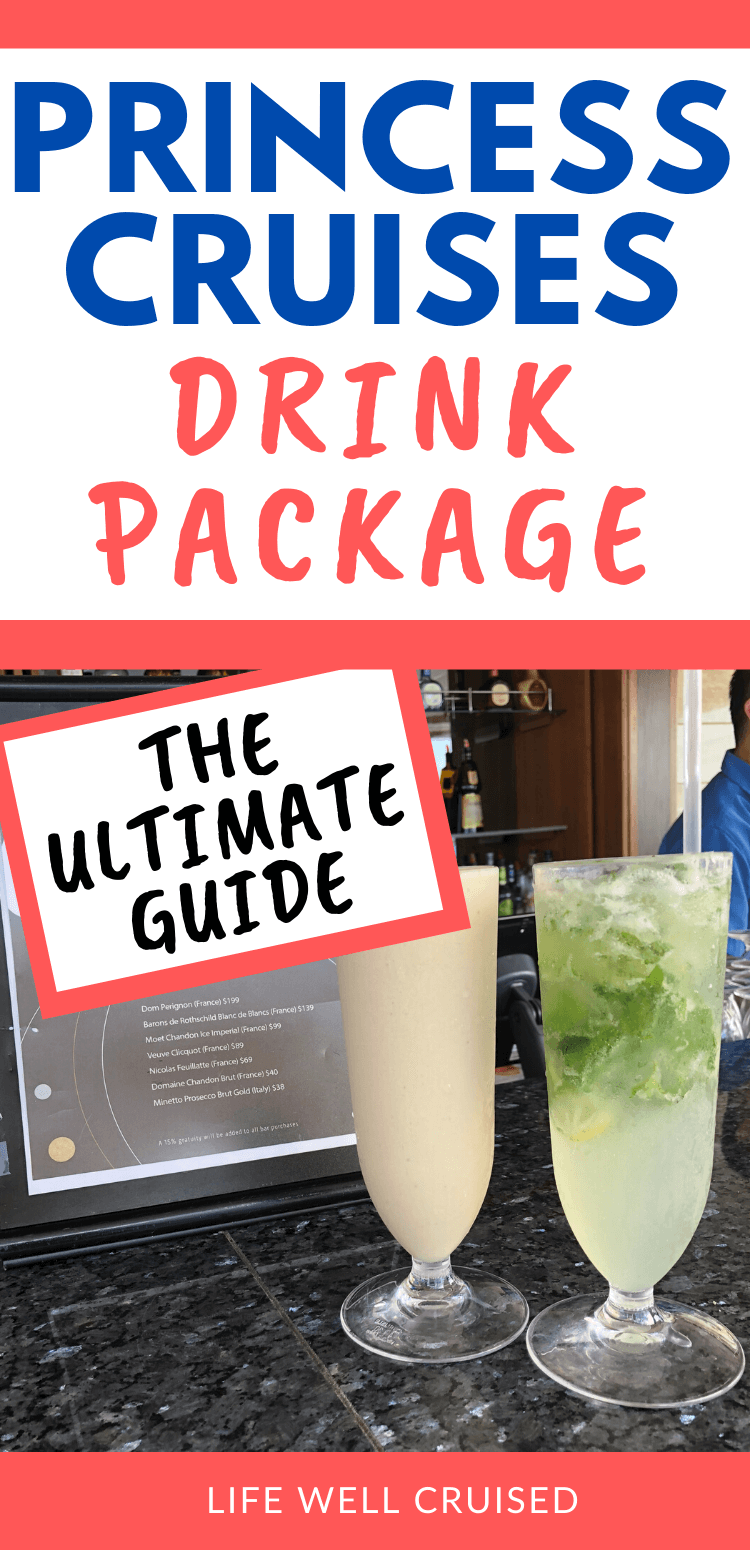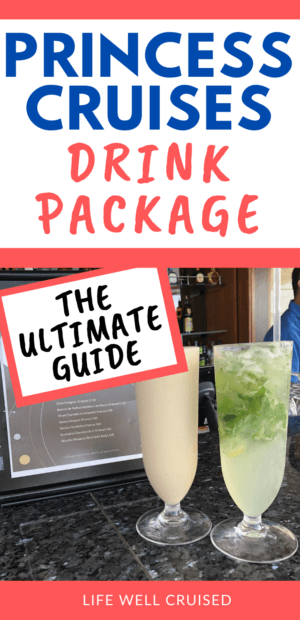 Is the Beverage Package ever included on a Princess Cruise?
In the last few years, Princess has had promotions a couple of times a year in which the Premium Beverage Package has been offered as a perk. See below for an explanation of Princess Plus – a great option for many cruisers.
Tip: Keep an eye on Princess' sales by signing up for their emails as well as promotions through large online cruise websites to take advantage of the best offers.
Suggested: Princess Cruises: 15 Tips, Tricks and Insider's Secrets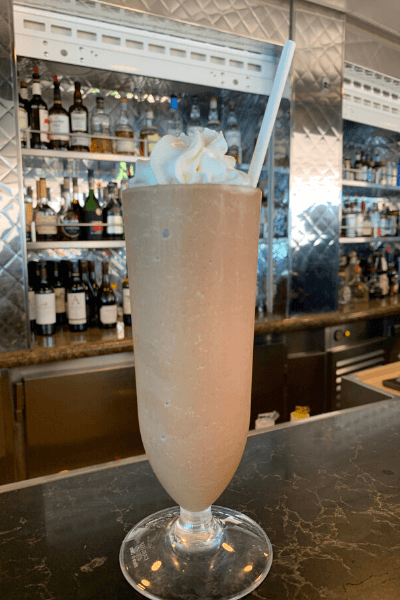 Princess Cruises Perks – Princess Plus
For the best overall value, you may want to consider a fairly new perks offer from Princess, which they call Princess Plus. By opting for Princess Plus, you'll receive the Premium Beverage package , unlimited free wifi and free gratuities.
Something to note, is that unlike Norwegian Cruise Line's Free at Sea perks, the 18% tips on the drink package, are included with Princess Plus. So the price you see is what you get (no extras).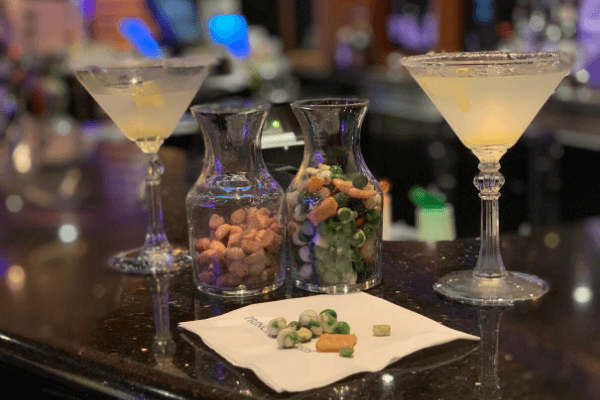 Princess Drink Packages – Frequently Asked Questions
How does Princess Plus work?
With Princess Plus, the Premier Beverage package is given to all guests in the cabin. So for instance, if you're on a family cruise and staying with your kids in your cabin, they'll receive a drink package as well. If they're under 21, they'll get the Premium Soda and Coffee package.
3rd and 4th guests also receive free wifi (on many ships this is Princess' Ocean Medallion internet) and free gratuities, so it's a pretty good deal
If you'd like an all-inclusive type option for your cruise, Princess Plus will be your best bet!
Is there an extra gratuity charge with the Princess Drink Package?
An 18% gratuity or service change is added to your purchase of the Premium Beverage Package and all drink packages with Princess Cruises, at the time of purchase. You won't be charged an additional amount once on board, as you "purchase" each drink.
If you opt for Princess Plus, which includes the beverage package perk, the gratuities have been included in the total price, and you will not be charged an additional gratuity.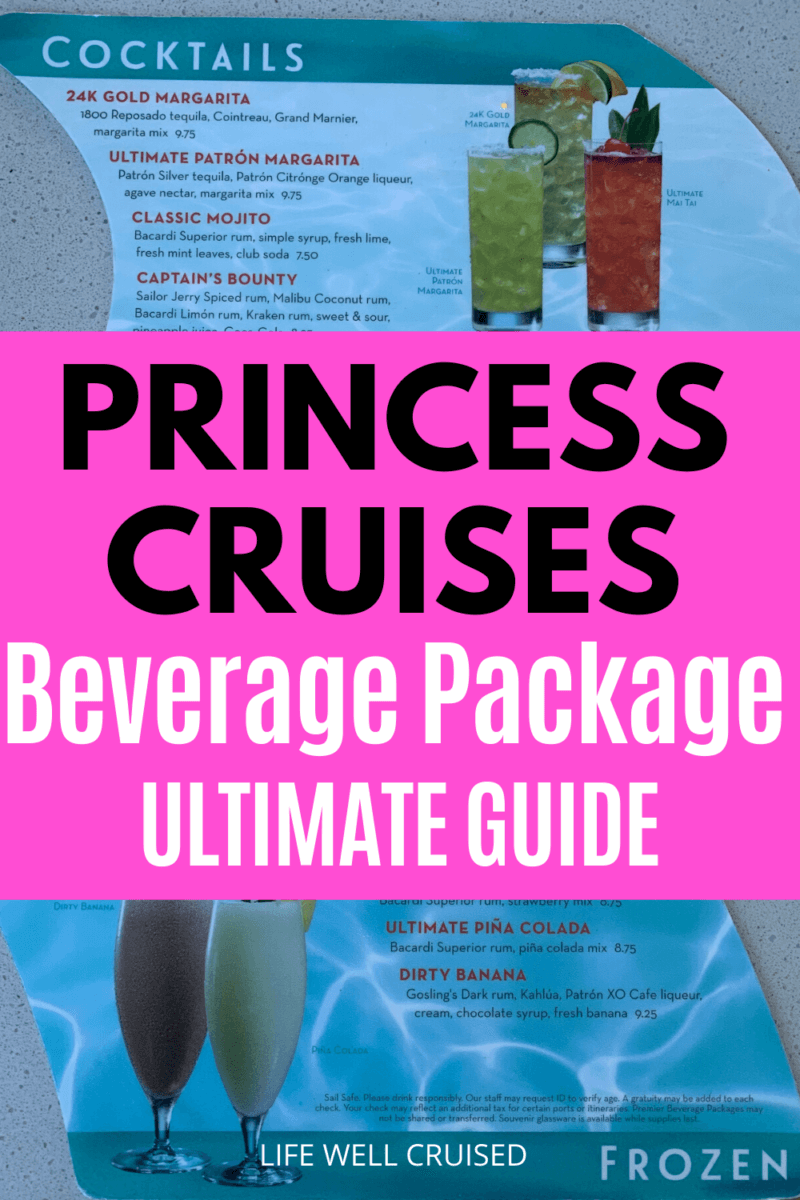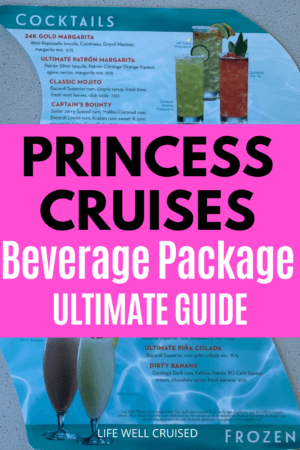 Does the Princess drink package have daily drink limit?
Yes, there's a daily limit of 15 alcoholic drinks per person, per day. There's no limit for sodas, bottled water, and other non-alcoholic drinks.
Does Princess Cruises ever offer discounts on beverage packages?
Princess Plus, the almost all-inclusive option is actually combinable with many promotions, including Captain Circle fares and offer offers.
If you'd like to purchase a drink package separately, these go on sale on rare occasions. The best way to find a drink package discount, or any other onboard specials, is to log into your cruise personalizer and keep an eye on your emails.
Tip: Even if you don't get a discount on a beverage package, there are many ways to get additional onboard credits with Princess, which you can use towards any onboard purchases.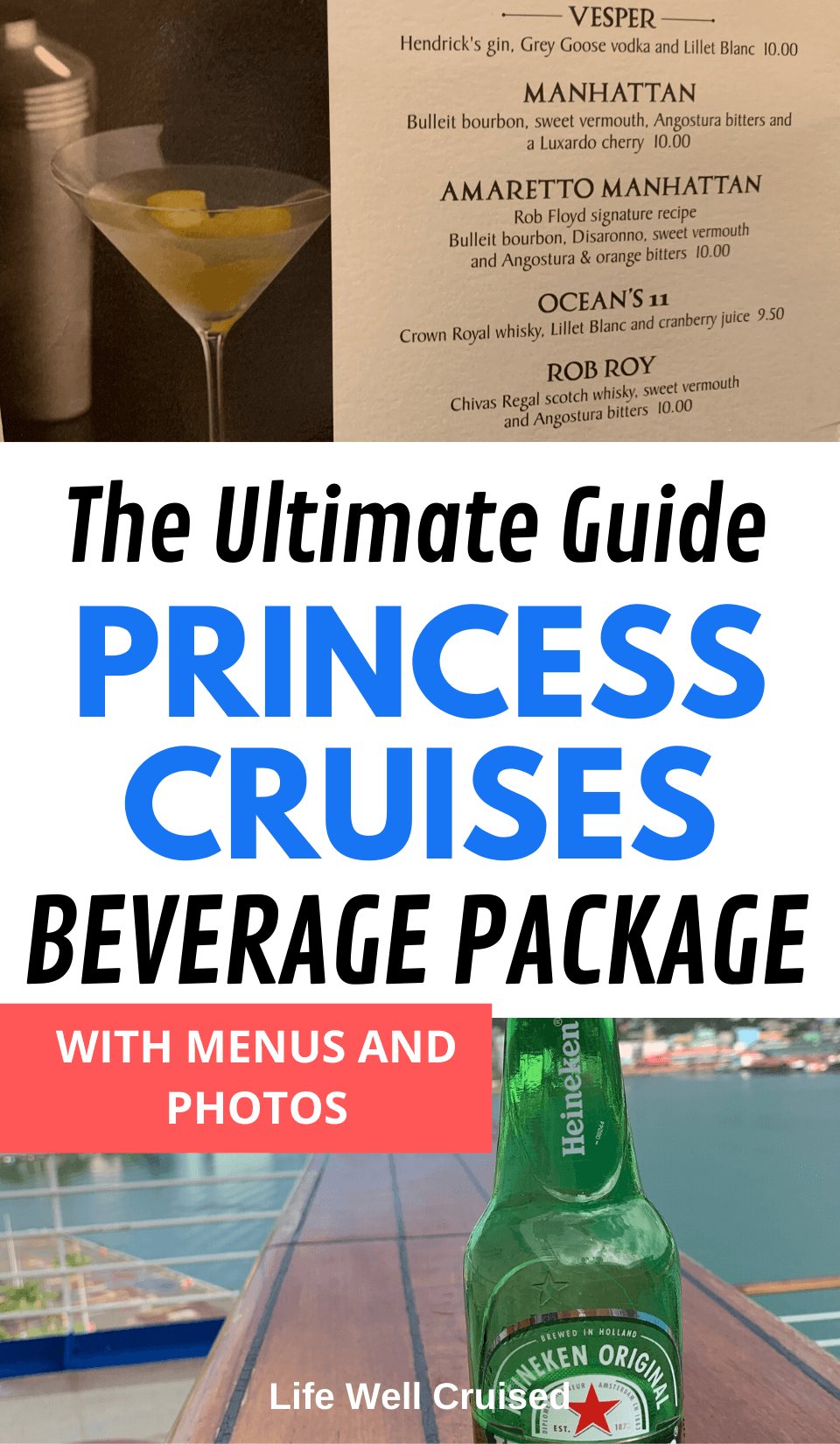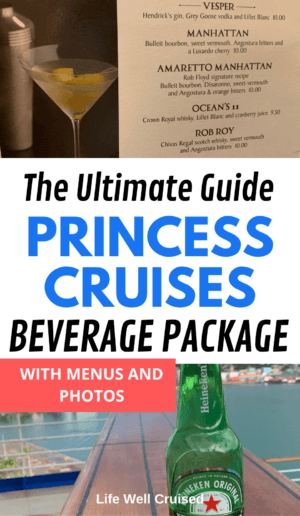 Is the drink package worth it?
This question is often asked, however it's really quite personal. The best way to decide if the all-inclusive beverage package is worth it, is to do a comparison of what it might cost you if you ordered each drink individually.
At $59.00 USD per day (plus 18% gratuity), with the Premium Beverage Package there are up to 15 alcoholic drinks included plus mocktails, fountain soda, fresh juice, bottled water, milkshakes and frappes, energy drinks, and specialty coffees and teas.
Some things to keep in mind when evaluating this are:
Your itinerary – do you have many days in port where you'll be off the ship or at sea?
How much do your favorite drinks cost?
Are you opting for the drink package included with Princess Plus or another offer? Even if you don't drink a lot, the overall value may be to your benefit. Make sure to calculate your overall savings
On our most recent cruise on Princess (2020), the prices on drinks were as follows:
Frozen cocktails and poolside drinks were about $8-11, martinis $10-12, wine about $9-12 a glass, and beer is about $6-7. Here are some drink menus for you to see for yourself.
More drink menus will be at the bottom of this post.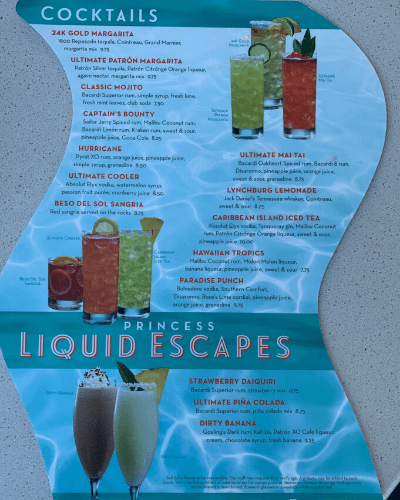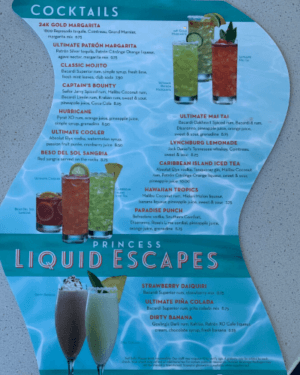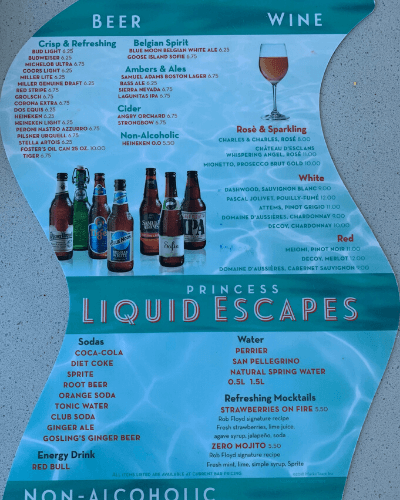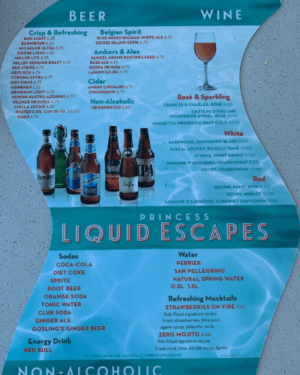 Can you bring wine on a Princess Cruise Ship?
Yes, you can bring one bottle of wine per person onto your Princess Cruise Ship, without charge. If you'd like to bring additional bottles, you'll be charged a $15 USD corkage fee upon embarkation.
Cruise tip: Make sure that you put your wine bottles in your cruise carry-on bag, as you enter the port terminal during the boarding process, to avoid broken bottles in your main luggage (and a big mess!).
What drinks are included or free on Princess Cruises?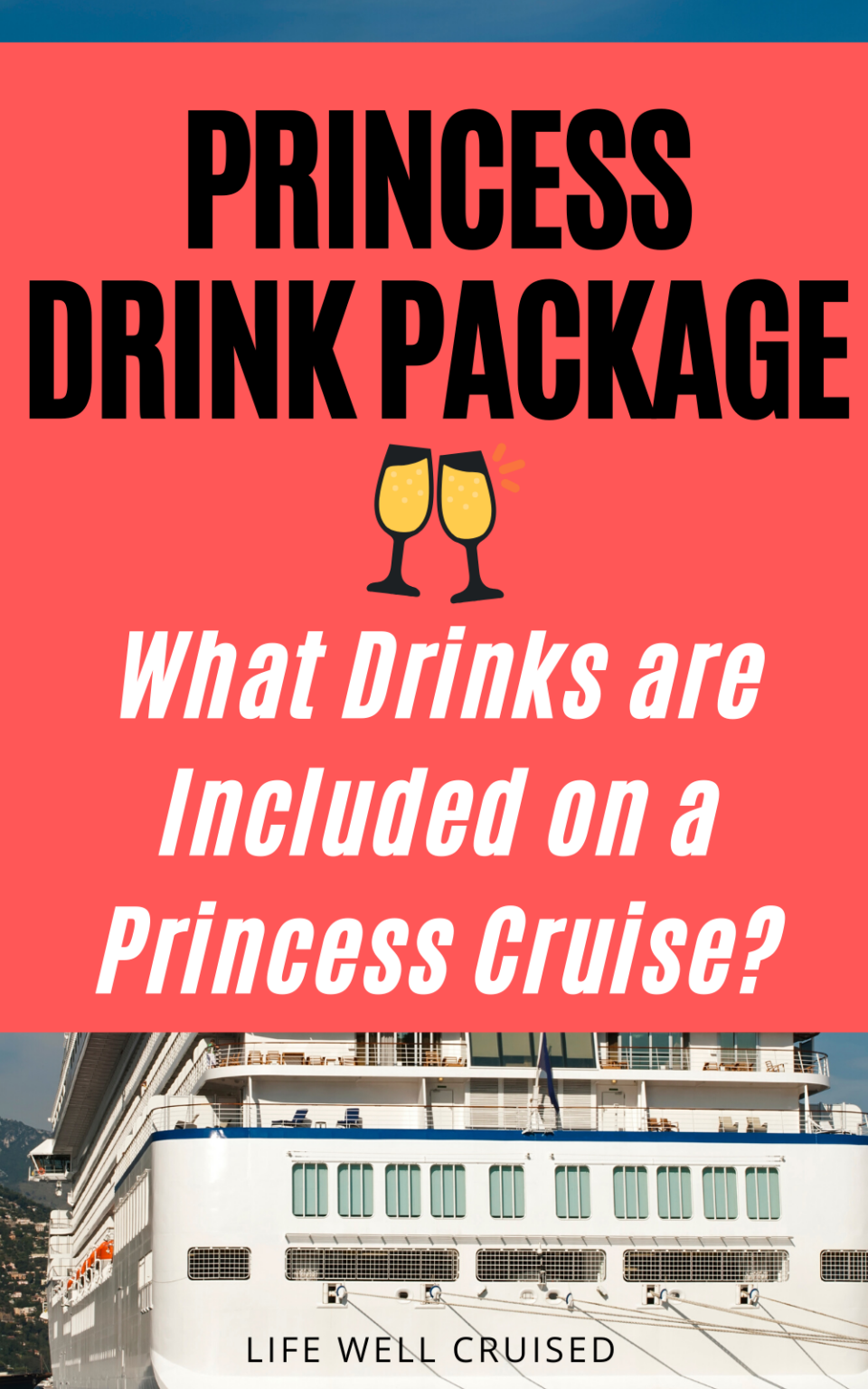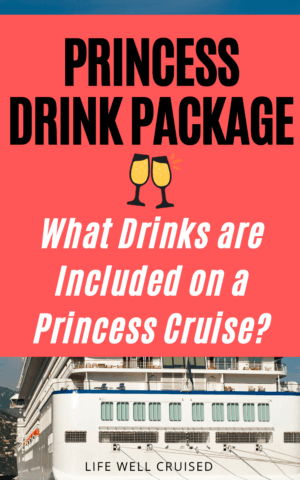 If you don't purchase a beverage package, there are still some drinks that are included on your cruise.
What's included:
Fruit juice (available in the morning)
Milk and chocolate milk (available in the morning)
Fruit flavored drink, lemomade, and unsweetened ice tea
Drip coffee and tea in the buffet and room service
Water (not bottled)
If you'd like to buy water bottles to keep in your cabin or bring with you on cruise port days, you can purchase a few bottles for a reasonable price.
Does Princess Cruises give a souvenir tumbler with their drink packages?
Yes, if you buy a drink package, you'll get a souvenir tumbler with your purchase.
Princess Cruises Drink Menus (photos)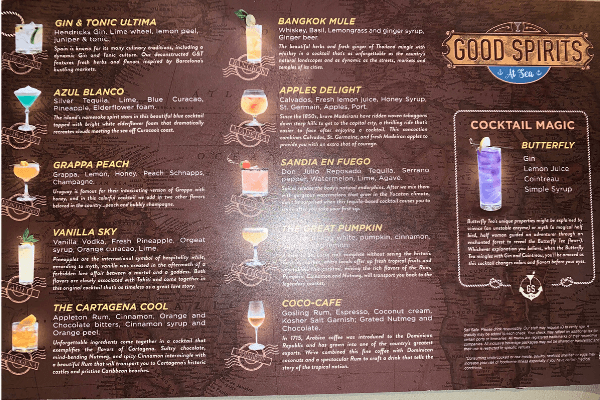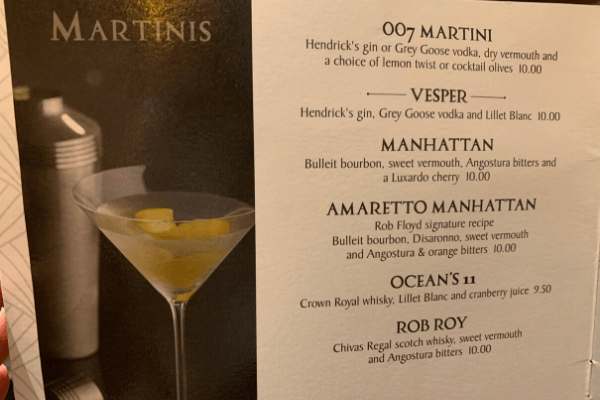 More bar and drink menus are available here: Princess Cruises Bar Menus and Drink Lists: Cocktails, beer and wine
Popular Drinks on Princess that You Must Try
I couldn't end this post without a few suggestions of drinks you'll want to try, especially if you have the drinks package!
Here are some favorites of Princess Cruises Fans.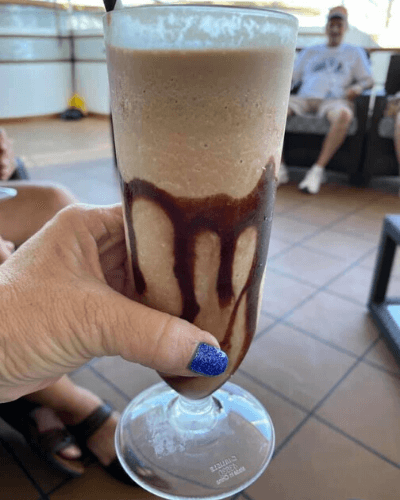 Dirty Banana
Mudslide
Miami Vice
Toasted Almond Martini
Lemontini
Chairman of the Board
Deep Sea Martini
Apperol Spritz
The Isacc
Fun fact – The Isacc cocktail was created for Princess Cruises 50th Anniversary in honor of Isacc, the original Love Boat Bartender we all love and adore! It's not actually on any Princess menus, but if you ask a Princess bartender to make it and they will happily oblige!
Video: Princess Premier and Princess Plus Beverage Package & Perks
Here's the latest information about Princess Premier, the pricing and what is included in the new Princess Cruises perk option. As always, you can book a cruise only rate or with Princess Plus.
Read next:
If you are going on a Princess Cruise these are 3 articles that you should read next, before you go.
Princess Cruises – 15 Tips, Tricks and Insider's Tips All Cruisers Need to Know
Princess Plus: What's Included and Is it Worth it?
12 Top Reasons to Cruise with Princess Cruises
30 Cruise Cabin Hacks (avoid the mini bar charges)
Have you tried the Princess Beverage package and did you find it worth it? What drink have you enjoyed and recommend? Please let me know in the comments below.
Happy Cruising,
Ilana
P.S. If you found this helpful, please don't keep it to yourself ;-). Please share on Facebook or PIN to your favorite Pinterest board (share buttons at the top). Thanks so much!
Read more:
31 Cruise First Aid Kit Essentials You Need to Have
25 Cruise Essentials Most Popular on Amazon
21 Things People Forget to Pack for a Cruise (and regret)
30 Cruise Cabin Hacks Every Cruiser Needs to Know
Let's connect:
Follow me on Facebook at Life Well Cruised
Follow me onYouTube at Life Well Cruised (Vlogs and cruise tips)
Follow me on Pinterest at Life Well Cruised
Follow me on Instagram at Life Well Cruised